+ 19 - 21 | § ¶
Build Your Own Fire Truck
Found on the Carolinas Fire Page mailing list, here's a nifty application on the Rosenbauer site. It's called Truck Builder. Go nuts.


+ 12 - 15 | § ¶
Federal Protective Service
Numerous police cars patrol the Capitol City. City, county, state, capitol, college, hospital, shopping mall. Here's a new one, not seen before. Federal Protective Service. Are they common around Raleigh? Click to enlarge:


+ 7 - 13 | § ¶
Mystery Apparatus
Here's another one for everyone. What's this truck that's pictured in terrifying close-up? Hint #1: It's red. Hint #2: It has at least four wheels.


+ 17 - 9 | § ¶
Saturday's Major House Fire in Fuquay (Updated)
Haven't found any news coverage (yet) of Saturday's major house fire at 7112 Starchase Lane in Fuquay-Varina, where heavy fire conditions were battled by crews from Fuquay-Varina, Holly Springs, Fairview, and Northwest Harnett. What other fire departments were involved? Deluge operations were utilized, as well as tankers for water supply. The two-story, wood-frame residence with 2,304 square-feet is shown below. Dispatched at 3:56 p.m., the fire was controlled by 6:00 p.m. Readers, please add additional details. Updated at lunch with reader photos, taken of the wife of a Fuquay-Varina Fire Department. She arrived about 45 minutes into the incident. Click to enlarge:


+ 13 - 11 | § ¶
Fire at Lumberton Fertilizer Plant
The Southern States Cooperative fertilizer plant at 525 S. Roberts Avenue in Lumberton burned this morning. Some 100 firefighters from Robeson and Bladen counties were on scene, including Lumberton, East Howellsville, Britt's, Allenton and Raft Swap, Elizabethtown, Tar Heel, Dublin, and Tobermory. The fire was reported about 9:40 a.m. The plant was empty and the gates were locked. No injuries, nor evacuations. The fire was controlled by early afternoon. Read this Daily Robesonian article, which includes additional photos.


Brian Duckworth / Daily Robesonian photo
+ 11 - 11 | § ¶
Raleigh Fire Units Renumbered July 7
Unit numbers are changing for a number of Raleigh fire units. Effective July 7, ladders, rescues, mini-pumpers, haz-mat, and the air truck are no longer numbered according to their station assignment. New sequential numbers will be used. Ladders 4, 11, 17, 1, 22, 24, 20, 26 become Ladders 1, 2, 3, 4, 5, 6, 7, 8. Rescues 19, 7, 14 become Rescue 1, 2, 3. And so on. A mapping table is shown below, along with a revised station map. Mike's pages will be updated accordingly. And watch for historical musings, as we trace the histories of those unit numbers going in or out of service. The city hasn't had a Rescue 1 since the 1970s, for example.
This change enhances fireground safety, reducing the number of duplicate unit numbers on scene. For example, Engine 1 and Ladder 1 to the same call. The change also aids eliminates equipment renumbering when a truck is moved to a new station. Reserve apparatus is not affected. Additionally, Car 5 (Division Chief) and Car 10 (Training Chief) are swapping unit numbers. Car 10 is the Asst. Chief of Training and the change aligns Car 5 with the other Assistant Chiefs: Car 4 (Prevention), Car 3 (Services), Car 2 (Operations).

| | |
| --- | --- |
| Old Number | New Number |
| Ladder 4 | Ladder 1 |
| Ladder 11 | Ladder 2 |
| Ladder 17 | Ladder 3 |
| Ladder 1 | Ladder 4 |
| Ladder 22 | Ladder 5 |
| Ladder 24 | Ladder 6 |
| Ladder 20 | Ladder 7 |
| Ladder 26 | Ladder 8 |
| Rescue 19 | Rescue 1 |
| Rescue 7 | Rescue 2 |
| Rescue 14 | Rescue 3 |
| Air 8 | Air 1 |
| Car 5 | Car 10 |
| Car 10 | Car 5 |
| Mini Pumper 16 | Mini Pumper 1 |
| Mini Pumper 3 | Mini Pumper 2 |
| Mini Pumper 23 | Mini Pumper 3 |
| Haz-Mat 2 | Haz-Mat 1 |
| Haz-Mat 15 | Haz-Mat 2 |
| SR 2 | SR 1 |
| SR 8 | SR 2 |
| SR 22 | SR 3 |
+ 6 - 11 | § ¶
Then and Now
Here's a reasonably replicated then and now photo from yesterday's birthday party at Raleigh Station 6. Left is circa 1950, courtesy of the North Carolina State Archives, and showing a 1922 American LaFrance service truck (left) and what's probably a 1925 or 1926 American LaFrance pumper (right). Right shows a 1950 Mack, and old Engine 4, a 1926 American LaFrance Type 75. How many differences between the pictures can you spot?
Next question, did old Engine 4 serve as Engine 6 for a period? That's one story that's been handed down. Engine 4 received its first FWD pumper on March 3, 1950. Engine 6 received its Mack pumper right around the same time. The 1950 Mack was delivered in March. Old Engine 4 might have been moved Station 6 for a stretch. To be determined. Click to enlarge either photo:


+ 8 - 12 | § ¶
Morrisville's New Engine
Here's Morrisville's new Pumper 3, photographed yesterday by Lee Wilson. Delivered on June 2, the 2009 Pierce Contender pumepr-tanker has a 1500 GPM Hale pump, 1,000 gallon tank, and 40 gallon foam cell with Husky foam system. Has two, count 'em two, hydraulic ladder racks, and carries a 1,500 gallon drop tank. There's a wetdown ceremony at Morrisville Station 2 on July 4. The engine will be placed in service at Morrisville Station 3/Cary Station 7. See more photos from Lee. There's also a picture on the Morrisville Fire Department web site.



Lee Wilson photo
+ 10 - 9 | § ¶
Mystery Marker
Where is this marker that read "Durham Hwy?" For extra credit, tell a little about what's nearby.


+ 10 - 11 | § ¶
Antique Fire Engines
These beauties were seen traveling through the Capitol City today, heading to and from Station 6, for the open house and birthday party. The Fairview Road fire station celebrated its 60th anniversary, and the turnout was great. Tons of people. Two pieces of antique apparatus were displayed, a 1926 American LaFrance pumper and a 1950 Mack pumper. They're pictured below, returning to their quarters at Station 28. Also in the picture is the building that housed the first Station 6. Located at 2519 Fairview Road and most recently housing a restaurant, half the building was rented for fire department use from 1943 to 1948. Photos forthcoming from Lee and Mike.

+ 7 - 7 | § ¶
Wake Forest-Falls Merger in Wake Forest Gazette
Another article about the Wake Forest/Falls merger was published this week by the Wake Forest Gazette. It includes a good amount of detail on the people, equipment, facilities, and territory involved. The article also includes information on Wake Forest Station 3. The Forestville Road facility will be staffed with three fighters per shift. Nine new Wake Forest firefighters graduated on Friday, June 19. How closely do the Gazette and Weekly articles align? We'll let our readers opine on factual or editorial differences. And it's just great to see coverage of Wake County fire department happenings in the news. Please keep the articles coming. Read the Gazette article.
+ 11 - 6 | § ¶
Apex Station 4, Wake Forest Station 3
Lee Wilson posted photos this week of Apex Public Safety Station 4 at 1615 E. Williams Street, e.g. Highway 55, and Wake Forest Fire Station 3 at 1412 Forestville Road. Both are nearing completion. See his photos.



Lee Wilson photos
+ 7 - 12 | § ¶
Wake Forest-Falls Merger in Wake Weekly
This week's Wake Weekly includes a cover story on the merger of the Wake Forest and Falls fire departments. The first page of the article can be viewed on the paper's web site, albeit as an image. You may have to squint. The merger process begins in July, the article notes, with WFFD starting the process of absorbing FFD volunteer firefighters. The merger will take about two years. Paid personnel at Falls will move into open slots at Wake Forest Fire Department during this period. Falls apparatus and equipment will be taken over by WFFD eventually. "All with no cost to the town of Wake Forest, according to Wake Forest Fire Chief Freddy Lynn." The Falls fire district will be split between Wake Forest and Bay Leaf fire departments. The article notes that with road improvements such as the NC 96 bypass extension, Wake Forest Fire Department will have better access to some rural areas than Bay Leaf, and would be "tasked by the county to cover those communities eventually." Read the first page of the article, or, if you're in Wake Forest, pick up a copy at your local newsstand!
+ 6 - 8 | § ¶
Black and White Photography
And on the photographic front, here are some monochrome images for your consideration. These are grayscale versions of recent travel pics. They were created using Canon Digital Photo Professional; with brightness and contrast adjustments accordingly. Converted to grayscale, and then twisted the knobs until each looked artsy. Are they "true" black and white photos, since they weren't shot as such? Probably not. Back in the day-- or, for that matter, for most of the history of the medium-- such photography was the product of (a.) monochrome film, (b.) an eye to contrast (and other considerations) when shooting, and (c.) an expert hand during developing. How do these photos compare with the results of film photography? No idea. That's a future step. Learning what the heck I am doing. For now, enjoy the photos.


+ 9 - 15 | § ¶
Fire Station Explosion and Fire, 1983
For your Friday reading, here's another interesting item for sale on eBay, a magazine article about an explosion at the Number 3 Volunteer Fire Department in Grover, N.C., on September 28, 1983. The explosion caused some $400,000 damage, destroyed nearly all of the department's equipment, and required some 75 firefighters to control.
One volunteer member was on duty at the station when the 8:40 a.m. explosion shook the building and threw him out of bed. Seeing flames showing from the basement when he looked out the window, he grabbed his radio to alert dispatchers. Smoke started seeping through the floor at this point. He ran to the only engine parked on the main floor, manually raised the door due to the absent electricity, and pulled the "bright yellow 1974 pumper" to safety.
What magazine featured same? Unknown, but perhaps the eBay seller does. Nothing is readily found using Google, either. Some of our statewide readers surely remember the incident, however. And even if they're not named Shirley. The Google Maps Street View of the current fire station suggests that the replacement was built beside the site of the destroyed structure. And it looks like a marker and flag was constructed in front of the old station location.
Wonder how many other North Carolina fire stations have been destroyed by fire, over the years or decades? In Raleigh, the house of the volunteer Victor Company at the corner of Salisbury and Davie streets burned on April 7, 1897. The building was partially consumed, along with two horses, a hose reel, and 100-feet of hose. The fire started when one of the lamps on the apparatus exploded. Wonder what other such incidents have happened around the state? Click to enlarge:


+ 11 - 9 | § ¶
Wake County Scanner Archives Unavailable
On our incident photo site, there's a link to scanner archives at ScanAmerica. Previously, Wake County fire and EMS radio traffic was available both as live and archived feeds. Since the merger of ScanAmerica with RadioReference.com, only the live feed has been available. We're told that the site operators are working to restore the archived feeds. Watch this space, and we'll advise when everything's back to normal.
+ 12 - 5 | § ¶
Terror Drill Tests Agencies
The News & Observer reports on yesterday morning's terrorism drill at Carter-Finley Stadium. The purpose of the exercise was to train law enforcement officials. Participating agencies included N.C. State University police, the Raleigh Fire Department, and the State Bureau of Investigation, the article notes. The exercise included a response by the SBI bomb squad, and detonation of an explosive inside an automobile. Another exercise was conducted at the university, involving a hostage situation. Read the article, which includes a photo gallery showing the SBI robots in action.



Chuck Liddy / News & Observer photo
+ 9 - 9 | § ¶
This Morning's Major Fire / Shanda Drive
Two alarms at apartments at 6305 Shanda Drive. Engine 15 first on scene with heavy fire and smoke showing at a two-story, brick and frame apartment building with 10,872 square-feet. Declared major working fire on arrival. Interior attack to start, then defensive operations with Ladder 4, deluge gun, and hand lines. Dispatched 4:47 a.m. Controlled by 6:30 a.m. Four units reportedly damaged, started in laundry room. Cause determined as discarded smoking materials. Units included E15, E4, E9, E16, E19, E18, E22, L4, L22, R19, R14, B1, B4, C5, C2, C10, C20, A8, EMS7, EMS3, EMS5, EMS16, EMS121, D1, D3, M92, T1. "A" shift working. Photos by Mike Legeros are posted, and shown below. Photos from Lee Wilson are forthcoming.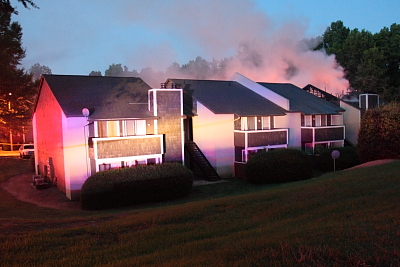 + 10 - 6 | § ¶
North Carolina Protects Portable Potties
Today's News & Observer has the poop on a state law taking effect December 1. Portable potties are newly protected against theft, vandalism, or destruction. Dethrone a throne and go to jail. Penalties can include a judge-set fine, or a room at hotel hoosegow. Oh crap, indeed. The narrowly defined crime of can abasement was promoted this spring by the state's portable toilet industry. Unknown if any members are named John. Though intentional abuse of mobile commodes is already covered under existing laws, the industry wanted a law specific to their problems. Insert own joke about additional paperwork. After December 1, the article notes, potty owners can post warnings, cautioning users against untoward toilet behavior. Not everyone's privy to this problem. Read the article.
+ 16 - 11 | § ¶
Carrboro's New Platform (Updated)
Our friends at the Carrboro Fire Department have passed along a new photo of their new platform, a 2009 Sutphen SPH 100, with a 100-foot, five-section aerial platform, 1,500 GPM Hale single-stage pump, 300-gallon tank, 515 HP Detroit Diesel Series 60 Series engine, and 236-inch wheelbase. It has a six-person cab, full-height compartments on both sides, two 1-3/4-inch crosslays, one 3-inch dry storage compartment, and a rear-view camera. The apparatus replaces a 1990 E-One aerial ladder that will be kept in reserve. More about CFD. Click to enlarge:


+ 8 - 9 | § ¶
Dial P For Photo
The New York Times photojournalism blog Lens profiles Shawn Rocco, who works for the News & Observer. That's his day job. He's also a photo artist whose medium is the Motorola cellphone. He started taking cellphone photos two years ago, the post notes, though none have been published in the paper. He owns a number of Motorola phones, and shares his stunning results on his blog Cellular Obscura. That tag line? "Exploring the world with the Kodak brownie of the digital age. Or in other words... yes, these are from a mobile phone." One example, also featured in the Times post, is this this shot of the Garland Building, which was being razed for the new Wake County Justice Center. Raise your hand, if you also saw this shot, but just kept walking or driving by. (Though the street-level perspective would be different, duh.) At an absolute minimum, Rocco's blog and his work reminds every shutterbug of that old adage "your camera doesn't matter."


Shawn Rocco photo
+ 13 - 7 | § ¶
Vintage Hose Ad
Seen for sale on eBay, here's a 1984 ad for Angus hose that shows the Parkwood Fire Department in action. Pretty cool. Bid or buy now! Click to enlarge:


+ 6 - 10 | § ¶
Questions and Answers
Opening the mailbag, here are some questions recently received from readers, site visitors, and random Googlers. Was my answer wrong, really wrong, or incomplete? Let me know.
Q: What is the definition of a "city service truck?" I worked on several as a fireman in the Los Angeles Fire Department, but never heard a definition of the term. I have been looking through Google, but haven't found a definition that was complete.
A: What's called a city service truck, or a service ladder truck, is simply a ladder truck without an aerial device. If equipped with a chemical tank, such as those in the 1920s, it could be called a combination service truck. If it had a pump, hose, and tank, along with a ladder bed, it was called a quadruple combination, or quad. I tried to find the origin of the term, via Firehouse Forums, some time ago. Here are those results.
--
Q: [Regarding an] 1882 Silsby 5th 680 [steam engine], could you explain to me the definition of the "5th" and "680".
A: Fifth refers to fifth-size. Steam engines were produced in six sizes, first through sixth, which were largest to smallest. Additionally, an extra first size was even larger than the regular first size. There's a chart of sizes with typical measurements in this steamer article. The number 680 might be the serial number. It's probably not the pump capacity, as fifth-size steamers were rated closer to 450 GPM.
--
Q: Do you happen to have any old photos of the Wake County Sheriff's Office? I see that you have numerous [old] fire and EMS pictures, but not many [old] pictures are around of deputies.
A: Though I do not have any photos that come to mind, I can ask readers of my blog for assistance. Does anyone have a stash of old Wake SO photos? Drop a line, if so.
--
Q: Do you have a copy of the Fire Commission minutes for 2009? I am doing a bit of research and couldn't find them on the Wake County web site.
A: What minutes I have posted to my blog are at http://www.legeros.com/ralwake/photos/weblog/wcfc/.
+ 10 - 11 | § ¶
Wake County Fire Department Rescue Units
By way of comparison, here's a quick gallery of every Wake County fire department rescue unit. Minus USAR apparatus, reserve rigs, or Cary's newest service truck. Both Cary and Raleigh's identical twin rescues are shown one each, as well. What's missing? Left to right, top to bottom: Apex (2), Bay Leaf, Cary, Durham Highway, Eastern Wake, Fairview, Fuquay-Varina, Garner (2), Holly Springs, Hopkins, Morrisville (2), New Hope (2), Raleigh (2), RDU, Rolesville, Stony Hill, Swift Creek, Wake Forest, Wendell, Western Wake, and Zebulon. Photo credits Lee Wilson, Mike Legeros, and others. Click to enlarge:

+ 8 - 8 | § ¶
Post-Incident Reporting
What does the post-incident reporting look like after a major event, such as both ConAgra in Garner and Mountaire Farms in Lumber Bridge? Here's what's been posted on the News & Observer site in the past 12 days. These links were located using by both browsing site sections, and using their site search. Duplicates were eliminated. Immediate stories about each incident were also eliminated. Sources include News & Observer, Charlotte Observer, and Associated Press.
Mountaire Farms
ConAgra
+ 9 - 10 | § ¶
Open House and Birthday Party at Raleigh Fire Station 6, Saturday, 11:00 a.m.
Don't forget the open house and birthday party at Raleigh Fire Station 6 this Saturday, June 27, from 11:00 a.m. to 3:00 p.m. The city's oldest fire station celebrates its 60th birthday. Station 6 is located at 2601 Fairview Road, at the intersection of Oberlin Road. Food will be provided, and fire apparatus will be displayed for children of all ages. Visitors will also see fire education displays and historical materials. Read the press release. See you there.
+ 8 - 7 | § ¶
Zebulon's New Rescue
Zebulon Fire Department has taken delivery of a new rescue truck, built by M&W Fire Apparatus on a 2009 GMC chassis. Rescue 9 was delivered on June 18, and will be lettered and placed in service this week. Equipment from old Engine 92, which has been sold, will be moved to Rescue 9. Features of the new truck include a cascade system, canopy, and light tower. Lee Wilson has posted pictures of the new rescue.



Lee Wilson photo
+ 11 - 5 | § ¶
Ammonia Release at Robeson County Poultry Plant
One person was killed and four others were injured yesterday when a high-pressure refrigeration line ruptured just before 10:00 a.m. at a poultry plant on N.C. Highway 71 in Lumber Bridge. The five victims suffered chemical burns from escaping anhydrous ammonia gas. Two were transported to Cape Fear Valley Medical Center in Fayetteville, with one transferred to the UNC burn center. Two were transported to Southeastern Regional Medical Center in Lumberton. Another 30 to 40 employees also evacuated. The plant employs 2,500 workers. Click to enlarge aerial photos:

Employees were reportedly performing maintenance on a piece of equipment. The Fayetteville Fire Department's haz-mat team(s) responded to the scene-- including North Carolina Hazardous Materials Regional Response Team (RRT) 3-- along with other fire and EMS agencies. Highway 71 was closed for about a mile during the incident. No evacuations of residents was ordered, however. The leak was contained within a couple hours. The incident also drew immediate comparisons to the recent ConAgra explosion in Garner. Read more:
+ 12 - 13 | § ¶
Trumpets
For your Friday enjoyment, here's a pair of illustrations from a reproduction of the 1912 catalog of the C. G. Braxmar Co. of New York, makers of fire and police department badges and other supplies. Trumpets, or speaking trumpets, served as megaphones on the fireground, so fire company officers could be heard above the roar of flames and the din of crowds. They might below bellow orders, for example, to the dozens of men manning the hand engines. Two types of trumpets are illustrated below, a duty trumpet and a presentation or parade trumpet. The latter is most familiar to most people. These were ceremonial trumpets, often inscribed. They were not intended for use at fire scenes. Many survive today, and are common fixtures at fire museums. What eras were speaking trumpets used? Need to check that. Are speaking trumpets the same thing as bugles on badges? Yes, believe so. Click once or twice to enlarge:


+ 15 - 7 | § ¶
Church Group Rescued From River in Montgomery County
Nine youth members of a church group were rescued from the Uwharrie River in Montgomery County after multiple boats became separated around noon. A large-scale rescue operation was initiated, with about 50 emergency personnel from Montgomery, Cabarrus, Stanly, and Randolph counties. As this News & Record article reports, a State Highway Patrol helicopter also participated in the search. The incident was reported at 12:15 p.m., the article notes. The nine boys were located about three hours later about a mile upstream from the Low Water Bridge off Highway 109. Montgomery Country established their Emergency Operations Center at the site, which appears to be the massive command trailer pictured in the WTVD story footage. The story is covered on numerous other outlets. The river's name is pronounced yoo-WAHR-ee. It's a tributary of the Pee Dee River. In case you wanted to know.
+ 15 - 14 | § ¶
Historic Engine Houses in St. Louis
Vacation's over. Photos have been posted. Two flavors are available from Mr. Blogger's family vacation: three-dozen engine houses, plus St. Louis scenery. See the photo site for that collection. Or just the firehouses and nothing else. Visit Mike's flickr site for that. 'Twas a grand adventure, spread over some eight hours and across three days. Several were drive-bys, due to rain or time. The block-long building housing Station 2, the shop, and the old training tower was visited several times. Who tires of a busy shop? Thanks to the St. Louis Fire Department and historian Bob Pauley for the locations and ages of the current and retired houses. And where's the next destination, you ask? Baltimore beckons in another month. Might photograph more historic BFD houses. Click for photos of current and retired St. Louis fire stations:


+ 8 - 11 | § ¶
Discussions, Discussions
Couple discussions we've been watching and enjoying. First from the Watch Desk, from the Raleigh-Durham forum. The subject is a unified Wake County fire department. The usual suspects are present, though the conversation has been progressing slowly. Are folks more cautious on the Watch Desk? Or perhaps the forum isn't widely read. Go figure, as there's no shortage of opinions (and opiniators) around here! Join that conversation.
Next are a pair of comment collection on Firegeezer's blog. First are a handful of responses (so far) to Mike Ward's commentary on safety blind spots. Mr. Ward, AKA FossilMedic, ponders methods of preventing injuries and duty deaths. Second are a dozen-point-five comments on 'geezers posting about the Morrisville engine collision from last week. Lane blocking works, and readers react accordingly. Good reading all around.
+ 11 - 6 | § ¶
Caption This Photo
See this morning outside St. Louis, on the way to Lambert Field:


+ 9 - 15 | § ¶
Building the Gateway Arch
Reporting from the road. Reading the Wikipedia page about the Gateway Arch finds an interesting fact. When the arch was built, both legs were built up at the same time. When it was time to connect the legs up top, the legs couldn't be precisely aligned. The problem? Thermal expansion from the sunward-facing south leg. The solution? The St. Louis Fire Department sprayed said leg until it cooled sufficient to allow alignment. There's a treasure trove of construction photos by Arthur Witman cataloged and viewable from the Western Historical Manuscript Collection at the University of Missouri-St. Louis web site. Though I couldn't find an image of the above event, this photo shows a presumably SLFD engine on scene at the construction site:

Arthur Witman photo, courtesy Western Historical
Manuscript Collection at the University of Missouri-St. Louis


+ 10 - 17 | § ¶
Tropical Photographer Stalks St. Louis Fire Stations
Reporting from the road, where Yours Truly has been exploring the Gateway City since about 9:30 a.m. Minus time with the Missus and her family, met on the riverfront for a couple hours. There's really no better way to see a city than to leap from engine house to engine house. Or, in my case, every engine house older than 50 years of age. That totals 36 such structures, both active and retired, and all of them two-story buildings of brick, stone, or stucco.

Found 29 today, including three below, left to right: Old Station 28 (built 1961), now the residence of a retired firefighter, I'm told; Station 2 (built 1929), part of a complex that includes the city garage, the fire department shops, and the old training tower; Station 35 (built 1895), one of two active stations built that year. There's a bit of rivalry between Station 35 and Station 36, regarding which was occupied before the other.

In addition to engine houses, St. Louis presents blocks upon blocks of interesting residential, commercial, and industrial buildings. So much variety in age, condition, construction, and style. Who needs the great outdoors when you can explore a great city? Explorations continue tomorrow, with a half-dozen fire stations still to find. Do you suppose Homeland Security issues cautionary warnings about photographers wearing floral prints around public safety facilities? Click to enlarge:

+ 12 - 11 | § ¶
Morrisville Fire Engine Struck on Interstate 40
The News & Observer reports that a Morrisville fire engine was struck this morning on Interstate 40. They were east of Airport Boulevard and on scene at a vehicle fire, when a car carrying two college students collided with the apparatus about 4:30 a.m. Both occupants were transported to Duke. No firefighters were injured. And, as it happens, another accident occurred, while the fire truck/car collision was being investigated. Read the News & Observer article.
The story is also being reported by WRAL, and includes the below image. They report that the car was travelling at full speed and failed to brake. Their car was totalled, and the apparatus received only minor damage. Crews closed all but one lane of the roadway during the incident. Read the WRAL story.
The vehicle fire was dispatched at 3:31 a.m. The vehicle accident at 4:17 a.m. Units at the accident included Morrisville E1, R2, C3, C1, EMS 54, EMS 4, District 5.



WRAL photo
+ 13 - 6 | § ¶
Charlotte-Mecklenburg Special Operations Vehicles
FireNews Editor Jeff Harkey has posted photos of a couple Charlotte-Mecklenburg special operations vehicles, seen this week at the 2009 National UASI Conference at the Charlotte Civic Center. Read the FireNews article, or view larger photos at the FireNews Flickr site. There are several viewing options on Flickr, including a slideshow. Or click to see enlarged versions:


+ 8 - 8 | § ¶
911 Hang-Ups are a Problem in Many Areas
Today's News & Observer features a Triangle Troubleshooter feature about 911 hang-ups. When there's no emergency, notes Raleigh-Wake ECC Directory Barry Furey, they account for 10 to 11 percent of incoming calls. Last year, the ECC dispatched law enforcement officers to 16,184 such calls, including 13,000 in Raleigh. Furey offers some tips, such as not programming 911 into your phone's speed dial. And what should you do when you accidentally dial 911? Stay on the line, and advise your mistake. And if your dog, cat, or other non-human companion does same? No advice is given there. Read the entire article.
+ 8 - 14 | § ¶
Barrel Monster
We blogged before about the web site No Promise of Safety. That site's in the news for documenting the creation of a "barrel monster," a construction barrel-built creation that appeared on Hillsborough Street on May 31. Who knew the roundabouts would lead to a local Internet sensation? Today's News & Observer reports that an N.C. State student faces criminal charges in connection with same. Read the story of the barrel monster. Next question, who receives photographer credit for the below picture? Cue Beer Barrel Polka. Frankie Yankovic's version. Or maybe Liberace's.


+ 10 - 8 | § ¶
After the Fire
Here's what's left of a street sign on South Blount Street, after this morning's major fire. The two-alarm blaze heavily damaged the building and destroyed four limos. Read our prior posting.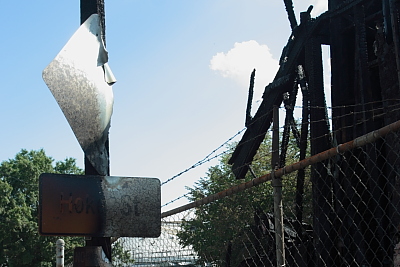 + 9 - 9 | § ¶
Look at the Golfs!
Photos have been posted from yesterday's third annual National Fallen Firefighters Foundation Golf Tournament. They're the first sets of photos from Yours Truly, who again served as event photographer. The setting was Eagle Ridge Golf and Country Club, south of Raleigh. The occasion was raising money for the National Fallen Firefighters Foundation. Weather was nice, with a strong breeze, good cloud cover, and only a couple hours of blistering sunshine. Mr. Blogger brought a wide hat, but forgot his sunscreen. Just call me red neck.
Two cameras and three lens were utilized. One with tripod at the tenth hole, for team photos. Another for shooting course play, alternating between wide and zoom lens. The former-- a Canon 17-40 f4.0 L-- proved its durability when it fell from the photographer's pocket onto concrete. Only a couple scratches on the body, believe it or not. Even the lens shade stayed intact. As a bonus, the accident happened right before tee time, when the crowd was listening to the day's instructions. Nothing like a public accident. Memo to self, large lenses and small pockets are not compatible.
Most of the action shots were taken at the tenth tee. Tried assorted aperture and shutter settings to "stop the action." Alas, I couldn't cancel the blur of fast-moving clubs or balls. Camera limitation? Operator failure? I am guessing the latter. As for the day's subjects, the camera jokes were continuous. "Did you break the lens" was most popular, with "Better get the wide lens" as a close second. Other jokes about clubs, balls, etc. are best left to the imagination. Heard a number of Caddyshack quotes, as well. However, nobody yells "fore" anymore. Wonder why? Large time again had by all. See more tournament photos, from all three years.


+ 10 - 6 | § ¶
This Morning's Major Fire / Blount Street
Two alarms at commercial structure at 1316 South Blount Street. Engine 1 arriving with heavy smoke showing at a one-story, wood-frame structure with 6,217 square-feet. Dispatched about 1:30 a.m. Quickly upgraded to major working fire. Interior operations at first. Defensive operations soon started. Deluge guns and ladder pipes used. Ladder 1 and Ladder 20 operated. Water supply problems requiring multiple hydrants. Command by Battalion 2, then transferred to Car 5. Blount, Person, and several cross streets closed. Fire units included E1, E13, E3, E2, E5, E7, E10, L1, L20, R7, R14, B2, B3, C5, C20, A8, C4, C3, C2, C1. EMS units included EMS_, EMS_, EMS_, District 1, Truck 1. See Google Street View of building. Listen to archived scanner traffic. Read news coverage from WRAL. Watch other media outlets as needed. And we await photos from Lee Wilson.



Jamie Munden/WRAL photo
+ 8 - 8 | § ¶
Ten Questions with Raleigh-Wake ECC Director Barry Furey
The latest edition of the WRAL feature Ask Anything features Raleigh-Wake County Emergency Communications Director Barry Furey. He's asked questions ranging from what's "the craziest or oddest call that came in to the center" to what's "the difference between 911 services and E-911 services offered by alternative phone systems." Read the article with Barry's answers. Or learn more about Raleigh-Wake ECC.
+ 13 - 9 | § ¶
This Evening's Storms
How many working fires have we heard tonight, as thunderstorms passed through Wake County? Three thus far. Outbuilding on Beardsley Drive in Raleigh, dispatched 10:24 p.m. House on Bamburgh Lane in Fairview, dispatched 11:01 p.m. House on North Main Street in Fuquay-Varina, dispatched 12:25 a.m. Crews reporting live ammunition exploding on the last one. Looking at the weather radar, things appear to be calming down.
+ 7 - 10 | § ¶
Garner Explosion, Coverage
For coverage of the explosion, fire, and collapse at a Garner food processing plant, FireNews is a good place to start. They've posted maps, diagrams, and both ground and aerial photos. Then, proceed to the local television stations. Here's WRAL coverage, WTVD coverage, and NBC17 coverage, for starters. On the print front, here's the News & Observer story. The story's also made national news. Both Lee and Legeros spent several hours on scene. Preliminary photos from Mike have been posted. More later. Many more later. Plus other data and information about the incident, as we have occasion to blog about. Great job by responders, and the many others who provided and are still providing assistance on scene.


+ 9 - 9 | § ¶
Garner Explosion, Roll Call
Who responded to the explosion and fire in Garner today? Let's try to compile the list. Dispatched at 11:30 p.m. a.m. Industrial accident at 4851 Jones Sausage Road with multiple victimes. Garner E1, C2; Raleigh E26; Garner EMS84; Wake EMS D1, Medic 92. Soon upgraded to building collapse. We'll work on posting photos a bit later, from Legeros and Lee.

Garner Fire - E1, E3, E4, FS1, C2, C1
Raleigh Fire - E26, L26, L20, L11, L1, R7, B2, B3, A8, USAR1, USAR2, USAR3, USAR 801, HM2, SR2, SR3 (bus), SR 22, Decon 1, C71, C4, FC1, fuel truck
Wake Fire - WC1
Wake EMS - EMS1, EMS2, EMS4, EMS8, EMS13, EMS14, EMS16, EMS31, D1, M92, Truck 1, PIO, Chief 100, MD1
Garner EMS - EMS81, EMS83, EMS84, 871, 881, 882, Captain 830, Chief 800
Eastern Wake EMS - EMS61, EMS62
Cary EMS - EMS55
Wake EM - MCP
USAR Task Force 8 - Cary, Chapel Hill, Durham units, including Cary R4, USAR 803 (with E7 crew); Durham E7
+ 9 - 8 | § ¶
Excursion Train Hit by Car, The Video
Here's a video of Sunday's car/train collision in Apex, as found by reader Matt. Please remain seated.


+ 7 - 8 | § ¶
See You in St. Louis
'Tis an upcoming trip with the wife's family. Four days in the Gateway City. Sightseeing. Dining. Gambling. Plus, of course, finding historic fire stations. With a bit research, we've found the addresses and Google street or satellite photos of 35 current or former engine houses older than 50 years of age. Thanks to the St. Louis Fire Department for their help.
Several houses are pre-1900s: Old 1 (1872), Old 26 (1887), Old 29 (1888), Old 32 (1892), Station 35 (1895), Station 34 (1895), Old 7 (1897), and Station 32 (1899). Another dozen date between 1900 and 1920. In fact, most of the city's active fire stations are historic structures. Only five are "young" buildings, built in the 1960s or 1970s. Read about their stations.
What do they look like? See the below montage, most with street-level spy photos. Next step, mapping. Paste the addresses into Excel, and import into Streets & Trips. Viola, instant fire station map. FireNews Editor Jeff Harkey taught me that tip. Between the map and our GPS navigator, we'll be good to go. Basically, exploring the entire city while photographing historic fire stations. And the perfect excuse for alone time, when taking a break from the family. Click to enlarge:


Google Maps Images



Microsoft Streets & Trips Map
+ 8 - 12 | § ¶
Let Me Google That For You
Mrs. Blogger found this gem. Know someone too lazy to Google for themselves? LMETFY lets you passively aggressively help your friends. Visit the site, perform a search, then send your friend the results. Such as http://lmgtfy.com/?q=Legeros. Hilarious
+ 8 - 10 | § ¶
Excursion Train Hit by Car
The News & Observer reports on yesterday's train/car collision in New Hill, when a New Hope Valley Railway excursion train was struck by a slow-moving automobile at a crossing on Daisey Street. Or, as Google Maps calls it, Daisy Street. No one was injured in the 3:57 p.m. Read the article.
Yours Truly was on the west side and wandered that way, and photographed fire and EMS personnel assisting passengers disembarking the train. Apex Engine 2 and Apex EMS 41 were on scene. Rescue 1, EMS 17, Medic 94, District 5, and District 2 were cancelled en route. View the photos.


Mike Legeros photo


The accident happened near the site of November's mass-casualty drill, conducted with the New Hope Valley Railway just up the tracks. See those photos.
How many train/car collisions occur in our state? Reading the results from
this federal database
, in 2009, at 6,977 crossings, 69 incidents occurred last year. Eight fatalities, and 27 non-fatal conditions.
+ 8 - 12 | § ¶
South African Maxilance
FireNews Editor Jeff Harkey recently posted a picture of a "maxilance," a major incident patient transporter found in Rustenburg, South Africa. He also includes photos of other rescue and EMS units, and notes that the local emergency telephone number is 10177. Harkey took the photos during a major "football" (soccer) game there recently. Read his blog posting.



Jeff Harkey photo


On a related note, Yours Truly is finishing Paul Theroux's travelogue Dark Star Safari: Overland from Cairo to Capetown. The author and novelist travels the entire continent, and ably observes what he encounters nearly 40 years after he spent time there teaching in the Peace Corps. Recommended reading, and especially if you are unfamiliar with that part of the world.
+ 11 - 9 | § ¶
Rip Current Awareness Week
Found in this WRAL story about a Kure Beach ocean rescue, the National Weather Service and National Sea Grant Program, in partnership with the United States Lifesaving Association, are working together to raise awareness about the dangers of rip currents.
These powerful, channeled currents of water that flow away from the shore account for over 80% of rescues performed by surf beach lifeguards. Annual deaths due to rip currents exceeds 100 on the nation's beaches. Read more about this safety campaign, including rip current safety tips.
Rip currents are like a treadmill that cannot be turned off, the site notes. Swim out of the current in a direction following the shoreline. If unable to swim out, float or calmly tread water. When out of the current, swim toward shore.


+ 14 - 8 | § ¶
Former Warrenton Rural Fire Station
We blogged about Warrenton's old town fire station a few weeks ago. Here's the old rural fire station, as photographed yesterday by Lee Wilson. The two-story structure is located at 104 College Street, and presently serves a religious organization. Tax records say the 6,400 square-foot structure was built in 1956. Warrenton Rural Fire Department relocated to 236 South Main Street in 2006. See more of Lee's photos from Warrenton.



Lee Wilson photo
+ 13 - 5 | § ¶
Camp Celebrate Procession Photos
Reader Mike Hart shares his photos of yesterday's procession of fire trucks to Camp Celebrate. Read our prior posting about the camp. Participating departments included Bay Leaf (lettered as Six Forks), Belews Creek, Cary, Chapel Hill, Clayton, Durham, Fairview, Granite Quarry, Holly Springs, Knightdale, Morrisville, Northwest Pocket, Northview, Raleigh, Rocky Mount, Rolesville, Roxboro, Stony Hill, Tramway, Wake Forest, Wake New Hope, and Wendell. Wonder how many counties that translates to? Click to view Mike's photos:


+ 11 - 8 | § ¶
Clayton Church Burns Again
WRAL has posted a photo of this morning's major fire at Mt. Calvary Baptist Church in Clayton. Located at 5217 Barber Mill Road, the fire reported was around 2:15 a.m. Unlike the May 6 incident, this morning's blaze destroyed much of the structure, including collapsing the steeple. Clayton, Cleveland, and Garner fire departments were among the agencies on scene. Read the WRAL story, which includes video footage. Readers, please add additional incident details as desired.



Mark Simpson/WRAL photo
+ 8 - 9 | § ¶
Roadway Markings
Here's Medic 92 at a motor-vehicle accident on earlier this evening on Ray Road, just south of Strickland Road. Yours Truly didn't even notice the roadway markings that turn the image into something almost artistic.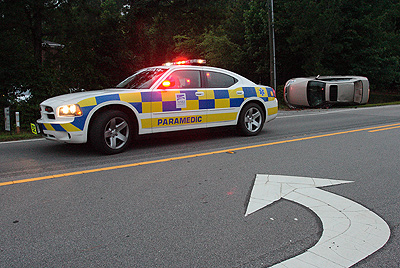 + 7 - 12 | § ¶
Robeson County Firefighter Killed Responding to Call
As surfaced by FireNews, Pembroke Fire Department member Matthew Douglas Tramel was killed this morning while responding to a call. About 12:53 a.m., the automobile he was driving struck a tree on Deep Branch Road. The 18-year-old volunteer firefighter, who was not wearing a seat belt, was killed immediately. He was responding to a reported fire on Douglas Avenue when he crashed. Tremel had been a member of the department since April 7, and had also served about four months as a member of Pembroke Rescue. Read more from the Robesonian.
+ 12 - 6 | § ¶
Remembering the Shelby Fire that Claimed Four Firefighters
May 25, 2018
Please see this Legeros Fire Blog posting, with working links and slightly higher resolution image: https://legeros.com/blog/four-shelby-firefighters-killed-in-gas-explosion-may-25-1979/
Found via FireNews, the Shelby Star has published a retrospective of the fire that killed four firefighters on May 25, 1979. It started as a smoke investigation, with an apparently routine fire in the rear of a clothing store. About thirty minute later, an explosion ripped through the downtown structure. Four Shelby firefighters and a civilian city employee were killed. Another 12 firefighters were injured. Mutual aid from 10 departments brought over 230 firefighters to the scene. Within hours, the entire block was lost. The $5 million fire was determined as arson, and the store owner was sent to prison. The fallen were buried on Sunday, May 27, and hundreds of residents attended the memorial service.
Read the Shelby Star retrospective. Or read an earlier article about the fire on FireNews, part of a feature on the histories of North Carolina's fallen firefighters. It features photos by Lem Lynch, who was present at the time of the explosion. Only one other time in the state's history have four firefighters died in the line of duty. On September 7, 1982, an early-morning fire at a textile plant in Washington killed four members of the National Spinning Company fire brigade. Read about that incident also, either via the FireNews article, or a version on our history site.


Lem Lynch photos
+ 8 - 13 | § ¶
This Afternoon's Major Fire / Anterbury Drive in Apex
Major fire at 118 Anterbury Drive in Apex. Dispatched 2:27 p.m. Apex, Holly Springs, Morrisville, Cary, Fairview fire departments reportedly on scene. Apex Ladder 1 and Ladder 3 deployed during defensive operations. Fire contained to one building with six townhomes, with three heavily damaged by fire. Two-story, wood-frame buildings built 2005, with approximately 8,600 square-feet. Flames also sparked a woods fire behind the building. Read the WTVD story, which includes a slideshow of aerial photos. Read the WRAL story, which includes viewer photos. What other agencies, or specific units were on scene?



WTVD photo



Ysmael Espinoza/WRAL photo
+ 10 - 7 | § ¶
Volunteer or Not Volunteer?
From a reader, here's a topic for discussion. Most of our fire departments rely heavily on volunteers. Many are also named "...Volunteer Fire Department." As departments transition to increasing numbers of paid staff, should their names continue to include the word "volunteer?" Is that word helpful with naming and branding, such as when generating public support? Does it ever become less-than-helpful as part of a name? At a higher level, what experiences can readers share about fire department marketing, period? Are there brands, words, or messages that work better than others?
+ 10 - 13 | § ¶
Special Wake County Fire Commission Meeting, Monday, June 8
The Wake County Fire Commission is holding a special meeting on Monday, June 8, at 7:00 p.m. The place is the Wake EMS Training Facility, at the Wake County Commons Building, at 4011 Carya Drive. There are two agenda items for this meeting:
+ 8 - 11 | § ¶
Chicken Parts Block Fayetteville Street
That's the year's least-expected headline from WRAL, referring to a street in Fayetteville, in particular Eastern Boulevard, where said poultry transport went a-fowl. No details on the cause. It was avoiding a coupe? The driver was winging it? Someone gave him the bird? Better stop now, lest other fire bloggers are reading. The next headline we read might be Legeros Lays Egg on Blog.
+ 7 - 8 | § ¶
Camp Celebrate This Weekend
Folks passing Triangle Towne Center on Friday afternoon will see some two dozen fire engines parked at the shopping mall, along with scores of excited kids. The apparatus, which will proceed in procession to Camp Kanata in Wake Forest, are part of Camp Celebrate, a weekend camping experience for children and adolescents who have survived burn injuries. Most have been treated at the N.C. Jaycee Burn Center, and whose staff will be joined from volunteers across the state including firefighters and Jaycees. This year's 28th annual Camp Celebrate runs June 5 through June 7. The trucks will be parked near Dillards, with apparatus in place by 1:30 p.m. The procession departs at 3:00 p.m. Though the forecast shows rain, expect sunny smiles from the riders as they head to camp. Read more history of Camp Celebrate.



Lee Wilson photo
+ 9 - 12 | § ¶
Public Comments, City Employee Protests on City Budget
The Raleigh City Council is holding a public hearing is tonight on the proposed budget for fiscal year 2010. The hearing starts at 7:00 p.m. at City Hall. Read the press release, which includes links to the budget documents. Or read prior blog comments from readers on the issue.
WRAL is reporting that organizations representing police officers, firefighters, and other city workers are planning to attend, and protest the budget. Among the budget proposals include a merit raise cap at 4 percent, elimination of a cost-of-living increase, and increased health insurance premiums.
The hearing will also be broadcast live on cable channel RTN11, and streamed online on the city web site. Click to view the live streaming site.
+ 8 - 9 | § ¶
Wilmington Hand Engine Goes to Florence, 1872
Speaking of that coastal city to the south, here's an interesting newspaper clipping from 1872, from the Marion Star in South Carolina. It reports that Wilmington's old hand engine, named Vigilant, was sold to Florence, S.C., on December 3, 1872. What make and model was said engine? Unknown. Wilmington had at least two hand engines, an 1820 Hunneman and an 1843 Hunneman, as recorded in Mike's hand engine database. Was either of those the "old hand engine" cited in the article? Maybe. Possibly. How long was the average service life for mid-century hand engines, back in those days? Not sure. Based on Raleigh's history, hand engines lasted at least a couple of decades, if kept in repair. The article comes from the Florence Fire Department, which is presently researching their history. This chart charts

our city's hand engines, among other milestones. Click once or twice to enlarge:


+ 11 - 10 | § ¶
Firefox and Spell Checking
You're typing text into a form on a web page displayed using the Firefox browser. On some computers, the browser displays red lines under misspelled words. On other computers, it doesn't. Your workaround is simple, pasting every blankety-blank form entry into Microsoft Word, checking the spelling, correcting the spelling, then pasting back into Firefox. Got it? After a year of this, maybe more, you make a discovery. By right-clicking inside a form field on a web page, and clicking Check Spelling, you activate the missing feature. Firefox works like a charm, and you feel like a fool for not figuring this out earlier. Mr. Blogger does. Next step, figure out how to permanently enable this feature, for each web page visited...
+ 8 - 10 | § ¶
Packard-Northern Pumper in Wilmington
Scanned from a 1922 issue of American City magazine that was bought on eBay is this image of a Packard/Northern triple combination pumper that served Wilmington. The caption reads "the chassis of this machine is a standard twin-six Packard. The equipment consists of a Northern combination chemical and hose outfit with a 750-gallon pump. The machine can attain a road speed of 70 miles an hour, and in its 12-hour Underwriters' test handled 750 gallons at the standard pumping pressure of 120 pounds." Those whitewall tires are pretty sharp, too! Click to enlarge: