+ 15 - 13 | § ¶
A Day in the Life of a Fireman, 1903
From a reader, here's a great silent movie showing turn-of-the-century firefighters in action. The six-minute film was directed by Edwin S. Porter and George S. Fleming, and features a number of horse-drawn rigs. Chief's buggy, hose wagon, steamer, and ladder, they're all there. More information about the film and the filmmakers.


+ 15 - 12 | § ¶
Sunday Morning's Fire
Two alarms at 4703 Bayridge Crossing. Dispatched 4:48 a.m. Engine 19 arriving at a two-story, wood-frame apartment building with 10,816 square-feet. Battalion 1 requested a second alarm about 10 minutes later. Units on scene included E19, E15, E11, E27, E22, E28, E7, New Hope E2, E21, L11, L22, R19, R7, B1, B3, C20, C5, C2, A8, EMS 5, 16, 2, D1, D3, T1. Crews remained on scene through the morning. Eight second-story apartments destroyed, and at least 10 residents displaced, reports WTVD. Picture below from Lee:


+ 12 - 16 | § ¶
Fire Station Uses Rain Water To Wash Vehicles
Two rain barrels have been installed at Station 8. The pair of 250-gallon containers are being used to wash vehicles. Read the press release. Below is a photo of one, plus a newly installed emergency generator:


+ 10 - 11 | § ¶
City of Raleigh Code of Ordinances
Here's an interesting site, the Code of Ordinances for the city of Raleigh. Observe some of the older language in the Fire Protection and Prevention section. There's over 150 years of history behind those ordinances and their objectives. On the role of the Fire Chief: "During fires and inspections [they] shall control all fireplugs, maintain order among the firefighters, and do all things proper for the efficient operation of the department." On fire alarm equipment: "It shall be unlawful for any person to interfere with the fire alarm telegraph or the poles, wires, fire-police emergency boxes, or other apparatus." And so on.
+ 13 - 10 | § ¶
Call for Photos: EMS & Rescue Trucks, 1960s to 1980s
David Elliott, a firefighter-paramedic in South Carolina and former Parkwood FD member and Orange County Rescue Chief, is finishing a book on the history of EMS and rescue in the state/region. He's seeking pictures of EMS and rescue trucks from the 1960s through the 1980s, in particular vehicles from Durham, Martin, New Hanover, Orange, and Wake Counties. These include units operated by fire departments, rescue squads, EMS agencies, and hospitals including critical care units and helicopters. READ MORE
+ 10 - 15 | § ¶
D.C. Medics to Treat Overuse of 911
Some time back, we discussed fire prevention programs and what the equivalent might look like on the EMS side. Or maybe that was a Watch Desk thread. Seen this week on Firehouse.com, a program starting in Washington D.C. to reduce unnecessary calls for the fire department. Paramedics will periodically check on residents who routinely call 911 for chronic but non-emergency health problems. Here's the story that originated in the Washington Times.
+ 13 - 15 | § ¶
Press F11 when Viewing Incident Photos
Here's a tip when viewing our incident photos. Press F11, which activates the web browser's full-screen mode. Depending on your screen resolution, this may negate the need for vertical scrolling with portrait-oriented images. Works with both Internet Explorer and Firefox web browsers.


+ 13 - 15 | § ¶
Eastern Wake Chevrons
2008 Pierce Contender, 1000 gallons, 1250 GPM, delivered in February, presently in service at Eastern Wake Fire Department Station 2. Photographed by Lee Wilson. See more photos.


+ 13 - 14 | § ¶
Blue Rescue #2
Garner EMS has repainted and re-lettered Squad 882. Their secondary rescue unit, formerly yellow-green, is now a striking dark blue over white:


+ 15 - 12 | § ¶
Fire Safety Starts at Home
Pop, flash, scorch, and a demonstration of the danger of frayed electrical cords. File under hazards hiding in plain sight, or how long have you not been noticing that, jack a@@? Next up, buying the wife a new hair dryer.


+ 8 - 15 | § ¶
This Afternoon's Fire
Two alarms at 3917 Knickerbocker Parkway. Three-story, wood-frame apartments with 13,896 square-feet. Rescue 14 first on scene, reporting major working fire. Ladder 16 and Ladder 20 operating, after interior crews brought out. Engines 14, 17, 16, 8, 23, 6, 9, 18, Ladders 16, 20, 23, Rescues 14, 7, Battalions 4, 3, Air 8, and Cars 195, 20, 5, 4, 2, 1 among the fire units initially on scene. EMS units included EMS 2, 1, 11, 14, 123, DC-1, Truck 1, and Chief 200. News & Observer reports 29 people displaced from 12 units. Alarm time about 1:45 p.m. Controlled after an hour. Crews still on scene, and extinguishing hot spots into evening.


+ 8 - 12 | § ¶
9 Digital Camera Settings for Every Photographer to Discover
Here's a great web article on using these digital camera settings: exposure bracketing, histograms, burst mode, full manual mode, RAW file format, custom white balance, aperture and shutter priority mode, ISO, and white balance.
+ 13 - 11 | § ¶
Future Durham Fire Stations
Speaking of public documents available online, the Public Protection section
of the city of Durham 2008-2013 Capital Improvement Program Book lists quite a few fire stations planned for our friends to the west. The plans include:

Station 1 - Upgrades. (2008-2010)
Station 7 - Renovations. (2012-2014)
Station 9 - Rebuilt near Midland and Camden Street. (2008-2010)
Station 10 - Rebuilt in same general area. (2013-2016)
Station 12 - Upgrades. (2007-2010)
Station 15 - Built in far northern area of city. (2006-2008)
Station 17 - Built in northeastern area of city. (2010-2012)
Station 18 - Built in northeastern area of city. (2011-2013)
Station 19 - Built in far southern area of city. (2014-2017)
Station 20 - Built in southern area of city. (2013-2015)
Station 21 - Built in southern area of city. (2014-2016)
Station 22 - Built in northern area of city. (2015-2017)
+ 12 - 10 | § ¶
Join the Raleigh Fire Department
Raleigh is again hiring firefighters. Applications are being accepted March 24 through May 2. Visit the fire recruitment site for more information, including a recruitment packet for download (MS Word format). Starting salary is $31,117, says the city employment page. The recruitment process page lists key dates, and the projected start of the next academy: August 25, 2008. Good luck.
+ 12 - 13 | § ¶
DC-1
The Wake County EMS district chief's cars have been lettered with larger identification letters and numbers on the rear windows, if you haven't seen them lately:


+ 9 - 11 | § ¶
Light and Space Where Fire Alarms Once Rang
Today's New York Times tours a 1931 firehouse-turned-residence in Rhode Island.


+ 11 - 8 | § ¶
Sling Bag Camera Bags
Saw one of these recently, a sling bag camera bag by Lowepro. Designed to go from "carry mode" to "ready mode" in seconds. Pretty cool.


+ 10 - 12 | § ¶
Strange Poles?
What's the purpose of those enormous, rust-colored, pulley-equipped poles being erected around the Fairgrounds? From a reader, it's 230KV tap line from Progress Energy. Thing's been planned for years. Here's more information including a map. Wonder how they'll string the lines? Helicopter?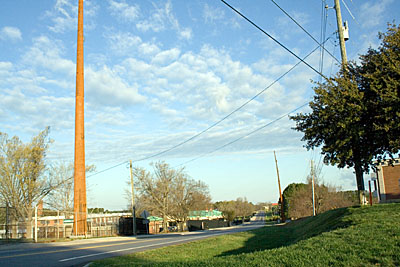 + 9 - 14 | § ¶
Raleigh's Original Tiller Found and For Sale
The city's original tiller has surfaced in downtown Smithfield. Found by fellow fire photographer Carter Rabil, it's sitting in an open lot behind Boykin Motors at 650 S. Brightleaf Boulevard. Less than hour's drive from Raleigh, even on a Monday after work! The 1939/1916 American LaFrance served as Truck 1 until 1958, then as a reserve ladder for several years. It may also have seen service as Truck 6. The cab is a 500 Series, the ladder is a Type 17.

The wooden, two-section, 75-foot ladder was spring-raised for the initial elevation, then hand-cranked the rest of the way. Last seen sitting behind Station 8 in the early 1980s, the truck was sold as surplus and sat outside in Apex for the next 20 years. It was recently relocated to Johnston County, and will be auctioned on the second Saturday in April. See more photos of the apparatus. Or watch some old film footage showing the truck in action. Pictures forthcoming from this afternoon's visit.


+ 12 - 13 | § ¶
Fire Call, 1963
Found an interesting entry in the 1963 fire reports for Raleigh. Tanker 9 to Raleigh-Durham Airport Road, aid for Morrisville. Undoubtedly a fire of some sort. Who else would have been called for water back then? Fairground. Cary Rural. Someone from Durham County? The microfilm newspaper archives at Olivia Raney should tell more.
+ 14 - 17 | § ¶
Raleigh's Tornado
Ours was a suburban storm the morning of November 28, 1988. Unseasonable humid the night before. I remember rattling windows through the night at my apartment on Calumet Drive. Woke around 5 or 5:30 a.m. for my traffic-reporting shift. Scanner was full of activity. Called the police desk, asking if a major fire was working somewhere. No, just the tornado. Insert exclamation points. Here's a summary of the weather event. The Wikipedia page is rather slim, however. Here's a News & Observer retrospective. Gary Knight took this aerial image of the K-Mart parking lot on Glenwood Avenue, used for command and staging. Others can add more memories. Click to enlarge:


+ 8 - 13 | § ¶
Atlanta's Tornado
Shane Durrance was atop his condo off Howell Mill Road when he shot this stunning (to say the least) photo of the EF-2 tornado that struck downtown Atlanta, reports this news article. The tornado is the light-gray vertical strip in the picture. Click to enlarge:


+ 10 - 15 | § ¶
Fire Commission Meeting, March 20, 2008
The next meeting of the Wake County Fire Commission is Thursday, March 20, at 7:00 PM, at the Wake County EMS Training Facility, which is located in the lower level of the Wake County Commons Building on Carya Drive.
+ 14 - 9 | § ¶
Random History of RFD
The rent of the house on Method Road, used as Station 8 in the early 1960s, was $100 a month commencing April 1, 1960. It was located north of Seymour's Auto Service... In 1969 on an unspecified date, the Public Works Committee recommended that the same architectural designs used for Station 4, Station 8, and Station 9 be used for any new fire stations to be constructed. Recommendation approved. No kidding... The fire department work week was reduced to 66 hours effective February 1, 1970. This action required 24 additional men: 6 captains, 7 drivers, and 11 privates... READ MORE
+ 14 - 13 | § ¶
The Science of Experience
Seen on someone else's blog, this exceptionally interesting article in Time magazine investigates how people get good at what they do. Quote: "[the researcher's] primary finding is that rather than mere experience or even raw talent, it is dedicated, slogging, generally solitary exertion [...] that leads to first-rate performance. And it should never get easier; if it does, you are coasting, not improving."
+ 10 - 7 | § ¶
Pierce in Snow
From a reader, here's Raleigh's new pumper before it left the factory in Wisconsin. 2008 Pierce Enforcer with a 1,500 GPM pump, a 500 gallon water tank, and 20 gallon foam cell. Future Engine 9. Click to enlarge:


+ 12 - 10 | § ¶
Fire Station, Fire Apparatus Footage Sought
Do you have video footage of our area's oldest or newest fire stations, inside or out? Or our area's newest fire apparatus deliveries? There's a firefighter to our north who is working on a project, and will pay for footage. Mail Mike for his e-mail address.
+ 17 - 9 | § ¶
Salisbury
FireNews has posted information and links about yesterday's tragedy in Salisbury that killed Firefighter Justin Monroe and Firefighter Victor Isler. May they rest in peace.


+ 13 - 12 | § ¶
WakeMed Mobile Communications and Coordination Center
Seen on Sunnybrook Road, at the WakeMed Special Operations facility. Made by LDV. Click to enlarge:


+ 12 - 11 | § ¶
Stormy Weather
Been a while since we've seen some boomers. Was there just one working fire overnight, the townhomes at 7530 McCrimmon Parkway in Cary? Alarm time around 11 p.m., says WRAL. Lightning strike, damage mostly to attic, they add.
+ 12 - 9 | § ¶
Electricity
From tonight's highly informative demonstration by Progress Energy at New Hope Station 2, here are sequential images of high voltage electricity as conducted by a metal-coated balloon, a rubber boot, a hot dog (as substitute for human flesh), and a tree limb. Click to enlarge:


+ 15 - 10 | § ¶
Live Line Electrical Demo Tonight, New Hope Station 2
Event reminder. Progress Energy is conducting its 911 Live Line Electrical Demonstration for fire, rescue, and law enforcement personnel tonight from 7:00 to 8:00 p.m. at Wake-New Hope Fire Department Station 2, 4409 Watkins Road, Wendell. They will recreate live-voltage scenarios such as downed power lines, trees on lines, vehicle wrecks involving power lines, antennas, cranes, ladders getting in power lines, and dig-ins on underground facilities. They will also discuss how Progress Energy responds to 911 emergency calls. Attend and better understand the dangers of electricity and the safety required while working around energized facilities. The event is open to any responders who wish to attend.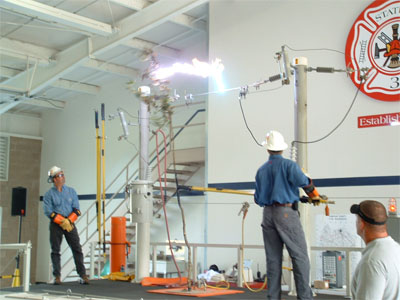 + 13 - 8 | § ¶
Disaster in the City
From a reader comes this stunning shot from the Maldives, an island nation in the Indian Ocean. (This blogger is not necessary smarter than a Fifth Grader.) The photo is by Ali Nishan, posted to his Flickr site:


+ 12 - 8 | § ¶
Lightner Public Safety Center
On February 19, the Raleigh City Council received a presentation of the design plan. You can watch and listen to the presentation as archived on the CTV site. Fast forward to the 38 minute mark of the February 19 video link. Also read this related press release. Image below from WRAL:


+ 10 - 13 | § ¶
Vintage Drills
Here's are some images with interesting things to see. Taken at the training center in the 1970s, the first shows the 1979 Mack/1958 American LaFrance tiller prior to its paint job and behind-the-cab bench seat (which was interesting place to ride once it was installed, let me tell you), the plastic fire helmets with numbered shields, someone with a yellow helmet, and some red striped socks worn by whomever is playing the victim. The second shows the smokehouse, apparently in action. The gloves in the foreground bear the initials W.R.F. Perhaps it's a last name + Raleigh Fire? The third picture shows a view from above. Helmet numbers of the pictured are #363, #104, #209, and #396. Click to enlarge: