+ 3 - 5 | § ¶
Zebulon Wins Federal Grant For New Firefighters
The Eastern Wake News is reporting that the town of Zebulon received a $276,074 federal grant in April, which will allowing the hiring of three additional full-time firefighters. U.S. Representative Brad Miller presented a check to the department on Friday. The grant covers the full cost of employing the three firefighters for two years. The department is currently in the process of hiring, and the positions become effective July 1. Read the entire story.


+ 5 - 5 | § ¶
Rehab on Coolridge Court
Two alarms on Coolridge Court. Engine 19 Battalion 1 arriving with fire in second story apartment. Interior attack and contained with no extension. Second alarm companies released from staging. Aggressive rehab by Wake County EMS and Eastern Wake EMS. Photos from Mike Legeros forthcoming, after he also rehydrates. Click to enlarge:


+ 3 - 3 | § ¶
More Human Than Human
This weekend's news footage of Atlanta airport firefighters in action leads to a little YouTube searching, which finds this 2006 compilation from the BWI Airport Fire Department in Maryland. Some crash truck footage in the clip, along with a dash cam from their tower ladder and a host of still shots.
The soundtrack is one of the better choices we've heard of late, White Zombie's "More Human Than Human." Believe it's the remixed version, heard on "Supersexy Swingin' Sounds." That version is subtitled "Meet Bambi in the King's Harem Mix." What are some your favorite soundtrack songs for fire videos?
Their singer Rob Zombie continued onto a successful solo career, of course. Mr. Blogger has his tickets for Mr. Zombie's latest tour, where he's double-billed with Slayer. See you in Reading, PA, for the first show of the tour in late July. Then to Baltimore for the Fire Expo. Yeah!


+ 3 - 1 | § ¶
Raleigh Fire Department Museum Grand Opening, June 14
The Raleigh Fire Department Historical Society is proud to announce the opening of the Raleigh Fire Department Museum. Located in a classroom trailer at the Keeter Training Center, the museum is a collection of artifacts and images representing over 150 years of firefighting in the Capitol City.
Items on display range from the 1870 alarm bell originally housed in Metropolitan Hall, to a collection of vintage nozzles and hose appliances, to a photo history of Raleigh's fire and rescue apparatus.
The grand opening of the museum is on Tuesday, June 14, at 10:00 a.m. Active and retired personnel are invited, along with the general public.


Raleigh Fire Department Museum Grand Opening
Keeter Training Center, 105 Keeter Center Drive
Tuesday, June 14
10:00 a.m.

Beginning in June, the museum will be open on the second Saturday of each month. Hours are from 10:00 a.m. to 2:00 p.m. Restrooms and parking will be available.

Raleigh Fire Department Museum Saturday Openings
Keeter Training Center, 105 Keeter Center Drive
10:00 a.m. to 2:00 p.m.
Saturday, June 11 (preview date, before the grand opening)
Saturday, July 9
Saturday, August 13
Saturday, September 10
READ MORE
+ 2 - 3 | § ¶
Smoke Ejection
Effects of positive-pressure ventilation at apartment fire this afternoon on Flint Ridge Place. Engine 9 first on scene. Fire in kitchen quickly extinguished. Click to enlarge:


+ 3 - 4 | § ¶
Brush 299
Western Wake brush truck pulling trailer for their all-terrain vehicle, for medical call yesterday on Blue Ridge Road. Click to enlarge:


+ 4 - 7 | § ¶
Unusual Fire Stations / Boone's New Aerial Ladder
What are some of the more unusual fire stations around North Carolina? The town of Boone certainly qualifies. Their headquarters fire station is a two-story building in the heart of their business district. Built in 1967, the top floor is accessed from the town's main street (West King Street) and houses three pieces of apparatus in three bays. The bottom floor is accessed from an alley that run behind the buildings and includes an apparatus bay. Below are pictures from some years ago, from our annual fall trips to the mountains.



Somewhere in my files are interior shots of the lower-story apparatus bay, which is larger than the door space shows. Believe they use that area for vehicle maintenance and storage. During a visit some years ago, one of the firefighters said something about a tiller that the town had. The tractor-drawn aerial was stored on the lower level, and could negotiate the tighter access. Readers, what's known about that?


More recently, the Boone Fire Department operated a 1986 Mack/Baker Aerialscope and which was housed at Station 2. The 95-foot aerial platform was purchased in 1990, and with funds contributed from Appalachian State University. (The college has a number of high-rise structures.) Here's a picture from Lee Wilson, who is vacationing in the mountains this weekend. Thus why we have Boone on the brain. See his trip photos, which are still in progress.


Either late last year or early this year, BFD received delivery of a Ferrara Intruder 77-foot aerial ladder, 1250/400/20. The $552,000 apparatus was bought as a piggy-back to a Florida Sheriff's Association bid. (Why was a sheriff's association buying a fire truck? In Florida, some law enforcement agencies provide fire protection at city and county levels. Or so we've read.) The new aerial is named Ladder 1 and is housed at Station 1. What happened to the platform ladder? Don't know. Scroll down this BFD news page for more specs. Click to enlarge:



Boone Fire Department photo
+ 5 - 3 | § ¶
Chemical Fire in Caldwell County
WSCO-TV has posted a couple stunning photos of this afternoon's chemical fire in Caldwell County. They also have a number of video clips. The incident started about 3:00 p.m. with an explosion and large fire at a company called Chemical Coatings in Hudson (four square miles, population 3,116). They manufacture coatings, primers, and finishers.
WSCO also reports that evacuations were made in a two-mile radius of the plant, affecting some 750 residents. US 321, the major artery through there, was also closed. The Charlotte Observer is calling the fire a four-alarmer. The fire was contained about 6:00 p.m. and the evacuation order was lifted at nightfall.
The Hickory Record reports that every department in Caldwell County came to the scene, as well as Asheville (74 miles away), Boone (38 miles), Charlotte (68 miles), and Raleigh (190 miles) (not sure on that one). They note staging was started at the Hudson Food Lion (0.4 miles away), and then moved due to smoke to the Caldwell County Fairgrounds (2.7 miles away). We'll probably hear and reader many additional details. Maybe someone will post the run card.


WSCO-TV photo
+ 6 - 2 | § ¶
Mystery Apparatus and a Pretty Strange One at That
Let's test our apparatus knowledge with this unusual vehicle, found while browsing something or another. 'Taint from North Carolina. Might even be from outside the United States! Details and photo credits forthcoming. And the click path that got me there.


+ 6 - 1 | § ¶
Colors of the Rainbow
Colorful assortment of EMS vehicles at yesterday's house fire on Delta Lake Drive. The dark blue ambulance is a former Garner EMS unit, now part of the Wake County EMS fleet. White chevrons on that one. The blue 'n' white bigger rig is big ol' Truck 1, the special operations support unit also operated by Wake County EMS. That one's housed downtown at Station 1. Yellow-green chevrons there. The red 'n' white 'n' blue ambulance is an Eastern Wake unit, an organization formed some years ago with a merger of Knightdale, Wendell, and Zebulon EMS departments. Plus later Rolesville EMS. No chevrons on that one, but pretty cool "pulse" graphics.


+ 6 - 6 | § ¶
The Martin Street Bridge
Back in 2008, we posted a picture of the old Boylan Heights bridge. We also talked about a second bridge that maps showed extending Martin Street from West Street to Boylan Avenue. Lee Wilson recently found a picture of that second structure on the Goodnight Raleigh web site. It is shown below, along with a map from 1948, from this digital Raleigh map. When was the bridge demolished? Don't know, though the construction of the new Boylan Heights bridge in 1982 was probably the perfect time for demolishing the nearby Martin Street Bridge. What do you think? Here's an aerial view of the location. Click to slightly enlarge:


+ 4 - 5 | § ¶
How To Hold Your Camera by Joe McNally
From a friend, famous photographer Joe McNally demonstrates how he holds his camera. Note his demonstration of forward leaning (avoid), boxer stance (his preference), and bracing the body using his left shoulder. And for really still shots, he's double-champing his hands. And exhale. Good stuff. He also has a very big zoom lens. Much bigger than Mr. Blogger. What does that tell you?



+ 6 - 1 | § ¶
Dam Water
Engine 17 operating on Delta Lake Drive at a house fire dispatched some 30 minutes ago. Ladder 3 extended to the roof, for vertical ventilation. Supply line creating wading pool at pump panel. Photographer staying dry with comically large umbrella.


+ 4 - 4 | § ¶
Photography Cheat Sheet
Superb visual explanation of camera settings and their effects, from someone named Miquel Gantioqui. See larger version in original posting.


+ 4 - 5 | § ¶
Here Comes The Flooding
Viewer photo posted by WRAL of flooding in Chapel Hill on Franklin Street. Flash flood warning in effect until later this afternoon for nearby counties. Read WRAL story.



WRAL photo
+ 5 - 3 | § ¶
The Power of Embarrassment?
There's a training video making the rounds, showing live fire training using what looks like a shipping container. Accelerant is shown being used to simulate the volume of fire in a flashover. Viewers, readers, bloggers (Statter911, Fire Critic, etc.), and Firefighter Close Calls have expressed strong and concerned reactions to what's depicted. The clip was removed from YouTube, where it first appeared. It appears a second party has re-posted. Visit some of the above links to see the video, and read comments and commentary.
My question (and reason for posting) is a meta-question. The department(s) and firefighters involved-- they have not been identified nor yet identified themselves-- are likely experiencing some shame as a result. How do you feel about that? About the potential of embarrassment? Will the clip and the reactions ultimately serve a greater good? Are folks just shaking their heads or pointing fingers, or are teachable moments being carried forward? It's a good question to ask in this age of social media.
+ 7 - 6 | § ¶
Charlotte Motor Speedway / New Engine & Special Offer
This weekend the Charlotte Motor Speedway will debut the first fire truck owned by the speedway safety team, a Rosenbauer Custom Centurion ST pumper. The unit will be staff by speedway employees during the race weekends, and will protect the NASCAR garages and the new Sunoco Fuel Island. The apparatus is named Engine 343, which is the number of firefighters who died at the World Trade Center on September 11, 2001.
Also this weekend, the speedway has a special offer for emergency services personnel. Call the Charlotte Motor Speedway ticket office at 1-800-455-FANS (3267) and tell them your department and station. You'll receive a 25% discount on all ticket purchases, or you can purchase two tickets and get one free in the Upper Ford grandstand for the Coca-Cola 600.
Below are some pictures of the new engine. Might have to get a close view one of these months, having never been to a race. Need to learn more about the safety team and their equipment. Sounds interesting. Wonder what sort of equipment other race tracks operate as well? Readers, got information or pictures?? Thanks for passing along, Rob. Click to enlarge:



Charlotte Motor Speedway photos
+ 3 - 3 | § ¶
This Morning's Brush Fire / Raleigh Boulevard
Photographer Lee Wilson has posted aftermath photos and incident details of a large brush fire this morning at 1500 Raleigh Boulevard. Those are the apartments beside the shopping center. Engine 7 received the call about 12:08 a.m., which was upgraded to a structure fire response about a minute later. The engine was quickly on scene and reported a working fire, and then upgrading to a major working fire. They had a large woods fire behind a two-story apartment building, including burning debris from the April 16 tornado. Engine 3 laid a supply line to Engine 7, which had pulled two lines through the building into the backyard. Foam operations were used, and the fire was quickly knocked down. The second alarm companies were canceled en route. Read more details and see his photos. Have there been many brush fires in those areas with debris to date?



Lee Wilson photo
+ 3 - 4 | § ¶
Raleigh's Proposed Budget
Details in this May 11 press release, which include links to a budget presentation, operating budget document, and capital budget document. The press release provides a summary of the proposed budget. No property tax increase, no lay-offs. Elimination of 32 vacant positions. Changes and reductions to employee compensation.
Notable changes for the fire department: delayed replacement of two older engines, postponement of next fire academy by six months, and reduced and/or delayed training purchases. The police department is also postponing their next academy by six months, along with the elimination of ten civilian positions.
Capital Improvement projects include Fire Station 3 replacement (FY14-FY16), Fire Station 12 relocation ((FY13-FY14), Fire Station 14 replacement or relocation (FY13-FY15), a driver training facility (FY13-FY15), and a training facility expansion (FY15-FY16). Read the press release about the budget.
+ 4 - 4 | § ¶
Vintage Fayetteville Rigs
Found for sale on eBay, a couple of 35mm slides of vintage Fayetteville apparatus. Left is a 1980 Oshkosh/Pierce 85-foot snorkel, shown in front of the old Central Fire Station. Right is a 1971 Walter crash truck at Fayetteville Municipal Airport, Crash 2. Wonder how many Walter trucks operated around North Carolina? Raleigh-Durham Airport had four over the years, of 1959, 1973, 1977, and 1989/1977 model years. Click to slightly enlarge:


+ 8 - 4 | § ¶
New Old Ambulances
Wake County has re-lettered two Chevrolet ambulances formerly operated by Six Forks EMS. Photographer Lee Wilson photographed them this week, and has posted some pictures.



Lee Wilson photo
+ 3 - 8 | § ¶
Mystery Platform Revealed / Raleigh's Old Aerialscope
Didn't take readers long to identify the bucket of a Mack Aerialscope in our prior posting. Nor to make the inference that it might be Raleigh's old 1977 Mack/Baker Aerialscope. Our friends in Barnwell, South Carolina, where the apparatus is serving, have shared some other pictures. They purchased the piece as city surplus in 2007. And they shared a couple pictures in 2010. Their latest update shows the cosmetic work they've lately performed, including gold leaf and reflective trim. Thanks for the pictures, Tony. Click to enlarge:


+ 4 - 6 | § ¶
Mystery Platform
Who recognizes the bucket truck holding the Patriot Flag in place during a recent appearance? Click to enlarge:


+ 4 - 2 | § ¶
When Trains Collide / Union County Derailment
Morning news with reports of a railroad accident in Union County. Reading WSCO-TV report. Four injured when two freights collided in Mineral Springs. Derailment and fire and evacuations. No haz-mats being transported. One freight train rear-ended another. Readers to the west, share stories as desired. File under It Can Happen Here. How are your rail corridor response plans, these days?



WSCO-TV photo
+ 6 - 0 | § ¶
Hooks
Photo by Mike Legeros in the aftermath of last night's major fire on Hensley Court. Photographer Lee Wilson arrived about the time of the 20-minute par just head of the fourth engine. See his photos, as well as those by Legeros. That guy was still asleep and arrived at the 90-minute mark. Or read the prior posting with incident details.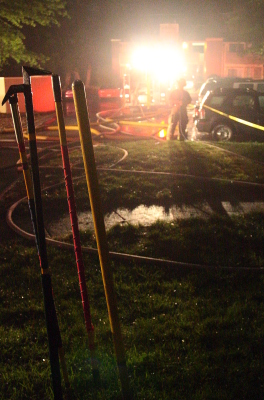 + 3 - 3 | § ¶
Traffic Cam Car Fire
Western Wake Fire Department arrives and extinguishes a car fire on Interstate 40 at Harrison Avenue. Cary Fire Department also on the call. Click to enlarge:


+ 4 - 2 | § ¶
This Morning's Two Alarms / Hensley Drive, Updated
And another major fire this morning. Two alarms at 416 Hensley Drive. Engine 4 arriving at a two-story, wood-frame apartment building with 10,872 square-feet. Built 1979. Communications advised multiple callers as well as power company reporting fire showing. Engine 4 arriving with heavy fire venting from attic and declared working fire.
Defensive operations soon started. Ladder 1 and Ladder 3 deployed. Command located at entrance to parking lot on Hensley Drive. Medical monitoring and rehab in parking lot beside command. Staging on Hensley. Dispatched 3:37 a.m. Second alarm requested about 3:58 a.m. Controlled 4:51 a.m. Cause determined as accidental due to lightning strike. No injuries with eight units uninhabitable and 27 people displaced.
Units on scene included: E4, E9, E15, E16, E17, E18, E19, L1, L3, R1, R3, B1, B4, A1, C10, C20, EMS 15, EMS 2, EMS 2, D4, D1, M91, T1. Reverse order for arrival of photographers, with shots coming from Wilson (see photos) and later Legeros (see photos), shown below. Regarding the inevitable reader questions and/or commentary, go ahead and try your real name for a change. It won't hurt.


Lee Wilson photo
+ 8 - 11 | § ¶
Yesterday's Two Alarms / North Hills Drive
This is an updated posting from yesterday. Two alarms at 1923 North Hills Drive, which is right around the corner from Blog Central. Engine 16 arriving at a three-story, wood-frame apartment building with 17,160 square-feet. Built 1974 and on an incline. Third floor accessed via North Hills Drive. Smoke showing from along the entire roof line. Declared major working fire on arrival. Interior attack, with fire found inside third-floor leasing office. Contained with no extension. Engine 16 hand laid supply line to street, with Engine 9 reverse-laying to hydrant. Ladder 2 on second alarm positioned behind engine, but not deployed.
Staging on North Hills Drive. Command located on opposite side of North Hills Drive from fire building. Medical monitoring and rehab located on sidewalk in front of fire building. One unit parked on Generation Drive, behind structure. North Hills Drive closed by police. Cause determined as accidental. Two units rendered uninhabitable. No injuries. Dispatched 10:59 a.m. Controlled 11:29 p.m. Units included: E16, E9, E6, E17, E18, E4, E_, L3, L2, R3, R2, B3, B1, A1, C10, C20, C4, EMS 35, EMS 3, EMS _, EMS _, D4, M9_, T1. See preliminary pics from Mike Legeros, shown below. See photos from Lee Wilson.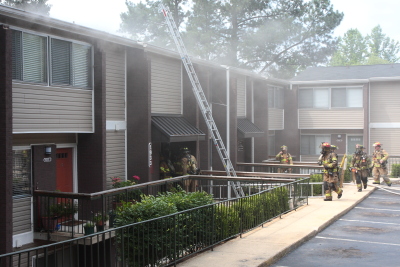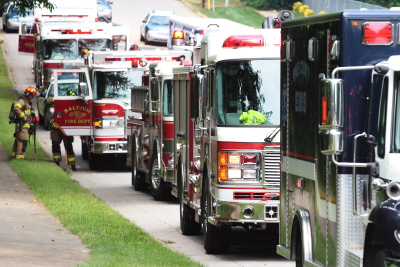 + 3 - 3 | § ¶
Facebook Like Buttons Added
We've added Facebook Like buttons to this blog. They're on each entry page, located just above the comments. Alas, limitations of technology prevent their implimentation on the home page. Click each entry's Comments link to see the Like button. We're slowly catching up with the rest of the social media universe.


+ 11 - 8 | § ¶
The Origins of Raleigh's Air Raid Sirens
Blogger Frank Blazich passes along this nifty posting of his about the history of Raleigh's air raid sirens. His blog is about the history of the North Carolina Civil Defense Agency. His research has found that the city approved the purchase of nine 2.5 horsepower sirens in September 1942. They were remote controlled and replaced some type of "home-made" siren atop the Capitol Building. They were installed in October 1942, and intended to use them after the war in the fire alarm system. To the best of my knowledge and research, any use for fire alarms did not happen. Below is a picture that appears in the book North Carolina's Role in World War II, photo credit not indicated. Next question, what happened to those nine original sirens? Which ones were replaced with newer models? How many are still left today?


+ 7 - 10 | § ¶
Raleigh Asks How Technology Can Aid City
That's a headline from today's News & Observer, and a pretty good summation of the mission of CityCamp Raleigh. Heard about that one? It's a citizen-driven, three-day event in downtown Raleigh in early June. It will consist of meetings and workshops and presentations, for participants to brainstorm on how technology can help the city.
And in particular, how technology can help with (a.) the services the city provides to citizens and (b.) the collaboration and communication with citizens, about those services and how they're managed. I think that's an accurate summation, but welcome corrections. Anyway, read the N&O article. Or visit the official CityCamp Raleigh site.
Will this event turn its participants eyes toward emergency services? I am guessing crime and thus police protection is on the agenda as an issue for discussion. It usually is. Fire protection? Don't know. Emergency medical services? Well, those are county-provided, so they could be outside their scope, if it's truly exclusive to city-provided services.
+ 9 - 6 | § ¶
Temporary Holly Springs Station 2
This trailer home has been installed as a temporary Holly Springs Station 2. The original station was demolished after damage from the April 16 tornado. The temporary station is housed on a vacant lot beside the original location at 1140 Avent Ferry Road. The town is also planning construction of a second temporary building to house an engine, brush truck, and ambulance. Read our prior posting about those plans. Or see more photos of the temporary station from Lee Wilson. And since Mr. Blogger is a historian, you know what the next question will be. How many temporary fire stations have come and gone in Raleigh and Wake County? We'll start working on that answer...



Lee Wilson photo
+ 9 - 6 | § ¶
All-Terrain Vehicles?
Does every department have an ATV these days? Lee Wilson yesterday photographed the Holly Springs Fire Department's ATV at a Relay For Life event at Womble Park. WakeMed Air Mobile 1 also made an appearance. Send your ATV photos, and we'll compile and post on the blog. (Or send a link, if there's already a photo online of your ATV.) See Lee's photos from Holly Springs.



Lee Wilson photo
+ 11 - 11 | § ¶
Historical State - History in Red and White
The bridge thread gets me thinking and using Google, notably curious about orphanage history in the Capital City. Found the following, never seen before. Historical State, a gateway to history of North Carolina State University. And more notably, some 16,000 photos from the university's archives! Do a search on, say, "fire" and you'll see shots from Pullen Hall in 1965, Tompkins Hall in 1914, and even a Fairground Fire Department image, albeit with an incorrect date. Check it out: http://historicalstate.lib.ncsu.edu.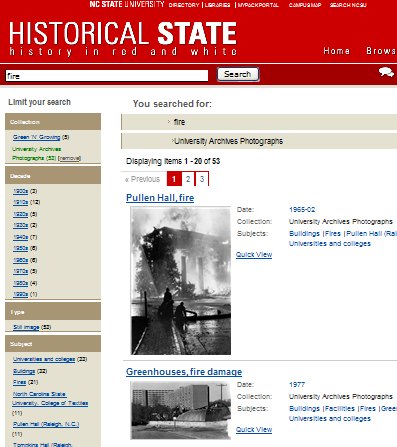 + 10 - 10 | § ¶
Mystery Bridge, Revealed
Somewhere in Raleigh. Short in height and length. Concrete over wooden beams! How old does that make the thing? To be determined. Click to enlarge:


+ 11 - 7 | § ¶
Two Helicopters
The WakeMed air ambulance fleet appears to have been expanded. Are they operating two units these days, or is one a reserve? Click to enlarge:


+ 9 - 9 | § ¶
Cary's Climate Showcase Fire Station 8
The Cary Citizen recently published an article about the green building principles planned for Fire Station 8 and will result in what the article calls the first green firehouse in the United States. Environmentally friendly features will include low-emitting buidling materials, enhanced ventilation systems, extensive day lighting, and solar cells producing power for resale. The two-story (!) station will be built at 408 Mills Park Drive. Construction is scheduled to start this fall, and with a 14 month time to completion. Read the story.


+ 8 - 12 | § ¶
The Little Round Knob
Every digital SLR camera has a little round knob that controls the shooting mode. The settings include Automatic, Program Shift (P), Shutter Priority (Tv), Aperture Priority (Av), and Manual (M). Mr. Blogger uses Program Shift (P) nearly always. The notable exception is when the little round knob gets bumped. This happens from time to time, and results in some or many pictures taken in Shutter Priority (Tv) mode. (Accidental bumping into Automatic mode is easier to detect indoors, as the flash starts popping up.)
This happened last night, as Yours Truly attended the Cary Fire Department's inaugural promotion and awards ceremony. (See those photos.) Thanks for the invite on that one. But apologies for the grainy photos, which will be posted shortly. Imagine the surprise, shock, and horror upon discovering, some hundreds of pictures into the night, that your DSLR camera has been shooting Tv instead of P. That's when you realize why your pictures had been darker than brighter, and why you bumped the ISO higher and eventually to 1600. Which allows more light, but adds noise/grain to the image.
What's the remedy in such situations? Can't start over. Can add additional post-processing, using something like Noise Ninja. (Never tried heard, but have heard about.) Or you live with the results. In this case, the amount of grain is acceptable and perhaps entirely fine. How to prevent future miscues?
Well, you can check your damn camera before you start shooting. And keep watching the thing, as you jostle it around. (The newest Canon DSLR camers have a locking knob, which is even better!) Perhaps add a little sign to the strap: check your damn settings. (More than photographer has told me their story of attaching notes to their camera, until checking ISO settings became automatic to them.) And maybe, in general, just getting better. It takes time. Always learning. Always improving.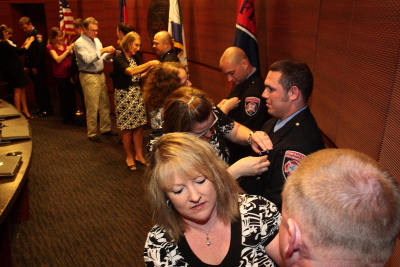 + 9 - 7 | § ¶
Camp Celebrate Fire Truck Parade
The News & Observer has posted pictures from photographer Travis Long of yesterday's fire truck parade, that carried children who have survived burn injuries from Triangle Town Center to Camp Kanata. Their destination is the location of Camp Celebrate, an annual weekend camp for children who have survived burn injuries. From the pictures, participating departments included Raleigh, Cary, Chapel Hill, Morrisville, Knightdale, Stony Hill, Bay Leaf, and a place called Cotton. That's near Hope Mills in Cumberland County. Read the N&O story and see the gallery of 65 images.



Travis Long/News & Observer photo
+ 6 - 11 | § ¶
Vintage Haz-Mat Action
Albeit staged action and as photographed by Gary Knight, probably in the late 1980s. The first hazardous materials unit of the Raleigh Fire Department was placed in service in 1984. That was a 1977 Chevrolet panel van housed at Station 2. The number of haz-mat companies was expanded in 1990 to three: Engine 2, Engine 13, and Truck 8. Then expanded again in 1992 with the addition of Engine 15 and Truck 15.
The haz-mat unit was moved to Station 20 in 1990 and back to Station 2 in 2004. The haz-mat van was replaced in 1991 with a Simon/Duplex/E-One custom-cab apparatus.The panel van was retained as a support unit. Those trucks were upgraded in 2006 with a tractor-drawn Freightliner/Hackney. In 2003, a second haz-mat unit was placed in service at Station 15, using a 1988 GMC extended panel van.
Let's see, other bits of history: Wake County first contracted with Raleigh for haz-mat response in 1992. And North Carolina Hazardous Materials Regional Response Team 4 moved to Raleigh from Durham County in 2004. Click to enlarge:


+ 10 - 7 | § ¶
That Long String of Tones
Exactly how many different dispatch tones do we hear, for a haz-mat call at North Carolina State University? Tonight's is the third (or is it fourth?) in recent days. Let's see if we can count and correctly identify them:
Engine 5 on main campus or Engine 20 on Centennial Campus
Engine 8 (usually responding as SR2, a recon unit)
Ladder 7
Ladder 5 (usually responding as SR 3, a decon unit)
Rescue 3
Battalion 3
Air 1
Haz-Mat 1 (staffed by Engine 2)
Haz-Mat 2 (staffed by Engine 15)
Car 10
That should be about right. Might be a second Battalion Chief in there. What's the EMS response, you ask? Three ambulances, two chiefs, one APP, and the special operations support unit. e.g., big ol' Truck 1.
+ 9 - 5 | § ¶
Raleigh Street Map, 1959
For your evening enjoyment, check out this digitized 1959 street map published by the Raleigh Chamber of Commerce. It's presented by the UNC Library's North Carolina Maps web site.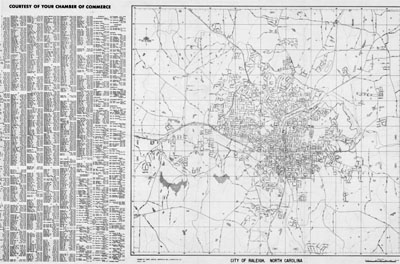 Some of what's noticed:
No Beltline!
Rhamkatte Road is present-day Lake Wheeler Road.
Avent Ferry Road has been rerouted to Western Boulevard, east of Dan Allen Drive.
Gorman Street is still decades away from connecting to Hillsborough Street.
Hillsboro Street is spelled thus.
Reedy Creek Road and State Farm Road ride right into Umstead Park.
Creedmore Road is spelled thus.
Leesville Road starts at Glenwood Avenue.
Millbrook Road ends at Six Forks Road.
Howell's Road is a street south of Lassister Mill and should be the site of Howell's Store, which was also the first location of the Six Forks Road FD.
Mini City doesn't exist, of course.
Race Track Road leads to... a race track, east of Old Wake Forest Road.
North Boulevard is named thus.
Rose Lane looks long as heck.
Creech Road is named Old Creech Road and New Creech Road.
Raleigh Municipal Airport is shown in south Raleigh.
Parkland Road runs parallel to Pecan Road, where a new Fire Station 2 will be built in ten years.
+ 8 - 7 | § ¶
Who's Blocking What?
This morning's morning reading is a posting on a technology-in-education web site, about web site blocking and myths therein. Did you know, for example, that some schools block the National Geographic web site? It's an interesting article and with interesting links. And it brings to mind the fact that some readers of this blog are blocked from work access to legeros.com or flickr.com. What interesting or unusual site blocking is in effect where you work?
+ 9 - 9 | § ¶
Buy Holly Springs/Fuquay-Varina's Old Engine
This 1984 E-One pumper is being auctioned by GovDeals. Only 71,000 miles! Four days and some hours remaining. Served Fuquay-Varina and later Holly Springs fire departments. Thanks for sending, Matthew. Also, a question from the same reader. Where did Holly Springs' Kenworth/FMC pumper wind up? One of our readers certainly knows that answer.



GovDeals photo
+ 7 - 7 | § ¶
One Hundred
Chief's car as parked at the Venue Formerly Known as Memorial Auditorium and for the occasion of the annual Wake County EMS System Cardiac Arrest Saves Ceremony. See photos from the event from Lee Wilson. See photos of people arriving at the event by Mike Legeros. Read prior blog posting.


+ 5 - 4 | § ¶
Red Car, Green Car
Durham Highway firefighter directs traffic in the 6700 block of Ebenezer Church Road, where a tree decided that it didn't like a power line. This one brought a trifecta of dispatched departments: Durham Highway, Western Wake, and Raleigh. Yours Truly raced to the scene, eager to provide comprehensive coverage of exciting but lesser-known duties of the modern firefighter. No call is too small for Camera Guy. Click to enlarge:


+ 7 - 11 | § ¶
Wake County EMS System Cardiac Arrest Save Ceremony / EMS Week
Tomorrow night is the annual Wake County EMS System Cardiac Arrest Save Ceremony. Held at Fletcher Opera Theater at the Progress Energy Center for Performing Arts, the event starts at 7:00 p.m. on Wednesday, May 18. The ceremony recognizes Wake County emergency responders and 57 cardiac arrest survivors during the calendar year 2010.
This year's guest speaker in North Carolina State University student Spencer Shell along with his family. Spencer suffered cardiac arrest while jogging on the NCSU campus last fall. Read that story from a prior posting. To help celebrate his survival, a vocal group from the college will perform "Acappology."
The ceremony is also one of a number of events recognizing National EMS Week, which concludes with EMS Day in Raleigh on Saturday, May 21. The event is scheduled from 10:00 a.m. to 4:00 p.m. at the Kroger Grocery Store parking lot, 1610 Martin Luther King Junior Boulevard, in downtown Raleigh. Residents are invited to meet paramedics, tour ambulances, and participate in health screenings. Heck, you might even meet one or more members of the crack Wake County EMS Photo Unit!
+ 5 - 12 | § ¶
Out of Chaos Comes Order
Here's a heck of a good fire video as found by Dave Statter on Statter911. Apartment fire in Geneva, NY. Combination department(s), with firefighters first arriving in personal vehicles. You can watch it here, but you'll want to go to Dave's site for reader commentary. His site's one of the best for responses and reactions to fire footage.

+ 10 - 7 | § ¶
Please Turn Up The House Lights
Humble request for event planners. Consider raising the house lights. Make it a bit brighter. Or maybe a lot brighter The greater the light, the better the photos that all of those family members are taking. Not everyone has high-speed cameras or knows how to take good low-light shots. Heck, even the "pros" in Hawaiian shirts aren't always happy with their results. That darker ambiance looks cool, sure, but it's sure tough on picture-making. Humbly submitted for your consideration. Refute as desired.
+ 8 - 9 | § ¶
Wake County 2012 Recommended Budget
The county manager yesterday presented his 2012 recommended budget, as assorted media outlets are reporting. The budget document and a mess of related materials-- budget message, budget presentation, budget PowerPoint slides, etc.-- are available on www.wakegov.com. Haven't done an in-depth analysis of the fire and EMS sections just yet. Readers are welcome to contribute perspectives.
On the fire side, the budget recommendations from the Fire Commission were approved at a meeting on May 5. Read a blog posting with that summary. Had prior engagement that evening, so didn't attend. Have however listened to an audio recording. The Bay Leaf Station 1 replacement was a point of discussion, in a matter involving how the Fire Commission Budget Commission conducted the vote. Thus that project appears still on the table but not part of what was recommended, and thus remains listed in the long-range capital plans in the above budget document. Clear as mud?
+ 6 - 9 | § ¶
FireNews Feature About April 16 Tornado Incident Commanders
FireNews Editor-in-Chief Jeff Harkey has been interviewing incident commanders about the events of April 16, when a series of tornadoes struck central and eastern North Carolina. The feature is titled At the Command Post. The latest edition interviews Wake County EMS Chief for Operations Jon Olson. He was the initial incident commander at Stonybrook Mobile Home Park in Raleigh. The mobile home park was one of the major damage sites in the Capitol City, and the only location with fatalities.
Read the feature, which includes photos from Mike Legeros and a couple video clips of the storm passing through Raleigh. Plus there's a look back at the 1988 tornado, with ol' Charlie Gaddy in a clip from WRAL. And Yours Truly was wandering around that particular command post that morning, agog at the mass of responders and emergency vehicles at Townridge Shopping Center.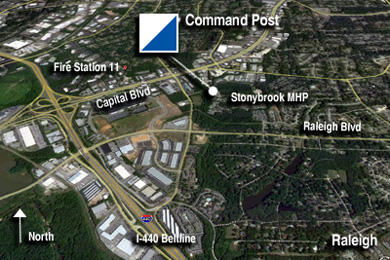 + 11 - 0 | § ¶
Abandoned Mobile Home Park
Guess it's been a while since Yours Truly traveled across the river on Buffaloe Road. The mobile home park that was right there on the left is no longer right there on the left! The roads are still present, and a mail building is still standing. There's fencing on the Buffaloe Road side, and presumably around the entire property. Have heard a residential development was planned for the 48-acre space. Tax records say the thing closed in June 2010, but it sounds like it was some years earlier. See more photos, plus some aerial shots from Wake County. It's also worth a look using Bing Maps and their bird's eye view.


+ 9 - 5 | § ¶
Mystery Construction
What's this thing being built at the corner of Cumberland and Tipton, just up the road from this morning's fire? Three bays, three entrances, and a concrete wheelchair ramp. Public building of some sort? House of worship? Funeral home?


+ 8 - 6 | § ¶
Morning Fires
Starting Sunday morning with a pair of house fires and both inside the Beltline. Very different neighborhoods, however, and very different reactions by the neighbors. First one about 7:00 a.m. Duplex on Cumberland Street. Fire in back bedroom. Engine 3 first on scene. One resident transported. Second one about two hours later. Duplex on Farrior Road. Engine 14 arriving. Fire in hallway, quickly extinguished. Two cats rescued and treated, with one surviving. Yours Truly arrived "late" for both.
The former was a cross-town ride, the latter was considerably closer. Delayed response due to consulting maps. Farrior as spoken by Locution sounds quite a bit like Sawyer, which isn't remotely near the more easily understood cross-streets of Nottingham and Dixie Trail. Took a lot of after-the-fact photos at both scenes. There's still plenty to shoot after the fire is out and the smoke is clearing. Salvage and overhaul. Hose repacking. Investigators. Neighbors. Helps paint the complete picture. Click to enlarge:


+ 13 - 5 | § ¶
District 4
This is a vehicle that District 4 is operating, since Siix Forks EMS ceased operation on May 3. The Wake County EMS Dodge Durango SUV replaced the Six Forks EMS Dodge Ram pick-up with camper shell.


+ 8 - 6 | § ¶
Car Hits Pole, Pole Hits Car
Here's an interesting accident scene from this afternoon. Six Forks Road at Ramblewood Drive. Vehicle exiting the Beltline struck a utility pole, which split and struck a passing vehicle on Six Forks. One injury in the first car, minor. Engine 9 and EMS 36 (?) on scene. And some crazy guy in a wheelchair, and taking pictures, no less! Click to enlarge:


+ 11 - 4 | § ¶
Downtown Cary Fire Stations
Has a decade really passed since I started researching my Raleigh & Wake County Firefighting books? One of the pieces of that puzzle was understanding the history of the Cary Fire Department. Made this map in 2002 to help myself understand the different locations of the town's first fire stations. Been years since I last reviewed those materials. Click to enlarge:


+ 9 - 2 | § ¶
Durham Firefighters Training at Station 2
Here's a neat WTVD video story about a 750 square-foot simulator that Durham firefighters built in the basement of Station 2. They constructed the thing six months ago and with their money. Includes a smoke machine!

+ 5 - 5 | § ¶
This Morning's Haz-Mat Incident / Highway 50
Chemicals burning in a trash truck at Highway 50 and Ten-Ten Road. Reported about 11:00 a.m. The two workers aboard the Waste Industries truck reported feeling ill. One was transported to WakeMed, after feeling a burning sensation in the back of his throat. One of the EMS workers who transported the patient also developed similiar symptoms, and was also treated at the hospital. No names or conditions have been released. Traffic was diverted from the area. One home was evacuated. The truck was subsequently moved to a different location, so the contents could be better examined. Garner and Raleigh units were on scene, including North Carolina Haz-Mat Regional Response Team 4. That's Haz-Mat 2, from Station 15. The cause of the fire has not been determined. Crews checked the contents and found cans of insecticide. Readers can perhaps expand the narrative. Sources: WRAL, WTVD, News & Observer.



WTVD photo

WRAL photo
+ 12 - 5 | § ¶
More History of Raleigh Fire Department Dispatching
Continuing some history of how dispatching worked in the Raleigh Fire Department, here's how things worked in the early 1950s, prior to the installation of radios in 1955. This information is based on interviews with retiree firefighters, at their monthly breakfast at Pam's Restaurant.
Box Alarm
Rings at all fire stations.
Station bell rings with box number.
Repeated four times.
Punch tape records box number. Work even when power's out.
Captain goes to box containing run cards located beside/underneath punch tape. Confirms street address of box number, even if he knows it by heart. Drivers and others would memorize some/many box number locations.
Rest of company gets dressed/gets on truck.
For companies not responding, they stay ready/on truck/awake for 15 minutes. If it's night, they can go back to bed after 15 minutes. When did this tradition cease? TBD.
When returning companies/last company has returned to the station AND is back in service, three bells are rung at all fire stations.
If at night, all companies must get up and go to the truck, in case the signal was a mistake and really meant two bells.
Telephone Alarm
Rings at all fire stations.
Station bell rings with two bells.
Presumably repeated, probably four times.
Captain goes to watch room/dispatcher telephone, and picks up phone. Dispatcher tells street address and any additional details.
Continue with step #6 above.
READ MORE
+ 5 - 6 | § ¶
Different Sides of the Story
The morning news brings reports of a road closure in Raleigh: New Hope Road and Fawn Glen Drive. Something about a vehicle accident and a gunshot wound and the investigation therein. Depending upon the news site, you'll read some different sides to the story. WTVD is leading with the accident itself, with an allegedly intoxicated driver and a passenger who may have had a gunshot wound to the head. WRAL is leading with the story of someone seeking help after the accident, who was apparently mistaken for a burglar after going to a nearby house for help. Says the homeowner, the person kicked in their door! NBC 17 is also leading with the "getting help" aspect of the narrative, but adds that police say the homeowners tried to chase down the driver and the passenger! Couple lessons to learn there, the least of which suggests that kicking down doors might add to injuries experienced in any accidents you are trying to report.



WTVD photo
+ 7 - 9 | § ¶
Yesterday's Bus Accident / Morgan Street
Photographer Lee Wilson has posted photos of yesterday's early evening bus accident on Morgan and Harrington streets, where a CAT bus and passenger car apparently collided at the intersection, followed by the bus striking three parked cars. Engine 13, Ladder 4, EMS 1, EMS 13, District 1, and District 2 were on scene. The other fire and EMS units were canceled. Trying to remember, a bus accidents get how many EMS resources? Three ambulances, two District Chiefs, one APP, and Truck 1? First Alarm dispatch, I believe. We blogged about that before. As for the bus accident, there were no injuries.



Lee Wilson photo
+ 10 - 6 | § ¶
Vehicles in Buildings
Does it seem like calls are on the rise for vehicles into buildings? Or have they always been happening at a rate of a couple a week around here? There were two in Raleigh yesterday. WRAL is reporting on sport utility vehicle struck an apartment building on Burgundy Street. No injuries, even to the driver, who exited the vehicle prior to the collision. Also early yesterday evening, a vehicle struck a commercial building on New Falls of Neuse Road. The Falls Fire Department responded to that one, and it brought Raleigh Car 40 and city building inspectors to the scene. Haven't found any news coverage on that one. Unknown if either driver blew the horn first.
+ 8 - 6 | § ¶
School Bus Burns in Edgecombe County
Here's something you don't see every day, a fully-involved school bus. That happened this morning on West Logsboro Road in Edgecombe County. The driver and 39 students aboard safely evacuated. The fire started inside an air-conditioning unit. Read the WTVD story.



WTVD photo
+ 7 - 6 | § ¶
Smoke From Dare Wildire Reaches Raleigh
The News & Observer notes this morning that the smoke from a 21,000-acre wildfire in Dare County has reached Raleigh. Of course, anyone who was outside yesterday morning has smelled the thing. Like a cross between burning wood and burning plastic. And with sniffers reporting smells all around Raleigh and Wake County via Facebook. Betcha more than a few odor investigations are being run by departments between here and the coast! The Associated Press wrote the story, the Virginian-Pilot published the below photo by Bill Tiernan, that appears on the Observer's web site.



Bill Tiernan / Virginian-Pilot photo
+ 13 - 4 | § ¶
Raleigh Fire Department Newsletter, Special Edition - The Tornado
A special edition of the Raleigh Fire Department Newsletter has been posted to raleighfirenews.org. The eight-page issue features stories, photos, and other information about the April 16 tornado. Department historian Mike Legeros conducted interviews and compiled submitted stories from personnel. Other contributors include FireNews Editor-in-Chief Jeff Harkey, who created a nifty map showing storm damage. Read the issue
, or click below to access. The newsletter is an otherwise quarterly publication for personnel, retirees, and citizens.


+ 4 - 7 | § ¶
Speaking of Oral Histories
Found this page from the Oral History Association, with guidance Doug Boyd Ph.D. at the University of Kentucky Libraries, on choosing and using digital and portable recording equipment. One great piece of advice is below, it's news to me. Though it shouldn't be, given the interfere I have observed with, say, VHF scanners and my BlackBerry. And by blogging about it, there's an even greater chance that I'll remember this piece of advice going forward!
Turn your cell phone off during an interview. A cell phone in vibrate mode may not ring, but cellular phones periodically "handshake" with the local tower. This signal can often interfere with recorders printing unwanted noise on the recording.
+ 7 - 9 | § ¶
Mystery Stream
Okay, let's see if the chump can stump his readers with this one. Major working fire somewhere, sometime in Raleigh. And within the last decade, though that clue is probably not needed, knowing this crowd.


+ 9 - 7 | § ¶
New Water Supply Procedures for Raleigh Fire Department
Listen closely to structure fires in Raleigh, and you'll hear some new radio traffic with regard to water supply. Beginning May 1, first-arriving engine companies now catch their own supply lines. This gives the first arriving engine an established water supply before their personnel enter the burning structure.
Also new are the big honkin' hydrant assist valves you've probably seen mounted on tailboards. They weigh 37 pounds and have four openings for five-inch hose. Here's how it works: the valve connects to the hydrant, and the supply line connects to the valve. The second-arriving engine then parks at the hydrant, and also connects to the valve.
This allows the second engine to easily boost pressure on the supply line, and increase efficiency of the water coming to the first engine. There are other beneifts to the new procedure. For example, it puts one less engine in front of the fire building. The first-arriving engine also has the option of "laying in dry" instead of "laying in wet."
Read more about the new procedure in the Spring Issue of the Raleigh Fire Department Newsletter. Or see photos of training on the new procedures from a few months ago. See those shots, from morning training and afternoon training.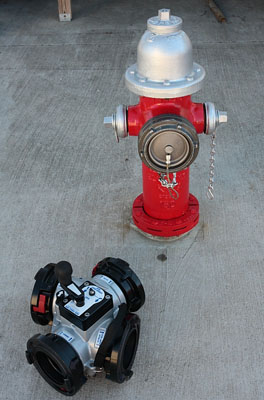 + 7 - 11 | § ¶
Wake County Fire Insurance Districts
Screen capture from Wake County IMAPS. Added as a reference for our blog discussion on unit numbering, and its latest slide into the topic of county consolidation. Read that discussion. Click to slightly enlarge:


+ 5 - 8 | § ¶
Corinth Holders 1962 Ford/American LaFrance
Photographer Lee Wilson spent the day the other day at the Corinth Holders Fire Department in Johnston County, where a barbecue fundraiser was underway. They are planning to restore the engine, which was their first purchased-new piece of fire apparatus, I believe. They're looking for pictures of the truck, and information about its history. Have stories of the truck and its decades of service? Post or email. The ubiquitous cab-over Ford pumper. Wonder how many of those were delivered in North Carolina, by LaFrance or others? Had to have been dozens, or maybe hundreds. See more pictures from Lee.


+ 7 - 6 | § ¶
Cover Photo / EMS World / The Future of EMS
From time to time, a photo of mine proves good enough for a magazine cover. The May 2011 issue of EMS Worldi is a good example. The cover story is by Wake County EMS Chief Skip Kirkwood. The article topic is the future of EMS, in a context summarized by Kirkwood's question "do we want EMS to be reactive or proactive?" Read the online version.
The article includes pictures of a Wake County APP in action. Obviously the shots are staged, since patient privacy would make such field photos tricky or perhaps impossible. That the pictured "patients" resemble other Wake County paramedics is perhaps a figment of your imagination. Photo credits Mike Legeros, duh.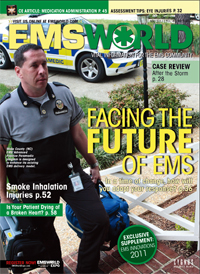 + 10 - 6 | § ¶
What The Heck Are You Taking a Picture Of?
That's one of the more common questions these days for Yours Truly, as exaggerated close-ups and crazy camera angles are becoming increasingly common. (What can I say, different is appealing.) The other oft-heard query is "where's your shirt?" There are times, believe it or not, when Mr. Blogger appears in public sans tropical attire, and the effect can be a bit disorienting. Please remain calm. But back to crazy camera angles. Here's a Charlotte Fire Department Honor Guard member (I think) at today's Sixth Annual North Carolina Fallen Firefighters Memorial ceremony at Nash Square.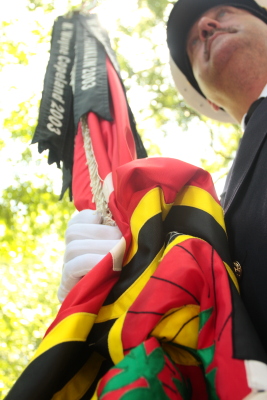 + 9 - 6 | § ¶
Bahama Fire Department Auxiliary Unit
The interesting piece of apparatus was parked at Nash Square this afternoon, where the Sixth Annual North Carolina Fallen Firefighters Memorial Service. Looks like a rehab unit, and perhaps operated by a department "auxiliary." Maybe our readers can provide more information.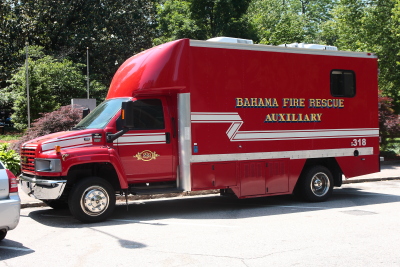 + 5 - 6 | § ¶
Cary's 1953 Seagrave / Remembering Vernon Thompson
This morning's North Carolina Fallen Firefighters Memorial procession of apparatus and honor guards included this 1953 Seagrave 70th Anniversary Series pumper from the Cary Fire Department. The open-cab beauty is powered by a 202 HP, 12-cylinder motor, has a 750 GPM pump and 500-gallon tank. It cost $15,000 and replaced a 1931 Chevrolet pumper that required hand-pushing at times. Click to enlarge:


The banner remembers Cary Firefighter Vernon Lee Thompson, 28, who was killed on June 16, 1960, when their 4,200-gallon tractor-drawn tanker overturned near Meredith College. Thompson and Firefighter Billy Henderson were responding to a rekindled trash near the Camp Polk prison dump. They had turned from Highway 1 onto a service road that rand between Meredith College property and the State College animal husbandry farm.
The tanker overturned and both were thrown from the cab. The truck rolled onto Henderson Thompson . He was pinned under the cab, and died after fuel leaking from the gas tank ignited. Funeral services were held on June 18 at Cary Baptist Church, with burial at Cary Cemetery the same day. Thompson was a volunteer member of the Cary Fire Department. Read more about Thompson and other line-of-duty deaths in Wake County. Click to slightly enlarge:


+ 9 - 5 | § ¶
Caption This Photo / Parade Staging
Wake & District Public Safety Pipes & Drums members prior to a procession of apparatus and honor guards this morning in downtown Raleigh, and which preceded the Sixth Annual North Carolina Fallen Firefighters Memorial at Nash Square.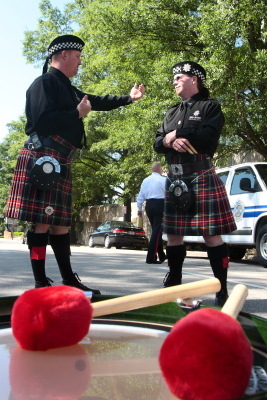 + 9 - 8 | § ¶
Demolition of a Fire Station
Reader Dale Johnson sends this picture of Holly Springs Station 2, damaged in the April 16 tornado and presently a pile of rubble. Read about the station and the damage in this prior posting. Lee Wilson also posted a few pictures of the station, taken yesterday and last week. See those pictures here and here. Click to enlarge:



Next question, how many fire stations in Wake County have been demolished over the years and decades? They include...
Cary FD - First fire stations, including 1953 addition to Town Hall on Chatham Street.
Fairground FD - First fire station on Blue Ridge Road, built 1961.
Forest Service - Towers in Apex and Knightdale, built 1940 and 1938, respectively.
Holly Springs PS - First fire station on N. Main Street, built 1995.
New Hope FD - First fire station at Louisburg and New Hope roads, opened 1956.
Raleigh FD - Original Station 1 (1896), Station 2 (1870), Station 3 (1898), and Station 5 (1926).
Raleigh FD - Second Station 2 (1914), also original drill tower (1954).
RDU CFR - First fire stations, including multi-purpose building #3, opened 1980.
Six Forks Road FD - First two fire stations on, yes, Six Forks Road.
Swift Creek FD - First fire station, a shed on Tryon Road, built 1961.
Wake Forest FD #2 - Taylor Street.
Wendell FD - First fire stations, including Fourth Street (1952) and Hollybrook Road (c1961).
Western Boulevard FD - Fire station at Western and Powell, opened 1957.
Yrac FD - First fire station at Cedar and Ward, opened 1961.
Zebulon FD - First fire station(s).
+ 7 - 3 | § ¶
Thinking About a Book
Okay, you got me thinking about those former airport EMS stations. Pictures probably exist of both. Maybe personal photos. Maybe newspaper photos. Such pictures would be perfect for a photo history of rescue and EMS. Local history, say, just Wake County.
Who makes such local history books? Arcadia Publishing, for starters. Their Images of America series is what Yours Truly used for his Raleigh & Wake County Firefighting books. They're thin paperbacks, about 120 pages. Photo-intensive, usually two page. Plus captions. Plus some text sections.
Who wants to write this one? My project plate's a bit full, but here are some of the steps required for prospective authors. Based on how I approached my books, that is.
READ MORE
+ 8 - 11 | § ¶
Big Black
Found while browsing the Pierce Flickr site. You know things aren't going good if you see this baby on scene. Pierce Velocity command post delivered to the FBI in Quantico, VA. Click for larger:


+ 7 - 6 | § ¶
Interview with Cary Fire Chief Ned Perry, 1999
From a reader and for your weekend reading, here's an archived transcription of an interview with former Cary Fire Chief Ned Perry. He was chief of the department from 1975 until 1993, and came from the Raleigh Fire Department, where he was a Captain. When he came to Cary, as he recalls in the interview, the department had 14 paid members and 11 volunteers.
He recounts the growth the department, the building of stations, and the buying of apparatus. He remembers some unusual calls: a plane crash into a lake when he still worked for Raleigh, and a distraught man's bomb that killed himself and his wife in a lawyers office. And a host of other topics and remembrances.
Read the PDF-format transcription (find Perry's name and click the corresponding icon), written in 2001 from a 1999 recording for the Cary Heritage Museum Oral History Project. There's nothing so good as an oral history. And they're very easy to start doing. Yours Truly has been recording retired and retiring Raleigh firefighters for years now, as well as such former members as Chief Perry. No transcriptions just yet.
+ 9 - 1 | § ¶
Nineteen Days Later
Early-evening explorations in the area of North King Charles and Marlborough roads, one of the neighborhoods that suffered great damage during the April 16 tornado. More later. Click to enlarge:


+ 9 - 10 | § ¶
Six Forks EMS Ceases Operations
As many have heard and some have asked about, Six Forks EMS ceased operations this week, due to internal issues that have been reported in local media. Wake County EMS assumed the role of provider for their response area at 0800 on Monday, May 3, and has placed four units in service:
EMS 34 at the airport, operating 0800-2000. That EMS station is named RDU. The facility is a warehouse on Mt. Herman Road.
EMS 35 at Raleigh Fire Station 17, operating 0800-2000.
EMS 36 at Bay Leaf Station 3. Full-time unit. That EMS station is named Six Forks Main.
EMS 22 at Bay Leaf Fire Station 2. Full-time unit. That EMS station is named Six Forks North.
Plans are to renumber EMS 36 as EMS 6. The other unit numbers will remain the same. District 4 has remained in service, and continues to operate from Bay Leaf Station 3 / Six Forks Main. It has been assigned a Dodge Durango. The status of the eight ambulances owned by Six Forks EMS is pending. Half will likely be used by Wake County EMS.
In respect for the good people and our good friends at Six Forks EMS, let's refrain from commentary on their issues. There are forums on the various media sites, for starters. Facebook is also a good avenue for expressing thoughts and feelings about this unexpected change in the local EMS landscape. We can only wish them the best through this unexpected and challenging time.
+ 7 - 7 | § ¶
The Future of Fireground Communication
From a reader, some humor on the subject of fireground communication. And they keep straight faces nearly the entire time! How many mics are you wearing... Thanks Marshall. Click to watch the clip on YouTube.


+ 6 - 10 | § ¶
Sixth Annual North Carolina Fallen Firefighters Memorial Service This Weekend
Don't forget about Saturday's fallen firefighter ceremony in downtown Raleigh. The Sixth Annual North Carolina Fallen Firefighters Memorial Service is preceeded by a procession of fire apparatus at 10:00 a.m. The annual parade starts on Hillsborough Street and concludes at the North Carolina Fallen Firefighters Memorial at Nash Square.
The memorial service starts at 1:00 p.m. The names of two fallen firefighters will be added: Chad Eric Green, 34, died on November 4, 2009, after responding to a motor vehicle crash. He was the Deputy Chief of Union Cross Fire Department in Forsyth County. Richard Adam Miller, 24, died on December 29, 2009, while participating in physical fitness training at Beltmont Fire Department Headquarters in Gaston County.
See this FireNews article for maps and more information. Learn more about the North Carolina Fallen Firefighters Foundation. Or read about the histories of North Carolina's fallen firefighters. Over 225 members of the state's fire service have died in the line of duty since the first recorded death of Washington volunteer firefighter Edward Peed in 1902.



Lee Wilson/FireNews photo
+ 9 - 4 | § ¶
Fire Commission Meeting Notice, May 5 - Updated
The next meeting of the Wake County Fire Commission is Thursday, May 5, at 7:00 p.m. The location is the Wake County EMS Training Facility, in the lower level of the Wake County Commons Building, 4011 Carya Drive. Three documents for the meeting have been made available: the agenda, the minutes from the January 20 meeting, and the latest financial report. See those documents. See you there.
May 3 update. One additional document has been added above, the Fire Budget Committee Recommendation for Fiscal Year 2010. Looking through same, here's some of what's recommended:
Current tax rate of 8.0 cents maintained
Department appropriations for personnel and operating budget maintained at rate funded in FY2011, with adjustments including:

Decrease to the contract for Cary Suburban Fire District (former Western Wake Station 2 area)
Decrease Falls FD by 5.0%, due to implementation of consolidation plan between Wake Forest FD and Falls FD
Merit adjustment equal to percent provided to County employees

Funding for $2.09 million in Capital Improvement projects, including

Replace one brush truck for Bay Leaf FD
Replace three cost-shared engines for Fuquay-Varina FD, Garner FD, and Rolesville FD
Replace three small vehicles at Garner FD, Wake Forest FD,and Wake-New Hope FD
Replace 27 air bottles, 12 defibrillators, 13 thermal image cameras, and undetermined amount of turnout gear.
Replace estimated 50 SCBAs.

Capital projects not included in final recommendation included:

Bay Leaf Station 1 replacement ($3.75 million)
Morrisville Station 1 replacement ($631,000)
Zebulon Station 2 ($400,000)
+ 10 - 6 | § ¶
Raleigh Fire Department Historical Map
Where were Raleigh's old fire stations located downtown? Here's a historical map, and newly updated with inset images. And some data corrections, drawn from Mr. Blogger's research on the city's volunteer fire companies. Click to see larger version:


+ 11 - 4 | § ¶
Slow Down
We've often blogging about our favorite fire bloggers to the north. Today let's stay close to home and blog about a local blogger and paramedic (and frequent participant here). His soapbox is named 9-ECHO-1, which the code for a code. The blog address is http://9-echo-1.blogspot.com. The latest posting is first-person account of him and the Missus in their personal vehicle and in proximity of an emergency call. They observe the fire unit, which enters the intersection in a cautious fashion. They observe the EMS unit, which goes through the intersection at a considerable faster clip. Read the narrative yourself.
+ 9 - 4 | § ¶
Wherever Disaster Strikes #2
Seen this weekend behind the old Wal-Mart in Garner. With what looked like ten antennas and a satellite dish on the roof. Click to enlarge:


+ 7 - 3 | § ¶
Disaster Blows In, and Rescuers Become the Rescued
Today's News & Observer has a profile of the Miller family, paramedic and nurse Allison Miller and her retired parents Paul and Ruby. They live across the street from each other on King Charles Drive, in one of the neighborhoods hit hard by the tornado on April 16. Both of their homes were severely damaged. In the days that followed, off-duty firefighters and medics and others have been helping the Millers with the physical demands of securing and clearing their property. They've since moved into temporary housing, but plan to stay on King Charles. Which is where they've lived for over 30 years. Read the story, which includes a good-sized photo gallery.



News & Observer photo
+ 4 - 6 | § ¶
Bertie County Volunteer Firefighters Spring into Action After Storm
The Virginian-Pilot today posted a nice feature on the Bertie County volunteer firefighters who responded to the tornado on April 16, 2011. All twelve of the county's fire departments responded, with over 100 firefighters responding within minutes of the touchdown. The twister killed 11 and injured 50 in those first 15 minutes. It's been called the worst disaster in the history of the large, rural county with a population of just over 21,000 people. Read the story. Thanks to David for sending. Readers are also welcome to post their stories from the storms, as they continue northeast from Wake County and toward Virginia.



Virginian-Pilot photo
+ 4 - 8 | § ¶
Tour Raleigh's New Decon Trailer
Lee Wilson has posted photos showing the inside of Raleigh's new decon trailer. The Schantz & Sons trailer was outfitted by Matthews Specialty Vehicles. It's designed for decontamination of responders at hazardous materials incidents. There are two separate individual shower stalls, as well as stations for undress/dressing. Looks like the equipment includes hot water heaters and tanks to capture the contaminated water. The trailer is also carries an all-terrain vehicle. The unit replaces a box truck that carried decon equipment that requiring assembly for deployment. It's housed at Station 22 and staffed by Ladder 5. And it's pulled by a 2005 Ford F-550 Super Duty prime mover that's designed SR3. See our prior posting on the trailer as well.



Lee Wilson photo