+ 10 - 7 | § ¶
Cities with High-Pressure Water Systems?
Therecent massive fire in Jersey had me thinking about high pressure water systems of yore. How many cities had or still have them? Either fixed or mobile? Here are collected responses from the question as posted to this firehouse.com forums thread:
Atlantic City
Created as cooperative effort between city and larger hotels. Each of the fire pumps of the larger hotels was connected to a system with common piping and street hydrants maintained by the city. As those huge "ordinary construction" hotels (masonry bearing wall with wood floor and roof support structures) were demolished, the system went with them. Far smaller fire pumpers were required for fire resistive construction, and they starved the system for pumping capacity. Thus it became impractical to maintain the system. Source: Tom Horne.
Baltimore
http://www.firehydrant.org/pictures/baltimore.html
http://doubledogged.blogspot.com/2007/02/being-in-baltimore-city-fire-department.html
Berkely, CA
Recently purchased high-volume mobile pump system, with two 6000 GPM pumps using six miles of twelve-inch supply hose. Source: "Here and There."
http://www.berkeleyside.com/2010/10/21/fire-equipment-can-shoot-water-from-bay-to-hills
http://www.hytransfiresystem.com
Boston
http://www.bostonfirehistory.org/activefirehousehighpressure.html
Cleveland
http://tinyurl.com/n8t8cnf (Google Books excerpt)
Detroit
High-pressure pumping station was built at the foot of Randolph in 1921. The high-pressure hydrants operated at approximately 150 pounds of pressure, while regular hydrants were 55 to 65 pounds of pressure. The system was removed from service in 1956.

"The building was erected in 1921 at a cost of $145,057, plus an additional $167,325 for constructing the wharf. The High Pressure System went in service in 1922 along with the related hydrant system being completed in the downtown high value area and along the waterfront. Shown are the 6 Dean Hill Multi-Stage Pumps used to supply the system. Each powered by 700 h.p. motors and could deliver 2,500 gallons per minute at 300 lbs pressure. Due to restrictions by the Health Department and Civic Center, freeway, and urban renewal construction, the High Pressure System was placed out of service in the month of March, 1956."

Four stations had the necessary equipment to use the HP system:
Engine 1, HP Co 1, Wayne at Larned
Engine 9, HP Co 2, Larned & Riopelle
Engine 8, HP Co 3, Sixth & Bagley
Engine 7, HP Co 4, Concord near E Jefferson
http://www.atdetroit.net/forum/messages/5/80015.html?1173935391
Milwaukee
http://landmarkhunter.com/178478-milwaukee-fire-department-high-pressure-pumping/
http://books.google.com/books/about/The_Design_and_Construction_of_the_High.html?id=WMcyAAAAMAAJ

New Jersey
NEPTUNE system.
New York City
Coney Island and Others
http://nycfire.net/forums/index.php?topic=33401.0
Plus the FDNY Super Pumper System
Oakland, CA
City built a pumping station next to Lake Merritt to protect the downtown after the 1906 earthquake. The system was disrupted when BART (local rail transit) was constructed in the 1970s and it was never returned to service. Following the Oakland Hills fire of 1991, they bought some hose wagons similar to those used in San Francisco. Each carried a mile of LDH and portable hydrants. They still have four in service. Source: "Here and There."
http://www.firehydrant.org/info/oakpwss1.html
http://www.thelakechalet.com/aboutus (core pumping station building now a restaurant)
https://www.flickr.com/photos/anomalous_a/5127425963/ (plaque image)
Philadelphia
System out of service and no longer used. Many of the hydrants are still in place, and only removed as Water Department is working in the area. Or, in most cases, struck and knocked over by a vehicle. The High Pressure Pumping Station building has also be demolished, probably shortly after the below article was written. Trivia: There were intake manifolds on the bulkhead adjacent to the pumping station, so PDF marine companies could supplement the system if the pumping station failed. Source: "FWDbuff."
http://hiddencityphila.org/2011/09/hero-of-the-waterfront-2
http://hiddencityphila.org/2012/03/not-your-ordinary-fire-plugs
San Francisco
http://www.sfmuseum.org/hist1/hpfs.html
Toledo, OH
http://www.toledofiremuseum.com/alarmoffice/alarmoffice.htm (single line of reference)
Winnepeg
http://winnipegdowntownplaces.blogspot.com/2012/07/109-james-avenue-high-pressure-pumping.html
+ 11 - 4 | § ¶
Bethania? Little Rockfish? Two Towns of Yore
This week's research into public and private laws of North Carolina yields a pair of fire companies that this historian's never heard of:
Bethania
Located in Stokes County
Free white males of the authorized to form and "enroll themselves" into a "fire engine company." No more than forty members. Five year period of enrollment. Captain of company charged with caring for apparatus, equipment, and "house prepared for that purpose." Town commissioners authorized to purchase fire engine and equipment, via annual tax "not exceeding one dollar on every white taxable poll" nor "more than fifty cents on every hundred dollars of real estate." Fire wardens and company officers also authorized to "order any house or houses to be pulled down, blown up, or otherwise destroyed" to stop the progress of a fire. Plus other language related to laws, rules, regulations, by-laws, etc. Authorized by General Assembly on January 3, 1839.
Franklin Fire Company
Little Rockfish
Cumberland County
Alonzo R. Ketcham, Roderick McRae, and Daniel Patterson appointed commissioners for the organization of the Little Rockfish Franklin Fire Company within six months. No more than twenty members. When there are least ten members, the fire company "shall be deemed and taken to be a corporation." Immediately after organization, "it shall be the duty of said Company to provide and keept in readiness at all times for us, such hooks, ladders, buckets, hose and such other articles and implements as many be necessary and useful in the extinguishment of houses on fire." Members are exempt from service in militia exercises. Plus other language relaed to laws, rules, regulations, by-laws, etc. Authorized by General Assembly on January 24, 1843.
Where the heck are these places?
Bethania, says this Wikipedia article, was the first planned Moravian settlement in the state. It's the only remaining, continuously active Moravian village in the south. The only known "existing Germanic-type Linear Agricultural village" in the south. And the oldest municipality in Forsyth County (which appears to have been carved from Stokes County). The town was chartered in 1838/39 and most recently incorporated in 1995.
Little Rockfish was precursor to the town of Hope Mills. Also called "Rockfish Village," it developed around the Rockfish Manufacturing Company, which was located on Little Rockfish Creek. This Fayetteville Observer story by Roy Parker Jr., from December 1990, tells about the history. The cornerstone was laid in 1839 and started production at a small scale later that year. The factory operated for a quarter century until Union soliders destroyed the structure on March 10, 1865.
+ 10 - 7 | § ¶
Water Towers of America by Bill Hass and Gil Jory, 1972
Found this in my files, a poster created by Bill Hass and Gil Jory listing all water towers that served in North America. This was the fourth and presumably last printing of the chart on July 1, 1972, with earlier versions in 1963, 1970, and 1971. Yours Truly has scanned the thing and created a PDF version that's suitable for reading but not commercial reproduction. (Copyright to Hass and Jory, reprinting without permission, and input encouraged regarding current copyright holder(s).)
Water towers and their histories were long-documented by Bill Hass. His information and photographs were published by his son, Ed Hass, in the 1988 book History of the American Water Tower. The run print was 1,000 copies and it remains a rare book. (It occasionally apears on eBay, selling for $150-$200.) Bill Hass passed away at age eight-five on May 13, 2004. This chart is presented to preserve his superb research. View the chart (PDF).
What's a water tower, you ask? Please.


+ 8 - 6 | § ¶
An Act to Incorporate the Salem Fire Company, 1869
Let's turn from historic maps to historical legal documents, specifically Private Laws of the State of North Carolina, as passed by the General Assembly during its 1868 to 1869 session. See back in the day, municipalities had to receive legislative authorization to perform certain functions. Such as fire protection. Also, the charters of such fire companies were granted through legislative acts. (Cough, cough, at least that's my minimal understanding of how early towns and cities worked.)
Each session's laws were collected into printed books. Said volumes have been digitized by the state library, with collections dating back to 1817. With but a couple clicks, you download a searchable PDF version the book. Perform a keyword search on "fire company" or "hose company" or "engine company" or "hook and ladder" and you'll information about North Carolina's earliest fire departments. (Yes, Yours Truly is working through these early volumes. Will post collected findings at a future time.)
Here's the legislation that was ratified on January 7, 1869, authorization the incorporation of a fire company for the town of Salem, which decades later became one half of Winston-Salem. Click once or twice to enlarge the pages, or read all three as a PDF document:


+ 9 - 6 | § ¶
Bessemer and 10-A Fire Departments, via Vintage Sanborn Maps
Let's take a historical trip to Guilford County, for a pair of former fire department buildings as depicted in Sanborn Fire Insurance Maps. First is the Bessemer Fire Department in northeast Greensboro. They were formed in the early 1940s and were one of the state's first "rural" fire departments. Others included North Asheboro (by 1945), Guilford College also in Greensboro (1946), Seagate in Wilmington (1946), Wilkinson Boulevard in Charlotte (1947), Pleasant Garden near Marion (1948), Pinoca in Charlotte (1949), and Sedge Garden in Winston-Salem (1949).
This annotated image from 1948 depicts the one-story fire station on Elwell Avenue, along with a description of the department: Volunteer with a Chief, Asst. Chief, Captain, and 31 men. One "station man" on duty 24 hours. Apparatus is a 1942 Chevrolet/American pumper, 500 GPM, 200 gallons, with 1000-feet of 2 1/2-inch hose and 300-feet of 3/4-inch hose. Alarms are sounded by telephone. Click once or twice to enlarge:



The fire station building is still standing, addressed as 610 Elwell Street. Tax records say it's a one-story concrete block commercial build with 2,674 square-feet. Built 1940 with two additions. Effective year of construction 1970. Records of the deeds show that the parcel was purchased by the Bessemer Sanitary District in 1942, and sold to a private owner in 1957. We might infer that the fire department operated no earlier nor later than those years. (They were listed as members of the North Carolina State Firemen's Association from 1945 through 1958, in annual reports.) Click to enlarge:



Bing Maps / Mike Legeros photos
Next is the 10-A Fire Department in southwest High Point. They operated from 1955 to 1980 and were originally located on Highway 10-A. Sanborn Maps from 1956 describe the department as "for subscribers only", as volunteer with a chief and 25 firemen, two combination pumper, hose, and booster trucks, and fire alarms by telephone. The fire station was a two-story cinderblock building at 1019 Westchester Road. Click to enlarge:


After annexation by the city, the fire department relocated some four miles southwest to 1306 Joe Moore Road. That's in Davidson County, just over the county line. The new station was built in 1961. The fire department was reorganized in 1980 and renamed Hasty Fire Department on September 28, 1980. The department is still operating and from that location. The original station on Westchester Drive is gone, and probably long gone.
+ 7 - 6 | § ¶
Chapel Hill Fire Stations via Sanborn Maps - 1911 to 1945
April 23, 2018
This posting has been updated with an additional fire department building that was also shown on 1915 maps.
For your Sunday evening historical enjoyment, Sanborn Fire Insurance Map drawings of Chapel Hill fire station locations, from 1911 (hose house), 1915 (one-story fire station), 1925 (two-story fire station), and 1949 1945 (two-story town hall). Those are the map years. Click to enlarge:

+ 6 - 2 | § ¶
Given One Day for Using Profane and Disrespectful Language to a Superior Officer
Here's the latest addition to my Raleigh Fire Department history site, transcribed personnel records from 1913 to 1941. They originated as a pair of ledger books that long-resided at Station 1. The recorded information including start and stop dates, background and biographic information, and disciplinary actions. The handwritten entries looked something like this:


For the historian, the names and dates are invaluable. For the lay reader, the discipline records are enormously entertaining. Firemen were punished for actions both on- and off-duty. Cursing, fighting, or falling asleep while on "night watch" could cost you a day's pay. Or three days pay. Or outright discharge. Recorded problems of those off-duty including public drunkenness, inappropriate personal relationships, and becoming a "rum runner." Er, that is, being caught while acting as a "rum rummer."1
Yours Truly transcribed both books in late 2004. (Merely took a decade to share this. Sorry.) Syntax and spelling has been preserved. They've been posted as a PDF document that's formatted as electronic book. Includes an index of names, to help locate specific entries.
Read the personnel log (PDF).
1Work schedule you ask? Split shifts, beginning 1914. Day duty was 14 hours, night duty was 10 hours. Plus one day off each week. Firefighters worked every day. Second platoon created in 1924, still split shifts. Firefighters now working every other day. (Twenty four-hour shifts didn't start until 1946.) It's possible that some firemen even lived at the station. City directories into the 1930s list the station address as their residential address. Don't have confirmation of this from other sources, however.
+ 5 - 1 | § ¶
Updated - Fuel Truck vs. Fire Engine in Wilmington - 1959
January 24
Here are a couple more photos as passed along from our friends at the Wilmington Fire Department. Click once or twice to enlarge:



Courtesy Wilmington Fire Department
January 1
Cover of a deteriorating copy of Hose & Nozzle magazine, January 1960. Date to be determined, presuming the prior year. Maybe November or December. See more magazine covers (including this one, to be added). Here's the story as printed:
Five Wilmington Firemen Hurt in Crash

A fire truck speeding to answer a pre-dawn alarm at Wilmington, N.C., crashed into an oil tanker loaded with 6,500 gallons of gasoline.

The collision spilled firemen from their perch on the truck and ripped open the oil tanker. Five firemen were injured, including three who were hospitalized. Their injuries were not believed serious.

Almost all of the tanker's load of gasoline poured into the street. Firemen sprayed water on the pavement and then flushed drains for an area four blocks long, running to the Cape Fear River, and two blocks wide.

The fuel was not ignited bu tthe clearing operating lasted about five hours.

The firemen were answering a call at the Cape Fear Hotel.

Injured were Capt. Ellis Eugue Casteen, Burleigh A. Scotton, S. C. Hill, Ray Smith, and Charles Edward Bland.

The driver of the oil truck was not injured.

Click to enlarge:

+ 9 - 6 | § ¶
City Firefighters in City Directory, 1963
As mentioned prior postings, city directories are superb sources for fire department historical information. Such as personnel names and timeframes of service. Back in the day, the only "searching" of such directories was skimming page by page. Looking across rows upon rows upon rows of names for the occupation "city firefighter" (as were called, at least in Raleigh).
A century's worth of North Carolina city directories were made available online in 2013. Here's that prior posting. Each directory can be downloaded as a single PDF document. They've been converted to "searchable text," so you can easily people names containing "city firefighter" or "fire dept" or "engine co" in their occupation.
Below are Raleigh firefighter names found in the 1963 city directory. Matches were made on the string "city fire." The results were cut 'n' pasted with warts and all. Such as duplicate entries, misspelled entries, and... missing entries. Where's, say, Fire Chief Jack Keeter? His directory entry is:
KEETER JACK B (Blois G) Chief Fire Dept City of Raleigh, 222 S Dawson, Tel TEmple 2-7736, h L-l Country Club Homes, 2508 Fairview rd, Tel TEmple 2-3402
Ergo, no match on "city fire." These listings also contain "funky characters" as a result of the Optical Character Recognition (OCR) process.
How closely does this match the actual roster of firefighters that year? Good question. Don't know if the year (1963) represents when the thing was produced (and thus people were queried for their occupations), or when the thing was published (meaning these were firefighters in, say, 1962).
Food for thought. Enjoy the list.
Adkinson, James L (Betty) city firefighter rll53 Brighton rd
Alford, Eug J (Elsie B) city firefighter hlllO Kent rd
Allen, Joseph S (Doris H) city firefighter hll Dixie trail
Altman, Hubert Y jr city firefighter h6082 Glenwood av
Atkinson, James L (Betty E) city firefighter hll53 Brighton rd
Atkinson, Ronnie C (Patricia E) city firefighter h713 Belmont Dr
Baker, Chas T (Alma H) city firefighter h537 Lansing
Baker, Oris H (Janie B) city firefighter h241 Ellerbe la
Barden, Roberick D (Shirley L) city firefighter h710 Virginia Av
Barnes, Jack (Sylvia) city firefighter h2929 Wade av
Barnett, James E (Linda G) city firefighter h2206 Bernard
Barnette, Reginald (Lessie G) city firefighter h602 Harding
Bartholomew, Bill (Shirley) city firefighter rl05 E Whitaker Mill rd
Bartholomew, Lewis E city firefighter h911 Braden
READ MORE
+ 10 - 4 | § ¶
Latest Version of Raleigh Fire Station Map
Here's the latest version of my Raleigh fire station map, updated with the latest company and unit changes. See this page for a text list of stations and apparatus. Want an interactive version? See this Raleigh map from the excellent FDmaps.com. That's the North Carolina-based fire station mapping project. (They've also made maps of Chicago and Atlanta. The former is web-based, the latter is app-based. Next up is Detroit, which is underway.) Anyway, this map is linked from my Raleigh FD information page.


+ 9 - 4 | § ¶
There Were Noodles Everywhere... The Horror, The Horror...
This one made national news yesterday. Oodles of Ramen noodles littered the roadway after a transfer truck struck a bridge support on I-95 in Nash County. The Highway 48 bridge to be precise. No injury to the lucky driver. WTVD covered the story as did other local outlets. CNN later picked it up and posted this punny version. Good luck seeing the caption "Big Rig Noodle Hauler" again in your lifetime. Heavy equipment was required to clear the highway, which was closed for six hours. Front loader and backhoe. See the WRAL story for those pics, plus a nifty aerial view of the prepackaged causalities. Loved Ramen in college, still love them today.



WTVD/Jim Schumacher photo
+ 10 - 5 | § ¶
Raleigh Fire Department Newsletter - Winter 2015
Let's go old school with the quarterly Raleigh Fire Department Newsletter. The winter 2015 issue has been posted to www.raleighfirenews.org. Contents include features on the Priority Inspection Program, the recent ISO evaluation, a building collapse on Blount Street, a two-alarm fire on Generation Drive, facility and apparatus updates, and more. The newsletter is a quarterly publication for personnel, retirees, and citizens. Read the new issue (PDF).

+ 12 - 6 | § ¶
Vintage Beacon Ambulance Photos
Here are a pair of vintage photos of Beacon Ambulance Service in Raleigh. Snapped from a pair of snapshots some months ago. Readers can provide details on who, what, where, and when. See more vintage images of Beacon in this photo album on the History of EMS in Wake County Facebook page. Read about the history of Beacon on my EMS history page. Click to enlarge:


+ 7 - 4 | § ¶
Youngsville's New Ladder
The Youngsville Fire Department in Franklin County is receiving this Pierce Arrow XT aerial tower this week. The 100-foot rear-mount platform arrives on Monday after appearing at the Piedmont Fire Expo in Winston-Salem this weekend. It's the first aerial apparatus for the department. See larger version of this factory photo.


+ 8 - 5 | § ¶
Wake County EMS Adds District 7
District Chief 7 was placed in service today at the Garner East EMS station, e.g Garner Fire Station 4 on Spaceway Drive. The Wake County EMS paramedic unit is a full-fledged response unit. The District Chiefs also function in a supervisor capacity, and have a variety of additional administrative responsibilities. Chief Kev today is driving a Suburban, which is a temporary truck until the new Expedition is ready. Here's a Facebook posting from WCEMS with more information a couple more photos.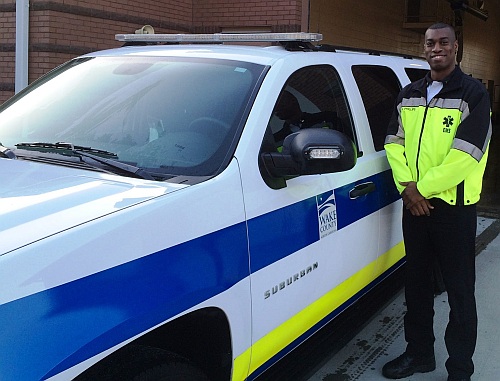 Where are the other District Chiefs located? Here's the list, though they don't have designate response areas. These are their "base stations" and they respond as closest unit via automatic unit location via GPS.


UNIT
STATION NAME
STREET ADDRESS
TOWN
NOTES
District 1
Downtown
331 S. McDowell Street
Raleigh
Wake County Public Safety Center
District 2
Fairview East (?)
4500 Ten-Ten Road
Apex
Fairview FD Station 1
District 3
Durant
10000 Durant Road
Raleigh
District 4
Six Forks Main
1431 Lynn Road
Raleigh
Bay Leaf FD Station 3
District 5
Cary Main
107 Medcon Court
Cary
District 6
Wendell Main
401 E. Third Street
Wendell
District 7
Garner East
125 Spaceway Court
Garner
Garner FD Station 4
District 9
?
107 Sunnbrook Road,
Raleigh
WakeBrook Campus, staffed 11:00 a.m. to 11:00 p.m.
Advanced Practice Paramedic Supervisor.
District 10
n/a
n/a
n/a

Special Event District Chief, placed in service at
such things as the State Fair.
And here's a map. Click to enlarge:
+ 8 - 6 | § ¶
Rescue 1, Squad 7, and Other Changes in Raleigh
Effective 0800 tomorrow Friday, January 16, a number of apparatus and company changes are being implemented in Raleigh, notable for Special Operations Command (SOC) companies and units:
Rescue 1 moved from Station 21 to Station 15
Squad 15 moved to Station 7, becomes Squad 7
Engine 7 moved to Station 15, becomes Engine 15
Engine 21 activated as technical rescue company.
Engine 25 deactivated as same.
USAR 801 (swift water rescue unit) and boats moved from Station 25 to Station 21
Engine 17 activated as technical rescue company (staffing only, not added to responses)
Air 1 moved from Station 5 to Station 8.
Reserve Ladder 210 to Station 25.
The tractor-drawn trench rescue unit staffed by Squad 15 will move to Station 17. It will be staffed by Ladder 3. As you can probably gather, the other units are being moved with crews fully or nearly intact.
Notes
R1 is 2007 Pierce Enforcer walk-around heavy rescue.
Sq14 is a 2013 Pierce XT rescue pumper (1500/500/20).
E7 is a 2002 Spartan/Quality MetroStar (1250/500)
E25 is a 2004 American LaFrance Eagle (1500/500)
USAR 801 is a Ford F-550 Super Duty utility truck with climb-inside body.
E21 is a 2002 Spartan/Quality MetroStar (1250/500)
A1 is a 2002 International/SVI mobile air unit.
L210 is a 1988 Pierce Arrow Snorkel (85-foot)
Map
+ 8 - 5 | § ¶
This Morning's Apparatus Accident in Orange County
Also this morning, Orange Rural Fire Department Engine 232 overturned on Phelps Road at Mason Keyon Road. (Or was that Engine 233, a 2000 KME pumper-tanker?) It was responding to a motor-vehicle accident. The accident occurred less than a mile from Station 2, which is located at 835 Phelps Road. There were no injuries to the firefighters aboard. Watch WRAL video report. Click to enlarge the bottom photo:


John Cox/WRAL photo



Austin Hall/WTVD photos
+ 7 - 3 | § ¶
Henderson County Firefighters Injured After Engine Overturns
Two Henderson County firefighters were injured this morning when their American LaFrance pumper overturned and rolled down an embankment. The Mountain Home Fire Department engine was responding to a vehicle accident in Carriage Park. That's a private development off Haywood Road (Highway 191). While en route, the engine left the roadway on Carriage Park Way just after 8:00 a.m.
Lt. Matt Brackett was transported to Mission Hospital in Asheville with a broken collarbone and internal injuries. He's reported in stable condition. Engineer Rich Hodge was transported to Pardee Hospital and was treated and released. Also injured at the scene after falling on ice was firefighter Matthew Tweed. He was also treated and released from Pardee.
The accident was blamed on icy and foggy conditions. See stories from WLOS and WYFF for more information including photos and video. Click to enlarge:



WYFF images (original credit not indicated)

Jeremy Cress photos, via Jaclyn DeAugusto/WLOS via Twitter
+ 7 - 5 | § ¶
Fairgrounds Tanker Overturns, 1985 - And Some History...
From the archives of the News & Observer, by way of the North Carolina State Archives, come a pair of photos from November 11, 1985. They were taken by Gregory Wiggs, one of two photographers on the scene. Fairgrounds Fire Department Tanker 197 (correct number?) overturned on Blue Ridge Road. The truck was built by Atlas on a Chevrolet Kodiak chassis. What was the model year?
The next day's newspaper ran the picture on the right with this caption:
"Two truck operators attach a chain to a fire truck that had flipped on Blue Ridge Road near the entrance to the N.C. Museum of Art. The Fairgrounds Rural Fire Department truck was extensively damaged Saturday when it hit a curb and flipped after swerving to avoid a small car that had made a U-turn in its path, Raleigh police and witnesses said. The driver of the fire truck, Richard Ernest [Will], 21, of 3616 Blueberry Drive, was treated at Rex Hospital and released. The driver of the car was being sought, police said."
Click to enlarge:

Looking across the decades, there have been a number of other apparatus "rollovers" in Raleigh and Wake County. Two have resulted in line-of-deaths, the first for both the Cary and Raleigh fire departments. The most prominent, a tiller accident in 2009, resulted in national awareness of apparatus safety as well as specialized training programs for tiller operators.
The historical list includes:
Apex - 4/1/78 - Engine 3 (1963 Ford/ALF) overturned on old US 1, serving to avoid a car that had pulled into oncoming traffic. The driver was ejected and nearly killed.
Cary - 6/16/60 - The department's tractor-drawn tanker (shop-built in 1954) overturned at US 1 onto side road near Meredith College. Both firefighters aboard were ejected. Volunteer firefighters Vernon Lee Thompson was killed and Billy Henderson was transported with minor injuries.
Raleigh - 7/10/09 - Ladder 4 (2004 Pierce tiller) overturned at Dawson and South streets, while responding to a call. The truck was turning east onto South Street from southbound Dawson Street. The apparatus rolled over into a empty parking lot. Three firefighters were transported with minor injuries.
Raleigh - 12/7/08 - Engine 9 (2008 Pierce) overturned (onto its side) on St. Albans drive, while responding to a call. There were no injuries to the crew.
Raleigh - 2/25/90 - Engine 5 (1986 EEI/Pemfab) overturned (onto its side) at Wilmington and Smithfield streets, while en route to the shop at Station 2. Only occupant, the driver, suffered minor injuries.
Raleigh - 11/14/52 - Engine 6 (1926 American LaFrance, reserve) overturned on Brooks Avenue at Lewis Farm Road. Five aboard, three with minor injuries, plus Captain James White with serious injuries, and Driver Vernon Smith with very serious injuries, including leg amputation. He underwent over two dozen operations before succumbing to his injuries on March 10, 1956. He was the first line-of-duty death for the Raleigh Fire Department.
Raleigh - 7/29/03 - Hose wagon overturned on New Bern Avenue and Person Street.Three firefighters injured.
Stony Hill - 2/28/09 - Pumper 264 (make/model?) overturned (onto its side) on Purnell Road while responding to a call. Three personnel with minor injuries.
Wake Forest - 12/25/02 - Engine #433 (1996 E-One pumper/tanker) overturned on Ligon Mill Road while responding to a call. The truck slipped off the shoulder, left the roadway, struck a culvert, and became airborne. The truck flipped two and a half times. Firefighter Thomas Howell received the most serious injuries, with a broken leg, arm, and wrist. Firefighter Shawn Thomas was also hospitalized with a broken leg. A third firefighter was treated and released at the scene.
+ 8 - 3 | § ¶
Wake County Fire Commission Meeting - January 15, 2015
The next meeting of the Wake County Fire Commission is Thursday, January 15, at 7:00 p.m. The location is the Wake County EMS Training Facility, in the lower level of the Wake County Commons Building, 4011 Carya Drive. The documents for the meeting are linked below.

Agenda
Meeting Called to Order: Chairman Lucius Jones

Invocation
Roll of Members Present

Items of Business
Regular Agenda

Approval of Agenda
Adoption of Minutes for the November 6, 20104 and December 11, 2014 Regular Meeting
Recognition of Service – Former Fire Commission Members Barbara Poole ,Chief Mark Haraway, Board of County Commissioners Appointees Paul Coble, and Phil Matthews

Regular Agenda

Election of Fire Commission Chair for Calendar Year 2015
Election of Fire Commission Vice Chair for Calendar Year 2015
Cost Share Formula Methodology
Approval of Grant Match Appropriation in the amount of $1,600.00 for Wendell Fire Department Technology Project

Information Agenda

Fire Tax Financial Report
Fiscal Year 2016 Budget Process Update
Chair Report
Fire Services Interim Director Report

Other Business
Public Comments:

Comments from the public will be received at the time appointed by the Chairman of the Fire Commission for 30 minutes maximum time allotted, with a maximum of 3 minutes per person. A signup sheet for those who wish to speak during the public comments section of the meeting is located at the entrance of the meeting room.

Adjournment - Next Meeting March 19, 2015
Documents
Agenda packet (PDF)
+ 8 - 2 | § ¶
Garner is Hiring for Full-Time Firefighters
Garner Fire Rescue is hiring for full-time firefighters. Salary is $30,400. Applicants must be 21 by March 1, 2015, and possess certifications for NC Firefighter Level II, NC EMT, NIMS levels, NC Haz-Mat Ops, plus TR and VMR completed within twelve months of employment. See the application packet for more information. Application period closes at noon on Tuesday, February 3, 2015. Both the job announcement and application packet are available on the Employment page of the department's web site. Good luck!


+ 10 - 2 | § ¶
This Week's Working Fires
The colder weather has seen a spike in working structure fires since Monday. Around Raleigh, Durham, and Wake County, they've included the following, which are single-family frame dwellings unless otherwise noted:
Mon - 1/5 - Morning - Raleigh - 7509 Venture Ct .
Mon - 1/5 - Lunch - Durham - 3715 Foxwood Pl.
Tue - 1/6 - Morning - Durham - 202 Kindlewood Dr.
Tue - 1/6 - Midnight - Raleigh - 3208 Snowberry Dr.
Wed - 1/7 - Lunch - Raleigh - 4703 Cornwall Pl.
Wed - 1/7 - Evening - Durham - 503 Reynolds Ave.
Wed - 1/7 - Evening - Stony Hill - TBD
Thu - 1/8 - Morning - Rolesville - Blue Lilac Ln. - multiple outbuildings
Thu - 1/8 - Morning - Garner - 1033 Altice Dr. - mobile home
Thu - 1/8 - Morning - Garner - 2837 Super Sport Ln.
Thu - 1/8 - Lunch - Holly Springs - 5805 Goolsby Ct.
Thu - 1/8 - Afternoon - Holly Springs - 401 Chrismill Ln.
Fri - 1/9 - Early Morning - Hopkins - 9013 Fowler Rd.
Fri - 1/9 - Early Morning - Fairview - 9010 Ten Ten Rd.
Readers are welcome to add additional incidents, or details to the above fires.
Stay warm and roll those tankers!
+ 10 - 1 | § ¶
Mecklenburg County Fire Prevention Van - 1970
From Hose & Nozzle magaine, September-October 1970, here's the picture and story of a "shiny red step van" donated to Mecklenburg County by the Independent Insurance Agents Association of Charlotte. The unit would be used to "storge and transport equipment [that] firemen use in giving fire prevention programs." Click to enlarge:


+ 8 - 5 | § ¶
Montage of Station 29 Construction Photos
The city's newest fire station continues its construction at 12117 Leesville Road. Completion is expected in late February. Here's a montage of six construction photos, from August 31 to January 4. See more photos. Or read this prior posting and discussion therein. Click to enlarge:


+ 8 - 5 | § ¶
Two Alarms and a Fire Fatality on Generation Drive
Raleigh firefighters faced a challenging fire on Friday night at 1914 Generation Drive. That's a four-story, wood-frame, garden-style apartment building with 17,160 square-feet. Fourteen units, which are two-story. Built 1974. But the building has two addresses. (As do most of the buildings in the complex.)
The top two floors are addressed as 1929 North Hills Drive. The bottom two floors are addressed as Generation Drive. And, you can't access the bottom from the top, unless you either (a.) crawl/slide/jump into a "pit" in the front of the building, or (b.) walk around three buildings which adjoin, and descend a severely sloped hill.
Engine 16 arrived with nothing showing and found a burn victim on the front patio of a first-floor apartment. Firefighters began patient care, while the officer continued the size-up. The fire apartment was located as facing Generation Drive. The call was upgraded to smoke showing. As searches were started, smoke and heat began building. The call was upgraded to a working fire.
As conditions continued to worsen, a second alarm was struck. Further deteriorations prompted preparations for defensive operations. However, a transitional attack negated that need and crews resumed interior work.


Cause was determined as incendiary, as the result of a suicide attempt. The eighteen year-old female victim was transported to WakeMed and transferred to the UNC burn center. She died on Saturday as a result of her injuries. See news stories including WRAL and WTVD.
Believe this is the first fatal fire in the city since September 15, 2009. Fatal fire totals by my count, over the last fifteen years: 2009 - 2, 2008 - 1, 2007 - 4, 2006 - 2, 2005 - 2, 2004 - 3, 2003 - 1, 2002 - 5, 2001 - 8, 2000 - 2. Correction: Last fire fatality was December 12, 2003. Adult male, 78.
Read a full narrative with my posted photos. The first versions of those have been published, and include after images of the buildings and the topography. Also included is the below diagram. Click to enlarge:


+ 8 - 2 | § ¶
Hose & Nozzle Magazine Reports on Apparatus Accidents - 1968 to 1978
From Hose & Nozzle magazine come these assorted apparatus accident reports from 1968 to 1978. They're listed with issue dates only, alas. None of the stories include the accident date. Only a couple have photos, which are below. Left to right, top to bottom: Forest Hill FD (two photos) (1974), Black Mountain FD (1978), Burlington FD (1972), and East Side FD (1975). Click to enlarge:


Mar-Apr 1968 - Rocky Mount chiefs car was struck by a second car running a red light. Asst. Chief John Sykes was responding to a fire. The driver of the other car said "she did not know what color the traffic light was" and "got excited when she heard the siren and hit the accelerator instead of the brakes." Chief Sykes received minor injuries. Damage to the "fire car" was $1,300, and $400 to the other.
Mar-Apr 1968 - Statesville pumper collided with two cars and caused a chain reaction accident while responding to a "fire at a shopping center." The 1966 American LaFrance pumper was "crossing the square" when it collided with a Cadillac automobile. The car had reportedly entered the intersection with a green light. After the pumper struck the Cadillac on the right side, the car was pushed into a 1967 Pontiac which had stopped at the intersection. The apparatus "then slammed into" a 1966 Pontiac GTO which was parked. A "chain reaction collision" then occurred involving "a 1966 Chevrolet, a 1962 Dodge, and a Chevrolet." There were no serious injuries. Damage to the fire truck was estimated at $4,000, and between $3,000 and $200 for the various automobiles. The driver of the Cadillac was charged with "failure to yield to right of way to emergency equipment."
May-Jun 1968 - Union Road (Gaston County) fire truck overturned while responding to a call. The driver experienced a brake failure as the 1952 Dodge was attempting a turn at an intersection. The truck, which was "made top-heavy by a full load of water," was "evidentially travelling at a moderate rate of speed." The apparatus "was described as a total loss." Firefighter Roger Jenkins, 18, was treated and released from Gaston Memorial Hospital.
Sep-Oct 1968 - Kinston apparatus nearly destroyed after collision with a bus, which had pulled around a car stopped at an intersection. The fire truck was answering a call that "turned out to be a false alarm." The officer, Lt. Odell Turner, was thrown from his seat, over the windshield, and into the street. Driver Linwood Small was able to exit the truck but collapsed onto the pavement. He was wearing his seat belt, but "the blow ripped the seat loose from the truck and he got a rough blow to the lower part of his stomach" along with a back injury. Firefighter Randall Cribb was riding the tailboard. He was "thrown over the top of the truck onto the sidewalk." The truck received an estimated $22,00 damage. The "engine was torn loose from its supports, the chassis was bent about 45 degrees," and "the transmission fell out on the ground." A "woman from New Jersey" was also injured, in addition to the three firemen. The bus sustained $10,000 damage.
Nov-Dec 1969 - Kinston apparatus struck by car at the intersection of East Washington Avenue and Tiffany Street. It was responding to a fire when the automobile "slammed into the control area on the left side" of the truck. The driver of the car saw a police car in the intersection, which was also responding to the fire. He thought the officer was stopping another automobile. The driver of the car had a green light and did not see the fire truck "until it was in front of him." The street was also reportedly wet from recent rain. The 1969 model car received $3,000 damage. The apparatus damage was expected to be high. The driver of car was charged with "driving too fast for conditions and failure to yield for an emergency vehicle."
READ MORE
+ 9 - 3 | § ¶
Burlington Department Store Destroyed by Blast - July 3, 1962
From the cover of Hose & Nozzle magazine for July-August 1962. Uncredited photograph of a demolished suburban department store in Burlington. The explosion at Shopper's World occurred on July 3, 1962. Address of 209 Baldwin Road, from the 1962 city directory.
Reported the St. Petersburg Times on July 5, "the blast was heard for several miles. It broke windows in nearby stores and residences and hurled debris for several boxes." The owner of the store, a forty-five year-old male, "suffered pain burns but otherwise was not injured." However, "he was unable to give a coherent story and placed under heavy sedation."
Officials had no immediate explanation for the blast. The owner purportedly parked his car in the front of the store and unlocked the door at about 9:14 a.m. Seconds later, the one-story building (that "stood alone") exploded. "Nothing was left standing. Only a crater remained where the basement had been."
The Hose & Nozzle story offered a more detailed narrative. Owner Ben R. Lilien, identified as "part owner," detected a "different type of odor" when he entered. He couldn't identify the smell as natural gas. He headed immediately to the basement, suspecting on "possible water infiltration from heavy rains the previous night."
He opened the door to the stock room and took two steps inside. He heard a "massive 'swish'" and was "blown back eight or ten feet." He reported that he didn't know what had happened, but was aware that "fire was threatening his feet." He was able to find his way out of the building.
Said a neighbor, "I heard the explosion and I though an airplane had crashed." She came out of her house and saw an overturned car and "a lot of smoke, but no building."
The owner's car was turned over and it's engine "blown out." (The late-model Cadillac was reportedly thrown several feet into the air.) Three-hundred yards away at a bowling alley, every window was blown out. Another window was broken at a "state owned liquor store." The valuable possessions inside (my phrasing) were not damaging.
Burlington firefighters responded. They found no fire, just smoldering rubble. They also searched the wreckage for victims and were assisted by the Graham rescue squad, reported Hose & Nozzle. Based on other photos showing a crane at the scene, the search took a number of hours or perhaps days.
Loss was estimated at $500,000. Reported the Spokane Daily Chronicle on July 3, the building had a "frontage of about 150 feet and was about 75 feet deep. It sat alone in a residential area."
The Burlington Fire Chief Roman C. Fortune commented "not in all my years of experience have I seen a building so completely demolished."
Click to enlarge: