+ 5 - 11 | § ¶
Morning Reading - November 29, 2013
Good morning Raleigh. Was ours a working fire-free Thanksgiving Day in Raleigh/Wake County? Seem so. Hope everyone had a good holiday. Now let's hit the stores and the crowds, either for stuff buying or people watching. That's good entertainment there. Meanwhile, here's a trio of stories that caught my eye on the FirefighterNation/FireRescue Magazine Facebook page. That's one of my favorites for comments and discussions. Another is the Law Officer Facebook page, which really gets cooking with reader comments. Anyway, happy reading, happy Friday, happy holidays.
Firefighter Invents Device to Stop Kitchen Fires - FireRescue Magazine story from January, about a firefighter-turned-inventor and his smoke alarm-sensing device that stops power to an electric stove. The thing is calibrated to the acoustic signature of smoke detectors. To operate, plug into outlet, and plug stove into the device. Will kitchen fires become a thing of the past? Could be.

Reducing Tanker Crashes and Fatalities - FirefighterNation article about safe operation of tankers, in the context of a 2003 report from the USFA. Ten years later, tankers are still crashing and the causes remaining the same. And they account for more vehicle response-related fatalities than pumpers and ladders combined. Responding cold is one technique, and to the extent, the author notes, that some departments are equipping their equipment with all-amber warning lights and no sirens. Now there's an idea.

Boston's Ladder Culture - Firefighter Basics posting from May, that answers the question "why does Boston throw so many ladders?" The answer is combination of "better to have and not need" in a general sense, and specific commentary about the streets and buildings and building access in Boston. With images from the great fire photographer Bill Noonan. How many ladders does your department throw?
+ 5 - 11 | § ¶
Last Night's Two-Alarm Fire in Cary
Two alarms were struck last night in Cary, at a residential structure fire at 112 South Atley Lane. The fire was reported about 10:30 p.m. The two-story, wood-frame, three-family dwelling measured 3,232 square-feet. It was built in 1986. Heavy fire through the roof was reported by callers. A second alarm was requested on arrival as units were en route. All occupants escaped without injury, and three pets were also saved.
The first alarm assignment was Engine 1, Engine 2, Ladder 1, Ladder 3, Rescue 1, Battalion 1, and Morrisville as auto-aid. The second-alarm assignment was Engine 4, Engine 3, Ladder 5, Battalion 2, and Car 3. Special called units were Engine 5 and Ladder 6 for relief, and Rescue 4 and Brush 9 for fire watch. Need EMS units, readers can you assit? Coverage during the fire included Western Wake Engine 191 at Station 1. This morning, Ladder 3, Brush 9, and Battalion 2 were on scene, assisting the Wake County fire investigator. See more photos by Legeros.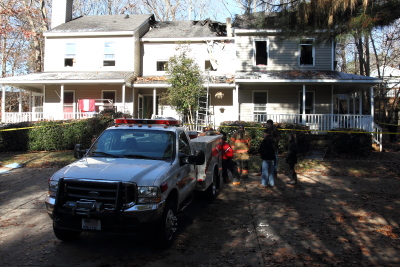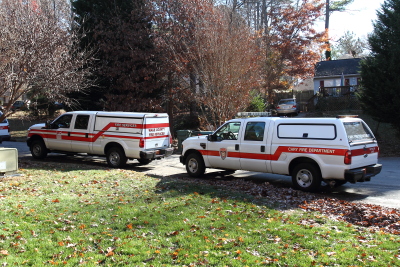 + 9 - 6 | § ¶
Thanksgiving at Station 5 - Then & Now
Here's a passable re-creation of a neat News & Observer photo from 1980. That's the staff of the Velvet Cloak Inn serving Thanksgiving dinner at Station 5, on November 27, 1980. Bottom photo is "B" platoon enjoying a family dinner this evening. Not shown is the rest of the crew, their family and friends, and one photographer in a floral pattern shirt. There are two more tables outside the frame.
Then, Station 5 housed two companies. Engine 5 operated a 1975 Mack, and Truck 5 operated a 1979 Mack/1958 American LaFrance tiller. The department had fifteen fire stations protecting 55.2 square miles and 150,255 residents.
Now, Station 5 houses an engine company and an air truck. They are a 2002 Spartan/Quality and 2002 International/SVI, respectively. Today, the department has twenty-seven fire stations protecting 144.39 square miles and 423,179 people. Click to enlarge:

+ 5 - 7 | § ¶
Wake Forest News on Wake Forest Station 4
The Wake Forest News last week posted a lengthy feature on Wake Forest's proposed fourth fire station. The site is located at the intersection of Jenkins Road and Fullard Drive, in northwest Wake Forest. The project is opposed by some residents, who are concerned about such issues as noise and property values. The story includes a map illustrating the probable proposed coverage area. There are also architect's renderings of the single-story, three-bay building. And blueprints! Read the story. (How do you close the images in the WFN piece, once you click on them? Locate the Close icon, in the lower right corner of the pop-up.)
Next question, what existing fire stations in town or around Wake County have generated controversy either before or during their construction? Believe there was objection to Wake Forest Station 2, before it was opened on Ligon Mill Road in 2001. For that matter, perhaps any fire station in or near a residential area compels concern. The residents by my neighborhood, off Lead Mine Road, voice concerns to city officials in the 1970s, as Station 16 was being planned. Click to enlarge:


+ 4 - 7 | § ¶
Combine Demolition Derby
For your Sunday afternoon diversion, here's a YouTube video about a combine demolition derby in Lind, Washington. The tiny town's annual event was chronicled by writer Chuck Palahniuk in his essay "Demolition," which appeared in his 2004 non-fiction collection Stranger Than Fiction. (He's the guy that wrote Fight Club. I'm listening to the non-fiction book on audiobook.) The rules includes no glass in the cab, no concrete in the tires, and no combines newer than twenty-five years old. Such contests are held throughout the grain belt, as this Wikipedia article notes. This video was produced by "Farmers Alamanac Television" and uploaded in 2006. (The resolution is a bit poor, but it's an engaging clip.) You can find more footage by searching YouTube, including clips from this year's event in Lind.



+ 1 - 5 | § ¶
Adventures in Web Design and Organizing Raleigh's Fire History
How's that web page working out? The one that's a single-page, big bucket of something? Maybe it's a storefront, for the public to learn everything and then some about your product or service. Maybe it's a private site on your company's network, that serves as a central "hub" of information. Maybe it's a personal page about a personal interest, say... the history of firefighting in Raleigh.
Below are current and future versions of my Raleigh Fire Department history site . Changes are a-coming, but first let's answer a question. Why is this "my" page and not a Raleigh Fire Museum page? Because the content hasn't been moved there yet. That's planned. Timeframe is between now and whenever.
That said, how's that history page working out for you, Mike? Pretty good for my needs. I'm able to quickly and easy find stuff... most of the time. Okay, truth be told, it can take a few extra seconds. Sometimes, I have to think about "under what section does that link live?"
Wait a minute. If my page is occasionally confusing to me, the guy that built the thing, how the heck are regular users going to fare? (Yes, we're even talking about levels of fiber consumption here.) And right there, my friends, is problem number one with web design. This is what happens when a web site is based on what the content creator thinks, instead of the content consumer.
I recently came across the San Francisco FD fire museum site, and was impressed with the left-side navigation. The links are organized by topic and listed mostly alphabetically. That's a better approach than my site, which is organized by document (or content) type. Worse, the categories aren't listed in alphabetical order. Thus my latest project, to reorganize my page to behave more like their page.
Here's the new version of my Raleigh FD history page, shown below beside the current version. The links are organized by topic, and exclusively alphabetically. Most of the content lives on legeros.com, but a few pieces are elsewhere. The thing's about ninety-five percent finished. Some of the link labels might get tweak. Ditto for some of the topic categories. What do you think? Click to access each:



What's next? The new page will replace the old page. Then planning (or procrastination) will start for the next version. That iteration will involve landing pages for each topic. Thus a page for Apparatus, and a page for Buildings, etc. The links will be moved to their respective topical (not tropical) landing page. The main page, shown above, will become smaller. Alas, you'll have to browse deeper, to see everything's that's on the site. (The big list o' links will become a site map, on a separate page that's linked from the main page. Got that?)
Unless I change my mind, of course.
Eventually, we'll move the whole thing to the raleighfiremuseum.org. That's the ideal gateway to all things about the history of the Raleigh Fire Department.
See what you think. Post or send comments.
+ 5 - 6 | § ¶
Video - Tiller Versus Platform
Found via the FireNews.net Twitter feed, here's an interesting video that compares a tractor-drawn aerial ladder (or tiller) with a platform ladder. The two are compared in timed tests in deploying their aerial devices, and turning and manuevering their vehicles. The nine-minute video was posted by YouTube user Ted Collins. There are a few nits worth picking, which we'll await as reader responses.


+ 9 - 8 | § ¶
TICKET DEADLINE EXTENDED: "Tramp" Dunn Appreciation Dinner - Saturday, Dec. 7
November 22
The deadline for purchasing tickets to this has been extended to Sunday, December 1.
November 7
Tickets are still available for the event of a lifetime. On Saturday, December 7, you can celebrate the contributions of an icon in emergency services. An appreciation dinner will be held at the Raleigh Convention Center for retired Raleigh Fire Department Captain Wilbert "Tramp" Dunn. He served the department from 1974 to 2003, for starters. His impact in the department included the many recruit academies that he helped train (and tell the world's greatest stories to), including a certain crew of fresh-faced recruits that joined on February 15, 1989. We know who we are.
Tramp is a veteran of the Vietnam War, and has worked for Beacon Ambulance Service, Wake County EMS, Six Forks Fire Department, and Fairgrounds Fire Department. He was also the first paid Fire Chief at Fairgrounds FD. Tramp is also a long-time instructor and speaker and continues to travel throughout the state and touching the lives of responders young and old. He recently retired (again) from his role as Firefighter Academy Coordinator at the Central Carolina Community College in Lee County. Click to enlarge:



View the flyer for the event
(pdf) on December 7, which is being sponsored by the Wake County Association of Fire Chiefs. The event starts at 6:00 p.m. with a reception and cash bar. The dinner and program begins at 7:00 p.m. The event will be held at the Raleigh Convention Center, in Ballroom C. Tickets must be purchased by November 20. They cost $50 per person, or $400 for a table of eight. The dress code is formal, either personal or department attire. See you there!
+ 9 - 13 | § ¶
UPDATED: Drawing of Cary's New Rescue and Engine
November 22
And here are the drawings for the town's 2013 Pierce Velocity pumper that's in production. It will replace Engine 4. Thanks Sheavis! Click to enlarge:


November 16
Seeing a theme here? Speaking of the Atlantic Emergency Solutions Facebook page, here's a drawing of Cary's new rescue that was recently posted. This 2013 Pierce Velocity heavy rescue is in production, and will replace Rescue 7, which is a 2008 Pierce Velocity heavy rescue. That truck will enter the reserve fleet. The Cary Fire Department has also ordered a Pierce Velocity pumper to replace Engine 4, and will feature a low hose bed. Go low or go home. Click to enlarge:


+ 3 - 8 | § ¶
Vintage Photo - Gastonia Fire, Police in 1919
Found for sale on eBay, the Gastonia fire and police departments on November 27, 1919. They're pictured in front of what's presumably the town's City Hall. Betting that the building's no longer standing and was likely replaced by the 1926 municipal building at 240 W. Franklin Boulevard. That structure also served as the fire station until 1953, when the fire department relocated to 117 W. Second Street. That building served until 2002, when the fire department relocated again. Maybe our Gastonia readers can add more details. Click to enlarge:


Both of the later Station 1 locations are still standing, along with Old Station 3 at 1502 W. Franklin Boulevard, Old Station 4 at 1012 S. New Hope Road, and Old Station 8 at 111 Camp Rotary Road (originally a Chapel Grove FD station). That is, at last check. Memo to self, swing through town on next westward trip and take new photos. Readers can use Google Street view to see how things look today. Click to enlarge:

+ 5 - 3 | § ¶
Video - Holiday Fire Safety from the Cary Fire Department
The News & Observer posted this story and accompanying YouTube video of Cary firefighters at Station 3 demonstrating two common holiday fires: overheated, overfilled turkey fryer (with a partially thawed bird) and a too-dry Christmas tree.


+ 3 - 5 | § ¶
Videos - Apparatus Leaving and Returning to Station 1
Mobile phone footage from last year and this year, compiled into a pair of YouTube clips. Apparatus leaving and returning to Station 1 on South Dawson Street in downtown Raleigh. Turn it up.

+ 4 - 5 | § ¶
Wake County Fire Commission Meeting - Thursday, Nov. 21, 2013
The next meeting of the Wake County Fire Commission is Thursday, November 21, at 7:00 p.m. The location is the Wake County EMS Training Facility, in the lower level of the Wake County Commons Building, 4011 Carya Drive. The documents for the meeting are linked below. Note that the packet is nearly 16MB in size, so prepare for large download.

Agenda
Call meeting to order

Invocation
Roll of Members Present

Items of Business

Approval of Agenda
Adoption of Minutes for September 19, 2013 Regular Meeting
Introduction of Fire Services Director Michael Wright
Discussion regarding the "role" of the Fire Commission and its Standing Committees

Regular Agenda

Consider approval of calendar year 2014 meeting dates
Consider re-appointment of Budget Committee members for FY 2015 Fire Tax Budget process
Consider approval of recommendation for the Fire Tax Budget Committee that Wake County Fire Commission review Wake New Hope FY 2014 apparatus purchases.
Consider approval of recommendation from the Tire Tax Budget Committee to appropriate $117,773 in Uncommitted CIP Funds to coverage overage of FY 2014 apparatus bid allotment.
Consider request from Eastern Wake Fire-Rescue for use of Fund Balance

Information Agenda

BDAs/BDA Ordinance Report
Cost Share RFP Update
Fire Tax Financial Report
Chair Report
Fire and Emergency Management Director Report

Other Business
Public Comments

Comments from the public will be received at the time appointment by the Chairman of the Fire Commission for 30 minutes maximum time allotted, with a maximum of three minutes per person. A signup sheet for those who wish to speak during the public comments section of the meeting is located at the entrance of the meeting room.

Adjournment - Next Meeting January 16, 2014
Documents
+ 5 - 7 | § ¶
UPDATED: Vintage Photos - Wilmington, Ogden, Charlotte, Kinston Fire Apparatus
Found for sale on eBay are these 35mm slide scans of vintage Wilmington, Ogden, Charlotte, and Kinston fire apparatus. Top to bottom, left to right are Wilmington's 1963 Seagrave tiller; Ogden's 1976 International/Bruco/Seagrave ladder; Charlotte's 1969 American LaFrance snorkel (Platform 1), 1964 Seagrave ladder (Ladder 6), 1962 Seagrave pumper (Engine 15), 1958 Seagrave pumper (Engine 11), 1957 Seagrave pumper (Engine 7), 1962 Seagrave pumper (Engine 23), and 1971 Seagrave pumper (Engine 16); and Kinston's 1965 Seagrave pumper (Engine 2). Click to enlarge, or see larger versions on the seller's pages.


+ 5 - 9 | § ¶
Vintage Photo - Houston Airport Rolligon Crash Truck
Here's a particularly neat photo found for sale on eBay, one of several 35mm slides of crash trucks from Dallas and Houston from this seller. (That's the same person with the vintage North Carolina slide shots for sale.) This one's a 1976 Rolligon that was equpped with a small pump, water tank, and foam tank.
What the heck's a Rolligon, you ask? From the company's web site, they appear to be all-terrain vehicles that use low ground pressure tires. And that are capable of amphibious operations (!) at reduced paylod capacity. Google for assorted images of Rolligon vehicles, past and present.
As for unusual off-road airport fire and rescue apparatus, all sorts of wheeled and tracked vehicles have been tried. My mind's eye recalls many interesting vehicles seen in various fire apparatus books. Maybe we can find some on the web, and add them here. Anyway, click to enlarge, or find a larger version on eBay:


+ 7 - 10 | § ¶
UPDATED: Drawings of Raleigh's New Apparatus
From the Atlantic Emergency Solutions Facebook page, here are drawings of Raleigh's new engines and ladder that are in production. The Pierce Arrow XT rescue engines (2), engine, and rear-mounted platform are due for delivery round January. The rescue engines (#27077-1, #27707-2) will be assigned to Squad 14 and Squad 15, which currently operate 2004 American LaFrance Eagle pumpers. Note the bumper compartment (for rescue tools?) and the absence of a booster reel. The "straight" engine (#27076) is shown lettered for Engine 19, which currently operates a 2000 Spartan/Quality pumper. The platform (#27078) is shown lettered for Ladder 2, which operates a 2005 Pierce Dash ladder. It's housed at Station 11, which will soon be remodeled to increase the size of the apparatus bay and accommodate the new ladder. Click to enlarge, or visit the above Facebook page for larger versions:


+ 4 - 7 | § ¶
UPDATED: Three Asheville Firefighters Killed in 1891
November 16
Date correction. This incident occurred on August 27, 1891, versus the same date in 1892, as cited in error in my August 2010 posting.
November 4
Updating some of my fallen firefighter information. Came across this blog post from August 2010, about a railroad trestle in Iredell County. That was where two people were struck, and one was killed, by a train traveling over the trestle at 2:45 a.m. The bridge was also the site of a deadline derailment one-hundred years earlier, and one that killed three members of the Asheville Fire Department on August 27, 1892 1891. Three other firemen were injured. They were returning from the state fireman's tournament in Durham.
Killed:
Perry Barnett
Samuel Gorman
W. E. Winslow
Injured:
Will Bradford
John Gaze
Marshall Nix
Based on current criteria, do these qualify as duty deaths? And perhaps warrant inclusion in the state memorial? Good question. Will forward the information to the appropriate parties. These would be the earliest record duty deaths in the state's histories, occurring a decade earlier than the passing of Edward Peed at a warehouse fire in Washington.
+ 9 - 6 | § ¶
Enclosed Top-Mount Pierce Pumper
Saw this featured in the latest issue of the Extra Alamer, the newsletter of the Extra Alarm Association of the Twin Cities. Look at this enclosed top-mount pumper recently delivered to Delano Fire Department, MN, a 2013 Pierce Velocity with a 1500 GPM Waterous pump and a 750 gallon tank. That style of "cover pump panel" is common in Minnesota, at least as observed in said newsletter over the years. Where else are these used? Read more information about the truck.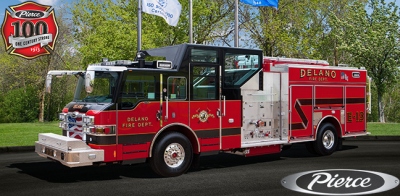 + 1 - 6 | § ¶
Today's Tweets
Less blogging, more tweeting. That's what's happening lately, as Yours Truly is doing more "micro-blogging." Meaning, posting 140-characters or less about the same stuff we've always blogged about. My Twitter handle is @legeros. You can find me at twitter.com/legeros. There's even a widget on the right side of this home page, showing said tweets. Try following a few people and/or organizations. It's surprisingly informative.


+ 5 - 6 | § ¶
Western Wake Names New Fire Chief
Western Wake Fire Rescue last week announced (via their Facebook page) the naming of their new Fire Chief. Effective at 8:00 a.m. on Monday, November 11, Captain Garland Johnston assumed the duties of Chief of Department. He s the successor of Fire Chief David Cates, who submitted his resignation after recently accepting the position of Fire Chief of Eastern Wake Fire Rescue. (Negative for our out-of-state readers, there's neither a Southern Wake nor Northern Wake fire department. There once was a Northern Wake Rescue Squad, however.)
Chief Johnston has been a member of Western Wake Fire Rescue since the organization's creation on July 1, 1998, as a merger of Fairgrounds and Yrac fire departments. He joined the Fairgrounds FD in 1993, and ascended the ranks to the position of Captain at Western Wake. He's also a full-time member of Fuquay-Varina Fire Department, where he serves as Battalion Chief. He previously served as a member of the Holly Springs Fire Department.
David Cates served as Western Wake's Assistant Chief under Fire Chief Jim Bona. He was promoted to interim fire chief in August 2007, and appointed Fire Chief in January 2008. He will continue to remain active as a member of the fire department. (See this prior posting, where we attempted to list all county fire chiefs, past and present.)
Congratulations to Chief Johnston!
+ 6 - 3 | § ¶
Vintage Video - Salt Lake City Fire Department Paramedics in Action
Saw this on Statter911, which he found at the Salt Lake City Fire Department's YouTube channel. Great vintage film demonstrating their paramedic program in the 1970s. The program was created prior to 1976, which is the year cited in the video that the program was expanded. The staged scenes look quite a bit like what we watched as kids in Emergency! That television program debuted in 1972, so there's a fair chance the filmmaker(s) were influenced therein. Says that Wikipedia article, there were only twelve paramedic units operating in North America when the show started. (And just noticed a shot at the end of the clip, that appears to pulled from the TV show. Shot of Squad 51 responding in late-day light.) What other vintage films from this era have readers found and enjoyed, via YouTube?

+ 5 - 4 | § ¶
Scenes From Saturday's Firefighter Fundraiser in Johnston County
Photographer Jason Thompson documented a firefighter fundraiser in Smithfield on Saturday. The inaugural Johnston County Fireman's Day honored firefighters Ray Workman and Shane Austin, who are both battling cancer.
Ray is a Wilson Mills firefighter. Shane is a Cary firefighter, part-time Johnston County EMS member, and former Smithfield firefighter. They've both been diagnosed with cancer, and are in need of help from the community. Ray has colon cancer and Shane has inoperable non-Hodgkin's lymphoma.
Saturday's event at Rose Manor Shopping Center in Smithfield featured firefighter games, a cornhole tournament, and a chili cook-off. All proceeds were donated to benefit the medical bills of Ray and Shane. See Jason's photos, or visit his blog, JocoFire.com. Maybe we'll get a reader report on Saturday's winners, and the total monies raised.
If you missed the event, you can donate anytime:

Ray and Shane Benefit
c/o Wilson's Mills Fire Department
2550 Cleveland Road
Smithfield, NC, 27577

Or contact:

Todd Moore, 919-669-7964
toddmoorenc@aol.com

Bentley Powell, 919-915-1171
wmfd3@yahoo.com


Jason Thompson photos
+ 6 - 4 | § ¶
Vintage Photos - Then and Now at the Training Tower
For your Monday morning amusement, here's a pair of "then and now" photos from the training center, from atop the old training tower. (Recall that the current tower was erected in 2006, after the 1954 structure was demolished in 2005.) The top photo is a News & Observer image from 1959. That's Firefighter Ned Perry approaching the camera.
The bottom photo appeared Raleigh Fire and Rescue, 1984-2002, printed by Taylor Publishing Company in 2002. That's Battalion Chief Paul Johnson at the top. When was the photo taken, and who had the great idea to recreate the original image? To be determined. Maybe readers can track that down. As the modern photo shows, no small amount of work went into orchestrating that shot.
What about the rigs we're seeing in the shots? Those are 1951 and 1953 American LaFrance 700 Series pumpers, along with a 1958 American LaFrance 700 Series tractor-drawn aerial ladder. The rescue trucks are the department's originals, a 1953 GMC panel van and a 1954 Reo Civil Defense truck. The chief's cars are a 1957 Chevy Bel-Air and a... what? Need reader help there, presume a 1953 Chevy of some model.
In the bottom photo, the engines appear to be, left to right, a 1997 Pierce Saber, a 1989 Pierce Arrow, and a 1992 Pierce/Mack CF. The ladder truck is a 1990 Spartan Monarch/Simon-LTI. The rescue trucks are a pair of 1991 Chevy Kodiak/FrontLine super-huge ambulances. The chief's cars are Ford Crown Victorias, probably late 1990s or early 2000s. Readers undoubtedly can clarify, as well as note other interesting then-versus-now details. Click to enlarge:



+ 4 - 4 | § ¶
Vintage Photo - Ice Cream at the Training Center
Found in my files, here's a vintage photo of the Raleigh Fire Department training center. Don't have a date, but obviously it's after the department switched from grey to blue shirts. Was that before 1982, and the construction of the Keeter Training Center? Need to check. What are the then-versus-now things that you can spot in this photo? Bonus if you can identify folks. Click to enlarge:


+ 3 - 4 | § ¶
UPDATED: Social Media Review - Nation's Largest Fire Departments
Continuing our review of social media sites and public information sources, here's a review of the nation's largest fire departments. Yes, they vary considerably in the areas that they serve and the population sizes therein. CalFire is a particular apple to a whole bushel of oranges. The web experience is certainly interesting, going from site-to-site and Google result-from-result. Couple things jump out at me, from the various official home pages.
First, most sites don't have an obvious, screaming-at-you option for "click here to learn what's happened lately or read the latest news/news releases." Second, social media channels aren't always listed or visually obvious Some sites use small icons to denote Facebook or Twitter pages. Some use very small icons. Again, nothing really screams at you. Maybe there's justified thinking that "those trying to find us on Twitter, know how to find us on Twitter."
Third, demographic and organizational profiles were sometimes buried, and sometimes seemingly absent. Thus, Wikipedia was my source for a number of personnel and station counts. Fourth, some of these sites and pages are a bit dated or worse.
Fifth, nearly everyone is using Twitter. Haven't taken time to read or compare tweets. Readers are welcome to correct my information and links below. And/or supply the names of departments that they particularly like, for social media usage and public information presentation.


Department
Stations
News
Site
Facebook
Twitter
Flickr
YouTube
Members
Notes
Boston
35
Yes
Yes
Yes
1,611
Cal Fire
228
Yes
Yes
Yes
Yes
Yes
4,700
(permanent)
+others
Charlotte
42
Yes
(blog)
Yes
Yes
Yes
Yes
1,164
Chicago
100
Yes
(RSS feed)
Yes
(outdated)
Yes
4,933
(uniformed)
Also EMS provider
Dallas
57
Yes
(outdated)
Yes:
Incidents
Traffic
1,670
(uniformed)
Also EMS provider
DCFD
68
Yes
Yes
Yes
Yes
Also EMS provider
Detroit
45
Yes
Yes
~1,141
(uniformed)
Also EMS provider
FDNY
249
Yes
Yes
Yes
Yes
Yes
~15,870
Also EMS provider
Fort Worth
42
Yes
Yes
908
(uniformed)
Indianapolis
44
Yes
Yes
1,160
(sworn)
Also EMS provider
LA County
171
Yes
Yes
Yes
plus one
for PIO
Yes
3,892
+lifeguards)
Also EMS provider
LA City
106
Yes
(blog)
Yes
Yes
plus one
for talk
Yes
3,586
Also EMS provider
Houston
92
Yes
Yes
Yes
4,190
Miami Dade
66
Yes
Yes
Yes
2,550+
Also EMS provider
Phoenix
59
Yes
1,936
Also EMS provider
Philadelphia
61
Yes
(outdated)
Yes
1,973
Also EMS provider
San Antonio
51
Yes
Yes
1,600
(uniformed?)
Also EMS provider
San Diego
47
Yes
Yes
Yes
1,200
(uniformed?)
Also EMS provider
San Francisco
44
Yes
~1,700
(uniformed)
Also EMS provider
San Jose
33
Yes
Yes
Seattle
33
Yes
Yes
Yes
981
(uniformed)
Also EMS provider
+ 2 - 5 | § ¶
Jacksonville Airport Apparatus
Found for sale on eBay are these 35mm slides of airport apparatus from Jacksonville and the Albert J. Ellis Airport. Top is Crash 2, a 2006 Oshkosh Striker 2000/1500/200 foam/500 dry chemical. Bottom is Crash 1, a 2001 E-One Titan HPR 2000/1500/200 foam/500 dry chemical/55-foot snozzle. Photographer not known.
The single-runway airport opened in 1971, says the Internet. Perhaps we have readers down south who tell about the history of the airport's fire department. Guessing these are probably their second- or third-generation of rigs. And just how many airport fire stations are scattered about the state? Check out this page from FDmaps.com for that information. Click to enlarge:


+ 6 - 4 | § ¶
Video: Flugzeugschlepper Goldhofer AST-1
Here's your specialty vehicle video of the day, a Goldhofer AST-1 airplane tug. What's so special about this special vehicle? This was developed to help push/pull the Airbus A380, the new commercial jet that's larger and heavier than a Boeing 747. This specialized tractor can tow a craft that weighs over one million pounds when fully loaded. The video's in German, but still pretty cool. Check out the reversible driver's seat and console! Next question, what sort of aircraft rescue and firefighter techniques and/or equipment have had to evolve, to prepare for the A380? And how about some trivia? What famous science-fiction film featured a future military vehicle based on an airport tug?


+ 1 - 8 | § ¶
UPDATED: Social Media Review - North Carolina Fire Departments
For your evening amusement, here's a chart showing social media channels used by the state's largest municipal fire departments. (Based on city size. What city departments are missing, as well as county or institutional departments of comparable size?) Linked are web sites, Facebook pages, Twitter feeds, and Flickr sites. Plus "related" sites, of assorted sorts. (Current/active related sites. Didn't include any that haven't been updated in a while.) Please provide edits as needed. Curious about the size of each department's public information office. Which have full- (sole duties) versus part-time PIOs, and how many? Readers, please provide input. Send me a message, or post here. We'll update our chart accordingly.


+ 2 - 7 | § ¶
Falls Tanker 217 > Zebulon Pumper 96
On Tuesday, the Zebulon Fire Department received their newly re-lettered and re-striped pumper-tanker, a 2009 Pierce Contender 1250/1000 that formerly served the Falls Fire Department as Tanker 217. It replaced a 1997 Freighter/EEI pumper-tanker, that was sold to a fire department in Iowa. To help remember the heritage of the truck, and its former department, the Zebulon Fire Department mounted a plaque on the truck as shown below. The Falls Fire Department operated from 1970 until 2012, when it merged with the Wake Forest Fire Department. The former Falls station is presently Wake Forest Station 5. Thanks to Chief Perry for passing along the photos. See Lee Wilson's photos of Tanker 217, taken in April 2009.



Zebulon Fire Department photo



Lee Wilson photo


+ 2 - 8 | § ¶
Raleigh Fire Museum Open This Saturday, November 9
The Raleigh Fire Museum will be open this Saturday, November 9. That's the regular second-Saturday-of-each-month scheduled opening. The museum is located in a modular classroom at the Keeter Training Center at 105 Keeter Center Drive. Admission is free. Parking and restrooms are available. Here's a two-minute video tour. Learn more about the museum, and the non-profit organization that operates it, at www.raleighfiremuseum.org.
Please note that antique fire engines are located elsewhere. Both the museum's 1961 American LaFrance pumper and the city's collection of antique fire apparatus is housed at at Fire Station 28 at 3500 Forestville Road. The collection includes a 1905 steamer, a 1926 American LaFrance pumper, a 1950 Mack pumper, and a 1982 Mack pumper. Visitors are welcome. Or schedule a tour at www.raleighfiremuseum.org/tours.

Swing by and say howdy. You'll see a familiar face or two. We also have merchandise for sale: Raleigh Fire Department challenge coins, centennial t-shirts (grey only), and a few remaining copies of the centennial history book. Here's our rack card that describes both the museum and the antiques at Station 28. Click to enlarge:


+ 1 - 6 | § ¶
Durham's New Engines in Service
Lee Wilson has photographed a pair of recently delivered engines in Durham. These 2013 Sutphen Shield 1500/500 pumpers were delivered in September. They were placed in service on October 21 (Engine 9) and October 24 (Engine 16). See more photos. What's happening in the Bull City lately? Maybe our readers can inform. Construction of the new Station 9 should be well underway, for starters.



Lee Wilson photos
+ 6 - 2 | § ¶
Historic and Former Firehouses of San Francisco
Post-vacation play as compiled from these San Francisco Fire Department Museum firehouse histories. Draft version of the document, to be finished and archived at my history site at a later time. These are all extant fire department structures that are fifty years of age or older. View the document (pdf).


+ 10 - 2 | § ¶
David Ogilvy on How to Be a Good Writer
Passed along from a friend, here's a Business Insider posting, about a famous memo issued by advertising agency founder David Ogilvy. Still applies today, and outside both the worlds of advertising and corporate America. We could do worse than adopt these tips, for paper- and electronic-based written communication. (Reader's can discuss/debate the importance of good writing in the fire service as desired.)


+ 7 - 2 | § ¶
UPDATE #2: Fayetteville Public Safety Patch
November 4
From reader Bobby Ayers comes this photo, of the Fayetteville Public Safety fire-police truck. The unit is pictured in front of Station 2, and the photograph is dated 1977. Scanned from a 110 film (!) print. Click to enlarge:


November 3
Here's what we've learned so far. The city of Fayetteville had a combined fire and police program in or around the late 1970s. There was one vehicle, a four-door Squad 51-style unit with a small pump and booster line. It was painted half red and half blue, and had both red lights and blue lights. The unit was placed on patrol, like a police car. Was pictured once in the Fayetteville Observer. There was not, however, a city-wide public safety program. Was this patch worn by those operating that public safety unit? To be deteremined. The patch may have also referenced operations at the Fayetteville airport. Thanks to Jeff Harkey, for these memories.
Below are a couple other public safety department patches from back in the day. Here's a prior posting that discussed this topic. Departments with public safety programs or officers also included Bald Head Island, Butner, Chapel Hill, Durham, Havelock, Holly Springs, Knightdale, Long Beach, Morgan, Washington, and Winston-Salem:

November 2
Found for sale on eBay. What's the history on this one? Fire and police departments under a joint agency, or did the city have combined police officer/firefighter positions as well?


+ 4 - 4 | § ¶
How To Make Your Own Movies
Here's how to record, edit, and broadcast your own video clips using your smart phone. Why do such a thing, you ask? Because moving pictures tell thousands of words, and particularly if they're narrated. Need to communicate something, but in a method more robust than words or words plus a couple pictures? Try making a video. Really, it's easy. Have to demonstrate something to someone? Don't relish the prospect of writing a short "manual?" Try making a video. Just tape thing as you speak.
The steps in general:
Create one or more narrated video clips, using your smart phone.
Transfer the video file(s) to your computer.
Edit the video file using software on your computer.
Upload the video to a network or YouTube or such.
Notes: Step 2 and Step 3 can perhaps be bypassed. Your smart phone video record may have some editing capabilities. Or you may have a video editing app installed on your smart phone. And/or, you can perhaps upload your clip to a network or YouTube straight from your phone. Since this is a Legeros-based set of instructions, here's how he does it.

Step 1 - Record the clip(s)
Have your phone in hand? Switch the camera to video mode. Aim the thing. Press record.
Okay, you'll probably want some preparation. Walk through your narration ahead of time. Maybe jot some notes, or write a script. And you'll probably want a second person to hold the phone, if you're demonstrating something with your hands. Or if you're part of the demonstration!
Step 2 - Transfer the clip(s)
Connect the phone to your computer. Use whatever you use to transfer the movie file(s) from the phone, to the computer.
My method involves dragging and dropping the files, from the Windows Explorer view of my phone, to the destination folder on my desktop.
Step 3 - Edit the clip(s)
We'll probably want to edit our clip, even if just to tighten the timing. Maybe trim a few seconds at the start, before the "action" had started happening. Or maybe we'll combine two clips into a single movie. Or multiple clips, for a longer segment.
One simple and free tool is Windows Movie Maker, which is available for Windows 7, which is Mr. Blogger's computer platform. Once downloaded, start playing with the thing. Import your first video file. Look at your options, including "split" to divide the thing into two pieces. There's a title option, where you can a "slide" with text. There's timing for the "slide," where you can control the number of seconds it's displayed.
Once you've finished you're edits, save the project file. Then, export the clip as a new video file, which you'll use for the final step.
Step 4 - Upload the clip(s)
Final step is sharing this clip with others. Mine are uploaded to YouTube, which is a widely popular video delivery service. Accounts are free. Each video can be private, public-but-unlisted, or public (and found by people searching on YouTube). Uploading takes time, however. Many minutes or even hours, depending upon the length.
There are other options, from other video delivery web sites (such as Vimieo) to private or personal networks. If your fire department has an internal computer network (or intranet), and you're producing videos for personnel, you could upload them there. That keeps them out of the public domain, or at least off of someone's servers other than your own.
Obviously, you can also share videos the old-fashioned way, by send the files as attachments in e-mail messages (size permitting). Or copying them to flash drives, or burning on to CDs or DVDs, for physical transfer.
Examples
Here's an unedited clip, e.g. just raw footage of a single shot:


Here's the same clip, but with footage deleted from the beginning and end:


Here's that clip, combined with a second clip. Think of this as a very short movie, consisting of two shots.


Easy peasy, no?
+ 1 - 7 | § ¶
Little Orange Bag
Found this at Target a few weeks ago. Located in the luggage section. For laptop computer accessories. The bright color is considerably better than stylish black, which is the customer color for sundry accessory totes. High-visibility means easily spotted in such darker-lit situations as classrooms, or darker-furnished environments like hotel rooms. Readers probably have a preferred vendor for such items in the services or public safety sector. Target worked for me, on the fly.


+ 4 - 4 | § ¶
One Night Only - Wake & District on November 23
Here's the latest concert announcement from Wake & District Public Safety Pipes and Drums and a grand parody of the poster seen in The Blues Brothers, a beloved movie of my generation. From their Facebook page:
Saturday, November 23rd, one night only, the fabulous Wake and District pipers and drummers. Bagpipe and Drum review. Tir Na Nog. 218 South Blount Street. Raleigh. The fabulous Wake and District pipe band and review. Free parking. Four dollar cover charge only folks. That's a lot of entertainment. For four dollars.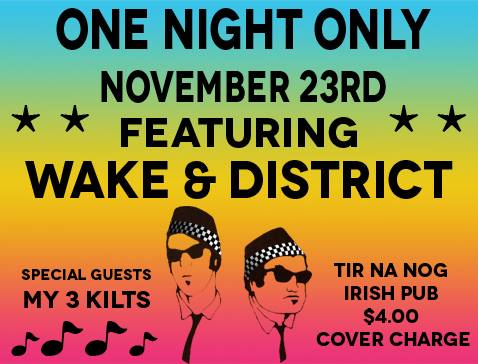 + 9 - 2 | § ¶
Adventures in Public Information < LAFD
Here's the Tweet of the day, from the Los Angeles Fire Department, from their @LAFDTalk Twitter feed. Life in the land of Hollywood is indeed different! Check out @LAFDTalk. It's a two-way conversation channel, separate from @LAFD. Pretty interesting. Next question, how many other fire departments have separate "announcement" and "conversation" Twitter feeds?



+ 14 - 4 | § ¶
Charleston's New Tiller
From the Pierce Flickr site, here's company photo of Charleston's new tractor-drawn aerial ladder. The tiller is the first for the department since the late 1940s. Numbered Ladder 104, it'll be placed in service at Station 15 in mid-December. How many other departments in South Carolina also operate tillers? We're getting one more in North Carolina, with Wilmington awaiting completion of a Pierce build with a Velocity cab. It'll join Raleigh, High Point, and Cornelius-Lemley as the only active tillers in the state. Saw numerous tillers in northern California this week, from Monterey to Berkeley to San Francisco. Of course, those are the lands of dense cities and tight streets. See larger versions of this picture.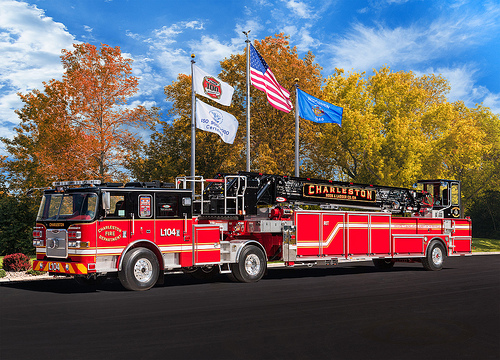 From the Charleston Fire Department's Facebook page, here's a notice about the new truck:
Charleston, SC (October 22, 2013): The Charleston Fire Department is proud to introduce a new addition to its fleet with the arrival of a custom built tiller ladder truck. This 57-foot long tiller ladder was built by Pierce Manufacturing and features a 100 foot steel ladder, seating for 5 firefighters, 249 feet of ground ladders and an array of vehicle extrication equipment and tools. This new apparatus will be housed at Station 15, located at 162 Coming Street on the Charleston Peninsula, and have the call sign of Ladder 104.

The tiller aerial has an extensive history in the American fire service that dates back to the late 1800's when larger cities like New York, Boston, and San Francisco needed to navigate narrow city streets to access multi-story buildings. These highly maneuverable vehicles are driven by two drivers operating independent suspensions. One driver sits in the front cab, or "tractor", and steers the front of the apparatus while one driver sits in the "tiller" seat, at the rear, and drives the rear of the apparatus. The drivers work in tandem to steer the apparatus through City streets. The Charleston Fire Department featured a tiller aerial in its fleet in the early 1930's to the late 1940's.

The Charleston Fire Department will conduct extensive training with the tiller before the unit is placed into service. The Forsyth County (GA) Fire Department has partnered with the Charleston Fire Department to provide training and guidance on tiller operations. Several members of the CFD previously traveled to Forsyth County for initial training and now instructors from Forsyth are in Charleston providing training on the new vehicle. This training will assist with the skill development from experienced members of Forsyth County who currently operate two tiller drawn aerials apparatus. The CFD Training Division has developed a task book for each crew member to complete before operating the tiller.

Other features of Ladder 104 include a 500 horsepower engine, light tower with 4 – 1500 watt flood lights, hydraulic generator, 3 positive pressure fans, rope rescue gear, 2 thermal imaging cameras, and a full complement of firefighter tools and equipment.

The tiller will be placed in service in mid-December upon successful training of all crew members. A specific service date and a ceremony to welcome the apparatus to the fleet will be announced at a later date.