+ 12 - 20 | § ¶
Eighteen Years Ago
Random scrapbook photo, found while looking for something else. That's Mike presenting a plaque at the 1989 academy graduation. Left to the right in the background are Bridges, Buck, Deyo, Haines, Hodge, Johnson, and Jones. Such fresh faces! In the foreground is Chief Sherman Pickard. Click to enlarge:


+ 15 - 14 | § ¶
Presentation
Mike has developed and started delivering a presentation on the history of the Raleigh Fire Department. It runs about an hour and covers both the volunteer and career eras. The requirement for delivery are a laptop computer, a wall projector, and a dark room. Larger than smaller audiences are preferred, e.g. more than just one or two companies. Look for a likely library presentation as well, probably at Olivia Raney one evening. Contact Mike for more information.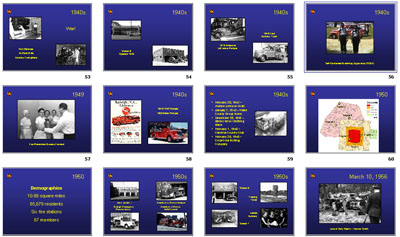 + 15 - 19 | § ¶
Truck 12
Speaking of the shop, here's a blast from the past, an old hose roller labeled for T12. That service truck company was removed from service on September 20, 1988. By that time, it was out of service more often than not, its personnel filling vacancies on other apparatus. The 1980 Ford was moved to Station 15 and was replaced by the 1977 Mack platform the next year.


+ 9 - 17 | § ¶
One Sweet Ride
Chief McGrath's new wheels were delivered to the shop yesterday. Radios and discrete lighting to be added. No lettering, though, just like his present vehicle.


+ 14 - 10 | § ¶
Wake County Ladders / Wake County Resources
You want it, you got it. Here's a quick map of Wake County aerial apparatus, identified by squirts, sticks, and platforms. And, added Friday night, a second map of wider resources. Click to enlarge:



+ 12 - 14 | § ¶
Safety Office / Safety Company
Starting Monday, listen for a fourth engine company dispatched to working fires in Raleigh. They'll roll along with Car 5 and Air 8, and will perform the role of Safety Officer. The role is presently assigned to a second Battalion Chief who is dispatched to working fires.
+ 14 - 16 | § ¶
Trunks
What does yours look like? The Mike Mobile is below. Snap and send and we'll add 'em. Personal or official, responder or buff. Show us your rears.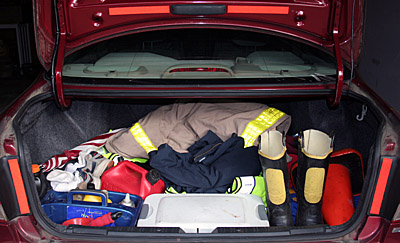 + 13 - 13 | § ¶
Airport Radios
We're told that RDU is switching to the county 800 system in another couple weeks. They tried the system Saturday at the drill and the radios worked like a peach. They have a mess of talkgroups, such as are listed here. RDU ES DISP should be the one to monitor for fire calls dispatches, originating either from RDU ECC or from CFR, after tower notification. Mike has some probably outdated Alert info on his site, as well as a recently created PDF format airport map.
+ 12 - 16 | § ¶
Ladder X
Where will Raleigh's eighth ladder company go, expected to be approved in the coming budget year? First, some assumptions. Station 8 is out, as the floor can't support the weight. Stations 12 and 14 are probably out, due their smaller size. The ladders at 1, 20, 23, and 26 are probably fixed, needed for coverage. The ladders at 11, 16, and 22 might be subject to moving. Using 2.5 mile ISO-style circles on a crude map, maybe 07-08 will see something like L22 to L25 and add L15? Or keep as is and add L27? Oh, the possibilities! Click to enlarge:


+ 10 - 21 | § ¶
Station 7
Cary Station 7 opened yesterday at approximately 13:15 hours. It houses Engine 7 and Truck 7, and will also house Morrisville Engine 3 in another few weeks we're told. It ran its first house fire at 18:15 hours. Some project details are here. For those who are counting, that's 573 days after construction was started, and exactly 208 days late. Alas, delays happen.
+ 13 - 13 | § ¶
Hockey Pics
Some pictures from Sunday's charity hockey game have been posted to Flickr. They were taken by a group of local photographers, one of which Mike sent in his stead.


+ 13 - 14 | § ¶
Transparency
Splendid article from Wired on the subject of transparency with regarding to blabbing, blogging, and business. Does it apply to the fire service? You be the judge.
+ 10 - 9 | § ¶
FC1 and Thermal Imaging
Raleigh's mobile command post has four (or is it five?) television monitors, one of which is connected to a thermal imaging camera receiver. Here's what it looks like in action:


+ 12 - 8 | § ¶
Zebulon Apparatus
Another new Pierce arrived today in Zebulon. County-spec Contender, 1500 GPM pump, 1000 gallon tank. It replaces Engine 94, the 1987 GMC/FMC. It will be named Pumper 94.


+ 17 - 8 | § ¶
County Staffing Expansion Requests
Something left over from the recent Wake County Fire Commission Meeting. The Budget Committee Meeting report included a summary of expansion and small capital requests for the coming fiscal year. READ MORE
+ 11 - 13 | § ¶
USAR 3
North Carolina Urban Search and Rescue Task Force 8 recently placed a third tractor-drawn trailer in service. It's presently stored at the Keeter Training Center: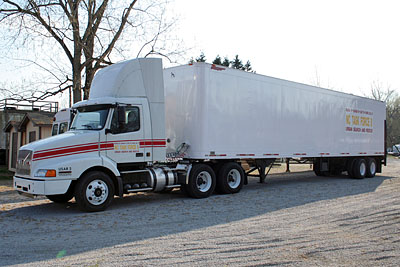 + 15 - 12 | § ¶
Another Panorama
Here's another stitched-together shot of Saturday's airport drill. This one took some trickery to produce, notably copying and pasting a section of the runaway on the right side of the image and then pasting, reversing, and skewing the same section on the far right side of the image. Click to enlarge:


+ 12 - 12 | § ¶
Multitasking
New York Times article on multitasking that might make interesting reading for anyone who, say, operates a vehicle while trying to use a radio, pager, cell phone, laptop, etc. while driving. No one here does that, of course.
+ 13 - 12 | § ¶
Ladder 1 / Apparatus Update
The rear of Raleigh's tiller has at last been re-lettered. We're also told that the new Pierce pumper, ladder, and rescues are behind schedule. They're now due in August.


+ 19 - 10 | § ¶
Falls Apparatus
Falls Fire Department passes along this photo of their coming Engine 212 at the Pierce plant in Florida: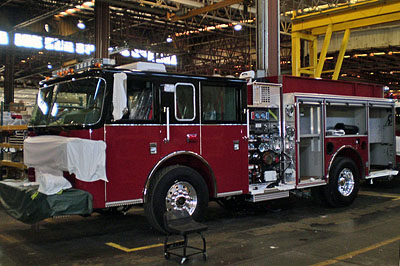 + 12 - 16 | § ¶
Airport Drill
Pity the poor passengers arriving at RDU this morning and seeing this scene at the end of the runway. Pics from Lee and Mike forthcoming. Click to enlarge:


+ 12 - 11 | § ¶
Holly Springs Apparatus
Holly Springs supplies a picture of their new Pierce Contender pumper, newly delivered. It's one of the county contract rigs. They also report that their new platform is in service, and that they're expecting a new brush truck some time this summer.


+ 13 - 11 | § ¶
Vital Records / Fallen Firefighters
It's that time of year again. Ahead of the second annual North Carolina Fallen Firefighters Foundation Memorial ceremony in May, Mike is again researching fallen FF histories. Mostly he's copying death certificates, which are readily available at Olivia Raney Local History Library off of Poole Road (among many other places). READ MORE
+ 8 - 19 | § ¶
Blog Virtues
Something interesting from Kathy Sierra on the Creating Passionate Users blog. She posted some PDF slides from a presentation she did on the Seven Blog Virtues for Building a Global Microbrand. Here they are, repackaged in a somewhat smaller-sized format. View the PDF slides.
+ 14 - 13 | § ¶
Headlines
For your Friday amusement, assorted headlines from the News & Observer in early and mid 1910. READ MORE
+ 13 - 8 | § ¶
This Evening's Fire
Mike and his bride wandered to Cary tonight. Though date night is usually reserved for non-fire activities, this condo complex was where she resided many moons ago. Thus her interest and even excitement in visiting. Took some good night shots, too.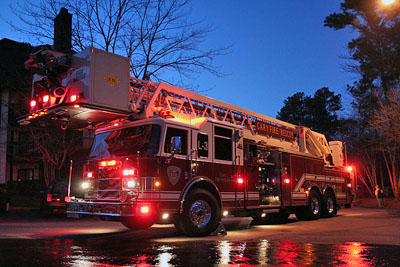 + 14 - 14 | § ¶
Bob Biggs Passes
Retired Air Force Col. Bob Biggs passed away last night. One of the great friends of the Raleigh Fire Department, he is best known for his skillful restorations of antique fire apparatus including Raleigh's 1926 American LaFrance and 1950 Mack pumpers. He also helped return the 1905 American LaFrance steamer to the city, commanding a team of horses and pulling the thing from the Fairgrounds where it was serving as an auxiliary pump. He was a high-schooler at the time, this being the late 1940s. He was a familiar fixture at fire stations in the 1940s and 1950s, and a founder of the Raleigh Emergency Rescue Squad, before joining the Air Force. After returning to Raleigh, he also worked with the New Hope Fire Department for several years. He told great stories, and was a wealth of knowledge both about early fire apparatus and the early Raleigh Fire Department. He will be missed. Click to enlarge:


+ 11 - 13 | § ¶
Job Finder?
Reader suggestion: "Let's start an employment listing for firefighters and EMTs in Wake and surrounding counties. You know how hard it is to find an open position, and I am sure that with the help from other fellow public safety officials that we can help each other out." Sounds like a good idea. How do people presently learn of open positions? And what fire and EMS listing services already exist?
+ 18 - 6 | § ¶
The Raleigh Fire Station
What's the deal with all those Raleigh fire stations that look alike? William C. McGee, Jr., who designed Station 10 through Station 21, plus the third Station 4. Eighteen stations total were built in that style. Station 7 was the first (and only?) with the watch desk on the dorm side. It was also the only constructed with separate officer's quarters. Eight were built with dorms on the right, ten with dorms on the left. The first opened in 1959 (Station 7), the last in 1998 (Station 21). The smallest is 3,984 square-feet (Old Station 4), the largest is 5,298 (Station 18). One has a partial basement (Station 5), one has a full basement (Station 8). Only Station 2 has an attached structure, the old shop. Station 16 was the first with a rear bay door. Station 7 cost $65,000; Station 21 cost $730,000. And why did Raleigh stop using that style of station? The guy died, or so the story goes.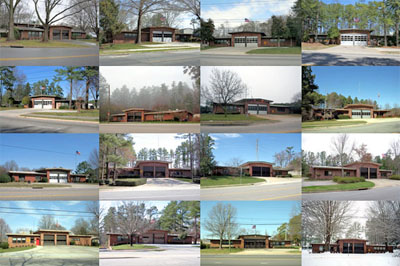 + 12 - 12 | § ¶
Station 22
What's parked outside Raleigh's stations? Haz-Mat 22 and a second trailer are parked at Station 22, seen below. Decon 1 is parked beside Station 20. USAR 1 and USAR 2 are parked behind Station 7. The fire safety house is parked behind Station 21. Plus a bunch of stuff at the Training Center and at Services.


+ 9 - 16 | § ¶
BMA
Funny acronym coined by Billy Goldfeder in this Firehouse editorial. BMA. Brotherhood My A@@.
+ 12 - 11 | § ¶
The Prior Substation Fire
August 7, 2001. CP&L substation at East Street and Martin Luther King Jr. Parkway. Smoke visible for miles. Hundreds of spectators. Very hot, very sticky. RDU sent a crash truck. Foam was also brought from Durham Highway, after Raleigh's supply was depleted. Some 75 residents were evacuated and ~20,000 customers were left without electricity on one of the hottest nights of the year. Mike watched from a couple books away and shot the following pics. Lee was a little closer. Foam was pumped again the next day, as the equipment still hadn't sufficiently cooled. Click to enlarge the center image:


+ 9 - 15 | § ¶
Pipes, Drums, Traditions
Here's a nice page explaining fire department traditions, notably the Irish influence on the fire service. And here's the Wikipedia entry on Irish Americans, though it minimally mentions the fire service. Still interesting, though.
+ 14 - 15 | § ¶
Station 28
The front pad's in place:


+ 12 - 15 | § ¶
New Camera
From a reader, how do you shoot a structure fire with a digital SLR? Mike made the transition from point-and-shoot film to point-and-shoot digital about three years ago. He made the switch to SLR in July. READ MORE
+ 16 - 12 | § ¶
Boom!
The power is Mike's neighborhood is occasionally flaky. So when lights go dark, his sits and waits for the inevitable arcing wires or transformer call. Or like tonight, already a block from the house, he turned around and idled in front of Station 16. Only a couple minutes passed before the tones started. And what a transformer fire it was!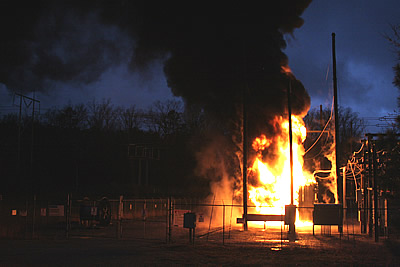 + 12 - 11 | § ¶
Heliport Coming
Details in this morning's paper. Based on the street address of the property owner, it looks to be the land off the service road on the other side of Yonkers Road. Here's a Google map. Helos will certainly make for an interesting new hazard around here.
+ 15 - 10 | § ¶
Pieces of Board
Another gem from 1910, about a fire on South Swain Street that burned three "cottages." After the Raleigh firemen went "into the heat," it was "necessary for members of the company to hold pieces of board in front of the faces of the men at the nozzles so that the water could reach the flames." No helmets then.
+ 11 - 15 | § ¶
Are the Horses All Right?
From the February 8, 1910 edition of the News & Observer: "Sunday afternoon about 2:30 o'clock, while responding to an alarm from box 36, Rescue Fire Company No. 1 experienced a serious accident, involving both the driver of the hose wagon, Mr. J. S. Hinnant, better known as "Pete" Hinnant, the fire wagon and apparatus. READ MORE
+ 11 - 12 | § ¶
Idle Ambulances / Allocating Resources
Television news story about Rolesville EMS and considerations to remove their second ambulance from service. Interesting whole-system perspective, and worth imagining as applied to the fire service. Will Wake County see a day when an underused fire unit in one department is moved to another? Obviously not in present day. See: Holy Hell, Raising.
+ 16 - 10 | § ¶
Dinner Report
Tonight's blog dinner saw exactly two participants. Lee and Mike enjoyed extended conversation over hush puppies and chopped pork at Hideaway BBQ on Capital Boulevard. Topics discussed: new training equipment, this week's USAR drill in Charlotte, Monday's graduation ceremony, recent fires, and other news and views. Join us again at the next one, to be scheduled and announced later. We'll be there. Watch this space.
+ 18 - 10 | § ¶
Public Records / Sunshine Laws
Public access of public records are in the news, notably in this morning's newspaper article and a slightly sensationalized article from Sunday. The News & Observer has been running a whole series. What are the laws pertaining to public records in North Carolina? Here's some information. With enough initiative and expended energy, interested parties could be quite "in the know" on local fire department matters, though perhaps at the expense of their relationships with said agencies. Postscript: Imaging the latter and Dr. Strangelove or: How I Learned to Stop Worrying and Love the Bomb comically comes to mind. George C. Scott to Peter Sellers: "You can't let him in here! He'll see everything! He'll see the big board!"
+ 10 - 13 | § ¶
Heard on Scanner
Vehicle fire on I-40. Grill still burning in the back of a truck. You might be a redneck if...
+ 17 - 8 | § ¶
New Hope's Off-Road Fleet
Public service announcement. The New Hope Fire Department reminds everyone that their off-road fleet is available anytime, anywhere. The brush truck, Mule and trailer, and tanker are based at New Hope Station 2 on Watkins Road. The Mule can be requested alone or with the brush truck. It is normally towed by either their Suburban (Truck 2) or Brush 7. Their Tanker 9 responds with Brush 7 on all calls as a water source. The Mule is very effective in treacherous terrain. It can go places a brush truck cannot, and help conserve manpower by hauling equipment in and out of woods. Click to enlarge:


Specs are as follows:
READ MORE
+ 15 - 11 | § ¶
Fuquay's Fire
Some serious drama unfolded in Fuquay last night. Industrial plant with multiple fires. Originally reported as a fire alarm. Street address originally reported as Raleigh, with RFD dispatched. It was compelling listening for the armchair observer. Chief Mauldin is the man. And here's the morning paper's coverage.
+ 15 - 14 | § ¶
Congratulations
Raleigh's newest recruits graduated this evening at Fletcher Opera Theater in the Building Formerly Known as Memorial Auditorium. Congratulations to A. Bakhshi, A. Burns, J. Callender, C. Carlson, R. Carlson, D. Carroll, G. Ceisner, T. Cruse, P. Guidry, A. Gutierrez, B. Harris, L. Hubbard, D. Hunter, W. Janke, I. Johnson, K. Joyner, T. . Kennion, C. Lewis, P. Marks, C. Moore, E. Palmer, W. Pearce, D. Penny, D. Richardson, E. Stephenson, G. Todd, B. Uptont, R. Vradenburgh, P. Walters, A. Winston, S. Woodall, and A. Young. Here's a salute, the best of wishes, and hoping that the above names are all spelled correctly.


+ 11 - 11 | § ¶
This Evening's Fire
Stony Hill is working a house fire on Hinshaw Road. Reported as deck on fire. Working fire on arrival. Engines requested from Durham Highway, Wake Forest, Falls, and Bay Leaf for manpower. Tankers requested from Durham Highway, Wake Forest, Brassfield, and Creedmoor. Water point at Stony Hill Station 2. Second ops channel for water supply. Update 9:21 p.m. Old Weaver Trail requested as second water point.
+ 8 - 14 | § ¶
High-Rise Assignments Coming
For those who haven't heard, high-rise assignments are coming in Raleigh. The training is about completed at the company level, and the new procedures (and run card) should take effect in the coming months. READ MORE
+ 20 - 11 | § ¶
Something in the Air?
What's with all the wrecks around town today? Pin after pin after entrapment after entrapment. Seven transported from 64/264 earlier. Pics of that extrication forthcoming.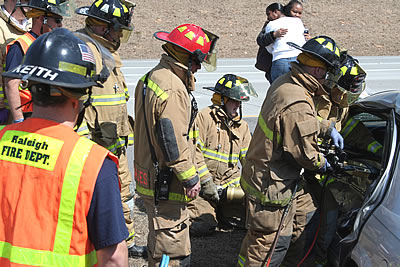 + 13 - 12 | § ¶
Raleigh/Wake Scanner Feeds Coming
Carolinas Fire Page informs that live scanner feeds of Raleigh and Wake County fire and channels are coming. Dispatch, tac, and ops. They presently host feeds from Charlotte/Mecklenburg County and Greensboro/Guilford County. Look for the Raleigh/Wake feed around or after May.
+ 13 - 14 | § ¶
Mike on TV / Old Film Footage
This month's edition of Fire Watch, shown on Raleigh Television Network Channel 11 (click on RTN11 - Government to view a PDF program listing), includes interview-style narration by Mike of the vintage film footage that he recently surfaced. Fire Watch is hosted by retired Raleigh Fire Department Life Safety Educator Jan Parker. This is Mike's third or fourth appearance. Don't be alarmed by the presence of his golf shirt.
+ 13 - 11 | § ¶
More Robots
Remember those pictures posted of Japanese firefighting robots, featured here after the Apex chemical fire? Seems such technologies are working their way to the States. Check out the LUF 60. Heck, maybe similar units have been available here for years...


+ 9 - 14 | § ¶
Wake County Fire Commission Meeting, 3/15
The next Wake County Fire Commission meeting is scheduled for Thursday, March 15, at 7:00 PM, at the Wake EMS Training Facility, located in the lower level of the Wake County Commons Building on Carya Drive near I-440 and Poole Road. If we receive an agenda ahead of time, we'll post.
+ 16 - 9 | § ¶
Responding as Safety
That phrase that you're hearing on RFD channels, for Beltline wrecks, refers to a new procedure that sends a second engine (or ladder?) to vehicle incidents, for the purpose of assisting with traffic control.
+ 15 - 9 | § ¶
SMAT Sighting
Seen at WakeMed Emergency Services, a State Medical Assistance Team mobile field hospital. Lee takes the photo, Mike makes the pun. MCI with gunmen at flea market. What is SMAT with SWAT at a swap?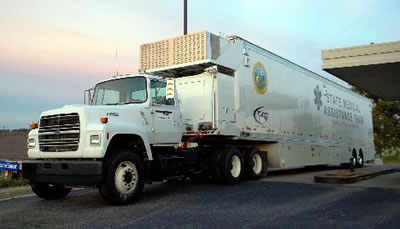 + 12 - 13 | § ¶
Single Scanner Page?
Is there a single site that tells everything that's needed to be known, soup to nuts, to both program and effectively use a scanner in Wake County? Mike has some pages, but they're older and not entirely focused. There's the Wake County page of radioreference.com, as well as the site's NC VIPER page. But how about a single, simple, Everything You Need to Know doc?
+ 13 - 11 | § ¶
Explorers?
How many departments around here have Explorer posts? And what are they allowed to do or not do, both at the station or on scene?
+ 10 - 16 | § ¶
Probies, New Boys, and Names
Speaking of recruits, what would happen to the fire service if every new member were called by their names instead of "probie" or "newbie" or such? Imagine either a memo from the Chief decreeing that Names Shall Be Used or the magic waving of a wand where it has always been such. What would the resulting organization-- fire company, fire department-- look like? READ MORE
+ 9 - 17 | § ¶
Blog Dinner Next Week
This is a reminder that Hideaway BBQ at 2210 Capital Boulevard is the destination for the first blog dinner. Wednesday, March 14, 7:00 p.m. Come, chat, chow. Plan for an hour or longer as desired. They're not expecting us, so seating will be catch as catch can. In-service units are invited as well.
+ 20 - 13 | § ¶
Heard on Scanner
...earlier today. "Traumatic Injury. Lip caught in coat zipper." Yee-ouch!
+ 14 - 13 | § ¶
Advice for the Recruits?
What advice would you give to Raleigh's graduating class? Back when our 1989 academy was drawing to a close-- academy #13, gulp-- the chief of training advised us on "goats, banks, and politics." To paraphrase his sagely wisdom, at least as best as memory serves: "First, don't let firefighters get your goat. Second, the firehouse is not a bank. Don't lend money to firefighters. Third, what goes on between you and wife in the bedroom is politics. Don't talk politics at the firehouse." Smart words.
+ 8 - 18 | § ¶
Thirty-Third Raleigh Fire Academy Graduates March 12
Press release, passed along by a reader: The City of Raleigh Fire Department will hold a graduation ceremony for the 33rd training academy March 12, 7:00 p.m., at Fletcher Opera Theater at the Progress Energy Center for the Performing Arts. READ MORE
+ 10 - 15 | § ¶
Station 7
Random historical image, Raleigh Station 7 when it opened on December 30, 1959. That's a hand-wound Gamewell gong on the wall.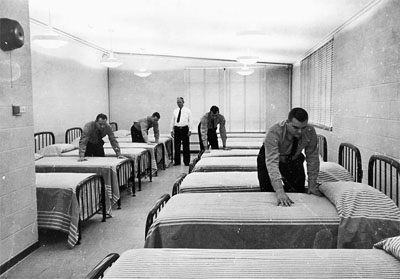 + 17 - 13 | § ¶
Station 28
Panoramic view this time. Click to enlarge:


+ 13 - 19 | § ¶
Different = Wrong?
After a week of reflecting on last week's Open Friday comments, as well other general grousing on the blogs and such, can those differences of opinion be boiled down to this: if it's different, it's wrong? Is that it? If it's new, strange, or just done another way, then it's wrong / weird / annoying / etc.? Maybe we're simply stating the obvious as we continue to wonder why some people feel (and vocalize) such strong dislike toward other departments and their practices.
+ 12 - 15 | § ¶
Big Fire, Street Names, New Streets
For those that listened to that dramatic 911 exchange from the Big Fire, this morning's News & Observer article expands on the question of street names and response times. That exchange is also transcribed in this accompanying article.
+ 12 - 11 | § ¶
Johnston County Dump Fire
Says this WRAL article, smoke from the yard-waste dump fire near Clayton is suspected of setting off smoke alarms in buildings at NCSU on Wednesday night! That's some 15 miles as the crow files. Officials were stumped. Ha! Update: News & Observer article on extinguishing techniques tried.