+ 12 - 10 | § ¶
Rack Cards Wanted For Fire Museums (and Museums w/Apparatus)
Assistance requested! Can you help me collect rack cards for fire museums (or museums with old fire apparatus) in North Carolina, as well as neighboring states? South Carolina, Virginia, Maryland, etc. The Raleigh Fire Museum will display these at our booth at the South Atlantic Fire Rescue Expo in Raleigh on July 25-26. We're going to promote ours and other fire museums and fire service attractions. Even just a couple would be great. We can add to the binder we're making, for people to browse through. And when we're done, we'll share our updated "list of places to see" with the Fire Museum Network, FDmaps.com, and others. Mail me if you can help!


+ 13 - 14 | § ¶
New Wheels For EMS 101
This 2014 (?) Ford Expedition is the latest replacement vehicle in the Wake County EMS fleet. Assigned to the Operations Chief, it sports a slightly new look for the agency. Blue over white, but with black body panels. Click to enlarge:


+ 10 - 9 | § ¶
Four Alarms in Charlotte Last Night
Four alarms were struck in the Queen City last night, while the area was subjected to heavy storms. A single-story warehouse at 2320 Toomey Avenue was reported ablaze just before 8:00 p.m. Crews found heavy smoke and fire on arrival. Building had 74,741 square-feet and was built in 1971, say tax records.
Owned by Carolina Food Stores, the building contained a lot of old machinery. The contents also included cardboard stacked to the ceiling, which took a long time to extinguish. Crews were subsequently withdrawn for defensive operations. The fourth alarm was for engines only, e.g. manpower. Several firefighters were treated for exhaustion. No (other) injuries were reported.
As alerted by Carolinas Fire Page, companies on scene at 9:11 p.m. were Engines 10, 2, 4, 5, 1, 12, 17, 30, 33, 23, 29, 26, 18; Ladders 2, 4, 1, 16; Rescue 10; Battalions 1, 2, 3, 14; Cars 1, 2, 4. Numerous Medic units were on scene, including a medical ambulance bus.
Readers are welcome to add more details.
Sources:

WBTV photos
+ 16 - 12 | § ¶
UPDATED: Raleigh Station 29 Under Construction
May 27
As cited in the proposed FY15 budget, this project has been renamed Fire Station 29. Updates incorporated into the earlier updates below. Here are a pair of new renderings. See also some latest, greatest construction photos. Click to enlarge:


March 2
Here's what the site's looking like today, along with some architectural renderings displayed on the sign. We'll see about getting source files to replace these pictures of pictures:


February 16
Construction has started on the city's twenty-eighth fire station at 12117 Leesville Road, located on the northwestern edge of the city. And, for that matter, at the edge of the ounty. Originally planned as Station 29 (ergo the detailed drawing below), it's been renamed Station 13 [, and subsequently renamed Sttaion 29]. The single-story facility will house a single engine company, Engine 13.
The fire station has been planned for a number of years. City Council approved negotiation of a design contract in October 2010. The architect was Williard Ferm Architects, PA, of Raleigh. They designed the city's three prior fire stations, Stations 26, 27, and 28. On May 21, 2013, City Council awarded a construction contract not to exceed $2,700,000 to Resolute Building, Inc.
As noted in a May 2013 press release, Station 13 Station 29 will have three apparatus bays, sleeping quarters with twenty-seven beds, an exercise room, an office, and a watch station. The facility will have reduced water use and energy efficient HVAC and lighting. The project is pursuing U.S. Green Building Council Leadership in Energy and Environmental Design (LEED) Certification. The station will occupy a 2.86 acre site.
READ MORE
+ 8 - 9 | § ¶
Hiring Started for Raleigh Recruit Academy 40
Want to become a firefighter for the city of Raleigh? Recruitment has started for Academy 40. Applications are being accepted from May 27 (yesterday) to June 27. The recruitment web sites lists the details, along with this schedule of important dates:
May 27 - Applications period opens.
June 5, 6, 7 - Optional orientation days at Keeter Training Center, which include practice agility and aptitude tests - 8:30 a.m. to 3:00 p.m.
June 27 - Application period closes.
July 14 - Written aptitude test at Raleigh Convention Center.
July 16, 17, 18 - Physical agility test at Keeter Training Center.
Here are the web pages to check:
As noted in a prior posting, Academy 40 is proposed to start on October 27. As noted in this posting about the city's proposed budget, thirty additional firefighter positions are being added in the coming fiscal year.
Starting salary is $32,673.73, with a three-percent raise upon graduation from the six-month academy. Here's a web site with details on working for the City of Raleigh and employee benefits.
Tips for applicants? Read the application packet thoroughly, and follow all instructions. Arrive early to all appointments, to ensure that you're not accidentally late. (Oh, and refer to the city web sites for all dates and facts. Don't rely solely on some guy's blog!) Readers can add others.
Good luck!
+ 9 - 11 | § ¶
Proposed FY15 Budgets For Fire Departments in Wake County
What are Wake County's fire departments (and Wake County Fire Services) requesting for their budgets this coming fiscal year? And what's cooking in CIP plans for future years?
Here's what I've found via the various municipal and county budget documents available on the web. That is, except for Fuquay-Varina and Wendell. Couldn't find their proposed FY15 budget documents. Yet.
Everything was downloaded in PDF format, and a couple required some OCR magic, so repeated searches on "fire" would work. (Believe Holly Springs and Zebulon posted PDF versions of scanned pages.)
Note that this is a living posting, so we'll update a few times, as information is expanded, corrected, or clarified.
Raleigh – Proposed
Budget site: http://www.raleighnc.gov/home/content/Departments/Articles/BudgetManagement.html
Budget for fire: $53,890,343
See prior blog post.
Apex – Proposed
Budget site: http://www.apexnc.org/budget
Budget for fire: $5,422,279
Notes/Highlights:
Add Fire Training Coordinator position. See Page 10.
Replace two full-size SUV vehicles, Asst. Fire Chief and Fire Marshal.
Replace 1987 rescue truck with one-ton, four-wheel-drive pick-up with extended cab.
Second year of radio replacement.
Cary - Proposed
Budget site: http://www.townofcary.org/Departments/townmanagersoffice/Budget.htm
Budget for fire: $20,359,324
Already funded:
Continue design and construction plan of new Station 2.
Funded in FY15:
Pumper replacement - $650,000
Southwest Cary fire station - $800,000 (land?) plus $9,800,000 in FY23
Walnut Street fire station - $750,000 (land? design?) plus $11,150,000 in FY16, plus $750,000 for a pumper in FY17. Infer station opening in FY17.
See CIP document for more, such as:
New ladder truck in FY16
Pumper replacements in FY17 (2), FY22 (1)
Regional fire training center, funded in FY16 and FY17
Northwestern fire station with 911 back-up center, plus pumper - FY17
West Lake/Middle Creek fire station, plus pumper - FY21, FY22
Fuquay-Varina - Proposed
Budget link: http://www.fuquay-varina.org/assets/content/documents/finance/FY%202014-2015%20Budget_Final_Merged%20v3.pdf
Budget for fire: $3,822,144.00
Notes/highlights:
Two new funded positions: Firefighter I and Assistant Fire Chief. Latter starting January 1, 2015.
Equipment includes four computers for fire vehicles, seven SCBA cylinders, three "blitz" nozzles, hose tester for Station 2.
Fire Station 4 funding proposed in FY19.
Garner - Proposed
Budget site: http://www.garnernc.gov/departments/Finance/
Budget for fire: $3,931,194
See fire budget summary starting page 332
Notes/Highlights:
Three new firefighters to start January 2015.
Administrative Assistant from part-time to full-time.
Equipment to begin fireground monitoring for hydrogen cyanide.
Station furniture replacement in living areas at three fire stations.
Fitness equipment additions and replacements.
Holly Springs - Proposed
Budget site: http://www.hollyspringsnc.us/index.aspx?nid=704
Budget for fire: $3,668,900.
Notes/Highlights:
Three laptop computers
Equipment: PPE, hose, gas meters/TIC,
"Sparky" for fire prevention
$362,000 lease payment on $885,000 ladder truck.
READ MORE
+ 9 - 7 | § ¶
Don't Smile - Photos, Social Media, and Reputation Management
Another shorthand post, this one consisting of three tweets from myself. Two links to postings from Statter911 and It's Not My Emergency. They cover the issue far better than any recap of mine. Plus a plug for my talk in July. Love me some micro-blogging. When this site's gone someday, just look for me on Twitter. Read, react, discuss as desired.
May 25

Don't Smile. @STATter911 holds FOX2News's feet to fire for dubious "paramedics pose" story and inadequate follow-up. http://tinyurl.com/mwyr5oj
May 26

INME/@chiefb2, Don't Rely on Dave Statter/@STATter911, http://wp.me/p1jmqG-cQ , Reputation management by way of timely example, Learn!

Reputation mgmt? Telling your fire/EMS dept's story? Join @legeros and Jeff Hammerstein at @SAFRE in July in Raleigh, http://tinyurl.com/lhhcxw
+ 11 - 3 | § ¶
When Does "Journalist" Equal Journalist?
Shorthand blog post.
Read this story found by Dave Statter of Statter911 and posted on his Facebook page. He notes:
"In today's world how does the press office decide who is a reporter? Is anyone with a Facebook page or blog a reporter? What's the difference if the average visitor engages someone in a conversation and then reports what that person said? At least the traditional reporter will let the person know who they are and all you have to do is decline to speak. Those rules don't fit with the digital age too well." (May 22, 2014)

Report is Kicked Out of the 9/11 Museum for Asking a Question
Blog post by Jim Romenesko
Read my response on Dave's Facebook page, in response to comments in the context of citizen journalism and the digital age:
"When does "journalist" != Journalist? By my thinking, it equates to the experience and/or learning that enables the person to perform "good journalism." And what is that, you ask? Those would be such qualifiers as… factually verified or well-sourced… without opinion or editorial bias… open-minded and willing to follow the facts wherever they lead… compassion for the people that are the stories… and so on.

Dave could sketch this one better. I've only had a couple classes in college long ago in pursuit of my bachelor's degree (Math Education, what?!) and supplemental certificate (Professional Writing).

I blog, therefore I am. But what I am? Well, the same sort of person Ben Franklin was when he disseminated his opinions via published pamphlets in the years before the great United States existed. Does that make me a journalist? You decide." (May 23, 2014)

+ 11 - 8 | § ¶
Wilmington 1979 Chevy/E-One Midi-Pumper (and Questions)
Found for sale on eBay, here's a 35mm slide scan showing a 1979 Chevrolet/Emergency One maxi- "midi" pumper. Complete with seller watermark. Don't know the truck's history and how it was used. Hopefully readers can help. Click to enlarge:


Next question, who else operated midi-pumpers back in the day? Here's Squad 5 from Greensboro, a "quick response vehicle" that's also a Chevy/E-One.



Lee Wilson photo
+ 11 - 8 | § ¶
Wilmington 1979 Chevy/E-One Midi-Pumper (and Questions)
Found for sale on eBay, here's a 35mm slide scan showing a 1979 Chevrolet/Emergency One maxi- "midi" pumper. Complete with seller watermark. Don't know the truck's history and how it was used. Hopefully readers can help. Click to enlarge:


Next question, who else operated midi-pumpers back in the day? Here's Squad 5 from Greensboro, a "quick response vehicle" that's also a Chevy/E-One.



Lee Wilson photo
+ 10 - 6 | § ¶
Raleigh's Proposed FY15 Budget Announced
The city of Raleigh's proposed Fiscal Year 2015 budget was presented to City Council on Tuesday. Read the press release or view the budget documents.
What's on deck for the fire department? Quite a bit! Thirty new positions for two new companies, including the first new ladder company since 2009. And new fire stations, including a rebuild of the city's oldest fire station on Oberlin Road.
Here are some of the highlights, augmented with some additional details from Yours Truly:
People:
Thirty additional firefighter positions have been added.

They'll staff an additional engine company (Engine 29) and another ladder company (Ladder 9).
One Captain, one Lieutenant, three Firefighters per platoon, per company.
Hiring starts next week. Read prior blog post with the proposed schedule.

Merit raises averaging 2.9% per employee.

Pay adjustments effective August 9.

Restoring supplemental retirement program to 3% from 2%.

This was reduced in FY12, during the height of the recession.
Apparatus:
New engine.
New ladder truck.

The ladder will be a tiller we're told, e.g. tractor-drawn aerial ladder.
That would make Raleigh the first city in North or South Carolina to operate twin tillers.
Equipment:
Hydrant replacement.

Ten-year plan to update hydrants to National thread standards.
Also includes various equipment needs in water plans and meter replacements.
Project cost for materials only, city staff will perform installation.
Facilities:
Fire Station 29 opening during the coming budget year.

First new fire station opened since 2007.
Under construction at 12,117 Leesville Road.
Schedule to open in fall 2014.
Previously named Station 13.

Fire Station 6 replacement.

$3,717,000 (project total $6,417,000).
Rebuild station at current site on Oberlin Road.
Approximately 16,200 square-foot facility.
Will be large enough to also house a ladder truck.

Fire Station 11 expansion.

Funded in current budget year.
Design underway.
Expanding the apparatus bay, to accommodate larger apparatus.
New Ladder 1 will be moved there, upon completion.
Read prior blog post about that rig.

Fire Station 12 relocation.

No additional CIP appropriation this budget year (project total is $5,300,000).
Relocate to Poole Road and Bus Way.
Land already acquired.
Design underway.
Designed to also house a ladder truck.
Read prior blog post about public art project for the facility.
Press release at time noted construction planned to start in fall.

Fire Station 14 relocation

$3,082,000 (project total $7,216,000).
Land acquisition efforts ongoing along Blue Ridge Road.

Fire station maintenance and repairs:

Lead paint and asbestos removal - $500,000.
Deferred maintenance, six-year program - $670,000 in FY15, and $5,570,000 over all years.

Addresses the needs of fifteen fire stations built before 1980.
Includes structural repairs, mechanical system replacement, and significant revisions.
Read my station histories, to learn about the locations and ages of these buildings.
Future Facilities:
City will continue to explore options to replace the Keeter Training Center.

Could involve the acquisition of 10 or more acres of land.
Would involve construction of a new concrete driving course, burn building, and classroom facilities.

City will analyze the need for a future fire station in northeast Raleigh.

Near intersection of Harps Mill Road and Litchford Road.
Would address a gap in fire service coverage and accommodate city growth.
Readers can check my work. Let me know what I missed.
+ 11 - 2 | § ¶
Wake County Celebrates EMS Week
From this web page, Wake County's Emergency Medical Services (EMS) Systems will celebrate the eighty-seven survivors of cardiac arrest in 2013 with two special events during National EMS Week, which takes place hits week: Sunday, May 18 through Saturday, May 24, 2014. No other community in the United States benefits from a higher cardiac arrest survival rate.
Adds Legeros, the Wake County EMS System is comprised of four EMS providers: Apex EMS, Cary EMS, Eastern Wake EMS, and Wake County EMS. They are augmented by EMT first responders from the fire departments that serve Wake County, along with law officers in the field, and the telecommunicators who answer 911 and provide instructors to callers to assist those in need.
In 2014 2013, the system answered 84,000 calls. They have eighty-seven cardiac survivors, and delivered thirty babies. The system also assisted 246 patients who were diverted from emergency rooms to more appropriate treatment facilities, through the Advance Practice Paramedic program.
Learn more about Wake County's EMS system:
Monday, May 19, 7:00 p.m.
Code: Celebrate! 2014 Cardiac Arrest Save Ceremony
The annual celebration is free and open to the public. It will be held at the Meymandi Concert Hall, 2 E. South St., Raleigh, and will recognize cardiac arrest survivors and responders. There will also be some great entertainment:
The Movement Connection will dance "Élan Métre Sustained."
Wake County EMS Paramedic Brian Woodard will sing "All of You."
Also a very special performance by the Enloe High School Drum Line.
Wednesday, May 21, 7:00 a.m. to 1:00 p.m.
Wake County EMS Station 1 Open House
Stop by for a visit at EMS Station 1, on Davie Street at McDowell Street in downtown Raleigh. See an ambulance, learn about EMS, get a CPR refresher and pick up a piece of fresh fruit.
We will partner again with Wake County Human Services Health Promotion and Chronic Disease Prevention for blood pressure checks and information on healthy living.
See photos from last year's open house.
+ 8 - 3 | § ¶
How Many Photos, Mack?
If you've gone searching for my older fire photos, you've noticed that my Legeros Fire Photos archive page is missing stuff. There are unhelpful notations stating "this collection is incomplete." Why is that? Well, server space is limited. And rather than spend money to keep expanding, I've been deleting older collections after four or five years. Or, I've moved some of them to my Flickr site, notably event series such as the fallen firefighters memorial and the Raleigh fire expo.
Were Mr. Blogger really smart, he'd move everything Flickr, which has an insane amount of space. And is far less costly than my server space. And doesn't require manually rebuilding each album of photos. But that's a consideration for another day. (Were he smart and income-minded, he'd also get into serious stock photography, have searchable indexes, and means to order commercial versions of certain pictures.)
Just how many fire photos has the Hawaiian Shirt Guy posted over the years? Here are the approximate totals, representing both incident and event photos posted to (or linked from ) www.legeros.com/firepics. Visit this Flickr page, for "best of" albums from each year.
2014 - 73 so far
2013 - 208
2012 - 192
2011 - 250
2010 - 256
2009 - 255
2008 - 201
2007 - 188
2006 - 120
2005 - 23
What do you think? Could you correlate trends in my annual totals with trends of working fires in Raleigh, over the last decade? The number of major working fires (now called second alarm or higher) have certainly gone down. That's a puzzle to solve another day.
And maybe we can get Lee Wilson to guestimate his totals. That would interesting!
See you on the fireground.
+ 10 - 2 | § ¶
Cary's New Rescue Truck (and Some History)
The Cary Fire Department received their new Rescue 7 on Wednesday, a 2014 Pierce Velocity heavy rescue. It replaces a 2008 Pierce Velocity, that will enter reserve service. The town also operates a pair of 2012 Pierce Velocity rescues. All four are similiar or near-identical in specificiation. They are non-walk in units that carry a full compliment of ground ladders, have a breathing air compressor and fill station, and are equipped such features as a light tower and bumper-mounted hydraulic tool compartment. See more photos from Lee Wilson.


Lee Wilson photos
What's the history of Cary Fire Department rescue trucks you ask? Their first was a converted military mobile machine shop-turned-Civil Defense rescue truck in 1955. It carried $8,000 worth of equipment including a "5,000-watt portable generator, 2,500-watt generator, two-way radio, $600 resuscitator, block and tackle, ropes, and a portable oxygen acetylene cutting torch." At the time, it was the only Civil Defense rescue truck operated by a volunteer fire department in North Carolina. Or so local sources claim.
How long did the truck operate? Don't know, but the Cary Area Rescue Squad began providing technical rescue services when they formed in 1971. They purchased the county's first Hurst tool in 1974, which was originally carried on a 1973 Chevy/Murphy ambulance. Their first crash truck was a 1974 or 1975 Ford/Reading light truck, followed by a 1983 International/Swab walk-in rescue truck. That orange-and-white unit was transferred to the fire department by June 1997, when the squad relinquished technical rescue services to the fire department. The rescue truck was repainted red. Presume the unit was fully staffed from the get-go.
That truck was replaced with a 2000 Ford F-550/KME light-duty rescue, which operated as Rescue 2. (Did the prior rescue also operate as Rescue 2 from the beginning?) The town added a second rescue unit the next year, and Rescue 4 was placed in service with an identical 2001 Ford F-550/KME rescue. (Need some reader help here. What was their staffing at the start, and how did it evolve?) The trucks ran a lot. They were tired and ready for replacement in 2012, when the fire department made the change to heavy rescue companies. (Second question for readers. One of my notes says these were both 2000 models. Correct?)
And why is Rescue 7 shown below lettered as Truck 7? The company was first a service ladder company. And there's a whole 'nother history there, on the town's service trucks from the beginning. Maybe we'll tackle that one another day. Click to enlarge:


Cary Fire Department/Lee Wilson photos
Sources:
+ 7 - 4 | § ¶
Wake County EMS Code: Celebrate 2014 - Monday, May 19
The Wake County EMS System will host this year's "code celebration" ceremony on Monday, May 19, at 7:00 p.m. at Meymandi Concert Hall in Raleigh. That's in the venue once known as Memorial Auditorium. This annual event celebrates survivors of cardiac arrest and the successes of the many partnerships across the county EMS system. That includes the telecommunicators, the first responding law enforcement officers or firefighters, and the EMT and paramedics of Apex EMS, Cary EMS, Eastern Wake EMS, and Wake County EMS.
Where are the action photos of these "code saves", you ask? Cough, cough, those are exceptionally difficult to capture. Most occur indoors and inside private residences, facilities, or businesses. For those that happen out of doors and in a space that's conductive to discrete close photographers of the responders, it's an exceptionally rare "right place, right time" occasion. Which is the reason that the lion's share of "EMS in action" photos in Wake County are vehicle accidents or medical calls in public spaces or medical monitoring and rehab at fire scenes. But we digress... Click to enlarge this flier:


+ 11 - 4 | § ¶
Historical Fleet Lists for Local Fire Departments
What sort of historical data has been compiled for local fire department apparatus? Here's what I've created:
Raleigh
Apparatus registry site.
Durham
Blog post with best-attempt historical list, from earlier this year.
Cary
Contained in Wake County historical list (PDF), from 2004.
Have updates? See below.
Chapel Hill
Blog post from this week.
Wake County
Apex, Bay Leaf, Cary, Knightdale, Zebulon, airport, etc.
Historical list from 2004 (PDF).
Have updates?
Here's the word document used to create that spreadsheet. Feel free to download and add your updates, and send me the update via email.
+ 8 - 6 | § ¶
Proposed Hiring Schedule for Raleigh Fire Academy 40
The Raleigh Fire Department is beginning recruitment for a new academy. The proposed hiring schedule:


| | | |
| --- | --- | --- |
| Accepting Application | | May 27 through June 27 at Keeter Training Center (KTC) - 7:00 a.m. to 5:00 p.m. |
| Practice Agility and Aptitude Tests | | June 5, 6, 7 at KTC - 8:00 a.m. to 3:00 p.m. |
| Aptitude Test | | July 14 at Raleigh Convention Center - 9:00 a.m. |
| Physical Agility Test | | July 16, 17, 18 at KTC - Candidates sign up after aptitude test. |
| Interviews | | September 8-12 at KTC |
| Academy Start Date | | October 27 |

Applications, brochures, and posters are being printed for delivery to fire stations next week. Please watch the Raleigh Fire Department web site for recruitment information.
The web site will be updated soon.
+ 10 - 8 | § ¶
Chapel Hill Fire Department Fleet History
While we're on the subject of that college town that's colored blue, let's build a fleet history for the Chapel Hill Fire Department. Based on prior blog postings and Lee Wilson's photos and some Google searches, here's take one:
[ This historical fleet listing has been moved to www.legeros.com/history/fleets ]
And here's a montage of photos, nearly all from Lee Wilson. Click to enlarge:
+ 8 - 5 | § ¶
Chapel Hill's New Blue Quint
Lee Wilson yesterday photographed Chapel Hill's new Engine 35, a 2014 Sutphen Monarch quint, 1500/500/75-foot. The truck was delivered on Monday morning. It replaces a 2001 HME quint that will be moved to reserve. This adds a third aerial to the town's fleet, along with Truck 73, a 2006 KME Predator mid-mount aerial platform.
Also this week, the department retired their last piece of red apparatus, reserve Engine 38, an 1988 E-One Cyclone. The town's other reserve apparatus include Engine 37 (former E31/E33, a 2001 International/KME) and Engine 39 (former E32, a 1996 Ferrara/Spartan). See more photos from Lee of the new quint. Search Lee Wilson's Flickr site for more Chapel Hill apparatus photos.


Lee Wilson photos
+ 6 - 4 | § ¶
Retired Raleigh Firefighters Talking on Camera
Here's some video from last week's Raleigh Fire Department retiree luncheon at the Keeter Training Center. The event was sponsored by the Raleigh Professional Fire Fighters Association, and attended by 106 retired members. This video features brief interviews of some 60 members by Yours Truly. Run time is 21 minutes. See also photos from the event. Or click here if the below embed doesn't play.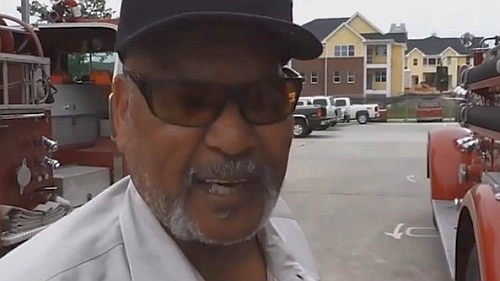 + 7 - 5 | § ¶
Vintage Wilmington Seagrave Ladder Trucks
Found for sale on eBay, pair of 35mm film scans of Wilmington's reserve 1938 Seagrave quadruple combination (e.g. quad) and Ladder 2 as a 1974 Seagrave mid-mount aerial ladder. There's a topic we haven't covered on the blog. Quads in North Carolina. Will think on that. Click to enlarge:


+ 9 - 6 | § ¶
Mebane's New Engines
Lee Wilson last week photographed Mebane's new engines, a pair of 2014 Sutphen Shield pumpers, 1500/1000. Engine 36 is housed at Station 1 on the north side of town and Engine 35 is housed at Station 2 on the south side of town, in the downtown. See more photos. Next question, where is or are Mebane's old fire stations? Are they still standing??



Lee Wilson photo
+ 11 - 5 | § ¶
Raleigh Rescue Squad in 1968
We've been researching the history of Wake County's rescue squads and emergency medical services this year. The resulting research documents are loaded with details and a fair amount of context. What's missing, to a degree, is a street-level perspective. What did a day or week or month "in the life" look like?
Here's a glimpse into the Raleigh Emergency Rescue Squad, and it's calls during the first two weeks of January 1968. Plus a list of more interesting or unusual "outside city" responses during the whole the year. These come from the fire report ledgers that were maintained by the Fire Chief's office, and recorded every emergency call answered by fire units.
Unless otherwise noted, these were answered by Rescue 1, an all-white 1966 Chevrolet panel truck. It was housed at Station 1 and presumably staffed by two people, a Fire Rescue Officer and a firefighter. Was the second position dedicated, or did they grab someone from the engines or ladder? Don't know.
Rescue 2 answered some of these calls. What was that? Good question. Based on the recorded calls, this was a transport-capable unit that responded when Rescue 1 was already on a call. Mostly like this was the prior Rescue 1, a 1954 GMC panel van. There's a chance that Rescue 2 was the 1954 Reo Civil Defense rescue truck. But that would've made for a cumbersome patient transport!
Where was Rescue 2 housed? And who staffed the thing? Based on the needs for bay space, probably somewhere other than Station 1. (Might the unit even been a temporary unit, in service due to local ambulance issues? See notes at the end.) Anyway, onto the call records.
January 1 - January 15, 1968
Times are dispatch, arrival, and cleared
Jan 2 - 1215 Cowper Dr. - No action taken - 5:31p - n/a - 5:39p
Jan 4 - 3900 Electronics Dr. - Returned on arrival. Not needed - 3:45p - 3:54p - 3:56p
Jan 5 - Half mile west of Morrisville - Returned en route - 8:46p - n/a - 8:49p
Jan 5 - 225 Elm St. - Assist lady with locked car - 9:04p - n/a - 9:20p
Jan 6 - Hillsborough and Glenwood - Auto accident. Take three to hospital - 5:36p - 5:37p - 6:06p
Jan 6 - NC 42 at Blalock's Crossroads - Auto wreck. No action - 8:08p - 8:33p - 8:38p
Jan 6 - 1201 S. Blount St. - Woman had heart attack. Took to hospital (Rescue 2) - 8:40p - 8:46p - 9:07p
Jan 6 - 223 W. Morgan St. - Carried mom to hospital - 11:06p - 11:08p - 11:33p
Jan 6 - Person and Hargett - Took patient to hospital - 12:39p - n/a - 1:08p
Jan 8 - 3000 New Bern Ave. - Transported victim to hospital [transfer from Wake Memorial?] - 7:53a - 7:56a - 8:12a
Jan 8 - 312 E. Hargett St. - Victim transported to hospital by [private?] ambulance - 1:50p - 1:52p - 2:05p
Jan 9 - ? - False fire alarm [dispatched as full assignment] - 12:32a - 12:34a - 12:35a
Jan 9 - 2100 New Bern Avenue - Accident. Victim taken to hospital - 3:31p - n/a - 3:51p
Jan 9 - 828 Woodburn Road - Aid to sick person - 7:23p - n/a - 7:44p
Jan 9 - Glenwood and Washington - Auto wreck - 8:02p - n/a - 8:27p
Jan 9 - 24 Dixie Trail - Carried baby to hospital - 9:19p - n/a - 9:50p
Jan 9 - 1317 Kimberly Dr. - Carried man to hospital - 10:30p - n/a - 11:16p
Jan 9 - 4004 Brevard Pl. - Carried man to hospital (Rescue 2) - 10:35p - n/a - 12:02p
Jan 10 - Rex Hospital - To take patient home - 12:55a - n/a - 1:47a
Jan 10 - 500 block S. West St. - Accident. Patient taken to hospital - 1:08p - n/a - 1:43p
Jan 10 - 1009 Belmont Dr. - Took child to hospital - 2:25p - n/a - 2:58p
Jan 10 - 831-D Daniels St. - Carried lady to hospital - 10:17p - n/a - 10:35p
Jan 11 - Edenton and Salisbury - Auto accident. Victim to hospital - 9:05a - n/a - 9:40a
Jan 11 - Umstead St., State Hospital - Sled riding victim taken to hospital - 10:04p - n/a - 10:40p
Jan 12 - 1526 Louisburg Rd - Victim slipped on ice. Taken to hospital - 7:28p - n/a - 8:15p
Jan 13 - 1637 Sutton Dr. - Lady fell on ice. Transported to hospital - 9:28a - n/a - 10:09a
Jan 13 - 219 LaFayette Rd. - Victim fell on ice. Transported to hospital - 11:01a - n/a - 11:35a
Jan 13 - 205 S. Wilmington Street. Joe's Sport Shop - Structure fire - 8:58p - 8:59p - 2:16a (last fire unit)
Jan 14 - Beltline half-mile south of Six Forks Rd. - Overturned vehicle. Took victim to hospital - 2:16a - n/a - 2:49a
Jan 14 - 700 block E. Lenoir St. - Man fell on ice. Taken to hospital - 2:29p - 2:32p - 2:50p
Jan 14 - 707 W. South St. - Carried children to hospital [after house fire] - 11:57p - n/a - 12:22a
Jan 15 - 2013 Cameron St. - Victim taken to hospital by private car - 3:53p - n/a - 3:58p
Jan 15 - 408 E. Martin St. - Man had some kind of spell. Taken to hospital - 7:50p - n/a - 8:17p
Jan 15 - 742 Wimbleton Dr. - Take child to hospital - 11:18p - n/a -1:46a
READ MORE
+ 10 - 9 | § ¶
Charlotte Ladder Overturns - The Photo
As news and fire news sources have reported throughout the day, Charlotte Ladder 32 overturned this morning while responding to an emergency medical call. It happened at 8:21 a.m. on Ardrey Kell Road at Bridgehampton Club Drive. That's a residential street in southern Mecklenburg County near the state line.
The four firefighters aboard sustained minor injuries, initially reported as potentially serious. They were reported all wearing seat belts. They were transported to Carolinas Medical Center. The Smeal 105-foot ladder (model year?) was found on its roof, with flames showing from beneath the cab. The fire was reportedly quickly extinguished by an arriving engine company.
Almost immediately, notifications of the accident and incident updates were transmitted by Carolinas Fire Page. In summary, they advised:
8:48 a.m. Overturned ladder, extrication underway, plus incident address.
8:56 a.m. Unit number identified, two firefighters reported transported with minor injuries, truck on roof, cab on fire.
9:26 a.m. Four now reported transported with potentially serious injuries.
WSCO-TV soon posted a viewer photo of the scene, showing the truck on its roof, flames from beneath the cab, and bystanders on the opposite side of the street. (What's the credit for the phone, by the way? Can't find it at present.)
At 8:53 a.m. that image was transmitted via Twitter by FireNews.net and Carolinas Fire Page. These were followed by subsequent scene photos and incident updates.


WSCO-TV photo
Let's reflect on the first photo, which may the most powerful apparatus MVC image seen in some time. (For local readers, it recalls Raleigh's Ladder 4 accident in 2009.) Lighting, color, composition and framing are all perfect. And the subject matter itself is a gut-puncher. First, from the emotional perspective, in empathetic response to the condition of the firefighters. Second, from the more… clinical topical perspective. We're seeing something both rare (ladder truck on its roof) and very rare (flames showing from a ladder truck on its roof).
The raw power of the image—both as emotion and information—makes it a perfect candidate for "going viral." Expect to this one to be shown, re-shown, and re-purposed over the coming weeks, months, and maybe years. And maybe (certainly?) even outside of the fire service. At a minimum, it's a sure to be added to any instructor's slides on the subject of driving safety.
My guess is that the picture will be "the" image of the incident. The one that everyone remembers, and that becomes the iconic visual representation. Did or does the picture also control the story of the story? Need to think on that some. More later, maybe.
Meanwhile, reader's are invited to share thoughts and reactions including:
The incident itself.
The firefighters involved.
The photo or other images from the scene.
The rapid reporting and transmission of information, via news and social media.
This post and pontifications therein.
Sources and More Media:
+ 12 - 4 | § ¶
Raleigh Fire Museum Open This Saturday, May 10
Looking for a cool diversion on a sunny spring Saturday? Visit the Raleigh Fire Museum in downtown Raleigh. We're open this Saturday, May 10, from 10:00 a.m. to 2:00 p.m. That's our monthly opening, on the second Saturday of the month.

You'll see hundreds of photographs and artifacts about the two hundred-year history of firefighting in Raleigh. There are badges and nozzles and helmets and jumpsuits and even a hand-drawn hose reel. Yours Truly will be one of the staffers. Swing by and talk shop!
The museum is located in a modular classroom at the Keeter Training Center at 105 Keeter Center Drive. Admission is free. Parking and restrooms are available.
Please note that antique fire engines are located elsewhere. Both the museum's 1961 American LaFrance pumper and the city's collection of antique fire apparatus is housed at at Fire Station 28 at 3500 Forestville Road. Learn more at www.raleighfiremuseum.org, or click to enlarge:

+ 5 - 4 | § ¶
Vintage Film Footage - DCFD During 1968 Riots
Dave Statter has found some great vintage film footage of firefighters in action in Washington, DC, during the rioting in April 1968 that followed the assassination of Dr. Martin Luther King Jr. As noted in his posting, the clips were found on YouTube, as posted by a company called CriticalPast, which specializes in selling archived stock footage. (Alas, they have exactly one clip available for Raleigh, NC. Something about a peanut farm.)
According to this Wikipedia article, 110 cities around the country saw rioting after King's assassination. (That included Raleigh, where numerous fires were started and buildings burned over a number of days. What other cities in North Carolina were impacted?) The DC riots, along with Chicago and Baltimore, had the heaviest impact. Says this second article, by the fifth day, after the city was considered "pacified," twelve people were dead (most in burning homes), 1,097 injured, and over 6,100 arrested. Around 1,200 buildings had burned, including over 900 stores. Damages approached $27 million.
Here's an embed of a three-minute clip. Much of the footage shows street-level firefighting in a commercial building, with both deluge gun and hand lines in effect. Apparatus is Pirsch, plus what looks like a Ward LaFrance that passes the camera. (That's protective chicken wire over the open cab, something that was used in other cities.) No breathing apparatus in sight, just coats and boots and helmets and hose. See Statter's posting for more clips.

+ 14 - 8 | § ¶
Old Governor Morehead School Campus
Everyone knows about the North Carolina Highway Patrol training facility at 3318 Garner Road, which is also home to the State Bureau of Investigation. And you've probably seen the historical marker at the corner that identifies same as the Governor Morehead School. That was the name of the campus beginning in 1963.
Before then, the campus was known as the State School for the Blind and Deaf. And it was a segregated school, only housing African-American students. White students were housed at the state school on Ashe Avenue.
This 1934 Sanborn Map sheet shows the buildings and streets, most or all of which are still there today. Note there was even a rail spur, that delivered coal to the power plant. Click to enlarge:



In 1963, the names of both the Garner Road and Ashe Avenue locations were changed to the Governor Morehead School. In 1967, approval was given to move black deaf students to the traditionally all-white deaf school in Morganton. In 1971, consolidation of black and white blind students was completed at the Ashe Avenue campus. Read more of that history.
When did the Highway Patrol move to the site? Where were they located before? Ditto the SBI? And how many of those buildings on the campus were erected after 1971? Maybe our readers can help. And one fun fact, did you know that former Raleigh Fire Chief Charles Farmer was the first highway patrol commander? Here's a blog post about him that we did.
As for the site today, here's a Bing Maps Bird's Eye view photo. And some ground-level explorations from myself, this (Sunday) morning. See those photos. Need to go back for a few more.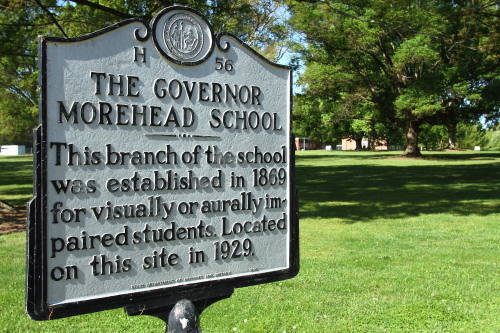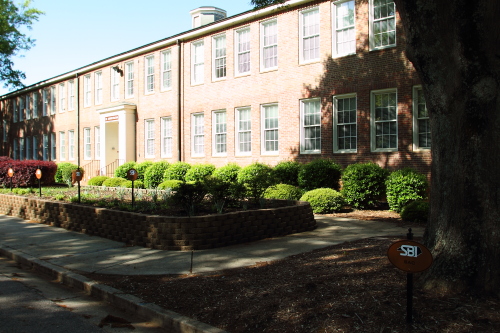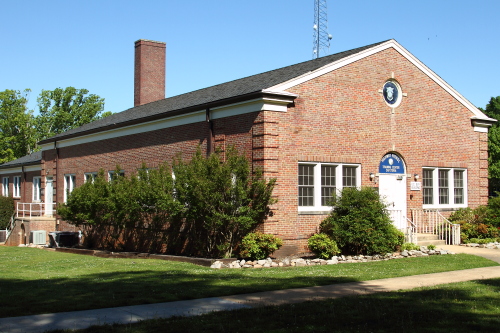 + 9 - 7 | § ¶
New Engine 128, New Training [Engine] 1
Fleet changes in Raleigh. Old Engine 19 is now reserve Engine 128, a 2000 Quality/Spartan MetroStar 1250/500. One of two delivered that year. Previously served as Engine 20, then Engine 20. Read that history. Old Engine 128 is now Training [Engine] 1, a 1990 Pierce Lnace 1500/500. One of two delivered that year. First closed-cab apparatus for the city. My ride when delivered to Engine 5. Later served as Engine 19, Engine 26, and Engine 128. Read that history.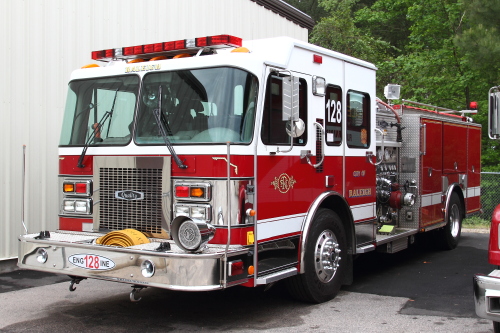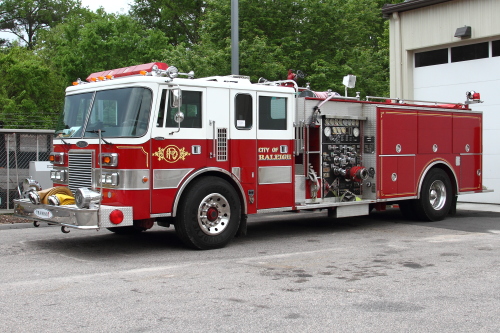 + 11 - 5 | § ¶
Old Durham Aerial Ladder Returns Home
From the Durham Fire Department History and American LaFrance group Facebook pages, this 1949 American LaFrance 700 Series aerial ladder (serial number 9165, ship date 6/17/49) was delivered yesterday. It was (re)purchased from a member of the Rekindle Society, a private owner in Inman Mills, SC. Served the Bull City from Station 1 from 1949 to 1970. What happened then? Based on the signage, it later served a volunteer fire department, maybe also in South Carolina? Readers may have more info. Top photo shows the truck before departure. Bottom photos shows the truck after arrival. Click to slightly enlarge:


+ 9 - 6 | § ¶
Recreation Vehicles Burn in Apex
What was that plume of smoke to the west on Sunday afternoon? Recreational vehicles burning at a storage facility at 1804 Holt Road in Apex. That's a couple blocks east of Highway 55, and at the end of Country Hearts Lane.
The first arriving unit (Battalion 1, if memory serves) found two RVs and a boat fully-involved. He requested additional tankers. (Believe it was controlled within about 20 or 25 minutes. Readers can correct me and/or add details.)
The call was dispatched at 3:40 p.m. The run card of dispatched units was Apex E3, E1, E4, E2, L3, Tanker 1, Tanker 2, B1, C1, C2; Morrisville P3; Swift Creek Tanker 6, Tanker 2, and Apex EMS 41. Photographers Kevin Mcvey and Jason Thompson went to the scene and have posted pictures.
Recall an earlier multiple-vehicle fire in Apex at a commercial facility in December. Read that post. They always have interesting incidents in and around Apex.



Kevin Mcvey photos



Jason Thompson photo