+ 15 - 11 | § ¶
All Hallows Eve
How many big fires have happened on Halloween? Mike's records reveal a couple. October 31, 2005. Apartments at 456 Dorothea Drive. Two alarms. Morning. Quickly controlled, if memory serves. October 31, 1995. Raleigh Flying Service hanger at the airport. 5:20 p.m. Single-engine aircraft catches fire during de-fueling. RDU, Durham Highway, Morrisville, Six Forks, Raleigh, Bethesda, and Parkwood fire departments. Two employees transported for smoke inhalation. David Grant took the picture below. And, going way back, October 31, 1890. Allen & Cram Foundry at 130 South West Street. 9:40 p.m. Two hose companies and the hook and ladder company respond. Boo!


+ 17 - 16 | § ¶
Strange Ladders
The photos and footage from Ocean Isle Beach show an E-One aerial ladder with a European-style bucket. Bailey, NC, also has one. Here's a picture from Lee. Click to view full-sized version. On the other side of the pond, aerial apparatus are also leaner. Smaller cabs, fewer compartments, no ground ladders, etc. See this German-language Wikipedia page for examples.


+ 13 - 12 | § ¶
Beautiful Sight
Ladder 1 rolling on a sunny Sunday. Click to enlarge:


+ 9 - 16 | § ¶
Mysteries of Station 2
When Memorial Auditorium opened on August 14, 1932, it replaced the City Auditorium at the corner of Fayetteville and Davie streets. The older building burned two years earlier. The new auditorium was constructed with a two-bay fire station in the southeast corner of the building. This was the new Station 2 and it replaced a smaller, single-bay facility on South Salisbury Street. The new station also included a maintenance shop for the fire department. READ MORE
+ 12 - 14 | § ¶
Greenville Goes Purple and Gold
Found on the FireNews headlines page, WNCT reports on Greensville's new purple and gold Pierce pumper. Yowza! With red trucks in Raleigh and light blue trucks in Chapel Hill, can dark blue be far behind for Durham? It's all about school pride.


+ 14 - 10 | § ¶
Ocean Isle Beach Fatal Fire
WRAL's coverage of this morning's multi-fatality fire in Ocean Isle Beach includes a slideshow with a number of images. They've acquired a couple images of the fire itself. The Wilmington Star-News also has a slideshow of the fire.


+ 19 - 12 | § ¶
Fire Service and the Internet: Friend or Foe?
As mentioned on a couple other blogs, Tin Helmet writer William Carey opens with this provocative perspective: "I believe that the sole contributor to the loss of honor, brotherhood and loyalty is probably the most used instrument in the fire service; the Internet." Read his entire commentary
. Interestingly, the web site utilizes PDF documents for postings.
+ 14 - 15 | § ¶
This Evening's Collapse
Outside awing collapse at 3048 Medlin Drive. Three people reported unable to exit building, or least through front door. Engine 14 and Rescue 14 handled. Second engine, ladder, bat chief, div chief, and EMS returned to service. Dispatched 10:04 p.m. Cleared 10:47 p.m. Here's the building with awning intact. Built 1960, says tax records.


+ 14 - 13 | § ¶
Two Firefighters Injured Last Night
WRAL is reporting that two firefighters were injured at last night's fire in southern Wake County. They were reportedly injured when a wall collapsed. They were grazed, and one suffered light burns. Both were transported to WakeMed, treated and released. The fire at 7201 Rock Service Station Road was reported shortly after 8 p.m.
+ 12 - 9 | § ¶
Acknowledgements
The research and recording of the history of Raleigh and Wake County fire departments has not occurred in a vacuum. Dozens of folks have provided their time and assistance lo these last years. Many are thanked at the beginning of Mike's books, both volume 1 and volume 2 of Raleigh and Wake County Firefighting. Others have helped more recently, and they are also greatly appreciated. Finally, there are those who have been living the history, Raleigh and Wake County's firefighters. They've been doing the heavy lifting for two centuries now. They deserve the greatest credit for the rich history they have helped write.
+ 16 - 11 | § ¶
Kerr Lake Fire Department
This WRAL story about the newly forming Kerr Lake Fire Department features a rather familiar looking piece of apparatus. Is that Durham Highway's former 1981 Mack/Darley pumper-tanker?


+ 12 - 10 | § ¶
Junior Firefighters in Wake Forest and Youngsville
This week's Wake Weekly features a pair of articles on junior firefighters in Wake Forest and in Youngsville.
+ 15 - 10 | § ¶
Structural Collapse Rescue Training Being Held At Keeter Training Center
News release. Members of emergency response regional task force teams from across North Carolina will take participate in a structural collapse rescue technician course at the Raleigh Fire Department's Keeter Training Center. The two-week course begins Monday, Oct. 29 and continues until Nov. 9. The course is being taught by North Carolina Task Force 8 (NCTF 8), which consists of members of the Raleigh, Cary, Durham and Chapel Hill fire departments, Wake County EMS and Atlas Engineering of Raleigh. Read the entire news release.
+ 17 - 15 | § ¶
King Striker
The Black Mountain Fire Department in Buncombe County displays a bell outside the fire station. Below the bell is a Gamewell striker mechanism. This spring-wound device was triggered by electric current, and would toll the corresponding box numbers. By 1924, the town had 15 "imaginary boxes" used to signal firefighters to the location of fires. That is, the dispatcher would transmit a box number that indicated a particular location in the town. Wendell had the same model of striker mechanism when it operated a Gamewell system beginning in the 1930s. Raleigh also used a striker mechanism with its Gamewell system beginning in 1888.


+ 11 - 8 | § ¶
Photos of the California Fires
The Los Angeles Times has complete wildfire coverage, including photo galleries on the lower right side of the page. Brian Vander Brug shot the below picture at the Rincon Indian Reservation. Television stations CBS 2 and KCAL 9 also have a number of slide shows of the fires. They are presently linked at the top of the page.


+ 16 - 11 | § ¶
Wake & District Public Safety Pipes and Drums Tartan Ball, November 16
News release. On Friday, November 16, 2007, from 7:00 to 11:00 p.m., the Wake & District Public Safety Pipes and Drums will host our second annual Tartan Ball at the downtown ­Raleigh Sheraton Hotel, 421 South Salisbury Street. The event will feature the skirl of the pipes and drums, Scottish and Irish dancers, an appearance by the Barrowburn Celtic Band, and a Kirkin'o' the Tartan performed by band Chaplain Paul Ormond, a retired United States Army chaplain. Tickets are only $10.00 and can be purchased online. Finger food will be provided, and there will be a cash bar. READ MORE
+ 9 - 16 | § ¶
Raleigh's Aerialscope For Sale
Reported by a reader, Raleigh's 1977 Mack/Baker Aerialscope has been posted for sale on GovDeals.com. The 75-foot aerial platform cost $175,000 and first served as Truck 1. It was moved to Station 8 on March 16, 1987, and subsequently served as Truck 15. As a reserve unit, it was numbered Truck 35, Truck 111, and finally Ladder 111. Between 1970 and 1982, the city received 16 pieces of Mack CF apparatus. The last reserve engines were retired in July 2006. Raleigh's 1986 Pemfab/EEI pumper is also for sale on the same site.


+ 16 - 10 | § ¶
Catawba County Firefighter's Museum
Just a couple miles north of Interstate 40, nestled amid the rolling hills outside Conover, NC, is the Catawba County Firefighter's Museum. Opened in 1994, the single-story, stone-exterior exhibit hall easily rates must-see status. Six antique pumpers are displayed, a 1936 American LaFrance, a 1941 Ford, a 1952 Ford, a 1951 Dodge, a 1954 Chevrolet, and a 1945 Chevrolet. Hundreds, if not thousands, of smaller artifacts are displayed along the walls and floors. They appear to date mostly from the 1940s through the 1970s, and spotlight a period when rural fire departments were coming of age. The facility is also a great example of what interested parties can accomplish on a county-wide level. Admission is free, and its regular hours are Friday, Saturday, and Sunday. Visit their web site for more information. More photos forthcoming. Click to enlarge:


+ 9 - 16 | § ¶
Salisbury Former Fire Stations
Left is old City Hall at 117 South Lee Street. Built in 1896, the first-floor fire station was relocated in 1965 to 514 East Innes Street. The 4,364 square-foot building also once housed a jail. From left to right, a single-width and double-width bay were located in the center of the building, below the windows. The arched openings appear to have been added after SFD vacated. It is listed on the National Register of Historic Places, and is presently unoccupied. Right is old Station 2 at 1402 South Main Street. Built in 1942, it was relocated in 1980 to 2312 South Main Street. The 2,280 square-feet building had a single, double-width bay. It is presently used by the city. Click to enlarge:


+ 9 - 13 | § ¶
What's Wrong with This Picture?
Firefighter Hourly posted this head-scratcher today, noting "sometimes a picture says it all." Indeed it does. Watch that last step, Doc...


+ 13 - 8 | § ¶
Tradition and Helmets
In the September issue of Fire Chief magazine, Alan Tresemer makes some interesting points about change and innovation. On the subject of helmets, he says "today's firefighters use the same basic design that their great-grandfathers used." The American fire service, he continues, seems "married" to these traditional tops. "Firefighters burn their ears and these helmets look for any excuse to fall off." But yet when MSA produced a safer fighter-style helmet in the 1980s, no chiefs would buy them. They... looked funny, he recalls one observer. Today, such helmets are becoming a standard in Europe, but are not available in the United States. "If we don't buy them," he says of innovative products such as the fighter-style helmet, "they won't build them for us."



+ 7 - 14 | § ¶
Incident Photography Presentation
Mike Legeros will give a presentation on incident photography on Tuesday evening, November 13, at the Wake County Firefighters Association meeting at Fairview Fire Station #1. The meeting starts at 6:30 p.m. The 20-30 minute presentation will review all stages of incident photography, from "what to shoot" to "how to shoot" to "what to do with what you shoot."
+ 12 - 16 | § ¶
WakeMed Air Ambulance Unveiled
This News & Observer article reports on today's unveiling of WakeMed's new air ambulance. To be placed in service on November 1, the helo is expected to make 530 flights in its first year. The hospital expects about 40 percent of transports from Wake County. Another 42 percent are expected from Franklin, Harnett, Johnston, Lee, Nash, Sampson, Wayne, and Wilson counties. FireNews also posted a cool picture of the new aircraft. Click to view full-size version on their site:


+ 8 - 14 | § ¶
EMS Workers Strain to Care for the Obese
Here's another News & Observer EMS feature, this time on the subject of transporting bariatric patients.
+ 15 - 11 | § ¶
High-Level Rescue Repeated
On September 22, "B" shift members of the Raleigh Fire Department including USAR Task Force 8, along with Wake County EMS including HAMMER members, practiced rescuing a construction worker from the 18th floor of the RBC Plaza under construction on Martin Street. They lowered the 170-pound dummy to the street using a tower crane.

This morning, "B" shift members of RFD and WEMS rescued a construction worker from the 21st floor of the RBC Plaza. Reported at 8:30 a.m., the incident involved a worker who had fallen from the floor above. Engine 1 and EMS 1 were first on scene. Engine 7, Ladder 1, Rescue 7, Battalion 1, and Car 1 were subsequently dispatched. The patient was packaged and lowered to the street using a tower crane. One firefighter and one paramedic rode down with the patient. Total time was just over an hour. Good job high-risers!
+ 9 - 11 | § ¶
News – October 14
Contents:

Cary graduates recruits
Garner EMS receives new rescue
Raleigh receives new apparatus
Morrisville expects ladder truck
New Hope receives AGF grant
Western Wake receives mule.
READ MORE
+ 13 - 13 | § ¶
Chapel Hill Fire Department History Exhibit
On August 23, 2007, the Chapel Hill Museum, in collaboration with the Chapel Hill Fire Department, opened a permanent exhibit entitled Heroes of Yesterday, Heroes of Today - The History of the Chapel Hill Fire Department. The multimedia display includes a documentary film featuring interviews with retired CHFD firefighters. A time line, beginning with the department's inception in 1896, contains photos and articles spanning the town's major fires and department milestones.


CHFD badges and uniforms throughout the years, as well as call books from the early 1900's are just a few of the historical artifacts included in the exhibit. The centerpiece of the installation is Chapel Hill's
first motorized fire truck
, a 1914 Ford. Designed and curated by CHFD First Sergeant Chris Bradley and Chapel Hill Museum Director, Traci Davenport, the exhibit reception hosted 200 community members, CHFD retirees, and current employees.
See exhibit photos from Lee Wilson
.
+ 12 - 13 | § ¶
Herb Walls Passes
Herbert Poe Walls passed away on October 11. He was the original Hurst tool dealer in North Carolina, and represented the company for more than 20 years. He assisted rescue squads and fire departments around the state. The visitation and funeral will be held at McLaurin Funeral Home in Clayton on Monday. The visitation is at 1:00 p.m. and the funeral is at 2:00 p.m. Read his obituary for more information.
+ 16 - 11 | § ¶
Spies Around the Sandbox
Today's New York Times features a feature on a controversial 'nanny watch' blog. The site's been operational for 15 months, and posts reports and photos of nannies behaving badly in public. The power of the internet, blogs, and willing users.
+ 12 - 10 | § ¶
When a Heart Stops, Hypothermia Helps
Today's News & Observer features a feature on Wake County EMS and their use of therapeutic hypothermia for cardiac arrest patients. Last October, they became one of the first in the nation to use the treatment in the field for cardiac arrest. It's now becoming widely available across the Triangle. A second article on cooling treatments also appeared. Members of Orange County EMS are pictured below:


+ 11 - 11 | § ¶
Fire at the Fair, 1964
On Tuesday, October 13, 1964, at 6:15 p.m., Fred Lylerly was cooking in a portable restaurant at the North Carolina State Fair. The 50 by 100-foot Char-Broiler Steaks was located between Dorton Arena and the Red Cross Lounge. As many as 150 people were present when Lylerly heard a man say "Hey, fella, you got a fire." Seeing a ball of flame coming over the stove top, the cook grabbed a fire extinguisher. He then tried a second, larger extinguisher, but could not control the flames. The operators of nearby concession booths began removing tables and chairs, as the customers began their orderly exit. "There were lots of women and children," Lylerly later recalled, "but no one panicked." READ MORE
+ 14 - 11 | § ¶
The Rules
This is a friendly reminder regarding the rules of this blog. These have also been added to the Rules of the Road, which is linked at the top left. What will lead to editing or deleting of comments? Anything crude, lewd, or rude, of course. Personnel issues are also off-limits. Same with personal attacks, or attacks on specific agencies. Sh&t-stirring by anonymous posters is also objectionable. Sh&t-stirring by signed posters is more likely but not necessarily universally tolerated. On the presentation front, comments may also be edited to correct spelling and fix spacing. And if you're curious why a particular comment was edited or removed, just mail Mike. These rules also apply to the blogger himself.
+ 10 - 12 | § ¶
This Morning's Fire
WRAL has a good photo of this morning's fire on Misty Oak Drive. Durham Highway, Bay Leaf, Stony Hill, Falls, Western Wake, Raleigh, and Wake Forest. Fairview covering at Bay Leaf. Alarm time 8:18 a.m. Under control at 9:34 a.m. More details from FireNews.


+ 11 - 13 | § ¶
Today's Gas Leak
As ably covered by many media outlets, gas-fled flames lit the intersection of Kildaire Farm and Tryon roads today. The fire started about 11:00 a.m. when construction workers struck an eight-inch gas main. The crew safely evacuated before ignition. The flames were visible from nearby Station 3. Mutual aid fire departments included Fairview, Swift Creek, Western Wake, and Raleigh. Coverage included units from Morrisville and Raleigh. The line was capped just after 5:00 p.m. Pictures coming.


+ 11 - 13 | § ¶
New Mule at Western Wake
Western Wake Fire Rescue placed this all-terrain vehicle in service today. The Kawasaki Mule is equipped with fire extinguishers and EMS bags, and is present stationed at the State Fair fire base. It's transported by trailer and will be used for both special events and off-road incidents, such as transporting patients out of Umstead State Park.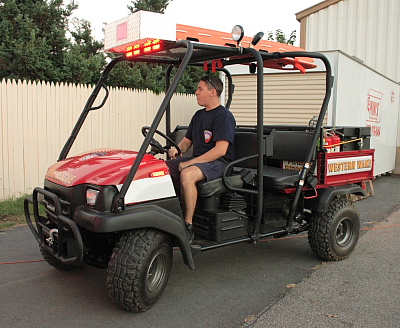 + 8 - 13 | § ¶
Google Alerts
Want to know when something about something appears on the Web? Google Alerts is a free service that sends e-mail notifications when web sites that match specific search terms are added to the Google index. Such as, say, "Raleigh fire." Try it.
+ 11 - 11 | § ¶
History Presentation Tomorrow, October 9
Tomorrow night, Mike Legeros presents a short history of the Raleigh Fire Department at the Cameron Village Public Library, 1930 Clark Avenue. The 7:00 p.m. event will open with a 45-minute presentation about both the volunteer and fully-paid eras of the fire department. The electronic slideshow will consist of 79 slides and 150+ images. After a break, questions will be answered and one or two demonstrations will be performed. We'll have vintage alarm box and station gong on hand. Cover your ears. We may also demonstrate a bucket brigade, if participants are willing. Color film footage of the Raleigh Fire Department around 1950 will also be played before the presentation, starting about 6:30 p.m.
+ 8 - 12 | § ¶
Hydrant
Reported by a reader, this recently replaced Raleigh hydrant on Westwood Drive at Ridge Road has a Storz connection on the steamer cap. Haven't seen that before.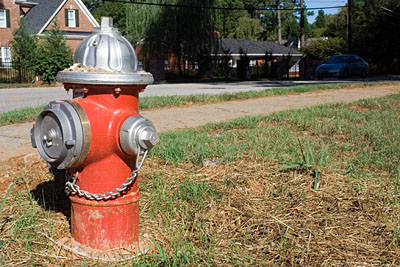 + 12 - 13 | § ¶
National Fallen Firefighters Memorial Service Internet Broadcast
Today's National Fallen Firefighters Memorial Service in Emmitsburg, Maryland is being broadcast on the internet. The ceremony starts at 10:00 a.m. This year's events will honor eighty-seven firefighters who died in the line of duty in 2006, and four who died in previous years. Last night's candlelight vigil was also broadcast.


+ 11 - 16 | § ¶
Fire Prevention Week
Reposting from earlier, here's what's happening for Fire Prevention Week around Wake County:


Friday, 10/5
Saturday, 10/6
Cary Fire Department Safety Festival, Cary Towne Center Mall, 10:00 a.m. to 4:00 p.m.
Garner Fireman's Day, Garner Station #1, BBQ at 11:00 a.m., parade at 2:00 p.m.
Morrisville Fire Safety Day, Park Place Shopping Center, Highway 54 and Cary Parkway, 10:00 a.m. to 4:00 p.m.
Raleigh Fire Prevention Tour, Crabtree Valley Mall
Zebulon Fire Prevention Day, Triangle East Shopping Center, 178 North Wakelon Street
Sunday, 10/7
Tuesday, 10/9
Thursday, 10/11
Friday, 10/12
Saturday, 10/13
+ 11 - 14 | § ¶
Emergency!: Behind the Scenes
Here's a neat new book about, ahem, the greatest television series of all time. Includes interviews, background information, and a guide to the episodes and subsequent TV movies. Remember those? The authors are Richard Yokley and Rozane Sutherland. The book is a bit hefty, with 402 pages. Minimal photographs. Click below to buy from Amazon. KMG 365.


+ 11 - 12 | § ¶
Wake County Annual Report
The county released an annual report today. Here's the press release. Here's the direct link to the annual report
. Public safety highlights include recognition for EMS using Induced Cooling treatment, CCBI computer upgrades, cardiac saves double the national rate, CCBI adding a forensic computer analyst, RDU and soon RPD joining the 800 radio system, Wake SO's special response team winning an award, Wake SO's Project Lifesaver, the future Criminal Justice Center, and AVL for Wake SO and, next year, Wake EMS.
+ 17 - 9 | § ¶
Call For News
Let's see if we can leverage this blog in the direction of official news. If your fire or EMS department has (a.) news that's fit for public consumption and (b.) you are an officer of said department, feel free to send them along. These can be single-line statements, one or two paragraphs, or full-fledged press releases. I'll compile and post every couple weeks. Or maybe monthly, if the volume is low. Newsworthy news is whatever you think it is: apparatus ordered, hiring started, funding approved, promotions, retirements, ceremonies, drills, etc. All that's absolutely required for inclusion is that's "official." Let's see what happens...
+ 14 - 17 | § ¶
News & Observer Fire Prevention Week Insert
Today's News & Observer features a Fire Prevention Week insert. This year's theme is Practice Your Escape Plan, and the insert includes instructions for creating a home escape plan. The 12-page section also includes letters from State Fire Marshall Jim Long and Raleigh Fire Chief John McGrath, a personal perspective from a Raleigh fire Captain, historical facts and photos from Mike Legeros, some history on Smokey Bear, and information about the North Carolina Jaycee Burn Center.
+ 13 - 11 | § ¶
EQ Fire Article in Fire Chief Magazine
The September issue of Fire Chief magazine features a narrative about the EQ fire in Apex. Raleigh Fire Department Captain Gregory Bridges recounts his experience as haz-mat branch commander. The print version includes photos by Legeros and Wilson.
+ 15 - 11 | § ¶
Great Picture
There are great pictures and there are great pictures. Sunday's FireNews update featured this stunner by freelance photographer Julian Harrison of the Durham used car dealership that burned on September 9. Click to view larger version on FireNews: