+ 13 - 10 | § ¶
Crews Fighting Large Fire in Cary
WRAL has posted this dramatic Sky 5 image of a house fire in Chatham County this morning. Read the WRAL story. There's also coverage from the News & Observer.


WRAL photo
+ 12 - 12 | § ¶
Selma Furniture Store Fire
WTSB-AM has posted a photo of the abandoned furniture store in Selma that burned yesterday. Fire was reported at the Old Timey Furniture Store at 1465 S. Pollock Street just after 7:00 a.m. Selma, Smithfield, and Pine Level fire departments battled the blaze. Read the story.


Jason Thompson/WTSB photo
+ 15 - 14 | § ¶
Fuquay Fire Station to Get Facelift
FireNews surfaces this Fuquay-Varina Independent story on coming renovations to FVFD Station 1. The $1 million project will add 3,500 square-feet to the 30 year-old facility, nearly doubling the size of the building. Exterior improvements will create an obvious front door for the fire station. Interior renovations will rearrange and expand the living areas. Additional bays on the east side of the station will also be added. The project is expected to take 12 to 18 months to complete.

Fuquay-Varina Fire Department Photo
+ 13 - 16 | § ¶
Wake History Comes to Life in New Volume
Learn about the unique history of Wake County in Wake: Capital County of North Carolina, Vol. II: Reconstruction to 1920 during a book-signing celebration with authors K. Todd Johnson and Elizabeth Reid Murray on Wednesday, November 5, 2008, at 7 p.m., at the Olivia Raney Local History Library, 4016 Carya Drive, Raleigh. The newly released book is a companion volume to the first book which covers Wake County's history to 1871. Read entire press release.

The preeminent historian in Raleigh and Wake County, Ms. Murray has researched and recorded the history of the Raleigh Fire Department. In 1970 as Elizabeth Davis Reid, she wrote a five-page history for a city fire protection report. In 1984, she collaborated with Captain B. T. Fowler on the history section of the first yearbook. That text was reprinted in the 2002 yearbook. The text also served as seed content for my web histories over the years. Ms. Murray's collection of notes and materials were donated to Olivia Raney Local History Library in recent years. They are as important for researchers as her first volume of Wake County history, which was published in 1983.
+ 18 - 10 | § ¶
Wake County Fire Commission Work Session, Wednesday, November 5
A work session has been scheduled by the Wake County Fire Commission for Wednesday, November 5, 2008, from 1:00 p.m. to 3:00 p.m. at the Wake County EMS Training Facility, located in the basement of the Commons Building on Carya Drive. There are two agenda items for the work session:
Receive report from Ad Hoc Committee appointed by Chair Ann Suggs to discuss FY 09 fire tax budget issues with the County Manager and Deputy County Manager.
Discuss issues related to compliance with the Fire Service Compensation Guidelines.
READ MORE
+ 12 - 8 | § ¶
Holy Bat Cave!
Still more reporting from the road. Found the Bat Cave this afternoon. The mountainside community on the edge of Henderson County has a post office, a church, a couple stores, and a fire station. The Bat Cave Fire Department was incorporated in 1974, and their station houses what looks like three pumper-tankers and an ambulance. There was even someone at the station, albeit briefly. Cue Neil Hefti. Down the road in Rutherford County, the Chimney Rock Fire Department has quite a scenic view. They're an older department, incorporated in 1954. They protect the village of Chimney Rock, which has 2.8 square miles and 175 people as of 2000. One of their notable fires occurred in 1981 on Labor Day Weekend, when the Sky Lounge at Chimney Rock Park burned to the ground. Wonder how long it took the engines to climb the mountain that day? Click to enlarge:

+ 10 - 12 | § ¶
Reynolds Fire Department
Here's an interesting station design, blending stonework in the center with the standard metal building bays on each end. Located just outside Asheville at 235 Charlotte Highway, the Reynolds Fire Department building has 16 (!) bays. Their former station is just up the road, at the corner of Cedarwood Drive and Charlotte Highway. It presently serves as a welding shop. Learn more about RFD, including an interesting mix of apparatus.
+ 16 - 11 | § ¶
Highlands Hummer
We tooled to Highlands yesterday, where this police department Hummer was photographed. The elevation of the town 4,118 feet. They average 87.57 inches of precip per year, with only 6 average inches of snowfall. Highlands was formed in 1875 after its founders drew lines from Chicago to Savannah and from New Orleans to Baltimore. They felt that the intersection of these lines would make a great trading center and commercial crossroads. That's from Wikipedia.
One of the more interesting pieces of trivia about the town involves glaciers. After the ice masses destroyed plant life over much of the continent, the Highlands region became the refuge of many plants. When the ice age ended, the plateau and adjacent mountains became a botanical treasury from which the seeds of reforestation of North America were drawn. Thus the resemblance between their flora and that of Eastern Asia, which also survived the glaciers. Certain species of plants are found only in Highlands, India, Japan, and China. Wild, eh? Read more trivia.

+ 14 - 10 | § ¶
LAFD's One-Man Geek Squad Brings Web 2.0 to Firefighting
From the latest issue of Wired comes this short 'n' sweet article about Web 2.0 tools used by the Los Angeles Fire Department. They highlight four of the tools: Twitter, Yahoo Pipes, Mobile Alerts, and Map Mashups. How are they used? Using Twitter, for example, they monitor for keywords like "LA" and "fire" During last year's 800-acre fire in Griffith Park, they received real-time reports on flare-ups and wind directions from Twitter users on the ground, and which could be related to ICs. Good food for thinking about Web 2.0 and social networking, and practical application in the fire service.
+ 9 - 15 | § ¶
FDNY War Years Audio
From a reader, here's a nifty web site with audio clips from the "war years" of the FDNY. The clips are about 8 to 10 minutes in length. The site appears to be a work in progress, so additional clips are likely forthcoming.
+ 8 - 15 | § ¶
Mayday! Mayday!: Aircraft Crashes in the Great Smoky Mountains National Park, 1920-2000
Found an interesting book while browsing the North Carolina Collection at Pack Memorial Library in Asheville last night. Mayday! Mayday!: Aircraft Crashes in the Great Smoky Mountains National Park, 1920-2000, by Jeff Wadley and Dwight McCarter. Published as a paperback in 2002 by the University of Tennessee Press, it's 212 pages with a few dozen photos. The authors, both of whom have been involved in SAR missions for decades in the Smokies, have researched official documents and newspaper archives and conducted extensive interviews with survivors, family members, and eyewitnesses. They tell how the earliest known plane crashes were single-engine biplanes flown during the 1920s. In the years since, the Smokies have claimed private planes, military jets, helicopters, and even a hot air balloon. The authors also recount the stories of survival. Of the 127 persons involved in their documented crashes, 56 survived.
+ 15 - 14 | § ¶
American LaFrances in Brevard
Found a pair of older American LaFrances in Brevard this morning. Pictured left is Engine 2, built 1945. Registration #L2246. The 500 or 600 Series pumper later served as a ladder tender, equipped as a service truck. More info. Pictured right is Engine 1, built 1925. Registration #5111. Probably a Type 75, it was the first motor apparatus for BFD, and the first motorized fire engine in Transylvania County. More info. Click to enlarge. Learn about the Brevard Fire Department.

+ 12 - 10 | § ¶
Asheville Zombies
At a political rally last night at the Asheville Convention Center, AFD was staged and at the ready. Engine 9, operating one of the new Pierce Velocity pumpers, and Tac 1, a pick-up with a CAFS system, were staged below the facility on Rankin Avenue. A brush truck and a Buncombe EMS unit were behind the facility on Vanderbilt Place. And an ATV with a skid system was parked in the front on Haywood Avenue. The police presence was robust-- Secret Service, too!-- and both supporters and protesters were there in droves. Plus a number of news vans. Around 8:00 p.m., the zombies started appearing. The festive force had relocated from the Montford neighborhood, where the annual Zombie Walk had happened a few hours earlier. The lurching, moaning mass added quite a bit of color to downtown Asheville on a Sunday night. Brains, brains... Click to enlarge:

+ 13 - 13 | § ¶
American LaFrance in Blowing Rock
Reporting from the mountains, where the winds are sharp and the leaves are passing peak. This American LaFrance beauty still serves Blowing Rock, N.C. Not sure of model year. Their present roster includes a pair of pumpers, a pair of pumper-tankers, a tanker, a brush truck, a utility/service truck, an aerial tower, a light-duty rescue, a pair of medical QRVs, and a pair of medical transport units. Photos of the new station forthcoming. Next stop Asheville.


+ 11 - 13 | § ¶
Las Vegas Casino Picks Up Tab For New Fire Station
Would you believe a fire station built around a monorail support? That's one of the features of Clark County Station 32, currently under construction and funded by MGM. Read the story on firehouse.com. The location and design was negotiated with a developer, the first such partnership for CCFD. How much is the land worth near the Strip? $25-30 million per acre, reports the article. Learn more about the Clark County Fire Department.


Clark County Fire Department / Firehouse.com
+ 16 - 10 | § ¶
UK eBay Buyer Faces Libel Action After Leaving Negative Feedback
Here's something interesting from across the pond. The Times reports on an eBay buyer who is facing a libel action after leaving negative feedback about an eBay seller. Read the story. Has or can such a thing happen in the United States, with our libel laws? Don't know. This blogger is not a lawyer, nor does he play one on television. Here's the Wikipedia entry on defamation laws over here. Now for some puns. Taken to court after defaming a King James Version? Bible libel. Taken to court after defaming an American Indian? Tribal libel.
+ 9 - 19 | § ¶
(1) American LaFrance Invader 750 GPM Pump and Hose Car
For your Friday fun, here's a Raleigh Fire Department artifact from 1951, accepting delivery of an American LaFrance 700 Series pumper. It's dated December 20, 1951. The city received four 700 Series pumpers between 1951 and 1953. View information about the apparatus. Click to enlarge:


+ 9 - 17 | § ¶
Too Rich For My Blood
Bidding has passed $150 on this nifty newspaper image from 1926, showing State Hospital inmates being marched to Central Prison after the main hospital building burned. Read about that great fire. Or click to enlarge. And everbody lived madly ever after.


+ 11 - 16 | § ¶
New, Lighter SCBA
Firegeezer surfaces this new concept for self-contained breathing apparatus (SCBA). Weighs only 8 pounds, has a profile less than 2 inches think, and is compatable with existing air supply hoses. How cool is that? Poses some interesting questions, as well. Subtract 20-some pounds from "standard gear" and what happens next? Do you re-add that weight with additional equipment? Do you recalibrate the strength requirements for prospective firefighters? Makes an interesting thought exercise...

WSYR-TV
+ 15 - 12 | § ¶
North Carolina Fire Firefighters Association
Here's another interesting item from October 1940. The first state convention of a group named the North Carolina Fire Fighters Association was held in High Point on October 29, 1940. The NCFFA was an affiliate of the International Association of Fire Fighters (IAFF). The elected officers were President K. J. Smith (Raleigh); Vice Presidents C. M. Goss (Durham), W. C. Martin (High Point), C. H. Boone (Charlotte), and Secretary-Treasurer W. E. Cherry (Washington). One of their immediate initatives, reported the October 31 edition of the News & Observer, was seeking a statewide civil service system and a reduction of the firefighter work week to 72 hours. The time on duty in Raleigh, they noted, was 84 hours. Did they succeed? And what became of the organization itself? To be determined.
+ 15 - 13 | § ¶
Every Day is a Big Day
This North Carolina State Fair advertisement appeared in newspapers in October 1940. Fireworks! Harness races! Hippodrome acts! The Famous Roxyettes! Lucky Teter and his Hell Drivers! And more! Click to enlarge:


+ 10 - 9 | § ¶
Wake Expects to Lose $17M in Slow Economy
County officials said today that they're expected millions in losses in the coming months. The County Manager has implemented an across-the-board hiring freeze. He's also cancelled all non-essential travel by county employees. Spending cuts were also unveiled. Read the WRAL story. The News & Observer is also covering the story.
+ 15 - 7 | § ¶
Yesterday's Fire / East Lane Street
Two alarms at 925 East Lane Street. Engine 3 arriving with a working fire at a two-story, masonry apartment building with 2,688 square-feet. One subject in upstairs window, rescued. Second alarm requested, dispatched, but units quickly returned to service after fire controlled. First alarm: E3, E1, E7, E13, L1, R7, B2, C5, C20, A8. Second alarm: E5, E10, E6, L20, R14, B3. Alarm time 8:28 p.m. One victim with smoke inhalation. Cause determined as deliberately set.
+ 21 - 11 | § ¶
High-Rise Assignments
Early birds heard high-rise assignments dispatched about 4:28 a.m. to a structure fire at 509 Glenwood Avenue. That's a nine-story, brick structure with apartments for elderly residents. Glenwood Towers was built in 1971. The fire dispatch was Engines 13, 1, 3, 6, 7, Ladders 1, 11, Rescue 7, Battalion 3, and Car 5. The medical dispatch included EMS 13, 11, 1, Districts 1, 5. No fire found, pot on stove.
New procedures took effect July 1 for reported fires in high-rise buildings. Five engines, two ladders, one rescue, a Battalion Chief, and a Division Chief comprise the initial dispatch. The EMS response includes three EMS units, two District Chiefs, a Major Operations Support Unit, and a Logistics Officer. Arriving companies have pre-designated duties based on order of dispatch, including fire attack, fire floor support, lobby control, elevator control, and Rapid Intervention Team (RIT).
High-rise buildings are defined as those in which total emergency evacuation is not practical, and in which the fire must be fought internally. A high-rise building has occupied floors located more than 75 feet above the lowest level of fire department vehicle access. Here's a WRAL story from May about the preparing for the procedure.

Glenwood Towers
+ 12 - 12 | § ¶
Highway Patrol Mobile Command Unit
The North Carolina Highway Patrol has a new mobile command and communications unit. Seen at the State Fair today, click to enlarge:


+ 8 - 15 | § ¶
World's Fair Fire Departments?
With fairs and expositions on our minds, what World's Fair Fire Departments have been organized over the past decades and centuries? Google finds a few quick hits. Here's a nifty page on the 1964-65 World's Fair Fire Department in New York. Another site has more about their fire engines. Information about the Ahrens-Fox pumpers that protected the 1939 World's Fair in New York are included on this page. Here's some information about fire protection at the 1915 Pan-Pacific Exposition in San Diego. The World's Columbian Exposition of 1893 in Chicago had a fire department. Here's a PDF document about the fire that killed 14 firefighters on July 10 of that year. Here's a nifty simulation of the exposition grounds, as well. Finally, here's a Wiki page with all World's Fairs listed.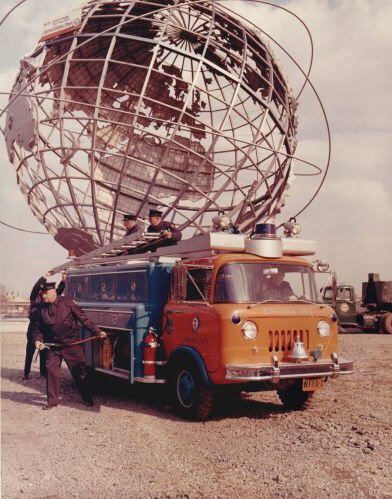 Photo courtesy Gary Urbanowicz
+ 11 - 14 | § ¶
FDNY Log Book on eBay
Here's something you don't see everyday, an FDNY log book for sale on eBay. Same is Hook & Ladder Company 13, from 1919-1920. Starting bid was $5.00. What's the origin of the word "log book" you ask? In days of old, when knights were bold, the speed of a ship was calculated by tossing overboard a piece of wood. e.g, a "log." Same was attached to a rope, the amount of rope was measured over time, and the measurements recorded in a "log book." Along, of course, with other aspects of the journey, weather, location, etc. Here's a picture of a "log line".
+ 19 - 10 | § ¶
State Fireman's Convention Vintage Photo
For your Friday fun, here's a vintage photo of a state fireman's convention in Raleigh. From the clothing, the year is probably 1936. The Capital City hosted the North Carolina State Fireman's Association only four times between 1888 and 1955, in the years 1889, 1902, 1916, and 1936. That's the State Capitol in the background. Who's who? That's might be State Fire Marshall and former Raleigh Fire Chief Sherwood Brockwell kneeling in the front row on the left, wearing a gray suit. Or maybe that's him standing on the far right, with the striped tie? Veteran or perhaps charter members are likely the ones standing in the center. That year, Raleigh Fire Chief W. Ernest Holland was elected President of the association. He was the first RFD member to hold the title. Click and be patient to see a much larger version. After loading you may need to click again, if your browser automatically adjusts the image to the width of your screen.


+ 8 - 19 | § ¶
Understanding Disabilities When Designing a Web Site
From Digital Web magazine comes this exceptionally informative article about designing web sites to accommodate users with vision, hearing, physical, cognitive, and learning disabilities. Stats provide some context. In the US, 10M people have vision impairments, 28M have hearing impairments, 8M have physical disabilities, 6.8M have learning disabilities, and 25M have dyslexia. The article is worth reading, and the ideas are worth implementing. How does one check web site accessibility? Try the WAVE 4.0 site. You might be surprised.
+ 9 - 19 | § ¶
Black Ice
For those about to rock on Monday, when Wal-Mart stores and only Wal-Mart stores1 begin selling AC/DC's first album in 8 years, here are a handful of reviews of Black Ice. Three out of five stars from the Guardian. A positive spin from the BBC. High fives from from the Observer. B minus from Entertainment Weekly. Three and a half out of five stars from Spin Magazine. Same number of stars from Rolling Stone. You can preview a number of tracks on the band's site. They sounds great, and Brian Johnson-- 61 this year!-- sings like he's twenty years younger. Rock on.


1
And Sam's Club stores, of course.
+ 39 - 15 | § ¶
Improvements at Station 7
Recent weeks have seen improvements at Station 7, including a white wooden fence out front, a small concrete pad in the rear, and painted front doors and flag pole as seen in this picture from Lee. See more pictures on his Flickr site. Earlier photos of the station work are also available. Station 7, located at 2100 Glascock Street, was built in 1959 and is the fourth oldest fire station in the city.


Lee Wilson photo
+ 15 - 7 | § ¶
Bucket Brigade Halts Flames at Carpenter's Station
From the News & Observer of June 22, 1940. Quick-thinking residents probably saved 2,000,000 feet of lumber at the Chandler Lumber Company at Carpenter's Station, after a fire destroyed the boiler plant and shaving chute the night before. The fire started shortly after the plant had closed for the day. Nearly the entire population of the Carpenter's community formed an old-fashioned bucket brigade. They fought flames from 6:45 p.m. until 7:30 p.m. The plant foreman said "there was no time to call fire apparatus." It was located 15 minutes from Raleigh, and on a dirt road 8 miles from Apex. Damage was estimated at about $1,000.
+ 8 - 15 | § ¶
Chevrons, Their Background and Discussion Therein
In this FireNews article, Charlotte Fire Department Health and Safety Officer Robert Tutterow presents a perspective on the new NFPA requirement for chevron striping on the rear of possition. Though mandating the striping met virtual no opposition, he notes, there was considerable resistent to specifying the striping colors and size. Read the entire article to learn more about the requirement. Readers are also weighing in, some making more sense than others. Join the conversation.


FireNews photo
+ 8 - 15 | § ¶
Chevrons, Their Background and Discussion Therein
In this FireNews article, Charlotte Fire Department Health and Safety Officer Robert Tutterow presents a perspective on the new NFPA requirement for chevron striping on the rear of possition. Though mandating the striping met virtual no opposition, he notes, there was considerable resistent to specifying the striping colors and size. Read the entire article to learn more about the requirement. Readers are also weighing in, some making more sense than others. Join the conversation.


FireNews photo
+ 7 - 16 | § ¶
This Weekend's Events
Saturday, October 11
Fuquay-Varina Fire Department Open House - FVFD Station 1, 301 South Fuquay Ave. (see map), 10:00 a.m. to 4:00 p.m.
Sunday, October 12
+ 7 - 16 | § ¶
This Weekend's Events
Saturday, October 11
Fuquay-Varina Fire Department Open House - FVFD Station 1, 301 South Fuquay Ave. (see map), 10:00 a.m. to 4:00 p.m.
Sunday, October 12
+ 19 - 12 | § ¶
City Inspectors Close Raleigh's Velvet Cloak Inn
Today's News & Observer reports that city inspectors closed the Velvet Cloak Inn late last week. The Hillsborough Street hotel was deemed an "imminent fire hazard" after an October 2 inspection found "bare electrical connections, an inoperable fire alarm and a nonfunctioning sprinkler system." The hotel, built in 1963, had been refurbished in recent years, with half of rooms repurposed as condos. At least 39 had been sold. Read the entire story.



Wake County photo


+ 12 - 9 | § ¶
Frederick County Versus TriData Report
Dave Statter reports on what's happened in Frederick County, MD, with regard to a report by TriData Corporation providing a comprehensive review and master plan for county fire and EMS services. Or, specifically, the report of the report's implementation committee. Got that? He's linked to a copy of the report on the report, along with footage of County Commissioners discussing the thing. One of the recommendations was a county Fire Chief. That didn't pass muster. Watch the footage, listen to the discussion, and you'll see many similarities with our own situations. Heck, who can forget the frigid response-- on the fire side, that is-- to TriData's Wake County Fire/EMS Capital Facility and Equipment Study? Four years ago, that was.
+ 12 - 10 | § ¶
Raleigh Fire Department To Add Two Aerial Ladder Trucks To Fleet
At its meeting on Sept. 2, the Raleigh City Council agreed to waive competitive bidding requirements in order to piggyback on a bid from New Hanover County for the purchase of two new fire trucks. By piggybacking on New Hanover County's purchase, the City is able to purchase the trucks at a reduced rate. The new vehicles are 100-foot aerial platform ladder fire trucks. Constructed by Pierce Manufacturing, Inc., the trucks will cost more than $844,000 apiece. The trucks are capable of pumping 2,000 gallons of water per minute. Read entire press release.
+ 13 - 8 | § ¶
USFA Lauds Apex Firefighters
Today's News & Observer reports on the technical report from the U.S. Fire Administration on the EQ chemical fire of two years ago. They gave high marks to AFD and officials, who handled the "potentially devestating situation" with "the highest levels of skill and expertise". Read the USFA press release. Or go directly to the report itself
.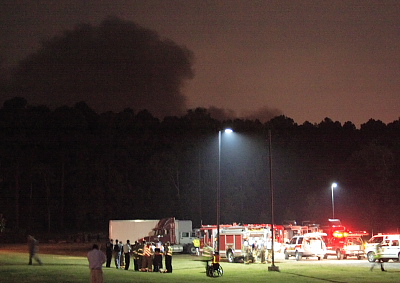 + 14 - 12 | § ¶
The Last Mack... For Sale
Last-minute notice. With 18 hours left before the auction ends, here's your chance to acquire the last Mack CF pumper that the city of Raleigh is selling. It's a 1982 model, one of two delivered that year. It's sister is still on the roster as an antique. The truck for sale served as Engine 3, 9, 14, 21, 31, 103, and 123. Click to view the auction. Or read about the truck's history. Good luck and happy bidding!


Govdeals photo
+ 11 - 10 | § ¶
Cherry Hospital
The mental health facility in Goldsboro had a fire department at one time. Sanborn Fire Insurance Maps from 1924 indicate an "organized fire department of 9 employees" with "3 hose reels carrying 600 feet of 2 1/2-inch hose and 800 feet of 2-inch hose." The facility at the time was called the State Hospital for the Colored Insane. Read about its history.
+ 12 - 19 | § ¶
Oldest Active Fire Stations?
After Henderson Station 2, built 1908, what are the other oldest active fire stations in North Carolina? They include Asheville Station 1 (1924), Charlotte Station 5 (1929), Charlotte Station 6 (1929), Roseboro's station (1930s), Lillington's station (1935), Charlotte Station 7 (1935), Pinehurst's station (1936), Fayetteville Station 2 (1942), Charlotte Station 8 (1948), and Raleigh Station 6 (1949). There are probably others out there. Source: Former and Historic Fire Station Database.


Henderson Station 2
+ 17 - 7 | § ¶
Corrections
The Edenton Street Methodist Church burned in 1956, not 1958. The correct date is July 28, 1956. The story goes that Cary and Garner firemen also assisted, either at scene or for coverage. The IGA Grocery Story burned on December 20, 1992, and not December 19. Future FireNews Editor-in-Chief Jeff Harkey captured stunning images at the three-alarm fire. Corrections to history pages forthcoming. These and other fires will be featured in tonight's history presentation at Cameron Village Regional Library.


Jeff Harkey photo

+ 5 - 16 | § ¶
Henderson Fire Department Anniversary Celebration, Thursday, October 9
The 100-year anniversary of Henderson Fire Station No. 2 and the Henderson-Vance Fire Department Fire Prevention Open House will be observed together on Thursday, October 9. The event takes place at Station 2, 205 Garnett Street, from 5:00 until 8:00 p.m. This year's Fire Prevention Week theme is "Prevent Home Fires." READ MORE
+ 11 - 11 | § ¶
View of Old Station 1
For a Sunday surprise, here's a newly uncovered photo from the North Carolina State Archives Flickr site. The picture is part of their Raleigh, NC set, and shows the Revene Building at the corner of Morgan and Salibury Streets. To the left is the original Station 1, built 1896. The photo nicely shows the perspective of the station's size. The picture is from Carolina Power and Light (CP&L) Photograph Collection (Ph.C.68), and circa 1930.


North Carolina State Archives photo
+ 9 - 12 | § ¶
Getting Organized Before the Big One
Speaking of FireNews, Editor Jeff Harkey offers a perspective on pre-arranged alarm assignments in his editor's blog. His map showing domestic flights is a sobering reminder of the potential for "big ones" regardless of community size. Read the Editor's Blog posting. Then join the discussion in the reader's comments section.
+ 15 - 12 | § ¶
Warren County Firemanís Day Parade Photos
From photographer John Franks by way of this FireNews article comes this rare Brockway Seagrave that serves as Norlina Engine 22. It apepared in the Warren County Fireman's Day Parade in Warrenton on Saturday, September 27. See more of John's photos from the Flickr site linked in the article.
John Franks / FireNews photo
+ 9 - 13 | § ¶
History Presentation, Tuesday, October 7
Historian Mike Legeros presents a history of the Raleigh Fire Department on Tuesday, October 7, at the Cameron Village Regional Library, 1930 Clark Avenue. The 7:00 p.m. event will feature a 45-minute presentation about both the volunteer and fully paid-eras of the fire department. There will also be a discussion of the city's largest fires. Arrive early and watch color film footage from 1950, which will start playing at 6:30 p.m.
+ 9 - 15 | § ¶
Lowering the Flag for Fallen Firefighters
From a reader, did you know that the law requires the U.S. flag be lowered in observance of the National Fallen Firefighters Memorial Service? On October 16, 2001, President George W. Bush approved legislation (Public Law 107-51) requiring the U.S. flag to be lowered to half-staff on all Federal buildings to memorialize fallen firefighters. Thus, U.S. flags across the country will be lowered on Sunday, October 5, 2008. Remember to lower the U.S. flags at your home, fire department, and business. Lowering your flag on Sunday recognizes the brave men and women who died protecting their communities from natural and man-made emergencies and disasters, as well as those who carry on the proud tradition.

+ 16 - 7 | § ¶
Fire Prevention Week Starts
Here are this weekend's events, as reprinted from the prior posting.
Friday, October 3
Raleigh Fire Department display, Crabtree Valley Mall.
Saturday, October 4
Sunday, October 5
Bay Leaf Open House, BLFD Station 1, 11713 Six Forks Rd. (see map), 1:00 p.m. - 5:00 p.m.
Raleigh Fire Department display, Crabtree Valley Mall.
Raleigh Fire Department open house, at all fire stations.
+ 9 - 13 | § ¶
Propane Leak, Fire, Explosion Video
Dave Statter surfaces this surveillance video from Laurel County, KY, of a propane leak in the back of a pick-up truck that causes an explosion, fire, and bigger explosion. The final blast, he notes, was felt inside a nearby retail store. That's a 100-pound propane tank leaking, then burning. The driver was treated and released with burns to his arms, hand, and face.

+ 12 - 14 | § ¶
Kids to Kick Off Fire Prevention Week at Caryís Bond Park
For the first time, the Town of Cary is hosting Safety Day at Bond Park, 801 High House Road, on Saturday, October 4 to help jump start National Fire Prevention Week that runs October 5-11; this year's theme is "It's Fire Prevention Week: Prevent Home Fires!" From 10 a.m. until 4 p.m. on Saturday, Cary Fire and Police, Cary EMS, and Wake Co. Safe Kids Staff will provide games and educational activities in the open field across from the Bond Park Community Center to help educate children and their parents about the dangers of home fires. Read entire press release.
+ 8 - 14 | § ¶
Yesterday's Haz-Mat / Globe Road
Chemical spill at industrial facility at 10411 Globe Road. Cary Engine 1 first on scene1. Haze reported visible in air and nearby buildings were evacuated. Entry team found 55 gallon drum of muriatic acid with anestimated 30 to 45 gallons spilled. Crews contained spill using lime. Alarm time about 11:10 a.m. Companies started clearing about 3:00 p.m. Units included Cary E1, B2, Raleigh B4, HM8, HM15, HM2, L22, L20, Decon 1, C72, C5, FC1, Cary EMS D5, Six Forks EMS 123, Wake EMS 32, T1. "A" shift working. See photos by Legeros.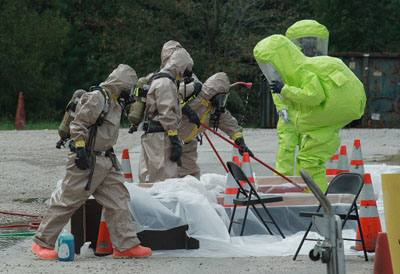 1Address is within Cary municipal limits, but postal address is Morrisville. Here's a GIS map showing Cary's city limits.
+ 7 - 13 | § ¶
World Burn Congress Firefighter Cook-Off
Expect sweet smells today and tonight in the vicinity of the Raleigh Convention Center. Some dozen-plus North Carolina fire departments will be cooking pig 'n' chicken for the World Burn Congress. The international event opened yesterday. The cooks will be smoking their stuff in a nearby parking deck. The sampling and serving will be held in Ballrooms B and C, from 6 to 10 p.m. View the entire WBC program
.
+ 14 - 8 | § ¶
Date Night Fund Honors Firefighters
Two Chick-fil-A franchise operators in Raleigh are honoring Raleigh firefighters, reports this article in today's News & Observer. Inspired by the new movie Fireproof, they are raising money for Raleigh firefighters to have a night at the movies. They've started a blog and calling their effort "Fireproof Raleigh." They want to each Raleigh firefighter to have a pair of movie tickets, a free dinner at Chick-fil-A and two free hours of child care. Read this related N&O article about the film.