+ 15 - 11 | § ¶
North Carolina Fallen Firefighters Memorial Service, Saturday, May 5
The Seventh Annual North Carolina Fallen Firefighters Memorial Service takes place this Saturday, May 5, in downtown Raleigh. There are two events planned for the day: an apparatus and honor guard procession at 10:00 a.m. and the memorial service at 1:00 p.m. See the memorial service web site for more information. See photos by Legeros of past year's ceremonies.
The procession starts at 10:00 a.m. at Hillsborough and St. Mary's streets, and continues south on Dawson Street to the memorial at Nash Square. That's in front of Fire Station 1. Participating are fire departments that have lost one or more members in the line of duty.
The service starts at 1:00 p.m. at Nash Square. Six names of fallen firefighters will added to the North Carolina Fallen Firefighters Memorial:

| | | |
| --- | --- | --- |
| James Walters Sr. | Parkton Volunteer Fire Department | Jan. 29, 2011 |
| Richard Leo Barbour | Wilson's Mills Fire Rescue | Feb. 4, 2011 |
| David Hunsinger Jr. | Tar Heel Rural Volunteer Fire Department | Apr. 7, 2011 |
| Jeffrey Scott Bowen | Asheville Fire Department | Jul. 28,. 2011 |
| George W. Fisher III | Sandy Bottom Volunteer Fire and Rescue | Sep. 22, 2011 |
| Johnnie Lynn Norton | Hot Springs Volunteer Fire Department | Nov. 24, 2011 |
+ 10 - 13 | § ¶
Maxton's 1957 GMC Pumper For Sale (and Some History)
Here's a gem as found for auction on GovDeals, a 1957 GMC pumper from the Maxton Fire Department. Twelve bids at present. Truck doesn't run, alas. Operating condition isn't known, either. Looks like a heck of a restoration project for someone! See many more pics and details. Looks like the truck was serving as late as 1982, based on subsequent Google News Archives research (!).


Next question, what happened to Maxton FD? Looks like they were a town-based department until 1984, when MFD was approved to start serving a rural district named Queheel. By 1997, they were named Maxton-Queheel Fire Department. That same year, Queheel Fire Department took over protection for the town. (What the heck is a Queheel? No idea...) See sources and Sunday night research below the jump. Need to stop and poke around on my next trip to Myrtle Beach!
READ MORE
+ 8 - 14 | § ¶
This Morning's Fatal House Fire in Fuquay-Varina
WTVD has posted a short video story about this morning's house fire in Fuquay-Varina where two men were killed. The fire was reported about 7:30 a.m. at 128 Bridge Street. The one-story, ranch-style dwelling with a full basement measured 1,320 square-feet and was built in 1959. Seven people reportedly lived at the residence. The fire started in a downstairs area, reports this NBC17 story, but investigators haven't determined the cause. Units on scene included Fuquay-Varina E5, E4, E3, E2, L1, R1, Tanker 2, Tanker 3, B1, C20, C1, Holly Springs E2, Wake County EMS 9, EMS 14, EMS 17, EMS 8, D2, T1. Wake County Fire Services WC1 and Raleigh Car 20 were among the investigators.


+ 10 - 13 | § ¶
Firefighter Games a Long Tradition in North Carolina
Contests between North Carolina's firefighters are as old as many of the departments themselves. After the Civil War, newspapers reported the excursions of firemen from one city to another. In September 1869, for example, some 30 members of Raleigh's Merchants Independent Fire Company were received by the Steam Fire Engine Company of New Bern. Inevitably, such visits included competitions between the visiting and home firefighters. In August 1882, the colored firefighters of Wilmington received Raleigh's Victor Company. Among the activities was a "reel contest." The prize was awarded for the best time for pulling a hand hose reel for 250 yards, laying 100 feet of hose, detaching, attaching, and flowing water from a hydrant. Wilmington's Cape Fear Company No. 3 made the best run.
Read the rest of the story in the latest issue of Carolina Fire Rescue EMS Journal, Vol. 26, No. 4. The article is accompanied by a detailed overview of the Raleigh Fire Department Centennial events in downtown Raleigh on Saturday 16. Included are descriptions of the four firefighter challenge events. Have you registered your team yet?
And here's our web page version of the story, with clickable photos and some NCSFA tournament rules excerpts from 1916.


Atlantic Fire Company of New Bern in hose wagon contest, circa 1900.
That year's tournament was held in Wilmington.

Wake Forest Fire Department #2 competing in a closing event of the
67th annual session of the North Carolina Volunteer Fireman's
Association, July 1957. News & Observer photograph.
+ 10 - 7 | § ¶
Mystery Street
Can you place this cul-de-sac? Perhaps the picture offers clues...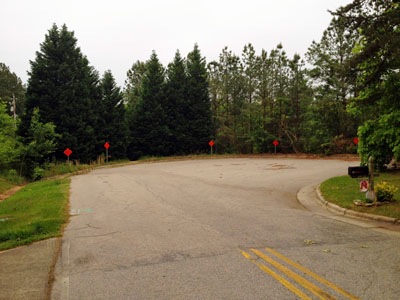 + 8 - 11 | § ¶
North Carolina Fire Department Yearbooks, History Books?
Next question, how many departments in North Carolina have produced yearbooks, history books, or commemorative books over the years and decades? Anyone have a new book in production, and that's available for ordering? (For tips on producing your own fire department yearbook, see this article.)
Commemorative Books
Asheville - 2000?*
Charlotte - 1988*, 2000, 2007
Durham - 1995
Greensboro - 1984*, 1990, 2001
Lenoir - 2002
Raleigh - 1984, 2002, 2007, 2012 (in production)
Rocky Mount - 1996*
Wilmington - 1985*
Winston-Salem - 1992, 2000*
Commercial History Books
Firefighting in Charlotte, Shawn Royall, Arcadia, 2007
Raleigh and Wake County Firefighting, Mike Legeros, Arcadia, 2003
Raleigh and Wake County Firefighting Volume II, Mike Legeros, Arcadia, 2004
* Notes book wanted! Will pay cash money to expand my library...
+ 16 - 3 | § ¶
Raleigh Fire Department Centennial History Book Underway
To help commemorate this year's 100th anniversary of the Raleigh Fire Department, production has started on a centennial history book. Produced in partnership with Strawbridge Studios, the book will feature a text history of the fire department, 100 years of historical photos, station histories, apparatus photos, personnel portraits, and more.

Measuring 9 by 12-inches, the coffee table-sized hardcover will contain 260 full-color pages. The cost of this limited edition is $60.00 through December 1, 2012. Order forms are available at www.RFD100.com.

Over 100 years of historical photos will be featured, drawn from the archives of the Raleigh Fire Museum. "We have pictures dating to the 1880s," notes fire department Historian Mike Legeros. "That's the hand- and horse-drawn era," he adds. Plenty of modern fire photos will also be included. The book will draw upon the extensive work of the department's photo unit, which has been documenting incidents and events for over a decade and a half.

A group of firefighters are working on the book, which will be completed at the end of the year. They're collecting materials, historical information, and the hundreds of photos to be included. They're also hoping for photo contributions from both inside and outside the department. "We're still finding new old photos," says Legeros. "And you don't have to order a book to submit photos," he adds.

For more information about ordering a copy or submitting photos, visit www.RFD100.com.
+ 11 - 5 | § ¶
Video of LP Tanks Burning, Explosion at a McDonald's Drive-Thru
This compelling citizen video is making the rounds. Two LP tanks ignited, burned, and exploded (is BLEVE'ed a verb?) in the back of a pick-up truck at a McDonald's drive-thru window in Coachella, CA. Better bloggers than myself have ably covered this story, notably Firegeezer and Statter911.com. Dave calls this one a "must see" video. Believe I'd agree.



+ 11 - 5 | § ¶
Video of LP Tanks Burning, Explosion at a McDonald's Drive-Thru
This compelling citizen video is making the rounds. Two LP tanks ignited, burned, and exploded (is BLEVE'ed a verb?) in the back of a pick-up truck at a McDonald's drive-thru window in Coachella, CA. Better bloggers than myself have ably covered this story, notably Firegeezer and Statter911.com. Dave calls this one a "must see" video. Believe I'd agree.



+ 10 - 9 | § ¶
Competition Teams, Antique and Modern Apparatus Wanted!
+ 12 - 11 | § ¶
Vintage Color Slides of Raleigh Fires
To complement our Mangel's fire photos from 1981 that we posted last week, here are some more vintage color photos of the Raleigh Fire Department. These are again from Robert L. Ott Sr., and courtesy of his son William Ott. His father passed away in 1993, but left a photographic legacy that his sons Lee and Bill are working to preserve.
This latest crop of fire shots are some of first color photos we've seen of these incidents. (For reasons unknown, color pictures and slides from back in the day have been exceptionally hard to find.) These are scans of 35mm color slides. The images include Hayes Barton Baptist Church in 1962, Warren Restaurant in 1964, and Baker Roofing Company in 1977. Read about those fires in our Raleigh Fire Department timelines.

Robert L. Ott Sr. photos
+ 11 - 9 | § ¶
911 Misdialing Persists
As today's News & Observer story reports, accidental dialing of 911 is still a problem in Raleigh and Wake County, three weeks after the recent switch to 10-digit dialing. And if you do call 911 by mistake, please remain on the line. Otherwise, an officer will be sent. (They're dispatched on a daily average once every 7 1/2-minutes.) Data shows the majority of accidental calls are coming from senior citizens and business telephones. Notes Raleigh-Wake County Emergency Communications Center Director Barry Furey, ""If you have an elderly friend, relative, or neighbor, I'd like to personally ask you to take the time to make sure they understand to carefully dial 9-1-9." Finally, for your midweek amusement, here's an audio clip of Homer Simpson on the subject.

+ 10 - 8 | § ¶
Vintage Fayetteville Patch
Found for sale on eBay, here's a vintage Fayetteville Fire Department patch. Unusual shape and colors, compared to current designs. Maybe a reader can advise its history. Click to enlarge:


+ 11 - 6 | § ¶
Air Force One
As photographed this morning by Yours Truly, during a ride-along with Raleigh-Durham Emergency Services. That's the big plane arriving, for the President's trip to Chapel Hill. The full white fleet was deployed to stand by: CFR 1 (mini-pumper), CFR 2, CFR 3, CFR 4 (three crash trucks), and CFR 10 (command vehicle). Plus Raleigh Engine 24, Ladder 6, and Battalion 4 (riding in CFR 10 along with some guy in a Hawaiian shirt). More photos to be posted. Next question, just how many law enforcement agencies were on scene today? Bet there were quite a few shades of blue... Click to enlarge:


+ 7 - 5 | § ¶
National Fallen Firefighters Golf Tournament, Monday, June 11
The Raleigh Fire Department is hosting the sixth annual National Fallen Firefighters Golf Tournament on Monday, June 11. And with a new location this year: Bentwinds Country Club, 6536 Dornoch Place, Fuquay-Varina, NC, 27526. Web site: www.bentwinds.com.
Tee time is 10:00 a.m., but arrive early for complementary breakfast, complimentary range balls, and the putting contest. Entry fee for a single golfer is $80. That also buys a full meal immediately following the tournament, and where door prizes and trophies are awarded.
Sponsorships are also sought. Individuals or organizations can sponsor a hole for $150. That includes signage and other recognition.
Read this flyer for more information. Or see photos from past tournaments. Such as this handsome bunch below...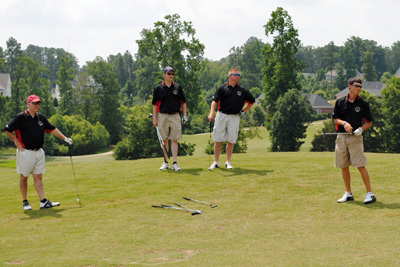 + 9 - 9 | § ¶
Wake Forest Fire Department Brotherhood Conference, Saturday, May 12
The Wake Forest Fire Department is hosting a Brotherhood Conference on Saturday, May 12. The location is Ravenscroft School at 9409 Falls of Neuse Road, Raleigh. The event time is 9 a.m. to 4 p.m. The special guest is Lt. Ray McCormack, FDNY. This conference is free for any active firefighters. There are 400 slots max. Download the flyer (PDF), or click to read for contact information:


+ 6 - 11 | § ¶
UPDATED: New Old Photos From The Mangel Fire, July 1981
The Raleigh Fire Museum has posted two sets of photos from the Mangel's Building fire on Fayetteville Street Mall on July 7, 1981. The photos are from veteran hobby photog Robert L. Ott Sr. and retired CCBI photographer Gary Knight. Their photos, other photos, and other information (including a run card) are linked from this new historical incident summary page.


Robert Ott (top) and Gary Knight (bottom) photos


The Mangel's Building was built between 1890 and 1900. How many really old buildings remain on Fayetteville Street? Based on tax records, here's a document with diagrams and ages (PDF). (That document was created last year. Please advise corrections!) Looks like a number of structures dating to the 1900s, though balanced with numerous more modern buildings.


+ 8 - 5 | § ¶
Detroit Fire Department Demolition Squad
As cited in this Statter911 story, the Detroit Fire Commissioner has some innovative ideas for dealing with cuts to his coming budget. He's focused his attention on vacant structures, which is the major fire problem in motor city.
Idea #1: Allow vacant homes that are 50% involved or greater on arrival to burn to the ground, as long as no lives (and presumably exposures) are jeopardized.
Idea #2: Asking the U.S. Navy's Seabees to demolish 10,000 vacant or dilapidated homes. Can you get your head around that one? Ten thousand vacant homes.
Idea #3: Creating a DFD demolition unit, with heavy equipment to raze the remnants of newly burned buildings. Much in the style of the heavy equipments used by LAFD, where the Commissioner last worked.
By way of historical perspective, demolition was a proven technique for controlling fires in the 19th Century (and probably earlier). Hooks were carried with ladders. They were attached to chains and rope, and could help pull down a burning (or unburned!) building. Blasting powder served the same purpose.
Or as happened in the great New Bern fire of 1922, a Norfolk and Southern steam engine pulled down six houses along Queen Street. Another nearly 100 homes were dynamited. Read that account as part of this New Bern Public Library special program transcript.

+ 5 - 8 | § ¶
Dangerous Driving Study
Did you catch this this week, about an NHTSA study showing gender differences in accidental acceleration in automobile accidents? And studying North Carolina crashes, no less? This Car Connection story has a howler of an opening paragraph:
Gentlemen: on a scale of one to ten, how much do you value your relationship with your wife? Girlfriend? Mother? Sister? Female co-workers? If you answered more than, say, a five, you might want to skip this article entirely, because it could get you into a lot of trouble.
Continue reading at your own peril...
+ 8 - 6 | § ¶
Here Come The Speed Bumps!
This week's Midtown Raleigh News reports on new traffic-calming measures approved for the Capital City. Eight neighborhood streets are getting humps and bumps and something called speed cables. And you know you're good if you already know each street's first-due engine company! Here's the list:
Shelley Road between North Hills Drive and Six Forks Road. Seven speed humps.
Rose Lane between Maplewood Road and Poole Road. Nine humps.
Baugh Street between Starmount Drive and Old Buffaloe Road. Seven humps.
Wimbleton Drive between the two sections of Shelley Road. Three speed cables, which is a wider version of a speed hump.
Northbrook Drive between North Hills Drive and Pamlico Drive. Three humps and one raised crosswalk.
Glascock Street between Wake Forest Road and Norris Street. Four humps.
Merrie Road between Avent Ferry Road and Merwin Road. Six humps.
East Rowan Street between Six Forks Road and Lakemont Drive. Five humps.
+ 5 - 6 | § ¶
Charlotte Reacquires Hand Engine
Neat videos out of Charlotte, where the fire department has reacquired an 1866 Jeffers hand engine (both hand-pulled and hand-powered) that originally served the Neptune Fire Company. It later served Newbury, MA, and is thus lettered for same.
By my research, at least 44 hand engines have been used in North Carolina. See the database, which is likely incomplete. Salem's two engines survive. Isn't Smithfield's hand engine still around as well? Raleigh had five engines through its history. Their dispositions remain unknown.


+ 6 - 5 | § ¶
Cary Fire Station 8 Under Construction
The ground has been broken for Cary Fire Station 8 at 408 Mills Park Drive. The two-story station will have three apparatus bays, measure 14,410 square-feet, and include a 1,160 square-foot satellite police station. The station will house an engine company, but is built to include a ladder company and Battalion Chief in the future. It's also the town's first "green build" building. (This blog is also environmently friendly, by the way. It's built from 100-percent recycled thoughts!)
The cost of the project is $5.9 million. The designer is ADW Architects of Charlotte. Read more about the project. Here's a reader photo of the construction site. Thanks Jeff. And maybe we can dig up a map showing all Cary fire station locations, current and planned. e.g., new Station 2 at 601 E. Chatham Street, Station 9 in O'Kelly Chapel Road Area, Station 10 in West Lake/Middle Creek area.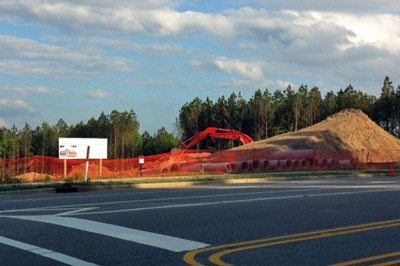 + 13 - 6 | § ¶
Eno Brush Truck
Here's a sharp-looking remount, Eno Fire Department Brush 355. The body of their old brush truck was remounted on a 2011 Dodge chassis. Lee Wilson photographed same during this week's Orange County roamings. See more photos. And did you know EFD operates a second station? It opened in 2009 and is located on St. Mary's Road.
Also, Carrboro Station 2 is in operation. It opened in September 2010. Here are a couple pics from Lee via Firenews.net. (He also spent some time in Chapel Hill, photographing their famous blue rigs. Good shots. Go State.)
Who else has opened new stations lately? Or is preparing to open a new station?



Lee Wilson photo
+ 8 - 4 | § ¶
Curious Fire Photo From Rocky Mount
For your morning reading, here's a curious fire photo from the Rocky Mount Telegram, what looks like an HDR image by Bob Bartosz, after a small fire Monday night at a home improvement store. There's been a debate about HDR and its use in photojournalism. Here's one report, from Digital Photography Review. What do you think about HDR or heavier digital processing in general? Anyway, read the story and see a larger version, plus a second shot.



Bob Bartosz photo
+ 4 - 5 | § ¶
American LaFrance Bid Document, 1925
For our third and final vintage bid document, this one's dated January (?) 30, 1925. One Type #75 triple pumper chemical engine and hose motor car for the Raleigh Fire Department. To be built and shipped in about 60 working days after receiving and executing contract. Price $12,500, subject to delivery, test, acceptance, and regular periodic inspection.
The serial number was #5097. The manufacturing date was April 14, 1925. It was one of four Type 75 pumpers delivered in 1922, 1925, and 1926 (two). Like the prior posting about Station 4 and the Gamewell alarm system, this is a scan of a photocopy, obtained years ago from the City Clerk's office. Read this document.

Some of the specs:
Triple combination pumping, chemical, and hose car.
750 GPM, rotary gear pump
40 gallon Champion chemical tank
200 feel of 3/4-inch chemical hose on a reel
Hosebed capacity for 1,200 feet of 2 1/2-inch hose
Pneumatic tires
Locomotive bell and "penetrating siren horn"
Among supplied equipment:
Two lengths of suction hose
One metal suction strainer
Double-swivel hydrant connections, for 2 1/2" inch and "large" sizes
Suction hose coupling wrench
2 1/2-inch spanner wrench
One 28-foot extension ladder
One 14-foot roof ladder with folding hoses
One 11-foot ladder
Natural finish ladders with ends painted black
One 8-foot pike pole, with natural finish and black ends
Two 2 1/2-gallon Boyd plunger-type extinguishers with shut-off.'
Two Alfco Little Giant play pipes with LaFrance shut-off nozzles, with 1 1/8-inch, 1 1/4-inch, and 1-inch tips
One Boston Special play pipe with LaFrance shut-off nozzle, with 1 1/8-inch and 1 1/4-inch tips
One revolving hose nozzle
One set of mounted, reverse couplings
Four cotton hose straps
One Peerless hose clamp
Four hydrant wrenches
Eight pocket spanners
Tool box with standard S.A.E and special wrenches and tools.
Two lanterns.
One heavy pick axe.
One steel crowbar, mounted on running board.
+ 3 - 7 | § ¶
Wilmington Fire Department Plans Station Consolidations
FireNews.net is reporting on a story from WECT about the Wilmington Fire Department's plans for consolidating four fire stations. Fire Chief Buddy Martinette wants to shutter four stations that need renovations, and build two new fire stations. The new stations will accommodate larger trucks and thus improve those coverage areas. The plan would save the city about $6 million and without affecting the jobs of any firefighters. The particulars of the plan aren't reported. We'll see if the Star-News has news tomorrow.
If the idea of "four for two" sounds familiar to Raleigh readers, let's turn our time machine to February 1993. That's when the Raleigh City Council began a consideration of a station consolidation plan. Fire Chief Sherman Pickard proposed closing four stations in and around downtown: Stations 1, 3, 5, and 6. Two new stations would be built near Martin Luther King Jr. Boulevard and Haywood Street, and near Wade Avenue and St. Mary's Street. The plan also proposed cutting 24 firefighter positions, and saving up to $800,000 in annual salaries. Citizens and other groups protested and the plan was eventually dropped.
Question for readers. What are some of your stories of station consolidations from around North Carolina, either proposed or implemented? Seems like there have been a few, here and there.
+ 7 - 4 | § ¶
You Have The Right To Remain Silent
And the right to speak your mind, at least with regard to constitutionally protected speech. That issue is being discussed by Statter911 readers in a posting yesterday about a Florida firefighter who is drawing attention for comments posted on Facebook. At the highest level, it begs a great question: just 'cause you can do something, should you do that thing? And are you prepared for the reality of the consequences, should they occur? (Observe my word "reality.") Here's my comment on the comments, posted late yesterday. Mind you, Mr. Blogger is neither a constitutional scholar nor plays one on television. I have however yelled "theater!" at a crowded fire scene before...
Legeros says:
Any conclusions to draw, from the first day's discussion? I keep thinking about school teachers, and the repeated stories that I hear about them getting disciplined for, say, being seen or photographed drinking a beer away from work.
There are probably "teacher's personal codes of conduct" out there that we would shake our heads about. But let's apply that line of thinking to emergency services.

Are there personal behaviors that are (a.) perfectly legal but (b.) entirely problematic if announced or advertised to the world? I think we know the answer, and its compounded by the digital age.

Much like the reports from Key West the other week, and all the school kids behaving better during spring break. Why? Because they all feared Facebook photos and other postings would reveal their indulgent activities.

There are more eyes for the watching than ever before.

April 17, 2012
+ 5 - 5 | § ¶
This Morning's Fire on Jones Street
News reports are slim so far about this morning's fire on East Jones Street that heavily damaged a pre-Civil War home. WRAL has posted this news brief. The 4,810 square-foot structure at 516 E. Jones Street was built in 1854 (or 1851). Two stories with a brick exterior.
From the tax photo (below) and Bing Maps Bird's Eye views, notable features included four chimneys. Looks like a former boarding house, or perhaps current office space. (Google lists a couple businesses at the address.) We'll probably see a profile of the occupants and the building before long.
Engine 3 arrived with heavy fire showing through the roof in the rear. Recalling radio traffic, interior operations segued to deployment of a portable monitor in the rear. Ladder 4 was subsequently deployed in the front, onto the roof and into the attic space. Exposure protection on the delta side. Additional engine special called to catch a second hydrant, for additional water.
Dispatched 1:47 a.m. Controlled 4:07 a.m. No injuries. Fifty-percent of the building damaged. Cause determined as accidental due to unspecified electrical failure. Units on scene included E3, E1, E13, E7, E17 (special called, was likely covering at Station 1), L4, R2, B2, A1, C10, C20, C40, EMS _, EMS _, EMS _, (on the ball there, aren't we?) D1, T1.


WRAL photo
+ 5 - 8 | § ¶
Woods and Brush and Hay Fires
FireNews.net posted photos and details about yesterday's 50-acre brush fire along the 17th Street Extension in Wilmington. Several residential streets were evacuated, as well as the Cameron Art Museum. The state forestry service brought aircraft to the scene. The Wilmington Fire Department had 65 firefighters on scene, along with county firefighters. Certainly at least a dozen fire companies. Maybe readers will share a run card. See more photos from the Star-News. Looks like an EMS command post or rehab unit in one of the shots...


Mike Spencer/Star-News photo

WTVD posted aerial photos of yesterday's 30-acre woods fire near Bahama in Durham County. The state forest service assisted with a helicopter along with ground equipment. Three different sites were burned, but no structures were involved. The fire is expected to smolder for a few days. See also this WRAL story.


Also burning yesterday were 108 bales of hay on a trailer that ignited on Interstate 40 at mile marker 308 near
Garner
. The full-involved trailer also ignited a bit of brush. Crews were on scene for two hours. Traffic was delayed in a major way, due to full closure of all eastbound lanes. Garner Fire Department responded, along with Cleveland Fire Department from Johnston County. As memory serves of the radio traffic, that is. See:
WRAL
,
WTVD
(above).
+ 4 - 6 | § ¶
Orange Rural Fire Department Opens Station 3
On Saturday, April 14, Orange Rural Fire Department in Orange County celebrated the grand opening of Station 3 at 2510 Walker Road. That's located north of Hillsborough, off Highway 57. See their Facebook page for a few photos from that day. Below is a photo from Lee Wilson. See a couple more photos.



Lee WIlson photo


We've also recently poked around the past of ORFD as well as the Hillsborough FD, an entity that today appears to exist only as a name on the side of a new town-bought ladder truck. See this posting and this posting. One of these days we'll finish that research...
+ 9 - 6 | § ¶
Oldest Raleigh Fireman Passes, 1930
From the March 5, 1930, edition of the News & Observer comes this obituary for Eugene A. Lasater, one of the original members of Raleigh's career fire department. He was also a member of the volunteer Hook & Ladder Company. His name was mentioned at the recent Retiree Day, as he's the great step-grandfather on her mother's side of retired Captain Ann Lynn. The obit:
OLDEST RALEIGH FIREMAN PASSES

E. A. Lasater, Over 30 Years in Service, Dies Suddenly at Home Here

E. A. Lasater, 67 year old veteran of the Raleigh Fire Department, died suddenly early yesterday morning at his home at 404 West Morgan Street. Death was unexpected, since Mr. Lasater had been active about Fire Station No. One where he was still employed on Monday.

Mr. Lasater had been a member of the Raleigh fire department for more than 30 years. He was on the force back in the old days when well-trained horses ran swiftly down the streets with smoking fire engines. He was the oldest fireman on the Raleigh fire force, both in point of years and service.

Broke World Record.

According to some of the older residents of Raleigh, Mr. Lasaster used to excel at fireman's tournaments. He broke one of the world's records in carrying the ladder300 yards and raising it with 11 men on it in 41 seconds. He was employed regularly back in the days when the fire department was largely a volunteer proposition. He was one of the few who drew any pay for services at that time.



READ MORE
+ 10 - 8 | § ¶
Apparatus, Teams Wanted for Raleigh Fire Department Centennial Celebration
The Raleigh Fire Department is celebrating its 100th anniversary this year. An celebration is scheduled for Saturday, June 16, in downtown Raleigh. The all-day event is open to the public. Among the planned events are a fire truck parade down Fayetteville Street, an apparatus muster featuring antiques pumping, and a series of firefighter challenge events. Plus a kid's zone, a shuttle bus to the fire museum, and even birthday cake while it lasts.
Participation is sought from fire departments throughout North Carolina. Do you have an antique that you'd like to bring, both for the parade and the muster? Do you have a team of firefighters interested in competing in the challenge events? Registration is required. Forms and information, as well as full event information, are available at www.RFD100.com.
Hope to see you there!

+ 8 - 3 | § ¶
Manchester Fire Department - True Blue
Speaking of blue trucks (see prior post about Pumpkin Center FD, or think of Chapel Hill FD or Soul City FD or...), FireNews.net Editor Jeff Harkey posted this post of a light blue E-One pumper that served the Manchester Fire Department in Cumberland County. See a second photo and read some details on the truck's history.
Manchester FD operated from 1968 to 1998. It began as Lakeview FD, which organized in 1963 and was incorporated in 1964. It was renamed in 1968. The department disbanded after the board voted in October 1998, to let the county assume fire protection of the district.
Readers perhaps can provide the back story, which probably involves annexation and shrinking territory. (A fate that has befallen a number of Fayetteville-area fire departments.) Manchester FD's assets were absorbed by Spring Lake FD. Source: Legeros database.



Jeff Harkey/FireNews.net photo
+ 7 - 2 | § ¶
Three Houses Burn on Outer Banks Overnight
The Outer Banks Voice has posted this stunning photo from an early morning fire in Corolla that destroyed two homes and heavily damaged a third. The quick-moving fire was fanned by southwest winds of 17 mph with gusts to 22 mph. The homes were located on Hicks Bay Lane and Cottage Cove Road. Several vehicles were also destroyed. The fire was extinguished shortly before sunrise. WTVD has also posted some video footage and a couple photos. Maybe our readers to the northeast will add details.



The Outer Banks Voice photo
+ 7 - 3 | § ¶
Field of Fire Trucks on I-95 in Georgia
More than one person has asked me in recent years about a field of fire trucks on Interstate 95 in Georgia. Google finds others with the same question, and even some photos (such as these on Flickr) and footage (see embed below). A couple dozen pumpers, ladders, and crash trucks are parked on the east side of the road, at the end of Tram Road in South Newport, GA. That's about Mile Marker 63. At the intersection of Tram Road and Highway 17 are a couple commercial-sized structures, from the looks of aerial maps. And more fire truck-looking vehicles. Plus military trucks, which are also roadside along the interstate. Still don't know the story, but we might get a closer view, as Mr. and Mrs. Blogger are heading to Savannah next month. This location is 45 minutes south. Sounds like a worthy diversion. Will report back!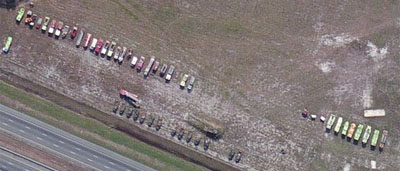 + 8 - 4 | § ¶
Old Garner Rescue 881
Asked in this thread about formerly owned apparatus, this 2007 Spartan/EVI heavy rescue formerly served Garner EMS & Rescue Squad. Today's it's Rescue 133 for the Pumpkin Center Fire Department in Lincoln County. And still blue, albeit another shade! There's your next discussion thread. Blue apparatus in North Carolina. Thanks Benjy.



Benjy Grice photo
+ 11 - 6 | § ¶
Raleigh Tornado Response Summary, 1988
Tomorrow marks the anniversary of the April 16, 2011, tornado that tore through the Capital City. Its path started near Tryon and Lake Wheeler roads, continued northeast through downtown and east Raleigh, and then along a parallel path east of Highway 401. It destroyed 146 structures and heavily damaged 719 others. Four people were killed.
For emergency responders, the severe weather brought one of their busiest days in years. See original blog posting, see photos by Legeros, see special Raleigh Fire Department newsletter edition (PDF). Also search the blog on "tornado" for more related posts.
But that wasn't the city's first experience with a tornado in modern memory. Many remembered the night of November 28, 1988, when a tornado plowed through northwest Raleigh. The 1:00 a.m. storm struck with virtually no warning, killing two and injuring 102 others. Townridge Square Shopping Center on Highway 70, shown below, served as command post and staging area for the hundreds of responders. It was also the site of a flattened KMart store, where an employee was trapped for more than two hours. See closer view.


Gary Knight/CCBI photo


Two days later, on November 30, 1988, the fire department submitted this response summary to the City Manager's office. The Raleigh Fire Department in 1988 protected 201,111 residents and 86.95 square miles with 17 fire stations, 18 engines, 4 aerial trucks, 2 service trucks, and 2 rescue units. They had 355 authorized positions in FY88 (including 335 firefighters) and answered 9,409 fire calls that year. The fire chief was Sherman Pickard.
Tornado Disaster Incident - November 28, 1988

City of Raleigh Units and Personnel Responding

Number of personnel - Approximately 225

50 Captain
50 Firefighter II
125 First Class and Firefighter I

Number of units

12 Engines
2 Trucks
3 Mini-Pumpers
2 Rescue Units
1 Foam Unit
11 Cars
1 Special Risk Unit
1 Firefighter on personal vehicle using chain saw to remove trees and limbs from road - 8 gals.

Number of gallons of fuel - 638
Mileage of all equipment - 1,550
Number of overtime hours - Approximately 1443.75

[ Raleigh Police Department information was not included in report ]

Wake County Fire Units and Personnel:

Apex Fire Department - 19 Personnel - 2 Brush Trucks - 1 Car - 1 Utility Truck
Bay Leaf Fire Department - 33 Personnel - 3 Engines - 1 Car
Cary City - 3 Personnel - 1 Brush Truck
Fairgrounds Fire Department - 20 Personnel - 1 Engine - 1 Brush Truck - 1 Car *
Fairview Fire Department - 18 Personnel - 1 Engine - 1 Brush Truck
Fuquay-Varina Fire Department - 5 Personnel - 2 Engines
Garner Fire Department - 8 Personnel - 2 Engines
Knightdale Fire Department - 24 Personnel - 2 Engines - 3 Brush Trucks
Morrisville Fire Department - 11 Personnel - 1 Engine - 1 Brush Truck
Six Forks Fire Department - 27 Personnel - 4 Engines - 1 Brush Truck *
Stony Hill Fire Department - 12 Personnel - 1 Engine - 1 Brush Truck
Swift Creek Fire Department - 4 Personnel - 1 Brush Truck *
Wake New Hope Fire Department - 33 Personnel - 2 - Engines - 1 Light Truck *
Yrac Fire Department - 15 Personnel - 2 Engines

*Indicates volunteer [department] that the city of Raleigh contracts with.
READ MORE
+ 5 - 5 | § ¶
Risky Behavior Fuels Capital Boulevard Crashes
That's the News & Obsever's headline for this week's story about pedestrian (and motorist) challenges on the five-mile stretch between I-440 and I-540. The story was likely prompted by last Saturday's collision at Brentwood Road that left a pedestrian critically injured. In the last five years, cars have struck and killed two and injured 16 others. Here's the photo that accompanied the print editions. Good shot by Takaaki Iwabu. Read the story.



News & Observer photo
+ 3 - 3 | § ¶
Four Alarms in Salisbury on Friday
FireNews.net has posted a story about yesterday's four-alarm fire at a funeral home at 515 S. Main Street, along with a link to more detailed coverage in the Salisbury Post. Here are a few more details, from Carolinas Fire Page and other coverage: One-story structure, 80 by 180 feet. Offensive operations to start, switched to defensive. Four ladders flowing at the height of the fire. Main Street was closed through area, with former Salvation Army parking lot across the street used for staging. Crews continued flowing water through the night. WCNC reporting 17 (!) different fire departments. Google for more news links.
First alarm: Salisbury Quint 1, Quint 2, Quint 3, Quint 4, Engine 1, S1, Squad 1. Second alarm: Cleveland FD, Granite Quarry FD, South Salisbury FD. Third alarm: Franklin FD, Miller's Ferry FD, Locke FD, Ellis FD. Fourth alarm (about an hour into incident): Landis FD, Faith FD. Fourth alarm companies later released for coverage. Also Spencer FD. Special calls for fuel truck and USAR assignment from Charlotte FD, special called to help assess structure. Two bodies in caskets were still in side. That's a 45-minute run for CFD.



WNCN photo
+ 3 - 9 | § ¶
Raleigh Fire Department Volunteer Fire Company Medallions
These two medallions are among recent items added to the Raleigh Fire Museum. They're from retired Capt. Dave Godfrey, a veteran fire memorabilia collector. They're also extremely rare. The medallions will be displayed at Saturday's opening. Hours are 10 a.m. to 2 p.m. Location is 105 Keeter Center Drive. See prior posting about Saturday.
These were issued to members of the Capital Hose Company (1887-1912) and the L.A. Mahler Steamer Company (1906-1912). The former was a hand reel company that organized after the installation of the city's first fire hydrants in 1887. They became horse-drawn in 1889. The latter operated the horse-drawn 1905 American LaFrance steam engine, and were named for a former Raleigh fire chief.
Both companies were disbanded after the formation of the career department in December 1912. Read a history of the city's volunteer companies (PDF). Learn more history at www.raleighfirehistory.org. Click once or twice to enlarge:

+ 6 - 7 | § ¶
Raleigh Fire Department Newsletter, Spring 2012
The spring 2012 edition of the Raleigh Fire Department Newsletter has been posted to to the web site raleighfirenews.org. This issue's includes information about the hydrant blitz, the rescue of an elderly man, haz-mat changes, Fire Station 29, saving old Engine 1, and a centennial history book. Also included is a two page statistical summary of the Raleigh Fire Department's activities in 2012. Edited by department historian Mike Legeros (with his wife Julie as proofreader), the Raleigh Fire Department Newsletter is a quarterly publication for personnel, retirees, and citizens. Read the issue
, or click to access:


+ 6 - 4 | § ¶
Gamewell Bid Document, 1925
Here's another vintage bid document from the early 1920s, this one dated November 3, 1925. For purchase of fire alarm equipment from Gamewell Fire Alarm Telegraph Company in Boston, MA. Total $17,318.50. This was both an upgrade and expansion, adding a more powerful switchboard, the first punch registers in the stations, and 35 additional alarm boxes. Like the prior posted specs of Station 4 (and later posting about an American LaFrance pumper), this is a scan of a photocopy, obtained years ago from the City Clerk's office, from their deep records. Fascinating stuff... if you find electric-telegraph alarm systems fascinating, that is! Read the document.


Here's a summary of what was ordered:
Twelve-circuit automatic switchboard, made of slate and mounted on pipe frame.
Ten-circuit automatic repeater with four (4) independent closed alarm circuits and mounted under a clear glass case, and atop a metal pedestal with a white marble top.
Thirty-five fire alarm boxes.
Five recording sets (for the five fire stations) consisting of a punch register, a take-up reel, and a clear glass case with wall mounted shelf and brackets.
Four battery racks, complete with fuses and insulation.
Generator, 220 volts.
Battery cell, 360 of them.
Pipe frame for the current four-circuit switchboard.
And this fire protection report from 1924 provides plenty of detail on the city's fire alarm system, prior to the ordered equipment and the resulting upgrade. Here's a summary:
Fire alarm system housed at Station 1 on West Morgan Street, in a pair of fireproof rooms. Repeater and swtichboard in one room, batteries in the other.
Four-circuit switchboard, installed 1903. Four-circuit automatic repeater, installed 1894, moved to present location 1914.
System is powered by 106 batteries, charged via a 220-volt generatore. Lightning arresters protect the system, and are provided at each fire station.
Each fire station has a combination gong and numeric indicator, a Morse telegraph key, and an automatic lighting switch.
Gongs also provided at the city pumping station, the electric power plant, the water department office, and the residences of the Fire Chief, State Fire Marshal (former Fire Chief Sherwood Brockwell), and the Water Superintendant. The bell atop Station 1 also has a striker that's in service (though only special-used, if memory serves).
Alarm boxes number 71, one of which is private but accessible to public. All are trigger-pull type. Six boxes are mounted on iron pedestals. Others are secured to poles. Boxes are painted every two years. Five boxes have white lights. Red indicator lights are not used.
Four circuits connected the fire alarm system. Total length of circuits is approximately 30 miles of wire, all aerial except three wires carried underground for about 60 feet.
Circuits are tested daily. Boxes are tested monthly.
Read the entire report, starting on page 9.
Read the Gamewell bid document.
Read about the history of the fire alarm system. (PDF)
+ 4 - 9 | § ¶
Firefighters Injured in Vehicle Accidents - Davie, Gaston Counties
FireNews.net has posted a pair of stories about a pair of fire department vehicle accidents this week. Top photo is a Gastonia Fire Department Battalion Chief's vehicle that collided with another vehicle and then a tree this morning. Battalion Chief Woody Thomas was transported with Gaston Memorial Hospital with non-life threatening injuries. Read that story. Bottom photo is a Center Volunteer Fire Department quick response unit that collided with a tractor-trailer truck on Interstate 40 near Mocksville on Monday evening. Two firefighters were transported to Wake Forest Baptist Medical Center. Read that story.



Gastonia Fire Department/FireNews.net photo

MyFox8/FireNews.net photo
+ 5 - 6 | § ¶
Holly Springs Station 2 Construction Photo
Lee Wilson took this photo on April 7 of Holly Springs Station 2, under construction on Avent Ferry Road. The facility replaces a prior structure that was damaged in last year's tornado. Alas, doesn't look like this one'll have a fire pole. Engine 2 operates at the same location, using a temporary station. See earlier blog post. See more photos from Lee.



Lee Wilson photo
+ 7 - 8 | § ¶
Morrisville Engine 1 and Rescue 1
Expertly posed and photographed by Lee Wilson yesterday at Morrisville Station 1. Left is a 1989 Simon-Duplex/KME/Saulsbury heavy rescue, right is a 2006 KME Predator. See more photos. The rescue came from somewhere up north. Open question for Thursday morning. How many other used rigs are serving around here, either locally swapped or obtained elsewhere?



Lee Wilson photo
+ 5 - 4 | § ¶
Camera Versus Phone
Top image is Canon 50D. Bottom image is iPhone 4S. That's a 15.1 megapixels versus 8 megapixels. From Roller Court late yesterday afternoon. Click to enlarge:


+ 3 - 5 | § ¶
Raleigh Fire Museum Open This Saturday, April 14
It's fun, it's free, and it's filled with firefighting memorabilia. That's the Raleigh Fire Museum, which opens this Saturday, April 14. The hours are 10:00 a.m. to 2:00 p.m. The location is 105 Keeter Center Drive, in a classroom trailer at the Keeter Training Center. There's parking, there are restrooms. Admission is free.
Displayed are hundreds of items relating the history of the Raleigh Fire Department, from both its volunteer and career eras. Among the attractions is the 1870 fire alarm bell that once hung at city hall on Fayetteville Street. There's also multimedia at the museum: color film footage from 1950, computer slideshows of old photos, and radio recordings of recent major fires.
Yours Truly will be one of the museum staff members on Saturday. Pay visit and talk some shop! Afterward, consider a drive to northeast Raleigh to see the city's collection of antique fire apparatus. They're house at Fire Station 28 at 3500 Forestville Road. To learn more about the Raleigh Fire Museum, visit www.raleighfirehistory.org.

+ 5 - 3 | § ¶
Chicken 'n' Rice
Scene from today's Raleigh Fire Department Retiree Lunch, mentioned in a prior posting. Super crowd, super fellowship. Photos from Legeros and Lee forthcoming. Please don't drool on the screen.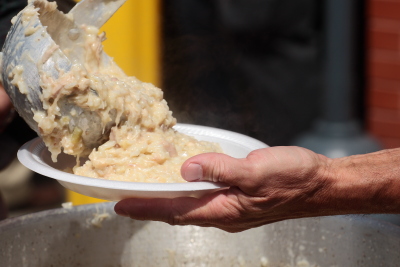 + 6 - 2 | § ¶
Charlotte Fire Muster Circa 1990?
FireNews.net Editor Jeff Harkey has posted a neat photo of a Charlotte fire muster circa 1990 or 1991? Here's his posting. He asks readers to help identify the apparatus as well as any details.



Jeff Harkey/FireNews.net photo
+ 4 - 4 | § ¶
UPDATED: Specification For Fire House on Jefferson Street, 1926
For your Monday evening amusement and amazement, here's the original spec sheet for Fire Station 4 on Jefferson Street. The 32-page document is titled Specification For Fire House on Jefferson Street, Glenwood, Raleigh, N.C., For the Raleigh Fire Department. The author is H. P. S. Keller, Architect, of Raleigh.
The bungalow-style fire station was built just off Glenwood Avenue at 505 Jefferson Street. It operated until 1963 and still stands today. The station opened on June 15, 1926. Eight men were assigned there, one Captain, one Lieutenant, two Drivers, two Hose men, and two Hydrant men. The document was copied with the help of the City Clerk's office, who pulled some off-site records for Yours Truly some years ago.
Read the original specifications (PDF). Link Fixed
Learn more about the history of Station 4.
See vintage American LaFrance and Gamewell bid documents.


+ 9 - 3 | § ¶
The Aftermath in Philadelphia
Here's an aerial view of the aftermath in Philadelphia, where two firefighters were killed this morning at a five-alarm fire involving an abandoned factory and other buildings. The photo comes from WPVI-TV. There are probably better or wider shots coming, maybe in tomorrow's news. There's been ample coverage from both Philly outlets and fire news sites, such as PhillyFireNews.com and Statter911.com. Stories, photos, videos, fireground audio, etc.
Lt. Robert Neary and Firefighter Daniel Sweeney, from Ladder 10, died after a wall collapse in a furniture store adjacent to the original fire building. Lt. Neary, 60, was a 38-year veteran of the Philadelphia Fire Department. Firefighter Sweeney, 25, was a second-generation Philadelphia firefighter, and joined the department in July 2006. The collapse also seriously injured two others: Firefighter Pat Nally and Firefighter Francis Chaney.
As this FOX 29 story notes, the deaths are the first fatalities on duty since 2006. In January of that year, Firefighter Tracy Champion suffered a heart attack at a fire in West Philadelphia. The Philadelphia Fire Department has lost 288 career members (organized 1870) and 75 volunteer firefighters (organized 1736) in its 265-year history. (Check my numbers for accuracy, please.) Click to slightly enlarge:



WPVI-TV photo
+ 5 - 2 | § ¶
Raleigh Fire Department Centennial Celebration Starts with Retiree Luncheon
Press release. This year the Raleigh Fire Department celebrates 100 years as a full-time fire department. The first event to celebrate the fire department's centennial is a retiree luncheon to be held on Tuesday, April 10, at the Keeter Training Center. The annual chicken and rice luncheon was started eight years ago by the Raleigh Professional Fire Firefighters Association and its member firefighters who wanted to pay tribute to the retirees. This year, the luncheon has moved to the training center, so retirees can have portraits made for a centennial history book that is in production. The Raleigh Fire Museum also will be open during the event. Read the entire press release. Or learn more about the Raleigh Fire Department Centennial at www.RFD100.com.
+ 3 - 5 | § ¶
Duck Rescue, Trench Rescue in Durham
Here's a pair of recent stories about unusual rescues in Durham. Last Saturday, reported this News & Observer story, the Durham Fire Department responded to Southpoint Mall to save 13 duckings that had fallen into a storm drain. Engine 16, which staffs the department's USAR team and operates a Sutphen quint, arrived about 1:00 p.m. One firefighter climbed down into the drain and was able to scoop out most of the birds. A few had wandered into a separate pipe, so they were flushed to safety (there's a phrase you don't hear often enough) using a hose. The entire operation took about 40 minutes. We'll add a few duck puns later. Rescue most fowl. Crews quacked up. Etcetera.
Durham and Bahama firefighters performed a trench rescue a couple weeks ago, reported this Durham Herald story. They received the call about 6:50 p.m. at a residence at 603 Appaloosa Trail. They found a man trapped in an eight-foot deep trench, where a dirt wall had collapsed on two men doing waterproofing and drainage work. One escaped, but the other was buried to his chest. Among the Durham firefighter's rescue techniques was placing a ladder from the ground through a window in the house, to secure a rope under the man's arms. Five different firefighters worked in shifts in the ditch (and in the rain), and freed the man at 9:13 p.m. He was transported with minor injuries. No firefighters were hurt, but their equipment was rendered mud-covered. And that's the dirt on that one.
+ 7 - 3 | § ¶
After The Fire
Scenes from a structure fire on East Lenoir Street early this afternoon. One-story residence. Crews are still on scene. Photos from Legeros forthcoming. These are long-lens shots.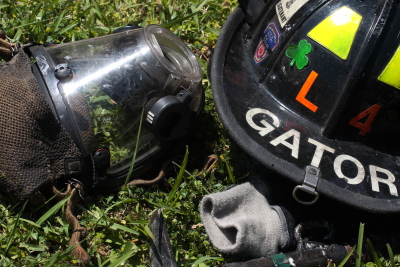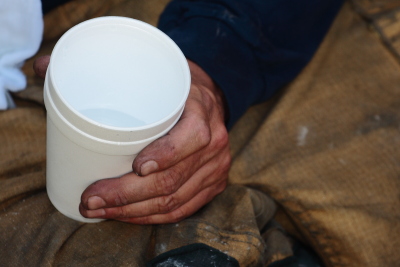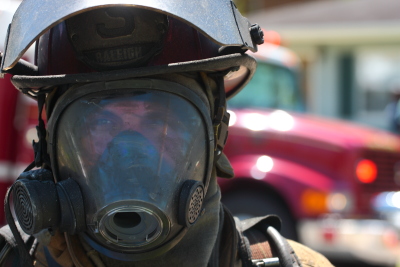 + 6 - 3 | § ¶
Old Truck 6 - 1922 American LaFrance Type 14
Actually the original Truck 6, a 1922 American LaFrance Type 14 combination service truck that was placed in service at Station 6 on June 27, 1949. Prior to that time, it served as Truck 2 at Station 2 and Service Truck 1 at Station 1. While at Station 1, from 1922 to 1941, it was part of a two-piece ladder company. For some fire calls, personnel took the aerial ladder. For others, they took the service truck.
This News & Observer photo is from April 1958, when the truck was a mere 36 years old! Look closely and you'll see the familiar equipment. It was removed service on July 24, 1961. The ladder rack was placed on a 1963 Ford chassis. The rest of the truck sat behind Station 8 until sold as surplus on December 20, 1976. Read more about the truck. Click to enlarge:


+ 5 - 2 | § ¶
Mystery Commercial Structure Fire
Found while searching YouTube for any footage (rare chance, admittedly) of the multi-alarm house fire in New Bern yesterday. Posted in September 2007, so was probably around that time frame. Location believed to be outside Greenville, NC SC. How quickly will our readers identify this one...
+ 5 - 2 | § ¶
Mystery Commercial Structure Fire
Found while searching YouTube for any footage (rare chance, admittedly) of the multi-alarm house fire in New Bern yesterday. Posted in September 2007, so was probably around that time frame. Location believed to be outside Greenville, NC SC. How quickly will our readers identify this one...
+ 6 - 8 | § ¶
Aftermath of Virginia Beach Fighter Crash
Found in this Firegeezer post, here's a nifty Navy photo of the aftermath of yesterday's F-18 crash into an apartment complex in Virginia Beach. Here's the original high-resolution image from the US Navy. Observe the crash truck that's between the buildings in the center of the frame. Anyone seen a run card for this incident yet? The jet landed in the courtyard, which was miraculous unto itself. Google for coverage, or visit your regular fire blogs and news sites for more. Click to enlarge:


Here's the caption, from www.navy.mil:
120406-N-DC018-423 VIRGINIA BEACH, Va. (April 6, 2012) Firefighting foam covers the scene of a crash of an F/A-18D Hornet assigned to Strike Fighter Squadron (VFA) 106, April 6, 2012. Initial reports indicate that at approximately 12:05 p.m., the jet crashed just after takeoff at an apartment complex in Virginia Beach. Both air crew safely ejected from the aircraft and are being treated at a local hospital. (U.S. Navy photo by Mass Communication Specialist 3rd Class Antonio P. Turretto Ramos/Released)
+ 11 - 5 | § ¶
Raleigh Fire Museum Photo Card
Advertising is tricky. You want their attention, but also their trust. Whatever you're showing or selling or promoting, it's lose-lose if the targeted audience goes away unhappy. Thus this photo card that we've designed for the Raleigh Fire Museum. That's the 501(c)3 non-profit organization formerly named the Raleigh Fire Department Historical Society.
The photo's from a last year's shoot at Station 28, where the city's antique apparatus are stored. And it's a compelling photo and seemingly ready-made for advertising. Slap the museum name and be done, right? Maybe not quite. The museum's located in a classroom trailer at the Keeter Training Center, 105 Keeter Center Drive. The antique are stored at Station 28, 3500 Forestville Road. Two separate locations on two sides of town.
Thus a bit more explanation is needed. And a clear explanation, so a museum visitor doesn't expect a larger facility filled with fire trucks. (That's the long-term plan.) Thus the two attractions listed under the museum name on photo below. Much better. Much clearer. See you next Saturday, April 14, at the museum. Click to enlarge:


+ 3 - 7 | § ¶
Morning Reading - April 6, 2012
Good morning Raleigh. Holiday weekend and with good weather during the day hours. Bit chilly at night, though this Minnesota-born boy doesn't mind it. Will take cold over hot any day. Couple articles for your Friday reading...
Asheville bridge to be renamed for Capt. Jeff Bowen - The state Board of Transportation yesterday reversed an earlier decision regarding renaming Smoky Park Bridge in Asheville for fallen firefighter Capt. Jeff Bowen. They unanimously reversed their March 7 decision, citing considerable public concern. Many parties campaigned for the decision to be overturned, including over 7,700 people who signed an online petition.

Local blogger medic wants Interstate 40 bridge renamed for fallen EMT - Taking inspiration from the state's decision, local blogger medic Dale Johnson is starting a campaign to remember Michael Jackson. He was a part-time EMT for Mid South Ambulance Service in Smithfield, and was killed on Interstate 40 just west of Harrison Avenue on February 5, 1995. He and his partner had stopped to help at an motor-vehicle accident. Jackson was struck when the brakes failed on a truck that struck his ambulance, and that struck and killed him instantly.

Baltimore Fire Department announces company closures - Statter911 reports on yesterday's announcement by BCFD to close Truck 10, Truck 15, and Squad 11 on July 1. They'll also move Engine 33, Truck 27, Truck 6, and Rescue 1. The changes are part of the department's efforts to end rotating closures. Among the reporting is the inclusion of slides from a presentation on the department's strategic analysis. Gives a little peek into the sausage-making process. Doesn't look like the Baltimore City Watch Desk is alive with the topic, yet. Believe participation on that forum has dropped in recent years.
+ 3 - 3 | § ¶
Navy Lab Tests Firefighting Robots
Found on the Firehouse.com forums. Here's the accompanying story, from AolDefense. But will they add a big bushy mustache to the final version?



+ 5 - 7 | § ¶
What They See
Dave Statter posted this nifty video this week of an apartment fire in Indianapolis. The thirteen-minute clip is citizen footage, probably shot by a neighbor, and depicting what looks like a fire in the attic space. This is what they saw as they watched and moved around (and in fairly close proximity) to the burning building. It's also a good example of what people see when there's a "contained fire" where they live. Some flames sprouting, some smoke showing, but most of what's happening is inside and thus outside their view. There's audio as well, and you can listen to their reactions (though they're speaking Spanish).



This clip gets me thinking about public education and particularly fire service marketing. What's the difference, you ask? Public education is the broad label. It encompasses everything from teaching children how to "stop, drop, and roll" to the detailed station tours given to community groups. But let's look at a hierarchy of needs. The greatest priority is certainly citizen safety. Teaching the basics, such as (a.) how to react in a fire, (b.) how to escape a fire, and (c.) how to contact the fire department. The next level is probably contextual. What the fire department does, where the fire stations are located, why they send a fire truck when you call for an ambulance, etc. And from there, we start sliding into marketing.
What is marketing? We'll define the "M" as "communicating the value of something for someone else." But if everyone already knows that a fire department is necessary to extinguish fires when they happen, why is marketing needed? That's where this video gets me thinking. Communicating / explaining / teaching some of the basics of how fire departments do their work. Why do they take their hoses inside, for example, instead of spraying water from the outside (and from the moment they arrive)?
From there, the questions come rapidly. Logistics. How the heck do you communicate to such a large and diverse (including non-English speaking) audience? Resources. If you're already taxed performing core public education, where's the time or talent for more comprehensive marketing? Value. And what are your measurements? How do you quantity or qualify that marketing worked? Good questions, and maybe a good discussion starter this morning. Either here or where you are.
+ 4 - 5 | § ¶
Early History of Falls Fire Department
Here's an early history of the Falls Fire Department, which merged last weekend with the Wake Forest Fire Department. A version of this history was read during the ceremony by Asst. Chief Marcus Wells.
Background
The Falls community developed around the falls of the Neuse River in northern Wake County. The Falls of Neuse Community Club was incorporated with the state on November 19, 1954. Land for a community center at the presently addressed 11908 Falls of Neuse Road was donated in November 1954 by Erwin Cotton Mills. The lot size was 0.29 acres.1
Rural fire protection in the county started during that decade, with unincorporated communities around Raleigh and Wake Forest protected by newly forming fire departments such as Six Forks, Stony Hill, and Western Boulevard.
By the late 1960s, the Falls community relied upon fire protection from Stony Hill, Wake Forest, Rolesville, Wake-New Hope, Six Forks, and Bay Leaf fire departments. Each of those fire stations, however, was a fair distance from the community.
In 1969, the Falls Community Club, and with the advisement of then county commissioner Hal Trentman, took on the organization of the fire department as their project.
READ MORE
+ 8 - 7 | § ¶
Mini Tank and Mother Engine, 1969
Here's an intriguing find from eBay, a concept drawing of an airport fire engine published in the Boston Herald on April 27, 1969. The caption read "mini tank and mother engine." Google finds a couple archived new stories about the drawing. UPI out of Frankfurt, Germany, reported: "The solution to the ever-present danger of landing or takeoff crashes, intensified by the 400-plus passenger capacity of a jumbo jet, is a small, radio-controlled mini-tank capable of climbing over blazing wreckage and blasting a fire-free patch to passengers with a foam cannon."
The article notes the "mini tank" is "about the size of a child's pedal automobile, can be released down a ramp, and directed from the cab." The small unit is connected via an asbestos-lined hose. Three West German firms were building the truck for Fire Chief Ernst Achilles at a cost of about $200,000. The Chief's inspiration came from a German World War II failure, a radio-controlled tiny tank called the "Goliath" that was unsuccessfully used against Russian tanks. Wonder what the prototype looked like?


+ 6 - 4 | § ¶
Haz-Mat 2 Moved to Station 27
The Raleigh Fire Department has affected some changes to its hazardous materials team effective yesterday, April 1. Notable is the moving of Haz-Mat 2 from Station 15 to Station 27. Their respective crews also swapped station. The lower call volume will help the engine company members with time requirements for their haz-mat duties.
Haz-Mat 2 is one of two tractor-drawn haz-mat trucks operated by the city. The 1995 International/Hackney is operated as part of North Carolina Haz-Mat Regional Response Team 4.
The units are Haz-Mat 1 at Station 2 (2006 Freightliner/Hackney), SR1 at Station 2 (1991 Simon-Duplex/E-One, haz-mat support), SR2 at Station 8 (2008 Ford F-350 Super Duty plus cargo trailers, air monitoring/recon), and SR3 at Station 22 (2005 Ford F-550 prime mover plus fifth-wheel decon trailer). Memo to self: update my web pages. See a few more photos from Lee Wilson.



Lee Wilson photo
+ 5 - 4 | § ¶
Old Engine Near McGee's Crossroads
Lee Wilson photographed this old soldier last week, a Ford/Oren/Grumman engine that served Sarecta Fire Department in Duplin County. Former Engine 4. The truck is located off Highway 50 near McGee's Crossroads. That's also near Stephenson's Bar-B-Q, which is north of Highway 210 on Highway 50. Best barbecue (on bone) in these parts, says me. See more photos (of the engine, not of 'cue).



Lee Wilson photo
+ 7 - 5 | § ¶
Here They Come
Let's have another picture from yesterday's drill at the airport. Still in the process of post-processing. Heard it's Sunday afternoon already and it might even be sunny outside! This shot is more low-resolution than high-resolution, due to lower light, higher ISO, and a fair amount of cropping. The guy with the camera (cough, cough) should've been a bit closer. Canon 40 D with an EF 70-200mm f/4L lens. Focal length 184mm. Program AE mode. 1/1600 shutter, 13.0 aperature. ISO of 1600. Saved as RAW, processed using Canon Digital Photo Professional. Click to enlarge:


+ 6 - 5 | § ¶
Morning Reading - April 1, 2012
No fooling here. Busy with other things. Maybe can craft some satirical or spoofing postings tonight. Processing photos this morning from yesterday's airport drill. Maybe 350 keepers. Maybe more. Dreadful to think how many pictures would have resulted on a sunny day! Guess holding an umbrella didn't prove too hampering. Still another day need to get those posted.

+ 9 - 1 | § ¶
(Re)Announcing www.RFD100.com
The Raleigh Fire Department is celebrating its 100th anniversary this year. Special events are planned including a birthday party in downtown Raleigh on Saturday, June 16. The celebration starts with a parade at 10:00 a.m. Departments and antique owners throughout the southeast are invited. After the parade, there'll be an apparatus muster with static displays and antique pumping demonstrations. As well as firefighter games, with four challenge events are planned. Fire departments throughout the state are invited to send teams. Plus activities that day for kids and their parents. Plus a shuttle bus to the fire museum. And a few more surprises. Learn more at www.RFD100.com, which was re-launched this weekend with an all-new site design and updated content.