+ 17 - 15 | § ¶
Fire Station Open House and Birthday Party, Saturday, June 27
Raleigh's oldest active fire station celebrates its 60th birthday on Saturday, June 27, from 11:00 a.m. to 3:00 p.m. Fire Station 6 is located at 2601 Fairview Road, at the intersection of Oberlin Road. Food will be provided, and fire apparatus will be displayed for children of all ages. The 1950 Mack pumper will be present, which served as Engine 6 for twenty-five years. Visitors will also see fire education displays and historical materials. Housed in a nearby rented building from 1943 to 1948, the firefighters of Engine Company 6 moved into their new quarters on June 25, 1949. The "corner fire station" has also housed a ladder company, a rescue squad, and a Battalion Chief over the years. Read more history of Station 6.


+ 14 - 10 | § ¶
Rescue Company Postcard
For your Friday enjoyment, here's a "postal card" used by Raleigh's Rescue Company around 1907. Though the organization's legal name was Rescue Steam Fire Engine Co. No. 1, they had ceased operating a steamer by that time. Two years prior, the city replaced the old 1870 Gould engine with a 1905 American LaFrance. Another, different company was organized to operate the new engine. At the time these cards were used, the Rescue Company operated a horse-drawn hose wagon. Their station, also built in 1870, was located on the County Courthouse lot, and faced Fayetteville Street. See more artifacts this Raleigh Fire Department virtual museum. Or read more about the Capitol City's volunteer fire companies
and other hysterical, er, historical information. Click to enlarge:


+ 20 - 9 | § ¶
Event Calendar, 5/29
Stuff happening this weekend, or next week. Mail Mike if you have future events to be blogged about.
Saturday, May 30 - Falls Public Safety Day
10:00 a.m. to 2:00 p.m. - Wakefield High School
More information
+ 13 - 14 | § ¶
Hillsborough Street
This week's Independent Weekly has a feature on Hillsborough Street, which it calls the "true main street" of Raleigh. Bob Geary's article provides both a nice retrospective and a look to the future, both of the roadway itself and the properties along the street. Sidebar information includes Ten Things You Probably Don't Know About Hillsborough Street. Best of those odd facts? Both the Wolfline and D.H. Hill library are free to the public. Same for most of the college's parking lots after 5 p.m. and on weekends. As the author observes, "virtually everything that gives Raleigh its identity" is either on Hillsborough Street or connected by same. The Capitol, downtown, the college, the fairgrounds (old and new), etc. Great article. As for the street's original name, Hillsboro Street, this Goodnight Raleigh posting has some background on that.


+ 11 - 16 | § ¶
Fayetteville Airport Firefighting Facility Gets Stimulus Money
WRAL reports that Fayetteville Regional Airport has received $1.1 million in federal stimulus funds for their firefighting facility. More information about their ARFF facility can be found on the airport's web site, in their Executive Summary document
. The airport has identified the need for substantial renovation and expansion of the airport fire station, as well as the need for a major renovation of the fire training facility. Finally, for a peek at all stimulus-funded airport projects, visit this Stimulus Watch web site.



Fayetteville Regional Airport photo
+ 17 - 11 | § ¶
Urban Discovery / House of David
One of Mr. Blogger's favorite pastimes while traveling is urban discovery, an activity that falls somewhere between urban archeology and urban exploration. Basically, searching for modern man-made stuff, and with minimal intrusions on private property. Found during this week's visit to southwestern Michigan were the remnants of a former amusement park along Britain Avenue in Benton Harbor.
Part of the Israelite House of David religious community-- established in 1903 and eventually occupying 300 acres-- the amusement park included miniature trains that operated for sixty-five years. Below is a railroad crossing sign that remains on the property. Read about the trains, as well as the amusement park's history. Another web site has a aerial tour of the park grounds.
See photos of the site by Legeros. Today, the House of David is a historic and educational property, and includes a museum on the grounds. Another House of David museum is also located in Benton Harbor.


+ 16 - 13 | § ¶
Weighmaster
Saw this this morning, outside St. Joseph, Michigan. Vehicle operated by the Berrien County Road Commission, by someone called a Weighmaster. Who or what is a weighmaster? A common definition found via Google is "person who weighs, measures, or counts a bulk commodity, outside of the presence one party to the transaction, and issues a certificate documenting the quantity that is used as the basis of a sale." In the context of roadways, they're probably the person in charge of weighing vehicles.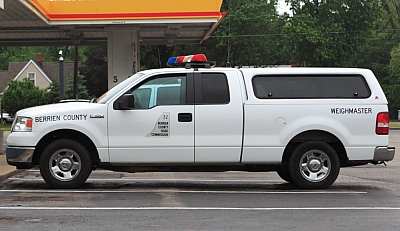 + 16 - 9 | § ¶
Plane Crashes
As Mr. Blogger takes to the air, for a Memorial Day trip to Michigan, his mind turns to plane crashes. Doesn't everyone's? Google finds plenty of information on "how to survive a plane crash," such as this wikiHow article. Step one, wear long pants, long-sleeve tee, and sturdy shoes. Guess we're hosed there, as it's shorts and short sleeves today. Another Google find are a pair of Popular Mechanics articles, first on the safest seat on the plane, and second on the ten crashes that change aviation. The incidents date to 1956, when TWA Flight 2 and United Flight 718 crashed over the Grand Canyon, killing all 128 aboard both panes. The accident led to air traffic control system upgrades, and the creation of the FAA. For records of all crashes, worldwide, try PlaneCrashInfo.com or AirDisaster.com. Though maybe visit those sites after you've landed. For North Carolina's worst air disasters, see our database. Finally, for the odds of dying in an air or space transport accident, see this National Safety Council page, for starters. Yeah, the chances are exceptionally slim. Now, let's go buy some lottery tickets.
+ 16 - 9 | § ¶
State Fire Marshal Sherwood Brockwell Dies, 1953
On Tuesday, June 2, 1953, State Fire Marshal Sherwood Brockwell died at the age of 67. He had been ill for nearly five years, following a serious operation, though had continued working nearly to the end of his life. He died at 1:15 a.m. at his home on West Hargett Street. He was the State Fire Marshal, having served for 39 years. He was appointed on August 1, 1914, by Col. James D. Young, then Commissioner of Insurance. Brockwell was the nation's oldest fire marshal.
He was born on October 12, 1885, and started fighting fires when he was 10 years old. He lived in uptown Raleigh, next door to the fire chief. By 1896, he was following the fire wagons when the alarms sounded. "I went to fires and helped some" he told people in his later years.

READ MORE
+ 14 - 12 | § ¶
War Bonds, 1945
Jack Benny was a popular radio performer during the 1940s, and other decades, and whose stage character was famously thrifty. War bonds were means of financing military operations, and helping civilians feel involved in the war effort. The two were combined in this "official U.S. Treasury advertisement" that appeared in the News & Observer on August 3, 1945. World War II would end within two weeks. Note the names of longtime Raleigh businesses as sponsors, such as Dillon Supply Company, Hudson-Belk, and Jolly's. Click once or twice to enlarge:


+ 15 - 18 | § ¶
Bomber, Building, Elevator, 1945
We've all wondered what happens when an elevator fails and falls several or dozens of stories. On July 28, 1945, when a B-25 bomber
crashed into the Empire State Building
in New York City, a 20-year-old "elevator girl" survived a 75-story plunge. As the Associated Press reported on July 31, and which appeared in the
News & Observer
, Betty Lou Oliver of Fort Smith, Arkansas, was working her last week. She was waiting for her sailor husband to return from overseas, and had given notice that she was leaving. She was alone in the elevator car when the plane crashed into the building, and remained fully conscious during the car's "terrifying descent." It "seemed to stop and shudder for a moment," she later told her sister at the hospital, "then it began plummeting downward. I tried desperately to stop it. Then a flash of fire enveloped me and I raised my left arm to protect my face." The fire was over in a moment, and she tried the car telephone, which was dead, and then banged on the floor. During the descent, she recalled having to "hang onto the sides of the elevator just to keep from floating." Most of the car was destroyed, except for the section where Ms. Oliver was standing. The six cables had snapped, and the automatic braking system was destroyed. Only air pressure in the shaft might have slowed the descent, said one expert. Ms. Oliver suffered burns, bruises, and a possible back fracture.

Wikipedia Image
+ 7 - 11 | § ¶
Vass Fire Department
Turning our attention to Moore County, the town of Vass once had a fire department. Formed before 1949, they operated two hose carts with 2 1/2-inch hose. The carts were pulled to the scene by the first two volunteers with vehicles to arrive at the fire station. In 1949, VFD purchased its first vehicle. By 1958, VFD purchased an American LaFrance pumper. Vass Fire Department operated until around 1992, when they merged with Circle V Fire Department. The town contracted with CVFD for protection, and allowed absorption of the town department. CVFD was organized around 1981, or at least incorporated that year, and opened a Woodlake substation in 1984. Or was the latter its own department? See the Circle V Fire Department web site for more information. Where was the Vass Fire Department located? Perhaps an old town hall building, with an attached fire station? Unknown, but we're headed to the town this evening for some personal business, and perhaps can inquire. Maybe the former fire station is still standing.
+ 9 - 12 | § ¶
Wake Forest Fire Department #2
For your Friday enjoyment, here's a great picture of Wake Forest Fire Department #2, a second town fire department that was operated by black citizens. They were organized in 1942, and operated for a number of decades. They merged with the town fire department around February 1982. The following year, the town and rural fire departments merged. The WFFD #2 station was located on North Taylor Street. It became a community building after the fire station closed, but burned in a suspicious fire a year later.
Pictured with a 1948 Chevrolet pumper that first served WFFD #1 are, left to right, Chief Edward Alston, Matthew Williams, George Massenburg, and Robert Alston. The image was scanned from a halftone image (versus photographic print) at the Wake Forest College Birthplace Society. The picture dates circa 1953. Read more WFFD history, via outdated timeline. Click to enlarge:


+ 19 - 8 | § ¶
Engine 1 and Station 3
The second oldest active engine house in the Capitol City recently received a face lift. Station 3 personnel detailed the front of their 1951 building, including adding a white background behind the station letters. They copied the style from Station 6, which painted its letters to match Station 5, which had its letters redone last year. Click to enlarge this photo that shows Engine 3 educating Engine 1 on foam operations with their 2009 Pierce Arrox XT pumper that was placed in service today.


+ 14 - 14 | § ¶
This Morning's Major Fire / Stockbridge Circle
Two alarms at 8809 Stockbridge Circle, dispatched 3:24 a.m. Engine 4 first on scene at a two-story, wood-frame apartment building. Declared major working fire on arrival, with interior attack utilized. Battalion 1 as command. One apartment heavily damaged by fire, another damaged by water, reports this WRAL story. No injuries. Command terminated 5:59 a.m., with Engine 11 remaining on scene. Units include E4, E18, E16, E15, E23, E9, E22, E11, L22, L4, R19, R14, B1, B4, C5, C4, C20, A8, EMS3, EMS2, EMS4, EMS 122, M92, D2, D3, T1. Listen to the incident on ScanAmerican Scanner Archives. Try the top link, Wake County and Raleigh Fire and EMS. Excellent resource.
+ 11 - 11 | § ¶
Wake Forest / Falls / Apex Mergers
The agenda for Thursday's meeting of the Wake County Fire Commission includes "merger plan for Wake Forest and Falls Fire Departments." As many have heard, the Falls Fire Department is planning proposing a merger with the Wake Forest Fire Department. More details as they're known, or at least as presented on Thursday. On a historical note, WFFD once existed as three departments: the town FD, the second town FD (all black), and the rural FD. They merged in the early 1980s. Also on that subject, Apex EMS is merging with Apex Fire Department. Public news is still pending on that one, though the town's job site notes that EMS personnel become available for town benefits beginning July 1, including participation in the Local Government Retirement System. The town has an open Paramedic position.
+ 10 - 13 | § ¶
Wake County Fire Commission Meeting, Thursday, May 21 (Updated)
The Wake County Fire Commission meets this Thursday at 7:00 p.m. The place is the Wake EMS Training Facility, which is at the Wake County Commons Building, which is at 4011 Carya Drive. Drive all the way around to the back of the building. Look for a large number of red and white sport utility vehicles. They come from a far.
An agenda has been provided for the meeting, along with draft minutes from the prior two meetings. View those documents. The agenda:

¨Call meeting to order

Invocation
Roll of Members Present
Approval of Agenda

Minutes

Adoption of Minutes for March 19th, 2009, Regular Meeting
Adoption of Minutes for April 30, 2009, Special Called Meeting

Regular Agenda

Reallocation of FY09 Firefighter Position

Recommendation from Staffing Ad Hoc Committee

Facility Committee

Recommendation on Bid Award – Dormitory Project

FY 10 Fire Tax District Budget Follow Up
Merger Plan for Wake Forest and Falls Fire Departments

Information Agenda

Fire Tax Financial Report
Chair Report
Fire/Rescue Services Director Report

Other Business
Public Comments

30 minutes maximum time allotted, Maximum 3 minutes per person

Adjournment - Next Meeting July 16th, 2009
+ 12 - 12 | § ¶
Budgets
Cities and counties are announcing their proposed budgets for Fiscal Year 2010. Parsing for fire, EMS, and other public safety spending forthcoming. Here are some links:
+ 12 - 12 | § ¶
Budgets
Cities and counties are announcing their proposed budgets for Fiscal Year 2010. Parsing for fire, EMS, and other public safety spending forthcoming. Here are some links:
+ 14 - 13 | § ¶
Wake EMS Marks National EMS Week with Survivor Ceremony and Open House
During National EMS Week, May 17 to May 23, the Wake County Emergency Medical System celebrates achievements that show dramatic strides in cardiac arrest care. Recently completed data from 2008 shows that Wake's EMS System successfully resuscitated 58 people, an increase from 49 patients saved in 2007.
These accomplishments are celebrated tonight at the Cardiac Arrest Save Ceremony, May 18, at 6:30 p.m., at the Fletcher Opera Theater, in the Progress Energy Center for Performing Arts. Media members are invited to attend as Wake County emergency responders and 2008 cardiac arrest survivors celebrate the achievements of the Cardiac Saves program and the efforts of the emergency medical care system.
The public is invited to tour Wake County's main EMS station on Wednesday, May 20, from 7:00 a.m. to 1:00 p.m., located at 121 W. Davie Street in downtown Raleigh. Visitors will get a firsthand look at the County's cutting-edge EMS equipment. Also at the event are Wake County EMS partners WakeWise Wellness and Wake County Human Services Health Promotion, providing important information on preventing heart disease, high blood pressure, and stroke. The event is free.
+ 15 - 9 | § ¶
Imperial Tobacco Warehouse in Greenville Burns Again
Big fire in Greenville yesterday. Remaining section of the Imperial Tobacco Warehouse, which first burned on April 17, 2008. Arson caused that one, said investigators. Friday, the site's smokestack was demolished. Yesterday, about 4:30 p.m., fire was reported in the remaining structure. Big fire, from the reports. Heavy columns of smoke, some 200 feet high. Defensive mode, as the structure wasn't threatening any other buildings. FireNews has a couple pictures and a story from the Daily Reflector. See the original story for reader comments and commentary. One person posted pictures of the smoke column on another discussion board. For video footage of the fire, see either WITN or WNCT. As for last year's fire, a couple photos can be on Flickr. That photographer also has some pictures of the building before it burned. There are probably other good links out there, as well.



Rhett Butler/Daily Reflector Photo
+ 14 - 11 | § ¶
Tank Explodes, Cameraman Jumps
Speaking of tank farms, here's an interesting video from NewsChannel 11 in Lubbock, Texas, where lightning struck an oil tank in the town of Lamesa on Thursday. Fire started, fire spread, and, one hour two hours later, the tanks exploded. The startled videographer was 200 yards away. Listen as a large piece of metal strikes his van. Talk about a pucker factor! No one was injured, however, at the incident. Read the story. Or watch a slightly larger version of the footage from CNN.



CNN Image
+ 9 - 14 | § ¶
Selma's Old Engine
Speaking of older apparatus, here's Selma's 1936 International / American pumper, which served from that year until the late 1970s. It was restored by guests of the state corrections system in 2007, and presently serves as a parade piece. From Sanborn Map information, earlier Selma apparatus included a Reo / Obenchain-Boyer by 1933, two hand-drawn hose reels by 1918, and a hand hook and ladder truck by 1918. Click to enlarge:


+ 11 - 16 | § ¶
Big Water at Selma Drill
Johnston County Emergency Services provided a pair of special trailers at a water supply drill in Selma today. Left is a motor-assisted hose reel with 3,000 feet of five-inch line. Right is a 3,500 GPM pump, drafting water from a pond at the gasoline pipline terminals west of town. Ten or so county fire departments participated in the morning exercise, which shuttled from a West Oak Street water point to a quartet of drop tanks on Buffalo Road. Pictures coming. What's the time to deploy both the trailer pump and reel? Say twenty minutes, or so. Click to enlarge:

+ 13 - 11 | § ¶
Fire Museum Flickr Collection
Mr. Blogger has updated his Flickr collection of fire museum photos, taken during travels in recent years. Where are other musuem? See this directory from the Fire Museum Network. The above Flickr collection features photos from:
Catawba County Firefighters Museum
Charlotte Fire Museum
Chicago Training Academy
Maryland Fire Museum
Fayetteville History Room
Harrisburg PA Fire Museum
Hinckley MN Fire Museum
Minneapolis Fire Dept

Minneapolis Fire Museum
Museum of the Albemarle
New Bern Firemen's Museum
North Charleston Fire Museum
Philadelphia Fire Museum
Rocky Mount Fire Museum
Washington Fire Station
+ 14 - 8 | § ¶
History Workshop at Fire Rescue Expo, August 21
Mark your calendars; book your rooms. The state fireman's convention returns to Raleigh this year, and Yours Truly is a workshop presenter. On Friday, August 21, at the Raleigh Convention Center, Historian Mike Legeros conducts a workshop on the history of firefighting in North Carolina. The event is 9:00 a.m. to 10:30 a.m.
He'll present information, answer questions, and lead discussions on the history of fire protection in Raleigh, and other cities and towns. Historical topics to range from fire department to fire apparatus to even researching history itself. Bring your questions, or your own histories, and join the discussion!
Visit the South Atlantic Fire Rescue Expo web site for more information, including the full program schedule. And watch the blog. We'll post an outline ahead of time, and maybe some other stuff. See you there!

+ 15 - 14 | § ¶
Fuquay's New Engine
'Tis the season for the new deliveries. Here's Fuquay-Varina's new Pierce Contender, 1500/1000, as photographed by Lee Wilson. The engine was delivered on Monday. See more photos.



Lee Wilson photo


Going back in time, here's Fuquay Springs old Engine 1, also photographed this week. The 1945 Mack Type 45 pumper, 800/250, is stored in a building behind Station 1. See more photos. What other engines from that decade are still around in Wake County? Exactly two: Apex's 1940 Ford/Hunter and Zebulon's 1945 Mack Type 45.


Lee Wilson photo
+ 15 - 11 | § ¶
Big Pumpers and Small Stations in Goldsboro
Found via FireNews, this Goldsboro News-Argus article talks about a perennial problem: fitting newer fire engines in older fire stations. The two of the city's five stations, built in 1966 and 1984, are too small to fit current-sized apparatus, as the picture shows below. That's Engine 3 squeezing into Station 3 on Patetown Road. The context is the department's aging fleet, and a pair of new pumpers in the proposed city budget. GFD's oldest apparatus are a 1976 brush truck, a 1977 snorkel, and a 1979 American LaFrance pumper. Their newest are a 2006 E-One pumper, a 2001 E-One ladder, and a 2000 E-One quint. Read the article. Or learn about the Goldsboro Fire Department.



Greg Sousa / Goldsboro News-Argus Photo
+ 9 - 11 | § ¶
George Crocker Memorial Motorcycle Rally, Saturday, June 13
The Raleigh Fireman's Club is sponsoring a George Crocker Memorial Motorcycle Rally on June 13, 2009. Registration opens at 11:00 a.m. at the Fireman's Club building at 12601 Bayleaf Church Road, in Raleigh. Riders depart by noon. The destination is the Two Wheel Cafe at 1475 W. Market Street, Smithfield. There will be music, food, raffles and great memories.
A graveside service follows at Crocker Cemetery in Pine Level at approximately 2:00 p.m. All are welcome. Contact Raleigh Fireman's Club President Michelle Munisteri for more information at (919) 320-4133. George Crocker died in the line of duty on June 22, 2008. The 32 year-old firefighter was the volunteer chief of the Pine Level Fire Department, and a Senior Firefighter with the Raleigh Fire Department.
+ 17 - 12 | § ¶
Warrenton Former Fire Station
Here's a nifty former fire station found via Google Maps Street View. Warrenton's old City Hall and fire station, on South Bragg Street at East Market Street. From Sanborn Maps, it was built by 1912. That year, it also housed the Mayor's office, the "lock up," the City Market, and a second-floor Opera House. The fire department was housed in the rear of the structure, and its two companies of 55 total volunteers had a combination hand and chemical engine, a hose cart, and hand hook and ladder ladder truck. Water was supplied by fire cisterns, and private water tanks and wells. Organized in 1896, Warrenton's municipal fire department retired on July 1, 2004, with one engine, and 15 volunteers. The town subsequently contracted with Warrenton Rural Fire Department for fire protection. See the Google Maps Street View.


Google Maps Photo
Or click to enlarge this 1912 Sanborn Map excerpt:

+ 15 - 14 | § ¶
Copper Smelting Furnace Fire / Old Guilford College Chemical 19
FireNews Incident Reports has posted details of a copper smelting furnance fire in Stokes County on Monday. The 6:00 a.m. alarm for a building fire at 3990 US 311 Highway N in Pine Hall was first due for Stokes-Rockingham FD. Also dispatched were Walnut Cove FD, Madison FD, and Huntsville FD. Arriving units at a 600,000 square-foot copper tubing plant found fire under and around a smelting furnace. Temperature of the molten materials was 2,200+ degrees, with copper running out of a hole that had formed. The leaking metal melted and ignited machinery wiring and hydraulic hoses. The latter resulted in a hydraulic fluid leak. Water was ruled out for extinguishing, and Purple-K units were requested from Shiloh FD in Rockingham County and the city of Greensboro. The latter unit, Guilford College FD's old Chemical 19, was about 43 minutes from the scene, says Google Maps. Read the complete incident report. Or click to enlarge this photo, taken many years ago with something called a "film camera":


+ 9 - 11 | § ¶
Ground Crew to Tower: This Sucks
Firegeezer found this photo of an incident yesterday at Los Angeles International Airport. Japan Airlines Boeing 747 versus baggage tram container. Suction happened. Read the Geezer Guy's report. As for the below photo, observe one person wearing a medical mask. Someone fearing swine flu? Hasn't the hamdemic threat receded? The pork been pulled, so to speak? It was tail-curling for a while, at least as the media was reporting. You never sausage anxiety.


+ 12 - 17 | § ¶
Raleigh's New Pierce Platforms
The Raleigh Fire Department has received a pair of 2009 Pierce Arrow XT aerial platforms. The 100-foot platforms, with 1,500 GPM pumps and 400 gallon tanks, were delivered this morning. They'll be assigned to Ladder 20 and Ladder 22, replacing a 1999 American LaFrance platform and a 2005 Pierce ladder, respectively. The ALF platform will be placed in reserve, and the Pierce ladder will become Ladder 24, which is operating a 1988 Pierce Snorkel. These are the fifth and sixth aerial platforms in the city's history. More apparatus information. Lee Wilson was there today, and he'll be posting photos soon. Click to enlarge:


+ 15 - 15 | § ¶
Google Street View and Former Fire Stations
For some years now, we've been searching the state for former firehouses. Slowly, surely, we've been documenting and photographing buildings that once served as fire stations. Or, that are still serving as engine houses, but over 50 years in age. That is, they're historic. It's been an interesting project, and requiring only a moderate amount of obsession. Hey, everyone needs a hobby. And though we've photographed quite a few of these in recent years, there are plenty listed in the database without images. Until now. Until Google Street View. Browsed the streets of smaller towns lately? Seems Google has been very busy in our state. Below are some structures found in less than an hour of browsing. Talk about armchair travel!
+ 13 - 12 | § ¶
The Bain Project
From a reader, what happens when 12 artists spend nine months interacting with Raleigh's historic E. B. Bain Water Treatment Plant? The result is the Bain Project, which was open to the public last weekend, and opens again this weekend. Learn about the Bain Project. Or read more information from the North Carolina Museum of Art. If you've never been inside the plant, it's definitely worth a visit.
As this National Park Service page notes, the complex was dedicated in 1940. The Art Deco style building is four stories high in places, has a full basement, and soaring stairways inside the two-story lobby. It was constructed beside the 1887 water plant, the city's original pumping facility, and which is still standing. The Bain plant operated until 1987. The structure is presently planned for reuse, with plans ranging from restaurants to office space.



Bain Project Photo
+ 16 - 13 | § ¶
Oxford's Old Station
Photographed in 2007, when Mr. Blogger was returning from the Baltimore Fire Expo, here's Oxford's old fire station at 122 Williamsboro Street. The building, built decades earlier, served as a fire station from 1956 to 1993. The fire station was previously part of a City Hall and Armory building, located next door on Williamsboro Street, and just behind the courthouse. That 1908 structure replaced a combination structure on Wall Street, which was rented in 1906. Read more Oxford Fire Department history
. Or learn more about OFD. Or see a big honkin' list of former fire stations around the state. The 1956 fire station building presently serves as county offices. Click to enlarge:


+ 15 - 12 | § ¶
New Hope's New Engine
Lee Wilson has posted posed photos of New Hope's new Engine 1, a 2009 Pierce Contender, 1500/1000, delivered on April 24. See more photos.


+ 16 - 8 | § ¶
Hawaiian Shirts Still Making Waves
Today's News & Observers has an entertaining feature on tropical shirts. The Associated Press story includes a history, noting that the shirts played a role in creating casual Friday. When the city of Honolulu allowed employees to wear Aloha shirts to city offices in 1965, the trend subsequently spread nationwide. The article includes a sidebar of tips, such as "louder is better" and "don't ever tuck them in." Unless you're Thomas Magnum. (Idea for television series: fire buff with hot shirts solves crimes in the Carolinas. Episode 1, Murder at the State Archives.)
Relevant quotes in the article include "the minute you put them on, you feel a little more relaxed" (Doug Wood, Tommy Bahama), "the average man in Hawaii wears an Aloha shirt every day" (Linda Arthur, textile professor), and, what made Mrs. Blogger chuckle, "If you stretch beyond [wearing] three [shirts], people [say] 'It's so sad to see someone give up like that. His poor wife!"' (Greg Chambers, Mad Gringo). How many shirts are hanging at Blog Center, you ask? Ninety or so.
+ 19 - 7 | § ¶
Saturday's Storms
Yesterday's thunderstorm was very fast and very windy. Trees and lines were down everywhere. Tones galore. On Capital Boulevard at Huntleigh Drive and Trawick Road, a fallen tree felled both power lines and traffic signals about 6:40 p.m. It was reported as tree versus car, with subject possibly pinned. We passed the scene about 40 minutes later. WRAL has posted viewer photos of area damage, with their story of the storm. At least its cooler today.


+ 14 - 17 | § ¶
Military Fire Apparatus in Granville County
Tooling around Granville County, Lee Wilson photographed two pieces of military or military conversion fire apparatus yesterday. Left is a tanker that served Camp Butner, and is parked with some other vintage vehicles at the North Carolina Army National Guard facility in Butner. Read some Camp Butner history, which notes the Army continued fire and police protection after the camp closed after World War II. The state assumed fire and police services on November 3, 1947. Read about Butner Public Safety, which remains state-run and is presently contracted by the town. Butner was unincorporated until 2007.
Right is a 1944 International that served as the first piece of apparatus for the Stem Fire Department. The truck was obtained in 1959, says this SFD apparatus page. It served until the early 1980s and was sold. It was donated back to the department in 2007, and restored to non-running condition. Read more about Stem Fire Department. See more of Lee's photos from Granville County, which includes Oxford Public Safety Day. Or click to enlarge:

+ 13 - 17 | § ¶
Fallen Firefighter Golf Tournament on June 11
The third annual National Fallen Firefighters Golf Tournament in support of the National Fallen Firefighters Foundation is Thursday, June 11, at Eagle Ridge Golf and Country Club, 565 Competition Road in Raleigh. Tee time is 10:00. The entry fee is $80 and guests receive a complementary breakfast before, and a full meal after, range balls, door prizes and gift bags, pre-game competitions, and trophies. For more information, see www.fallenfirefightergolf.info. The event is hosted by the Raleigh Fire Department. See photos from prior years. Look at the golfs!


+ 13 - 12 | § ¶
Rolling Bridge
Diverting from fire stuff, let's visit the
Dismap Swamp Canal
. Opened in 1805 and presently part of the intracoastal waterway, the canal is located on the east edge of the
Great Dismal Swamp
. The canal was dug completely by hand, and largely using slave labor. The thing took 12 years to complete, and was 22 miles long when opened. Though largely hidden from landlubbers passing on nearby highways, the canal is readily visible to cars with GPS. It appears as two long and very straight blue lines. While rolling to Virginia Beach last week, we found this bridge just south of milepost 21. As
this canal paddling brochure
explains, it's a World War II surplus
Bailey Bridge
employed by farmers to access their fields. The bridge is rolled by hitching a tractor on the west side, and pushing or pulling the thing back and forth. Click to enlarge:
+ 20 - 13 | § ¶
Overnight Fires
WRAL is reporting that lightning caused at least two working fires overnight, at 6405 Sylvan Lane in Raleigh, and at the Wendell Country Club. Below is a picture of the 60 golf carts destroyed in the structure. There's something you don't see every day. A third overnight fire at an abandoned house on Thelma Street in Raleigh might have been started by lightning, they report. Or might have been started by homeless people. Read the story.


Jamie Munden / WRAL photo
+ 9 - 11 | § ¶
Falls Fire Department Public Safety Day, Saturday, May 30
Public Safety Day returns to Wakefield High School on Saturday, May 30. Sponsored by the Falls Fire Department, the event is scheduled from 10:00 a.m. to 2:00 p.m. Games, prizes, free food and drinks, fire extinguisher demos, Sparky the Fire Dog, something called a Fire Truck Pull/Race, and something else called Pie the Fire Chief in the Face. Do you get to choose a chief for the latter event?!? Okay, okay, that one's probably for civilians only. See this Falls FD page for more, including information for parties interested in business sponsorships. See also Mr. Blogger's photos from last year.


+ 11 - 8 | § ¶
Barry Doyle Finalist for Community Celebrity Award
Feed the Firefighter Foundation founder and restaurateur Barry Doyle is one of three finalists for this year's Cabot Community Celebrity Award. Barry has served over 45,000 meals to Triangle firefighters since forming the foundation in 1998. The winner receives a five-night cruise package for themselves and a guest. Cast a vote for Barry on the WPTF web site.
+ 13 - 12 | § ¶
Spencer Fire Apparatus Show, September 12
Been itching for an apparatus muster? The Spencer Fire Department Auxiliary is hosting their first and hopefully annual fire apparatus show on Saturday, September 12, 2009, at the North Carolina Transportation Museum. They're focusing exclusively on pumpers, tankers, aerials, and brush trucks, and pre-registration fees are $25 per apparatus. After July 31, the registration fee is $50. The schedule for the day starts with staging at 8:00 a.m., parade at 9:00 a.m., gates to museum opening at 9 a.m., and apparatus judging starting at 10:30 a.m. And with everyone going home by 3:30 p.m. There are eight categories for judging, plus a People's Choice Award and a Best in Show Award. Read this flyer for more information
. Or learn about the Spencer Fire Department.
+ 11 - 13 | § ¶
This Morning's Fire in Apex
Working fire at 9909 Horton Road in New Hill. Apex Engine 2 arriving at a 1,452 square feet, wood-frame house, with heavy fire conditions. Alarm time 8:10 a.m. Units on scene included Apex E2, E3, E5, L1, T1, B1, C5, C6; Moncure Tanker 813; Holly Springs E3, C4; EMS 42, EMS 41, District 2; WC 1. Fairview provided coverage at Apex. Thanks to Apex Fire Department for the photos. Click to enlarge:


+ 15 - 13 | § ¶
The Voice Behind Locution
Well, one of the voices. As Dave Statter surfaced this week, the Palm Beach Post profiled Debbie Rohr, who provides the lead voice of Locution Systems. They note that several other women also provide voices for the computerized dispatch systems. Does Debbie do Raleigh? Don't know; perhaps someone else can advise. Read the story of a person behind a voice. With both Locution and the VIPER radio system, we've come a long way, baby, in Raleigh and Wake County. Every dispatch sounds like every other one, and every incident can be heard by everyone else. Good all around.
+ 12 - 16 | § ¶
Storms
Our weather radio works, which we learned four times last night, with three tornado warnings and one flash flood alert. Good photos from the storms included these at WRAL, with some 320 posted so far. As the television station reports, at least a dozen homes were damaged and three minor injuries reported. The Antioch fire station in Johnston County also suffered some minor roof damage, we read last night. On the west side of the state, numerous water rescues were performed around Charlotte. Last night's storms trapped more than 50 people in cars and homes, reports this Charlotte Observer article.
What fires happened? New Hope had a working house fire at 5509 Castlebrook Drive at 7:50 p.m. Raleigh, Wendell, and Falls were also on scene. Numerous others were reported. And this morning, as WRAL reports, five departments fought a fire at a food mart in Zebulon Franklin County about 1:00 a.m. Unknown if storm-related.

WRAL photo
+ 11 - 10 | § ¶
Clayton Church Fire
WRAL has posted a photo of a fire that's still working at Mt. Calvary Baptist Church at 5217 Barber Mill Road in Clayton. It was reported around 5:40 a.m., with Garner's ladder dispatched at 5:42 a.m.


Robert Meikle / WRAL photo
+ 16 - 8 | § ¶
Sneeze
Featured in today's New York Times, here's a cute children's online game called Sneeze. The objective? Carefully direct a single sneeze to infect as many people as possible. Pretty cute, with funny sound effects. The article says the game has or maybe was renamed Stop Swine Flu. The game was created to teach young children healthy habits, and was commissioned by Wellcome Trust. Have a sneeze and start playing. Gesundteit!


+ 15 - 11 | § ¶
Action!
Here are a couple "spy pics" of a movie scene that's being staged at the dead end of Interstate 540 and Highway 55. Reader Jeff Silver snapped these roadside shots today. The producers of Main Street, currently filming in Durham, have permission to close the roadway every night this week. Read this NBC17 story, and see footage of what's being staged. Or, click to enlarge the below pics. Dig those "vintage" rigs!


+ 17 - 15 | § ¶
May Fire Commission Meeting Date
As previously noted, the Wake County Fire Commission planned to hold its regular May meeting earlier in the month, on May 7, 2009. The date change was for the purpose of accommodating the budget process. As the Fire Commission approved a FY10 budget recommendation to the County Commissioners at a special-called meeting last week, the regular May meeting will be held on May 21, 2009. Please note the schedule change. We'll post another reminder, as well any available documents, closer to the meeting date.
+ 15 - 12 | § ¶
Union Station
Random trivia. The building beside Station 1 at the corner of West Martin and South Dawson streets is a section of Union Station, built in 1890 by the Raleigh and Gaston Railroad. As this Wikipedia page notes, it also served Norfolk Southern and Southern railways, with a total of four tracks. It was a stub-end station, versus run-through, which is why replacements were built in 1942 and 1950. The head-house survives, and is an office building. The platform area behind the original station was redeveloped. Click to enlarge a postcard scan found on eBay, as well as the Wikipedia photo of the current building:


This Sanborn Map from 1914 shows the above building, the shed and platform, and the tracks that entered the structure. If memory serves, a small section of track is still visibile in the pavement. Might be a block west, from the rear of the old platform. Click to enlarge:
+ 13 - 13 | § ¶
Watching Yesterday's Fallen Firefighter Memorial Events
Yesterday's fallen firefighter memorial events in Raleigh were both broadcast on the Internet. The recordings have been archived, and are available for playback. The parade started at 10:00 a.m. and travelled down Hillsborough and South Dawson Streets, and featured units from fire departments that have lost members in the line of duty. The service started at 1:00 p.m. at the North Carolina Fallen Firefighters Memorial in Nash Square. Read the WRAL story. What other media outlets have posted stories?


WRAL Photo
The North Carolina Fallen Firefighters Memorial was dedicated on May 6, 2006. The names of 164 fallen members were read, and their survivors were honored. Read that News & Observer story. This year, the names of 11 firefighters who died on the job in 2008 were added to the memorial, along with one from a past decade:
Paul L. Ellington, Oregon Hill, 1/1/08
Herman S. Jones, Raleigh, 1/22/08
James Earl Arthur, Cold Water, 2/11/08
Victor A. Isler, Salisbury, 3/7/08
Justin E. Monroe, Salisbury, 3/7/08
Walter W. Michl, Roanoke-Wildwood, 3/16/08
Rufus E. Brinson, Jr., Reelsboro, 6/6/08
Colin Thomas, Vernoa, 6/14/08
George Crocker, Pine Level, 6/22/08
Curtis L. Jessen, Forest Service, 8/21/08
William T. Barnes, Hope Fire Company/Greenville, 10/9/24.
Visit the North Carolina Fallen Firefighters Foundation to see the full list of memorial names. They represent 216 duty deaths from 136 fire departments. Or read a history of our fallen firefighters, compiled in 2006.
+ 11 - 14 | § ¶
Virginia Beach Former Fire Station
This unassuming surf shop at 24th Street and Atlantic Avenue is actually an former Virginia Beach fire station, a fact revealed by a gorgeous painting on the opposite side of the building. Says Google, the artwork was done in 2000 by muralist Todd Alan Lindergh, and his brother Eric, of T. A. L. Ent. The rest of the building is painted to resemble a Polynesian surf hut. As for the fire station, it was built in 1924 and housed what looks like a 1940s Seagrave service truck. Or is that way off? Click to enlarge both:

+ 13 - 5 | § ¶
Norfolk Naval Station
Military bases, naval stations, and government facilities abound in the Hampton Roads area. Army, Navy, NASA, you name it. Though closed to visitors, the area's premiere attraction-- Norfolk Naval Station-- can be toured by bus. The 45-minute guided tour of the world's largest naval base passes a pair of fire stations. Here's a window shot of what appeared to be a combination station, with structural apparatus in the front, and airport crash trucks in the rear. We also passed an air-side station, some several hundred yards away from the road. Didn't get a good shot of that one.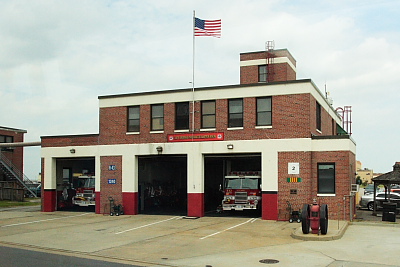 + 17 - 9 | § ¶
How About a Fire Pole?
We're spending the weekend at a bed and breakfast in Virginia Beach. Our room is the only second story room, on one side of the structure. Access is via spiral staircase, in a spot that seems perfect for a fire pole. Talk about a fun means of egress! How would one get upstairs, with only a pole? That's easy. Emergency Bat Lift. Flip a lever, and you'd even arrive with a change of costume.


+ 14 - 14 | § ¶
Washington Former Fire Stations
In addition to the town's old steam engine, we found two former fire stations in Washington on Thursday. Left is the old Town Hall and fire station, built 1884. Right, the right side of the pictured building, was the fire station by 1924. Click to enlarge either. More information later.

+ 13 - 16 | § ¶
Elizabeth City Steam Engine
For our third and last steam engine of the week, here's Elizabeth City's old steamer Inez, a 1902 Silsby named for Chief G. S. Bell's oldest daughter. The steamer was rebuilt that year by Silsby, and was originally a 1873 Silsby that previously served San Antonio, TX. It was acquired by Elizabeth City in 1888. Inez was still on the roster in 1931, towed by motor vehicle. It's presently displayed at the Museum of the Albemarle, where it was photographed on Thursday. That place is pretty cool. Read more about North Carolina steam fire engines. Click to enlarge:

+ 15 - 14 | § ¶
Carolina Township Fire Department
Here's a former fire station found in Pitt County, and located beside the current Carolina Township Fire Department. They were organized in 1959, and this building probably dates from the same time. It's now a community center, and it's available for rental! Directly behind the structure is a considerably newer and larger metal building, housing CTFD.

+ 14 - 14 | § ¶
Rocky Mount Steam Engine
Here's Rocky Mount's old steamer, which we learned was originally operated by the New York City Fire Department. The 1878 Silsby steam engine was rebuilt by American in 18961, and purchased by the Rocky Mount Fire Department for $2,600. Old Number One had a positive displacement rotary gear pump that delivered up to 650 GPM. It was the department's first pumping engine. In anticipation of the delivery, a mule was purchased in 1895 for $100. The steamer and mule were first housed in a building near Sunset Avenue and Sorsby's Alley. Live steam was piped into the steamer, from a boiler at the fire station. This improved the response time for heating the steamer's boiler. Upon an alarm, firemen placed wood grain alcohol under the boiler, which ignited the coal, which maintained the steam. The mule (and later horses) were moved into their harnesses as the boiler was being prepared. Hose for steamer was carried on hand reels. Water was largely drafted from cisterns or wells, until the first fire hydrants were installed in 1898. Click to enlarge:

READ MORE
+ 13 - 16 | § ¶
Elizabeth City Former Fire Station
Found this building in Elizabeth City, a former fire station at 305 E. Elizabeth Street. It's presently used by Parks & Recreation. Tax records say that the one-story brick building was built in 1960, and closed in ?. Prior ECFD locations are not known. Present ECFD locations are 902 Halstead Boulevard (Station 1) and 303 Harney Street (Station 2). [Correct?] Click to enlarge: