+ 27 - 21 | § ¶
MOVED - Vintage Raleigh Fire Department Rules & Regulations Booklet
This posting has been moved to http://legeros.com/blog/vintage-raleigh-fire-department-rules-regulations-booklet/.
+ 28 - 19 | § ¶
Crews of Christmas Past
Presented by the Raleigh Fire Museum, the men and women of the Raleigh Fire Department who stood watch on December 25, in select years between 1928 and 1996. Log book excepts. View the photo album, or see same via their Facebook posting.


+ 23 - 16 | § ¶
Lillington's Antique Engines - 1928 GMC/ALF, 1951 Ford/Seagrave
Last week Lee Wilson paid a visit to Lillington, to photographer their two antique (and well-preserved) antique engines. The older one is a 1928 GMC/American LaFrance Type 99 triple combination, #G-125. (Shipped on June 27, 1928, says the Peckham database.) With 500 GPM pump and 80 gallon tank. Cost $6,500. The newer one is a 1961 Ford/Seagrave pumper. (Model? Specs?) Both are housed in the former Lillington Rescue Squad building. (The squad was chartered in 1968, say state corporation records. They operated through the 1970s, we're told. The corporation dissolved in 1995.) Such beautiful trucks. See more photos from Lee.



Lee Wilson photos
+ 29 - 14 | § ¶
New Engines For Orange Rural Fire Department
Orange Rural Fire Department in Hillsborough has received a pair of 2015 Sutphen Monarch pumper-tankers, 1500/1000. They were delivered on Friday, December 18. Notes this town press release, they cost $480,00 each. One was purchased by the town and is lettered for Hillsborough Fire Department. The other was purchased by Orange Rural, which is the private fire department that is contracted by the town. (The contract requires the town to provide one engine and one ladder for operation by ORFD.)
The "town truck" replaces a 1996 KME pumper, 1500/750. The "rural truck" replaces a KME engine (model year?) that overturned in January. See blog posting about that incident. See more photos on the ORFD Facebook page, as well as some from Lee Wilson last week. See also our ongoing updates about the history of HFD and ORFD. Still doing some research there.



Courtesy Orange Rural Fire Department
+ 29 - 23 | § ¶
MOVED - Hillsborough FD / Orange Rural FD - Apparatus, Patch, History
The content of this posting has been moved to http://legeros.com/history/hillsborough
+ 26 - 18 | § ¶
Raleigh Fire Department Publishes Strategic Plan, 2015-2020
We covered the future plans (prospective or otherwise) of Cary and Apex in their respective prior postings. Let's look at the city and see what they're cooking for the next five years...

The Raleigh Fire Department recently produced a five-year strategic planning document. A copy has been posted to the RFD newsletter site and accompanies an article about the plan in the fall 2015 issue. The plan was created by a thirty-two member planning committee during a series of meetings this summer. It was developed with inputs gathered from a stakeholder survey in May 2015.

Five goals are outlined in the Strategic Plan: promoting workforce excellence, adjusting operational and support staffing levels, strengthening functionality and condition of infrastructure, automating business systems, and enhancing public communication. The thirty-four page document concludes with appendix materials.

Read the strategic plan (PDF)

Let's look closely at staffing, apparatus, and facility objectives through 2020:

Staffing

Hiring 20 firefighters per year, from F17 to F21, to optimize supplemental staffing levels.
Expand Operations with second Division, e.g. Three Division Chiefs, three Aides, and three Battalion Chiefs
Expand Services with a Division Chief, a Battalion Chief, an Emergency Fleet Parts Coordinator, and a Fire Equipment Inventory Coordinator
Expand Training with an Asst. Career Development Coordinator (Lieutenant), and a Fire Academy Training Officer (Lieutenant).
Expand Office of Fire Marshal with a Division Chief, a Public Information Officer (PIO), three Fire Educators, four Deputy Fire Marshals, and a Training Officer.


Read the strategic plan (PDF)
Apparatus
Implement multi-year replacement schedule, as part of fleet management program.
Facilities
Renovate legacy fire stations to improve them. Planned schedule:

Station 5 (FY16)
Station 2 (FY16, FY17)
Station 10, Station 15 (FY17, FY18)
Station 8, Station 16 (FY18, FY19)
Station 9, Station 17 (FY19, FY20)
Station 18, Station 19 (FY20, FY21)
Station 4, Station 20 (FY21, FY22)
Station 21, Station 22 (FY22, FY23?)

Relocate two legacy facilities:

Headquarters (Office of Fire Chief, Office of Fire Marshal, etc.) and Station 1 (as joint facility)

Add additional fire station:

Station 30 (see page 10 for map of city growth areas. Includes both in-fill and expansion areas.)

Develop a [new] training center that includes an emergency vehicle driving course.
Improve (e.g., likely expand) Services facilities.
Technology
Move from legacy mobile data terminals (MDTs) to hybrid tablet and cloud-based systems.
Move to new computer-aided dispatch (CAD) system.
Notes

What would six battalions look like? Page 32 has a prospective map:

West Division

Station 1, 2, 3, 10, 26
Station 4, 9, 15, 16
Station 5, 6, 8, 14, 20

East Division

Station 7, 11, 12, 21, 27

Station 19, 22, 25, 28
Station 17, 18, 23, 24, 29
+ 27 - 17 | § ¶
Orange Pierce Platform Ordered For Buies Creek
The Buies Creek Fire Department has ordered an black-over-orange Pierce Arrow XT (though the drawing shows a Velocity) aerial platform, notes this Facebook posting from Atlantic Emergency Solutions. The truck will equipped with a 1500 GPM pump, 300 gallon water tank, and 100-foot platform. The colors are those of the Campbell University Fighting Camels. This is the first truck in the department's history to be painted in the University's colors. Very cool and you know the next question. What other orange fire engines are operating in the Carolinas? It'll replace a 1988 Pierce Arrow rear-mount platform, formerly operated by the town of Cary.



+ 25 - 19 | § ¶
How Many New Fire Stations Have Opened in Raleigh and Wake County?
The opening of Cary's new fire station this week gets me thinking. How many newly constructed fire stations have opened in Raleigh and Wake County? Let's take a look...
Criteria:
Purpose-built as a fire station, or
Purpose-built to house a fire department. Thus can include town hall buildings or other combination structures
Answer:
At least 122.
Details below. See Mike's Wake County station register (PDF) for more information.

Apex

4

N. Salem St. , Sta 1 (1956)
New Hill Holleman Rd., Sta 2 (1997)
Hunter St. , Sta 3 (2002)
E. Williams Street, Sta 4 (2009)

Excludes 1927 municipal building, not purpose-built with fire station space.

Bay Leaf

4

Six Forks Rd. #1 (1967)
Six Forks Rd. #2 (1983)
Six Forks Rd. #3, rebuild of 1983 structure (2014)
Norwood Rd. (1993)

Excludes Lynn Rd., not built for BLFD

Excludes original station on Six Forks Rd., space inside commercial structure.

Cary

13

Downtown (1923) – Prefab garage
W. Chatham St. (1953)
N. Academy St. (1965)
E. Cedar St. , Old Sta 2 (1953)
SE Maynard Rd., Old Sta 2, (now Sta 9 (1976)
N. Harrison Ave., Sta 1 (1992)
E. Chatham St., Sta 2 (2015)
Kildare Farm Rd., Sta 3 (1987)
Old Apex Rd., Sta 4 (1988)
High House Rd., Sta 5 (1996)
Ten Ten Rd., Sta 6 (2001)
Carpenter-Fire Station Rd., Sta 7 (2007)
Mills Park Drive (2014)

Excludes other earlier facilities likely not purpose-built, such as Public Utilities building used in 1960s for temporary housing of original service ladder truck.

Durham Highway

3

Davis Cir. (1965)
Pinecrest Rd. (1976)
Norwood Rd. (1992)

Eastern Wake

See Knightdale.
READ MORE
+ 27 - 22 | § ¶
Cary's New Station 2, New Engine 9, and Looking Ahead
The town of Cary opened a new fire station on Monday. The personnel of Engine 2 and Rescue 2 reported for duty at the newly completed Station 2 at 601 E. Chatham Street. They were transported to old Station 2 at 875 SE Maynard Road, and brought the apparatus to the new facility. Those are a 2006 Pierce Dash pumper and a 2012 Pierce Velocity walk-around heavy rescue.
The 13,395 square-foot facility is a two-story structure and the town's second fire station with a pole. Or poles, plural. It's also their second station with accordion-style (also called bi-parting) bay doors. (They open fast. Within seconds.) Including land, design, and construction, the new fire station cost about $5.5M. A dedication ceremony is planned for Friday, December 18, at 11:30 a.m. Read the press release.
Upon the relocation of Engine 2 and Rescue 2 yesterday morning, old Station 2 became Station 9. The legacy facility will house Engine 9 until a permanent home is constructed at 1427 Walnut Street. The property is located at the corner of Walnut Street and Nottingham Drive. There's an abandoned church on the site, which the fire department has been using for occasional training. There's been $750,000 funded for the project thus far.
Engine 9 was placed in service with Engine 6, relocated from Station 6 at 3609 Ten-Ten Road. Same is a 2003 Pierce Dash pumper that will be re-lettered when new decals arrive. Also yesterday morning, Ladder 6 was renamed Engine 6. They'll operating as a quint company with their 2008 Pierce Velocity aerial ladder. Additionally, Rescue 4 was moved to Station 6. Now Rescue 6, they operate the town's second 2012 Pierce Velocity rescue, which is identical to Rescue 2.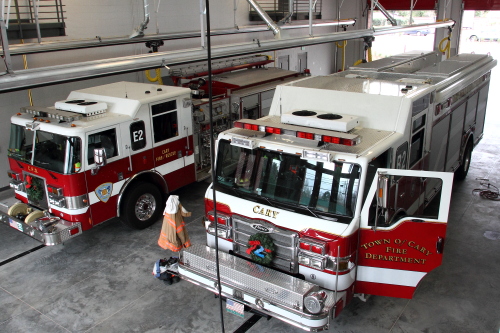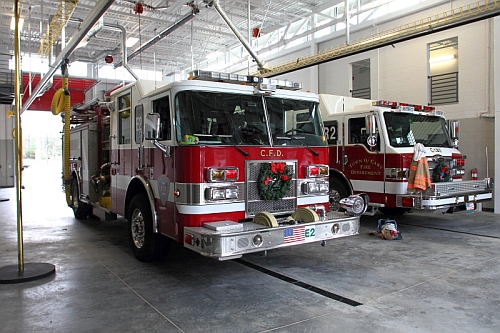 READ MORE
+ 23 - 10 | § ¶
Apex Station 5 and Other Capital Plans
Construction has started on Apex Public Safety Station 5 at 1050 Kelly Road. Notes this FY 2015-16 Capital Improvement Plan document, the $3.8M project will be a 16,500 square-foot facility that will house twelve firefighters, two paramedics, and the Community Services division of the police department. The station will house Engine 5 and a future 75-foot quint, along with an ambulance and police mobile equipment.
The need for the station has been forecast since 2004, and was highlighted as an important facility as part of the town's 2013 ISO review. It'll serve three new schools and some 2,000 new residences. The station will reduce response times by approximately two minutes in all primary service areas west of Kelly Road. Here's a panoramic photo of the site. Click twice to enlarge:


The above document also details other fire department and public safety capital plans, notably:
FY15-16
New engine for Station 5 - $385,000
Already ordered, being built by Spartan.

Rescue 4 replacement - $445,000
Being spec'ed, believe.
Replaces 1995 HME/Rescue Master.

SCBA replacement - $470,400 (two-year total)

FY16-17
Engine replacement - $385,000
Replace 2001 HME pumper that is reserve at Station 3.

Ladder truck for Station 5 - $850,000
ISO inspection in 2013 noted three ladder trucks are needed to properly cover town.

Renovations to Station 4 - $253,890
Will allow relocation of Traffic Safety Unit of police department, including personnel, equipment, trailers, and vehicles used by the unit.

Relocation Fire Station 1 - $1.5M
Construct single-company fire station on town-owned land at corner of Old Raleigh Road and Apex Peakway. Would house engine and other apparatus at Station 1. Existing facility would be repurposed and administrative and training functions moved there, plus continue to have portions of building available for civic functions.
FY17-18
Engine replacement - $395,000
Replace 2002 Quality pumper that will be serving as a reserve.

Horizon Issues
Public Safety Station 6 - $4.2M
For providing emergency services to the White Oak Basin and Green Level areas of town. Modeled after Station 5. Would house engine company and twelve personnel. Would also generate need for a second Battalion Chief.
+ 23 - 18 | § ¶
Mystery Apparatus from Mystery Town Named Charlotte
Found for sale on eBay is this vintage photo labeled "Chrlotte Fire Dept." Does'nt appear to be Charlotte, North Carolina, as the fire station doesn't match their old station photos. That leaves six other towns named Charlotte in Arkansas, Iowa, Michigan Tennessee, Texas, and Vermont. As for the apparatus--probably 1910s era--is it a Knox? Seagrave? Christie retrofit? (Thanks to the SPAAMFAA gang on Facebook for those suggestions.) Click to enlarge:


+ 24 - 12 | § ¶
Clayton's New Rescue 1
The Clayton Fire Department yesterday took delivery of their new Rescue 1, a 2015 Pierce Enforcer heavy rescue. As noted in this Facebook announcement, they expect the truck to be in service within the next week or two. The truck will also serve as a Service [Ladder] Company for the NCDOI Response Rating System. It replaces a 1997 Simon-Duplex-Salisbuy heavy rescue, ex-Morrisville. Clayton acquired that truck from Morrisville in the early 2000s.1 Below is Lee Wilson's photos of the new truck, as well as the current rescue when it served in Morrisville.



Lee Wilson photos
1There were two rescues swapped between Clayton and Morrisville in the early 2000s. At the same time they sold their heavy rescue, MFD acquired a 2000 Ford F-550 light rescue from Clayton Area Rescue Squad. (Presumably with CARS moving to EMS-only services? That was happening locally, with area "rescue squads" become EMS-only agencies. Such as Cary, Six Forks, etc.) Morrisville then purchased a 1989 Simon-Duplex/KME/Saulsbury from somewhere "up North." (The small rescue is still in service, and the big rescue was replaced by MFD in 2013.)
+ 24 - 16 | § ¶
Stony Hill's Mack Before Stony Hill
In October, this photo was posted to the SPAAMFAA Facebook group. Stony Hill's 1954 Mack before it was Stony Hill's. The truck originally served the Independent Fire Company of Westville, NJ, as Engine 77. The 1954 Mack B/Howe 750/400 was bought by Stony Hill in 1974.
They paid $10,000 for the truck, which was purchased from Slagle's in South Boston, VA. The truck had been modified there with a new 500 gallon booster tank. Stony Hill further modified the truck, with wooden extension to the hose bed. The truck is still on their roster as a parade pierce.
As for IFC in Westville? They merged with Union Fire Company in 1987, which also protected the town. They merged and formed Westville Fire Department. Click to enlarge:



Bob Norman photo via SPAAMFAA on Facebook

+ 22 - 18 | § ¶
Beaufort Fire Station Locations - 1898 to 1941
More fun with Sanborn Maps. This time to Carteret County and the town of Beaufort. Below are annotated map excerpts from 1898 to 1941, showing the various locations for the town's fire station. And fire stations, plural, as they had two and then three in the early decades of the last century. Following those is a table with descriptive information from the map sheets. Learn more about Sanborn Fire Insurance Maps. Also, see these BFD historical images, that we posted and blogged about in 2009. Click to enlarge:


Year
Population
Fire Department
Fire Equipment
Alarm System
Water Supply
1898
2,000
Volunteer, 40 men.
One combination chemical and hand engine, 1000' 2 1/2'' hose.
N/A
"Not good"
1904
2,000
N/A
N/A
N/A
"Not good"
1908
2,200
Two companies with 34 white volunteer members in first company and 20 colored members in second company.

Company 1 - One Howe triplex gasoline engine, size 6' x 6'. One hose cart, 800'. [Also] 1000' 2 1/2" hose.
Company 2 - One hand engine. One hose cart 800 feet 2 1/2" hose.

N/A
"For protection of the town not near the water, 8 driven wells have been sunk"
1913
2,500
One chief. Two companies. Two stations.


First company, white - Volunteer, 20 members - One paid driver. One partly paid engineer.
Second company, colored - Volunteer, 20 members.

Company 1 - One Howe triple gasoline engine, size 6' x 6'. One hose wagon carrying 800' 2 1/2" hose. 1000 feet 2 1/2" hose in reserve. One horse, used on street work during day. Drop harness.
Company 2 - One hand engine. One hose cart. 800' 2 1/2" hose.

Whistle.
Eight artesian wells, three more coming. For fire protection only.
1924
3,200

Two volunteer companies of 42 men, none paid. Three stations.

One company 21 men, white.
One company 21 men, colored.

Station 1 - One horse-drawn hose reel with 800' 2 1/2" C.R.L. hose and two 2 1/2 gal. approved chem. extinguishers.

To have by November 15, 1924, one Childs triple comb. pumper, chemical and hose mounted on Graham Dodge truck. 300 GPM, 800' 2 1/2" C.R.L. hose, two 2 1/2 gal. chem. extinguishers.

Station 2 - One hand hose reel with 350' 2 1/2" C.R.L. hose.

Station 3 - One hand hose reel with 350' 2 1/2" C.R.L. hose.

Whistle at ice plant and whistle at pumping station.
48 hydrants
1941
3,200
Partly paid, one station.

One Chief partly paid.
One Asst. Chief partly paid.
One driver fully paid.
Four asst. drivers partly paid.
44 men partly paid.

One American LaFrance triple comb. motor truck, 1000 GPM, 1000' 2 1/2'' hose, 120 gal. booster tank, 40' of ladder.
One Dodge truck, Darley equipment, triple comb. 500 GPM, 200 gal. booster tanker, 1,200' 2 1/2'' hose. 1000' 2 1/2" hose in reserve. One 40 gallon chem. tank. 40' of ladder.
One Graham Bros. triple comb. motor truck 500 GPM, 600' 2 1/2'' hose.

Notes:

1927 American LaFrance pumper, source.
Fire station burned on August 5, 1966. See blog post.
Replaced with current structure at 900 Cedar Street.

Gamewell alarm system. Ten boxes. Alarm by whistle at fire station.
58 hydrants