+ 6 - 6 | § ¶
Evening Reading - February 28, 2013
Good evening Raleigh. Have set aside a few stories of late. Stuff from near and far that's caught my attention over the last week or so. Looks like the discussion of Wake County fire department fiscal data has run its course. Or maybe it's waiting to get really deep. That's a complex equation, the various funding sources and governing bodies that comprise our local fire protection. At least there's some data on the table, to get people thinking.
+ 8 - 6 | § ¶
Wake Forest Engine 5
Here's a photo by Lee Wilson of Wake Forest Engine 5, with new lettering. The 2007 Pierce Contender was formerly Falls 212. The two departments merged last year, and the Falls fire station became Wake Forest Station 5. See more photos.



Lee Wilson photo
+ 8 - 5 | § ¶
IAFC Report: Taking Responsibility for a Positive Public Perception
Fire service marketing. Reputation management. Damage control. Sitting around and playing checkers. You understand the last two, don't you?
Thanks to social and regular media, the activities, conduct, and composition of the fire service is perhaps more publicly visible than its ever been. Cameras, comments, opinions, and news coverage are actually or potentially everywhere. And all of which affect the public perception of the fire service. And the success of fire and rescue departments, in turn, depends upon positive public perception.
That's the issue that an International Association of Fire Chiefs (IAFC) task force has addressed in a new report Taking Responsibility for a Positive Public Perception (PDF). Reports firehouse.com in a story this week, "The positive image of the fire service is something we can't take for granted anymore," IAFC Hank Clemmensen said in a prepared statement. "The truth is, the only ones who can ensure we continue to enjoy a positive public perception is us."
But so what, you say? They'll still be calling 911 when there's a fire or emergency. Correct, but the services you provide are often governed and entirely funded by people other than yourselves. Key quote from the report:
"The increasing public scrutiny of our budgets, operations and behavior has led to growing number of negative perceptions that is slowly tarnishing our image. The good news is we have the ability to turn the tide before it's too late.

"If we are to be successful in maintaining a positive public image—which enables us to secure the public's trust—we must reflect honestly, talk openly, work collaboratively, act professionally and take responsibility."
That's the intention of the forty-one page report, both presenting a study of image issues in the fire service and offering suggestions on addressing them. There's gobs of great material here. The ten appendixes in particular include:
Primary Fire and Emergency Service Image Stakeholders
Preparing for Budget Discussions
Strategies for Working with Elected Officials
Benefits to Fire Departments of Researching Community Attitudes and Opinions
Community Meeting Do's and Don'ts
Five Ways to Improve Our Image
Sample Questions to Help Educate Your Community
Subscription Service Considerations
The sample questions are particularly nifty. How informatively and with positive attitude and attention can you answer such questions as:
Why does the fire engine respond when a request is made for an ambulance for a person with a medical condition?
Why does the fire department bring the fire engine or ambulance for just a simple inspection?
When there is a small fire, why do so many fire engines respond?
Why do you do grocery shopping while on duty? Why do you take the trucks?
How often do I need to change the battery in my smoke detector?
How expensive are residential sprinklers? Don't they ruin everything if they go off?
Why do I have to dial 9-1-1? If I call the fire station directly, would it save time?
Why do fire trucks and ambulances stop at stoplights? Why don't they just go through them? If they stop, why can't I go?
Read the report (PDF).
Digest, discuss, and develop yourself and your department to the needs of the day.


---
Related errata, to be updated as things occur to me:
FireCritic.com posting about perception versus realty in social media - There's a reason you don't see terribly many smiling faces in my incident photos, and in contrast to the actuality of what happens on scene. Responders take great pride in their work, and derive great enjoyment from successfully applying their hard-earned skills. Though my photos are intended for responders, they can be viewed by anyone. Thus the editorial process of choosing which photos to post. Now a question, is this a wise practice, or would greater education happen with proverbial warts and all? (Feb. 28.)
+ 10 - 3 | § ¶
Former New Hanover County Fire Vehicle
Lee Wilson this week found this former New Hanover County Fire Services vehicle sitting behind the Shiloh Columbia Fire Department in Pender County. What's the history of this thing? See larger versions, and other pics from his explorations.



Lee Wilson photo
+ 7 - 6 | § ¶
Mystery Vehicle
From a reader. Seen in Fuquay-Varina. Click to enlarge:


+ 5 - 5 | § ¶
Washington Fire Department Circa 1910
Vintage postcard found for sale on eBay showing the Washington Fire Department in Beaufort County circa 1910. See related prior posting. And here's what their old steamer looks like today. Click to enlarge:


+ 10 - 4 | § ¶
Buy My Books
Don't own a copy of Raleigh and Wake County Firefighting or Raleigh and Wake County Firefighting, Volume II? These are smaller, softcover books, 128 pages each, with over 200 historical photos each. They were published in 2003 and 2004, respectively. Real easy to order online. Visit this Arcadia Publishing page of firefighting books. Place your order online. There's a current special, 20% off all titles. No coupon needed. Get both and you'll qualify for free shipping, for orders totaling $25 or more. (They're all also available at local bookstores, and other online outlets.) Autographs are free.


+ 9 - 8 | § ¶
Durham Names New Fire Chief
Press release. City Manager Tom Bonfield today announced the appointment of Daniel Curia as the new chief of the Durham Fire Department. Curia has served as the interim fire chief since December 2012. Curia joined the Durham Fire Department in 1990 and served as a firefighter until 1997. From then until 1999, he served as a Fire Technician, achieving the rank of Fire Captain in 1999. He was promoted in 2003 to Battalion Chief. In 2008, he was promoted to the rank of Assistant Chief of Operations. As Deputy Chief, Chief Curia has provided direct oversight for the Fire Administration, Operations, Prevention, and Training divisions.
Curia holds an associate degree in Fire Protection Technology, a bachelor's degree in Public Administration, and a master's degree in Leadership with an Emphasis in Disaster Preparedness and Executive Fire Leadership. Additionally, Curia is a graduate of the National Fire Academy's Executive Fire Officer Program, holds Chief Fire Officer Designation from the Center for Public Safety Excellence, and is a member of the Institution of Fire Engineers. Congratulations, Chief! Read entire press release or this Herald-Sun story.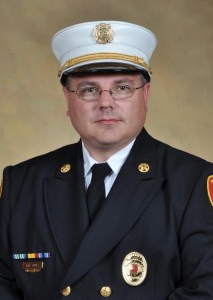 + 9 - 7 | § ¶
This Afternoon's House Fire - Shenandoah Road
Here's an aftermath photo from NBC17 of this afternoon's house fire at 2120 Shenandoah Road. Ladder 7 was first on scene at a one-story, single-family dwelling. Heavy fire and smoke showing from the front windows and roof. Structure was approximately fifty-percent involved on arrival, noted subsequent media release. Dispatched 12:50 p.m. Controlled 1:16 p.m. Five people displaced. Cause determined as arson. Suspect was arrested by Raleigh police and charged with second-degree arson. Units on scene included E2, E1, E13, E10, L7, L4, S14, R1, B3, B2, A1, C20, C420, C401, EMS 4, EMS 54, EMS 11, D1, T1.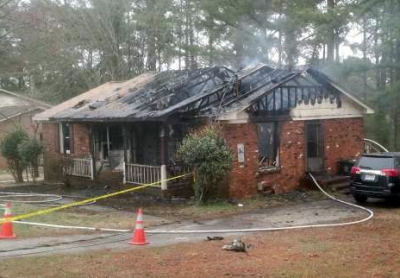 + 9 - 2 | § ¶
Collapse Rescue Unit at Station 15
Here's the collapse rescue unit that's parked behind Station 15. It carries additional collapse rescue equipment, and is staffed by Squad 15. The cab is a 1998 Sterling tractor that previous served as USAR 1 and USAR 7, as part of the Task Force 8 fleet. Ergo the lettering on the cab. Click to enlarge:


+ 6 - 8 | § ¶
City of Charlotte Seeks Artifacts From 1800s Black Firefighters
Here's a Charlotte Observer story about the fire department's search for memorabilia related to the city's black firefighters of yore. They included the members of the Neptune Fire Company, that served the city from 1887 to 1905. Their old engine was recently returned to the Queen City. The 1866 Jeffers hand engine made an appearance and performed a demonstration in Raleigh last summer, at the fire expo. See those photos.
The Charlotte Fire Department is looking for badges, fire buckets, speaking trumpets, uniforms, helmets, caps, or photographs from that period. The contact person is Battalion Chief Tom Link. See the story for his phone number and e-mail address. Read the story.
For a broader historical perspective on the state's black firefighters, see this web document that was researched and created by Chuck Milligan.

+ 5 - 6 | § ¶
Before Capital Boulevard
And even before North Boulevard, as the roadway was originally named. Nifty web page showing historical photos of the Capital Boulevard corridor before it was there. Observe the basefield field and railroad roundhouse, among may other fascinating details. Photos from the News & Observer.



News & Observer photos
+ 7 - 5 | § ¶
Chief Keeter and Rescue Squad, February 1961
Here's a News & Observer photo from fifty-two years ago, showing Fire Chief Jack Keeter and Rescue 1 at Station 1. The 1954 GMC panel van was one of two units operated by the Raleigh Emergency Rescue Squad. This one's neat as it shows the relative size of the vehicle. How tall was Chief Keeter? Need to ask one of the old-timers some time. We'll presume he was another six-or-so footer, like so many others of that time. Click to enlarge:


+ 6 - 2 | § ¶
Dawson and Lane Streets - What is This Building?
Question from a reader:
I really enjoy your website on hidden Raleigh and was just curious if you knew anything about an abandoned building I constantly drive by. It's an old large brick building in which the bricks are painted white. It's located North Dawson Street near the corner of West Lane. It has a few a/c in the boarded up windows and seems to be very, very old. If you go onto Google street view on Dawson near Lane you can't miss it. Thank you!
Answer:
Consulting the North Carolina Maps site, and the Sanborn Fire Insurance Maps, and the 1914 map of Raleigh, it appears that the structure is a factory building on the former site of the state school for the blind.

Below are three images, from Bing Maps aerial view and said Sanborn Maps. Click to enlarge the bottom two images.

Here's a historical post about the campus, called Raleigh's Last Remaining Castle from the excellen Goodnight Raleigh site. But wait, the blogger states the castle-like building at the corner of Dawson and Jones street is the only structure still standing from the school. Guess we'll need to investigate further!

+ 9 - 3 | § ¶
The Science of Shame
Let's get all warm and fuzzy for our Saturday morning with this TED Talk from 2010, with research professor Brene Brown taped in Houston talking about the power of vulnerability. That's the title of her talk, though we're using "shame" in this posting title. Little more attention-getting. (There is a scientific method at work, here, however.) What's this have to do with anything we usually talk about here? Maybe nothing, maybe everything. (In-service training for your interpersona needs? Gasp, what a concept.) Watch in private in necessary. Scoff, deride, dismiss if preferred. Watch video. (Never heard of these talks? Tour the site. Great food for the brain.) Now back to our regular programming...


+ 9 - 3 | § ¶
UPDATED: Benson's Fire Wagon and Some History From Walt McCall
February 23
Lee Wilson paid a visit this week to the Benson fire station, and took a couple photos of the old engine. Visit his Flickr site to see more, or enlarge the photo and zoom in good and close. Looks like restoration is finished. What a beauty.



Lee Wilson photo
September 18, 2012
Our friends in the Benson Fire Department share a photo of their first fire engine, which has been undergoing restoration since being returned to the department last September. (Read about that effort.) The horse-drawn, gas-powered pumping engine dates to 1907. They've been slowly restoring the thing. (See a photo from May.)
READ MORE
+ 9 - 5 | § ¶
Caring For Caelon
Rolesville Lieutenant (and New Hope Battalion Chief and Wake County Firefighters Association President) Lee Price passes along this note:
Caelon, is Tony Arthur's son. Tony is my firefighter here at Rolesville on B shift. Tony spent twenty years in the Army as Infantry/Ranger, and during that time spent most of it deployed overseas. Tony retired from the military with five purple hearts and wanted to become a firefighter. He volunteered with us here at Rolesville for a while, and then was hired to full-time status. Caelon has had six strokes since he was born. This last one was pretty significant. He has left side paralysis in his face at this point. You can get updates on the Caring for Caelon Facebook page. Any help either through prayer or donations to Caelons site will be greatly appreciated. Thank you.

https://www.facebook.com/CaringForCaelon
+ 8 - 3 | § ¶
Durham Police Mobile Recruitment Unit
Seen parked at police headquarters in Durham. Neat concept, wonder how many fire department something similar? Here's a pair of FDNY graphic-wrapped education vans photographed in 2010: photo 1 and photo 2. Click to enlarge:


+ 9 - 7 | § ¶
This Morning's House Fire on Old Milburnie Road
WRAL has posted a half-dozen aerial photos of this morning's house fire in the 1200 block of Old Milburnie Road, with Eastern Wake and other, er, eastern Wake fire departments. Nice colors in the dawn light! Poor resolution of pictures, however. How 'bout some high def, man? See the story.



WRAL photos
+ 6 - 4 | § ¶
Wake County Fire Departments - Charting Fiscal Data
Let's play with some more numbers. Continuing the "data experiment" started in this prior posting—where we posted last year's call totals, number of stations, and special features of the county's fire departments—let's look at finances. How much does it cost to operate the fire departments in Wake County? Or at least as can be determined by this armchair researcher?
There are two types of fire departments in Wake County: public and private. And their funding (and governance) varies among six types:
Municipal – These are exclusively funded by a city or town and supervised by a fire chief, who is supervised by a town or city manager and/or town/city board of something.

Municipal with county contracts – Similar to above, but also contracted by the county, to provide fire protection in unincorporated areas outside their city or town. Thus, they get "town money" and "county money."

Private – These are non-profit private corporations that are exclusively (or nearly exclusively) funded by the county, through contracts, to protect unincorporated areas.

Private with municipal contracts – Similar to above, but also contracted by a municipality to provide fire protection "in town." These get both "county money" and "town money."

Airport – They're a local government, but not a municipality. They're supervised by a Fire Chief, who is supervised by an Airport Manager, who answers to a board.

Wendell – They're a private fire department, funded by county-collected taxes for both the municipal and rural areas in/around Wendell. This is the only such instance in Wake County.

The numbers behind those categories are a little hard to unearth. Wake County Fire Services provided the yearly allocations for its fire service contracts, as well as district sizes. Everything else required research. With the help of Google, the below results were drawn from various current (or past) budget documents. What's missing? Other funding sources, such as state contracts. (Western Wake has those, right?)
You'll see exact or approximate costs for FY12, for the fire departments in Wake County. From there, I've added number of stations, number of square miles, and populations. Sources for that data includes Wake County Fire Services and Google. (Another source for square miles, for rural insurance districts, is the online iMaps application. Use the Acreage value, which is accurate. Convert to square miles.)
In addition to these values, I've added "per X" computations. Per call, per square mile, per station, etc. Makes it interesting, but also maybe misleading. There are probably much better "metrics" to compute and compare. Better analysis might be derived from, say, property valuation. Or population density. Or response times. You get the idea. My data is somewhat random "play."
(And we haven't even touched upon governance. The various types of fire departments are regulated, governed, and influenced by a diversity of factors: OSFM, ISO, federal and state laws, county contracts, municipal ordinances, chief officer directions, board of director directions, and so forth.)
I also offer apologies for anyone who has heartburn at seeing these numbers "exposed" for everyone to see. We're well into the shared information age, and this posting is also serving a meta-purpose. On the surface, it's sharing data to those, like myself, who are information/analysis geeks. At a higher level, it's also demonstrating the power of (and observing the effects of) information sharing. How will folks react to this summary? What conversations or interactions will result? To be determined.
It's hard to miss with transparency. Most systems are strong enough to survive sunlight. It usually just zaps a few germs that the system's become accustom to.
View the spreadsheet (PDF).
View largest/smallest districts (PDF).
+ 7 - 3 | § ¶
Paging Dr. Flowers
Found via random Google search is this blog from Doctor HP Flowers, subtitled "Backroads Photography from the Blue Ridge Mountains, with Musings and Meditation." Among his findings are old fire trucks around Kentucky and Tennessee. Maybe even North Carolina. Check it out. Next question, what other "old fire truck sites" have you found, showing similar shots from around our state and region?


+ 10 - 6 | § ¶
1956 Seagrave Pumper For Sale in Clayton
Found for sale on eBay, here's a sweet-looking ride for sale in Clayton. One 1956 Seagrave 70th Annivesary Series pumper. Served a fire department in Alabama. Engine replaced in 1970s with a 1972 Ford V8. Five-speed manual transmission. Carb and radiator rebuilt, plus new clutch in 2012. New batteries. Fully outfitted. Seats twenty-four standing people in the back, for parades. Used for parades, shows, marketing. You know you want it!


+ 10 - 4 | § ¶
UPDATED: Reflections on a Production (Parts 1 & 2)
February 20
Added some stats about the history book below. Click READ MORE to, um, read more...
February 16
Introduction
On Monday, a milestone was reached. The Raleigh Fire Department centennial history book wrapped production with the final proofs returned to the printer. (Said proofs being oversized sheets of paper, each showing a two-page "spread" from the book. Corrections were noted on each page using pens or magic markers. Big stack of papers, as the book is 264 pages long.)
The project formally started in January, though conversations about getting the thing started were had at the end of 2011. There was also an earlier attempt at getting going in 2010. A committee formed and held a couple meetings. It was determined that waiting was needed until closer to the anniversary year of 2012.
That's probably the first lesson to be learned. When planning a commemorative fire department book, timing might be your first consideration. Does the project timeframe align with current or coming department milestones? And/or, will key participants be available during the production period? (Not just available, but still members of the department! Retirements happen, and you might lose resources mid-project.)
Picking People
We chose wisely with our key people. Or, perhaps, they chose themselves wisely. The project committee ended up with sufficient representation from five perspectives:
Younger/newer firefighters
Older/experienced firefighters
Really old/retired firefighters
Fire Chief/command staff
Historical/historian
Why those five? In my opinion, a successfully "history book" (or "yearbook", if you prefer that term) is appealing to a number of audiences: firefighters both young and old, the Fire Chief and his/her staff, and those with a mind to history. Having those five "camps" in your camp ensures a good balance, both in the content (what's in hand) and project participation (what it takes to get it done).
As an aside, a project like this is, say, three projects in one. First is "the stuff you'll be putting into the book." Huge effort there. Second is "the process to get the book made." Also a heady thing and which requires an immense amount of time and attention unrelated (if you will) to the first task. Third is "the people making the book." Short of a single author, there's a mess of overhead with the "people stuff." Schedules. Approvals. Coordination. Opinions. Conflicts. Voting.
READ MORE
+ 7 - 6 | § ¶
Raleigh Firefighter Rescues Injured Bald Eagle
Props to Justic Bolduc, who rescued this bald eagle on Highway 264 between Wilson and Farmville last week. (Old news, so sue me. Still a good story.) As this WRAL story recounted, the Raleigh firefighter put a shirt of the bird's head to protect its wings, and used gloves to place it in the back seat of his car. He transported Fly Boy to a wildlife rehab center in Grifton, where the bird was treated for eye injuries. The bird, believed younger than three years of age, is expected to make a full recovery. The story is also notable for the citation of the rescuer's profession and employee. When good (and, more often, bad things) happen to public safety servants, they're often identified as same in news reports. Like or it or not, you're a Firefighter with a capital "F" even when you're off-duty.



WRAL photo
+ 7 - 3 | § ¶
Truck Versus Bridge in Durham
As WTVD reports, this transfer truck got stuck on Roxboro Street at Pettigrew Street. Took several hours for the thing to be unloaded, before it was moved.



WTVD photo
That's not the same bridge that we've blogged about before, however. The Gregson Street Guillotine is watched with a camera operated by Jurgen Henn, and featured on his web site 11foot8.com. Here's one of his compilation of clips:



Yup, slow news day. At least the injured State Trooper is reportedly doing well, and his assailant's been apprehended.
+ 6 - 6 | § ¶
Komatsu D155 W Amphibious Bulldozer
Here's an interesting piece of specialized heavy equipment. YouTube video of two amphibious bulldozers in Japan. Notes this news article, the remote-control machines were developed by Komatsu in 1971. They could operate in water up to seven meters deep. Production ended in 1993, due to limited demand. Only a handful are still operating today. Pretty interesting. There's even a scale die-cast model of the thing that exists. You find that on eBay from time to time.



+ 6 - 3 | § ¶
Mystery Station
Or maybe it's better titled as Mystery Apparatus. What are we seeing here?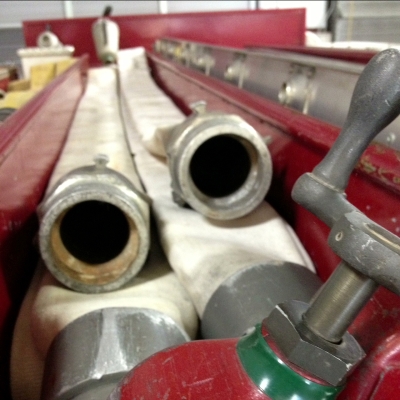 + 7 - 4 | § ¶
It Was a Dark and Snowy Night
Engine 9 and Haz-Mat 2 are pictured at about 11:00 p.m. last night, toward the conclusion of a haz-mat call at 4433 Lead Mine Road. Occupant in a room at Candlewood Suites reportedly overcome by fumes. Upgraded from EMS call upon arrival of Engine 16. The hotel was evacuated while crews investigated, and tested the air quality. The occupant was transported, along with three firefighters. Units on scene included E16, E9, E6, L3, B5, B3, A1, HM2, C2, C4, a number of EMS units, D4, and T1. Command was terminated about 11:30 p.m. As for the photo, that's using a Canon 50D in Program AE mode. ISO 2500, f/4 lens. Partial metering, no flash. Tv 1/50, Av 4.5. Quite dark, despite the scene lighting. Click to enlarge:


+ 8 - 2 | § ¶
Raleigh Fire Department Recognizes Promotions
On Friday night in a ceremony at the City Council Chambers, the Raleigh Fire Department honored twenty-seven recently promoted members. They recognized the achievements of individuals who obtained appointment or promotion through a competitive process over the last six months. The event, which was originally scheduled in January but delayed due to weather, opened with a presentation of colors by the Raleigh Fire Department Honor Guard and remarks by Fire Chief John McGrath.
Recognized were Asst. Chief Garry Spain; Division Chief Ronny Mizell; Battalion Chiefs Duffy Deyo, Rob Mitchell, Brian Sherrill, Ian Toms; Captains Ben Averette, Doug Campbell, Daniel Gardner, Preston Gaster, Phil Morgan, Nick Murray, Patrick Overton, John Rehbock, Randall Scott, Terrent Wiggins, Alan Wortham; and Lieutenants Michael Barnes, Clinton Earp, Leonard Epps, Adam Ferguson, Maria Peterson, Mark Mitro, John Rasor, Justin Rose, Matthew Taylor, and Brian Winn.
Note a couple second-generation firefighters in there: Murray, son of retired Capt. Mike Murray; Wortham, son of retired Lt. Wayne Wortham. Plus some other familiar names from the fire department's family. A reception was held at Fire Station 1 afterward. A Wake & District Public Safety Pipes and Drums piper led a procession from City Hall. See more photos from Mike Legeros. Congratulations to all. You are the future. Treat it well.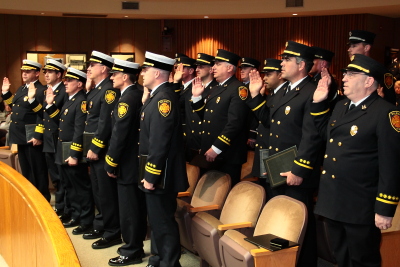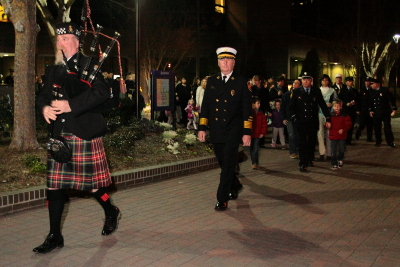 + 4 - 3 | § ¶
You Know You're a Fire Truck Mechanic...
...if this is the view from your office.
That's a stock picture taken late last year at the Raleigh Fire Department's maintenance shop. It's one of a series of stock shots created for the centennial history book. Project photographers were given the assignment to document less-photographed department activities. Such as fire inspections, shop work, and the inner workings at the Office of the Fire Chief. Some were staged, some were "live."
I'll be posting some of those shots in another day or two. Production on the book wrapped on Monday. Work has started on all the after-work, including organizing and sharing some of the stock shots. These will be particularly useful for future document or web page use. And, of course, general yuks among those pictured (and those who escaped being pictured). Click to enlarge:


+ 6 - 4 | § ¶
Watch For Falling Meteors
Here's a hazard that you're probably not pre-planning for. Put this in the column under ultra low-frequency events. From Russia, where the shock waves from a meteor strike injured 500+ people.



+ 6 - 3 | § ¶
My First Engine
Twenty-four years ago today, Yours Truly reported for duty at the Keeter Training Center. Fourteen weeks later, the nineteen members of later-named Recruit Academy 13 began being assigned on shift. My first tour of duty lasted six months on "B" shift at Station 19. That was a year-old station in a shiny new section of town called Mini City. The call volume was nil, however. Three calls in a cycle would be considered busy. (New Hope was way busier, as there was plenty of county land around. The station itself wasn't inside the city!) Now it's one of the busiest houses, and protects a considerably demographically different/diverse area!
With a crew of Driver (and Acting Captain) Paul Averette, First Class FF Billy Neal Perry, and private James Reeves, we answered what calls we had on a 1968 American LaFrance pumper. Not quite open-cab. Had a prefab roof but no windows for the driver and officer. They'd affix a pair of clear-plastic panes in rain or cold weather. Held in place with Velcro, as memory services. I rode in the back. No safety bar. No SCBA. The air packs were kept in boxes. Hand lines came off the back. Speedlays just getting introduced. Booster reel on the tailboard was hand-cranked.
Didn't answer a single working fire during that six-month period. (Was floating at Station 9 before next permanent assignment, before I had my first fire.) We tried to respond to a working fire once. The engine didn't crank. We listened in dismay as Engine 11 and Engine 15 and others answered the call that was but a half-mile away. That same cycle as the no-crank incident, we also experienced (b.) the battery charger inadvertently flattened by our truck tires and (c.) the engine compartment catching fire while responding to a call. (We came to a stop on Spring Forest Road just east of Capital Boulevard, and grabbed the extinguishers.)
No "Q" on that one. No air horn. We'd cross Capital Boulevard-- a busy roadway even back then-- utilizing a triple threat: the siren-light on the nose wailing as best it could, the weak horn beeping, and the officer ringing the hell out of the bumper bell. Daresay the bell was the loudest warning device on that truck. (The lightbar was installed while I was there, if memory serves. Had but a single beacon before!)
With nary any calls, station life was slow. This was pre-computer, pre-Internet. The available learning materials and media consisted of these things called books, and good ol' Channel 59. The latter was a cable-access channel used for broadcasting training programs to fire stations. It also served as an electronic bulletin board. (For a while, it even featured one-paragraph movies reviews of mine, sent to "Tramp" Dunn, to post. That's back when I was a movie nut. Now I am just a nut.) The channel was used well into the 1990s. It was first distance-learned technology in the Raleigh Fire Department.
Good times.
Was transferred to Station 15, then Station 5 on "A" shift. Then left the department for greener pastures in 1991. (Short stint at the ECC, then out of public safety altogether.) Returned a decade later with an interest in the department's past, and with a camera in tow. Civilian enthusiast. The rest is, as the say, is history. The department in 1989 answered 9,409 calls and protected 201,000 residents in 87 square miles. Nineteen fire stations, twenty engines, four ladders, one service ladder, two rescues, and three district chiefs. Sherman Pickard was the Chief, and oversaw 355 authorized positions. The budget was $11.6M. Click to enlarge:

+ 8 - 4 | § ¶
NBFU Pump Test Form
Here's a vintage pump testing form from the National Board of Fire Underwriters. The form is dated 1960. The test was performed on a 1960 American LaFrance Century pumper. They probably meant one of the city's two 1961 models. Click to enlarge:


+ 14 - 6 | § ¶
UPDATED: Wake County Fire Station Maps
February 13:
Created a special second version, showing the unincorporated areas of the county, which comprise the fire tax district, and which are served by contract public and private fire departments. It's also a good visual aid for these recent blog topics (this posting and this posting), talking about the future of the fire tax district. (Though it could be even cooler if population density, or historical/project call volumes were also present on the map.) Click once or twice to enlarge:

January 23:
Here's an updated fire station map, to be added to legeros.com. Station locations added over a map showing municipal town/city limits and extraterritorial jurisdictions. Click once or twice to enlarge:
READ MORE
+ 5 - 5 | § ¶
The Buggy Report
Battalion 1 through Battalion 4 have received or will receive 2012 Chevy Tahoes. They've been rolled out over the last couple months. And for the first time ever, the chief's cars will be entirely white! Presently, Battalion 3 and Battalion 4 are marooned with a darker shade of red. The new Battalion 5, meanwhile, is operating an older Ford Excursion. They're buggies, not surreys, and certainly without fringe on their tops. Click to enlarge:


+ 6 - 6 | § ¶
Hammer Time or Think Before You Break Down That Door
Found in this posting on Statter911. Garage/workshop burning on one end. Police officers hammer door on the other end (and off camera). Fire conditions [appear to] immediately change. Good visual lesson on the perils of opening or breaking or smashing doors (or windows). The officers were certainly trying to be helpful. Optional additional discussion topic, what does this video demonstrate in general about ventilation at fires?



+ 6 - 2 | § ¶
Mayday Training Pays Off for Clayton Fire Department
Posted to the their Facebook page today:
On Sunday, Feb 10th, CFD was dispatched to a residential structure fire with heavy fire conditions showing throughout the roof upon arrival. Crews operated in a defensive mode with water supplied via a tanker shuttle from surrounding departments. During overhaul, a Firefighter fell through the floor and immediately declared a MAYDAY and activated his Personal Alert Safety System (PASS). The other crew members with the firefighter attempted to lift him out of the hole in the floor but were unable to due to the floor conditions. A RIT deployed to the area, quickly utilized a ground ladder that was already nearby for previous set-up for access/egress, and RIT was able to pull the downed firefighter to safety via an external window. The Firefighter was checked out by EMS on scene and sustained only minor injuries to his arm. Total time from the declaration of the MAYDAY to the clearing of the MAYDAY was 4 minutes. The past realistic training drills of "downed firefighters" allowed the management of this RIT Deployment/MAYDAY to go very smoothly. Great job to all!
+ 8 - 2 | § ¶
Here Come The Chiefs
That is, there they came. That was the view on Friday morning, from a Concord hotel hosting a conference of the state's fire chiefs. White cars a-plenty. We're told Wake County had good representation. Thanks for sending, Chris. Click to enlarge:


+ 8 - 1 | § ¶
New Haz-Mat Support Unit
That's a new haz-mat support unit parked inside Station 2 on Pecan Road. Old Rescue 2, a 2002 International/SVI, has been placed in service as SR 2 SR 1. The truck was removed from rescue service on January 31. It replaces a 1991 Simon-Duplex/E-One haz-mat truck, which has been a support unit since 2006. The new SR 1 is equipped for towing, and will pull a new foam trailer as needed. The two-axle trailer was relocated from the Keeter Training Center. It was delivered in June, and featured in this blog post. The station also houses a 2006 Freightliner/Hackney tractor-drawn haz-mat truck. Haz-Mat 1 is housed in the old maintenance shop building, behind the fire station.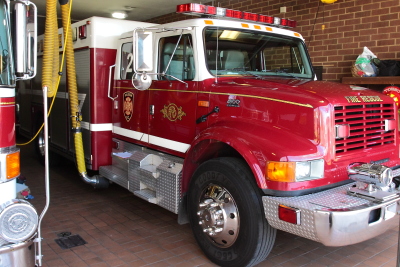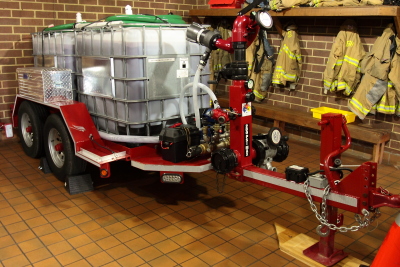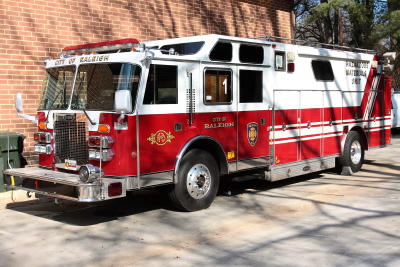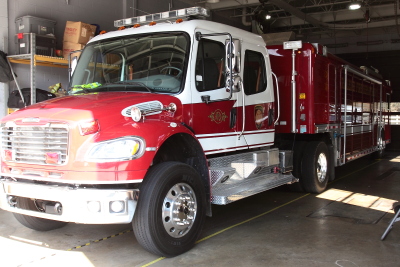 + 9 - 2 | § ¶
Bay Leaf Station 1 Under Construction
Here are some photos of Bay Leaf's Station 1, under construction at 11713 Six Forks Road. It's repalced a 1983 building at same location. There's a temporary fire station also operating on site, with two pumper-tankers. The remaining apparatus has been moved to Station 2 and Station 3. The boats have been moved to Durham Highway Fire Department. The new station has been planned for years. It was designed by Stewart-Cooper-Newell, and will be two stories with four bays, six sleeping rooms, and an outdoor deck that will also serve as a training platform. Search the blog for prior discussions. See more photos.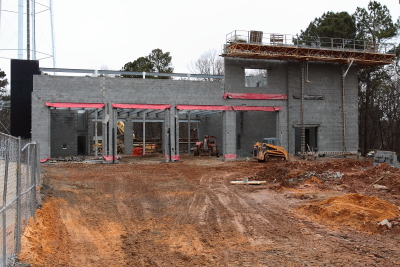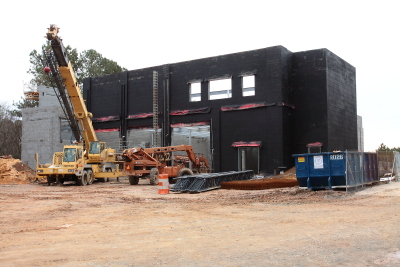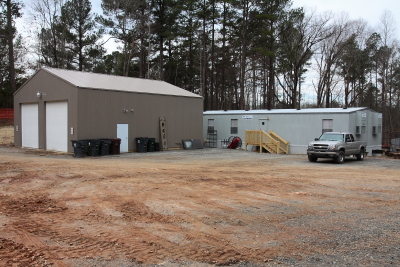 + 6 - 7 | § ¶
Morning Reading - February 10, 2013
Good morning Raleigh. Some sundry Sunday reading in lieu of any hot shots, historical features, or particular pontifications.
Wake considers consolidating fire departments - Eastern Wake News article and phone interview with Deputy Wake County manager Joe Durham. He recaps the points recently made to the County Commissioners, and summarized in this blog posting. What will happen? Nothing immediately, says me. Many steps needed to get from here to there, and wherever or whatever "there" is.


Durham firefighter tops time in Empire State Building climb - Firehouse.com reprint of Herald-Sun story about Durham firefighter Touche Howard, who beat his own record in a climb to the top of New York City's famous skyscraper on Thursday. Wearing 55 pounds of gear, he ascended 86 stories in under thirty minutes, and beat his own record from last year by more than six minutes. He raised $30,000 for charity.

Off-duty firefighters save Roanoke Rapids mom, child from burning building - WRAL.com story about a rescue by Gaston firefighters Dylan Clark, Pete King, and Lt. Eddie Porter, who were driving through Roanoke Rapids when they saw smoke coming from a house near Gray and Tenth streets. They saw through a window that a woman and child were trapped, entered through the back door, and helped the occupants escape.
+ 10 - 2 | § ¶
Air 1 at Station 5
Lee Wilson photographed this sunny shot of Engine 5 and Air 1 on Wednesday. The 2002 International/SVI mobile air unit was moved to Station 5 from Station 8 on January 29. This is the department's second air truck. The first was a 1988 GMC/Union City extended panel van, with a cascade system/compressor and a command module. (And a nice set of halogen lights on the sides.) Previously, the Six Forks Volunteer Fire Department was requested for mobile air service in Raleigh. (The same thing was done in Wilmington, if memory serves. The Winter Park Volunteer Fire Department had an air truck that responded into the city. The department has since disbanded. What other city/county mobile air arrangements have folks seen around our state?)
Here's the history of Raleigh's units. Special Risk and Incident Command Unit 1, shortened to SR 1, was placed in service at Station 1 on August 9, 1988. Because of it's length, the unit responded without lights and sirens to working fires, major working fires, and haz-mat incidents. It was moved to Station 5 on December 14, 1991. It was renamed SR 5 around April 6, 1992 on April 25, 1992. It was moved to Station 8 on January 1, 2007. It was renamed Air 1 on July 7, 2009. And it was moved to Station 5 on February 5, 2013. Read more unit histories (PDF).


Lee Wilson photo
+ 10 - 3 | § ¶
Video: Charlotte Engine 7 Responding
Random YouTube video of Engine 7 leaving the historic Station 7 in Charlotte. That's a tight squeeze! Ten feet, two inch clearance reads the sign outside the bay door. The 1935 engine house is located at 3210 N. Davidson Street. Here's a photo tour of the Queen City's historic and former houses. Next question, raise your hand if you're running from "back in the day" quarters. How's the fit? Do you love the character of the building, or are there particular challenges that you bemoan?
(Regarding Raleigh's original-now-demolished stations, there were only a handful. West Morgan Street, condemned in its last years. Wasn't built to last. East Hargett Street, needed to be moved east. Building was more valuable as a vacant lot, after vacated. Jefferson Street, needed to be moved. Still standing. Park Drive, needed to accommodate a ladder. They decided to rebuilt it, was thirty-five years old. Memorial Auditorium, needed to be moved. Space re-purposed for auditorium use.)


+ 5 - 7 | § ¶
Hot Shot From Hill Street
WRAL has posted a couple photos from this morning's house fire on Hill Street. Three members of Rescue 1 are pictured in this still shot. Fourteen (!) people were displaced by the 2:13 a.m. fire at 320 Hill Street. Engine 7 arrived with heavy fire coming from the basement of one-story, wood-frame, single-family dwelling. With 1,377 square-feet, built 1983. Controlled 2:39 a.m. Cause under investigation. Units on scene included E7, E3, E13, E12, L4, L2, R1, SQ15, A1, B2, B5, C20, C401, C420. Got that? Plus EMS response.



WRAL photo
+ 7 - 5 | § ¶
Raleigh Fire Museum Open This Saturday, February 9
The Raleigh Fire Museum at 105 Keeter Center Drive is open this Saturday, February 9, from 10:00 a.m. to 2:00 p.m. Experience the 100-year history of the city's career fire department, and learn about the volunteer fire companies that also protected the Capital City. Hundreds of artifacts and photographs are displayed, including a newly restored nineteenth century hand hose reel. Here's a new video1, with a two-minute tour of the museum:



The museum is open on the second Saturday of each month, and is located in a modular classroom at the Keeter Training Center at 105 Keeter Center Drive. Parking and restrooms are available. Admission is free. Learn more about the museum, and the group that operates it, at www.raleighfiremuseum.org.
Please note that other antique apparatus is stored elsewhere. Both the museum's 1961 American LaFrance pumper and the city's collection of antique fire apparatus is housed at at Fire Station 28 at 3500 Forestville Road. The collection includes a 1905 steamer, a 1926 American LaFrance pumper, a 1950 Mack pumper, and a 1982 Mack pumper. Visitors are welcome.
1Technical information about the video. Recorded using a phone. Unscripted, though the narrator has experience recording such clips at work. Edited using a couple versions of Microsoft Movie Maker, which is a free download.
+ 6 - 3 | § ¶
Walkaround Tour of Squad 15
Photographed this afternoon, here's a walkaround tour of Squad 15. The 2004 American LaFrance pumper was placed in service this morning as a rescue engine, as part of a reconfiguration of the city's technical rescue resources. Added equipment includes full compliment of extrication gear (cutters, spreaders, three rams), rescue jacks, power tools (drills, reciprocating saws, grinders), torch, K12 and vent saws (for truck work), rope rescue equipment and hardware, water rescue equipment, inflatable boat, and stokes basket. In additional to their regular engine company responses, they're dispatched on various structure fire and rescue call types. Read more in this prior post. Then, take the tour.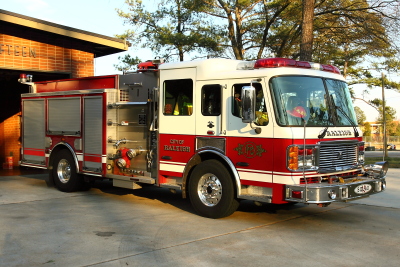 + 6 - 3 | § ¶
Walkaround Tour of Squad 15
Photographed this afternoon, here's a walkaround tour of Squad 15. The 2004 American LaFrance pumper was placed in service this morning as a rescue engine, as part of a reconfiguration of the city's technical rescue resources. Added equipment includes full compliment of extrication gear (cutters, spreaders, three rams), rescue jacks, power tools (drills, reciprocating saws, grinders), torch, K12 and vent saws (for truck work), rope rescue equipment and hardware, water rescue equipment, inflatable boat, and stokes basket. In additional to their regular engine company responses, they're dispatched on various structure fire and rescue call types. Read more in this prior post. Then, take the tour.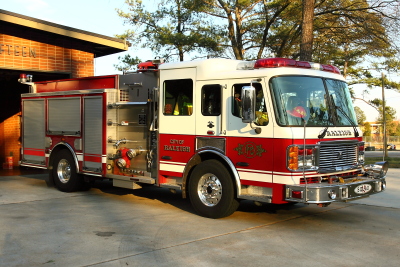 + 9 - 5 | § ¶
New Heavy Rescue For Monroe
Found while browsing the Pierce Flickr page, here's a new heavy-rescue for the Monroe Fire Department in Union County. They have five fire stations. What's that, an Arrow XT cab? Next question, how many other triple-axle rescues are serving around our state. Charlotte has a pair. Who else?


+ 6 - 7 | § ¶
...And Rescue 1
Now seating six people, here's Rescue 1, a 2007 Pierce Lance rescue that goes into service tomorrow morning as a five-person heavy-rescue company at Station 21. The unit is currently at Station 19, and is the last of three two-person rescue units. End of an era. More pics later.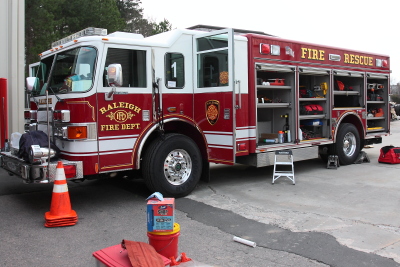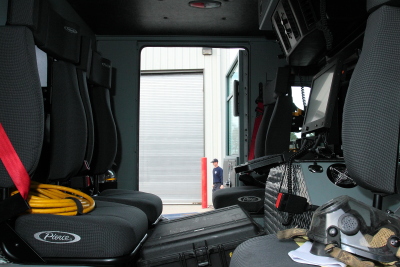 + 9 - 3 | § ¶
Here Come The Squads
Get ready for new rescue assets in Raleigh. Two engines become squads at 0800 on Tuesday, February 5. They're a pair of 2004 American LaFrance pumpers equipped as rescue engines. Squad 14 replaces Engine 14, and Squad 15 replaces Engine 15. You can read about the new units and the larger special operations reorganization in recent issues of the fire department's newsletter.
In addition to the regular engine company equipment, the squads will carry a full compliment of extrication equipment (cutters, spreaders, three rams), rescue jacks, power tools (drills, reciprocating saws, grinders), a torch, K12 and vent saws (for truck work), rope rescue equipment and hardware, water rescue equipment, and an inflatable boat.
How will they respond for rescue duties? For single-family dwelling structure fires, the city's been divided into thirds. Either Rescue 1 (new five-person unit), Squad 14, or Squad 15 will be dispatched. On working fire assignments, the rescue will be added. A squad will respond along with rescue on vehicle accidents with pin-ins. Ditto for technical rescue calls like MVA bus/train and water rescue. For other technical rescue call types, such as confined space and high-level, two squads will respond with rescue.
Each squad will also staff a support unit. Squad 15 will have an 18-wheeler equipped with extra equipment, notably confined space materials. They'll take the second truck on technical rescue calls. Squad 14 will have a 2007 Pierce rescue, also at the station, for carrying extra equipment and for use as a reserve rescue unit. Unit numbers for the second vehicles TBD. Click to enlarge a couple shots of Squad 14 getting outfitted:


+ 9 - 4 | § ¶
Centennial History Book - Proofing
What's happening with the Raleigh Fire Department Centennial History Book? Everything was turned into the printer two weeks ago. That's eight hundred-plus portraits, another thousand modern and historical photos, and some 45,000 words (or more) of written content. Physical proofs were returned and that process is ending tonight. They'll be handed back to the printer tomorrow, and the remaining changes incorporated. Printed is expected early this month, with delivery next month. We'll have more definite dates when they're established. (The printer is in Durham. The company is Strawbridge Studios.) The order deadline was also extended to Friday, February 8. You can order yours here, and read about the project on this Facebook page. Click to enlarge:


+ 9 - 4 | § ¶
Video: Western Wake Fire Rescue 2012
Western Wake Firefighter Matt Cross produced and posted this exceptionally well-shot video, which incorporates some still images from a few familiar photogs. And some very artful time-lapse footage. The collection of clips and stills runs just under nine minutes.


+ 5 - 2 | § ¶
Historic and Former Fire Stations of Roanoke
Notes for future fire station exploration. Historic and former firehouses of Roanoke, VA:
| | | | | | |
| --- | --- | --- | --- | --- | --- |
| Station | Address | Built | Opened | Closed | Notes |
| Station 1 | 13 Church Avenue SW | 1906 | 1906 | 2007 | Still operated by FD, for public education and tours. |
| Station 3 | 301 Sixth Street SW | 1909 | 1909 | 2007 | |
| Station 5 | 216 Twelfth Street NW | 1911 | 1911 | -- | Active |
| Station 6 | 1015 Jamison Avenue SE | 1911 | 1911 | 1979 | Currently police substation and community meeting room. |
| Station 7 | 1742 Memorial Avenue SW | 1922 | 1922 | -- | Active |
| Station 8 | 2328 Crystal Springs Avenue SW | 1929 | 1929 | -- | Active |
| Station 9 | 514 Twenty-Fourth Street NW | 1929 | 1929 | -- | Active |
| Station 12 | Salem Turnpike | 1976? | 1976 | 1999 | |
Source: Roanokefire.com firehouses page, Local 1132 firehouse page.
See document copy at this permanent location.
+ 4 - 4 | § ¶
Bridge Gone
Here's what's left of a seventy year-old bridge on Western Boulevard, at the funky intersection of Hillsborough Street and Jones Franklin Road. The intersection is being redesigned, with the curved roadway removed and Hillsborough Street to intersect Western Boulevard at a right angle. Google for more information. Photo from one week ago. Click to enlarge:


+ 5 - 2 | § ¶
January Episode of FireWatch
The January 2013 episode of FireWatch is available for viewing online. This month's episode features an interview with Asst. Chief of Operations Danny Poole, who talks about the heavy rescue/squad company implementation and the added the fifth battalion. The episode also talks about nightclub safety. FireWatch airs on the RTN-11 cable television channel on Monday (12:30 p.m.) Friday (11:00 a.m.), Saturday (11:30 a.m., 6:30 p.m.) and Sunday (2:30 p.m., 8:30 a.m.). Or view archived episodes of FireWatch.

+ 10 - 5 | § ¶
First Annual Cleveland Firefighters Association Golf Tournament - April 26, 2013
Event announcement. The Cleveland Firefighters Association in Johnston County is sponsoring their first annual golf tournament at Reedy Creek Golf Course in Four Oaks on Friday, April 26. Please see the below the PDF poster (neat graphic!), and click to enlarge:


+ 9 - 4 | § ¶
Recruit Academy 38 Starts in Raleigh
Twenty-seven new members of the Raleigh Fire Department reported for duty at the Keeter Training Center on Thursday, January 31. The future firefighters will spend twenty-eight weeks receiving certifications as Emergency Medical Technician (EMT), North Carolina Fire Fighter Level I and II, and North Carolina Hazardous Materials Operations.
They'll also receive training on technical rescue, hazardous materials operations, fireground procedures, high-rise operations, rapid intervention teams (RIT), accountability systems, safety companies, engine and ladder company operations, and firefighter safety and survival. Click to enlarge:



The first eight weeks of their instruction will consist of EMT classes. They'll also receive physical fitness training that will continue through the duration of the academy. By the end of their training, the recruits will participate in live fire training at locations including the Wake County Fire Training Center. They'll graduate in early August.
The recruits will be taught by members of the Training Division, and five members of the Operations Division who have been temporarily assigned to the training center. Captains Kevin Coppage, Wayne Motley, and Lowell Smith; Lt. Frankie Beasley, and Senior Firefighter Chris Holcomb have been assigned to the training center, to assist with the academy. That handsome crew is shown below along with Academy Coordinator Capt. Fred Noble. Click to enlarge:


Hiring for Recruit Academy 38 started in the fall. There were nearly 1,000 applicants, of which 320 completed and passed the physical agility and written testing in October. Eighty-five candidates were interviewed in December.
And when was the first recruit academy, you ask? Read that story in the latest issue (PDF) of the Raleigh Fire Department Newsletter. Congratulations to the newcomers. Welcome aboard and study hard.
+ 6 - 3 | § ¶
Battalion 5
Lee Wilson this week has been visiting Services and photographing the rescue-engines soon to be placed in service as Squad 14 and Squad 15. The equipment's being loaded and mounted. Same for Rescue 1, which is becoming a five-person heavy rescue. He also caught a shot of Battalion 5, an older Ford Explorer Excursion that goes into service on February 5, at 0800 hours. That's the date and time for all the changes. Here's a map, showing the five battalions and their stations. See more photos.



Lee Wilson photo
+ 6 - 7 | § ¶
Wake County Fire Departments - Charting Data
For your Friday morning enjoyment, let's expand upon our recently compiled run numbers and chart more data about Wake County's fire departments. Add are stations, staffing, and special features and other things the departments do. It's a working list (and maybe rough in spots), so post or mail me corrections. Maybe we'll expand with other data points as available, as well. What's not charted? Aerial apparatus. First Responder or EMT levels. EMS providers (there are none, any more). EMS co-location. etc. Here's a map, showing these departments.

Data last updated Feb. 6 at 0800
| | | | | | | | | | |
| --- | --- | --- | --- | --- | --- | --- | --- | --- | --- |
| Department | | Runs | | | Stations | | Staffing | | Other Things They Do / Special Features |
| Apex | | 2,386 | | | 4 | | Career, volunteer | | BF, CERT, CSS, DT, FCE, HM?, TR, USAR, WR, WT |
| Bay Leaf | | 906 | | | 3 | | Career, volunteer | | MA, WR, WT |
| Cary | | | | | 7 | | Career | | ATV, CERT, FCE, MA, TR, USAR, WR |
| Durham Highway | | 704 | | | 1 | | Career, part-time, volunteer | | WR, WT |
| Eastern Wake | | 1,445 | | | 2 | | Career, part-time, volunteer | | WR, WT |
| Fairview | | 1,331 | | | 2 | | Career, volunteer | | WT |
| Fuquay-Varina | | 3,438 | | | 3 | | Career, part-time, volunteer | | CSS, EP, FCE, WR, WT |
| Garner | | 4,847 | | | 4 | | Career, volunteer | | ATV, WR, WT |
| Hopkins | | 424 | | | 1 | | Career, part-time, volunteer | | WT |
| Holly Springs | | 1,444 | | | 3 | | Career, volunteer | | ATV, FCE, WR, WT |
| Knightdale | | 1,139 | | | 2 | | Career, volunteer | | EP, FCE |
| Morrisville | | 1,761 | | | 3 | | Career, volunteer | | CERT, CSS, EP, FCE, USAR, WT |
| New Hope | | 1,690 | | | 2 | | Career, volunteer | | ATV, WR, WT |
| Raleigh | | 36,582 | | | 27 | | Career | | ATV, BF, EP, FCE, HM, MA, RRT, TR, USAR, WR |
| Raleigh-Durham Airport | | 1,464 | | | 1 | | Career | | BF |
| Rolesville | | 716 | | | 1 | | Career, volunteer | | ATV, WT |
| Stony Hill | | 460 | | | 2 | | Career, part-time, volunteer | | EP, WR, WT |
| Swift Creek | | 630 | | | 1 | | Part-time, volunteer | | WT |
| Wake Forest | | 2,536 | | | 4 | | Career, part-time, volunteer | | ATV, MA, WR, WT |
| Wendell | | 1,726 | | | 2 | | Career, volunteer | | HM?, WR, WT |
| Western Wake | | 672 | | | 1 | | Part-time, volunteer | | ATV, WT |
| Zebulon | | 1,471 | | | 1 | | Career, part-time, volunteer | | CSS, FCE, WT |

Other Things They Do / Special Features

ATV - All-Terrain Vehicle(s)
BF - Bulk Foam
CERT - Community Emergency Response Team
CSS - Child Safety Seat inspection
DT - Dive Team
EP - Explorer Post
FCE - Fire Code Enforcement. All others handled by contract/county, or another municipal department.
HM - Haz-Mat units or teams. Note Raleigh is contracted by county to provide haz-mat response to all departments in county include municipalities.
MA - Mobile Air unit or capabilities.
RRT - Member of NC regional haz-mat team.
TR - Trench rescue equipment
USAR - Member of NC USAR team
WT - Water tankers, including pumper-tankers (but not counting those big honkin' airport crash trucks)
WR - Water rescue equipment including boat(s).