+ 12 - 10 | § ¶
Fun with Numbers
One of Mike's ongoing projects is a database of all Raleigh Fire Department members from 1912 to present. He's identified as many as 736 former members, both uniformed and civilian. Service years are known for 363 former members, with a collective total of 7,958 years. READ MORE
+ 10 - 11 | § ¶
Gas Station Explosion
This New York Times web article includes a stunning aerial photo of today's tragedy in West Virginia, showing the worse-case outcome of a reported gas leak:


+ 6 - 15 | § ¶
Scandals
As our readers have likely observed, we've stayed away from blogging about "media scandals." That is, those things raised or covered by local media and typically involving personnel issues. We've stayed silent on diversity and the Raleigh Fire Department. We've stayed silent on personnel actions, such as arrests, incarcarations, and firings. It seems prudent to continue this path. Links to news stories are easy enough to pass around, and they are certainly passed around among firefighters. But while WE may understand the complexities of dirty firehouse laundry, the public is less familiar with the inner workings. Plus, what is reported by the media is rarely the whole story. Blogging about such things can just add fuel to the proverbial fire. So we shall continue to stay silent. And wish the best to those who facing those challenges.
+ 15 - 12 | § ¶
Ladies Handbags
Mike's other photographic passion is occasional travel photography. For reasons unknown, some pics from some years ago from New York City have been tremendously popular. That is, super-high numbers of hits in relation to the rest of legeros.com. Within the last year or so, a couple international users have requested hi-res copies for their personal use. No problem, except the shots were shot with a 2.9 MP camera. Thus they don't enlarge well. Today the electronic mail delivered the most unusual request to date, a person in Canada who wants to purchase rights for printing an image on... a handbag. Wonder if fireman's wives would buy bags with incident photos on them?
+ 9 - 12 | § ¶
Station 28
With nice brick work creeping up the sides...


+ 15 - 9 | § ¶
WakeMed Vehicles
There's an amazing array of emergency vehicles at the corner of Sunnybrook Road and Calumet Drive these days. Eight or ten ambulances of varying sizes, six or eight trailers (short and long), a couple "beer trucks", a pair of EMS-style "Suburbans", a new-looking box truck, and a Squad 51-style unit. Alas the view from the street isn't great, and shooting pics on their property is a no-no without prior approval from their PR department. Maybe we'll have some pics at a later time.
+ 11 - 14 | § ¶
County-Wide Fire Department
Found this this morning, while skimming a stack of old articles on another topic. In 1964, a proposal was suggested to the Wake County Board of Commissioners to study a county-wide fire department. The study was suggested by Tax Supervisor J. M. Brothers, in response to petitions calling for special elections for special taxes to support rural fire departments. He was approaching the situation from a financial perspective, however, when he asked the question "has the point been reached that it would be just as feasible for the county to maintain a tax-supported county-wide fire department." At that time there were 17 departments providing "rural" fire protection: Apex, Bay Leaf, Fairgrounds, Fairview, Fuquay-Varina, Garner, Knightdale, Morrisville, Rolesville, Six Forks, Stoney Hill (old spelling), Swift Creek, Wake Forest, Wake-New Hope, Wendell, Yrac, and Zebulon. What became of the proposal is not known, though obviously a county-wide department was never created.
+ 8 - 11 | § ¶
The Perils of Public Funded History
Today's News & Observer has a cover story about the controversy surrounding the state House Historian and her 20 months of well-paying work. Time to lobby the Legislature for a State Fire Historian position...
+ 9 - 10 | § ¶
Major Ops Support Vehicle
The Wake EMS Major Operations Support vehicle has been delivered. The 2006 Sterling/Hackney is expected to be in service by the end of next month. It will be stationed at Station 1 and dispatched county-wide to MCIs and other major incidents.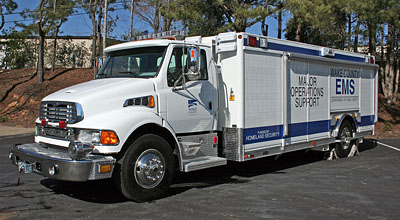 + 9 - 11 | § ¶
Look Familiar?
Here's Clayton Fire Department's Rescue 1, formerly Morrisville Rescue 1, relocated to Johnston County in 2005. MFD in turn acquired two rigs, one small rescue from Clayton Rescue and one walk-in rescue from somewhere "up North."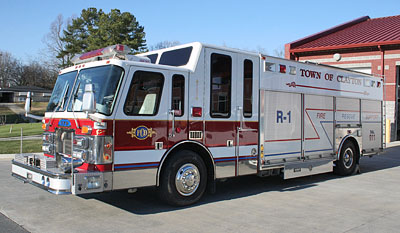 + 14 - 10 | § ¶
This Evening's Fire
Stony Hill and company on Mica Mine Lane, west of Wake Forest. Cold, windy, and miles from a water source. Pics forthcoming.


+ 12 - 9 | § ¶
TriData
Who or what was TriData, you ask? In early 2004, the Wake County Fire/EMS Capital Facility and Equipment Study was released. TriData Corporation of Arlington, VA, performed an independent assessment of fire and EMS station locations and apparatus requirements out to a planning horizon of 2018. Read the 2004 report.
TriData had done two prior studies in Wake, one of the EMS system in 1999 and one for the fire system in 1994. The study presented criteria and models for making decisions about station locations, and made a set of specific recommendations for deployments from the present to 2018.

The study, based on information gained during interviews, observations, and data analysis, started with projections of population and the resultant demand for emergency service by traffic analysis zone (TAZ). The resulting workloads were compared with the capacity of the fire and EMS units.

Service goals were addressed for EMS and fire services in terms of response times in urban, suburban, and rural areas, by TAZ. The heart of the study was evaluating various station location scenarios to reduce current service shortfalls in various areas of the county. The apparatus fleet was also reviewed. A capital improvement plan was proposed for stations and apparatus based on the recommended scenarios for changing station locations.

Their findings? They recommended relocating four fire stations (HSPS 2, KPS, GFD 1, AFD 1) and constructing eight new stations (Knightdale, Garner, Apex, etc.) over the next decade to improve the ability to meet the Wake County service standards, particularly in growth areas. They also identified seven fire service areas that could be served as well or better by resources from nearby fire stations if their small service areas could be contracted out. For those seven stations (Falls, WWFD 1, WWFD 1, NHFD 1, EWFD 2, BLFD 3, MFD 3), they outlined a detailed closure process.

For EMS, they noted the system was closer to a seamless, countywide system than is the current fire service system. The recommendations for EMS included "unclustering" of the EMS units (close EMS 1 and relocate units, for example), spreading them out across more locations to obtain better response times (Cary EMS unit to SCFD, EMS 12 at SHFD 1, etc.), and establishing reliable staffing as an EMS system benchmark.
+ 11 - 13 | § ¶
Growth May Spell End of Two Volunteer Departments
WRAL news story about Wake Forest and Garner fire departments. We've been hearing about Wake Forest's plans for THREE more stations for some time. Where will they be located? Talk of the town of Garner taking over their FD has also been circulating. The town's Board of Alderman meeting minutes site recently noted "The Board agreed the discussion regarding the merge of the Fire Department will be toward what is the best long range plan and to consider the best strategy to provide fire protection" in the context of a 2007 retreat discussion topic.
+ 9 - 9 | § ¶
Biometric Scanners
Way cooler than timesheets, though not without their detractors: http://www.nytimes.com/2007/01/23/nyregion/23scanning.html.
+ 14 - 10 | § ¶
Fatal Fair Fire
Another interesting story from ago. On October 25, 1901, the State Fair suffered a fatal fire. About 3:30 a.m., a wooden building containing a small restaurant was discovered aflame. It was located in the center of the Midway, between the booth of the "Alligator Boy" and a "snake show." READ MORE
+ 13 - 7 | § ¶
Fire Horse Balked
From the December 7, 1901 edition of the News & Observer: "There were two alarms of fire yesterday, one from box 16 in the morning, and the other from box 37 last night. Neither amounted to anything. The one last night proved to be a fence near the Hillsboro Street bridge. READ MORE
+ 10 - 10 | § ¶
Media and Secrecy
From the ten codes discussion, here's a placeholder to discuss media and secrecy. Is it better when they know everything, nothing, or a little in-between? Pros of media coverage: Keeps everybody honest. Great for public relations and community education. Great for information dissemination during disasters. Cons of media coverage: Inaccurate or inflated representations of issues or incidents. Crews or individuals that place themselves in harm's way. Ton of phone calls during or after incidents. For starters.
+ 9 - 13 | § ¶
Now This is a Tanker
As seen in the New Deliveries section of FireNews, a 2006 Kenworth/4 Guys 3,000 gallon tanker-with-pump in Guilford County:


+ 12 - 8 | § ¶
Updated Ten Code List?
A reader requests an updated ten code list for Raleigh/Wake, something more current than this one: http://www.legeros.com/scanner/scanner-ten.shtml. Can anyone assist? Or is the linked page still current?
+ 10 - 12 | § ¶
Chicken Slick / Chicken and Rice
What are everyone's favorite recipes for those firehouse favorites chicken and dumplings ("chicken slick") and chicken and rice? READ MORE
+ 15 - 12 | § ¶
WCFC Meeting Highlights
From tonight's Wake County Fire Commission meeting, agenda items included:
New apparatus financing policy proposal, where the county competitively bids financing of bundled apparatus purchases.
New policy planned for assigning EMS units at all "hot" fire training events.
Revised service-level goals proposal, consisting of response times, minimum staff for first-unit arrival, minimum staff for incident, and minimum unit response for incident.
Proposed EMS-sponsored architectural assessment of existing fire stations, to determine facilities that might be suitable for future EMS unit co-location.
Extended discussion on the economics of paid versus part-time personnel, in the context of the Compensation Committee's recommendation that part-time personnel not receive merit increases for FY 06-07.
Notice that work is nearly complete on data questions surrounding the Western Wake Station 2 closure report. A special meeting will be called in couple weeks, with a presentation for the Fire Commission.
+ 10 - 12 | § ¶
Dropped Dead
From the June 5, 1900 edition of the News & Observer: "On Sunday afternoon a short while after the fire company's team returned from the fire at the old ice factory, Blue, one of the best horses in the fire company's stable, dropped dead. It is supposed that his death was caused by the rupture of a blood vessel during the race to the fire."
+ 11 - 11 | § ¶
Promotions
The City of Raleigh Fire Department recognized the promotions of 14 firefighters in a ceremony at the City Council Chambers on Tuesday, January 16, at 2:00 p.m. Promoted to the rank of Lieutenant are D. B. Campbell, B. A. Gayle, R. C. Scott, L. W. Smith, A. R. Stanley, B. W. Taylor, B. W. Travis, S. S. White, and J. G. Whitford. Promoted to the rank of Captain are R. C. Braxton, B. B. Grisel, F. C. Hicks, Jr., and D. B. Tart. Promoted to the rank of Battalion Chief is B. D. Spain. Pics on Lee's site.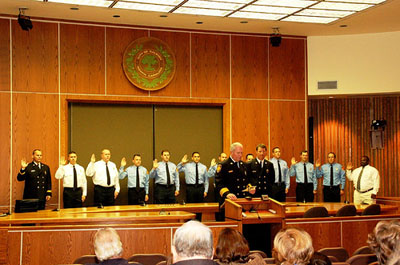 + 12 - 9 | § ¶
Watch Desk
Notable discussions underway on the Watch Desk: Six Forks/ Garner Crash Truck... Why?, GPS on Wake County Vehicles, and Wake EMS questions.
+ 13 - 6 | § ¶
Raleigh Area Public Safety Racing League
Root for your favorite public safety racing team on Monday, January 29th at 3:30 p.m., at RushHour Karting in Garner. Teams are expected from Wake EMS, Raleigh Fire, Raleigh Police, Wake County Sheriff's Department, Garner Police, Garner Fire, Garner EMS, Raleigh-Wake 911 Center, and some Wake Tech EMS students. They'll race for 90 minutes. Winners get a trophy and bragging rights. Everybody gets to have fun.
+ 11 - 11 | § ¶
Hubert Altman
Retired Raleigh Fire Department District Chief Hubert Altman passed away on Sunday morning. Funeral service is 2:00 p.m. Wednesday, January 17, 2007 at First Presbyterian Church, 120 West Hargett Street. Burial at Montlawn with full firefighter honors. The obituary.
+ 10 - 8 | § ¶
Chapel Hill's Tower
Lee has posted some pics of Chapel Hill's new tower, now lettered. How about those blue deluge pipes in the bucket?


+ 12 - 10 | § ¶
Free e-Book #3
Mike has created a third free electronic book for download. Raleigh Fire Department Newspaper Articles, Volume 3 presents a third collection of historical newspaper clippings. These are from 1890 to 1899. More fires, more infrastructure upgrades, and a bunch of fireman's tournaments. The e-book is PDF format, 136 pages long, and 19 megs large. Volume 4 will finish the series and should arrive in another month or two.


+ 8 - 14 | § ¶
Cary Old Station 1
Here's a lesser-known fact. The original design of old Station 1 in Cary was a two-and-a-half story monster complete with four bays facing Academy Street and two bays facing Railroad Street. At the time of the building's design in the mid-1950s, CFD was still some years away from its first paid personnel. Click to enlarge:


The town had two stations, however, to house all their fire apparatus. Old Station #2 was more like a Station #1 annex and was located around the corner from the Town Hall and fire station on Railroad Street.
READ MORE
+ 11 - 12 | § ¶
Past Poles
Outside of Raleigh, fire poles have been largely an anomaly in Wake County. Three Raleigh stations have them, as does Apex Station 3 and Bay Leaf's design for a renovated Station 1. Is Holly Springs new fire and EMS station pole-enabled? READ MORE
+ 9 - 11 | § ¶
Blog Down
The service provider of legeros.com has been having problems, notably during morning hours. They are working to resolve the problem.
+ 12 - 8 | § ¶
Picture of Picture
Another old photo, this one a photo of a photo of the Hillsboro Apartments that burned early in the morning on September 16, 1961. The building, built in 1880, was located at the corner of Hillsboro and Dawson. One person was killed, a janitor who was found dead in his basement apartment.


+ 7 - 12 | § ¶
Heard on Scanner
Yesterday, vehicle incident with minor injuries, school bus versus speed bump, seven students who hit their heads on the roof. That must have been some speed bump!
+ 16 - 7 | § ¶
EMS Questions Answered on the Watch Desk
See this Watch Desk thread for answers to questions raised on the Vehicle Safety thread.
+ 7 - 13 | § ¶
Ladder 1
Always on the prowl for new old photos, Mike found this great picture this week at a retiree's house. It depicts Aerial Ladder Company No. 1 in the late 1940s or early 1950s, at a church across the street from what appears to be a park. Moore Square, perhaps? The apparatus is a 1939 / 1916 American LaFrance.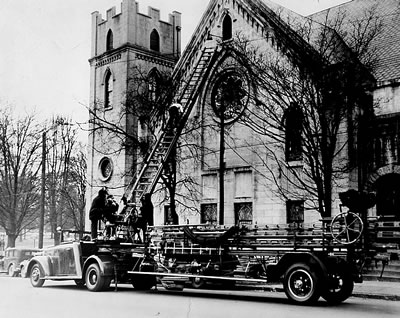 + 7 - 11 | § ¶
WCFC Meeting 1/18
The next Wake County Fire Commission meeting is scheduled for Thursday, January 18, at 7:00 PM, at the Wake EMS Training Facility, located in the lower level of the Wake County Commons Building on Carya Drive near I-440 and Poole Road. The agenda is circulated a day or two prior and we'll try to post here.
+ 10 - 9 | § ¶
Web Sites Comments
Here are some usability and design suggestions, based on clicking around the previously posted web sites. We've posted web suggestions before. These may repeat those. Mail Mike for specific feedback on your pages and if "brutal truth" or "gentle prod" is desired. Ha ha. READ MORE
+ 10 - 14 | § ¶
Web Sites?
Where are everyone's web sites located? Here's a list of fire and EMS agencies in Wake County, both official and unofficial. READ MORE
+ 11 - 11 | § ¶
County Command Post
To be delivered this weekend. More information coming.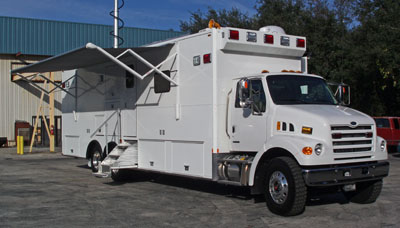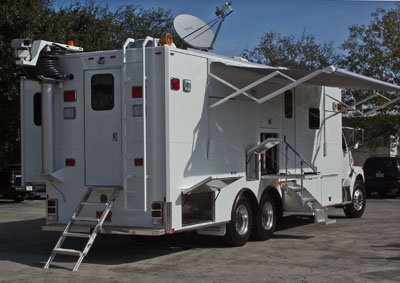 + 11 - 8 | § ¶
What's Happening in 2007?
What's happening this year with apparatus, facilities, personnel, and other aspects of area fire and EMS departments? Let's see... Raleigh Station 28 is ahead of schedule, and is still planned for opening in April. Engine 28 will operate old Engine 15, a 1995 Pierce Dash... Raleigh's apparatus deliveries are due this spring, a Pierce engine, Pierce ladder (for L16), and two Pierce rescues (for R14 and R19)... Raleigh's budget for '08, we're told, will include an eighth ladder company... Wake EMS should soon see both their special ops and mobile command units delivered... Cary Station 7 should be occupied soon. CFD is also spec'ing and ordering some new apparatus... What else is happening around here?
+ 7 - 14 | § ¶
GPS Coming
This news report reports that Wake EMS and SO are getting GPS systems for their vehicles.
+ 14 - 11 | § ¶
Film Still
Random still image from the Raleigh Fire Department film footage that Mike recently had transferred to DVD. Pictured are 1950 FWD and 1936 American LaFrance pumpers during drills on the east side of Memorial Auditorium.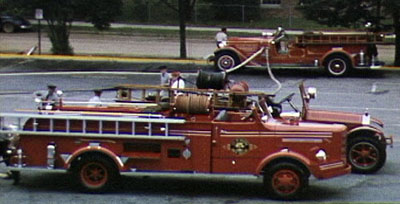 + 11 - 8 | § ¶
What a Pane
A reader in Apex passes along this picture. Renovations have started on the old Town Hall building. Workers have discovered that some of the original glass panes that were above the former firehouse bay are still intact. How cool is that?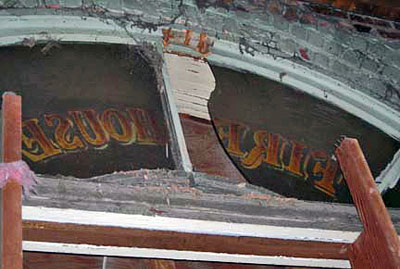 + 6 - 11 | § ¶
It's a Buff's Life
This Washington Post article called Chasing the Heat has been making the rounds. Mike's wife got a good laugh from the line: "But she can't stand it when he leaves a room with the fire scanner blasting." Needless to say, she does not finding the sound of alert tones as intoxicating as her husband does.
+ 11 - 9 | § ¶
This Morning's Fire
Updating with a great pic from Lee. Vacant residential structure at 1001 Parker Street. Tax records say built 1920 (at least!) with 3,270 square-feet. Fully-involved on arrival of Engine 5 just after 4:30 a.m. Three-inch hand lines and portable monitors on the ground. Here's an aerial photo of the two-acre site. Here's some historical information about the building.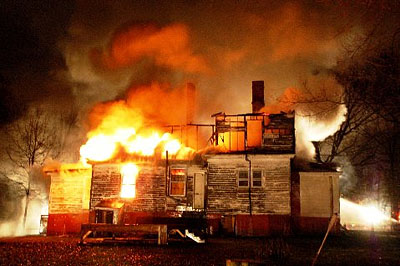 + 10 - 11 | § ¶
That's a Wrap
Two years and 102 fire departments later and Mike's historical series Then and Now has wrapped. The twelve web articles excerpted Sanborn Fire Insurance Map summaries from 1900-1920, and contrasted that information with present-day stats. Old photos were included where possible. Each article first appeared on FireNews, and they are also archived on Mike's site. Thanks for everyone's help around the state. Next up, compiling those great old photos in a book.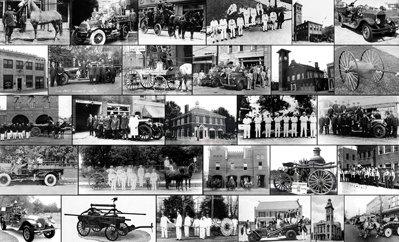 + 8 - 11 | § ¶
Fowl Play at Station 28
Seen across the street from the construction site: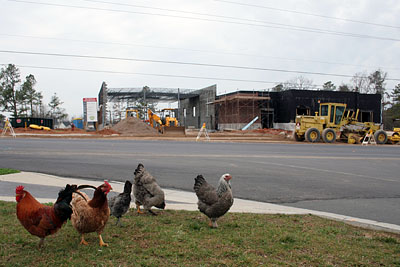 + 6 - 11 | § ¶
Annual Reports
Annual reports are on the way for Raleigh and Wake County. Mike will be collecting and compiling run numbers for both the city and the county, as well as FD milestones for the city. Watch for a couple unofficial summaries coming soon. Also, please pass along links to any official year-end reports. We'll post the links. Finally, on a personal note, here are a pair of reports on the subject of Mike. The first summarizes a highly productive year of buffing and related activities. The second summary is for fire toy collectors, Mike's annual top ten list.
+ 10 - 12 | § ¶
Very Full Assignment
Dispatched a bit ago to a fire alarm on Lenoraway Drive: Raleigh Engine 23 and Ladder 23, Durham Highway Engine 4, Engine 2, Tanker 7, and Rescue 5, and Bay Leaf Engine 122, and Western Wake Engine 191. That's 6.09 miles from Western Wake Station 1, says Mapquest.
+ 10 - 12 | § ¶
Mural
Submitted by a reader is this picture of a picture at Firehouse Subs in Chapel Hill. The personnel in the painting appear to be toasting the burning of a State fan's house. And while using a garden hose.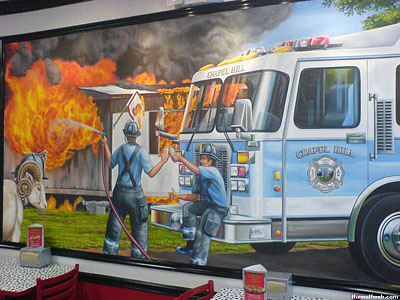 + 12 - 11 | § ¶
Vehicle Safety?
On the subject of collisions and crashes and general safety, what are everyone's best practices with regard to driving? Ditto your agency's SOPs on same. Alternately and without naming names-- no dirty laundry, please-- what are the less-desirable practices on display these days? From responding to staging to returning to quarters, what are your notable do's, don't's, and d'ohs?
+ 10 - 9 | § ¶
Apartment Fires in Cary
One of the news stations reported that this morning's fire was the fifth multi-unit apartment fire in Cary in the last 30 days. Could that be right? WRAL also has a good slideshow of viewer-submitted shots. Hear they made a rescue, as well.
+ 10 - 8 | § ¶
This Morning's Accident
EMS 5 collided with a car at the intersection of New Hope Road and Capital Boulevard about 6:20 a.m. today. The unit was responding to a call, and was traveling eastbound when struck by the northbound car. Both paramedics were transported with non-critical (and hopefully minor) injuries. One patient from the passenger car was also transported.