+ 8 - 7 | § ¶
Yesterday's Apparatus Accident on I-40
Back to present day. Another close call has happened. On Monday morning, about 5 a.m., Cary Engine 1 was reportedly struck while on scene on westbound eastbound I-40, just past the merger with Wade Avenue about 100 yards before the Harrison Avenue bridge. They were blocking for Western Wake apparatus at a motor-vehicle accident. The engine reportedly received a glancing blow from a semi truck. The colliding truck was then struck by a second semi. The crew was aboard their engine, and no injuries were reported. Thank God for that.
The 2002 Pierce Dash pumper was reportedly significantly damaged, and was struck on the passenger-side rear. The engine was poised for replacement with one of three recently delivered 2010 Pierce Velocity pumpers.
This is third close call for firefighters on that stretch of interstate in the last nine months. In October, a Western Wake firefighter was hospitalized after being struck at the scene of a car fire in the westbound lanes just east of Harrison Avenue. In June, a piece of Morrisville apparatus (Ladder 2?) was struck in the rear while blocking at an accident east of Airport Boulevard. Two occupants of the passenger vehicle that collided with the apparatus were transported. No firefighters were injured.
Optional discussion topic for the day. Can the chances for these accidents be any better mitigated? Or with greater traffic comes greater risk, period?
+ 6 - 6 | § ¶
North Carolina Civil Defense History
From a reader, here's a neat new blog named North Carolina Civil Defense History. New to myself, that is. The site archives date to May 2009. How did we learning of this great place? The blogger is Frank Blazich Jr. and who conducted his Masters research at North Carolina State University on the North Carolina Civil Defense Agency from 1961 to 1963.
He's also planning PhD research at Ohio State University, and will study the agency's entire history from 1950 to 1973. How cool does that research sound? A quick scroll through the site shows postings about Dr. Seuss and the Nuclear Freeze Movement, an NCCD newsletter from 1969, and his eBay finding of a 1956 state survival plan project report. And that's just the first page!
We've blogged about Civil Defense, such as these topics:
Also check out these earlier historical musings Civil Defense, from Mr. Blogger's pre-blogging days.
Great new blog above, and thanks to Jeff for passing it along. Next step, send the guy an introduction. Memo to self: do that.

+ 11 - 7 | § ¶
Raleigh Firefighters Honored For Saving Woman
Updating our original posting. Four Raleigh firefighters received the Firemark Award for Heroism presented by Liberty Mutual Insurance on Saturday, March 27, in a ceremony at Station 16. The award honors firefighters who best represent their communities through valor and selfless spirit by assisting in heroic lifesaving efforts.
On May 31, 2008, shortly after 3:00 a.m., Engine 16 responded to a structure fire in a four-unit townhouse on Brown Bark Place. They were first on the scene, and rescued a 55-year-old woman from her bedroom. She was resusicated on scene, recovered from the incident, and attended Saturday's ceremony. Another resident, a 89 year-old woman, was also rescued from her bedroom by other firefighters on scene. See photos from that morning.
Shown below, left to right, are Senior Firefighter Daniel Fox, Capt. Gary Amato, Senior Firefighter John Mitchell, and Lt. Donnie Wall. The ceremony included remarks from Lt. Bart Travis, who was also on scene on Ladder 16 (now Ladder 3), and who submitted the award application. Said Capt. Amato, "It was a great team effort by everyone involved, and they share in the credit."
There's also a national award that's given, and the members of Engine 16 are automatically nominated. WRAL had a good story on this, and included the below photo. See other pictures.

[ Missing photo ]
+ 6 - 9 | § ¶
Mystery History Updated
For your Friday amusement, here's a historical photograph found on eBay, and printed by the Siddell Studio in Raleigh. The picture is signed in period ink, says the seller, and probably depicts a North Carolina fire station. Any guesses? Click to slightly enlarge:


Tuesday update. Thanks to Steven's comment, we may have identified this building. Is it Farmville's municipal building, built 1928? The fire department was housed there until 1958.

+ 4 - 6 | § ¶
Medical Volunteers Needed
Special Olympics of North Carolina needs experienced medical personnel for the 2010 summer games on June 4 to June 6, 2010. See this flyer
for more information, and a contact person.


+ 6 - 6 | § ¶
Construction on Garner Station 4
The Garner Fire Department has posted construction photos on their web site of Station 4, along with building and site drawings. The three-bay facility is located on Spaceway Court, and will be a joint fire and EMS facility. Construction is scheduled for completion in October, and the station should open in November. See prior postings and reader discussions about the project, here and here.


[ Missing photo ]
Garner Fire Department photo
+ 9 - 5 | § ¶
Tornadoes
CNN for starters is reporting that three likely tornadoes touched down outside Charlotte, outside Lexington, and in High Point. They cite weather service reports of damage to buildings and trees in western Mecklenburg County. Numerous mobile homes have been overturned in Davidson County, in Linwood. they report. In High Point, at least 20 homes are reported damaged. The twisters were spawned by a line of severe thunderstorms that's moving northeast. We're under a tornado watch in Raleigh. The storm's also producing 70 mph winds, they report, and hail as large as baseballs or tennis balls.
+ 3 - 6 | § ¶
This Afternoon's Major Fire / Peyton Street
Two alarms at 611 Peyton Street. Engine 12 arriving at a three-story, wood-frame with brick veneer apartment building, built 1969 with 9,936 square-feet, with heavy smoke showing from third floor in rear of structure, along with civilians in or hanging from third-floor windows. Rescued using ground ladders.
Dead hydrant at scene, and water supply delayed. Extension into attic, and through roof. Ladder 4 positioned with second water supply, and deployed for roof access. Battalion 2 assumed command on arrival, and requested second alarm a couple minutes later.
Command post and medical monitoring and rehab located on Dacian Drive. Staging on Peyton Street and Martin Luther King Jr. Boulevard. Latter roadway closed at Peyton Street, due to five-inch hose. Dispatched at 3:19 p.m. Controlled at 4:02 p.m.
Fire units included E12, E3, E7, L4, R2, B2 (first alarm), E10, A1, C10, C20 (working fire), E1, E5, E11, L8, R1, B3, B1, C2 (second alarm), E2, E26 (special called). EMS units included EMS7, EMS82, EMS62, M91, D1, D5, MD20, D1. Also on scene: C1, Red Cross. Twelve units rendered uninhabitable. No injures, about 24 people displaced. Cause determined as accidental. Prelminary photos by Legeros posted.



+ 6 - 4 | § ¶
Mystery Apparatus
Can you place this piece of equipment?


+ 3 - 12 | § ¶
West of New Bern Firefighter Dies on Duty, 1973
On November 6, 1973, West of New Bern firefighter Gerald O'Neal Tilghman, 52, died on duty while directing traffic. An article in the January-Febraury 1974 issue of Hose & Nozzle provides details. The four-year veteran fireman was stopping traffic on four-lane Highway 17 at the intersection with Simmons Street, to help apparatus reach a fire on Oaks Road.
One unit was approaching the intersection with lights and siren, and slowed to 20 miles an hour. A yellow Ford coupe went through the intersection, "just a yellow blur" recalled on the firemen on the truck. Tilghman apparently saw the car coming at him, was struck by the vehicle, and his body tossed 67 feet to his death.
The car stopped 475 feet down the road. There no skid marks before or after the point of impact, said police. The accident occurred at 9:25 p.m.. Tilghman was apparently killed on impact, and pronounced dead at Craven County Hospital about an hour later. The driver was charged with public drunkenness, driving under the influence, and failure to yield right-of-way to an emergency vehicle with siren sound and lights flashing.
Two other cars at the intersection and stopped. Tilghman's private vehicle was parked in the intersection, along the center median. He was dressed in a white shirt, grey pants, and wearing an olive drab jacket. He did not have a flashlight.
His death certificate lists additional information. The cause of death was skull fractures. He was buried on November 8 at Greenleaf Memorial Park in New Bern. Arrangements were made by Cotten Funeral Home of New Bern. He was survived by his wife Henrietta, and was employed in the occupation of civil service.
+ 4 - 8 | § ¶
Blur
Here's another rejected photo from Tuesday night's major fire. This one's simply blurry. What happened? The level of light was lower, so the shutter closed slower. This allows more light to enter the camera. It also can cause blurring, from camera shake. Under normal circumstances, the camera is held as still as possible. Even braced against your face, and with your breath held for maximum effect. On scene, things move a little faster. Would a monopod or tripod help with stabilization? You betcha, though they're awfully unwieldy if you're moving around a lot. More photography lessons later. Click to enlarge.


+ 8 - 11 | § ¶
Raleigh Receives New Pierce Pumpers
Two new pumpers were delivered today to the Raleigh Fire Department, a pair of 2010 Pierce Arrow XT engines, 1500 GPM, 500 gallons, with Waterous pumps and Husky foam systems. This is the second set of Arrow XT engines for the city, and sporting red lightbar lens instead of clear. They'll be placed in service in the next couple of weeks as Engine 11 and Engine 13, which presently operate a 2005 Pierce Enforcer and 2004 American LaFrance Eagle, respectively. They'll replace Engine 4 and Engine 28, respectively. The Master (Lee) will properly photograph the new engines at later dates, locations, and lighting conditions. Then in a few more months, we'll hopefully see a new Pierce tiller rolling into Raleigh. Click to enlarge:

+ 6 - 7 | § ¶
This Morning's Major Fire in Cary
WRAL posted a photo of this morning's major fire in Cary at 8600 Macedonia Lake Drive, which is right around the corner from the Swift Creek Fire Department. Two alarms at a townhome under construction. Engine 3 arriving with heavy fire conditions. Ladder 3 deployed. Partial collapse of structure. First alarm: E3, E2, T6, L3, B1, Swift Creek. Second alarm: E6, L1, B2. Others? Coverage included Western Wake to Cary Station 2. Crews were on scene into the morning.



John Cox/WRAL photo
+ 3 - 11 | § ¶
Flip Kissinger Family Benefit Concert Tonight at the Longbranch
Late notice on this one. Tonight sees a benefit concert for the Flip Kissinger Family at the Longbranch, 608 Creekside Drive, Raleigh. Two bands are performing, Nash Vegas on the country side and The Amazing Lounge Lizards on the rock side. Doors open at 8:00 p.m., and the live music starts at 9:00 p.m. Additional attractions include door prizes and raffles, including a 50/50 raffle, a raffle for three nights at Sea Mist Condos in Myrtle Beach, a pair of new cowboy boots as door prize, and four rounds at Golf at Heritage as door prize. Several gift certificates will also be given away to local restaurants such as the Angus Barn, Hooters, Firebirds, The Fox and The Hound, and Shuckers. One caveat, you must be present to win! Proceeds will be deposited in the Kissinger Family Care Fund, to support the wife and two daughters of Raleigh firefighter Lt. Harry "Flip" Kissinger, who died in December. See you there! I'll be the guy in the Hawaiian shirt, with cowboy boots.
+ 5 - 12 | § ¶
2010 Public Safety Guns 'n' Hoses Hockey Game, Friday, March 26
Local police officers and firefighters face off in the Public Safety Guns 'n' Hoses hockey game at the RBC Center on Friday, March 26 at 7:30 p.m. The game is the seaon's first RBC meeting between law-enforcing Blue Liners and the firefighting Leather Heads. They met earlier this season at the Rec Zone in Raleigh, where the Leather Heads clenched a 3-2 victory. Both teams play in the Lower-C division of Conference USA hockey at the Rec Zone.
The Blue Liners hail from the Raleigh Police Department and other local police departments. The Leather Heads represent Raleigh, Durham, Durham Highway, Fuquay-Varina, Garner, Knightdale, and Morrisvile fire departments. Both the game and east-lot parking are free to the public. Concessions will be available during the game. Doors at the east entrance open at 7:00 p.m.
+ 4 - 9 | § ¶
Fire Revives Questions About Pine Straw Safety
That's the headline in today's News & Observer, about Tuesday evening's major fire that destroyed or damaged seven structures, and spread between buildings by burning on the ground. Witnesses recall the fire crawling along the ground, "whipped by wind and fed by grass and pine straw" before igniting the structures.
The article also recalls the Pine Knoll conflagration of three years, that started when a cigarette was discarded in pine straw, and spread rapidly due to factors including strong winds. That fire destroyed two dozen town homes, and prompted city officials to consider recommending limits of combustible materials for landscaping purposes. No action was taken, if memory serves.
Other local municipalities have enacted such restrictions. After discarded cigarette plus pine straw equaled six destroyed town homes in Apex last year, the article adds, the town banned such arithmetic. That is, pine straw usage within ten feet of any structure with a combustible exterior. Two years earlier, a similar ordinance was approved in Chapel Hill. They also experienced a series of pine straw 'n' structure fires.
The article quotes the Raleigh Fire Marshal saying that city officials will reconsider similar limitations. Tuesday night's fire remains under investigation, and the cause is planned for announcement tomorrow. Read the story.

[ Missing photo ]
Cowey Lowenstein/News & Observer photo
+ 10 - 7 | § ¶
Today's Major Fire in Pittsboro
WRAL played the wow footage of the day in their 6:00 p.m. broadcast, with live aerial images of the Chatham County courthouse building fire in Pittsboro. The three-story structure in the center of town, which dates to 1881, is surrounded by scaffolding due to renovations. Witnesses started seeing smoke in the area about 4:15 p.m., and the fire was reported about 4:45 p.m. Read the WRAL story.


WRAL photos


Mutual aid departments in Chatham County have included Goldston, Moncure, North Chatham (that's their tower), Siler City (that's their ladder), and Silk Hope, plus Deep River and West Sanford in Lee County, and Parkwood in Durham County (for tankers). Who else? Wind gusts (high) and water pressure (low) have been factors, we're heard. Other coverage includes the News & Observer (and an excellent photo from John Rottet) and WTVD.


John Rottet/News & Observer photo
+ 6 - 9 | § ¶
Light and Dark
Two versions of the same shot from Tuesday night. Rejects, not posted. Poor composition, by my eye. One is darker, one is lighter. The darker photo shows better fire detail. The lighter photo shows better surrounding detail. This perfectly demonstrates the challenges of shooting into very bright light at night. The camera often captures only the light and little else. Everyone reading has certainly experienced this. Giant fire at night. Take a picture. Nothing shows on film or in the digital image except a big mass of flames. To work around this problem, one technique is to "meter" the shots.
In the first photo, the darker photo, the photographer (moi) likely focused on the fire in the center of the frame. The camera thought the scene was "lighter than darker" and adjusted by not allowing as much light into the camera. The result is a darker image, and with less of the surrounding details. In the second photo, the lighter photo, the focus was likely locked on a darker area. Maybe the firefighters in the foreground, with the frame then adjusted to fill the composition. The camera thought the scene was "darker than lighter" and adjusted by allowing more light into the camera. Thus a bright shot, but also fewer details in the flames. That's the trade off.
The dark areas could be "filled" with a flash, but that presents a different set of challenges. Click to enlarge either:

+ 6 - 12 | § ¶
Last Night's Major Fire / Armadale Lane
Three alarms at 2806 Armadale Lane, at northeastern edge of city. Or fourth-alarm equivalent, if you prefer. Incorrectly cited in news reports as Wake Forest address. See county IMAPS application for map with street names. Dispatched address was two-story, wood-frame, vinyl-sided dwelling. Built 2007 with 3,174 square-feet, and one of seven closely spaced homes on a semicircular block. Buildings used as model homes prior to residences. Dispatched address was second house from west end.
Engine 28 first on scene with three structures on fire. Two fully involved, and third partially involved. Declared major working fire. Limited size-up due to heavy smoke and poor visibility. Engine caught own hydrant, and proceeded to last house on east side of block, the farthest exposure from the burning structures. Crews extended hand lines to middle of the block, to protect the first unburned exposure on the east side.


Lee Wilson photo


Battalion 1 assumed command on arrival, and began strategic placement of units for defensive ops. Third alarm requested within minutes. Steady winds also spread flames on ground, which damaged or started fires at the other four houses on the block. Last house on east end suffered extensive damage in rear of structure, from flames spreading on ground.
Six deluge guns operated, either on apparatus or on ground. Three aerial streams deployed. Ladder 5 was first, and caught own hydrant. Water pressure problems encountered and two engines boosted pressure. Eight hydrants utilized. Gas leak detected in original structure, and gas company used excavator to expose and close feeder line to entire block.


Lee Wilson photo


Three homes destroyed (one flattened, two gutted), fourth home heavily damaged, and three others damaged. All seven homes declared unsafe to enter. That, the six homes remaining standing. Fifteen adults and five children displaced. No injuries reported, civilian or responder.
READ MORE
+ 3 - 10 | § ¶
Morning After
Lots to do for a photographer, blogger, and historian on the morning after the three-bagger on Armadale Lane. First order of business was returning to the scene at daybreak. Snapped a number of photos on all sides of the seven destroyed or damaged buildings. Might post those this evening, and prior to processing the 957 shots from the fire. Sure, about 50 were processed and posted last night. They were quickly chosen; the most obvious "good shots" to feature. Culling the whole batch is a longer process. Lots of bad ones to be excised. Likely as few as 100 or 150 keepers. There's also the incident narrative to craft and post. What happened, who was there, which hydrants were used, and other obsessive particulars. From there, a version can be crafted for submission to FireNews, and maybe Firehouse. Heck, might even submit a photo to a magazine! Plus other postings that come to mind. Recalling Pine Knoll Townes. Observations on flammable ground cover. Etcetera. Time to get cracking! Click once or twice to enlarge:


+ 6 - 9 | § ¶
Three Alarms
While we collect our facts and build the narrative of this evening's three alarm fire on Armadale Lane, what were the units on scene? Ditto for coverage? First alarm: E28, E19, E22, L5, R1, B1. Working fire: E27, C10, C20, A1. Second alarm: E15, E11, E25, L2, R2, B2. Third alarm: E21, E7, E9, L1, R3. Also: C1, C2, B4, others? New Hope FD: E3, E8, R14, C1, others? Medical: EMS 66, EMS 16, EMS 5, D3, D6, M92, T1, Chief 200, others? Coverage: Falls P212 at RFD 19, Wake Forest E1 at RFD 25, Bay Leaf P251 at RFD 4, others? Preliminary photos by Legeros (below) posting shortly, with shots from Lee later. Click to enlarge:

+ 7 - 7 | § ¶
Blowing Rock Funeral Arrangements and Lodging Discounts
FireNews yesterday posted preliminary funeral arrangements for Blowing Rock Fire Department members Jeremy Bolick and Tommy Wright, who died Sunday in a vehicle accident. A procession is planned for today, Tuesday, March 23, between 2:00 and 4:00 p.m., to escort their bodies from Baptist Hospital in Winston-Salem. Visitation is tomorrow, Wednesday, March 24, from 5:00 p.m. to 8:00 p.m. at Hampton Funeral Service, 683 Blowing Rock Road in Boone. The Funeral is Thursday, March 25, at 11:00 a.m. at the First Baptist Church of Blowing Rock, 350 Sunset Drive. Additional, FireNews has information on two hotels in Boone that are offering discounts for firefighters attending services. Read the information.
+ 4 - 6 | § ¶
Paid to Sleep?
Discussion topic for the day, and with a provocative but perhaps deceptive posting title. Firegeezer columnist Mike Ward yesterday posed the question "Are career firefighters the next Tea Party target?" Read his posting, as even the shortest summary doesn't do it justice. Then discuss this question: how's local support for the government service of career firefighters? Are we riding high in these parts? Or is it more of a mix, between strong support and unawareness or neutrality? Where's public opinion headed, in your opinion? What say you?
+ 2 - 7 | § ¶
Last Night's Woods Fire in Apex
Let's wrap a weekend of shooting and posting photos with a recap of last night's woods and rubber fire in Apex, with information drawn from news reports, radio traffic, FireNews incident report, and other sources. Same started as woods fire reported in the area of the Wake County Fire Training Center at 5620 Shearon Harris Road about 8:00 p.m. The fire subsequently threatened the nearby Cary Police Department firing range on Shooting Drive. Crews protected the structures there, but flames spread to a quantity of tire rubber serving as a backstop for bullets. The resulting melting rubber created a runoff hazard for Harris Lake, and sand trucks and heavy equipment were called to the scene to mitigate the hazard and assist with extinguishing.
Water shuttle operations were utilized with tankers from Apex and Moncure in Chatham County. The water point was Apex Fire Station 2, about four miles away. Additional personnel was requested from Fairview Fire Department. Medical monitoring and rehab was conducted by Apex EMS and Wake County EMS. Units on scene included Apex E2, Tanker 1, Tanker 2, Brush 1, Brush 2, Battalion 1, Car 1, Utility 1 and foam trailer, Mobile Command 1; Fairview E1, Brush 1, Car 2; Moncure tankers; Forestry units 1190, 1191, and the plow (unit number?); EMS 42, District 2, Truck 1; and WC1. Others? See preliminary photos by Legeros1, taken after the woods fire but before the rubber fire was extinguished. Click to enlarge:


1
What did that pile of burning rubber look like? Just a big, black, pile of smoking materials that only occasionally flared with flames, as shown above. Those were quickly doused. Just a lot of really stinky smoke.
+ 3 - 9 | § ¶
Today's Industrial Fire in Wilmington
FireNews finds this dramatic photo posted by the Wilmington StarNews of this afternoon's major fire at an optical fiber plant at 310 N. College Road, and the billowing smoke that was seen across town. The plant's brigade began fighting the fire prior the arrival of the Wilmington Fire Department, which the article says sent eight trucks to the scene. They were assisted by the New Hanover Fire Department, which also helped cover calls in the city. The fire was controlled in about an hour. Read the article, and see more photos.



Jeff Janowski/Wilmington StarNews photo

+ 4 - 9 | § ¶
Back in the Day
This vintage photo was shown and shared with visitors to yesterday's live burn at the Buffaloe House. The photograph of the framed picture has been converted to greyscle, with heavy contrast adjustments, and corrected for the distortion of viewing at an angle. The house was built in sections, correct? With rear additions in later decades? Click to enlarge the top photo:


+ 1 - 8 | § ¶
Wet
Here's another shot from yesterday's live burn at the Buffaloe House. Though the photographer wasn't harmed during the making of this image, he did get a bit wet, when a deflected stream sprayed his way. Took some 600 or 700 shots. Maybe a third are keepers. Lots of people shots, as these events are good for. Some are slightly posed. Look at the camera please, but that's just to turn someone's face toward the sun and out of shadow. Big trucks and blazing buildings are compelling subjects, but the human face is endlessly interesting. Pics to be posted soon enough. Click to enlarge:


+ 7 - 6 | § ¶
Caption This Photo / The Buffaloe House
That's the so-called Buffalo House at 4115 Buffaloe Road, which gave up the ghost this afternoon for the occasion of firefighter training with New Hope, Bay Leaf, Durham Highway, Falls, Knightdale, Rolesville, Stony Hill, Wake Forest, and Western Wake fire departments. (Did I miss anyone?) Tax records say the two-story structure dates to 1915, and the two-story wood-frame structure measured 2,605 square-feet. The land measures 6.13 acres. Numerous interior evolutions were performed in the morning and afternoon, and the structure was allowed to freely burn beginning about 4:00 p.m. Needless to say, quite a crowd of folks had gathered to watch. What other history do folks know about the building or the property? Click to enlarge:


+ 7 - 4 | § ¶
Good Ladders
Deployed on Colby Drive by Ladder 2 and photographed by Lee Wilson. That's Thursday morning's apartment fire, and which a reader observes is a great example of good ground ladder placement. See more photos. Click to enlarge:


+ 3 - 4 | § ¶
Rainwater Harvesting at Station 8
Those shiny shapes behind Station 8 are cisterns for collecting rainwater. Four have been installed, along with an outdoor electric pump discreetly hidden under a plastic rock. The water is non-potable, but perfect for utilitarian tasks, such as washing vehicles or watering lawns. Several fire stations are having harvesting equipment installed, as we reported earlier.


+ 4 - 4 | § ¶
Appreciation
On Sunday, March 14, at 1:50 p.m., Engine 16 was dispatched to a request for service at Shelly Lake. The requestor's (or as called in the trade, the complainant's) dog was stranded in the middle in the lake. The animal had been swimming (and chasing birds, if memory serves) for an hour, and wouldn't return to shore no matter who was calling its name. The owner was distressed and there may have been talk of swimming to reach the animal. A city park's ranger was on scene, but no boats were available. Presumably locked away for the winter.
The fire department was called, and Engine 16 requested Rescue 3 to respond with its boat. They arrived and with assistance of the ranger, placed their rigid hull inflatable boat in the water. They paddled to the location of the dog, and Roxy was removed from the water about 2:30 p.m. For firefighters this was, well, a day in the park. They had their equipment at the ready, expediently deployed same, and performed their task. For the public, it was a positive example of their fire department in action.
Shelley Lake was busy that day, and Yours Truly (who lives two blocks away) watched and overheard dozens of appreciative remarks and comments and applause from observing citizens. It was a neat of example of positive response to the job. First responders do their work and the public appreciates them. See photos from the incident. We'll call myself Canine Photo 1.


+ 2 - 3 | § ¶
Fire Commission Meeting Highlights
First, see the previously posted agenda and related documents. Very short meeting tonight, perhaps a record. Adjourned about 7:35 p.m. On the regular agenda, the Fire Commission approved distribution of FY10 contingency funds, as well as a revision to the small vehicle policy. The latter changes the mileage replacement for administrative-type vehicles from 75,000 to 100,000 miles.
An overview was presented of FY11 budget development. Fire tax revenues are projected to be slightly more than the current budget year, which might be considered no small feat given our economic conditions (my words). Another $9,000 of revenue is expected in apparatus sales. In FY10, apparatus sales totaled $46,000, which were sales of apparatus originally purchased by single fire tax district funds and subsequently replaced by the county.
Department appropriations are assumed as the same as this budget year, at least during this process. Added expenditures include increases for staffing, local government retirement system adjustments, and operating costs for Garner Station 4. That facility is expected to be operational in November. Funding includes training of some personnel, as well as the operating costs once opened. There are also a mess of system-wide appropriations. CAD, radio, haz-mat, forestry, etc.
READ MORE
+ 4 - 1 | § ¶
Technology?
Discussion topic for the day, inspired by this firehouse.com article about engineers developing a flashover detection device that could give firefighters a 20 to 30 second warning when interior conditions are worsening. What are implications for firefighters as technology develops? And what are your feelings therein about what's gained in tools versus what might be lost in skills? Draw from the experience of the introduction of thermal imaging cameras as needed. What say you?
+ 4 - 1 | § ¶
Goldsboro Fire Wagon, Circa 1890s
Here's a nifty photo from the North Carolina State Archives, showing a horse-drawn hose wagon in Goldsboro in the 1890s. The driver is identified as Samuel Thorton, and the wagon appears lettered for Goldsboro No. 1 Fire Company. Or perhaps Goldsboro No. 1 Hose Company. What do we know about their fire department then?
Sanborn Maps from January 1891 list the fire department as having one steam fire engine, one chemical engine, three hose carts, and 2,000 to 2,500 feet of hose in good condition. The town had a waterworks, though perhaps no hydrants. Population 5,000.
By April 1896, the fire department consisted of volunteers plus paid engineers and drivers, one Silsby steamer, one chemical engine, two horse-drawn hose wagons, two hand-drawn hose reels, and 1,800 feet of hose. The water system was equipped with 85 double hydrants, with average pressure of 50 pounds per square inch. Population still 5,000.
Looking closely at the photo-- click once or twice to enlarge-- a few features are visible. There's a gong opposite the floorboard, and that would be foot-powered. The rear of the wagon has the tailboard, and what might be a pair of lamps in the rear. That might be a toolbox on the tailboard as well. No other equipment is obvious.



Courtesy North Carolina State Archives
+ 7 - 3 | § ¶
1949 Chevy Crash Truck (?) For Sale
Here's a nifty find on Craigslist, a 1949 Chevy fire truck for sale in Angier. Same looks like an ex-military crash truck, and quite a bit like Raleigh-Durham International Airport's first crash truck, which was a 1946 International/Bean US Army Class 125 crash truck.


Here's a later photo of the RDU rig, after it was repainted white and apparently requiring some manual assistance, and which you can click to slightly enlarge. Read about the Class 125 apparatus at the nifty Fire Trucks at War web site. As for the Angier truck, there's little else in the posting. We'll mail the seller and see what else we can learn.

+ 1 - 3 | § ¶
The Wearing of the Grin
From boots to shoes. The Wearing of the Grin was directed by Chuck Jones and written by Michael Maltese. That's the legendary pair that produced some of Warner Brothers most memorable cartoons ever, including Duck Dodgers in the 241/2 Century, One Froggy Evening, Rabbit Fire, and the classic of classics, What's Opera Doc? The short was released theatrically on July 28, 1951, and was the final cartoon featuring Porky Pig solo and without a sidekick. The title refers to the old Irish ballad The Wearing of the Green, while the green shoes come from Hans Christian Andersen's fable The Red Shoes. Read more. Happy St. Patrick's Day!


+ 5 - 3 | § ¶
Mystery Boots
Who and where? Click to enlarge, if it helps.


+ 5 - 3 | § ¶
Strange Accidents
We started the morning with Statter911 and footage of a car running into a rock slide. Highway 129 in Blount County, Tennessee. Begin with one rock slide. Add one camera crew, filming said rock slide. Add one distracted driver, watching said camera crew. To the guy's credit, they were on a curve. But, really, aren't we all? No apparent injuries on that one.
Afternoon saw an aircraft accident in Hilton Head Island, South Carolina. A single-engine Lancair IV-P was gliding to an emergency landing on the beach, when it struck and killed a jogger. The victim was listening to his iPod, and apparently didn't the plane's silent but deadly approach. He was killed instantly. The pilot and passenger were unharmed. Read the WIS10 account.
Also this afternoon, and right here at home, a sport-utility vehicle crashed off the end of Interstate 540 near Knightdale. The vehicle traveled down an embankment, and into a dense cluster of trees. The driver was discovered dead, though investigators say that there's a different reason for his death. Additional details have not been released, reports this WTVD story. They also posted a number of aerial and traffic camera photos.



WTVD photo
+ 4 - 3 | § ¶
Fire Commission Budget Committee Meetings
For those interested in the finer points of sausage-making, the Fire Commission Budget Committee meets tonight, Tuesday, March 16, from 6 p.m. to 8 p.m. at the EMS Training Facility in the lower level of the Wake Commons Building at 4011 Carya Drive. Same place as regular Fire Commission meetings. This is the first of several scheduled meetings. The calendar is below, and reflects a revised schedule consisting of evening instead of day meetings. These are public meetings, and the new evening times are intended as more citizen-friendly.
Fire Commission Budget Committee Calendar
March 16 - 6:00 p.m. to 8:00 p.m. - Review Capital Budget Recommendations from Capital Committee
March 23 - 6:00 p.m. to 8:00 p.m. - Address Feedback / Issues from March 18 Fire Commission Meeting
March 30 - 6:00 p.m. to 8:00 p.m. - Topic TBD
April 6 - 6:00 p.m. to 8:00 p.m. - Topic TBD
April 13 - 6:00 p.m. to 8:00 p.m. - Topic TBD
April 20 - 6:00 p.m. to 8:00 p.m. - Topic TBD
April 2 - 6:00 p.m. to 8:00 p.m. - Topic TBD
Location for all at the EMS Training Facility, Wake Commons Building, 4011 Carya Drive.
On May 6, the Budget Committee presents its final recommendation to the Fire Commission. On May 13, if needed, the Fire Commission meets to further discussion. On May 17, the County Manager presents his budget recommendation to the Board of Commissioners.
+ 4 - 5 | § ¶
Afterburner 2000® Aerosol Delivery System
With Lee's pictures now posted from Saturday's airport drill, you can see those "smoke guns" in action? What the heck are those things? That's the Afterburner 2000® Aerosol Delivery System, we later learned, designed, developed, and sold by MSI Delivery Systems in Rocky Mount. It's a "multi-mission, multi-purpose smoke generator" that can be used for fire department and first responder training, obscuring the battlefield for military application, entertaining and special effects, and so on.
Or the non-toxic smoke can be mixed with specific chemicals for purposes including neutralizing chemical attacks, decon, urban warfare, tactical incursions, riot control, and infestation control. Read more including the specs. Such as a one-second trigger burst that releases 1,500 cubic-feet of smoke, and with a range greater than 100 feet. Pretty cool.



Lee Wilson photo
+ 3 - 3 | § ¶
Chute Happens, The Video
Found by Lee. He certainly picked the perfect tree for landing, right beside the engine! Our prior posting on same.

+ 2 - 3 | § ¶
Social Media?
Discussion topic for the day, how should fire departments and EMS agencies use and better use social media for the benefit of their customers? e.g., for the benefit of citizens, which we can call their stakeholders. There's the obvious objective of prevention and life safety. What about base education on emergency services? What you do, how you do it, and how much it costs? Also, how can these tools help media awareness, or expedite media contact? Does a dynamically updated incident blog, say, cut down on phone calls to dispatchers or other officials? What about educating officials, and keep them in better loops? The options are many. E-mail, discussion groups, blogs, Wikis, web pages, photo sharing (Flickr), video sharing (YouTube), microblogs (Twitter), social networks (Facebook), and so on. What say you?

+ 4 - 3 | § ¶
Suspected Chemical Suicide in Oxford
The morning news brings reports of a suspected chemical suicide in Oxford late last night, when police were called to a residential neighborhood about 10 p.m. to investigate a suspicious vehicle. They found a woman slumped over in her vehicle, and apparently deceased. When an officer opened the door, chemicals were found on the front passenger seat. That officer was also overcome-- or at least affected, as reports vary-- and transported to the hospital. A Raleigh Fire Department hazardous materials unit was called to the scene for assistance. This mimics a similar incident that occurred in Cary last month. We subsequently blogged about some good presentation slides on the subject of chemical suicides and responder safety. Sources: WRAL, WTVD.


Stacy Davis/WRAL photo
+ 3 - 4 | § ¶
Overexposure
Incident photography is challenging. You're trying orient yourself in a dynamic physical environment, while staying safe and out of everyone's way, while composing and anticipating shots, while traversing as many sides of the scene as possible, and while operating one or two cameras. And those cameras have controls. Buttons, dials, etc. What happens when you're rushed, and perhaps more prone to manhandling your gear? Lately that's meant accidentally switching to manual focus-- resulting in blurry photos-- or accidentally switching to a manual shutter setting. The latter was done during the height of yesterday's airport drill. Right when the action started, in fact. Here's an example of the resulting overexposure. See more examples in the soon-to-be-posted full series. Thankfully, the mistake was caught within a few minutes. Always keep an errant eye on the LCD screen, even in sunlight. And, duh, listen for that ever-so-perceptible sound of a lagging or slower shutter.


+ 8 - 3 | § ¶
Cary EMS Truck 3
This remounted ambulance body on a 2010 Chevrolet G4500 chassis was recently received by Cary EMS. The many years-old Medtec modular body was previously mounted on old 573. The new truck is designated Truck 3, and is presently assigned the Wake County EMS System unit number of EMS 56. Read more about the Cary EMS fleet.


+ 4 - 4 | § ¶
Chute Happens
That's Engine 3 rescuing a parachutist from a tree during this afternoon's St. Patrick's Day celebration in downtown Raleigh. He was aiming for Moore Square, but was blown a bit off course. The veteran jumper was rescued by parking an engine beneath him. His parachute was recovered with the assistance of aerial ladder special-called to the scene. Read the WRAL story.



Mike Charbonneau/WRAL photo
+ 4 - 2 | § ¶
Colors of the Rainbow
All we're missing is a Garner truck for a full spectrum of chevron colors courtesy of Wake County, Durham County and Six Forks EMS units. As photographed at the airport maintenance building, post-drill.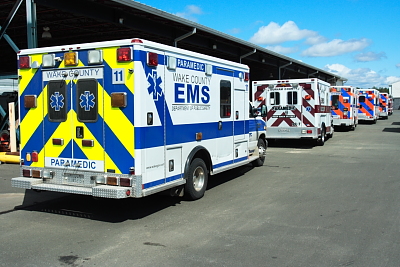 + 3 - 2 | § ¶
This Morning's Airport Drill
Mass-casualty exercise at Raleigh-Durham International Airport. Participating agencies included RDU Emergency Services, Raleigh FD, Durham Highway FD, Morrisville FD, Bethesda FD, Parkwood FD, Wake County EMS, Six Forks EMS, Cary EMS, Apex EMS, Eastern Wake EMS, Durham County EMS, RDU Police, Raleigh Police, Wake County Fire-Rescue, Wake County Emergency Management, and Red Cross. Click once or twice to enlarge panorama, created using a program we've blogged about called AutoStitch. Pictures from Legeros (shown) and Lee forthcoming.


+ 1 - 4 | § ¶
This Morning's Fire in Pink Hill
Big fire in Lenoir County this morning. The Family Restaurant at 305 S. Front Street in Pink Hill. Five Lenoir and Duplin fire departments and 55 firefighters responded to the 6:12 a.m. alarm. Pink Hill FD, Deep Run FD, Southwood FD, Potter's Hill FD, and Albertson FD were among the responders. The Kinston Free Press posted a picture of the aftermath, shown below. Read their article. Other coverage includes a short WITN report.

[ Missing photo ]
Chris Lavender/Kinston Free Press photo
+ 5 - 3 | § ¶
Leadership and You?
Discussion topic for the day. Recent comments and topics have referenced fire service leadership. What leadership traits do you try to exemplify in your fire service roles? What traits of other leaders have you tried to emulate or embody? Share you feelings. Group hug later.
+ 5 - 0 | § ¶
Raleigh Police Add Video Surveillance
That familiar fixture in bigger cities-- or at least in Baltimore, where Mr. Blogger visits each summer-- has come to the Capital City. As this morning's News & Observer reports, the Raleigh Police Department has added street-side video cameras to their tools to fighting crime. Three cameras are located on the east side, including one on North Tarboro Street, where three gunshot deaths occurred in the last three years. Though the cameras won't be monitored 24/7, they're live and monitoring. Details are still being working on access to the footage. Read the entire article.
+ 4 - 5 | § ¶
Reality Check on Unintended Acceleration
Speaking of cars driving themselves, which we really weren't speaking about, but, hey, let's pretend we were, here's a nifty New York Times editorial by a psychology professor who makes a convincing case that unintended acceleration is a human problem instead of mechanical defect. Yup, it's exactly as you might suspect. People pressing the accelerator when they think they're pressing the brake. The car starts moving fast, they press the "brake" harder, and, zoom, there you go. Read the perspective. It's good stuff.
+ 1 - 4 | § ¶
Mystery Fence
Where's this place? Hint, it's above ground. Second hint, you can get there from here.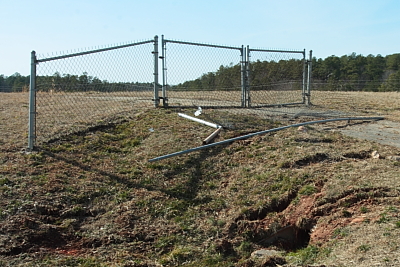 + 3 - 3 | § ¶
Fire Commission Meeting Notice and Information, March 18
The Wake County Fire Commission holds its next meeting next week:
Thursday, March 18, 2010
7:00 p.m.
Wake County EMS Training Facility
Commons Building, Lower Level, 4011 Carya Drive.
The condensed agenda. See full version in document form:
Regular Agenda

Fire Budget Committee

Consider Approval FY 10 Contingency Funds Distribution

Apparatus Committee

Consider Approval of Small Vehicle Policy Revision

Information Agenda

Revised Fire Protection Agreement
Fire Tax Financial Report
Chair Report
Fire/Rescue Services Director Report

Other Business
Public Comments
READ MORE
+ 6 - 4 | § ¶
Saturday's Ambulance Accident in Durham County
As this WRAL story reported on Saturday, a Johnston Ambulance Service overturned several times after striking a ditch on Highway 751 between Hillsborough and Kerley Roads. Both the driver and the EMT passenger were injured, and were treated and stabilized by off-duty Rockingham County EMS personnel passing by. They utilized equipment from the damaged unit. Both were transported to Duke Medical Center. Both were wearing seat belts. No charges will be filed, as the unit was responding to a call at the time of the accident.



Greg Hutchinson/WRAL photo
+ 6 - 4 | § ¶
Responders Driven to Distraction
Yesterday's New York Times published the latest in their Driven to Distraction series on "high-speed multitasking," this time turning attention to police officers and paramedics. Some 75 percent of police cruisers have mobile terminals, they cite an analyst. And about 30 percent of ambulances are similarly equipped.
The article talks about pros and cons, laws and regulations, and new technologies. New Hampshire researchers, they note, have been developing hands-free technology for police cars. Drivers can operate radio, lights, siren, and even the on-board computer by voice commands! There are also systems that use digital video to automatically read license plates in view of the patrolling officer.
Read the article and discuss as desired. What are your perception of the dangers of "multitasking while responding?"
+ 2 - 4 | § ¶
Havelock's New Quint
FireNews finds this article from the Havelock News about the town's new quint, an E-One aerial ladder that's temporarily stored at the main fire station until the new West Side Station opens in a couple more weeks. Read the original article, which includes video footage.


[ Missing photo ]
Drew C. Wilson/Havelock News Photo

+ 2 - 4 | § ¶
EMS Arrival at Structure Fires?
Discussion topic for the day, inspired by the latest comments in the Apex Fire & EMS thread. We've heard from EMS readers that they appreciate a patient status as soon as possible from first-arriving fire units. Among other things, they can cut back to a cold response. Does the reverse apply from firefighters, for EMS units first-arriving at structure fires? Is even a minimal size-up helpful, for incoming companies and chief officers? Obviously, all agency operating procedures apply in this discussion. What say you?
+ 4 - 3 | § ¶
Reputation Management in the Fire Service
That's the title of a white paper released by the Cumberland Valley Volunteer Firemen's Association, which is a century-old organization serving members in Delaware, Maryland, Pennsylvania, Virginia, and West Virginia. The contents of the 17-page paper identifies "social, cultural, and ethical issues impacting the fire service nationwide that demand increased awareness," to quote their news release. That is, bad behaviors by firefighters that damn not only them, but their departments, their communities, and the entire fire service.
Cheating, fire-setting, theft and misappropriation of funds, use and misuse of information technology, misuse of facilities, alcohol and substance abuse, and harassment and discrimination. And in the Internet age, when mass communication can happen in minutes, "actions of a small minority of bad actors can have grievous widespread consequences," they write. What are the action steps? The paper urges the development, dissementation, and enforcement of a Code of Ethics by all fire service leaders.
Read the white paper
, copies of which are available at www.cvvfa.org. Also watch in coming weeks for the launch of firefighterbehavior.com, which will serve to raise further awareness of the issues.
See also Firehouse.com and Statter911.
+ 4 - 3 | § ¶
Reflections
Engine, engine, ladder in late afternoon. Central Station in downtown Raleigh. Click to enlarge:


+ 7 - 1 | § ¶
This Afternoon's Woods Fire in Cary
Ten acres of brush burned in Cary today, after an unattended fire at a homeless camp spread to surrounding woods north and west from Cary Town Boulevard and Trinity Road Extension. Reported around 3:15 p.m., the wind-fed flames spread in the direction of houses on Maynard Road, and apartments on Village Greenway. Crews were deployed on three (four?) sides, and contained the blaze within about an hour. All personnel were subsequently sent to rehab, with mutual aid engines called to the scene for relief.
Cary Battalion 2 was command on Trinity Road Extension. Medical monitoring and rehab were at the same location, and two firefighters were transported with minor injuries. Staging was Cary Towne Boulevard. The Forest Service responded, and deployed a plow, along with back-burning. Units on scene included: Cary E1, E2, E4, L1 (riding reserve service truck?), T7, Brush 9, B1, B2; Western Wake P191; Swift Creek Brush_, Tanker 6, Morrisville P1, Fairview E1, two Forestry units and plow; EMS 51, EMS 55, EMS 4, EMS 8; District 5, Truck 1. Pictures by Legeros later. Click to enlarge:


+ 5 - 1 | § ¶
Apex Fire & EMS
A reader observes both an updated patch on the Apex Fire Department web site (compare with the older patch), and an open position on the town web site for a full-time Shift Supervisor Paramedic for the "Fire and EMS Department." Guess that means the merger is official. Congrats to the newly combined departments. Next question, red over white ambulances coming?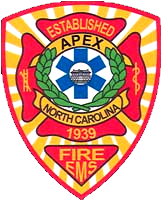 + 4 - 3 | § ¶
Recursive
Photograph of photographer taking photograph of photographer. From yesterday's live burn with Falls and other fire departments. Click to see the original by Lee. Or view the whole set.


+ 6 - 6 | § ¶
Maybe Some Drivers Really Don't Notice
Statter911 surfaces this provoking video from Firefighter Close Calls. Read Dave Statter's commentary on same. Is it really possible that the driver didn't hear the horn and siren, nor see the large red object appearing closer in his rear view mirror? Or are simply seeing an [anal opening] in action?



+ 4 - 4 | § ¶
Rob Lowe! Snow White! Merv Griffin!
Here's your Oscar warm-up, the jaw-dropping opening to the 1989 Academy Awards ceremony. Like the proverbial train wreck, you don't dare turn away. As many may know, Mr. Blogger was once Mr. Movie Reviewer. He "retired" from that vocation in 2001, after about 1,100 reviews posted on USENET and the web. Phew, there were some bad movies in that bunch.


+ 6 - 5 | § ¶
The Shorn Squads
Here are some of the public safety teams that participated in head shaving for St. Baldrick's at Napper Tandy's yesterday. Have a group photo to add? Send and we'll add! Left to right, top to bottom: Firefighters for Kids, Garner FD, Durham Highway FD, Stony Hill FD. Click to enlarge:


+ 5 - 1 | § ¶
Heads on a Roll
More fun with clippers at Napper Tandy's yesterday. Fathers and sons, fire and police, and great support from everyone. First and foremost the spouses! No cameras were harmed during the making of this montage. Read about the St. Baldrick's Foundation. See a list of the public safety teams. Click once or twice for super-size, super-scary version:


+ 5 - 5 | § ¶
Morse Code?
What are those morse code-sounding beeps we've been hearing on Headquarters for the last week or two? Seems like they started after the CAD upgrade, though I am sure I have heard them before? Those in the know, please dash off an answer!
+ 4 - 5 | § ¶
Caption This Photo / St. Baldrick's
A number of fire departments and firefighters trimmed their tops today for children's cancer at Napper Tandy's. Here's an optical illusion from eastern Wake County. Watch for more charitable fun at folk's expense. Large time had by all. Click to enlarge:


+ 5 - 3 | § ¶
Thoughts on the Survey
Where to begin, where to begin? Well, first and foremost, the hazing discussion and subsequent survey prompted a personal reaction. For several days, memories of my first few (and only few) years in the fire department flooded back. The looking glass brought retroactive understanding, both intellectual and emotional, about that formative period.
Career firefighter in Raleigh in 1989. Was I razzed? Some. Was I hazed? No. Was the station family challenging to understand and integrate into? You betcha. Yours Truly had zero awareness of the fire service back-end, and the subtle (and overt) nuances of the station family was a brave new world.
That's also a perspective seen in survey and blog comments. More people are entering the profession from outside occupations, noted one survey respondent. Does that make them less-suited for station life? Or maybe just a learning curve that's a little steeper?
Now let's apply that to the survey. What do the questions and answers look like to an outsider? For someone who wants to be a firefighter, they might be taken in stride. What about the rest of the world? What's a city manager, county official, newspaper editor, civic leader, or regular citizen to think, should they read those questions and comments?
Yet, in the confined space of a fire station, hard play happens. People pick. Bonds form. Families become.
Another issue is the law, which we haven't discussed. Which of those behaviors in our survey are illegal? As one comment notes, restrained and unwanted physical contact is assault. (And which about 90% of respondents labeled as hazing.) For those chiefs and/or human resources officers reading, what's your (or your department's) tolerance for illegal behavior? Is the aforementioned behavior grounds for demotion or dismissal?
READ MORE
+ 10 - 5 | § ¶
Razzing vs. Hazing - The Results
Here are the results on our suvey on hazing.
Here's the original discussion.
Analysis and commentary at a later time.
Total of 104 responses, with 24 comments.
Thanks for participating.
Group hug.
+ 2 - 4 | § ¶
Caption This Photo / Millbrook Road Sinkhole
Meanwhile yesterday afternoon, a city bus suffered a sagging butt on Millbrook Road, due to a sinkhole created by a water main break. As this WRAL story reports, seven passengers and the driver were aboard when they started feeling that sinking feeling. Police detoured traffic around the site, between Auburn Road and Ivy Lane. Repairs were completed some time later. Unknown if the displaced passengers called disbelieving friends to tell of their hole problem, and were told "you're all wet." Thank you, and good night.



WRAL photo
+ 2 - 4 | § ¶
Yesterday's Major Fire / Arcadian Court
ThreeTwo alarms at 4903 Arcadian Court. Engine 19 arriving with heavy fire showing from the second story and roof in the rear of a two-story, wood-frame apartment building with 10,356 square-feet. Built 1985. Declared major working fire on arrival. Quickly spread across roof, with wind conditions contributing. Heavy smoke surrounding front of structure also obscured operations. Crews withdrawn and defensive attack started very soon. Battalion 1 with command. Ladder 2 plus Engine 15 deck gun deployed in front of structure; Ladder 5 deployed in rear of structure. Command post, medical monitoring and rehab on Arcadian Court. Staging on Wallingford Drive. Dispatched 3:12 p.m. Controlled at 4:16 p.m.
Five hydrants utilized, on Arcadian Court to Engine 19, on Wallingford Drive to Engine 21, on Pebble Beach Drive to Ladder 5, Tapers Drive to New Hope Engine 1, and fifth location TBD. First alarm: E19, E15, E11, L2, R1, B2, New Hope E1. Working fire: E27, C10, C20, A1. Second alarm: E21, E22, E28, L5, R2, B4. Third alarm (manpower): E9, L1. Car 2, Car 4, Car 71, New Hope Car 1 also on scene. Medical: EMS 16, EMS 2, EMS 10, EMS 11, EMS 121, D3, D2, M93, T1. Coverage included E14 at Station 19, E23 at Station 15, E13 at Station 9. Others? Overnight companies included E20, E24. No injuries. Eight units destroyed, seven families and 19 people displaced. Cause determined as accidental, from disposal of fireplace ashes on a back deck. Wind spread same and started fire. "A" shift working. See pictures by Legeros, who arrived 32 minutes later. Both WRAL and WTVD also posted aerial photos. The latter includes a couple dozen smoky shots early into the incident.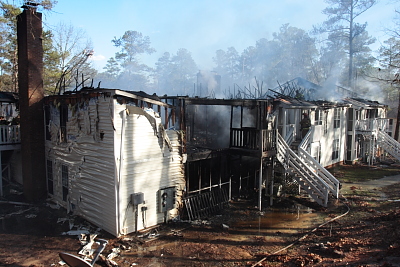 + 4 - 5 | § ¶
Firefighters
Prelminary photos posted for this afternoon's major working fire on Arcadia Court. Photographer (moi) arrived after containment, alas.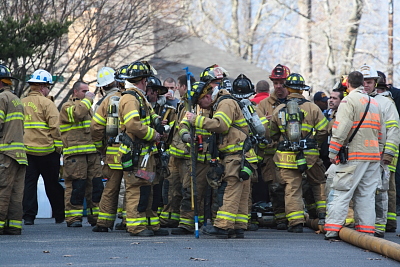 + 5 - 5 | § ¶
PSHSB Public Safety Photo Project and Contest
From a reader, the FCC's Public Safety and Homeland Security Bureau (PSHSB) is conducting a photo project and contest to collect and feature pictures of the public safety community on its website. They're particularly interested in using "action" photos of firefighters, police officers, and EMS personnel performing public safety duties. PSHSB will feature selected photos on its web site. Read about the contest, and rules and conditions therein. Deadline is December 31!
+ 6 - 5 | § ¶
Training Center Shelters
Two shelters have been added at Keeter Center Training. The topside structure protects a pair of reserve pumpers, shown below. The second shelter was added on the lower level, on the USAR grounds and will cover shoring materials.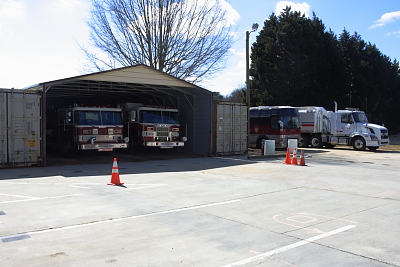 + 6 - 1 | § ¶
Durham Firefighter Dies in Tree Trimming Accident, Updated
Firefighter Bradley Franklin Roberts, 26, died Tuesday, March 2, after falling from a tree, while cutting limbs for a tree service. The accident occurred in the 1100 block of Woodburn Drive. He was transported to Duke University Hospital, where he was pronounced dead. Roberts joined the Durham Fire Department on March 7, 2005, and was assigned to Station 1. Sources: WRAL, WTVD, Durham Herald-Sun.
Funeral arrangements are being handled by Clements Funeral Service. Visitation is today, Thursday, March 4, from 5:00 to 8:00 p.m. at Clements Funeral Service, 1105 Broad Street, Durham. The funeral is Friday, March 5, at 11:00 a.m., at New Horizons Church, 100 Horizon Place, Durham. Read his obituary. Note that an incorrect funeral date is listed at the top of the obituary web page.

+ 5 - 1 | § ¶
Holly Springs to Lose Wake County EMS Subsidy
Today's News & Observer reports that Holly Springs is losing its county subsidy for the salaries of three paramedics. The annual expenditure is $177,850, which the county is asking the town the assume. Since 1998, Wake County EMS has provided a paramedic to ride a Holly Springs ambulance at cost to the town. Holly Springs had a rolling, annual agreement with the county since that time.
Revenue also figures into the equation. In 1998, the Holly Springs EMS unit generated about $45,000. Today, the same revenue is $326,929. Not surprisingly, the county wants a piece of the pie, to help cover its own cost in these times of shrinking budgets. Wake County EMS has presented the town with two options: the county pays all costs for a paramedic ambulance, and receives all revenue; or, Holly Springs reimburses the county for the salaries of the paramedics. Neither option changes the EMS deployment model, however. Read the entire story.
+ 5 - 3 | § ¶
My Photography Workflow
Step 1 - Transfer Files

Insert memory card in media reader.
Open corresponding drive letter.
Click Search.
Enter CR2 as file name criteria, for Canon Raw file format.
Perform search.
Select all results.
Drag and drop into local file folder. (Why use search? Because my Canon DSLR stores images in separate folders, in lots of 100. This method moves them from multiple folders into a single location, and in a single step.)
Files transferred.






Step 2 - Cull Photos
Open local file folder.
Use Irfanview, an image reader, to view first image.
Compare with duplicate images as needed. (e.g., go back and forth between repeats of the same shot, picking the best of the two, three, or four.)
Delete unwanted images.
Repeat with remaining images.
READ MORE
+ 2 - 4 | § ¶
Razzing vs. Hazing - Survey Still Open
The survey's stll open that follows last week's discussion on hazing. Thirty examples of behaviors, which you can classify as razzing, hazing, not sure, or neither. Survey closes on Saturday morning. Some notes on the demographics so far:
58 respondents to date
16 career, 12 volunteer, 27 both career and volunteer, and 3 neither
6 aged 18-24, 14 aged 24-29, 27 aged 30-39, 9 aged 40-49, and 2 aged 50+
56 men, 2 women
55 white, 1 hispanic/latino
Most with college courses or degrees
Most without military experience
+ 3 - 2 | § ¶
Rank Titles?
Another discussion topic for the day, this one suggested by a reader. Rank titles in the fire service. Do you address officers by their rank or name? Captain X or Chief Y. Do you function on a first-name basis? Is it case-by-case basis? The context for the suggested discussion is a back-page commentary by Fire Chief Brian A. Crawford in the February issue of Fire Rescue Magazine. The entire issue can be read online. His perspective? Rank supports an effective command culture.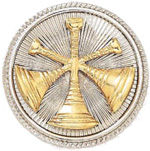 + 3 - 3 | § ¶
Raleigh Halts Work on Public Safety Center
That's today's News & Observer headline about yesterday's City Council four-to-four vote that's halted work on the proposed $205 million Clarence E. Lightner Public Safety Center. Five years of planning, with the first opposition in December, when the City Manager proposed a payment plan that would raise property taxes.
How much has been spent so far? $22 million, on design plans and the purchase and renovation of two buildings for temporary police relocation. Can the project be saved? The Mayor sees three possible scenarios: payment without a tax increase, one council member changes their mind, or a new council advocates the project. That last one's at least two years away.
What happens to the impacted city departments? Police are moving forward with their plans to vacate Central Police Station. They'll be moved by the end of the month, and relocated to interim offices in a new building on Six Forks Road and a district police office on Cabarrus Street. Read the article.
+ 4 - 4 | § ¶
Raleigh Fire Department Office Space - The History
Today's an appropriate day to discuss office space for fire and police in the Capitol City. Where were the offices of the Raleigh Fire Department before their present location on Martin Street? Let's take a trip back in time, as Mr. Blogger dones his Historian hat. Here's what we've found so far, and including the station locations of Battalion Chiefs.
Fire Chief / Fire Administration
1912-1941 - Station 1, Morgan Street
1941-1953 - Station 1, Salisbury Street
1953-1982 - Station 1, Dawson Street
1982-1984 - Keeter Training Center
1984-1991 - Municipal Building
1991-1994 - Professional Building
1994-present - Dillon Building
READ MORE
+ 4 - 3 | § ¶
Returning All Units to Service?
Discussion topic for the day, though this may be a short one. Listening to recent city and county structure fires, a familiar radio traffic presents itself. "All other units can return to service" says the Incident Commander. Then the question is asked, "can EMS units also return to service?" Is the second question redundant? Did command truly mean all units, or just all fire units? Or does it vary?
+ 3 - 3 | § ¶
Canon Updates Software, Life Gets a Little Easier
Canon has updated Digital Photo Professional (DPP), their photo processing software that many Canon DSLR users use. Enhancements include one whopping improvement: angle adjustment while in trimming mode. Insert applause and/or fanfare. Explanation follows. To download, visit the Canon web site, select your camera model, and follow the usual download instructions. Now, what the heck are we talking about?
When Mike shoots a mess of digital photos, he shoots them in Canon RAW. At home he opens a program that came with his Canon Digital Rebel XT camera. Called Digital Photo Professional, it allows him to process all those photos at once. In just a few seconds, he can adjust the exposure-- for example-- and make his photos look lighter or darker. Or add sharpening. Or quickly go picture by picture and perform cropping. And then save them all in a single step, instead image-by-image.
Before the upgrade, the one adjustment that couldn't be done was angle. See, sometimes Mike's photos are a little skewed. Sure, they looked fine when being taken, but when viewed on the computer, they could benefit from a wee bit of rotation. Such as these examples from earlier this year, click to enlarge:

And rotation meant the following:
While using DPP...
Save a high-resolution TIF version of the image, with "-edit" in the file name.1
Close DPP.
Open PhotoShop Elements, another photo processing program.
Perform rotation.
Save image again.
Close PhotoShop Elements.
Open DPP.
Resume processing.
As you can expect, this adds time to the whole process of processing. And if there are numerous images to be rotated, it adds a lot of time. Now, with the DPP update described above, the new workflow is insanely simpler:
While using DPP...
Perform rotation.
Keep processing.
Another benefit is that color and sharpness levels can remain consistent across all images. See, saving to TIF can cause slight color or sharpness changes. And that's an annoying additional step, inside PhotoShop, getting those to match the others.
So all owners of Canon DLSR cameras, and who perform a lot of processing with Digital Photo Professional, download the new version and rejoice. It's a good day.
1That's why the word "edit" appears in some of the names of my posted photos.
+ 6 - 4 | § ¶
Raleigh Wake 911 Center's Craig Schulz Wins National Honor
Craig Schulz, Technical Services Supervisor for the Raleigh Wake Emergency Communications Center (ECC) has been named Technician of the Year by the E-9-1-1 Institute. The award recognizes the technology support staff within a 9-1-1 center whose efforts make available and maintain the critical technology systems necessary to answer, process and respond to emergency calls. Mr. Schulz was previously named the 2009 North Carolina National Emergency Number Association Support Person of the Year.
Mr. Schulz has been employed by the Raleigh-Wake Emergency Communications Center for 14 years, in four different capacities. As an experienced dispatcher and former rescue squad member, Mr. Schulz brings an operational understanding of emergency communications to his technical services role. While he has officially held the position of Technical Services supervisor for less than three years, he has performed that function for seven years. Read entire press release.

+ 4 - 1 | § ¶
Benson Officials Battle Over Town's First Fire Engine
Now let's turn to Harnett Johnston County, and the town of Benson, and a tug of war around an old fire engine. The apparatus in question is a horse-drawn, gas-powered pumper that dates to 1907. The first fire engine for the town, in fact. About 20 years ago, the fire department no longer had space to store the apparatus. Former Benson Commission Nathan Blackmon offered to store the thing in his business on Wall Street. That was Blackmon's Auto Sales and the showroom therein.
Cut to present day, and the town wants the thing back. As this WRAL story reports, the current Benson Commissioners have tried several times to regain possession. They want the thing displayed at the Benson Museum of Local History, when it reopens later this year after renovations. Mr. Blackmon, however, indicated that he wanted to be the person that put the fire engine in the museum. He's since changed his mind, the story reports. And he has no further comment, per his attorney's advice.
The article adds that some work was done on the old engine in 2004. Firefighters raised money for new wheels, which Blackmon allowed to be placed on the apparatus. What happens next? Both sides indicate that the matter will be settled in court. Here's hoping that the issue resolves itself with minimal fuss and less expense. Let the engine live where it'll be both cared for and appreciated by the community that it once served. The museum.



WRAL photo
+ 5 - 1 | § ¶
Blocking the Big Road
Here's an aerial view of Western Wake and Cary fire department units executing excellent blocking on I-40 this morning. Six people were injured in four or maybe five accidents within three miles of each other. Outside the frame is Cary Ladder 1, also blocking traffic. Read the story and see more photos from WRAL.



WRAL photo
+ 4 - 2 | § ¶
Gaylord and Meeker on Public Safety Center
Mrs. Blogger caught this one in the Midtown Raleigh News that's published by the News & Observer on Wednesdays. (She reads same on Saturday over coffee.) These are pros and cons of the Public Safety Center project, as presented by Mayor Charles Meeker and City Councilman Bonner Gaylord. The Mayor's comments are remarks from his recent State of the City address. Mr. Gaylord's comments are abridged remarks from the last City Council meeting. Maybe apples to oranges, but still worth reading.

Meeker: The Public Safety Center is Vital; Raleigh Needs it Now.
Gaylord: The Public Safety Center is Ill-Conceived, Too Costly.
+ 1 - 4 | § ¶
New Hanover Deputies Save Five From Burning Apartments
And while we're finishing our morning news review, FireNews reports on an apartment fire in northern New Hanover County on Saturday morning that was spotted by a Sheriff's unit. Upon arrival, they were told that a family with a small child was inside one of the units. They kicked down the doors to the apartment, and got the family out of their beds. Read the story.
+ 0 - 5 | § ¶
Wake County Justice Center And Lack of Controversy Therein
Today's News & Observer has an interesting article on the Wake County Justice Center and the lack of controversy toward its completion when compared to the city's struggling Public Safety Center project. What happened? The county spent over a decade designing and justifying the project, as well as a financing plan for same. The Great Recression then brought very low bids, and the whole things got the green light before the economy tanked. And with no property tax increase. Read the story.


[ Missing photo ]
Wake County photo
+ 4 - 1 | § ¶
Ghost Police Car
Yesterday's New York Times reported on an innovative approach to patrol car lettering in Westchester County, NY. Check out this 2009 Crown Victoria that's not quite unmarked. The decals are white and colorless. Why the near-invisible markings? Better concealment than regular markings, but not entirely unmarked and thus won't spook drivers who might think that a fake police officer is pulling them over. Guess that's a real concern for law enforcement these days, citizen worries of imposters? Anyway, it's a nifty concept. Read the story.



James Estrin/New York Times photo