+ 20 - 18 | § ¶
My Kingdom For Improved GPS
Mr. Blogger's Black Friday shopping including the purchase of a second GPS unit. Though there's already a Garmin Nuvi in the Blogmobile, it's user interface has been just annoying enough to warrant the trial of another. Here's the problem with Garmin GPS units. They don't have any options or features allowing for repeated same-city directions. Every address requires the unwanted actions of (a.) confirming that I am still in North Carolina and (b.) entering or choosing a recently entered city name.
On Black Friday, a Tom Tom was purchased, as some in-store testing shows that their address entry mode minimizes some of these steps. There's no confirmation of the state, and the current city is listed as your first option. Bravo. Post-Thanksgiving testing also revealed that Tom Tom GPS units are a world more customizable than Garmin models. Maybe three-dozen or more configurable options. Unfortunately, other aspects of the new unit proved less than desirable to this user. Guess I am just used to Garmin.
But back to the issue at hand. For people who repeated search for addresses in the same city-- such as taxi drivers and, oh, say, emergency responders-- the ideal GPS unit would probably have an "in-town mode" that would bypass entry of both state and city. And maybe an icon that could be clicked, to quickly change cities. That's my wish. At least the line at the store was shorter later that day at the return counter...
+ 23 - 18 | § ¶
Forest City Fire Department, Old Photo
From our friends at the Forest City Fire Department in Rutherford County, here's a nifty vintage photo. The picture was probably made in the 1940s or 1950s. One of our readers can probably identify the automobile. Love that Mack Model B that's parked on the apron. The fire department has since moved twice, and the old town hall and fire station are both still standing. Look closely and the edges of the image appear to have been matted or perhaps concealed by a frame, with the rest of the photo likely lightened due to exposure to ultraviolet light. Photographic prints can indeed grow lighter, as they're exposed to, well, light. Click to enlarge:


+ 18 - 23 | § ¶
Six Forks Fire Department, Circa 1974
Don't believe I have blogged about nor shown this photo before, which comes courtesy of the Raleigh-Wake Emergency Communications Center. The image shows the Six Forks Fire Department around 1974. That's the year they moved from their three-bay station at 5305 Six Forks Road (now EMS Station 3) to 1431 Lynn Road (now Bay Leaf Station 3 slash Six Forks EMS Station 1). The three-bay building measured 50 by 50 feet, and the siren was left at its prior location on Six Forks Road, near Northclift Drive. (It would be moved to outside the station a couple years later, as the stories have been told to me.) This building has been renovated four or five times, with added bays on either side of the original three, added bays in the rear, demolition of the added bays in the rear, and construction of a two-story structure in the rear. Read more SFFD history. Click to enlarge:


+ 17 - 21 | § ¶
Mystery Station
Where is this place, and what are we looking at? Hints forthcoming as needed.


+ 21 - 19 | § ¶
Fire on the Moutain
The Asheville Citizen-Times has details and a photo of a house fire in Haywood County that destroyed a ridge-top home in Maggie Valley on Wednesday. Flames and smoke could be seen for miles, and drivers through the valley stopped to watch. The three-story log home was fully involved upon arrival of the Maggie Valley Fire Department Fire Chief, who was there within minutes. Crews protected exposures, and also doused a woods fire that resulted.

Citizen-Times / Jon Ostendorf photo


Some 30 firefighters from Maggie Valley, Jonathan Creek, and Waynesville fire departments responded. The Fire Chief said about 25,000 gallons of water were brought up the mountain and sprayed on the fire. The structure was the last house in a gated community on the twisting Setzer Cove road. Check out this Google Maps view, which shows the many switchbacks (or hairpin turns) on the route. Click to activate: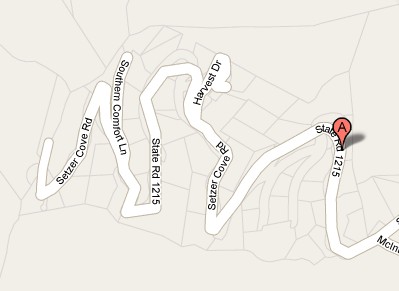 + 26 - 17 | § ¶
Matchbox Cadillac Ambulance
Here's a perfect stocking stuffer, a Matchbox replica of a 1963 Cadillac ambulance. The construction is die-cast. The scale is 1:81. The price is about a buck. Available at stores everywhere. Model number #56 in the 2009 series of releases.


+ 16 - 19 | § ¶
Don't Be a Turkey!
Happy Thanksgiving to everyone. Drive safe, if you're heading out of town. Be safe, if you're working, and responding to the inevitable fryer fire. Then we'll compare notes after Black Friday, and see what we bought and the crowds we fought. Let's start our day with a little entertainment, an appropriate clip from the 1993 movie Addams Family Values1, and featuring the song "Happy Turkey Day" written by composer Marc Shaiman and screenwriter Paul Rudnick. Says Pugsley playing the lead bird, "Eat me!"


1The Addams Family was a group of ghoulish characters created by cartoonist Charles Addams, and that originally appeared in the New Yorker magazine between 1938 and 1988, the year of Addams' death. They inspired the subsequent and popular television series in the 1960, and were adapted for other media, including two feature films.
+ 20 - 18 | § ¶
This Afternoon's Plane Crash in Chatham County
Both WTVD and WRAL have posted viewer photos of today's fiery plane crash in Chatham County. Both occupants escaped unharmed after their emergency landing in a horse pasture off 7691 Highway 751 around noon. Parkwood, North Chatham, and Durham fire departments responded, along with other responders. The fixed-wing, single-engine Cessna 170B departed Cox Airport in Apex, bound for Charlottesville, VA. Shortly after takeoff, smoke and flames filled the cabin. The pilot landed as quickly as possible, his craft crashing through a fence and catching (or continuing) on fire. Said one caller to dispatchers, "it's on fire real good." View the WTVD photos from Douglas Pietrowski, who captured the craft seemingly from first flames to full involvement.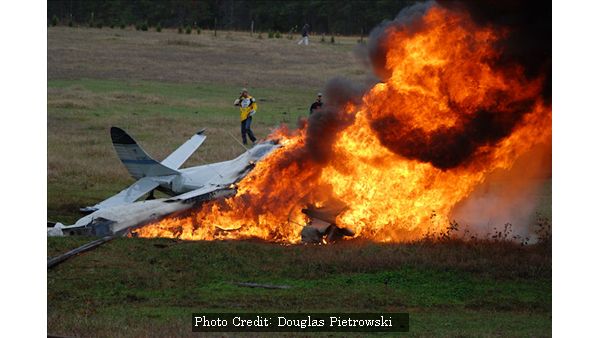 Douglas Pietrowski/WTVD Photo

WRAL subsequently showed the extinguished aircraft from the air, after foam operations from Parkwood and assisting units:


WRAL photo
+ 18 - 17 | § ¶
Smoldering Businesses / Fire Inspections in Winston-Salem
Let's turn our attention to another vital service of the fire service, fire inspections and code enforcement. FireNews found this Winston-Salem Journal article with the provacative headline "Smoldering Businesses: 20,850 Violations of State Fire Code Recorded in 2008." And that's a 70 percent increase since 2001. Has the city to the west suddenly become less fire safe? No, rather the city is conducting more thorough inspections. Until 2002, most fire inspections at businesses were performed by firefighters from the local fire stations.
Then came a "spectacular fire" in July 2002 at P&B Distributors, which brought 50 firefighters to the daytime blaze. And it was discovered that no "safety inspector" had ever visited the warehouse, to see that chemicals were being stored safely.
In the aftermath of the fire, the city changed its practices and began conducting more thorough inspections. They began using inspectors in the Fire Prevention Bureau, who are trained to perform level-three inspections. (Firefighters are certified for level-one and level-one.) Guess what happened next? Businesses began being cited for violations that had gone either unnoticed or without citiation for years prior. And they're not happy, having to spend thousands of dollars on issues that "had never been a problem before."
In fact, due to the amount of complaints, the city even formed a Fire Code Task Force earlier this year, to help business owners and fire inspectors "agree on the regulations of the fire-inspection program and to improve relations."
Read the entire story on the Journal site, which includes three pages of reader comments, also from business owners. The story also appears on FireNews.
+ 17 - 20 | § ¶
Wake County Fire Academy Graduates
Congratulations to Recruit Class 2 of the Wake County Fire Academy, which graduated last night in a 7:00 p.m. ceremony at the Student Services building at Wake Tech. The recruits completed six-months of training that included certifications in Firefighter II, Rescue Technician, EMT Basic, and Haz-Mat Operations Plus. They came from Carrboro, Durham Highway, Garner, Hopkins, Morrisville, Northwest Harnett, Pilot, Stony Hill, Swift Creek, and Wake New Hope fire departments. The ceremony opened with a presentation of colors by the Morrisville Fire Department Honor Guard and Pipes and Drums, and an invocation by Chaplain Dr. Ted Edwards, also from Morrisville Fire Department.
Remarks were made by Wake County Fire/Rescue Training Director Ricky Dorsey, Wake County Board of Commissioners Vice Chair Lindy Brown, Retired Raleigh Fire Department Captain Wilbert "Tramp" Dunn, Wake Technical Community College President Dr. Stephen Scott, Wake County Fire/Rescue Training Specialist Joe Knurowski, and Wake County Fire/Rescue Director Ray Echevarria. (All correct?) Plus remarks from recruits, including highlights of their more "memorable" moments.
Congratulations all, and good luck as you embark on your fire service careers. Perhaps our readers can contribute to the sagely advice that you're receiving. Mr. Blogger only adds "don't believe everything you read a blog."
Pictured not in order are Michael Boyce (DHFD), Ryan Downs (CFD), Michael Henderson (DHFD), Bryce Overton (GFD), Mitchell Prince (NHFD), Alexander Reynolds (DHFD), Patrick Schambs (CSFD), Thomas Schwenk (SHFD), Ryan Scott (PFD), Jamison Stafford (MFD), Nicholas Tart (WNHFD), Brittany Temple (HFD), and instructors Joe Knurowski and David Zoltoski. (Spelling corrections welcome.) More pics from Legeros and Lee forthcoming. Click to enlarge:


+ 14 - 18 | § ¶
Wake County Fire Academy Graduation Tonight, 7:00 p.m.
Recruit Class 2 of the Wake County Fire Academy graduates tonight at 7:00 p.m. at the Student Services building on the Wake Tech main campus at 9101 Fayetteville Road. The recruits have completed six-months of training that included certifications in Firefighter II, Rescue Technician, EMT Basic, and Haz-Mat Operations Plus. Congratulations all!
+ 15 - 18 | § ¶
November 19 Fire Commission Meeting Highlights
The night was dark, the sky was blue; there were a bunch of chiefs, and a few others, too. These handouts were made available. This was the agenda
.
Contract Revisions
The majority of the meeting involved a lengthy review, discussion, and approval of revisions to the Wake County Fire Protection Contract. Some of the revisions included
adding language that allows billing for certain services, on approved fee schedule
adding language that provides governance for fire departments that fail to operate in provisions of contract
excluding regular scheduled part-time employees from serving on a department's Board of Directors, in addition to Fire Chief and full-time members
requiring departments to obtain a minimum ISO rating of 6. Currently 11 of 19 departments have a 6 or higher, it was noted.
added language about participating in automatic aid, which is already being done but just wasn't part of the contract
adding training and incident review requirements for members and departments.
See
the handouts
for a complete list of revisions, as well as a presentation about the contract revision process.
Facilities Reports
The Facilities Committee reported that the Board of Commissioners awarded the construction contract for Garner Station 4 on October 19. The projected completion date is October 5, 2010. The station is expected to open in 2012. The committee also reported that dormitory renovations are progressing at Fairview Station 1, Fairview Station 2, Swift Creek, and Stony Hill. See the handouts for more information from the Facilities Committee.
Station Closures
The Fire Marshal presented an update on the station closure process. Their office is still waiting on the Raleigh Fire Department to return their proposal for providing suburban fire protection to the areas covered by the stations being evaluated for closure. That information is expected soon, and a special-called Fire Commission meeting is expected in December. At that special-called meeting both Falls and Bay Leaf fire departments are expected to make presentations to the Fire Commission. The Fire Marshal's office is also planning information workshops for citizens, perhaps in January. They're also planning to create an e-mail address and voicemail number, for citizens to provide feedback.
Reality Check
Attendees are encourage to correct the above information, which includes paraphrasing by Yours Truly.
+ 18 - 15 | § ¶
After Fighting Fires 39 Years, Falls Station May Close (Updated)
Thanks to our reader Paul, who found the online version of Wednesday's News & Observer story on the possible closure of the Falls Fire Department. The story appeared in the paper's Midtown section, and notes the Falls fire station is one of four1 that a recent evaluation shows could be closed to "save money and better use equipment by contracting more of its services to nearby municipal fire departments." Population growth, operating costs, and annexations are cited as the context. Falls firefighters and nearby residents believe "removing the department would do a disservice to the surrounding community."
Falls has been serving from their station since 19702. Their first pumper was Six Forks Fire Department's first pumper, in fact. But we digress. Residents of Bedford at Falls River recently collected donations for FFD, the article notes. And on the fire department's web site is a letter urging citizens to contact the county commissioners. The Fall Fire Chief is also quoted, and says the station's staff will soon petition the Wake County Fire Commission3. They have 50 volunteer and part-time staff members, and the station responds to about two calls a day.
The county Fire Marshal notes that "full-time staff and resources from stations that close would be transferred to other departments." However, Falls doesn't have full-time members. "We're looking at that data, too, and trying to fight this," says the Fire Chief. Read the article.


Takaaki Iwabu/News & Observer photo


1The four stations being evaluated for possible closure are Bay Leaf #3, Falls, New Hope #1, Western Wake. Read this prior posting for the last update on the closure process. It includes this presentation
made to the Board of Commissioners.
2When did the other three stations being evaluated open? Bay Leaf #3 opened as Six Forks Fire Department in 1974, the department's fourth location since forming in 1956. New Hope #1 opened circa 1958, the department's second location after forming in 1956. Western Wake opened as Western Wake Station 1 in 1998, established as a merger of Fairgrounds and Yrac fire departments.
3Relevant to discussions of closures are the two TriData studies that have analyzed the county's fire service system. In fact, the 1994 study led to the creation of the fire commission. See this prior posting to learn about and read both studies.
+ 14 - 20 | § ¶
Tonight's Fire Commission Meeting Agenda
Here's the agenda for the Wake County Fire Commission meeting tonight, Thursday, November 19, at 7:00 p.m., at the Wake County EMS training facility in the lower level of the Commons Building. Note that the fire station closure process is not on the agenda tonight. We'll post the handouts from tonight at a later time.
Agenda

Call meeting to order

Invocation
Roll of members present
Approval of agenda

Minutes

Adoption of minutes for July 16, 2008, regular meeting
Adoption of minutes for October 8, 2008, special called meeting

Regular Agenda

Proposed fire contract revisions

Information Agenda

Calendar year 2010 meeting dates
Fire tax financial report
Facility Committee report
Chair report
Fire/Rescue Services Director report

Other business
Public comments
Adjournment
+ 16 - 17 | § ¶
Mount Airy Museum / Other Old Fire Apparatus? (Updated)
Readers Doug Carter and Rob Mitchell send some photos from Andy Griffith's hometown of Mount Airy, where this 1926 American LaFrance triple combination sits in the basement of the Mount Airy Museum of Regional History. That institution also has the primo web domain of www.northcarolinamuseum.org. Two other pieces of fire apparatus are also parked in the museum.
Left is a 1910s (?) American LaFrance pumper that Sanborn Maps from 1922 said was equipped with a 750 GPM pump, 1,250 feet of 2 1/2-inch hose, a 40-gallon chemical tank with 200 feet of "chemical hose," two 2 1/2-gallon chemical extinguishers, and two 36-foot ladders. Right is probably a 1950s American LaFrance.
Question for readers. What other museums around the state are showing antique fire engines? That is, in addition to the fire museums in Catawba County, Charlotte (now closed), Kinston, New Bern, Rocky Mount, and Warrenton (in progress)? (See photos from some of them.)
Some that come to mind include the Chapel Hill Museum (see photos), the Graham Historical Museum, and the Museum of the Albemarle in Elizabeth City (see photos). Click to enlarge:


+ 20 - 19 | § ¶
Bethesda Fire Department Christmas Tree Sale
Starting the day after Thanksgiving, November 27, the Bethesda Fire Department in Durham County is again selling Christmas trees at Station 2 at 7305 Leesville Road in Durham. They also have a limited number of wreathes. The sale continues until their stock is gone. See this web site for prices. Uno! Dos! Trees!


+ 15 - 18 | § ¶
Next Weekend's Flea Market
Who's got stuff to sell? On Saturday, November 21, the area's first "firematic" flea market opens at Western Wake Fire Rescue in Raleigh, from 10:00 a.m. to 2:00 p.m. Booths are available for individuals or vendors who have large quantities of items to sell or trade. Several general tables will also be available, for folks who have 5 or 10 items that they want to sell. You can just bring your stuff and show up!

What does "firematic" mean? Anything related to the fire service, be they books or models or helmets or old equipment. Have some old nozzles and extinguishers to unload? Want to buy Code 3 or Matchbox models? Maybe you're a dealer of fire and public safety equipment, and want a full-fledged booth. More information is available at www.westernwakefirerescue.com/fleamarket.
Feel free to post your sale list here, to give folks a heads up. Mr. Blogger will be bringing toys and books, for starters. His stash looks something like this. He'll probably add an old Gamewell gong, and some other goodies.
The flea market is being held in conjunction with an anniversary ceremony celebrate 50 years of fire protection by Western Wake, Yrac, Fairgrounds, Cary Rural, and Western Boulevard fire departments. Read more about the events.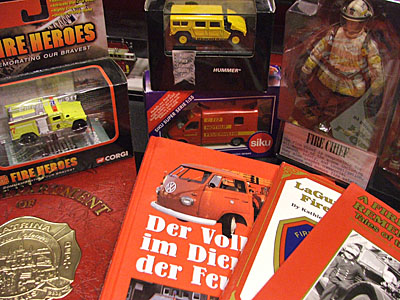 + 18 - 15 | § ¶
Reader Mail
Opening the mailbag again, with more letters from readers, site visitors, and random Googlers. Was my answer wrong, really wrong, or incomplete? Let me know.
Q: Can I still receive Cary Fire Department dispatches on a regular, non-trunking, non-digital trunking scanner?
A: Don't think so. For some years after CFD migrated to an 800mhz radio system, their dispatches were simulcast on 154.235. Don't believe that's available, nor has been available for a while. But you still can listen to Raleigh and Wake County fire dispatches on 154.370 and 154.190, if that's any consolation!
Q: What's happening at the Swift Creek fire station, with all the excavators and construction equipment. Looks like perhaps hydrant fill pipes?
A: SCFD recently allowed themselves to be annexed by the town of Cary, so they could have a water source for the sprinkler system that's planned as part of their dormitory renovations. That's likely what's happening.
Q: Our department's have a drill / live burn / fundraiser / open house / etc... we would love for you and Lee to come and take pictures...
A: Thanks for letting us know, and please keep letting us know. Our schedules and free time are different between the two of us. We'll try to make it.
Q: I was at the State Fair and there were two women arguing over your photo and the second photo [both of which show the same view of a Knightdale firefighter at a live burn]. They were like "how the [bleep] did two different people get the same photo. The person's the same. The fire's the same. I just don't get it."
A: Hilarious!
Q: What's Lee Wilson's e-mail address?
A: CFP702 "at" aol.com.
Q: Can you tag a photo of me that you took on Facebook?
A: Since I rarely upload incident or event photos to Facebook, here's what you need to do:
Download the photo to your computer. Just right-click on the picture, and save same somewhere.
Log into the Facebook web site.
Upload the photo to your Facebook account.
Tag yourself.
+ 16 - 16 | § ¶
Departments with Opportunities for College Students?
Received a question from a high-school senior and a junior firefighter who has applied to be an adult firefighter at his department. His question is about opportunities for college students in fire departments about the Triangle, and or central Piedmont. Question #1, what departments have part-time employment opportunities for night-time coverage? Question #2, what departments have residency programs that allow students to live at the station for free, and while providing night-time coverage? Thanks for any input. Feel free to post your suggestions, or mail Mike directly. Thanks.
+ 19 - 22 | § ¶
How To Wear Your Radio Strap
From a reader and by way of the RadioTech web site comes this demonstration of how to wear your radio when using an New York-style strap. The author is a Virginia firefighter, who advocates the safety of wearing the strap inside your turnout coat. Have a strap, but do something different? Don't have a strap? Share your techniques for keeping your radio handy.


+ 13 - 22 | § ¶
Large Time Had By All
Last night's Fourth Annual Tartan Ball was the expected blast. This year's guest band was the North Carolina State University Pipes & Drums, which performed several well-received sets. There were Irish and Scottish dancers, too. And, of course, the Wake & District Public Safety Pipes and Drums, who sponsored the event. Photos from Legeros (below) and Lee are coming. Pictures of pipers piping, dancers dancing, people watching, people watching other people, people taking pictures of people, and even a little disco action on the dance floor. Beware the guy in a Hawaiian shirt doing the electric slide.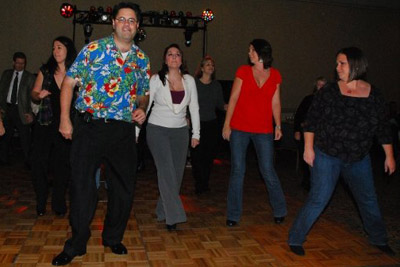 + 14 - 13 | § ¶
Barstow, CA: 2,554 Miles
The News & Observer reports that the Wilmington Star reports that everyone's favorite sign where Interstate 40 starts at the coast has been stolen for the fourth and last time. There's also a similar sign at the other end on the west coast, and it also has had problems with thievery. Raise your hand if you're ridden the entire length. And share your stories, you lucky b&stards. Mr. Blogger has made exactly one coast-to-coast trip, but that was Seattle to Raleigh in 2000. Some 4,000 miles driven, 30,000 words written, and 90 rolls of film shot. You remember film?



+ 16 - 10 | § ¶
Yesterday's Major Fire in Henderson
WRAL has posted some video footage from yesterday's major fire at the old J. P. Taylor tobacco plant at 800 J. P. Taylor Road in Henderson. The three-story (?) building, presently a Pacific Coast Feather storage facility, was reported on fire at 3:34 p.m. Vance County FD was first on scene with heavy smoke showing. Crews commenced an interior attack for 30 to 45 minutes, reports this Henderson Dispatch article. Subsequent aerial operations utilized trucks from Henderson and Oxford. Over 100 firefighters were on scene from Vance, Granville, Warren, and Franklin Counties. Fire departments included Vance County, Bear Pond, Watkins, Kittrell, Henderson, Cokesbury, Kerr Lake, Epsom (Franklin), Louisburg (Franklin), Franklinton (Franklin), and Oxford (Granville).


Daily Dispatch/Ashley Steve Ayscue photo
+ 17 - 11 | § ¶
Wake County Fire Commission Meeting, Thursday, November 19
The next meeting of the Wake County Fire Commission is scheduled for Thursday, November 19, at 7:00 p.m. Same location as always, the Wake County EMS training facility in the lower level of the Commons Building. We'll post an agenda a couple days prior. This is the regular scheduled meeting of the commission.
+ 14 - 10 | § ¶
Highway Patrol Fire Apparatus
We blogged before about a quick-response crash truck delivered around January to the North Carolina Highway Patrol Training division. Lee Wilson has snapped some photos, while recently shooting some helicopter training off Garner Road. This 1995 F-350/21st Century Foam unit is a refurb, with a 150 GPM Darley pump, 225-gallon tank, and a 12-gallon foam cell.
What other odd pieces of fire apparatus are serving around Triangle, outside of fire departments? Twenty years ago, IBM had a Ford C pumper protecting their RTP facilities. The Harris Plant also had an engine on site. What's around these days? The only thing that readily comes to mind is the Oshkosh/Pierce 8x8 tactical fire truck at the Air National Guard base. Click to enlarge:


+ 15 - 9 | § ¶
Chicken Barbecue
Please don't droll on your monitor. Those trays of heavenly 'cue were served last night in Rolesville at the quarterly meeting of the Wake County Firefighters Association. The English language is insufficient to describe the culinary quality of said entree. 'Twas served with the regular fixin's, boiled potatoes, slaw, etc. And, of course, loaves of white bread at each table. While Mr. Blogger's fondness for barbecue chicken is well-known in Johnson County, particularly at Stephenson's on Highway 50, his love of chicken barbecue is even greater. And fittingly, he first tasted same in a firehouse, some twenty years prior as a probie in Raleigh. The recipe's easy enough. Grill chicken, remove bones, add sauce. Unfortunately, there aren't any restaurants in Raleigh that serve same. And Mikey rarely takes the time to cook. Thus we return to the firehouse kitchen. What better place for eating chicken barbecue? Count me in.


+ 12 - 16 | § ¶
USS New York
A reader passes along the timely information about the USS New York, one of three new amphibious assault ships named after the places in three states that experienced the terrorist attacks of September 11, 2001. As this USS New York web site notes, special features of the ship include her bow stem that includes seven and a half tons of steel recovered from the World Trade Center's twin towers. Earlier this month, the USS New York was welcomed at its namesake city. Read this AP/NBC story about the ship and its crew and its visit to New York City.


+ 17 - 12 | § ¶
Ida Red
Heavy rain and high wind is the predication as the remants of Hurricane Ida turn their attention to the Carolinas. Flash flood watches and wind advisories have been posted by the National Weather Service. We'll see what happens. If you can't stay dry, at least stay safe...


+ 14 - 13 | § ¶
Mystery Machine
Here's a wicked looking piece of apparatus, found with a bit of general web surfing. What's this thing do? Specialized emergency vehicle? Some sort of construction equipment? Something else, altogether? (Say the last line in unison. You know, altogether.)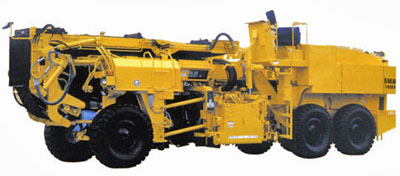 + 11 - 13 | § ¶
Cary's Technical Rescue Truck
As noted in our apparatus update, the Cary Fire Department recently acquired an 18-wheeler to replace their technical rescue trailers. Drivers are being trained, and the equipment storage configuration is being designed. Here are a couple pictures: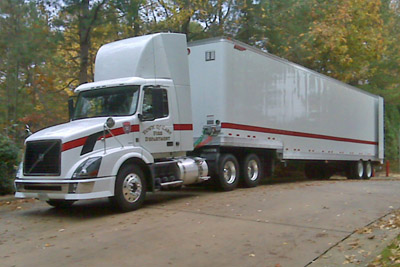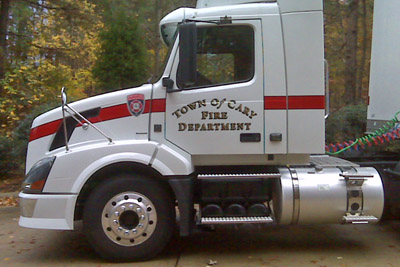 + 20 - 9 | § ¶
Sutphen Pumpers Delivered in Durham
The Durham Fire Department has received a pair of Sutphen Shield Model SR pumpers, each equipped with Hale 1,500 GPM pumps, extended front bumpers with 1 3/4-inch discharges, and booster reels in a rear compartment. They're also equipped with 40 gallon foam tanks. They'll be assigned to Engine 9 and Engine 13. tanks. Engine 4 will receive the current Engine 9, a 2008 Sutphen. Read more on the Sutphen site, or click once or twice to see a larger photo:


+ 9 - 20 | § ¶
Bird Strike Grounds Duke Medical Helicopter
WRAL reports that a chicken hawk brought down a Duke University Medical Center helicopter on Sunday. The aircraft was returning from Danville, VA, where it had picked up a patient. The bird flew into the tail and damaged the craft, which landed safely in a Yanceyville neighborhood. No one was injured, and a UNC Air Care helicopter was dispatched to continue the patient's flight. Also see this WFMY story, which includes additional photos and details about the neighbors reaction. Said Joyce Mitchell, who lives next door to Mae Long, who was in her kitchen at the time of the surprise landing, "that's a helicopter." Glad everyone's safe.


WRAL photo
+ 12 - 9 | § ¶
Wake County EMS System Alarm Levels
On September 15, the Wake County EMS System implemented an EMS alarm system. For those listening closely, this is reason you've heard so many EMS units dispatched to certain calls, such as structure fires at nursing homes.
Box Alarm: 2 EMS units, 1 District Chief
First Alarm: 3 EMS units, 2 District Chiefs, 1 APP, Truck 1
Second Alarm: 6 EMS units, 3 District Chiefs, 2 APPs, MD1 (Medical Director)
Each additional alarm adds 3 EMS units, 1 APP, 1 District Chief.
What are the dispatch criteria for these alarm levels? They are listed below. The box alarm is a familiar one, but the first alarm dispatch criteria are notably new for high-rise and high-risk structure fires. Note that CAD only initially recommends EMS alarm levels up to a second alarm. Anything above that is requested by the EMS District Chief or Medical Branch Director.
Also, note the absence of RDU alert levels. The airport fire department is changing/has changed to requesting EMS resources using alarm levels, based on the resources they determine are needed for the type of incident.
READ MORE
+ 16 - 10 | § ¶
External Flash and How Much Light?
Here at Blog Central, we attempt to answer the unanswerable. Those difficult questions that elude even the most enlightened day room discussions. How should Wake County fire apparatus be numbered? What is the effect on fire load if straight-bore aerial streams are debated the next day? If a passenger train leaves Raleigh toward Durham at 5:25 p.m., and a freight train leaves Durham toward Raleigh at 7:16 p.m., how many anonymous posters will leave negative comments before either train departs?
Today we solve the mystery of camera flashes. Specifically, external camera flashes. Have you ever wondered just how much light an external camera flash produces? We have found the answer. Here's an external flash in action, as photographed earlier this year. The results speak, er, show for themselves. Pretty cool photo. Next up for the blog brain trust, how many licks does it take to get to the center of a Tootsie Pop? Hope Statter or 'Geezer doesn't get there first. One… two… Click to enlarge:


+ 17 - 10 | § ¶
Apparatus Updates
Let's start the week with some apparatus updates. Raleigh has awarded Pierce the bid for replacing Ladder 4, the 2004 Pierce Arrow XT tiller that overturned in July, and injured three firefighters. The 100-foot aerial ladder, which was also equipped with a 1500 GPM pump and a 300 gallon tank, was totaled.

The city also recently placed an order for a pair of Pierce pumpers, to replace a pair of front-line engines. Two Pierce Arrow XT engines, 1500/500/30, were delivered earlier this year, and are assigned to Engine 1 and Engine 20.

Also in Raleigh, NC Task Force 8's new USAR 1 was recently placed in service. The 2009 Hackney trailer with a 2005 Volvo cab was delivered in May. It replaces a 1974 Hackney beverage trailer with a 1998 Sterling cab. Read prior posting. Old USAR 1 has been designated USAR 7, carries a reserve cache of equipment, and will be staged in Durham. Also, USAR 1, USAR 2, USAR 3, and USAR 5 are presently parked at the Keeter Training Center, while upgrades are being done.

Cary has two Pierce Velocity 1500/500/30 pumpers in production, and they'll be the first for the town with speed lays. Cary engines all have rear lay configurations. They'll also have through-the-tank ladder compartments, which is also first. The town has also awarded Pierce the bid for a third pumper.

Also, the Cary Fire Department recently acquired an 18-wheeler to replace their technical rescue trailers. Drivers are being trained, and the equipment storage configuration is being designed.

Knightdale took delivery on Saturday of a refurbished 1997 Pierce Quantum aerial ladder, 105-foot, 1500 GPM, 300 gallons, and two 25 gallon foam cells. And a bell on the bumper! Designated Ladder 135, it replaces a 1973 Ford/Pierce telesquirt. Read prior posting.

Falls Pumper 212 was seriously damaged in a single-vehicle accident last week. No firefighters were injured. The 2007 Pierce Contender has been sent to the factory for repairs.
+ 18 - 15 | § ¶
Mystery Thermostat
Where was this photo taken? Hint #1. The building is over 50 years old. Hint #2. There are big red vehicles parked inside.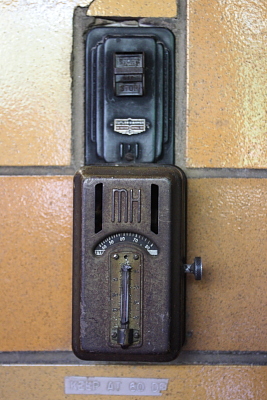 + 10 - 11 | § ¶
This Morning's Mass Casualty and Haz-Mat Incident in Knightdale
Hazardous exposure inside the McDonald's at 7141 Knightdale Boulevard. Multiple patients complaining of chemical odor and coughing and irritated throats. Dispatched 10:11 a.m. and second EMS alarm soon requested. Knightdale Public Safety established fire branch outside building, with Knightdale 100 soon assuming command. Eastern Wake District 6 established medical branch in Walgreens parking lot, beside McDonald's. Total of 31 patients, all green tag. ThreeSix transported. Patient evaluation area subsequently moved to Wake EMS Truck 1, parked behind the Walgreens. Raleigh haz-mat team special called, and investigating cleaning chemicals as possible source. No other buildings evacuated. Fire units included Knightdale E131, E132, T138, 100; Raleigh Haz-Mat 2, Battalion 2; EMS units included EMS 7, EMS 11, EMS 15, EMS 31, EMS 62, EMS 63, EMS 68, EMS 124, M93, D1, D2, D3; D6, MD1, Truck 1. Who else? Pics from Legeros later. See any news station for current coverage.



And here's a hasty panorama. Click once or twice to enlarge:


+ 9 - 13 | § ¶
Zaxby's Offer Free Meals to Local Heroes
Speaking of food service promotions, in observance of Veteran's Day, eleven Zaxby's locations in the Triangle are honoring all community heroes, including police officers, firefighters, EMTs and military servicemen and women during its Community Heroes Celebration. On that day, Wednesday, November 11, all men and women in uniform will receive one free Meal Deal at the following locations:
4150 Fayetteville Road, Raleigh
8812 Harvest Oaks Drive, Raleigh
2901 Hillsborough St., Raleigh
1341 N. Main St., Fuquay-Varina
12857 U.S. Highway 70 W., Clayton
501 E. Jackson Blvd., Erwin
1405 Walter Reed Road, Fayetteville
3015 N. Main St., Hope Mills
6702 U.S. Highway 64 E., Knightdale
1410 Jefferys Road, Rocky Mount
1703 E. Market St., Smithfield
The restaurant is also sponsoring a sock drive for soldiers in conjunction with Military Missions in Action. Fill the Footlocker runs November 9 to November 13, during store hours. White athletic socks are the top-requested care item by soldiers serving overseas. Guests whyo donate a package of same will receive a free Nibbler sandwich.
+ 15 - 18 | § ¶
N.C. Assistant Chief Busted For Speeding to Apartment Fire
From a reader, that's the provocative headline from firehouse.com, reprinting a Burlington Time-News story about a Gibsonville Asst. Chief charged with fleeing/eluding arrest in the course of responding to the fire station, to respond to an apartment fire on October 9. The veteran volunteer firefighter was responding in the family's third car, and one without any emergency lights. He hit his hazards and headed to the fire station from his shop in Elon. Along the way, an Elon University Police unit pulled behind him, and was flashing its lights. The firefighter thought the officer was responding to the fire. The officer was trying to pull the firefighter over, and subsequently charged the Asst. Chief with the felony as well as five traffic charges. The felony charge was dismissed on Oct. 15. The other charges are still pending, with a court date of December 10. Read the entire story.
+ 18 - 20 | § ¶
Asylum: Inside the Closed World of State Mental Hospitals
Browsing at Quail Ridge Books last night, we came upon a splendid book by photographer Christopher Payne titled Asylum: Inside the Closed World of State Mental Hospitals. The 216-page hardcover, published by MIT press in coffee-table size, collects his photos of these beautiful, decaying institutions. Cherry Hospital (Goldsboro) and Broughton Hospital (Morganton) are included. Didn't see Dorothea Dix in there, but might have missed it. The book includes a number of historical postcards and a handful of historical images. The rest-- the bulk-- were shot in recent years by Payne, and document all aspects of asylum infrastructure.
As the author notes, these hospitals were designed as self-sustaining communities, with facilities for growing food, treating water, and even fighting fires1. One piece of hospital fire apparatus is pictured. Oliver Sacks provides an introduction and cautions against romanticizing the images. These were sad places that served the nation's needs as best as medical knowledge knew. The book is a must read for anyone with a historical interest in such places, and their buildings. And it's a good reality check. The brain is a delicate instrument and one that often requires adjustment or accommodation at some point in our long lifetime.
1 Broughton Hospital formed a fire department by the 1900s, with hand-pulled equipment followed by a 1920s American LaFrance pumper. They stayed in operation until around 1970. Their old station is still standing. Cherry Hospital had a fire department by 1924, with nine members and three hand hose reels. No further information known. Dorothea Dix had a fire department by 1895, with two hand hose reels. That department was likely disbanded within a couple decades.
+ 18 - 12 | § ¶
Knightdale's New Aerial Ladder
Knightdale Public Safety took delivery today of a 1997 Pierce Quantum aerial ladder, 105-foot, 1500 GPM, 300 gallons, and two 25 gallon foam cells. The refurbished apparatus previously served as Ladder 8 in Madison, WI. The broker was an apparatus dealer in Alabama, and the rig arrived on a flatbed this afternoon. Designated Ladder 135, it replaces a 1973 Ford/Pierce 50-foot telesquirt that was placed in service when KPS was established in 2002. The squirt was purchased from the city of Greensboro, and formerly served Guilford College Fire Department. Trivia question, was the first aerial apparatus to serve the town of Knightdale, and where is it today? Pics of the new truck from Legeros (below) and Lee coming soon. Click to enlarge:


+ 18 - 12 | § ¶
Every Man Needs a Cave
Presenting the fire caves, as shared by readers both near and far. Barry's cave contains mementos from service as fire officer in three states prior to North Carolina. His Christmas tree stays standing 365 days a year and contains some 400 ornaments, with more added every year. J.D.'s cave reflects his service at Cleveland and Holly Springs fire departments. Bill's cave consumes his entire bonus room. Love that rack of vintage radio equipment! Allen's cave reflects his service both in North Carolina and Iraq. A. Reader's cave combines his passions of firefighting and baseball. Mr. Blogger's cave is a combination computer room, research room, drum room, and die-cast display room. That's his helmet on the wall from his Raleigh years. View the photos:


+ 14 - 11 | § ¶
Papa John's Pizza for NC Fallen Firefighters Foundation, November 9 to 15
Papa's in the Fire House is special promotion next week at all Papa John's Pizza stores in Wake, Durham, and Orange counties. Order the $24.99 special-- one large specialty pizza, buffalo wings or other side, and a two-liter Coke product-- and Papa John's will donate $5 to the North Carolina Fallen Firefighter's Foundation. The promotion runs Monday to Sunday, from November 9 to November 15. Papa Johns has set an ambitious goal of raising $20,000 for the NCFFF. Spread the word, order the special, and contribute to a good cause. View a promotional flyer
.
+ 12 - 12 | § ¶
Tar No Far
WRAL posted this photo of the tar truck that overturned this morning in Apex on Highway 55 near Highway 1 this morning. The driver was not injured, and no other vehicles were involved. Responding agencies, as memory serves, included Apex Fire, Apex EMS, Cary Fire, Cary EMS, and the county fire marshal. Alarm time about 6:39 a.m. Looks like a sticky situation. NBC17 has a ground-level photo.



WRAL photo
+ 17 - 14 | § ¶
Reflections on Research
In addition to finding and photographing all those former and historic firehouses in central and western North Carolina, this year's trip to the mountains also included stops at libraries, history rooms, and historical societies in Asheville, Charlotte, Gastonia, Hendersonville, Kannapolis, Morganton, and Salisbury. The same question was asked at each stop. Do you have historical information on local fire departments? The results were varied; treasure trove here, crickets chirping there. The vertical files at the Burke County headquarters library were well-stocked, as were the files at the main Charlotte-Mecklenburg branch. The availability of a computer and scanner at the latter saved me many dollars on copies.
Asheville's Pack Library has copied and bound their vertical files-- which are collections of clippings and other paper materials-- and the volume about fire departments was reasonably rich. Other places, alas, had thinner files. The history room at the Cabarrus County system's Kannapolis branch yielded a few photos in addition to some useful clippings. They too had a computer and scanner for patron use. Time didn't permit a visit to the Concord branch and their history room, however. That's the place with county-wide information, and not just about Cannon Mills and Kannapolis.
READ MORE
+ 18 - 10 | § ¶
Answering Outside Fire Calls, 1944
For your Friday enjoyment, here's a nifty excerpt from a report published by the North Carolina League of Municipalities in 1946. Below is a list of all municipalities with populations greater than 10,000 in January, 1944, and how their fire department handles calls outside the town or city limits. The intention of the report was to provide municipalities with a perspective on answering "outside calls." The report also includes answers to legal questions about authority, rights, and liabilities of municipal fire departments responding to calls outside their jurisdictions.
ANSWERING OUTSIDE FIRE CALLS (POLICIES OF NORTH CAROLINA CITIES OVER 10,000 POPULATION)
January, 1944
ASHEVILLE: (Pop. 51,310). Answers outside calls within radius of 10 miles as an accommodation. Fee of $50 per call is imposed though seldom collected. No county appropriation. No agreements with property owners executed. Fire Chief has authority for answering these calls. No special equipment available.
BURLINGTON (Pop. 12,198). Answers outside calls within radius of approximately one mile. No fee imposed. Estimated cost of each trip to the city is $40. No agreements with property holders. An effort has been made to obtain insurance riders on insurance policies of outside residents, but only three have complied. No effort made to obtain county appropriation. Fire Chief or Mayor has authority to release equipment for these calls. No special equipment available.*
READ MORE
+ 12 - 10 | § ¶
Western Wake Anniversary Ceremony & Flea Market, Saturday, November 21
We're two weeks away from the Western Wake Fire Rescue Anniversary Ceremony & Firematic Flea Market opn Saturday, November 21, from 10:00 a.m. to 2:00 p.m. They're celebrating over 50 collective years of fire protection in western Wake County, with a ceremony honoring past and present members of the Cary Rural, Fairgrounds, Yrac, Western Boulevard, and Western Wake Fire Departments. And they're hosting the area's first "firematic" flea market. You can buy, sell, trade, or ask about "firematic" merchandise. The location is the Western Wake fire station at 4021 District Drive, Raleigh. The flea market starts at 10:00 a.m., and the ceremony starts at 12:00 p.m. For registration information and event rules, visit www.westernwakefirerescue.com/fleamarket.
+ 20 - 12 | § ¶
1939 Coast to Coast Fire Run
From a reader, have you ever heard about the coast-to-coast fire run of 1939? 'Twas a fire prevention promotion that began on August 12 at the World Exposition in San Francisco, where a fire was lit and a call was made to the other World's Fair in Flushing Meadows, New York. Five volunteer firemen hopped aboard a new 1939 Mack pumper and "responded." They arrived five weeks later, having traveled 5,890 miles and with stops including Philadelphia, Baltimore, Chicago, Wichita, Oklahoma City, and Los Angeles. Read this remarkable story, and see numerous pictures.


+ 12 - 13 | § ¶
Kannapolis Reel Team, 1928
The Kannapolis Fire Department was formed in 1916. They operated a hand reel for nearly two decades, not acquiring their first motor pumper until 1934. Their proficiency as a reel team was demonstrated in 1929, when Kannapolis tied with East Spencer for first place in the hand reel contest at the annual state fireman's tournament. Kannapolis took exclusive first place in 1930, and continued first place wins for every subsequent year until the hand reel contest was discontinued in 1937. Learn more about the tournaments. Pretty cool picture, courtesy of the Kannapolis Library. Click to enlarge:

+ 16 - 14 | § ¶
October FireWatch
The latest episode of the Raleigh Fire Department monthly cable television show FireWatch is available for online viewing. It also airs each week on RTN Channel 11. The October edition features an interview with Bonnie Woodruff, a well known advocate for home sprinkler systems. In 1996, her son and four others were killed in a fire at the Phi Gamma Delta fraternity house in Chapel Hill. Since that time, she's been a tireless advocate for stronger fire safety measures. The October episode also includes a segment with North Carolina Commissioner of Insurance Wayne Goodwin.

+ 13 - 16 | § ¶
Union Cross Deputy Chief Dies After Shift
FireNews has posted details on the death of Union Cross Deputy Chief Chad Eric Greene, who died Wednesday after responding to a vehicle accident and completing a shift with Union Cross Fire Rescue. Green, 34, was found unresponsive at his home about noon, and was pronounced dead at North Carolina Baptist Hospital at 12:30 p.m. Greene was an 18-year veteran at Union Cross, as well as a 13-year veteran of the High Point Fire Department. His rank was Fire Equipment Operator.
+ 17 - 13 | § ¶
Facebook Discussion on Discussing Apparatus Accidents
Trying something new, we started a discussion earlier today on Facebook, on the topic of discussing apparatus accidents. The question, complete with misspellings in the original posting, was this: Should apparatus accidents be talked about or kept hush hush? Is there greater good from shared experience and safety tips; or is it more bad press and embarrassing than anything else?
Read the responses and join the discussion, which requires two things (a.) logging onto Facebook (which requires free membership) and (b.) sending a friend request to Mike Legeros (if you are not a friend already). Apologies to those who wish to remain anonymous and participate. And feel free to unfriend Yours Truly after the discussion runs its course!
In a perfect world, we'd have a separate Facebook account for this blog, and it wouldn't requiring friending for reading. We'll work on that.
+ 19 - 16 | § ¶
Wake County Firefighter's Association Meeting Agenda, Tuesday, November 10
The tentative agenda has been made available for the quarterly meeting of the Wake County Firefighter's Association is Tuesday, November 10, at the Rolesville Fire Department at 104 E. Young Street. The meeting starts at 6:30 p.m. Visit their web site to review minutes from previous meetings.
Return Thanks
Meal
Call Meeting to Order
Roll Call
Attendance Award
Financial Report
Minutes of Last Meeting
Old Business
Agency Reports
Committee Reports
Committee Volunteers
New Business
Election of Officers
Door Prizes
Guest Speakers
Presentation on Firefighter Life Safety
+ 14 - 17 | § ¶
Fuquay-Varina Station Renovation
Our friends in Fuquay-Varina pass along these photos of the renovations at Station 1. The new wing should be completed in mid-December, with the renovations of the old wing starting after Christmas. Everything should be completed by mid-March. Click to enlarge or read a prior posting about the work:

+ 15 - 13 | § ¶
Medics
Units arriving at a motor-vehicle accident this afternoon on Creedmoor Road north of Crabtree Valley Avenue. Motorcycle versus minivan. Three transported, included two trapped. Pics by Legeros later.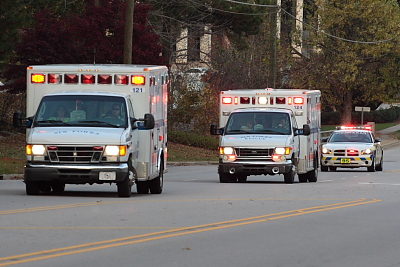 + 15 - 13 | § ¶
Metropolitan Hall Didn't Burn
For years, my Raleigh Fire Department timelines have included the event "Metropolitan Hall Burns" in the year 1920. The exact date wasn't known, nor were details available. As memory serves, I had tried and failed a couple times to find details of a fire there. Turns out, the building never burned. Instead, it was simply demolished in 1920. The structure was built in 1870, to replace the original City Market slash municipal building that burned two years earlier. Metropolitan Hall was a three-story structure on Fayetteville Street that housed the mayor's office, the jail, the city market, a couple engine houses, the fire alarm bell in a clock tower, and more. The fire department vacated their rooms by the 1890s. Most of the building was vacated in 1914. But it didn't burn. Source: Elizabeth Reid Murray Collection files on Metropolitan Hall at Olivia Raney Local History Library.



North Carolina State Archives photo
+ 15 - 15 | § ¶
Midway Fire Department in Drexel?
Burke County readers, have you heard of a Midway Fire Department, organized in 1961? They were formed to serve the rural areas outside the town of Drexel. They elected directors and officers in February 1961, with W. P. "Pete" Ballew as Fire Chief and Harold Pruett as Asst. Chief. The impetius for organization was the town announcing that they would discontinue answering fire calls outside of town. Nothing found in the state corporations database. Were they a precursor to Triple Community FD, who where incorporated January 1962?
+ 15 - 16 | § ¶
TriData Study of Wake County Fire Protection, 1994
Last month, we were discussing the TriData study of 2004, and in the context of station closures. We've since received a copy of the original 1994 study, also by TriData, and have uploaded a copy of that as well. Titled Comprehensive Review of Wake County Fire Protection, the report was submitted to the Board of County Commissioners on September 28, 1994. The document is immensely interesting, and from a variety of perspectives. It's certainly required reading for anyone with an interest in the county fire service.

An international consulting firm that specializes in the operation and organization of fire departments and emergency medical services, TriData was tasked lo those years ago with these objectives, paraphrased here:
Review and evaluate the fire departments in Wake County, and make recommendations to move everyone effectively, efficiently, and cooperatively toward an optimum level of countywide fire protection.
Develop a five-year plan for the allocation of major resources throughout the county, e.g. stations, equipment, apparatus, paid personnel, water points.
Assist county staff in developing the means to revise these plans as demographics and risks change over time.
Develop a model standard operating guide for managing county volunteer departments.
They were also asked 11 specific questions, paraphrased here:

What's their opinion of the 21 departments serving the county, and the system as a whole?>
What alternatives (including no change to current system) do they offer for review by the Board of Commissioners?
What's their recommendation for a five-year and ten-year plan for programs, budgets, and resources?
What's their assessment of existing equipment, and recs for adding/replacing?
What's their assessment of existing stations, and recs for adding/replacing?
How will proposed annexation by cities and towns affect county fire service delivery?

What financing and structural alternatives does the county have for fire protection? e.g., taxes, fees, consolidating departments, etc.?
Should county departments improve their insurance ratings? If so, how? What should be the goal for insurance ratings?
What are their recs for staffing and organizing full-time firefighters, while being sensitive to the need for a strong volunteer base?
How should the county handle confined space rescue and mat response needs?
How can we improve the fire service's role in fire suppression, investigation, and training?
The report numbers 216 pages and includes recommendations in these areas:

Overall system of fire protection
Volunteer organizations
Volunteer and career personnel
Relationship between rural fire departments and municipalities
Fire advisory board
Restructuring the Fire Marshal's Office
Consolidation of tax districts and distributions of funds
Insurance class ratings

Response standards
Fire prevention and public fire safety education
Fire investigation
Apparatus
Facilities
Special rescue and hazardous materials
Training
Communications
Read the 1994 report recommendations
only, excepted from chapter 1.
View the 1994 report, which consists of multiple PDF files.
See the subsequent 1999 report on the Wake County EMS System.
As previously posted, you can also read the Wake County Fire/EMS Capital Facility and Equipment Study that was presented to the Wake County Fire Commission in January 2004. And as noted before, the fire commission voted to not move the study forward.
View the 2004 report summary presentation
, shown to the fire commission in 2004.
View the 2004 report, which includes very large PDF files.
Read our recap and discussions from 2007.
+ 14 - 15 | § ¶
Matchbox Pierce Quantum Ladder
Check store shelves for the latest variation of the Matchbox Pierce Quantum aerial ladder, part of their Real Working Rigs series. They're scaled around 1/70 or 1/80, and are priced about $5.00. Three versions are available in red, white, and yellow. The white version is a fictional department. More Pierce replicas are coming in 2010, we're told!


+ 14 - 16 | § ¶
Cave Photos Due Friday
Final reminder that Friday, November 6, is the deadline for sending pics of "fire caves." Remember to indicate if you want to be named. Send your pictures.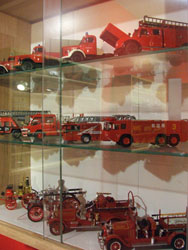 + 17 - 12 | § ¶
Fire Apparatus Journal, November-December 2009
The latest issue of Fire Apparatus Journal contains some local coverage. There's a pair of photos by Lee Wilson, of Engine 20 and Ladder 7, as well as some general apparatus updates for the Capitol City. Great seeing local shots, and hope we'll see more! For those who don't subscribe, you might be able to buy copies at Borders bookstores. For a while, local stores were carrying the mag. Maybe they'll still do.


+ 14 - 15 | § ¶
Carbon City Fire Department
Reporting from Burke County, where we learned about the Carbon City Fire Department. Their story begins in 1969, when the city of Morganton announced late that year that MFD would no longer protect property outside the city limits. A number of community groups began discussing forming fire departments. One group of property owners and corporate representatives from around Carbon City Road, west of the city, held a meeting in late December 1969.
They elected a chairman, proposed a fire district, and planned to ask county commissioners for a special election for support, reported the News-Herald on December 31. The proposed district had a tax base of $24 million, and would be one of the highest in any unincorporated area in Burke County. This was due to the large amount of industry. Manufacturing plants in the proposed district included Southern Devices, Great Lakes Carbon Corporation, Inmont (formerly Interchem and Wolverine Finishes), and Henredon.
By July 8, 1970, as the News-Herald reported, the Carbon City Fire Department had 18 members trained in "basic firemanship" and four members with "pump training." They had two trucks, and a four-acre property on Carbon City Road planned for a station. Work on the $35,900 building would start within weeks. The completed station was addressed 801 Carbon City Road.
Their success was short-lived, as the city annexed much of their territory on June 15, 1972. Reported the News-Herald on July 3, a merger was subsequently proposed between Carbon City and Morganton fire departments. Some of the particulars included retaining all CCFD members as MFD volunteers; naming the station Carbon City Company; accepting all assets and debts; assigning at least two paid personnel to the station; keeping the existing apparatus at the station, with exception of a 1,000 GPM pumper moved to Central Station; continuing to protect the remaining CCFD district, with continued tax levy.
The departments did merge, and the station was known for years as the Carbon City Company, or the Carbon City Substation. Below is the building today, now known as Morganton Public Safety Station 2.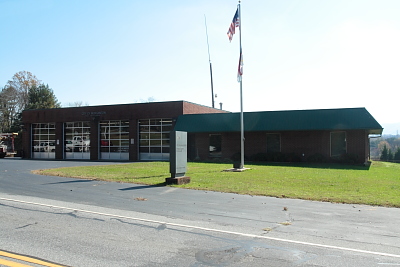 + 20 - 12 | § ¶
Fire Station and...?
These are mobile phone photos of Asheville Station 7, which was built with an adjoining two-story community center. Municipal multipurpose buildings that include fire stations were pretty common in prior decades. Everyone's seen a town hall slash jail slash fire station slash police station. Those date to the 1900s and earlier. Other combinations we've all seen include fire stations and libraries, fire stations and police stations, and even fire stations and auditoriums. Er, rather, auditoriums with a fire station. See Raleigh's Memorial Auditorium, built 1932 and serving as Station 2 until 1969. What sort of "fire station and..." buildings are being built these days? Besides the obvious "public safety stations" that combine fire, EMS, and police? One that comes to mind is Raleigh's Station 26, built a couple years ago with a reserve communications center attached. What are some others? Are there many others in these days of departments needing larger (and more secure) facilities?

+ 20 - 10 | § ¶
Haw Creek Fire Department / Asheville Station 12
One of Buncombe County's rural fire departments closed its doors this summer. Haw Creek Fire Department ceased operation on July 1, 2009. The district was split between Asheville and Reems Creek. Or, specifically, Reems Creek's second station at Beaverdam. (Did Riceville also receive some of their district?) The building at 880 New Haw Creek Road and two pieces of apparatus were transferred to Asheville, which opened the facility as Station 121. A third piece of apparatus, a pumper-tanker, was transferred to Reems Creek. Haw Creek's fourth piece of apparatus was sold to Fairview Fire Department. HCFD was organized in 1962 by a dozen charter members, and originally answered calls from the city limits around Tunnel Road to as far out as Swannanoa and Fairview. They had some 20-25 members on the roster at the end, paid and volunteer. The Asheville Citizen-Times covered the closing, and here's a gallery of photos of the closing dinner at HCFD. Sources are varied for this one, so western readers please correct as needed.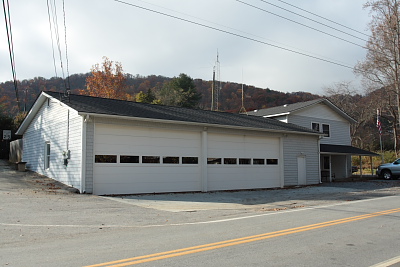 1Google finds a city planning document
that tells of additional AFD station plans, including a pilot project utilizing old Station 4 at 300 Merrimon Avenue as Station 13, and purchasing land on Sand Hills Road for Station 14.
+ 9 - 18 | § ¶
The Politics of Buildings Roads and Rockslides Therein
Today's Asheville Citizen-Times has an interesting article on the politics behind the building of Interstate 40 through Pigeon River Gorge in Haywood County, where a massive rockslide has currently closed the roadway. There have been at least 10 such slides that have closed the road since 1972. The article details the politics behind the decisions that built the road, and even some of the geology of the region. There are a number of photo galleries, including aerial shots, and related articles about the rockslide. Check it out.

Lester Bishop/Citizen-Times photo