+ 17 - 12 | § ¶
The Nicest New Station Around?
...on the outside, at least. Holly Springs new central station is something to see. More exteriors coming from Mike. Didn't get inside as, alas, we were just passing through.


+ 12 - 11 | § ¶
Non-Red Rigs, Rocky Mount and Wilson
More from Lee, via his photo site:


+ 22 - 10 | § ¶
Behind Services
What's presently parked behind the Support Services Center on New Bern Avenue? Truck 20, still out of service for repairs, plus two reserve engines, a reserve truck, and the reserve rescue:


+ 12 - 12 | § ¶
Early Raleigh Apparatus, Part 2
Lest we leave out the other types of early Raleigh fire apparatus, the early volunteers also operated a Gould steam engine that hand-drawn for the first nine years. Two Champion chemical engines were operated, the small one hand-drawn and the larger one horse-drawn. They probably looked like these. And starting around 1890, hose wagons were utilized until the early 1910s. This wagon drawing is from the US Patent Office.


+ 7 - 15 | § ¶
Old Station 6
Also recently unearthed at the Archives is a rare view of old Station 6 that occupied a rented building on Fairview Road on the opposite side of Oberlin Road as the present station. Observe that it had what appears to be a picture window in the front and bay doors to the right of the picture window. It served as a drugstore before the city rented same in 1943. It's presently a restaurant. The building to the right of the fire station is labelled "Hayes Barton Grocerteria." Click to enlarge:


+ 11 - 11 | § ¶
Old Fire Engines
Couple of neat new old pictures from the State Archives. Nashville, NC (left) and Goldsboro (right). Click to enlarge:


+ 12 - 13 | § ¶
Speaking of the State Fair
This appeared in Raleigh's Daily Standard in September 1870. Two decades before the State Fireman's Convention started their annual tournaments, it appears fire engine competitions were conducted at the State Fair. In 1870, premiums were awarded for both Best Hand Engine and Best Steam Engine. The notice below is signed by the Foreman of the Mechanics Fire Company. Click to enlarge:


+ 13 - 11 | § ¶
Early Raleigh Apparatus
Toward the end of the 19th Century, Raleigh's volunteer firefighters operated these types of apparatus, among others. The hand reel was also called a jumper reel. One end was connected to the hydrant and the hose was laid right to the fire. Next, the hand engine, also called a hand tub. The Victor Company used one of these, and from this manufacturer, until the 1880s or so. They would also pull a hand reel to the scene, with hose for the hand line(s). The suction hose was a fixed attachment. Hand-drawn hook and ladder trucks were used until about 1890. The type shown is both front and rear steer, which may or may not have been the type used in Raleigh. The images are from a Rumsey and Company reproduction catalog from 1878, available at a cool site called Handtub Junction.


+ 15 - 12 | § ¶
Bahamas New Engines
Bahama's new engines, a pair of 2006 Ferrara's as photographed by Lee. Fairly rare apparatus brand in these parts, and with Roto-Rays no less!


+ 14 - 8 | § ¶
Rescue Engine House Cornerstone
Random historical fact found Monday: the cornerstone of the southwest corner of the courthouse lot and served as the original Station 2 beginning December 1912. .
+ 13 - 10 | § ¶
Mill Village / New Lens
Pics from the major fire on Mill Village coming from Mike. No action shots, alas, though a new lens was on the scene. Canon 28-135mm with IS. Big, heavy, with good zoom. Not nearly as wide as the 18-55mm kit lens, however. Thus not sure if it'll be the walkaround lens.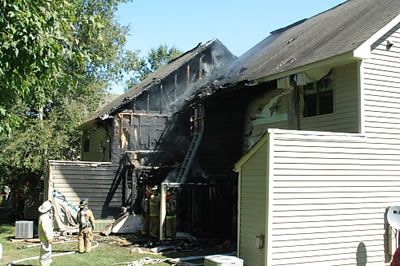 + 12 - 11 | § ¶
Non-Red Rigs, Part 3
Now Greensboro, again by Lee Wilson on his photo site. Love those LaFrances...


+ 11 - 10 | § ¶
Web Sites / Useability / Some Thoughts
Since the morning was spent clicking around the county's assorted FD sites, here are some random, generic usability observations. Web team members reading this are welcome to mail Mike privately for more information, suggestions, etc. He also apologies in advance for any personal offense taken by page designers or web folks. It's great to see so many web sites associated with all or nearly all of the county fire departments and related organizations. Kudos all around. READ MORE
+ 8 - 11 | § ¶
Links Added on Right Side of This Page
We've added a bunch of links to the right side of this blog page. One is the WC fire contacts list, which includes links to all the official or unofficial FD sites.
+ 13 - 8 | § ¶
Fire Prevention Week Events?
What's happening for Fire Prevention Week around the area? Garner annual fireman's day is Saturday, October 7, which includes a parade that commences with the station siren roaring to maximum effect. That's always a blast, pun intended. Looking around at the other FD web sites... Apex's annual open house is also Saturday, October 7 from 0900 to 1600. Morrisville's annual fire safety day is also Saturday, October 7, beginning at 10:00 a.m. at Park Place Shopping Center, 9545 Chapel Hill Road. Bay Leaf's annual open house is Sunday, October 8 from 1:00 to 5:00 p.m. What else is happening?
+ 17 - 10 | § ¶
House Fire / Second Alarms
Listening to Eastern Wake's house fire. Command requested a second alarm. Dispatch commenced to notify all EWFD personnel of the need for more manpower, versus dispatching another round of EWFD and other department units. That must be county protocol, though it seems kind of strange. Perhaps "second alarm" in the county translates to "second activation of department pagers."
+ 13 - 12 | § ¶
Other Special Units at Station 1
What other special units have been stationed on South Dawson Street over the years? If memory serves, the first ones were the two Raleigh Rescue Squad vehicles, the 1954 GMC panel van and the 1954 Reo Civil Defense truck. There was a boat trailer with the two units as well. The 1966 Chevy Rescue ran there, as did the 1974 Chevy rescue. One of the 1960s foam units was stationed there, as was a light trailer I think. And don't forget FC1's original incarnation, when the 1988 GMC extended panel van started its career as SR1.


+ 10 - 11 | § ¶
MCP in Quarters
Here are a couple shots of Field Comm 1 in quarters at Station 1. The unit isn't quite in service. Drivers are still being trained. Click to enlarge:


+ 15 - 10 | § ¶
Want Pics? Send Us Event Dates
Though there are usually cameras to spare at live burns, Lee and Mike are happy to photograph city and county training events when and where possible. Just send us the dates and times in advance. We'll see what we can do, and are happy to do what we can.
+ 11 - 13 | § ¶
Mike's Airport Map
Something new for monitoring buffs, a PDF-format airport map added to Mike's otherwise outdated scanner page. It's a composite of an FAA runway/taxiway map, a couple street maps, and aerial photos. It is version 1.1 and has not been verified on the ground at this time. Nor is it necessarily intended for responders. This is an aid for enthusiasts. Errors are entirely possible. Corrections and additions welcome. The idea came from a similiar map seen in a Phoenix-area scanning guide.


+ 12 - 6 | § ¶
Non-Red Rigs, Part 2
Travel back in time to the days of yellow rigs in both Winston-Salem and Charlotte, courtesy of Lee Wilson via his photo site on Flickr.


+ 11 - 14 | § ¶
Pay Up
From Raleigh's Daily Sentinel newspaper, February 5, 1870: "Pay up. Those who have heretofore subscribed for the benefit of the Fire Department of Raleigh, [they] are requested to pay in their subscriptions to either of the banks of the city, stating also, to what particular purpose they may wish their subscription applied. If we are to have an efficient Fire Department, it is high time more effectual steps were taken to organize. There is no lack of men, and property holders must apply the means. READ MORE
+ 8 - 12 | § ¶
True Confessions / Public Service
Be honest, who else was confused at first between Public Service the gas company and Public Service, the term by 911 to note a telephone call? That one took longer to make sense than ten codes.
+ 17 - 10 | § ¶
Patches
Observe the dates on some of these FireNews-cataloged patches. Charlotte, 1775 (Mecklenburg Declaration of Independence signed). Fayetteville, 1791 (fire department chartered). Greensboro, 1808 (city chartered). If Raleigh ever redesigned their patch to include a year, choices could range from 1792 (city created) to 1819 (first fire company formed) to 1912 (fully-paid fire department formed). Asheville, Durham, High Point, Wilmington, and Winston-Salem patches, by way of other examples, do not include years.
+ 14 - 11 | § ¶
Fayetteville Former Firehouses
Yet another former firehouses piece, published this week on FireNews. There's only one old engine house still standing, so the article covers a number of since-demolished buildings. Next, either Asheville (three old stations + temp station + historic station) or Greenville (four old stations + old tower).


+ 12 - 9 | § ¶
WCFC Meeting News
News from last night's Wake County Fire Commission meeting... Durham Highway has ordered a second Pierce pumper, identical to last year's countywide-spec delivery... Units on this year's apparatus replacement schedule include Durham Highway E1, Eastern Wake E5, Falls E212, Garner E10 and E3, Swift Creek E3, Fuquay-Varina E_ and E2, Holly Springs E3, Zebulon E94, Wake Forest Brush 69, Apex Brush 1, Holly Springs Brush 5, Morrisville Brush 3, and Zebulon E99 (brush unit)... And a county apparatus unit designation proposal has been drafted. READ MORE
+ 12 - 10 | § ¶
MCP / Station 28
The official radio designation for RFD's new mobile command post is Field Comm 1, we've heard. Also, the Station 28 lot is being cleared. Look for groundbreaking soon.
+ 10 - 11 | § ¶
Heard on Scanner
"Hot air balloons... he's got hydrogen in the house... and it's exploding." Yikes! Then, "Apex is advising two structures fully involved." Holy cow!
+ 17 - 10 | § ¶
First Fire Boxes
Raleigh's first fire boxes were installed in 1888 in ten locations around downtown. They're listed below, and mapped on the following present-day street map. Notice that the boxes were spread across several blocks. A person reporting a fire might travel a couple blocks to the alarm box. Click to enlarge:

The boxes were also locked at the outset, so a keyholder had to be found first.
READ MORE
+ 13 - 15 | § ¶
Raleigh Fire Academy #33
Raleigh's newest academy started this week. Thirty-one recruits training for 24 weeks. We'll have pictures along the way.
+ 14 - 10 | § ¶
Fire Chief's Duties, 1888
From Section 5, Chapter 4 of the Raleigh City Ordinance, adopted October 1888: "The Chief shall have control of the engine houses, engines, apparatus, the horse of the engine reel, and all other property of the Fire Department. He shall inspect the same once in every week, see that everything is kept in a condition that is efficient service, and report all needed repairs to the Committee, who shall have authority to order the same. READ MORE
+ 8 - 12 | § ¶
Airport Part 2
Here's a wider shot of the airport fire station and control tower, after everyone was back at the base. It's better but not the best. Loved listening to the roaring diesels as they were backing in. Click to enlarge:


+ 13 - 9 | § ¶
Saturday's Airport Alert / Camera and Lenses
Photos were attempted Saturday afternoon at the airport, but the bozo photographer (Mike) didn't adjust his ISO for bright sunlight. He's still trying to get into that habit, but then discovered he was shooting in the wrong mode anyway. Using a friend's 20+ year-old lens yielded blurry results even after ISO and mode were corrected. The camera was heavy-tripod mounted the entire time, with shutter triggered both by hand and timer. Time to try an IS lens...


+ 13 - 11 | § ¶
Another Chart
Here's another historical chart, this one PDF format and showing a timeline of Raleigh's early fire companies, plus some recent decades stats on the reverse side. Click to open:


+ 10 - 14 | § ¶
Hand Engines in NC?
Something else in the works, a list of all North Carolina fire departments that operated hand-powered pumping engines. Does anyone have anything to add or edit? Here's a PDF format preview.
+ 10 - 12 | § ¶
Sanford FD in 1910
Here's a neat image of the Sanford Fire Department in 1910, found last weekend during some browing at the New Bern public library. The building behind them, the 1909 municipal building, is still standing.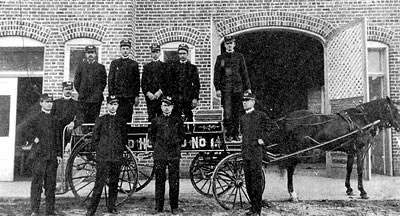 + 16 - 12 | § ¶
Engine 28
The station hasn't been built, but the engine has been lettered. Future Engine 28 is presently serving as a reserve piece. The station, in northeast Raleigh in Forestville Road, should open in the spring. Groundbreaking should be any time now.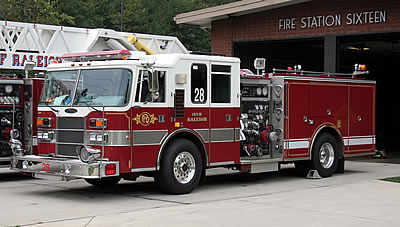 + 11 - 9 | § ¶
The More Things Change
For anyone who has ever griped about any aspect of new station construction, here's a News & Observer item from 1898: "Recently it was discovered that the floors of the Capital Hose Company building, on Morgan Street, were sinking so as to endanger the building. Yesterday the contract to remedy this defect was give out to Mr. Len H. Royster for 10 per cent above the actual cost of the work. The floors were found to have sunk about four inches. This will be braced. The work was imperfectly done when the building was being constructed."
+ 14 - 7 | § ¶
RFD MCP
The mobile command post is nearly in service. Drivers are being trained over the next week or so. The unit is still parked at Station 8, but is expected to be moved to Station 1 upon completion of driver training. The radio designation is not yet known. More info and a picture tour forthcoming.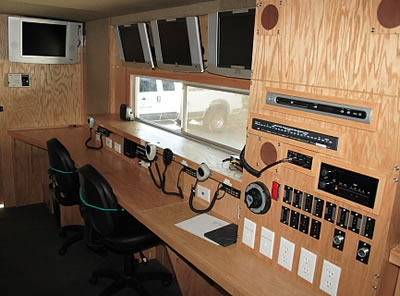 + 10 - 8 | § ¶
The Watch Desk / Closest Unit Dispatch
There's a closest unit dispatch thread on the local Watch Desk discussion board that's heating up. Respond there, however, not here.
+ 14 - 10 | § ¶
Raleigh's Fire Horses
Here's some more old-time trivia. Raleigh's first fire horses were placed in service by 1889. They pulled the Rescue steamer, which had been hand-pulled (!) for years. Stables were added to the Rescue engine house and the horses were kept under the control of the fire department. Two years later, the horses were placed under the control of the Street Commissioner, and were subsequently used along with other city horses for non-fire duties such as drawing street sprinklers. It seems it was another decade-ish before the department had dedicated fire horses.


+ 11 - 12 | § ¶
Heard on Scanner
Mayday! Mayday! That's Engine 7 and others conducting RIT exercises at the old Winn-Dixie on New Bern Avenue.
+ 9 - 12 | § ¶
Mini Book Update
Work continues on Mike's mini book, a history of RFD in the decades before the full-time department. Two chapters have been previewed, the 1880s and the 1890s. When finished, it'll be distributed for free electronically. Probably 80+ pages. Alas, a recently discovered cache of historical documents has restarted the project. One the new information is completed combed through, the book will be expanded by a decade and will cover 1870 to 1910. Still no timeframe for completion, and no hurry for that matter. It's way too much fun playing in the past.
+ 11 - 9 | § ¶
Another Artifact / Fire Chiefs of 1930
Here's another interesting artifact, this a list of the state's fire chiefs from a 1930 state fireman's convention program. Alas, it's a copy of a copy, thus the resolution is weak. The Spencer (Shop) that is listed is the fire brigade at the famous railroad shops. Four fire departments are listed for Wake County. The 1930 convention was held in Morehead City. Click to enlarge:


+ 8 - 12 | § ¶
Then & Now 11 / SE Central FDs
The second-to-last Then & Now article has been posted to FireNews. The twelve-part series was started in January of last year, and has compared fire department and municipal information from pre-1923 to present day. Most locales have grown, though a number have shrunk. Wilmington, for example, was one of the state's largest cities at the turn of the century. The fire departments are almost all still intact, though some were reinvented as rural departments. Lots of great old photos were surfaced in the series as well. Watch for the final part in another month or two.


+ 13 - 6 | § ¶
Fire Toys / Del Prado
For those who collect fire toys, there's an interesting subscription series of die-cast replicas that's been making the worldwide rounds for the last couple of years. Called World Fire Engines, its a series of weekly releases made by Del Prado. The releases have been tracked by Mike in one of his PDF format model guides. He also has an older FAQ list about the series. Alas, most of them are unavailable in the US, outside of eBay. A good place to ask for more information at this fire toy discussion board.
+ 9 - 10 | § ¶
Knightdale PS Center Pics
Here's the first pic of the new Public Safety Center. Watch the photo site for more coming soon: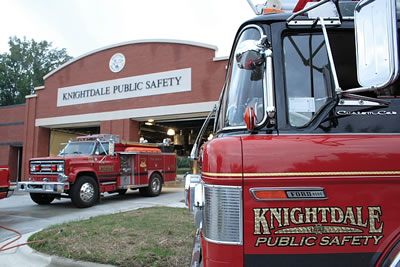 + 8 - 12 | § ¶
Downtown FD Facilities Past and Present
From the 1850s to present, here's an updated map of downtown RFD facilities. It's linked from Mike's main RFD history page. Yes, someone has too much time on their hands, but drawing is very fun...
+ 13 - 12 | § ¶
Non-Red Rigs, Part 1
Some of Wake County's notable non-red rigs, past and present. From left to right, top to bottom: Garner, Apex, RDU, Six Forks, Apex, Forestry, Stony Hill, Wendell Rural, Holly Springs, Knightdale, Wake Forest, Yrac, RDU, RDU, Cary, and Cary. Plus eight Raleigh rigs. Click to enlarge.

+ 9 - 12 | § ¶
Birth of a Fire Department
The beginning of a formal Raleigh Fire Department can be traced to the years immediately after the Civil War, when the City Commissioners adopted a new Charter and Ordinances that detailed the organization of the volunteer fire companies. The city's fire apparatus at this time consisted of two hand-pulled hand engines, hook and ladder equipment, and possibly a hand-pulled hook and ladder wagon. Here's a scan of a copy of the actual artifact from 1867. Click to enlarge:


+ 12 - 10 | § ¶
September 11 Observances
From the city's site, here are the details of tomorrow's official observances in Raleigh. What else is happening around the area?
+ 11 - 13 | § ¶
Knightdale Public Safety Center
A reader reports that the Knightdale Public Safety Center opened on Friday. The fire department has moved into the structure and with equipment that includes Truck 138, a 2006 Ford F-250 pick-up truck. The new engine is scheduled to arrive around December First. We'll wander that way and get some pics. At last report, the fire department is retaining use of the Public Works space for use as a satellite station. Watch this space for more info.
+ 15 - 11 | § ¶
Keeter Training Center in 1962?
Found in a League of Municipalities report from 1960, from a list of anticipated capital improvements: "1962 - New training building, 8,000 square feet, at present fire tower on Highway 401 South, $84.000." It wasn't built until 1982, when the 7,000 square-foot Keeter Training Center opened at that location. It cost $446,068.69. That said, the design and functionality of the 1962 building is not known, so comparing same to its 1982 incarnation is likely apples to oranges.
+ 8 - 12 | § ¶
Then & Now / More Photos
Fans of the firenews.net Then & Now series should occasionally peek at the local copies on Legeros Dot Com. Additional pictures are occasionally added, such a couple vintage MHFD and BFD pics added this morning.
+ 13 - 12 | § ¶
Craven / Carteret / Onslow County Former Fire Stations
Reporting from the Crystal Coast this weekend, where a few former firehouses have been ferreted out. Plus one historic engine house in Morehead. READ MORE
+ 10 - 7 | § ¶
RFD's Volunteer Chiefs
In the final decades of Raleigh's volunteer fire department, the position of Chief of the Department was served by a variety of individuals, some of whom were seemingly rotated in and out of the position. The position was called Fire Chief by 1888, with earlier titles including Chief Engineer and even Chief Marshall. READ MORE
+ 9 - 12 | § ¶
Rescue Company Articles of Incorporation, 1870
Here's a random historical artifact, the articles of incorporation of the Rescue Steam Fire Engine Company, READ MORE
+ 11 - 9 | § ¶
Hockey Teams
A reader posted the following announcement under another thread: We now have two FD hockey teams at the Ice Plex in Raleigh, one in lower "C" and one in upper "C". READ MORE
+ 13 - 9 | § ¶
Feeling Blue
As noted by a reader, this appeared on firenews.net yesterday. It's a KME tower that will replace the department's last red front-line rig, a 1992 Simon-Duplex platform ladder:


+ 13 - 10 | § ¶
Raleigh-Durham Firefighting Discussion Board
As suggested by a reader, let's give this Raleigh-Durham firefighting discussion board at the Watch Desk a whirl. Heading over there now...
+ 12 - 9 | § ¶
The Great Blog Experiment
Well, we're nine months in the Great Blog Experiment and here's some of what we've learned so far... Both buffs and personnel enjoy reading and discussing assorted aspects of local firefighting. Operational issues seem particularly welcome. We often hear that a blog discussion here has led to a group discussion there. However, operational issues are also the most prickly and have the greatest potential to devolve into either gripe-fests or pick/defend cycles. And, like their physical selves, firefighters are ready to poke fun at each other and/or try to get someone's goat. READ MORE
+ 8 - 9 | § ¶
Heard on Scanner
Forklift versus pedestrian. Huh? Location is a Post Office. Okay, makes more sense.
+ 10 - 10 | § ¶
Raleigh Rescue Mock-Up
For those that didn't see it the first time, here's a mock-up of what Raleigh's coming rescues could look like. They're spec'ed with a custom cab and a non-walk in body. Pierce cab + SVI body yields the following... Bids are opened in two days, says the city site.



+ 11 - 10 | § ¶
Picture of Fayetteville Old Station 5?
Anyone happen to have a picture of Fayetteville Old Station 5, the one demolished in 2004? Mike needs one for a coming former firehouse article.
+ 9 - 9 | § ¶
Wakefield Pics Coming
Lee's pictures of Sunday morning's second-alarmer are coming in another day or so: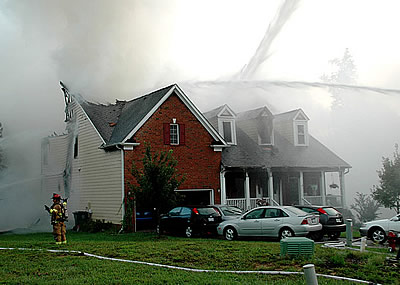 + 9 - 7 | § ¶
Cary, Radios, Working Fires
Working fires in Cary may be the best listening in the county, as is happening now. Each and every action is seemingly communicated to Command. How is same for those on scene?
+ 14 - 8 | § ¶
Random Bits of Raleigh Fire Department History, 1860-1900
Names of volunteer fire companies that protected the Capital City:

. READ MORE
+ 11 - 13 | § ¶
Railroad Accident
Miniature railroad accident, that is. Engine 5 responded to this incident this afternoon at Pullen Park. EMS transported the injured engineer. The train was loaded with seventy or so people. Bumps and scraps on a couple passengers, we're told.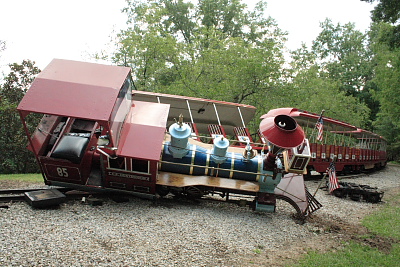 + 6 - 13 | § ¶
Patch Display Boards?
A reader is inquiring about patch display boards. Anyone care to share their tips? Cork board, foam board, etc.? Stapled, pinned, etc.?
+ 13 - 8 | § ¶
Where's the Fire?
Whatever they were cooking behind the station sure smelled good...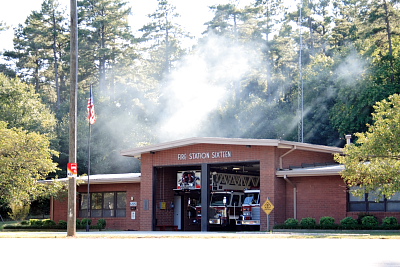 + 10 - 14 | § ¶
Event on Fire M/A 3?
There's an event on Fire Mutual Aid 3 with a lot of teams talking. Sounds like a stadium, from some of the traffic. Is that the NCSU ball game today? Why are they using a Fire Mutual Aid channel?
+ 9 - 12 | § ¶
RFD Badges, 1880
From the Raleigh Governing Board minutes of May 14, 1880: "...authorize Chief Engineer to purchase 250 fireman's badges to be worn by active, working members of Dept at times of fire not convenient to recognize firemen at fires. The firemen do not wish to ruin their uniforms at fires, nor do they ever stop to put them on to answer an alarm, and the city should furnish some mark or design by which the officers of the Dept may know to whom their orders apply."
+ 11 - 10 | § ¶
Another Artifact
Here's another recent find, an RFD companies chart from a National Board of Fire Underwriters 1924 report. It makes a neat comparision and contrast with their 1931 report, which Mike obtained on eBay a couple years ago. For more information on early RFD apparatus, see this apparatus register.
+ 12 - 7 | § ¶
Interesting Artifact
Here's an interesting artifact that Mike finally found after many, many months of looking. It's the General Assembly's incorporation of the State Volunteer Fire Association of North Carolina, also known as the North Carolina Colored Fireman's Association. They formed in 1888 or 1889 and also held conventions and tournaments around the state. Chuck Milligan's Early Black Firefighters of NC talks about them in detail. Regrettably, records for this group are exceptionally hard to find. But we're still looking...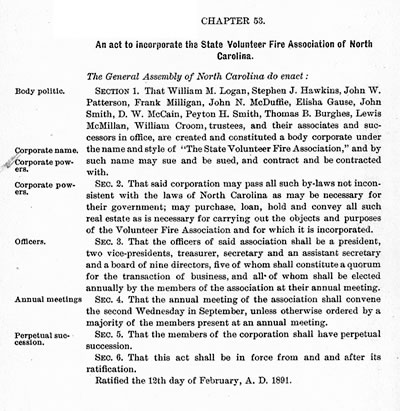 + 10 - 11 | § ¶
Firefighting... Tattoos?
Who has 'em and wants to show 'em? Snap and send a picture to Mike. We'll post the PG-rated ones and leave the bearer unidentified. They surely get enough grief and/or glory already, and even if there name isn't Shirley.
+ 6 - 14 | § ¶
Heard on Scanner
Locution pronouncing "Fuquay Springs Avenue" and "Foo-quay Springs Avenue." It's the little surprises that make monitoring so much fun...
+ 11 - 15 | § ¶
Station Thirteen?
What cities have or don't have a Station 13 around the state, region, or country? Charlotte, yes. Durham, yes. Fayetteville, no. Greensboro, no. High Point, yes. Raleigh, no. Winston-Salem, no. Charleston, SC, yes. Columbia, SC, yes. Richmond, VA, yes. Norfolk, VA, yes. It's called Triskaidekaphobia... fear of the number 13. Photo by Robert Busbee from the CFD site.