+ 1 - 1 | § ¶
Ghost Trains, Real Trains, Three Asheville Firefighters Killed in 1892
As numerous news agencies reported last week, one person was killed and another injured on a railroad trestle in Iredell County. They and ten others were hunting for a "ghost train" about two miles west of Statesville. They were struck at 2:45 a.m., when a real train rounded a curve on Bostian's Bridge over Third Creek. Most were able to jump clear. A 29-year-old man was struck and died on scene, having been thrown to the bottom of the 100-foot ravine. Before he was struck, he pushed a woman to safety. She fell 30 to 40 feet and was airlifted to Carolinas Medical Center.


As news reports recounted, the group did not immediately react to the oncoming train. They thought the thing was an apparition. The accident happened on August 27, which is the anniversary of a deadly derailment that killed 25 people at the same site over 100 years ago. Legend has that a "ghost train" makes appearances on the tracks, and that you can hear the sounds of grinding metal and screaming passengers, as well as witness a watchman's lantern. WRAL recounted the legend last year. But did you know that six Asheville firefighters were aboard that day, and three were killed?

READ MORE
+ 2 - 2 | § ¶
Knightdale's First Pumper, 1955
Here's your morning historical photo. In May 1955, the town of Knightdale received their first fire truck, a 1942 General Motors pumper that was purchased from Navy surplus for $1,250. The truck was equipped with a 500 GPM pump and a 750 gallon tank. It was the second piece of apparatus for the Knightdale Fire Department. The volunteers had previously used a 1 1/2-ton town truck to transport hose, ladders, and other equipment. The fire department was formed one year earlier, and presumably concurrent with the installation of fire hydrants in town. Read more about their history. Click to enlarge the photo, taken by John Stalvey.


+ 2 - 1 | § ¶
Tunnels to Towers 5K Race in Wake Forest, September 11
The Midtown Raleigh News reported this week on the upcoming second annual local Tunnels to Towers 5K race, where local firefighters will run through the streets of Wake Forest wearing full turnout gear, as a tribute to FDNY Firefighter Stephen Siller, who died in the 2001 attacks on the World Trade Center.
As the article notes, Siller was off-duty and heading to play golf when the planes struck the twin towers. He turned around, and headed back to town. Finding the Brooklyn Battery Tunnel closed to traffic, he ran the rest of the way and while wearing 75 pounds of his gear.
His journey inspired an annual Tunnel to Towers run in New York, and that story further inspired a seventh-grade teacher in Franklin County, who organized last year's race. The event is the only Tunnel to Towers run conducted outside of the big city. In addition to local firefighters, any member of the community can participate and walk or run the course.
Registration starts at 6:00 a.m. on September 11, and the race starts at 8:00 a.m. Proceeds will be donated to Stephen Siller "Let Us Do Good" Children's Foundation, the UNC Jaycee Burn Center, and Luggage with Love. For more information about the local event, visit tunneltotowerswf.org. For more about the story of the event, read the article.



Franklin Academy/Midtown Raleigh News photo
+ 3 - 1 | § ¶
Airport 1975 - Emergency Landing
Every Sunday, Firegeezer posts an episode from Emergency! That's good stuff, but we can kick up the cheese factor by sliding from television to film, and from docudrama to disaster movie. Courtesy of YouTube, let's flash back to those Airport movies of the same era, and this gem of a sequence at the end of Airport 1975. Boeing 747 coming hot into Salt Lake City. My inner ten year-old remembers those vintage crash trucks well. And how many character actors can you spot, in addition to the Big Movie Stars? Love the Cadillac ambulances swerving to a stop at the 4:08 mark. Might have to post a few more of these.

+ 2 - 1 | § ¶
Box of Tissues
Let's wrap the afternoon with an artifact from this morning's fire on Coventry Lane. This box of tissue came to the aid of the residents displaced by the blaze. See more photos, or click to enlarge.


+ 2 - 1 | § ¶
Six Forks Fire Department, Photos
Since we're diving so deep into the past, let's add some other photographs. These appear on my outdated history pages of Wake County fire departments. Yeah, yeah, living the past, but the pictures and stories are pretty darn cool. Click to slightly enlarge all:



+ 2 - 1 | § ¶
Six Forks Fire Department, 1971 - Part 2
Here's the second article that appeared in the June 16, 1971 issue of The North Side News. The image quality is lower, as these were scanned from a photocopy. Sorry about that. Click to enlarge each.

THE FLEET STANDS READY - The three trucks of Six Forks Fire Department stand by to answer any call.

COMPLICATED CONTROLS - The pump of Engine number 1 is intricate as well as beautiful. When in operation, manning this station is no easy task.

The Volunteer Fireman, What Kind of Man?
By Glenn Griffin
They meet every week for drills and instruction. They are on call every hour of every day. Danger is their working partner. Disaster is their enemy. Yet they serve, and they do it gladly. They're like the old Tennessee Vols: "spirit and courage" are their middle names.
Out on Six Forks Road, they are known as the Volunteer Fire Department. With no monetary compensation, these men risk their lives for the security of the community. The only benefits they receive are those offered under a group accident and life insurance policy that is effect from the time of the alert until the time they return home.
READ MORE
+ 1 - 2 | § ¶
Car Versus House in Raleigh Again
Guess collisions between vehicles and buildings really do happen quite often around here. The latest was this passenger vehicle that struck a house on Chatham Lane early Saturday morning. The driver was transported with injuries.



Steve Worthy/WRAL photo
+ 1 - 2 | § ¶
Last Night's House Fire in Holly Springs
Or, as this post was originally titled, whoa. Speaking of house fires, Thomas Babb snapped this strong photo that's been posted by WRAL, from last night's house fire in Holly Springs on Stone Barn Circle. As it happens, Mr. and Mrs. Blogger had been in town just an hour earlier. Oh well. Recalling the radio traffic, Battalion 1 was first on scene, and found fire showing from the attic above the garage of a two-story, wood-frame structure. Units on scene included Holly Springs Engine 1, Ladder 1, and Apex Engine 4, Ladder 4. Readers, feel free to add more. Good picture!



Thomas Babb/WRAL photo
+ 2 - 15 | § ¶
Guys on a Roof at Night
Vertical ventilation was performed at this morning's house fire at 709 Coventry Court. Engine 9 arrived at a one-story, wood-frame, vinyl-sided structure with 1,246 square-feet. Built 1976. Heavy smoke coming from the front of the structure. By the time they stretched their lines, fire was showing from the front. At a subsequent point in time, ladder company personnel cut a hole in the roof. Below is a picture of same. The alarm time was about 5:15 a.m. Units on scene included E9, E16. E4, E15, L1, R1, B1, B_, C10, C20, A1, C5, EMS 3, EMS 12_, EMS 12_, M9_, D4, T1. Click to enlarge:

Now let's talk about the shot. The subjects are on a roof. The photographer is on the street, and maybe ten feet away from the curb. The camera is a Canon Digital Rebel XT, with a 70-200mm f4.0 L lens. That is, a telephoto lens with sufficient focal length to "see" what's happening. The problem is the amount of light. Though the halogens are blazing on several pieces of apparatus, it's still questionable if there's enough available light to make the picture happen. That is, a minimally or non-blurry picture.
READ MORE
+ 2 - 2 | § ¶
Engine 7 at Station 3, 1957
Time to revise a little bit of history. Engine 7 was placed in service at Station 7 on December 30, 1959. That much we have known for some time. But Engine 7 was also placed in service two years prior at Station 3. This is a newer piece of information that was found first in the Engine 7 log book, and then this morning in the Station 1 radio dispatcher log book. From the handwritten entries:
Engine 7 was placed in service at Station 3 on September 24, 1957, at 2:25 p.m.

A Shift
Capt. C. T. May
A. E. O'Neal
J. R. Jackson
R. D. Truelove
J. D. Partin

B Shift
Capt. S. J. Talton
V. H. Marshburn
J. Warren
Z. V. Burchette
H. J. Gosnell
Call volume was low, as these recorded activities for the first five days:
9/24 - Drill tower
9/25 - Station 1 for school
9/26 - Station 2 for gas
9/27 - School on streets
9/28 - 804 Wilford, the first call for Engine 7.
And two months later, Engine 7 was removed from service. The log book entry: "Engine 7 was removed from service on November 14, 1957, at Station 1."
READ MORE
+ 2 - 2 | § ¶
Race Cars, Tow Trucks, Git-R-Done
Went to the races last night. Wake County Speedway, which is just a handful of miles south of town on Simpkins Road. Says their web page, the track was built in 1962, was paved at the end of the 1986 season, and has been operating for 48 consecutive years. That's a lot of races!
In May, the Independent Weekly published a nifty profile of the place and the drivers therein. By writer Bob Geary. The racing is in multiple classes, from four-cylinder stockers (no engine modifications allowed) to highly-charged super late models.
Mr. Blogger paid an early visit, early in the evening. Before the practice runs had started. With cameras, of course. Pretty nifty all around. Definitely need to visit a few more local tracks, as well as at least one NASCAR event.
Back in the day there was a track in Raleigh, southwest of the present intersection of Atlantic Avenue and New Hope Church Road. Was built in the mid 1950s and demolished by the late 1960s. Here's an old map showing same. (And didn't we blog the transcription of a fatal racing accident there, couple years back?)
There were some responders standing by last night, as well a wrecker crew. Below is one of the two trucks that serve the speedway. Make and model, anyway? Though that push bar probably isn't OEM, LOL. Click to enlarge:

Guess it's no surprise that the voice of the Cars movie character 'Mater played through my head all evening. That was an anthropomorphized tow truck as voiced by comedian Larry the Cable Guy. His catchphrase is "git-r-done." Here's the Wikipedia entry on said phrase, and it's suitably droll:
The phrase "git-r-done" or "get 'er done" (or "git er done") is a southern United States colloquialism meaning to finish an action, to get the job done. It is also used in the Canadian province of Newfoundland.
The phrase can be found, published in the late 1800s, in some of Joel Chandler Harris' Uncle Remus stories. The phrase has become more widely known through Daniel Whitney's title character in Larry The Cable Guy, as both a catchphrase and book title spelled "Git-R-Done", with the company Git-R-Done Productions.
There is a vodka cocktail called a "Get 'er Done" made with grenadine syrup and citrus soda, added to vodka.
See also Round tuit - a pun on "get around to it"
+ 1 - 2 | § ¶
Six Forks Fire Department, 1971
For your Friday enjoyment, the following article and pictures appeared on the front page of The Northside News on June 16, 1971. The Six Forks Fire Department was profiled in that issue, and over a number of pages. We'll work on getting more pictures scanned, and more text transcribed. This was their fourth issue of that newspaper. Don't know the publisher, or how long they operated. A stylized version of the station photo appeared in my Raleigh and Wake County Firefighting books, and is the only such picture that Yours Truly has come across. Maybe there are others. Click to enlarge these pictures:


AT DAWN - The station awakens from the night before. There had been no call, but everything stood ready nevertheless. The call for help brings on a sudden transformation at the station.

READY TO ROLL - Ben Jeffreys, driver, Don Adams on the pump, and Fred Lynn on the back board of Engine number 1 for a call. They are "turned out" in full gear.

Volunteer Fire Department Renders Great Service
It all began for the Six Forks Fire Department back in 1956. The first fire station was located where the present Wachovia Bank sits in North Hills. The single fire truck was kept in an addition to Bill Howell's store.
Next, the station moved across Six Forks Road to the area where the NCNB North Hills Branch stands. And in 1962, the station found its present location.
Now, the Six Forks Fire Station is sentinel for over $14,000,000 in personal property. The 26 men of the fire department and their three trucks have an awesome responsibility. The area covered by the department runs from the west of N.C. number 50 all the way to the Old Wake Forest Road. They serve as far north as the Six Forks community.
READ MORE
+ 3 - 0 | § ¶
Wake County Fire Training Twitter
The county Fire Services Division has hopped aboard the Twitter train. This week they announced that the Wake County Fire Training Twitter account has been placed in service: http://twitter.com/wakefiretrain. They've selected this social media tool to deliver specific information about fire training in a timely manner.They'll be posting current and future training events, class cancellation notices, and other general information as often as possible. This augments their normal communications methods. Contact Fire Training Director Ricky Dorsey for more information. Tweet, tweet.
+ 2 - 1 | § ¶
This Morning's Fire at Fort Bragg
The Fayetteville Observer posted this photo of the barracks under construction that burned at Fort Bragg today. Seven (or eight, as some news agencies are reporting) firefighters were injured in the blaze that was reported about 10:20 a.m. and was reportedly started by rooftop welders. They suffered heat exhaustion, and were transported to Womack Army Medical Center and Cape Fear Valley Medical Center for treatment. Some 60 firefighters and 17 trucks were on scene, including Fort Bragg, Pope Air Force Base, Fayetteville, Spring Lake, Eastover, Stoney Point, Westarea, Benhaven, Cotton, and Pearces Mill fire departments. Two aerial streams from FFD and SLFD flowed on the three-story, 27,000 square-foot structure that's about 50 percent complete. The base's aerial truck was out of service. The fire was controlled in about 90 minutes.



Fayetteville Observer photo
+ 1 - 2 | § ¶
Hillsborough Street, 1981
Here's another vintage fire photo. August 8, 1981. Campus Launderette at 2114 Hillsborough Street. Fire spread to the I Play Games arcade and a North Carolina State University Agricultural Extension Service workshop. Things to notice in the photo. There's the old Mack/Baker platform raised in the rear of the buildings. The tiller truck parked on the street shows its original all-red paint style, and before the covered jumpseat was added behind the cab. Police officer is wearing a safety vest, good for him. And there's a sign for Arthur Murray Dance Studios. What else do you notice? Click once or twice to enlarge:


+ 1 - 2 | § ¶
Four Lanes Blocked
Here's a good picture of yesterday's vehicle accident in Durham that closed all four lanes of Interstate 85 near Duke Street. Chuck Liddy took the picture that was posted in this News & Observer article. Click to enlarge:



Chuck Liddy/News & Observer photo
+ 1 - 2 | § ¶
Rehab
Medical monitoring with Six Forks EMS at last night's house fire on Gibbs Hill Court, with Bay Leaf, Durham Highway, Stony Hill, and Falls fire departments. Included water shuttle operations. Was a dark and humid night. Photos later.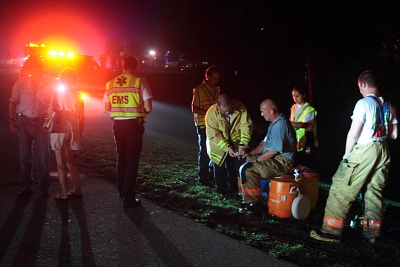 + 5 - 0 | § ¶
On The Runway
As photographed from the observation deck at Raleigh-Durham International Airport, and several minutes after mutual aid units cleared. Commuter jet with apparent mechanical issues. Alarm time about 8:10 p.m. Raleigh Fire, Cary EMS, Six Forks EMS, and Wake County EMS units dispatched as Alarm One response. Click to enlarge:


+ 0 - 2 | § ¶
Annexation Map + Fire Stations
From the Department of Too Much Free Time, here's some Monday fun with maps. This is a city annexation history map-- largest size-- adapted by Yours Truly to include fire station locations, and engine and ladder company assignments. Same will be added to my Raleigh Fire Department timelines, and a new page for 2010 to present. Gotta keep current! (See this page for a conventional map, with all stations and units.) Click below enlarge, or see a really large version!

+ 2 - 0 | § ¶
Car Versus Pond in Cary
That's a 1997 Mercedes submerged in a lake at Cary Park in the 100 block of Walford Way. The vehicle entered the water this afternoon after the driver suffered a medical condition. He escaped safely, and was transported to the hospital with minor injuries. Crews stayed on scene at least until the first attempt at vehicle recovery failed. Tow truck couldn't get it done, and a crane was subsequently brought to the scene. The plunge took place about 1:00 p.m. Recovery continued into the late afternoon.


WRAL image
+ 0 - 2 | § ¶
QBs / CNG / S911
Good, bad, or ugly, I believe the single best site for watching quarterbacking in action is Statter911, and the reader comments therein. Those posters are amazing in their perspectives and passions and attentions to detail. The latest incident under the microscope is a fully-involved bus fire from Anne Arundel County, MD. Among the points of interest include the use of an elevated stream, the compressed gas fuel source of the burning vehicle, and a dozen passenger vehicles damaged during the fire. What are the higher-level lessons to be learned from this and other dissections on the Statt Man's site? Let me think on that, and develop some pompous, er, profound observations. Meanwhile, take a ride on the bus fire.



Statter911 photo
+ 0 - 2 | § ¶
Last Night's House Fire in Holly Springs
And here's a picture from last night's house fire at 634 Bass Lake Road in Holly Springs, one of a couple posted by WRAL. Dispatched about 11:30 p.m. and controlled about midnight, as memory serves of the radio traffic. Engine 1 arriving at a one-story residential structure fully involved. Defensive operations, as the roof had collapsed by the time the first units arrived. Units on scene included Holly Springs E1, E2, E3, L1, R1, C2, Fairview E1, R1, EMS D2, T1. Next question, are there really bass in Bass Lake?



WRAL/Thomas Babb photo
+ 2 - 0 | § ¶
Truck 1 Responds
Here's the Wake County EMS major operations support unit, big ol' Truck 1, responding to this evening's house fire in Holly Springs on Bass Lake Road. Arriving units found a one-story residential structure fully-involved. Defensive operations, and controlled in about 20 minutes. Two versions are below, regular and high-dynamic resolution (HDR). Click once or twice to enlarge:


+ 2 - 0 | § ¶
Mystery Sign
Looks like it could be as old as the original sections of the station...


+ 3 - 0 | § ¶
Kinston Regional Jetport? (Updated)
Question from a reader. Does the airport authority operate the fire department Kinston Regional Jetport? And what sort of apparatus is located there? If memory serves, they once had a Walter crash truck of medium size. Am I remembering that correctly?
Later day update: Google and ye shall find. Looks like the North Carolina Regional Transpark Authority took delivery in 2008 of a E-One P501 crash truck, with a 1500 GPM Hale pump, a 1500 gallon water tank, a 205 gallon foam tank, and a 550-pound dry-chemical system. Nice looking! Notice the flag on the mirror? Betcha the thing had just been unloaded from a flatbed, what do you think?


+ 2 - 0 | § ¶
Big Fires, 1965-1985
Since we're talking about big fires of the 1960s and 1970s, let's look at some data. For some time now, Yours Truly has been working on a master list of the city's major fires. What's most challenging-- apart from the numerous and inconsistent sources that must be ferreted out, from fire records to newspaper accounts-- is the evolving definition of "major fire." This is easiest to see in alarm levels. Two alarms in the 1960s brought fewer units than two alarms in the 1980s. Keep that in mind while reviewing the below list. There are a couple mutual aid calls included. And the whole thing is subject to repeated revision, as History Guy learns more and determines better. Someday we'll get the master list finished. For now, enjoy some abbreviated excerpts.
1/21/1965 - 1018 E. Davie Street - Lucille Hunter School - $283,000
E2, E3, T1, E10, R1, E1, T7, E4 & T5 at 1, E5 at 1, T5, E4, E5, E10, T7 clean-up

2/22/1965 - State College - Pullen Hall - $169,000
E1, E5, T5, E6, T6

3/14/1965 - 310 S. Harrington Street - Britt Co. - $161,500
E1, E2, T1, E6 / R1, E5 / E3 / E4 standing by

4/21/1965 - 1522 N. Blount Street - Pender Mfg. & Supply Co. - $86,200
E6, E4, T6, R1 / E1 / T7 / E3 / E7 stand by for sparks at Mayview Home / E9 stand by / E5 stand by / E4 smoldering - Old Pender warehouse.

5/6/1965 - 423 Daniels Street - Cameron Village - $14,606 - Electric and gas explosion.
E5, E6, T5 / R1 / T1 / Foam 1

7/28/1965 - 1625 Louisburg Road - Steer Steak House - $136,416
E7, E3, T7/ E4, foam / R1 / T1 / T5 fill in at 1 / E7 wet down next day

9/29/1965 - State Fairgrounds - Concession stands
E5 mutual aid

READ MORE
+ 0 - 2 | § ¶
Baker Roofing Company, 1977
For your Saturday enjoyment, here's another vintage photo of the Raleigh Fire Department in action. Or an around-the-corner peek at same. This is back when downtown buildings were burning with a considerably greater frequency than present day. That's the Baker Roofing Company warehouse on Martin Street, that burned on January 3, 1977. Four engines and a ladder responded to the 12:15 p.m. blaze, reported the next day's New & Observer. More than 30 firefighters were on scene, and no injuries were reported. The fire was controlled within an hour and destroyed the rear third of the warehouse, which sat among several commercial and industrial properties on the block bound by Martin, Harrington, and Davie streets.
This was a lunchtime fire, so hundreds came to watch despite the freezing temperatures. A winter storm was sweeping through the state that day. The spectators watched as flames shot 50 feet into the air, and as crews climbed to the top of the neighboring buildings to fight the fire. (Is that done any more? Using roofs instead of ladders and platforms?) There were also pieces of flaming debris in the air, that crews had to dodge. The approximately 80 by 100-foot warehouse stored asphalt shingles and other roofing materials. The building had been used by the company since about 1918 (!), three years after the company was formed by the father of the owner W. P. (Bill) Baker.
The section that was destroyed, reported the News & Observer, consisted of wooden framing, one wall of aluminum siding, and three walls of brick formed by the adjoining structures. One exposure in the rear was protected with a water curtain, that being the Bill Bryant Upholstery Company at 318 Harrington Street. Workers at This End Up Furniture Co. and Sapp Welding Co., meanwhile, carried contents out of their buildings. Inside the burning warehouse, 24-inch-thick brick firewalls gave workers time to remove flammable caulking and cleaning materials from the unburned section of the structure. Those materials were removed by 12:45 p.m., reported that day's Raleigh Times.
Police were warning bystanders that there might be materials that could explode. No explosions occurred, but the property had a metal tank on stilts above the warehouse. That worried folks, but it remained upright. It contained a flammable liquid roof coating that the company no longer used. Click to enlarge:

+ 2 - 0 | § ¶
Recognize This Person?
This person, probably a firefighter, appeared in a 1936 group photo of the North Carolina State Firemen's Association. Someone's inquired if we can identify the person. They're trying to find a man who died at age 45 and at least two-generations ago. Likely from the Charlotte area. Ring any bells?


+ 2 - 0 | § ¶
WakeMed Begins $87M Cost-Cutting Effort
Times are tough all over. As this morning's News & Observer reports, the county's largest hospital system is planning an $87 million reduction in annual operating costs as recommended by a consulting firm. Their CEO advises that likely means job cuts in some departments, and phasing out of services that are not a market leader for WakeMed. Read the article.
+ 1 - 2 | § ¶
Reaccreditation Team Invites Public Comments on Raleigh-Wake 911 on Monday, August 30
A team of assessors from the Commission of Accreditation for Law Enforcement Agencies, Inc. (CALEA) will arrive August 28 to examine all aspects of the Raleigh-Wake Emergency Communications Center (911) as a part of the reaccreditation process. As part of the on-site assessment, department employees and members of the community are invited to offer comments through a telephone call-in session on Monday, August 30, from 1:00 p.m. to 3:00 p.m. Read the entire press release.
+ 0 - 2 | § ¶
Sportland Bowling Center, 1968
For your Friday enjoyment, here's a vintage photo of Sportland Bowling Center on North Boulevard, which burned on May 20, 1968. That's the old name of Capital Boulevard, for newcomers to Raleigh. The fire was reported at 7:33 a.m. Crews stretched hose across the southbound lane (singular!), which resulted in four hours of traffic delays. The smoke was visible 18 miles away in Rolesville as the one-story, frame-and-brick structure blazed.
Captain and future Fire Chief Rufus Keith was on the arriving engine and said the building was full of fire when they arrived. He estimated the response time was one-and-a-half to two minutes. He told the News & Observer that fire was was coming out of the windows in the front, around the area of the grill and meeting rooms. Fire was also coming from the windows of the upper deck, where the lanes were located.
Firefighters battled the blaze for over two hours. The structure was valued at $250,000, was built in 1959, and was owned by a City Councilman. The center had 24 lanes with automatic pin-setters (leased, not owned), as well as a grill and game area. The building's safe was recovered, though with the locking mechanism melted. One compartment was pried open, and money recovered. A demolition expert had been called that evening, to get the rest of the dough!
The fire was reported by telephone at 7:33 a.m. Asst. Fire Chief Jim Burnette told the News & Observer that a janitor reported that the fire started then grease on the grill caught fire. The janitor was quoted as saying that the fire filled the kitchen with smoke, so he opened the north and south doors of the building, to clear the smoke. Fire Chief Jack Keeter said "wind blowing out of the northwest was blowing right through the building."
The structure had a wooden roof supported by wooden beams, and brick and masonry block walls. The roof collapsed about 8:20 a.m. Fire damage was estimated at $500,000.
Units on scene included E7, E3, T7 (service), E4, R1, E1 to relieve E3, T6 (service) to relieve T7, R3 to "pull down wall," E2 to relieve E1, and then E7 the next day, wet down debris. Note the absence of aerial apparatus. The trucks on scene were American LaFrance pumpers from the 1950s and 1960s, two 1960s service trucks, two 1950s FWD pumpers, and a 1966 Chevrolet panel van which served as Rescue 1. Plus a couple red cars. Read more about that apparatus. Click once or twice to enlarge:

+ 2 - 0 | § ¶
The Future of Public Relations and Social Media
For your Thursday morning reading, as found on The Fire PIO, here's an interesting and extended posting on the future of public relations and social media. Topics include the evolution of the press release, the evolution of social platforms, current limitations and solutions, connecting with other PR pros, saving money and putting it to good use, and the human factor. Key quote at the end: "Regardless of how an announcement is shared -– via wire, blog post, tweet, or otherwise –- the critical step has historically been, and will remain, the human element. By directly reaching out to key media and influencers with whom we maintain relationships, we're able to ensure their timely awareness of the news."
+ 0 - 2 | § ¶
Car Versus House in Raleigh
WTVD posted this photo yesterday of a passenger car that struck a home at 2742 Cottage Circle yesterday. No injuries. Looks like heavy damage. Wonder what the frequency is of these types of call these days, around here?



WTVD photo
+ 2 - 0 | § ¶
A Guy And His Truck
Statter911 found this compelling early arrival video a couple days ago. It depicts the simple human drama of a person reacting to fire impacting a prized possession. Beware strong language, if you are of sensitive ears. The YouTube clip was shot in downtown Windsor. Click the link in the comments, and there's an aftermath video as well. And the local connection? Mr. Blogger visited that city this summer, while touring Detroit. Easy on the Ford jokes.


+ 2 - 0 | § ¶
Barbecue Tiller
Reader Paul Attryde saw this this weekend in Glendale, AZ. Called the Fire Up Freedom Fire Truck, it's a Hahn tiller converted into a combination special event vehicle and rolling memorial to the events of September 11, 2001. Says the owner's web page, the rig features a fully functioning 100-foot aerial ladder, four infrared BBQ grills, two gas burners, two soda fountains with ice bins, large flat-screen televisions, a full surround-sound audio system, CD and DVD players, connections for laptop computer inputs, and a satellite system. Talked about a tricked-out truck! Thanks Paul for the photos. Click to enlarge:


+ 2 - 0 | § ¶
Strapped Young Lad
That's a Cary Fire Department recruit getting ready to ride a backboard during air ambulance training this morning with WakeMed Air Mobile 1. Can't tell if he's wearing an expression of excitement or fear. Perhaps both? The future firefighters are about five weeks into their academy. Photos forthcoming.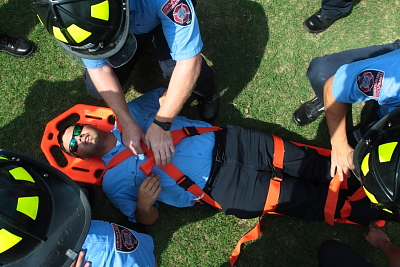 + 2 - 0 | § ¶
How Many Airport Fire Stations in North Carolina?
You knew this question was coming. So how many crash-fire-rescue stations are around the state? Here's what parsing the Carolinas Fire Page list of fire stations finds, along with some from memory. And some Wiki pages and FAA airport diagrams, linked below. All are PDF format
.

+ 0 - 2 | § ¶
Charlotte's Second Airport Fire Station
It's a rare occasion that a new airport fire station opens, and Charlotte Fire Station 41 was placed in service last month at Charlotte Douglas International Airport. As this News 14 story reported, it houses seven Charlotte Fire Department members and three North Carolina Air National Guard (NCANG) members. It's located off West Boulevard, near the newly opened third parallel runway.
Says this CFD stations page, the companies operating are Blaze 41, Blaze 42, and Blaze 43. Google finds a little more information. The 20,300 square-foot facility is the first LEED facility on airport grounds, and was built with $7.2 million of DoD funds through the NCANG.
Fire Station 17, the other one at the airport, is located at 5308 Morris Field Road. The companies there are Engine 17, Blaze 1, Blaze 2, Blaze 5, Blaze 7, and Battalion 8.

+ 1 - 2 | § ¶
Press Conference to Highlight Stimulus Success with Cisterns, Aug. 20
The benefits and simplicity of a cistern system installed at 11 fire and EMS stations in and around Raleigh are the subject of a press conference at Fire Station 6 at 2601 Fairview Road in Raleigh, at 2:00 p.m. on Friday, August 20. The City of Raleigh, the United States Environmental Protection Agency, and the North Carolina Department of Environment and Natural Resources will highlight one of the benefits and success stories from the American Recovery and Reinvestment Act. Read the entire press release.


+ 0 - 1 | § ¶
Deputy Gets Buzzed
WTVD reported today on a live bee movie that took place today on Highway 64 at Exist 425. There was quite a case of hives when a truck carrying 60 boxes of honey-makers broke down. Pictures from the scene show a stormin' swarm smothering a Dodge Charger. Turned a black-and-white into a yellow-and-white. In came a beekeeper from State College, who smoked the things into submission. Injuries? None reported, though delayed drivers in the area might have been bugged. No word on what it sounded like, but punsters everywhere suspect it was quite a drone. Good thing it didn't attract any sweet-toothed wildlife. Don't know if we could bear those facts. Readers, feel free to add your own stinging humor. Sweet.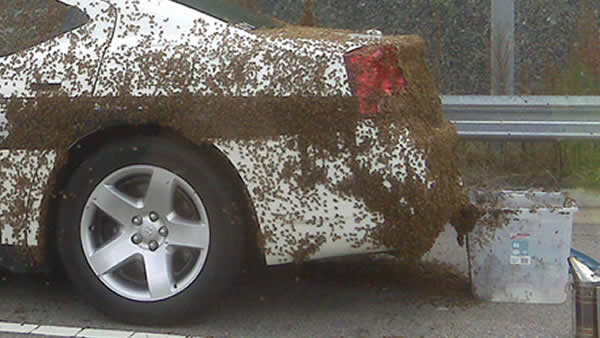 WTVD photo
+ 1 - 0 | § ¶
Wrapping The Expo
Pictures have been posted from last week's fire expo in Raleigh, some 400 shots from Friday and Saturday, plus a bit of the banquet on Sunday night, where Raleigh Fire Department Capt. John Fanning was named Fireman of the Year. Congrats, and we're waiting on a press release on that one. Watch this space.
Thanks also to Tim Blaisdell, for snapping shots of Yours Truly in action at his history workshop. Those are included in the photos, and you can see a rare glimpse of Mr. Blogger in something other than a tropical shirt. He was reportedly also seen Sunday night with a tie. And he was wearing it!
Good crowd that morning at the workshop, and thanks everyone for attending. Tried to talk slower, and even had a small sign as a personal reminder. Didn't really work. Got some great questions, and ideas for the future. Was also thinking that maybe a workshop or even round table on incident photography might be in order next year. If they'll have me.
Let's see, on the coverage front, FireNews posted
this summary
. Lee Wilson is finishing
his photos
. WRAL posted some
parade photos
, by Gregory Wiggs and myself. The
News & Observe
r also
wrote about the Expo
. The show also had their own photographers on hand. Maybe they'll show those shots on the
NCSFA web site
.
Parade was fun, show floor was interesting, and a large time was had seeing folks from both near and far. Thanks for your support on all fronts. Now let's go look at Mike's photos.


+ 0 - 1 | § ¶
Show Spike?
Did traffic to the blog or the photo site get a bump during expo week? Not really. The blog bounces along at 500-600 unique visits per day, while the photo site tops out around 800-1000. Maybe we could boost numbers with posts about topics more interesting than, say, web site traffic. Here's the two-week traffic, from Google Analytics. Click to enlarge:


+ 0 - 1 | § ¶
Aftermath of Tanker Fire
The Charlotte Observer posted this and other photos of yesterday's tanker fire on Interstate 77 south of the city. Photographer Jeff Sochko took this excellent shot. In addition to the Flint Hill Fire Department, Charlotte sent several units including Engine 37, Ladder 26, Battalion 8, Tanker 37, Foam 1, and Haz-Mat 1. Mutual departments from Mecklenburg County included Pineville, Providence, and Steele Creek fire departments. Coverage also included: WCNC and WSCO.



Jeff Sochko - Sochko Production / Charlotte Observer photo
+ 0 - 1 | § ¶
Haz-Mat Challenge
Here are details on Saturday's Haz-Mat Challenge, which was part of last week's South Atlantic Fire Rescue Expo.
Seven teams participated:
Fayetteville (RRT 3)
Greensboro (RRT 5)
High Point 4
Monroe
Raleigh (RRT 4)
Williamston (RRT 1)/Asheville (RRT 6) (combination team)
Wilmington (RRT 2)
The evolutions consisted of the following:
Application of Chlorine C Kit.
Overpack drum, place on dolly, and transport drum.
Place Vetter Bag on leak simulator.
Place Rescue Randy in Stokes Basket and carry to finish line.
Time penalties were assessed for technique and safety infractions.

READ MORE
+ 0 - 1 | § ¶
Doors and Walls and Roofs
Firegeezer this morning offered some personal memories on the destructive abilities of apparatus compartment doors, and notably when said doors are open when an apparatus is leaving quarters. The context was the prior day's report from Clinton, NY, where the front wall of a fire station-- the brick front wall at that-- was brought down by the open door of a new aerial ladder. And with a great quote from the town's mayor, "Clearly with the accident, we need more training."
And for the 'geezer guys, the all-time champion compartment door destructor was the Dana Fire Department in Henderson County. Their station was so severely damaged in June 2008, that the entire building was torn down. Read their report.
Just last week, another North Carolina station suffered severe damage when an ambulance struck the building. That was Thursday in Mecklenburg County, when a Medic unit in Cornelius caused the collapse of a roof on Chartown Drive. Read that story from WCNC. Who's up for inventing a door detection system that prevents vehicle movement when compartments are open?



WCNC photo
+ 0 - 1 | § ¶
Car Versus Tanker Near Charlotte
WSCO has posted photos of today's tanker fire on Interstate 77 south of Charlotte in York County, SC. The tractor-trailer caught fire after colliding with a car about 3:30 p.m. The truck driver was killed, and two people in the car were seriously injured, reports the Charlotte Observer. The Charlotte Fire Department responded, along with numerous other departments.



WSCO photo
+ 1 - 1 | § ¶
Truck Versus Train in Morrisville
WTVD posted photos of today's truck-train collision on Morrisville. A tractor-drawn dump truck was struck at the McCrimmon Parkway crossing just after noon. No injuries were reported, and the trailer was dragged down the tracks by the Amtrak passenger train. The truck reportedly became stuck on the crossing when the signal arms deployed, and traffic blocked the rig as the train approached.



WTVD photo
+ 2 - 0 | § ¶
Human Resources Challenges in Emergency Communications Centers
From a reader comes some interesting Monday morning reading, a preliminary report issued from APCO task force titled Challenges Facing Human Resources and Staffing in the 9-1-1 Public Safety Communications Center. The 23-page document, which was received at the recent annual APCO convention in Houston, opens with an executive summary that gives very bad grades for communications centers nationwide.
One of the prominent problems is that employees are in constant turnover. Nearly all telecommunicators leave the field before retirement (97%), and which is about the opposite for police officers and firefighters.
There's also a state-by-state breakdown on statewide training, which doesn't always exist, or that information on same was not provided. In North Carolina, the report says, no training standard reportedly exists. For telecommunicators that work under direction of a Sheriff, however, there's a mandatory certification course.
Read this interesting report
, or click on the image below:


+ 3 - 2 | § ¶
Top Counties For Fire Stations
As compiled in the Summer 2010 issue of Carolina Fire Rescue EMS Journal, mixed with counties from South Carolina. Here's our state's top counties for fire stations:
Wake - 75
Guilford - 72
Mecklenburg - 59
Rowan - 42
Buncombe - 41
Cumberland - 41
Forsyth - 41
Robeson - 39
Gaston - 36
Brunswick - 34
Wayne - 33
Davidson - 32
Randolph - 31
Onslow - 30
Johnston - 28
+ 2 - 1 | § ¶
Detecting Dirt on DSLR Sensors
Can we talk dirty for a little while? Here's a neat technique for determining just how dirty the sensor of your digital SLR camera might be. Open a blank document file on your computer, so you have a screen of white. Take a picture of the white screen. Open the picture in your favorite image editor. Manipulate the contrast and brightness until you see specks. Viola! Commence sensor cleaning.


+ 1 - 1 | § ¶
Event Photography
Do you do weddings? Negative. Not your thing? In a manner of speaking. I have never shot a wedding, and thus don't know how. More importantly, I have never been interested in shooting weddings. Thus, I doubt that the quality of my work would be comparable to the stuff you've seen on the photo site.
But wouldn't a chunk of change compel better pictures? Well, we all know that answer. Money doesn't necessary buy quality. But wouldn't the expectations of the customer also compel better pictures? Perhaps. Probably. And maybe too much. Bearing such "precious cargo" might be quite the mental load! Better all around to recommend a pro. You'll get closer to what you're paying for.
There's also the issue of time. Event photography means lots of photos and lots of time spent processing those photos. Start with, say, a half-day to shoot the wedding. Take another half-day, maybe full day, to process the pictures. Then there's the physical prints, which have to be created. That's another X number of hours. No way man. Too much time, and that's taken away from more-interesting pursuits.
READ MORE
+ 4 - 0 | § ¶
Cadillac Miller-Meteor
As seen after this morning's apparaus parade on Fayetteville Street. What's the model year for this Cadillac Miller-Meteor ambulance? What a beauty. Click to enlarge:


+ 1 - 1 | § ¶
Capping a Chlorine Leak
Simulated of course, as part of the annual Haz-Mat Challenge, held this morning around the corner from the convention center. More details later, along with the winners. This is Greensboro's team (right?), demonstrating how to cap a chlorine leak atop a railroad car. More photos later. Might take till tomorrow to get posted. And good luck getting this shot at a real incident! Click to enlarge:


+ 0 - 2 | § ¶
Caption This Photo
As seen for this morning's apparaus parade on Fayetteville Street, as part of the events for the South Atlantic Fire Rescue Expo.


+ 0 - 2 | § ¶
North Carolina Fire Museums?
This question was asked after yesterday's workshop. What are the fire museums in North Carolina? As well as what museum's have firefighting displays? Readers, help out on this one. Here's what comes immediately to mind:
Fire Museums
Charlotte Fire Museum (now closed, see photos)
Fayetteville Fire Department History Room (under renovation, see photos)
Plummer Hook & Ladder Museum in Warrenton (under development)
Raleigh Fire Department History Trailer (under development)
Museums with Firefighting Displays
Chapel Hill Museum (now closed, see photos)
Mt. Airy Museum of Regional History
And many others, no?
+ 0 - 2 | § ¶
Workshop Slides Posted and More!
The presentation slides from yesterday's workshop on North Carolina Firefighting History have been posted to legeros.com, in a newly updated section of the web site. That is, a handout version of the slides, versus the source file. They're in PDF format, which remains one of the greatest things since sliced bread.
In addition, a number of older presentations have been added to the web page, including Great Fires of Raleigh from 2008, Incident Photography from 2007, and a curious Garner Fire Department history from 2004. Don't remember the audience, but the slides include early Raleigh and Wake County histories.
Last but hardly least, there's also the latest version of Mike's presentation on the history of the Raleigh Fire Department. That one's presented to recruit classes, and on-demand on for other audiences.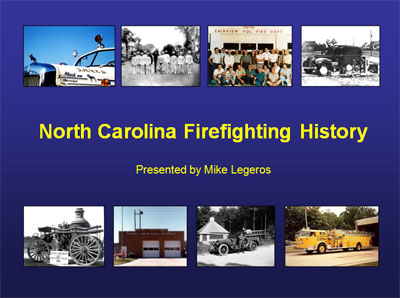 + 1 - 2 | § ¶
Another Reserve Ambulance
Been seeing what's seemingly a Holly Springs EMS unit around town lately? That's actually a reserve Wake County EMS ambulance, currently on loan from the town of Holly Springs. It's presently part of the reserve fleet, and hasn't been re-lettered yet. Hadn't seen this truck before, period? Join the club. Guess more regular visits to the south are needed.


+ 1 - 1 | § ¶
Show Floor
Exhibit floor at South Atlantic Fire Rescue Expo. Open again tomorrow, plus fire truck parade and other stuff. Just don't mess with show security! Those guys in the grey shirts are tough, man, tough. Click to enlarge.


+ 2 - 0 | § ¶
Your Stories of Emergency!
Randolph Mantooth was the keynote speaker yesterday at the South Atlantic Fire Rescue Expo, currently underway at the convention center in downtown Raleigh.
The veteran character actor is best known for playing paramedic John Gage on the television series Emergency!, which aired for seven seasons with 134 episodes (including six movies) from 1972 to 1978.
The show was a combination of genres, blending medical drama and action adventure. It also inspired countless individuals to develop interest and pursue careers in fire and emergency medical services.
For Friday discussion, let's open our vaults, and share our own stories. What did you do when watching the show, or reruns of the show? How did the shows, stories, and characters affect you?
Mr. Blogger remembers watching both the original episodes and reruns as a kid in Minnetonka, MN. That's outside Minneapolis. My best story involves dispatch logs. I had a notebook, and would record each call that Engine 51 and Squad 51 responded to! Did I even classify by call type? Don't remember. Probably.
Yeah, guess my future was already in the making.
What are your stories?

+ 1 - 1 | § ¶
Conference Checklist
Ninety minutes until my conference workshop on North Carolina Firefighting History. Let's review the checklist, before leaving the house...
Memory stick with presentation slides
CD-ROM with presentation slides, in case memory stick fails
Computer laptop, in case show-provided computer laptop fails
Printed version of slides, as memory aid
Signs that say "TALK SLOW", to be created on site
Chewing gum, cinnamon
Bottled water, Propel
Cameras, like those ever leave my side
Change of clothes for after the workshop, Hawaiian shirt, shorts, sandals
Chunk of change, for buying lunch somewhere on Fayetteville Street, and other sundries
Show times for The Expendibles at North Hills, in case a late-afternoon matinee is in order.
Good to go!
See you there.
+ 1 - 1 | § ¶
Cities Versus Towns?
From a reader comes this question: what makes a city call itself a town, or a town call itself a city? Any city administration experts handy who can answer that one? The traditional definition of a town is a municipality with less than 10,000 people. Cary's population of 134,000 (2008) handily exceeds same. Do they call themselves a town to maintain a type of image? Whiteville, for example, has a population just over 5,000, and they call themselves a city. Why city or town, or not city or town?
+ 3 - 1 | § ¶
Bus at Airport
That's Evac 1 arriving at the General Aviation gate, for a mass-casualty exercise conducted this morning at Raleigh-Durham International Airport. Mike Legeros spent a couple hours photographing the preparations, and those photos will be posted shortly.
The 2009 International/Satrin mobile evacuation base is operated by Wake County EMS, and was delivered nearly exactly a year ago. That's CFR 3 in the distance, one of the airport's two 2000 Oshkosh T-1500 crash trucks.
WRAL was also on hand at the exercise, and posted this news report. 'Twas a warm morning and very warm day, but the breeze sure felt good coming off the runway! Click to enlarge:


+ 1 - 1 | § ¶
Hino Chemical Engine
Here's the newest addition to the man cave model fleet, a 1977 Hino KB324 chemical engine as replicated in 1:64 scale by TomyTec. It's another Tomica Limited Vintage Neo series fire engine, like the 1980 Hino TC343 aerial ladder that was released in December. Again bought on eBay. No idea on the real rig's specifications, or even how it's used. Might be a heavy pump for commercial or industrial areas. To see actual apparatus from the other side of the world, visit this link farm. Click once or twice to greatly enlarge:


+ 1 - 1 | § ¶
Deuces are Wild
Lee Wilson has posted pictures of some of the apparatus that was loaded into the Raleigh Convention Center yesterday for the South Atlantic Fire Rescue Expo. Looks like a set of "deuce and a half" conversions are going to be displayed. How cool is that? Can you identify the departments? He also took some pictures on the show floor. See you there Friday. History workshop at 9:00 a.m. Hit the exhibit floor toward lunch time. See more from Mr. Wilson.



Lee Wilson photos
+ 1 - 1 | § ¶
Side Horns?
What's the story on these, as seen on a commercial vehicle on Edwards Mill Road the other day: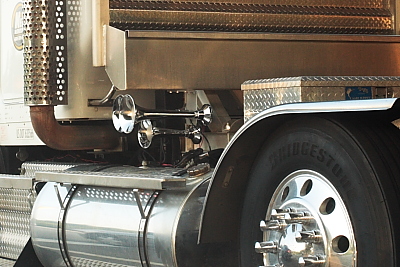 + 2 - 1 | § ¶
New Bern Bicentennial Parade, 1910
Here's a picture to accompany the transcribed newspaper article below, showing a New Bern Fire Department hose wagon and steam engine in the 200 block of Craven Street. The image is credited to the T. J. Mitchell Collection, New Bern, and is scanned from the excellent A New Bern Album by John B. Green III, published 1985 by the Tryon Palace Commission, New Bern. Click to enlarge:


+ 2 - 1 | § ¶
State Firemen's Convention, 1910
News & Observer, July 24, 1910
RALEIGH FIREMEN LEAVE
ON TO NEW BERN TO ENTER THE RACES OF THE TOURNAMENT
To enter the races of the State Firemen' s Tournament, which is to be held in New Bern from Tuesday till Friday of this week, the Capital Hose boys left early this morning. The Rescue boys will go tomorrow and Chief Lumsden will leave during the day today. The Hook and Ladder Company will be represented by delegates only. Driving the Rescue wagon will be the renowned " Pete " Hinnant, while " Bud" Poole will look after the Capital Hose' s interests in the races.
The Capital Hose' s delegates to the convention are: Messrs. C. D. Arthur and James F. Jordan; the Rescue's, Messrs. W. A. and C. B. Park.
All of the Raleigh contestants are confident of winning some of the prizes.
--
News & Observer, July 27, 1910
CAPT. M' NEILL IS AGAIN PRESIDENT
Honored by State Firemen for 17th Time
MEET NEXT IN CHARLOTTE
The Association Held its Meeting Yesterday in the New Masonic Opera House and Was Largely Attended--Address of Welcome by Mr. S. M. Brinson--Chief Bernard, of Asheville Responds--The Officers Elected--Races Start Today
BY E. E. BRITTON
New Bern, July 26. The State Firemen' s Association is here in force, for when it was called to order by Chief Bernard, of Asheville, at 12:30, President James D. McNeill being detained in the bi-centennial parade with Secretary John L. Miller, of Concord, and Treasurer R. C. Taylor, of Winston, in their positions, there were representatives present from seventy-six of the one hundred companies in the association, some three hundred delegates in all with many more expected for the races, which begin tomorrow, and which last through Friday.
READ MORE
+ 2 - 2 | § ¶
Just Don't Cross The Streams!
And if you're fuzzy on the whole good/bad thing, try to imagine all life as you know it stopping instantaneously and every molecule in your body exploding at the speed of light. With that bit of silliness out of the way, this invention was found mentioned on this firehouse.com forum. Not exactly the newest of concepts. But it sure looks bad a@@!


+ 1 - 2 | § ¶
Public Safety Departments
More last-minute fact-checking for Friday's history talk yields this expanded list of cities and towns (and one state agency) that operated departments with public safety officers performing combined fire and police duties. There are probably more:
Early Programs
1957 - ?
Winston-Salem Fire Police. Read more.
The Heyday
1970 – 1985
Durham

1971 – 1993
Chapel Hill

1973 – present
Butner. Read more

1973 – 1987
Winston-Salem

1976 – present
Morganton

1983 – present
Havelock
Recent
1996 – 1998
Washington

2002 – present
Knightdale
+ 1 - 1 | § ¶
Mystery Marker
Recognize this piece of stone? There seem to be some of these markers on this side of town.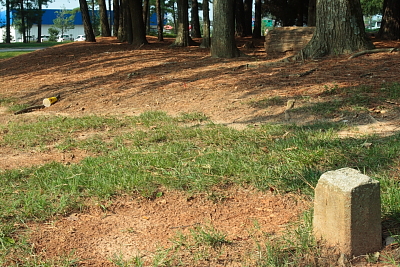 + 3 - 1 | § ¶
Last Night's House Fire in Fuquay-Varina
WRAL has posted a good photo from last night's house fire in Fuquay-Varina, on a street they call Cottonfarm, but that neither Google Maps nor Wake County real estate records have heard of. Quite a few house fires this week. Click to slightly enlarge:


+ 1 - 1 | § ¶
Whiteville Fire Department Then & Now
Our friends at the Whiteville Fire Department pass along a pair of photos, showing an old station and rigs, along with their current station and apparatus. The combination department moved into their current station in 1996. That's the fourth location for the fire department. Click to slightly enlarge:



Whiteville Fire Department photos
+ 1 - 2 | § ¶
Trailers, Trains, Reality
Speaking of movie trailers, below is the preview for a new Tony Scott moving coming in the fall. It's loosely based on the real incident in 2001, when a runaway freight train with 47 cars traveled near 70 miles with nobody at the controls. Crew members slowed the thing by latching a second locomotive onto the end of the train, and then an engineer lept aboard when the thing had sufficiently slowed. Two of the train's tank cars were carrying hazardous materials. Said one official, "the public was never really in jeopardy." Read this CNN account, and then watch the trailer below. Bit more dramatic, eh?


+ 1 - 2 | § ¶
Diagrams and Maps
For one or maybe two years, Yours Truly has been slowly documenting the last conflagration in the city's history, when some 17 structures burned on Fayetteville, Hargett, and Wilmington streets in December 1851. This was an instrumental incident, as city officials were compelled to finally take fire protection as seriously as they should. One outcome was the formal organization of the volunteer Raleigh Fire Department.
In the process of composing a narrative, a diagram was attempted. The building locations and characteristics were derived from newspaper accounts. Their positions on the block were a best guess. The results looked pretty good, all things considered. That's the first image shown below.
Fast-forward a few months, when a trip to the State Archives last month located a highly detailed street map from 1847. In addition to streets and lots, each building was noted to scale, along with wood or brick construction. (There were a considerable number of brick buildings by that time!) The city pumps were also indicated, and which numbered five. Those along with private wells were the only water for firefighting. The city had two hand fire engines, delivered 1819 and 1843.
To create a second and more accurate version of the diagram, the two sections of the 1847 map were placed together. Buildings were then drawn as additional layers in the graphics application, along with the outline of each block. The construction was noted using the letters "w" (wood) or "b" (brick). Those buildings that burned were colored red. The Capitol Square was colored green.
Below are the results. The "from scratch" diagram is the first image; the "from map" diagram evolves over the three other images. Now we can work on finishing the narrative! Click once or twice to enlarge:

+ 0 - 3 | § ¶
Firefighter Action Figures
Many moons ago, this 1:8 scale action figures were displaced in Mike's Man House. Then he got married, moved to a Man Cave, and these guys and gals below were relocated to storage.They're still awaiting release, and perhaps one day will stand again on a shelf or in a display case. Maybe we'll petition Mrs. Blogger for space in the living room. Want your own? Some might be found on eBay or via Google. They were bought some years ago. Click to slightly enlarge, and pardon the horrible flash photography.



Left to right are:
1896 "Masked Hero" and 1850s volunteer firefighter, by Gearbox.
G.I. Joe "Search and Rescue", by Hasbro.
"Top Jake", by Ertl.
French firefighter, by Blue Box.
"Urban Firefighter," "Brush Firefighter," and "Smoke Jumper," by 21th Century Toys.
G.I. Joe "Smoke Jumper" by Hasbro.
G.I. Joe "Urban Search and Rescue" by Hasbro.
G.I. Joe "Navy Crash Crew" times three by Hasbro.
"Fire-Rescue Helicopter Pilot" by 21st Century Toys.
G.I. Joe "Deep Water Rescue" by Hasbro.
Emergency Medical Technician and, yes, with seemingly green skin, by 21st Century Toys.
+ 2 - 2 | § ¶
Beacon Lake History?
A reader inquires if there's a history of Beacon Lake, after learning of something interesting off Beacon Lake Drive. 'Tis a man-made swimming hole, with cement block walls around a creek, and a building in the woods. Google Maps shows a body of water at the location, but neither aerial photos nor Bing Maps Bird's Eye View reveal closer details. Too many trees! Sounds like some exploring is in Mr. Blogger's future. Readers, any history to report?



+ 1 - 2 | § ¶
Truck Mounted Attenuators
Always wondered what these impact-absorbing devices were called, that are deployed on construction vehicles on highways. Truck mounted attenuators. Here's a long video about a particular brand of the things, that shows how they work and includes some success stories. Guess they're unsuitable or maybe too expensive for fire apparatus. If they're weren't, we'd have seen them adapted already, right?



+ 1 - 2 | § ¶
Movie Trailer
Veering off-topic and with a warning: watching the following video clip may cause diminished cognitive ability, and/or laughing out loud. Opens in October. Happy weekend.



+ 1 - 2 | § ¶
Hose Company No. 3
For your Friday enjoyment, here's a 1913 photograph of Raleigh's Hose Company No. 3, in front of old Station 3 on East Hargett Street. This image from the State Archives is usually shown in portrait orientation, and with with the station house also shown. This larger, closer view-- with shadows removed using PhotoShop Elements-- reveals a nifty level of detail. What equipment can you spot in the wagon? Click once or twice to enlarge:



North Carolina State Archives photo
+ 3 - 1 | § ¶
Red Light Runners in Knightdale
As referenced in this WRAL story, here's a YouTube clip of collisions and close calls as captured by red-light cameras in Knightdale. Complete with cheesy background music!


+ 2 - 2 | § ¶
High Water
Glenwood Avenue just east of Hertz Drive, facing east. Three of four lanes closed. Department of Transportation on scene. Raleigh police units diverting eastbound traffic at Lynn Road. What else happened during tonight's storms? We were at the movies. Click to enlarge:


+ 3 - 1 | § ¶
Mini City and Other Memories
Here's an interesting article on Mini City that recently appeared in the Midtown Raleigh News. It talks about the current state of the area, along with its history. The community, defined roughly as a two-mile radius around the intersection of Capital Boulevard and Millbrook Road, was first envisioned in the 1970s. Developers and city planners had the idea of a city outside the city, combining both commercial and residential aspects. At that time, Highway 1 was a rural road far past the city limits. But Raleigh was growing in that direction.
Another milestone happened in 1993, when the city approved the giant shopping on the southwest corner of the intersection. Total of 64 acres, room for really big stores, and nearly 3,500 parking spaces. By the year 2000, notes the story, major stores were closing, and the future of the center was doubted. The article also talks about the residential demographics of Mini City. It's more ethnically diverse than the rest of the city, with fairly young residents. Compared to the rest of the city, the number of vacant homes is slightly higher. But the percentage of renters versus owners is consistent with the rest of the city.
Fire protection in Mini City historically originated with the New Hope Fire Department, and whose Station #1 is located just around the proverbial corner. To the west, Station #15 opened on November 13, 1974. Fourteen years later, the city opened Station #19 on May 11, 1988. Located at 4209 Spring Forest Road, they operated a 1968 American LaFrance fiberglass-over-open-top pumper at the get-go. About a year later, a fresh faced recruit was assigned on "B" shift. One M. J. Legeros served there six months. That was one slow station. Maybe a call or two a cycle, back then. Click to enlarge below.
But I digress. Read the article on Mini City.

+ 2 - 2 | § ¶
Large Diameter Hose Histories?
Last-minute research for next week's North Carolina firefighting history talk. When did large diameter hose become popular in our state? Dig through your memories. What departments starting using same, and when? Thanks for any input.
+ 2 - 2 | § ¶
Expo Next Week
How are we already in August? This fast-seeming summer continues next week with the South Atlantic Fire Rescue Expo at the Raleigh Convention Center. Here's what's happening, from the program schedule:
Tuesday, Aug. 10
Golf Tournament, Wake County Firefighters Association Meeting
Wednesday, Aug. 11
Pre-Conference Workshops, Meetings
Thursday, Aug. 12
Breakfast, Opening Ceremony, Keynote by Randolph Mantooth, Meetings, Memorial Service, Evening Reception
Friday, Aug. 13
Workshops, Meetings, Exhibit Hall Open
Saturday, Aug. 14
Workshops, Meetings, Exhibit Hall Open, Motorcycle Ride, Apparatus Parade, Haz-Mat Challenge, Evening Banquet
Sunday, Aug. 15
Meetings, Devotional

Sundry notes:
Photos from last year, for those that missed it, and want to see what they'll be seeing this year:

Lee Wilson photo
+ 2 - 2 | § ¶
Pullen Memorial Baptist Church Burns, 1921
Raleigh Times, April 23, 1921
FIRE DESTROYS PULLEN MEMORIAL BAPTIST CHURCH
Rex Hospital and Wake County Clinic Endangered
FIREMEN PRAISED
Mayor's Automobile Badly Damaged In Race For More Gasoline To Feed Pumping Engine
RALEIGH had its biggest fire scare of the year Friday night when a spectacular blaze destroyed the Pullen Memorial Baptist Church, at Fayetteville and South streets, and for a time threatened to envelope the Wake county clinic, Rex Hospital, and residences in proximity to the church. Aided materially by the wind and rain, the firemen were able to confine the flames to the church by some of the best fire fighting seen in this city in some time. The damage to the church is estimated at $20,000 with insurance about $7,000.
Originating in the roof from probably defective electric wiring, the fire gave the firemen a stiff battle as flames had got a good start by the time the trucks arrived on the scene. The first alarm was sounded from a box that calls for a response from only two trucks. A second call, however, brought all the fire fighting apparatus.
READ MORE
+ 4 - 2 | § ¶
Single Pedal For Acceleration and Braking
Here's a nifty New York Times article about a Japanese inventor's two decade-old design that combines a brake pedal and accelerator into a single foot control for automobiles. He drives using same, and designed the thing after accidentally stomping the gas, and nearly striking a bicyclist. Turns out we're wired to floor it in times of alarm, say experts. And which can translate into dangerous acceleration, when we really need to brake. Pretty interesting stuff.
+ 1 - 3 | § ¶
Greetings From Elmira
Postcard found for sale on eBay, from 1964. Top photo is Farmington City, bottom photo is Ladder 1, Chapel Hill. Click to slightly enlarge:


+ 3 - 2 | § ¶
Rocky Mount Funeral Coverage
Rhett Fleitz passes along photos from the funerals of Fire Chief Posey Dillon and Firefighter Danny Altice in Rocky Mount, VA. The two were killed in an apparatus accident on Monday, July 26. Some 200 images have been posted of the two funerals from Friday, by VAFireNews.com photographers Fleitz and Drew Abel.



Rhett Fleitz/VAFireNews.com
The links:
+ 5 - 2 | § ¶
Bodies at Work
Second view from said accident. Patient and vehicle are stabilized. Access through roof in progress. Also click to enlarge:


+ 3 - 3 | § ¶
Accident Scene
Motor-vehicle accident with subject trapped on Lynn Road at Battleford Drive, about 3:00 p.m. today. Road name sure sounded like "Saddleside" as these aging ears heard Locution announce it. Engine 16, Ladder 3, Rescue 3, Six Forks EMS 12_, District 4 out of view and parked on the side street, and big ol' Truck 1 with some big ol' blocking. Click to enlarge:


+ 2 - 3 | § ¶
Very Expensive Model
For detailed scale replicas of fire apparatus, we're all familiar with Code 3 Collectibles, and other such die-cast models of a lower price range. Then climb toward the $200 and $300 range, and you get into more precision replicas, like Franklin Mint and TWH Collectibles. That's also the starting range for hand-built white-metal models, like Route 1 Scale Models. Climb even higher, into the $500 and $600 range, and you're looking at Fan Kit Models out of Romania. They're resin and come as both unpainted kits (cheaper) and built versions.
Below is their newest release, a beautiful 1:50 scale replica of an Oshkosh P-15 crash truck. Developed for the military in 1977, this eight-wheel monster carried 6,100 gallons of water and 515 gallons of foam. It was equipped with two 1,250 GPM pumps, and two 1,200 GPM turrets. It measured 45.2 feet in length, 10 feet in width, and a height of 13.8 feet. And those tires, those huge tires. As memory serves, the P-15 was listed in the Guinness Book of World Records for a number of years, as the world's most powerful fire engine. Read more about the model.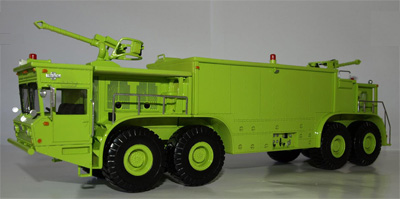 + 3 - 2 | § ¶
Slowing or Stopping?
Continuing our recent discussions on apparatus safety, here's a Sunday morning topic for your consideration1. When responding to structure fires2, and upon approaching stop signs or stop signals, do you slow and proceed? Nearly stop and proceed? Completely stop and proceed? Feel free to cite SOPs and what you do/don't do.
If based on case, identify the factors. e.g., number of lanes, amount of traffic, sight lines, visibility, weather, etc. Ditto if there are variations to the call type. Smoke seen in distance. Heavy smoke seen in distance. Multiple calls reported by dispatcher. etc.
1Meta-discussion also permitted. How successfully can such a topic be discussed in public/targeted forums?
2Talking structure fires, as that's perhaps the highest excitement/adrenaline-causing call type, and thus perhaps the most likely to challenge judgment.
+ 3 - 2 | § ¶
New City of Raleigh Web Site
The city of Raleigh has a new web site, which they placed in production today, August 1. Or as they name same, a new web portal. Give it a test drive. Acquaint yourself with new click paths. Can't advise if everything's working, however, or if bugs are still being ironed out. And presumably click Contact at the bottom of the site to provide feedback. Click to access:


+ 3 - 3 | § ¶
House Fire on Garner Road, Historic Homes in Raleigh
Lee Wilson has posted photos from last night's working fire at 1109 Garner Road. Engine 13 3 arriving at a one-story, wood-frame house, with 1,054 square-feet. Built in 1915, with tax records listing remodeling and additions in 1950 and 1982. Heavy fire in the rear of the structure, which spread through the house. Reported subjects possibly still inside, though all were out safely, and with no injuries. Dispatched 8:24 p.m. and controlled at 9:05 p.m. One extra engine special called. See Lee's photos for additional details, and a list of units.

The building is one of Raleigh's many historic homes, which number in the dozens? The hundreds? Wonder how such data could be determined. Searching Wake County Real Estate Data seems the first step, but their search interface does not include queries for the year built. They could probably run a custom search, and perhaps have done such reports for the fire department or inspections department.
Don't see such a thing on IMAPS, either. New interface, however. When did that happen? Google searches such as "Raleigh historic homes" and "historic properties Raleigh" might find some odd data squirreled away somewhere. Somebody probably knows.



Lee Wilson photo