+ 9 - 8 | § ¶
Photos From This Morning's Two-Alarmer in Durham
The unofficial Durham Fire Department web site has posted photos from this morning's two-alarm fire at 7307 Calibre Park Drive. Companies and units on scene included E16, E12, E5, L12, L11, Sq4, BC3, BC2, MS1, SO1 (first alarm) and E6, E13, L1, BC2, FD2, FD3 (second alarm). Building looks like a three-story structure, conventional construction. (Couldn't get the Durham County real property records web site search to work for me.) Dozen apartments destroyed, 30 people displaced. Reported after midnight. See this WTVD story for more. See more photos from durhamfire.net. Thanks for sharing.



durhamfire.net photos
+ 4 - 5 | § ¶
Morning Reading - September 30, 2011
Here comes the cool-down. Temperatures in Raleigh in the forties tonight. Here come the heaters, furnaces, and fireplaces. We know what that will mean.
+ 4 - 5 | § ¶
Blogs, Comments, Motives, More
Been quiet on the blog since that run on comments on a couple fires, some weeks ago. Maybe that's a good thing. Here's a secret about being a blogger, or at least being Mike Legeros blogging about local firefighting: it causes him occasional heartburn. That's because he knows those people. Talks to them. Hangs with them. Works with them.
Thus for the many years that this blog's been publishing, Blog 100's been operating an echo chamber of sorts. Will this post give that person heartburn? Was that comment too toxic, if see through these people's eyes. Is that thread making that department look better or worse, and does it vary by rank or position? Etcetera, etcetera. Then you hear people's reactions to postings and comments and threads off-line, and the effect is magnified.1 A person could nuts! (Too late, right?)
Open Browser, Scream at Screen
Quarterbacking remains one of the most problematic pieces of this Great Blog Experiment. And that's what this thing really is, a long-term learning lab on multiple fronts. Moderating discussions here, curating news content there. On some days, providing a platform for public information. On other days, serving as a citizen journalist. Being local (or loco!) some weeks, being bad and nationwide on others.2 But back to quarterbacking...
Would we have tamer and more respectful conversations on this blog, if a Facebook-style method were used? If comments were exclusively limited to those who were both (a.) registered and (b.) reveal their true selves? That subject has been discussed here before, and a number of users have stated their preference for same. More on that in a moment.
When Ambulances Burn
Yesterday over on Statter911, a pair of videos of a burning (and exploding!) ambulance were posted. The clips couldn't be more different: close view as shot by the Fire Chief, distant view as shot by a colorfully commentating citizen. Reader comments in the first story caught my attention, as they were discussing quarterbacking.
One of the readers-- not identified by a real name, but perhaps known through his screen name-- defends his comments and his style of commenting. He defends his actions, that, hey, that video came right from the chief's video camera, it's pretty cut 'n' dry footage, the chief himself posted the thing on a public forum, and it's fair on a public forum to make comments.3 Interesting postings from Dave, and worth reading. Plus the footage is great. Have a discussion at the station about that one. Fully-involved ambulance, how do you attack the thing?
How About Facebook?
But back this meta-discussion. Earlier this year, Facebook launched a new commenting system for blogs and third-party sites. Here's an interesting TechCrunch article about that, including pro's and con's. Looks like the popular WordPress platform is the ticket to blogging + Facebook comments. This blog uses the Pivot platform, but that could be changed. Imagine waking up and finding Facebook as your comment interface here. As we've long discussed and blogged about (here and here and here, for starters), there'd be pro's and con's of no longer having the availability of anonymous screen names.
Then there's this perspective, from Joe Brockmeier on ReadWrite Enterprise and titled Stop Feeding Facebook. Pretty good posting about social media and particularly "frictionless sharing." Meaning, "the act of passively notifying social media of all manner of activity." Enable Facebook as your commenting technology on a blog, for example, and your blog comments are going to get shared on your Facebook wall.
"Game of Telephone"
Brockmeier's editorial makes a number of great points, from "social media as a game of telephone" to this great quote about Facebook and privacy: "Sometimes you want to control your audience, but Facebook's privacy controls are so complex it's never quite clear who can and can't see your messages. You're not assured that someone will or won't see a message, at all."
Then there's this great quote, which applies to fire blogs and quarterbacking: "All too few of the commentators take the time to actually read the article or post in question. This becomes abundantly clear when you see howls of outrage in response to features on The Onion because the reader had no idea they were responding to a satirical article."
Be honest, how many of us are actually reading the entirely of a posting and all comments? Or are you skimmed, or jumping ahead to comments, or really jumping ahead to just the latest comments? And don't get me started on the ease of instant replies. Forget count to ten before sending. How about wait until morning!4
Thank You and Good Morning
Those are today's or at least this morning's thoughts on this blog, on its comments, on strategies for commenting, and implications of those strategies. We'll see if still makes sense in a few hours, after reading it again. Thanks as always for reading. Apologies as always for those who tire of reading about making sausage. Maybe we'll get college credits out of this, some day. Might make for a heck of a master's thesis! That is, if Yours Truly ever (a.) tries for an advanced degree and (b.) studies something other than the obvious choice of history.
End Notes
1Maintaining or enhancing personal relationships is just one of my internal checks and balances on this blog. What's my compass look like? How do I determine what's better versus worse for posting? Goes something like this: Add value. Be positive. Show responders in a positive light. Be truthful, be fact-full. Transfer knowledge. Provide interesting, entertaining, unusual, or humorous reading. Maintain or enhance personal relationships. Be myself. They're not necessarily in order, and they're quite likely contradicted at times, depending upon the posting or the tone of reader comments.
2Time-challenge is another aspect of the "experiment." Morning postings are almost always written before work. Many originate as ideas that form first thing, right out of bed. (There are treatments for that, Mike.) It thus becomes a challenge-- and a fun one, to freely admit-- to see if a reasonably well-written or at least well-formed posting can be created in that short space of time. Usually about an hour, on weekdays. Then it's on to the office.
3How often are incident-based postings initiated by a chief or command staff member? Here, it happens very rarely. And that's probably the case on other fire blogs. In contrast, it's often the norm on a site like firenews.net. But that's a news-reporting site, not a Some Guy's Blog site.
4We can test that theory, and see just how far people read. Check out this classic graphic titled "So you're mad about something on the internet..." from Gizmodo. Be warned, it contains adult language, notable the four-letter word that begins with "D" and means "less than helpful person."
+ 3 - 7 | § ¶
The Big Block
Cary Engine 1 and Western Wake Pumper 196 in action this afternoon, at the familiar scene of a motor-vehicle accident on Interstate 40. This one was between the airport exits. Them chevrons sure look good in sunlight! Click to enlarge:


+ 6 - 4 | § ¶
Wilkes County Fire Department History Videos
Here's a nifty set of documentaries about fire department histories in Wilkes County. They were created by the Save Our Wilkes History Committee of the Wilkes Community College Pardue Library. Here's a page of information about them, from NCLive.org. Below are videos for Millers Creek and North Wilkesboro fire departments.


Here are links to the full series, as found on the saveourwilkeshitory YouTube channel:
+ 5 - 3 | § ¶
Law and Order and Cameras and Records
Two news stories caught my eye this morning. First is a New York Times article about camera-toting bounty hunters. Seems there's growing business in South Korea for people willing to take pictures of lawbreakers. Catch people breaking the law and the government will pay, both small money ($5 for cigarette tossing) to big money ($850 for unlicensed livestock selling).
Now there's paparazzi with a purpose! Enough people are pursuing the new trade that even schools on the subject are popping up. Or is that paparopping up? The article makes reference to cost savings on hiring law enforcement officers as well. Wonder what the hard numbers look like, across indicators there? The story also talks about the obvious ethical questions involved.
And the E word returns us to Raleigh, or at least Wake Forest. That was the scene yesterday of a house fire, with one patient transported to the North Carolina Jaycees Burn Center at UNC Hospitals. WRAL reported the story. In a version of the story posted earlier today-- but since updated with different text-- they noted that authorities had not released the victim's name. They then added the purported victim's name, as found using county real estate records.
At least one reader has questioned the latter, in the comments section of the story. And that's a perspective that readers have shared in prior stories, as memory serves. What's the best behavior here? How do readers feel, about both releasing/withholding the names of victims and the gathering of public information about those involved in incidents? Your thoughts, please...
+ 5 - 5 | § ¶
"Pink Fire Engines on Parade"
With apologies to Oliver Wallace and Ned Washington, tunesmiths of seventy years ago... Look out! Look out! Pink fire engines on parade. Here they come! Roaring and flashing lights. There here and there. Pink fire engines everywhere. Look out! Look out! They're riding around the block. Arrayed in chrome. Pink fire engines on parade. What'll I do? What'll I do? What an usual view!
I could stand the sight of worms, and look at microscopic germs, but technicolor LaFrance Eagles is really too much for me. I am not the type to faint, when things are odd or things are quaint, but seeing things you know that ain't, can certainly give you an awful fright! What a sight... Charlotte's Engine 90 as seen on the Anchor-Richey EVS web site. See more photos. And the full story forthcoming.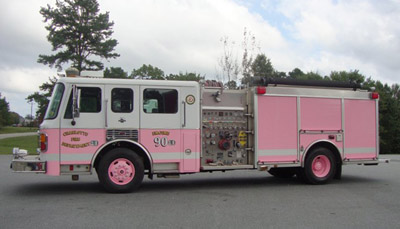 + 3 - 9 | § ¶
CANCELED: Raleigh Fire Museum, Programs in October
Due to unexpected complications with construction at the Keeter Training Center, the Raleigh Fire Museum will not be open on October 8 and October 15 as previously announced. The Raleigh Fire Department Historical Society apologies for any inconvenience.
Please plan to visit the Raleigh Fire Museum on November 12, the second Saturday of that month. The museum will be open during its regular hours from 10:00 a.m. to 2:00 p.m. The location is 105 Keeter Center Drive, Raleigh. Admission is free. This event has been postponed.
Also on Saturday, November 12, a special program will be conducted at the Raleigh City Museum at 220 Fayetteville Street, Raleigh, on the history of firefighting in the Capitol City. Raleigh Fire Department Historian Mike Legeros will be speaking at 3:00 p.m. The hour-long program is open to the public. Admission is free.
For more information about the Raleigh Fire Museum or the historical society, please visit the web site www.raleighfirehistory.org.
Other Fire Prevention Week Activities
Don't forget about other Raleigh Fire Department activities in October, during Fire Prevention Week:
READ MORE
+ 5 - 12 | § ¶
1982 Pontiac Firebird Knight Rider Replica
Here's another local curosity, this one found for sale on eBay. The thing's also listed on Craigslist, and was found by a buddy at work. One 1982 Pontiac Firebird replicating the famous car from the television series Knight Rider. The price is a mere $27,000, though the seller will consider a trade. Barring the available of a replica Batmobile in the general Raleigh-Durham area-- either television or movie versions-- this is probably as good as a crime-fighting attention-getter as you'll like find. No guarantees as a babe-magnet, however. (Same applies to blogging, come to think of it...) Notice the interior electronics. Might be particularly appealing to whackers. Imagine the thing after adding dash lights, grill lights, rear lights, and a few more switches! As for the "real" vehicle, here's the Wikipedia entry on KITT. Click to enlarge:


+ 5 - 3 | § ¶
Mystery Trailer
This one's from a reader, who saw this trailer on South Boylan Avenue. He snapped and sent this picture. Mr. Blogger has also seen the thing there, some days ago. Looks like a surveillance trailer of some sort. What's the thing for? Or is its purpose too top-secret to reference here? Comment as desired, while I keep watch for the black helicopters...


+ 11 - 4 | § ¶
Antioch Fire Department Haunted Fire Station
The Antioch Fire Department in Granville County is conducting a haunted fire station for three weekends in October. The Friday and Saturday dates are October 14 & 15, October 21 & 22, and October 28 & 29. The time is 7:00 p.m. until... The location is 5065 Antioch Road in Oxford. The cost is $5.00. They'll also have pizza, hot dogs, popcorn, nachos, drinks, and hot chocolate. Sounds perfect for boys and ghouls of any age. See their Facebook page for more information. Boo.


+ 4 - 3 | § ¶
Zebulon Night Out 2011, Tuesday, October 11
Press release. On Tuesday October 11, 2011, from 6:00 p.m. to 9:00 p.m., neighborhoods throughout Zebulon and the surrounding communities are invited to join forces with the Zebulon Police Department and Zebulon Fire Departments in a unified effort to celebrate keeping the town safe! Zebulon Night Out will be hosted by Zebulon police and fire departments.
This event will be held at the Zebulon Municipal Complex located at 1003 North Arendell Avenue. The event will include free food, entertainment, games, and displays; child identification, community watch, senior citizen, and community policing programs; fire safety education, smoke alarm education, fire safety house tours, antique fire truck rides, and more!
The purpose of Zebulon Night Out is heighten awareness of crime, gang, drug, and fire prevention; Generate support for, and participation in, local anti-crime and safety efforts; strengthen neighborhood spirit and police-community partnerships; and send a message to criminals letting them know that neighborhoods are organized and fighting back!


+ 4 - 5 | § ¶
Morning News - September 27, 2011
Good morning Raleigh. Some belated news items below, including the last week's passing of a Sandy Bottom fire captain, whose death occurred within hours of responding to calls.
Apex to Replacing Aging Fire Truck - Southwest Wake News story from Saturday, about an emergency replacement of Engine 3, a 2000 E-One Cyclone pumper. That's their white pumper. It's replacement will be a 2011 E-One eMax, and it's purchase will help replace two other vehicles in their fleet, including Rescue 1, a 1992 International/Hackney rescue. Read more about the AFD fleet on their web site.

Three Weeks After Hurricane Irene... - Independent Weekly story from last week, about life on the lower Outer Banks since the historic storm. (Some places flooded that were spared in the legendary storm of 1944.) The Avon Fire Department is mentioned, in the context of their fire station now serving as a community gathering spot and commissary.

Sandy Bottom Firefighter Dies - Firehouse.com reports that Capt. George W. Fisher III, 56, of the Sandy Bottom Fire Department in Lenoir County died of a cardiac arrest while off-duty on September 22. He had responded to two calls within hours of his death, they note from a report from the State Fire Marshal's office. Capt. Fisher was buried Monday in Kinston. (Google doesn't find any local news stories of Capt. Fisher's passing, but maybe one will surface.)
+ 14 - 2 | § ¶
Greensboro Central Fire Station Postcard, 1927
Found for sale on eBay. Card was mailed in 1927. Building opened one year earlier, and originally housed four fire companies. Features of the facility included a Gamewell fire alarm station, a maintenance garage, and a training tower. The latter two were supplanted in 1956, when a new Training and Maintenance Center opened on North Church Street. Both Central Station and Station 3 closed in 1980, when a new Station 1 opened, also on North Church Street. Read more history. Click to enlarge:


+ 5 - 6 | § ¶
North Carolina Fire College Video - Durham, 1967
Might have to do more of this random Google searching. Here's a treat, color footage of live fire training in Durham, for the North Carolina Fire College in 1967. The footage is silent, though the familiar George Strait song has been added on the soundtrack. Check out the 1940s-looking pumper around the 2:20 mark. Front-mounted pump, with lettering for "C.F.D." First person to identify that one gets a free subscription to the blog.

+ 2 - 3 | § ¶
Statesville Airport Hangar Foam Suppression System Test
For your Sunday evening enjoyment, how about a little foam? Found this one via random Google searching. Shows a foam fire suppression system test at the Lowe's Aviation Hangar at the Statesville Regional Airport in 2006. That must be something to see in person. Wonder how long it takes to the clean the thing, after? As for the airport, Google does not find any information on its fire protection. Perhaps readers can inform.


+ 5 - 2 | § ¶
Panoramic Photo of Stony Hill Open House
Both Lee and Legeros brought their cameras to the Stony Hill Fire Department Open House this afternoon in northern Wake County. Here's a panoramic photo of the thing by Yours Truly. Used manual settings, so exposure stayed the same with each shot. Used about a 24mm focal length, to minimize distortion. Portrait mode for the seven shots. Saved as Canon RAW. Processed using Canon DPP. Stitched using AutoStitch. As for the apparatus in the foreground, left to right you're seeing Stony Hill, Durham Highway, Wake Forest, Wake County EMS times two, Stony Hill, Bay Leaf, Stony Hil, and Wake County EMS. Click once or twice to enlarge:


+ 2 - 5 | § ¶
Bethesda-Chevy Chase Rescue Squad in 1950
This wonderful short film titled Wisconsin 1000 is making the rounds. Produced in 1950 by the Department of State, it highlights the early history of the Bethesda-Chevy Chase Rescue Squad in Maryland. There's a bounty of vintage vehicles, equipment, uniforms, and techniques on display. It's also a superbly produced film that was subsequently printed in ten languages and circulated worldwide. Readers are encouraged to compare with their memories and perspectives on early rescue squads in our area. The Raleigh Emergency Rescue Squad comes to mind as maybe comparable to what's presented, though they were chartered in 1953 and with city and county aid and effort. And they didn't roll with a dozen people staffing a heavy rescue truck. (See this RFD timeline and scroll to 1953, for more info.) Anyway, watch, enjoy, and marvel at the way things were...


+ 4 - 3 | § ¶
Sherwood Brockwell Plaque at McKimmon Center
Reader Chad Simon a couple months ago alerted Blog Central to this plaque displayed in the lobby of North Carolina State University's McKimmon Center on Western Boulevard. The plaque is one of dozens honoring university graduates. It measures maybe one by three feet. Sherwood Battle Brockwell, class of 1903, was the city's first full-time Fire Chief. He served from 1912 to 1914. He subsequently served for nearly 40 years as the state Fire Marshal. Here are some prior blog postings about the man: his obituary in 1953, his early years in the Department of Insurance, and his training at a New York City fire school. (In the interest of full disclosure and school pride, Mr. Blogger is a graduate of the class of 1988. Go Pack.) Click to enlarge:


+ 4 - 4 | § ¶
1933 State Fireman's Association Program
Our friends at the Salisbury Fire Department have shared this document, a Souvenir Program of the Forty-Sixth Annual Meeting of the North Carolina State Fireman's Association. The thing's mostly advertisements, which are entertaining unto themselves. Look for pictures of the association's band (!) and the associations fire truck (shown below). Wonder what became of that baby?


There's a history of Salisbury, portraits and biographies of association officers, and a list of members who died since the last convention. The program for that year's event included reel and truck races, with $1,000 in prizes. Read more about those events on
Mike's history page
. Click below to
read the PDF document
, which is about 4 megs in size:
+ 3 - 1 | § ¶
Renters Watch Apartment Fire, Speedway, IN
Here's an interesting YouTube video, found by Statter911, and filmed by residents at apartments in Speedway, IN. There's about ten minutes of footage of the three-alarm fire-- five departments, 25 apartments destroyed-- and filmed mostly through a window from the across the parking lot. Perhaps more interesting than the footage is the audio recording of those watching the fire. Such as the woman's declaration that they're going to buy renter's insurance the next day. Or the surprised scream of a woman startled by air horn evacuation signals just before it ends. Now you can watch the watchers watching.



+ 4 - 3 | § ¶
UPDATED: Fire Commission Meeting Agenda & Documents, Sept. 22
Updated September 24
Here are highlights, the agenda, and the documents from this weeks Wake County Fire Commission Meeting, held Thursday, September 22, 2011, at 7:00 p.m., at Wake County EMS Training Facility, at the lower level of the Commons Building, 4011 Carya Drive.
Highlights
Former Fire Commission member Ann Suggs was remembered. She passed away on April 23, was remembered. Garner Fire Matt Poole said some nice remarks, and a resolution was read honoring her many years of service with the fire commission, including her tenure as the first Chair and later Vice Chair.

The commission approved a recommended plan for reconstructing Bay Leaf Station 1. County staff provided a background on the project, including the current limitations of Station 1 and several one-story building options that were examined. They have reached a conclusion that a two-story facility better meets the department's needs and makes the best use of the lot shape. Groundbreaking is expected in the spring, with a construction time of one year. Here's a PDF format copy of the presentation slides.

Note in the slides the include a proposed financial agreement, where Bay Leaf FD will continue to own the land, but the county will own the building and lease the property. Also, Bay Leaf will deed their Station 3 building and property to the county. That facility will operate as a full-time county EMS station (and save the county the cost of building one in that area). Bay Leaf will in turn lease space for their Station 3 from the county.

County staff provided a detailed update on fire service contract compliance and financial issues with Eastern Wake FD. It was information only, with no actions requested from the commission. The presentation was also very detailed, and provided a chronological account of actions and correspondence between county staff and the fire department.

The first of two issues has been resolved, while the second is still being worked through. Per the county fire service contract, there is a 90-day period for resolving compliance issues. Both the County Manager (during the presentation) and the department's lawyer (during the period of public comment) expressed optimism and confidence that the second issue will be successfully resolved. As for all the specifics, I respectively decline any attempt to summarize. Instead, interested parties should request a copy of the audio recording from the Fire Services Office. Minutes of the meeting will also be made available at the next regular scheduled meeting.
Agenda
Call meeting to order

Invocation
Roll of Members Present
Approval of Agenda

Resolution in Honor of Ann Suggs - Former Member of Wake County Fire Commission
Minutes

Adoption of Minutes for May 5th, 2011, Regular Meeting

Regular Agenda

Bay Leaf Fire Department Station #1 Reconstruction
Eastern Wake Fire Department
Apparatus Committee Report

Information Agenda

Fire Tax Financial Report
Chair Report
Fire/Rescue Services Director Report

Update to Fire Tax District Long Range Business Plan
Fire Service Pager Deployment
Post Incident Review Training

Other Business
Public Comments

30 minutes maximum time allotted, Maximum three minutes per person

Adjournment - Next Meeting November 17th, 2011.
READ MORE
+ 4 - 4 | § ¶
Building the Original Ambulances of Wake County EMS
For your Friday enjoyment, here are more goodies from the collection of Travis Loy. The date on these is probably 1976, the year Wake County EMS was organized. The location is Swab Wagon Company in Elizabethville, PA. Readers can advise the make, model, people, and perhaps story of what we're seeing.
As for the historical context, Wake County EMS was started in 1976. Four ambulances, EMS 1 and EMS 4 downtown, EMS 2 outside Mayview Convalescent (and then in a station in the rear of the county health center), and EMS 3 at the current Six Forks Road location.
The organization of the organization followed a proposal for joint city-county ambulances, a proposed program called Rescue Medic. That's it's own interesting slice of history. Here are a pair of history trivia quizzes from DJ that we posted in 2007, part one and part two. And here's a bit more about the history of Wake EMS, from the official site. Click to enlarge:


+ 8 - 6 | § ¶
Mystery Vehicle
This one's from outside our area, outside our state, and even outside our country. Rescue vehicle of a sort. Maybe better called a recovery vehicle. Any gearheads recognize the thing on sight? You'll have a blast figuring this one out.


+ 3 - 4 | § ¶
Trees, Rules, Safety, and the Prank Video
Dave Statter's been providing ace coverage on the Macon-Bibb County prank video incident. His postings have generated upward of a 100 comments, over a trio of postings. After a few days of reactions-- and reactions to reactions-- below was my thought on the matter (posted to this posting), and an extrapolated perspective on fire service decision-making. Good point or just too much analysis? You be the judge. And what's up with that wacky tree metaphor...


With a couple days worth of reactions to the prank video (and reactions to reactions), we can tease some nuances out of the situation. Safety appears to be the primary reaction to the thing. Somebody could get hurt. But some others seem to put the greater wrong on the filming and posting. Somebody could (or will) get in trouble. Maybe this is fire service decision-making in a nutshell?

Why do you grab your reflective vest, before stepping out into traffic? Choose one: (a.) Because it may save your life. (b.) Because that's what the rules say. (c.) Because you might get in trouble for not following said rules. And maybe add, say, (d.) Because you're leading by example, and want the younger or less experienced members to wear their vests and (e.) Because you don't want your peers or the outside world thinking that you don't take measures for scene safety.

You get my point.

Same line of thinking can be teased out of the reactions to the video. Just about everyone is screaming Danger Will Robinson! Most seem to see a potential for physical injury or worse. But maybe more than a few are looking past that– hey, firefighting's dangerous, hey, firemen play rough, etc.– and seeing the real harm involving "getting caught." If a tree doesn't wear PPE in a forest fire, does the absence of getting yelled at mean it's still okay?
+ 3 - 4 | § ¶
Last Night's Flooding
Here are a couple scenes from last night's flooding. How many inches of rain did Raleigh-- now named the best city in America, which means this must be the best Raleigh fire blog in America-- get anyway? Top shot shows Rescue 1 personnel returning from checking stranded vehicles on Wake Forest Road between Atlantic Avenue and Millbrook Road. Bottom photo is Blue Ridge Road, north of Western Boulevard. Engine 8 had helped there for a while. Photographer conveniently arrived moments after the engine cleared. See more photos.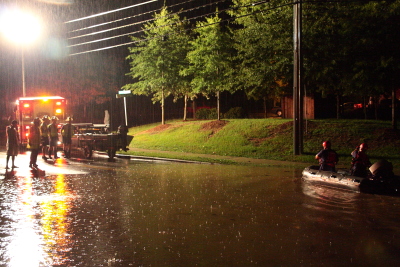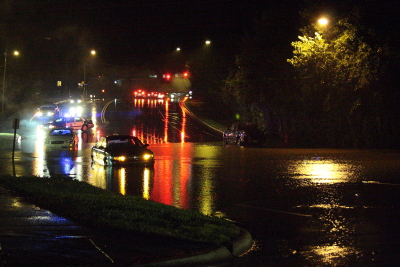 + 2 - 3 | § ¶
Southside with Engine 3
Seen this afternoon on scene at a vehicle versus building on Garner Road. One person transported with EMS 1. Yours Truly was headed to the training center, and caught the call while on Western Boulevard. See those photos.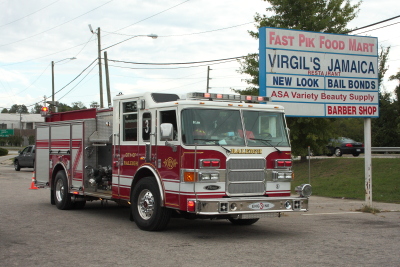 + 4 - 1 | § ¶
When Sideburns Attack
Here's another vintage EMS photo from the collection of Travis Loy. Don't know the date. Don't know the people. Uniform and clothing includes: Beacon Ambulance - Raleigh, N.C. patch and Advanced First Aid patch on left; C.P.D. or G.P.D. shoulder pin and hand cuff tie tack second from left; I.R.W. belt buckle third from left; dangerous sideburns fourth from left. Click to enlarge:


+ 5 - 1 | § ¶
Evening News, September 20, 2011
Good evening Raleigh. Let's look at a couple headlines of the last couple days. They're from the west side of the state, as well as a couple national stories. Then Thursday is a Fire Commission meeting. Might have some notes afterward on that one. Also, double your fun with fire photos from Adams Street and Lewisand Circle. Both Lee and Legeros were on scene this weekend, and even taking some of the same shots. It's always interesting to compare results.
+ 1 - 1 | § ¶
Raleigh-Wake Emergency Commmunications Center Staff Named Heroes of the Year
Press release. Employees of the Raleigh-Wake Emergency Communications Center (ECC) were named "Heroes of the Year" at the fourth annual Greater Raleigh Chamber of Commerce First Responders Appreciation Breakfast. The telecommunicators and call takers were selected from a group of nominees from five area public safety agencies and honored for their efforts during the April 16 tornado emergency. On the day of the tornado, many ECC staff members reported early for work or on their day off to staff both the primary and backup 911 centers simultaneously to quickly answer and dispatch the hundreds of critical calls generated by this event in the four hour period following. More emergency calls were managed during a four-hour period than the center typically manages during an entire day.
--
In other ECC news, the center was recently featured in a national ad campaign for Select Advantage Consulting. The ad shows Telecommunicator Dawn Luzon working at a console. The company uses pre-employment assessments of perspective employees to iidentify key personality elements needed to be a successful call-taker or telecommunicator. Their philosophy is to "hire for behaviors, train for skills."
Selection and placement of dispatchers using job analysis-based content and behavior causes dramatic and positive effects on employee selection, hiring, trainability, retention, and overall effectiveness. This allows a unique advantage for comm centers when it comes to matching applicants to likely success in the job. The Raleigh-Wake Emergency Communications Center began using Select Advantage with their 40th training academy. Learn more about Select Advantage.
+ 2 - 1 | § ¶
Trip Photos - Chicago, Milwaukee, Aurora, and More
Five sets of photos from our trip to the Midwest the other week. Mostly fire stations and fire museums. Stored on Mike's Flickr site and all linked from Mike's non-Flickr fire photo site:
+ 0 - 5 | § ¶
Historic Ambulance Station
We've posted pictures of historic fire stations ad nauseum. How about a historic ambulance station? Saw this while cruising Chicago the other week, in a section of an old police station. The two-story brick building section included a pair of bays, currently covered with security screens. Lettering above bays read Ambulance Patrol. See same in this set of trip pics. Click to enlarge:



From this Forgotten Chicago page, the building was once home to the Chicago Police Department's 28rd District. Built in the 1920s, it's located on Chicago Avenue west of Laramie:


Forgottenchicago.com photo
+ 3 - 4 | § ¶
Mystery History
From the collection of Travis Loy and dated July 1973. Fire (and ambulance?) station somewhere, and an awfully wide-open space at that. Airport property, perhaps? Click to enlarge:


+ 5 - 5 | § ¶
Charlotte Fire Department Training Tower and Apparatus, 1976
From the FireNews.net Facebook page and the collection of retired Charlotte Fire Department Battalion Chief C. Lee Abernethy, here's a great shot of the training tower with three lime ladders and one red platform. The tiller is Ladder 4, a Ward LaFrance. The rear-mount ladders are Seagraves. The Snorkel is an American LaFrance. Vintage photos don't get much cooler than that. Readers can perhaps add model years, and associated memories. Click to slightly enlarge:


+ 4 - 5 | § ¶
Yesterday's Ambulance Accident / Fayetteville Road
WTVD has posted a short story on the yesterday's ambulance accident in the 7400 block of Fayetteville Road, south of Garner. Wake County EMS paramedic ambulance EMS 17 EMS 14 was traveling southbound, returning from a hospital, and swerved to avoid a second vehicle swerving in and out of traffic. The EMS unit left the roadway, struck a ditch, and turned on its side. The second vehicle didn't stop, and left the scene.
The two EMS members aboard were transported to WakeMed with minor injuries. Units on scene included Fairview E2, R1, C2, Garner R1, EMS 11, EMS 16, D1, D2, Chief 200. See photos from Mike Legeros (me), who arrived approximately 35 minutes after the accident, about 11:30 a.m. Glad the medics will be okay.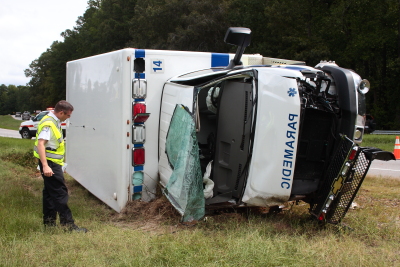 + 3 - 2 | § ¶
Fire Engineer Talk Radio Episode 107: Fire Service Court
As seen on Curt Varone's Fire Law log, here's an 'net broadcast with fire service Chip Comstock, John K. Murphy, Brad Pinsky, and Varone discuss legal issues affecting fire training and firefighting. Their first topic is press and citizen photography of responders in public places, and echoes some of Varone's and Dave Statter's recent postings on the subject. They discuss the issue at length, and provide excellent education points on what's legally protected and what's not. Good stuff.


+ 4 - 2 | § ¶
Smoky Fire Video From Detroit
As found posted on Statter911. He's got parts two and three. Pre-arrival video of a commercial structure fire, with choking smoke obscuring the view for the first several minutes. Your eyes almost start to water. Wonder how many workers they get a day, week, month, up there?



+ 3 - 1 | § ¶
Wilmington Port Cargo Hold Rescue, December 2010
After watching a recent news segment about Wilmington and New Hanover County fire departments-- still assessing my reaction to that one, and if there's an appropriate blog topic in there-- we meaning me did a little Google searching on "Star News Wilmington fire." Found this photos from a December 2010 rescue of an injured worker in the cargo hold of a container ship docked near the state port.
Wilmington Fire Department Capt. Tim Smith took the photo, which is one of two posted to this story. Bet they have some great stories down that way, of fires and rescues and such at the port and on the water. Maybe somebodywill write a book-length history of WFD some day. I'd buy a copy! Note that the Star News story was published in a column called "Behind the Yellow Tape." That would be a great name for a blog. Probably already is.



Capt. Tim Smith/Star News photo
+ 8 - 1 | § ¶
How Dangerous Are Air Shows?
The tragic news out of Reno, Nevada, along with numbers of stunning video clips, may prompt knee-jerk reactions regarding safety at such events. How dangerous are air shows, anyway? Google searching finds a couple of interesting documents for your Saturday morning reading. Letter to the editor of The Independent, citing some statistics in Britian. And this PDF-format article by Des Barker in World Airnews from February 2010.
The author makes this compelling conclusion, which is certainly applicable to other risky activities and vocations: "As an international air show community, we seem to have reached a plateau in our ability to reduce accidents and incidents at air shows. The question is: Can we afford then to just continue and accept an average of 19 accidents/ incidents per annum? Further, can we afford to just accept what the dice have dealt, with the associated loss of life? Are we doing enough worldwide to reduce the number of air show accidents/incidents?"



Tim O'Brien/AP photo
+ 5 - 1 | § ¶
Morning News - September 17, 2011
Good morning Raleigh. Soggy Saturday on tap for today. Good day to do work around on the house. Or at Blog Central, just more hours on the computer. Couple news items and postings to pass along. In the queue for posting is the agenda and documents for next week's fire commission meeting. And how about that Swedish fire expert's presentation, posted as a topic by request? Interesting, to the say the least.
+ 2 - 3 | § ¶
The Weekly Underwriter - October 9, 1915
Found via random Google Books searching, from Volume 93 of The Weekly Underwriter:
North Carolina Improvements

A careful investigation of the fire loss in North Carolina last year by Assistant Insurance Commissioner Sherwood Brockwell shows that the total was $3,252,2000. Added to this is the cost of the various fire departments. Mr. Brockwell, who was chief of the Raleigh fire department until a new position was specifically created for him by the State, says that for every dollar spent for new buildings, 42 cents was burned. He gives the number of lives lost by fires in this State during the twelve months as 126, mostly children.

The city of Raleigh has ordered an aerial fire truck, gasoline driven, to be delivered in February. The towns of Henderson and Washington have ordered motor trucks, and both of these will install at once a fire alarm system.

Preparations are complete for the observance of "Fire Prevention Day" all over the State and the public is showing a great deal of interest in it. A fire which destroyed the second floor of one of Raleigh's most important public schools was the direct cause of a great majority vote for a bond issue for the building of fireproof schools there, the majority being the largest on record at any election of the sort.

Raleigh has a fine reputation for a good fire department and strict regulations to reduce fire waste. Chief Farmer says the loss this year so far runs less than 1 per cent on the amount at risk and that the total to date is $5,000 less than the small loss in 1914.
+ 2 - 4 | § ¶
CANCELLED - Durham Highway Public Safety Day, Saturday, September 17
Friday, September 16 update. This event has been cancelled, due to the latest forecast from multiple weather sources. Durham Highway Fire Department expresses their sincere thanks to all agencies involved, and looks forward to their participation next year.
On Saturday, September 17, Durham Highway Fire Department sponsors their 16th Annual Public Safety Day. The location is Leesville Road High School, 8409 Leesville Road, Raleigh. The time is 10:00 a.m. to 3:00 p.m. Pumpers and rescues and police cars, oh my! Bunch of your favorite fire departments, plus other agencies. Demonstrations including an air ambulance, a vehicle extrication, and live firefighting. And free hot dogs and pop, at that! Here's a PDF-format flyer
. Hope to see you there.


+ 2 - 5 | § ¶
Vintage Postcard of Washington Fire Department
Found for sale on eBay, here's a vintage image of the Washington Fire Department in Beaufort County. Probably dates to the turn of last century. Apparatus shown left to right includes a hand-drawn hose reel, a hand- or horse-drawn ladder truck, a horse-drawn hose wagon, a hose-drawn steam engine, and another horse-drawn wagon.
The steamer is a fifth-size 1888 Silsby, first operated by the Ocean Steam Fire Engine Company. Read more steamer history. The fire station is the old town hall at 122 N. Market Street, built in 1884 and closed as a fire station in 1924. Read more building history.
The Washington Fire Department is one of the oldest in the state. Read more department history. Click to enlarge:


READ MORE
+ 5 - 2 | § ¶
The Swedish Fire Expert
As requested a couple weeks ago by a reader, here's a dedicated posting about the provocative presentation by Dr. Stefan Svensson at Fire-Rescue International in Atlanta on August 25, 2011. Below are some notable links, include a three-part video of the presentation itself. Watch, read, discuss.
+ 3 - 2 | § ¶
Greatest Concert Photo Ever?
Found by a friend, from a New York Times gallery, from a story about this week's Anthrax / Megadeth / Metallica / Slayer concert in New York City. Photo credit to Chad Balka. The shots are great throughout, and well-capture the energy and colorful characters that comprise a heavy-metal concert. And that's what it's all about, for cameras pointed at people and no matter the activity. Capturing the most of the moment.1



Chad Balka/New York Times photo


1How many of my incident photos excel in that regard? Great question. I have been getting better with time. But there are still far too many "good but not great" photos in a given series. Nature of the beast, maybe? But that's the ultimate objective. Good documentation, but also as many photos that "pop" off the screen as possible.
+ 6 - 7 | § ¶
Matchbox E-One Mobile Command Post
Found this on the racks in a big-box store in Illinois, a Matchbox Real Working Rigs replica of an E-One mobile command post. Lettered for Hillsborough County, Florida. Watch for a brown and white version for law enforcement next. Not sure when we'll see this one in stores in our parts. The local big-box stores have been pretty lame in stock some Matchbox products. Or buy the thing on eBay.


+ 1 - 4 | § ¶
New Bike Trailer For Wake County EMS
Wake County EMS has placed a new bike trailer in service. Stored at Station 1, the 18-foot trailer has a 36-inch RV-style side door, ramp door in the rear, and 6-foot 6-inch interior. Modifications include connection for shore power, interior lighting, and storage cabinets. The shore power is also used for charging the bike lights and hand-held radios. The storage cabinets house medical supplies and bike parts.
The trailer replaced a smaller, single-axle version, which has been retained as a secondary unit. Two bikes and equipment are kept in the older trailer, for days requiring bike teams at multiple events on the same day. The new trailer was placed in service over the weekend of July 4. The modifications and painting were all performed by EMS members. Learn more about the Wake County EMS bike team on this web page. Or see more photos of the trailer.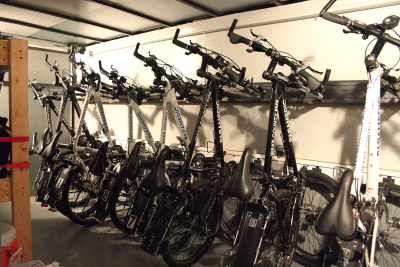 + 2 - 5 | § ¶
Morning News - September 15, 2011
Good morning Raleigh . Cooler weather on the way. Some twenty degrees cooler, in fact. Good weather for outdoor activities, such as Saturday's Public Safety Day sponsored by Durham Highway Fire Department (read blog post). It's that time of year, and we'll be compiling our usual list of coming fire department events. Please pass along event information as desired. We'll also be watching Facebook for postings and mentions. Now to some news stories and such...
+ 3 - 4 | § ¶
The Pullman Fire Department
The Pullman Palace Car Company of Chicago built railroad cars from the 1860s to the 1950s. The company built a company town, Pullman, IL, in 1880. Located on 4,000 acres south of Chicago, it housed 6,000 employees and an equal number of dependents. The town had markets, churches, a library, and, of course, a fire department. Pullman was annexed into the city in 1898. Today, it's a Chicago neighborhood and a historic district. A number of the plant buildings still survive, including the fire station.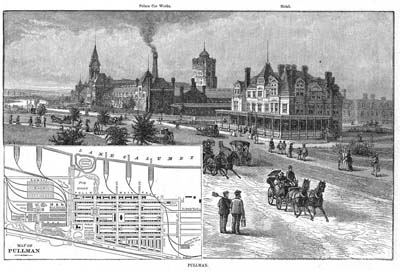 The Pullman Fire Department operated in a combination stable and fire station at 507-11 E. 112th Street. The one- and two-story structure was built in 1881. The fire department section was a two-story brick building with one bay.In 1896, the Pullman Fire Department truck company became Truck 27 of the Chicago Fire Department.
The members were not Chicago firefighters, but the truck responded to neighboring areas. In 1890, its personnel were replaced with city men. In 1903, the company relocated to an addition to Engine 62's quarters at 2603 E. 114th Street. See more photos.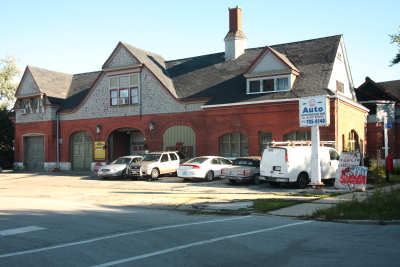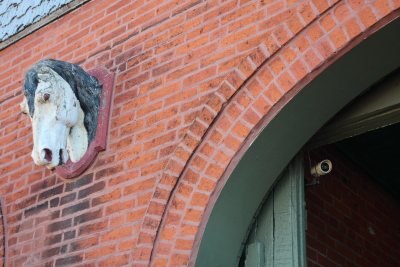 READ MORE
+ 3 - 1 | § ¶
Garner Fire Department Softball Tournament, Saturday, November 12
Mark your calendar for Saturday, November 12. That's the date of the Garner Fire Department's first-ever softball tournament. Public safety teams both close and far are invited. The location is Clayton Recreation Park, 715 Amelia Church Road, Clayton, NC. The start time is 9:00 a.m. and there's just one day of play. Entry fee is $200 per team. The format is double-elimination, following USSSA rules.
Teams may be comprised of two different public safety agencies. And agencies may have more than one team. Teams can be coed, but will play by male rules. They are limited to 16 players per team. Due to facility capacity, the tournament is limited to the first 16 teams that register. Other planned activities include a raffle and a home run derby with cash prizes. Visit this web site for more information, including sponsorship forms.
+ 3 - 5 | § ¶
Eye of the Needle
WTVD has posted a quartet of photos from this afternoon's unusual motor-vehicle accident on Interstate 40 at Harrison Avenue, where this tractor-drawn truck threaded the proverbial eye of the needle. It came to rest under the bridge's abutment, as shown below. The accident caused over four hours of delays. WRAL also has details.


+ 3 - 4 | § ¶
Chicago Firehouses of the 19th Century
More historic and former firehouses, this time from Chicago and all built before 1900. Why the restriction? This was a last-minute project, designed to fill a day's roaming or less. The structures were identified using the book History of Chicago Fire Houses of the 19th Century by Ken Little and John McNalis. Published in 1996, it's the first of four (!) incredible guides to Chicago fire stations. Dozens of engine houses served the city before 1900. But a handful have survived, or at least as could be found between the book and Google Maps. Can't wait for my next visit, and photo explorations. View the photos. And don't miss my Milwaukee explorations also from last week, with triple the number of firehouses found.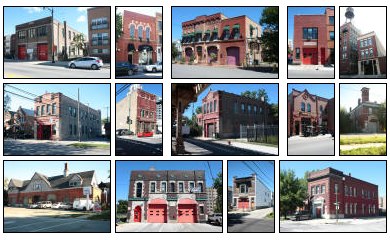 + 6 - 1 | § ¶
Fire Commission Meeting Notice - September 22, 2011
The next meeting of the Wake County Fire Commission is Thursday, September 22, at 7:00 p.m. The location is the Wake County EMS Training Facility, in the lower level of the Wake County Commons Building, 4011 Carya Drive. As the agenda and other documents are made available, we'll add them to this posting.
What is the fire commission? What's their role in county fire service leadership? See this related posting from a couple weeks ago, where Mike Legeros, A. C. Rich, and Lee Price presented an overview of fire service leadership in Wake County. You might learn something!
+ 1 - 2 | § ¶
Morning News - September 12, 2011
Good morning Raleigh. Back to regular blogging, after nearly a week's vacation and a busy weekend of picture-taking. Here's some of the local news coverage of 9/11 events by or involving emergency services this weekend.
+ 5 - 3 | § ¶
Goose Creek Island Fire Department
Reader Lee Kennedy shares this picture and report on the Goose Creek Island Fire Department in Pamlico County, N.C. The department is located in an area called Lowland, and their fire station was flooded during Hurricane Irene. Almost five feet of water damaged their engine, tanker, and brush truck. Though the engine was salvaged-- and has been sent to C.W. Williams for repairs-- the tanker and brush were damaged beyond repair. Additionally, all hose, equipment, breathing apparatus, and turnout gear were ruined. The fire station building will also be demolished, and a replacement structure constructed. (The flooding damage to that area was terrible. All of the department's members also lost their homes.)
Kennedy recently delivered some 20 sets of turnout gear-- coats, pants, helmets-- along with hose from the Faison Fire Department, after an e-mail requesting help for the department was transmitted by the OSFM and NCSFA. Help with apparatus was also requested, and four vehicles are presently housed at the home of the Assistant Fire Chief: pumper from Comfort FD (Jones County), pumper from Oak City FD (Martin County), pumper/tanker from Olympia (Pamlico County), and tanker from Sandy Bottom (Lenoir County). Two trucks have been gifted, and two are loaned.
GCIFD is located in a remote area of the county, with the nearest mutual aid from Araphoe (31.4 miles) and Vendemere (14.9 miles) fire departments. Long hauls! Thanks for sending and sharing, Lee. Click to enlarge:
 
 
Here's also a News Channel 12 clip about firefighters from around the state helping the department, found via Google:
 

+ 3 - 2 | § ¶
Preparing For Entry
Members of the Raleigh Fire Department hazardous materials team are pictured preparing for entry into a commercial building on Ice Drive, scene of an ammonia leak early yesterday evening. Those are fully encapsulated chemical entry suits, used for two teams of two firefighters each. Units on scene included E23, L7, R3, SR2 (recon unit staffed by E8), SR3 (decon unit staffed by L5), HM1 (staffed by E2), HM2 (staffed by E15), B4, B1, C10, EMS 34, EMS 35, M95, and D4. See more photos from the incident.


+ 2 - 0 | § ¶
Scenes From Today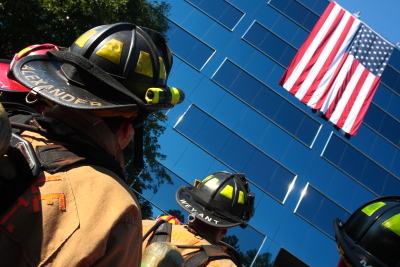 Firefighters watch as a flag is unfurled at 1 Copley Drive in Morrisville, site of this morning's 9/11 Memorial Stair Climb. Some 40 firefighters from as far away as Virgina participated in the event, one of several dozen memorial stair climbs that took place today around the country.
See those photos
.
A moment of silence was observed at all Raleigh fire stations at 9:59 a.m. this morning, the time of the South Tower collapse on 9/11. Pictured is Ladder 24 and Engine 24.
See more photos
.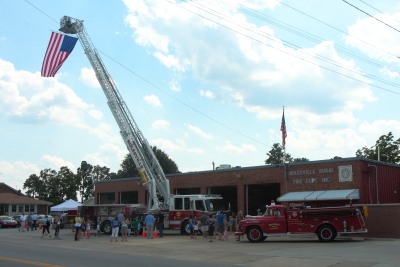 Visitors filled the Rolesville fire station for an afternoon fireman's day and dedication ceremony of Ladder 15.
+ 4 - 2 | § ¶
Today is September 11, 2011






Ten years later.

Reflect, react.






+ 4 - 4 | § ¶
Milwaukee Historic Firehouses
Let's take a late evening trip to Milwaukee, for a photo tour of three dozen historic and former firehouses. Meaning, any fire department facility 50 years or older, both active or retired. (Such as these...) The buildings were photographed earlier this week, after Yours Truly skipped his connecting flight out of Chicago, while Mrs. Blogger returned home from a family wedding. (Our engine house explorations are also context-free, at least for now. Might add some information about MFD at a later time.)
Nine of the structures are pre-1900, including one that served from 1866 to 1888. Quite a few are early 20th Century. One was a fireboat station, another was a high pressure pumping station. There's also a quartet of single-story, bungalow-style stations from the 1930s. One of those is old Station 23, which houses the museum of the Milwaukee Fire Historical Society. Big thanks to the historical society, for allowing a last-minute visit and helping to confirm a few more station locations.
View the historic fire department buildings. Or look inside the Milwaukee Fire Museum.


+ 3 - 2 | § ¶
Vajen-Bader Smoke Hood
Here's something you don't see every day. Photographed at the Aurora Regional Fire Museum in Aurora, IL, this is a Vajen-Bader smoke hood from the late 1890s. Leather construction with fleece lining. Mica eye pieces. Air furnished from compression tank attached to back. Read about the thing in this article written by ARFM Curator David Lewis. For a larger context, here's a Fire Chief article on the history of breathing apparatus by Michael J. Wallace. More museum photos coming soon. Click to enlarge:


+ 5 - 1 | § ¶
The Hook
As seen on scene on Grantland Drive, scene of a working fire earlier this evening. Engine 7 arriving at a one-story, wood-frame, single-family dwelling with 1,323 square-feet. Ladder 4 with the hooks and ladders, including this one. Two lines inside. See the rest of the photos, which features quite a bit of external flash this time around. Was trying something new.


+ 4 - 5 | § ¶
Fighting Fires, Preventing Fires, Updated
Saw this yesterday on Ladder 15, which was parked outside the Milwaukee Fire Department shop, which is a neat building beside their 100+ year-old Station 3. Pictures coming, of course. Hope to have some 35 former and historic fire department structures photographed, before leaving town this morning.
Fire prevention banners, signs, and graphics on vehicles and apparatus are not uncommon. Pretty rare around our area. Fire Prevention Week is a month away. Makes me think about a Firehouse Expo workshop, and this provocative quote from a speaker. Paraphrased, it went something like this: "If we're really a brotherhood, wouldn't we do everything in our power to prevent the very fires that injure and kill firefighters, and take them away from their families?"
Had that on my list, to transcribe my notes from that workshop. But that quote-- again, paraphrased and without attribution here! Update: see below-- is a nifty discussion-starter. Suppression versus prevention. Reactive versus proactive. Heck, we could spend hours simply discussing the factors and history of how we (firefighters, the American fire service, the history of fire in America, etc.) got here. Maybe we will.


September 9 update. The above quote is attributed to Daniel Byrne, Public Relations Officer, Burton Fire District in South Carolina. He was co-presenter for the Fire Expo workshop "Public Relations & Fire Prevention: Effective Tactics for the 21st Century Fire Service." His partner was Lee Levesque, Public Relations Officer, Lady's Island/St. Helena Fire District. Watch for a transcription of that session from my notes that day. Also, here's an editorial by Byrne that's a pretty good preview of those notes, and what was talked about in the workshop.
+ 1 - 2 | § ¶
Grand Rapids Former and Historic Fire Stations
Here's a research document for a trip that didn't happen this week. Historic and former fire stations in Grand Rapids, Michigan. See this prior posting on how the list and map was made. Posting here for the benefit of future web searchers looking for the information.
READ MORE
+ 6 - 2 | § ¶
Finding Firehouses
Here's the objective: find as many former and historic engine houses as possible in a city. Start with research. Google the fire department, and see if, by chance, by lucky chance, there's already a list of all such structures. You might get lucky. Or, mail the department, asking for same. You'll probably hear back from their historian, if they have one. Or maybe you have a book about the department, or other materials or sources or web sites that can be used to produce such a list. For my Milwaukee visit this week, their 1971 history book Beertown Blazes was the primary reference.
Make a list of the street address of all known firehouses or fire department structures older than 1961. Active or retired structures. (The Milwaukee book made this easy, with quite a bit of appendix material listing station addresses and dates of operations.) Build your list using Microsoft Word, and create a big table, one row per structure. Once the list is complete, move to next step. Enter each address into Google Maps, and look at the Street View. (Yes, this takes time. But, hey, it's fun to be obsessive.) Also use Bing Maps and their Bird's Eye view, which can be easier at times. Fewer clicks. If there's a firehouse-looking structure at that address, make a note. If not, make another note. Click to enlarge:


READ MORE
+ 2 - 1 | § ¶
Caption This Photo / The Big Tip
Happened Wednesday at the National Cathedral in Washington, D.C. Minor injury to crane operator. Four cars crushed. Two smaller buildings damaged. The crane was 350 high when it tipped over and fell westward, this WUSA story reports. Talk about physics in action! That's a Grove crane, correct? One of their big-boys, in the 300 or 500 ton range? See more photos. Or even tool over to YouTube, and search on "crane tips over." There are numerous videos such incidents happening elsewhere.



Simon Landau/WUSA photo
+ 2 - 1 | § ¶
Old Doors, But Maybe Not Original
This former Chicago firehouse is located at 228 W. Illinois Street. It operated from 1888 to 1968. Engine 42 was organized here, and operated at the location until relocated in 1968 to new quarters at 55 W. Illinois Street. Other units stationed in the 1888 structure included Squad 1 and Salvage Squad 1. The three-story, brick building measures 40 by 98 feet, and has a floor size of 27 by 88 feet. It is privately owned.
Let's look closely at the doors, and what looks like very old wood and hinges. Are those 120-year old building materials? My untrained eye wondered same. But a photo in a book (see below) from 1920 shows a different door style, without windows and lower in height. Thus these probably date to after 1920. What do readers think? Still pretty cool. Source: History of Chicago Fire Houses of the 19th Century by Ken Little and John McNalis, published 1996. Click to enlarge:


+ 2 - 2 | § ¶
Hydrant Here
Saw this this weekend in Ames, Iowa. Reflective signs atop six-foot poles. Helps when snow has buried a hydrant. The poles also had reflective tape at the top. Quite a few more photos coming from Mike's Midwest travels. Historic and former firehouses of Milwaukee. Pre-1900 firehouses of Chicago. And a pair of fire museums, Milwaukee and Aurora, IL. More later.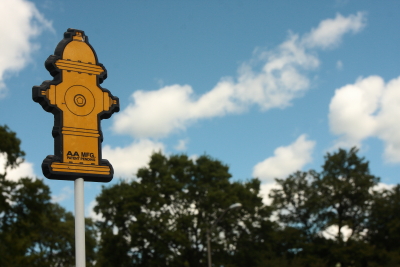 + 2 - 1 | § ¶
Vintage Rigs in Western North Carolina
Photographer Lee Wilson has returned from another trip to the North Carolina mountains, and has brought back another batch of great apparatus photos. Among the vintage treasures in his set are these two Buncombe County rigs, a 1961 Ford/American LaFrance that served Fairview FD and a 1968 Ford/American LaFrance that served Reynolds FD. See the entire series.



Lee Wilson photos
+ 1 - 3 | § ¶
9/11 Proclamation Ceremony at NCFFF Memorial, Friday, September 9
Press release. On Friday, September 9th, 2011, North Carolina Governor Bev Perdue will hold a Proclamation signing for the September 11th Day of Service and Remembrance and First Responders Appreciation Week at 14:00 hours at the [North Carolina] Fallen Firefighters Memorial at Historic Nash Square in downtown Raleigh. For the tenth anniversary of 9/11, Governor Perdue is honoring first responders and encouraging all citizens to show appreciation to these brave men and women. First Responders are invited to the ceremony to join in kicking off the initiative. Direct inquiries to Alana Allen, Press Office, NC Commission on Volunteerism and Community Service at 919-733-5612. Read related press release, and see a list of 9/11 Day of Service community service projects
.
+ 5 - 2 | § ¶
9/11 Memorial Events, Updated
Here's a list of the fire servie-related 9/11 memorial events planned for Raleigh and Wake County. Read this Raleigh press release about Friday Proclamation by the Governor, and other observances. And here's a News & Observer story, with a list of more local events.
Friday, September 9
2:00 p.m. - 9/11 Proclamation Ceremony at North Carolina Fallen Firefighters Memorial. Read blog post.
Saturday, September 10
Sunday, September 11
8:30 a.m. to 10:30 a.m. - Raleigh city ceremony at 515 Parnell Drive. Read news story.
9:00 a.m. - Morrisville 9/11 Memorial Stair Climb starts at 1 Copley Drive. Read blog post.
9:59 a.m. - Raleigh Fire Stations observe moment of silent. Read press release.
Other events that weekend:
Saturday, Sep 10
8:00 a.m. - Raleigh's Finest 5K starts at Station 6. Read blog post.
10:00 a.m. to 2:00 p.m. - Raleigh Fire Department Museum open. Visit web site.

Sunday, Sep 11
2:00 p.m. to 4:00 p.m. - Rolesville Fire Department open house and Ladder 15 dedication. Read blog post.
+ 3 - 2 | § ¶
Fire Dept. Use Only
Seen on the streets of Milwaukee. Guess it prevents Public Works or other agencies from tapping? Saw these here and there, maybe a half-dozen during a day of exploring. That would be an interesting posting or photo story. Comparing hydrants of major cities.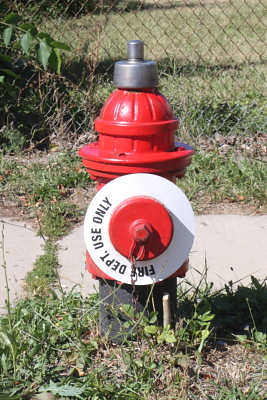 + 1 - 3 | § ¶
Morning News, September 6
Sounds like soggy times in the central Piedmont from the remnants of tropical storm Lee. Guess it's just our year for extreme local weather. Here are a couple news stories that have caught my eye, while keeping tabs on things on the road:
Media strive to cover 9/11 without seeming to exploit a tragedy - Interesting New York Times story about considerations for covering the coming anniversary of the events of September 11, 2001. Feelings about feelings. Tough place for anyone planning remembrances or representations of that fateful day, media-based or otherwise.

Woman charged with driving drunk on Cary railroad - WRAL story that's the second of the weekend's unusual driving incidents, along with a car that struck people and a building at Cameron Village on Sunday afternoon. Numerous stories on this one, including this report and perspective from the NCSU Technician.

Yesterday's house fire on Kentwell Place - WRAL has posted a pair of reader-submitted photos from yesterday's working fire, including a shot of Engine 27 arriving at the fully-involved garage fire, as well as this second shot, early into the suppression:


+ 4 - 5 | § ¶
Joliet Fire Station
Red really adds something to the appearance of a fire station, doesn't it? Still reporting from the road, and commencing explorations of old engine houses in Chicago and Milwaukee. Regular blogging and photo posting to resume in a couple more days. Please contain your enthusiasm. Click to enlarge:

+ 5 - 6 | § ¶
1957 International Harvester Tailgating Truck
Saw this today on the campus of Iowa State University in Ames, one of a few vehicles still clearing the scene of last night's tailgating activities at Jack Trice Stadium. (Interesting factoid about the Ames Fire Department. Their original Station 2 was located in the basement of the college's former football arena. Then, a couple years later, a section of the stadium collapsed on the fire station! Read about that.) As for the pictured apparatus, the 1957 International R185 pumper, 1000 GPM, was purchased in open-cab condition from its last-serving fire department. (Didn't catch the name, but the owner mentioned it also served as a forestry service unit.) Here's an Iowa State Daily article about the truck. Click to enlarge:
+ 5 - 3 | § ¶
Iowa Fire Service Training Bureau Vehicles
Reporting from the road. Spotted these in Ames, Iowa, where the state's Fire Service Training Bureau is based. And Iowa State University. That confined-space training trailer is interesting. Wonder if it's designed to simulate silo rescue situations, with people trapped in grain or corn or such? They have such incidents in these parts. Click to enlarge:

+ 2 - 5 | § ¶
Twenty Years After the Hamlet Processing Plant Fire
Yesterday was the twentieth anniversary of North Carolina's deadliest fire (and deadliest industrial accident), when 25 people were killed on September 3, 1991, in a chicken processing plant fire in Hamlet. Read Wikipedia article. Here are some of the stories and editorials remembering the event. What others are you reading this day before, well, Labor Day? And has anyone ever written a history from the responder's perspective, over the years? Wonder what the run card looked like, for fire and EMS? Anyway, for your Sunday reading:
+ 5 - 2 | § ¶
"Samantha" Starts Dispatching Charlotte Fire Calls
For your Sunday morning viewing, here's a WSCO-TV story about the Charlotte Fire Department's new automated dispatching system. The call her Samantha, and the $1.4 million computer system was recently placed in service. (Observe the magic word "recently" in that sentence. Can mean weeks. Can mean a couple months. Think it's the latter for this system.) The story also talks about time savings with the new system, and they even conducted a time test between live and computer. Alas, some of the language of the story is a little confusing. Can't quite tell if they mean seperate calls (incidents) when they say seperate callers (for the same or different incidents). The Charlotte Fire Department has its own dispatchers. Here's the sparse web site for their Communications division. Maybe readers can tell more about their operations, and how they work. (And they may have already. Seems like reader comments have covered that topic a couple years ago. Time to search through our back issues...)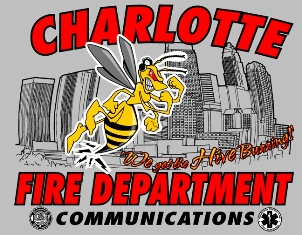 + 1 - 5 | § ¶
Calabash E-One Pumper Photo
Found for sale on eBay, here's a 35mm slide photo of an E-One pumper that serves or served Calabash, North Carolina. Click to enlarge:


+ 1 - 3 | § ¶
Mystery Sandbags
How quickly do you recognize this place? Optionally include any colorful stories associated with the location...


+ 4 - 3 | § ¶
Deep Water Fording
This "oops" video is making the rounds. National Guard vehicles attempt deep-water fording in New Jersey. Things turn bad, but not tragic. The video is shown below, along with an example of "correct" fording. Look around the fire blogs and you'll find discussions, such as this one on Statter911. The incident is also a great starting point for talking about risk, safety, and limits.
There's a ongoing meta-topic in many fire service forums about safety. More and more layers of precaution and awareness have been added to the fireground in recent years/decades. As a speaker at the Baltimore Fire Expo noted-- sorry, but forget whom-- the profession is being increasing influenced and driven by risk management practices. Wear that hat and things look a bit different. Discuss as desired.



+ 1 - 4 | § ¶
Baseball Backpacks / Razzing vs. Hazing
This New York Times story yesterday-- about rookie relief pitchers required to wear novelty backpacks-- made me think of last year's discussion we had on razzing versus hazing. Use the search box on the right with the keyword "hazing" and you'll find some of those old posts, such as results of a survey we conducted, and a discussion of the subject. And apologies in advance, if the Times story gives anyone ideas...



Joe Giza/Reuters photo
+ 4 - 4 | § ¶
Three Levels of Blur
Ladder 1 in action at this morning's structure fire on Loft Lane, at one of three working fires for "C" platoon over the last 24 hours. House on Brighton Road, apartment building on Loft Lane, and commercial structure on South Blount Street. View the Loft Lane photos. Click to enlarge: