+ 8 - 7 | § ¶
Greenville's New Rescue Pumper... And More
Lee Wilson took a trip to Fayetteville on Tuesday and photographed Greenville's new rescue pumper at Atlantic Emergency Solutions. It's a 2014 Pierce Velocity FR, Mega PUC, 1500 GPM pump, 500 gallon tank, six-head Command light tower, 10kw hydraulic generator, two reels, two EMS boxes, ISX 515 HP motor, 214" wheelbase. Pretty sharp. See more photos from Lee. Or see these recent postings about Greenville, and a recent consultant study and their new pumper-ambulance.


\

Lee Wilson photo


We seem to be seeing more and more rescue pumpers arriving these days? Saw Asheville's Squad 1 the other week, 2014 Pierce that was exhibited here in July, while visiting the mountain. Have heard it's sharing heavy rescue duties with Rescue 3. Carries eighty percent of the equipment of that truck, they'll split the city with Squad 1 going north and east and Rescue 3 going south and west.



Holly Springs just took delivery of a Spartan ERV rescue pumper. Raleigh received a pair of Pierces earlier this year, for Squad 14 and Squad 15. Apex added one in late 2011, a demo unit from E-One. What are reader thoughts on this trend?



Lee Wilson photos
+ 6 - 6 | § ¶
Obituary for Retired Cary Fire Chief Ned Perry
The following obituary was transmitted today from the North Carolina State Fireman's Association. Retired Cary Fire Chief and former Raleigh Fire Captain Ned Perry passed away on Sunday. I've had the pleasure of his acquaintance in recent years, and he was very helpful in providing historical information on the early days of the Raleigh Fireman's Club as well as the second iteration of the Raleigh Professional Fire Firefighters Association.
Plus, of course, his tenure in Cary, which began in October 1975. The fire department had one station, the lot for a second, and seventeen full-time and thirteen volunteer firefighters. When he retired in 1993, the department had grown to four fire stations, sixty-eight firefighters (all career), five fire prevention officers, three assistant chiefs, and a fire chief.
Here are a couple prior blog posts about him: the transcription of an interview from 1999 and some trivia about the CFD/RFD command connection.
Obituary
Ned Klapp Perry Sr., former Fire Chief of the Cary Fire Department, died on Sunday, October 26, 2014. He was 78 years old. Perry served as the Cary Fire Chief for eighteen years before retiring in 1993. He was born June 18, 1936, in Franklin County, NC. He was the fourth child of the late Jarvis W. Perry Sr. and Frances C. Perry. As a child he grew up with his parents in the Pearces Community in Franklin County.
Chief Perry was a thirty six-year veteran of the fire service and began his career in the Raleigh Fire Department in 1958. He was promoted through the ranks of the Raleigh Fire Department to the rank of Captain. In September 1975 he was appointed to the position of Fire Chief in Cary where he served until his retirement in 1993.
Perry's involvement in the fire service included President of the Raleigh Association of Fire Fighters, the North Carolina Association of Professional Fire Fighters, the Wake County Association of Fire Chiefs, the North Carolina Association of Fire Chiefs and he was a member and an officer of the Southeastern Association of Fire Chiefs and the International Association of Fire Chiefs. He also served as North Carolina's representative on the Southern Building Code Congress International.
Chief Perry is survived by his devoted wife of sixty years, Ava Cash Perry, his son Ned Klapp Perry Jr. and his wife Lisa Jennings Perry, granddaughters Adell Perry, Amanda Perry Hogge and her husband Brian all of Cary, NC, daughter Kim and her husband Bill Christian, grandsons Paul Christian and his wife Emily, Perry Christian and Alex Christian all of Chapel Hill, NC. He is also survived brothers Hal C. Perry of Zebulon, NC, June G. Perry and his wife Patsy of Wendell, NC, sister Lou P. Tippett and her husband Lyndo of Fayetteville, NC and sister-in-law Fran Perry of Pearces, NC. Mr. Perry was predeceased by his brother JW Perry, Jr. and his sister-in-law Menia Perry.
A memorial service for Ned Perry, Sr. will be held on Thursday, October 30, at 2:00 P.M. in the sanctuary at Greenwood Forest Baptist Church in Cary, NC. The internment service will be in the Columbarium at Greenwood Forest Baptist Church.
The family has requested that in lieu of flowers, memorials be made to the Frances C. Perry Memorial Education Fund at the Pearce Baptist Church, Route 3, and Box 132, Zebulon, N.C. 27597.
+ 4 - 4 | § ¶
Roto-Ray for Western Carteret
From this FireNews.net story, here's a 2014 Spartan ERV MetroStar pumper 1500/1250 that's been delivered to Western Carteret Fire Department in southwestern Carteret County. They were renamed from Cape Carteret Fire Department in 2005, which was chartered in 1966. Why were they renamed? Don't know. Maybe readers can help. Like reasons include (a.) just 'cause, (b.) new entity as result of merged departments, and (c.) reorganized under new management.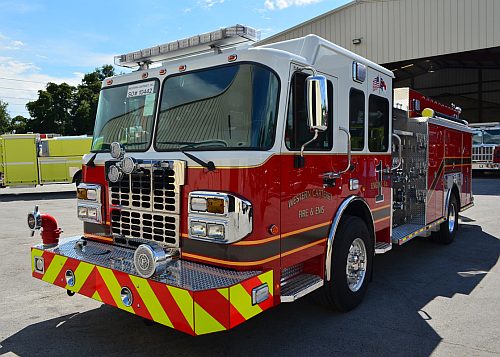 + 5 - 6 | § ¶
Presenting the Hall of Flame Fire Museum
Had the pleasure of visiting the Hall of Flame Fire Museum in Phoenix the other week. First time both there and to the southwestern state. Greatest fire museum ever. Book a week in that city ASAP! Now with that out of the way, let me tell you about the museum, its operations, and its collection. Their story begins in Lake Geneva, WI. That's where Olive Getz bought a vintage fire engine as a Christmas present for her husband George. in 1955.
They loved the rig and developed an interest in fire engines and fire engines. George began to educate himself on the subject, and found that there were few fire museums and few serious collectors in the states. They began collecting more and by 1960, he had about a dozen hand engines, hose carts, ladder wagons, and motor trucks in storage sheds on their estate in Lake Geneva.
In 1961, he founded the Hall of Flame and organized the National Historic Fire Foundation as a means to sponsor their operations. The Hall of Flame had three goals, which has remained the same over the decades: collection, preservation, and display of historic fire apparatus, fire safety and education programs for the public (especially children), and recognizing American firefighters that have died in the line of duty.
The first museum location was a small, former auto showroom in Lake Geneva. It opened in 1963. Four years later, the museum moved to a 10,000 square-foot building in Kenosha. In 1970, it closed as prepared for relocation to Arizona. George and Olive moved to Scottsdale, and the museum secured a site through the City of Phoenix at Papago Park.
While work on a new museum building was underway, a small part of the collection was displayed in a storefront in Old Town Scottsdale. That's not far from the office of the Globe Corporation, which the Getz family owned and operated. (George Getz died in 1992. His grandson, also named George Getz, took over as President of the foundation. Other Getz family members continue to play key roles in the foundation's operation.)
In 1974, the Hall of Flame reopened in a 12,000 square-foot building. They had some twenty pieces on display. From 1982 to 1984, the building was expanded to 42,000 square-feet, including 30,000 square-feet of galleries. (There are five galleries.) Plus a restoration shop and a small library. Today, their square footage has passed 66,000 square feet. They have two buildings: the main museum and its galleries, and a 20,000 square-foot warehouse behind the main building.
Today, they have over 130 wheeled pieces, and over 10,000 (whoa!) small artifacts, including firefighting tools and extinguishers, helmets and uniforms, scale models, fire marks, and more. Plus a library of over 6,000 volumes and over 50,000 photos, prints, and lithographs.
The museum has both paid and volunteer staff. Had the pleasure of talking to some, during my two-day visit. (Spent three hours there over two visits.) They're a great group, as dedicated and knowledgeable as you could ask for. Also had the pleasure of observing their fire education program for children. They take kids to their warehouse, and let them put their hands on hose and spray water. Or use a real bucket brigade.
Inside the museum, the tour groups are taken to the Hall of Heroes, where they're told a children's story that teaches fire safety. There's also a vintage fire engine for them to climb upon, an American LaFrance 700 Series from Miami. Then there's a separate children's area, where they're shown a fire safety video, among other activities.
Mr. Blogger attempted to photograph every rig at the museum, and from a couple sides. Was largely successfully. See those photos, which include a visit to the warehouse. Thank you to the Hall of Flame staff for allowing access. (See more Legeros fire museum photos. Also saw some old fire trucks in Tucson, at the Pima Air & Space Museum. Trip photos are being posted here. More coming. Titan Missile Museum. Vintage vehicles in Jerome, AZ.)
Look closely at the picture file names for make and model of depicted rigs. That information is pulled from the Hall of Flame web site, and the pages about their collections. Every rig is listed and with photos and background!
There's also a neat book about the museum, The Hall of Flame Museum of Firefighting by Dr. Peter M. Molloy, and published by M.T. Publishing in in 2012. The book's the source for the historical information above. It's a 200-page book with pictures and histories of their rigs, plus historical information about the fire service and firefighting.
The Hall of Flame is located at 6101 E. Van Buren Street in Phoenix. They're open every day of the week. Their web site is www.hallofflame.org.


+ 2 - 2 | § ¶
First Three-County Dispatch Center in North Carolina
Here's something interesting out of Hyde County, a press release announcing the first three-county emergency communications center in our state. This press release (PDF) from September 25 notes the county's decision to join Dare and Tyrrell counties in the creation of a regional ECC. Each county currently operates their own "public safety answering point."
The new center will be located in Dare County, in Manteo adjacent to the regional airport. The county is donating the land. The project is estimated at $11 million and will be largely funded through the new NC E-911 Consolidation Program. (The NC 911 Board site tells more about such funds.) It should be completed in two-and-a-half years. Hyde County expects operational savings of about $130,000 a year, through participation.
Maybe our readers on the comms side can talk about both this and consolidation projects in general, and some of the benefits (as well as challenges).
+ 3 - 6 | § ¶
Scotts Hill Fire Station Now Open in Pender County
From a reader, Pender County Station 18 has been opened in Scotts Hill. The new facility is operated by Pender EMS & Fire. They're also constructing a new station on Highway 421, which will be Pender County Station 29. See their Facebook page for photos of both facilitie. It opened earlier this month. There's an open house on November 9, from 2:00 p.m. to 4:00 p.m.
The Scotts Hill community was protected by their own fire department from 1977 to 1992. Read that story in a prior posting. They even published this cookbook in 1975. And here's a posting from last year, about the development of Pender Fire & EMS.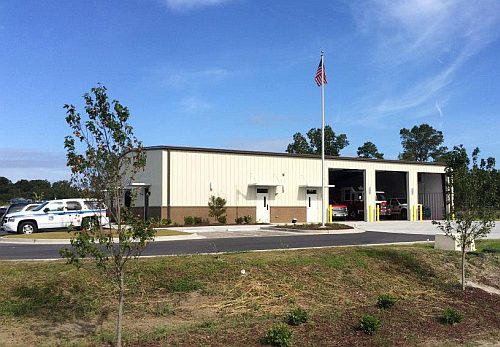 + 6 - 5 | § ¶
Raleigh Fire Department Newsletter - Fall 2014
The Fall 2014 edition of the Raleigh Fire Department Newsletter has been posted to www.raleighfirenews.org. This issue's contents includes features on company training at the Council Building and confined space rescue training for the Special Operations Command. Plus updates from Services and Training, coverage of the recruit graduation, a photo gallery, and more. The newsletter is produced quarterly by Editor Mike Legeros. It's a quarterly publication for personnel, retirees, and citizens. And in its eighth year of publication, no less! Read the new issue (PDF), which is posted to the web site www.raleighfirenews.org.


+ 5 - 1 | § ¶
Vintage Photo of Stony Creek Rescue Squad
Here's a great old photo passed along from a reader, that was shared on the Rocky Mount... Way Back When Facebook group, and originated from the department's Facebook group. Stoney Creek Rescue Squad of Nash County. Let's place the photo as late 1960s, what do you think? Notice the spelling of Stony as Stoney. The department is currently named Stony Creek Fire and Rescue. (Same thing happened in Wake County. Stony Hill was originally named "Stoney Hill.")
As their web site notes, the fire department was organized in 1956 and the rescue squad was created in 1959. (They were incorporated in 1979, say state records.) They ceased their fire department operations in 1994, and ceased most of their ambulance and rescue squad services in 2006. Today, they maintain a pair of ambulances staffed on a volunteer basis. Now readers, what are the makes and models of those beautiful vehicles? Click to enlarge:


+ 3 - 3 | § ¶
Wake County Apparatus Updates
What's happening with new apparatus deliveries and purchases in the Capitol County? Here's the skinny on what's coming (or already been delivered). Readers are welcome to edit or expand our list:
Three new 2014 Freightliner/Rosenbauer tankers (750/2000) for Fairview, New Hope, and Swift Creek. Two have been delivered, and SCFD is awaiting theirs.
Two new rescues built by Spartan ERV for Fairview and New Hope, due in January.
Apex has a pumper being built by Spartan ERV.
Cary has will be ordering a pumper from Pierce. It will be a replacement for Engine 8.
Holly Springs has two new rigs: 2014 Spartan ERV MetroStar rescue pumper (1500/75/25), now or soon in service as Squad 1. And a 2001 Spartan Gladiator/Baker Aerialscope (2000/__/95-foot) from Lewisburg, PA. Formerly William Cameron Engine Company. Being painted red over its original dark yellow.
Raleigh has a commercial chassis air truck in production from Pierce. Due in the spring.
Raleigh has also just ordered a pumper and a tiller from Pierce. The latter will be Ladder 9, and staffing for which has been including in Academy 40, which starts this month.
Wake Forest is adding a second ladder, an E-One quint (1500/500/75-foot) that they'll receive in December. It'll be housed at Station 3.
Wake Forest has also ordered a Rosenbauer Commander pumper/tanker (1500/1000), the future Engine 4. Delivery is due in July. Thanks Parker, for passing along the WFFD annual report (PDF) that contains this info.
+ 4 - 2 | § ¶
New Book Coming - Nash County: 24/7 Heroes
Book announcement. Veteran fire photographer Bob Bartosz and retiring Rocky Mount firefighter Todd Joyner are publishing a book about Nash County firefighters are more. Titled Nash County: 24/7 Heroes, the book will be a hardcover with 256 pages and hundreds of photos by Bartosz. The book will be published in May or the first week in June. The authors are taking advance orders. The price is $32.95, delivered to Nash County fire stations. Add $6.95 for mail orders. Here's the flyer (PDF). Order your copy today!


+ 3 - 5 | § ¶
Raleigh Citizen Advisory Council Honors Fire Station 8
Raleigh Fire Department Station 8 was honored tonight as a recipient of the 2014 Raleigh Citizens Advisory Council Neighborhood Recognition Awards. Engine 8 and Car 20 on "A" platoon attended the event, which was held in a ballroom at the Five Points Center for Active Adults on Noble Road. The awards ceremony was preceded by a dinner at 6:00 p.m.
The event's emcee was Raleigh CAC Chairman Benson Kirkman. The award was presented by West CAC Co-Chairman Jim Paumier. The four firefighters accepted the award and Captain James Roof make some remarks, talking the station's involvement with the community.
Fifteen awards were presented tonight to individuals and organizations as nominated by each of the city's fifteen CACs. Since 1977, the Raleigh Citizens Advisory Council (RCAC) has been recognizing significant efforts by property owners, community groups and individuals to enhance the health, safety, and appearance of their neighborhoods.
Pictured are Engine 8 members Capt. James Roof, Lt. Edward Tindal, and Senior Firefighters Tim Godwin and James Jones, along with Division Chief Barry Spain and his Aide First Class Firefighter Ian Griffin. Click to enlarge:


+ 3 - 3 | § ¶
New Sign at Eastern Wake (And a Little History)
Eastern Wake Fire & Rescue celebrated their 60th anniversary on Saturday with an all-day open house. Visitors to Station 1 on Clifton Road enjoyed a number of planned activities, including rescue and extrication demos, fire extinguisher training, and a Carolina Air Care visit. There was a dunking booth and a bounce house for the kids and all sorts of goodies. They also saw this new sign at the station, a picture of which was posted to their Facebook page. Gets me thinking about EMS co-location. Quite a few at fire stations in Wake County, come to think of it.


Eastern Wake Fire & Rescue was started six decades ago as the Knightdale Volunteer Fire Department. The town was incorporated in 1927, with growth started in the early 20th century after a railroad and depot were built. The town suffered a major fire on February 7, 1940. They had neither a fire department nor a water system. Several businesses and homes were destroyed.
A municipal water system was installed a decade later, and a community fire department was soon organized. The first meeting was held on October 27, 1953. The fire department was chartered on October 27, 1954. The first Fire Chief was Randolph Griffith, and there were twenty-six charter members.
The first fire truck was town-owned pick-up truck that carried hose and other equipment. The next year, a 1942 pumper was purchased from Navy surplus. The fire station was built in 1956. That two-bay block building still stands at 401 Hester Street. It has been expanded a number of times. The department's second station was opened on Clifton Road in 1995. The department reorganized in 2003 and changed their name to Eastern Wake Fire & Rescue.
Learn more about their history in these timelines, which were researched by Mr. Blogger a decade ago. Congratulations to my friends at Eastern Wake, and the many who have served their community in the years and decades before.
+ 4 - 4 | § ¶
Scenes From Emmitsburg
Reporting from the road and the National Emergency Training Center (NETC) in Emmitsburg, MD. That's where the National Fallen Firefighters Memorial weekend is underway. Mr. Blogger is a member of the media team, and specifically a photographer for the media. Coverage of the event is continuous on the NFFF Facebook and Twitter channels. You'll also see some sundry updates from me, via Twitter.
Here are a couple quick shots from Friday. Upper left is a Howard County Fire-Rescue command unit that's been graciously provided to the media team. That's my "office" for the weekend. Upper-right is a 2013 Oshkosh Striker from BWI airport. one of three rigs on display on the memorial grounds. It's parked beside the dining hall. Bottom is a mobile-phone panorama from the stage at the memorial.
You can watch tonight's candlelight service and tomorrow morning's memorial service live at http://www.firehero.org/. Here's this year's roll of honor, which includes five firefighters from North Carolina who died in the line of duty last year. (See prior posting on that subject.) Watch the Twitter widget in the upper-right hand corner of the blog home page for more pictures through the weekend. Click to enlarge:

+ 2 - 3 | § ¶
Durham's New Engine 14
We tweeted this one yesterday, but let's post the thing as a blog post. (For those of you that don't follow me on Twitter, or watch those tweets on the upper-right of the blog home page.) The Durham Fire Department recently received a 2014 Sutphen Shield 1500/500 pumper. Was placed in service on September 25. Lee Wilson took a trip to the Bull City and photographed the rig this week. See more photos.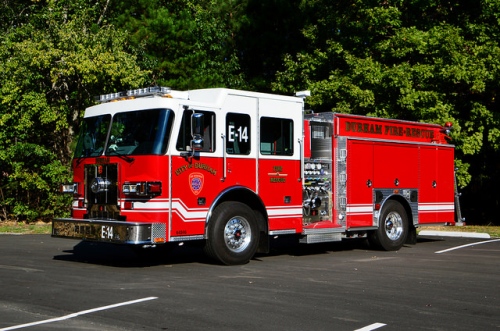 + 4 - 3 | § ¶
Greenville Consultant Report, New Rescue Pumper
Couple updates from Pitt County. The city of Greenville recently received the results of a consultants evaluation of the fire and EMS department. They presented to City Council on Monday, and the hour-long presentation can be viewed on the web.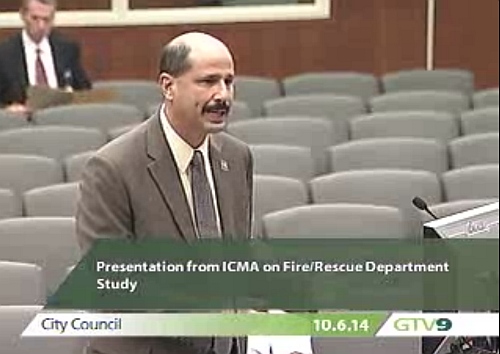 On Tuesday, WNCT published this story about the report. On Wednesday, The Daily Reflector published this story (requires a subscription to view), which summaries the report's recommendations as "consider reducing EMS staff per ambulance from 3 to 2, analyze use of overtime, add more staff in peak hours, add administrative positions, create a comprehensive plan and gain accreditations."
Does anyone have a digital copy of the report that they can provide? We'll post and host here, for others to read.
New Rescue Pumper
Next is Greenville's new engine, which is a 2014 Pierce PUC rescue pumper that's pictured outside historic Lambeau Field in Green Bay, WI. The apparatus is due soon and will serve as Engine 3. The picture was posted to the fire department's Facebook page. According to their web page, Engine 3 currently operates a 2001 E-One quint.

+ 3 - 3 | § ¶
Vintage Rigs From Faison, Vander, Charlotte
Found for sale on eBay, color slides of the following rigs and with diminishing levels of exposure, top to bottom: Faison's 1973 Ford C/Howe pumper, Vander's 1981 Spartan/E-One pumper, and Charlotte Engine 3 as a 1988 Pierce Lance pumper.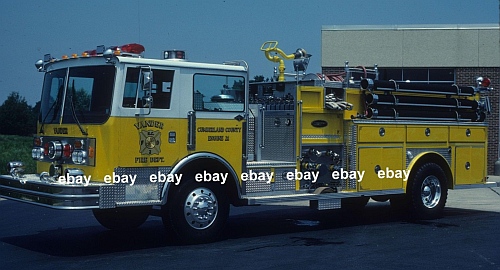 + 5 - 3 | § ¶
Fire Prevention Display at Station 9 - October 1979
For your Tuesday enjoyment, here's a scan of a photocopy (sorry for the lame quality) of a Raleigh Town Today photo of a fire prevention display at Station 9. Click to enlarge:

The caption reads: "Fire Station No. 9, located in North Hills at the corner of Six Forks and Rowan, was named first place winner in a department-wide contest for the best display in observance of Fire Prevention Week. Chief Rufus E. Keith presented a plaque to the station's three captains--Ed Thornton, W. K. Beasley, and R. S. Debnam--on Tuesday, October 9, the date in 1871 on which the famed Chicago Fire occurred. Other winners in the fire department's contest were fire stations No. 3 second, No. 1 third, and No. 8, No. 12, and No. 2 as honorable mention. Left to right above with the prize-winning display are Firefighters Jasper Mial, Charles Mann, Geroge A. Hodge, and Dale Casey."
+ 2 - 1 | § ¶
Panoramic Photos of the Hall of Flame
Visited the Hall of Flame fire museum in Phoenix last week. Was my first visit to town, and my first visit to Arizona. Took about 1,340 photos at the fire museum. Tried to get a couple shots of each rig. Those'll take a couple weeks to get posted. (Maybe I can get a list of what I shot, so makes and models can be added.) Meanwhile, enjoy this quartet of mobile phone panoramas. That, or get your butt online and buy some plane tickets. 'Tis an easy four-hour-and-half flight. Perfect for a good nap and some long reading. Click to enlarge:


+ 3 - 3 | § ¶
Merging Wilmington and New Hanover County Fire Departments?
That's the recommendation from a consultant, as reported by the FireNews.net story, from this Star-News story by Julian March. The 119-page study was released today. The project was started last year, when the County Manager asked the City Manager to consider a consolidation study. In November, City Council approved funding of same, and cost was shared with the county.
Mind you, we're just talking about WFD and NHCFR. There are four other fire departments in New Hanover County: Carolina Beach, Kure Beach, Wrightsville Beach, and the airport. Also, as the Star-News story notes, mergers of the city and county have been rejected by voters in 1973, 1987, and 1995. Talks started again in 2001, but didn't go anywhere. Only at a department-specific level has success been reached, beginning with transportation departments in 2004 and public utility departments in 2008.
What's going to happen with the report? Public input will be sought at a pair of meetings on October 29. The consultant will make a presentation to the county and city on November 17 and 18, respectively. Actions are expected at the county level, to further the initiative. (The study suggests establishing committees as a first step.)

Read the Report
What does the report say? Quite a bit, and too much to summarize upon first skim.
Here's the direct link (PDF), thanks to FireNews.net. Read and digest and report back with your reactions.


Postscripts
Emergency Services Consulting International wrote the report. Recall that they evaluated the Wilmington Fire Department in 2006. Here's that report (PDF), along with a couple related postings on the department's station plans and their fleet in 2006.
Looking at the maps in the report, Durham city and county comes to mind as a somewhat comparative example. Durham city exists as the sole municipality in the county, and sits smack in the lower middle center. The rural areas are protected by five departments, one of which is a new county entity. Gets a person thinking about mergers.
What about Wake County, and trying to envision such a scheme? Way more complicated in Capital County. Twelve municipalities here, though some of those are protected by private fire departments. Plus there's no county-operated component. There no "county fire" to be merged with a "city fire." Move along, nothing to ponder here.
How many other city/county mergers have happened in North Carolina? Good question! Have any at all??
+ 4 - 2 | § ¶
Five North Carolina Fallen Firefighters Honored at National Memorial Service October 12
On Sunday, October 12, the 33rd Annual National Fallen Firefighters Memorial Service will honor five firefighters from North Carolina who died in the line of duty last year. They are among the 98 firefighters who died in 2013, as well as nine firefighters who died in previous years, who will be remembered at the official national service held at the National Fire Academy in Emmitsburg, MD.
Firefighter Tony Barker, age 36
Mountain View Volunteer Fire Department
Died after being electrocuted while operating at a fire on June 13, 2013.
Assistant Chief Jeffrey L. Fields, age 51
Youngsville Volunteer Fire Department
Died December 25, 2013, from a heart attack after responding on a motor vehicle accident on December 12, 2013.
Captain David A. Heath, age 48
New Hanover County Fire Rescue
Collapsed then died while participating in department training on October 14, 2013.
Fire Chief Scott A. Morrison, age 44
Knotts Island Volunteer Fire Department
Died after he collapsed at the scene of a brush fire on March 3, 2013.
Captain Jon Schondelmayer, age 44
Cary Fire Department [also Firefighter with Swift Creek Fire Department]
Died after responding to multiple calls on December 18, 2013.
Their names will be added to the National Fallen Firefighters Memorial, which is located on the Academy grounds. The annual national tribute is sponsored by the National Fallen Firefighters Foundation (NFFF) and the Department of Homeland Security's U.S. Fire Administration.
More than 5,000 people, including members of Congress, Administration officials and other dignitaries, members of the fire service, and families and friends of the fallen firefighters are expected to attend. Members of the fire service, honor guard units and pipe and drum units from across the U.S. will participate in this national tribute.
Visit www.firehero.org for a complete list of the fallen firefighters being honored, along with Memorial Weekend related videos, photos, media and broadcast information.
Yours Truly will be participating again as a volunteer photographer, as part of the Social Media team. See my photos from the 2013 Memorial Weekend, which was my first visit.
+ 2 - 1 | § ¶
Weekend Events, Whoa!
Fire Prevention Week starts on Sunday and thus a flood of fire department events are scheduled for this weekend. Here's a sampling of what's happening. Call or check the web for event times and more details.
Saturday, October 4
Wake County:
Garner Fireman's Day at Station 1, 11 a.m. to 7 p.m., parade at 2 p.m.
Holly Springs FD open house at Station 1, 10 a.m. to 2 p.m.
Morrisville FD Fire Prevention Day, 10 a.m. to 2 p.m. at Park West Shopping Center.
+ others?
Other counties:
Bear Pond FD (Vance) open house
Dover FD (Craven) Fireman's Day
Fayetteville Fall Safety Day at Crosscreek Mall
Four Oaks FD (Johnston) Fireman's Day
Hugo FD (Lenoir) Fireman's Day
Louisburg FD (Franklin) open house
Orange Rural FD (Orange) open house and donut sale.
Pilot FD (Franklin) 40th anniversary
Pinecroft Sedgefield FD (Guilford) annual BBQ.
etc.
Sunday, October 5
Bay Leaf FD open house at Station 1, 1 p.m. to 5 p.m.
Fairview FD open house at Station 1, 1 p.m. to 5 p.m.
Tunnels to Towers 5K Run & Walk at PNC Arena, starts at 8:30 a.m.
+ 5 - 3 | § ¶
And Another Story About Social Media | Houston, Facebook, Rant
Arson investigator accused of posting obscene references to Islam on personal Facebook page.
That's the title from this Houston Chronicle story by Allan Turner, but there are others including this pair from Curt Varone and Dave Statter:
Houston Firefighter's Post Sparks Complaints - Fire Law Blog
Houston fire investigator put on desk duty for personal Facebook post blasting Muslims - Statter911
The Statter911 posting is longer, and contains excerpts and links from multiple sources. He's also participating in discussions of the story on the Statter911 Facebook page. (Here's one such thread there with some strong reader opinions on the issue. Plus some of Dave's trademark humor.)
But let's go back to the headlines. These headlines interest me, because they (and others) are so distinctly different:
Arson investigator accused of posting obscene references to Islam on personal Facebook page
Houston Firefighter's Post Sparks Complaints
Houston fire investigator put on desk duty for personal Facebook post blasting Muslims.
Firefighter's Facebook Post About Islam Sparks HFD Investigation (ABC-13)
etc.
Depending upon the headline that you read, and the specific words therein, you might have a different reaction. Let me simplify that. Your personal reaction might vary to these headlines. Just as reactions to this story are going to vary.
Social media. Facebook. These are very personal things, when used for personal reasons. Duh, right? But I submit that such "individualized perspectives" are one of the reasons that public servants find themselves "in trouble."
Did you read one or more of these headlines and shrug? Or dismiss their validity to "political correctness?" Or pump a fist in the air, because of your feelings toward the subject matter?
You get the idea.
With social media technologies, it gets complicated when you try to square "free speech" with concepts such as "my personal page" or "that's when I'm off-duty." And as this story yet again exemplifies, there can be career consequences.
Readers, your thoughts?
--
Postscript, added after I've re-read this thing a couple times. Needs a closer or a concluding statement. Maybe a piece of advice. Yada, yada, yada, and then it ends. That's it, Legeros? Can't you give us something to work with, to help us going forward?
Okay, how about this...
And by looking at ourselves, and our personal reactions, the need for policies and procedures is firmly reinforced. We're all different people, both in person and online. We have different perceptions of what's good versus what's bad with social media. Some folks have a great inner compass. Others need a framework to help their thinking. Build a policy, if you don't have one. Educate about your policy, if you haven't lately.
That work?