+ 10 - 9 | § ¶
Social Media Short 'n' Sweet
The Fire Critic this weekend offered a perspective on social media policies, which he'll be addressing in a social media class at FDIC early next year. He's posted a short 'n' sweet "hard knocks policy" for personal use of social media in the fire and EMS services.
The very short version: "If you would not say it in front of your mother, boss, and/or priest do not say it or write it." That's the same advice we were told when electronic mail first appeared. Still good practice, even when you intended your e-mail messages to be private.
Read the Fire Critic's social media policy example. Does it square with how you conduct your social media activities? Does it align with what your department's guidelines are, if they have them? Discuss as desired.
+ 13 - 5 | § ¶
OSFM Fire & Rescue Journal - Back Issues & New Format
November 2016
See this new page with archived history stories from the Fire & Rescue Journal: www.legeros.com/history/osfm
November 2010
The latest three issues of the Fire & Rescue Journal have been posted on the web site of the Office of the State Fire Marshal. The quarterly publication-- glossy, oversized, and exceptionally well-designed-- has been published since 2001. And in many issues, has featured historical features on major or unusual incidents around the state. Such as the Pine Knoll Townes fire, featured in the Spring 2010 issue
and written by Yours Truly.

The Fall 2010 issue notes that they're moving to an online format. They will publish one more traditional print version in the winter, and then transition to an electronic version of the Fire & Rescue Journal. The new version will be housed on the OSFM web site, and provide more current and up-to-date information. Read the issues:
+ 6 - 7 | § ¶
Apartment Owners Group Wants Pine Straw Ban Delayed
As this NBC17 story reports, the Triangle Apartment Association is requesting Raleigh leaders postpone the city's new pine straw ban. That ordinance goes into effect tomorrow, December 1, and requires that pine straw be keep at least 10 feet away from all multi-family structures. The ordinance was first discussed after 12 buildings with 38 homes were damaged or destroyed in the Pine Knoll Townes fire of February 2007. It was passed after seven houses burned in the Highland Creek neighborhood in March of this year. The complaint of the apartment association is that the change is costing too much money, with the law placed into effect in the same budget year that it was passed. Read that story.
+ 10 - 5 | § ¶
Where Anonymity Breeds Contempt
That's the title of this morning's thought-provoking and perhaps comment-provoking editorial in The New York Times. A product design manager at Facebook offers a perspective on anonymous trolling, with the latter being defined as "the act of posting inflammatory, derogatory or provocative messages in public forums." The problem is human nature, the writer writers. Anonymity increases unethical behavior, research has long-shown. How do you combat the problem on social networks? She talks about promoting accountability. Having content providers moderate comments and forums. Use commenting services. And, she says, stop allowing anonymous comments. Your thoughts? Read the editorial.
+ 11 - 8 | § ¶
Consolidating County Fire Services in Florida
From a reader, here's an interesting Daytona Beach News-Journal article titled Unified Fire Service Faces Uphill Battle. The story is about interesting and intentions of creating consolidated fire department in Volusia County, FL. That's a coastal community toward the north. Population in 2000 was 443,343. Size of 1,432 square-miles, 1,103 of which is land. Has 16 incorporated cities and towns, including Daytona Beach. Looks like the county has a fire department with 20+ fire stations. The other 12 fire departments are probably all municipal.
As for consolidation, cites the article, county residents have been hearing for 25 years that they could (a.) save money and (b.) get better service if everyone was protected by a single fire department. And there's a new study making the same points, and this time quite a few people agree with the findings. Elected officials, civil leaders, business owners, and even fire chiefs.
What are the upsides? Rising pension costs is one issue talked about. And they've been rising due to "the unspoken competition among cities and fire unions." Consolidation would end the competition. It would also eliminate duplication in management and support positions, the article states. Estimated $5.7 million in annual savings on that alone. What are the downsides? The story talks about the impact on property taxes. Not everyone pays the same rate for fire protection. Equalizing would equalize, which means some people would pay more, and some would pay less.
Interesting story. Read it.
+ 6 - 5 | § ¶
Faces From The Past - Shaw University, January 23, 1991
Digging through some personal snapshots this morning. How many people can be identified in this photo from the fire at Meserve Hall at Shaw University on January 23, 1991? The two in the foreground are obvious. Left is Asst. City Manager Carolyn Carter. Right is Fire Chief Sherman Pickard. Who are the rest of the folks? Sorry for the poor enlarged quality of the print. Probably from a compact camera, versus 35mm film. And here are some news photos from that day. (Scroll down a bit on that site.) Click once or twice to enlarge:


+ 13 - 15 | § ¶
School Bus Versus Fire Truck, 1980
One of the more unusual apparatus accidents in Raleigh occurred on May 12, 1980. About 2:30 p.m. at the intersection of Blount and East Lenoir streets, Wake County school bus #21 ran a red light and struck a small Toyota car. The bus turned over and crushed the vehicle. The 17-year-old driver died shortly after arriving at the hospital. The 32 students on the bus were slightly injured.


News & Observer photo
The News & Observer reported that all four of the county's EMS units responded, as well as three other rescue units. The students formed on a line on Blount Street, and were treated by EMS personnel as they waited to be transported. Ten were taken to Rex, and 22 went to Wake. All but one were treated and released.
The bus was travelingtravelling west on Lenoir Street, and the car was going south on Blount Street when the accident occurred. Brake failure was cited by the driver as a cause of the accident. They were tested and found functional. One witness said the bus began skidding just before entering the intersection. Witnesses also said that the driver may have been distracted by students who were taunting a group of transvestites.


Raleigh Times photo
Engine 3 was dispatched to the accident at 2:45 p.m. The 1973 Mack pumper arrived three minutes later. Personnel assisted with patient care and later washed away gasoline. By about 3:30 p.m., Wake County System Wrecker #54 was working to upright the bus. During that process, the chain holding the bus to the wreck became unhooked. The bus rolled down an embankment and struck the side of Engine 3.
READ MORE
+ 11 - 7 | § ¶
Cherry Hospital Hose Reel
The mystery building in our prior posting is located at Cherry Hospital, a state mental facility in Goldsboro. Below is an antique hose reel that's displayed outside the hospital's museum building. The facility first opened in 1880, and served African-American patients for most of its life. By 1924, the hospital-- then-named the State Hospital for the Colored Insane-- had its own fire department. Nine employees operated three hose reels with 600 feet of 2 1/2-hose and 800 feet of 2-inch hose. Sanborn Maps are the source for that information.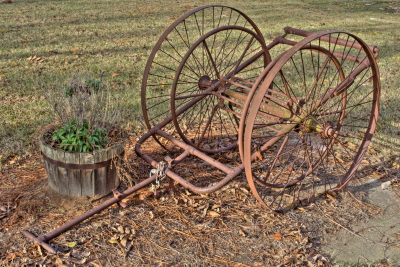 Such institutional fire departments were common in North Carolina. They've protected such facilities as McCain Prison Hospital in Hoke County (1970s), Oteen Veteran's Hospital in Asheville (1920s-1970s), the Nazareth Orphan's Home in Rowan County (1950s), the North Carolina Zoo in Randolph County (1970s), and even St. Augustine's College in Raleigh (1900s). Plus the many fire department and fire brigades that served (or still serve) factories, mills, and military bases.
How long did the Cherry Hospital fire department operate? Don't know. One of the main buildings has a 1950s-style fire siren on the roof, which suggests they provided fire protection through mid-century. The hospital grounds are presently protected by the Rosewood Fire Department. They were incorporated in 1959. Guess queries are worth making to both the hospital museum and RFD.


Ground was recently broken on a new Cherry Hospital, just up the road from the current complex. The other two state mental facilities in their day were Dorothea Dix Hospital in Raleigh and Broughton Hospital in Morganton. Both hospitals also had their own fire departments. The Dix fire department had hand hose reels at the turn of the prior century. The Broughton fire department also had hand equipment until the 1920s, when they received an American LaFrance motor pumper. They received newer apparatus in later decades, and served until the 1970s.
Read more history of Cherry Hospital. And see more pictures from Mike Legeros, who explored on Thanksgiving Day while traveling to and from Carteret County.
+ 7 - 4 | § ¶
Charlotte's Steamer in Action, Part 2
The FireCritic found this superb video of the Charlotte Fire Department displaying 80 years of fire apparatus history, including operation of their 1902 American LaFrance Metropolitan steamer. Also shown is a 1928 American LaFrance pumper, a 1948 Mack pumper, a 1958 Seagrave pumper, and a 1971 Seagrave pumper. How cool is that? See our prior posting on same, with more information about the steamer.



+ 4 - 5 | § ¶
Mystery Building
Let's have a little more play. This one's probably obvious to the mid-eastern Piedmont crowd. That's the right descriptor for this building's location, no? More later on how this one relates to fire service history.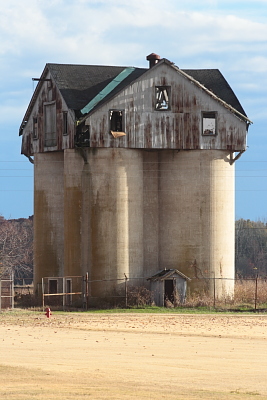 + 6 - 10 | § ¶
Washington Fire-Rescue-EMS Remembers State's First Fallen Firefighter
Just about caught up after Turkey Day. My trusty Google alerts found this article from the Washington Daily News, about the fire department's efforts to remember the state's first recorded fallen firefighter. Edward Peed was struck and killed by a burning wall on February 8, 1902. He was a volunteer firefighter and a member of Washington's all-black Salamander Fire Company.
The article recounts historical details credited to Yours Truly, and which were likely drawn from these fallen firefighter histories of mine. It also tells about a former's member's search for Peed's grave, and how his headstone was located in a old private black cemetery.
The marker was relocated to a memorial garden at the fire station in 2000. The town is now working toward installing a new monument at Beebe Park to further memorialize Peed. Read the entire story.
+ 8 - 8 | § ¶
Caption This Photo
How's this for a chevron pattern? Though they're not reflective, it would probably stop traffic if the thing were sitting smack int he middle of a roadway. For extra credit, can you peg this place? Hint, it's somewhere between here and the coast.


+ 9 - 5 | § ¶
Wildwood Unit 4
Leaving town this afternoon, we spotted this truck sitting behind the Wildwood fire station on Highway 70 west, just outside of Morehead. There's a neat mural on the thing. The town's third fire station is also located here, and occupies a building behind Wildwood Fire & EMS. Click once or twice to enlarge:


+ 8 - 6 | § ¶
Morehead City Station 4
That's what the sign at the station says at 325 N. 25th Street, but it really appears to be a storage building for Morehead City Fire & EMS. Mr. Blogger photographed same after pre-dawn shopping in Carteret County. Er, browsing. Didn't buy anything at Wal-Mart or Best Buy.
Peeked inside the bays. Parked inside is what looks like a reserve pumper (Engine 9) and a spare ambulance. The building was formerly occupied by Morehead City Rescue Squad & EMS, which merged with the fire department in recent years. Click to enlarge:


+ 18 - 7 | § ¶
Do Ladder Trucks Need To Be That Big?
My morning review of web sites find the following picture on Firegeezer, from a story about a high-rise fire in Paris, France. Cool picture.


BSPP photo


Seeing a couple European ladder trucks in action brings to mind their single-purpose design. They are trucks with aerial devices and little else. And considerable smaller and lighter as a result.

On our side of the pond, ladder trucks are comparative monsters. We add ground ladders, loads of equipment, and often pumps, water, and hose. Rolling fire departments, really.


Lee Wilson photo


Question of the day. Do our ladder trucks have to be that big? Why have they historically been so big? And what are the consequences pro and con of that size? Discuss as desired. And maybe some world travellers can explain how apples relate to oranges.
+ 1 - 6 | § ¶
National Fallen Firefighters Memorial Weekend Date Change in 2011
The National Fallen Firefighters Foundation has announced a date change for the 2011 National Fallen Firefighters Memorial Weekend. The dates have been changed to October 14-16 in Emmitsburg, Maryland. The original date conflicted with Yom Kippur, one of the holiest days in the Jewish calendar. The 2011 weekend will commemorate the 30th anniversary of the National Fallen Firefighters Memorial, and will also follow the 10th anniversary of the events of September 11. Read news release.
+ 3 - 6 | § ¶
Wake Forest Fire Board Names New Fire Chief For 2011
The Wake Forest Gazette reported on November 10 that the Wake Forest Fire Department Board of Directors has named a Deputy Chief Ron Early as the new Fire Chief, effective September 1, 2011. Early is presently Deputy Chief for Administration. Current Fire Chief Freddy Lynn will become a senior chief of special projects. The story also includes an overview of the department's command staff, and the recent history of the chiefs of the department. Read the entire article.
+ 6 - 6 | § ¶
New Ambulance For Apex
As noted in our prior thread, Apex Fire & EMS has placed in service this ambulance, a former Six Forks EMS patient module mounted on a 2010 Chevrolet G4500 chassis. Under the hood is a Dura Max diesel. The module was painted, and equipped with LED lights inside and out. Since the time of this picture, a door seal's been added. The truck is currently in service as EMS 41. Dale Johnson supplied this photo: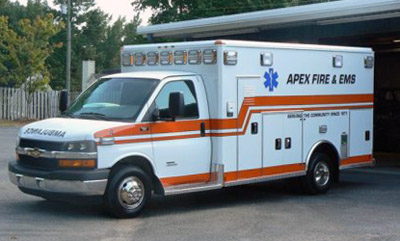 + 6 - 10 | § ¶
New Apparatus?
We're overdue to inquire about new apparatus deliveries and orders. Who's received new rigs of late, and who is receiving new apparatus in the next, say, six months? Nothing to report from the city of Raleigh. No new or replacement apparatus was planned for this budget year. What's the word from Durham, Cary, Chapel Hill, as well as around Wake and other counties?
+ 8 - 6 | § ¶
Roanoke Island 1975 Ford/American LaFrance
Found for sale on eBay, here's a 35mm slide scan of a 1975 Ford/American LaFrance, 1000/750 that served Roanoke Island Fire Department. Dig those dual beacons mounted on the edge of the cab. Photographer credit is not known. Click to enlarge the photo that appears in the eBay listing:


+ 4 - 6 | § ¶
Tiller in Service
The Raleigh Fire Department placed its newest piece of aerial apparatus in service today. Ladder 4 at Station 1 now operates a 2010 Pierce Arrow XT tractor-drawn aerial ladder, 1500 GPM, 300 gallons, 100-foot. The tiller was delivered in July and replaced a 2004 Pierce Arrow XT that overturned while responding to a call in July 2009. Ladder 4 had been operating a reserve platform, a 1999 American LaFrance Eagle midmount. The tiller is the fourth for the department (1916, 1958, 2004, 2010), or sixth if you include two replacement cabs (1939, 1979). It's the fourth 100-footer, by my count. And the 12th delivered with a pump. As well as the 41st Pierce, if my math is correct. Here are some photos of the truck from Lee Wilson and Mike Legeros.



Lee Wilson photo
+ 7 - 3 | § ¶
Rockwell Rural Receives Pierce Custom Contender
Found on FireNews in their new deliveries section, check out this high-cab Pierce Customer Contender delivered this summer to Rockwell Rural Fire Department in Rowan County. Built on a Velocity chassis, it's equipped with a 2,000 GPM pump and 1,000 gallon tank. Or see another photo and a few more specs on the Pierce web site.
How did I find the latter? Google didn't find it, but the Pierce site has a search box. The results showed two pages with matches. Neither page had the truck, however. What next? Thinking about the nature of the site, it seemed logical that the web site search engine might have captured just a snapshot in time. Or two times, when the Rockwell rig was listed on those particular pages. But since new deliveries are always being added, I clicked to the pages after the indicated pages. Voila.


+ 3 - 3 | § ¶
Pedestrian Deaths on I-40, I-440
Two deaths in two weeks on our freeways. Saturday night, a 23 year-old male was struck and killed crossing the eastbound lanes of I-40 near I-540. As this WRAL story reported, he was a suspect in an accident in the westbound lanes about a mile away, which occurred a few minutes earlier. Last Saturday, a 59 year-old male was struck and killed crossing I-440 near Western Boulevard. The accident occurred at 8:15 p.m., reported this WRAL story.
+ 5 - 2 | § ¶
This Morning's House Fire on Shellum Street
Engine 12 at a one-story single-family residence, with fire and smoke showing from the rear of the structure. Dispatched at 2:02 p.m., controlled at 2:50 p.m. The house was empty, and the cause was blamed on improperly discarded smoking material. About 75 percent of the house was damaged. The fire department issued a media release earlier this morning. News reports were subsequently posted by WRAL, NBC17, and the News & Observer. The latter incorrectly cites the time to place under control as over two hours. All stories are very brief and do not include images from the scene. The NBC17 story has the obligatory stock image of flames.
+ 3 - 2 | § ¶
This Afternoon's Two Alarms / Landmark Drive
Two alarms at 2413 Landmark Drive. Engine 14 arriving at a two-story, brick-and-frame apartment building with 10,168 square-feet. Built 1972. Smoke showing, and visible from Western Boulevard!. Quickly upgraded to major working fire, with fire in two apartments one unit fully involved and fire extending up the building. Interior attack with Engine 14 with first line, and Engine 8 with second line. Car 10 as incident command at his vehicle on Landmark Drive. Battalion 3 as operations command in rear of building. Medical monitoring and rehab in parking lot on other side of Landmark Drive. One hydrant utilized, also on other side of Landmark Drive. Road closed by police.
Dispatched about 1:50 p.m. at 1:52 p.m. Controlled in about 25 minutes at 2:27 p.m. Two units rendered uninhabitable, with five people displaced. No injuries. Cause determined as unattended cooking. Will double-check those times, and other details. Working from memory of scanner traffic, plus what was observed. First alarm: E14, E8, E9, E5, L3, R3, B4, C10, C20, C40, A1. Second alarm: E17, E6, E11, L7, R2, B2, B4, C1, C2, C5. Medical: EMS 121, EMS 4, EMS 11, EMS 55, D3, M9_, T1. Coverage: E13 and others. "A" shift. See preliminary photos by Legeros. More later, plus photos from Lee.


+ 5 - 6 | § ¶
Remembering The MGM Grand Hotel Fire
Today is the 30th anniversary of the MGM Grand hotel fire in Las Vegas that killed 85 people and injured 650 on November 12, 1980. Below are some stats, some reading material, and a NFPA-produced documentary about the fire:
Diagram (click to enlarge)

Videos (double-click for larger versions)

Statistics
Second deadliest hotel fire in U.S. history.
Casino/restaurant area with 450,000 square-feet.
Plus 23-story high-rise hotel with about 2,083 guest rooms.
Opened 1973, few sprinklers in building due to rule exemptions. Fire started in restaurant.

Reported at 7:16 a.m.
Fireball races through casino level within minutes.
Crews are 40 feet into casino and retreat from building.
Fire confined to casino level after about an hour.
544 firefighters on scene, including Clark County FD, Las Vegas FD, North Las Vegas FD, Henderson County FD, Boulder City FD
From diagram above: 8 hydrants, 10+ engines, 4+ aerials, 29? hand lines, 4 sector chiefs, 1 forward command

READ MORE
+ 7 - 4 | § ¶
Matchbox Hazard Squad
Just in time for holiday shopping is a new tooling in the Matchbox 1-75 range. Called the Hazard Squad, it's a generic custom-cab heavy rescue. A couple red versions have been released, as well as one lime-yellow in a five pack. Pretty good casting detail. Click to enlarge:


+ 3 - 5 | § ¶
Honor Guard
Unidentified Cary Fire Department Honor Guard member as photographed at last night's graduation ceremony at the Town Hall. See prior posting about the recruit class. Picture was made using Canon Digital Rebel XT at second-highest ISO setting (800) and with external flash at -2/3 exposure compensation. And with that clear plastic tip jar, er, LightSphere as diffuser.
Let's see, other camera settings: Program AE shooting mode, 1/60 shutter speed, 4.0 aperture value, 32mm focal length, Canon RAW file format. For post-production using Canon Digital Photo Professional, it's +.83 brightness adjustment, custom white balance, Faithful picture style, +3 contrast, +3 color saturation, and +10 sharpness. Output to JPEG format. More later. Event photos, and particularly indoor event photos, always take longer to process. Each shot is dissimilar. Click to enlarge:


+ 1 - 3 | § ¶
Raleigh Fire Department History, 1984
For your further historical enjoyment, here's an annotated Raleigh Fire Department history from 1984. The text originally appeared in the fire department's first yearbook.1 That 96-page hardcover book, long out of print, included a 13-page text history. The author was Captain B. T. Fowler, who used several sources including research by Wake County historian Elizabeth Reid Murray.2
The history represented the best information available at the time. Ms. Murray's research continued into the 2000s, and her exhaustive collection of notes is now available at Olivia Raney Local History Library.3 In recent years, Historian Mike Legeros (that's me!) researched her research on the history of the Raleigh Fire Department.
Hence the annotations which have been added in yellow to 1984 text. Their purpose is to correct errors, and provide additional context or information. Further review may result in further changes. Ditto for subsequent research in subsequent years. That's the beauty of history. You're always learning more about what happened. Learn more history.

READ MORE
+ 7 - 3 | § ¶
Old Moore County Fire Engine
Lee Wilson has found this old Ford fire engine parked off Wade Avenue. It's labelled Moore County Fire Department and also has V.F.D. on the hood. Should we presume the truck served Vass Fire Department? The model year might be late 1950s or early 1960s. Our readers should know that answer, at least.
If the truck served in Moore County in North Carolina, then its history might go something like this: Moore County begins providing rural protection to rural residents in the above era. Perhaps they organize a county-based fire department, or maybe just purchase one or more trucks. Which are provided to municipal or existing fire departments, such as Vass FD. Hence the hood lettering for V.F.D.
That's pretty speculative. Maybe our readers know. Here's a history of the Vass FD, which merged into Circle V Fire Department, and which is presently called Cypress Pointe Fire Department. Got that? See a couple more photos from Lee. Maybe Mr. Blogger can find the truck and see if a registration plate indicates more. Or, Moore.



Lee Wilson photo
+ 2 - 5 | § ¶
Garner Fire Department Roster, 1967
For your Friday history fix, let's go back in time to the Garner Fire Department of the late 1960s. The fire station is located at 110 Pearl Street. Apparatus includes three engines, a tanker, a brush engine, and a Civil Defense-lettered utility truck. They answer around 150 calls a year. The department has two sections, one group of firefighters that answers calls inside the town. The second responds to the rural area. And we're still about a decade away from the opening of their second station.
Here's the roster for that year. Quite a few familiar names, including a number of former and even current Wake County fire chiefs! Not to mention veterans of all ranks. Notable is Capt. B. R. Poole Jr. He was also Fire Chief both in prior and later years, and is the grandfather of the newly appointed Fire Chief Matt Poole. The name in the upper right corner, Col. Throne, was Civil Defense director of the time. Believe that agency oversaw all rural departments at that time. Nope, no shortage of fire history in these parts! Document source is likely from old fireman's association records. Click once or twice to enlarge:


+ 3 - 4 | § ¶
Garner Fire Departments Names New Chief
As this News 14 story reports, Garner Fire Department Deputy Chief Matthew Poole has been named the new Fire Chief. He was appointed by the Board of the Directors on November 17, and had been serving as interim Fire Chief since June. Also announced is the appointment of Capt. Tim Herman as Deputy Chief. Congratulations to both!


+ 13 - 5 | § ¶
Cary Firefighters Graduate Friday
In a ceremony tomorrow night, Friday, November 19, at Council Chambers at the Cary Town Hall, the Cary Fire Department celebrates the graduation of Fire Academy #16. The event starts at 7:00 p.m. The town hall is located at 316 N. Academy Street.
The 16 recruits started their 18-week academy on July 6. In a first for the fire department, all of the recruits were already certified as firefighters in the State of North Carolina. This resulted in a shorter academy by about five weeks. In fact, the recruits have already been on shift for a couple cycles.
Their classroom training was conducted at Fire Station 7, with practical exercises at a variety of locations including the Wake County Fire Training Center. They're pictured below during air ambulance training in August with WakeMed. The recruits were hired to fill existing vacancies.
Congratulations to the new firefighters. Good luck in your careers! Click to enlarge:

+ 5 - 4 | § ¶
Showing Smoke in Oak Lawn, IL
Here's your smoke shot for today, from this Firegeezer report about a strip mall fire in Oak Law, IL. First units arrived within three minutes. Controlled after an hour. Some 20 (!) area fire departments on scene. Photo by Hank Sajovic from ChicagoAreaFire.com. See more from him.



Hank Sajovic/ChicagoAreaFire.com
+ 3 - 6 | § ¶
Caption This Photo #2
Curious tractor-trailer accident in the 4000 block of Poole Road this afternoon. Trailer loaded with bales of shredded paper that buckled while in motion. Now that's heavy. John Rottet took the photo for this News & Observer story.



John Rottet/News & Observer photo
+ 3 - 5 | § ¶
Caption This Photo
Resident watches as fan is started after kitchen fire on Sawyer Road. Engine 3 arriving at a one-story apartment building. Quickly controlled. That's Ladder 4 leading the fan club. Click to enlarge:


+ 7 - 12 | § ¶
Zebulon's First Fire Engine
Our friends at the Zebulon Fire Department share a pair of new-found photos. Two views of the town's first fire engine, a 1920s Ford Model A combination chemical and hose truck. The apparatus was obtained in 1928 and converted into a fire engine by members of the department. Previously, they utilized a trio of hand hose reels, as well as a hand-drawn hook and ladder. Read some of that history.
Looking closely at the apparatus, you'll see a hose basket on the top. That held the rubber hose-- maybe one-inch diameter-- that was connected to the chemical tank. By 1944, said Sanborn Maps of that year, the truck carried 700 feet of 2 1/2-inch hose. Based on pictures on the web, the truck's model year could also be 1928. The town very likely could have obtained a new truck for conversion to their first fire engine.
The top picture was probably made around the time the town's 1948 Mack Type 45 pumper was delivered. ZFD still owns that beauty, having acquired same from a private owner in recent years. The bottom picture is probably a view from inside the first station on East Horton Street. These are also some of the oldest fire departments found to date, from anywhere in Wake County!
Guess we'll need to update the Raleigh and Wake County Firefighting books someday. Or maybe just go wide, and finally produce a book of historic fire department photos from across North Carolina. And wouldn't it be great to find photos of the county's other early trucks, such as Apex's 1927 American LaFrance pumper, Cary's 1922/23 Ford/American LaFrance chemical car, and Wendell's ex-Virginia Beach Seagrave purchased in 1941. Click to enlarge:

+ 4 - 5 | § ¶
Yesterday's Motel Fire in Durham
The Durham Herald has published a couple photos of yesterday's fire at The Budget Inn at 2101 Holloway Street in Durham. Four rooms suffered fire damage, two on each of the building's two stories. The blaze apparently started in a first-floor room, and spread upward to the second floor, and into the attic. It was reported at 4:45 p.m., and controlled in about 20 minutes. The wide shot is below, see the story for a shot of the crews on the roof.



Julian Harrison / Durham Herald photo
+ 3 - 6 | § ¶
Mutual Aid to Zebulon, 1996
Found during random reading of Raleigh Fire Department log books, here's an interesting entry and one that references a bit of eastern Wake County history. Readers who remember, please reconstruct the events of that late afternoon and early evening. Maybe we can dig out some photos as well.
4-15-96
2153
E13 10-7
Special assign.
Request for service - Zebulon Fire Dept mutual aid for tornado
+ 7 - 5 | § ¶
Raleigh's 1989 Pierce Arrow Pumper For Sale
Step right up and place your bid on a genuine city of Raleigh fire engine. Old Engine 9 is being auctioned on GovDeals.com. The 1989 Pierce Arrow pumper was one of three delivered that year. The others were assigned to Engine 1 and Engine 13. They were the first Pierce pumpers for the city, and the last engines delivered with open jump seats. 'Twas about a year later that Yours Truly fought his first fire while riding that truck, while filling in at Station 9. Duplex, Applewood Lane, one fatality. The truck subsequently served as Engine 18 and entered the reserve fleet in 2005. It was last designated Engine 124. The two others were also recently removed from the reserve fleet, and are assigned to the training center. They're designated Training 1 and Training 2. Read more apparatus histories. Happy bidding.


+ 1 - 5 | § ¶
Fire Commission Meeting Agenda & Documents, Nov 18
Here's the agenda and related documents for this week's Wake County Fire Commission Meeting on Thursday, November 18, 2010, at 7:00 p.m., at Wake County EMS Training Facility, at the lower level of the Commons Building, 4011 Carya Drive.
Agenda
Call meeting to order

Invocation
Roll of Members Present
Approval of Agenda

Minutes

Adoption of Minutes for September 23rd, 2010, Regular Meeting

Regular Agenda

Consider Approval of Calendar Year 2011 Meeting Dates
Consider Approval of Wake County Post Incident Review Training Program
Facility Committee

Information Agenda

Fire Tax Financial Report
Chair Report
Fire/Rescue Services Director Report

Other Business
Public Comments

30 minutes maximum time allotted, Maximum 3 minutes per person

Adjournment - Next Meeting January 20th, 2011.
Documents
Copies placed in http://www.legeros.com/ralwake/photos/weblog/wcfc/2010-09
Agenda
Draft minutes of last meeting
Wake County Post Incident Review Training Program information
Meeting schedule for 2011
Financial report
+ 4 - 4 | § ¶
The Fire Museum Network
On Halloween weekend, a unique meeting of fire service enthusiasts was convened in Lutherville, Maryland. That's an unincorporated community just north of Baltimore, and one-half of the Lutherville-Timonium census district. It's also the reason Lutherville might be missing as a destination when entered by name into your GPS.
Timonium is the location of the Maryland State Fairgrounds, and they hosted a haunted house that particular Friday and Saturday night. We saw the signs. A high-speed rail line runs through there, too. In case you were wondering about rail access. Lutherville, on the other hand, might be a bit more familiar as the location of the Maryland Fire Museum.
That place is a piece of fire apparatus heaven, with dozens of antique rigs on display and including two, count 'em two, water towers. Hand engines, steam engines, triple combinations, hand-drawn hose reels, horse-drawn ladder trucks, they've got a bit of everything.
The museum was the host of this year's Fire Museum Network annual seminar. The four-day event brought together museum operators, aspiring museum-ers, historical society members, private collection owners, and other individuals interested in our favorite type of specialty museum.

READ MORE
+ 4 - 8 | § ¶
Charleston Training Chief Resigns and The News Therein
This week, the Courier-Post in Charleston reported that the training director of the Charleston Fire Department has resigned. He was hired help to implement changes in the department after the Super Sofa Fire that killed nine firefighters on June 18, 2007. Among the improvements during his tenure was extending recruit training from eight-days (!) to 20 weeks. Federal and state standards are also now being met, though the article isn't specific on those standards. Presumably training? The article also discusses the chief's reason for leaving, and challenges he's cited in the performance of his position.
The news has made some of rounds. Firehouse.com, The Secret List, South Carolina on Fire, for starters. At least one "fire blog" has carried same. For your Sunday discussion, is this a story that should have legs? At least for fire service readers? Or is it a little too much like "inside baseball." How do readers feel about such personnel stories in general? Can they be sufficiently objective, or are they naturally grounded in one side of a two-sided story. (Though don't all stories have three sides? Mine, yours, and the truth?) Finally, what's the relationship of this latest development to the lessons still being learned from the before and after of a very difficult period in the history of Charleston Fire Department? Discuss as desired.
+ 4 - 7 | § ¶
Firefighters Struck, One Killed on I-20 in Columbia, SC
Yesterday afternoon, two Columbia Fire Department firefighters were struck by a vehicle while fighting a brush fire on Interstate 20. Firefighter Larry Irvan, 30, is in critical but stable condition as of last night. The second firefighter died last night, a young man whose name was being withheld by the fire department out of respect for the family, as reported in this story from The State. He was original reported as deceased on the scene, and has been identified by name on other sites. (Meta-conversation alert on that aspect of the story.)
The accident occurred about 2:15 p.m. The two firefighters were operating in the media of I-20 near mile marker 81. Three pieces of fire apparatus were on scene and parked on the inside lane on the eastbound side. A vehicle approaching in the westbound lane struck the firefighters. This WLTX story reports that that vehicle was struck by a second vehicle, prior to striking the firefighters. They were airlifted to Palmetto Richland hospital.
Additional details are certainly forthcoming, as news reporting is always a bit slower on Saturday and Sunday, at least in the Carolinas. See other coverage and conversation at: South Carolina on Fire and Dave Statter.
The Columbia Fire Department serves both the capital of South Carolina and a 660 square-mile area of Richland County. As their web site notes, they have 515 active firefighters, 392 of which are career firefighters. They have 32 stations, about half of which are "volunteer" stations. They are cited as Columbia-Richland Fire Department in places.



WLTX/Sam Quiller photo
+ 7 - 2 | § ¶
Why Many Police Departments Use Rotation Wreckers
From a reader, here's a clip from the Discovery Channel television series Wreck Chasers. Tow trucks operators racing to be the first on scene at a reported vehicle accident Philly. And while we're on the subject, who has stories share of local services, before the days of rotation wreckers in Raleigh? Click to watch:


+ 6 - 4 | § ¶
Google Alerts
We've mentioned these before. Google Alerts. Great way to learn about new content on the web. Free service, sends e-mail notifications. That's how Mr. Blogger learns of news stories, press releases, and another bits of information that mention "Raleigh fire." Those are my keywords. Well, plus another alert on the keyword "Legeros." Of course. Keeps me abreast on occasional family stuff, like my sculpture cousin Nick in Minneapolis. And lets me see the spread of self-generated content as it propagates the big, bad web.
+ 4 - 6 | § ¶
Students and Responders Recognized For Saving Student's Life
In a ceremony yesterday at the Talley Student Center at North Carolina State University, students and responders were recognized for saving another students life on September 2. Spencer Shell went jogging early that evening, and was about a mile from home when collapsed on Dan Allen Drive. He was witnessed by Jon Smetana, who saw Shell collapse and roll down a hill onto Harris Field. Robert Olson arrived within seconds, and Kate Gilbertson raced over. Shell had no pulse, and was not breathing. Smetana began chest compressions, and Olson worked on rescue breathing.
Additional students arrived to assist, including a part-time firefighter who also helped with administering CPR. Patient care was soon taken over by arriving responders from the Raleigh Fire Department, Wake County EMS, and Cary EMS. Shell spent 15 days in the hospital and received a defibrillator implant. He's recovering well. The 17 people who helped save his life were recognized yesterday in the aforementioned ceremony. Read that story in this NCSU faculty and staff bulletin, as well as nice story in this morning's News & Observer. Also see photos from Lee Wilson from the ceremony.



Lee Wilson photo
+ 5 - 5 | § ¶
The Liabilities of Adding Exercise Equipment
Caught this story from on firehouse.com, by way of the Journal-Register in Medina, N.Y. The village fire department is receiving a federal grant. They've received them in the past, and they've used them to purchase radios, PPE, and apparatus. This year, they've targeted $70,000 of the awarded funds to purchase physical fitness equipment. That's raised red flags with village officials, who see a liability of having exercise equipment on village property. If someone is working out, there's a worker's compensation liability as well as one that requires the village to pay the difference in lost salary. They cite an amount of $1 million over 30 years that they could also have to pay, if someone were injured. What's your experience with similar situations? What's the other side of the equation look like, the benefits and cost savings from implementing fitness programs and using exercise equipment? Submitted for your discussion.
+ 4 - 5 | § ¶
Social Media as 911 Alternative
Those pesky social media channels are also being used as an alternative to dialing 911, finds an American Red Cross survey as reported in this Firehouse.com news article. In addition the popular phone call of "I've fallen and can't get up," you can transmit your distress via Facebook or Twitter. Or at least that's believed as appropriate or effective by some folks.
The Red Cross surveyed 1,058 adults in an online survey, and one in five said they'd utilize social media if they can't reach the telephone. Some would ask others to ask for help; others would touch the responders directly. Send a tweet to the emergency agency, post a request for help on the agency's Facebook page.
Key quote: "There's an expectation in the public that responders are monitoring social media and will respond to requests for help." Read the story to learn more, or see this Red Cross press release with a few slides. Perhaps our friends in emergency communications can add perspective to our ever-evolving channels of transmission.
And now, for that now-classic line in the now-classic television commercial...


+ 5 - 4 | § ¶
Wake Forest Fire Department #2
For your Thursday history fix, here's a picture of Wake Forest Fire Department #2, circa 1953. Same was scanned some years ago at the Wake Forest College Birthplace Society. Pictured with their 1947 Chevrolet/American/Barton pumper are, left to right, Fire Chief Edward Alston, Matthew Williams, George Massenburg, and Robert Alston.
The truck was cited as a 1948 Chevrolet in one of my books, though my later records say 1947. It originally served the Wake Forest Fire Department, which soon received a 1951 model. The slightly older engine was transferred for the town's second fire department. Hence the door lettering as No. 1 Click to enlarge:


Why did Wake Forest have two fire departments back then? Simply, they were segregated. Colored fire companies, as they were called, were formed throughout the state in the 19th and 20th centuries. Here's an excellent history about those groups and other early black firefighters in North Carolina.
In Wake Forest, the Town Board approved creation of a "colored volunteer fire company" in 1942. They received a town-purchased fire truck in 1943, a Chevrolet truck with 800 feet of 2 1/2-inch hose. Or so said Sanborn Maps in 1946. The map showed the fire truck located in a building on a lot behind the drugstore on the south side of Main Street, west of Cross Street.
Later history of Wake Forest Fire Department #2 is ripe for research. Heck, the entire history would make a great essay, paper, thesis, or book. Maybe somebody is already working on that. Yours Truly has compiled a few facts, along with his Wake Forest Fire Department history. But that web page hasn't been updated or expanded in a few years.
Anyway, WFFD #2 operated until around February 1982, when they merged with WFFD. The following year, the town and rural departments merged into the present WFFD entity. Perhaps our northern Wake County readers can share some memories of that period.
A couple years earlier, a reunion of former firefighters was held. This picture was made and shows left to right : J. Albert Perry, Hubert K. "Doc" Denton, Raymond C. Keith, Willis H. Winston, George Timberlake Jr., J. Bruce Keith, W.H. "Buddy" Holden, Woodrow Williams, W.W. "Bill" Holden, Oscar Smith, Mckinny Mitchell, and Edward "Ed" Alston. That's a handsome group! Click to enlarge:


+ 3 - 10 | § ¶
1964 Van Pelt/GMC
Also from a reader, and also speaking of attractive antiques from the western United States, here's a vintage photo of a 1967 Van Pelt/GMC pumper in Larkspur, Colorado California. Kodachrome slide by user tterrace on the web site Shorpy. Van Pelt was a west coast apparatus company in business from 1925 to 1987, and became the largest apparatus builder west of the Rockies. Or so says Google, in a summary of Chuck Madderom's book Van Pelt Fire Apparatus - 1925-1987 Photo Archive. That's one of Iconografix's any excellent photo archives books. They publish them about all sorts of transportation topics. Click to see larger version:


+ 5 - 0 | § ¶
Jay Leno's 1941 American LaFrance
From a reader, here's a nifty segment from Jay Leno about his 1941 American LaFrance 500 Series pumper. It originally served Warner Brothers on their studio lot, and then was given to the city of Burbank. The truck then landed (ha!) at the Burbank-Glendale-Pasadena Airport, and was last left at the end of a runway.
Jay talks a bit about the body construction and as well as the engine, which is a 12-cylinder, 256 HP monster. The 500 Series engines, he notes, were the first aerodynamically designed fire apparatus, and the first tested in wind tunnels. They also look sharp all get out. (Raleigh had a 1939 American LaFrance 500 Series tractor mated to its 1916 American LaFrance aerial ladder trailer.)
After restoration, Leno further modified the truck by removing the water tank, and adding a power-lift to the rear. The purpose? Transporting bikes!

+ 6 - 6 | § ¶
Freedom of Speech and Facebook
Heard about this? Company fires worker for criticizing supervisors in Facebook posting. National Labor Relations Board says that's illegal. And it happens to be an ambulance company. The New York Times had this story yesterday, as did many other outlets.
What are implications for the fire service, and fire service managers grappling with social media policies? Dave Statter's already there, weighing some initial thoughts as well as linking to the Times story.
It also makes Mr. Blogger think about this Cary News story from last week, where the Cary chapter of the North Carolina Police Benevolent Association has questioned the town's internal media policy. That is, the rules for town employees with regard to contact with the media.
Internal media policies are old hat, as are consequence for speaking out about one's employer. What's new are the increasing communication channels at people's fingertips. It sure is easier than ever to raise your voice, speak out on this, or be cited for that. Interesting times.
+ 4 - 3 | § ¶
Newell Fire Department in Mecklenburg County Closing in 2011
Found by FireNews, the Charlotte Observer reported Saturday that the Board of Directors of the Newell Fire Department in Mecklenburg County decided in September to terminate its contract with the county effective June 30, 2011. They are currently protecting 1,250 homes and businesses.
The Newell fire district spans only 2.5 square miles. Their district has shrank over time, due to annexations. Notes the Chief, "We actually have to drive past a Charlotte fire station every time we go on a call." There are nearly 20 other independent fire departments also serving in Mecklenburg County, notes the article. Read the story.
We've blogged before about the history of Charlotte annexations, and the changes in rural fire service in Mecklenburg County. Some of the now-gone private departments: Carmel FD, Derita FD, Hickory Grove FD, Moores Chapel FD, Oakhurst FD, Pinoca FD, Route No. 10 FD, Sharon FD, Statesville Road FD, Wilkinson Boulevard FD, and Woodlawn FD.
Here's a county map from 1959 that we blogged about, as well as a history of Wilkinson Boulevard, also from a prior post. Read about those departments, or see photos of old stations still standing.
How does this history relate to Wake County? That one's easy. The private departments here will likely be following the same historical roads paved in Charlotte, as well as the state's other expanding cities. Fayetteville. Greensboro. Wilmington. Etcetera. More later on Newell FD, and their many decades of history.
+ 3 - 3 | § ¶
This Morning's Two Alarms / Shanda Drive
Two-alarms at 6317 Shanda Drive. Engine 15 arriving with heavy fire showing from the roof of a one-story wood-frame apartment clubhouse building. Built 1979, with 1,809 square-feet. Defensive operations, with Ladder 1 operating overhead. Ladder 5 at the read on street-side. Two hydrants as well as command and rehab on Shanda Drive. Dispatched 4:45 p.m. Controlled 5:16 p.m. Units on scene included E15, E4, E9, E18, E16, E19, E22, L1, L5, R1, R3, B1, B2, B4, C10, C20, C40, C4, A1, EMS 12_, EMS 11, D1, T1. Who was left? "B" shift was working. See photos from Legeros, such as these two. Guess the first one's interchangable with just about any other recent major apartment fire. Second shot's a little more original.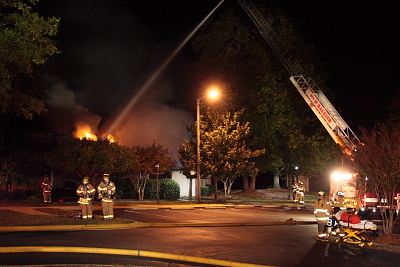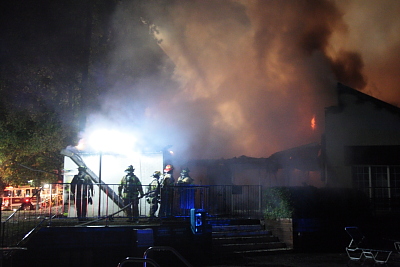 + 4 - 6 | § ¶
Fire Commission Meeting Notice, November 18
The next meeting of the Wake County Fire Commission is November 18. That's next Thursday. Not this Thursday, but next Thursday. Got that? Agenda and handouts forthcoming as available:
Thursday, November 18, 2010
7:00 p.m.
Wake County EMS Training Facility
Commons Building, Lower Level, 4011 Carya Drive.
+ 7 - 5 | § ¶
Bonfire Wanted
Or really, any sort of large fire. Must be at night. Wanted for photography experiment, to test and document different camera settings. The results should reveal some of the best ways to photograph fires at night. Any takers? Controlled ambient light is a bonus, though perhaps we'll start small. Thanks in advance.
+ 4 - 6 | § ¶
Durant Road EMS Station Opened Today
Wake County EMS opened the Durant Road EMS station today. Located at 10000 Durant Road, a ribbon-cutting ceremony was held this morning. The station is the new permanent home for EMS 15, which had been based at nearby Raleigh Fire Station 22 for several years. Additional, EMS 33 will be stationed at Durant Road at night, relocated from Stony Hill Fire Station 1.
As this press release notes, construction contracts for the facility were approved by the Board of Commissioners in November 2009. The EMS station is part of the North Wake Landfill Post Closure Master Plan, a program to add public-use and public-protection facilities to the 260-acre property. That plan has involved city, county, state, and citizen committee participants.
Next week On December 1, officials cut the ribbon on a joint Wake County EMS and Garner Fire Department station in southeastern Wake County. Guess it's time to update our list of EMS units, as previously blogged. And maybe it's time for a list of present and past EMS facilities, and years opened/operated. Any takers? Photos from today's ceremony are forthcoming from Legeros (below) and Lee.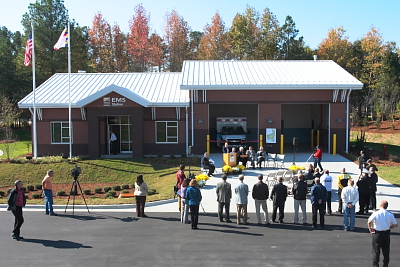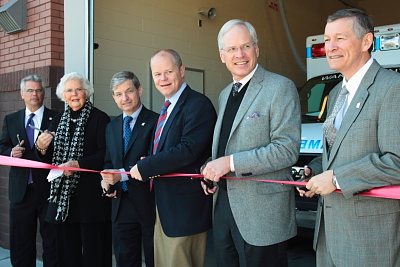 + 14 - 6 | § ¶
Challenge Coins: Part Deux
As discussed in our prior posting, here are some examples of fire department challenge coins. Cary, Falls, New Hope, and a trio from overseas, from a Chief with local ties. Keep the photos coming! Click to enlarge each.


Cary Engine 4
Cary, NC
Falls FD
Wake County, NC
Wake New Hope FD
Wake County, NC
WSI Fire and Emergency service
Chief Harris
Iraq

Forward Operating Base Spin Boldak
Afghanistan

Camp Victory base complex
Baghad, Iraq
+ 7 - 2 | § ¶
More About REDS Mission Trip to Guatemala
This week's Midtown Raleigh News published a nice article about this summer's mission trip to Guatemala by Garner-based Rescue Extrication Delivery Specialists (REDS). There they helped train 50 military members and firefighters on rescue techniques, such as vehicle extrication.This was the team's second trip, having first traveled there in 2009 to train military personnel. This year, they expanded the training to include firefighters, and expanded the rescue techniques taught. As the article notes, as their week-long visit concluded, each team member was awarded the Ambassadors of Peace to Guatemala Award. They are the only people in the United States to have received the honor. Nice work, gang. Read the entire article, or see our prior posting about their trip.



REDS / Midtown Raleigh News photo
+ 7 - 3 | § ¶
Fire Balloons During World War II
For today's random history lesson, let's turn the clock back to World War II. Our country and our allies were at war with Japan and Germany. Only a handful of attacks were made on the United States mainland, and only one incident resulted in fatalities. These were the six people killed in southern Oregon by a balloon bomb launched days earlier from Japan. What!?! Bombs on balloons, and carried across the Pacific Ocean!?! Here's the condensed version of a story many have never heard.1
The plan was deviously simple. Launch balloons carrying incendiary bombs from Japan, let the jet stream carry them across the ocean, and use mechanical timers to release and explode the bombs. The results would be destruction of property, deaths of people, and demoralization of everyone. The resulting balloons were hydrogen-filled, measured 33-feet in diameter, and equipped with devices to increase and decrease their altitude, based on atmospheric heating and cooling of the hydrogen.2
Between November 1944 and April 1945, they launched over 9,000 of the fire balloons. Some 300 were found or observed in North America. They were found in 16 states in the West and Midwest. Plus Canada, Mexico, and Alaska. They did exceptionally minimal damage, and resulted in only set of fatalities. Since the Japanese chose the time of year when the jet stream was strongest, this was also the time of year when American forests were largely too damp to easily catch fire.

The fatal attack occurred on May 5, 1945, when a Pastor, his pregnant wife, and five of their teenage Sunday-school students found a balloon on the ground in the forest of Gearhart Mountain in southern Oregon. As they approached the craft, the bomb exploded, killing the wife and the five children. The husband was not harmed. They are the only known deaths in the continental states as a result of enemy action.

There was also no press coverage of the balloons at that time, as the Office of Censorship requested in January of that year that newspapers and radio stations refrain from mentioning balloons and balloon-bomb incidents. This embargo was lifted after the deaths, to ensure the public was warned. The Japanese ceased operations in April 1945. It was costly, two of three needed hydrogen plants had been destroyed by bombers, and they had no evidence of results. In that regard, the lack of press was probably good.3

How does this history relate to what happened in North Carolina during the war years? Well, we were on guard against such aerial attacks. After the attack on Pearl Harbor, State Fire Marshal Sherwood Brockwell gathered the state's fire chiefs and began instruction on preparations for war-time operations. Among his presentations included information on bombs and aerial devices. Some fire departments including Raleigh formed auxiliary fire companies, comprised of citizen volunteers. This initiative was also designed to help with staffing reductions due to the draft. Municipalities also practiced blackout drills, to ensure that both citizens and responders acted appropriately in the event of enemy attack.
1The balloons are mentioned in travel writer Bill Bryson's hilarious autobiography The Life and Times of the Thunderbolt Kid, which is Mr. Blogger's current audio book.
2This Wikipedia page and its referenced sources provides extensive technical information on the balloons, their devices, and the history behind them.
3The United States remained practically unscathed as a result of enemy action during World War II. Other countries suffered extensive life loss and property damage. It was perhaps history's most difficult period for for the firefighters of those nations. Fire historian Paul Ditzel wrote good book about that subject, Firefighting During World War II.
+ 4 - 3 | § ¶
History Talk at County Firefighter Supper, Tuesday, Nov. 9
Historian Mike Legeros (moi) presents an abbreviated version of his History of North Carolina Firefighting presentation on Tuesday, November 9. It's part of that evening's Wake County Firefighters Association fall supper and meeting.
The location is Western Wake Fire-Rescue at 4021 District Drive. The time is 6:30 p.m., or at least that's when serving starts. The agenda for the meeting includes electing board officers for 2011. All members are encouraged to attend.
The history talk is planned for 30 minutes. The presentation may include a brightly colored, tropical shirt, depending upon the temperature in the apparatus bay. You can also read ahead and see the slides from the long-version of the history talk. Just keep the heckling and throwing of fruits and vegetables to a minimum on Tuesday. See you then.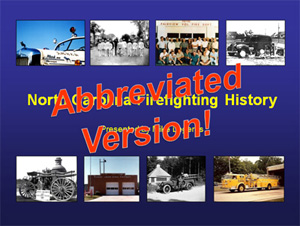 + 3 - 5 | § ¶
Public Records and Sunshine
As someone who loves learning about local fire departments and their operations and plans, public records are a godsend. City minutes, town minutes, requests for bids, bid awards, you name it. This reader is a bonafide geek. There are also laws that require such public information, and they're commonly called "sunshine laws." That's why the web address of those Cary town minutes in the prior posting fittingly contains the word "sunshine." So-called "sunshine laws" also relate to open meeting laws.
For your consideration for Saturday discussion, what's your perception or experience with "sunshine laws." What are your experiences and opinions of requests for information, be they from citizens, journalists, peers, or officials? How do public records and open meeting requirements impact your departments? There will be some apples to oranges here. Say, municipal-provided services versus those delivered by private corporations. As well as differences among municipalities themselves, at least as observed from trying to find information on the Internet between Town X and Town Y, or City A and City B.
And that's the whole reason that we're here. The Internet age. The availability of digital data. In days of old, when knights were bold, you had to trek to city hall. Now there's this thing called Google. Type a few words, and the secrets of the universe are revealed within seconds. And its been that way for some years now. What's been the impact? What's still needed? Discuss as desired, even though this may be both (a.) a snoozer to some readers and (b.) perhaps tricky for official opinions from others.
+ 7 - 1 | § ¶
Cary Station 8
Some details have emerged on Cary's planned Fire Station 8, to be located at 408 Mills Park Drive on the western side of town. The schedule, as noted on this town web page, shows the project current in design phase. Constructed in planned for fall 2011, with completion in fall 2012. The two-story (!) station will have three apparatus bays, measure 13,700 square-feet, and include a 1,160 square-foot satellite police station.
The facility is also planned as a "green build" pilot project, details of which are noted in draft minutes from the town's Environmental Advisory Board on May 11 and June 1. Looks like the designer is ADW Architects, a Charlotte firm that has designed fire stations for the Queen City. No drawings or pictures of Cary's new fire station are found... yet.

+ 3 - 4 | § ¶
Challenge Coins
For weekend discussion as suggested by a reader overseas (thanks Scottie!), who has challenge coins in their department? This Wikipedia article tells all about them, from their origins (military) to their uses (challenges, awards, etc.). Raise your hand if your fire or EMS department has had them made for members. Or perhaps are planning to have them made. And based on Google searches, there appears quite a market for them these days!


+ 9 - 2 | § ¶
Durham Firefighters Hurt in Aerial Accident, 1955
From late last year's Hose & Nozzle magazine research, here's one of the more dramatic vintage apparatus accident photos that we've come across. That's Durham's 1949 American LaFrance 700 Series aerial ladder on Avondale Drive, where it struck a railing on Sunday, July 31, 1955. The time of the accident was 12:20 p.m.
The ladder was responding to a house fire at 7022 E. Trinity Avenue, along with two pumpers. The speed was estimated at 15-20 miles per hour. The driver told investigators that he "made a close turn" to avoid a car was "pulled over on side of the bridge." Three firefighters were aboard, and one was thrown from the vehicle onto the bridge.
He and a second were transported and admitted with injuries described as "not serious." The Captain suffered a badly bruised thigh, while the Driver received a sprained back. Damage to the truck was estimated at $4,000. Click once or twice to slightly enlarge:


+ 5 - 5 | § ¶
Awareness is Good
Both on the fireground and at the fire station. You never know what hazard is around the next corner. Thanks for passing along, Mystery Joker.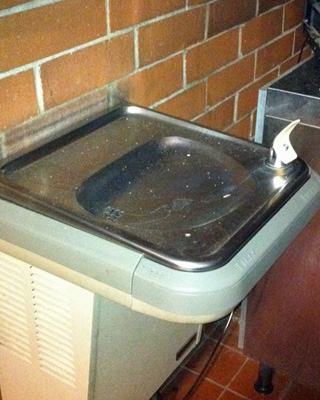 + 9 - 3 | § ¶
Charlotte, Web Sites, Apples, Oranges
Speaking of Charlotte, they've recently updated their web site. Nicely arranged design of the home page. Detailed information on people, equipment, facilities, and programs. Some multimedia in there. Bios of command staff. Twitter feed widget on home page. Very interesting, very cool. Visit the site at http://charmeck.org/city/charlotte/Fire.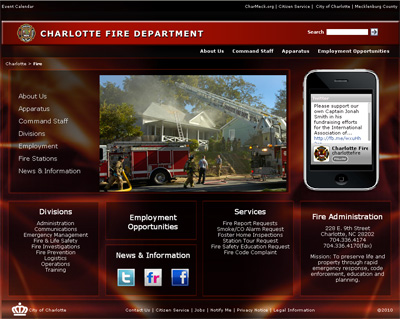 | | | |
| --- | --- | --- |
| How does the site compare or contrast with other departments around the state? Links are located to the right, but, really, we're talking apples to oranges. Not only are the size and scope of the departments different, they vary in resources available for web development. The people, skills, staffing, and technology available for creating web sites. They also likely differ in their strategic goals for public information and web presence. Different priorities. | | |
Heck, the base platforms (technology tools) are probably all different. Many municipalities use software that manages the entire town or city's web site. Some software packages are newer, some are older. Some are better-featured, some are less-better with features. There are many reasons why web sites are different between fire departments.
Note that we're talking official sites. Some departments have "unofficial" sites that eclipse the official ones in style, scope, or content. If you want detailed information about the Durham Fire Department, for example, you can tool over to this unofficial site. And we know how much information about the Raleigh Fire Department is available on this site by Yours Truly.
Finally, for your Thursday morning discussion topic, what fire department web sites around the state are you liking these days? And/or, which ones have been updated to noted effect?
+ 5 - 7 | § ¶
Church Steeple Rescue in Charlotte
FireNews finds this vertiginous video of Charlotte firefighters rescuing a worker from the steeple of First Presbyterian Church on West Trade Street. The guy was suspended about 100 feet in the air, tangled in ropes that became twisted during high winds. The worker wasn't fazed-- he's a paramedic and search and rescuer, so "he kept working." Crews helped untangle his ropes, and pulled him through a window. Nice footage of monster Rescue 10 arriving, as well. Cue AC/DC, the song with the bagpipes.


+ 7 - 6 | § ¶
Upcoming Ribbon Cutting Ceremonies
Ribbon-cutting ceremonies are upcoming for new EMS and fire/EMS facilities in Wake County. Expect attendance by county officials, town officials, agency officers, members of the media, and other interested parties. The particulars:
Durant Road EMS Station
10000 Durant Road
Monday, November 8
11:00 a.m.

Garner Fire Department/Wake County EMS Station
125 Spaceway Court
Wednesday, December 1
10:00 a.m.
+ 6 - 5 | § ¶
The Numbers in Chapel Hill
The News & Observer has posted some stats on Chapel Hill's Halloween celebration, including the numbers of responders present. From their Orange County blog:

318 law enforcement officers from Wake, Durham, Orange and Chatham counties.
60 fire personnel from Orange Rural, Hamlet, and Raleigh fire departments, with Morrisville, North Chatham, and Durham fire departments on standby.
35 EMS workers from Orange County, South Orange Rescue, and Parkwood.
53 portable toilets
21 light towers
950 traffic cones
150 additional trash barrels
4 street sweeper trucks
3 street washing trucks
3.25 hours from Franklin Street closure to reopening.
+ 5 - 3 | § ¶
Firehouse Auto Repair
Or is it fire house, two words? Reader Jeff Silver sends a picture of a new purpose for old Station 3 on Carpenter Fire Station Road in Morrisville. Love the rally design of the doors.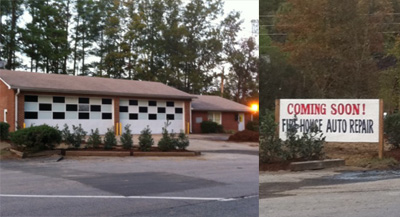 + 5 - 7 | § ¶
Old School Scheduling Tool
Here's an interesting artifact as displayed in the District of Columbia Fire/EMS Museum, which is located on the third floor of Engine 3 at 439 New Jersey Avenue NW. That's about two blocks from the United States Capitol. The museum opened to the public in January, and has 4,000 square-feet displaying hundreds of historical items. That's also how that mystery photo came about.
Shown below is a scheduling tool that probably dates to mid-20th century. Back when the department had only two platoons. The paddles list the engine company rosters, and are slid into the appropriate day of the week. The center paddles list the chiefs. Many more pictures later. Click to enlarge:

+ 5 - 6 | § ¶
Inside the Ladder Shop at the San Francisco Fire Department
From a reader, here's one of the neatest videos you'll see some time. San Francisco Fire Department ladder shop, and how they build and repair their trademark wooden ladders. Why wood? Because the ladders don't conduct electricity in a city with many narrow streets and low-hanging high-voltage power lines. How long do they take to build? After the wood cures for 15 years (!), they can be hand-built in about two weeks. How long do they last? Watch as a 90-year-old (!!) ladder is repaired and returned to service. How big do they make them? The largest, says this SFFD web page, is a 50-footer that weights 350 pounds. That's six firefighters to lift the thing. Cool stuff.


Inside the Ladder Shop at the San Francisco Fire Department from AdamKaplan on Vimeo.
+ 8 - 12 | § ¶
Mystery Engines and Hydrant Values (Updated)
What are we looking at here? Hint, it's Engine 3. Hint again, it's not Raleigh, Durham, Cary, or Chapel Hill.


Nov. 1 update. Here's a closer picture of the hydrant valve that sparked (ha) the subsequent discussion.