+ 9 - 4 | § ¶
Dunn Firemen Experience "Fire Water Fire" - 1969
From the January-February 1969 issue of Hose & Nozzle magazine: "Dunn firemen, summoned to extinguish a tobacco barn fire, have good reason to refer to it as the 'fire water fire.' When firemen reached the scene of the fire, they discovered that the blaze was caused by a liquor still which had exploded while in operation. A gas tank exploded and caused the fire. The still was believed to be in operation at the time of the fire.
"While the firemen were fighting the blaze, a shed adjoining the barn collapsed and trapped Capt. Cad Upchurch and Firemen Eric Sinclair and Jimmy Hinson inside the shed. Sinclair and Hinson were able to get out of the shed quickly, but Capt. Upchurch was trapped inside for about fifteen minutes before he managed to crawl to safety.
"It appeared to be a miracle that the three firemen trapped in the shed behind the furiously burning barn managed to escape without death or serious injuries. Damages to the barn were estimated at $1,500, while $1,000 in damages were reported for the costly distillery equipment in the barn."
+ 11 - 5 | § ¶
Fire at Boone Fire Station - 1968
From the May-June 1968 issue of Hose & Nozzle magazine: "There was a fire in the fire station Boone. It happened when a pickup truck caught fire from an acetylene torch accidentally triggered while a safety plug was out. It was on the construction site of the Boone Fire Station. One of the fire trucks was driven out of the present garage and parked in the street while volunteers unloaded the hose. Attempts to start the water pump at first failed and white smoke drifted through the steel beams as the truck's windshield began to weaken and crack. The fire was drowned less than fifteen minutes after it began."
+ 10 - 3 | § ¶
Firemen Confronted with Acts of Civil Disobedience - April 1968
In the late 1960s and early 1970s, fire departments across North Carolina were confronted by intermittent episodes of civil unrest. This also happened in other cities and towns across the nation.
After assassination of Dr. Martin Luther King Jr. on April 4, 1968, there were widespread incidents of rioting, arson, vandalism, and violence. Governor Han Moore dispatched National Guard troops to the major cities, beginning on April 5.
In Raleigh, riots erupted a few hours after the announcement of King's death. Store windows were smashed and cars were overturned on Fayetteville Street. In and south of downtown, other cars were set afire and businesses were hit with firebombs. Mayor Travis Tomlinson ordered a curfew for the entire city and between 500 and 700 guardsmen were called into Raleigh. Read about those events in my timelines.
Two years later, Henderson firefighter Joseph Hicks died on duty, after his pistol discharged at the fire station on November 7, 1970. He was armed during a period of unrest related to school integration in town, and a shooting death in Oxford in May. See prior blog posting.
The challenges faced by firefighters in Durham, Greensboro, Charlotte, and Wilmington after the death of Dr. King were highlighted in the May - June 1968 issue of Hose & Nozzle magazine. Here's the complete text:
Firemen Confronted with Acts of Civil Disobedience
Many firemen throughout the nation gained new experience in firefighting during the recent uprisings.
Charlotte
During the racial unrest Saturday night Charlotte firemen responded to 28 false alarms, 10 fire bombings, and 15 miscellaneous fires. Three or four police cars were present at every fire. The fires created a shortage of men that caused Chief Black to call men from inactive stations to man stations that had sent all personnel to combat fires. Fire damage losses were estimated between $75,000 and $100,000 during the disturbances.
Wilmington
Six fires, all set by arsonists, and over 20 false alarms were answered by Wilmington firemen from Friday night to Monday noon. All of the fires that were set involved groceries [grocery stores?]. Even tough general disorder existed in areas where fires started, firemen were able to move swiftly and effectively in extinguishing the blazes, Chief Milnor said. He praised the assistance given by the police and National Guardsmen. "With a National Guard detachment assigned to each of our units, the men were able to do their job without being hampered or hasssed by curfew violators."
Durham
Durham Firefighters were armed with automatic rifles [ ! ] to provide protection to firemen fighting a furniture store blaze that was started with a firebomb.
Greensboro
Fire protection and extra police necessary in Greensboro from April 5 - 11 cost taxpayers at least $58,670, according to figures released. Extra hours worked by firemen ran up a $4,140 [cost]. Police worked an average of 55 to 66 hours each, cost[ing] $54,281. Both groups were paid straight time rate for their extra hours. Meals for National Guardsmen who were stationed at firehouse[s] to protect the structures while firemen had gone to fires cost another $249. Other expenses of more than 1,000 guardsmen called into service were paid by the state.
READ MORE
+ 10 - 4 | § ¶
Sources For Researching Your Fire Department's History
Here's a grab bag of information and personal notes about sources for researching your fire department's history. These are loose notes and not entirely cooked. Work in progress. Let's call the thing a scratchpad for now...
Introduction
Where should you look when researching the history of your fire department? This was a question that I recently posed to myself, and after conducting a couple recent rounds of such research. My answer is this blog posting. As noted above, it's a work in progress.
Books
Conceptually, there are a couple steps here. First, does a book exist about (or with information about) your department? Second, where to find a copy?
Thus, search wherever there are books. Meaning:

Station library
Department library
Personal collections
Local libraries
State libraries or archives.
National libraries or archives.
Worldcat, which is a search engine of library catalogs.
Used book sellers or sites.
New book sellers or sites.
Google books

Then what? For books with just a few (or many) pages of fire department history, make photocopies of each page and store them in your files. Also make a copy of the book's title page and maybe the list of sources or references in the back. They may lead you to other sources.
Should you believe everything that's written in a particular book? Of course not. Treat each fact as unverified until you find a second (or more) source. Meaning, subject to scrutiny every person name, place name, date, detail, and such.
City Directories
What are a city directories, you ask? Here's a web site that introduces them.
How has Mike used them? For such purposes as...

Recording each year's directory's information about the fire department, thus documenting year-by-year changes. In Raleigh, the directories of early decades included each station and it's officers.
Finding names of retired and former firefighters. City directories list occupations, with firefighters typically listed as "city fireman."
Finding or confirming street addresses of fire stations.
Finding or confirming street addresses of buildings that experienced fires. And if the exact number wasn't known, use the included street index, which lists each building in each block.
Learning about related services, such as the ambulances that operated in Raleigh over the decades, through the "yellow pages" included in each directory.

Physical copies are typically found at local libraries.
Digital versions of many cities and many decades (but not complete for both) are available via DigitalNC.

Each is text-searchable, using either the web viewer or after downloaded, your PDF viewing program.
Tip: Click Download and save PDF version to local computer. Rinse and repeat for all years, for a particular city. Takes a little while, but you'll have them.
City/Town Annual Reports
Did your municipal produce such things back in the day, or way back? In Raleigh, there were annual reports published in bound formats from the 1880s through the 1910s. The fire department information therein is gold./li>
Raleigh also published such sundry reports in later decades, here and there.
City/Town Budgets
Annual budget documents are great sources for department information, particularly if text summaries are included that describe developments and accomplishments of the prior budget yet.
Check for Capital Improvement Planning documents, which will detail major purchases such as facilities and apparatus.
READ MORE
+ 12 - 3 | § ¶
News Profile of Retiring Apex Fire Chief Mark Haraway
We recently blogged about incoming Apex Fire Chief Keith McGee, who started working this month. Retiring from thirty-five years in the fire service is Chief Mark Haraway. He's led the department since 2002. The Southwest Wake News published a story today about Chief Haraway. The article is written by Will Doran.
When Chief Haraway started, the town had two career members staffing one piece of apparatus each day. They now have four stations with seventeen people on duty at all times. Haraway oversaw the opening of three stations and the expansion of a roster from six to fifty-six full-time members. (The department has eighty-three members total.)
Despite his hard work with "growth and budget" issues, he's best known for that "three-day incident eight years ago that made international news." On October 5, 2006, a hazardous waste storage site caught fire. The incident at EQ Industrial Services included a release of toxic chemicals that prompted evacuation of 17,000 residents. e.g., half the town. And in the middle night!
Notes the story, "thanks to a disaster plan developed by Haraway and his staff," the evacuation was smooth and neither the fire nor resulting chemical leak killed or seriously injured anyone. The fire department and town's response to the incident was further hailed as "a model for large-scale emergency responses." Chief Haraway traveled the country and gave lectures to other departments, along with the Town Manager and Police Chief.
Haraway was actively involved in all department activities. "There's a not a call in this town that I don't take," he told the reporter. "Because my duties are not only to the personnel but also to their families, to make sure they come home safe."
He talks about the EQ fire as "one massive close call" and discusses the lessons learned. He also talks about his prior experience, such as his work with the Wilmington Fire Department. After a filming accident that killed one and injured six, he went to Hollywood and University Studios, where he developed safety standards.
What are his plans for retirement? He's headed to eastern Tennessee and wants to hike every waterfall in the Great Smoky Mountains National Park.
Congratulations Chief. Go get them waterfalls!

Southwest Wake News/Will Doran photo
+ 9 - 4 | § ¶
Seven Killed in Army Plane Crash in Greensboro, 1962
These images appeared in the May 1962 issue of Hose & Nozzle magazine, and depicted the scene of a military air crash from February, as well as the airport's scant firefighting equipment. The caption of the cover photo read "The recent crash of an Army aircraft at the Greensboro-High Point-Winston-Salem airport that cost the lives of seven men. A program is underway to get better fire protection at the airport."
The crash occurred on Sunday, February 4, 1962. Seven were killed when the C-47 transport crashed and exploded immediately after takeoff. The twin-engine plane apparently lost power about 150 feet off the ground, and plunged into a grassy area at the edge of the airport. The left wing struck first and its fuel tanks ignited. Two bodies were thrown clear of the flaming wreckage.
The plane was en route from McGuire AFB in New Jersey to its home field Elgin ALB in Florida. It landed in Greensboro about 4:00 p.m. to pick up an officer, and had previously stopped in Philadelphia. Source for the crash information is the Troy (NY) Times Record, February 5, 1962, via Google. See this prior posting about the airport's fire department in 1953. See Mike's database of other military air crashes in North Carolina. Click to enlarge:


+ 11 - 10 | § ¶
Pinewood Fire Department in Wayne County Closed Doors on December 1
The Pinewood Fire Department in Wayne County has dissolved, effective December 1. Here's the Goldsboro News-Argus story (requires subscription) about same, from November 19, 2014. The department is "the victim of a shrinking service district" and the resulting loss of tax revenue required for their operation. They were a private non-profit corporation contracted by the county for fire protection.
Rural fire protection in Wayne County was analyzed last year in 2012 by Pennsylvania-based Volunteer Fire Insurance Services, in a study commissioned by the county Board of Commissioners. Read the study (2.9M, PDF). They noted the Pinewood service area had shrunk because of annexation by Goldsboro. They suggested that the county contract with the city for protection of areas surrounding Goldsboro. They also recommended merging Pinewood FD with Saulston FD. The department opted instead to dissolve. (More about that study in a later posting, along with some other mergers that are happening happened.)
The county and city commenced discussions about entering into a contract, where Goldsboro FD would protect the Pinewood district. But in a November meeting with City Council, there was some confusion and an apparent misunderstanding. The plan was scrapped and the county will instead divide the Pinewood district between five departments. They'll also take ownership of all assets and assume all debt. Scroll down for those details.
Pinewood Fire Department History
From state corporation records, Pinewood Volunteer Fire Department was incorporated on April 13, 1959. The incorporators were James Boyd, Ray Smith, G. F. Peel, Raymond Best, and Marshall Cox. See the incorporation filing, dating April 9, 1959. They protected the rural areas on the northeast side of Goldsboro.
Their station was located at 101 W. New Hope Road. That's their original location. Tax records say the three-bay building has 4,900 square-feet. From Google Street View (shown below), they had two engines (pumper-tankers), a 2001 Spartan/Marion (Engine 4) and a 1986 Kenworth/FMC (Engine 1). Plus a Wayne County EMS ambulance. Click to enlarge top photo:


Pinewood Fire Department photo
The second photo is from their Facebook page and was posted on November 4, 2009. (See also this second Facebook page for more pictures.) The third truck was Engine 2, now retired and sitting at Wayne Community College. The college also has a Ford ambulance that the fire department operated and later donated for the school's EMS program. (We're working on getting information about other and older retired units. Such as their Hummer brush truck. Also note that their rigs were lettered for "Pinewood Fire District.")
The station property is presently owned by the county. They've been the owner since 2014, if reading tax records correctly. The facility is now Wayne County EMS Station 5.


Pinewood Fire Department photos
READ MORE
+ 9 - 2 | § ¶
Historical Data About North Carolina Fire Departments
For your post-holiday historical enjoyment, History Boy has digitized more data as scanned from the annual conference proceedings of the North Carolina State Firemen's Association (NCSFA). They're all in PDF format, and they're text searchable! Here's the landing page: www.legeros.com/history/fa, where newly added are the following:
Secretary reports from 1910 to 1994
These are lists of member fire departments, compiled by decade. Beginning in 1930, the names of the Fire Chief is also included. Plus the Secretary for some decades. Use these reports to kinda sorta observe the development of our state's fire service. Municipal plus some commercial and institutional, then more cities and town, then the first rural departments, then more rural departments.

But with one big fat disclaimer. Not every active fire department is listed in these reports. e.g., they weren't members. The Morrisville Fire Department isn't listed in these documents, though they've been operating since 1956. Why would a particular department decline membership in the NCSFA. To be determined. Maybe readers can help here.

Credential Committee reports from 1892, 1899, 1909, 1911, 1913, 1920
These are detailed summaries of member fire departments, including the names of officers and fire companies. Plus in the 1892 and 1899 reports, the number of men, their apparatus, and other information.

Officers from 1888 to 2000
These are a pair of reports that list the President, Vice Presidents, Secretary, Treasure, Statistician, and location of the annual convention. The A. W. Brinson who served as Statistician from 1940 to 1962? That's Albert W. Brinson from New Bern. He's the uncle of Ed Brinson, former Swift Creek and Fairview Fire Chief and current Assistant Director of the association.
Also available on the site, which were posted in prior years:
Also linked from the site are a pair of related resources:
Lots to read and a great resource for researchers.
Here's the landing page again, www.legeros.com/history/fa. Hollar with questions or to report any bad links.
+ 6 - 8 | § ¶
This Morning's Apparatus Accident in Mebane
From news reports, social media, and other sources, here's the sequence of events of this morning's chain-reaction accidents on Interstate 40 near Mebane, that killed one driver and injured both the Fire Chief and a State Trooper. Sources include news reports and social media.
Mebane FD and EMS unit(s) dispatched at 8:01 a.m. to single-vehicle accident on eastbound I-40/I-85, near the outlet mall.
MFD units responding were Engine 36 (2014 Sutphen Shield pumper), Rescue 34 (heavy rescue), and Chief 3 (Chevy Tahoe operated by Fire Chief).
At 8:26 a.m., a passenger car hydroplaned into the scene.
Car grazed rescue truck. Damage to the apparatus included front left bumper and cab area.
Car then struck the fire chief's vehicle with full force. The Tahoe was reportedly totaled.
Chief's vehicle was pushed into back of engine. Minor damage to tailboard.
Female driver of the car was killed.
Fire Chief Bob Louis was in the vehicle, and was transported to the hospital. He's expected to be okay.
About two hours later, just after 10:00 a.m., the second accident occurred.
State Trooper D. C. Justice was parked on the shoulder, in his Highway Patrol SUV, near Mile Marker 155.
He was part of the accident reconstruction team.
Greyhound bus (traveling from Atlanta to Raleigh) struck the trooper's vehicle with full force, though with a reported last-minute swerve. Extensive damage to bus in front right corner.
Trooper's vehicle was pushed into woods. From photos, the vehicle's was totaled, with the rear of the passenger compartment crushed.
Trooper was transported to Duke University Hospital, with non life-threatening injuries. He's reported as suffering broken bones and head injuries.
Total 41 passengers on bus, plus driver. Ten treated (WRAL) or twelve transported (NBC17) for minor injuries.
Seven people were transported to Alamance Regional Hospital.
Accident occurred exactly at the county line.
Mebane Engine 35 and Efland Engine 133 and Engine 34 responded.
Haw River FD provided coverage for Mebane FD.
Responding EMS agencies were Orange County EMS, Alamance County EMS, and Alamance Rescue Squad.
Units on scene included Orange County Medic 1, 4, 5, EMS 10, 11; Alamance County Medic 2 Ambulance 104.
Media links: WRAL | WTVD | NBC17 | WGHP | WXII | Times-News | News & Observer. See also the sterling coverage by FireNews on Twitter.
Images:


WTVD photo

WXII photo

News & Observer/Chuck Liddy photo
+ 10 - 1 | § ¶
Hose & Nozzle Back Issues Wanted
Do you have a stack of Hose & Nozzle issues gathering dust somewhere? That's the North Carolina-based fire service newsletter (for a couple years) and glossy magazine (for most of its life) that was published from 1949 through at least 1980.
I've amassed an incomplete collection and have plans for future indexing and selected digitization. Maybe next year, maybe a future year. Right now, I'm just asking around, from time to time. Got some back issues that I can take off your hands? Just drop a line!
See www.legeros.com/history/hose/ for more information about Hose & Nozzle.
+ 7 - 7 | § ¶
Reader Mail - December 2014
Happy holidays and let's open the mailbag...
Q: I am in possession of what appears to be a logbook from [this engine] from [this department in another state] for [these dates]. Would you or anyone you know be interested in this item?
A: Contact the Fire Chief of the department, and give them first right of refusal. They'll likely be interested in obtaining same. After that, you could contact the Fire Museum Network and inquire about interest from their member organizations.
Q: What is TSU 1?
A: That's the label on the front bumper of Raleigh's reserve rescue, one of the department's two 2007 Pierce Enforcer walk-around rescue units. It's housed at Station 14. They're identical trucks and the other is a front-line unit used by Rescue 1. The acronym stands for Technical Support Unit 1. There was an earlier plan to use the second rescue as both (a.) reserve unit and (b.) second piece of apparatus for Squad 14. With extra or additional rescue equipment. Don't know the current status of that plan. Squad 15, incidentally, staffs a second piece of equipment, a tractor-drawn trench rescue trailer that's parked behind the station. Click to enlarge:



Q: I saw your site with Civil Defense apparatus and thought you might like to see Birmingham, Alabama's 1953 Reo rescue truck. Purchased on a 50/50 matching grant, it managed to stay in BFD until about 2000. It was last stationed near the airport and filled to the brim with stretchers for use at a crash at the airport. Then it was sold as surplus and languished in a car lot for several years before being refurbished. The truck was then donated to the Southern Vintage Fire Apparatus Association (Southern SPAAMFAA chapter). Along the way she lost her roof access ladder, extension ladder, and stokes basket, but we are lucky to just have her. Here she is... Click to enlarge:


A: Great looking rig! Thanks for sharing the pictures. We had a blue-over-white Civil Rescue truck in Raleigh. It stayed on the roster until 1980 or abouts. Was apparently sitting somewhere in Raleigh and later photographed in 2011 being towed to a local scrap yard. The truck sat around for a few months and was finally scrapped. We didn't learn about same until the following year. Read the blog post with that unfortunate news.
READ MORE
+ 7 - 3 | § ¶
Volunteer Firemen at Morrisville Ready For Action With New Truck - 1956
Raleigh Times story from March 14?, 1956. Plus inset photo from the North Carolina State Archives, courtesy of the News & Observer. Story by Trow Ford about Morrisville's first fire engine, a converted "war surplus tank truck" that had been placed in service the prior week. Was housed in a "small garage behind Jones and Sears store." They also installed an "air raid siren" the week before. It was donated to the fire department by "Civil Defense."
The truck was purchased for $175 last spring. They moved the 750-gallon tank "farther back on the chassis" and "rearranged the pumping system." They purchased $1,500 of equipment for the rig, including hoses, ladders, and lights. The truck was equipped with 500 feet of 1 1/2-inch hose, and 400 feet of 3/4 inch hose. That was the minimal county requirement. "Skirting" was done by Parrish Body Works for $500. Painting was done by Neville Paint Shop for $23. Everything else was done by firefighters or townspeople. Total expenditure, $2,500.
The fire department was organized one year earlier. They had 17 active members by the time of the story, plus one honor member, Willie Hester, a local blacksmith who did the welding on the truck. Click once or twice to enlarge:


+ 10 - 5 | § ¶
Vintage Photos of Raleigh Red Cars
Get your red cars right here! Reader David Raynor shares these vintage film prints of Raleigh Fire Department chief's cars. Let's see if we can date these. Say, late 1980? Ford Crown Victorias of unknown vintage. Readers? Last picture is a full shot of the chief's buggy. That's Fire Chief Sherman Pickard as Car 1. Click to enlarge:


+ 6 - 4 | § ¶
North Carolina Fires of $5,000 or More Loss - 1928-1929
From the North Carolina Fire Prevention Bulletin, Volume 12, No. 1, March 1930. Published by the North Carolina Department of Insurance. Click once or twice to enlarge:


+ 8 - 1 | § ¶
Fire Commission Meeting Recap and Mike Wright Appreciation
Thursday's special-called meeting of the Wake County Fire Commission was notable for three reasons.
First, Fire Services Director Mike Wright introduced the strategic planning that his office has started doing, toward the future of the fire service in Wake County. Second, recommendations were presented on the cost share study that was recently completed. Third, Director Wright addressed his recently announced retirement of December 31, named his interim replacement, and received well-deserved praise for his time in office.
Allow me to attempt a recap. We'll go backwards, starting with Mike Wright. I've had pleasure of making his acquaintance in recent months. We've sat down and talked shop, and he's shared his perspectives on the fire service from thirty-plus years of experience.


Meet Mike Wright
Wright was raised outside Miami (in a town actually called Swamp Water), and first learned about the fire service through his neighbors. They were Miami firefighters. Career guys. Then his family moved to the Triad, and he learned about volunteer fire departments. In high school, he became friends with a Junior Firefighter at Pinecroft-Sedgefield FD in Guilford County.
The rest, as they say, is history.
After high school, he was hired as a career member of PSFD. One year later, he was hired by Greensboro. That was September 1984. He was one of some thirty-five (!) hired. He continued to volunteer with PSFD through the late 1990s and then began volunteering at Colfax FD.

He reached the rank of Fire Equipment Operator in Greensboro, before leaving in 2004. His last assignment was Ladder 5. By that time he was also Fire Chief at Colfax. He held that position from 2003 to 2004. The split also gave him great balance. He loved riding the rig and did that in spades in Greensboro, while his administrative interest was fanned at Colfax.

(Biggest fire while working at GFD? April 13, 1985, when "the entire downtown burned." He'd just come off probation. They emptied the city so companies could go downtown. County units were called to cover, which was unprecedented. Before then the "vollie trucks" stopped at the line and didn't enter the city. Wright was coming on shift the next morning, so he didn't get called back. The other off-duty shift got to fight fire. He remembers a lot of overhaul and rolled hose.)

But by 2004, Wright was ready for bigger things. He heard General Norman Schwarzkopf speak, who said, paraphrased, "if you're tenured but not advancing, you're being a bit selfish by not helping to take care of the younger members of your organization." And he and his academy mates had children who were becoming firefighters. He wanted to help them.

("Maybe administration wouldn't be so bad," he was thinking one day at a house fire, as the younger guys were working less of a sweat pulling ceilings.)


Greensboro, 1990
(Sneaky scan from history book in Legeros library)
From Greensboro to Guilford to Wake
He left Greensboro (and Colfax) in late 2004 to become Deputy Director of Operations for Guilford County. The position was later changed to Deputy Director of Emergency Services. This was a reclassified position created as a head of county fire services. No, Guilford didn't have its own fire department. Rather and like Wake County in some regards, it was a collection of private fire departments. Plus the two cities (Greensboro and High Point).
The position was sorely needed. The county didn't really engage with the fire chiefs and their departments. Sure, the Fire Marshal's office was active with ISO and code enforcement. But things like mutual aid or standards of cover were left to the departments to work out. Which became the purview of the county firefighters association.
Wright worked in that position for nine years. Some of his efforts and project participation including merging the city and county fire department dispatching centers. That was a huge project that included creation and adoption of a county-wide number system (hello!). Guilford County also placed a "flying squad" in service during his tenure, a manpower unit that responded to structure fires anywhere in the county.

(Biggest fire in the county that he saw? Eastern Guilford High School, which burned in 2007. There over 100 responders that day, and maybe twelve fire departments. Initially he was Safety Officer. As more chiefs arrived, he was assigned to PIO after about an hour and a half.)

Last year, Wright brought his talents to Wake County. He started working as the new Fire Services Director on November 12, 2013. And he started talking with folks. Meeting with fire chiefs. Talking to boards of directors. Asking questions. Listening. Hearing.

And as he's been collecting information, he's been building a strategic vision. Which is simply "what's best for the citizens of Wake County." That's a compass point he's used throughout his career. When you're making difficult decisions for agency, he's fold of saying, you can frame it a single question: what's in the best interest of the citizens?


Guilford County, 2013
READ MORE
+ 7 - 4 | § ¶
Streakers Invade Lee Hall, Fire Department Called Out - March 1974
From the March 18, 1974, edition of the North Carolina State University Technician, click to enlarge:


From Ray Stevens:

Don't look Ethel!
+ 13 - 12 | § ¶
MOVED - Fort Fisher Fire Departments
This content has been moved to http://legeros.com/history/military/fort-fisher/
+ 6 - 4 | § ¶
Airport EMS Station Update
What's happening with the airport EMS station project, you ask? The station was closed on October 14, 2014. EMS 34, EMS 35, and Medic 95 were relocated to the Lynn Road EMS station. That is, they start their day at same. EMS 34 anchors at WakeMed Brier Creek. EMS 35 anchors at Pleasant Valley Shopping Center. Medic 95 also sort of anchors at that location.
As for the building, that's the former Bay Leaf Station 3 / Six Forks EMS / Six Forks Rescue / Six Forks Fire Department building. Ownership of the 12,642 square-foot structure and its 1.09 acre parcel transferred to the county on September 19, 2012. Read more history in this prior posting.
The address of the airport EMS station is 6901 Mt. Herman Church Road. That's right before one of the airport's runways start. (Awesome views of incoming aircraft. They're right over your head.) As the aforementioned prior posting also notes, the three-bay building will cost $1.25 million. Estimated 4,084 square-feet, including supervisor's office, four-bed dorm, kitchen, and day room.


We're told that completion is estimated in June or July. Only changes to plans is a slight shift of the building. The thing's been moved a little to the northwest, to get out of the flight line restrictions. Demolition should be starting now. The property is owned by the Raleigh-Durham Airport Authority. They've had the land since June 21, 1990.
The former EMS building was built in 1972 and opened in 2005 as a Six Forks EMS station. Unsure the former tenants. The airport acquired same in 1990. Couple neat loading docs on the side and rear. Doubtfully will be missed. See exterior pictures of the building, from the other week.


+ 7 - 3 | § ¶
Out of Town Firemen Man Stations For Chief Lloyd's Funeral - February 1955
Found this interesting clipping from February 28, 1955, after Raleigh Fire Chief Alvin B. Lloyd died off-duty. He passed away at Rex Hospital on February 25. Died of a heart ailment. Reported the unidentified newspaper:
Out of Town Firemen Man Stations Here

Firemen from all over North Carolina were in the city yesterday for funeral services for Raleigh Fire Chief A. B. Lloyd, who died Friday afternoon at Rex Hospital from a heart ailment, and to relieve local firemen in order that they might attend.

Members of the following fire department stood by at stations in Raleigh to answer any alarms that might have come in: Cary, Greensboro, Wilmington, Durham, High Point, Winston-Salem, Apex, Burling, Greenville, Rocky Mount, and Goldsboro.

Assistant Chief R. L. Matthew expressed appreciation [on behalf] of Raleigh firemen for the courtesy and help given them.
Chief Lloyd's obituary as published in the February 26 issue of the News & Observer:
Raleigh Fire Chief Dies

Alvin Brown Lloyd, 63, chief of the Raleigh Fire Department, died of a heart ailment at Rex Hospital here about 12:35 o'clock Friday afternoon.

Funeral services will be held Sunday afternoon at 2 o'clock at the Edenton Street Methodist Church here. Officiating will be Dr. Howard P. Powell, pastor of the church, and the Rev. Charles K. McAdams, assistant pastor. Burial will be Montlawn.

The following members of the fire department will serve as pallbearers: R. L. Matthews, J. M. Burnette, J. W. Godwin Jr., J. B. Keeter, J. G. Harrison, and R. C. Lassiter.

Chief Lloyd entered the hospital Feb. 18, three days after suffering a heart attack, and remained there until his death. He had first been troubled with a heart aliment a few years ago.

Born in Granville County, he was the son of Duncan McRae Lloyd and Margaret L. Lloyd. A veteran of World War I, he was a member of the American Legion, Raleigh Post No. 1, and the Edenton Street Methodist Church.

Chief Lloyd, who joined the Raleigh Fire Department July 26, 1919, had more years of continuous service than any member of the department. Promoted to lieutenant in 1926, he became a captain the following year, second assistant chief in 1939, first assistant chief in 141, and acting chief in 1950. He was appointed chief April 1, 1950, succeeding W. R. Butts, who had resigned.

Chief Lloyd belong to the International Fire Chiefs Association, the State Firemen's Association, and the State Fire Chief's Association. He was a past district vice president of the latter organization.

Surviving are his wife, the former Miss Gladys Reeves of Madison County; a son, Harold Brown Lloyd of Granby, Quebec, Canada; two daughters, Mrs. J. K. Neely of Lafayette, La., and Mrs. Francis C. Edwards of Raleigh; four grand children; two brothers, G. Cleveland Lloyd of oxford and J. Frank Lloyd of Raleigh; and two sisters, Mrs. Lee Rogers of Creedmoor, and Mrs. H. E. Shaw of Raleigh, Route 4.
+ 6 - 2 | § ¶
Chapel Hill's New Blue Beast
Downtown Chapel Hill posted this photo on their Twitter feed on Saturday. That's the newest piece of apparatus for the Chapel Hill Fire Department. Named Tac 52. Military surplus 6x6 transport truck obtained through the NC Forest Service VFAP Cooperative Program. Outfitted with a skid-mounted suppression package.
Will serve as a brush unit for wildland interface fires, as well as support for storm response and special events. Should be a boss for flood rescue. Recall that there's an area of town on the east side that's prone to flooding during severe storms. Believe it's presently housed at the shop.
Photographed during Saturday's holiday parade. As the tweet states, needs a nickname. Blue Beast? Big Blue? Ram Tough?



Downtown Chapel Hill photo
+ 7 - 4 | § ¶
Fire at Watauga Hall - January 24, 1920
Heard the new digital archives of the Technician, the student newspaper of North Carolina State University? The first seventy years of the newspaper are now available online, from the 1920s to the 1990s. And every issue is text searchable! Search for "fire department" and you'll find such gems as this, describing a fire at Watagua Hall on January 24, 1920. The issue date was February 1.
+ 7 - 4 | § ¶
Help Wanted - Are You a Former Morrisville Firefighter?
The Morrisville Fire Department is preparing to celebrate their 60th anniversary next year. And they're compiling an anniversary roster of every volunteer, paid, and career member in the fire department's history.
Are you a former Morrisville firefighter? Please take a look at this document (PDF). Verify your name and period of service. And of course, please advise if you're not listed!
Also, your contact information is requested, as well as a photo. (Anything from a snapshot to formal portrait, please.) They're trying to collect photos of every prior member.
The contact is Firefighter Brian Oliver, boliver@townofmorrisville.org. The deadline is December 31, 2014.
More information is forthcoming about their anniversary plans. Stay tuned and thanks for your help.


+ 8 - 6 | § ¶
Apex Announces New Fire Chief
As this News & Observer story reports, the town of Apex has found their new Fire Chief. From Rocky Mount comes Keith McGee. He's a lifelong firefighter who started in high school in Wilkesboro. He's been a member of the Rocky Mount Fire Department since 1991, and presently (or now formerly) their Operations Division Chief. McGee was chosen out of 164 applicants from across the nation. He'll start later his month.
Retiring is Fire Chief Mark Haraway, who's led the department since June 2002. He's also been key contributor to the Wake County Fire Commission. Haraway was formerly Fire Chief of Elizabethtown, from January 2000 to June 2002. His fire service career also included the ranks of Captain at Wilmington (1995-1999) and Engineer and Training Officer at Wrightsville Beach (1990-1995). He's retiring this month after over thirty years in emergency service.
Congratulations to both! Welcome to Wake County, Chief McGee. And see you on the proverbial other side, Chief Haraway.
+ 8 - 3 | § ¶
Presenting a History of the Morehead City Fire Department
Announced a new page of historical information: www.legeros.com/history/morehead-city. Landing page is a basic web page. Research documents are PDF files. Three of them: apparatus, infrastructure, and timeline. Why Morehead City? That's is my adopted hometown. Moved there at age fourteen from Minneapolis. Their history has increasingly interested me as the decades have passed.
First dipped my toe into the subject in 2005, for the first of a series of "Then and Now" articles for FireNews.net. The series was based on Sanborn Fire Insurance Map information and compared the composition of fire departments around North Carolina between the 1900s-1910s-1920s and present-day. Also around that time a visit was paid to the Carteret County History Place. Obtained old photos, some notes, and a retrospective from 1951 published in the News-Times.
Fast-forward a few years and a few blog posts later. Compiled this timeline in September. Was a good start, but too short. Enter Captain Jamie Hunnings and his historical information. We commenced a long-distance collaboration. Primary sources included the aforementioned article and fire department centennial celebration brochure from 2006. Remote research was conducted, with bits and pieces found via Google searches. Particularly about major fires and notable incidents.
Added some images, including vintage pictures from Jesse Chaplain from Beaufort (from a prior posting) and apparatus photos from Lee Wilson. He's done great work capturing their rigs during annual beach visits over the last couple decades. The site still needs more images. That's something for someday. Maybe we'll see some submissions from readers or MCFD. But the historical information is tight 'n' right. And ready for feedback, from anyone with edits or additions or questions.
View the history of the Morehead City Fire Department.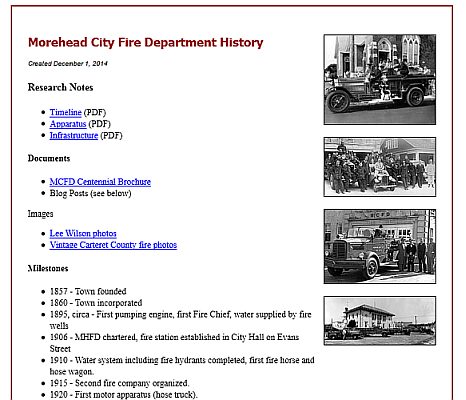 + 5 - 4 | § ¶
Historic Fire Trucks at Historic Oakwood This Weekend
The 43rd Annual Historic Oakwood Candlelight Tour is this weekend in downtown Raleigh. This year, the Society for the Preservation of Historic Oakwood is also saluting the firefighters who have also helped preserve property and save lives within the district. Raleigh Fire Department Historian Mike Legeros recently researched same and found some 125 working fires and over 200 smaller fires, from the late 1880s to present day. Read this blog posting to learn more. Or view his research documents: single-page summary (PDF) or full-report (PDF).
Four pieces of fire apparatus, from both Raleigh and local collectors, are planned to appear at the event, with the oldest on Saturday from 2:30 p.m. to 4:30 p.m. They'll also have 1950s model at the Tucker on Saturday. The following day will see a 1960s pumper. Engine 3 will also be visiting at various times during the weekend. The fire engines will be parking along the tour route.
The tour is Saturday and Sunday, from 1:00 p.m. to 7:00 p.m. each day. This is the 43rd annual tour. Twelve properties are available for viewing. See this tour map for more information. Or learn more on their Facebook page.


+ 7 - 2 | § ¶
Car vs. Apartment Building, Driver vs. Jail
As this WTVD story reports, the deck and one wall of an apartment building at 4500 Oak Meadow Lane was destroyed around midnight, when his Jeep SUV left the roadway and struck the structure. The driver fled the scene (e.g. backed away and drove off) and was found at his home shortly after the crash. Says the story, the vehicle "had a busted windshield, scrapes, and still a large amount of debris" piled up on the hood. Including "nails, wood" and "even yard gloves from a storage shed." The driver was arrested. As the joke goes, but maybe he blew his horn first. See also this WRAL story.



WTVD photo
+ 12 - 2 | § ¶
Corinth Holders New Engine, Holly Springs New Aerialscope
Photographer Lee Wilson provides a couple local apparatus updates this week, via photographs from Corinth Holders Fire Department in Johnston County and Holly Springs Fire Department. As for other updates, readers are welcome to share their news. We posted an apparatus update for Wake County in October. What other updates do folks have, both here and in the greater Raleigh-Durham area?
Here's Corinth Holders' new Engine 3, a 2014 Spartan ERV MetroStar 1250/1000. Delivered to Station 1 on Wednesday, October 10. And yet another Spartan ERV for our area. They're making definite inroads in the central Piedmont! See more photos.



Lee Wilson photo
Here's Holly Springs' new Ladder 255 (renamed from Ladder 2, story there?), a 2001 Spartan Gladiator/Baker Aerialscope 2000/95-foot. From William Cameron Engine Company in Lewisburg, PA.
See prior posting
. Has been repainted red over black from its original eye-catching dark yellow. Photographed yesterday at Station 1. Still having equipment added and more lettering and striping.
See more photos
.
Also, Lee reports that the town's new Squad 1 was placed in service on Wednesday, October 10. That's a 2014 Spartan ERV MetroStar rescue pumper 1500/750/25 that was delivered in September. See prior posting.



Lee Wilson photo
+ 5 - 4 | § ¶
Wake County Fire Commission Meeting - December 11, 2014
The next meeting of the Wake County Fire Commission is Thursday, December 11, at 7:00 p.m. The location is the Wake County EMS Training Facility, in the lower level of the Wake County Commons Building, 4011 Carya Drive. The documents for the meeting are linked below. The purpose of the meeting is a discussion of the cost share study. See prior blog posting.

Agenda
Meeting Called to Order: Chairman Lucius Jones

Invocation
Roll of Members Present

Items of Business
Regular Agenda

Presentation of Fire Tax District FY 2016 Budget Process Considerations
Presentation of Cost Sharing, Funding, and Service Delivery Analysis Report

Presentation of Cost Share Committee Recommendations

Other Business
Public Comments:

Comments from the public will be received at the time appointed by the Chairman of the Fire Commission for 30 minutes maximum time allotted, with a maximum of 3 minutes per person. A signup sheet for those who wish to speak during the public comments section of the meeting is located at the entrance of the meeting room.

Adjournment - Next Meeting January 15, 2015
Documents
Agenda packet (PDF)
+ 8 - 3 | § ¶
Two Apparatus Accidents in Durham County at Same Fire - April 1975
Next in our historical review of apparatus accidents in an unusual story from Durham County in 1975. This AP photo and story appeared in the Herald-Journal on April 30, 1975. The incident probably occured on April 29. Two Durham County fire trucks were involved in accidents while responding to the same the fire. The first resulted in the death of the other vehicle's driver.
Wrote the Associated Press: "Shirley Brown of Durham was killed when her station wagon ran into the path of a Durham County fire truck Tuesday. Four firemen were injured, but not seriously. The station wagon as wedged between the truck and a tree, and workmen had to use torches to cut it up before it could be moved."
"Later, a second fire truck was dispatched to the same house fire and it collided with a car at an intersection, a few blocks from the scene of the fatal accident. Police said in each case, the automobile had pulled into the path of the fire truck from a side street. A third fire truck arrived at the scene without mishap and firemen found a smoking hot water heater."
What specific Durham County units were these? The pictured American LaFrance engine was one that ran out of Durham city Station 1. It was staffed by city firefighters whose salaries were paid by the county. But who sent the second and third units, do you suppose?


AP photo
Historical Perspective
Now the expected question, how many fatal apparatus accidents involving civilians have happened in our state? (See my fallen firefighters database for those with firefighter fatalities.)
On November 7, 1923, a ten year-old boy was killed in Raleigh, when Engine 1 crashed into a group of spectators. They were standing on West Martin Street. The apparatus was operating at Southern School Supply. Another man was seriously injured. A dozen people total were struck. Recalling the November 8 story in the News & Observer, the crowd immediately set upon the driver of the fire engine. Believe police had to be called to protect the fireman.
A warehouse and small garage were burning, with three lines of hose in operation. The fire was nearly under control when the Fire Chief ordered the operator of Engine 1 to lay another line across the railroad tracks. The apparatus was travelling at a reported 25 MPH when it struck the spectators. As witnesses voiced their anger at what happened, police took the firefighter into protective custody and transported him to police headquarters.
He was held on manslaughter charges, and released on $2,000 bond. The charges were apparently dropped. City Council later awarded a nominal payment to the family of the deceased boy.
+ 7 - 4 | § ¶
Charlotte Engine Hit by Train, 1973
Here's another Hose & Nozzle find from my files, this one reprinting a Charlotte News story by Ken Garland from the summer of 1973. Appeared in the July-August issue of that year's magazine.
Charlotte Engine 2 was struck by a train, while crossing at Bland Street behind the Lance Inc. building off South Boulevard. Neither the apparatus nor the train saw each other, said District Chief Kenneth Helms.
The company was answering a box-transmitted alarm at Wilmore and Summitt. (Was a false call.) The crossing had no signals, said the Chief. He described it as a "blind crossing because the old Lance Building comes right up to the tracks and neither could see."
Engine 2 was pushed down the tracks about 25 feet. The apparatus sustained considerable damage. The firefighters aboard were all transported for observation. None were treated.
Historical Perspective
Just how many apparatus versus train accidents have happened in North Carolina, over the decades? More than a few, including as memory serves a brush truck from western Wake County. Maybe was from Morrisville?
The worst such accident happened in Fayetteville. On March 17, 2000, Fire Engineer David Sharp died after the aerial tower he was driving was struck by a train. He was the lone occupant of the apparatus, and was returning from an automatic fire alarm. The aerial was a 1993 Pierce Arrow tower (_/_/100-foot) that was acquired from Bonnie Doone FD. The rear-mount rig was serving as Truck 1.
+ 9 - 3 | § ¶
Hose & Nozzle, 1972 - Five Perish in Wake County Fire
As best as records reveal, the two deadliest fires in Raleigh Wake County history occurred in 1948 and 1972. Five people were killed in both. The former occurred on February 1, 1948. We've blogged about that fire before. The latter happened in late on August 8, 1972. [Date from Montlawn Cemetery search, where the victims where buried.] Found this Hose & Nozzle story from their September-October 1972 issue. Looks likely as reprinted from the News & Observer or Raleigh Times. Readers may have more information.
Five Perish in Wake County Fire

RALEIGH, N.C. - Five members of a Wake County family died when fire partially gutted their brick home on Penny Road about six miles south of Raleigh.

H. O. Jordan, 41; his wife, Elizabeth B. Jordan, 35; the couple's two children, Lisa, 13, and Russell, 2, and Mrs. Jordan's mother, Mrs. Mary K. Bailey, 65, died of smoke and heat inhalation, according to Wake County Coroner Marshall Bennett.

Raleigh Fire Marshal Johnny Holmes, responding to a request from Swift Creek Fire Chief L. D. Warner, inspected the home this morning and said that lightning may have struck the house. Holmes discovered wiring fused together.

Warner said the Swift Creek [Fire] Department received the call at 1:47 a.m., and arrived about four minutes later to find one end of the house engulfed in flames. The roof had caved in.

Warner said firemen learned there were people trapped inside, but the heat and smoke were so intense [that] it was several minutes before they could get in and locate the family. Warner said he believes all five were dead by the time the fire department survived.

"The was no way anybody could survive in those bedrooms for any length of time," Warner said. The family members apparently attempted to get out, but were overcome before they could do more than ge tout of bed. Both the family's small dogs died in the fire, according to Swift Creek fireman Brian Perry. They were buried this morning by neighbors.

The heat and smoke blackened the entire house and all its contents. Paint had blistered and peeled in every room.

Perry said that, when he removed the body of Lisa Jordan, "I think we were just hoping against hope that she could be revived."
+ 7 - 4 | § ¶
Abandoned Building Collapses in Downtown Raleigh
We're fortunate in Raleigh to have exceptionally few deteriorating buildings. But those that do exist are obvious challenges for fire crews. Companies must remain aware of their territory. And a complete size-up is imperative to ensure a correct conditions assessment.
The perils of such structures were demonstrated the previous morning when an old bus station on Blount Street spontaneously collapsed. Let's look at the incident... Dispatched at 11:26 p.m. as structural collapse with possible entrapment at Branch Street and Blount Street.
Fire units were Engine 2, Ladder 4, Battalion 2, as first-due companies plus technical rescue response of Rescue 1, Squad 14, Squad 15, USAR 801 (staffed by Engine 25), Ladder 3 (SOC company), and Battalion 5 (rescue chief). Plus Air 1 and Haz-Mat 2, which are automatically dispatched. Medical response was EMS 10, EMS 39, District 10, Medic 92, and Truck 1.
Police were originally dispatched to the incident, and requested fire and EMS due to prior incidents of occupancy by homeless individuals.
Address 1277 S. Blount Street. Property owner Carolina Coach Company. One-story brick warehouse building with 8,536 square-feet. Built around 1936 (says my research, versus 1939 say tax records). News reports say same had been empty for several years.
Ladder 4 was first arriving and took command. They found the street-facing side of the building (Division A) collapsed into the street. There was a combination of "pancake" and "lean to"? collapses within the front section of the structure (Division 1).
Battalion 2 and Rescue 1 soon arrived, with Battalion 2 assuming command, with Ladder 4 assigned as Operations. Battalion 5 assumed Operations upon his arrival.
Rescue 1 evaluated the structure and began searching void spaces in the collapse area. Ladder 4 searched the section of the building that was undamaged. Other units were staged on the street as they arrived.
After a briefing with all companies present, operations continued. USAR 801 was assigned RIT and also secured utilities. Squad 14 and 15 were rotated into Division 1 to assist with debris removal. Engine 2, Ladder 3, Air 1, and Haz-Mat 2 were released.
Once the primary search of the building was complete, Ladder 4 conducted a secondary search. No individuals were found in the structure. After the arrival of a city building inspector, the scene was secured and transferred to police and the inspector. Demolition will reportedly begin today.
Here's are images from this WRAL story and this NBC17 story. See this WTVD story.



WRAL photo

NBC17 photo
What's the History?
Next question, what's the history of that building? Has it always been used by the bus company. Negative. The parcel was purchased by Carolina Coach Company in 1969. Before that time the structure served as everything from an auto showroom to a sausage plant.
Here are (incomplete) city directory listings for 1277 S. Blount Street that tell some of that story:
1934
No listing for business or dwelling.
1936
Carolina Sausage Co Inc manufacturers
Carolina Delivery Service Co Inc contract haulers
1938
Carolina Delivery Service Co Inc contract haulers
1940
Carolina Delivery Service Co Inc contract haulers
R & S Packing Co wholesale meats
1943
Carolina Delivery Service Co Inc contract haulers
1950
Carolina Delivery Service Co Inc contract haulers
1955
Carolina Delivery Service Co Inc
1963
Sanders Motor Co auto display [show room?]
Meanwhile, similar listings for the adjoining 1201 S. Blount parcel show the bus company on the site since circa 1940:
1938
Dwelling
1940
Carolina Coach Co (general office)
1943
Carolina Coach Co (general office)
Atlantic Greyhound Corp
1950
Carolina Coach Co (general office)
1955
Carolina Coach Co (general office)
1963
Carolina Coach Co (general office)
Carolina Trailways
Here's a Sanborn Map image from 1950, showing the details of the entire block, and notably the bus facilities. The building at 1277 is addressed 1215 on the map and housed a "sandwich making" facility. Click to enlarge:


+ 7 - 4 | § ¶
North Carolina Fire Department Statistics, 1910
Here's a historical treat for your Wayback Wednesday or whatever the heck you're calling Hump Day these days. (Guess what day it is?!?) This is a supplement to the annual report of the Statistician of the North Carolina State Fireman's Association. Such reports were compiled annually and presented as part of each year's conference program booklet. Yours Truly has photocopied reports from 1908 to 1915 and from 1939 to 1944, and posted scans on my history site. Hope to someday get back to their offices and copy other years and decades.
For the second set of reports, it's noted that the data was reported to the state Insurance Commissioner. Wonder what sort of archives they have? That would be a coup, finding a repository of historical fire department data dating back to early last century. Hope to someday pursue that as well. (Why is Mike mucking around in this data this week? Working on a pair of historical narratives on Morehead City and Biltmore's fire departments.)
Here's a PDF version of the (re)scanned report below. With horizontal lines added to help read the thing.


+ 8 - 3 | § ¶
Update on Raleigh Fire Station 29
We're two months away from the completion of the city's newest fire station. Located on the northwest edge of the city at 12117 Leesville Road, Fire Station 29 was originally planned to finish at the end of December. The revised completion date is the end of February. Engine 13 will be temporarily relocated from Station 1 to serve as Engine 29.
Then at the end of April, when the current recruit academy graduates, the permanent positions will be available. Engine 29 will be staffed as such as well as the new Ladder 9. (Location still being assessed for the ladder, believe northwest side.) Haven't heard (or, ahem, thought to ask) which reserve engine will be bumped to front-line status for same. The ladder company, however, will operate the 2001 Quality/Spartan quint. That's the 75-foot straight stick that originally served as Engine 23 before a history as Truck 24, Truck 23, Ladder 4, and Ladder 1.
The three-bay, single-story fire station was designed by Williard Ferm Architects. They also designed Fire Station 28. This is the first new fire station for the city since 2007. It's only the fourth three-bay station, after Stations 1, 23, and 28. (Two of those were city projects, with Station 1 built in 1953. Station 23 is leased from Durham Highway Volunteer Fire Department. It was expanded in 2005 with living quarters for a second ompany.)
Differences between the two include a central watch station with views of the building's public entry, centrally located office, day room television area in alcove, dormitory rooms with open floor plans, and exercise room moved from core of building. Plus of course, the thing's huge. The site is 2.86 acres. The building is 10,000 square-feet in size.
Next up for fire department facilities? Improvements to Station 5 this fiscal year. Rebuilding Station 6 next fiscal year. Expanding Station 11 starting soon. Building new Station 12, Station 14, Station 3, etc. See this special facilities edition (PDF) of the Raleigh Fire Department Newsletter for more information. See more construction photos by Mike Legeros, going back to March. Plus a few building and site plan images.


+ 8 - 6 | § ¶
Photo of Raleigh Police Force in 1929
From the North Carolina State Archives comes this vintage photo of the Raleigh police force by Albert Barden. The picture is dated November 20, 1929. The location is probably in front of City Hall, which was located at 335-337 Fayetteville Street. Says the 1929 city directory, the Police Chief was J. Winder Bryan, the Captain was Nathaniel Warren, and the Captain of Detectives was R. M. Saunders. The call number of the image is N.53.17.226. Here's the web site for the Archives' audio visual materials unit. Click once or twice to enlarge: