+ 14 - 15 | § ¶
Wake Forest Gear?
Question from a reader: Has Wake Forest started changing their gear, per pictures of Chief Swift wearing black G-extreme gear at the live burn?
+ 17 - 10 | § ¶
Building the Mobile Command Post
As posted to FireNews last night, here's the story of Raleigh's new field communications unit. Text by Mike, photos by Mike and Lee.
+ 13 - 15 | § ¶
More Apex News
As of this morning, AFD switched over to the Raleigh/Wake ECC for dispatching. Though they'll still be talking to Apex dispatchers for the most part, they'll be dispatched like the rest of the county departments.
+ 16 - 14 | § ¶
Apex Station 1
...is open as of Monday. Though there's a bit more construction to complete, the downtown station is operational. Just bring something to sit on the floor as the furniture hasn't yet returned.
+ 17 - 10 | § ¶
Free e-Book
For fans of old newspaper articles, Mike has created a free electronic book for download. Raleigh Fire Department Newspaper Articles, Volume 1 presents some 100 newspaper clippings from 1867 to 1879. From big fires to small parades, it's all there. The e-book is PDF format and about 20 megs in size. So give it a few minutes to download... Enjoy.
+ 11 - 11 | § ¶
Hose 3
Recently found at the State Archives is this picture of Hose Company 3 in front of old Station 3 on East Hargett Street. The truck, a 1912 American LaFrance Type 5 combination chemical and hose car, was one of two delivered to the newly fully-paid RFD. They were the first motorized apparatus. Hose 3 received the unit in 1914, from Hose 2. Click the picture to see a super-sized version.


+ 19 - 12 | § ¶
White and Yellow
Some white rigs from the Wilson archives, notably Weaverville and Clemmons.




And still more yellow stuff surfacing as well.


+ 12 - 19 | § ¶
Taking a Turn
From the Firehouse forums comes this YouTube movie from Down Under. We've all heard tales of turns taken too fast, now here's what it looks it:


+ 10 - 13 | § ¶
State Fair Totals
Totals for the State Fair Fire Department, operated this year by Western Wake, are as follows: READ MORE
+ 10 - 20 | § ¶
Apex Chemical Fire / AFD Site
AFD has posted a detailed account of the chemical fire on their web site, along with photos from Lee and Mike.
+ 11 - 15 | § ¶
Swift Creek
Swift Creek's annual open house is November 11, 2006, FYI.
+ 12 - 12 | § ¶
Holly Springs Apparatus
Holly Springs is getting a new Pierce platform this spring, we're told, along with their new engine and brush truck.
+ 13 - 15 | § ¶
Wake County Ladders
Question regarding Wake County ladder trucks. How many are staffed as strict truck companies? How many are used as quints? Just curious. Left to right, top to bottom: Apex, Apex, Bay Leaf, Fuquay, Garner, Holly Springs, Knightdale, Morrisville, Wake Forest, Wendell, Zebulon.



+ 12 - 9 | § ¶
Old Station 6
Here's another picture of old Station 6 on Fairview Road, recently correctly identified. The fire station occupied the left half of the building. Period pictures appear to indicate that that section of the building had both a picture window and a bay door. Notice the driveway slope still remains. Station 6 opened at 12:00 p.m. on March 3, 1943. Engine 6 was placed in service with a 1919 American LaFrance pumper. Six men manned the station. By the summer of 1948, the station was closed when the city lost the lease on the building. Engine 6 was temporarily relocated to Station 5. On June 25, 1949 at 3:30 p.m., a dedicated Station 6 opened at its present location. More information about former firehouses in Raleigh.


+ 14 - 14 | § ¶
Old Asheville Station 2
From a contact in Asheville, here's a picture of old Station 2 on Barlett Street. It was built after 1925, closed in 1975, and demolished by present day. Love the sloping lot.


+ 13 - 16 | § ¶
Apex Chemical Fire (Victims) Site
Speaking of the Apex chemical fire, a found this site from lawyers representing victims of the Apex fire: http://www.apexchemicalfire.com. Interesting main page graphic, showing a daylight explosion...
+ 12 - 12 | § ¶
Wake Forest Tower in Action
Wake Forest's new tower is pictured at a live burn on Lee's photo site.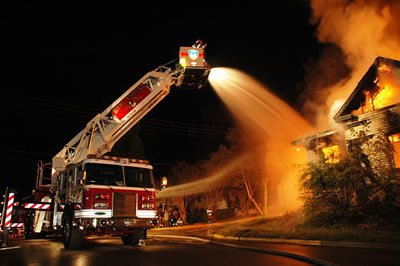 + 16 - 12 | § ¶
Firemen's Test
From the Raleigh Observer, February 11, 1872. The test compared the performance of a newly delivered Phoenix chemical engine to the Victor hand engine and the Rescue steam engine. Click to enlarge: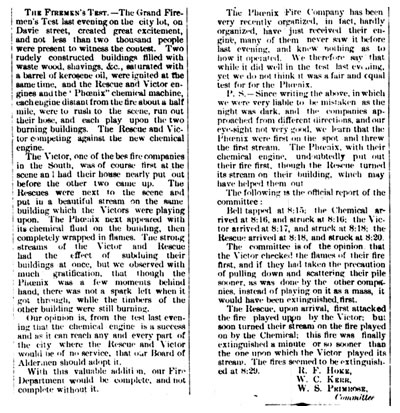 + 16 - 13 | § ¶
State Fair EMS
And here's the EMS base at the State Fair, at the Gov. James G. Martin Building. Pics coming:


+ 13 - 18 | § ¶
Cool Greensboro Video
The Greensboro Fire Department has produced this very cool video showing a day in the life of a firefighter. It's 30 minutes long, a streaming video, and plays best in Internet Explorer. It's reportedly first in a series of segments that will progress all the way to the rank of Chief. It concludes with information for those wanting to join their ranks.
+ 15 - 12 | § ¶
Station Decorations
How's your station decorated? Last week's tours around Raleigh/Durham/Cary yielded everything from indoor murals to outdoor ponds. Share your surroundings. What's inside or outside that you're particularly proud of?


+ 12 - 13 | § ¶
Fire Alarms in 1875
That year, the city of Raleigh was divided into four "fire divisions." The first division was north of Hargett and east of Fayetteville and Halifax streets. The second division was south of Hargett and east of Fayetteville streets. READ MORE
+ 17 - 10 | § ¶
Warrenton Fire Station
Warrenton has a new fire station and we were sent a couple pics. The $1.8 million facility is located at 236 South Main Street. Tour the station on Sunday, October 22. The department is celebrating its 50th anniversary that day with a dedication ceremony starting at 3 p.m. There's also a fundraising cocktail party the night before, from 7-10 p.m. Contact Chief Walter Gardner, 252-213-3034, for more info.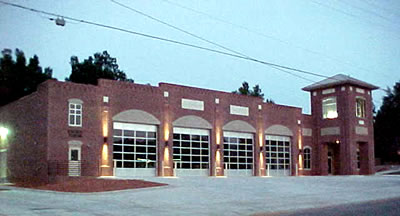 + 13 - 18 | § ¶
Carolina Fire Rescue EMS Journal
The fall issue, arriving now, contains an article by Mike. It's another history piece, a sequel to last year's feature on old firehouses.
+ 14 - 14 | § ¶
Drink 1
Speaking of Johnston County, there's also this gem that an Elevation firefighter fixed up. Select a drink and the lights and siren go off. Yee-haw! (But be honest, wouldn't you love to have one yourself?) Again courtesy of Lee's photo site.


+ 15 - 20 | § ¶
50-210
Here's a neat old truck at 50-210 Fire Department in Johnston County (just down the road from delicious Stephenson's BBQ), a 1967 Chevy van that originally saw service in Garner. Pic is from Lee's photo site, which also has shots of this truck's replacement as well as the new replacement's replacement:


+ 14 - 7 | § ¶
High Level Rescue
Those words will rouse you from a Sunday stupor. Western Wake nearly immediately rescinded its request for one aerial each from Raleigh and Cary, after reporting all subjects safely removed from the reportedly malfunctioning ride.
+ 12 - 13 | § ¶
The First Engine One
Saturday is research day and today's library visit yielded this News & Observer clipping on the subject of Raleigh's first pumper. Though the first motor hose cars were delivered a year earlier, the first motor pumping engine wasn't placed in service until November 1914. Click to enlarge:


+ 14 - 15 | § ¶
The Hook
Regarding Raleigh's volunteer hook and ladder company (circa 1870s), recalls a 1944 historical sketch: "As most of the houses, at that time, were constructed of wood, fire, if not promptly checked, would jump from house to house. To overcome this much work was done [using] the 'hook'. This hook resembled a large grab-hook and to it was attached about fifty feet of chain and a hundred or more feet of rope. The method used to sop the fire from spreading was to throw the hook through a window and then [have] all hands pull the house down. This, however, was seldom done without the consent of the owner. To the keep the owner remind of the willingness of the company, their slogan on a big sign was attacked to the [hand-pulled] truck and was 'SAY THE WORD AND DOWN COMES YOUR HOUSE!'"
+ 8 - 18 | § ¶
Boom!
Newly found historical tidbit. On October 11, 1872, the offices of the Daily Sentinel newspaper were sabotaged with explosives. The resulting early morning blast also damaged the adjoining Rescue Company engine house. The damaged was recounted in the next day's Raleigh Daily News: "The shock from the explosion of the 'Sentinel' office has injured this building much more than was at first supposed. Last evening the building was examined, and we were informed by a judge, that the damage cannot be repaired for $1,000. No only were the doors, sash and windows smashed and destroyed, but the end walls so cracked and broke that it will be necessary to repair them."
+ 17 - 12 | § ¶
More Yellow
Lee continues to parse his archives and presents more yellow rigs from around the state. These are from his photo site:


+ 14 - 12 | § ¶
Night Photography / Footman Way
Another camera report, this time trying action photography at night. The goal was low blur and high mobility, e.g. no tripod. The kit lens, used first, was wider (nice) but slower (not so nice). Switching to the newer faster lens seemed to help. (Slower lens equals longer exposure equals greater blur if subjects are moving.) ISO was at 1600, highest for the camera. Tried for available light were possible. Shooting into a light source seemed to help. Saved the external flash for building shots, mostly.


+ 15 - 11 | § ¶
Apex, Media, Points, Counterpoints
Point and counterpoint regarding media photography at the Apex fire, as expressed in a pair of letters to the editor of the News & Observer. Point, written by a responder. Counterpount, written by a photographer. Alas, the letters are more apples to oranges. The first is more broadly directed, while the second is more a defense of a single person. This week's Independent also offers a perspective on the Apex fire and the many issues therein. Here's that article. Discuss at the Watch Desk.
+ 16 - 11 | § ¶
Station Tours
Mike is touring at least one station a day during Fire Prevention Week. Most are Raleigh houses, though a visit was paid to Cary today. Check out that dormitory on Harrison Avenue! Not everything is being photographed, however. He's only shooting what the public is shown... Enjoy your virtual visits.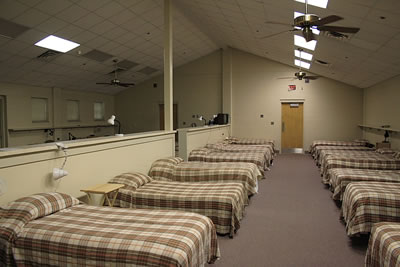 + 12 - 18 | § ¶
Great Fair Fires?
What have been the great fires of the State Fair? READ MORE
+ 14 - 13 | § ¶
Detective Work
For a few decades now, those documenting the early history of the Raleigh Fire Department cited 1851 as the last year that hand engines were purchased by the city. The machines were named the Rescue and the Excelsior and two new fire companies took those names. READ MORE
+ 7 - 17 | § ¶
State Fair Fire Protection
The State Fair Fire Brigade is, alas, no more. Western Wake Fire Rescue has been contracted to solely provide 24/7 coverage that started yesterday (Sunday) and is running through the 22nd. Four personnel are on duty until the 13th, after which the numbers increase to 12 during the day and 6 at night.


READ MORE
+ 15 - 13 | § ¶
The Real Old Station 6
Credit Lee Wilson, who is also a history buff, for finding the biggest historical mistake of Mike's publishing career. The original Station 6, a rented building on Fairview Road, is not the two-story building presently occupied by the Red Dragon Chinese restaurant. Rather, it is the smaller single-story building directly south of that structure. The below pictured shows those buildings now and then. The "then" picture, recently uncovered at the State Archives, isn't the first representation of the original Station 6. A newspaper photograph was printed when the station was opened. However, Mike didn't examine that picture clearly enough. The roof line says everything. Kudos to Lee, and great humility for Mike. Please promptly ignore the picture on 32 of Raleigh and Wake County Firefighting. Or, better, print this picture for that page. Alas, as the publisher has no present plans for a third printing, don't expect a corrected print version. Maybe in another decade or less, Mike will compile and expand his photos into an all-new book. For now, watch for updated web pages.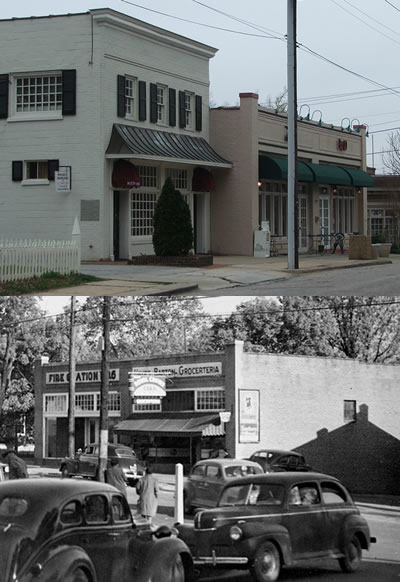 + 12 - 13 | § ¶
Bay Leaf's New Air Truck
...is expected in January. It'll be a International/Hackney unit, two-door, and with a light tower. Will look like this, except red: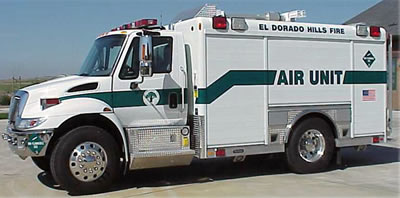 + 14 - 11 | § ¶
Raleigh's First Steamer
Found this description of Raleigh's first steam fire engine, as appeared in an 1870 newspaper: The engine has an upright tubular boiler, containing 315 inch and a quarter tubes, 16 inches long. Boiler and steam cylinder and covered with German silver. READ MORE
+ 19 - 10 | § ¶
Garner Fireman's Day
Though the weather wasn't the best, Garner's parade was fun as always. Not as many rigs as prior years, perhaps because of the Apex activity? Good barbeque, too. Nice slice of Americana. Mike's pics coming, as well as ideas for umbrella mount. Jumpsuit breast pocket + head/neck strap = hands-free photography?


+ 12 - 14 | § ¶
This Blog vs. That Forum, Part 3
Basically, on this blog, we're trying to get everyone to play nice. Firefighters are their own worst enemy when it comes to speaking before thinking. READ MORE
+ 14 - 8 | § ¶
This Blog vs. That Forum, Part 2
Also, the operator of firenews.net reports that they are assessing their own solution for location-based discussions. Their present forums are topic-based, versus location-based. More information on that as it is known.
+ 11 - 15 | § ¶
This Blog vs. That Forum
As the comments to the Apex entries indicate, we're attempting to redirect any detailed discussion of this incident to the local Watch Desk forums. Whether it takes remains to be seen. READ MORE
+ 12 - 17 | § ¶
Robots
The Tokyo Fire Department comes to mind in the context of promixity and the Apex fire. They and other Japanese departments use remote-controlled apparatus for high-hazard environments. Don't know how well they work addressing the seat of a fire after a collapse, however.


+ 14 - 13 | § ¶
Fire Out, Reentry Started
Local media is reporting that the Apex fire has been extinguished and a phased reentry has started. Here's a cool map detailing the phased reentry areas. That map is also appearing in non-PDF format on various media sites.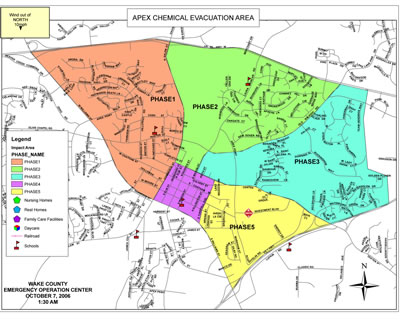 + 13 - 11 | § ¶
Apex Pics Posted
Mike's pictures from last night and this afternoon have been posted. Lee's pictures are forthcoming.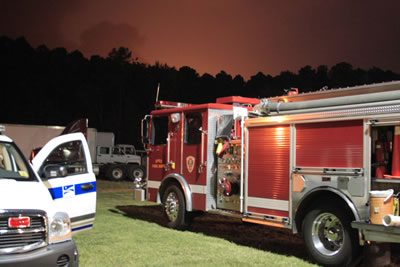 + 11 - 12 | § ¶
Apex Pics Coming
...from both Lee and Mike. The latter's still on scene, the former has to get to bed. Here's one quick shot of his, relatively early into the incident and after the command post was moved for the third (?) time: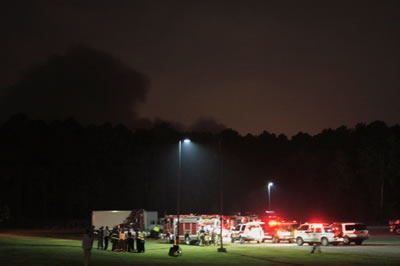 + 11 - 13 | § ¶
Big Honkin' Haz-Mat Call
Moving vapor cloud, mass evacuations, and a working fire at a haz-mat facility. All ears are glued.
+ 9 - 14 | § ¶
Cary's Ladders
Here's something you don't see every day, all three of Cary's ladders in one location. Pic by Mike: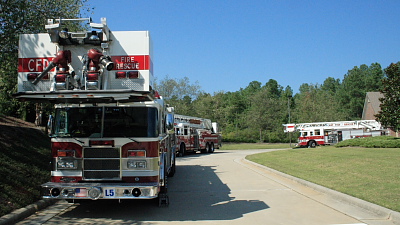 + 17 - 15 | § ¶
State Fair Entry
Mike has entered a photograph in this year's State Fair. It's not fire-service related, however, just a good picture. (Though smoke and flames could be added using Photoshop...) Space permitting, it may even be displayed in one of the exhibit halls. Click to enlarge:


+ 14 - 11 | § ¶
Black Mountain / Old Fire Station
Mike is headed west in a few weeks for a belated honeymoon slash research trip. One stop will be Black Mountain, which has a cool former firehouse built in 1921.


+ 14 - 12 | § ¶
RFD Apparatus Bid Awarded
The city of Raleigh has awarded the latest fire apparatus bid to Triad Fire, a Pierce dealer. The bids were for two rescue trucks (custom cab, non-walk-in body), one engine, and one 105-foot ladder. READ MORE
+ 15 - 14 | § ¶
RFDs Old Cascade System
Raleigh's old cascade system, removed from old SR5 when that unit was converted to a haz-mat support unit (prior to its recent remodeling as a mobile command post), now resides inside the old smokehouse at the training center. Refurbished by Safe Air Systems Inc., the unit was installed yesterday. Pic from Lee: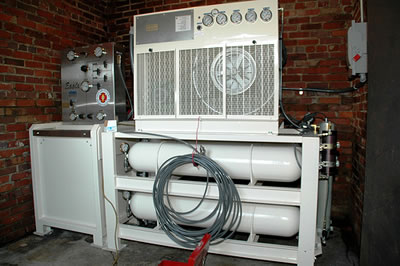 + 10 - 15 | § ¶
Tip For Browsing Lee's Photo Site
Here's a tip for browsing Lee's photo site.

First, click the Archives link located near the top of the page:


.
READ MORE
+ 11 - 10 | § ¶
RFD Bike Team in Action
Lee's photo site has pics of RFD's new bike team in action: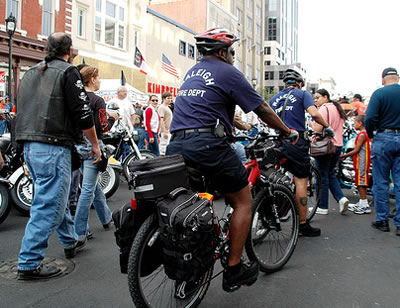 + 16 - 12 | § ¶
Raleigh Beach / Milburnie Dam / Hydro Plant
Did you know that old Raleigh Beach, site of many a water rescue, er, recovery in its heydey, has a dam upstream with a small hydroelectric plant? The generated power is sold to Progress Energy, we're told. A reader was inquiring and a little Google searching yielded both an aerial view and a ground-level picture.
+ 16 - 15 | § ¶
Non-Red Rigs, Durham
More from Lee, via his photo site:



+ 13 - 16 | § ¶
Chicago Style Q+A
For fans of the written word, the Chicago Manual of Style Online Q&A was described in a recent New York Times article as "Car Talk for Writers." And indeed it is. Read, enjoy, and learn how to express yourself with consistency and accuracy. Even your blog postings will benefit.
+ 11 - 15 | § ¶
Where Was Raleigh's Original Station 2?
The original Station 2, formerly the 1870 engine house of the Rescue Company, was located on the courthouse lot, in the southwest corner but facing Fayetteville Street. Here's a neat new bird's eye view of the building from 1872 as well as Raleigh's other engine house of the time. Click to enlarge:

+ 12 - 13 | § ¶
RFD Academy Group Photos?
Raleigh firefighters from all years (except 1989, his, which he has), do you have a copy of your academy's group photo? Mike would like to make a copy at your convenience, if possible. Drop a line. Thanks.
+ 14 - 10 | § ¶
Heard on Scanner
Reports of motorcyclist who has gone off the bridge from Walnut Street in Cary and into the lanes of US.1. Yowza.
+ 14 - 8 | § ¶
Enroll Or Be Drafted
From an 1867 newspaper. By order of the mayor, citizens are invited to join the city's fire companies. And, "If the prescribed number has not previously volunteered, a draft will be made upon the whole number of citizens to supply the deficiency."