+ 4 - 6 | § ¶
UPDATED - Upcoming Fire Department Events
It's that time of year again! Public Safety Days, Firemen's Days, Open Houses, Barbecue Fundraisers, and more! Here's a starter list. Readers can add others.


| | |
| --- | --- |
| Oct 3, Sat. | Four Oaks FD - Fireman's Day - All day activities - 301 Keen Rd, Four Oaks, NC 27524 |
| Oct 3, Sat. | Garner FD - Fireman's Day - All day activities - Parade at 1:00 p.m. - Station 1 - 503 W Main St, Garner, NC 27529 |
| Oct 3, Sat. | Foothills Fire & Life Safety Expo - 10:00 a.m. to 3:00 p.m. - Caldwell Community College and Technical Institute - 2855 Hickory Blvd, Hudson, NC 28638 |
| Oct 4, Sun. | Bay Leaf FD - Open House - 1:00 p.m. to 5:00 p.m. - Station 1, 11713 Six Forks Road, Raleigh |
| Oct 10, Sat. | NEW DATE - Cary FD / Morrisville FD - Fire Safety Day - 10:00 a.m. to 2:00 p.m. - Target parking lot, Park West Village, Morrisville |
| Oct 10, Sat. | WRONG DATE - Fuquay-Varina FD - See below, Oct. 17 |
| Oct 10, Sat. | Grifton FD - Fireman's Day - 10 a.m. to 2:00 p.m. - Station 1, Grifton, NC |
| Oct 10, Sat. | Raleigh Fire Museum - Fire Prevention Week Event - 10:00 a.m. to 2:00 p.m. - 105 Keeter Center Drive |
| Oct 11, Sun. | Fairview FD - Open House - 1:00 p.m. to 5:00 p.m. - 4501 Ten-Ten Rd, Apex, NC 27539 |
| Oct 13, Tues. | Zebulon Night Out - Public Safety Event - 6:00 p.m. to 9:00 p.m. - Town Hall yard, 1003 N Arendell Ave, Zebulon, NC 27597 |
| Oct 16, Fri. | Brogden FD - BBQ & Bake Sale - 11:00 a.m. to 7:00 p.m. - 7236 Brogden Rd, Smithfield, NC 27577 |
| Oct 17, Sat. | Fuquay-Varina FD - Open House - Station 1 - 301 South Fuquay Avenue, Fuquay-Varina, NC |
| Oct 18, Sun. | Township 7 FD - Open House - 1:00 p.m. to 5:00 p.m. - Craven County |
| Oct 21 & 22, Weds. & Thurs. | Williamston FD - Grillin' on the Green Fundraiser - www.grillinonthegreen.com |
| Oct 31, Sat | Momeyer FD - Fire Prevention Day - 12:00 p.m. to 4:00 p.m. - 4872 Momeyer Way, Nashville |
Previously listed:
READ MORE
+ 1 - 2 | § ¶
National Fallen Firefighters Memorial - See You in Emmitsburg
On Sunday, October 4, eighty-seven fallen firefighters will be honored at the 34th Annual National Fallen Firefighters Memorial Service. The service begins at 10:00 a.m. at the National Fire Academy in Emmitsburg, Maryland.
The service will honor eighty-four firefighters who died in the line of duty in 2014, and three who died in prior years. Four from North Carolina will be honored:
Ricky W. Doub, Forbush FD
Heart attack following multiple calls, December 16.

John Derek Gupton, Justice FD
Apparatus accident while responding to call, September 16.

Thomas Gerald Lee, Four Oaks FD
Heart attack within 24 hours of responding to station to provide assistance at call, February 1.

S. Brad McCoy, Nantahala FD
Died in fire at own home, while attempting to rescue family members, November 21.
Live satellite feeds and streaming of the service will be provide, along with coverage of the Saturday night Candlelight Service. See the complete list of fallen firefighters being honored, along with complete event information, at www.firehero.org.
Mr. Blogger will be assisting at the event, as a photographer for the Social Media Team. Follow the event on the National Fallen Firefighter Foundation (NFFF) Facebook page and Twitter feed. Also look for the hashtag #FireHero2015.
+ 4 - 2 | § ¶
Fire Station Design Symposium in Raleigh This Week
Did you know that there's a fire station design symposium underway in Raleigh this week? The event is presented by FIERO, which is the Fire Industry Education Resource Organization. They're based in southeastern United States, and are modeled after an organization in Southern California called the Southern Area Fire Equipment Research or SAFER. (The original name of FIERO was Fire Industry Equipment Research Organization.)
FIERO were founded in 1990 as a way to connect fire service personnel with fire equipment (and facility) manufacturers, distributors, and dealers. And as they started talking to each other, they realized they had common equipment and safety problems. Both FIERO and SAFER helped open lines of communication between dealers, manufacturers, and the users of their products and services.
Remember, this was the 1990s. Before the Internet and web sites and blogs. Back when networking was primarily face-to-face. As communications within the fire service improved, FIERO realized a need for sharing information about fire station design and construction. In 2000, they offered their first Fire Station Symposium. The response was overwhelming and the event has become an annual affair. (They also expanded their scope in 2007, realizing the need for a PPE Symposium. The first one was offered in 2009, and is a biennial event.)
This year's Fire Station Design Symposium is this week at the Sheraton Raleigh Hotel. The event runs from Sunday September 27 to Wednesday September 30. Visit the web site to see the schedule and learn more, both about the event and the organization. (They're a non-profit organization, and the event is staffed with volunteers.) Or follow them on Twitter @FIEROFire.
One of the event's neat features are the design awards, for fire stations either (a.) in the design phase but not yet approved for construction or (b.) placed in service within the last six years. This year, thirty-nine entries were submitted from across the United States and Canada. (How far and wide are the event's visitors, you ask? This year they have attendees from Hawaii, Newfoundland, and New Zealand.)
You can view design award winners from recent years on this page. They include local and regional winners Cary Station 8 (ADW Architects, shown left), Charleston Station 9 (Rosenblum Coe Architects, shown right), Henricho County, VA, Station 13 (Moseley Architects and Stewart Cooper Newell Architects), Dale City, VA, Station 10 (Hughes Group Architects), and Charlottesville, VA, Station 10 (LeMay Erickson Willcox Architects).


+ 7 - 6 | § ¶
UPDATED - The History of Raleigh's Tillers
Tractor-drawn aerial ladders as operated by the Raleigh Fire Department, left to right and top to bottom as shown below:
1916 American LaFrance Type 17 (75-foot, spring-raised, wooden, 1916-1939/1958)
1939 American LaFrance 500 Series / 1916 American LaFrance (new tractor, 1939-1958)
1958 American LaFrance 700 Series (100-foot, metal, 1958-1979/1999)
1979 Mack MC / 1958 American LaFrance (new tractor, 1980-1999)
1979 Mack MC / 1958 American LaFrance after 1988 refurb, adding jump seat cover, tiller cab, and more.
2004 Pierce Arrow XT (100-foot, 1500 GPM, 300 gallons, 2004-2009)
2010 Pierce Arrow XT (100-foot, 1500 GPM, 300 gallons, 2010-present)
2015 Pierce Arrow XT (delivery, photo pending!)
See this FireNews historical perspective from 2004 for more, as well as this Raleigh Fire Department Apparatus Register. See this collection of photos of the 2004 Pierce. Credits for second and third row of images, left to right: Joel Woods, Jeff Harkey, Mike Legeros, Lee Wilson. Click once or twice to enlarge:

+ 2 - 1 | § ¶
Public Meeting on Rebuilding Fire Station 6 - Wednesday, October 7
The City of Raleigh is planning a reconstruction of Fire Station 6 at 2601 Fairview Road. Built in 1949, it's the oldest operating engine house in the city. It's also outdated, outmoded, and in poor physical condition. To present plans for the new station, the fire department will hold a public meeting in the station's apparatus bay on Wednesday, October 7, at 7:00 p.m.
Notes this press release, the meeting will "present the form and function of the current Station Six design and collect community feedback on various elements. Because the station is highly revered by the surrounding community, citizen input will be sought during the project's design phase. A series of community meetings will be held to keep the community informed and offer an opportunity for citizens to provide comment."
The new station will be a multi-story facility, required to accommodate the small-sized lot. (The current facility has 5,408 square-feet on a 0.58 acre lot. That's the sixth smallest in the city. Station 3 has the smallest site with 0.16 acres, followed by Station 1 with 0.37, Station 5 with 0.39, Station 9 with 0.50, and Station 8 with 0.52.)
Expect a doubling of square footage, or more. The new station will include space for both an engine and a ladder company. Other improvements will include gender equitable living and bathroom facilities and environmentally sustainable elements. Read more about this project and other fire station facility developments in a special edition of the Raleigh Fire Department newsletter (PDF), published last year. Learn more about Raleigh fire stations (past 'n' present!) on my history site.


+ 3 - 3 | § ¶
Monday's Apparatus Accident in Watauga County
On Monday, a Watagua County fire truck was involved in an accident. Reports this BlueRidgeNow story by Steve Frank, the Stewart Simmons Fire Department unit ran off Elk Creek Road about a mile south of the Blue Ridge Parkway. The apparatus rolled down a long embankment. The firefighter operating the vehicle reported himself uninjured, but was taken to the hospital to be checked out. Notes the story, the truck was stablized with the help of a wrecker. Then a stokes basket was lowered, to bring the firefighter to the surface. Watuga Rescue and other Stewart Simmons firefighters were also on scene. See more photos in the form of an animated gif in the story.


+ 11 - 4 | § ¶
UPDATED - Holly Springs' New Aerialscope
September 22, 2015
Holly Springs placed their new platform in service last month. Ladder 255 is a 2001 Spartan Gladiator/Baker Aerialscope, 2000/0/95-foot purchased last year. Originally served the William Cameron Engine Company in Lewisburg, PA. See more photos from Lee Wilson, both before and after the fine paint job.



Lee Wilson photos
August 13, 2014
The Holly Springs Fire Department has purchased a new aerial platform, a 2001 Spartan Gladiator/Baker Aerialscope with a 2000 GPM pump and a 95-foot boom. No water tank. Purchased from Fire Line Equipment, see the specs. Originally served the William Cameron Engine Company (see also their FB page) in Lewisburg, PA. Has about 10,000 miles on it. Received last week. Will soon be painted.
The town's prior platform was placed out of service on Tuesday, a 1999 American LaFrance Eagle mid-mount that was purchased in 2007 from Pattonville Fire District in Pattonville, MO. The new truck is the first Aerialscope in Wake County since Raleigh's 1977 Mack/Baker was sold some years ago. Where else are 'scopes operating in our state? Eastside FD near Asheboro has a Mack/Baker. Boone FD (Avery) and Newell FD (Mecklenburg) no longer have theirs. Any other's still in service?
READ MORE
+ 3 - 2 | § ¶
Two Alarms on Hempshire Place on Saturday
Belated incident report from the weekend. Two alarms were struck on Saturday morning in Raleigh, at the home of a Raleigh police officer and a neighboring Raleigh firefighter. Dispatched at 10:36 a.m. to 8250 Hempshire Place. Upgraded to working fire about a minute later, due to multiple reports. Engine 18 arrived at 10:38 a.m. at a two-story, wood-frame townhome building with six occupancies. Each unit about 1,300 square-feet. Built 1995. Heavy fire in the rear of unit 102, at the corrected address 8310 Hempshire Place.
Engine 18 caught their own hydrant, and laid in wet. They pulled a line to the rear of the building, for an exterior attack. The officer also requested a second alarm, which was dispatched at 10:42 a.m. After knocking down the bulk of the fire, crews went inside for interior attack.


WRAL photo

Second due Engine 4 boosted pressure for Engine 18. First due Ladder 1, operating the reserve 1988 Pierce Snorkel, was positioned at the front of the building, and prepared for aerial operations (which was not needed). Engine 23 established the water supply for the ladder.
Crews also entered each adjoining unit, for exposure protection. Vertical ventilation was performed. The fire was controlled at 10:53 a.m. Two additional engines were special called to help with overhaul and investigation. No injuries were reported. The cause was undetermined. Believe the fire was the fourth second-alarmer for the year.
First alarm: E18, E4, E23, E16, L1, L3, R1, B5, B1, C420; Working fire: A2, C20, C401; Second alarm: E29; E15; E9; L6; L5; B4. Special called Sq7, E1. Medical: EMS 22, EMS 35, D4, T1.
Police Officer, Firefighter Displaced
The townhome belonged to Raleigh Police Officer A. R. Morales. Her neighbor was Raleigh Senior Firefighter John Stiver. Donations for both are being accepted through this GoFundMe page.
Here's the building before the fire:


Google photo
Prior Fires
Hempshire Place has been the site of two or three major fires in the past.
Two alarms at 8321 Hempshire on December 18, 2000, and two alarms at 8311 Hempshire on June 23, 2006. Also checking on possible third multiple-alarm fire, at the time of construction circa 1997-1998.
Pictures and Media
WRAL posted a dramatic viewer picture, shown above. See their coverage. Other media coverage includes this WTVD story.
FireNews Editor in Chief Jeff Harkey went to the scene, and posted some photos on Twitter.
Fuquay Fire Buffs photographer Evan Caulfield went to the scene, and has posted pictures on their Facebook page. Audio and video are forthcoming.
+ 3 - 3 | § ¶
Lenoir County Firefighter Killed in Car Accident Last Week
Hugo Fire Department firefighter Taylor D. Frank, 24, was buried on Sunday in Kinston. He died off-duty on Wednesday in a single-vehicle accident just feet from Hugo Fire Station 2. He was returning home from work in Pitt County when his Ford F-250 truck ran off the side of the road in the 270 block of Tilghman Mill Road and into a steep ditch. His vehicle overturned several times, he was ejected out of the vehicle, and he landed on rocks. Reported a highway patrol officer in this Kinston Free Press story, he was pronounced dead at the scene. Frank was employed as a detention officer at the Pitt County Detention Center, and had been a volunteer firefighter for over six years. Read his obituary.


+ 3 - 2 | § ¶
Cary's New Engine 8
Factory photo of Cary's new Engine 8, a 2015 Pierce Velocity pumper. Arrived this week at Atlantic Emergency Solutions in Fayetteville. Readers can provide details such as specs and the make/model/year of truck that it's replacing. (And any other CFD updates.) See larger versions.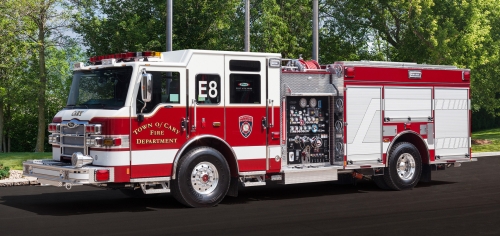 + 4 - 2 | § ¶
Red Cross Smoke Detectors and Robot Garbage Workers
What does the future of the fire service look like?
Two things caught my attention this morning. First was this Firehouse commentary by Daniel Byrne titled Privatization of the American Fire Service is Coming. (Or see the Facebook posting with reader comments.) His topics include a recent Red Cross initiative that installed some 2,200 smoke detectors. Asks Byrne about this admittedly admirable program, "why there was any vacuum in the field of fire protection that allows another outside entity to be able to step in and lead us in the first place?"
Second was a story about Volvo developing robot garbage workers, via this Digital Trends story by Andrew Hard. Program is called ROAR. Robot-Based Autonomous Refuse handling. Two-wheel robots of human size and controlled by an operator in the truck. They hope to test a prototype in 2016. (In a way, it's not terribly far removed from the system that the City of Raleigh uses. Truck operators use an articulated boom to collect and empty curbside containers.)
What do these stories bode for the public servants of tomorrow? Couple things come to mind. First the the "vacuum of opportunity." When needs present and persist, someone or some group will appear (or adapt) to meet those needs. Such as the Red Cross entering the business of fire prevention.
Next are opportunities for cost- and energy/effort-savings, through innovation. Robot garbage men? Looks like it'll happen. Robot firefighters? Byrne references the Navy program that's underway on that front.
Your thoughts?
+ 2 - 1 | § ¶
Adding WiFi to Your DSLR Camera
The latest and greatest DLSR cameras--along with mirrorless, and compact cameras--are equipped with wi-fi. They can transmit their photos to your computer or mobile device, which makes mobile posting a breeze. Snap a shot and post to Facebook, just like that.
Have an older camera that lacks wi-fi? No problem, there are brands of SD memory cards eqiupped with same. Notable brands include Toshiba and EyeFi. What, your camera uses CF cards instead of SD cards? No problem, as adapters are also available.
Yours Truly recently made the leap and my details are below. (Merely X years after the technology has become available. Wish I'd done this years ago.)
This will be a particularly helpful with fire scene photos. For a few years now, I've been posting real-time pictures to Twitter and Facebook. Just a couple, and always using my mobile phone. The problem comes in the process. Taking a phone picture means changing modes, from DLSR to iPhone. This interruption invariably causes me to miss a good camera shot.
Here's the magic:
Using my Canon 7D (and soon my Canon 50D). Stores pictures on CF cards. Since I'm saving in Canon RAW, changed the settings to also save as JPEG. (The phone apps we'll be using can't read Canon RAW.)
Replaced my 8 GB CF cards with a CF adapter for SD cards. There are a couple brands out there. EyeFi looked like the most reliable.
Added a wi-fi SD card. Chose Toshiba FlashAir instead of EyeFi. (The latter requires proprietary software, or at least I have read.)
Installed Toshiba FlashAir app on phone. Take picture with camera, leave camera powered on, switch phone to receive FlashAir wi-fi signal. Use app to transfer JPG images from camera to phone. (Let's say two seconds per picture, transfer time.)
Use phone's native photo app to make any edits to the photos, such as cropping or exposure compensation.
Installed another app on phone, called Reduce. Use to batch-reduce the JPG images to lower-resolution size, for faster uploading. (Let's say half-second per picture to process.)
Upload as desired to social media, such as Twitter or Facebook.
Questions?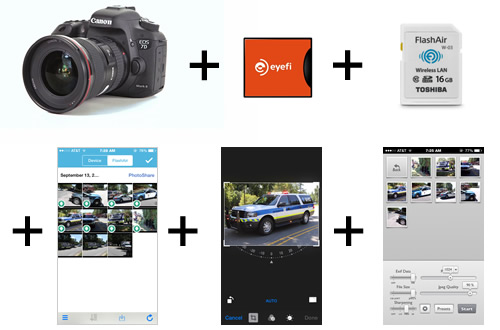 + 4 - 1 | § ¶
Radiological Preparedness in Wake County (and Some History)
At a high school on Rock Quarry Road on Tuesday evening, August 25, emergency responders and public health and environmental workers prepared to receive people evacuated from southeastern Wake County, after an accidental release of radiation at the Harris Nuclear Plant. That is, a simulated evacuation after a simulation accident. Relax, this is only a test.
The exercise was one of several conducted that week within Wake, Chatham, Harnett, and Lee counties. Called "Harris Out of Sequence," the activities were "response components" that were tested individually (out of sequence) instead of "all at once" (as they would unfold during an actual emergency).
Wake County Emergency Management coordinated the exercises, which are required every two years by the Federal Emergency Management Agency (FEMA). Their evaluators were present, along with officials from North Carolina Emergency Management.


In Wake County, four activities were conducted:
Demonstrate capability to activate and operate an evacuation shelter (called a Reception and Congregate Care Center) in southeast Raleigh, to evaluate, decontaminate, and shelter civilians. This was conducted with Raleigh Fire, Raleigh Police, Wake County Human Services, Wake County Environmental Services, and Red Cross.
Demonstrate capability to operate an Emergency Worker Decontamination station at the PNC Arena in Raleigh. This was conducted with the Raleigh Fire Department's haz-mat team, with Haz-Mat 1 (staffed by Engine 2), Haz-Mat 2 (staffed by Engine 27), Haz-Mat 3 (staffed by Engine 8), Haz-Mat 4 (staffed by Ladder 5), Battalion 3, and Car 55.1
Demonstrate capability to warn and clear boaters from Harris Lake. This was conducted with the Wake County Sheriff's Office.
Review procedures with school officials in Holly Springs, on how they would either shelter in place or evacuate in the event of an accident during school hours.2
1That's Raleigh's entire compliment of haz-mat resources, save one. Haz-Mat 5, not present, is a major spill and foam support unit also staffed by Engine 2. It operates a former rescue unit, a 2002 International/SVI medium-duty rescue. It's paired with a two-axle foam trailer delivered in 2012 and built by the local Combat Support Products. Raleigh also operates North Carolina Hazardous Materials Regional Response Team (RRT) #4. When deployed, it typically responds with Haz-Mat 2, Haz-Mat 3, Haz-Mat 4, and Cary 55.
2Due to the size of the potentially affected areas in southeast Wake County, Apex, Holly Springs, and Fuquay-Varina are demonstrated on a six-year rotation cycle. For 2015, Holly Springs was evaluated. The other two municipalities, though not evaluated, also participated in training and exercises.

Photos From The First Two
Photographer Mike Legeros attended as an observer to the first two events, which were held at Southeast Raleigh Magnet High School and the parking lot of the PNC arena. See his pictures.


Questions and Answers
He also conversed with Wake County Emergency Management Specialist (and third generation former firefighter!) Leslie B. O'Connor about the drills:
Q: What's the total capacity for evacuees in Wake County?
A: Including our overflow shelters, 30,302 can be sheltered using only our schools. That doesn't include any shelters sponsored by outside organizations (non-Wake County) during an actual event.
Q: How many people can be sheltered at Southeast Raleigh Magnet High School, where Tuesday's exercise was conducted?
A: The capacity is 1,204, as housed in the main and auxiliary gymnasiums.
Q: How long is the shelter period, in hours or days?
A: A shelter would be open for a period of days for a large scale disaster where citizens need to be relocated. For smaller scale events, a reception center would be opened for a short term or hourly need, to provide a location for citizens seeking refuge.
Q: When people arrive at the shelter, they're checked for radiation contamination. Walk me through what happens.
A: There are "portal monitors" at the entrance, similar to metal detectors at airports, which detect contamination levels. They scan for radioactive particles present on a person's body, clothing, and shoes. If no radiation is detected, the person is designated as "clean" and directed to a gymnasium for sheltering.
If radiation is detected, they're escorted to a health information station. They can ask questions and receive information about the decontamination process. From there, they go to the decontamination station. Men and women are decontaminated separately in men's and women's locker rooms. There are exceptions for small children, however. If a mother arrives with a young son, the son may enter the women's locker room for decontamination and vice versa.
Handheld radiation meters are used to verify the contamination. Decontamination is completed using a graduating system: clothing removal, use of baby wipes, and shower if necessary. If showering is required, the person will receive disposable clothing until more appropriate clothing is procured. Once cleared, they're directed to the gymnasium.
Q: Are men and women sheltered separately?
A: No. All are sheltered in the same gymnasium.
Q: Decon is also provided for responders. Tell me about that.
A: Unlike civilians, who are sheltered after evacuating their homes or businesses, responders (fire, police, EMS, etc.) need to return to service. Thus we have a separate monitoring and decontamination station for them and their vehicles. In additional to personally screening each individual—in the same manner as evacuees—each responder vehicle receives a careful inspection. Vehicles with contamination are moved to a decon area, where they're cleaned using Maslin cloths and/or soap and water.
Q: What happens if they someone can't be decontaminated?
A: After at least three attempts at decon, evacuees or responders with contamination levels higher than 300 CPM are transported to Rex Hospital or WakeMed Raleigh.
Both hospitals participate in annual Medical Services Drill, or MS-1. Each year, we test our plans to identify, perform "gross decon," transport, and perform "hospital decon" of patients. We also keep equipment at WakeMed satellite hospitals in the county, for overflow purposes.
Q: FEMA evaluates these exercises. North Carolina Emergency Management is also present. But who funds these activities?
A: Duke Energy funds all Radiological Emergency Preparedness (REP) activities in Wake County. No monies are received at the state or federal level.
Q: They also fund the other three counties, correct?
A: Yes, Wake, Chatham, Harnett, and Lee counties comprise the Emergency Planning Zone (EPZ) for the Harris plant. The same funding is also provided to the EPZ counties at other Duke Energy nuclear plants in North and South Carolina. Funding is provided based on the population impacted by the plant. Duke Energy also provides funding to NCEM, for REP planning.
Q: How big is the EPZ?
A: Ten-mile radius around the plant. Within the EPZ, immediate protective actions for the public would include go inside and stay inside, sheltering in place, or evacuation. There's also a fifty-mile zone, in which state and federal officials may monitor for food products, livestock, and water contamination, after a radiological accident.
Q: Throw some numbers at me, about all this.
A: Our 2014 Evacuation Time Estimate (ETE) Population Update Analysis indicates that Wake County has a population planning base of 114,928 (both permanent and transient visitors). FEMA's REP standard advises we must "plan for a sufficient number of congregate care centers ... to accommodate a minimum of 20 percent of the EPZ population" and "demonstrate the capability to attain and sustain, within about 12 hours, a monitoring productivity rate per hour needed to monitor the 20 percent EPZ population planning base". Based on our ETE for 114,928 population planning base, our 20% is 22,985. We have enough equipment in Wake County to monitor 30,528 evacuees and 4,608 emergency workers in 12 hours.
Q: Meaning the equipment and facilities can be equipped and operational within twelve hours of a radiological accident?
A: Correct.
Q: Tell me about Wake County Emergency Management and their role in Harris plant planning?
A: We have two full-time positions for Harris preparedness. Darshan Patel manages the overall Wake County REP Plan and Standard Operating Procedures. I manage the implementation of the plans and procedures through equipment maintenance and first responder training. Wake County EM has eight members total, additionally the Director and Assistant Director, a Haz-Mat Preparedness specialist, an Office Manager, and a Software Developer.
Q: What's the historical perspective of your department?
A: You tell me!
History of Wake County Emergency Management
The first full-time emergency management position in Wake County was created in the 1950s, when retired Colonel David L. Hardee took oath as Raleigh-Wake County Civil Defense Director on February 15, 1954. He was a highly decorated combat veteran of both world wars and was charge with "preparing [for civilian defense of] one of the state's six targets for nuclear attack. His office was originally located in the basement of the county courthouse, the third in the county's history that stood from 1915 to 1967.3
His office also oversaw preparation for natural disasters, and facilitation the creation and administration of a rural fire department program. (The latter is the reason that Civil Defense stickers—or even blue and white paint schemes—appeared on local fire and rescue vehicles. It denoted that funding was contributed by Civil Defense programs.)
In February 1960, he was replaced by Colonel John C. Thorne. The Wake County Office of Civil Defense was later renamed the office of Civil Preparedness, then Emergency Preparedness, then Emergency Management. (It was also named Major Response and Logistics for a short period between EP and EM.)
In 1971, Russell Capps was named Director of Emergency Preparedness. He also held the position of county Fire Marshal and, beginning in July 1976, he also became the first EMS Director with the creation of a county Emergency Medical Services service that year. He resigned in early 1986.
Wake County Emergency Management still has plans for "nuclear attack," but focuses most of its resources on preparedness for a wider range of more likely incidents including hazardous materials releases, nuclear plant emergencies, public health emergencies, and natural disasters.
3Was there a part-time position prior to the full-time position created in 1954? Perhaps. After the United States entered World War II in December 1941, civilian preparedness planning was undertaken in Raleigh, including air raid and blackout drills. Unsure if those were led at the city/county level, or by a state official.
READ MORE
+ 1 - 2 | § ¶
German Fire Apparatus Responding
For your Thursday enjoyment, here's a random video compilation of German fire apparatus and units responding to calls. Over twenty minutes long! Many interesting things to comment upon. The mega fire stations in some shots, with ten or twenty bays. The caravan-style of travel at times, with four or six units in a row. The manueverability of those short-wheelbase European ladders. And how about that POV responding the 09:30 mark, with a portable roof-mounted light and siren.

+ 1 - 1 | § ¶
Wake County EMS Citizens Academy - Starting October 27
Wake County EMS has announced their first Citizens Academy, a four-night program starting this fall that's free for any Wake County citizens of high school age or older. The program will be held on Tuesday nights from 7:00 p.m. to 9:00 p.m. at the EMS Training Center at 4012 Carya Drive. That's off Poole Road. The four nights are October 27, November 3, November 10, and November 17. The program is designed to teach community members about their EMS system. You'll learn hands-on CPR and how to operate an Automatic External Defibrillator (AED). Interested? Call 919-856-6020 or contact Jeffrey.hammerstein@wakegov.com.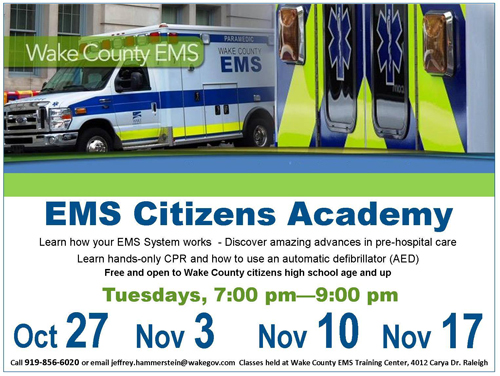 + 1 - 0 | § ¶
Vintage Poster - How to Fight Fire Bombs, 1942
From the North Carolina Digital Collections. More information on this image. (For context, read about Raleigh's civilian defense efforts, as related to the fire department.) Click once or twice to enlarge:



Courtesy North Carolina Digital Collections
+ 2 - 2 | § ¶
Raleigh Fire Department, Established When?
From the Raleigh Fire Museum on Facebook, which was posted yesterday. Writing style looks a bit familiar don't you think?

RALEIGH FIRE DEPARTMENT, ESTABLISHED WHEN?
Easy question, right? Yes and no.
The career fire department that protects that Capital City was organized in 1912. It was placed in service in December of that year.
In 2012, the Raleigh Fire Department celebrated that centennial anniversary in ways ranging from special logos on shirts and trucks, to special events in June (fireman's day) and November (fireman's ball).
But what about the volunteer fire department, that existed before 1912?
That entity—as a properly organized and supervised city service—was created sixty years earlier. In February 1852, city officials passed an ordinance that resulted in the first fire house, the first salaried fire chief, construction of fire cisterns, and reorganization of the volunteer fire companies.
Thus, a "proper fire department" has been serving the city since 1852.
But what about the fire companies before 1852?
Good question. They comprised what was also called a "fire department," though with looser and less organization. In fact, the city's first fire company was organized in 1819. That means we've had nearly 200 years of organized fire protection in Raleigh! Not bad for a city that's 223 years old.
Nice answers hot shot, but here's another question. Didn't the volunteer fire companies also have numbers, like Company No. 1? Doesn't that mean that today's Engine 1 is over 100 years old, and maybe way over 100 years old?
Correct. Take a look at this chart, created by Raleigh Fire Department Historian Mike Legeros, http://legeros.com/ralwake/raleigh/history-chart.pdf
When the career fire department was created in 1912, they had two (and soon three) hose companies. Hose Company No. 1 was housed on Morgan Street. They occupied the former quarters and used the former equipment of the Capital Hose Company. That hose company was called Capital Hose No. 3., as shown in a chart at the top of this page: http://legeros.com/ralwake/raleigh/history/timelines/1910-1919.shtml
Unfortunately, the volunteer company numbers didn't match with their subsequent career station numbers.
- Rescue No. 1 became Hose No. 2 at Station 2 on Fayetteville Street.
- Victor No. 2 became Hose No. 3 at Station 3 on Hargett Street.
- Capital No. 3 became Hose No. 1 at Station 1 on Morgan Street.
In the early 1920s, the hose companies were renamed as engine companies. Thus, we can say that Engine 1, Engine 2, and Engine 3 each had their beginnings before 1912. Should you connect the dots based on their number, or which engine house they occupied? Your call.
Questions, comments? Add yours below.
For more information and dates, see these two documents:
Career company histories - http://legeros.com/ralwake/raleigh/history/data/company-histories.pdf
Volunteer company histories - http://legeros.com/ralwake/raleigh/history/writing/volunteer-histories.pdf
+ 3 - 5 | § ¶
Raleigh Ladder Truck Sign Boards
The city's newest ladder truck is sporting a new sign board design: City of Raleigh plus Fire Department. See the latest production photos from Pierce on this Atlantic Emergency Solutions page.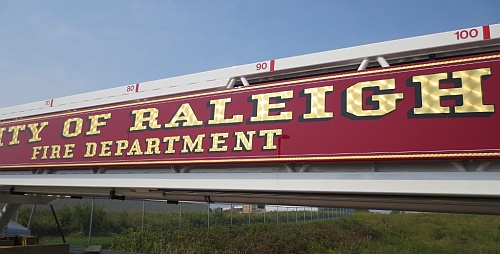 Let's look at the evolution of ladder lettering over time, with this photo montage. Click to enlarge:


+ 3 - 1 | § ¶
Crash Trucks in Miniature
Adventures in miniature effects, via digital filter on a Fuji X30 camera. See more on my Flickr site. Google to learn how it's done. Click to enlarge:


+ 4 - 2 | § ¶
Durham Highway Public Safety Day - Saturday, September 19
That time of year again! Get geared up for public safety days, firemen's days, and other fall fire events. Durham Highway Fire Department's annual Public Safety Day will be held on Saturday, September 19, from 10 a.m. to 2 p.m. at Leesville Road High School. It's always a great event with live and static demos and plenty of fire, police, and EMS vehicles to enjoy.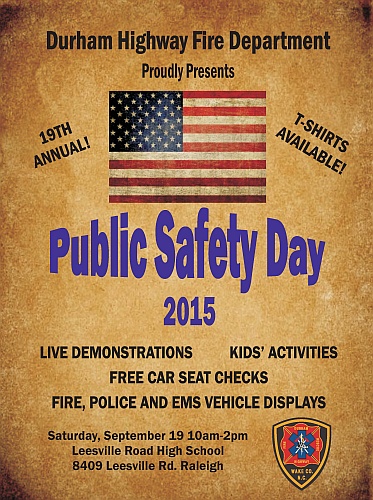 + 4 - 1 | § ¶
Vintage Firefighting Images via Digital NC
From a reader, there are some great vintage firefighting images on the DigitalNC site, in their Images of North Carolina collection. (Thanks Greg!) High-resolution versions are available for most of them, along with descriptions and usage information. Here's a sampling. Click to enlarge:


Left to right, top to bottom:
Brevard Fire Department and old Town Hall on West Main Street, circa 1913 to 1930. (Looks like Brevard's 1925 American LaFrance triple combination, #5111.) Courtesy Rowell Bosse North Carolina Room, Transylvania County Library.
Draper Volunteer Fire Company in 1958. Copyright Rockingham Community College Foundation, Inc., Historical Collections, Gerald B. James Library.
Farmington Volunteer Fire Department in Davie County, circa 1960. Courtesy Davie County Public Library.
Wilson Fire Department, circa 1918. Courtesy Marion (Monk) Moore Collection, Wilson County Public Library.
+ 4 - 1 | § ¶
Raw Video of Robeson County Trailer Fire
Statter911 found this video from Allen Locklear, featuring a fully involved mobile home (abandoned) and the arrival and initial attack from the Shannon Fire Department in Robeson County. Plus a bit of enthusiastic commentary from the videographer.