+ 3 - 6 | § ¶
Private Fire Station
Seen somewhere in or near Gaithersburg, Maryland. Four-bay building attached to a private residence, and with a pair of huge sirens on towers in the front lawn. Now that's a man cave! Was pressed for time and only briefly peekd inside the bay windows. Apparatus collector of some sort. Click to enlarge:


+ 7 - 9 | § ¶
Before Rushing To The Hospital
Take a moment to get online and check the wait at the emergency room! As seen this weekend in Timonium, Maryland. That's a town just north of Baltimore.


+ 6 - 8 | § ¶
Happy Halloween #2
Superb short film by Greg Nicotero. The United Monster Talent Agency. Eight minutes of movie-monster bliss. Boo.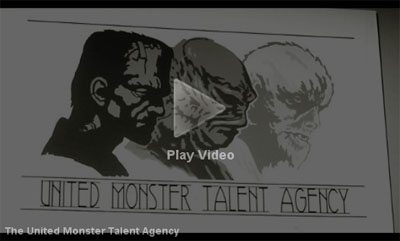 + 4 - 5 | § ¶
Happy Halloween #1
Reader Jeff Silver snapped this photo of seasonal decorations by Ladder 1 at Station 4 in Raleigh. Carving credit to "A" shift. Who else has holiday decorations to share?


+ 4 - 5 | § ¶
Crane Versus House
FireNews has posted photos of a construction accident in Gastonia on Thursday, October 21. Workers trying to topple a tree instead saw their 70-ton crane fall into a house. Part of the boom was damaged, and had to be cut away before the vehicle was removed. Jim Landis took the very interesting photos of a very unusual incident. Read the story.



Jim Landis/FireNews photo
+ 4 - 5 | § ¶
Vehicle Fire From Many Angles
The WTVD news helicopter was nearby Friday, when a sport-utility vehicle caught fire on Interstate 40 near Aviation Parkway. See a slideshow of crews extinguishing the fully involved vehicle fire.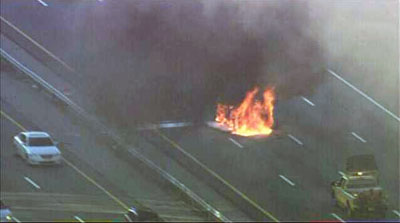 WRAL also posted a traffic camera image of the fire, as well as video footage of the scene. Good timing on the part of the camera crew. Wonder if they stage around there, awaiting the inevitable rush-hour incidents. Looks like four fire units, probably Cary, Morrisville, and Western Wake. Lanes blocked in both directions.


+ 7 - 6 | § ¶
Ambulance Design, Safety Improvements, Sprinter Chassis
From this posting on his 9-ECHO-1 blog, reader DJ finds this posting from A Day in the Life of An Ambulance Driver on the subject of design improvements for safety. Meaning, greater structural integrity of ambulance modules, padded cabinetry, etc.
And, in a new design built by Crestline Coach on a Mercedes Sprinter chassis, pivoting bucket seats equipped with four-point restraint systems. As for the familiar bench, that's gone.
What's the inside of the thing look like? ADITLOAAD (now that's an acronym!) has posted a couple photos. And what are people's experiences with Sprinter-chassis ambulances, versus the modular boxes? Check out the reader comments, which number a couple dozen.
Our readers-- notably DJ-- can and hopefully will expand further on these subjects. We've discussed fire apparatus safety on many occasions. Let's turn to transport vehicles for a change. Read both of the postings from 9-ECHO-1 and ADITLOAAD.


+ 5 - 6 | § ¶
Buzz, Buzz, Swoosh, Applause
Here's your pre-Friday video find. Citizens enjoy the show in Cincinnati, in this transformer fire footage found by Dave Statter. There's something particularly mesmerizing about a crackling transformer. Maybe it's the sheer lethality of the electricity on display. Water is gingerly (dangerously?) applied, and the crowd applauds...


+ 6 - 12 | § ¶
Mystery Building
Where is this building, and what's its significance to the local fire service?


+ 8 - 6 | § ¶
Severe Weather in South Roxboro
WRAL has posted this viewer photo of a funnel cloud seen in South Roxboro this afternoon. Storm warnings abound as thunderstorms continue to pass through our area. FireNews has posted this report of last night's storm damage on the western side of the state. Several structures were destroyed, and 11 people were injured in the storms.



WRAL photo
+ 9 - 3 | § ¶
Digital Media Collections
Some years ago, we meaning me created a Raleigh Fire Department Virtual Museum web site. The concept was simple, and modeled on similar sites. Just a chronological, page-by-page presentation of old photos, historic documents, and even photographed artifacts. Nothing fancy, and not updated with any regular frequency. The last "exhibit" is dated 2006, a montage of training tower construction photos. Memo to self: time for an update!
Today, virtual museums-- or better called digital media collections-- are looking better than ever. Web pages and user interfaces are in their second- and third-generations. Sites are cleaner, and functioning better. High-speed internet access is widely available, and pages and page content can load faster. This allows for larger and more robust collections. Audio and video content is also being increasingly integrated into web sites and digital collections. Social media integration is certainly next, if not already there.
All of which sets the stage for something Mrs. Blogger stumbled upon. As this Firehouse.com article relates, the 150-year history of the Indianapolis Fire Department is being presented through a newly expanded digital media collection from the Indianapolis-Marion County Public Library. The content includes over 1,000 photos, log books, audio clips, video clips, and three-dimensional objects.
How did they do it? The project was a partnership between the library, a university, a community foundation, and the Indianapolis Firefighters Museum. Read the article, and then visit the digital collection at http://digitallibrary.imcpl.org/ffm/.
As for digital media collections in North Carolina, here are a couple worth browsing, and all of which contain historic firefighting images:
+ 5 - 4 | § ¶
Public Meeting Tonight About Suspicious Fires in Smithfield
As this WRAL story reports, a public meeting is planned for tonight, Tuesday, October 26, to share exchange information with citizens about suspicious fires in the Smithfield area a series of suspicious fires in Johnston County. The meeting is scheduled for 7:00 p.m. at South Smithfield Primary School, 201 W. Sanders Street. The meeting is a regularly scheduled community policing meeting held by the Smithfield Police Department.
The story cites officials saying that multiple arsonists may be at work in the county, which has seen 35 suspicious fires in the last 12 months. Clayton's seen nine intentional fires since October 2009, largely in homes either new or under construction. Since April 2010, a total of 20 fires in southern Johnston County have been set in barns and vacant houses.
Investigating agencies include Smithfield police, Clayton police, Johnston County's Sheriff's Office, and the State Bureau of Investigation. A similar meeting was held in Clayton in May, recounts this NBC17 story.
A reward of $5,000 is offered for any information that leads to the arrest and prosecution of the person responsible for any or all of these fires. Anyone with information is asked to contact the Smithfield Police Department at 919-934-2121, or confidentially on the department's tip line at 919-989-8835.
+ 8 - 4 | § ¶
Big, Bigger, Biggest?
Seeing this familiar monster at the State Fairgrounds today gets me thinking: what are the largest emergency vehicles in service around the area and/or the state? This mobile command and communications unit is a pretty big one. What's larger? Please answer for both articulated and "straight" trucks. Click to enlarge:


+ 6 - 2 | § ¶
Cold Storage Fire in Albany, NY
Speaking of high-rise buildings (albeit monolithic commercial structures that are pretty rare around here), The FireCritic finds this story of an 11-story cold storage warehouse that's burning in Albany, N.Y. The fire started on Friday, and the building was been deemed too dangerous to enter.
This All Over Albany story has the story and links. By Sunday, the thing was smoldering, but the building appeared in no danger of collapse. Read that Times Union story. Here are some scene photos from an urban explorer. The fire also has folks thinking about the Worecester cold storage warehouse fire in 1999 that killed six firefighters.
For Monday morning discussion, what commercial or industrial hazards around here get you thinking about worst-case scenarios?



All Over Albany Photo
+ 4 - 6 | § ¶
Raleigh Firefighters Simulate High-Rise Drill
Here's a nice News 14 story about Saturday's high-rise drill at the Archdale Building in downtown Raleigh. The exercise simulated a fire on the tenth floor, and even included an outside-venting smoke machine for added realism. The 94-second clip includes good exterior footage and interviews with a couple firefighters. Participating agencies included Raleigh fire, Wake County EMS, Raleigh police, State Capitol police, and the Raleigh/Wake ECC.


+ 6 - 3 | § ¶
Nut Response Unit
But does your department have a Pecan Truck in its fleet? Maybe in the Special Operations Division. As seen earlier today in Avery County...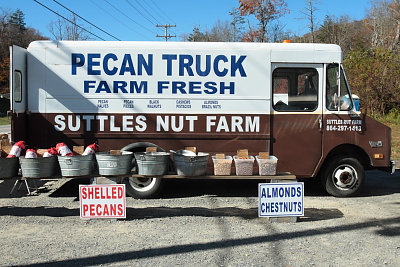 + 3 - 7 | § ¶
Durham Highway on Davis Circle
Back in town, back on the computer. Since we've been discussing Durham Highway and their original station at 6802 Davis Circle, here are a couple pictures of same. That is, bits and pieces of the building.
Mr. Blogger did some serious photo research in the 2000s, while working on his Raleigh and Wake County Firefighting books. Here are the only images he found of the Davis Circle station. They were scanned from photos in possession of DHFD (top) and Dale Johnson (bottom).
The land for the fire station was deeded to Durham Highway Fire Department in 1965. The owner was Tom Bailey, President of Central Mack Sales. He provided the lot located behind the Amoco service station, and with the stipulation that the property return to his ownership when no longer used for fire protection.
The department's first apparatus is pictured, a Army surplus "deuce and a half" that bought for $500. They added a pump and a tank, and it served until their 1965 Chevrolet/Darley pumper arrived. That truck's pictured in the second photo. We'll let the old-timers continue the story from there... Click to enlarge:


+ 4 - 3 | § ¶
More Roadside Attractions
Couple more old engines as seen along Highway 19, west of Spruce Pine, N.C. First is a formerly lime-green American LaFrance Century (?), and perhaps last used by a water department. There's an amber beacon on the roof, and a conservation sticker on the side. Second is a Seagrave K Series (?), a few decades old and in what looks like pretty good condition. Must be a recent aquisition of the tractor company that owns the thing. Doesn't look like it's been stored outside all that long. No idea where Centre FD is located, nor is Google helpful. Thanks to Mrs. Blogger for her patience in these and other hasty stops.


+ 7 - 2 | § ¶
House Fire, Video Clip, YouTube
The Fire Critic found this YouTube video of this week's house fire on Springfield Park Drive in north Raleigh. The clip runs eight-plus minutes and shows quite a bit of fire. Defensive ops are started near the end, and a few seconds are shown of Ladder 5 flowing from off-screen. As a bonus, another firefighter-- perhaps a former firefighter, or visiting firefighter-- is present with the videographer, and "narrates" with comments about what's happening with the house.
And why wasn't Yours Truly the first to find this? That one's easy to answer. Mr. Blogger doesn't search for videos, because he didn't think local-shot clips existed. Is this one the first? Or the first in a while?
Discussions can go in a number of directions on this one. There's the incident itself, of course, though most of the fireground action is difficult to discern. That's a factor of distance, and that the Falls pumper is between the camera and the building during much of the clip. (Talking back to your computer and asking the guy to move to the right doesn't work. Tried it.)
We can discuss the quality of the taping, and video techniques therein. Or perhaps consider the implications of video clips themselves. Plenty of fire departments across the country have found themselves taped and clip-posted (and critiqued). Now we're getting a seat at that table.
Sure, citizens have been sharing still shots to news sites for some time now. But working fire footage on YouTube is a new one around here. And presumably such clips will become ever-easier to create and share. Watch, react, discuss.

+ 10 - 4 | § ¶
Scenes From Spruce Pine
Reporting from the road. This Duplex/Grumman telesquirt is out of service outside Parkway Station 2, which is outside Spruce Pine, N.C. The truck previously served Pineville, N.C. Ah, the telesquirt (my word, not the shorter-spelled brand name). Affordable aerial waterway, and descended from the venerable water tower. If memory serves, only a few hundred water towers were built between about 1870 and 1940. Many stayed in service into the 1960s.


This ambulance parked behind the Spruce Pine town hall-- and former fire station-- is labeled Mitchell Radio Patrol First Responders. Who are they? Older ambulance service? Another entity altogether?


READ MORE
+ 6 - 2 | § ¶
H is for Hydrant
B is for blogger, he's posting this post. F is for fire, which hydrants help fight. M is for mountains, where this picture was took. P is for Pine, the town's name is Spruce Pine. (R is for rolling, which reader's eyes are doing now.) Next up, lessons in basic arithmetic!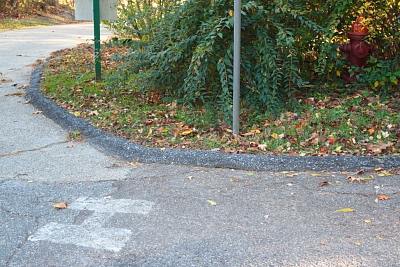 + 4 - 3 | § ¶
Garner Station 4 and Lower Insurance Rates
Here's a Garner Citizen story about the expected impact of Garner Station 4 on insurance rates. The combination fire and EMS facility is located off Raynor Road on Spaceway Court and is expected to open next month. It's located within six miles of some 1,260 residential and 15 commercial properties, which meets the state requirements for a better insurance rating.
As the article notes, the station's response area is "the last large tract of land in [the county's] fire tax district considered unrated for insurance grading purposes." Meaning, those property owners have been paying fire taxes, but haven't been eligible for lower insurance rates due to "fire protection credits." (That disparity was one of the driving factors behind the county's creation of the station, recalls this blogger from Fire Commission meetings.)
The area's "unprotected status" won't change until the Office of the State Fire Marshal inspects and certifies the new fire station, and which will officially extend the county's fire district accordingly. That should happen in February. The county is planning to notify residents once that has happened, and possibly using a phone messaging system similar to reverse 911.
Read the story, which also mentions the other significant impact of the station, which will be reduced response times for fire and EMS units.
+ 6 - 4 | § ¶
Charlotte's Steamer in Action
Here's a neat video story from WBTV showing Charlotte's steamer "Old Sue" in action. The apparatus is a 1902 American LaFrance Metropolitan, third-size, serial number #2813. They report that the steamer was put through its paces after undergoing a recent restoration. (Operational restoration, no? Believe it underwent an exterior restoration some ten years prior.)
The five-ton engine-- capacity 600 GPM-- was even hitched to a team of horses! The steamer's appearance was also reported in this News 14 story. Over 40 steam engines served in North Carolina, including four for the Charlotte Fire Department. (Raleigh had two, Wilmington had eight!) At least ten have survived. Read some of that history.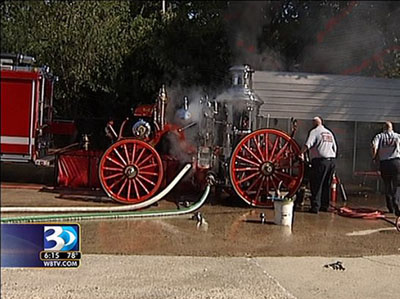 Notes
The steamer is also cited as a 1903 model. The correct year appears to be 1902, as based on such research as recorded in this document.
If the American and LaFrance fire engine companies didn't merge until 1903, that date from this Wikipedia page, how can a 1902 steamer be named as an ALF? Good question! Maybe the companies were already branding their products prior to 1903. Guess I'll pose this question sometime to Those in the Know.
+ 8 - 2 | § ¶
Social Media and Social Sharing
Darn that Dave Statter. He can get a person thinking and making connections about issues being covered in the media. Witness his posting on Social Media & The Line-of-Duty Death. What happens when family members hears of a duty death via Facebook, and before more sensitive (and accurate) channels can be used?
Then there's his earlier story covering the story of a firefighter's cellphone video taken at an accident scene and subsequent shared with others. As his witty headline notes, both the video and the story have gone viral. That one's making national news.
What connections can we make here? For myself, it's about sharing. Human beings are social creatures. We are constantly communicating about what we see, learn, experience, etc. We share, and all the time. Social media-- or perhaps better labeled social networking technologies-- is making it easier than ever to disseminate information. Both in terms of scope and speed.
Bang, and something that's happened to a firefighter is reflected in Facebook postings of "prayers for the _______ family." Blink and an image of an emergency scene has been shared between two people. Stepping back a bit, the next question is the obvious one. What now? Policies and procedures are already being put in place by agencies, for such things as using cellphones or cellphones-as-cameras on scene.
Do such directives need to go further or farther? You can't legislate common sense, goes the adage. And it's pretty darn hard difficult to keep people from acting human. Compelling information has a tendency to spread. Mind you, "information" can be a mixture of opinions, incomplete perceptions, and hard facts. Chew on that for your morning thinking. Discuss as desired. Time to get moving for the day.
+ 5 - 2 | § ¶
Mystery Crane
Where's this big boy blocking traffic? And three lanes of traffic at that! For extra credit, name the model of this five-wheel Grove monster. And aren't they the same company that supplies booms for the legendary Aerialscopes? Click once or twice to enlarge:


+ 3 - 11 | § ¶
Raleigh City Council Approves New Fire Station (Updated)
As this WRAL story reports, the Raleigh City Council yesterday approved a recommendation to negotiate a design and construction contract. The architect is Williard Ferm Architects, PA of Raleigh. They designed the city's three prior three fire stations, Stations 26, 27, and 28.
Fire Station 29 will be located in the 12000 block of Leesville Road in northwest Raleigh. That's near the Harrington Grove subdivision, and also near the Durham County line. As the story notes, capital funding was budgeted in 2009 for planning, design, and construction. Groundbreaking is scheduled for early spring 2011.
Below is the actual agenda item from yesterday's City Council Meeting agenda document:
9. Consultant Services
9.1 Fire Station 29 Design and Construction Administration
The City has received request for qualifications (RFQ) from 11 firms to negotiate a design and construction administration contract for a new Fire Station Number 29 which will be located near the Harrington Grove Subdivision in Northwest Raleigh on Leesville Road. Funding is budgeted in 2009 for planning, design and construction. The Facilities and Operations Department, Fire Department and Public Works Construction Management Division staff reviewed the qualifications and recommend the following firms to be considered in this order:

Williard Ferm Architects, PA, Raleigh, NC
KCI Associates of NC, Raleigh, NC
MS Consultant, INC, Garner, NC


Recommendation:
Authorize the City Manager to negotiate the contract with the consultant firm, Williard Ferm Architects, PA, for design and construction administration in the order listed.

Late afternoon update. Here's a map of the area to be covered by the fire station, derived from this official map of the city limits
, and with station locations approximately or exactly marked. Note the map is dated July 2010. See more city maps. Click to enlarge:


+ 4 - 6 | § ¶
Emergency Services Employment / Wake Tech Public Safety Campus
This morning's News & Observer article includes this story about current employment opportunities in local emergency services. Agencies mentioned include Durham police, Garner police, Raleigh fire, Wake County sheriff, and North Carolina Highway Patrol. The article also talks about Wake Technical Community College's Public Safety Education Campus on Chapanoke Road, which was unveiled yesterday. Read their blog posting about the facility, which was previously the Public Safety Training Center.
They just completed a $5 million overhaul of the place, and expanded the 18,500 square-feet to over 65,000 square-feet. The campus houses Wake Tech's Basic Law Enforcement program, as well as degree programs in Criminal Justice, Latent Evidence, and Fire Protection Technology. It's also the location for in-service training of fire, rescue, EMS, law enforcement, corrections, and other public safety personnel.
+ 3 - 4 | § ¶
Former Fire Stations of Raleigh
This page of information about former fire stations of Raleigh has been updated. Larger graphics, more graphics, additional information, and better linking. It's part of this frames-based site of Raleigh fire station information. Edits are welcome for any errors or omissions spotted.
Information about former Raleigh stations is also found in this web article, which originally appeared on FireNews. There's even a discrepancy or two, as subsequent research clarified the odd date or two. Need to align all pages with the corrected data. Memo to self: do that.


+ 3 - 5 | § ¶
Eye in the Sky on Buck Jones Road
WTVD was quick over the scene at this afternoon's structure fire at 700 Buck Jones Road. Engine 8 arrived with flames showing from the breezeway of a two-story apartment building. See their slideshow of widescreen photos. Damaged to contained to breezeway. No extension found inside structure.



WTVD photo
+ 4 - 3 | § ¶
Charlotte Firefighters Injured During Search For Explosives
Here's an usual incident yesterday as reported by the Charlotte Observer. It started a Turning Point Academy on West Sugar Creek Road, where an exploding pen (!) sent a 15-year-old student to the hospital. Another student was arrested at the scene, and his brother was arrested hours later when they searched the teenager's house on Mt. Holly Road. They started that search that afternoon.
Bomb squad members-- or bomb squads, plural?-- searched the home for additional explosives. Charlote fire and EMS personnel stood by, and a couple dozen homes and one business were evacuated during the search. Three firefighters suffered minor injuries from an explosion that occurred as they performed a field test on one of the substances found at the scene.
Operations resume this morning. Read the story, which also includes quite a few reader comments. Looks like their Observer has our News & Observer beat for reader participation. Click to enlarge:



Todd Sumblin/Charlotte Observer photo
+ 5 - 2 | § ¶
Caption This Photo
Scenes from the Great Raleigh Earthquake? Extreme parking for city vehicles? Nope, just the usual USAR grounds at the Keeter Training Center. That's where a Structural Collapse Rescue Technician course is concluding. Two more days, including final practical exercise. By the numbers, it's 65 students, 25 instructors, 11 days, 100+ course hours, 12-14 fire departments representing six state USAR task forces. Sponsored by North Carolina Emergency Management and hosted and taught by Task Force 8, which is comprised of members from Cary, Chapel Hill, Durham, and Raleigh fire departments. Photos from Legeros and Lee forthcoming. It's not every day our cameras get exposed to concrete dust!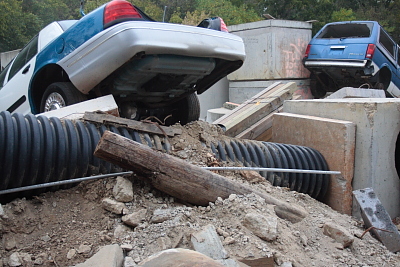 + 4 - 3 | § ¶
Raleigh Fire Department Newsletter, Fall Edition
The fall edition of the Raleigh Fire Department Newsletter has been posted to the web site raleighfirenews.org. This issue's contents include: Fire Marshals Start on Shift; Capt. Fanning, Firefighter of the Year; Asst. Chief Phil Woodlief Retires; Asst. Chief Larry Stanford Retires; Recruitment Update; Promotions and Appointments; Retirements; Community Service For Safety; New Tiller Delivered; Scenes from the Fire Expo; Photo Gallery; Facilities Updates; Historical Society News. See the web site for back issues. The Raleigh Fire Department Newsletter is a quarterly publication for personnel, retirees, and citizens. Read the issue
, or click to access:

+ 7 - 3 | § ¶
Raleigh Emergency Rescue Squad
While we're riding the rescue train, here are some good oldies showing the 1966 Chevy and 1974 and 1975 Chevy/Murphy rescue trucks in their day. Plus one accident photo for good measure. Sources vary for these photos. Dates range from the early 1970s to the early 1990s. Most or all have been seen before. Made 'em a little larger than usual as well, so details can be enjoyed. (The Station 5 photo is even a little larger.) Click once or twice to enlarge:

+ 5 - 3 | § ¶
Old Apparatus at Station 8
Expanding on this mystery history photo, let's turn back the clock at Station 8 on Western Boulevard. That's the one with the full basement, built in 1963 and which replaced a rented house on Method Road. Before the Division Chief's quarters were built, before the Battalion Chief's quarters were built, and before Services had an office and warehouse there, the lower-level was used for apparatus storage. Witness these beauties that were once located there.
Left to right, top to bottom. First photo shows the 1950 FWD pumper. City seal on the door. Second photo shows the 1936 American LaFrance 400 Series pumper. That baby had a 12-cylinder engine! Third photo shows the 1939/1916 American LaFrance tiller, and the 1922 American LaFrance service truck. The latter was cannibalized in 1963 and the ladder used to build the 1963 Ford service truck. Fourth photo is the 1957 FWD pumper.

So what happened them? The 1922 ALF: Unknown. The 1936 ALF: Sold to private owner, who stored outside. Might have been local owner, maybe Durham? Believed last seen as fallen apart. 1939/1919 ALF: Sold to private owner, stored outside in Apex for a couple decades. Sold recently to another owner in Harnett County, and who is or will be storing indoors. Thing's rusted pretty well. The 1957 ALF? Later and still owned by Knightdale Tractor Company, though it served a stint as the first engine for Hopkins Fire Department.

Next question, when were these photos taken? The physical prints are not dated. The pictures look old as get-out. The service truck and three engines were sold in December 1976, so they're at least that old. The old tiller is remembered as still being behind Station 8 as late as 1984, if my memory of other people's memories are correct. What do readers recall of these old-time trucks? Click to enlarge:


+ 5 - 6 | § ¶
Wake & District Public Safety Pipes and Drums Concert, Saturday, January 8
Mark your calendars for the evening of Saturday, January 8, 2011, when Wake & District Public Safety Pipes and Drums celebrate their five-year anniversary with a concert at Fletcher Auditorium at the Progress Energy Center for the Performing Arts. Doors open at 7:00 p.m. and the concert starts at 7:30 p.m.
The concert will feature Pipe Major John Cairns of the Peel Regional Police Pipe Band, the Bagpipes and Drums of the Emerald Society - Chicago Police Department, the North Carolina State University Pipes and Drums, the Triad Highlanders, and the Inis Cairde School of Irish Dance.
The host hotel for the weekend is the Downtown Raleigh Sheraton and a limited number of rooms are available at a special rate. An after-event party follows the concert at Tir na Nog Irish Pub in Raleigh. Concert tickets are $10.00 each and can be purchased from band members or via the PayPal at www.ForOurFallen.org. See you there!

+ 5 - 5 | § ¶
Remains of the Day
As found on the ground at the North Carolina State Fair. Last one looks like the aftermath of an FCA, funnel-cake accident. No injuries suspected, though cursing was likely involved. Click to enlarge.


+ 3 - 5 | § ¶
High-Rise Drill Downtown, October 23
The Raleigh Fire Department and Raleigh Police Department are among the agencies that will participate in a high-rise building training drill that will close some street intersections in Downtown Raleigh on Saturday, Oct. 23. The training exercise is scheduled to be held from 8:30 a.m. to 6 p.m. on Oct. 23 at the State of North Carolina's Archdale Building, located at 512 N. Salisbury Street. There will be a large number of emergency equipment at the site. Also, to create a realistic training environment, artificial smoke will be pumped into the upper floors of the Archdale Building. Citizens should not be alarmed when they see the smoke. Read entire press release.
+ 3 - 5 | § ¶
Cameras in Apparatus in Florida
Here's an interesting story found by firehouse.com, from WFTV.com. Orange County, Florida. Cameras in apparatus, used to monitor driving practices. Installed in 120 pieces of rolling stock. Personnel have been disciplined, and thus have questioned the legality of the cameras. (They are indeed legal.) The accompanying video story concludes with some dollars cited. The system cost about $1 million. Before the system, the county paid about $700,00 a year on property damage lawsuits. This year, they've paid $100,000. Wonder what their accident rates looked like? Read or watch the story. Discuss as desired.
+ 4 - 4 | § ¶
This Weekend's Events
Oct 15 - Fri
Clayton FD - BBQ Chicken Fundraiser - Station 1 - 11:00 a.m. to 7:00 p.m.
Brogden FD (Johnston) - BBQ & Bake Sale - 11:00 a.m. to 7:00 p.m. Today!
Oct 16 - Sat
Brogden FD (Johnston) - BBQ & Bake Sale - 11:00 a.m. to 7:00 p.m.
All weekend
North Carolina State Fair!
Others?
+ 3 - 4 | § ¶
Mystery History
Apparatus inside building. Make and model, anyone? Does that reveal the location? Or does the location reveal the apparatus? Click to enlarge:


+ 5 - 3 | § ¶
Still More Beacon
This is what you wanted, this is what you get. Couple closer views of responders, plus the camera gets in close with the spectators. Love some of the fashions. Thanks again Travis. Click to enlarge:


+ 3 - 6 | § ¶
Stations, Companies, and Other Bits of Raleigh History
For your Friday enjoyment, here are some Raleigh Fire Department history bits related to stations, staffing, companies, and even contract fire prevention. Sources are Mike's history pages, and the gray matter behind them.

Contents
Delayed Station Construction
Delayed Building Construction
Planned Station Openings
Proposed Station Closures
Actual Station Closures
Staffing Cuts
Company Closures
Second Engine at Station 1
Contract Fire Protection
Delayed Station Construction
The longest-delayed station construction project is likely the replacement of old Station 1 on West Morgan Street, which took 12 years to complete. The station was declared unsafe for occupancy in 1940, and finally vacated and demolished in 1941. (Though the tower was removed in 1938, itself declared unsafe for a number of years.) The city purchased a lot on South Dawson Street for the replacement station, while the fire companies from Station 1 relocated to Station 2 at Memorial Auditorium and old Station 2 (now Station 1) on South Salisbury Street. Then the Japanese bombed Pearl Harbor, and war time restrictions commenced, including building construction. A building for the fire alarm system was built within a year on the Dawson Street site, but the replacement fire station took another decade to complete.
Also during that time frame, Station 6 opened in a rented building on Fairview Road on January 2, 1943. The city had looked at other properties in the Budleigh area, including the grounds of the nearby Country Club Apartments. FHA regulations, however, prevented the construction of a garage. Plans for a dedicated Station 6 were soon underway. If memory serves from my reading of the city minutes downtown, that project was delayed a year to two. Believe they had to re-bid the project, as no bids were received the first and maybe even second time. A dedicated Station 6 finally opened in 1949.
Delayed Building Construction
Another long-delayed facilities project was the recommendation in a 1958 fire protection report to construct a classroom building at the training tower on South Wilmington Street. The Keeter Training Center opened 24 years later in 1982. The same report recommended the relocation of Station 2, and converting the old station at Memorial Auditorium to a maintenance facility. When Station 2 was moved to Pecan Road in 1969, a dedicated shop building was also opened at the new location.
READ MORE
+ 5 - 5 | § ¶
The Accident Scene - Then and Now
By way of comparison to the vintage pictures posted previously, here's a modern accident scene. Engine 9 and EMS 3 yesterday at the intersection of Glenwood Avenue and Lead Mine Road. Some apples to oranges to the vintage pictures, notably the absence of spectators. How many other things are different, then versus now? Click to enlarge:


+ 4 - 8 | § ¶
More Old Photos of Beacon Ambulance Service
Reader Travis Loy has shared some additional old photos of Beacon ambulances. We'll work on posting these and a couple others to the photo site. That's an American LaFrance engine from the rear in the third photo. And who can place the locations of these places? Click to enlarge:


+ 5 - 1 | § ¶
Mystery Roadway
Where are we looking, that we're seeing that police car creeping forward in the far left lane?


+ 5 - 5 | § ¶
Upcoming Events in Clayton
The Clayton Fire Department has a couple events coming up. This Friday, October 15, the Clayton Fire Fighters Association (CFFA) Annual BBQ Chicken Fundraiser will be held at Fire Station #1 located at 325 W. Horne Street. Serving starts at 11:00 a.m. and continue until 7:00 p.m. Tickets are $7.00 per plate which includes a half chicken, green beans, boiled taters, and rolls. The Ladies Auxiliary is providing desserts.
CFFA is a 501(c)(3) charitable organization, that donates to such charities as the North Carolina Fallen Firefighters Foundation, the Jaycee Burn Center, and Red Cross. They also donate to local churches and individuals in need. The CFFA is working to restoring their old Engine 1, a 1947 Ford pumper. Read about the fundraiser and the old truck.
On Saturday, October 23, the Clayton Fire Department is participating at a St. Baldrick's Foundation event at The Flipside, located at 408 E. 2nd Street. The shaving starts at 3:00 p.m. They hope to match or exceed last year's totals, which was organized by the Baker Family after they spent a summer taking their son Bo to UNC Children's Hospital as he underwent radiation and chemotherapy treatments.
You can donate, or register as a shavee at www.stbaldricks.org/events/flipside. Even Chief Barbee is going under the blade as team captain. Funds raised by the St. Baldrick's Foundation are used to fund childhood cancer research.
+ 7 - 6 | § ¶
This Evening's Second Alarm / New Bern Avenue
Still piecing together details on this one. Two alarms at 903 New Bern Avenue. Engine 3 arriving at a two-story, wood-frame rooming house with 2,674 square-feet. Built 1920. Size and age from tax records. Found fire showing from the rear window. Heavy fire conditions inside. Two engines and additional ladder requested.
RIT team activated when contact lost with interior crews. Automatic second alarm resulted, though some units apparently returned to service. Ladder 2 and Ladder 7 deployed.
New Bern Avenue and Edenton Street both closed, the latter due to (second?) supply line from Engine 7. Battalion 2 in command. Dispatched 7:02 p.m. Controlled 7:40 p.m. Three people displaced.
Units on scene included E3, E1, E13, E5, E7, E10, E6, L2, L4, L7, R2, B2, B3, B1, C10, C20, C40, A1, C2, C3, C5, EMS 1, EMS 11, D1, T1. Earlier photos coming from Lee Wilson. Here's a late photo from Legeros. Click to enlarge:

+ 5 - 2 | § ¶
Beacon and Raleigh Rescue
Reader Travis Loy shares this vintage photo of a Beacon ambulance and a Raleigh Fire Department rescue squad. Dates to the seventies, and with a mystery location. Old-timers, where was Fass Brothers (?) Fish House located? Wonder how many other color prints and slides survive from that era, and can be found around time. As the fire department's 100th anniversary approaches in 2012, we'll probably have a call for photos or two or three. Click to enlarge:


+ 3 - 3 | § ¶
Registrants Needed For Free Firefighter Survival Seminar in Lumberton, Nov. 6
Robeson Community College in Lumberton needs 150 registrants for the following free event, in order to finalize the thing. They currently have 100 registered, as of yesterday (Monday). Please call Tammy at (910) 738-7128 to preregister. Here are the event details:
FIREFIGHTERS AND FIRE OFFICERS SURVIVAL PROGRAM: Not Everyone Goes Home!
November 6, 2010
8:00 a.m. to 5:00 p.m.
Emergency Services Training Center, Robeson Community College
5825 NC Highway 72 East, Lumberton
Instructor - Chief Billy Goldfeder, EFO, Deputy Chief of the Loveland-Symmes FD, Associate/Contributing Editor for FIRE ENGINEERING, FIRE RESCUE, FIREHOUSE, FIREHOUSE.COM, monthly columnist: Firehouse Magazines' "CLOSE CALLS" and co-host of www.FirefighterCloseCalls.com
READ MORE
+ 3 - 3 | § ¶
Registrants Needed For Free Firefighter Survival Seminar in Lumberton, Nov. 6
Robeson Community College in Lumberton needs 150 registrants for the following free event, in order to finalize the thing. They currently have 100 registered, as of yesterday (Monday). Please call Tammy at (910) 738-7128 to preregister. Here are the event details:
FIREFIGHTERS AND FIRE OFFICERS SURVIVAL PROGRAM: Not Everyone Goes Home!
November 6, 2010
8:00 a.m. to 5:00 p.m.
Emergency Services Training Center, Robeson Community College
5825 NC Highway 72 East, Lumberton
Instructor - Chief Billy Goldfeder, EFO, Deputy Chief of the Loveland-Symmes FD, Associate/Contributing Editor for FIRE ENGINEERING, FIRE RESCUE, FIREHOUSE, FIREHOUSE.COM, monthly columnist: Firehouse Magazines' "CLOSE CALLS" and co-host of www.FirefighterCloseCalls.com
READ MORE
+ 5 - 6 | § ¶
Garner Fire, Garner Rescue Updates
On Friday, October 1, the role of rescue service provider within the town of Garner was transitioned from Garner EMS & Rescue Squad to the Garner Fire Department. We touched base with the chiefs of both agencies and present an update below.
Fire Department
The Garner Fire Department acquired the response area, the subsidized funding from the town, and three full-time employees from Garner EMS & Rescue Squad. No vehicles or equipment were transferred. The three rescue technicians are classified as entry-level firefighters, and will be fully certified as firefighters by the end of the month. They are all already experienced or veteran fire service members.
Deputy Chief Matt Poole, currently the Interim Fire Chief, noted it's been "business as usual" for the fire department. They were already responding as First Responders inside the town, and were also already providing rescue services outside the town limits. They had also worked alongside Garner EMS rescue units and their members, and the three acquired staff members already had strong working relationships with the members of the fire department.
Though no vehicles were acquired by the fire department, the Town of Garner did take possession of Squad 881. The 2007 Spartan/EVI heavy rescue is being stored at the Public Works facility. The town has formed a committee to sell the vehicle. No additional equipment, however, was transferred to town ownership.
The Garner Fire Department is preparing to open their fourth fire station on Spaceway Court. Nine new firefighters are currently completing the Wake County Fire Academy. When the station opens in November or December, the department will be staffed as follows: four engines with three people, one rescue with two people, and one rescue with one person. The two rescue trucks are housed at Station 1 (2009 Pierce Velocity) and Station 2 (1997 Pierce Saber).
READ MORE
+ 6 - 6 | § ¶
Caption This Photo
Closing Fire Prevention Week with an open house at Fairview Fire Department. Observe that the camera captured the water just starting to spray from the nozzle. Great day for visit fire stations, great week all around for fire education. Click once or twice to enlarge:


+ 3 - 4 | § ¶
Garner Station 4
Getting close to completion on Spaceway Court...


+ 5 - 5 | § ¶
Venting The Roof in Charlotte
As found by the Fire Critic, here's a two-minute video of roof operations and other aspects of a residential structure fire in Charlotte. Ah, the sweet sound of a chainsaw. The video was produced by the Charlotte Fire Department Office of Public Affairs. See their video channel on YouTube. Or read about their award in January, named Social Medial Responder of 2009. They've got it going on. But back to the video. There are also some shots of one of their new Spartan/SVI rescues. Those things are massive!



+ 4 - 5 | § ¶
New Wheels For WC1
Lee Wilson has posted a couple photos of the new investigator's vehicle for Wake County Fire Services. The unit number is WC1. Replaces an Chevy Suburban that had a pull-out equipment rack, right? Click to enlarge:


+ 2 - 7 | § ¶
View From Above
Or at least somewhat elevated at the intersection of East Street and Martin Luther King Junior Boulevard. Motor-vehicle accident with Engine 3 and EMS 31, the latter to the right of the frame. The intersection's was also the scene of what's probably been the largest transformer fire in the city's history. Remember that August afternoon in 2001? Smoke column that could be seen from Mini City, hundreds of spectators watching and sweating, the roar of the crash truck flowing foam at the scene. This was my best picture that day. Anyway, back to present day. Click to enlarge:


+ 5 - 4 | § ¶
Fireman's Day Parade
That's Norlina's vintage Brockway pumper in the foreground in this (attempted) deep focus photo from this afternoon's Fireman's Day parade through downtown Creedmoor. Yours Truly was only struck a couple times by pieces of flying candy, include one which ricocheted off my Canon Digital Rebel XT camera body and struck a woman watching on the east side of Main Street. More photos later. Click to enlarge:


+ 5 - 4 | § ¶
Mack Pack From Dunn
Found for sale on eBay are four 35mm slides (remember those?) of Dunn Fire Department apparatus. Each listed separately. Original photographer not known. Left to right, top to bottom: 1940 Mack L , 1948 Mack L, 1971 Mack CF, 1976 Mack MB. Click to enlarge this montage. Search and find the listings for even larger views. Or bid and win the things! And apologies to those trying to win the things, if the prices suddenly skyrocket.


+ 2 - 8 | § ¶
Raleigh Fire Department Completes Helo Rescue Training
From this press release posted this week, the Raleigh Fire Department now has 15 members trained as Helicopter Aquatics Rescue Technicians to respond to floods and a wide range of helicopter-based rescues. Each team member has trained to execute rescues over land, water, from rooftops, trees and most other obstacles.
The initial phase of training included more than 100 hours in a variety of scenarios. Requests for assistance from the team come through the State of North Carolina Emergency Management from the local county emergency management agencies.
The training was put into practice last Friday, October 1, as team members Capt. E. Moxin and Lt. P Morgan responded to a request from Bertie County to perform reconnaissance over the flooded towns of Windsor, Hertford and Belhaven. Here are some past photos of their training from Lee (Set #1, Set #2, Set #3) and Legeros.


Lee Wilson photo
+ 9 - 4 | § ¶
Raleigh Fire Department Pumping Capacities, Then and Now
For your Friday enjoyment, here's some interesting historical information on the pumping capacities of Raleigh Fire Department pumping engines both old and new. Plus the 1887 water system, which supplied the hose companies for many years.
Capacities of early apparatus:
1816, 1843, 1853 hand engines - Unknown.
1870 Gould steam engine, second-size – 600 GPM at delivery, 300 GPM estimated in 1878.
1875 Rumsey and Company hand engine – 250 GPM estimated in 1878.
1887 water system, with hose companies utilizing hydrant pressure – 144-161 GPM at nozzle tip, see below comment.
1905 LaFrance Metropolitan steamer, third-size – 600 GPM.
1914 LaFrance Type 12 pumper – 750 GPM, 112 HP, 6-cylinder engine. First motorized pumping engine.
Capacities of motor apparatus:
750 GPM
1000 GPM
1250 GPM
1500 GPM
1914 LaFrance
1922 LaFrance
1925 LaFrance
1926 LaFrance x 2
1919 LaFrance (used)
1950 FWD
1950 Mack
1951 LaFrance x 4 (all four?)
1957 FWD
1961 LaFrance x 2

1918 LaFrance
1936 LaFrance
1958 LaFrance
1968 LaFrance
1970 Mack x 2
1971 Mack
1973 Mack x 4
1975 Mack x 4
1978 Mack
1981 Mack
1982 Mack x 2
1985 Pirsch
1989 Pierce x 3
1992 Pierce/1978 Mack


1985 EEI/Pemfab x 2
1990 Pierce/1985 EEI/Pemfab
1995 Pierce x 2
1997 Pierce x 6
1998 Pierce x 2
1999 Quality
2000 Quality x 2
2001 Quality
2002 Quality x 4
1990 Pierce x 2
2004 LaFrance x 4
2005 Pierce x 2
2006 Pierce x 4
2007 Pierce
2008 Pierce
2009 Pierce x 2
2010 Pierce x 2

1990 Spartan ladder
1995 Simon-Duplex tower
1999 LaFrance tower
2001 Quality ladder
2004 Pierce ladder
2005 Pierce ladder x 2
2006 Pierce ladder
2007 Pierce ladder
2009 Pierce tower x 2
2010 Pierce ladder
+ 5 - 4 | § ¶
Hot Shots From Atlanta
The photographer is John Spink. The publication is the Atlanta Journal-Constituation. The incident was a three-alarm fire this morning at a Halloween attraction. Talk about good pictures! View his slideshow from the scene.



John Spink/Atlanta Journal-Constitution photo
+ 5 - 2 | § ¶
1937 Seagrave Pumper in Pinehurst
FireNews reports that the Pinehurst Fire Department has recovered their 1937 Seagrave pumper. The engine, named Annabelle, was purchased from a private owner. Talk about a nice-looking rig! The department recently announced a restoration project, and is asking for donations. See this flyer
for more information. Read the FireNews story.



FireNews photo
+ 2 - 6 | § ¶
This Weekend's Events
Oct 8 - Fri
Raleigh FD - Display at Crabtree Valley Mall
Oct 9 - Sat
Creedmoor FD - Fireman's Day - 3:00 p.m. parade, followed by meal at South Granville High School
Fuquay-Varina FD - Open House - Station 1 - 10:00 a.m. to 4:00 p.m.
Parkwood FD - BBQ Cook-Off - Station 1 - 12:00 p.m. to 7:00 p.m.
Princeton FD (Johnston) - 5K Fundraiser Run - 9:00 a.m. to 1:00 p.m.
Raleigh FD - Display at Crabtree Valley Mall
Oct 10 - Sun
Fairvew FD - Open House - Station 1 - 1:00 p.m. to 5:00 p.m.
Raleigh FD - Recruitment Open House - All stations - 1:00 p.m. to 4:00 p.m.
+ 2 - 4 | § ¶
See You at the State Fair
This year's entry for the North Carolina State Fair Arts and Photography competition category is pictured below. Sized 16 by 20-inches, with 12 x 16-inch matte. Same was photographed at last year's fair. Subject's identity not known. Picture looks better in person. Cash prizes range from $120 to $55. See you there, and with cameras at the ready.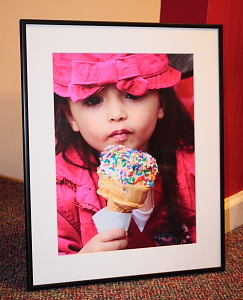 + 10 - 3 | § ¶
Rural Hall's First Fire Truck
As referenced in this prior thread, here's a picture of a 1941 Plymouth pick-up truck that served as first piece of fire apparatus for the Rural Hall Fire Department in Forsyth County. They organized in 1939, and bought the truck for $500. Plus another $25 to paint the thing red.
It was equipped with ladders, lanterns, extinguishers, and hose. Presumably for connecting to hydrants, and using hydrant pressure to fight fires. Their first pumping engine was added to the fleet in 1948.
The same thing was done around here in 1954, when the newly formed Knightdale Fire Department placed a 1 1/2-ton town truck in service as a fire engine. They responded with a vehicle carrying hose, and hooked to the newly installed fire hydrants. Same method as the days of hand reels and hose wagons in the 19th Century!
Read some Knightdale FD history. Or read more Rural Hall FD history, and see more photos of that very sweet ride!



Rural Hall Fire Department photo
+ 4 - 7 | § ¶
Private Protection
Then there's this story that Dave Statter found, about reactions to the private firefighters that participated in the Fourmile Canyon fire in Colorado last month. More than 1,000 firefighters and 100 engines responded, and that included 13 firefighters with five engines contracted by an insurance company. Two more trucks with four firefighters were sent by a second company. Reports this news story, the action has raised some questions on ethics. At least, as expressed in a local newspaper editoral. Read the story, and links therein for more. There are a number of sides to this one. All very interesting, of course. Happy Tuesday.
+ 6 - 3 | § ¶
Subscription Protection
Meanwhile on the Firehouse site proper, there's this story about a Tennessee fire chief assaulted after his fire department responded but did not engage in suppression of a house fire. The department charges subscription fees for rural service, and the owners of the burning home had not paid.
The reader comments are interesting, of course, They argue the moral duty of firefighters, as well as "duty to act" versus "responsibility to act." How do you tell one property owner that their funded fire protection is unavailable, for example, because you're provided unfunded fire protection elsewhere?
Firegeezer blogged about this last week, and provided a link to this WPSD story. Interesting issues, and ones that we faced locally (and statewide) in prior decades, as rural fire protection needs presented themselves. Everyone has a story or a memory of those incidental fires that resulted in public discussions and/or policy changes, as officials struggled to resolve those issues.
+ 5 - 3 | § ¶
Blocking Works
Cruising around the Firehouse forums this morning finds this photo. Picture is from Stamford, CT, where an engine blocking lanes on I-95 was struck by a semi. The big rig was rolling at highway speed, which is 65 or higher in that area. The only injuries were one state trooper struck by flying debris. Firefighters Close Calls has details. Or read the forum thread.


+ 3 - 4 | § ¶
History Talk / Wake County Firefighters Association Meeting, Tuesday, November 9
The fall supper and meeting of the Wake County Firefighter's Association will be held on Tuesday, November 9, at the Western Wake Fire Department, 4021 District Drive. That's a C-shift day. Dinner also called supper will be served at 6:30 p.m.
The guest speaker is some guy described in their latest newsletter as "local author/photographer/historian/fire buff Mike Legeros." I will present an abbreviated version of my History of North Carolina Firefighting presentation.
The agenda for the meeting includes election of board officers for the next year, and thus all members are encouraged to attend. Food, fellowship, history, and an election. How can you top that? See you there.
+ 5 - 4 | § ¶
Who Fights The Most Fire?
Quick poll, who fights the most fire? Raleigh, Durham, Greensboro, or Winston-Salem? The context of the question is job seekers in the Central Piedmont, and who are seeking a busy or the busiest department to apply for. Thanks for input.
+ 4 - 3 | § ¶
Rural Hall Radio Card
As found for sale on eBay, here's an interesting artifact out of Forsyth County. Called a radio card, and made for or perhaps distributed by the Rural Hall Fire Department. Click to slightly enlarge:


+ 3 - 4 | § ¶
Caption This Photo
Six Forks EMS 121 creeps forward on Glenwood Avenue, responding to a motor-vehicle accident at Arrow Drive with Engine 16. Congested artery with no shoulders, and we're not describing the photographer.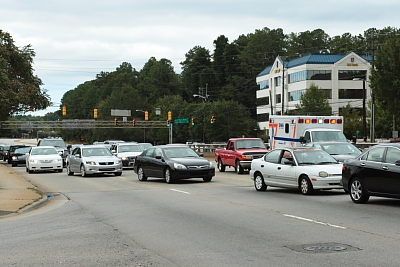 + 5 - 3 | § ¶
Volunteers Needed For NC Fallen Firefighters Foundation Booth at State Fair
The North Carolina State Fair is fast approaching, and volunteers are again needed at the North Carolina Fallen Firefighter's Foundation booth. Come and enjoy the fellowship of meeting firefighters from both across the state and from around the world. If you can assist, please visit this sign-up site. The dates of the fair are October 14 to October 24. Thanks for your support.



+ 6 - 2 | § ¶
Cleveland's Sweet Ride
Beauty queens notwithstanding, this was the prettiest thing that appeared in the Fireman Day's parade today in Garner. The Cleveland Fire Department operated this 1961 Ford F-700/American LaFrance pumper, and which was the first apparatus they purchased. Their firefighter's association recently restored the old engine. It's pictured here on Main Street, several minutes after the big siren blew signaling the start of the parade. Couple detail shots are forthcoming. See the above web site for a "before" picture. Click to enlarge:


+ 4 - 4 | § ¶
Friday's Fire on Northwood
Lee Wilson took some super shots at Friday's house fire on Northwood Drive. Engine 9 was first on scene with smoke showing at a one-story residence, brick, with 1,430 square-feet. Was good listening, and here are some base details recalled from the radio traffic: Engine 9 took a line inside. Engine 16 brought the water, then manned a second line. Ladder 1 on the roof to ventilate, then called down after the fire broke through. Battalion 1, then Car 10 as command. Dispatched 1:25 p.m., controlled at 2:07 p.m. Caused determined as unattended cooking. Units on scene: E9, E16, E4, E15, L1, R1, A1, B1, B3, B2, C10, C20, C40, C2, E10 for relief, EMS 31, EMS 3, EMS 11, D1, T1. See Lee's photos.



Lee Wilson photo
+ 3 - 6 | § ¶
Private Jet Skids Into Croatan Sound
That's the headline from WRAL, and showing this photo of a private jet that skidded off the runway at Dare County Regional Airport in Manteo on Friday morning. Seven souls aboard. Five transported with non life-threatening injuries. Boat carrying firefighters is labeled RIFD. What is Roanoake Island Fire Department? Good photo! Click to slightly enlarge:


+ 4 - 8 | § ¶
Blimps, Hangars, Weeksville
Also reported by WRAL was a blimp collision yesterday in Weeksville, outside Elizabeth City. Originally cited as midair collision between two crafts, the actual details involved a single airship and a weather balloon. They collided during a heavy rainstorm, during which the mooring line snapped on a blimp. It collided with the balloon and crashed. One person was aboard the airship and was transported to Elizabeth City with injuries. Lt. Bill Ward of the Pasquotank County Sherriff's Office supplied the below photo to WRAL. Definitely something not encountered every day.

Did you know there's a blimp base up there? That's the old Weeksville Naval Air Station, built in 1941 on a 765-acre site as an antisubmarine blimp base. Paul Freeman's superb Abandoned & Little-Known Airfields web site has the history and photos of the facility, both past and present. When commissioned in 1942, the base was only the second one on the east coast. Two big honkin' hangars were built there. Airdock #1 was steel (1,058 feet long), Airdock #2 was wood (900 feet long). The mooring pad was 2,000-foot diameter, with six smaller circles. The base also had a 3,700-foot runway.

After the War, the base became a Naval Auxiliary Air Station. It stored fixed-wing aircraft from 1945 to 1948. Then the base became a blimp facility again in 1947. Ten years later, it was "disestablished" by the military and sold to "private interests." Westinghouse bought the place in 1966. They transferred their blimp operations to TCOM in 1989, and they are the current owners and operators. They have used the facility for building commercial airships. Local firefighters know the place well, as the massive wooden hangar there burned on August 3, 1995.

Google's News Archives finds a few details. The fire was reported just after midnight. The smoke could be seen for 40 miles. Several surveillance blimps were also destroyed. The fire was still burning eight hours later, though had been controlled. Wonder how long extinguishment took? Damages were expected to top $100 million. Cause accidental.
The 300,000 square-foot (!) structure was lost, though the concrete supports were left standing. If memory serves, they're still standing today. Any ECFD members reading, who could dig up incident details? Below is an aerial photo from 1999 taken by Paul Freeman. Read more and see more great old and current photos. See also this nifty American Heritage article about "blimp barns." See also a few photos taken by Yours Truly last year. Scroll to the bottom of that page.

+ 4 - 3 | § ¶
Water Rescues in Windsor
WRAL has great coverage of yesterday's water rescues in Windsor, and other eastern North County locations. By last night, over 100 people had been rescued and over 100 buildings in Windsor and Bertie County had been surrounded by water. Among the rescue sites was an assisted living center in Windsor. Between 40 and 50 residents were evacuated due to rising water.
One business owner in Windsor said "water rose 20 inches an about an hour." The Cashie River there was 15.69 feet at 5 p.m. on Friday. It's next highest level was 18.52 feet, when it crested after Hurricane Floyd in 1999. Other coast and eastern counties had evacuations due to flooding, said state officials. Beaufort, Craven, Duplin, and Pender counties. Such as dozens from a trailer park in Beaufort County, and some 50 people from homes in New Bern.
Officials predict parts of Burgaw, Elizabethtown, Smithfield, Goldsboro, Kinston, Tarboro, and Windsor will face more flooding into early next week. The Neuse River in Kinston, for example, isn't expected to crest until Tuesday night and at about three feet about flood stage. Read the story and watch the footage.


Tom Normanly/WRAL photo
+ 1 - 5 | § ¶
Night in the City
And a bit after the hula-hoopers doused their flames, this motor-vehicle accident occurred opposite the street fair on Hargett Street. That's Engine 3 and EMS 8. Still shooting with 1600 ISO and again no flash. Ambient light was pretty good, at least if the camera was pointed in the right direction. Click to enlarge:

+ 7 - 6 | § ¶
Fire Dancer
Here's a different kind of action shot, as photographed this evening. There was a troupe of fire-dancing hula-hoopers entertaining crowds at a street fair on Hargett Street. Tried a variety of camera and external flash settings for these. This one's Program AE with 1600 ISO and no flash. Either turned off or didn't fire. Click to enlarge:


+ 6 - 2 | § ¶
National Fallen Firefighters Memorial Weekend
Live video coverage of this weekend's 2010 National Fallen Firefighters Memorial Weekend is again available on the Internet. Thanks to Motorola and WUSA 9 for making that happen. The live feed is also being carried by numerous fire and EMS web sites.
The Candlelight Service Broadcast begins at 6:00 p.m. EST on Saturday, October. The telecast starts at 6:45 p.m., and the service begins at 7:00 p.m. The Memorial Service Broadcast begins at 9:00 a.m. EST on Sunday, October 3. The telecast begins at 9:30 a.m., and the service begins at 10:00 a.m.
This weekend's service will honor 105 firefighters who died in the line of duty, 80 who died in 2009 and 25 who died in prior years. They include five that died in North Carolina, which experienced the third-highest number of fatalities last year as reported by the USFA this week. The federal agency has released its report on Firefighter Fatalities in the United States in 2009
.
As noted in this NFFF press release
and NFFF photo roll of honor
, the North Carolina firefighters being honored are listed below. They were also recognized in May by the North Carolina Fallen Firefighters Foundation, at the annual service at the North Carolina Fallen Firefighters Memorial in Raleigh.

Firefighter Gregory C. Cooke, age 60
Salem Volunteer Fire Department.
Died after collapsing at the scene of a woods fire on March 21, 2009.

Chief Jimmy Lee Davis Sr., age 63
White Oak Volunteer Fire Department
Died after collapsing while preparing to respond to a motor vehicle accident on December 10, 2009.

Deputy Chief Chad Eric Greene, age 34
Union Cross Fire and Rescue of Forsyth County, Inc.
Died after collapsing within 24 hours of a response to a motor vehicle accident on November 4, 2009.

Engineer William Gray Parsons, age 58
Millers Creek Volunteer Fire Department
Died after suffering a medical emergency at the scene of a structure fire on February 1, 2009.

Firefighter Matthew Douglas Tramel, age 18
Pembroke Fire Department
Died in a personal vehicle accident while responding for a vehicle fire on June 5, 2009.
+ 4 - 4 | § ¶
Mystery Sign
What's being advertised by this sign? Hint, it happens Saturday, October 2, at Highway 50 and Main Street. Raise your hand if you need more help.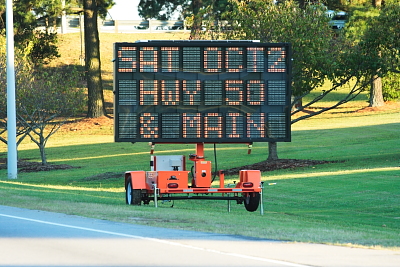 + 6 - 3 | § ¶
Mystery Bay
Where be this bay door? There are a couple clues in the photo. Though, knowing our readers, it'll be solved in mere minutes. No flies on this crowd!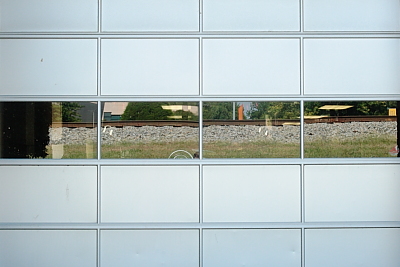 + 2 - 8 | § ¶
Why We Blog About What We Blog About
Continuing on the subject of communication... What about this blog and how it conducts itself? We meaning me doesn't think of himself as a citizen journalist. Not really. What we feature on the blog is probably too one-sided. You don't read about certain types of bad news on the blog. Notably personnel actions, and even certain types of agency problems. The scope of that restriction can be very localized. We've blogged about agency issues in Orange County, for example. But similar issues in Wake County have gone unmentioned. Is that fair? Good question.
As a blogger, Yours Truly is always learning. The postings and writing and editing styles and even simply the story selection have varied as the months and years have passed. We've presumably been getting better, but also changing and adapting and evolving in other ways. Posts from 6/12/18/24 months ago are different from today's. There's also a heavier or stronger local filter because things ultimately feel "too close to home." Maybe we're drinking the Kool-Aid, or wearing a shade of rose-colored glasses. But when you know so many of the people involved, it's wrenching to write about (and even read about!) their bad news. Another factor is value.
Does blogging about Something Bad add value, either in disseminating the information or facilitating the discussion therein? Methinks not, or not enough to warrant. Our readers and the responder community is already aware When Things Happen. They're reading the same stories, or at least have access to the same stories. (Not everyone is compelled to dig around news sites and the Internet site, mind you. Nor do they spend all hours of all days at a computer, and connected to the Internet.) Dipping into that well doesn't seem worth doing. So we don't.
The blog is a lark, a learning experience, a platform for presentation, a discussion forum, an announcement board, and a venue for shameless self-promotion. The readership hangs around 1,000 each day. Lots of locals, but some or maybe many elsewhere. Are they hour, daily, or weekly readers? Don't know. The number of lurkers far exceeds the posters of comments. That's a no-brainer. Does the general public read the thing? Joe and Jane Six-Pack? Don't know. We have seen postings a couple times from citizens who had had house fires. They added positive comments about their loss, and appreciation for the responders who responded.
We get search hits and subsequent comments from time to time. Person uses Google and finds an older posting, and adds a perspective therein. Plus Yours Truly uses the thing all the time as an archive of his own thoughts, and factoids. I am always doing searches on odd historical facts, that I recorded or logged on the blog. It's a great place to permanently "jot stuff down." Does the blog have the potential to "explode," and suddenly attracted hundreds or thousands of readers? Or drawn the sudden attention of the local media outlets? Maybe. I mean, anything's possible. But day to day, and perhaps until the last day, the blog is a smaller and more-closed entity.
Yeah, we're still making it all up as go. But at least there's five years of experience under our belts. Hopefully the tone and style and "in general all about it" is reasonably consistent. If nothing else, we've become masters at talking in the third-person! Say good night, Mike.
+ 2 - 6 | § ¶
Chief Officer Survival: Crisis Communications for Chief EMS Officers
That's the title of a class being taught this week at the EMS Expo 2010 in Dallas, and by our very own Wake County EMS Chief Skip Kirkwood. Here's a nifty article on Firehouse.com (and drawn from their sister site EMSWorld) about the class, the story behind the development (missing laptop and publicity therein), and the lessons learned from that incident ("fess up, apologize, and tell people what you plan to do in the future.")
Chief Kirkwood's presentation, notes the story, was "aimed at EMS providers" but applies all agencies in public service, "including police and fire." Among the many pieces of good advice are proactive internal strategies. "We have a no surprise policy," he's quoted in the article as saying. "Every member of the department has a responsibility to notify their supervisor when something happens... If you are going to manage a problem you have got to know about it."
News about news about news. Sounds like a cool class. Read the entire story.