+ 0 - 0 | § ¶
Does Water Push Fire?
+ 5 - 6 | § ¶
Conway Fire Wagon
Here's something for (or from) the history books, as found by exploring photographer Lee Wilson this week in the small town of Conway, NC. That's in Northampton County. Population under a thousand. Parked (or displayed) behind the fire station at 113 White Street is what looks like a hand-built wooden fire wagon. Could be circa 1951, based on the formation date of the fire department, from their Facebook page. Could be earlier. Here's my guess on the thing's history...



Lee Wilson photo


Many decades ago, the town installed fire hydrants. This allowed the connection of hoses with nozzles and thus fire suppression at any location within the town limits or the water system service area. This also necessitated the transport of hose et al to the scene of such fires. In days of old, when jakes were bold, such hose was hand-pulled on reels. Or wagons, depending upon the time frame. In more modern times, a town with a new hydrant system might employe pick-me-up trucks as hose wagons. Like this first fire truck for Rural Hall, NC. See prior posting:



Rural Hall Fire Department photo


Heck, the same thing was done here in Wake County. The first fire engine in Knightdale was a 1 1/2-ton truck that firemen equipped with hose, ladders, and equipment at a cost of about $1,500. Read that history. Other Wake County used hose reels both hand- and vehicle-pulled. If memory serves, Wendell firefighters at one time towed the hose reels behind private vehicles. Here's a picture from 1952 of the Wendell gang, with one of the old (or maybe still in service at the time) reels: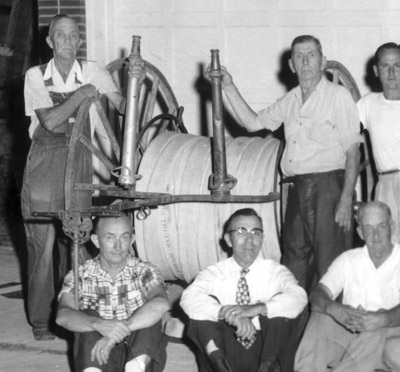 Back to Conway, looking closely at their wagon, it seems entirely functional for what was needed to provide basic (or primitive) structural fire protection. Long bed for storing hose. Box for nozzles and spanners and what have you. Axe mounted on the side. Roof ladder hanging on the side. Pike pole laid across the top. The bare necessities, but enough for basic fire combat.
How long was the thing used? No idea. Long enough, probably, to work and get people interesting in approving or raising money for a vehicle, and/or pumping engine. Maybe one of their readers will come across this post, and share some stories they've heard from the thing's history. See larger versions of Lee's photos: View #1, View #2, View #3.


Lee Wilson photo
+ 2 - 5 | § ¶
Car Versus Condo on Wednesday
WRAL posted this photo of a car versus condominium on West Millbrook Road on Wednesday. No injures. Minor damage. Don't know if they blew the horn first.



WRAL photo
+ 3 - 4 | § ¶
Something Old, Something New
As photographed by Lee Wilson this week, this 1989 Pierce Lance was delivered to Lillington Fire Department in Harnett County on Tuesday. It served Midway Fire Department in Frederick County, MD. Former Engine 91. It will be placed in service as Engine 721. And here's Vance County Fire Department Station 7 on Satterwhite Point Road. Formerly the Kerr Lake Fire Department, which formed in 2007 and merged with VCFD in 2010. They operate this 1987 Pierce Arrow telesquirt, formerly Squad 5 at Camp Lejeune Fire Department. See more photos by Lee.



Lee Wilson photos
+ 6 - 8 | § ¶
Shadows and Light
That's Engine 11 and Ladder 2 at an outside fire on Stony Brook Road on Friday. The sunlight combines with the trees and the burned areas to produce some interesting lighting and contrast. (That's about 9:30 a.m., the sun lower in the sky.) Can't decide if the shot works better slightly tilted or not. Which one do you like?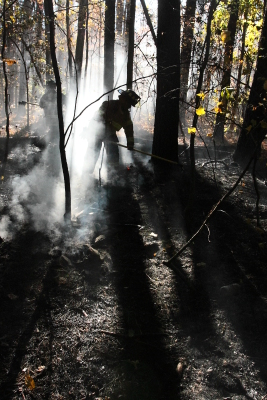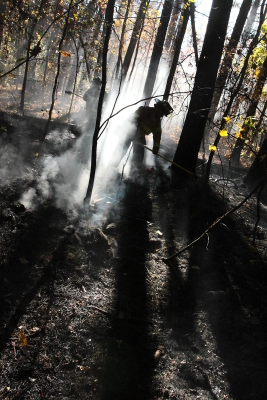 + 6 - 6 | § ¶
Ladder 2 in Action
Mobile phone photo with Photoshop Elements "smart fix." Ladder 2 operating at an apartment fire on Brockton Drive just a bit ago. Click to enlarge:"


+ 4 - 4 | § ¶
Would You Believe a Bucket Truck?
Speaking of old Holly Springs apparatus, one of the more interesting rigs to serve in our county was this 1986 GMC utility truck that Carolina Power & Light donated to the Holly Springs Department of Public Safety in 1996. Firefighters added a piped waterway and converted the hydraulic auger assembly into a remote-operated master stream. They also added generators and floodlights and modified the air compressor to work with rescue tools. The apparatus was sold two years later to Swepsonville. Can't find my larger version of this picture, alas. No click to enlarge. See other photos of former Holly Springs rigs.


+ 4 - 4 | § ¶
Old Holly Springs Apparatus Serving in Kentucky
Reader Benjy Grice has found a pair of ex-Holly Springs apparatus now serving in Kentucky, and photos therein posted on the 'net. The town's old 1985 Kenworth/FMC engine and 1986 Pemfab/Broadworth telesquirt are serving the Stanton Fire Department, which is the county seat of Powell County. They've been ably photographed and posted on the excellent kentuckyfiretrucks.com. Man oh man, somebody get a North Carolina Fire Trucks site started! (Or maybe Mr. Grice's Picasa site qualifies as same?) Click to visit the site and see larger versions of the photos: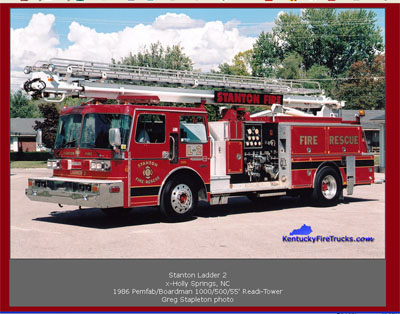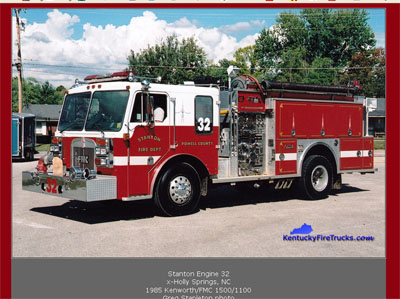 + 3 - 3 | § ¶
Just in Time for Thanksgiving...
That is, post-Thanksgiving. Found for sale on eBay, what looks like a vintage license plate from the Turkey Fire Department in Onslow Sampson County. There's something wonderful about a small sign that reads "turkey," at least for those of us who might resemble that remark. You can call me that. It won't make me fowl.


+ 3 - 3 | § ¶
Major Fires at Montecito?
Verifying the major fires at Montecito and Montecito West apartments over the years. This look right to you?
July 7, 1991 (three alarms)
August 27, 1991 (three alarms)
April 30, 1994 (two alarms)
November 22, 2004 (two alarms).
Was there a two-alarmer in recent years?
+ 3 - 6 | § ¶
Another Fuel Pump at a Old Station
Noticed this this morning, a hand-cranked fuel pump at old Station 1 on West Morgan Street. Add that to the list of Raleigh fire stations that had fuel pumps. When was the photo taken? That's a good question. The North Carolina State Archives records the date as July 1928, and the source as Bill Uzzle. Description recorded as fire engine in front of fire station. Call number N.97.9.129.
But notice the white building to the right. That's the Revenue Building, which was expanded beginning in 1938. The fire station's tower was demolished in March 1938, and an extension of the Revenue Building occupied the space left by the tower and an alley that existed between the two. See this posting with a photo showing the tower and the alley. No alley is visible in the photo, which suggests this picture was made in 1938 or later.
Maybe the date citation was incorrectly recorded, and meant July 1938. (Would that section of the Revenue Building have been built from scratch in just four months?)


+ 1 - 4 | § ¶
Charlotte Fire Department Showcases 125 Years of History
Here's a short WSCO-TV story about the Charlotte Fire Department's participation in the annual Thanksgiving parade. They celebrated 125 years of service with antiques dating from 1866 (Jeffers hand engine) to 1971 (Seagrave pumper). Here's another WSCO-TV story about the parade, that includes a shot of a 1920s service truck that appears privately owned. What's the story on that one!?!


+ 4 - 4 | § ¶
Another New Raleigh Police Cruiser
Seen on Millbrook Road this afternoon. See previous discussion on this topic. Click to enlarge:
+ 4 - 4 | § ¶
Calling KICs and KSOs - North Valley Apartments, 1970
This is my favorite picture on display at the Raleigh Fire Museum, a vintage News & Observer image, depicting a fire at the North Valley Apartments at 4343 Lassiter Mill Road on September 6, 1970. Superb image by Frank Urben, absolutely superb. Even the narrative is great. Woman was taking shower, looked up, and saw her ceiling on fire. Happened around noon. Engine 9 was first due, back when it was riding an open-cab 1950s American LaFrance. Three units were extensively damaged. For your Black Friday discussion, how many things do you see done different then than now? Go nuts and play KIC (Keyboard Incident Commander, coined by Dave Statter) or KSO (Keyboard Safety Officer, coined by me). Click to enlarge:



Frank Urben/News & Observer image
+ 4 - 3 | § ¶
What Do You See in This Old Photo of Station 6?
There are some interesting things in this photo of Station 6 in July 1961. There is one particularly interesting thing and is a bit concealed. What is it, and why is it interesting? Click to enlarge:


+ 5 - 4 | § ¶
Last Night's Major House Fire in North Raleigh
Bay Leaf, Raleigh, Wake Forest, Durham Highway, Stony Hill, and Western Wake fire departments worked a major house fire last night at a very large house at 1000 Swithland Court. The two-story, wood-frame, single-family dwelling measured 9,995 square-feet. Had a full basement. Built 2010. (Valued at $1.2 million, the headlines are quick to note.)
The fire was reported about 10:00 p.m., after reportedly starting on the patio, after a group of families was preparing to roast marshmallows using the patio fireplace. Crews entered the structure and went to the second floor, where they encountered heavy fire in the attic. They were soon withdrawn as sections of the building began to collapse. Aerial operations were utilized Bay Leaf Ladder 25. (Narrative based on news reports. Yours Truly didn't go the scene, nor listen to the incident.)
Read stories and see photos and footage from WRAL, WTVD, and NBC17. From radio traffic, it sounds like crews are still on the scene this morning. They'll probably or certainly be doing overhaul and investigation through the morning (or later). Readers can add details, and help complete this partial run card: Bay Leaf P258, P122, P366, L25, A12, C1, C2, C3, C120; Raleigh E22; Wake Forest E5; Durham Highway P4; Stony Hill P261; Western Wake E191; EMS 15, EMS 22, D3, T1; WC1.



Adam Owens/WRAL photos
+ 2 - 6 | § ¶
Raleigh Mack to Fairdale Fire Department in Kentucky?
Here's an interesting story as posted to the timeline of the Raleigh Fire Museum's Facebook page, from Donald Bailey. This Mack CF pumper was ordered by Raleigh in 1978 or 1979. The city didn't take delivery of same, and it was sold to Fairdale Fire Department in Louisville, Kentucky.
It served as a first-due apparatus, and then as a reserve truck. It was refurbished in 1992, and sold in 2003 to the Breeding Fire Department in Adair County, KY. See the Facebook page for more details and more photos.


Next question, does here know this story? And reasons why Raleigh didn't accept the truck? Bailey says he contacted the Mack Museum, which confirmed that the truck was ordered by Raleigh. Recall also that a similar story has been told about a Burlington Mack, which we recounted in this posting in 2011.
What other rigs were once bound for Raleigh in prior decades, but didn't get here? For example, Chicago has or had a Pirsch ladder that was intended to compliment the 1986 Pirsch pumper that the city purchased. Here's a posting from 2006 about that story.


+ 3 - 3 | § ¶
Raleigh's Old Aerialscope in Action
Our friends in Barnwell, South Carolina, have passed along this picture of Raleigh's old Aerialscope in action at a house fire on Monday. Here's a news story with an early arrival photo. The town purchased the 1977 Mack/Baker aerial platform in 2007. See this prior posting and this prior posting. Thanks Tony! Click to enlarge:


+ 4 - 6 | § ¶
History Book - Page Previews, Part 2
On vacation this morning, working on the Raleigh Fire Department Centennial History Book. As noted in this prior posting, it will feature a section of historical photos, divided by decade. From the 1910s to the 2010s. Plus four pages of photos from the volunteer era. Here's a second preview of what we're designing. Haven't ordered yours yet? Price goes up on December 2, and orders closed on January 15. Click to enlarge:


+ 2 - 6 | § ¶
Yesterday's Trench Collapse in Raleigh
This is a mobile phone panoramic photo of yesterday's trench collapse on Main Campus Drive, as shot from the media viewing area. News cameras was staged at the opposite end of an athletic field. The incident was also bordered by Main Campus Drive, above an embankment. See closer photos from Mike Legeros. (Closer, conventional photos. Need to take more of those panoramic ones.) See aerial photos in these WRAL and WTVD stories. Click once or twice to enlarge:



Here's my incident description: Trench collapse at construction site on Main Campus Drive near Achievement Drive. One fatality, male subject in a four-foot trench who was covered by about three feet of dirt. Dispatched about 12:30 p.m. Worker reported trapped under dirt. Additional companies and special equipment soon responded. Cary Fire Department trench rescue truck requested as mutual aid. Public Works compressor truck and two vacuum trucks special called. Crews used a backhoe and then suction equipment to move soil away from the trench. Body was recovered about 2:18 p.m. Units on scene included E20, E14, L7, L4, R3, B2, B3, HM1, SR2, C10, C71, C72, C2, USAR 7; Cary R4, B1, USAR 803, TRS1; EMS 2, M95, M93, D1, D9, T1, Chief 200, WC1.
+ 5 - 2 | § ¶
A Brief History of Artificial Respiration
As found at and linked to Weird Universe, which they found in Boys' Life magazine, April 1964. Click to access:


+ 7 - 12 | § ¶
UPDATED: Raleigh Fire Museum Debuts Restored Hand Hose Reel
November 21
Added three photos of the antique while stored at Station 26, and awaiting equipment and later transport to the ball.
November 20
A newly restored piece of antique fire apparatus was presented this weekend by the Raleigh Fire Museum. On Saturday evening, a nineteenth century hand hose reel made its debut appearance at the Raleigh Fireman's Ball at the Raleigh Convention Center. The private event capped a year of celebrations for the Raleigh Fire Department, which celebrated its 100th anniversary as a career fire department this year. Some 580 people attended the ball, including active personnel, retired members, city officials, special guests, and friends and family of the fire department. Click to enlarge:


The hose reel was stored in the basement of Station 8 on Western Boulevard for a number of decades. It was disassembled during storage, and the frame and wheels were suspended from the ceiling. They were later moved to a storage building behind the station. Early this year, the Raleigh Fire Museum sent the wheels to Lancaster County, PA, to be rebuilt by Amish craftsmen. The museum paid for the repairs. Upon its return, the hose reel was restored by Captain T. N. Duke, Captain N. L. Murray, Senior Firefighter P. M. Rogers, First Class Firefighter C. W. Langston, and Junior Allen. They donated their time and materials. Click to enlarge:


The hose reel is presently displayed inside the Raleigh Fire Museum, which is located in a classroom trailer at the Keeter Training Center, 105 Keeter Center Drive. The museum is open on the second Saturday of each month, from 10:00 a.m. to 2:00 p.m. Learn more about the museum. Click to enlarge, and read more history of the reel below:

READ MORE
+ 4 - 2 | § ¶
Wake Forest Fire Station 4
On the agenda (PDF) for today's Raleigh City Council meeting is a request from the Wake Forest Fire Department, for extension of public utilities into the Falls Lake Watershed and for subsequent connections to their new fire station location at 1509 Jenkins Road. The department entered into a $145,000 contract in June with a property owner for 2.05 acres on the site, reported this Wake Forest Gazette story in September. The station will have three bays and ten bedrooms, which will provide enough sleeping space for two companies, along with some room for volunteers. The story also has some information about the site's sewer connections, as well as an update on expansion of the fire department board that month.
The story also references the nice-looking and entirely informative Wake Forest Fire Department Annual Report (PDF), which was published on September 25. The twenty-five page document includes an organizational chart and organizational background, district, station, and apparatus information, milestones of the past year, future plans, and their budget. Among the contents: the department's ISO rating was updated this year, from Class 5 (municipal) and Class 6 (rural) to Class 4 (municipal) and Class 5/9 (rural). Engine 4 has been ordered, to replace a 1996 E-One. Rescue 3 will be placed next year with a service truck. They're also getting a new tanker soon, which was noted in the Wake Forest Gazette story.
What other departments around here have published annual reports recently?
+ 8 - 4 | § ¶
New Duke Life Flight Helicopters
Here's a recent WRAL story about Duke Life Flight's newest helicopters, notable for its larger cabin. They can load a full-sized stretcher, and nurses have full head-to-toe access from seated, belted positions. Google finds a bit more information, such as this posting (or posted press release) from Alec Buck's EMS Helicopters web site. The helicopters are operated (and also owned?) by Metro Aviation in Shreveport, Louisiana. There's an area we could learn about. Maybe one of our readers can a give us a tour of the air ambulance business. Click to enlarge:



WRAL photo
+ 4 - 2 | § ¶
Last Night's House Fire on Old Deer Trail
See these preliminary photos by Mike Legeros of last night's house fire at 7908 Old Deer Trail. Engine 4 arrived at a two-story, wood-frame, single-family dwelling with 2,978 square-feet. Built 1989. Fire showing on the first floor and through the roof. Crews withdrawn from structure about twenty-five minutes into the incident. Defense operations started with Ladder 1 flowing, along with one (just one?) portable monitor previously deployed. Second hydrant caught by Engine 9, an additional company special called. Fire reported by neighbor. Dispatched 11:13 p.m. Controlled 11:59 p.m. Cause determined as accident. No injuries reported. Units on scene included: E4, E15, E18, E16, E9 (special called), L1, R1, B1, B4, A1, C10, C20, C2, Safety 1 Car 14, EMS 3, EMS 15, D1.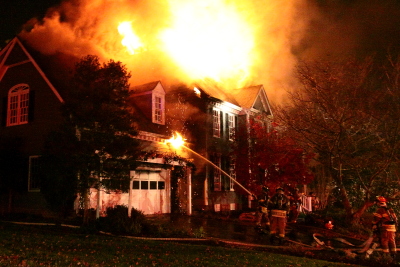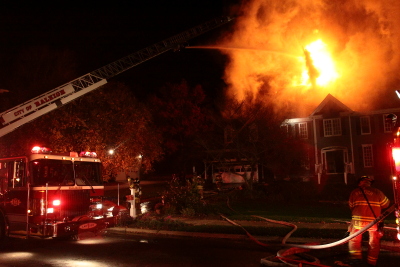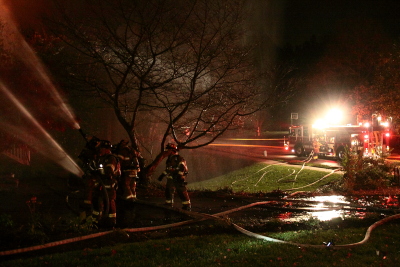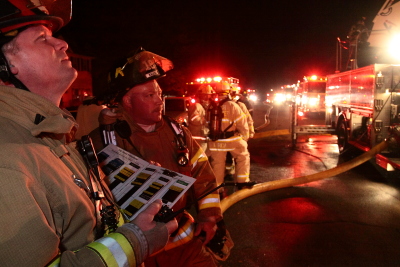 + 1 - 4 | § ¶
The Lean
And some times the gods of composition smile upon you. See the entire series from this afternoon's vehicle-versus-building on Lunceton Way off Grove Barton Road in west Raleigh.


+ 11 - 11 | § ¶
UPDATED: News & Observer Building, 1915
November 17, 2012
The below information is incorrect. This photo is from the second time the News & Observer building burned that decade, on November 6, 1915. Described by The Raleigh Times as the worst fire in Raleigh's history, the blaze destroyed over $300,000 of property. It started at 6 a.m. on a Saturday morning, in either the second or third story of the E. M. Uzzell & Company printing company building. Flames soon spread to the News & Observer building to the east, to the Wake Shoe Company to the west, and finally to the Crystal Theater. Flames damaged or destroyed a couple other buildings. Two firefighters were slightly injured when a wall collapsed. This photo and the incorrect date and details appeared in the Raleigh Fire Department's previous commemorative book, published in 2007. Annotate your copy as needed.
February 7, 2007
Here's another goodie from ago, passed along from a fellow fan of history. This is [NOT] a postcard view of the News & Observer building on Martin Street, which was destroyed on April 24, 1913. Hydrant pressure was lost during this blaze due to a water main break. Quick-thinking Fire Chief Sherwood Brockwell directed the steam engine to the intersection of Fayetteville and Davie Streets, where it utilized one of the old underground cisterns. This image is also one of the oldest surviving images of any fire in Raleigh or Wake County. Click to enlarge:
+ 2 - 1 | § ¶
History Book - Page Previews, Early Decades
The Raleigh Fire Department Centennial History Book will feature a section of historical photos, divided by decade. From the 1910s to the 2010s. Plus four pages of photos from the volunteer era. Here's a preview of what we're designing. Haven't ordered yours yet? Price goes up on December 2, and orders closed on January 15. Click to enlarge:


+ 1 - 7 | § ¶
Yesterday's Confined Space Rescue in Fuquay
WRAL had a splendid aerial view of yesterday morning's confined space rescue in southern Wake County. The location was a water treatment plant at 5812 Hilltop Road. Subject with leg trapped in machinery in a location fifteen feet underground. Fuquay-Varina Fire Department incident commander requested USAR resources from Raleigh. They responded with USAR 1, USAR 2, and other units. Perhaps readers can provide a run card. The accident occurred about 9:30 a.m., reports this WRAL story. The subject was extricated and lifted to ground level about 10:45 a.m. Below are some screen captures from the live feed, with some more after the jump.



WRAL photos
READ MORE
+ 7 - 3 | § ¶
Pierce Rescue Tiller (!)
Here's one of the coolest concepts to come down the pike in some time, a tillered heavy rescue from Pierce for Portland, Oregon. That's a retractable crane behind the cab, a bit concealed in the photo. (Rescue rigs in European often have such cranes, at least in photos seen by me over the years.) Probably has a light tower or tower, maybe on the cab and on the body? Would love to see the specs on this baby. Probably thirty or fifty percent more storage space than even the biggest traditional rescue. See more photos. We've seen at least one tillered rescue before, this Seagrave that serves Orange County, CA. Was this one the first one? Google for photos. Here's a short video.



+ 4 - 2 | § ¶
Wake County Tanker Strike Teams
Get ready to roll some water. Four regional tanker strike teams have been established in Wake County. (Love me tender, if you prefer that NIMS nomenclature.) They can be requested by any fire department via the Raleigh and Wake County Emergency Communications Center. They have designations in the CAD system as FTANKN, FTANKS, FTANKE, and FTANKW.
The teams will likely be called to regions other than their own. For example, the incident commander at a north region structure fire, where Bay Leaf, Stony Hill, and Wake Forest are operating, would request, say, a West Region Strike Team. (Note that these are tanker strike teams, not [necessarily] tanker + staffing strike teams. Each [or some] will probably only have an operator.)
The teams can be used for more than just structure fires. Such as, say, tanker fires on the Beltline in Raleigh. That's the gist of the system. We'll let our readers in the know provide more details as desired. Below is the run card for the teams. Holly Springs is missing from the South Region Strike Team. Their previously designated unit was removed, and a replacement hasn't been designated yet.

| | | | |
| --- | --- | --- | --- |
| Region | Department | CAD ID | Capacity |
| | | | |
| North | Bay Leaf | BLP366 | 1100 Gallons |
| North | Bay Leaf | BLP122 | 1000 Gallons |
| North | Durham Highway | DHP1 | 1250 Gallons |
| North | Stony Hill | SHTA268 | 1800 Gallons |
| North | Wake Forest | WFTA5 | 1000 Gallons |
| | | | |
| South | Garner | GFTA7 | 2000 Gallons |
| South | Fuquay | FVTA1 | 2000 Gallons |
| | | | |
| South | Fairview | FFTA6 | 2000 Gallons |
| | | | |
| East | Hopkins | HOTA227 | 2000 Gallons |
| East | Zebulon | ZFTA98 | 2000 Gallons |
| East | Rolesville | RVTA157 | 2000 Gallons |
| East | New Hope | NHTA12 | 1800 Gallons |
| East | Eastern Wake | EWTA3 | 1800 Gallons |
| East | Wendell | WETA117 | 1800 Gallons |
| | | | |
| West | Swift Creek | SCTA2 | 2000 Gallons |
| West | Apex | AFTA1 | 2000 Gallons |
| West | Western Wake | WWTA198 | 2000 Gallons |
| West | Morrisville | MFP3 | 1000 Gallons |
+ 3 - 4 | § ¶
Fire Engine Called Out - Video From Japan
Been a while since we blogged photos or footage from Japan. It's always a treat to see how things are done on the opposite side of the world. This video is dated July 2009, and was featured in this morning's update from Firegeezer. Shamelessly stealing here, but with attribution! Dig the flagger that runs into the roadway, to stop traffic. Does your station have one? Or just some guy in a loud shirt who walks into the street with a camera?



+ 5 - 1 | § ¶
New Look For Durham County EMS
Found on Facebook, here's a new look for Durham County EMS ambulances. It was unveiled last month. Quite striking! Thanks for the heads-up, Marshall.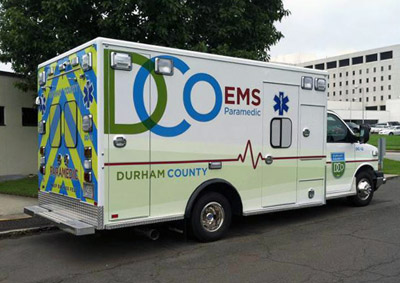 + 3 - 2 | § ¶
Unusual Firehouses of the World
From a reader, here's a neat compilation of photos of unusual firehouses, as posted to the Leesburg Volunteer Fire Company web site. Take a look...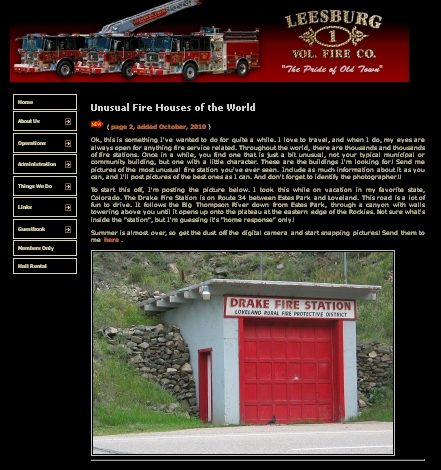 + 3 - 1 | § ¶
More Video: Car Fire on 40 + Ecstasy of Gold
Here's another find via Google. This time it's a car fire on Interstate 40 either somewhere in North Carolina, or perhaps closer to home. Are those Sutphens from Durham and Durham County? Black gear, which is... Bethesda? Music by Ennio Morricone, of all things. Footage is also slightly sped up. Traffic cam apparently. Uploaded last week.



+ 3 - 3 | § ¶
Faraway Video of Car Fire in Downtown Raleigh
Found via random Google searching. Uploaded eleven months ago.


+ 2 - 2 | § ¶
Holly Springs Hot Shot
FireNews.net has posted this hot shot from Thomas Babb of Sunday night's structure fire in the 100 block of Bass Lake Road in Holly Springs. Mutual aid from Apex, Fairview, and Fuquay-Varina fire departments. Readers can post a run card and incident details as desired.


+ 4 - 3 | § ¶
Night Riders in New Light, 1923
Second part of this week's exclusive Moonshine Series. Read part one. From the Raleigh Times, March 12, 1921. Found while doing other research as memory serves. More later, as time permits some transcriptions of the stories. Just try to find such compelling and cutting-edge content other fire blogs...Click once or twice to enlarge:


+ 5 - 5 | § ¶
Moonshine is Poison
For your Monday morning amusement, came across these on eBay. Created as a public information channel by the state, it appears Internal Revenue Service. No idea what decade these are from. Nor any idea of how severe of a public health problem this was (or still is?). But it did inspire a heck of a popular auto racing sport! Cue banjo music... (And if memory serves, my archives have some stories about 'shine raids in Stony Hill in the 1920s or abouts. Maybe also involving fires or arson. Need to dig those out again.) Click to enlarge:


+ 1 - 4 | § ¶
Raleigh Fire Department Centennial History Book Nears Completion
Production is nearly complete on a commemorative book chronicling the history of the Raleigh Fire Department. The project has been one of several this year celebrating the department's 100th anniversary as a career fire department.
A group of active, retired, and former firefighters has been working on the book since February. They've been soliciting pre-orders, collecting historical materials, and designing page content. Their deadline is mid-January, and publication is planned for March.


The book won't be available in stores, however. It's a limited-edition volume that's available exclusively for pre-ordering. The 260-page, full-color, hardcover book is priced at $60.00 until December 1. The price rises to $70.00 on December 2. The deadline for all orders is January 15, 2013. Ordering information is available at www.rfd100.com.
Among the book's special features are pictures of all active and retired personnel. "We're including portraits of every retiree since the start of the city retirement system in 1949," notes department historian Mike Legeros. "We've compiled over 350 portraits, and with many unearthed through detective work."



Other sections of the book include:
Decade-by-decade historical photos.
Written history of the fire department.
Station histories, photos, and crews.
Division histories and photos.
Portraits of all personnel.
Special disciplines (EMT, rescue, haz-mat, USAR, etc.)
Special groups (Local 548, the Explorers, the Fireman's Club, etc.)
Apparatus photos through the decades
Candid photos from across the years.
READ MORE
+ 4 - 5 | § ¶
Wake County Fire Commission Meeting - Thursday, Nov. 15
The next meeting of the Wake County Fire Commission is Thursday, November 15, at 7:00 p.m. The location is the Wake County EMS Training Facility, in the lower level of the Wake County Commons Building, 4011 Carya Drive. See below agenda and related documents.
Agenda
Call meeting to order

Invocation
Roll of Members Present
Approval of Agenda

Minutes

Adoption of Minutes for July 19th, 2012, Regular Meeting

Regular Agenda

Bus on Shoulder System (BOSS) – Triangle area pilot project
Future of Fire Service in the Fire Tax District
Consider Approval of Calendar Year 2013 Meeting Dates
Consider Approval of Facilities Committee Recommendation
Consider Appointment of Facilities Committee Chair
Consider Appointment of Staffing Committee Chair

Information Agenda

Funding Request - FEMA AFG Grant (5% share) for the Stony Hill Fire Department
Fire Training Center Pump Update
Apparatus Replacement Update
Wendell Fire Department Noncompliance Notice
Fire Tax Financial Report
FY 2014 Fire Tax Budget Kickoff
Chair Report
Fire and Emergency Management Director Report

Other Business
Public Comments

30 minutes maximum time allotted, Maximum 3 minutes per person

Adjournment – January 17, 2013
Agenda
Draft minutes - July 19, 2012
Bus on Shoulder System (BOSS)
Future of Fire Service in the Fire Tax District
Consider Approval of Calendar Year 2013 Meeting Dates
Consider Approval of Facilities Committee Recommendation
Consider Approval of Facilities Committee Chair
Consider Approval of Staffing Committee Chair
Funding Request - FEMA AFG Grant (5% Share) for Stony Hill FD
Fire Training Center Pump
Apparatus Replacement Update
Wendell Fire Department Noncompliance Notice
Fire Tax Financial Report
FY 2012 Fire Tax Budget Kickoff
+ 1 - 2 | § ¶
Another Morning Mystery Fire Photo
Okay smart guys, let's try a tougher one. When, where, what is this? Hint, it's a building. Click to enlarge:


+ 2 - 3 | § ¶
Morning Mystery Fire Photo
What's happening here!? Photo by Lee Wilson. Recount incident as desired. Click to enlarge:


+ 7 - 3 | § ¶
Greenight 1:18 Scale 1974 Ford Grand Torino, Red/White
As seen in the television series Starsky & Hutch. You know you want one. Google to find retailers. Recently released by Greenlight Collectibles. Television and movie vehicles in this scale are popular. There's an A-Team van that's been produced by Hot Wheels. They also recently released a Ghostbusters car. Not to mention any number of 1:18 scale Batman movie vehicles... Why grow up?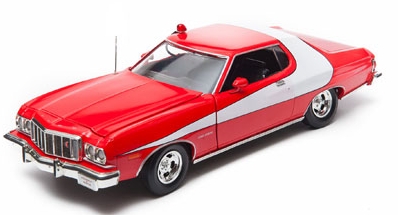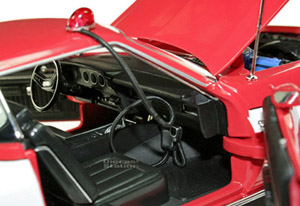 + 2 - 4 | § ¶
Chapel Hill Receives First Pierce
The Chapel Hill Fire Department on Thursday took delivery of their first Pierce, a 2012 Pierce Arrow XT, 1500/500. (Here's a nice presentation of Chapel Hill's apparatus to date. American LaFrance, Ford/Howe, Mack, E-One, etc.) Lee Wilson was promptly on scene to photograph the future Engine 3. Lettering and graphics are pending. See more photos. Crazy color for a fire truck, you say? 'Taint the first light blue truck seen in our state. Soul City FD has them, as have a couple others. Heck, we've probably blogged about the subject at some point.



Lee Wilson photos
+ 3 - 2 | § ¶
Raleigh Fire Museum Open This Saturday, Nov. 10
The Raleigh Fire Museum is open this Saturday, November 10, from 10:00 a.m. to 2:00 p.m. The museum is located in a classroom trailer at the Keeter Training Center at 105 Keeter Center Drive. Parking and restrooms are available. Admission is free. The museum is open on the second Saturday of each month, and is Learn more about the museum, and the group that operates it, at www.raleighfiremuseum.org.


+ 2 - 7 | § ¶
Speaking of Ladder Pipes...
And speaking of the old tiller, here are a couple historical photos of ladder pipe training in Raleigh, circa 1971 to 1974. These were scanned from 35mm negatives in a collection at Public Affairs. Here's a ground-level picture of the tiller, from a prior posting. Here's a recent blog discussion about ladder pipes. Believe that's either Henry Gosnell or Jerome Powell on the tip. That's an old-school ladder pipe, requiring mounting and a hose line before deploying. See more old photos. (What was Raleigh's first aerial with a mounted pipe and water supply, anyway?) Click to enlarge:


+ 3 - 5 | § ¶
Kernersville Fire Chief Dies
FireNews.net is also reporting on the death of Kernersville Fire Chief Walter M. Summerville III, 55, who died on Wednesday evening. He suffered a heart attack at home, shortly after leaving work. The twenty-five year veteran entered the department on January 13, 1987. He served as Battalion Chief for fifteen years, before becoming Assistant Chief and finally Fire Chief on February 18, 2008.
Chief Summerville had responded to a reported triple shooting late in the afternoon on Tuesday, and didnt feel well afterward. On Wednesday afternoon, he was not feeling well and left early from a town-wide charity event. He was found at home in cardiac arrest.
Funreral service will be held at 3:00 p.m. Sunday, at First Christian Church at 1130 N. Main Street in Kernersville. The visitation will be held immediately after the service. Read Chief Summerville's obituary in the Watagua Democrat. He is survived by a wife and two daughters. See also this WXII story.


+ 4 - 1 | § ¶
Bladen County Deputy Fire Marshal Dies
FireNews.net has reported on the death of Bladen County Emergency Services Deputy Fire Marshal John McClelland Hall, 48, who died last night from heart complications. He became ill on Saturday, while responding to a house fire in the Carvers Creek Community. He'd been on bed rest since Saturday, and was taken to the hospital on Wednesday. Hall was also Deputy Fire Chief of the Clarkton Fire Department, and a firefighter with the Bladenboro Fire Department. This is the second firefighter death in Bladen County, since White Oak Fire Department Lt. David Tatum died on Tuesday after feeling ill at a vehicle fire the day before. See prior posting. See also this WECT-TV story.



+ 3 - 3 | § ¶
Speaking of the Old Drill Tower...
Here's a great view of the 1954 drill tower and the 1958 American LaFrance tiller parked beside. Photo is dated early 1970s. Both are long gone. Click once or twice to enlarge:


+ 6 - 3 | § ¶
Memorial Auditorium as Drill Tower?
Did you know that Memorial Auditorium was designed as a drill tower? The performing arts center, which opened in 1932, was constructed with a two-bay fire station beneath the stage in the rear of the building. The exterior of the building above the fire station was designed as a drill tower. The fire department's existing drill tower at Station 1 on West Morgan Street might been unusable by that time. It was condemned in the 1930s and demolished in 1938. The dedicated training tower on South Wilmington Street wasn't built until 1954. Here are a couple photos from 1954, showing training at Memorial Auditorium. These were scanned from prints in the files of Public Affairs. Click to slightly enlarge:


+ 3 - 1 | § ¶
Yesterday's Fatal Fire at Durham Regional Hospital
One patient was killed and three staff members were injured at Durham Regional Hospital early Tuesday morning, by a fire that was initially reported as an explosion about 2:15 a.m. This WRAL story reports one 911 caller reported a "fire oxygen explosion." Investigators have said it may have started during a "defibrillation procedure." The sprinkler system activated, and it sounds like the fire in the sixth-floor, acute-care room was promptly extinguished. Thus the run card only looks like a single alarm response: 3643 North Roxboro Road, BC2, BC1, E7, E2, E9, E3, E13, L2, L3, SQ7, HM13, SO1, MS1, FD1, FD3, FD6, FD38. That's from the Durham FD Facebook page. More media links: WTVD, News 14, Herald-Sun, News & Observer. Plus any number of national transmissions of the story. Just Google. Firegeezer also blogged about it. (What's the historical context here? Can't readily recall any fatal hospital fires in Raleigh, and darn few notable fires period.)



WRAL photo
+ 1 - 2 | § ¶
Bladen County Firefighter Dies After Vehicle Fire
FireNews.net repoted on Monday about the death of White Oak Fire Department Captain Lt. David Mitchell Tatum, 55, who died at a hospital on November 5, after collapsing at home, after feeling ill at a vehicle fire on November 4 and returning home. No additional information about his passing, or arrangements, has been made available. Goggle neither finds news stories nor obituaries, as of this morning. Watch this space. We'll update as needed.


+ 2 - 2 | § ¶
Day in the Life of a Fire Lookout
America the beautiful. From a friend on Facebook, exceptional video by Marin County Fire Department volunteer Gary Yost, who has been a lookout on Mount Tamalpias in Oregon for about two years. Next and obvious questions, are any towers still manned on our side of this great country? Guess I need to consult this prior posting on the topic.


+ 1 - 6 | § ¶
Ladder Pipe Liability
Firehouse.com columnist John J. Salka Jr. calls the practice of putting a person on a tip "stupid and extremely dangerous" and with "little if any positive results." We haven't a hearty tactical discussion in a while. Readers, what's your take on this age-old practice? Second question, isn't technology ready to replace this practice, either with video or thermal imaging cameras?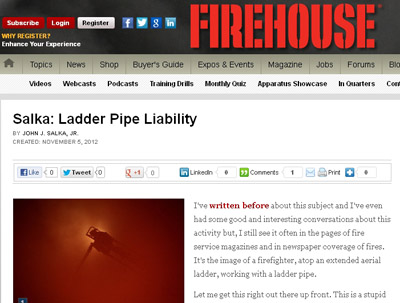 + 5 - 2 | § ¶
Town Trucks
As discussed in this thread from the other day. Top is Garner's 1958 Ford/American LaFrance pumper. Note "municipally owned" on the door. This was Garner's "town truck" at the time. Bottom is Knightdale's 1963 (?) Chevy/Darley pumper. Says "Town Truck 1" on the door. Cropped from a larger photo and thus the blur. Looking through my archives, didn't see such labels on trucks from Apex, Fuquay-Varina, Wake Forest, Wendell, or Zebulon. Probably because each had a municipal fire department that pre-dated the rural department. (Those trucks just read, say, "Town of Apex" or "Apex Fire Department" instead of "Apex Rural Fire Department.) Versus Garner and Knightdale, which were private corporations that provided municipal fire protection. Click to enlarge:

+ 3 - 2 | § ¶
UPDATED: Salisbury Fire Department Parade - Then and Now
November 4
Photographer Paul A. Brown graciously provided a couple dozen photos from the October 13 parade of fire apparatus in Salisbury. Here's a video slideshow, showing many of the trucks as staged before the event. Plus a couple through-the-town shots. Nice looking trucks, both those antiques and the modern Rowan County rigs.


October 17
On Saturday, October 13, the Salisbury Fire Department hosted a Fire Prevention Week parade in downtown Salisbury. The parade featured (or at least was planned to feature) three-dozen rigs, from Salisbury and neighbor departments including East Spencer, Gold Hill, Granite Quarry, South Salisbury, and Spencer. Four privately owned antiques were also scheduled to appear. See this Salisbury Post article, which listed the line-up.
The parade was an annual event in Salisbury from the mid-1950s through the early 1980s. The parade was held this year in conjunction with the "Where's the Fire" exhibit currently on display at the Rowan Museum. (Watch this space for a museum report, as we're planning a visit on our return trip from the mountains today.) Still searching for photos from last week's parade. Readers, can you assist?
Meanwhile, here's a vintage parade photo that Salisbury Fire Chief Bob Parnell passed along. Probably from the 1920s. The parade appears organized in chronological order of apparatus, with the reel company preceding the steamer company preceding the motor companies. Learn more Salisbury FD history on their web site. Thanks, Bob! Click once or twice to enlarge:

+ 2 - 3 | § ¶
Holly Springs Station 2 Open House, Saturday, Nov. 10
The public is invited to visit the recently completed Fire Station 2 at 1140 Aventy Ferry Road in Holly Springs, on Saturday, November 10, from 10:00 a.m. to 2:00 p.m. Tours, refereshments, and a bounce house for children will be provided. Search the blog for prior postings about the new building, which replaced an older station on the same location that was damaged by the 2011 tornado. See more photos from Lee Wilson, who toured the facility a few weeks before it opened last month. Search the blog for prior postings.


Lee Wilson photos
+ 4 - 2 | § ¶
Foam Truck at Station 12
Here's one of the last foam carriers operated by the Raleigh Fire Department. This 1973 Mack CF pumper, formerly originally Engine 4, served as Foam 12 from around 2002 until January 10, 2004, when it was moved to Station 26. It replaced a 1968 American LaFrance 900 series pumper. (Were other former engines also used?) Foam 12 was placed in service on September 1, 1988. Station 12 was chosen for its proximity to the Beltline, if memory serves. All engine companies also carried four five-gallon buckets of foam and application equipment. This was one of the first actions of the department's haz-mat response team, when they were organized earlier in that decade.
Foam 26 was removed from service on June 8, 2005. At that time, if memory serves, the foam was moved to Station 2, to be transported as needed on the haz-mat units. The fire department also operated a pair of high-expansion foam units, from 1965 to 1990. Those were stored at Station 1 and Station 5. See this company/unit history document (PDF) for dates. See this Special Apparatus page of Mike's apparatus registry for more information including pics. See this posting from June, about Raleigh's foam trailer and class B foam supply, placed in service this summer.
What other foam apparatus have departments and cities operated in our state? Click to enlarge this scanned photographic print from the early 2000s:


+ 7 - 4 | § ¶
UPDATED: Old Raleigh Engine at Scrap Yard
October 27
The apparatus is old Engine 3, a 1951 American LaFrance 700 Series, serial number L-4433. It was saved from the scrapyard in 2007 by Tim Henshaw, a member of the department and a local apparatus owner. (He and his rig were profiled in the 2008 issue of the RFD newsletter.) The rig had been stored for years, but was not destined for restoration. It was "parted out" a few weeks ago before being put to pasture. Click to enlarge these photos from November 2007:


October 23
As reported by a reader in a comment on this prior posting, another Raleigh rig was awaiting recycling at TT&E on Garner Road two weeks ago. It was photographed by another reader. This one's an American LaFrance 700 Series. One of four that the city had. Looks largely stripped. Thanks Patrick! Click to slightly enlarge:


+ 3 - 2 | § ¶
Two Alarms Yesterday on Lake Hill Drive
Two alarms were struck yesterday afternoon at 6614 Lake Hill Drive. Multiple callers reported smoke and flames presenting from a second-story apartment. Working fire assignment was dispatched as units were en route. Engine 15 arrived at a three-story, wood-frame, garden-style apartment building with 20,925 square-feet. Twelve (?) apartments. Built 1974. Fire was venting through the second-floor window.
Engine 15 confirmed a working fire, caught their own hydrant and laid their own supply line, and parked in the front of the building. They took a line into the structure, into a second-story rear apartment. Battalion 1 assumed command on arrival. He struck a second alarm about ten minutes into the incident, as Engine 15 was having difficulty finding the seat of the fire due to heavy smoke conditions. Second line was brought inside by this time.
First arriving second-alarm company, Engine 9, was directed to take a third line to the rear of the structure, for exterior attack and/or entry. They were directed to catch a second hydrant, and also connected to Ladder 1, which was positioned in the rear of the building. Fire was difficult to find and resulted in extended overhaul, as it had spread through the floors and ceilings of the second-story apartment. Other companies were assigned tasks of searching and evacuating the other apartments. Plus ventilation, fire attack, etc.
Dispatched at 4:45 p.m. Working fire dispatched about 4:50 p.m. Engine 15 arrived about 4:52 p.m. Second alarm dispatched about 5:02 p.m. Controlled at 5:49 p.m. Units remained on scene for a number of hours. Photographer Mike Legeros (me!) drove from downtown Raleigh, so his first photo below was taken about 5:19 p.m. (It's always a Friday afternoon challenge. Where to wander and perhaps catch a working fire. North side, west side, downtown, etc.)
Ten apartments were rendered uninhabitable and twenty percent of the building was damaged. Two firefighters were injured, minor knee and minor shoulder injuries. Neither was transported. One resident suffered smoke inhalation and was transported. Some fifty people were displaced, reports this WRAL story with a great gaffe headline: "Dozens of homes lost to Friday fires." Units on scene, not including relief companies, included: E15, E4, E19, E18, L1, R1, B1, EMS 35 (first alarm); B4, A1, C10, C20, C40, EMS2, D4 (working fire); E9, E22, E11, L5, L2, R3, B3, C5, EMS 36, EMS 31, T1 (second alarm). See preliminary photos. More later.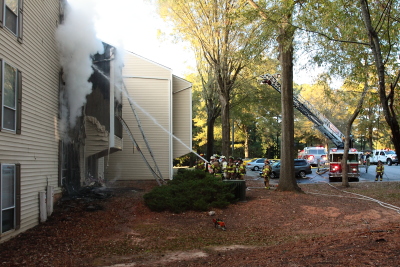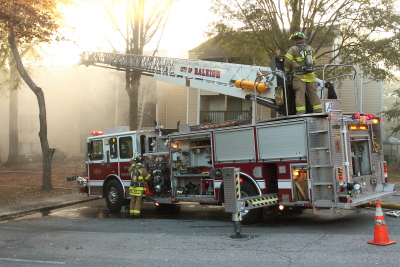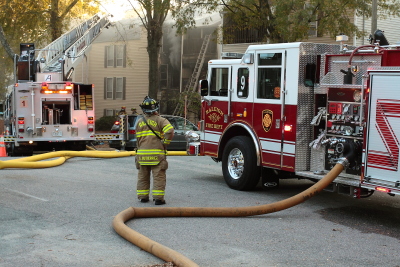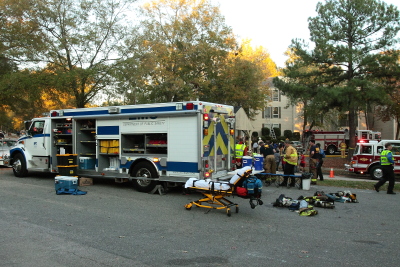 + 3 - 1 | § ¶
Old Raleigh, Cary Engines Found in Shelby
Western North Carolina reader and photographer Benjy Grice (see his Picsa site including a page of relics) found a pair of familiar engines in Shelby this week. Here's one of Raleigh's old 1973 Mack CF pumpers, model number CF685F10, serial number 1594. That's old Engine 5, later old Engine 10. One of four 1973 Mack CF pumpers delivered that year. (Another four 1975 Mack CF pumpers were delivered two years later.) Delivered October 1973. Placed in service as Engine 5 on July 22, 1974. Served as Engine 10 from 1986 to 1997. Cost $43,033. Here's the truck's page on Mike's apparatus registry site. Click to enlarge:



Benjy Grice photo
Here's one of Cary's old engines, a 1970 (?) American LaFrance 1000 Series, serial number 12-1-2263. Looking at my outdated Cary Fire Department timeline, it was delivered in 1971. Capacity 1000 GPM. At the same time, the department refurbished one of its older engines. Probably the 1965 American LaFrance 900 series. Looking at my page of historical CFD apparatus photos, my citation is a model year of 1971. Looks like it was the first Cary engine with a roof as well. See Lee Wilson's site for two more photos: as reserve at Station 3 and as reserve at Station 2. He also cites a model year of 1971. Click to enlarge:


Benjy Grice photo
+ 2 - 9 | § ¶
Shoes
From tonight's two-alarm fire on Lake Hill Drive. See more photos. More later.


+ 4 - 1 | § ¶
Garner's Old Engine 2
Lee Wilson this week photographed Garner's old Engine 2. The 1958 Ford F-600/American LaFrance pumper is parked at Ken's Corn Maze on Highway 50, south of town. Don't get lost trying to find it!
Equipped with a 500 GPM pump and a 300 gallon tank, the truck was purchased by the town for $10,627.32. It was one of the many "town trucks" that local private fire departments operated. Such trucks were typically first-out (or even restricted) to town-only calls.
In the case of Garner Fire Department, for years they had two departments within the department. One for calls in town, and the other for calls outside of town. (Readers can share memories and other examples of town versus rural arrangements, from "back in the day.") See more photos.



Lee Wilson photo
+ 4 - 2 | § ¶
Emergency Distractions
NBC17 story from last night, about distracted drivers not noticing emergency vehicles in Raleigh and Wake County. The news crew takes a ride with District Chief Jeff Hammerstein of Wake County EMS.


+ 2 - 3 | § ¶
Meanwhile...
With a calamity of catastrophic proportions to the north affecting the nation and its responders, we don't have much to add to the national conversation or local reactions. Here are a few sites and stories that we've been reading. (We being me.) There's a world of better reporting and perspectives about Hurricane Sandy than you'll find here...
Just a handful of sites and stories to mention. Maybe readers have additional input. What were some of the sites or stories that you found useful, compelling, or moving? Or, if you prefer, discuss your online experience during the storm. What did you observe or conclude, about the Internet and social media and channels of information about both (a.) the storm and (b.) responder activities therein?