+ 20 - 7 | § ¶
Night Photography
Instructions for taking scene shots at night without using a flash or a tripod. Adjust camera sensitivity to highest settings. Adjust shutter and aperature accordingly. Point camera toward lighted areas. Stand as still as possible. Hold camera against face as tight as possible. Will subjects to stop moving (results for this step not guaranteed). Start shooting. Click to enlarge:


+ 14 - 15 | § ¶
Mass Shooting / Hostage Drill
Yesterday in Moore County, responders responded to a mass shooting at a nursing home. Six people died at the scene, and two more passed away at the hospital. The Pilot of Southern Pines has extensive coverage, including Carthage Shooting Blog. Yesterday in Johnston County, by way of unfortunate coincidence, responders practiced responding to shooting and hostage situation at an industrial plant on Highway 70 East. Several agencies participated including Clayton Police and Johnston County SO special operations teams, Clayton Rescue, Clayton Fire, and Wilson's Mills Fire. Lee Wilson paid a visit and has posted photos.
+ 16 - 11 | § ¶
Camp Mackall Airborne Maneuvers, Fatalities, 1945
Back to the Forties with some more random history. On Sept. 25, 1945, Army airborne maneuvers at Camp Mackall turned deadly when 13 soldiers were killed, and 58 injured. The exercises, which duplicated many of the tactics used by airborne forces in Normandy and Holland, included the night deployment of 184 C-47 transport planes carrying 2,500 paratroopers. The planes raced over the landing areas at approximately 400 feet, and with the moon blacked out by clouds. Most of the parachutists missed the field, and dropped instead into high pines surrounding the area. One person was killed, and 58 were injured. One of the planes crashed, killing 12 aboard: eight paratroopers, and four crew members. Four other parachutists jumped to safety. The maneuvers were said to be the largest ever staged in the United States. Source: News & Observer, Sept. 26, 1945.
+ 9 - 15 | § ¶
North Carolina Search & Rescue
From a reader, here's a WRAL story on a newly organized search and rescue organization. Called North Carolina Search & Rescue, they're an all-volunteer entity that utilizes resources ranging from cadavar dogs, to low-flying aircraft, to cell phone tracking. Their members include former law enforcement, ex-military, and Coast Guard personnel. They're presently working on a missing person case in... Australia. Read the article, or visit their under-construction web site, www.ncrescue.org. Neat patch, too!


+ 22 - 10 | § ¶
Now That's a Vehicle Fire
Also from FireNews are some photos of an off-duty firefighter's truck that burned on Monday in Leland. The picture below, one of several, shows the fire as the first engine arrives. Read the story and see more photos.


+ 10 - 9 | § ¶
NCFFF Seeking Bookeeping Help
As posted on FireNews, the North Carolina Fallen Firefighters Foundation (NCFFF) is seeking a volunteer to provide bookkeeping services for the organization. The position is responsible for reconciling checking and saving accounts with accounts payable and accounts receivable information provided by the Treasurer, preparing and submitting quarterly sales tax filings, and preparing materials for the organization's CPA for end of year tax reporting. Candidates must have previous bookkeeping experience. See the FireNews posting for contact information.
+ 16 - 12 | § ¶
Gizmodo, the Gadget Guide
Here's a cool blog called Gizmodo, a guide to gadgets and other goodies. Some of their more intriguing, recent threads:
+ 16 - 9 | § ¶
Chicago's Mack CF Rear-Mount Ladders
Over on this die-cast fire apparatus discussion board, the history of Chicago's Mack CF rear-mounts is being discussed. The context is a coming replica from Code 3 Collectibles. One interesting piece of history is that these trucks were delivered with 100 GPM booster pumps, 300 gallon booster tanks, and a pair of booster reels. The pumps and equipment were later removed, and perhaps pretty quickly. One poster recalls the politics involved, e.g. if a truck has a pump, then it's an engine and an engineer should be assigned. Read the discussion thread.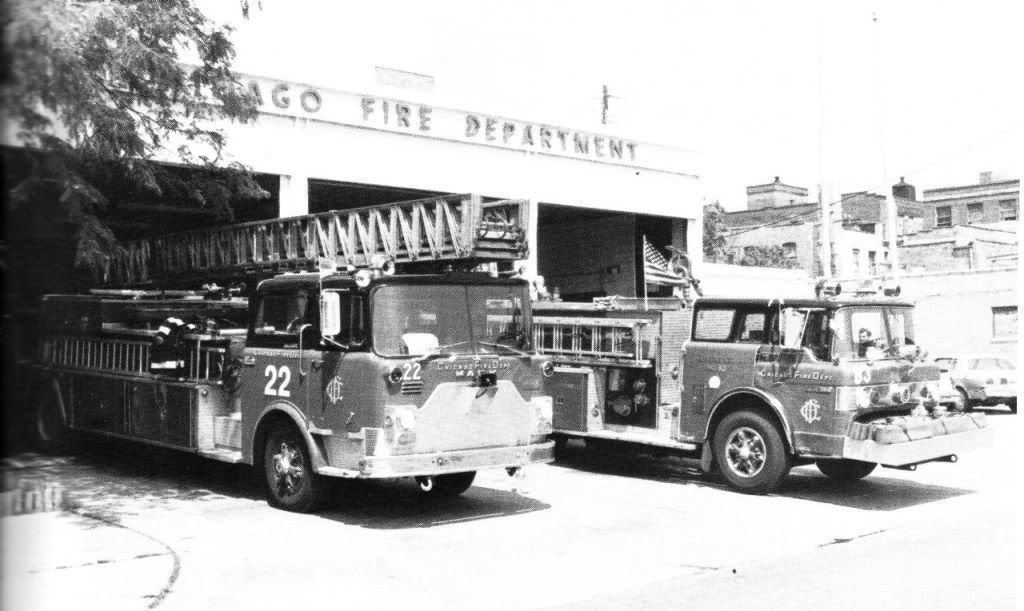 + 16 - 18 | § ¶
North Carolina State Firemen's Association History Bits
A list of the officers of the North Carolina State Firemen's Association, from 1888 to 2000, has been updated to this history page. Looking over the PDF document scan
, there have been a number of long-time and very long-time officers over the decades. From a manual count, they include:
44 years - Jno. L. Miller, Secretary
20 years - Horace Moore, Treasurer (9 years), Secretary (11 years)
26 years - Jas. D. McNeil, President
26 years - Tyrus Bissett, Statistician
25 years - Curtis Flanagan, Secretary
22 years - A. W. Brinson, Statistician
20 years - Bobby Joyner, Treasurer
18 years - Ed. A. Johnson, Treasurer
18 years - C. Schnibben, Treasurer
And what's the spread for convention cities, you ask? Whose hosted the most-est?
READ MORE
+ 16 - 12 | § ¶
Airplane Accident Fatalities, 1940s
We previously reported the curious statistic that the leading cause of death in Carteret County in 1943 was plane crashes. Turns out that quite a few people died in plane crashes in the 1940s in North Carolina. Most were likely war-related activities. Some annual totals from that decade:
1943 - 238
1944 - 254
1945 - 65
1946 - 29
1947 - 42
1948 - 45
+ 14 - 11 | § ¶
How to Research a Fire Department History?
Question from reader, what's the best place to start researching a fire department history? Answer from blogger, see these notes on researching fire department histories. They're from a presentation delivered in Greensboro at the state convention in 2006. Then, ask Mike any additional questions as needed. We'll get you pointed in the right directions.
Of the resources listed in said presentation, Sanborn Maps (shown below) are a particularly strong source. Each map summarizes a town or city's water supply and fire department. Then, on the map sheet showing the fire station, there are usually additional details. At a minimum, you'll learn the street address and building construction of the fire station.
Sanborn Maps are available online via www.nclive.org, but only by subscription. Your local library typically has access, and you can likely use that access remotely. Once you get a feel for the browser interface, you can easily down PDF copies of map sheets. Mike will be referencing these and other sources in August, at this year's convention in Raleigh. More on that later.

+ 12 - 18 | § ¶
This Morning's Fire / Nelson Road
Multiple vehicle fire at 5201 Nelson Road. Cary Engine 1 arriving at one-story commuter transportation facility, with a number of commercial busses fully involved in a large parking lot behind the structure. Morrisville also dispatched, with Ladder 2 deployed and flowing water. Others on scene included Cary Truck 7, Battalion 1; Cary EMS Medic 91, District 5; WC 1. Alarm time about 5:50 a.m. Call occurred just before shift change, with "C" shift then "A" shift. Photos by Legeros coming.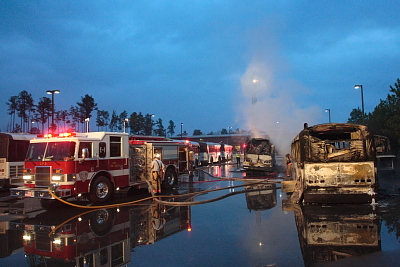 + 19 - 15 | § ¶
iControl Interactive Doppler
Tracking severe weather, are we? Check out iControl Interactive Doppler on the WRAL site. It's a beta version, so there may be bugs. You can zoom, pan, filter, and even see projected paths for storm cells. Screen capture is below. For maximum effect, be sure that the television's on, several scanners are squawking, and a weather radio is blaring in the background. Click to get Doppler-ized:


+ 14 - 10 | § ¶
St. Agnes May Heal Again
Anyone familiar with Raleigh history, or who has strolled the city's east side, is familiar with the skeleton of St. Agnes Hospital on the campus of St. Augustine's College. For fire historians, the first question is usually "when was the fire that reduced the hospital to its bare walls?" The answer is... never. St. Agnes Hospital closed intact in 1961. Why are only walls left? Today's News & Observer has an article on the famous structure, and bit about its history. In 1996, the National Park Service granted the college $769,000 toward restoration repairs. Five years later, work stopped, and perhaps left the structure in its current state.


News & Observer Photo


What about fires? On Feb. 2, 1909, two of the city's volunteer fire companies fought a fire at the hospital. St. Agnes and the college was outside the city at that time. Loss about $1,000. On May 26, 1911, the hospital and the college suffered fires large and small when high-voltage power lines energized the school grounds. On Dec. 16, 1926, the third floor had a fire. College students fought the flames until the fire department arrived. Damage initally estimated at $25,000. The State Archives also has undated newspaper photos of a smaller fire in the late 1940s or early 1950s. Still trying to find that date.
+ 11 - 14 | § ¶
Western Boulevard Fire Department
For your Friday enjoyment, here's a vintage photo from one of Wake County's lesser-known departments. Pictured in 1958 is the Western Boulevard Fire Department. Organized a year earlier, they protected unincorporated areas due west of Raleigh. From a barbecue shed-turned-fire station at the corner of Western and Powell Drive, their 30-some members operated three pieces of equipment: pumper (Chevy, new), tanker (used), and brush truck (Jeep, or "Jeep type"). The department was, alas, short-lived. On April 1, 1960, much of their territory was annexed by the city. They disbanded, and reformed one year later as the Fairground Fire Department. Singular. Read more history, or click once or twice to enlarge:


Shown left to right, are (front row) Henry Garrison, Norman C. "Dick" Massengill, Biff Abbott, Skip Fox, Fred A. Burke, Robert Giddens, C. Mitchell Godwin; (middle row) G. Rex Mann, F. Dale Graham, Ira O. Schaub Jr., James A. "Jimmy" Hewitt, Harold Morris, Edmond L. Johnson, Alex R. Russell Jr., Bill Dupree; (back row) Charlie R. Weathers, Bobby Massengill, Bruce Brundage, Henry Wilder, unidentified, Mitchell Garbelly, Judd Watkins, and unidentified. What a great photo.
+ 12 - 17 | § ¶
Unusual Fires, Part 2
By presumed popular demand, here's a second installment of "unusual fires" from around North Carolina in the early and mid-1950s. These are quotes from fire chiefs, reported to the State Insurance Commissioner's office, compiled by the North Carolina State Firemen's Association Statistician, and excerpted from conference proceedings:

Struck match in paint room, damage $22.
Light bulb in popcorn machine, damage $800.
Cleaning floor with gasoline, spark ignited, $800 damage.

Smoking in paint shop, damage $555.
Oil stove left burning in a closet, $4,200 damage to house.
Smoking cigarette set mattress afire, Greensboro city jail. $6.
READ MORE
+ 10 - 12 | § ¶
New Facility For NC National Guard / EM / SHP
Western Wake and EMS 4 are getting new neighbors. Today's News & Observer has the skinny on the $56 million, stimulus-funded NCNG/EM/SHP facility to be built on District Drive. The 237,000-square-foot structure will serve as headquarters for the National Guard, will house the state office of Emergency Management, and house a regional communications center for the Highway Patrol and other agencies. It'll be built on an 18-acre site. The two-year project will create as many as 4,200 construction-related jobs, says the Gov. Read the entire article. There's additional information and images from the architects on the OBrien Atkins web site.


News & Observer / O'BrienAtkins Image
+ 10 - 11 | § ¶
The First Rural Fire Departments
Question, what were the first rural fire departments in North Carolina? The answer is below, but probably incomplete. Who is missing from that decade, dear readers?
1942 - Wilkinson Boulevard FD, Charlotte/Mecklenburg County.
1945, by - Bessemer FD, Greensboro/Guilford County.
1945, by - North Asheboro FD, Asheboro/Randolph County.1
1946 - Guilford College FD, Greensboro/Guilford County.
1946 - Seagate FD, Wilmington/New Hanover County.
1948 - Pleasant Garden FD, Marion/Mitchell County.
1949 - Pinoca FD, Charlotte/Mecklenburg County.
1949 - Sedge Garden FD, Winston-Salem/Forsyth County.2
1Also known as North Asheboro/Central Falls FD.
2The year 1949 might be the year the Sedge Garden Civic Club started the project that eventually formed SGFD. Another source cites early 1951 as the year Sedge Garden Fire Department formed.
+ 10 - 14 | § ¶
Stimulus Money to Pay For New Greensboro Airport Fire Station
Here comes that stimulus money! FireNews surfaces this News & Record report that the Piedmont Triad International Airport said Tuesday that the federal stimulus package will pay for a new $4 million fire station. The facility is planned for the north end of the runway, near the FedEx Express hub that's opening later this year. The station will be big enough to hold five trucks. Read the article. Here's an aerial view of the current fire station at 7722 Airline Road. It's the square building about 800 feet north east of the map marker "A".

+ 14 - 11 | § ¶
More New Ambulances (Updated)
Here's a low-resolution high resolution preview of the latest additions to the Wake County EMS fleet. Two of five commercial chassis ambulances have been delivered. The third is expected in two weeks, and will be equipped with a special bariatric lift device. The remaining two arrive this summer. Click once or twice to enlarge:

+ 11 - 11 | § ¶
Medical Technology Makes Art
From today's New York Times, observe the artwork of Satre Stuelke, who has created compelling CT scans of everyday objects such as electric razors, stuffed bunnies, and Barbie Dolls. As is shown below, left to right. Read the article, which also includes a slideshow. How about that funky looking box of Chicken McNuggets? Wonder what a side of fries looks like?



New York Times/Satre Stuelke Photo
+ 12 - 13 | § ¶
Raleigh Fire Protection Studies
Scanning has been completed of a trio of fire protection studies, conducted by the city of Raleigh in the 1950s and the 1970s. We blogged about the 1958 report maybe a month ago. The 1970 report was added to the history site a couple weeks ago. The 1977 report was added to the site this evening. The last two are scans of photocopies. Sorry about that. Next up? Maybe full scans of the National Board of Fire Underwriters reports from 1924 and 1931. Or maybe OCR work on the above reports from 1970 and 1977. Add text-only versions to each. We'll see. There's always another geeky task to undertake. Read the docs:

+ 11 - 13 | § ¶
Latest Photos of Apex Station 4
Speaking of our friends to the south and west, here's what construction on Apex Public Safety Station 4 is looking like. See more photos on the AFD site. Go through the web site's front door, which shows both navigation links on left and page content on right. Or leap directly to the construction in progress page. Both roads lead to the same place.


Apex Fire Department Photo
+ 14 - 13 | § ¶
Apex: 401 Applied for 12 Firefighter Jobs
WRAL reports that hundreds of firefighter applicants were queued at the Apex Town Hall today, to take the written tests for 12 open firefighter positions. The town took 401 applications for the slots, which were posted Feb. 18, and 260 applicants were eligible to take the written test. The Apex Fire Department is expanding its "36-strong department" with 12 positions funded by a $1.3 million SAFER grant. The academy starts May 11, and the twelve firefighters are expected on the job on Sept. 11. Good luck, all! Read the article. Or learn more about AFD, on the town site, or the fire department site.


WRAL photo
+ 14 - 8 | § ¶
City Council Approves Hillsborough Street Roundabout Phase 1 Project Bid
From a Raleigh press release last week, the Raleigh City Council approved the bid for the Hillsborough Street Roundabout Project Phase I from Gardner Street to Oberlin Road. The Phase I improvements will convert Hillsborough Street to a two-lane median-divided facility with on-street parking on both sides, with a seven-foot wide raised median, with sidewalk bulb-outs at the intersections and mid-block locations, and adds several pedestrian signals. The project replaces the Hillsborough Street and Pullen Road traffic signal with a dual-lane roundabout. Read more about this project at the city's Hillsborough Street Redesign site. See the last page of this document of Proposed Streetscape Changes
for the roundabout design. Most interesting is the proposed Pullen Road Extension, which will connect Pullen Road and Oberlin Road, and turn the first block of Oberlin Road into a outbound one-way street.


+ 14 - 12 | § ¶
Tokyo Cargo Plane Crash
Footage and photos of the MD-11 cargo plane crash at Narita International Airport, east of Tokyo, have surfaced around the web. This NECN story has extensive footage, including low-resolution footage of the landing and crash. This BBC article has 80 seconds of post-crash footage. This Reuters article has a slideshow of strong images. Alas, can't find any web sites for information on the airport's fire department.


Reuters/Kyodo Photo
+ 12 - 10 | § ¶
Nash County Firefighter Dies in Line of Duty
FireNews has details of Salem Volunteer Fire Department Firefighter Greg Cooke, who died Saturday, March 22, at Wake Medical Center, after suffering an apparent cardiac arrest while working at a woods fire several days earlier. Funeral arrangements are pending.
+ 10 - 13 | § ¶
Disaster Genealogy Site
From a reader, here's a disaster genealogy site that's pretty cool. It's called GenDisasters and compiles "information on the historic disasters, events, and tragic accidents [in the United States and Canada] our ancestors endured." You can browse by disaster, location, or year. For North Carolina, their listed events include air disasters, auto accidents, bridge collapses, building collapses, drownings, earthquakes, explosions, fires, floods, hurricanes, mining explosions and accidents, panics, ship disasters, storms and lightning, tornadoes, and train wrecks and accidents. For fires, they have 35 listed from 1897 to 1996, with most from the 1920s and earlier. There are also community features, including the ability to add comments or more information to existing articles. Cool stuff, and to be integrated to my North Carolina deadliest disasters database and my deadliest fires database. Also on the horizon is a pending compilation of the state's largest fires, if and when we can make that happen. Anyway, check out that cool web site: gendisasters.com.
+ 11 - 14 | § ¶
Mid-Century Modern Houses
Digressing from fire stuff, our attention turns to architecture. Mrs. Blogger brings this topic to our attention. Did you know that the Triangle has the fourth largest concentration of mid-century modern homes in the nation? We learned this in North Carolina Signature magazine. The March/April 2009 issue features a features on mid-century modern homes. The piece includes a profile of several Raleigh residences, including the George Matsumoto House at 821 Runnymede Road, shown below. Don't have a subscription to that rag? Check out Triangle Modernist Houses, an extensive resource about the style, the buildings, and the designers. (How many homes are we talking about. They total 626, by their count.) There's even a couple Google tools, to help with the driving tour that you'll want to take. Here's their annotated Google map, and they also have a Google Earth aid. Go forth and discover.

+ 11 - 18 | § ¶
History of Rural Fire Protection
Also from the aforementioned Rural Fire Protection in North Carolina, published in 1977, here's a little history of rural fire protection in our state. It includes legislative milestones, and the organizational forms that rural fire departments can take.
"In North Carolina, rural fire protection is recognized as a function of local government. Historically, fire protection was provided primarily in populated municipalities. But in recent years industrial growth and population spillover into rural areas has increased the need for fire protection outside town and city limits. In response to increasing demands for rural fire protection, legislative provisions have offered organizational alternatives whereby counties or rural communities may establish fire protection.
READ MORE
+ 17 - 12 | § ¶
Rural Fire Station Design, 1977
Here's another treat that's cataloged at the State Library of North Carolina. Below are a couple pages from Rural Fire Protection in North Carolina, published by the North Carolina Agricultural Extension Service in 1977. It's a 15-page booklet that's printed on a thicker, yellow paper stock, and published as a guide for community leaders interested in organizing a rural fire department. Call number A75 42:2. These pages detail rural fire station design. Bay space, bathrooms, meeting room, and little else. Wonder how many of these things were built in our state since then? Click once or twice to enlarge:

+ 11 - 13 | § ¶
Mecklenburg County Fire Protection, 1949
Found something interesting this morning at the State Library of North Carolina. Fire Protection in Charlotte and Mecklenburg County, by Philip P. Green Jr., and published in 1949 by the Institute of Government at UNC Chapel Hill. Call number G41 11/2:F52. Below is an excerpt from the 89-page document, from a section describing fire protection outside Charlotte. These were small towns, with minimal resources for their volunteer firefighters. There's also a map included, showing five-mile areas around the fire stations.
Cornelius has a fire truck purchased from the War Assets Administration in 1947 at a cost of $2,500. It is equipped with 300 feet of hose, a 250-gallon water tank, and a front pump which can be used to pump water from wells and streams. The overall cost for hose and truck was approximately $2,800. It is housed in the city hall. The siren on the truck is used to give alarms. The town carries liability insurance for the volunteer company of 15 men, but no compensation insurance. The men receive no pay, but the town pays their dues in the State Firemen's Association, bears their expenses to conventions and required drills, and gives them an annual dinner.
READ MORE
+ 11 - 13 | § ¶
Last Night's Wake County Fire Commission Meeting / Garner Joint Fire & EMS Station
Handouts from last night's Wake County Fire Commission Meeting are available for viewing, along with the earlier uploaded agenda
. Among the agenda items was a Facilities Committee update that included a presentation about the Garner Fire & EMS joint substation. The three-bay facility to be built on Spaceway Court will sleep 12 firefighters and five EMS members. The building has separate fire and EMS rooms-- including dual day rooms-- along with shared space, such as a shared kitchen and shared exercise area. Outside the kitchen is a covered patio. The pre-engineered structure is planned with a masonry exterior. The site plan includes room for expansion, if a fourth bay or living space addition is needed. The concrete pad includes parking for visiting apparatus. The project schedule includes: bid opening (Sept. 24, 2009), construction start (Oct. 26, 2009), construction complete (Oct. 2010), and grand opening (Nov. 2010). View the handouts from the meeting
or click to enlarge these smaller views:


+ 15 - 11 | § ¶
Unusual Fires
For your Friday reading, the following are the causes or probable causes of "peculiar or special loss" fires from around North Carolina in the late 1940s. These are quotes from fire chiefs, reported to the State Insurance Commissioner's office, compiled by the previously mentioned state firemen's association Statistician, and excerpted from conference proceedings:
Painter burning paint off of house, set house on fire.
Attendant in wash pit, presumably smoking while washing car, set car on fire.
House set on fire by occupant using wooden fire poker.

Spark from passing train into load of cotton.
City bus hauling gasoline in open can.
Belt jumped pulley, friction set fire to building.
READ MORE
+ 9 - 15 | § ¶
New Bern Firemen's Museum Opens, 1957
The conference proceedings of the 1957 state firemen's convention included this announcement of the completion and dedication of the New Bern Firemen's Museum. Mr. Brinson, who provides his address for those requesting information, was a member of New Bern's Atlantic Steam Fire Engine Co. No. 1, and the Statistician of the North Carolina Fireman's Association from 1940 to 1962. Fifty-two years later, the museum is still going strong. Visit their web site, or view some pics taken in December. The announcement from 1957:
The New Bern Firemen's Museum was completed and dedicated on June 24, 1957. The Ambassador from Switzerland, Mr. H. de Torrente, honored the City of New Bern with his presence for the occasion. There was a banquet in his honor at Governor Tryon Hotel by the firemen and City of New Bern. The Ambassador presented the museum with many interesting fire items from the fire department of Berne, Switzerland, a Swiss flag from his country, and a number of beautiful colored pictures of scenes from Berne. He also unveiled a portrait of the Swiss Baron Christopher de Graffenried who founded and settled New Bern in 1710.
READ MORE
+ 15 - 12 | § ¶
Mystery Vehicle
For your evening amusement, here's another mystery vehicle. What is it and why is it? Firefighting? Military application? Something else entirely? Here's a hint, the thing has five axles. And it's Russian, duh. Er, da. Click to enlarge:


+ 11 - 18 | § ¶
Strip Malls and Shopping Centers
'Twas a heavy column of smoke reported from the roof of the Lowes Foods at 2900 East Millbrook Road early yesterday evening. Callers reported multiple locations, including Lowes Home Improvement and Golden Corral, both nearby. Arriving units found ventilation equipment on the roof ablaze. Ladder 11 and Ladder 4 were raised to provide access in the front and rear of the structure, respectively. The fire was quickly controlled. Engine 15, Engine 11, Engine 27, Rescue 19, Battalion 3, Battalion 4, Car 5, Car 20, EMS 5, EMS 16, and EMS District 1 also on scene. Pics from Lee and Mike (below) coming soon.

Speaking of strip malls, what shopping centers around here have burned over the years? In Raleigh, the list includes Quail Corners in 2002 (two alarms), Triangle Town Center in 2001 (two alarms, during construction, roof), Quail Corners twice in 1998 (three alarms, two alarms), the Bryan Building at Cameron Village in 1993 (three alarms), Gateway at Crabtree and North boulevards in 1987, and the Bryan Building at Cameron Village in 1964. Read more
history of Raleigh and fire
.
+ 12 - 11 | § ¶
Historic Inn Burns in Asheville
Asheville's historic Richmond Hill Inn burned overnight. The Citizen-Times reports crews were dispatched about 1:00 a.m. and found the 1889 structure heavily involved. The front portion of the Inn had already collapsed, and firefighters began both attacking the fire and protecting exposures. Water shuttles were required, to supplement the area's hydrants. Twelve fire departments conducted the shuttle. The Inn was empty at the time of the fire. The Richmond Inn had a big fire before, when a 24,000 square-foot addition was destroyed on April 9, 1995. The $3 million blaze was the worst in the city's history, surpassing the $2 million of damage in1 969 when the Bank of Asheville and Dunham's Music House were destroyed downtown. Read the article.


Bill Sanders / Citizen-Times Photo
+ 10 - 11 | § ¶
Raleigh Fire Department Report, 1962
Here's another annual report from Raleigh Fire Chief Jack Keeter, included in the proceedings from the 1962 convention of the North Carolina State Firemen's Association:
On July 23, 1962, the Raleigh Fire Department answered a call to the Hayes Barton Laundry [at] 1907 Fairview Road. The value of the building was $70,000, insurance on the building was $50,000 and damage to the building was $6,000; value of the contents was $60,000, insurance on contents was $55,000, and damage to the contents was $4,000, making a total of $10,000 damage to the laundry.
On September 4, 1962, a 6:03 a.m., the Raleigh Fire Department answered a call to the Hayes Barton Church [at] 1800 Glenwood Avenue. The value of the building was $787,000, insurance on building and contents was $787,000, and damage to the building was $370,531; the value of the contents was $75,000, and the damage of the contents was $106,924, making a total damage of $477,455.
READ MORE
+ 13 - 13 | § ¶
Sunshine
Finally some sunshine. Five days of rain was plenty and then some! Sunday is shown below, one of the numerous wrecks in south Raleigh that day. Forecast says dry, warm, and sunny through early next week. Welcome spring!


+ 15 - 9 | § ¶
Full House
Here's an early evening shot of Wake County EMS Station 1 at the Public Safety Center on West Davie Street. Parked in front, left to right, are EMS 13, EMS 11, District 1, and EMS 1. For extra credit, name the other trucks in there. Click once or twice to enlarge:


+ 13 - 11 | § ¶
News & Observer Cuts Jobs, Pay
WRAL reported yesterday that the News & Observer is eliminating 78 jobs, and cutting salaries of anyone earning over $25,000. The newspaper employees over 600 people, and the cuts represent 11 percent of the staff. The News & Observer has reduced its work force by 200+ full-time positions in the last year, the article notes. What has and will this mean for readers? Most obvious has been a reduction in the paper's size. For online readers, the digital version of the print version (www.newsobserver.com/print) has been shrinking as well. Letters to the editor and other opinion page content disappeared some weeks ago. Today's digital edition features only a sports section. Maybe it's just an error. And we're aware of the irony. Blogging about the online effects of changes to print news, an industry most certainly impacted by news-serving web sites such as blogs. If nothing else, web sites such as ours will get even better at covering fire and EMS stories. Though even that glib observation warrants a more detailed discussion, as does this story and situation. Times are a-changin'. The News & Observer dates to 1880, when The News merged with The Observer. The latter absorbed the The Sentinel, which was founded in 1865. Read more history on this Wikipedia page.
+ 11 - 8 | § ¶
Chestnut Hill, Cannonville, and Interstate Contests
Looking through old tournament records finds a couple interesting fire company names from the 1900s and 1910s. Chestnut Hill, an unincorporated community south of Salisbury, had a fire company from at least 1907 until at least 1912. Named Southside, they won first prizes for each of those years. If memory serves, they were or soon became part of the Salisbury Fire Department. In 1911 and 1912, a fire company from Concord named Cannonville competed in the tournament. This was probably the pre-Kannapolis fire department that protected Cannon Mills and the mill village. In 1916, a team with name Kannapolis competed.

These were the years that the tournament also featured interstate contests, and fire companies from South Carolina often participated. The interstate horse hose wagon contest on July 25, 1912, for example, featured 18 teams: Bennettsville, S.C., Burlington, Concord, Fayetteville, Goldsboro, Kinston (Caswell No. 1), Kinston No. 2, Marion, S.C., Morehead City, New Bern (Atlantic No. 1), New Bern (Fourth Ward), New Bern (Riverside), New Bern No. 1, Raleigh (Capital Hose No. 3), Raleigh (Rescue No. 1), Sanford, Statesville, and Sumter, S.C. The winners were Goldsboro and Sumter, each with a time of 33 seconds.
+ 7 - 10 | § ¶
MOVED - North Asheboro Fire Department? (Randolph County)
This posting has been moved and updated to http://legeros.com/blog/north-asheboro-fire-department-looking-back/
+ 13 - 13 | § ¶
Tournament Scores, 1907-1941
Here's a nifty compilation of scores
from the tournaments at the North Carolina State Firemen's Association conventions. The scores are from the years 1907 to 1941, with a few missing years. The contents are horse hose wagon, hand reel, grab race, and motor apparatus. Absent are the other types of contests held in earlier decades, such as steamer and hook and ladder. The scores appeared in the proceedings from the 1942 convention. The last tournament appears to have been held in 1941. War conditions likely impacted the participation of departments and personnel. War conditions also saw the convention cancelled a couple times that decade. The above document has been added to a new page about firefighter tournaments, that includes compiled scores, rules, and other stuff. Compile scores from 1889 to 1906 are forthcoming, as well as rules for the motor apparatus contests. Plus whatever else Mr. Blogger stumbles across.
+ 9 - 14 | § ¶
Advanced Practice Paramedics 2.0
Firegeezer yesterday posted a piece on the Wake County's Advance Practice Paramedics program by Mike Ward. It's a short, sweet clinical overview of the program that also includes a five-weeks-later update. (The APP concept is some 15 years old, we learn.) Since the five APP units were placed in service on Jan. 6, 2009, they've handled 2,309 incidents including 99 cardiac arrest responses. (They had their first cardiac save less than four hours after the first units were placed in service.) They've also completed 54 well-person checks, and are compling case reports therein on the impact on ambulance transport workload. Wake County APPs are reducing operating expenses by reducing the number of transports through at-home assessment and treatment of chronically ill patients. Read this excellent web article.


+ 11 - 9 | § ¶
German Hose Cart
Firegeezer posted this piece the other day on the subject of German hose carts. He presentings a posting by Irakli West, the publisher of FWnetz.de. The posting describes shows and tells about the wheeled reels present on German pumping engines. The reels, which have been a staple of European apparatus for decades, carry six or eight 60-foot sections of 3-inch hose. Wonder if such a thing would work for our 5-inch hose? Read the posting.


Firegeezer / Iralki West photo
+ 8 - 10 | § ¶
Boston Report
The report on maintenance practices in the Boston Fire Department was released this week, and can be found around the fire web from firehouse.com to Dave Statter. It's a short report, only 19 pages. The assessment is an outside review of fleet management organization and staffing, vehicle inspection and defect reporting, preventive maintenance, management of vendor-perform services, and other fleet management practices. Plus recommendations. The study was commissioned after the death of Lt. Kevin M. Kelley, who was killed on January 9, when the brakes failed on his ladder truck and it crashed into a building. Read the report
.
+ 9 - 9 | § ¶
Cobra Woman, 1944
Reading old newspapers means seeing great old ads, such as this one for a feature film at the Ambassador. The Internet Movie Database describes Cobra Woman as an adventure/drama with the tagline "STRANGE LOVES, UNBELIEVABLE ADVENTURES in the SOUTH SEAS!" The plot has something to do with a man's kidnapped fiance, her Pacific island-ruling evil twin, and sacrifices to an angry volcano god. (Do they ever make movies about happy volcano gods?) The Universal Pictures feature-- in Technicolor!-- was released in May of that year. This ad appeared in July, hence the frosty treatment of the theater name. Guess they had air-conditioning. The Ambassador was located on Fayetteville Street, no? Read about that theater at the Cinema Treasures site. Click to enlarge, but beware the volcano god:


+ 14 - 13 | § ¶
House Fire, 1944
On Friday, July 21, 1944, a twelve-room home on "Dixie Trail Extension" was "partially destroyed." The blaze was discovered about 6:30 p.m. by "Professor Brown," one of the residents and a State College faculty member. Three Raleigh fire units responded. Since the stone home was located outside the city limits, crews stretched hose through the woods and pumped water from a nearby lake. Nearby residents were notified of the fire by a neighbor, who drove her car through the neighborhood.
Firefighters were helped by neighbors, Boy Scouts, and auxiliary firefighters in saving all furniture from the first floor. Few of the furnishings on the second floor were saved. Heat melted a bee hive near the top of the house, and the trickle of "scorching honey" kept firefighters from getting close to the flames. Several firemen were overcome by heat.
The Boy Scouts, who were called to the fire, remained on scene until about midnight. They directed traffic, helped firefighters, and assisted the resident in sweeping water from the upstairs rooms. Both the scouts and "Civilian Defense auxiliary firemen" helped crews stretch hose from the lake to the house. Fire Chief W. R. Butts was unable to estimate the damage, and commended the work of his department, the Boy Scouts, and the auxiliary firemen. Source: News & Observer, July 23, 1944.
+ 12 - 11 | § ¶
Hillsborough Fire Department?
While we're fishing for information, what happened to the Hillsborough Fire Department? Rosters from the NCSFA list an entity named HFD from at least 1930 until at least 1995. Did they merge with Orange Rural Fire Department? The two departments shared the same station-- formerly a car dealership-- beginning in 1976.
Sanborn Maps document some of the towns history of fire protection. In 1888, town of Hillsboro had no fire apparatus, nor good water facilities. Population 800. Ditto for the years 1894, 1900, 1905, and 1911. Not much change in the population during those years, either. In 1924, the town used private wells and cisterns for water facilities, and had no fire department. Population 2,450.
In 1943, the town had a water system and a fire department. HFD was a volunteer department, with a Chief, Asst. Chief, and 18 men. They had a 1937 Chevy/Barton pumper, 500 GPM, 100 gallons, with 1,400-feet of 2 1/2-inch hose, and 200-feet of 3/4-inch hose. Fire alarm was by electric siren and telephone. Population 1,232. When was Hillsboro changed to Hillsborough? Unknown.
+ 14 - 12 | § ¶
Carbon City Fire Department? (Burke County)
For our readers around Morganton, does anyone have history on the Carbon City Fire Department? They were incorporated on April 20, 1970, and they appeared in at least two DOI directories in 1972 and 1982. Highway 70 west is named Carbon City Road, and a number businesses in that area are named Carbon City _____. Thanks as always for your help. Learn more about former fire departments.
+ 11 - 12 | § ¶
Six Forks Fire Department
For your Friday enjoyment, here's a cropped picture of Six Forks fire apparatus in the mid-1970s. Left is a 1971 Ford F-900 / American LaFrance pumper, 750 GPM and 500 gallons. Middle is a 1961 International pumper soon donated to the State. Served at North Carolina Zoo, which started construction in 1974 and opened in 1976. Was first fire engine to serve at Zoo. Right is a 1965 Chevrolet tanker, 1,500 gallons, previously (originally?) painted yellow.
SFFD was originally named Six Forks Road Fire Department. They were incorporated on June 5, 1956, and protected 600 homes in Chestnut Hills, Millbrook, Crestview, Farrior Hills, Northwood, and Belview Terrace. SFFD was the first rural fire department in Wake County not affiliated with a municipality. Click to enlarge the photo, which appears courtesy of David Ritchie:


Six Forks fire stations numbered four over time. The first was a converted barn-- or was it a lean-to?-- beside Howells Store on the west side of Six Forks Road just south of Lassiter Mill Road. Firestore Tires was later located there. Within a few years, they moved a few hundred feet north, to the east side of Six Forks Road, to a tin structure with a gravel floor and room for two trucks. In 1962, they moved to 5305 Six Forks Road, a three-bay building that presently serves as Wake County EMS Station #3. The fire department's siren, however, was located farther north on Six Forks Road, near Northclift Drive. There was also a battery powered siren (!) at the fire station.
The fourth and final location, opened in 1974, was a three-bay building at 1431 Lynn Road. Expanded a couple times since, it presently serves as Bay Leaf Station #3 and Six Forks EMS Station #1. The Six Forks Fire Department merged with Bay Leaf Fire Department on July 1, 2002. Readers, please correct or expand this information. It's been a few years since we we researched these histories. And there's a lot of history here.
+ 11 - 8 | § ¶
Wake County Fire Commission Meeting Agenda and Documents
Below is the agenda for the Wake County Fire Commission Meeting on Thursday, March 19 at 7:00 p.m., at the Wake EMS Training Facility, located in the lower level of the Wake County Commons Building at 4011 Carya Drive. See related documents, also released this week. Additional documents will be added if/when made available. See you next week.
Agenda
Call meeting to order

Invocation
Roll of Members Present
Approval of Agenda

Minutes

Adoption of Minutes for January 15th, 2009, Regular Meeting

Regular Agenda

Facility Committee

Southeastern Wake County Fire Station Project Update
Dormitory Project – Consider Request to Bid

Staffing Plan Update

Reallocation of Positions for Apex Fire Department

Equipment Committee

Request to Add Cary and Raleigh as Voting Members

Compensation Committee

Consider Approval of New Salary Ranges

Retirement Ad Hoc Committee
Apparatus Committee

Information Agenda

Budget Committee Update
Fire Tax Financial Report
Chair Report
Fire/Rescue Services Director Report

Other Business
Public Comments

30 minutes maximum time allotted, Maximum 3 minutes per person

Adjournment - Next Meeting May 7th, 2009 (Note: Date changed due to budget schedule).
Related documents
+ 13 - 11 | § ¶
Windows Computer Restarts Overnight
Here's the problem, your Windows XP computer restarts overnight. Not every night. Not even every week. Just once in a proverbial blue moon, when your groggy self schleps to the computer room, and is greeted by a logon screen. Virus? Malware? Uncle Fester escaped again from attic? Nope, just a regular ol' Windows automatic update.

READ MORE
+ 20 - 7 | § ¶
Julian Robertson Fire Department? (Rowan County)
Calling any readers to the west. State fireman's association rosters from 1947 to 1956 list a Julian Robertson Fire Department in Salisbury. Google hasn't help me. Rowan County's too far away for a library visit. Anyone with any knowledge here? Was JRFD a community fire department? Perhaps institutional, protecting a school or orphanage or...? The Nazareth Orphane Home in Rowan County also had a fire department around this time. Perhaps related? More about former FDs.
+ 14 - 19 | § ¶
Bridgeton Fire Department History
Before 1958, the town of Bridgeton in Craven County had received fire protection from the New Bern Fire Department for many years. The town was located one mile across the Neuse River from the neighboring city. After some disagreements between Craven County and New Bern officials regarding this service, a group of Bridgeport citizens headed by Edward N. Brinson began planning and creating their own fire department.

While they worked to acquire a truck, build a station, and get organized, town officials made an agreement with New Bern for interim fire protection. The Bridgeton mayor appointed a temporary Fire Chief to organize a department. On August 20, 1958, a group of 36 young men had a meeting and formed Bridgeton Fire Department No. 1. They elected a Fire Chief, Asst. Chief, Captain, First Lieutenant, Secretary, and Treasurer. They also created a committee to investigate acquiring a government surplus truck, but those members reported that a new truck was a better purchase.
READ MORE
+ 14 - 10 | § ¶
Mobile Phone Photo Challenge Results
Two weeks ago, readers were challenged to take pictures with their phones. The requirements were that image include a helmet, a vehicle, and the color blue or red. Alas, we weren't exactly flooded with submissions. Exactly... two were received. Like the man said after seeing Dolly Parton, that's a bust. Maybe we can double the number next time. And we still did better than the ill-fated blog dinners of two years ago! Thanks to J. Spero and Todd Deery for the pictures. Both receive their choice of a free subscription to the blog, or a year's supply of breathing air. Click to enlarge:


| | |
| --- | --- |
| | |
| J. Spero photo | Todd Deery photo |
+ 14 - 9 | § ¶
Rekindle Society Muster, Cheraw, S.C., Saturday, April 4
The Rekindle Society, a Carolinas chapter of SPAAFMAA, is holding a fire apparatus muster and Spring Festival Parade on Saturday, Apr. 4, in Cheraw, S.C. The parade starts at 10:00 a.m. and travels through downtown through town, and ends at the muster site at Cheraw State Park off Highway 52. Visitors are welcome to both events. Pumping and static displays at the muster are free for spectators. Fire apparatus is still needed for both the parade and muster. For more information, visit the their web site, or see this PDF flyer
.


+ 13 - 10 | § ¶
Wake County Fire Commission Meeting, Thursday, March 19
The Wake County Fire Commission again descends on the Wake EMS Training Facility on Thursday, March 19, at 7:00 p.m. That's in the bowels of the Wake County Commons Building at 4011 Carya Drive. East side of town, right by the local history library. We'll post the agenda, any handouts, odd fliers, or other materials as distributed prior to said meeting. Did I say meeting? You said meeting.
+ 11 - 7 | § ¶
Your Blogs / Favorite Blogs
Who has started their own blogs out there? We know you're out there. Here's your chance to advertise. Or, what are your favorite blogs? Who are you reading these days? Mr. Blogger tunes into Firegeezer and Dave Statter right regular, for starters.


+ 15 - 14 | § ¶
Monroe Fire Department, Early 1900s
Here's a splendid picture of the Monroe Fire Department on Main Street in the early 1900s. The steamer is a 1886 Silsby, Fifth Size, and still owned by the fire department. More about NC steamers. The vintage image is courtesy of the Heritage Room in Monroe. They have some 1,300 photographs scanned and available on the web. Their fire department photos number only eight, alas. See those photos. Pictured left to right are Jim Davis, John McCarten, Frank Flow, John Carroll, Bob Wallace, George McCorkle, Brown McCorkle, G. Ed. Flow, Joe Williams, Walter McCorkle, Jack LeChaire, Luther Wallace, Unknown, Unknown, G. Walter Laney, Jim McLeod , Jess Hill, Sam Walsh, Dr. W. B. Houston, Dr. S. J. Welch ?, and William Carroll Click to enlarge this great image:

+ 9 - 13 | § ¶
Raleigh Fire Department Report, 1958
At the 71st annual meeting of the North Carolina State Fireman's Association in Lumberton on July 29 and 30, 1958, Raleigh Fire Chief Jack Keeter delivered the following report through his secretary, V. Volentir:

Raleigh Fire Department Activities for 1957-58:
The Raleigh Fire Department added one 750 gallon American LaFrance pumper and one 100 foot tractor drawn American LaFrance aerial truck to their apparatus in 1957-58.
Bids were received in May, 1958 for Fire Station No. 7, $77,000.
The Fire Prevention Bureau started a Baby Sitter course for young girls in the City of Raleigh. To date 100 girls have completed the course.
House to house in-service inspection program was started with the trucks in contact with the dispatchers at all times by walkie-talkie.
Fire prevention courses were taught in all the schools and hospitals.
The firemen painted toys for the underprivileged children of Raleigh at Christmas and stuffed thousands of envelopes for the Wake County Easter Seal Campaign.
The per capital loss was $7.25 in 1956 and $2.32 in 1957.
The Raleigh Fire Department answered 1130 calls in 1957.
Two men retired from the Raleigh Fire Department in 1956-57.
The Raleigh Fire Department drill tower was completed June 3, 19581, at a cost of $26,000 plus paving. The building has five stories above ground and a basement which is used for drafting water. On one occasion, the City Council, City Manager, and other interested citizens were the guests of the fire department for an exhibition drill at the tower. This drill consisted of various drills and evolutions, including rescue and pit fires.
A total of 27,984 man hours were spent on classroom study and drill; 18,656 classroom, and 9,328 drill.
1Wait, wasn't the training tower built in 1954? Yes, but the training tower grounds were still being worked on. More on this later.
+ 9 - 12 | § ¶
Facebook Humor
With everyone and their brother on Facebook these days, here's an amusing video that should generate some laughs. The clip was created by the comedy sketch group Idiots of Ants, for BBC Three. What's is BBC Three? Looks like an online channel of the Beeb. Embedded version via YouTube is below. Poke!


+ 10 - 12 | § ¶
Yesterday's Major Brush Fire / Marks Creek Road
FireNews Incident Reports has a detailed, reader-submitted summary of yesterday's major brush on Mark Creeks Road. Eight or more agencies were on scene: Eastern Wake Fire, Wendell Fire, New Hope Fire, Rolesville Fire, Knightdale Fire, Wake EMS, Eastern Wake EMS, and NC Forest Service. Dispatched about 12:00 noon as a fire, nature unknown. First arriving units found several acres ablaze. Fire controlled after a few hours, and with help of a plow-made fire break. The report estimates 12 to 18 acres involved, and counts the total fire appartus on scene as 7 brush trucks, 1 brush tanker, 2 ATVs, 5 tankers, 2 pumper-tankers, 3 engines, and 1 rescue. Read the report, by scrollingl down to yesterday's incident.
+ 14 - 8 | § ¶
MERGED - Ca-Vel Fire Department
This posting has been merged into <a href="http://www.legeros.com/ralwake/photos/weblog/pivot/entry.php?id=6923">http://www.legeros.com/ralwake/photos/weblog/pivot/entry.php?id=6923</a>.
+ 14 - 8 | § ¶
Old Rex Hospital
Found for sale on eBay, here's a postcard view of old Rex Hospital at the corner of Wade Avenue and St. Mary's Street. The hospital operated at that location from 1937 to 1980. When the hospital moved to the Lake Boone Trail location on September 28, 1980, numerous rescue squads assisted with transporting 168 patients to the new building.
This Wikipedia page
says Rex is the state's oldest hospital (!), founded in 1894. It was first located on South Street, in the former St. John's Hospital that opened in 1878 by the St. John's Guild of the Church of the Good Shephard.
Here are a few present day photos
. Click to slightly enlarge:
+ 11 - 11 | § ¶
East Alamance Fire Department?
Here's another mystery department in Alamance County. EAFD is listed in the DOI directory of 1982. No listing in NCSFA rosters. No corporation info. on the Secretary of State site. The DOI directory of 1982 also lists North Eastern Alamance FD, which is still in service today. More about former FDs.
+ 13 - 13 | § ¶
54 East Fire Department?
Does anyone know the history of the 54 East Fire Department in Swepsonville? They're listed in NCSFA rosters from 1983 to 1985. Fifty-Four East Fire District is listed in the DOI directory of 1982. There's no corporation listing on the Secretary of State site, however. Perhaps it was a district name for another Alamance County FD? More about former FDs.
+ 14 - 9 | § ¶
Military Fire Departments, Past 'n' Present?
For our Saturday morning musings, what military fire departments have served in North Carolina, both past and present? Here's a starter list of facilities that had or have fire departments:
Bogue Banks Marine Corps Auxiliary Landing Field - Built 1942.
Camp Butner - Built 1942, closed 1947 as Army training facility.
Camp Lejune, Jacksonville - Built 1941.
Camp Mackall, Southern Pines - Built 1943. Had FD in 1945.
Charlotte Army Air Base - Dedicated April 21, 1941, deactivated May 14, 1946. (Or were they served by Charlotte FD?)
Cherry Point Marine Corps Air Station, Havelock - Built 1941.
Elizabeth City Coast Guard Air Station - Opened 1940. Had FD in 1944. Sent one truck to help ECFD with fuel fire on May 31, 1944.
Elizabeth City Naval Air Station, Weeksville - Built 1944. Closed 1962. Had FD in 1944. Sent two trucks to help ECFD with fuel fire on May 31, 1944.
Fort Bragg - Built 1918.
Harvey Point Naval Auxiliary Air Station - Had FD in 1944.
Laurinburg-Maxton Air Base - Activated 1943, deactivated 1945.
Morehead City Navy Section Facility - Had FD in 1943.
North Carolina Air National Guard, Charlotte.
New River Marine Corps Air Station, Jacksonville - Built 1943. (Served by Camp Lejune FD?)
Pope Air Force Base, Fayetteville - Built 1919.
Raleigh-Durham Army Air Base - Operational on May 1, 1943. Used until Jan. 1, 1948.
Seymour Johnson Air Force Base, Goldsboro - Built 1942.
Simmons Army Airfield, Fort Bragg - Built 1952. (Served by Fort Bragg FD)
Sunny Point Marine Ocean Terminal, Southport - Opened 1955.
+ 12 - 12 | § ¶
Mobile Phone Photo Challenge Deadline Tuesday, March 10
The deadline for submissions for the mobile phone photo challenge is Tuesday, March 10, at 5:00 p.m. EST. Photos must be taken using a mobile phone. The image must include these three things: a helmet, a vehicle, and the color blue or red. Send photos to mikey "at" legeros "dot" com. Please indicate photo credit. Can be full name, first name, or even anonymous.
+ 12 - 9 | § ¶
Back in Time with Back Swamp
Lee Wilson photographed this old Back Swamp FD International/American LaFrance pumper on Highway 301 in Wilson County, just north of Kenly. Model year not known. Back Swamp FD, chartered on Jan. 10, 1975, is located in Richlands, NC. Click to enlarge, or see more photos of the truck.

+ 11 - 11 | § ¶
RAPS Race, Monday, April 27
The next Raleigh Area Public Safety Endurance Race is scheduled for Monday, April 27, 2009, at Rush Hour Karting in Garner. Qualifying begins in the afternoon, with the 90-minute endurance race starting at 6:00 pm. See www.rapsracing.com for more information, including entry fee and team specifics. The Raleigh Area Public Safety (RAPS) Racing League is a 501(c)3 non-profit organization dedicated to building interagency working relationships among public safety professionals, which racing around in wee cars and wearing stylish helmets.

+ 11 - 7 | § ¶
Wake County Fire Academy Now Accepting Applications
Wake County Fire/Rescue
is now accepting applications for its second county-wide fire academy, which runs June through October 2009. Applications must be received no later than April 17, 2009. Successful candidates will receive: Firefighter II, HazMat Operations Plus, EMT Basic, ICS, Firefighter Rescue, Firefighter Survival, Rescue Technician, and Fit Testing. See this
PDF flyer
for application requirements, such as you must be affiliated with a fire department organization. The flyer also has contact information. Good luck everyone!
+ 15 - 13 | § ¶
Tournament Rules, 1916
For some 50 years, the North Carolina State Firemen's Association conducted contests at its yearly conventions. Firefighters from across the state competed against each other, making and breaking "world's records" that they proudly boasted about. From the proceedings published after the 1916 conference, conducted in Raleigh on July 18-21, here's what the rules looked like
. The contents include hand, horse, and steam apparatus competitions, and a foot, sack, and barrow race. You can also read newspaper accounts of the tournaments, or learn more about past conferences.


+ 12 - 12 | § ¶
Looks Like We Got Us a Convoy
North Carolina Urban Search & Rescue Task Force 8 traveled to Charlotte today for a two-day exercise. Here are Raleigh's rigs on Interstate 40, headed to merge with Cary, Chapel Hill, and Durham units. As for the song, C. W. McCall's novelty record was a number-one hit in the US in 1975. Read what Wiki says. The song helped started the CB radio craze, the article notes. Wonder where that fits in the timeline of trucker songs and trucker movies? Smokey and the Bandit, by way, was released in 1977. Directed by Hal Needham, who also directed The Cannonball Run in 1981. Watch those great bloopers of Burt and Dom and the rest of the goofy gang. Click to enlarge:


+ 8 - 13 | § ¶
Beaufort Ladder Truck
Those vintage photos from Carteret County have been expanded and include some color shots of Beaufort fire apparatus from the 1930s and 1940s. Below is a 1941 Dodge ladder truck with a 55-foot aerial ladder. It was built by firefighters using a truck and materials purchased by the town. Jesse Chaplain provides the pictures and the information therein. Read more about those old photos.


+ 13 - 13 | § ¶
Bertie County Firefighter Struck at MVC
FireNews has information on Trap Fire Department Firefighter Timothy King who was critically injured at a motor-vehicle accident on Monday. While donning turnout gear at the scene, he was struck by a car that slid on ice. He was trapped between two vehicles, and his legs were both amputated below the knee. He was air-lifted to Pitt Memorial, and has undergone two surgeries. The 27 year-old firefighter has been a member of Trap Fire Department for about two years. WITN also is covering the story.
+ 17 - 14 | § ¶
This Morning's Fire / Branch Road
Several departments worked a large house fire at 2400 Branch Road in eastern Wake County this morning. Flames were reported showing by an off-duty firefighter. Eastern Wake Car 1 en route requested an additional tanker, due to the heavy smoke column. Raleigh Engine 26 was first on scene at a fully-involved, two-story, wood-frame structure with 4,221 square-feet. Built 1986, located down a long driveway, and with an ice hazards due to low temperatures. More tankers were requested by command. An aerial stream was utilized from Raleigh Ladder 26. Water was shuttled and hand lines operated. Alarm time 7:40 p.m. The first wave of fire units on scene included Eastern Wake P1, P2, P4, Tanker 3, R11, Brush 7, Car 1, Raleigh E26, L26, Battalion 2, Garner E5, Tanker 7, Tanker 12; New Hope Tanker 11, Tanker 12, Wendell Tanker 117, tankers/pumper tankers from Archer Lodge and Clayton, and WC1. Crews remained on scene through the day. This WRAL story notes that the house is on a farm that used as a horse-boarding facility, and it's a historic homestead site that includes a Civil War battlefield. This image is from extended aerial footage aired aired during the incident, and is followed by a Wake County real estate record photo:


WRAL Photo



Wake County Photo
+ 14 - 6 | § ¶
Parkwood Assistant Chief Dies
FireNews has information on the death of Parkwood Asst. Chief Andy Barringer, who died Sunday in West Virginia after experiencing a heart attack. Family visitation is today, Tuesday, from 4:00 to 8:00 p.m. at Clements Funeral Home, 1105 Broad Street, Durham. The funeral and graveside service is Wednesday at 2:00 p.m. at Richland Creek Community Church, 3229 Burlington Mills Road, Wake Forest. His obituary appears in today's News & Observer.
+ 18 - 13 | § ¶
Old Photos From Carteret County
We've been sent some vintage photos from Carteret County, showing fires, trucks, and people from the 1950s and 1960s. Beaufort and Morehead City fire departments are featured, along with a couple blazes in Atlantic Beach. The latter might be before ABFD was formed. Only a couple dates and details are known. The Beaufort fire is on Front Street. Dig that ladder truck! The Morehead City Fire Department foam machine is operating at a drugstore on Arendell Street on June 4, 1970. The posed BFD personnel is 1955, and the "pirates" are BFD members in 1960, for the occasion of the first pirate invasion. Can anyone identify others? Images are courtesy of Jesse Chaplain. See all the great old photos.


+ 14 - 10 | § ¶
Lucama Fire Department?
Next question for Wilson County-ites. What happened to the Lucama Fire Department? They were organized by 1972, and still operating after 1982. (NC DOI directories from those years as sources.) Who protects the wee town of Lucama these days, and did they absorb LFD? Thanks again, from your bookkeeping historian. More about former FDs.
+ 18 - 8 | § ¶
McLemore Fire Department?
Has anyone heard of a Mclemore Fire Department in Johnston County, circa 1985? Perhaps named McLemore FD? This entity is listed in the North Carolina State Fireman's Association membership roster for the year ending June 30, 1985. The chief is listed as D. R. Wells. More about former FDs.
+ 16 - 11 | § ¶
Seat Belts Work!
Stony Hill Pumper 264 was involved in a single-vehicle accident while responding to a call on Saturday afternoon. They were dispatched at 1:31 p.m with Wake Forest and Falls fire departments to a reported house fire in Wake Forest at 2120 Purnell Road. No fire was found at the house. While responding, Pumper 264 overturned on its side on Purnell Road, about a half-mile east of Camp Kanata Road. They reported they were overturned about 1:38 p.m. Additional fire and EMS units were immediately dispatched to their accident, including Stony Hill Pumper 262, Falls Pumper 212, EMS 12, EMS 33, and EMS District 6.

Command was assumed by SHFD 101. The three personnel on the pumper were transported to WakeMed with minor injuries. All were wearing seat belts. They were treated and released Saturday evening. Other units on scene included Stony Hill 100, 101; Wake Forest Car 2, Car 4, Battalion 1, Utility 6, Falls Utility 21, Bay Leaf 100, Wake EMS Chief 100, and WC 1. Falls and Wake Forest assisted Stony Hill on scene and also with coverage. They also helped transfer equipment from Pumper 264 back to the station. The 2005 Pierce Contender was up-righted about 3:20 p.m. and removed from the scene after 4:00 p.m. Purnell Road was closed between Camp Kanata and Thompson Mill roads during the operation. Photos by Legeros have been approved for release and are forthcoming have been posted. Archived radio traffic is available online, as well.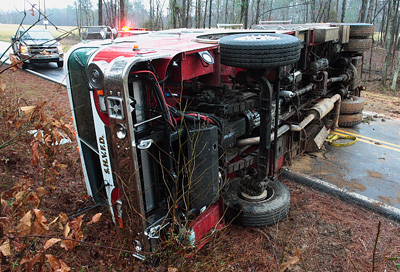 + 15 - 18 | § ¶
This Morning's Fire / Kaplan Drive
Working fire at 4220 Kaplan Drive. Engine 20 arriving with smoke showing at a two-story, wood-frame apartment building. Battalion 3 in command. Smoke then fire venting from roof area. Ladder 20 positioned and supplied from hydrant. Two additional engines requested. Interior attack, which controlled fire in attic area. Alarm time 10:16 a.m. Controlled by 10:37 p.m. Fire walls helped contain spread. Nine people displaced. Units included Engine 20, Engine 8, Engine 5, Engine 14, Engine 13, Engine 1, Ladder 20, Rescue 14, Battalion 3, Battalion 2, Battalion 1, SR 2 as air unit, Car 20, Car 5, Car 2, EMS 1, EMS 11, EMS 42, District 1, District 2, Medic 91, Medic 95, Truck 1. "A" shift. Pics from Legeros coming have been posted.