+ 17 - 22 | § ¶
Washington Steam Fire Engine
Reporting from the road. Here's the steamer once operated by Washington's Ocean Steam Fire Engine Company. The 1888 Silsby (#899) was rebuilt by American in 1902 after fighting a large waterfront fire. With flames about to overrun the engine, firemen pushed it into the sound. The steamer stayed on the river bottom for a week before being sent for repairs. It was placed in reserve by 1924, last fought fire at the Tayloe Hospital in 1937, and was subsequently used to steam oysters at department events. It's presently displayed inside Washington's headquarters station. Other things to see include a collection of artifacts in the lobby, an 1855 alarm bell outside, the 1902 grave marker for fallen firefighter Edward Peed, and a 1912 American LaFrance pumper. Read more about WFD history. Or read more about North Carolina steam fire engines. More pictures coming. Click to enlarge:

+ 20 - 16 | § ¶
Mass Casualty Transport Units?
FireNews has posted photos from yesterday's bus crash in Charlotte. The pictures, courtesy Charlotte Fire Department, show what looks like a MEDIC mass-casualty transport unit. Tooling over to the Special Operations page of the MEDIC site, reveals a small photo showing more. Can readers provide additional details? And how many such "buses" presently operate around the state? Fort Bragg has one, that has visited our area for MCI drills at the airport. What others are around? And how many have been built right here in North Carolina, by Matthews Speciality Vehicles? We've seen those displayed in Baltimore at the Fire Expo.

+ 18 - 20 | § ¶
Crashing While Texting While Driving
This one's making the rounds. From NBC13 in Birmingham, AL, here's what it looks like when a San Antonio, TX, bus driver crashes while texting while driving. Two cameras aboard the bus capture both the road view, and the driver's actions before, during, and after his public transportation vehicle slams into stopped cars. Alas, there's no sound, so the driver's verbal response is unknown. Chances are he exclaimed familiar words of the four-letter variety. Watch the video.


+ 21 - 14 | § ¶
Three-Hundred Foot Aerial Platform
Found on another discussion board, check out the brochure
for this 300-foot aerial platform from Germany, used for construction and maintenance work. Mounted on a five-axle, all-terrain crane chassis, the heavy-duty basket can carry up to 1,322 pounds. Wonder if a version's already been adapted for fire and rescue? The company is called Felbermayr, and they specialize in special and heavy transportation on road, rail, and water. Their magazine, Informer, is pretty interesting, too!
+ 15 - 21 | § ¶
Bay Leaf's New Pumper
Here's Bay Leaf's new Pumper 252, delivered last week and photographed by Lee Wilson yesterday. The 2009 Pierce Contender, 1250/1000, is already in service at Station 1. Old Pumper 252 has been renamed Pumper 123, and was moved to Station 3. See more photos.


+ 17 - 17 | § ¶
The Pandemic of 1918
On Sunday, November 26, 2006, the News & Observer published a retrospective of the Spanish Flu pandemic that killed at least 13,703 North Carolinians in 1918 and 1919. Nationally, the death toll is estimated at 675,000, with a worldwide estimate between 50 and 100 million. The feature story by writer Jim Nesbitt, with contributions by researchers David Raynor and Denise Jones, is full of fascinating details. In October 1918, a canvass of 3,561 Raleigh homes revealed 1,380 flu cases. The city's death toll was 100 by October 24. Coverage of the pandemic, they found, was a bit buried in the state's newspapers. Front pages were dominated by news of World War I; flu details were found in funeral notices on society pages, or inside stories that catered to the rosy optimism of public officials. Read the feature story.
More recently, the Spanish flu's effects in Raleigh were chronicled in Wake: Capital County of North Carolina, Volume II, by historians K. Todd Johnson and Elizabeth Reid Murray, and recently published. They write that Wake County had the highest death rate in the state in October 1918, with at least 293 deaths that month. Of that total, 102 were in Raleigh, excluding Camp Polk and State College. They also note that by October 1 of that year, 238 people had died in the Capitol City. Their sources include both period newspaper articles, and an apparent Raleigh Times retrospective dated January 27, 1969. Prior blog posting about this book. And here's the easily-found Wikipedia entry on the pandemic, which includes a couple historical photos.

+ 12 - 19 | § ¶
Greenville Fire Department History
Here's another treat, a wee document titled History of Fire Protection, City of Greenville, N.C. Published in 1970 by the city's Fire Prevention Bureau, the eight-page pamphlet features historical information compiled and written by Jane Murray. The cover image of an 1853 Latta [correct?] steamer is unrelated to the contents. Read the document
.

+ 20 - 17 | § ¶
Early Incentives to Join Fire Companies
From Fire Protection in Charlotte and Mecklenburg County, by Philip P. Green Jr., and published in 1949 by the Institute of Government at UNC Chapel Hill: "The state's first general law dealing with fire protection was the offering of an inducement to join volunteer [fire] companies. In 1829, the General Assembly declared that in return for such service, volunteer firemen would be exempted from militia duty, except in case of war, insurrection, or invasion. In 1870, the General Assembly provided that citizens serving as firemen for seven consecutive years should thereafter be exempted from jury duty and from militia duty except in time of insurrection or invasion. In 1883, this was extended to provide that no member of a fire company should be required to serve as juror.
READ MORE
+ 14 - 15 | § ¶
This Morning's MVA / Beltline
Motor-vehicle accident with fatality on westbound I-40 just past Gorman Street. Transfer truck struck guardrail and cab apparently caught fire, spreading to trailer. Alarm time 10:58 a.m. Dispatched units included Raleigh Engine 20, Engine 2, Ladder 20, Rescue 7, Battalion 3, Car 5; Western Wake Pumper 196, Tanker 198; Swift Creek Tanker 6; EMS 11, EMS 1, EMS 83, District 1, MD 2, and WC 1. Westbound lanes were closed for three hours, before the roadway was partially opened. WRAL has posted a couple viewer photos. Legeros has also posted photos.


Anthony Shepherd / WRAL photo
+ 13 - 20 | § ¶
Quiz: Roads with Fire Stations
Monday morning quiz. How many roads in Wake County have more than one fire station on them? Six Forks Road, for example, has Raleigh Station 9 and Bay Leaf Station 1. Roads that change names don't count. There are at least such roads that come to mind. Maybe more?
+ 12 - 16 | § ¶
Big Fire in Faison
WTVD has some details on the Southern Produce Distributors warehouse at 111 W. Center Street in Faison 2434 N. NC 50 and NC 403 that burned last night in Faison. The facility, reportedly one of the largest vegetable distribution centers on the east coast, caught fire around 9:30 p.m. WTVD reports some 25 fire stations were dispatched to the fire. Day light and the workday should bring considerably more details, and via other outlets.

WTVD photo
+ 17 - 16 | § ¶
Apex Station 4
Here's the latest look at Apex Station 4, under construction at 1615 E. Williams Street and photographed this afternoon. Projected completion is late June. Joint fire, police, and EMS station. Here's the site plan and design, as blogged about earlier. Click to enlarge:


+ 16 - 16 | § ¶
Raleigh Fire Department Shift History
We've blogged before about the history of the Raleigh Fire Department shift schedule. The 24-hour shifts appeared as a trial at Station 5 on April 1, 1948. Maybe at other stations, too. But what was the schedule before then? In August 1914, personnel were organized into split shifts. Day shift worked 14 hours, and night shift worked 10 hours. Each fireman got one day off each week. Robert "B" Randolph, employed twice as a fireman, and later with the Police Department, recalled the shift schedule in a Raleigh Times article on November 9, 1967.
Speaking about the Yarborough House fire of 1928, he recalled numerous department details. "Four men were assigned to each truck, and they worked on two shifts. It was from 8 to 6, four days a week, then on the fourth day, a shift of 24 hours. Then it was switched, and on the eigth day, it was a full 24 hours." Translation:
Day 1 - 8 a.m. to 6 p.m.
Day 2 - 8 a.m. to 6 p.m.
Day 3 - 8 a.m. to 6 p.m.
Day 4 - 8 a.m. to 8 a.m.
Day 5 - 6 p.m. to 8 a.m.
Day 6 - 6 p.m. to 8 a.m.
Day 7 - 6 p.m. to 8 a.m.
Day 8 - 8 a.m. to 8 a.m.
Day 9 - Start over? Time off?
Other details about working in the late 1920s? The salary for a starting fireman was $110 a month for the first year that you worked, then $115 a month in the second year, then $120 a month in the third year. Helmets weren't worn much. Job security did not exist. This was before Civil Service. "If you voted for the wrong person, you got fired," Randolph said. This is a reason many early Raleigh firemen were hired, released, hired, and released again, in those first decades.
+ 21 - 12 | § ¶
Fire Commission Special Meeting, Thursday, April 30 (Updated)
The Fire Commission has scheduled a special-called meeting for Thursday, April 30, at 6:30 p.m., at the Wake EMS Training Facility, located in the lower level of the Commons Building at 4011 Carya Drive. The purpose of the work session is for the Fire Commission to receive and consider feedback from the Budget Committee on the County Manager's recommended FY 2010 fire tax budget. Note the earlier time than regular WCFC meetings.
Update: Two documents have been made available, showing the budget recommendation details. However, the documents do not provide context behind the amounts. That information will be presented at the meeting, as well as questions answered by Budget Committee members and county staff. Read these documents.
+ 14 - 25 | § ¶
Wake Forest Station 3
Here's what Wake Forest Station 3 is looking like, under construction at 1412 Forestville Road. Projected completion is July, or so we've read on the Watch Desk. Here's a preliminary site plan and design, found via Google. Learn more about the Wake Forest Fire Department. Click to enlarge:


+ 19 - 14 | § ¶
Brassfield Fire Department Barbecue Today
Last minute notice for folks in or headed toward Granville County. The Brassfield Fire Department is conducting their 26th Annual Ladies Auxiliary Day Fundraiser at the Brassfield fire station, 1680 Highway 98 in Franklinton. BBQ pork and BBQ chicken plates are being sold, 11:00 a.m. to 7:00 p.m. All you can eat! See this flyer for more information. BFD, for the trivia-minded, was the destination of a military truck-turned-fire engine that first served Durham Highway, and then Falls when they started.


+ 17 - 13 | § ¶
New Apparatus For Falls, New Hope
Falls Fire Department received a new pumper-tanker yesterday, a 2009 Pierce Contender, 1250/1000, that replaces Tanker 217, a 1989 Ford / E-One. Also yesterday, New Hope received their new Engine 1, a 2009 Pierce Contender, 1500/1000. It replaces a 1989 Mack/EEI. Both department's old apparatus are being sold. Lee Wilson has taken preliminary photos of both. Watch for other arriving apparatus in the county and city. Bay Leaf has an engine 252 coming. Raleigh has two Pierce aerial platforms pending, and a new Hackney USAR trailer that's here. More later.


+ 13 - 15 | § ¶
Needles & Threads
Let's talk about talking. The topic of last week's fire in Zebulon has spawned 24 responses from 15 unique users since April 18. The zoo crew of comment-makers was the usual mix of named and unnamed entities: Being positive, Brandon Hopkins, Chris, DJ, FYI, gen3fire, H2O, J.Boggs, John McAdams, Mike, Silver, Sizeup 101, Smitty, Wayne, wheeler. What was talked about? Quite a few things, and some topics having longer "legs" than others. In non-sequential order, they included:
Fully involved, and what arriving units saw.
Successful stop on D exposure.
Said stop a good case for zoning change.
Other comments about the fire.
Comments about comments about the fire.
Fully involved, what that language means.
Size-up language in general.
Radio language in general.
Favorite radio idioms.
Favorite radio exchanges.
Cautionary warning on radio tone.
Cautionary warning on radio phrase "step it up."
Wake County radio standards or lack thereof.
Affirmations of comments.
Corrections to comments.
Plus a couple deleted comments, which happens from time to time. What was learned, beyond good job done in Zebulon? Well, as we've long-demonstrated, the original topic often serves as a springboard. Some responses stay on topic, others veer other ways. Discourse stays pretty civil, though passion surfaces from time to time. e.g., Caps key. The "regulars" are quick to opine, and they're not necessarily sitting behind computers in Wake County. The lurkers-- those reading but not commenting-- surely number in the dozens. Maybe hundreds, and don't call me Shirley. They may have things to say later.
+ 13 - 15 | § ¶
Wednesday's Motor-Vehicle Accident / New Bern Avenue
Two vehicles reportedly racing (!) caused a multi-vehicle accident with injuries Wednesday afternoon on New Bern Avenue at Peartree Lane. That is, both at and near the intersection. The alarm time was 4:39 p.m., with Chief 100 arriving first. One car was overturned east of Peartree, with the patient self-extricated. Another vehicle had two subjects trapped, in the center of the intersection. At least two other vehicles were involved, and six patients were transported. The response included Engine 12, Ladder 1, EMS 1, 2, 7, 13, 31, 63, Medic 94, District 1, and Truck 1. See photos from Legeros.


+ 17 - 11 | § ¶
Fire Box Traps Prankster, 1938
+ 11 - 18 | § ¶
Emergency Landing Caught on Tape
This one's making the rounds, the superb split-screen video of two guys in a small plane, who make an emergency landing on Havendale Boulevard in Winter Haven, Florida. They curse, curse again, and calmly coast into the parking lot of a store. Dave Statter's got good links on this. We second the passenger's round of applause.


+ 14 - 17 | § ¶
1927 American LaFrance Type 75 by Yat Ming
If you've always wanted to own an early-century American LaFrance pumper, here's a 1:24-scale, die-cast version recently released by Yat Ming . Lettered for Roseland, New Jersey, this exceptionally detailed and reasonably priced ($50) replica includes extensive "chrome" detailing, working steering, and opening hood. You'll have to make your siren sounds, however, to imitate its hand-cranked warning device. Several small pieces are detachable, including wee extinguishers. See photos on the Yat Ming site. See a photo of the real rig. Same is available from your favorite die-cast retailers, such as Jeff's Collectibles and Diecast Direct, Looks even better in person, versus photographed in a man cave with harsh lights and bounced flash. Click once or twice to enlarge.


+ 11 - 15 | § ¶
Vacant Citizen Seat on Wake County Fire Commission
With the passing Saturday of Senator Vernon Malone, his citizen's seat on the Wake County Fire Commission is vacant. Those interested in his seat, which the Wake County Commissioners appoint, should complete this application form. For more information on the Fire Commission, see this web site. What if you have already completed an application? Though they're kept on file, it's worth applying again, if you're still interested. Or so we've been told.
+ 13 - 8 | § ¶
Dozens of Homes Destroyed Near North Myrtle Beach
Some 70 homes were destroyed overnight by a brush fire in Horry County, South Carolina. Another 30 homes in North Myrtle Beach were lost, along with 2,500 people evacuated in the North Myrtle Beach area. The fire started Wednesday afternoon and has burned at least 7,000 to 8,000 acres. Read the latest from WECT, which also includes dozens of viewer-submitted photos. Also read coverage from the Myrtle Beach Sun News. There's also some golf course-shot video that Dave Statter surfaced this morning.


+ 11 - 15 | § ¶
Blue Ladders!
Found on another discussion board, check out these recently delivered Pierce platforms with blue (!) ladders in Colorado and Virginia. Quantum mid-mount in Arvada, CO, and Velocity rear-mount in Bluefield, VA. Larger photos available on the respective web pages. Wonder what other odd colors have been used for aerial devices?


+ 13 - 9 | § ¶
Unsafe Fire Truck, 1957
In the Raleigh City Council Minutes of September 18, 1957, the following was recorded: "The City Manager reported that the 1,000 gallon fire truck pumper in service for 21 years has reached a point where it is not safe and dependable as fire equipment, and that it has bee pulled back to a stand-by type of equipment to be used for pumping service in case of second or third-alarm fire. Since there is little chance of replacing this piece of equipment in this year's budget he asked that it be borne in mind for the forthcoming fiscal year." This would have been the 1936 American LaFrance 400 Series pumper, which originally served as Engine 1. The stylish, 12-cylinder (!) engine was later stored beneath Station 8, and finally sold as surplus on December 20, 1976. As the story goes, the owner stored same outdoors, maybe Down East. The truck deterioriated beyond any point of salvage, it is said. See photos of this great old truck. As for a replacement rig, the subsequent pumper purchase was a 1958 American LaFrance, contract dated December 4, 1958. Read more apparatus history.
+ 14 - 13 | § ¶
Fire Service Personnel Development, Circa 1954
+ 16 - 15 | § ¶
Program Adds Spanish to 911 Center
From today's News & Observer, the Durham 911 Center has added additional Spanish language support, using two trained volunteers on Thursday, Friday, and Saturday nights, the busiest times for call takers. The center has partnered with Durham Technical Community College and El Centro Hispano for this program. Prior to this program, the center used a language line for translation. Some 5,000 Latinos contact the center annually, which received some 300,000 calls last year. Read the story. Or learn about the Durham 911 Center. Or learn about Spanish!
+ 9 - 18 | § ¶
Yesterday's Haz-Mat / Wake Forest
Anhydrous ammonia leak inside an industrial plant at 326 Forestville Road in Wake Forest. Material leaking from valve inside facility. Most had leaked out prior to arrival. Building evacuated safety. No injuries. Raleigh and Durham haz-mat units requested. Wake Forest Fire Department Ladies Auxiliary brought food and drinks. Rolesville and Durham Highway provided coverage. Alarm time 10:48 a.m. and command terminated approximately 1:50 p.m. Units on scene included Wake Forest P3, L1, R1, U1, C1, C2, C3, C4, C5, and ATV; Raleigh HM15, HM2, SR22, L20, B1, C71, C72, C4; Durham with two units; EMS 10, 33, 64, District 3, 6, Medic 93, WC, and Wake County EM. Details from Lee Wilson, who was also on scene. Read more and see his photos (part 1 and part 2). Or read the News & Observer story.


+ 13 - 19 | § ¶
Apparatus Accident, Ambulance Accident
FireNews has posted photos from the Salisbury Post of the Woodleaf Fire Department engine that collided with a car early this morning. Engine 771 was travelling on Woodleaf Road when the 2000 Freightliner pumper reportedly crossed the center line and struck an automobile head-on. The drivers of both vehicles were transported to Rowan Regional Medical Center. Neither appeared to be suffering life-threatening injuries. Read the Salisbury Post story and see additional images. FireNews has also posted photos of last week's ambulance accident, when a Cape Fear Valley Lifelink ambulance left the roadway and struck a parked car at the intersection of I-40 and I-95. Both paramedics were transported, one to Betsy Johnston Hospital in Dunn, and the other with trauma injuries to WakeMed. The car they struck was empty. Read the WRAL story.


+ 12 - 14 | § ¶
North Carolina Fallen Firefighters Memorial Internet Broadcast
The Fourth Annual North Carolina Fallen Firefighters Memorial on May 2 will be broadcast on the Internet. Both the 10:00 a.m. parade and 1:00 p.m. memorial service will be broadcast. See this document for information on connecting
. The broadcasts are sponsored by LGFCU Financial Partners, and PHS Mobile Health Solutions. For more information about the events, visit www.ncfff.org.
+ 11 - 13 | § ¶
The History of the Haz-Mat Symbol
Here's an interesting bit of North Carolina haz-mat history. On July 9, 1959, the Charlotte Fire Department was dispatched to the old Charlotte Chemical Company on West Templeton Avenue, just off South Boulevard. The building was being demolished, and a large vat of materials had been left in the basement. Crews arrived and found fire within the vat. They thought the burning material was kerosene, and fought the flames as such. Yet the heat and the intensity of the fire increased. The decision was made to apply foam, and then the vat exploded. Thirteen firefighters were injured, several with critical injuries. One firefighter lost both ears and most of his face. He retired from his injuries. Another injured member later committed suicide.

What was learned was that the vat contained a hundred pounds of metallic sodium sealed in kerosene. Heavy rains, from the remnants of a hurricane earlier in the month, had penetrated the exposed vat. The water reacted with the sodium and ignited the kerosene, which started the fire. The incident had a profound effect on the Charlotte Fire Department. The need for training was made obvious, protective clothing became a priority, and the Fire Prevention inspection program was expanded. Toward the latter, Fire Marshal J. F. Morris developed a marking system to identify hazardous materials inside buildings. The diamond-shaped symbols indicated the presence of haz-mats, and their levels of flammability, health hazards, and reactivity. The symbols were later adopted by the National Fire Protection Agency (NFPA) as Standard 704. And now you know the rest of the story. Source: Charlotte Fire Department Millennium History 2000.


+ 11 - 11 | § ¶
First Fire Department Rescue Squads?
Open question, and one we've touched on before. What fire departments operated the first rescue squads or ambulances in North Carolina? This includes both the "Red Cross era," when that was the medical training available to fire departments, and the "EMS area," after the creation of the North Carolina EMS System in the early 1970s.

1950s - Washington (1951), Raleigh (1953), others?
1960s - Durham (1960?), Goldsboro (by 1962), others
1970s - Fayetteville (by 1970?), Parkwood (1972), Wilmington (1974), Salisbury (1978), others

And which of these were "first aid trucks," versus ambulances, versus heavy equipment trucks? Raleigh's rescue squad, for example, was a two-piece unit. A panel van with first aid equipment, and used for transport if needed, and a Civil Defense truck with the "heavy equipment." Thanks for your help.
+ 13 - 14 | § ¶
TWH + Seagrave
Speaking of die-cast models, Seagrave has announced a partnership with TWH Collectibles, to produce 1:50 scale replicas of Seagrave rigs. The first release is a series of tillers, lettered and specifically configured for Redwood City (CA), New London (CT), Somerville (MA), Leesburg (VA), and Washington, DC. Features and functions include "tilting cab revealing a detailed engine and transmission, extendable four section diecast ladder with extending waterway, functional outriggers, 180 degree tractor arc, accurate front bumper design, photoetch steps, diamond plate decking, accurate storage compartment design and detailed Marauder design with all the features." They'll be unveiled at FDIC, at the Seagrave booth. How much will these puppies cost? MSRP is $290. Definitely not an impulse purchase. Read the press release. Pierce/Oshkosh previously partnered with TWH, as this FireNews blog talked about. Very cool models.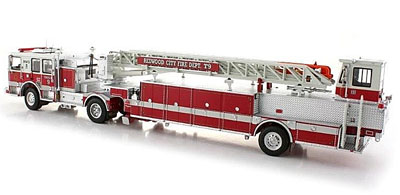 + 12 - 12 | § ¶
Very Mini Pumper (Updated)
From the Far East comes this Tomica Limited Vintage model of a LV-68 Subaru Sambar Pumper, circa 1970 or abouts. The 1/64 scale, die-cast replica measures 47mm long, 24mm wide, and 29mm high, which means the real thing sizes around 9.9 feet long, 5 feet wide, and 6 feet high. That's a very mini pumper! The equipment is pretty simple. One playpipe, e.g. straight-bore nozzle, three sections of hose, one section of rubber suction hose, and one small-looking pump. Plus what might be a bench for seating in the back. It's nice addition to the collection in Mike's man cave. Read about the Subaru Sambar. Updated on Sunday, photographed beside a 1:64 scale replica of a Pierce Quantum pumper by Code 3 Collectibles. Click to enlarge:


+ 17 - 13 | § ¶
Raleigh Fire Museum / Station 28
Here's a nice sight, seen this evening while Mr. and Mrs. Blogger were ridin' around. Raleigh Fire Station 28 at 3500 Forestville Road, which houses an engine company and the city's fleet of antique apparatus. Inside are a 1905 American LaFrance steamer, a 1926 American LaFrance pumper (center), a 1950 Mack pumper (left), a pair of 1950s rescue boats, and a 1982 Mack pumper. Read about the three earliest rigs
. The active engine is a 1995 Pierce Dash. Nice station, nice crew. Pay a visit and see some history. Why is this posting titled Raleigh Fire Museum? That's for the benefit of Google and other Internet search engines. No fire museum yet exists in the Capitol City, but the Forestville Road fire station is a comparable destination. Click once or twice to enlarge:


+ 8 - 17 | § ¶
Fire Destroys Proescher Cafe, 1945
From the News & Observer of March 12, 1945, a fast-moving fire destroyed Proescher's Restaurant on March 11. Located on the Raleigh-Cary Highway, the fire started in the barbecue pit about 7:00 p.m. Ignited from hot grease, the flames spread through the entire wooden structure before Cary's fire truck arrived. The nearest hydrant was 300 to 400 feet away, so water pressure was insufficient to fight the fire. Raleigh also sent apparatus, but limited water and the progress of the fire limited their help. The fire raged for about 90 minutes, with flames confined to the main building. Cabins near the cafe were not damaged. Power lines burned, however, and the entire business and residential section of Cary was without electricity for a time. The eatery was owned by Andrew J. "Doc" Proescher Jr., who lived in an apartment above the restaurant.
+ 13 - 17 | § ¶
Raleigh Fire Department Graduation
Cheers and applause greeted the city's newest firefighters last night in Exhibit Hall C at the Raleigh Convention and Civic Center. The graduation ceremony for Raleigh Fire Department Recruit Academy 35 started at 7:00 p.m., with the 27 recruits escorted by the Wake & District Pipes & Drums band and the fire department Honor Guard. They were flanked by flashing fire apparatus, with the city's newest engines parked on either side. Ladder 1 was parked behind the stage. The ceremony lasted about an hour, and included remarks from the Fire Chief, the Asst. Chief of Training, and the class valedictorian. After family members pinned their badges, and the oath of office was administered, the celebration continued a couple blocks north, with a reception at Station 1. Photos coming from Legeros (shown) and Wilson. Click to enlarge:


+ 14 - 9 | § ¶
New Tankers For Rolesville and Fairview
Lee Wilson photographed two new tankers this week. Rolesville's Tanker 158 is 2009 International/KME, 500/2000. Fairview Tanker 6 is a 2009 International/KME, 750/2000. See more Rolesville photos. Or see more Fairview photos. Click to enlarge both:


+ 12 - 11 | § ¶
Thursday's House Fire in Zebulon
Both NBC17 and WTVD have posted a few photos of Thursday's house fire in Zebulon, including a number of viewer-submitted shots. The two-story, wood-frame structure at 3004 Wild Iris Drive was fully-involved on arrival. Alarm time 5:03 p.m. Dispatched address Watsonia Drive and Proctor Street. Units on scene included Zebulon Pumper 94, Engine 91, Ladder 95; Hopkins Pumper 226; Wendell Engine 113; Eastern Wake EMS 61, EMS 68, District 6, and WC 1. See photos from NBC17, or see the photos from WTVD.


+ 15 - 12 | § ¶
First Black Firefighters, First Female Firefighters?
Open question, mining minds for a future presentation on the state's fire service history. When were the first black firefighters and female firefighters hired in North Carolina? Though the history of early black firefighters is well-documented, the first full-time members-- in the bigger cities, for starters-- requires a little more digging. Here's what we've found so far:
First full-time black firefighters
Charlotte, 1967 (1?)
Durham, 1958 (10), staff Station 4
Fayetteville, ?
Greensboro, 1961 (28), staff Station 4, including newly created truck company. GFD integrated 1966.
High Point, ?
Raleigh, 1963 (6)
Wilmington, ?
Winston-Salem, 1951 (8), staff Station 4. WSFD integrated by 1967
READ MORE
+ 16 - 18 | § ¶
Asheville Engine 5
For your Friday enjoyment, and speaking of our friends in Asheville, here's a great old photo of Engine 5. The 1927 American LaFrance, which is still owned by the fire department, is pictured at old Station 5 in Biltmore Village. The engine house was a small garage attached to a house. The latter was built in 1895 and first served as a management office for the Biltmore Estate. By 1925, the garage had been added, and the building was also used by the village fire department1. In 1929, the city purchased the property. The top floor was converted to living space for firefighters, and the bottom was rented to the Biltmore Company. Station 5 opened on August 29, 1929. The station served at that location until 1975. Read more Asheville fire station history. Or read about AFD history in general. Click once or two to greatly enlarge:


1
Biltmore Village was created in the late 1890s as a model rental community to the nearby Biltmore Estate. The Biltmore Fire Department was formed around 1910. Within 7 years, it had 10 volunteers operating a hose wagon and a hose reel. A small fire station was located on Brook Street. Following the devastating July 1916 flood, the village was sold in 1920. BFD remained in operation, later obtaining a 1926 Ahrens Fox pumper and relocating to a larger engine house behind the Biltmore Office building. In 1929, BFD disbanded after the city assumed fire protection and took ownership of the Ahrens Fox pumper.
+ 18 - 13 | § ¶
Greg Grayson Named New Greensboro Fire Chief
FireNews surfaces the announcement from the Asheville Citizen-Times that Greg Grayson has been named the new Greensboro Fire Chief. He starts May 26, and will head a department about twice the size of Asheville's. He's served as Asheville's Fire Chief since 2000, previously led the Burlington Fire Department, was the Wake County Fire and Rescue Director. Greyson replaces Fire Chief Johnny Teeters, who retired last year. Read the Citizen-Times article, or coverage from the Greensboro News-Record. Congratulations, Chief!


+ 16 - 14 | § ¶
Firematic Flea Market Wanted
Anyone interested in organizing a firematic flea market around here? Yours Truly has perhaps dozens of die-cast fire apparatus models that need new homes. Plus a number of fire books, and some other stuff. With spring cleaning in the air along with all that pollen, perhaps a fire/rescue/EMS garage sale's in order. Or maybe a flea market, if someone's got the indoor/outdoor space? What say readers? Anyone else got crap to unload? I'd rather move everything at once, instead of messing with eBay over weeks or months. And I don't want to start hawking stuff using this blog. Shoot a private message if interested. Maybe we can pull this off, and help un-clutter or re-clutter one another's man caves.
+ 13 - 14 | § ¶
All Apparatus, All Time
Since we're talking fire apparatus, and since this blogger is a historian, let's look back and ponder a question. What brands of fire apparatus have been used in Raleigh and Wake County since the beginning? Meaning, engines, aerials, service ladders, rescue trucks, haz-mat rigs, or specialty pieces. Raleigh is reasonably easy, especially if drawn from this Apparatus Register web site.
American LaFrance
American LaFrance/LTI
Chevrolet
Chevrolet/Frontline
Chevrolet/Murphy
Dodge
EEI/Pemfab
Freightliner
Freightliner/American LaFrance
Freightliner/Hackney
READ MORE
+ 14 - 19 | § ¶
Pierce Pumpers Delivered
Lee Wilson photographed Raleigh's new Pierce pumpers, which were delivered Monday. The two Arrow XT engines replace Engine 1 and Engine 20. Dig those chevrons, only the second pieces of city fire apparatus to have them. Lee will post these and others later. See prior thread on this topic. Good photos of good looking trucks. And watch for two Arrow XT platforms to be delivered next month. Click once or twice to enlarge:


+ 15 - 20 | § ¶
EMS Worker Says Crawling Into Flattened Cars Is Just Part of Job
Following yesterday's extended extrication on Davis Drive, after a loaded dump truck overturned on a passenger car, Cary EMS paramedic Lisa Plunkett talks about the experience to WRAL. She's the medic who crawled into the flattened vehicle, to help administer care to the patient. The latter, the 25-year old female subsequently airlfted to WakeMed, was reported in good condition this morning. Kudos to all responders at that scene. Read the story, or watch the entire interview online. Also, all photos from Yours Truly have been posted. Two sets, pre- and post-wrecker arrival.
+ 14 - 15 | § ¶
Wreck in Passing
Inner loop of Beltline between Western Boulevard and Hillsborough Street with the double eights, Engine 8 and EMS 8. Alarm time 5:01 p.m. Sorry, didn't stop, was headed to the I-40 wreck with Engine 20 and others. Rain plus traffic equals accidents. Took only 300 shots at the latter! Click to enlarge:


+ 14 - 13 | § ¶
North Carolina Fallen Firefighters Memorial on May 2
The Fourth Annual North Carolina Fallen Firefighters Memorial will be held on Saturday, May 2, at Nash Square in downtown Raleigh. The parade starts at 10:00 a.m. and follows Hillsborough Street to Dawson Street. The memorial service starts at 1:00 p.m. Eleven firefighters in North Carolina died in the line of duty in 2008. FireNews has a list and links. For more memorial event information, see www.ncfff.org. The below photo by Legeros is from last year's ceremony. See more photos from past memorials at the Legeros photo archives, or the Wilson photo archives.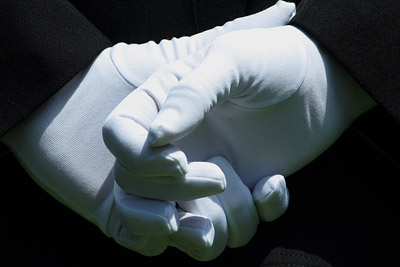 + 9 - 17 | § ¶
How's Your Web Site Working Out?
Let's turn our attention to ourselves. Web usability, which means, are the other people using your web site actually getting anything out of it? Key word: other people. Not the person or people designing and maintaining the pages, unless they're the sole users of the site. My site looks cool, you say. But is the audience for your web site able to use the thing? Do they get there, try a few links, get frustrated, and go somewhere else? That's the gist of usability. One expert in this field is Jakob Nielsen. He writes a nifty web feature called Alertbox. Two recent postings are pretty interesting. The first examines the usability of non-profit and charity sites. Do people actually perform the desired action, which is donating money? The next one presents findings that, when presenting with a list of links, users typically see the first two words and that's it. Two words. First 11 characters. So, if you've got links that read "blah blah blah some action," they really should read "some action blah blah blah," or, better, just "some action." Good stuff, both articles. We'll be working on improving our pages at Legeros Central. Do us a favor, and work on yours as well. Everybody wins, when web pages work better.
+ 10 - 16 | § ¶
Another Automobile Rescue / National Telecommunications Week
Speaking of extrications, this one made the media rounds last week. Florida woman calls 911. Car won't start. Gasp. Nothing electrical is working. Eek. Doors won't unlock. Help! The dispatcher asks if she can manually unlock the door. Grateful woman exits auto. Read the Orlando Sentinel story. Or listen to the 911 call. It's funny enough and not entirely embarrassing. Sit at a call-taking console for any length of time, and you'll hear people panicking in all sorts of situations.
And on the subject of our friends at the Communications Center, this week is National Telecommunications Week. Read the city press release that recognizes Kevin Anderson as the Raleigh-Wake Emergency Communciations Center Employee of the Year. Read all about the ECC in their annual report from 2008
. The document is a little large, so wait several seconds for loading.
+ 14 - 12 | § ¶
This Afternoon's MVA / Davis Drive
Motor-vehicle accident with injuries in Apex at 1343 Davis Drive. Loaded dump truck overturned on passenger car. Three patients, one pinned in auto, under the truck. Alarm time 4:06 p.m. Patient extricated 6:00 p.m. Extensive cribbing, shoring, cutting, prying, and lifting, the latter including two enormous wreckers. Transported to nearby WakeMed air ambulance. Units on scene, if recorded correctly, included Apex Engine 1, Rescue 3, Engine 3, Rescue 1, Brush 6 and trench trailer, Battalion 1, Car 1; Cary Engine 5, Ladder 5, Truck 7, Rescue 4, Battalion 2; EMS 51, EMS 55, EMS 54, District 5, and MD 1. Photos by Legeros forthcoming. Read the WRAL story.


+ 15 - 13 | § ¶
Mystery Vehicle
What is it, where is it, why is it? Hint, the thing is used for disaster resopnse. For extra credit, what were the weather conditions at the time of the photograph? Winner sees their winning comment posted.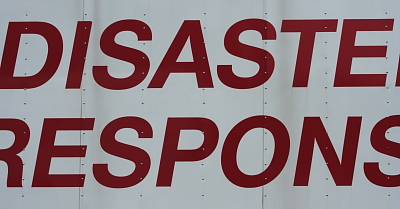 + 13 - 11 | § ¶
New Pierce Pumpers For Raleigh
Pierce has posted photos of Raleigh's newest engines, a pair of Arrow XT pumpers, 1500 GPM, 500 gallons, with Waterous pumps and Husky foam systems. These are the first Arrow XT engines for the city. Most recently, Raleigh has received Pierce Enforcers. The historical perspective, since the first engine was delivered in 1989: Arrow (4), Lance (2), Dash (2), Sabre (8), Enforcer (7). See and read more on the Pierce site. Two platforms from Pierce are also due later this spring. Click to enlarge:


+ 16 - 13 | § ¶
Watch Desk > What's News?
Let's see if we can generate some participation on the Raleigh-Durham forum on the Watch Desk with an open thread on what's news. e.g., the latest on new deliveries, station construction, department news, etc. City and county and towns and rural departments, and anywhere in-between. Post over there, versus over here. You'll be able to edit and even delete your replies. You can even add e-mail alerts, to be notified when replies are posted! Go to that thread.
+ 12 - 14 | § ¶
Mystery Building
What is it, and where is it? Hint, it's above ground. For extra credit, tell more about the thing. When was it built? How big, tall, or wide is the thing? What's its history?

+ 14 - 13 | § ¶
Morehead City Ship Explosion, 1961 (Updated)
On September 26, 1961, at approximately 3:10 p.m., the USNS Potomac arrived an an aviation fuel terminal in Morehead City. The facility was located on Radio Island, across the Newport River channel from the state port. The 15,626-ton, 593-foot, civilian-manned T-5 tanker was anchored with its bow pointing north, toward the railroad and highway bridges that connected the island and mainland.
About 5:20 p.m., the Potomac began discharging its 101,000 gallons of cargo, which consisted of aviation gasoline and JP-5 jet fuel. Around 6:35 p.m., gasoline also started flowing overboard. The ship's port sea suction value was open, and fuel was flowing from it. The gasoline leaked into the channel, and spread in the direction of the bridges.
At approximately 6:45 p.m., a civilian port employee was parked on the bridge, waiting with other cars while a tug boat passed under the open drawbridge. He smelled the strong odor of a petroleum product. His car was parked about halfway between the open span, and the island. About the same time, the ship's Chief Engineer and Second Asst. Engineer were ashore at the aviation terminal, near the first storage tank. They smelled an usually strong odor of gasoline.
READ MORE
+ 8 - 15 | § ¶
Auxiliary Truck
For your Friday enjoyment, here's a nice picture of Raleigh's second mini pumper. The first one, a Dodge half-ton truck, operated from around 1944 until destroyed in an accident in 1947. Below is its replacement, a 1948 Ford F3 "auxiliary truck" or "squad truck." It was equipped with a booster pump, booster reel, and water tank. It also had a ladder, a coil of rope (or is that an extension cord?), a spotlight, and presumably a power source. Wonder what else it carried? The truck was assigned two personnel, and responded to small fires. It was also dispatched to all structure fires, and, for a period, may have been the lone unit dispatched to fires of all sizes in the county. It was housed at stations 1, 2, 3, 6, and 7 over the years. The squad was still in service into the 1970s. This posed photo was scanned from an annual report of the city, hence the reduced quality. Click once or twice to enlarge:


+ 11 - 18 | § ¶
Unusual Fires, Part 3
Third and last installment of "unusual fires" from around the state, from the late 1950s and early 1960s. These are quotes from fire reports to the State Insurance Commissioner's office, compiled by the North Carolina State Firemen's Association Statistician, and excerpted from conference proceedings:

Poured gasoline on hot exhaust pipe, damage $750.
Playing cards in cotton gin room, using candles, damage $275.
Men fighting in dwelling knocked over oil stove starting fire, late reporting fire, and it spread to house next door, damage $2,250.

Boys smoking in barn, damage $1,100.
Occupant emptied hot ashes into paper box, loss $1,204.
Penny behind fuse, electric short caused cafe and apartment fire, loss $19,000.

Short circuit in motor, burned dairy barn, loss $40,000.
Hot grease from barbecued pigs ignited, loss $2,150.
Nail driven through electric light wire, loss $1,750.
READ MORE
+ 15 - 12 | § ¶
Bomber Crashes, Charlotte, Henderson, 1944
On Nov. 30, 1944, a B-17 Flying Fortress crash landed in Charlotte, on a section of Southern Railway tracks, and trapped five Army fliers inside. Next, a fast-moving passenger train came round the proverbial bend, and was bearing down on the crashed craft in the rain and fog. A quick-thinking Eastern Airlines employee (a.) grabbed a broom, in (b.) a nearby guard house, (c.) lighted same from the stove, (d.) ran to a track worker, (e.) gave him the burning broom, (f.) so he signaled the train, and (g.) averted a deadly collision. Said the train's engineer, "there wasn't room for the thickness of my finger between my train and that plane." The aircraft was subsequently cut in half, to allow the train to pass.
On Dec. 13, 1944, a B-24 Liberator was heard circling over Henderson about 8 p.m. No lights were seen from the plane. Some minutes later, a "tremendous flash" was seen in the sky above the Henderson-Oxford Highway. The plane crashed near the highway, four miles from town, and set both the brush and trees on fire, on both sides of the roadway. People gathered at the scene, and fought the fire to prevent the nearby homes from catching. The crew of seven had bailed out of the plane, and three had been accounted for within two hours of the crash. All were presumed safe. The plane was on a routine training flight, from Langley Field, VA. Sources: News & Observer, 12/1, 12/14, 1944.
+ 5 - 20 | § ¶
Remembering Mill Hill
On a Saturday afternoon in March, 1985, two houses in the 1100 block of Harp Street burned for about three and half hours. The structures, at 1102 and 1104 Harp Street, were a total loss. They were also the last two houses in the community called Mill Hill. One was being demolished, and the other was due. Until the prior summer, Mill Hill comprised 84 buildings on 13 acres behind Peace College. Most of the structures dated to the 1890s, and were homes for workers at Pilot Mills on Haynes Street. The mill closed in 1982, and the buildings were demolished within a couple years. Here's a nifty page of history about the area. It includes a Sanborn Insurance Map except, shown below, erroneously labeled as a Sanford map. Maybe they were thinking of the old Redd Foxx sitcom. That old, fish-eyed fool. Here's a modern aerial view. Looks a lot like the original site! Source: Raleigh Times, March 18, 1985.

+ 14 - 11 | § ¶
Orange Rescue Squad Sues County, ES Director
Speaking of Orange County, the News & Observer reports that the Orange County Rescue Squad has filed a lawsuit against the county and the Emergency Services Director. Last summer, the squad was banned from responding to emergency calls. The suit claims the allegations leading to the ban are false, and demands compensation. The suit also includes a "class action" claim, for those affected by the actions against the squad. Read the article.
+ 14 - 14 | § ¶
Learning About Live Fire Training
From the Chapel Hill News, here's a story of spending a day in the life of a firefighter, during live fire training with the Orange Rural Fire Department. The article writer wore the gear and went inside the structure, during a live burn in Hillsborough. On a recent Saturday, they were burning three houses on lots that Habitat For Humanity of Orange County was clearing. Read the article.
+ 7 - 14 | § ¶
North Carolina Fire Department Statistics, 1915
Let's leap farther back in time, to a report on the state's fire departments in 1915. This again is a statistician's report from the proceedings of the North Carolina State Fireman's Association. That year, Chapel Hill, population 1,500, had 19 volunteers, 1 paid member, 1 motor apparatus, 1 horse-drawn apparatus, 1 horse, and a bell as an alarm system. Durham, population 24,000, had 26 paid members, 4 fire companies, 4 pieces of motor aparatus, 2 pieces of horse-drawn apparatus, 2 horses, and an electric fire alarm system. Raleigh, population 30,000, had 28 paid members, 3 fire companies, no apparatus details, and an electric fire alarm system. View the report in PDF format
.
+ 18 - 14 | § ¶
North Carolina Fire Department Statistics, 1940
Here's a treat from the conference proceedings of the North Carolina State Firemen's Association in 1941. This is a summary of fiire equipment
, as reported to the state Insurance Commissioner as of October 1, 1940. Cary, population 1,141, had 15 volunteers, 1 paid fireman, 1 auto hose truck, 1,800 feet of hose, and a siren alarm system. Chapel Hill, population 3,654, had 19 volunteers, 2 paid firemen, 1 pumper, 750 GPM capacity, 1,900 feet of hose, and a Gamewell alarm system. Durham, population 60,195, had 65 paid firemen, 1 aerial truck, 1 ladder truck, 5 pumpers, 4,400 GPM capacity, 14,000 feet of hose, and a Gamewell alarm system. Raleigh, population 46,897, had 51 paid firemen, 1 aerial truck, 1 service ladder truck, 5 pumpers, 4,000 GPM capacity, 9,500 feet of hose, and a Gamewell alarm system. View the report in PDF format
.


+ 15 - 16 | § ¶
Charlotte Fire Museum Closing Its Doors
Today's Charlotte Observer reports the regrettable news that the Charlotte Fire Museum is closing. Located at Old Station 4 on Fifth Street, their last day is April 30. As the article notes, the museum is closing after its directors learned that the new property owners wanted to raise the rent. The Charlotte-Mecklenburg Fire Education Center and Museum opened in 2002, five years after firefighters started the initiative. Since that time, they've been open three days a week for tours and birthday parties. What becomes of the many antiques items and pictures presently filling the facility? They'll be returned to firefighters, retirees, or family members, or stored at firehouses. Read the article. In December, Yours Truly took a day trip to photograph the museum. Tour the museum through pictures. The three rigs shown below and in the photo set are, left to right, a 1948 Mack, a 1971 Seagrave, and a 1928 American LaFrance.


+ 15 - 13 | § ¶
Biggest Fires Ever in North Carolina?
It is said that nearly every city and town in the state has suffered at least one devestating fire. These conflagrations of the 1800s and early 1990s typically destroyed dozens or even hundreds of buildings, usually in a business district or the center of town. With improvements in fire protection in the 1910s and 1920s forward, the state's biggest fires shrank in scope, though "big ones" still continued to happen. Below is a starter list of the biggest fires ever in North Carolina. This excludes deadliest fires, which are logged in this database. What big honkin' fires do you know about? Please add, correct, comment, or send details in private messages! Let's document yet another piece of our state's fire history.

1900-present
1900 - Washington - Business district destroyed.
1900, Sep. 14 - Washington, several blocks destroyed.
1902 - Clinton - Entire southern section of town, including 43 stores.
1911, Jun. 12 - Apex (Wake County) - Business district destroyed.
1913, Feb. 6 - Rolesville (Wake County) - Business section of town, ten buildings destroyed.
1914, Mar. 23 - Durham - Large portion of business district destroyed.
1918, July 2 - Charlotte - 48 homes, 250 homeless, started on Caldwell Street.
1922, Dec 1. - New Bern, destroyed 40 blocks and left 3,000 people homeless.
1923, Fall - Blowing Rock - large part of business district. Led to formation of fire department.
1934, Jan. 28 - Wrightsville Beach, northern end of island.
1935, Jun. 22 - Washington, Moss Planning Mill Company. Five commercial buildings and four homes destroyed, and one firefighter killed
1936, May - Lexington, United Furniture Corporation. Fire fought over 12 hours.
1940, Feb. 7 - Knightdale (Wake County) - Business section of town. Six structures destroyed.
1941 - Newport (Carteret County), business district.
1946, Mar. 7 - Fuquay Springs (Wake County) - Main block of downtown. Four businesses destroyed, five others damaged.
1953 - Mar. 9 - Wilmington - Warehouses and other buildings.
1961, Sep. 26 - Morehead City - Navy tanker explodes and burns in Newport River, at Radio Island aviation fuel farm.
1969, Apr. - Asheville - Bank of Asheville and Dunham's Music House buildings downtown.
1985, Apr 13 - Greensboro - Seven buildings at 300 S. Davie Street.
1998, Aug. 27 - Winston-Salem - R.J. Reynolds Plant #256, 13 engines, 5 ladders, 9 hours to control.
2003, Jan. 29 - Kinston - West Pharmaceutical Plant explosion and fire. Over hald of 150,000 square-foot plant destroyed.
2003, Sep. 3 - Swannanoa (Buncombe County)- Beacon Manufacturing Plant, 32 fire departments, 24 engines, 7 ladders, 7 tankers, 522 personnel.
2007, Feb 22 - Raleigh - Townhouse community, 27 destroyed, 11 damaged, 72 people displaced.
READ MORE
+ 13 - 10 | § ¶
Small Eastern NC Fire Department Hopes to Win Big Truck
From a reader, here's a WRAL story about the Powellsville Fire Department in Bertie County, which is one of seven finalists for a free fire truck from E-One. They're hoping to replace a Howe pumper purchased in 1972. The Chief's wife submitted an essay, one of 651 received by E-One. The story notes that Bertie County is the state's second largest, but also one of the poorest. PFD receives $10,000 annually from the county, which just covers its $9,000 insurance costs. The department's most recent fundraiser cooked 5,300 pounds of pork in 20 cookers and sold every bit. PFD answers about 30 calls a year, and serves as a severe-weather shelter and distribution center. Visit the E-One site to read their story and vote online through April 24.
+ 14 - 14 | § ¶
Varmint Mystery Solved, 1944
Here's another vintage gem, from the News & Observer on June 21, 1944. "Calm Returns to Western Boulevard Neighborhood as Prowlers Prove Harmless" reads the subhead. Two "night-roving" critters had alarmed residents around the Grove Street section of Western Boulevard. For two months, the mystery creatures had "stalked the countryside by night and remained well-hidden during the day." What were these seemingly harmless animals, reportedly the size of "a couple of fat pigs?" And that "even sounded like pigs?" South American armadillos, it turned out, that had escaped from the "miniature zoo" at the Western Boulevard home of a State College electrician. When they were being removed from their crates, the 'dillos escaped and hadn't been seen by their owner since. Since the creatures were "absolutely harmless" and "helpful in destroying rats," they were allowed to remain in their new residence, in a hole in the yard of one Mrs. Jackson.
+ 9 - 14 | § ¶
Emergency Chaplains
The Durham County-based organization Emergency Chaplains now has a web site. The site provides such as who they are, what they do, and their statement of faith. There's also a link to "Chaplain Ralph's" blog, which is hosted on a separate site. Emergency Chaplains was started in 2001 by Ralph and Carter Thompson. They provide both pastoral care for the men and women who answer emergency calls, and assist responders on scene with citizens. Visit their web site.


+ 14 - 14 | § ¶
Counting Down 100 Years of Firefighting in Mooresville
From a reader, the Mooresville Tribune last month featured a feature on the Mooresville Fire Department and their call for historical help. The department is counting down to their centennial celebration in 2010, and they're hoping the community can help piece together their history. As the article notes, MFD was officially organized on May 10, 1910. That's the date the department's using to commemorate 100 years of service. They're planning to collect photos and memorabilia over the next several months and create a commemorate book, which may include a DVD. Read the article. Here at History Central, we'll dig through our materials and see what we can contribute. Learn about the Mooresville Fire Department.


+ 12 - 15 | § ¶
Raleigh Fire Department Recruit Graduation, Friday, Apr. 17
The graduation ceremony for Raleigh Fire Department Recruit Academy 35 is Friday, Apr. 17, at 7:00 p.m. The location is the Raleigh Convention Center, in Exhibit Hall A. The recruits are concluding their 28-week academy, which started on Sep. 29. They'll graduate with certifications in EMT, Firefighter I and II, and Rescue Technician VMR. They also received training on haz-mat operations and awareness, fireground procedures, high-rise operations, rapid intervention teams (RIT), accountability systems, safety companies, engine and ladder company and firefighter safety and survival. See photos of the academy by Lee Wilson. Also, click to enlarge this group photo:


+ 6 - 17 | § ¶
Raleigh Fire Protection Reports
For your Friday enjoyment, numerous vintage fire protection reports have been added to our Raleigh Fire Department history site. Scroll to the lower-right of the site and you'll see three types of reports. First are summaries from Sanborn Insurance Maps, for a half-dozen years between 1884 and 1914. These are short descriptions of the city's water system and fire department. Next are reports from the National Board of Fire Underwriters for 1924 and 1931, plus a sketch of the 1911 report. These are long, detailed, exhaustive reports about the city's capacity to pump water and fight fire. The full reports are scans of copies of reasonable quality. The sketch is simply text drawn from newspaper accounts. Finally, and as blogged about earlier, are a trio of Planning Department reports from 1958, 1970, and 1977. These reports focus on fire station locations. Read the reports on our history site. Enjoy!
+ 10 - 15 | § ¶
The First Retiree
Who was the first firefighter to retire in Raleigh? The answer is Willis L. Choplin, 59, who retired as a private (base rank of Firefighter) on Feb. 1, 1949, with 34 years of service. He was one of the first 12 city employees to leave their jobs through a recently adopted retirement system. Choplin was the oldest active member when he left, having served under eight fire chiefs.
When he joined, the fire department had only "two stations, two horse-drawn hose trucks and two pairs of steeds for motive power." He recounted "We'd open the stalls when the fire-bell clanged and they'd come tearing out and take their place beside the truck under the harnesses with no directions needed."
READ MORE
+ 12 - 13 | § ¶
Dizzying Array of Colors
For some sunshine in spite of rain, here's a rare glimpse into Blog Central. Below is an exclusive photograph of our uniform cache. Each of these silk, rayon, or polyester print shirts is selected for both high visibility when operating in roadways, and appropriate environmental blending in case of inland cruise ship incidents. These mission-critical pieces of clothing can also be called Aloha shirts, Hawaiian shirts, cabana wear, or fat boy frocks. Read a little history. Click for larger (brighter?) versions:


+ 17 - 14 | § ¶
Gayla Human Bat Kite
Of today's assorted online amusements, this gem is advertised by Burbank's House of Hobbies. The description: "Set of heavy duty 36" bat wings and 80 pound test cord. For use for children or small adults 100 pounds or less. 900' of cord included. Winds must be 60 MPH or higher for best results. Do not fly near trees or power lines." Sale priced at $1.99! See other April 1 specials. The store is a great source for die-cast and other models, by the way.


+ 10 - 15 | § ¶
New Hanover County Firefighters to Replace Ogden Volunteers
FireNews surfaces this Wilmington Star story, about changes to the Ogden Fire Department in Wilmington. The nearly 60 year-old organization is "effectively going out of business" and its service area will be protected by New Hanover County Fire Services. The county will take over OFD's two stations, equipment, and volunteers. Read the entire article. Or learn more about the New Hanover FD.
+ 9 - 12 | § ¶
County-Wide Fire Department Forming
Plans have been approved by County Commissioners for a unifed fire protection area, and are undergoing review by member fire departments. Seven different departments are expected to join the organization, which will include a county-wide apparatus renumbering scheme. Officials are quoted as being influenced by discussions of the issue "that even surface on the Internet." Read more details.