+ 10 - 11 | § ¶
Flooding
The Star-News has a gallery of good photos of the flooding that's hit the Wilmington area. Highest amount of rainfall in their history, over 21 inches. That tops the 19-inch record from five days of Hurricane Floyd in 1999. The below picture shows conditions in Carolina Beach. They're underwater there.



Mike Spencer/Star-News photo
+ 14 - 9 | § ¶
Hawaiian Ragtime
Explosive collision of musical styles from 1965 in this clip from The Lawrence Welk Show. Don't ask how it was found. That's Jo Ann Castle on the piano and Buddy Merrill on the steel guitar. Those backing musicians are rocking out, aren't they? Guess our parents, or their parents, loved the show. Happy Friday in a few hours.



+ 5 - 12 | § ¶
Mystery Clouds
For a while there they looked hand-painted. Where was this picture taken tonight? And which includes a wee bit of digital obfuscation. Click to enlarge:


+ 14 - 12 | § ¶
This Weekend's / Fire Prevention Week Events (Updated)
Oct 1 - Fri
RAPS Race - Rush Hour Karting, Garner - 3:00 p.m. qualifying, 6:00 racing
Oct 2 - Sat
Cary FD - Cary Safety Festival - Bond Metro Park - 10:00 a.m. to 4:00 p.m.
Garner FD - Fireman's Day - Station 1 - 11:00 a.m. to 7:00 p.m., parade at 2:00 p.m.
Morrisville FD - Fire Safety Day - Food Lion shopping center, Highway 54 - 10:00 a.m. to 2:00 p.m.
Pilot FD (Franklin) - Barbecue Fundraiser - 11:00 a.m. until...
Red Oak FD (Nash) - Open House - 4:00 p.m. to 7:00 p.m. - Showcasing their new station
Oct 3 - Sun
Bay Leaf FD - Open House - Station 1 - 1:00 p.m. to 5:00 p.m.
Louisburg FD - Open House - 2:00 p.m. to 4:00 p.m.
Raleigh FD - Open House - All stations - 1:00 p.m. to 5:00 p.m.
Oct 5 - Tues
Raleigh FD - Kid's night at Chik-Fil-A - Capital Crossing and Falls Village locations
Oct 7 - Thurs
Raleigh FD - Display at Crabtree Valley Mall
Oct 8 - Fri
Raleigh FD - Display at Crabtree Valley Mall
Oct 9 - Sat
Creedmoor FD - Fireman's Day - 3:00 p.m. parade, followed by meal at South Granville High School
Fuquay-Varina FD - Open House - Station 1 - 10:00 a.m. to 4:00 p.m.
Parkwood FD - BBQ Cook-Off - Station 1 - 12:00 p.m. to 7:00 p.m.
Princeton FD (Johnston) - 5K Fundraiser Run - 9:00 a.m. to 1:00 p.m.
Raleigh FD - Display at Crabtree Valley Mall
Oct 10 - Sun
Raleigh FD - Recruitment Open House at all stations - 1:00 p.m. to 4:00 p.m.
+ 11 - 6 | § ¶
Selma Super Pumper, 1985
Found for sale on eBay, here's an advertisement from Emergency Equipment Inc. in Raleigh. The 1985 apparatus is described as an EEI Super Pumper mounted on a Duplex D-350 chassis. Custom manufactured for the Town of Selma, North Carolina, pursuant to N.C. League of Municipalities specifications. Equipped with Hale 1,500 GPM pump, 750 gallon tank, twin booster reels mounted in rear compartments, top-mount control panel, rear canopy, crosslay, telescoping lights powered by Hale 5000-watt generator. Click to slightly enlarge:


+ 12 - 7 | § ¶
New Ambulances For Wake County EMS
As photographed by Lee Wilson this week, here are a few of the eleven (!) new ambulances being delivered to Wake County EMS. They're Type III modular units with a 170-inch box on a Chevrolet 4500 chassis, built by McCoy Miller in Elkhart, IN. Click to enlarge:


+ 10 - 7 | § ¶
Blazing Dawn (Updated)
From today's WRAL story, here's a vacant house that burned in Smithfield this morning. Are those orange flames venting through the roof, or just a trick of early morning sunlight? My money's on the latter. Fire was reported about 6:40 a.m., says the story. Investigators are "probing the cause."


Josh Langdon/WRAL photo


Updated with second photo as suggested by reader, from this WTSB-AM story. That smoke does indeed "look red" as in the other photo. This time, there's obvious flames. Maybe it's time for a new course. The Art of Reading Color!


Carter Rabil/WTSB-AM photo
+ 11 - 8 | § ¶
Raleigh Municipal Building
Found for sale on eBay, here's an undated view of Raleigh's Municipal Building. Built in 1960, it housed the police department and other city offices. It also housed the first Emergency Communications Center, in the following decade. Here's an interesting blog post about the building's history. Click to slightly enlarge:


+ 6 - 4 | § ¶
Pictures From Hurricane Fran?
Does anyone have pictures from Hurricane Fran that depicts damage to fire, EMS, or law enforcement vehicles or buildings? And that they'd be willing to share for a project that a nearby emergency agency is working on? Mail Mike for more details. And if permission's granted on all fronts, we'll compile and post the best of them. Thanks for your help.
+ 7 - 8 | § ¶
RAPS Race, Friday, October 1, 3:00 p.m.
The next Raleigh Area Public Safety Racing League (RAPS) endurance kart race is this Friday, October 1, 2010. The event begins at 3:00 p.m. with practice and team qualifying. The 90-minute endurance race begins at 6:00 p.m. The entry fee is $150 per team, payable the day of the race. The location is Rush Hour Karting at 5335 Raynor Road in Garner. Zoom, zoom, zoom.
+ 11 - 3 | § ¶
1951 Ward LaFrance Open Cab Pumper
Newly added to the man cave collection. First Gear 1:24 scale replica of a 1951 Ward LaFrance pumper that served Perry, IA. Available only through the Perry Fire Department. See more photos, as well as the original rig, on this web site. You can also order on the second site. The model replicates the apparatus in its later years, after a blue beacon was added as requirement for lighting. Not many scale models of Ward LaFrance apparatus out there, beyond the Ertl quad and the Code 3 custom-cab pumper! Click to enlarge:


+ 8 - 5 | § ¶
Then & Now Recruitment Ad
Hiring for firefighters in 1962 and 2010. Read about the Raleigh Fire Department in the 1960s. Learn more about becoming a Raleigh firefighter. Click once or twice to enlarge:


+ 6 - 5 | § ¶
The Fire of 1851 - The Narrative
Time for some really old-school firefighting. Back before the city's first paid firefighters. Back before the first fire hydrants. Even earlier than the first steam fire engine. Let's climb into our stainless-steel DeLorean and travel with Doc Brown back to 1851. That's the year of the city's last great fire.
Seventeen buildings burned on Fayetteville, Hargett, and Wilmington Streets. The aftermath was an outcry by officials and citizens, and which resulted in drastic improvements to the city's capability for fighting fires. It also resulted in the first version of the Raleigh Fire Department as it's known today.
Mr. Blogger had been researching same for a couple years now, and has finally completed a formal essay on same: The Fire of 1851
. But let's call it a monograph. That's a fancier title.
The 33-page document includes footnotes and full references for all sources. Same style as his previous essay, Birth of a Fire Department
. Though quite a bit more dry. And all linked with other writings on my RFD history site.
Don't know if it would grade highly in a college history course, but it's an honest attempt at professional presentation. Got to play in the scholarly sandbox for a bit. The essay is version 1.0. Slight edits and corrections may appear later. Read and enjoy.

+ 6 - 3 | § ¶
Fire at Five Points
Weather's finally cooler. Clouds coming into the sky. Crews in northern Wake County have been working a woods fire for the last couple hours. Stony Hill and a mess of other departments for manpower. They've also got a Public Safety Day planned for this afternoon at Station 1. Closer to home, a fire at Five Points closed a lane of traffic inbound on Glenwood Avenue. That's Ladder 4, Engine 6, and Rescue 3 shown below. Fire on the exterior of a service station. Here are some photos, and with one of the cameras slightly overexposuring the shots. Forgot to reset the settings after last night's tromping around Fayetteville Street. Hate when that happens.


+ 6 - 5 | § ¶
Phillip's Fire Annihilator, 1851
Here's a nifty news article from 159 years ago, about a piston-powered fire extinguisher. It appeared in the Daily Southern Cross on March 15, 1850. Publisher and city of said paper unknown. Found while doing research. Enjoy.


READ MORE
+ 7 - 4 | § ¶
Attic Fire Video
For your Sunday discussion, from a reader, here's a video of an attic fire in Indiana. We'll leave the department unnamed, and spare them the hits from web searches. Ladder placement, hose placement, ventilation technique, etc. Well-captured in the video, though perhaps not as well-executed as desirable. How useful are videos such as these for training and education? Do they result in learning and awareness and critical thinking? Or is it more pile-upon for things not done right in the eyes of the viewer? Discuss as desired, both the video and the use of the videos. Click to watch:


+ 10 - 3 | § ¶
Fire Commission Highlights Part 1
Here's a bit of what happened on Thursday night. There are probably (certainly?) "political" nuances that I missed, as well as outright details that didn't catch my attention. Readers are welcome to fill gaps, add comments, throw tomatoes, etc.
The first 80-some minutes were spent discussing the recommendations of the Staffing Committee, regarding allocating nine full-time firefighter positions that were approved for this budget year. Here's how that works. One of the subcommittees of the Fire Commission is the Staffing Committee. They're comprised of commission members or their designates.
They gathered information from all county fire departments that were interested in one or more of the nine positions, then met and decided which departments should be recommended to receive which positions. As this document notes, they arrived at four proposals, and used forced decision-making to arrive at a final recommendation. Three people each for Bay Leaf, Fairview, and New Hope.
READ MORE
+ 8 - 6 | § ¶
World's Smallest Movie
Google the title for more. Watch this making-of movie. Happy Friday.


+ 7 - 8 | § ¶
Raleigh Moves Forward on Union Station Proposal
This week the Raleigh City Council voted to move forward the proposed Union Station, e.g. a multi-modal transit center, which would be a transportation hub located on South West Street between West Morgan and West Martin streets. It would connect CAT buses, Triangle Transit buses, Greyhound buses, Amtrak trains, and future rail services. Next step is negotiating an interlocal agreement with Triangle Transit. Read the press release, and see this project web page, which has nifty documents and diagrams on the right side of the web page. (With the city's new web design, you have to look on the right-side navigation area to find things some times. Not exactly intuitive.)
Union Station, as we have blogged about before, is the old train station that was located in the building that's beside Fire Station 1. Check out this old photo that's included in the final report, showing the track-side of the structure. That's Nash Square in the background. Click to enlarge:


+ 9 - 6 | § ¶
Car 1
Yup, tonight was Fire Commission night. Highlights forthcoming. You know you need a life when you find amusement in taking pictures of license plates... Or municipal construction sites... Or police officers directing traffic...


+ 6 - 2 | § ¶
Mystery Building
Seen this structure under construction on Poole Road? The property's also the planned location for the replacement of Fire Station 12.


+ 6 - 4 | § ¶
Police Officer
Photographed by Legeros at this morning's fire on Capital Boulevard. Simple picture, though it required a little luck. First, that the officer continued standing still in profile. Second, that no vehicles passed behind her. That's the challenge at emergency scenes. People are usually moving, and stuff's usually happening in the background. Such as vehicles on roadways. That's also why pictures of chiefs are often easier to take than those of indians. They're moving less on scene.


+ 6 - 6 | § ¶
Caption This Photo
Burned burn cell at the Wake County Training Center for a Wake County Fire Investigation Class as photographed by Lee Wilson as posted on this blog as viewed by you right now. See the original photo.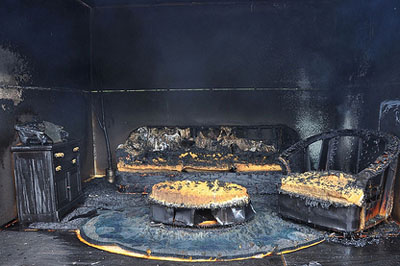 + 5 - 3 | § ¶
This Weekend's Events
Sep 25 - Sat
Warrenton FD - Fireman's Day
Apparatus judging begins at 8:00 a.m. at fire station
Parade begins at 11:00 a.m. through downtown
Apparatus judging continues into afternoon
Field events begin at 1:30 p.m. at Warren County Fairgrounds
Awards are awarded at 5:00 p.m.
Sep 26 - Sun
Stony Hill FD - Open House and Fire Prevention Day - Station 1 - 2:00 p.m. to 5:00 p.m.
Selma FD - Dedication of New Apparatus - 1:00 p.m. until whenever
Others?
+ 7 - 7 | § ¶
Cooper Kenworth Fire in Durham, 1995 ?
A reader inquires about an incident from November 16, 1995, and availability of photographs therein. The Cooper Kenworth Company in northeastern Durham County, a truck dealership and service center located on a service road beside Interstate 85. Numerous fire departments on scene, including Redwood, Parkwood, Durham Highway. Maybe ten or abouts, total.
Bahama firefighters made national news due a close call. Explosion blew crews out of a service bay, and Asst. Chief Len Needham emerged covered in flames. He suffered a badly burned ear. Damages exceeded $1 million. That's what we find searching the first paragraphs of stories on the Durham Herald web site. Google News gives bupkiss, however. We'll keep searching.
What do readers recall of this incident, both from news reports and firsthand experience? And does anyone have photos??
+ 7 - 7 | § ¶
Hunt General Tire Company Warehouse, 1980
Thirty years and one month ago. Three-alarms (?) at 424 S. McDowell Street on August 9, 1980. Hunt General Tire Company warehouse, a one-story building reported ablaze about 7:00 p.m. Flames shot five stories high through the roof. Poole's Luncheonette next door caught fire on their roof by 8 p.m. That building also suffered heavy smoke damage. Flames also spread to a one-story building that housed two law offices, and a fire and burglar alarm business. It was destroyed. Also damaged, mostly by smoke and water, were offices housing the county food stamp program.
More than 50 firefighters responded with four engines, three trucks, and two rescues. Ten firefighters were treated for heat exhaustion, smoke inhalation, and other minor injuries. Three were apparently injured when a section of the warehouse roof collapsed on them. Six were transported and later released. The fire was brought under control at 9:45 p.m. Fire losses were estimated at $700,000, and more than 10,000 tires were destroyed. Units on scene included E1, E13, E3, E5, E4, E6, T1, T7 (service truck), T11 (service truck), T16, R_, C5 (District Chief).
"Stacks of tires [burned] like torches" reported the next day's News & Observer. Crews continued extinguishing fires inside the structure through the evening. "There's nothing you can do with a building full of tires," one firefighter was quoted as saying. A pillar of thick black smoke rose "high into the clear evening sky," noted the newspaper, "and the stench of burning tires spread throughout Raleigh." The fire attracted hundreds of spectators, and traffic was congested for blocks. The fire started in or near a small office used by the warehouse manager.
The operator of the fire and burglar alarm business said "it's ironic that I tried to sell the people on the block some fire alarms when I moved in" a few months earlier. Noted the News & Observer, the warehouse was not equipped with a fire alarm. The company's tire dealership was located two doors from the warehouse.


News & Observer photos
+ 5 - 4 | § ¶
Old Water Tower (And Hose House) Could Be Yours
As today's News & Observer reports, Raleigh's old water tower on Morgan Street is again for sale. It was last sold in 1938, then donated to its current owner in 1963. The building is attached to a two-story brick structure that also the oldest extant fire department building in the city. Alas, the article doesn't mention this fact. The 1887 building was the first house of the Capital Hose Company.
Guess I need to do better on educating the public. The building is listed on the National Register of Historic Places. I contacted them a couple years ago, suggesting they supplement their web page entry to include the fire department information.
They advised that that information is rarely updated, and thus the information would not be added. Next step, add a comment to the web page. Or maybe it's time for another letter to the editor! Here's our prior posting about the building and its sale. Or read today's N&O story.

North Carolina State Archives photo
+ 6 - 4 | § ¶
Sunday's Motor Home Fire on Interstate 40
WTVD posted footage Sunday of the motor-home fire on Interstate 40 near Highway 54. That's Engine 8 along with other units on scene. They made three trips on the big road that day. This incident, plus two accidents. The story includes an interview with the driver, and bystanders who stopped to assist. Right time, right place for the camera crew, that's for sure! Click to watch the video:


+ 8 - 2 | § ¶
Second Annual Rolesville Public Safety Golf Tournament, Wednesday, October 27
Rolesville area responders are sponsoring their second annual charity golf tournament at Zebulon Country Club on Wednesday, October 27. Registration and lunch are at 11:00 a.m. Tournament starts at 12:00 p.m. Same is Super Ball / Captain's Choice. Entry fee includes cart, green fees, goody bags, beverages, lunch, and dinner. Deadline for entries is October 22. Register via this form.


+ 4 - 6 | § ¶
NCSFA Hockey Night, Saturday, November 6
The North Carolina State Firemen's Association is selling discount tickets to the Carolina Hurricanes versus the Florida Panthers at the RBC Center in Raleigh, on Saturday, November 6, 2010. Game time is 7:00 p.m. Lower-level tickets are $50, regularly $80. Upper-corner seats are $19, regularly $30. Deadline for orders is October 28. Proceeds from each ticket sold will benefit the NCSFA. Order via this form.


+ 12 - 2 | § ¶
It Was 57 Months Ago Today
Within a couple weeks, that is. Come December, this blog will be five years old. Can you believe it? These were the first posts during the last week of December 2005:
Philly Versus Raleigh
Chart comparing the cities and their fire departments, in preparation for pending Fire Chief.
Xmas Lights at Station 11
Picture that appeared on FireNews
Past Raleigh Fire Chiefs
Plug for historical page.
Old Chapel Hill and Carrboro Stations
Photos and information about old station buildings found during Mikey's holiday break.
CHFD Has Updated Their Web Site
Self-explanatory, unless you don't know what CHFD means.
New Pierce Pumper for Apex
Self-explanatory as well, and also.
KPS Station (Non) Update
News on bids still being solicited for their public safety center. Knightdale.
MFD Station Drawings
Planned multipurpose municipal building and drawings therein. Morrisville.
Bid Doc for EMS Mass Causality Unit
Big ol' Truck 1.
Three (!) Stations for Six Forks EMS
Complete with exclamation point.
WWFD Apparatus Updates
As opposed to WWFR.
RFD Reserve Numbers Changing
Because new 800mhz radios were coming in two weeks.
Harnett County Explorations
More former fire station buildings found during Mikey's holiday break.
All RFD 800 Radios Have Been Issued
Wither VHF.
Such simpler times. Such shorter posts. And all related to local fire and rescue!
+ 7 - 1 | § ¶
Aggressive Quarterbacking
From Dave Statter comes this video and heated discussion therein. Aggressive interior attack in Prince George's County, MD. Your choice on forming opinions. You can watch the video and extrapolate everything else. Or go this Kentland FD web page, and see still photos including shots from other sides of the structure.
As for discussions, check Statter's site for the first and best batch. Then check Firefighter Spot and their discussion titled Is The Fight Worth It? Then check the site that originated the video, The Bravest Online and their discussion therein.
Participate as desired. Post here as desired. Heck, you can even discuss medium as message. How does the headbanging musical accompaniment affect your perception of the recorded events? For added effect, read Dave's coverage of a birthday suit worn at a DC firehouse. That's also got people talking. Happy Monday morning.


+ 8 - 3 | § ¶
Another Suspicious Fire [Not Really] Near Clayton
Abandoned house at 738 Strickland Road. Reported about 11:00 p.m. last night. Wilson Mills, Smithfield, and Selma fire departments. Officials consider the fire "very suspicious," reports this WRAL story. The building had been abandoned for decades. This is the ninth unoccupied home that's been intentionally set or suspected of same since October 2009. Yesterday's fire was three miles from Monday's suspicious fire in the Glen Laurel subdivision [reports WRAL. As reader comment's note, the actual distance is closer to 7 or 8 miles! ]. Read the entire story.



WRAL photo
+ 7 - 5 | § ¶
Climbing a 1,768 Foot Transmission Tower
Here's your Sunday morning video treat. Climbing a transmission tower. Height of 1,768 feet, which is still a couple hundred shorter than WRAL's digital tower in Auburn, meaning off Highway 70 east of Garner. Notes the helmet cam-clad commentator, they can see 55 miles to the horizon at the top. Best quote is toward the end. "This is the tricky part." Yeah, just that part. The climbers climb smack to the top. Stop watching if you feel faint! Thanks to Marshall for passing along.


+ 5 - 3 | § ¶
This Morning's House Fire on Leslieshire Drive
Here's an early evening picture of the early morning fire at 9216 Leslieshire Drive, which is around the corner from Station 22. Two-story, brick-and-frame dwelling with 1,663 square-feet. Built 1994.
Engine 22 arriving with fire showing through second-floor window above the garage. Extended interior operations, with ladder pipe later used. Dispatched at 4:22 a.m. Controlled 5:28 p.m. a.m.
Units on scene included E22, E28, E19, E15, E25 (special called), L5, R1, B1, C10, C20, C40, A1, EMS 6, T1. Relief companies E11, E27, L1, E22 (C), L5 (C). No injuries. Cause under investigation.
Two occupants self-evacuated, after passing motorist saw the flames and heard smoke detectors inside. They awoke the residents, reports this WRAL story.
There's also a fair amount of the radio traffic archived at on this scanner archives site. Registration required. Click to enlarge:

+ 5 - 3 | § ¶
Durant Road EMS Station
Here's the latest look at the Wake County EMS station under construction in the 10000 block of Durant Road. The facility will house EMS 15, which will be converted to a 24-hour unit when the station opens. See this prior post for more information and discussion therein. Click to enlarge:


+ 4 - 4 | § ¶
Mystery Cistern
We are definitely pushing the envelope for compelling blog content with three, count 'em three, mystery photos for the day. Better get more space for the web logs, as the hit counts are going to skyrocket. All things considered, it's better than a picture of a mystery cyst...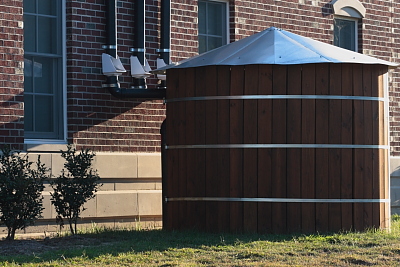 + 9 - 3 | § ¶
Mystery Incident
Here are a trio of vintage photos from a fire at a tire store. Was ready to post with details of the Hunt General Tire Company fire in 1980, but noticed the haz-mat guys in the third picture. The team hadn't been formed yet! And that's one of the two 1986 EEI/Pemfab pumpers in the second shot, so it's a mid-decade incident or later. Ring any, ahem, bells?
In the second picture, that's Raleigh's old Rescue 1, which was repainted from all-white and placed in service as an air and light unit. There's also the Six Forks Fire Department brush truck and cascade trailer. They provided air service to Raleigh and other departments for many years. In the bottom photo, the apparatus operator is easy to identify. That's the legendary "Tramp" Dunn, of course. Click to enlarge:

+ 7 - 5 | § ¶
Mystery Vehicle
This one's probably pretty easy. Converted to black and white to make the thing at least slightly challenging.



+ 4 - 7 | § ¶
Good Company
Two trucks that you don't often see together. Left is Stony Hill's 1954 Mack B75 pumper, 750 GPM, 750 gallons, originally served Independence, N.J. Placed in service in Wake County in 1974. Right is Raleigh's 2007 Pierce Arrow XT aerial ladder, 105-foot, 1500 GPM, 300 gallons. Ladder 3, housed at Station 17. Photographed at Durham Highway's Public Safety Day, that's underway at Leesville High School. And what a difference direct sunlight makes! Click to enlarge:


+ 5 - 4 | § ¶
Think of the Miners
Neat graphic and information from Newsweek about the 33 miners in Chile trapped 2,230 feet underground, and the 3.19-inch canisters that are their only links to civilization via three bore holes. Rescuers will reach them in a couple months.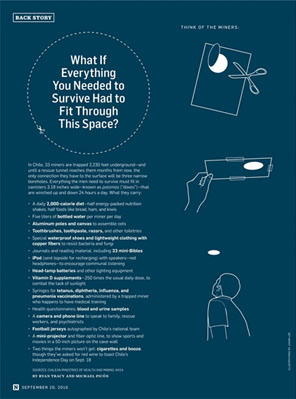 + 7 - 6 | § ¶
Paparazzi
Celebrity + airport + photographers. This footage from LAX airport in 2008 was a key exhibit in a California court case this week. The state passed a law with penalties for photographers breaking traffic laws, or impeding the operation of a celebrity's vehicle. If you've never seen aggressive paparazzi in action (oxymoron?), here's what it looks like. Wow. Also, be advised that there are some bad words on this clip. Language alert for sensitive ears.



+ 6 - 4 | § ¶
Fire Commission Meeting Agenda & Documents, Sep 23
Here's the agenda and related documents for next week's Wake County Fire Commission Meeting on Thursday, September 23, 2010, at 7:00 p.m., at Wake County EMS Training Facility, at the lower level of the Commons Building, 4011 Carya Drive. Read more about the Fire Commission.
Agenda
Call meeting to order

Invocation
Roll of Members Present
Approval of Agenda

Minutes

Adoption of Minutes for May 13th, 2010, Regular Meeting

Regular Agenda

Consider Staffing Committee Recommendation on Allocation of FY11 Positions
Consider Changing Funding Source for Approved FY 11 Fire Apparatus
Consider Modification of Eastern Wake and Garner Fire Insurance District Boundaries for Southeast Wake County Fire Station

Information Agenda

Post Incident Review Training Program
Facility Committee
Countywide Ethics Policy
Calendar Year 2011 Meeting Dates
Fire Tax Financial Report
Chair Report
Fire/Rescue Services Director Report

Other Business
Public Comments

30 minutes maximum time allotted, Maximum 3 minutes per person

Adjournment - Next Meeting November 18th, 2010.
Information and Documents
Copies placed in http://www.legeros.com/ralwake/photos/weblog/wcfc/2010-09/
READ MORE
+ 9 - 1 | § ¶
Historic Mill Building Burns in Randolph County
FireNews has posted a story about a historic mill building in Randolph County that burned on September 3. The Franklinville Manufacturing Company building at 1306 Andrew Hunter Road in Franklinville was also known as the Old Franklinville Mill. The abandoned structure was fully involved on arrival of Engine 82. Other departments on scene included East Side, Staley, West Side, Climax, Ulah, Seagrove, and Liberty. They also have a link to additional images also posted by FFD.
This MyFox8 story notes that the mill closed in 1978 and was purchased by the Randolph Heritage Conservancy in 1994. They were hoping to turn same into an attraction. Citing this Notes on the History of Randolph County, NC web site, the story says the building was built in 1938. Looks like the manufacturing company dated to the 1830s. Google also finds this neat page about Historic Mills on the Deep River in North Carolina.



Pete Sulzer/FireNews photo
+ 6 - 4 | § ¶
This Week's Deja Vu
Lee Wilson took the top photo at 5010 Second Street, at Wednesday's haz-mat incident at a commercial building off Old Wake Forest Road involving a reported acid leak in a battery room. Dispatched about 12:30 p.m., with some companies responding from the haz-mat drill in Garner. The entry team had no readings. No injuries. Units on scene included E9, R1, HM1, SR2, A1, B1, B2, B3, C2, C71, EMS 7, EMS 2, EMS 11, M93, D3. See more pictures.
Mike Legeros took the bottom photo at the same location in April 2008. If memory serves, units were on scene for the same reported problem. See those photos, which are considerably duller than Lee's. Must have been an overcast day. Or just a less adept photographer. Both were "B" shift days. What are those odds? After extensive paper calculation, we compute the chances of "B" shift working on a given day in a given year as 33.33%. Next up, converting that value to a fraction. We'll work on that.



Lee Wilson photo

Mike Legeros photo
+ 9 - 3 | § ¶
North Carolina Rescue College, 1977
From Emergency Medical Review, October-November 1977
A Four Year Rescue College
In today's academic world, a person can acquire a degree in most any category he or she desires.
Probably few of us realize that there exists a four year college totally dedicated to perfecting rescue techniques and skills.
Founded in 1962, the North Carolina Rescue College has instructed over 3,500 individuals. Of that number, over 450 have successfully graduated, some going on to acquire their "master degree."
However, don't make the mistake of thinking that this particular college is restricted to North Carolinians. Just as a public university accepts students from all parts of the continent and world, so does the N.C. Rescue College.
Over the past 13 years, regular participation has been made from the states of Ohio, New York, Pennsylvania, Maryland, Virginia, Tennessee, South Carolina, and Georgia. Occasionally a visitor from Canada will drop in for a session.
READ MORE
+ 5 - 3 | § ¶
This Weekend's Events
Sep 18 - Saturday
Durham Highway FD - Public Safety Day - Leesville High School - 10:00 a.m. to 3:00 p.m.
Rolesville Public Safety - Hot Pick'n Finger Lick'n Barbecue & Bands - Sonic Drive In - 2:00 p.m. to 8:00 p.m. - Public safety members cooking pig, chicken, and ribs in competition.
Others?
+ 6 - 6 | § ¶
Props at Twilight
Here's a high-dynamic range (HDR) image of a sunset on Garner Station Boulevard, and featuring the props from this week's big honkin' haz-mat drill. The third and last day starts tomorrow. Drill pics from Lee Wilson forthcoming. This picture was made with a Canon Digital Rebel XT saved as Canon RAW, and converted to HDR using PhotoMatrix Pro 3.0. Click once or twice to enlarge.


+ 7 - 4 | § ¶
Vintage Photo of Station 14
Here's a picture from a few decades prior of Station 14, as scanned from a 35mm slide. The engine is a 1951 American LaFrance 700 Series pumper, registration number L-4433. Served as Engine 14 from 1974 to 19741975. The Plymouth chief's car is a model year between 1968 and 1975. The fire department had them for the model years 1968, 1970 (2), 1971 (2), 1972 (2), and 1975 (2). Click once or twice to enlarge:


+ 5 - 8 | § ¶
Don't Forget Your Apron
That's Station 14 on Lake Boone Trail. The aprons at Station 3 on East Street, and Station 4 on Northway Court, are about done. As noted in another thread, Rescue 3 is temporarily housed at Station 6.


+ 3 - 6 | § ¶
Watching the Watchmen
Discussion topic for your consideration. Taping the police. Here's a Washington Examiner posting presenting a Cato Institute video on the subject, found this week while reading Drudge. Other opinions and perspectives are also easy to find. The digital age has brought photography and videotaping of public servants pretty far into the foreground.
What do readers think? Law enforcement uses taping to enforce laws. Should citizens use taping to enforce [adjective] law enforcement? Note the intentional addition of [adjective] in the last sentence. For some people, [adjective] might be "effective." Others might say "appropriate." Others might opt for "legal."
Here's a notable quote from the above article, citing an earlier Examiner editorial that wrote "those who record police frequently are 'more of a threat to the jobs of public safety officers than to public safety itself. One is not the same as the other'."
What does the law-enforcement community think? What's the impact of taping on the performance of their duties, and, in particular, during confrontations and arrests? (Both the physical presence of the camera, and the impartial record created from same?)
Discuss as desired.1
1The title of this posting is derived from the Latin phrase Quis custodiet ipsos custodes? by the Roman poet Juvenal, which is literally translated as "Who will guard the gaurds themselves?" And which is also rendered as the more familiar "Who watches the watchmen." Yeah, had to look that all up. Watchmen is also the title of a 1986-87 comic book series that's perhaps finest in modern times.
+ 8 - 5 | § ¶
Mystery View
That's the Big House. Raleigh's Central Prison. But where was this picture taken from? Four sides to choose from, and numerous variations therein. Kids, stay out of jail. Click to enlarge:


+ 8 - 4 | § ¶
Searching For Evidence
Today's News & Observer includes this strong photo by Shawn Rocco, showing Raleigh police officers searching for evidence after Monday night's fatal shooting on Crabtree Boulevard. Great composition and detail, and taken at night no less. Read the story.



Shawn Rocco/News & Observer photo
+ 8 - 10 | § ¶
New Hanover County Votes to Consolidate Fire Departments
Last week, commissioners in New Hanover County approved a plan to consolidate the volunteer Castle Hayne, Federal Point, Myrtle Grove, and Wrightsboro fire departments under county control.
They'll be merged with New Hanover County Fire Department, as this Star-News story reports, with paid firefighters plus volunteers at each station. The transition starts October 1. The plan had been hotly debated for months.
FireNews also found this WWAY story, which includes reader reactions. Here are some earlier blog posts on the subject, from June 29 and May 11. Also see this NHCFD web page, with documents for download about the consolidation plan.
+ 5 - 6 | § ¶
Big Haz-Mat Drill This Week
As this city press release notes, the Raleigh Fire Department, Garner Fire Department, Fayetteville Fire Department (their regional response team), Wake County EMS, Wake County Emergency Management, and Raleigh Police Department are participating in a three-day haz-mat exercise beginning September 15.
Sponsored by the North Carolina Division of Emergency Management, the full-scale drill will be held behind the former Wal-Mart at the intersection of Garner Station Boulevard and Highway 401. The exercise is designed to test first responder readiness for handling a mass casualty and hazardous material event.
The drill will involve a mock traffic accident involving a Capital Area Transit bus, a fuel tanker, and a construction vehicle. It begins at 10:00 a.m. and ends at 4:00 p.m. each day.
Here's more information on the state regional response teams, not included in the press release. Raleigh (RRT4) and Fayetteville (RRT3) operate two of the seven teams. For extra credit, identify the date and place of the stock photo shown below.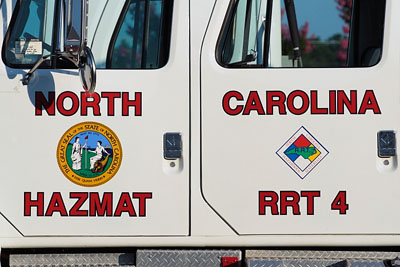 + 6 - 3 | § ¶
Another Vacant Home Burns in Clayton
As this WRAL story reports, it's the eighth suspicious fire since October. Two of those fires also occurred in the Glen Laurel area, where this morning's fire damaged a vacant home at 45 Middlecrest Way. The fire is being treated as suspicious, because of the early hour that it started. The house was under construction, and which was the case of many of the prior fires. Police are offering over $10,000 for information that leads to locating those responsible.



Stacy Davis/WRAL photo
+ 5 - 2 | § ¶
Emergency Pole
The identifying marking band's still present, as is the wiring conduit. Gone is the emergency call box, which was retired in 2007, correct? How many were left at that time, anyway?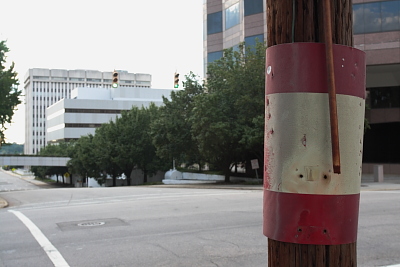 + 6 - 3 | § ¶
Tanks For The Memories
Firegeezer offers the day's best discussion topic: firefighting tanks in the former Soviet Union, and why the heck are they building them? Extraordinary surplus of armored vehicles? Restless automotive engineers? Frequent conflagrations? Whatever the reasons, read his thoughts and then tool over to the web site on said topic. Those dry-chemical cannons in particular are something else!


+ 5 - 4 | § ¶
Increasing Your Suction
Or the alternate title of this posting, How to Suck More. Tired of your wimpy Garmin GPS windshield suction mount giving up the ghost every time there's global warming inside your car? Kick sand in the scrawny thing's face with this baby, a Bracketron Universal Low-Pro Windshield Mount. The Mr. Atlas of mounts. Get 'em anywhere. Twenty bucks. The thing has a bigger cup size, which is pretty exciting unto itself. Then there's the ratcheting lever, which produces some seriously strong adhesion. Suck it and forget it. Ten points extra credit if you can identify the mystery parking location of the Blog Mobile.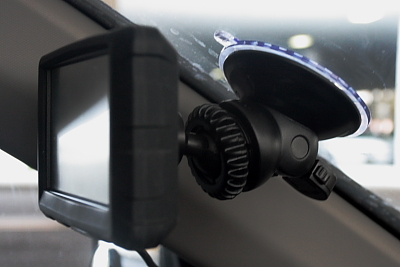 + 5 - 4 | § ¶
Remaking Crabtree
Good article from Midtown Raleigh News on the city's plans on remaking the roads around Crabtree Valley Mall. They suck, and this exceptionally interesting report tells how they could be made better. Notable highlights are the appendix design maps, and hilarious comments from survey participants.
Highlights of the proposal include extending Crabtree Valley Avenue from Creedmoor to a new Beltline exchange, and routing Ridge Road from the Beltline bridge to Glenwood Avenue. Will be hell during construction, of course.
Click once or twice to enlarge this rendering of what everything would look like by 2035.


+ 7 - 3 | § ¶
One Sweet Ride
Here's a beauty. 1972 Plymouth Fury recreated as vintage New York City police cruiser. Read the Sunday Times article.



Tony Cenicola/The New York Time photo
+ 10 - 5 | § ¶
Moment of Silence
Broadcast on Headquarters at 9:59 a.m. Attention all stations and all personnel. At this time, please observe a moment of silence in remembrance of all victims of the attacks on September 11, 2001.


+ 5 - 5 | § ¶
Before And After
Granville Health System paramedic ambulance displays a lively livery outside a sign shop on Pleasant Valley Road in northwest Raleigh. See prior thread for more information.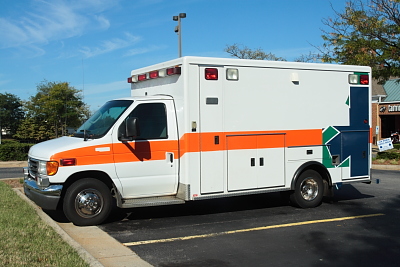 + 6 - 3 | § ¶
Mystery Vehicle
Here's your ambulance conversion picture of the day. Where's this mobile service unit slash rolling billboard sitting? You probably pass it every day. Click to enlarge:


+ 8 - 1 | § ¶
Big Fires on All Sides
California, Michigan, Maryland. Big fires this week. Dave Statter's had great coverage of all three. We'll go west to east. Natural gas transmission line ruptures in suburban neighborhood outside of San Francisco last night. Over 50 homes destroyed. At least three killed and injured. Happened in early evening, which means sunset, which means amazing photos, as you'll see in the New York Times coverage of same. One is shown below.
Baltimore had a trio of multi-alarm fires on Wednesday night. Mutual aid responded from everywhere, including Washington, DC. That's the first time the capital's sent support since the Great Baltimore Fire of 1904. Equally compelling are the comments, which range from commentary on the department's staffing issues to training/experience level disparities among assisting departments. Also visit the Baltimore Watch Desk for added effect.
Detroit firefighters fought almost 100 fires on Tuesday. High winds blowing and power lines falling equaled dozens of fires in a four-hour stretch. Toward the end, DFD reached out for aid. Said one official in one news report, that hasn't happened since the riots of 1967. The city also shuts down eight or nine of their 65 companies each day. Can't find a total of structures burned. Appears to be dozens. That's one tough town.
Great coverage by Statter.


Peter Dasilva/European Pressphoto Agency/New York Times photo
+ 6 - 4 | § ¶
Observing September 11
The Raleigh Fire Department will observe a moment of silence at all fire stations at 9:59 a.m. on Saturday, September 11. The time reflects the collapse of the South Tower at the World Trade Center on September 11, 2001.
Personnel and apparatus will be positioned on station aprons at 9:55 a.m, and activate warning lights on all units at 9:58 a.m. One minute later, a general alert tone and announcement will advise stations and personnel to observe a moment of silence. Personnel will stand at attention for one minute.
What other formal events are scheduled this weekend for observing the events of September 11, 2001?
+ 7 - 3 | § ¶
Fire Commission Meeting Notice, September 23
The Wake County Fire Commission holds its next meeting in another week. This is the first meeting in four months, as the July meeting was canceled. Note that this date is different from the previously scheduled date. It was changed to avoid conflicts with other meetings. Agenda and handouts forthcoming as available:
Thursday, September 23, 2010
7:00 p.m.
Wake County EMS Training Facility
Commons Building, Lower Level, 4011 Carya Drive.
+ 3 - 6 | § ¶
Today's Haz-Mat Call in Cary
Chemical explosion at 2700 Gateway Centre Boulevard. Employee in laboratory mixing chemical compounds, say news reports. No injuries. Minimal interior damage. Most occupants self-evacuated after the explosion. The rest of the building was vacated after fire units arrived. Raleigh haz-mat team requested, and a full haz-mat assignment subsequently dispatched. Alarm time about 2:05 p.m. Units cleared some hours later. Photos by Legeros (below) and Lee forthcomnig.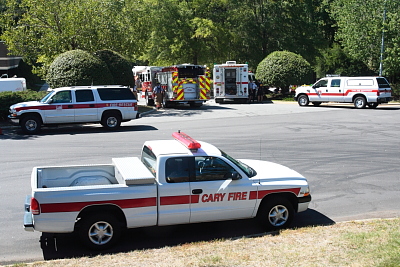 Let's see if we can cover all units on scene.
Cary
E1, L7, B1, which was Incident Command.
B2, Car 5, Car 20 (Safety Officer)
L1, special called
Who else?

Raleigh
E14, E8 (which responded with SR2), L7 (which also responded with Decon 1), R3, B3, B4, A1, HM2 (operated by E15)
E14, R3, B4, A1 returned while en route
Car 71 (Haz-Mat Coordinator)
Any others?

Medical
EMS 54 (Cary), EMS 41 (Apex), EMS 1, EMS 8, D5 (Cary), D2, M92, M94, MD-20, big ol' Truck 1

Other Agencies
Wake County Fire Marshal
Wake County Emergency Management
Wake County Sheriff's Office
+ 8 - 3 | § ¶
Wake County Fire Stations Silence Sirens
Reports this WRAL story, all volunteer fire departments still using sirens at their stations have been asked to stop, as of September 2. The decision by county officials impacted Fairview (shown below), Rolesville, and Swift Creek fire departments. (And others?) The sirens have been deemed a nuisance to some, the story notes. Thus the decision to silence all stations. They'll be missed.
Though radios and pages may rule the modern day, there's nothing like the sound of a siren starting its cycle. Might scare the p@ss out of someone standing close. But just as quickly as you might get startled, you start getting excited. Hopefully they'll still blast their horn in Garner for the start of Fireman's Day parade next month.


+ 6 - 3 | § ¶
Roadside Haiku
For your Thursday reading, here's something fun from the New Yorker web site. Bandit signs. Those are those tacky roadside advertisements that advertise such popular services as making money fast, losing weight easily, and removing hair painlessly. You see them on utility poles everywhere. In Atlanta, artist John Morse installed 500 of his own signs. The twist? They're written in the form of a haiku, that traditional Japanese poem that results in 17 syllables when written in English. Art as social commentary. Pretty amusing. Read the entire story.



New Yorker photo
+ 8 - 4 | § ¶
Urban Tornado
CNN posted this footage of a tornado forming and striking an industrial section of Dallas. We've all seen ample footage of twisters in farm land. Here's what it looks like in an urban setting. Wow.


+ 5 - 5 | § ¶
Cary Fire Department Recognized For Excellence Worldwide
How's that for a headline! The Cary Citizen reports this week that the Cary Fire Department has been again granted international re-accreditation by the Commission on Fire Accreditation International (CFAI). In June, notes the article, a peer review team conducted an evaluation of the fire department on site, inspecting "every aspect of Cary's fire program, including governance and administration, assessment and planning, goals and objectives, financial resources, programs, physical resources, human resources, training and competency, essential resources and external system relationships." CFD was first accredited in 1999, and last re-accredited in 2005. They're one of only 148 fire/rescue agencies in the world with that status. Read the entire article.


+ 8 - 2 | § ¶
Carrboro Opens Station 2
This Durham Herald-Sun article reports that Carrboro Fire Department opened their second fire station Tuesday. Located north of town at 1411 Homestead Road, the $3 million facility will house an engine company with four firefighters. The two-bay building was built on land donated by the University of North Carolina at Chapel Hill. They've leased the lot to the town for 99 years at one dollar per year. The station, which has been 30 years in the making, is equipped with two apparatus bays, a training room, an exercise room, a day room with cushioned chairs (of course), bedrooms, kitchen, and a small patio with picnic table and outdoor grill. Read more, or learn about the Carrboro Fire Department.



Christine T. Nguyen/Herald-Sun photo
+ 5 - 5 | § ¶
Brighter Lights
No, you're not imagining things. The bay lights in your neighborhood Raleigh fire station really are brighter. They consume less but produce more, and are welcome additions to the previously darker spaces.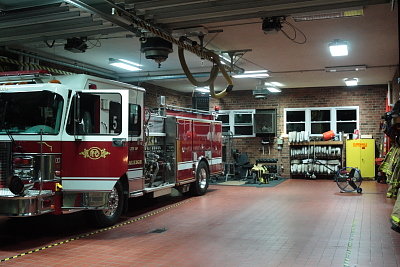 + 5 - 3 | § ¶
Old 'Scope Serving Well in Barnwell
Our friends in Barnwell, SC, pass along photos and an update on Raleigh's old 1977 Mack/Baker aerialscope that they purchased in 2007. The truck's in service and is stored in a special building they built. Since receiving, they had some minor hydraulic work done, replaced the threaded connections to the waterway, and cleaned and re-greased the boom. They've had the paint matched for touch-ups, and are awaiting some work before lettering the rig. With their budget year starting in October, more work is planned.
The truck is designated Tower 101 and carries six SCBAs with spare cylinder, confined-space rescue equipment, rope rescue equipment, positive pressure ventilation fan, two chain saws, forcible entry tools, a generator and lights, etc. They've got a new generator waiting installation, upon completion of a pull-out tray, to replace the old generator. They report that the truck is working well, and has responded upon several calls. One worker to date, when they flowed through a vent opening atop a plant building being salvaged. The truck is also used to fly the flag shown below, as was photographed on September 11 last year. It will fly again this year.
Barnwell is the county seat of Barnwell County, in the southeastern part of the state. Their population was 5,035 in the 2000 census, and their size is 7.8 square miles. The fire department is a combination department with 27 suppression members including a paid staff of four, which consists of a Fire Chief and three Engineers. They operate three engines, the tower, a service truck, and three special-response trailers. Visit their web site. Click the first three photos to enlarge:


+ 6 - 6 | § ¶
Macks at the Civic Center
Speaking of the city's old Mack CF pumpers and platform, these photos are worth presenting. They were taken in August 1977, which was a couple months after the aerialscope was delivered. The Civic Center was also completed that year, and perhaps the picture was made to commemorate both the building's completion and the expanding fleet of Mack fire apparatus. No photographer credit, though it may have been arranged through the Public Affairs office. Seems that I recall seeing similar shots in their collection of photos from that period. The pictures were scanned from small snapshots. Maybe negatives or slides will surface some day. Click to enlarge:

+ 7 - 3 | § ¶
Ferry Versus Yacht
WTVD has posted a couple photos of Saturday night's collision between the Ocracoke Island ferry Carteret and the 35-foot yacht Tony C. Two crew members and two canines were removed from the yacht, and assessed by medical personnel. They received no serious injuries. This WITN story has additional information as well.



WTVD/USCG photo
+ 10 - 7 | § ¶
Matchbox Colet K/30 Jaguar
Here's the least expected mass-market die-cast fire apparatus model of all time, a Matchbox Real Working Rigs replica of a Colet K/30 Jaguar airport crash truck. Yup, that's a real rig, albeit one that looks straight from a science-fiction film. Read about the real thing, which is equipped with a 1000-1500 GPM pump and a 2000-3000 gallon tank. Now appearing in local stores. Click to enlarge:


+ 5 - 9 | § ¶
Tenable Rescue
For your Labor Day discussion, watch this video from Houston1. Two-year old footage of a what looks like a fully-involved residential structure. Engine and ladder arrives and hears a man screaming for help in the back room.
They make the rescue, through wall-breaching and with suppression withheld to keep heat and steam off the victim. He was located and removed from the house, and recovered after receiving only minor burns and smoke inhalation.
For your discussion consideration, can this incident be related to residential fires typically seen in our area? How do you evaluate the tenability of rescue in such situations? What training do you do, or can you do, to these (extreme?) cases?
1While visiting that video site, however, you should probably refrain from clicking on the advertising link for meeting women in your area. Well, at least at work!
+ 11 - 3 | § ¶
Raleigh's Macks, Where Are They Now?
Next question, where are Raleigh's Mack CF engines these days? Let's go down that list. See this apparatus register for pics and more information. Numbers are last four digits of serial number. Those sold as scrap were last seen parked outside the training center. They were the workhorses.
1970 - #1168 - E15 at 1/E13/E14/E30 - Sold ? For sale in Florida on eBay in 2004.
1970 - #1169 - E1/E5/E31 - Sold as scrap 2002.
1971 - #1255 - E?/E7/E32 - Sold ?
1973 - #1593 - E4/E19/F12/F26/? - Sold ?
1973 - #1594 - E5/E10/? - Sold ?
1973 - #1595 - E9/E18/? - Sold as scrap 2002.
1973 - #1596 - E3/E8/E15/E34 - Sold as scrap 2004.
1975 - #1767 - E11/E21/E32/E106 - Sold ?
1975 - #1768 - E2/E35/E101 - Sold 2004 to Knightdale PS. Still on roster.
1975 - #1769 - E6/E30/E37 - Sold as scrap 2004.
1975 - #1770 - E12/E36/T112 - Sold as scrap 2004.
1978 - #2004 - E16/E30/E102/E23/? - Refurbished by Pierce 1992. Sold 2005 to Four Oaks FD in Johnston County.
1981 - #2175 - E13/E17/E19/E23/E24/? - Sold 2005.
1982 - #2197 - E1/E20/E25/E105/E125 - Still owned by department, part of antique fleet.
1982 - #2198 - E3/E9/E14/E21/E31/E103/E123 - Sold 2008. Bought by apparatus recycler in Wisconsin.

+ 8 - 3 | § ¶
Raleigh Ladders, Where Are They Now?
Question from a reader, does anyone maintain a list of where Raleigh apparatus has ended up, after removed from service from the city? In particular, the aerials? Yours Truly has kept an occasional eye on such information, but needs to compile things in a ready format. We'll work on that. Such as additing to our apparatus register. For now, let's see if we can track the former ladders and towers:
+ 18 - 12 | § ¶
Extra Alarmer, Minneapolis Fire Department, The Thanksgiving Fire of 1982
There's a nifty newsletter that's published by the Extra Alarm Association of the Twin Cities. Called The Extra Alarmer, it's a 12-page piece in black and white, that's published every other month. They've been publishing for over 28 years. Learn more, and see a sample issue. I've been subscribing for a few years now, and it's a great for staying in touch with happenings in my hometown.

In the latest issue, Co-Publisher Steve Skaar continues his recollections of 50 years of fire buffing with memories of the Minneapolis Big One, AKA the Thanksgiving Day Fire of 1982. Here's hopefully a coherent summary of what happened, from Skaar's account, Google News Archives, and other sources on the web.
November 25, 1982. Thanksgiving Day. Just after 5:00 p.m. Minneapolis Fire Department dispatched to Box 110 Bravo, at former site of Donaldson's department store, six stories and under demolition. One-third of the structure is still standing. Engines 10, 6, 1, Ladders 1, 11, and Battalion 1 on the initial dispatch at 17:06 hours.
Arrive units find what Skaar describes as a "huge outdoor debris fire" that's burning into the remaining sections of the Donaldson's structure. That building is adjacent to the 16-story Northwestern National Bank building. The three engines "each dumped their tanks through their deluge pipes" as crews worked to connect to the nearby hydrants. Seven minutes, a second alarm is called, as crews aren't able to knock down the flames. Two engines and third ladder are dispatched, along with another Battalion Chief, the Deputy Chief, the Mobile Command Post, and the salvage unit.


Wells Fargo Museum
READ MORE
+ 6 - 4 | § ¶
Raleigh Hiring For Firefighters
The city is again hiring for firefighters. The position of Firefighter-- #143-10 and with a salary of $32,673-- was posted this past week and closes October 22. Here's the job posting on the city web site, along with information on the seven step recruitment process.
You can download the employment application, or get one at locations including any Raleigh fire station, the Keeter Training Center (105 Keeter Center Drive), or the Personnel Department office (222 W. Hargett Street). And be sure to follow the required instructions.
There's also an advertisement in today's News & Observer classified section that repeats the above information, and notes that a pair of open houses are scheduled in the coming weeks.
On Sunday, September 19, and Sunday, October 10, and from 1:00 p.m. to 4:00 p.m. on both days, all Raleigh fire stations will hold open houses for people interested in learning more about the fire department. As noted above, they can pick up employment applications as well.
Also note that the Keeter Training Center will be open on four Saturdays, from 9:00 a.m. to 12:00 p.m., to accept applications: September 25, October 2, October 9, and October 16.
Today's classified advertisement also notes that practice sessions for both the physical agility test and the written Reading Comprehension Test (RCT) will be held in November at the Keeter Training Center. Dates and times are November 10-13, from 8:30 a.m. until 3:00 p.m. Participation in these practice sessions is strongly encouraged.
What else should we mention? Once employed, firefighter candidates attend a six-month recruit academy that teaches skills in firefighting and emergency medical care, to put it simply. After graduation, they're assigned to a fire station, and an engine or ladder company. And the adventure and career-long continued learning begins.
Good luck to everyone!
+ 8 - 7 | § ¶
Campus Fire Safety Community Service Project Launches in Chapel Hill on Thursday, Sep. 9
North Carolina Governor Bev Perdue is scheduled to join the Michael H. Minger Foundation, North Carolina family members of students who have been killed in campus fires, students, university and fire officials in Chapel Hill on Thursday morning to kickoff a national campus fire safety community service project.. The location is the Phi Gamma Delta Fraternity House at 108 West Cameron Avenue, site of the fire that killed five students and injured three on Mother's Day in 1996.
Students from North Carolina colleges and universities will partner with local fire departments, and go into their communities and help with projects to improve fire safety for senior citizens, children, low-income residents, and students. The event coincides with National Campus Fire Safety Month. Read more from this social media release, which my automatic Google alert on "Raleigh Fire" found. Guess we'll see coverage in the news this week.
Event information:
Thursday, September 9, 2010
10:30 a.m. to 11:00 a.m.
Phi Gamma Delta Fraternity House
108 West Cameron Avenue
Chapel Hill, NC 27516
Scheduled speakers include:
Gail Minger, president of the Michael H. Minger Foundation. Mrs. Minger lost her son, Michael, in an arson fire in 1998 in a residence hall at Murray State University in Kentucky.
Bev Perdue, North Carolina Governor
Dan Jones, Fire Chief, Town of Chapel Hill
Bonnie Woodruff, parent, who lost her son, Ben, in the fire at the University of North Carolina's Phi Gamma Delta Fraternity House in 1996.
Kinsey Pilkington, family member, who lost his brother, Cody, in an off-campus fire in Raleigh in 2005. Cody was attending North Carolina State University.
Participants include representatives from:
University of North Carolina
Chapel Hill Fire Department
University of North Carolina at Greensboro
Greensboro Fire Department
Raleigh Fire Department
Wake Forest University
Winston-Salem Fire Department
North Carolina Office of the State Fire Marshal
University of North Carolina at Charlotte
Michael H. Minger Foundation
North Carolina family members of students killed in campus fire
Other university and fire officials.
+ 5 - 6 | § ¶
Tarboro Hand Engine
At least three dozen hand engines have served in the Old North State, from a pair of British-built engines delivered to Salem in 1785, to the Howe hand pump delivered to Smithfield in 1906. Precious few appear to have survived, but this beauty's on display at Tarboro Fire Station 1.
Pulled and powered by hand. Make, model, and year are unknown. 'Twas photographed on a day trip to tour the town's large historic district. Were Mr. Blogger thinking straight, he would have looked at little closer, and seen if he could see a manufacturer's plate. Or maybe the thing was local- or shop-built?
Sanborn Fire Insurance Maps indicate that the town had a hand engine by 1886. Is this the same one? Perhaps an intrepid reader can assist with additional information. Click once or twice to enlarge:


+ 5 - 5 | § ¶
Mystery Object
What the heck is this thing, as seen street-side in downtown Tarboro today, on an older building and about three-feet above the ground? Click to enlarge:


+ 8 - 3 | § ¶
Caption This Photo
Seen in the parking lot of a sign shop and other stores on Pleasant Valley Road in Raleigh. That explains why we've seen other ambulances getting labelled at that location. Because there's a sign shop there. Duh.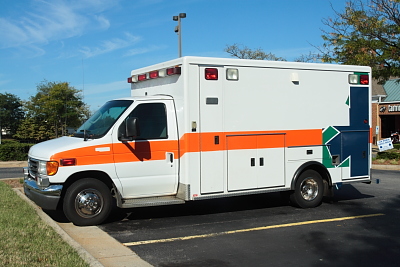 + 7 - 3 | § ¶
Ladder 1 and Station 16
First Saturday of the month means equipment inspections. That's Ladder 1 getting cleaned at Station 16, relocated for a few weeks during apron work at Station 4. Not the kind worn in the kitchen. Quick, recite the ladder numbers and station locations from memory! No peeking on Mike's web site. Next question, where's the mini-pumper been moved too?
Next question, can this photo be made at any other fire station? Not necessarily. Station 16 faces east, which makes for perfect lighting about mid-morning. There are no trees to cast shadows, either. Station 11 has quite the foilage, for example. Even apron length factors into the equation. There's enough room for the ladder and engine to park in staggered fashion. Can't do that in front of, say, Station 1. Click to enlarge:

+ 8 - 4 | § ¶
This Afternoon's Second Alarm in Cary
Two alarms at 607 E. Chatham Street. Engine 2 arriving at a one-story, wood-frame, six-unit, residential motel, with 2,400 square-feet. Harrison Motel, built 1950. Heavy fire in single unit, with extension to adjoining units. Second alarm requested within minutes. Interior operations with vertical ventilation. Staging on East Chatham Street, with three of four lanes closed by police. Rehab and medical monitoring street-side. Dispatched just after 6:00 p.m. Controlled in about 30 minutes. Units on scene included E2, E1, E3, E4, L1, L3, T6, R2, B1, B2, Western Wake P196 P191, EMS 54, EMS 53, D5, WC1. Photos forthcoming.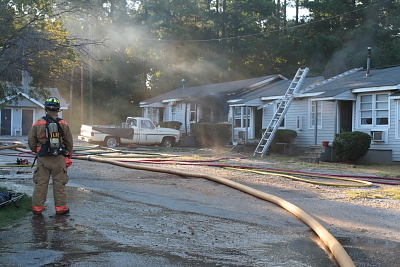 + 7 - 4 | § ¶
1985 American LaFrance at Millers Creek
Photographer Lee Wilson's on the road this weekend. Forecast calls for sunny apparatus photographs, and other attractions as found in western North Carolina. Here's a nice-looking 1985 American LaFrance at Millers Creek Fire Department in Wilkes County. See more photos from Lee. Click to enlarge:


+ 8 - 4 | § ¶
Dodged Bullet
Take a shot every time someone says that phrase when talking about Big Earl, and the storm's passage to the east of the Outer Banks. Now New England's on high alert. And another storm is churning in the Atlantic. That one's named Fiona. Another crazy name.



+ 6 - 2 | § ¶
Airport - The Movie
Friday fun. Here's another motion picture flashback to the days of all-star disaster movies. These are the opening credits from Airport, which was released in 1970 and adapted from the bestselling 1968 Arthur Hailey novel. The film is set in Chicago, follows operations at a Chicago airport. There's also a parallel plot involving a passenger who wants to explode a bomb in-flight on a Boeing 707.
We'll start with this nifty release poster, courtesy of the Wikipedia article. Then there's this trailer below, which is an absolute howler. Notice the footage of landing gear at the beginning? That's a B-52 bomber! Calling Dr. Strangelove!

Much of the filming for Airport was done in the familiar Minneapolis-St. Paul International Airport, which was a favorite attraction of moi as a youth in the Twin Cities. Any visit to the airport or even the general vicinity was cause for excitement.
The opening credits for the film are particular exciting, due to (a.) vintage footage of heavy equipment clearing snow and (b.) the exciting main theme by composer Alfred Newman. What a great, rousing, classic-style movie theme! He died before the release of the film, and received a posthumous Oscar nomination, his 45th and a record to date tied with John Williams, for most nominations received by a composer. Enjoy these credits, as well as the first few minutes of the film:


+ 6 - 3 | § ¶
Hula Hoops on Morgan Street, Updated
In the interest of public safety and preventing mass aggravated eye strain among the local emergency responder community, the following posting has been updated with an additional photo. This blogger stands ready to moderate passionate discussion on this incident, including anonymous speculations on the person shown in the foreground and their choice of bikini color therein. Thank you.
Easily the most curious sight recently seen at a fire scene, this bikini-clad hula hooper did some sidewalk spinning earlier this evening beside apparatus parked on Morgan Street. That's District 1 and Air 1 behind the twirling whirler. Or is it a whirling twirler? Units were on scene at a structure fire at the intersection of Morgan and Whitley streets. Trash was discovered burning inside an abandoned warehouse.
After forcing entry, crews quickly extinguished same. If memory serves, ventilation was underway at the time of this photo, after a boarded window was cut open on the building's south side. There's also a second hula hooper not shown, and to the left of the frame. Street clothes on that one. Dispatched about 9:30 p.m., units on scene included Engine 5, Engine 13, Engine 1, Ladder 1 Ladder 4, Rescue 2, Battalion 3, Car 10, Car 20, Air 1, EMS 63, District 1. Pictures forthcoming, including maybe another hula shot. Click to enlarge:


+ 4 - 3 | § ¶
Fall Events, Updated
Here's what's happening in the next couple months. Thanks for the comments on the previous version of this topic, which has been deleted. Post or mail corrections or additions to this as desired.
Sep 3 - Fri
Wake County Emergency Management Warehouse Open House, for public safety employees - 10:00 a.m. to 7:00 p.m.
Sep 7 - Tues
Wake County Emergency Management Warehouse Open House, for public safety employees - 10:00 a.m. to 7:00 p.m.
Sep 11 - Sat
50-210 FD (Johnston) - Fireman's Day - Station 1- 10:30 a.m. to 10:00 p.m.
Brassfield FD (Granville) - BBQ Chicken and Pork Cook
Epsom FD (Franklin) - Fireman's Day
Tunnels to Towers 5K Race - Wake Forest - 6:00 a.m. Registration, 8:00 a.m. Race Time
Sep 13 - Mon
Wake County Emergency Management Warehouse Open House, for public safety employees - 10:00 a.m. to 7:00 p.m.
Sep 18 - Sat
Durham Highway FD - Public Safety Day - Leesville High School - 10:00 a.m. to 3:00 p.m.
Sep 25 - Sat
Warrenton FD - Fireman's Day
Sep 26 - Sun
Stony Hill FD - Open House and Fire Prevention Day - Station 1 - 2:00 p.m. to 5:00 p.m.
Selma FD - Dedication of New Apparatus - 1:00 p.m. until whenever
Oct 1 - Fri
Oct 2 - Sat
Oct 3 - Sun
Bay Leaf FD - Open House - Station 1 - 1:00 p.m. to 5:00 p.m.
Oct. 9 - Sat
Creedmoor FD - Fireman's Day Parade and BBQ Fundraiser - 3:00 p.m. parade, followed by meal at South Granville High School
Parkwood FD - BBQ Cook-Off - Station 1 - 12:00 p.m. to 7:00 p.m.
Oct. 23 - Sat
+ 7 - 5 | § ¶
Too Fat to Fight
Saw this this week from the New York Times, which was writing about the Army's new physical training program. They've spent nearly a decade making the thing, which was rolled out to five posts that handle 145,000 recruits per year. The official goal of the program is to reduce injuries, and better prepare soldiers for combat in rough terrain, such as Afghanistan. It's also an attempt to address a big honkin' problem facing today's military: overweight and unfit recruits.
Reported a report titled "Too Fat to Fight," the proportion of potential recruits who failed their physicals each year rose nearly 70 percent between 1995 and 2008. They cite the cause as a "legacy of junk food and video games, compounded by a reduction in gym classes in many high schools," writes the Times. The article talks about the new fitness routines, which are intended to reduce injuries such as stress fractures, and more accurately reflect the physical activities they'll actually perform in combat. Wow, what a concept.
Read the article, and discuss as desired.
In particular, how's the fat factor affecting fire service recruiting? What modifications or revisions have you seen to fire department physical training problems?