+ 17 - 9 | § ¶
Updated - Mass-Casualty Incident, 1977
August 31, 2014
Learned today that the old Royal Villa Hotel (and conference center) is the site of the current Providence Baptist Church at 6339 Glenwood Avenue. You know, the high-rise hotel complex that looks like a government bunker, but with a giant cross on the side? (Always pictured that MCI story taking place farther out toward the airport. But recall, the 6300 block of Glenwood Avenue was once the city's western edge.)
Built in 1972, say tax record. The front section is one-story with 46,640 feet. Reinforced concrete construction. The rear is a six-story high-rise with 160,762 square-feet. Sold to the church in 1991, it appears. Cost $2.6 million. Current value is $16 million. Overflow parking next door on the site of the old Waffle House. Click to enlarge:


February 13, 2010
While we await the final details on this morning's mass-casualty incident in downtown Raleigh, let's look back at the summer of 1977. On the afternoon of Thursday, June 30, as many as 200 people became sick from apparent food poisoning at the Royal Villa Hotel on Highway 70, west of Raleigh. They were attending a national garden club convention, and had had lunch a couple hours earlier at Meredith College. A private lounge lounge at the hotel was turned into a makeshift medical facility, as area ambulances and rescue squads were rushed to the scene.
READ MORE
+ 8 - 8 | § ¶
Another Aerialscope in N.C. - Cleveland Fire Department
In our prior posting about Holly Springs new Aerialscope, readers offered comments on others around our state. Here's another to add to the list, Ladder 45 from Cleveland Community Volunteer Fire Department in Rowan County. It's a 1993/1978 Mack/Baker Aerialscope that originally served FDNY as Ladder 54 in the Bronx. It was purchased by Westbury FD on Long Island in 1992, and had a full refurbishing in 1993. The truck served at Ground Zero with WFD days after September 11, 2001. Thanks to reader Greg Summit for sharing the photo. Click to enlarge:


+ 8 - 8 | § ¶
Another Aerialscope in N.C. - Cleveland Fire Department
In our prior posting about Holly Springs new Aerialscope, readers offered comments on others around our state. Here's another to add to the list, Ladder 45 from Cleveland Community Volunteer Fire Department in Rowan County. It's a 1993/1978 Mack/Baker Aerialscope that originally served FDNY as Ladder 54 in the Bronx. It was purchased by Westbury FD on Long Island in 1992, and had a full refurbishing in 1993. The truck served at Ground Zero with WFD days after September 11, 2001. Thanks to reader Greg Summit for sharing the photo. Click to enlarge:


+ 11 - 4 | § ¶
Former Fire Departments of Buncombe County
One of the reasons I'm excited about Brian Lawrence's book Firefighting in Buncombe County (see prior posting) is the information he's provided about former fire departments. That's a passion of mine, researching and documenting fire departments that are no longer around. Even have a database on my findings.
Needless to say, I will be parsing Brian's book in detail for details about Buncombe departments of yore. Looks like this is the line-up, when comparing his findings to mine. Will be reviewing and then updating my database.
Amcel Propulsion Company Fire Brigade - Operated from 1960 until at least 1965. See recent blog post.
Beacon FD – Operated from 1925 until apparently 1976, when they donated their only fire truck to the Swannanoa FD, which they help organize in 1959.
Beaverdam FD – Operated from 1960 to 1990.
Biltmore Estate – The famous house was equipped with fire equipment, including at least one fire engine. More later.
Biltmore Forest FD – Operated from 1923 to 1995. More later.
Biltmore Village FD – Operated from 1910 to 1929. More later.
Candler FD – Chartered in 1961, but never organized into a functioning department.
Enka FD – Operated from 1926 to 1987, and then as solely a plant brigade for about four more years.
Haw Creek FD – Operated from 1961 to 2009. Merged with Asheville FD.
Kenilworth FD – Operated from 1891 to 1929.
Mount Pisgah Academy FD – Operated from 1952 to 1964.
North Buncombe FD – Rural department with own board and tax district, but that stored equipment and shared volunteers with Weaverville FD from 1976 to 2000.
North Carolina Juvenile Evaluation Center – Opened 1960, at former Moore Hospital. Also called Western North Carolina Youth Correction Center. Operated fire department in early 1960s.
Oteen Hospital FD – Operated from circa 1918 to 1976. See recent blog post, which will be updated with new information from Brian's book.
Ridgecrest Conference Center FD – Staff operated fire apparatus. Years of operation unknown.
US Army Moore General Hospital – Opened 1942. Two-bay fire station on site. Became VA hospital in 1946. Transferred to state to become juvenile evaluation center in 1960.
West Asheville FD – Operated from 1914 to 1917.
+ 9 - 8 | § ¶
New History Book: Firefighting in Buncombe County
Happy days are here as another book about North Carolina firefighting history has been published. Asheville Fire Department Engineer and department historian Brian Lawrence has written a photo history of Buncombe County fire departments for Arcadia Publishing's Images of America series.

The 128-page softcover was released this week. The book is divided into four chapters:

The First Fire Departments (Asheville and Black Mountain)
Buncombe County Volunteer Fire Departments (plus the airport)
Former Fire Departments (quite a few, more on that later)
Supporting Agencies (forestry, rescue squads, etc.).

Plus Acknowledgements and Introduction.

You can view a preview of the book (and/or order) on the publisher's site, as well as via from Amazon.

I'd recommend ordering a copy.

Raleigh & Wake County, Charlotte

Does the format of that book look familiar? Maybe you're reminding of Arcadia's two volumes of Raleigh and Wake County firefighter, written by Yours Truly and published in 2003 and 2004. Learn about those. Arcadia's also published an Images of America volume about the Charlotte Fire Department by Shawn Royall.



Maryland, Virginia, DC

The company's published nearly sixty such books. Other southeastern states include Maryland (five books), Virginia (two books, including Firefighting in Roanoke by FireCritic Rhett Fleitz) and Washington, D.C. Learn more on the publisher's web site, in the fire history book section.|



Next questions, what other Arcadia books about North Carolina or southeastern firefighting are brewing? Maybe someone will throw some hints. How about fire history books from other publishers, including commemorative yearbooks? Anyone have one coming soon?

Help me expand my library!
+ 9 - 5 | § ¶
On The Subject of Police Press Conferences
You're reading my tweets, right? Those little 140-character or less messages in the upper-right corner of this page? That's how I've been transmitting "recommended reading" lo the last year or two. I've just retweeted one from fire blogger and retired television reporter Dave Statter, which he posted five hours ago:


He's promoting a posting of his from last night, and which I must also recommend. He's talking about a police department conference in Omaha on Tuesday night, and his praise therein. "Chief Schmaderer gave one of the most effective and timely presentations following a police involved shooting I've witnessed."
He provides links to news stories about same, including a transcript of the conference. What happened in Omaha? That night, police officers shot and killed a robbery suspect. He was armed with an Airsoft pistol. And the officer's gunfire also killed an embedded journalist, a crew member from the TV shot "Cops."
Dave offers opinions on the press conference, and praises a number of components including transparency and immediacy. He also talks about the value of such information in general, be it a crisis or routine event. Key phrase: "[Officials] need to recognize the importance of answering the obvious questions the community will ask."
Definitely worth reading his take, as well as the recorded/transcribed event. Read the Statter911 posting.
+ 9 - 5 | § ¶
Raleigh Ladder Truck with Shriners, Circa 1946
Here's a historical treat, a rare photo of Raleigh's old tiller at Memorial Auditorium. That was the location of Station 2 from 1932 to 1969. The ladder truck was housed there from 1941 to 1953. That's a 1939 American LaFrance 500 Series cab that pulled a 1916 American LaFrance Type 17 two-section, 75-foot, wooden aerial ladder.
See, the truck was housed at Station 1 on Morgan Street until same was demolished in 1941. While Engine 1 moved to old Station 2 on South Salisbury Street, Truck 1 couldn't fit there. So it and the 1922 American LaFrance service truck were moved to the auditorium. Engine 2 was in turn relocated with Engine 1. Got that?
Things improved in 1949, with the opening of Station 6 on Oberlin Road. The service truck was moved there, and Engine 2 was moved back to Station 2. But the ladder truck remained at the auditorium until the completion of the new Station 1 on Dawson Street in 1953. And precious photos have been found showing Truck 1 at Station 2.
As for this photo, it was taken by Haynes Studio in Raleigh. The men on the truck are Shriners, and the occasion is a convention in Raleigh. Believe it was the state convention, but might've been a larger one. Date of said convention? The license plate of the car says 1946. Did car owners get new plates every year? Don't know. Maybe readers can help. At a minimum, we can date the photo as between 1946 and 1953. Click to enlarge:

+ 10 - 12 | § ¶
Greenville Places Pumper/Ambulance in Service
Here's a seeming first for the Carolinas, a combination pumper/ambulance that's been placed in service in Greenville. The unusual rig is a 2014 Spartan MetroStar/Bruan Patriot pumper/paramedic ambulance. FireNews.net has posted this story, which includes factory photos and details from this Daily Reflector story.
The truck is both an engine with a 500 GPM pump, 200 gallons of water, fifteen gallons of foam, and a compressed air foam system (CAFS), and a Type I medium-duty ambulance. It's assigned to Station 4 and was dedicated on Wednesday. Head over to the FireNews.net Facebook page for a lively discussion of the rig.
City Council minutes from February 11, 2013 (PDF), provide a bit of background about the truck, the purchase of which was approved on that date:
"On April 9, 2012, City Council approved the purchase of an ambulance to be stationed at Fire/Rescue Station 4. Ambulance service was initiated at Fire/Rescue Station 4 on October 6, 2012. Fire/Rescue Station 4 currently has three personnel assigned to it who staff a quint fire truck and an ambulance. Personnel select the most appropriate vehicle, fire truck, or ambulance, for emergencies occurring in their response area based on the nature of the call. The quint responds for fires and fire alarm activations. The ambulance responds to rescue incidents. This staffing method requires that employees move their personal protective clothing between vehicles when responding to calls for service. The purchase of the combination engine/ambulance will reduce this movement between vehicles as it will be able to handle 99% of the incidents to which Station 4 personnel respond."


Aileen Devlin/The Daily Reflector photo



Braun photo
+ 10 - 12 | § ¶
Charlotte Fleet Listing - Airport Apparatus
Here's the fifth and final part our Charlotte project, compiling a historical fleet list of the department's apparatus. This one includes pictures! Here's a montage of some of these rigs, including three stock photos (Class 110, Class 155, Type O-11A) from Ted Heinbuch's excellent Fire Trucks at War site. The remaining photos (modern plus historical shot of the 1942 Dodge/American) are from the Charlotte FD Trucks site, except for the P-2 by Jeff Harkey and the military dry chemical rig from Shawn Royall's book Firefighting in Charlotte. Click to enlarge:


Charlotte Fire Department fleet information – Airport Apparatus
Compiled by Micah Bodford. Augmented by USAF apparatus information from Pete Brock, and other military apparatus data from Ted Heinbuch and his site www.firetrucks-atwar.com.
[ This historical fleet listing has been moved to
www.legeros.com/history/fleets
]
+ 8 - 9 | § ¶
What is a "Fallen" Firefighter?
And what isn't one? That's a question that I've been pondering lately. And again today, after a conversation started by Dave Statter on his Statter911 Facebook page. (It's about a news headline about word choice therein.) I've been hesitant to voice this question, as we're talking about death, after all. We're talking about the brothers and sisters who are no longer with us. And each is its own tragedy.
Each one's passing has impacted so many lives at the personal and professional level, and regardless of circumstance or situation. And yet it's the situation that compels the question. Is "fallen" as a synonym for "died" or for something more specific?
There are three choices. Depending on your perspective, a fallen firefighter is one who:
Is an active or retired/former member, and died on- or off-duty.
Is an active member, and died on- or off-duty.
Is an active member, and died on-duty.*
Three distinctly different definitions. Which is the "right" one? That's something I won't attempt to answer. But I recognize the definition can vary, depending upon the person or people or groups people. At a minimum, the lay person probably has a far looser definition than a member of the fire service.
Equally challenging is defining the proper response to those three categories above. Should each be memorialized with a degree of ceremony? Should they instead escalate, with a "duty death" as the most ceremonious? Good questions.
Now, did you catch my asterisk? Even the words "died on duty" are tricky, because they don't necessarily equate to "died in the line of duty." Bill Carey wrote an excellent blog post about the difference between "on duty" and "in the line of duty" last year. See his posting.
Differences between the above categories are also crucial in the awarding of survivor benefits. Every firefighter should understand their death benefits, and the circumstances that impact the awarding or reject of them. The same concept applies to memorial inclusions. Fallen firefighter organizations have their own criteria determine inclusion or exclusion on local, state, and national memorials.
How do you define "fallen?" How should you define "fallen?" And for our meta-thinkers, how appropriate (or inappropriate) is this discussion? I look forward to your comments.
+ 8 - 5 | § ¶
Photos of North River Fire Department
While at the beach this past weekend, we paid a visit to the North River-Laurel Road Fire Department in CartereT County. Recall that their station burned on June 22. The fire started in the apparatus bay and destroyed all their equipment, including three trucks. Within days, they received a donated 1985 Kenworth/FMC pumper/tanker from Central Fire Department in Davidson County. The truck is currently parked under a shelter at a dredging firm on Merrimon Road and is located about a half-mile from the station. Here's a News-Times story about the donated pumper from July 27. A community benefit was held on August 9 to raise money for the department. Over $1,800 was raised. See photos on this Facebook page. As for the building and the truck, see more photos of those.
Next question is the obvious historical one. How many fire station fires have destroyed equipment or buildings in our state, in prior years and decades? Hasn't happened in Wake County.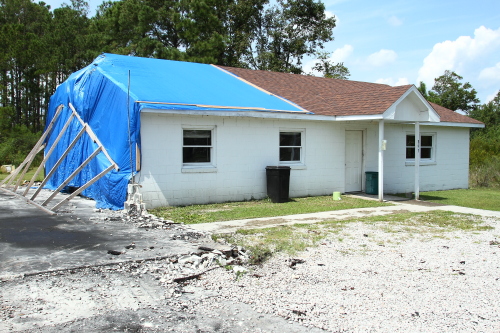 + 10 - 5 | § ¶
Raleigh Fire Department Newsletter - Special Facilities Edition
What's happening with Raleigh fire station construction and other fire department facilities? Read this special edition of the Raleigh Fire Department newsletter, which features features on Station 29, the new Station 12, the expansion of Station 11, the plans for Station 14, Station 6, and Station 6, and a couple other projects. Plus general information on how the city of Raleigh plans for and executes construction of engine houses. The digital issue has been posted to www.raleighfirenews.org. The newsletter is a quarterly publication for personnel, retirees, and citizens. And us buffs, man! Read the issue (PDF).


+ 11 - 8 | § ¶
Charlotte FD Trucks Web Site - New Design, New Old Photos
Haven't visited the Charlotte FD Trucks web site lately? It's been redesigned and has a new address, www.charlottefdtrucks.com. The site's also added numerous archive photos, such as those shown below.
Top to bottom, left to right is Engine 7 as a 1943 American LaFrance, a 1942 Dodge/American former Morris Field crash truck, a 1940 White searchlight truck (alt. year 1938), Engine 5 as a 1966 Seagrave and the only one that was yellow, Squad 1 with a Ford Econline van, and Truck 7 (also the original Rescue 1?), a 1970s Ford F700 with a utility body. Notes the site, it was staffed by Squad 1, and responded on second alarm fires and pin jobs. Here's a prior post about Squad 1.
Visit the Charlotte FD Trucks site.
See also our recent postings on Charlotte FD fleet history: 1910s-1970s | 1980s-1990s | 1999/2000/2001 ALF/GS | 2000s-2010s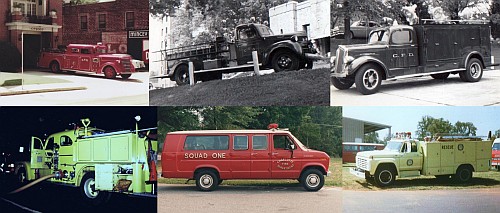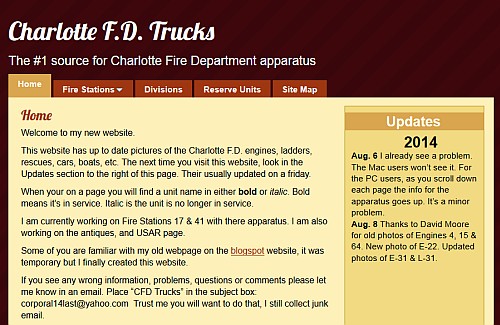 + 12 - 3 | § ¶
Charlotte Fleet Listing - 2000s and 2010s
Here's the fourth part of our Charlotte project, compiling a historical fleet list of all fire apparatus. This is based on research by reader Micah Bodford, plus other inputs that we're able to locate. Reader input is appreciated!
The Project
Part I - 1910s to 1970s
Part II - 1980s and 1990s
Part IIa - 1999-2002 ALF/GS
Part III - 2000s and 2010s (see below)
Part IV - Airport apparatus (coming soon)
Charlotte Fire Department fleet information – 2000s and 2010s
Excludes
2000, 2001 ALF/General Safety – See prior posting
USAR apparatus, listed at bottom.
Compiled by Micah Bodford
[ This historical fleet listing has been moved to
www.legeros.com/history/fleets
]
+ 5 - 8 | § ¶
Tiller Accidents
There was a tiller accident in California on Saturday. Vallejo Fire Department Truck 21 overturned while responding to a call. The apparatus struck a sport-utility vehicle, trapping the driver. He airlifted after a thirty-minute extrication. Seven people were injured including the four firefighters aboard. All suffered non-life threatening injuries. Firegeezer reported this morning that three of the four firefighters have been released from the hospital. The "tillerman" remains in serious condition.


Chris Riley/Vallejo Times-Herald photo
Here are some links to the story:
The incident recalls the tiller accident in Raleigh. On July 10, 2009, Ladder 4 overturned while responding to a call. It was a single-vehicle accident that injured four firefighters, with three transported, and two with serious injuries. Here's a look back:
Here's the safety video that subsequently produced by the Raleigh Fire Department and the Seattle Fire Department. Read blog posting about same from April 2011:

+ 6 - 6 | § ¶
MCAS Edenton Fire Department During World War II
For your weekend historical enjoyment, here's a summary of Marine Corps Air Station Edenton fire department during World War II. The source is a six-page historical document on the subject, recently declassified and shared by military firefighting historian Ted Heinbuch. See his work at Fire Trucks at War, as well as the Facebook group of the same name. He provided a pair of images and information about the cited Chrysler and Seagrave apparatus.
Air Station
Currently called Northeast Regional Airport, the site was originally constructed during World War II. The site included a seaplane base on the Albemarle Sound. See this Wikipedia page for a brief history. Here are some photos of the airport today, shot by myself last year. There are a couple of original buildings still standing, notably the main building. Note the three-bay garage, which could've housed the crash trucks. The tower was removed decades earlier, however.
As noted on David W. Brooks' excellent Airfields Database web site (source for the below maps), MCAS Edenton was one of forty-one (!) military airfields operating in North Carolina during World War II. Click to enlarge:

Fire Department
During construction of the base, a temporary firehouse was provided to house fire equipment. The base was allocated a Chrysler "fire engine" with a 500 GPM pump for that purpose. The Chrysler was a trailer pump equipped with 500 GPM pump, two 15-foot sections of hard suction hose, and 200 feet of 2 1/2-inch supply line.

Ted Heinbuch collection
By the time of its delivery, two more fire trucks had arrived. They were purchased through the Bureau of Aeronautics. One of the trucks was assigned to the "fire prevention program of the contractor." The contractor was also authorized to employ a Fire Marshal, to execute a fire prevention program.
The Fire Marshal saw the installation of "barrels, fire extinguishers, and other fire prevention appliances." There were no "regular firemen," however. The temporary fire department instead relied on the guards. The contractor was instructed to train all guards in "fire fighting procedures" and how to operate the extinguishers and "fire fighting apparatus on the truck." In the event of an emergency, they would be "mustered to the fire house" or to the scene of a fire.
READ MORE
+ 7 - 7 | § ¶
Apex's New Brush Truck
Lee Wilson this week photographed Apex's new brush truck, a military surplus conversion that's been placed in service at Station 2. The truck was obtained last year from the North Carolina Forest Service. Probably or certainly through their Federal Excess Personnel Property Loan Program. Working on getting specs and details. The truck's also awaiting a light bar, which will be added on the cab. More and more these 6x6 conversions have been appearing in the area. Wake New Hope Fire Department has one. Heard that Chapel Hill's obtained one. Where else in the Triangle are they appearing? See more photos from Lee.



Lee Wilson photo
+ 8 - 3 | § ¶
The World is Watching Your Department - Slides Posted!
At the South Atlantic Fire Rescue Expo in Raleigh last month, Jeff Hammerstein and Mike Legeros presented a ninety-minute workshop on social media, traditional media, and emergency services. It was titled The World is Watching Your Department - Who Will Tell Your Story, You or Them? There's was a two-part talk, opening with Chief Hammerstein. He's the Community Outreach Chief and Public Information Officer for Wake County EMS.
He had a four main points. First, acknowledging that news reporters and social media photographers make many responders upset. Second, acknowledging the reasons why these people and their behaviors upset behaviors. Third, convincing the audience (some forty attendees) that "we've had it wrong the whole time." Fourth and last, demonstrating how to turn any exposure into a powerful resource.
One such resource for Wake County EMS is public safety blogger (and more) Mike Legeros. He took the floor, and also expanded on four main points. First, he introduced himself, what he does for public safety, and his motives therein. Second, he talked about his fire and incident photography. Third, he talked about his "information sharing" via social media tools and technologies. Fourth, he wrapped with some lessons learned on the whole thing.
Digital versions of their slides have been posted to www.legeros.com/slides. Here's the direct link to the PDF document (5.8MB). Or see photos from their talk. Quite a few "caption this" opportunities there!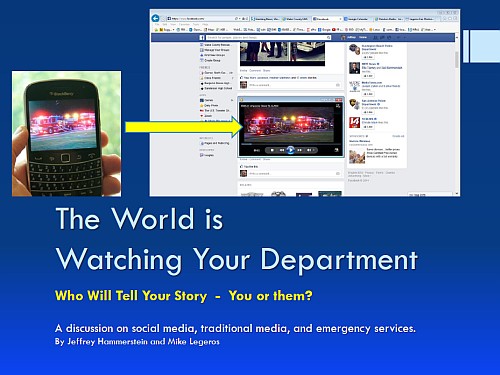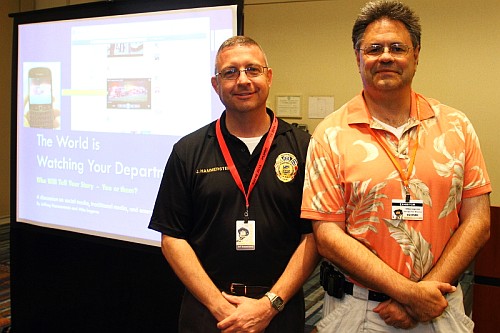 + 8 - 4 | § ¶
Raleigh Fire History in Poster Form
The Raleigh Fire Museum is open on Saturday, from 10:00 a.m. to 2:00 p.m. That's the regular second-Saturday-of-the-month opening. Added this week is a new poster listing the major milestone's and notable events in the history of the city and its fire department. Here's an digital version (PDF), linked from my Raleigh Fire Department history page. The poster was created using Microsoft Word, with the page size set (a.) as large as possible but (b). with proportions matching 20 by 30 inches. Saved as PDF, it was scaled to the latter size by the printer. Replaced a simpler version that listed the history of the career department, which started in 1912. Or click to enlarge:


+ 9 - 5 | § ¶
Amcel Propulsion Company Fire Brigade, 1965
Here's a vintage newspaper clipping from the Asheville Citizen Times dated April 22, 1965. That's the Amcel Propulsion Company Fire Brigade, which was organized in 1960 with a "nucleus of day shift maintenance." The plant was located in Swannanoa and manufactured rocket fuel. The brigade's duties consisted of "fire fighting, rendering first aid, and personnel rescue work." By the time of the article, they had thirty-five members from several departments in the plant and from all three shifts.
The Fire Chief was Everette Swafford. There were three assistant chiefs, one on each shift. They operated a 1942 International/American LaFrance 500/150, painted green (!), which originally served Scottdale, PA. From the John Peckham American LaFrance, database, the registration number was B-1403 and the truck was shipped August 14, 1942. Click to enlarge:


The plant was located on ten acres on Old Bee Tree Road in Swannanona. Industrial operations, including explosives manufacturing, began in 1952. The site appears to have been owned by Amcel Propulsion from 1959 to 1965. It was later owned/operated by Chemtronics. Waste disposal practices saw the site placed on the EPA's National Priorities List in 1983, because of contaminated ground water and soil. Manufacturing activities at the site ended in 1994. Read more EPA information about the site. Here's a Bing Bird's Eye view of the property today:


How many fire brigades have protected industrial properties around our state, you ask? They're have been a ton and some dating from decades earlier. Past 'n' present include Beacon (Buncombe), Drexel (Burke), Cannon Mills (Cabarrus), Clairant (Gaston), Corning (New Hanover), CP&L Harris Plant (Wake), Collins & Aikman (Person), Corriher Mill (Rowan), Champion (Haywood), Cross Cotton Mills (McDowell), DSM (Pitt), Duke Energy McGuire Plant (Mecklenburg), DuPont (Cumberland), Enka (Buncombe), Fieldcrest-Cannon, later Pillowtex-Cannon (Cabarraus), Goodyear (Cumberland), GE (New Hanover), GSK (Wake), IBM (Durham), International Paper (Columbus), Kapstone Paper (Halifax), Linn Mill (Rowan), Michelen (Stanly), North Carolina Finishing Company (Rowan), PCS (Beaufort), Progress Energy Brunswick Plant (Brunswick), Rowan Mills (Rowan), Spencer Shops (Rowan), and Weyerhaeuser (Craven, Surry).
But how many of those had apparatus??
See this FDmaps.com page on current fire brigades. See also this essay Early Raleigh Fire Brigades (PDF).
Transcript of the story:
READ MORE
+ 9 - 4 | § ¶
Colorful Ambulances of Orange County
As photographed by Lee Wilson this week. He's been attending live burns conducted by the Chapel Hill Fire Department. See those photos which include more pictures of these colorful rigs. Plus plenty of those Carolina blue fire trucks. Top to bottom, that's Orange County EMS, Carolina Air Care, and South Orange Rescue Squad.



Lee Wilson photos
+ 6 - 9 | § ¶
Aerial Video of Wake Forest Vehicle Accident
From this Wake Forest News story, here's aerial footage of an MVA with injuries on Capital Boulevard on Monday. This is their first aerial footage of an accident, they note. Mostly a test, to see how things look from the air.
Okay gang, thoughts? We've see "drone" footage slowly and steadily increasing at the national level. With at least one operator filming locally, what are people's opinions about such technologies used around here? Both for news (or buff) reporting, or assisting (or used by) responders?

+ 7 - 5 | § ¶
GeoSpatial Data on NC Fire Stations
Here's something interesting, geospatial data on North Carolina fire stations. This page of GIS data contains a zip file, which contains seven files that apparently work with GIS software. For the rest of us shmoes, the .dbf file can be opened in Excel. That's the largest of the files, 3.8 MB in size. Open Excel, open the file, and you'll see a spreadsheet with 1,947 fire station addresses!
But be cautious in your interpretation therein. For example, there four fire stations listed for the city of Zebulon. They are ZFD, Hopkins FD, and two Cornith-Holder stations in Johnston County.
By city, the ten highest counts of fire station addresses:
Charlotte - 51
Raleigh - 36
Greensboro - 34
Winston-Salem - 27
Durham - 25
Fayetteville - 25
Salisbury - 20
New Bern - 19
Asheville - 18
By county, the five highest counts:
Wake - 75
Guilford - 69
Mecklenburg - 60
Forsyth - 44
Buncombe, Craven, Cumberland, Rowan - 41 each.
Don't want to mess with spreadsheets and data files? Tool over to FDmaps.com, the place to see maps and view information about North Carolina fire stations. You won't be disappointed.
+ 9 - 11 | § ¶
Vintage Image of Elizabeth City Engine
Found for sale on eBay, this 35mm color slide of a 1957 Howe pumper in Elizabeth City. Who made that chassis? Looks a little Pirsch or Oren-y. Search the blog for more ECFD history. Click to enlarge:


+ 7 - 8 | § ¶
North Carolina Fallen Firefighter Data
Let's play with some data, working with names listed on the North Carolina Fallen Firefighters memorial. See prior posting for that list. See my database, which expands that information to include county, cause of death, and more.
By year, highest count:
2008, 2006 - 11 each
2012 - 10
2007 - 9
2003 - 8
1973, 1982, 1989, 2013 - 7 each
By department, highest count:
Charlotte - 12
NC Forestry - 11
Winston-Salem - 7
Wilmington - 7
Asheville, National Spinning Company, NC Air National Guard, Rocky Mount, Salisbury, Shelby - 4 each
By county, highest count:
Mecklenburg - 17
Forsyth - 13
Wake - 11
Cumberland - 10
New Hanover 9
By cause death you ask?
That one's going to be tricky. In my database, I've assigned categories of cause of death, where known. This is based on narrative information that I've collected and/or the certificate of death. The labels are totally subjective and not even entirely consistent. Let me include all of them, and let readers slice and dice the data as desired. Some could be combined, others perhaps re-labeled. Though it seems pretty clear that cardiac and MVA are the historically top causes of death.
Asphyxia - 10
Burns - 8
Burns? - 4
Cardiac - 76
Cardiac/MVA - 2
Drowning - 3
Electrocution - 7
Explosion - 2
Fall - 6

Fall from ladder - 1
Fall from vehicle - 1
Gunshot - 2
MVA - Air - 13
MVA - Road - 56
MVA - Water - 1
Medical - 6
Medical/CVA - 2
Medical/Collapsed - 12

Medical/Heart - 8
Medical/Illness - 1
Struck by Horse - 1
Struck by object - 2
Struck by tree - 3
Struck by utility pole - 1
Struck by vehicle - 6
Structural Collapse - 13
Trauma - 2
Career versus volunteer?
Where known, out of 252 out of the 258:
Career - 107 (42%)
Volunteer - 146 (58%)
Other errata:
Earliest year of a recorded fatality? 1902.
Oldest known age? 76
Youngest age? 18
Number of Fire Chiefs? 21 (at least)
Number of women? Six
Number of African-Americans? Seven1
1Racial data of mine is presently limited to "white" and "black." And for only 221 of the 258 names. This could be better researched, to be sure. Thinking some American Indian heritage is in there, for starters.
+ 13 - 4 | § ¶
Names on the North Carolina Fallen Firefighters Memorial
Who's listed on the North Carolina Fallen Firefighter's Memorial at Nash Square? There are 258 names by my count, and listed below. That is, those are names, dates, and department names from my database. The versions that appear on the memorial are a bit a different. There are no nicknames, and middle names are usually abbreviated. There may be some variation in department spelling. The notations of "year added" are also mine. Let me know if I've made any mistakes.
The memorial was dedicated in May 2006. Each year an annual ceremony is held at the memorial, and new names are added. The additions are both legacy fatalities that have been since documented, and line of duty deaths from the prior calendar year.


See the names below the "jump." And see this subsequent posting, with some data play.
READ MORE
+ 9 - 4 | § ¶
Carolina Brotherhood Rides From Raleigh on Tuesday
The Carolina Brotherhood departs on Tuesday for their annual memorial bicycle ride. This year they're leaving from Raleigh, from Station 1 on Dawson Street, and across from the North Carolina Fallen Firefighters Memorial at Nash Square. They'll depart at 8:00 a.m. The firefighter and police officers will be riding to honor ten responders from North and South Carolina who died in the line of duty last year:
Tony Baker, Firefighter - Mountain View Volunteer FD, NC
Robert Bingaman, Senior Police Officer - Asheville PD, NC
Jeffery Fields, Assistant Fire Chief - Youngsville Volunteer FD, NC
David Heath, Captain - New Hanover County Fire Rescue, NC
Scott Morrison, Fire Chief - Knotts Island Volunteer FD, NC
Jon Schondelmayer, Firefighter - Swift Creek Rural FD. NC
Joseph Antwine, Deputy Sheriff - Florence County SO, SC
Michael Broz, Firefighter - Dorchester County FD, SC
Tim Causey, Deputy Sheriff - Horry County SO, SC
Rodney Hardee, Assistant Fire Chief - Loris FD, SC.
This year, they're riding to Charleston. The five-day trip will cover some 500 miles. They've planned overnight stops in Fayetteville, Wilmington, Loris (SC), and Lake City (SC).
On Monday night, there's a send-off at Crank Arm Brewing Company at 319 W. Davie Street in Raleigh. Starts at 6:00 p.m. Riders from Asheville, Charlotte, Charleston, Columbia, Raleigh, and Wilmington will be present. Wake & District Pipes & Drums will perform at 7:00 p.m.
They'll have t-shirts for sale. Plus ten percent of all sales at the brewery will be donated to the Carolina Brotherhood. Learn more on this Facebook event page.
+ 7 - 2 | § ¶
Charlotte Fleet Listing - 1999-2002 ALF/GS Engines
Charlotte Fire Department Fleet Listing
1999-2002 American LaFrance/General Safety Engines
[ This historical fleet listing has been moved to
www.legeros.com/history/fleets
]