+ 9 - 16 | § ¶
Yesterday's Fire / Shanda Drive
Two alarms at 6308 Shanda Drive. Engine 15 arriving at a two-story, wood-frame apartment building with 10,872 square-feet, with smoke showing from roof. Crews used multiple hand lines for interior attack. Command requested second alarm at approximately 3:15 p.m. Marked under control at 3:30 p.m. All occupants escaped safely. Three pets rescued. Sixteen units damaged, with 16 occupants displaced. Cause determined as accidental. Alarm time 2:55 p.m. Units on scene included E15, E9, E4, E16, E19, E18, E22, L22, L23, B1, B4, C5, C20, C72, C4, C2, C1, A8, EMS 16, EMS 5, EMS 3, EMS 124, EMS D3, EMS 200, EMS MD-20, EMS T1. "B" shift. See more photos from Lee Wilson.


+ 21 - 10 | § ¶
Blue Ridge Tunnel
This is an abandoned railroad tunnel in Virginia, about 30 minutes west of Charlottesville. Called the Crozet Tunnel, or Rockfish Gap tunnel. The eastern bore exits at Afton. To access, drive to the end of Afton Depot Lane. Walk about a mile west along the tracks. The old tunnel is located up and to the right of the present tunnel. Watch for trains. To explore the tunnel, bring waders. Boots, say... fire boots, are insufficient. The depth of the water and mud will be higher than your boots will be long. Still pretty cool, even if explored only a few feet inside. The water and mud is just very deep. For more information about historic railroad structures, consult the book Landmarks on the Iron Road: Two Centuries of North American Railroad Engineering by William D. Middleton. Great for travel planning. Commence choo-choo sounds.


+ 15 - 12 | § ¶
Whole Lotta Orange
Flourescent orange, that is, as striping on ambulances and apparatus at the Charlottesville-Albemarle Rescue Squad in Charlottesville, VA. Fleet includes heavy squads (3), logistic unit, water rescue unit, support trailers, and numerous bone wagons. Click to enlarge:

+ 11 - 12 | § ¶
Baltimore on the Brain
It started at Steadman. Guy in a tropical shirt walks into a fire station and asks about old buildings. Dusk explorations, assisted by GPS, found a few. How many more were there? Consulted the Internet. Very helpful entity. Found a web page on the subject. Merged that information into my list. Then found this Watch Desk thread. Merged more information into my list. 'Twas midnight. Time for bed. Said goodnight to moon, while cursing self for starting project on last night in city.
More Google in morning. Refined list. Posted as new Watch Desk thread. Drove downtown for Fire Expo flea market. Sought and found and photographed a few more houses. The Unheralded Heroes of Baltimore's Big Blazes, by William A. Murray, curator of the Baltimore Fire Museum. Published in the 1970s, sold by his grandsons at the flea market. One is a Baltimore Jake. We talked old houses. Left market, destination Charlottesville. Left in direction of Washington Boulevard, to find another house or two, but missed exit. Oh well.
People responded to Watch Desk thread. More information came. One "J Smith" posted a superb list of stations still standing in the city. Merged that information into my lists on Monday morning, before leaving Charlottesville. Destination Raleigh. Baltimore still on the brain. Home around 4, and at computer by 5:30. Converted list into web page. Posted link on Watch Desk thread. And 90 minutes later, pulled away from the computer. Guess that's enough for now, for this year.1
1 Well, almost enough. Found list of active stations later. Merged with web page. Checked tax records for building dates. Elminated newer stations. Revised web page. Done?
+ 14 - 8 | § ¶
Another Raleigh LaFrance Found
Another one of Raleigh's old American LaFrance engines has been found, at least from some years ago. This 1992 photo, sent from an RFD member, shows a seemingly pristine 1958 pumper, registration number N-720. Present whereabouts may be Alamance County. It served as Engine 9 at Station 1, Engine 10 at Station 1, Engine 11, Engine 14, and in reserve. The contract for purchase was dated December 4, 1958, and it was delivered by August 29, 1959. It had a 1,000 GPM pump and a 300 gallon water tank. In later years, the shop added both a fiberglass roof and a top-mounted booster reel. See vintage photos. Click to enlarge:


+ 14 - 11 | § ¶
Baltimore Former Firehouses
Last minute project, locating retired BFD engine houses that are still standing. The guys at Steadman Station got me started with about a dozen locations. Left to right, top to bottom, Baltimore Street just west of Martin Luther King Jr. Drive, S. Caroline Street near Gough Street, 700 N. Eutaw Street, 414 N. Gay Street, McColluh Street at Gold Street, North Avenue east of Mt. Royal Avenue, and 323 N. Paca Street. Dates, information, and other stations are pending. Might be a good project for next year's visit. In the meantime, here's a page with considerably more information, from the Ghosts of Baltimore site.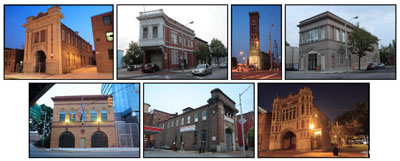 + 11 - 14 | § ¶
Monster Fire Station
Happened upon this station site, while touring points westward. Friendship Fire Department in Howard County, MD. The left section has double or perhaps triple-deep bays. On the backside, there appears a full second lower story. Here's a news article that tells more. Costs $11 million. Will sleep 21 people. Will have 28,810 square-feet. Now that's a big fire station! Read about the department, as well as their station project. Click to enlarge:

+ 11 - 11 | § ¶
Blow This!
Here's a nifty idea. WRAL reports on a new push-cart vending service in Raleigh that lets bar-hoppers check their blood alcohol levels for $5. The concept seems a winner, and provides a valued service. The company, Drug and Alcohol Risk Management of Holly Springs, is providing the cart Friday and Saturday from 9:30 p.m. to 2 a.m. They're also teaming with Safe Ride Home, the report reports, for downtown Raleigh events.
+ 14 - 13 | § ¶
Wednesday's Major Fire / Rivermist Drive
Two alarms at 3718 Rivermist Drive. Engine 10 reported column of fire visible while en route, and declared a major working fire upon arrival at a two-story, wood-frame house with 3,030 square-feet. Heavy fire in rear, with crews performing offensive attack. Adajacent residence damaged. No injuries. Alarm time 12:15 a.m., controlled approximately 12:55 a.m. "B" shift units included E10, E26, E12, E7, E3, E11, L26, L11, R7, R19, B2, B3, C5, C20, A8, EMS7, EMS11, EMS13, EMS D1, EMS T1. Photo and incident details from Lee Wilson. Cause determined as arson, reported WRAL.

Lee Wilson photo
+ 12 - 12 | § ¶
Blogging's Glass Ceiling
Today's New York Times writes about women bloggers. The context is an annual convention for female bloggers that was conducted last weekend. The issue is women bloggers being taken as seriously as their male counterparts. (There's probably the meta-issue, as well, whether male readers will take the article seriously. But perhaps they're not the primary audience.) The piece certainly compels the question of female fire bloggers. Are they out there? Though female firefighters thrive on discussion boards, what sort of blog presence have they been having? (Or is this a trick question, as firefighter blogs, period, are still relatively new?)
+ 14 - 7 | § ¶
Stony Hill Rescue 26
Here's the third of the three 2008 Spartan/Hackney heavy rescues delivered to Wake County. Stony Hill received theirs on Thursday, July 24. Lee Wilson took photos and recorded details. Equipment includes a 35 KW PTO geneator, a Hurst Simo pump and portable pump, 35' and 16' ladders on top, 24' and 14' and attic ladder in rear compartment, 9000-watt light tower, and removable winch. Access to the top utilizes Hackney's auto-deploy staircase. Read more about that cool feature. Rescue 26 is expected in service at Station 1 within 3 or 4 weeks. Read more about Stony Hill Fire Department.

Lee Wilson photo
+ 10 - 11 | § ¶
Baltimore Meeting and Greeting
First day, first hour in Baltimore. Arrived on the exhibit floor at 4:00 p.m., one hour before closing. Spent morning in Philly, at the fire museum. Great place, great guys. Pics coming. Day before was driving to Atlantic City. Buy me a beer, er, Coke and I'll tell about the casino and other night adventures. Driving took forever. Finished 1.5 audio books. Rode a ferry. Etcetera, etcetera. First stop upon arriving at the Fire Expo was Booth #743, to meet FireGeezer Bill Schumm, FossilMedic Mike Ward, and reporter/blogger Dave Statter. Nice guys, and we had a nice chat. Dave and Bill will be interviewed today at noon, in room 310, by Billy Goldfeder for his bi-weekly podcast. The topic? Fire and EMS blogs. Should be good. Pics and maybe some stories coming later. See you on the floor.

Bloggers in action. Firegeezer Bill Schumm in rear, Statter911 Dave Statter
in front, Fossilmedic Mike Ward on right. Click to enlarge.
+ 10 - 14 | § ¶
Locution, Take a Breath!
More storms, more tones. The structure fire on Castlegate Drive dispatched a minute ago was a mouthful: Wendell Engine 115, Wendell Truck 115, Rolesville Engine 15, Rolesville Engine 153, Raleigh Engine 28, New Hope Rescue 14, New Hope Tanker 9, and New Hope Car 3. She never gets excited, does she?
+ 14 - 8 | § ¶
Hopkins Fire Department Now EMT Level
Found via FireNews.net, this Eastern Wake News article reports that the Hopkins Rural Fire Department was named an EMT-level service department at a ceremony on Thursday, July 10. To meet the standard, a department must have a minimum of one Emergency Medical Technician per first-call, first-duty truck. HFD currently has seven EMTs, and four more schooling to become EMTs.
+ 19 - 12 | § ¶
North Carolina Central Prison Expansion
Here's another interesting construction project, a mental health hospital and medical center. The 365,775 square-foot, five-story facility will consolidate health care facilities within the prison system, and include a 120-bed medical facility and a 220-bed state-run mental health hospital with a connector to the prison. Should open early next decade. Read more at www.newraleigh.com, and see some neat images. The thing's also in the news, as residents of Boylan Heights have expectedly had a cow, only now learning of the project. The News & Observer has that story.


+ 7 - 17 | § ¶
Bloggers in Baltimore
FireGeezer has a booth in Baltimore this week. He informs that Dave Statter will join on Thursday and Friday. Should be fun to see these guys in person. One big, happy, cross-linking family.


+ 12 - 12 | § ¶
Wake County Justice Center
Here's information on the Wake County Justice Center project, to be located beside the Wake County Public Safety Center. Eleven stories, plus two underground levels. Will house judicial and criminal courts, and county public records and administrative offices. Construction starts in 2009, and occupancy expected starting in 2013. The session display boards, at the above link, are particularly cool.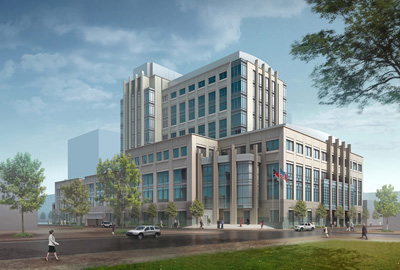 + 11 - 9 | § ¶
1966 Batmobile
Here's the coolest law enforcement vehicle ever designed. Mattel has released the second of three planned editions of the George Barris Batmobile. This is the elite edition, MSRP about $79.99. The standard edition's already released; the super-elite edition is coming. All three are scaled at 1:18. This one has opening doors, hood, and trunk. Tower Hobbies has 'em. Google for other retailers, and more images. You know you want one.


+ 17 - 12 | § ¶
Skyline
Here's what the city's skyline's looking like these days. Western Boulevard bridge looking north over South Saunders Street. The usual view. Click to enlarge:


What building is what?
READ MORE
+ 12 - 14 | § ¶
Shift Happens
When did Raleigh firefighters begin working 24-hour shifts? The answer is revealed in a Raleigh Times article of October 7, 1974. The subject of the article was shift schedules, and changes to the Fair Labor Standards Act, while ultimately resulted in the hiring of a third shift. Fire Chief Clarence A. Puryear recalled that the city moved to 24-hour shifts in 1946. He was one who voted for the change. What was the work schedule before 1946? Need to research that. Decades earlier, when the full-time fire department was first formed, personnel apparently worked every day. (They may have also resided at the fire stations!) At some point, split shifts were likely implimented. The above article also cited a future Raleigh Fire Chief, Sherman Pickard, then director of services for the North Carolina League of Municipalities. It also featured a photo of a firefighter "laying in the bed" and reading. Though a photographer shot station activites up and down, the paper only ran one photo. And said firefighter never lived it down.
+ 12 - 12 | § ¶
Hand Engine in Operation
On November 10, 1883, the News & Observer recounted a prior day's exhibition by the Victor Fire Company. The volunteer firemen operated a 1873 hand engine built by Rumsey & Company. Catalog drawings of a Rumsey hand engine and Rumsey hose reel are below. The engine is 16 feet long, with 31-inch and 37-inch diameter wheels. The wheels of the hose reel are probably 60-inches diameter. Click to enlarge:



"The Victor with twelve men at the engine made a run of 470 yards, laid 300 feet of hose, and had a stream of water on the imaginary fire in five minutes. The engine started from the intersection of West Martin and South Salisbury Streets at 7.34 ½ o'clock p.m. At 7.36 ½ the hose reel reached the cistern at the intersection of West Lenoir and South Salisbury streets; at 7.37 [a total of] 300 feet of hose had been laid and the nozzle attached; at 7.38 the engine arrived, and at 7.39 ½ had a stream of water upon the fire. Who can beat that record?"
+ 8 - 9 | § ¶
Today's Working Fires
Let's log 'em, since it's Saturday. Residential structure fire at 114 Baytree Street in Fuquay-Varina, dispatched about 8:55 a.m. Laundromat fire in 300 block of East Owen Avenue in Wake Forest, reported by Stony Hill member about 12:30 p.m. Apartment fire with two alarms at 434 Westcliff Court, dispatched about 10:25 p.m. Engine 8 first on scene with heavy fire showing from a two-story, wood-frame structure with 6,468 square-feet. Ladder 20 raised but not needed. Dispatched units included Engine 8, 20, 14, 1, 16, 13, 6; Ladder 20, 1; Rescue 14, 7; Battalion 3, 4; Car 5, 20; Air 8; EMS 4, 8, 82, 11, District 1, District 2, Truck 1


+ 10 - 7 | § ¶
Male Seasonal Baldness
It's head-shaving season in the big city, reports the New York Times. "It is not easy to shave a head," notes one barber, "because the razor edge is square — and the head is round." When heat 'n' humidity is high, there's nothing as nice as a close-cropped top.


+ 8 - 13 | § ¶
Southeastern Wake County Fire Station Update
This week's Wake County Fire Commission meeting included a presentation on the status of the land search for the planned southeastern Wake County fire station. Included was this concept drawing of the proposed site on Spaceway Court. Click to enlarge:


Notes on the presentation.
READ MORE
+ 10 - 8 | § ¶
Orange Rescue Squad Asked to Stand Down
The Orange County Rescue Squad has been asked to stop responding to emergencies until county officials can review their operations. WRAL had this story, while the News & Observer ran a small a story today. The paper's initially reported about the issue originated Wednesday, with OCRS dispatching discontinued on June 27 by the county Emergency Services Director in response to safety concerns. What do you think of the coverage? One-sided? Sensational? The squad's side of the story has yet to be surfaced. Reader comments, such as these, provide the JSP1 (Joe Six Pack) perspective2.
READ MORE
+ 10 - 11 | § ¶
Wake Forest Names New Fire Chief
Congratulations to new Wake Forest Fire Chief Freddy Lynn, whose appointment was announced Thursday night. The Wake Weekly has the breaking news story. Chief Lynn is a retired member of the Raleigh Fire Department, last a Battalion Chief who led the Training Division. He's also a veteran member of the Six Forks Fire Department, and was Fire Chief for five years. WFFD received over 40 resumes for the position, the article notes. They also hired a new Administrative Deputy Chief.

+ 12 - 12 | § ¶
See You in Baltimore
Yours Truly is travelling next week, destination Baltimore by way of Atlantic City and Philadelphia. Should be a scenic drive, with planned stops on the Boardwalk and the Philly fire museum. See you on the Fire Expo exhibit floor Friday and Saturday. Look for the guy in the tropical shirt. I'll bring back photos.
+ 10 - 9 | § ¶
Vacant Citizen Seat on Wake County Fire Commission
As was indicated at last night's meeting, there's a vacant citizen seat on the Wake County Fire Commission. You interested? Read more about the commission, then submit an application on this Web page. Regular meetings are held every other month. Committees, such as facilities, apparatus, and staff, meet on a more regular basis. For more information (correct?) contact the Wake County Fire-Rescue Division.
+ 12 - 8 | § ¶
Murder Most Foul
Everyone's an armchair detective, as evident in the reader responses WRAL's coverage of the Cary slaying. Their discussion forums have proved popular for many months now, and are an interest study of online conversation. Such as the 330+ responses to the story yesterday.
+ 8 - 8 | § ¶
Burning Vehicle Rolls Backwards
Found on the Firehouse Forums, here's a video of a burning RV in southern California that commences to roll backwards. Its movement is checked by a patrol car, perhaps intentionally. Can't quite tell. Something you don't see every day...

+ 16 - 4 | § ¶
Yearbook Preview
Here's a preview of the coming Raleigh Fire Department yearbook. The pictures show the cover and title page, a portrait spread, an action photo spread, and a station photo spread. The book will be 160 full-color pages with over 1,100 pictures. The price for ordering online is still $50. Delivery is expected in September. Click to see more:


+ 14 - 8 | § ¶
Two Cameras, One Folder
Do you shoot with two or more cameras, and want to display the digital images in the order they were shot? Here's one way to do it. First, synchronize the time and date settings on all your cameras. Second, install a program called Flash Renamer.

READ MORE
+ 10 - 11 | § ¶
This Morning's Haz-Mat / I-95 in Kenly
WRAL has incident details: truck stop at 932 Johnston Parkway Road off Interstate 95. Tractor-trailer truck leaking silicon tetrafluoride. Vapor cloud created around the vehicle. Driver transported to hospital. Surrounding businesses evacuated. Incident time about 3:30 a.m. North Carolina Hazardous Materials Regional Response Team 4 from Raleigh on scene. They rolled with Haz-Mat 15, Haz-Mat 22, Haz-Mat 8, and Car 72.


WRAL photo
+ 8 - 12 | § ¶
Agenda for Wake County Fire Commission Meeting, Thursday, July 17
Call meeting to order

• Invocation
• Roll of members present
• Approval of Agenda

READ MORE
+ 13 - 8 | § ¶
The Graduates
Click to enlarge...


Read original post
.
+ 9 - 12 | § ¶
Wildfire Photography From California
Found posted to the Firehouse forums, here's fire photojournalism at its finest. Spencer Weiner shot this compelling photo, which can be found on many other sites. High-shutter speed, obviously. No blur to the propellers. Perhaps digital with ISO, due to the grain. Great composition, and cinched with two people standing on the deck. Click to enlarge:


Spencer Weiner/AP photo
+ 14 - 12 | § ¶
Garner Fire Department Changes Name
Effective July 1, they are now named Garner Volunteer Fire-Rescue, Inc. The corporation was formed on August 15, 1952 as Garner Volunteer Fire Department, Inc. Learn more about GVFR.
+ 13 - 7 | § ¶
Old Photo of Station 14
Here's a nifty photo of Station 14 from back in the day, circa 1974 or 1975. That was the tenth of the familiar building style. Engine 14 is a 1951 American LaFrance Series 700. Tanker 14 is a 1960 GMC 4000/Alexander, capacity 1,500 gallons. Click to enlarge:


+ 9 - 7 | § ¶
Anatomy of a Fatality
WRAL has a detailed account of the reported circumstances leading to this morning's fatal motor-vehicle accident on Glenwood Avenue at Lynn Road. The two-vehicle collision killed a 17 year-old passenger. The 19 year-old driver of the other vehicle faces charges including provisional driving-while-impaired and felony death by vehicle. Just one more tragedy on roads already stained with too much blood. Someday we'll realize a solution. There has to be a way.
+ 9 - 9 | § ¶
Benefit Ride For Jacob, Saturday, August 16
The Raleigh chapter of the Red Knights Motorcycle Club is sponsoring a benefit ride on Saturday, August 16, to raise money for the family of a Raleigh firefighter, and whose son was born in September with a rare genetic disorder. Registration and starting point is Ray Price Harley Davidson in Raleigh. The destination is Holly Springs Fire Station 1. View this flyer
for more information. Learn about Raleigh's Red Knights. Thanks for your support.


+ 7 - 14 | § ¶
Wake County Map, 1887
Random historical artifact, a Wake County Map from 1887. Three sizes, scanned from photo copy. Quite a few familiar names on roads, creeks, and communities! The only fire department in the county at that time was the volunteer Raleigh Fire Department. The city's fire equipment could be transported by rail car, for assistance outside Raleigh. Such as in 1885 (Fayetteville), 1895 (Durham), and 1908 (Cary).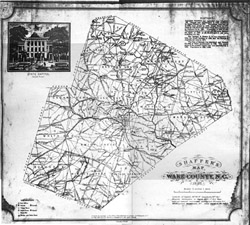 + 13 - 9 | § ¶
Charlotte Train/Truck Collision Images
The Charlotte Observer has a mess of images from this morning's train/truck collision and haz-mat fire in Meck County, including aerial photos that nicely sketch out the scene. Multiple fire departments, including a good dozen companies from Charlotte. Check out the slide show. Then think about the hazards around here. Are you prepared?


Charlotte Observer photo
+ 7 - 10 | § ¶
MDA Honors RFD, Monday, July 14, 10:30 a.m.
The Muscular Dystrophy Association (MDA) will honor Raleigh firefighters at a press conference at the North Carolina Fallen Firefighters Memorial in Nash Square, on Monday, July 14, at 10:30 a.m. This is the kick-off event for the Raleigh Fire Department "Fill-the-Boot" campaign to raise funds for MDA on July 26. Mayor Meeker will proclaim the month of July as Firefighter Appreciation Month. The MDA asks local businesses and residents to show their appreciation for their firefighters and EMS members throughout the remainder of July. More about Fill-the-Boot. More about MDA.


+ 18 - 10 | § ¶
Raleigh Recruit Academy Graduates on Monday, July 14
Raleigh Fire Department Recruit Academy #34 graduates on Monday, July 14, with a 7:00 p.m. ceremony at the Fletcher Opera Theater, at the Progress Energy Center for Performing Arts. The 24 members started their 26 28-week academy at the Keeter Training Center on January 7. The Capital City's newest firefighters graduate with certification as EMT, Firefighter I and II, and Rescue Technician VMR. They also received training on haz-mat operations and awareness, fireground procedures, high-rise operations, rapid intervention teams (RIT), accountability systems, safety companies, engine and ladder company operations, and firefighter safety and survival. Congratulations, everyone!
+ 11 - 10 | § ¶
This Morning's MVA on the Beltline
WRAL posted this aerial photo of this morning's motor-vehicle accident on the Beltline at South Saunders Street, with a log truck overturned and down an embankment. The pinned driver died. Dispatched about 10:30 a.m. Units included E1, E2, E10, E20 (later), L1, R7, R19, C5, EMS 13, EMS D1, EMS T1. Click to enlarge:


WRAL photo
+ 12 - 11 | § ¶
Chief Clack Clicks
Dave Statter has an interesting story about Baltimore Fire Chief Jim Clack and his presence on the Watch Desk. He posts, talks back, and answers questions. "It is a forum where few fire chiefs have dared to tread," notes the blogger. No kidding. Social media and online channels are most certainly not for the faint-of-heart. "There's no laws in this place. Anything goes! It's Thunderdome!"1
1George Costanza to Jerry Seinfeld in "The Dealership," teleplay by Steve Koren.
+ 12 - 10 | § ¶
RAPS Race, Thursday, September 25, 3:30 pm
The next Raleigh Area Public Safety Endurance Race is scheduled for Thursday, September 25 at Rush Hour Karting in Garner. Qualifying begins at 3:30 p.m., with the 90-minute endurance race starting at 6:00 pm. See www.rapsracing.com for more information, including entry fee and team specifics. The Raleigh Area Public Safety (RAPS) Racing League is a 501(c)3 non-profit organization dedicated to building interagency working relationships among public afety professionals. Varoom.


+ 6 - 15 | § ¶
Wake County Fire Commission Meeting, Thursday, July 17
The next Wake County Fire Commission meeting is scheduled for Thursday, July 17, at 7:00 PM, at the Wake EMS Training Facility, located in the lower level of the Wake County Commons Building at 4011 Carya Drive. I'll post an agenda ahead of the meeting, if one is made available. For first-timers, just follow the line of red and/or white sport-utility vehicles from Poole Road and the Beltline. The ones with lightbars.
+ 10 - 10 | § ¶
This Evening's Storms
What were some of the longest runs in the cities and county tonight, for the various lightning strikes and structure fires? Heard Western Wake dispatched to Fayetteville Road and Simpkin Roads. Another call (to Morrisville?) had Durham Highway and Apex on the same dispatch. Here's a kiln venting at Meredith College that looked alarming on arrival.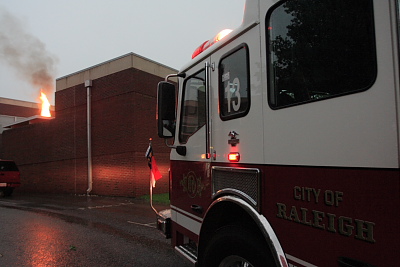 + 8 - 11 | § ¶
Menacing Skies
Sunset plus storm clouds equals grab the camera. You guess the locations. Not hard. Click to enlarge:


+ 10 - 12 | § ¶
Harkers Island, Church Fire, New Ladder
Found on FireNews, the Cartert County News-Time has posted a photo of the Free Grace Wesleyan Church that burned on Sunday morning. Harkers Island resident Mary Ellen Schramm took the stunning shot. The online article includes additional shots, one of which shows an aerial operating. Same is probably HIFD's recently delivered Spartan/Rosenbauer aerial ladder.


+ 8 - 13 | § ¶
The Longbranch Has Closed
The News & Observer delivers the unfortunate but perhaps not entirely unexpected news. One of the area's longest-running dance halls has closed. They shut their doors over the weekend, having filed for bankruptcy protection in February. Opened in 1982 and located on Creekside Drive, the Longbranch was a... half 'n' half club. They had a "rock side" and a "country side." Some 16 years ago, this blogger discovered the country side. The dancing was intriguing, the music was less ear-splitting, and the "gals" had considerably bigger hair. (Fair disclosure: Yours Truly had a shoulder-length mullet around that time.)
READ MORE
+ 14 - 7 | § ¶
Lightning Rods
Wind, rain, booming thunder, and a house destroyed overnight after an earlier lightning strike. Anyone else started thinking about lightning rods. Here's all about them, from Wikipedia. But do they work, at least when used on houses? The Straight Dope weighs in with this 2001 column. That guys says yes, mostly. Google yields more answers, but most seem affiliated with a lightning rod provider. Shocking, there. What are readers' experiences? Post your thoughts. That's a local strike below, shot some years ago from Lake Wheeler Road south of Tryon Road. Great place for photographing storms. G****** it's so exciting, to quote the Thin Lizzy song1.


1 Thunder and Lightning, John Sykes guitar, 1983.
+ 11 - 11 | § ¶
This Morning's Major Fire / Dellcain Court
Three alarms at 11705 Dellcain Court in Brier Creek. Engine 24 arriving with second floor fully involved of frame residence with 2724 square feet. Built 2006. Defensive operations to protect threatened structures on either side of fire building. Ladder 23 operating. Extensive spread of firebrands in neighborhood. Alarm time 2:14 a.m. Under control at 3:43 a.m. Units on scene included E24, E23, E17, E4, E16, E22, E9, E15, E8, E6, Durham E13, Durham Highway P4, Bethesda E421, L23, L16, L22, Bethesda L413, B4, B1, B3, C5, C20, A8, E7 for relief, Six Forks EMS 122, 121, Wake EMS T1, and Cary EMS D5. Coverage included E13 (at 16), L1 (at 17), L11 (at 15). "C" shift, with "B" shift following. Listen to online scanner archives. Click to enlarge morning-after photo:


+ 19 - 10 | § ¶
Western Wake Car 190
Lettering, emblems, and chevrons added in recent days. Photographed outside this blogger's daily destination for breakfast. The hot bar / cold bar combo is the best.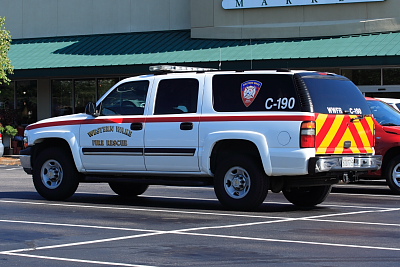 + 12 - 10 | § ¶
Fire Poles
Who (still) has fire poles around here, or around North Carolina? And who likes or doesn't like them? The potential for injury is always cited as a reason that single-story structures are now the norm. Plus there are ADA requirements, I believe, at least for new structures. But they certainly seem increasingly uncommon. The days of towering, two-story downtown Central Fire Stations seem particularly long gone.
READ MORE
+ 16 - 10 | § ¶
Grinnin' Fool
Shuffling through some print photos finds this, Firefighter Michael J. Legeros posing with Engine 19. That's the last of the open cabs, a 1968 American LaFrance with shop-built canopy and acrylic windows attached with velcro. Observe absence of either air horns or modern siren. Crossing Capital Boulevard against traffic was a trial, with the nose siren screeching, the horn beep beeping, and the eagle-topped bumper bell ringing furiously. And if memory serves, the light bar was a new addition. Single beacon was atop just weeks earlier. The photo is dated, say, September 1989. About four months after graduation. Look Ma, I'm a fireman! Click to enlarge:


+ 8 - 13 | § ¶
New Kinston Fire Station
As seen on FireNews, this news site reports that the Kinston Fire Department has a new Station 1. The 16,000 square-foot station at 401 E. Vernon Avenue replaces an older facility on East King Street. That station, built in 1962, replaced a 1937 structure on West King Street, which replaced an 1895 structure on South Queen Street. Read more about Kinston firehouses. The web site of the Kinston Professional Fire Fighters Association features the nifty photo below. Click to enlarge:
+ 15 - 8 | § ¶
Dunn Emergency Services
Found via FireNews, the Dunn Daily Record reports that the town's fire and rescue services have successfully merged. The new organization was placed in service on June 30. They have a Fire Division and EMS Division, and are occupying facilities of the former Dunn Fire Department (East Harnett Street) and former Dunn Rescue Squad (West Cumberland Street).


+ 11 - 6 | § ¶
Random RFD History
News & Observer, August 14, 1932. Memorial Auditorium dedicated that day. Beneath the stage is a fire station, which saves the city cost of an additional building to replace Station 2 on South Salisbury Street. Has room for two trucks, and sleeping quarters for both officers and firefighters. The presence of the fire station also adds a 24-hour watchman service to the auditorium, which also saves the city money. Unknown how long this practice was practiced. Probably decades. One side of the (interior?) stage wing is designed for use as a drill tower, for firefighters to practice scaling the sides of tall buildings. Station 2 was pretty much the training location, until the tower was built in 1954.News & Observer, April 4, 1942.
New fire alarm switchboard installed. The switchboard is "completely automatic" unlike the manual switchboard it replaced. Meaning, I believe, some person performed the switching of incoming fire alarm box signals. All hours, all days. It's housed in a "small fireproof building near the Union Depot, and near where the new central [fire] station is to be built." The city building inspectors says the $13,900 switchboard is the only one of its kind in the state. And it should be sufficient to handle 50 or 60 years of city growth. The building, later called the alarm house, "has room to house the fire department's emergency truck and a shop to repair traffic signals."
READ MORE
+ 4 - 14 | § ¶
Raleigh-Wake Emergency Communications Center Also Hiring
The communications center is also hiring, with their next academy starting in early October. Both Call Taker and Telecommunicator positions are open. They're hiring 8 of the former and 4 of the latter. Visit the city employment site for application information, or learn about the Raleigh-Wake Emergency Communications Center.
+ 10 - 12 | § ¶
Raleigh-Wake Emergency Communications Center Annual Report
This was released much earlier this year, but it's a pretty cool document for anyone who hasn't seen it. This annual report from the Raleigh-Wake Communications Center
features stats, milestones, an org chart, keen cover photos, and other interesting information.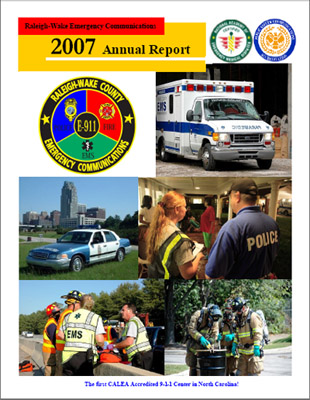 + 7 - 9 | § ¶
Great Shots
FireNews has posted some great shots by DFD member Sean Boone Julian Harrison of an apartment fire on Angier Avenue on June 12. Some times the stars align for strong photography...
+ 10 - 12 | § ¶
Looking Back on Station Closures
There appear to be exactly two simliar station closures in county history. Wake Forest Fire Department #2, a separate department formed in 1942 by black members of the town, ceased operation in 1982-83. Their station was located on Taylor Street. Their members and assets were incorporated or partially incorporated into WFFD. (That's an oral history waiting to be recorded!) And WFFD being the town department, as Wake Forest Rural Fire Department was a separate entity at the time, with separate members and equipment.
Western Boulevard Fire Department, formed in 1958, ceased operation in 1960. (On April 1 of that year, the city annexed a bunch of land in west Raleigh, and Engine 8 was placed in service at Western Boulevard and Method Road.) The WFFD station was located on Powell Drive, on the northwest corner with Western Boulevard. Some of their equipment was designated surplus, and was later transferred to the newly formed Swift Creek Fire Department. WBFD members reorganized as Fairground (singular) Fire Department in 1961. These history pages, though a bit outdated, tell more. Click to enlarge images:
+ 15 - 6 | § ¶
And There You Have It
Yesteday at 1900 hours, an official out-of-service message for Western Wake Fire Department Station 2 was broadcast. The message said the station was "10-7" and that Engine 293, Pumper 297, and Utility 2 were out of service, and that Rescue 295, Brush 299, and Pumper 196 were now in service at Station 1. Short and sweet. Alas, the transmission wasn't recorded on the live scanner web site.