+ 9 - 8 | § ¶
Vintage Crash Trucks
Since we're riding the wayback machine, let's reprint a blog posting from August of last year. It's summer, time to enjoy or remember your favorite dumb action movies. Here we go again, repeating this classic sequence at the end of Airport 1975. Boeing 747 coming hot into Salt Lake City. Don't you love those old Air Force crash trucks? And the Cadillac ambulances swerving to a stop? Probably asked my parents to take me a second time, just to watch these scenes again.


+ 18 - 9 | § ¶
Mystery Crash Truck
This one's from somewhere outside of North Carolina. Any guessers, both for the airport and the make (beyond the obvious chassis) of the apparatus? Will reveal more in subsequent posting. Click to enlarge:


+ 11 - 6 | § ¶
Winston-Salem Police Officer Dies on Duty in Crash
Another North Carolina public safety duty death was reported Saturday, when Winston-Salem Police Department Officer Russell Willingham, 28, died early that morning in a single-vehicle accident on North Vargrave Street. He was responded to assist another officer with stopping a probable drunk driver. His police cruiser left the road, went down an embankment, and struck a tree.
He reported his crash and that he was pinned. His last radio transmission was that his vehicle had caught fire. When responders arrived, his cruiser was fully involved. Officer Willingham was later found dead in the vehicle. This Winston-Salem Journal article has more information, as do other media outlets. Arrangements are pending.
Officer Willingham is the fourth law officer in North Carolina to be killed in the line of duty this year. To learn more about fallen officers, visit the Officer Down Memorial Page. The site includes a searchable database, with 502 (!) records dating as early as 1816. (The records for all states total 20,635, and date to 1791. Wonder what a consolidated database on the fire service side would look like, going back that far?) Next question, is there a comparable North Carolina police news site, or police blog, that people read?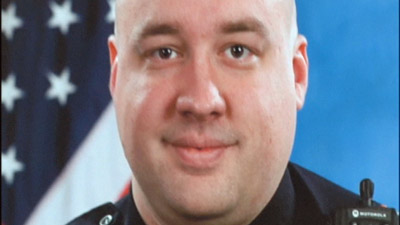 + 8 - 3 | § ¶
These Guys Serve (Food) and Protect
Here's a Midtown Raleigh News article about the Falls Fire Department fundraiser last week at Milton's Pizza at Wakefield. Curious headline, as it's a play on a familiar law-enforcement motto. Easy to get the two confused, perhaps. Nice article, all the same. We blogged in advance about the fundraiser, and that thread got a bit hot. Glad to hear and read that the event was a success. Public interaction outside of emergency scenes is always a good thing. Read the story, which includes the below picture of Firefighter Mike Greenham serving a diner.



Carla Turchetti/Midtown Raleigh News photo
+ 4 - 6 | § ¶
Seen on Scene
Cooler temperatures and higher humidity today, with showers and what sounds like thunderstorms. Here's a house fire from a bit ago, south of downtown at the intersection of Summit and Gilbert avenues. Quickly extinguished by Engine 1. Looks like ventilation in progress from Ladder 4 in the top shot. And rehab being readied with big ol' Truck 1 on the bottom. Both Lee and Legeros met again on scene and will be posting pictures later.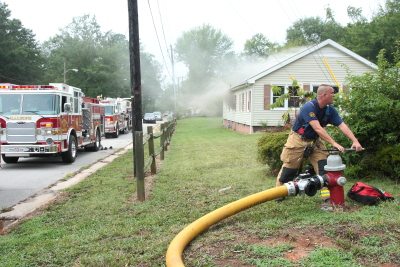 + 5 - 9 | § ¶
Reader Mail
Been a while since we looked through our letters. Let's open the mail bag and see what the gas bag has to say. Most of these queries or comments have been edited for clarity, or rewritten to conceal the identity of the sender. Just being polite on the last point, since no permission has been asked to reprint their notes. Mail me, if you don't want your letter reprinted.
I came across your Cary Fire Department timeline and noticed that there was a mention of Ashworth Drugs under 1935… "Fire station is ordered moved to new location, in back of the Masonic Lodge at corner Chatham and Academy streets. Lodge building later becomes Ashworth's Drugstore in 1977( August 24, 1935) cb". I'm not sure if Chief Beck misspoke or not, but the drugstore actually became Ashworth's in 1957. Just prior to that it was Adams' Pharmacy.

Thanks for the correction. I will update that page at my next opportunity. That timeline, and others for other Wake County fire departments, was created in the early 2000s, as I was conducting historical research used in my Raleigh and Wake County Firefighting books. Alas, my priorities and attentions have since shifted, and those web-based timelines have been without updates for a while. Group editing and input would be great. Maybe I'll convert them to Wiki pages, someday. Let the collective take ownership and revise as desired.

--

In your posting about demolished stations, you stated that the original New Hope Station 1 was demolished before the current station was built. Are you sure about this? I remember when I used to hang around that place in the late 1980s, and when the current meeting room (the two windows to the left of the entrance) used to be bay space. If I am not mistaken, the current meeting room and day room space, and the two bays on the far end of the station, are additions. Any way you can confirm this?

Here's what I have recorded about the first New Hope fire stations: In 1956, the first fire station is "L" shaped building at corner of Louisburg and New Hope roads, with loaned / rented garage bay on the New Hope Road side. The first fire truck is stored there. In 1958 or abouts, a new fire station is constructed at 4615 New Hope Road. Same is a three-bay building with a blackboard (for writing down calls) and an entrance to the right of bays.
READ MORE
+ 9 - 10 | § ¶
Stories, Reports From Asheville
Here's a summary of stories, reports, and information about the Asheville four-alarm last week that killed Capt. Jeff Bowen and critically injured firefighter Jay Bettencourt. The memorial service is Tuesday at Biltmore Baptist Church in Ayden. The visitation is the night before at the same location. Below is a selection of links, including numerous Asheville Citizen-Times stories that have been published.
Asheville Citizen-Times
Legeros Fire Blog
Other Sites
Other Information
+ 9 - 4 | § ¶
Hot Day in Cary, Updated
Fifteen paramedic ambulances were among the many resources that responded to a two-alarm structure fire and subsequent mass causality incident at a Cary nursing home this afternoon. Dispatched at 3:27 p.m. with additional caller reporting fire in a room. Second alarm dispatched prior to arrival. Engine 3 arrived at 6590 Tryon Road with nothing showing from the exterior of the one-story, brick-and-frame residential medical facility with 48,842 square-feet. Built in 1991.
Engine 3 personnel found in a patient's room, and contained to that room and quickly controlled. Building fire department connection supplied, and sprinkler system also activated. Crews also assisted with evacuation and outdoor care of the 105 patients inside the facility. They were outside the building for about 20 minutes, staged in three or more parking lot and lawn locations. Shuttle buses requested, for possible relocation. Patients returned to building, with officials evaluating if later relocation would be needed.
Second alarm EMS dispatched. Additional units were required for treatment and transport of six victims with minor injuries (smoke, heat), three patients and three workers. Additional resources were required for medical monitoring and rehab of responders, and subsequent rehab of the rehab personnel. Air temperature in the mid 90s. Command including medical branch located in front of structure. Staging in driveway and nearby parking lot. Additional medical staging in office complex at corner of Tryon Road and Kildaire Parkway. Shuttle buses moved to nearby church parking lot.
Units on scene included Cary E3, E6, E4, E2, L3, L6, L1, R2, B1, B2; Swift Creek E3, B27; Cary/Apex/Wake County EMS 51, EMS 42, EMS 41, EMS 8, EMS 52, EMS 4, EMS 32, EMS 38, EMS 35, EMS 17, EMS 9, EMS 5, EMS 35, EMS 55, EMS 31, D5, D2, D1, M94, T1, Evac1, Chief 100. Plus Wake County Fire Services, Wake County EM, and Cary Police. Both Legeros and Lee were on scene.
See photos by Mike Legeros | See photos by Lee Wilson


+ 4 - 5 | § ¶
Hot Day in Havelock
Two townhomes were destroyed this afternoon down east, as this Havelock News story reports. The fire was reported shortly after noon at 122 Heather Glenn Circle. Havelock's new ladder truck was utilized. Havelock, Township Six, Township Seven, and Harlowe fire departments are scene. The Weather Channel says its 93 degrees there, with a heat index of 103 degrees.



Drew C. Wilson/Havelock News photo
+ 7 - 4 | § ¶
Tees For Vinny
From a reader, a young man with down syndrome in Altoona, PA, has been diagnosed with leukemia. He is very sick, and his friends are asking for t-shirts to help cheer him up. The boy's name is Vinny and he absolutely loves t-shirts. Maybe there are some fire department or emergency services shirts that could be sent, from our little corner of the world in Wake County. Here's a facebook page about the project, and it includes his mailing address. Thanks for reading.
+ 8 - 6 | § ¶
Goodbye Wilmington Station 2
Reader Matt White shares this WECT story about the demolition of Wilmington's Empie Park fire station. He sent some shots both inside and outside the old station, which we posted a couple weeks ago.



Veronica Macias photo
+ 9 - 4 | § ¶
Historical Database of Fallen Firefighters in North Carolina
Earlier this year, I had occasion to update my historical database of fallen firefighters in North Carolina. Same was created about five years ago, as the North Carolina Fallen Firefighters Foundation was preparing for their first annual memorial ceremony. The information in the database, however, is not an official representation of NCFFF information. Nor should it be considered an official representation of OSFM, USFA, or NFFF information.
There's an accompanying essay, written and published on FireNews.net in 2006. The database includes names, ages, ranks, death dates, department information, volunteer/career status, a short description of the incident, and select notes, including race and gender (if known) and burial information. Yours Truly has more information in his files, and may someday compile some historical statistics. Such as tallying the causes of deaths, the frequencies over periods of time, and such.
Sources for the information? That's been a bugger, over the years. Death certificates were located where possible, via microfilm at our local history library. Plus News & Observer or Raleigh Times articles on microfilme, which often mentioned firefighter fatalities statewide. Heck, even old Hose & Nozzle issues provided information, which were found during research at UNC over one winter break.
For more recent duty deaths, the online database of the USFA and NFFF have been useful. Some genealogical resources were used, where names were incomplete. Then further research and cross-referencing could continue. The sources are listed at the bottom of the database. As always, I welcome corrections and clarifications to the data. The objective is an accurate but still respectful representation of the fallen fire service members. View the database.
+ 6 - 7 | § ¶
Caption This Photo / Here Comes Water
That's a member of Cary Engine 2 working on a vehicle fire with Western Wake yesterday afternoon off Trinity Road. What do you think happened next, after this photo was taken?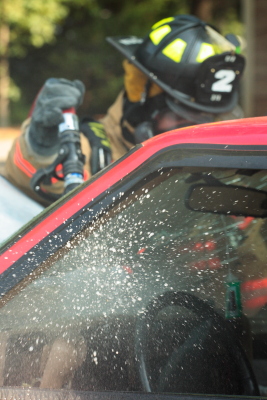 + 8 - 6 | § ¶
North Carolina Civil Defense Documents, 1950
Historian Frank Blazich, who operates the fascinating North Carolina Civil Defense History blog, recently found a set of interesting documents. They were authored by Eldred Zed Jones, the first civil defense director in the state's post-World War II civil defense organization. The documents detail planning needs fire and emergency medical services, as well as the use of sirens on emergency vehicles. Great stuff! Thanks, Frank. Click once or twice to enlarge:


+ 5 - 4 | § ¶
Raleigh Police, Firefighters Go Pink in Softball Fundraiser on Sunday
Read this News & Observer article about the Pink Diamond Classic softball game Sunday, where Raleigh police and firefighters will play against the King and His Court, a renowned four-man exhibition team in one of their final games. The event starts at 3:00 p.m. on Sunday, July 31, at the The Curtis Jacqueline Dail Softball Stadium, 2481 Cates Avenue, Raleigh, on the North Carolina State University campus Admission and parking are free. The event is a fundraiser to benefit the Kay Yow Cancer Fund. Thanks to Mrs. Blogger for finding this one.


+ 6 - 5 | § ¶
Three-Dimensional Printing
The future is upon us. Think of the possibilities as costs drop and complexity simplifies over time. Found on a die-cast collectors board.


+ 7 - 10 | § ¶
Blog Roll Call | Post Your Bio
With our blog dicussions lately taking turns toward the intense, let's take a step back this Friday afternoon and look around our virtual dayroom. It's still too hot to be doing anything but sitting inside and perhaps at the computer. Let's have a roll call, shall we? Reader suggested. Chime in if you're a poster, or even just a reader. Please include:
Poster or just reader, here
Name, real or anonymous
Background
Current position/affiliation/interest in fire service.
Obfuscate as desired. Tell as much or as little as you like. Mention your department(s), or keep quiet on that. No problem. If you are anonymous and don't have a screen name, just cite Guest. If we have enough responses, I will compile and post the collection at a later time. Example:
Poster - Legeros (e.g., Mike Legeros) - Longtime blogger, photographer, author, historian, web site operator, buff - Official Raleigh FD historian - Official photog for Wake EMS - Former Raleigh FF from 20+ years ago, for a couple years - Former Raleigh/Wake 911 operator, short stint, ages ago - Web guy at software company, day job.
+ 6 - 9 | § ¶
Asheville Updates
This morning's Asheville Citizen-Times provides some additional details about yesterday's four-alarm fire that killed Capt. Jeff Bowen, critically injured Jay Bettencourt, and injured nine other firefighters. The article clarifies details reported yesterday in our original blog posting. Eleven firefighters total were injured, including Bowen, who died after being transported to nearby Mission Hospital. He and Bettencourt were conducting a search. Bowen called a "mayday" over the radio, the distress message that sent additional firefighters into the building, to find him.
Bettencourt was transported to Joseph M. Still Burn Center at Doctors Hospital in Augusta, GA. His condition was listed as critical Thursday night. Nine others were also transported. Three were treated as released. The remaining six were still in the hospital late yesterday. The fire started on the fifth floor of the five-story medical office building at 445 Biltmore Avenue. With the exception of one room, the building was not equipped with sprinklers.
Read this morning's Citizen-Times story. There's also a slideshow of 29 images. There's also a second article about firefighter risks and duty deaths.
Among the tributes to Capt. Bowen is this Facebook page, Capt. Jeff Bown In Loving Memory. FireNews has also posted a transcript of the radio traffic, from the time of dispatch to the fourth alarm.
It was dispatched as a fire alarm activation at 12:29 p.m. The first unit, Engine 2, arrived two minutes later, with heavy smoke and flames showing from the top floor, rear of the building. Working fire dispatch (FM10, C3, R3, B1, E6) and second alarm dispatch (?) started at that time. The third alarm (E8, E10, Q5, B2) was dispatched at 12:56 p.m. The fourth alarm (L10, E4) was dispatched at 1:43 p.m., about 13 minutes after the mayday was issued.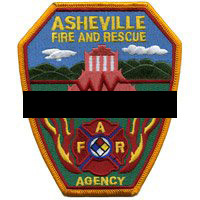 + 10 - 5 | § ¶
Heavy Smoke at McKimmon Center
Here's a photo and a pair of video links (before and arrival and pulling lines and initial entry) from Tuesday morning's fire at North Carolina State University's McKimmon Center on Gorman Street. Dispatched around 8:00 a.m. Engine 8 arrived with heavy smoke and a quickly controlled fire in a maintenance room in the rear of the building. Smoke removal took considerably longer, and two additional ladder companies were utilized. Recalling the radio traffic, the fire units included E8, E5, E20, E1, L7, L4, L1, R3, B3, A1, C10, C20. Credit photo and video to R. Craven, by way of reader and photographer Chad Simon. He works at the place, but was off that day. See prior posting about the fire. Click to enlarge:


+ 7 - 5 | § ¶
Latched Latch | Expo Photos
Photos have been posted of last week's Firehouse Expo at the Baltimore Convention Center. There are a few dozen shots from around the exhibit floor. Plus some pictures of the fire bloggers booth (Geezer, Statter, etc.), a meet-up on the Inner Harbor one night, a social media panel workshop, and participants prior to the 9/11 memorial stair climb. The photos have been posted to Flickr, versus Legeros.com. Don't be alarmed.
Among the apparatus on display were two Ferrara rigs from New York City. Both were equipped with these unique double latches. As the story was told to me, the second latch will help keep a rig in service, since a broken compartment latch requires that a rig is immediately removed from service. Perhaps more in the know can further or better explain. Pretty interesting.


+ 7 - 8 | § ¶
Twitter as Police Scanner in Seattle
For your morning musings on social media, here's a New York Times story about a 12-hour experiment Tuesday in Seattle. The police department posted nearly all emergency calls on Twitter, save for domestic abuse and child abuse. The Twitter messages, which are 140 characters or fewer, totaled 478. That's an average of 40 per hour. There was no prior announcement on Twitter of what was planned, so Twitter feed subscribers had a range of reactions. Not surprising, a number of them were frustrated. Lesson #1: Let people know ahead of time, when you're preparing to drastically change the parameters of a social media channel. Read the story for more.
+ 7 - 8 | § ¶
Twitter as Police Scanner in Seattle
For your morning musings on social media, here's a New York Times story about a 12-hour experiment Tuesday in Seattle. The police department posted nearly all emergency calls on Twitter, save for domestic abuse and child abuse. The Twitter messages, which are 140 characters or fewer, totaled 478. That's an average of 40 per hour. There was no prior announcement on Twitter of what was planned, so Twitter feed subscribers had a range of reactions. Not surprising, a number of them were frustrated. Lesson #1: Let people know ahead of time, when you're preparing to drastically change the parameters of a social media channel. Read the story for more.
+ 14 - 4 | § ¶
Wake Forest, Falls Fire Departments Begin Merger
As this Wake Forest Gazette story reports, the Wake Forest Fire Department and Falls Fire Department signed an operational consolidation contract on Monday, July 25. The signing, held at Station 1 on Monday night, is the first legal step toward the merger of Falls with the Wake Forest fire department.
Questions and details about the merger will be worked out by an eight-person steering committee, with five subcommittees working on training, operations, services, health and safety, and fire prevention. Paid and volunteer members from both departments will participate in the committees.
The merger was first proposed in 2009, and those plans involved closing the Falls fire station. The current merger plan will keep the Falls fire station open, and the combined department will provide protection for three fire districts: Wake Forest municipal, Wake Forest rural, and Falls.
Wake Forest FD has 51 paid firefighters and about 25 volunteer firefighters. Falls FD has 35 volunteer firefighters and nine paid part-time firefighters. The Falls fleet consists of two engines, one tanker, one brus truck, one boat, one small truck, and one car.
+ 7 - 5 | § ¶
Caption This Photo / Fire on Flatbed
As posted in this FireNews story, showing the Steele Creek Fire Department in action against a blazing bulldozer. What are some of the more unusual vehicle fires that you have fought in your day?


Christopher Hardin/FireNews photo
+ 5 - 5 | § ¶
South Atlantic Fire Rescue Expo Almost Here
And then it was August. The Raleigh Fire Expo starts in two more weeks, e.g. the South Atlantic Fire Rescue Expo at the Raleigh Convention Center. That's the umbrella name for three concurrent events, the annual meeting of the state firefighter's association, the annual meeting of the state fire chief's association, and the annual expo for vendors and dealers and other interested parties.
Yours Truly, Historian Mike Legeros, is again conducting his workshop on North Carolina Firefighting History. That's 90 minutes of hysterical, historical excitement on Friday, August 12, starting at 1:30 p.m. See slides from last year's presentation, which will also include a short segment on researching fire department histories. What about a presentation on incident photography? Or social media and blogging? Maybe another year. (Either might be great panel discussions. Any volunteers to share the stage?) Here are some photo's of Mike's, from last year's Expo.


Here's everything that's happening, from the program schedule. Plus a plug for the Raleigh Fire Department Museum, which will be open that Saturday, and with shuttle service from the Convention Center:
Tuesday, Aug. 9
Golf Tournament, Wake County Firefighters Association Meeting, Chief 101 Class (continues next day)
Wednesday, Aug. 10
Golf Tournament, Pre-Conference Workshops, Chief 101 Class (second day), Meetings
Thursday, Aug. 11
Breakfast, Opening Session, Keynote by Bill Cowher, Meetings, Memorial Service
Friday, Aug. 12
Workshops, Meetings, Exhibit Hall Open
Saturday, Aug. 13
Workshops, Meetings, Exhibit Hall Open, Motorcycle Ride, Apparatus Parade (now at 9:00 a.m), Charlotte Steamer Demonstration (!), Haz-Mat Challenge, Evening Banquet
Plus: Raleigh Fire Department Museum (located at the nearby Keeter Training Center) open from 10:00 a.m. to 2:00 p.m., with shuttle service from Convention Center
Sunday, Aug. 14
Meetings, Devotional
+ 9 - 7 | § ¶
Morrisville 9/11 Memorial Stair Climb, Sunday, September 11
Here's a flier with information about the Morrisville Fire Department's 9/11 Memorial Stair Climb on Sunday, September 11. The event starts at 9:00 a.m., and proceeds benefit the National Fallen Firefighters Foundation. Memorial stair climbs are planned around the nation, including two others in North Carolina. Registration for the Morrisville stair climb is open until Saturday, August 20. Here's a prior posting about the event. Click to view this PDF-format flier:


+ 5 - 5 | § ¶
Raleigh Fire Department Newsletter, Summer 2011
The summer 2011 edition of the Raleigh Fire Department Newsletter has been posted to the web site raleighfirenews.org. The contents include: New Radio Procedures Start; Two Alarms on Avent Ferry; Emergency Fire Dispatch; Office Upgrade for Division Chief; Rotation of Command; New Decon Trailer Delivered; Orientation for Fire Inspectors; Budget Adopted; More Solar Systems Installed; Charity Events; Raleigh Fire Museum Opens; Fire Prevention Code Revised. See the web site for back issues. The Raleigh Fire Department Newsletter is a quarterly publication for personnel, retirees, and citizens. Read the issue
, or click to access:


+ 6 - 2 | § ¶
Funny, Not Funny, Or Just Weird?
Found by Statter911, firehouse funnies from Adena, OH. Watch the video cold, without context. Or read his posting and the comments, and then commence a-viewing. Did you laugh? Did you wince? Did you just scratch your head?

+ 7 - 3 | § ¶
Historic Firehouses of York, PA
Plus one that's newer, built in 1974. Photographed last week, while en route to Reading for a very heavy rock concert. Station 1, the Rex/Laurel firehouse, is reportedly the oldest continuously operating fire station in the United States. It's also slated for closure, along with Station 5. City officials are proposing building a new, combined station for the two engine companies.
Station 1 - Rex/Laurel - 49 South Duke Street - Built 1878
Station 2 - Vigilant - 273 West Mark Street - Built 1974
Station 4, Old - Rescue - 300 block George Street - Built 1874 - Closed 1970
Station 5- Goodwill - 833 East Market Street - Built 1903
Station 6, Old - Royal - 757 West Market Street - Built 1903 - Closed ?
Station 7, Old - Eagle - Jackson Street at Jessop Street - Built 1912 - Closed ?
Station 9 - Lincoln - 800 Roosevelt Avenue - Built 1946
Take the photo tour, posted to my Flickr site. Or learn more about the York Fire Department, where they still operate Gamewell boxes. And run two-person (!) engine companies, supplemented by volunteer members. Their fire department dates to the first brigade formed in 1771.


+ 3 - 6 | § ¶
NCSU Fire Protection Vehicle
This photo was posted as part of this NBC 17 story about this morning's smoky-but-small electrical fire at McKimmon Center. Engine 8 arrived with heavy smoke and a quickly controlled fire in the rear of the building. Smoke removal took considerably longer, and two additional ladder companies were utilized. Talk about a fan club! Where was Legeros, cough cough, who heads that way every workday morning? You wouldn't believe the excuse if we told it. The below unit is part of North Carolina State University's Fire Protection services. Believe it responds to all fire calls on campus, and probably many medical calls, as well. As usual, we welcome reader facts to supplement blogger supposition.
See photo and videos from this incident.



NBC 17 photo
+ 4 - 4 | § ¶
Six Days Later
Three apartment buildings, each about 5,000 square-feet. Sharing a common attic space. Arriving units found fire through the roof of the middle first/left building. The fire was attacked from both ends, with aerial stream on the first building (foreground), and interior lines in the attack in the third building (background). Heavy fire on a hot day. Read prior details and discussion. See Lee Wilson's scene photos. Click to enlarge:


+ 7 - 1 | § ¶
This Afternoon's Fire in Apex / Kellerhis Drive
The weather was a bit cooler for firefighters in Apex, with a major house fire at 100 Kellerhis Drive early this afternoon. Some details have surfaced. Arriving units found heavy fire showing from a two-story, wood-frame, single-family residence with 2,514 square-feet. Built 2004. The blaze was reported about 1:15 p.m. Apex (E1, E4, E2, L3, L4, C5, C1), Cary (E4, E5), Fairview (E1) fire departments on scene, plus Cary and Wake EMS (55, 51, D5, T1).
Crews made an interior attack, until the roof started to collapse, reports the News & Observer. No injuries reported. Photos from Lee Wilson forthcoming. News includes News & Observer (with photo gallery of 30 images), WTVD (aerial images), and WRAL (with viewer video). Readers are welcome to add incident details.
Trash-talking has already started, over on the Avent Ferry fire thread. Maybe we need to tally these threads, and issue awards for ICs who operate at fires that result in the fewest negative blog comments. This Fire Was Blog Approved. Will work on that. Meanwhile, try reaching toward the light. Really, it won't hurt.



WRAL photo

WTVD photo
+ 4 - 5 | § ¶
Back From Vacation
Here's what's floating around my brain, on the first day returning to work, life, and regular blogging:
Stan Jaworski posted some pics from that four-alarm fire in Baltimore last week. Thanks for sharing Stan, and thanks for the heads-up on the fire that morning. My pics were posted Sunday. As usual, I overshot the scene something fierce.
Said fire was my first on-scene experience in Baltimore. First big-city fire, in fact, in many, many years. Last one was maybe 15 or 18 years ago in Minneapolis. The Baltimore incident spread across a number of blocks, between the many hydrants, the various staging locations, and residents watching and walking through.
What other photos were taken on the trip, that are coming soon? Historic firehouses of York, PA. Several dozen on the floor of the Fire Expo. Quite a few at the booth of FireGeezer and Dave Statter. As for the concert pics, we'll post those on Facebook, probably. Rock on.
There are posted pictures somewhere from the Terry Farrell Firefighters Fund event at Nash Square on Sunday, seen via a link found on Facebook. Can't find the thing this morning. Maybe someone will post.
One of the workshops attended at the Fire Expo was as panel discussion on social media. One of the topics was reputation management, and, particularly, the future career impact of your present online behavior. Is that something you young bucks (or even the old farts) think about? The N&O had a recent story on the subject, maybe reprinting a recent NY Times article. Can't find that thing this morning, either.
Took notes at the above workshop, plus one on public relations in fire prevention. My intention is to transcribe my notes, and post them here. Will the notes fairly represent the speakers, and the content of the workshops? Have no idea. Probably need a big, fat disclaimer.
The Avent Ferry fire discussion. That one's still rolling. What have learned about ourselves, in this latest covering of familiar ground? That post was generated while on the road, alas. The incident description evolved, and moved from less to more descriptive over time. Was that fair? Should the thing have waited, and been initiated days later?
The Falls fundraiser discussion. That one's been interesting. We're getting a citizen perspective on issues as presented on this blog. Note the bold text just then. Always remember that this blog (and the content therein) is but one window or type of window into the local fire service. There's always more information, and additional sides to the stories.
The Harnett County plane crash. Some times we score, and are deluged with facts but without controversy-spawning speculation. Thanks readers, for fleshing out the context to that incident. Since I am neither a reporter nor full-time blogger, my questions and your answers are a welcome alternate to what otherwise require calls and contacts and summary writing.
Renaming the blog. Great suggestions, everyone. Right now, the simplest choice for naming the blog (which is not the same as the web address) is probably Legeros Fire Blog. But what about the web address, e.g. the domain name? Legeros.com/blog gets you there, but something like legerosfire.com would be even simpler. Still thinking on this one.
+ 6 - 4 | § ¶
Sealed Fire Stations
So what's your lighting and window preference for fire station living areas? Natural light, with lots of windows, and the shades always raised? Overheads only, with the curtains down, or, even better, as few windows as possible? Or maybe you're somewhere in-between... Below is Station 2 in York, PA. That's the Vigiliant Fire Company. Exactly one window outside of the apparatus floor. Now that's a sealed fire station!


+ 5 - 3 | § ¶
Old Butner Engine For Sale
From a reader, here's a Butner Public Safety pumper for sale on Craigslist. That's a 1960 International Harvester/American LaFrance pumper, 1000 GPM. The seller says it's been parked for years, but the engine is believed strong. We've also blogged before about the history of Butner Public Safety, in previous posts here, here, and here. Wonder what the rest of their fleet looked like, when that pumper was presumably purchased new?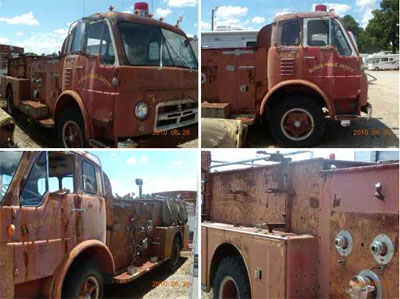 + 3 - 2 | § ¶
Aerial Mapping at Command Post
Here's another couple pictures from yesterday's four-alarm fire in Baltimore. Mobile command post, and with enlarged aerial maps noting hydrant locations. They were using at least five hydrants at the fire. Digital imagery, satellite data, and mobile printing is easier than ever these days.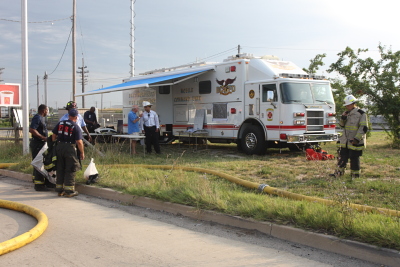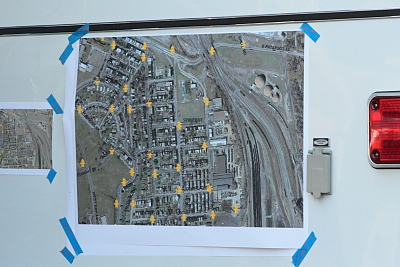 + 5 - 5 | § ¶
Rename This Blog
Having spent some time this week with the bloggers behind such short 'n' snappy site names as Firegeezer, Statter911, FireNews, and The Fire Critic, the need for a better name for this blog has become all too apparent. So what would you name this thing, that's shorter but still as relatively descriptive as Raleigh/Wake County Firefighting Blog? Some ideas, suggestions, and amusements are below. What's your best suggestion?
Legeros Fire Blog
Legeros911
NC on Fire
North State Fire
North State Firefighting
The Fire Blog
Fire Blog
Fire NC
Wake Up
Wake Up, Fire!
etc.
+ 5 - 3 | § ¶
Morning in Rockville
Good morning Raleigh. Saw this station while making the vacation rounds today. The engine house says Rockville Volunteer Fire Department. The aerial tower says Montgomery County, MD. What's going on here? Allow some speculation. County-wide fire department in effect, most likely. At some point in the past, Rockville had their own fire department. Maybe still does on paper, or in part.
The county also has a fire department, or perhaps just a fire department infrastructure. Maybe they're paying for the trucks and the staffing, alone. Maybe they're funding and running the whole enchilada. Noticed three-digit numbers on the vehicles, suggesting county-wide numbering. I realize that Google would answer these questions pretty near immediately, but speculation is kinda fun. Plus is engages the reader, and results in conversation.
In Anne Arundel County, outside Baltimore, some of those trucks bear the name of the community they protect, like Brooklyn. That's also the name-- if my memory of the area's fire service is correct-- of the former fire department that served that area. Maybe or maybe certainly we'll see that in our parts. Where a Wake County Fire Department will have trucks and people stationed in unincorporated areas-- and maybe even some municipalities-- and the trucks will also bear the community/former department's name. Bay Leaf. Stony Hill. Fairview. etc.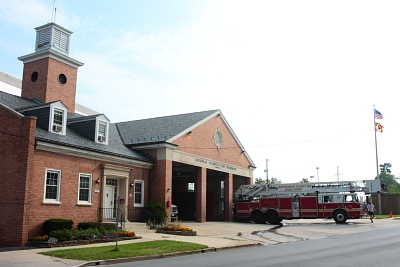 + 3 - 4 | § ¶
Baltimore's Smoke Detector Program
Caught this inside a Firehouse.com article and Expo recap titled Chiefs Discuss Good, Bad and Ugly at Firehouse Expo, subtitled The fire service is feeling the effects of the economy and chief officers have had to make adjustments. It contains summary statements about the Baltimore Fire Department's smoke detector program. It also resonates with me after hearing a great presentation on Friday about public education and proactive safety for citizens. Saving lives (and preventing and reducing injuries) before the fact. Before the fire starts. More on that later, along the lines of Fire Warriors as Fire Protectors. Can you handle such a shift?
[Fire Chief Jim] Clack said Baltimore firefighters have installed 250,000 smoke detectors in the city and is about to go out to install another 10,000. The project, which is funded principally with grant money, gets firefighters out into the community and he's certain it has helped save lives.

Baltimore plans to step up the initiative with a dedicated phone number, 311, which, when called, will dispatch firefighters to the residence in two hours or less to install smoke detectors immediately.

"We'll be handling the calls like a non-emergency response," Clack said, noting that up to 40 smoke detectors and batteries and screw guns are kept in each engine and some are in virtually every department vehicle in the fleet.

He said Baltimore has a significant substance abuse problem and it's important that smoke detectors be installed to alert people and hopefully save lives. Fire deaths had been averaging 25 annually in the city, but it was down to 6 this year which is on track for a 50 percent reduction.
+ 4 - 4 | § ¶
Climbing The Stick
Here are a couple shots from a four-alarm fire this morning in Curtis Bay, south of downtown Baltimore. One-story warehouse with haz-mats. Baltimore City Fire Department, with some Anne Arundel County units. The city even brought out the "water tower," the Snorkel. These shots are about 2.5 hours into the incident. Brief stop on my way to the convention center. Attended 8:30 a.m. panel on social media. More on that, later. More photos, later. Thanks Stan and Jeff for the heads-up. Guess I'll bring a radio with me next year.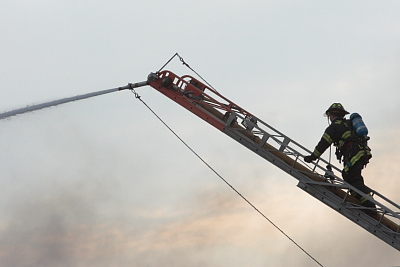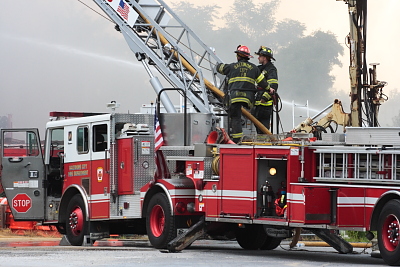 + 4 - 4 | § ¶
Will Blog For Food
Several fire bloggers were among the attendees at a firefighter's meet-up Thursday night in downtown Baltimore, at the Uno's on the waterfront. That's but a couple blocks from the convention center, where the Firehouse Expo is underway. (They even raised the temperature in town, to make everyone feel at home in the heat.)
Photographer Stanley Jaworksi braved lens breakage by snapping this stunning group shot. Could they be a more handsome group? Among the outlaws, in-laws, crooks, and straights are the talents behind Statter911, Firegeezer, The Fire Critic, FireNews.Net, Firefighter NetCast, Fire Truck Blog, Iron Firemen, VA Fire News, and Raleigh/Wake County Firefighting Blog, which we'll just simplify and call the Legeros Fire Blog. (Who or what site is missing?) Great fun, great fellowship. Click to enlarge:

The event benefited the National Fallen Firefighters Foundation, and was sponsored by Wall Shields and Firefighter Monopoly, and presented by FirefighterNation.com, FireEMSBlogs.com and FireRescue Magazine. Was that everyone? Thanks for the fun event, and for a good cause.
+ 3 - 5 | § ¶
Wilmington Firefighters Privy to Unusual Rescue
The Wilmington Fire Department this week rescued a man who became buried in a hole behind his house. On Tuesday evening, he was searching for antique bottles in the space once covered by the smallest building on his property. Said space caved in about 6:00 p.m., burying the man in sand up to his chest. The fire department's Tactical Rescue Team responded, among other units. As a WECT story notes, the team members dug out the sand, stablized the hole, placed a harness around the victim, and lifted him out. The victim was transported, treated, and released, and appears to be fine. Read the story, which includes a few photos. Be careful where you dig! Thanks Ryan, for passing along.


WECT photo
+ 3 - 7 | § ¶
Foam House
Seen among the marine facilities in Baltimore's harbor. Sign on the side of the building reads "fire department foam connections." Wonder what's inside?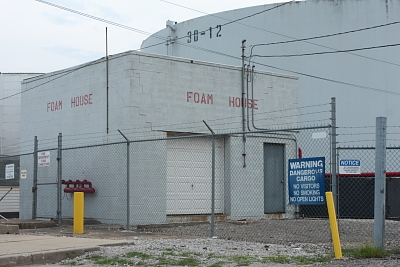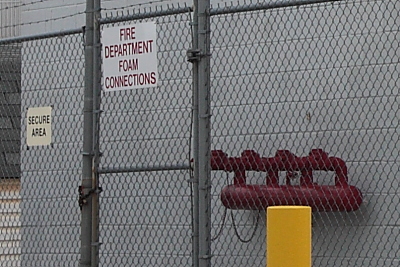 + 5 - 3 | § ¶
Happy Hot Friday
And some of us schmucks are sitting smack dab in the hottest hot zone, northern Virginia and Maryland. Oy.

+ 6 - 4 | § ¶
Yesterday's Plane Crash in Harnett County
We don't see many plane crash photos (much less plane crashes) in these parts, and this image is unusually candid. As posted by WRAL, it depicts people among the wreckage of a Cessna 182 that crashed in the Cape Fear River while approaching the Harnett Regional Jetport1. One person was killed, and a reported second person was aboard, condition not known. Contact was lost with the craft on Wednesday night, and it was located by a Civil Airport Patrol plane on Thursday afternoon. Read the story. Readers to the south, what sort of emergency response resulted, after discovery?


Greg Clark / WRAL photo

1
There's a jetport in Harnett County? Yes, since 2006, when the airport was renamed after a runway was extended to a length that permitted business jets to land. Next question, is the jetport big enough to require fire apparatus on site?
+ 6 - 4 | § ¶
Caption This Photo / All Ages Show
These enthusiastic fans were awaiting entry into the Sovereign Center in downtown Reading, PA, on Wednesday night. The concert was a double-bill of Rob Zombie and Slayer, plus Exodus as opening act. First night for the tour, which is heading to Canada after a couple domestic dates. The Reading Fire Department stood by. Saw an engine parked outside all night, along with one or two medical units. In addition to this father-and-son shot, here's a crappy phone photo of Zombie's stage set. Without the leaping flames, however. Those didn't capture well. This pic's suitable for all ages, as was the concert (or at least, as billed). Later songs added naked-ness on the video screens. We'll leave that to your imagination. Go, go, Zombie. Click to enlarge:


+ 4 - 3 | § ¶
Falls Fire Department Fundraiser at Milton's Pizza, Tuesday, July 26
Falls Fire Department is holding a fundraiser on Tuesday, July 26, from 5:00 p.m. to 9:30 p.m., at Milton's Pizza in Wakefield, 14520 New Falls of Neuse Road, Raleigh. Firefighters will be waiting tables, seating patrons, and even bartending. For each customer served, Milton's pizza will donate a percentage of the sales to the Falls Fire Department. Bring the kids, bring the family. They can see the black and red fire engines, and eat dinner with real firefighters while supporting your local firehouse. For more information, contact Battalion Chief J. J. Graney at jjgraney@fallsfd.com.
+ 7 - 1 | § ¶
World Trade Center Steel From 9/11 at Nash Square, Sunday, July 24
On Sunday, July 24, at 11:00 a.m. in downtown Raleigh, please join Wake County Commissioners Chairman Paul Coble in welcoming The Terry Farrell Firefighters Fund, as they escort a piece of recovered steel from the World Trade Center on a national tour. Raleigh is the first stop along the twelve-day, cross-country tour that ends at the San Diego Fire Muesum. The ceremony is open to the public and will be held at Nash Square, which is located at the intersection of Hargett and Dawson streets. The support and presence of the public safety community is greatly appreciated, as the 10th anniversary of 9/11 is rapidly approaching. Feel free to bring family and friends, and spread the word of this announcement as desired. The steel will be on display and photos may be taken. For more information, contact Seth Komansky at Seth.Komansky@WakeGov.com.
+ 4 - 4 | § ¶
Bells and Towers and Clappers, Oh My!
Reporting from the road and the day after explorations in York, PA. They have a number of historic firehouses, both active and retired. Most of those have bell towers, which were also used as hose towers. Here are some photos, including documentation of climbing the two-story tower of old Rescue Company station. (The building is three stories, itself.) The bell is presently sitting outside the York County Fire Museum, which is the old Royal Company station. More later. Click to enlarge:

+ 3 - 3 | § ¶
Greensboro's New Flatbed Foam Unit
Found via Facebook via FireNews via the News-Record, check out this piece of unusual apparatus that the Greensboro Fire Department has placed in service. It's a flatbed foam unit, equipped with eight vats of foam concentrate. The things are pallet-loaded, and even carries its own forklift.
The unit is one of the outcomes of last year's Colonial Pipeline gasoline tank fire that Greensboro and mutual aid departments fought on June 13, 2010. Notes the News-Record story, GFD has added more training and new equipment to fight tank fires. Maybe readers can tell more about this unit, its capabilities, and where its housed.


Lynn Hey/News-Record Photo
+ 7 - 3 | § ¶
This Afternoon's Two Alarms / Avent Ferry Road
Two alarms at 3108 Avent Ferry Road. Reported as smoke in area by EMS 1. Dispatched as smoke investigation with Engine 20. Working fire found by EMS 1 at a two-story, wood-frame apartment building. Total 4,897 square-feet (one section of two or three), Three connected buildings, each approxaimtely 5,000 square-feet, built 1970. Engine 20 arriving, and requesting a second alarm on arrival. Heavy smoke showing through the roof. Rest of structure fire assignment dispatched by that time, and already en route.
Still collecting and sifting through incident details, while sitting in a hotel room in Richmond. Dispatched 5:23 p.m. Double double-inch lines into the building to start. Evacuation and searches accompanied fire attack. Battalion 3, then Car 10 assuming command. Heavy fire progressed along the roofline.
Defensive Aerial operations started about a half-hour into the incident. Ladder 7 (aerial platform) flowing on left side, and then center of building. Crews also started/continued working inside a second building (or second section of same building), with heavy fire in attic area. Second hydrant sought to supplement water supply. Water plant subsequently relayed information to command about problems with pressure on the system.
Two engines special called for manpower about 6:00 p.m. Temperature at time of fire about 92 degrees. What was the heat index, anyone know? Portable monitor from Engine 8 deployed, after they arrived special-called. That's a new piece of equipment, preconnected. Probably other ground monitor(s) used, as well. Controlled 6:45 p.m.
Twenty people displaced. One or two cats reportedly rescued. One firefighter transported with back injury (and which news reported as smoke inhalation). Avent Ferry Road closed between Gorman and Trailwoods during time of fire. Cause determined as accidental, electrical. Twelve units rendered uninhabitable.
First alarm: E20, E5, E1, L7, R3, B3. Working fire plus second alarm: E13, E14, E2 E6, L4, R2, B2. A1, C10, C20. Special called: E8, E27. Other fire: C1, C2, C4, C5. Relief: E16, E23, E10. Medical: EMS 1, EMS 11 EMS 13, EMS 4, EMS 37, EMS 2, B1, MD1, Truck 1.
Some of the media coverage includes WRAL, WTVD, NBC17, and the News & Observer (with a gallery of 27 photos from Takaaki Iawbu). Lee Wilson arrived right after Engine 20, and was on scene for a number of hours. Below are a couple mobile phone photos from Lee, and an aerial shot from WRAL. Click to enlarge:

+ 4 - 6 | § ¶
Morning Fire Report - Rand Road Elementary
Couple fires overnight. Capital Towers on Six Forks Road in Raleigh, out on arrival but with a number of residents affected by smoke. Likely an extended EMS operation. Just before midnight. House fire on Turner Fish Road, out Fuquay way. Mid-morning, for that one. And Rand Road Elementary School on Arbor Green Drive in Garner, with fire in a classroom and smoke through the building about 5:00 a.m. Local news crews are reporting various levels of detail. Let's take a survey below. Meanwhile, the weather today is hot, hot, hot. Stay hydrated!
WRAL - Three paragraphs. Fire and heavy school. Reported shortly after 5 a.m. Contained to one classroom. Smoke filled other parts of the building. Extent of damage not yet reported. One photo.
WTVD - Five paragraphs. Garner and Fairview fire departments. Arrived just after 5 a.m. Fire damaged one classroom. Cause unclear. School not in session. Year-round school. Classes start August 1. One aerial photo.
NBC 17 - Five paragraphs. Fire is out. Contained to one building. Cause under investigation. One photo.
News 14 - Not found on web site.
+ 6 - 3 | § ¶
Sending Better E-Mail
Since we're talking about communication these days, how about some tips on sending better e-mail. What, you think you're a pro already? Can you hold a moment, while I fall over laughing? Even Mr. Blogger, who sits at a computer for most of his waking hours, is an avowed idiot with electronic communication. We all are. We all send too damn much of the stuff. And we certainly receive more than we care for, right?
E-mail is simply too easy to send. What's the solution, then? Also easy. Step #1. Pay attention to your e-mail sending. Step #2. Repeat Step #1. Here are two things to read on this matter. First is a blog posting fom Seth Godin, his personal e-mail checklist. Second is a bonafide e-mail charter, part of a greater movement to "save our inbox." Here's a quote from Godin that really says it all: "If I had to pay 42 cents to send this email, would I?"
+ 5 - 3 | § ¶
The Rake
Bay Leaf firefighter with fire rake at a woods fire off Farington Drive off Six Forks Road earlier this evening. BLFD equested with brush truck to assist Raleigh engine and mini-pumper with about an acre of burned area. Click to enlarge:


+ 6 - 4 | § ¶
Night Photography on Churchill Drive
Lee Wilson took this photo Sunday morning on Churchill Road, scene of a vehicle fire under a carport. Flames extended into the house. Engine 6 was first on scene. Dispatched about 3:43 a.m. and controlled in about 30 minutes. See all the photos, which includes a full description of the incident. Read below for an amusing and incorrect supposition about the use of flash in this picture...



Lee Wilson photo
READ MORE
+ 2 - 5 | § ¶
Mystery Compound
Double row of fences. Trees behind second set of fences. Structure(s) of some sort in the distance.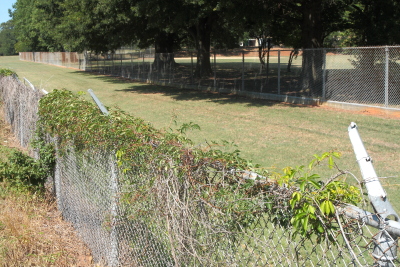 + 6 - 3 | § ¶
Vintage Photo of New Bern's 1968 Ford/Ward LaFrance
Found for sale on eBay, here's a slide scan of New Bern's 1968 Ford/Ward LaFrance, then operating as Engine 10. Remember Ward LaFrance? Quite a few custom and conventional WLF apparatus served in the state.
Regarding the photo, what station is shown? Doesn't look like any of the former stations in my list. Nor matches the current stations, shown on the NBFD web site. Wasn't there a small station on the west side, on a main road? Is that what we're seeing, and is it missing from my historical information? Click to enlarge:


Sunday update, here's the fire station in the photo, old Station 2. Click to enlarge:
+ 6 - 2 | § ¶
Crucible of Fire by Bruce Hensler
New on the blogger's bookself is Crucible of Fire: Nineteenth-Century Urban Fires and the Making of the Modern Fire Service by Bruce Hepler, a firefighter with over three decades of experience in roles both on the line and in senior positions. Book details: cloth-bound, 260 pages, 6 by 9 inches, 29 black-and-white images. Book descriptions are available on both the author's web site (longer) and the publisher's web site (shorter). Robust bibliography, and it shows in the citations and research. But... how is the book? Fantastic so far. Have read about a fifth of the thing. Will a book review appear later? Perhaps, but why wait to start reading?


+ 3 - 4 | § ¶
Which Web Sites Are Which?
Okay, which web sites are which, for this blog and information about local fire departments and fire scene photos by Mike and Lee and anything else about Yours Truly. Here's a quick road map. Oddly, I have no trouble keeping up with which site is which...
Social Media
Incident Photos
Information/History
Shameless Self-Promotion
+ 6 - 4 | § ¶
York, PA / Reading, PA - Historic/Former Firehouses?
Posted a question to the firehouse.com forums last week, asking for information on former and historic firehouses in York and Reading, PA. Both cities get a visit this week as Mr. Blogger takes a circular route to the Baltimore Fire Expo. On Wednesday, a double-bill of Rob Zombie and Slayer opens at the Sovereign Center in Reading.
For pre-show activities, an exploration of old engine houses is certainly in order. Looks York might be the smaller and more self-contained project. Plus, I happen to have a York FD yearbook, bought on eBay a couple years ago, and published a couple decades ago.
READ MORE
+ 5 - 2 | § ¶
This Afternoon's House Fire in Wake Forest
Still compiling details on this one. Wake Forest Engine 1 arriving at a two-story, single-family dwelling with 1,976 square-feet. Conventional construction, built 2004. Fire found in rear of house, and it extended to the second story and roof area. Command with Engine 1 officer, then Engine 3 officer. Interior operations to start, followed by defensive operational period with deluge and aerial stream. Extended overhaul.
Water supply issues, due to low-pressure hydrant(s). Four hydrants utilized, Dagmar Lane cul-de-sac to Wake Forest Engine 1, North White Street and Moultonboro Drive to Wake Forest Ladder 1, and end of service road off North White Street to Rolesville Engine 153, and North White Street just south of the service road to Bay Leaf Ladder 25. The latter ladder positioned but didn't flow. Dispatched about 2:20 p.m. Controlled within an hour.
Wake Forest, Rolesville, Falls, Youngsville, and Bay Leaf fire departments on scene. Eastern Wake and Wake County EMS units with rehab. Who else? New Hope FD standing by at Wake Forest Station 1. News reporting fire started in backyard, and spread to back of house. All occupants evacuated safely. Photos forthcoming from Legeros (below) and Lee, plus more details.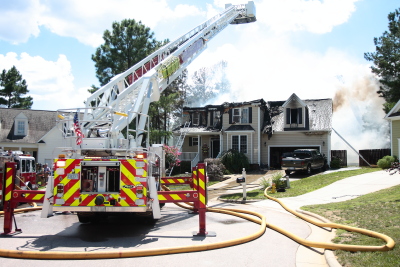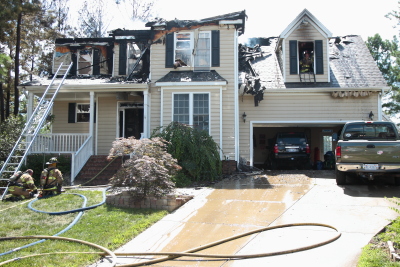 + 4 - 3 | § ¶
State Capitol Police Budget Cut in Half
Today's News & Observer has an interesting article about the State Capitol Police and the budget cuts they've suffered. Theirs was halved from $4 million to $2 million, notes the story. That resulted in a reduction of 40 employees, e.g. sworn officers, security guards, telecommunicators, and support staff. Their 14 patrol cars have been reduced by half, and they are no longer conducting patrols at night. Staffing 16 state government buildings is their focus post-cuts.
The State Capitol Police was formed in 1967, to provide security for state government facilities. Those number 160 buildings and offices both downtown and in west Raleigh. How many people work in same? The story notes there are 26,000 state employees, county-wide. The department also monitors over 1,000 (!) alarm systems in facilities statewide.
Who's covering the beats of the reduced State Capitol Police force? That'll be the Raleigh Police Department, which itself is operating in a leaner mode along with other departments in the city. By the numbers, notes the story, $2 million is the amount of savings to the state. And $1.7 million is the estimated amount the city will spend to assume patrol responsibilities.
Where will that money come from? Read the story to learn more, and which includes a dozen-some reader comments. For blog discussion, topics could include public safety cuts in general. What are the core services and priority service levels for police, fire, and emergency medical agencies? What aspects of those are reasonable to trim or cut outright? Tough times.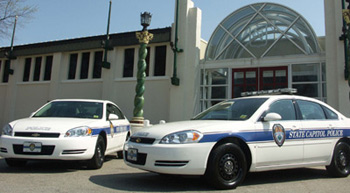 + 5 - 3 | § ¶
Caption This Photo / Tar Far
Reader Brian Phillips shares this photo of a tire fire on the east side of Garner this morning. Reported around 9:00 a.m. as an outside fire with hazardous materials at 8505 White Oak Road. Recalling radio traffic, Engine 4 and Engine 2 were first on scene. Five-inch supply line laid on/along White Oak Road. Tankers also sent to scene. Clayton FD as mutual aid. Fuquay-Varina and Eastern Wake fire departments to Garner for coverage. Wake County EMS and Eastern Wake EMS for rehab. Sounds like crews are now clearing the scene.


+ 6 - 4 | § ¶
Yesterday's Two Alarms / Atlantic Avenue
Lee Wilson took this picture yesterday morning of a wee hours fire at a recycling center at 2200 Atlantic Avenue. Dispatched as a fire alarm just before 3:00 a.m., the call was upgraded to a structure fire response. As his notes note, Engine 11 arrived with heavy smoke showing from a large warehouse building. Specifically, a 60.000 square-foot structure of steel construction with a metal exterior, built in 1957. Two alarms requested. Fire found in dumpsters, started by overheated conveyor belt. Extinguished by sprinkler system. Overhaul with foam flowed, with Engine 11 hooking to a hydrant. Heard that much on the radio, before returning to bed. Controlled at 3:22 a.m. Most second alarm companies returned to service. Units on scene: E11, E7, E6, E3, E1, E13, E9, L2, L4, R2 (with R1 canceled), B2 (and B1 canceled), A1, C10, C10, C40, C2, EMS 2, EMS 1, EMS 7, D1, T1. Read short WTVD story, or see Lee's photos.



Lee Wilson photo
+ 2 - 5 | § ¶
Cary Motorcycle Officer Injured in Crash
WTVD has posted this story on the accident this afternoon that injured a Cary Police Department motor unit. The collision between the motorcycle and a pick-up truck occurred just before 5:00 p.m. at the intersection of Highway 55 and Morrisville Carpenter Road. The officer was transported to Duke, and his condition remains unknown. The other driver was transported to WakeMed in Apex with minor injuries. See also reports on News 14 and WRAL.


+ 6 - 6 | § ¶
First Annual Brotherhood Bash, Friday, August 12
From the Capital Area FOOLS comes this announcement of a firefighter bash during the Raleigh Fire Expo in August. Stay tuned for more information:
Friday, August 12
7:00 p.m. to 10:00 p.m.

Napper Tandy's Irish Pub
126 N. West Street
Raleigh, NC, 27603
Please join us for the First Annual Brotherhood Bash during the South Atlantic Fire Rescue Expo. The event is brought to you by the Capital Area FOOLS and the Wake County Firefighter's Association. We'll be joined by brother and sisters from across the state and the southeast.
Several Raffles will be held, including:

1st Prize - Cairns Leather Helmet
2nd Prize - Leather Fire Boots
3rd Prize - Custom Cornhole Boards

Other planned activities include:

50/50 raffle
Door prizes
Live bands
Food and drink specials
Pipe and drum jam session, featuring the pipes and drums bands from Morrisville FD and Atlantic Beach FD

All proceeds will be donated to the North Carolina Fallen Firefighters Foundation.
+ 3 - 2 | § ¶
Off-Duty Firefighter Rescues Woman at House Fire
WTVD reports in this story
about an off-duty firefighter that rescued a woman from a burning house in southern Wake County this morning. He and 14-year-old son were visiting family members when they smelled smoke. The off-duty Raleigh firefighter, who declined to be interviewed, located the fire at
4141 South Mountain Drive
. On the second floor of the house, a woman was banging on the window. He persuaded the woman to exit the window, and borrowed a neighbor's ladder to help her escape.

Fairview, Garner, and Fuquay-Varina fire departments responded to the fire, that was reported around 9:30 a.m. Arriving units found heavy fire on the second floor of the two-story, wood-frame structure with 1,902 square-feet. Built in 1997. The fire took about 20 minutes to place under control. Water shuttle operations were utilized and the units on scene included Fairview E3, E2, E1, E8, Tanker 7, Tanker 6, C2, Garner E2, E3, R2, Tanker 12, Tanker 7, B1, C2, Fuquay-Varina E2, Tanker 3, Tanker 4, B1.


+ 5 - 8 | § ¶
This Afternoon's House FIre / Daufuskie Drive (Updated)
Engine 21 arriving at 2124 Daufuskie Drive, at a two-story, single-family dwelling with heavy fire venting through the roof. Built 2002, with 2,840 square-feet. All residents had self-evacuated at the time of arrival. The house was fully-involved with minutes, recalling radio traffic, with crews protecting exposures. Defensive operations started with Ladder 2, supplied by Engine 27. That began, say, five or seven minutes into the incident.
Additional details are provided by the fire department media release. The incident was dispatched at 1:33 p.m. The fire was controlled 1:53 p.m. Cause determined as accidental. No civilian injuries, but at least one firefighter was transported with head heat exhaustion. Units on scene included the following... First alarm: E21, E11, E27, L2, R1, B2. Working fire: E12, A1, C10, C20. Two additional engines special called, but returned to service before arriving, E15 and E26.
Where are news reports, you ask? The call was reported on Summer Shire Way, which was a bit difficult to understand (at least for me, via VHF rebroadcast via Uniden base station sitting in Cary) from Locution. Simply, the news reporters might not have been able to tell where the fire was! We'll see what six o'clock brings. That's one of the downsides with the system. Some times you just can't quite tell what's being said. Of course, not every live human is easy to understand at all times, as well.

+ 10 - 6 | § ¶
News Photos From Fayetteville Crane Collapse
WTVD has also posted some viewer photos and aerial footage of yesterday's crane collapse in Fayetteville. The tracked crane collapsed at a parking deck construction site on Franklin Street. Two cars were struck, along with the structure under construction. The operator was transported to the hospital as a precaution. The Fayetteville Observer has also covered the story. The 110-crane suffered a small fuel link, which was contained by the Fayetteville Fire Department's haz-mat team.



Neill Lindsay/WTVD photo
+ 8 - 3 | § ¶
News Footage From Scotch Drive
WTVD posted this video story about yesterday's two-alarm house fire at 3453 Scotch Drive. Lightning struck the roof, and fire damaged the attic. New Hope responded as automatic aid with Raleigh, notes the story. Recalling radio traffic, they dispatched a number of tankers, to assist with water supply.
Additional incident information: E28, E22, E19, L5, R1, B1, New Hope engine on initial dispatch. Second alarm and working fire dispatched together: E25, E21, E7, E9, L2, B2, A1, C10, C20, New Hope Rescue 14. Also on scene: New Hope Car 2, and New Hope 100. Plus tankers for water supply. Plus medical. Dispatched about 6:00 p.m. Controlled within 30 minutes, if memory serves.
The city had another working fire later that evening, at an apartment building at 2644 Oberlin Road. Believe Zebulon had a working fire about the same time on Carroll Heights Road. Local temperatures had dropped to around 80 degrees around 10:00 p.m. Forecast today is considerably cooler. High eighties. Stay hydrated.

+ 6 - 8 | § ¶
Raleigh Police Department Hazardous Devices Unit
Here's a police support vehicle seen today at Daniels Middle School, where Active Shooter classes were being conducted for EMS and law enforcement personnel. That's a Chevy Silverado 3500, right? Body looks similar but maybe not an exact match to the fire department's haz-mat recon vehicle.
The police department also has a box truck for hazardous devices response, built by Matthews Specialty Vehicles. That unit transports a robot, and pulls a device disposal trailer, if memory services. Wonder how many other special support vehicles are part of their fleet? We blogged about one of them recently, this Chevy/Hackney equipment truck.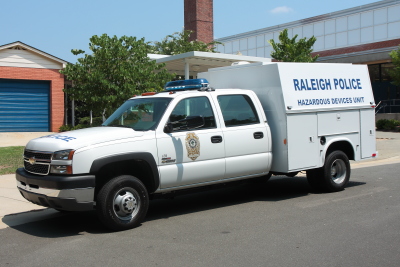 + 7 - 1 | § ¶
This Morning's Two Alarms / South Street
Two alarms at 620 W. South Street. Engine 1 arriving at a one-story, concrete-block and wood-frame building with 2,400 square-feet. Convenience store, built 1953. Jeffries Grocery & Grill, says tax records. Heavy smoke venting from the front of structure. Interior attack, with fire found in rear corner. Engine 3 with supply line. Battalion 3, then Car 10 as command. Second line into building. Access in rear of structure using saws, due to metal gate. Fire subsequently vented through roof. Electrical hazard early into incident at meter box. Seat of fire found in attic area, in rear corner of structure. (High heat conditions, noted by the Battalion Chief in the WTVD video clip below. Note the absence of windows.)
Dispatched 10:09 a.m. Additional engine requested about 10 minutes into incident. Second alarm requested about 15 minutes into incident. Controlled 10:57 a.m. Additional engine and ladder requested about 11:20 a.m. Heat index at time of alarm 96 degrees. No injuries, building unoccupied. Cause determined as accidental, due to electrical failure in electrical panels. First alarm: E1, E3, E13, L2, R2, B3. Working fire: E5, A1, C10, C20. Special called: E2. Second alarm: E11, E8, L7, R1, B2. Relief: E26, L6? Other: Car 2. Medical included EMS 31, D5, M94, T1. Probably three or more additional EMS units. Certainly aggressive rehab.
That's the buff-based perspective, drawn nearly entirely from radio traffic. The guy behind this blog wasn't there (sorry), and hasn't yet talked to anybody that was there. Apologies for inaccuracies. Corrections welcome. And this air-conditioning feels great at Blog Central, and a world removed from the hot, humid, nasty conditions that the crews faced on scene. That's the hard work. News coverage: NBC17, WTVD (with video story). This was the building this afternoon. Click to enlarge:

+ 7 - 7 | § ¶
Citizens React to Fatal Fire in Weston, MO
Dave Statter at Statter911.com is reporting on an interesting story out of Weston, MO. On July 4, the owner of an antique store died in a daytime fire. On July 11, some two citizens presented a video to the city council and claiming it shows a 14-minute delay before water was put on the fire. One of the chiefs on the departments on scene disputes the account. Dave has two reports, his initial story with news links and news video clips. And a second posting, with a longer, raw video clip.
There are number things to think about and maybe discuss, either here or on Dave's site. (Some two dozen reader comments have already been posted to the two posts.) Citizens with cameras. Everyone's carrying one, notably as part of their cell phones. Cameras that record video are become equally ubiquitous. (That's a 50-cent word, there.) Thus a reasonable likelihood that a daytime fire in any populated area is going to produce footage that reasonably documents a department's activities.
Another is public relations, which Dave has long-addressed on his blog. When things go wrong or bad things happen, he has long-advocated, commence public speaking. Release available information. Talk to the media. Don't hide. Don't avoid. (Very short summary there. He does himself far better justice. And which is why he's on a panel about social media at the Baltimore Fire Expo next week.)
Citizen perception and citizen reaction is also exemplified in the story. The reader comments provide good perspective here. One reader, named Barry, notes: "From my experience, sidewalk critics of fireground operations are not really attacking the fire department. Sidewalk critics are in shock because they feel helpless in having to stand by and watch property destroyed and lives lost." Good perspective. Read the stories on Statter911.com yourself, and discuss as desired. Here or there.
+ 7 - 5 | § ¶
Granville County Paramedic Killed Yesterday
WRAL reported yesterday on the off-duty death of Granville County Paramedic Merle Faucette, who was killed Tuesday morning in a head-on collision on Highway 96 north Oxford. He was traveling by motorcycle when a car crossed the center line and struck him. The driver had reported fallen asleep at the wheel. Faucette, 52, was en route to Duke Hospital, having received the news that his 91-year-old mother had suffered a massive heart attack. He had left Oak Hill EMS Station 7 about 7:30 a.m. The funeral will be held Thursday. Other coverage: News 14, News & Observer.


WRAL photo
+ 8 - 4 | § ¶
Mystery Location
Might not need clues for this one. We'll keep silent to start.


+ 6 - 4 | § ¶
Why the Hate?
Posted by myself as a comment to the Caption This Thread photo from the other day. Seems worthy of it's own posting. Will you be willing to answer the question?
While I do thank everyone for their comments and participation on this blog, I do also wonder where the hostility is coming from.

I am neither a therapist nor play one on television, but maybe we need a thread where readers can get on the couch for a few.

Or, more simply, share a bit on what's going inside those heads.

I guess, as a question, what do you presently dislike about your job/role in the fire service?

And what about these postings brings that out?
+ 6 - 8 | § ¶
Registration Open for Raleigh Fire Expo Fire Truck Parade
Registration has opened for the apparatus Saturday parade during the South Atlantic Fire Rescue Expo in Raleigh in August. The event starts at 9:00 a.m. on Saturday, August 13, 2011. Note the earlier start time this year. Antiques, modern apparatus and honor guards are invited to participate.


The parade runs about 45 minutes, on a route that includes Fayetteville Street. Full details are available here. All participants are required to register on-line for a slot. Trophies will be awarded in seven categories, listed below.

Longest Distance Traveled
Best Appearing Honor Guard
Best Appearing Pipe and Drum Band
Best Appearing Modern Engine
Best Appearing Modern Aerial
Best Appearing Special Apparatus
Best Appearing Antique Apparatus
What we really need is a category for most colorfully clad accompanying fire photographer. Might have a lock on that one.
+ 5 - 5 | § ¶
Wilmington's Empie Park Fire Station Gets Demolished
Reader Matt White sends some photos of the demolition of Wilmington's Empie Park fire station, also known as Fire Station 2. The Star-News reported last year about plans to replace the 1965 structure with a facility better-suited to the bigger rigs of today. Then in October, a mold problem closed the fire station. It's been unoccupied since.
The two-bay station at 3403 Park Avenue will be replaced with a $2.4 million structure. The designer is Gage Architects of Wilmington, who has designed other city stations including the cSeagate Fire Station that opened in 2008. Google doesn't find any drawings of the new building, alas.
Notes Matt, the words "Mike was here" are spray painted on the inside of the bay door. Funny! Love the curves that well-represent the architecture of the 1960s. What's that, modernist design? And who gets to claim that vintage hose dryer?
Fire stations are one of my favorite fire service research topics. They're pieces of history and infrastructure with very long service lives. They're often written about by newspapers. There are also public real estate records to help learn their history. And they stay around, even after removed from service.
Some years ago, Mr. Blogger researched Wilmington's historic and former fire stations. Recall that the Wilmington Fire Department was the state's largest at the turn of the prior century, as it was the largest city at the time. Read about those buildings. Then take a peek at Matt's great photos. Click to enlarge:


+ 7 - 3 | § ¶
Caption This Photo / Henderson County House Fire
Found via FireNews, here's a compelling Times-News photo of a house fire in Henderson County from Tuesday. Mountain Grove Fire Department, says the story. Patrick Sullivan took that photo. Wonder where was standing to get such a good shot? Read that story.



Patrick Sullivan/Times-News photo
+ 4 - 7 | § ¶
Mystery Tunnel
There are only a couple of tunnels around these parts. Where's this one?


+ 7 - 4 | § ¶
Raleigh Fire Department Historical Exhibit, 1990s
Here's another picture donated by Lt. Upchurch. This was a historical exhibit of the Raleigh Fire Department displayed during the 1990s. The location was a house on near St. Mary's Street, one of the buildings on the site of the old Methodist Orphanage.1 The exhibit was created and maintained by department historian and retired Captain B. T. Fowler (1951-1986). And that's about the extent of that known information. Click to enlarge, to see a super-sized version:


Let's see what we can identify:
Black helmet, plastic. Number 84, Lt. Upchurch. Plastic helmets were used from circa 1950 to 1984.
Black turnout coat.
Dress uniform for Fire Chief. Shoulder patch dates the coat to 1986 or later.
Helmet, plastic. Chief officer or Fire Chief.
White turnout coat, for chief officer.
Black helmet. Number 300-something (far right).
Black turnout coat (far right).
Helmet shield, badges, pins, in wall cases on right.
Gamewell/ADT commercial fire alarm box (center). One of those is displayed in the current museum.
Hand hook of some type. What's that called?
Straight-bore stacked nozzle tips (far right).
READ MORE
+ 3 - 4 | § ¶
Station 2 at Memorial Auditorium, 1961
These vintage photos of Raleigh Fire Station 2 at Memorial Auditorium were brought to the museum yesterday. They were donated by Robert Upchurch, a retired Lieutenant who served the department from 1956 to 1983. He's pictured in the first photo. Need names for the other two. The photos are dated March 1961. We'll see if our library the log book for same, and can perhaps get those names. Station 2 was housed at the auditorium from 1932 to 1969. Here's some old film footage from there.
At least three of the stations had fuel pumps back then. Station 1, Station 2, Station 6. What's the apparatus in the second bay beside the engine? That's one of the old tankers. The 1960 GMC/Alexander apparatus, one of two, was housed at Station 2 from 1960 to 1963, when it was moved to Station 9, and then to Station 14 in 1974. Both were removed from service on September 4, 1986. Click to enlarge:


+ 4 - 3 | § ¶
Anonymous Screen Names - Pros and Cons
Google searching finds some interesting perspectives. Next step, actually reading these things! Stand by for possible pontification.

+ 5 - 1 | § ¶
Extreme Scale Modeling
If you think model railroaders are something, check out this German-language clip of airport modelers in action. They're adding fire apparatus to their scale-model diorama. See the layout in action starting about 7:00 into the clip. Amazing. As found on the discussion board at fireengines.net.


+ 4 - 2 | § ¶
Forty on Forty
WTVD has some details on yesterday afternoon's series of car collisions on Interstate 40 in and around and between Harrison Avenue and Aviation Parkway. Recalling the radio traffic, Western Wake, Cary, and Morrisville fire departments answered the calls, with Cary, Eastern Wake, and Wake County EMS units.
Forty, count 'em forty, vehicles were involved in seven total accidents. Started with an 11-car collision on I-40 westbound near Aviation Parkway. This was shortly after it stopped raining, a deputy explains.
Recalling the weather over by Blog Central, that post-rain conditions on paved surfaces was a hazy experience, with the peeking sunlight a bit blinding. Certainly would have been a visual impairment on busier roads!
The resulting traffic jam contributed to an eight-vehicle accident at Wade Avenue. Meaning, at the Harrison Avenue exit, another eight-vehicle collision compounded matters. The radio traffic was certainly engaging. Mostly minor injuries. Wonder how many patients, total? Maybe someone's got a run card on the whole thing, as well.



WTVD photo
+ 4 - 1 | § ¶
Fire Museum Morning
Open for business at 10:00 a.m. at 105 Keeter Center Drive. That's the Raleigh Fire Department Museum, located in a classroom trailer at the training center. Which means Blog Bloy needs to be there around 9:30 or 9:45. Have a poster to hang, a list of department milestones. Have a couple additions to the collection, including a 1973 booklet of pump operator formulas and questions from ISO. The gang at Station 6 found that one. There's media to be played, so we'll fire up a DVD player (1950 film footage), a CD player (audio from recent major working fires), and a computer (slideshow of photos from the 1940s to present). And for any downtime, there's busy work being brought along. The latest issue of the Raleigh Fire Department Newsletter is nearly ready. Will be finishing a couple articles for that one. See you there.
+ 2 - 2 | § ¶
Longest Blog Threads?
Reader question from the Basil Drive discussion, how long is that thread compared to the greatest blog discussions of all time? It's closing on the top twelve. Here's that list. Remember some of these great teeth-nashers?
+ 4 - 0 | § ¶
North Carolina Firefighting History, Friday, August 12
One of the workshops at the South Atlantic Fire Rescue Expo in Raleigh in August is the following history talk. We'll work up a proper posting about the convention itself at a later date.
North Carolina Firefighting History
Friday, August 12
1:30 p.m. - 3:00 p.m.


Raleigh Fire Department Historian Mike Legeros again presents his popular history of firefighting in North Carolina. He combines his ongoing research with old photos, maps, and other materials to trace 300+ years of hooks, hose, and ladders in the Old North State. Questions and audience participation is encouraged. The presentation also includes a short session on Researching Fire Department Histories.
+ 4 - 5 | § ¶
Fire Commission Meeting Canceled for July 21
The regular scheduled meeting for the Wake County Fire Commission on July 11, 2011, has been canceled. County staff notes the July meeting's agenda item was the Fire Commission receiving information and design options regarding the Bay Leaf Station 1 project. More time is needed to prepare this presentation by the project team, which will be delivered at the next regular scheduled meeting on September 22, 2011. With no other action items for the July 11 meeting, it has been canceled. See you on September 22.
+ 5 - 1 | § ¶
Questions and Answers
Q: Is there anything discussed on this blog, that you don't hear in person from these same people?
A: No. The comments, the topics, the tone match the conversations heard (in my experience) in any firehouse or firefighter gathering.
Q: Should everything they talk about, be talked about on this blog?
A: No.
Q: Why not?
A: Because not everything is appropriate for posting or commenting on a public web site, consumed by the people you work with, even read by the people you work for, and as administrated by Yours Truly.
Q: Can you provide a list of off-limits topics? Or things that will cause a thread to be locked, or a comment to be deleted?
A: Not really. Sometimes, it's just a tone that's approaching toxicity. Other times, it's a specific subject. Such as personal attacks by name. Or references to scandal stuff. In general, it's anything-- initiated by myself or readers-- that makes me uneasy.
Q: What makes you uneasy, Mikey?
A: See above.
Q: Why don't you grow a bigger pair, pal, and become more tolerant?
A: Because such sensitivity serves a greater good. It likely prevents further discomfort (or other less-positive reactions) from readers.
READ MORE
+ 7 - 3 | § ¶
Beverage-Based Screen Names
For those keeping score at home, below are the beverage-based screen names posted as part of the discussion about Raleigh's house fire on Basil Drive.
Coffee Mug
Mocha Latte
McLatte
McDouble
Caribou Coffee
Starbucks
Port City Java
Miller High Life
AA
Hates Coffee
Coffee
Juan Valdez
RedBull
Vitamin Water
Samuel Adams
Better Beer Found
Bitter Beer Face
Sam Adams Ale
Deer Park
Wonder who's who in this zoo?
Maybe we should add abbreviations to anonymous screen names. Help paint a little of the picture. Say, M|F for male|female. Or C|P|V for Career|Paid|Volunteer. Perhaps E|L|R for Engine|Ladder|Rescue. Maybe FF|DO|CP|CO for Firefighter|Driver-Operator|Captain|Chief Officer.
Of course, that doesn't help those outside the business. You might add A|F|R|B|C as Active|Former|Retired|Buff|Citizen. But what about related professions? Guess we need FD|EMS|LEO|EM, which are self-explanatory. Oh, the possibilities....
+ 7 - 8 | § ¶
Durham Tech Gets Bethesda Engine
This morning's Herald-Sun has the story of a Bethesda engine that's been donated to Durham Technical Community College, for students of their fire academy and fire technology programs. The 1983 Sutphen pumper has only 41,000 miles, and originally cost about $125,000. The truck was a reserve unit for the Bethesda Fire Department. Or as they are formally named, Bethesda Volunteer Fire Company, Inc. They love them Sutphens in Durham county and Durham city. Wonder if we'll ever see them in Wake County? Anyway, back to the story. The college has operated a fire academy since 2000 (here's a flyer from the 2011 academy), and a continuing education fire protection curriculum for over 30 years. Below are pictured Fire Chief Robert Andrews (left) and Clint Briggs, who heads the college's fire academy program. Read the story.



Herald-Sun photo
+ 8 - 2 | § ¶
Bat Mobiles
Four, count 'em, four Breath Analyzer Testing Mobile Units parked behind an office building on Six Forks Road. Plus three speed bumps, if you exit onto Milbrook Road. Makes and models unknown. Please don't drink and drive. Click to enlarge:


+ 4 - 6 | § ¶
Just a Bunch of FOOLS
The Capital Area FOOLS conducted their monthly meeting last night at the regular location, Napper Tandy's Irish Pub in downtown Raleigh. That's the local chapter of the Fraternal Order of Leatherheads Society. Among the topics of discussion was planning for the First Annual Brotherhood Bash during the state firefighter's convention in August. That event's to be co-sponsored by the Capital Area FOOLS and the Wake County Firefighters Association. More information forthcoming, both about the bash and other things in the works for area firefighters. Here's a picture from last night. Would you buy a used car from these people? Click to enlarge:


+ 5 - 3 | § ¶
Fire Department Milestones
It's a work in progress, our museum. Each month you'll probably see something different, mostly slight changes. Moving this, adjusting that. Plus some experimentation. Like this list of milestones. This one's a test version, printed on regular paper. Multiple sheets, placed together on poster board:


What's listed on the poster? See below. Where did that information come from? That's a longer story. Some ten years-worth of story, beginning with a narrative history of the Raleigh Fire Department that appeared in the 2002 commemorative book.
Took the electronic copy and added paragraph breaks after every single sentence. Converted the whole thing to a table. Added a column to the left, so every sentence had a cell to the left. Added dates (years) to each sentence. Thus creating a timeline.
READ MORE
+ 5 - 8 | § ¶
Artsy
Two more views from this afternoon's house fire on Basil Drive. These pictures can look pretty strange when they're being made. Apologies in advance for any induced states of vertigo:


+ 5 - 5 | § ¶
Boom at 1:09
Here's the best video of the day, or even the week, and as found on this Firegeezer posting. Linesman rescues linesman after bucket truck catches transformer on fire. Brace yourself for the tire explosion at 1:09. Somerville, MA. See 'geezer posting for more.



+ 4 - 4 | § ¶
This Afternoon's House Fire / Basil Drive
Engine 18 arriving at 2424 Basil Drive, which is almost around the corner from Blog Central. Two-story, single-family dwelling with 2,352 square-feet. Conventional construction, built 1985. Heavy fire venting from the roof. Crews entered structure, and worked inside until a partial roof collapse, if recalling radio traffic correctly.
Structure was evacuated and aerial operations were started, with Ladder 1 positioned on Hedgemoor Drive, beside the building. Defensive operations started some 15 minutes into the incident. Dispatched at 2:45 p.m. Two additional engines requested about 3:00 p.m. Controlled at 3:39 p.m. Cause determined as lightning strike to the roof.
Command located on front lawn. Rehab and medical monitoring on Basil Drive, in front of structure. Units on scene included: E18, E17, E8, E14, L1, R3, B4, C10, C20, C40, Bay Leaf A12 (replacing Raleigh A1), EMS 4, EMS 34, EMS 18, EMS 3, D4, T1. Plus additional manpower and relief companies, E16 and E6 (about 3:00 p.m.), E26 (from coverage, about 4:15 p.m.), L7 (about 4:55 p.m.). After-the-fact photos from Yours Truly forthcoming.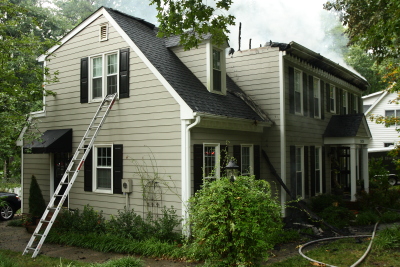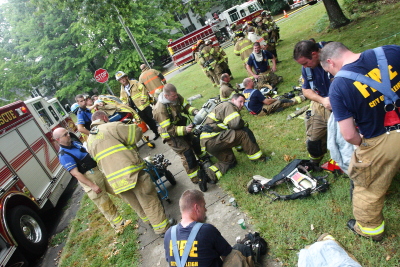 + 4 - 5 | § ¶
Saying Exactly What We're Thinking
Wired magazine, maybe two months ago, had a great quote about the effect of digital culture. They opined that the Internet has changed the world in one way: people are now saying exactly what they're thinking.
In forums such as these, and usually when identities are cloaked, raw and unfiltered expressions of opinions and ideas are taking place. Quite the game- and even world-changer, really.
Quarterbacking, the accepted term for such practice, happens when a bunch of folks turn their attentions to a past incident, and begin analyzing what happened. This is usually through questions about the choices of what was done. And with a rough-and-tumble tone.
Exactly the same stuff you'll hear around the firehouse kitchen table. The day room expands to gigantic proportions, with any number of participants. (And just the like firehouse, there are folks not in the room, but still within earshot. Good Lord, are there people in earshot!)
Exceptions to this metaphorical model? First, the concealment of identities. That's quite common. We've beat that horse more than a few times. Second, the leveling of ranks (and more). That's also quite common, and one we haven't really discussed before.
From private to Captain to Chief, everyone up the chain is or can be in on the discussion. But it's still a virtual experience. And a funky one at that. Concealed screen names. Staggered times of responses. No visual representation of exactly how many people are participating. Etcetera.
Would you make the same comments here, anonymously, that you would in person, in an up-rank situation? Would your tone, language, and subject matter communicate an appropriate respect for the rank or position?
What about cross-rank situations? Peer to peer? You wear a white hat, and are taking anonymous issue with another white hat. Are you being appropriately respectful to them, both professionally and personally?
Except, at least anonymously, those up-rank and cross-rank situations are concealed. And that's a bit of a problem. Heck, it can be outright infuriating to some. Who is this guy/gal writing this comment? Is it a direct report? Is it someone that works alongside you? Is it your boss/manager/chief? Are they even within the same organization, or just a local participant. Etcetera.
Again, can be outright infuriating. Plus any number of other emotions that we could name here.
These pontifications are my reaction and response to the latest comments, about the latest fire we're talking about. There's plenty of room for reader reaction to this missive above. Or maybe just eye-rolling. Legeros is sermonizing again.
Nature of the beast is still nature of the beast. Quarterbacking remains popular and entirely diverting. Everyone here is still considerably more civil than, say, the WRAL forums. Yada, yada, yada. Blah, blah, blah.
+ 8 - 4 | § ¶
Raleigh Fire Department Museum Hours, Saturday, July 9
The Raleigh Fire Department Museum opens again this Saturday, July 9. The hours are from 10:00 a.m. to 2:00 p.m. The museum is located in a classroom trailer at the Keeter Training Center, 105 Keeter Center Drive. The public is invited to attend.
Over 200 artifacts and photographs are displayed, representing 150 years of fire protection in the Capital City. The museum is open on the second Saturday of each month.
Yours hosts on Saturday will include historian Mike Legeros (moi). Swing by and let's talk history. We hope to have some retired firefighters on hand, as well. Their stories are even better than those dry, old historical accounts anyday. They've lived it.
For more information, and to learn about the Raleigh Fire Department Historical Society, please visit the website www.raleighfirehistory.org.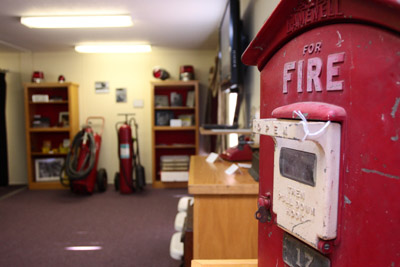 + 3 - 6 | § ¶
Scenes From The State Fairgrounds
There were natural fireworks at the fairgrounds last night. Thunder and lightning dampened spirits, thinned some of the crowds, and caused a postponement of the rockets red glare until tonight. Shown below is the Wake County EMS bike team inside in Jim Graham Building, and Engine 13 in the background on special assignment on the Midway. Things wrapped by 9:00 p.m. Click to enlarge:


+ 4 - 6 | § ¶
This Morning's House Fires in Raleigh
Listening to a working house fire at 1419 E. Lane Street. Dispatched about 6:25 a.m. Callers reported flames showing while units were en route. All occupants reported out, with one cat still inside. Engine 7 arriving at a one-story, wood-frame residence with 1,141 square-feet. Built 1915. Heavy fire showing in Division C, the rear of the structure. Engine 12 brought water supply. Battalion 2 as command. Two lines taken inside, as fire was venting through the roof. Cat rescued/recovered. Subsequent collapse of roof section (porch area?). As of 6:45 a.m. as typing this, sound likes fire has been knocked down. Units on scene: E7, E13, E12, E1, L4, R2, B2, B3, A1, C10, C10, EMS 7, EMS 8, D1. Two channels, Tac 18 for fire and Tac 16 for EMS.
Still collecting details on an early-morning fire in very north Raleigh. Dispatched at 1:29 a.m. to 3501 Weir Way. Engine 28 arriving at a two-story, wood-frame, single-family dwelling with 2,968 square-feet. Working fire declared on arrival. Two engines and a ladder special called at 2:23 a.m. Controlled at 2:45 p.m. Units on scene: E28, E22, E19, E27, L5, R1, B1, A1, C10, C20, plus E15, L2, Wake Forest E3 as special-called. Coverage: E1 to station 9, E5 to Station 22 then Station 27, L1 to Station 15, E19 to Station 28. NBC17 reporting that a family of six awoke to the smell of smoke. No injuries reported. House reportedly a complete loss, with some damage reported at neighbor's home. No other news reports, nor official information yet found.
Afternoon update
: Engine 28 arrived with heavy fire conditions. The entire roof and approximately half of the second story was involved. Interior operations were limited due to structural conditions and access. Defensive operations commenced early into incident. Ladder 5 raised and flowed. Cause undetermined.

Jamie Munden / WRAL photo
+ 5 - 2 | § ¶
Saturday's Fatal Fire in Southern Wake County
WTVD filed this story this weekend about Saturday's fatal house fire in southern Wake County. Five people were inside the residence when they reported the fire at 1108 Leach Street about 7:00 a.m. Crews arrived and found the one-story, single-family dwelling with 1,120 square-feet nearly fully involved. One person died, a two-year old who was pronounced deceased on the scene. The WRAL story notes that three others (adults) were injured, and transported to WakeMed with non-life-threatening injuries. One was transferred to UNC Hospitals in Chapel Hill. The fire investigation took several hours. The cause was determined as accidental, caused by a faulty electrical cord in the living room. Readers are welcome to add incident details.


Afternoon update:
Fairview Engine 3 was first on scene, as units from Fuquay-Varina Station 2 were out of quarters at a motor-vehicle accident. Fairview E3 deployed two hand lines, 2 1/2-inch and 1 3/4-inch. Fuquay-Varina Engine 3 laid a 5-inch supply line down Fanny Brown Road to Leach Street. Crews made an defensive attack due to the volume of fire. Units on scene: Fairview E3, E2, E1, Tanker 6, 7, Car 2; Fuquay-Varina E3, E2, Tanker 3, 1, 4, 2, Battalion 1, Car 1; Garner R2, Tanker 12, Battalion 2. Apologies for any missed. EMS to be determined.
+ 5 - 2 | § ¶
Getting Unstuck
Big truck gets stuck on service road near Blog Central. Bet most of you can place this place pretty quickly. Happens to the best of us. Mrs. Blogger is certainly already chuckling, recalling the winch-assists she's witnessed for her husband. Those AAA membership are gold, baby! Click to enlarge:


+ 4 - 4 | § ¶
2011 Wilmington Fire Department Recruit Class Graduates
WWAY video story about the graduation ceremony of the 2011 Wilmington Fire Department Recruit Class on Friday night at City Hall. The academy started in January, and the recruits completed over 900 hours of training.


+ 6 - 5 | § ¶
Bombs Away
As this WRAL story notes, the ordinance demolition experts (e.g. bomb squad) from Seymour Johnson Air Force has been busy lately. Twice in two weeks they've been called upon to dispose live munitions dating to World War I. First was a German-made hand grenade found in the drawer of an antique sewing machine (!) being restored by a Goldsboro couple. See Goldsboro News-Argus story. Then Saturday, a Winterville man called police to ask about ridding himself of a mortal mortar shell. He'd had the thing for a decade. The Air Force boys buried the shell and made the thing go boom. They also briefly evacuated several residents as a precaution. See Daily Reflector story. Early Fourth of July fireworks, indeed!



WRAL photo
+ 5 - 5 | § ¶
Articles of Dissolution / Research and Records
Guess I am really a researcher at heart, as exploring the North Carolina Secretary of State's corporation records has been endlessly fascinating lo the last day or two. Now this is how to spend a holiday vacation! The topic is of course former fire departments, be they disbanded or merged or simply renamed. One more avenue of curiosity for Mr. Blogger, and as recorded in this database of mine.
Last night, found a couple more to be added: Aulander VFD (1957-1988); Brinkleyville VFD (1992-2006); Cameron Rural FD (1958-2010, merged with Circle V FD); Harrisburg VFD (1954-2010), became municipal HFD; Stoneville VFD (1981-2006), likely became municipal SFD; Sunset Beach VFD (1972-1997), assets to form town FD.
Among the available electronic information are copies of the Articles of Dissolution. at least within the last 15 years or so. These are fascinating to read and detail some additional information beyond just the date the corporate ceased to exist. Disposing of assets is listed, and it's interesting to see how these private fire department transferred their monies and other assets. Expectedly, some departments donate their funds to other departments. Others pass them along to charitable organizations, such or religious groups or firefighter organizations.
They're easily downloaded and could be posted here, just for idle reading. But would people mind? Maybe those who were involved or close to those closings? Are such (public) documents actually closer to skeletons? For historians, history is history is history. Everything's good. But for the lay readers, even those in the fire service, maybe such details are more sensitive. I have thought the same thing about death certificates.
Over the years, I have copies of dozens of 1970s and earlier death certificates of North Carolina line of duty deaths (see that database of mine). They are fascinating and informative records.1 They are also public records, as are above. Other fire historians (as well as history buffs) might jump at the chance to easily view these. But is that just too much? Is such information ultimately too sensitive or too morbid, perhaps?
Time is a factor. Death certificates from 100 years ago are going to feel different than those from 40 years ago. And certainly very different than those from fatalities in recent years or decades. (Don't know if those records are readily available. Haven't looked for them. Modern LODD reporting replaces the need to fill historical gaps.)
Your thoughts? The joy of research is thus saddled with the sensitivity of presentation. Not everything is ready to consumed by an audience other than yourself.
READ MORE
+ 4 - 5 | § ¶
Closed New Hanover County Fire Departments?
While we're digging through fire department histories to the south, what's the current status of these four New Hanover County fire departments? Did they cease operation and have thus disbanded as of October 1, 2010, when NHCFD became the sole provider of "rural" fire protection in the county? Incorporation dates for each listed in parens:
Castle Hayne FD (1957)
Myrtle Grove FD (1957)
Wrightsboro FD (1952)
Confirmed closed fire departments in New Hanover County, as well as those in prior years and decades are:
Federal Point FD - Incorporated 1974. Dissolved 2010.
Fort Fisher Air Station FD - Operated from 1944? until 1989.
Figure Eight Island FD - Incorporated 1983. Dissolved 1988.
North Wilmington FD - Renamed from South Wilmington FD in 1990. Dissolved 1993.
Seagate FD - Organized 1940. Incorporated 1956. Dissolved 2005.
South Wilmington FD - Incorporated 1956. Renamed North Wilmington FD in 1990.
Winter Park FD - Organized 1951. Incorporated 1956. Dissolved 2005.
+ 7 - 10 | § ¶
Remembering the Mitchell McDowell County Prison Camp Fire, 1976
Reader James Harrison shares this historical account of one of the state's (and the nation's) worst correction facility fires at the McDowell County Prison on June 30, 1976. The facility was located on Highway 226 about three miles south of Marion. Eight inmates were killed and at least 26 others were injured. More importantly, many lessons were learned about the need for fire safety in such facilities. Mr. Harrison's first-person narrative below.
I was a firefighter in Rocky Mount in the mid 1970s, and then volunteered with several Nash County departments both fire and EMS/Rescue. I quit career firefighting as I had a family to raise and the money for the number of hours worked was not very good back then.

I went to the North Carolina Department of Correction, from which I retired as an Asst. Super./Captain. At one time or another, I managed three different prisons across the state. In 1976, I was sent to the McDowell County fire as member of the DOC Prison Emergency Response Team (PERT).

This fire was not at a jail but at a state-run prison camp. Back then, the state had one in just about every county. These facilities were built in the late 1940s and early 1950s. Constructed of cement, brick, and steel, it was believed there was little chance of a major fire.

After 10 o'clock at night. all inmates were locked in the dorms, no exceptions. All staff except two officers and one sergeant were sent home. The guard towers were not manned at night, because the all inmates were secured inside. If an emergency occurred, the inmate or inmates had to wait until staff could be called in from home and arrive at the facility to provide security and prevent escape.
READ MORE
+ 5 - 5 | § ¶
When Residents Smell Smoke
Engine 18 yesterday evening on Eddystone Drive, after significant smoke seen and smelled by residents off Jeffreys Grove School Road. Reported as residential structure fire. Source discovered as subject burning leaves on property outside the city. Yup, we're pushing the envelope this morning with provocative blog content. Kids, don't try this at home. Click to enlarge:


+ 4 - 4 | § ¶
Hummer and Skimmer
Didn't leave the car for any Surf City fire station photos (and didn't even make onto the island, traffic too slow), but shot this shot through the windshield of the blogmobile. Surf City Volunteer Fire Department brush truck and watercraft. The department has three of the latter. Click to enlarge:


+ 6 - 5 | § ¶
Pender Transport Service Sprinter
Seen in Rocky Point yesterday, a Freightliner Sprinter serving Pender Transport Service, which is a division of Pender EMS & Rescue. (Now there's your revenue stream! County-based convalescent service!) Are there many Sprinter ambulances serving around our state? How do folks like them?


+ 4 - 2 | § ¶
Tsunami Zone
Seen in Surf City yesterday. How high is the tsunami risk for east-coast coasts? Here's a New York Times article from 2007 on that subject, as well as a NOAA hazard assessment report
from 2008 found by Google. Relax, probability is low.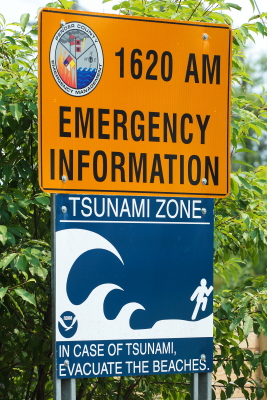 + 4 - 3 | § ¶
Pink Engine From Pink Hill
Saw this sun-bleached beauty today outside Wallace, N.C. Specific location is Highway 41, maybe a mile east of I-40. What the heck was Blog Boy doing in that neck of the woods? Poking around Pender County, and the wildfire areas therein. That is, the approximate wildfire areas. Didn't get remotely close to any action. Smelled quite a bit of it, though. Click to enlarge:

+ 4 - 2 | § ¶
Carolinas Fire Page
Have you not heard of Carolinas Fire Page (CFP), the Carolinas Emergency Incident Notification Network? It's a text message-based notification system about working fires, major incidents, and other notable fire and rescue news in North Carolina and South Carolina. Plus severe weather notifications.
You subscribe based on one or more groups, which include alarm levels as well as couple geographic regions. Alerts look like this, which translates to a working fire in Charlotte, crews inside, three lines, units listed, using radio channel Echo:
CHARLOTTE, NC (MECKLENBURG) *WORKING FIRE* 1200 SHARON AMITY X -ST CASTLETON RD. 1-STY WD FRM DWELLING, HVY FIRE SHWG. OFFENSIVE MODE. 3-L/S/O. BC3-IC E3 E14 E8 E29 L29 R3. ON ECHO. [CFP*505] 90/300
Subscription rates
are reasonable, $5 per month ($60/year) for twelve-month subscriptions. Or just $36 yearly for weather alerts only. Or get CFP services for free by
becoming a dispatche
r. Those are the folks who are scanner buffs, or close to radios, and handle the transmitting of alerts. They both create their own, and retransmit member-reported news.
+ 8 - 3 | § ¶
Juniper Road Wildfire in Pender Country
Today's News & Observer pays a visit to Pender County, where a wildfire in the Holly Shelter Game Lands has been burning since June 19. On Thursday, a significant change in wind direction gave crews an opportunity to light back fires along the northern border of the blaze. The Wilmington Star-News has also been following the fire. Search their web site for recent articles, as well as a couple slideshows linked therein. Mike Spencer took the below photo of a News 14 photographer on Bear Garden Road.
Says this July 1 release from the national Incident Information System, the fire is approximately 30,593 acres in size with 68% containment. They also list the resources currently involved: 21 brush trucks/engines, 15 tractor/plow units, two helicopters, one scout plane, and 174 personnel. That is tough work. Wildland firefighting. See the fire's InciWeb entry. Sounds a good destination for a day drive, say, on a holiday weekend! That said, dense smoke or a super-fog event are again predicted for this morning. The information release notes driving in said conditions is extremely dangerous.



Mike Spencer/Star-News photo

+ 6 - 0 | § ¶
Beltline Brush Fire Parking Deck Protected
Hot weather and dry weather equals fire weather. Here's a brush fire on the Beltline this afternoon just west of Six Forks Road with Engine 9 and Engine 16, plus Rescue 3 for rehab. Engine 9 found fire extending from the ground to the tree tops. Engine 16 was directed to the service road behind North Hills Mall, to protect the parking deck. They connected to a hydrant, and supplied Engine 9 with three-inch line through the woods and over the fence. The spectators got a good show, as did the rubber-neckers.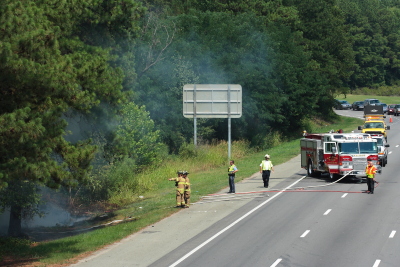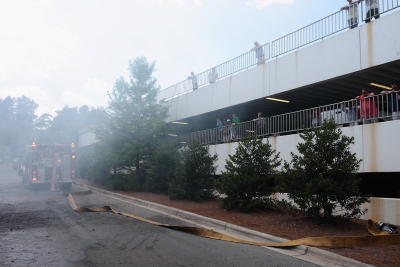 + 2 - 6 | § ¶
Super Fog
Unusual visibility condition to the south as described in this News & Observer story today. Contributing factors include smoke from 30,000 acre wildfire still burning in Pender County.



S. Rocco / News & Observer photo
+ 3 - 3 | § ¶
Folly Beach Backs out of Consolidated Dispatch in Charleston County, SC
Here's an interesting Post and Courier story that comes by way of the Carolinas Fire Page Yahoo group. The town of Folly Beach, in Charleston County, S.C., is backing back out of the county's consolidated emergency dispatch system. They've been members since March, when they dispensed with their own telecommunicators. Now they're going back to their own operations.
The issue they say is that the centralized system's dispatchers are unfamiliar with local residents, landmarks, and issues. There have been citizen complaints to town officials, about such issues as responsiveness to out-of-town issued cell phones.
Read the story. And discuss as desired. Do you have centralized dispatch in your county? How well does it work? (Or is that an idiotic question? Aren't they pretty much a proven success?) Here in Wake County, only a couple agencies have their own communicators centers. Town of Cary. Town of Apex. The airport. Who else?
+ 3 - 3 | § ¶
Rocky Hardcore and the Flying Fire Truck
Who knew fire apparatus would be subjected to such abuse? Telesquirt takes a flying leap (controlled) in Lebanon Valley, New York. Video found by FireTruckBlog, also mentioned by Dave Statter:


+ 3 - 4 | § ¶
Mystery Road
This one's for Burns. And it might take someone all of five seconds to recognize.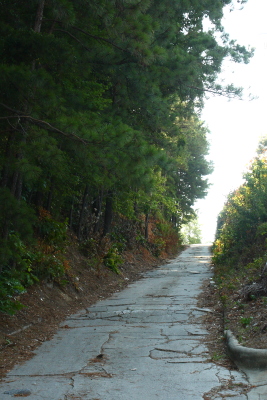 + 6 - 1 | § ¶
Tone and Delicacy Therein
Vacation day today. Holiday weekend. Pontifications pending. We'll start with a discussion on tone. Have you ever heard the phrase "that was a good one" used by those in the business to describe an incident? Have you ever seen smiling faces at an incident scene? Like the seeming pleasure shown by crews having successfully extinguished a structure fire?
Speaking from long-ago (and relatively brief) experience, it was entirely exhilarating to fight fire. And afterward, you'd probably have seen me smiling on scene. Yet, at the same time, I was part of a very unpleasant experience for someone else. The proverbial worst day of their life.
How should we reconcile that disparity on this blog, in our incident photos, and through other social media channels? How should we square the interest, enthusiasm, and excitement for the actions and people of emergency services, with the pain, hardship, and tragedy that those situation also bring?
Part of the challenge is the diverse readership, both real or potential. The regular readers are probably members of the emergency services community, either current of former. Plus buffs and other citizens with interests along these lines. But it can just as easily be read by someone who, say, recently had a house fire. Heck, we've had a few homeowners find and post comments on this blog. (They've praised the work of the crews.)
Tone thus becomes crucial. The blog postings, for example, should be serious. Not self-serious, not deadly serious. But respectful of subject matter. Irreverence is included, however. Not flippancy, mind you. But a degree of levity. That reflects both the personality of the poster and the readers. (There's a whole posting there, the power and need for firehouse laughter.)
That's also the reason you don't see too many smiling faces in my scene photos. That's an intentional omission, and perhaps a too-conservative one. The fireground is more than just square-jawed, stone-faced heroes doing their work.
These are people happy because they love their work, they love their co-workers, and they've performed their work well. They display that each and every time on scene. Should that be thus shown in photos? Is it easily understood, by those looking from the outside in? Need to think on that more.1
Thus concludes these musings on the subject of tone. And trying to get our (my) writings and pictures "just right," so they're interesting and readable and reasonably accurate in their representations. But also palatable and perhaps even pleasant for those visiting from "the outside."
1 How does the lay person react to the presence and content of our incident photos, period? There's a whole 'nother post and discussion right there!
Version 1.1 - 12:08 p.m. First footnote added.
+ 4 - 3 | § ¶
Wrecks on Triangle Interstates Take Four Lives
That's the headline from today's News & Observer story about a pair of fiery, fatal motor-vehicle accidents on Interstates 85 and 40 yesterday. Below is a picture from Harry Lynch of the second accident, involving a big rig, a box truck, and three passenger vehicles on I-40 just west of NC 15-501. One of the passenger vehicles caught fire. Three people (and perhaps more, say news reports) were killed. The accident occurred about 3:20 p.m. The roadway was closed for a number of hours The response included New Hope FD, Chapel Hill FD (E34, C4), Hillsborough FD (Squad 268), Durham FD (E11, E16, L11, B3, Squad 1), Parkwood FD (R614, Medic 62). EMS and rescue assets included South Orange Rescue for rehab. Readers can add details. Media links include WTVD (includes aerials) and WRAL (includes, as always, amazing reader comments).



Harry Lynch/News & Observer photo


Earlier yesterday morning, a series of accidents involving three (!) tractor-drawn trucks closed both lanes of Interstate 85 near the NC 86 exit near Hillsborough. This incident occurred about 10:00 a.m. One person was killed, and seven people were transported to UNC (6) and Duke (1). The accidents involved three tractor-drawn trucks, one carrying cement mixers (!) that overturned. The others were a box truck (that caught fire) and a tanker truck. Water shuttle operations were established, with two water points. Responding fire departments included Hillsborough FD, Efland FD, Eno FD, Orange Grove FD, Cedar Grove FD, and Caldwell FD. Wonder how many EMS agencies participated? Readers can perhaps add information. Media links include WTVD (with aerials), WRAL, and the Herald-Sun.



WTVD photo
+ 5 - 4 | § ¶
Blog > Facebook?
We meaning me has expanded our (my) digital channels lately, notably adding a Legeros twitter feed (www.twitter.com/legeros) to the mix. Blog posts are tweeted, along with most new incident photos (www.legeros.com/firepics). There's also a bit of exclusive content, tweets with, say, links to local, regional, or national news stories. Or other sites. Stuff that doesn't or hasn't yet made the blog. (For various reasons.) Remember, Twitter is it's own type of blog. A microblog.
Now, how can Facebook be added into the mix? Sure, there's already a Facebook profile page for Mike Legeros (www.facebook.com/legeros). But that baby's on high privacy alert. You have to be a Friend to see the wall postings. More complicatedly, those wall postings are not remotely equal to the content of this blog. They're all over place. Thus the question, how can Facebook presence be created, for Raleigh and Wake County firefighting? Or more specific, the Legeros-based perspective therein?
Over a year ago, a fan page was created called Legeros blog. That lasted a couple weeks, and was dropped due to duplication of effort. Two places for posting was too much at the time. Times have since changed, and it's time to offer (or try to offer) a Facebook entrance to this content. So how to get there from here?
That's the question of the morning. Best step is probably creating a Facebook fan page for this content. Public page, anyone can access. No friend-ing required. Craft an accurate name for same. Commence posting. And, on my personal Facebook profile page, redirect future fire-based wall postings to the new fan page.
Does that make sense? Does that sound good? And what should the fan page be called this time? Raleigh and Wake County Firefighting, the same as this blog? Raleigh and Wake County Firefighting Blog, with the word "blog" added? Some broader, bigger, wilder, crazier title? You tell me. If we build the thing before Monday, we'll "arrange" for fireworks afterward.