+ 16 - 11 | § ¶
Fewer Ambulances on Swain County Motorcycle Route
WTVD has posted an interesting story about reduced responses on a well-known motorcycle route in western North Carolina. Highway 129 starts in Blount County, TN, and features 318 curves in 11 miles. It's called the Tail of the Dragon, and at least two people are killed on the North Carolina section each year. Responses from Robbinsville in Graham County take about 22 minutes, while a run from Bryson City in Swain County can take as long as 50 minutes. Effective January 1, Graham County is discontinuing emergency service to the highway. County leaders say it costs too much, with about 30 calls a year totally about $100,000 annually. During the meeting that decided this action, the Swain County Manager offered a concession to Graham County, a discounted rate for housing their inmates in the Swain County jail. The offer was declined. The article notes that Swain County had been paying Graham County an annual fee for garbage pick-up, but not for emergency services or law enforcement. Read the entire story.
+ 19 - 14 | § ¶
Fire Department Fleets in 1942
As pondered in our previous post about the Camp Butner Fire Department, what were the larger apparatus fleets in 1942? From the state fireman's association's Statistician's Report of August 12, 1942, which lists nearly 200 fire departments, below are the fleets with four or more pumpers. Apparatus is presumably both active and reserve. Ladder trucks are both aerial and service ladders. Note that military and institutional departments were not included in the report.

Sorted by department:


| | | | | |
| --- | --- | --- | --- | --- |
| Asheville | | 66 paid | | 7 engines, 2 ladders |
| Charlotte | | 126 paid | | 9 engines, 4 ladders |
| Durham | | 65 paid | | 5 engines, 2 ladders |
| Fayetteville | | 8 paid, 27 vol. | | 4 engines |
| Gastonia | | 20 paid, 2 vol. | | 5 engines |
| Greensboro | | 71 paid | | 7 engines, 2 ladders |
| Hickory | | 6 paid, 40 vol. | | 4 engines, 1 ladder |
| High Point | | 59 paid | | 5 engines, 1 ladder, 1 hose truck |
| New Bern | | 5 paid, 87 vol. | | 6 engines, 1 ladder |
| Raleigh | | 56 paid | | 6 engines, 1 ladder, 1 hose truck |
| Rocky Mount | | 16 paid, 41 vol. | | 4 engines, 1 ladder, 1 hose truck |
| Wilmington | | 60 paid | | 6 engines, 2 ladders |
| Winston-Salem | | 82 paid | | 7 engines, 2 ladders |

Sorted by engines, personnel:


| | | | | |
| --- | --- | --- | --- | --- |
| Charlotte | | 126 paid | | 9 engines, 4 ladders |
| Winston-Salem | | 82 paid | | 7 engines, 2 ladders |
| Greensboro | | 71 paid | | 7 engines, 2 ladders |
| Asheville | | 66 paid | | 7 engines, 2 ladders |
| New Bern | | 5 paid, 87 vol. | | 6 engines, 1 ladder |
| Wilmington | | 60 paid | | 6 engines, 2 ladders |
| Raleigh | | 56 paid | | 6 engines, 1 ladder, 1 hose truck |
| Durham | | 65 paid | | 5 engines, 2 ladders |
| High Point | | 59 paid | | 5 engines, 1 ladder, 1 hose truck |
| Gastonia | | 20 paid, 2 vol. | | 5 engines |
| Rocky Mount | | 16 paid, 41 vol. | | 4 engines, 1 ladder, 1 hose truck |
| Hickory | | 6 paid, 40 vol. | | 4 engines, 1 ladder |
| Fayetteville | | 8 paid, 27 vol. | | 4 engines |

Fire departments with three engines: Beaufort, Burlington, Dunn, Elizabeth City, Goldsboro, Greenville, Henderson, Kinston, Lenoir, Lexington, Salisbury, Sanford, Shelby, Statesville, Washington, Wilson.
Fire departments with two engines: too many to list.
+ 20 - 20 | § ¶
Soul City
More history from Warren County. The bright blue pumper below belongs to the Soul City Fire Department, which is Warren County Station 13 and located at 103 Crescent Drive in Mansion. Who or what is Soul City? Let's turn back the clock to 1969, when civil rights leader Floyd McKissick proposed a planned town to economically assist and empower blacks and other excluded people. He envisioned a self-sustaining community that would attract industries, provide jobs for the poor, and eventually reach a population of 50,000. After forming a development company, he chose a 1,180-acre site in Warren County: Satterwhite Farm, a former slave plantation that included a sixteen-room antebellum mansion called the Green Duke House. The need for jobs and industry in that area was great, as Warren County was one of the poorest in the state.



Soul City was one of thirteen model city projects funded by the federal government. Ground was broken in 1973. With many millions in grants, roads and water lines were constructed. Some homes were built, and one industrial building named Soul Tech 1. Overall development was slower than expected. Industry was difficult to attract, because companies needed workers. And the city needed people, who needed jobs as a reason to move there. Soul City was also misperceived as an Afro-centric community. The development company foreclosed in 1979. By the next year, Soul City had 35 housing units, a medical clinic, a tennis court, and a pool. Some 150 people were employed in the city. Since that time, the community has grown a bit. And there were accomplishments: the first medical clinic in rural Warren County, a water system serving three counties, a sewage disposal system serving many, and recreation and community facilities. Plus the aforementioned fire department. Perhaps our readers can elaborate on SCFD today, as well as how the community is doing.
Sources:
"A Brand New Shining City": Floyd B. McKissick Sr. and the Struggle to Build Soul City, North Carolina by Timothy J. Minchin, North Carolina Historical Review, Volume LXXII, Number 2, April 2005
+ 12 - 15 | § ¶
Wake County Fire Commission Meeting, Thursday, October 8
The Wake County Fire Commission is holding a special-called meeting on Thursday, October 8, at 7:00 p.m., at the Wake County EMS training facility, located in the lower level of the Wake County Commons Building at 4011 Carya Drive. The purpose of the meeting is to consider a recommendation for a bid award to construct the new fire station in southeast Wake County. e.g., Garner Station 4.
+ 17 - 12 | § ¶
Photography Tip #549 (Updated)
The objective? Shoot the nearly completed green roof at Station 9. The challenge? Getting high, and in a vertical and not vegetative sense. The solution? Proceed to the sidewalk that's beside and slightly above the station. Take one tripod and extend to maximum height. Switch your camera to timer mode and manual focus. Set the latter for infinity and beyond. Buzz Lightyear voice optional. Mount camera on tripod. Activate shutter. As timer starts beeping, raise tripod above head. Hold very steady. Wait for the snap. Don't drop the thing. Results are shown below. Next time, we'll add sunlight and a stepladder. Meaning, a ladder that has remarried.

Here's a second shot, with stepladder and a daring sense of balance. Sun's behind clouds.


+ 14 - 26 | § ¶
Caption This Photo
From a couple months ago on Pleasant Valley Road. Engine and ladder have just left the station. It's behind the trees, behind the ladder. White van sees an opening. Photographer blogger captures the moment.


+ 11 - 12 | § ¶
2009 Malibu vs. 1959 Bel-Air
This is probably old news to the gearheads, but the Insurance Institute for Highway Safety has released a gallery of images showing a modern Chevy versus a vintage Chevy. They'd already shared the video, and have now released still images. Cool stuff, and an apt demostration of just how safer our automobiles are. Admittedly, the apples are not entirely equal. The Bel-Air does have 40 years of age on the thing. But the images speak for themselves. Combine crash protection with today's emergency medical system, and the odds favor your survival. See the pictures.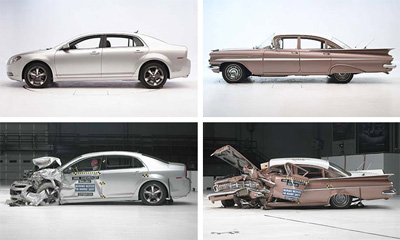 + 10 - 12 | § ¶
American LaFrance From Summerdale, NJ?
There's a 1971 American LaFrance 1000 Series pumper from Summerdale, NJ, that's been seen driving around the state. Supposedly still has the department name on the side of the rig. A retired SFD member who lives in the Carolinas would love to talk to the owner. Anyone know anything? Drop a line to alfowners@live.com. Thanks in advance.

+ 14 - 16 | § ¶
Ladder 1 at Station 1
While the downtown ladder was testing hose today, one of the northside companies spent some time at Station 1. That's a 2001 Quality/Spartan with a 75-foot stick, 1,500 GPM pump, and 300 gallon tank. It's the tallest of the city's ladders, and rides even higher than the new Pierce platforms. It's also the only two-axle truck in the fleet. The apparatus previously served as Ladder 4, Ladder 23, Truck 23, Truck 24, and Engine 23.


+ 12 - 14 | § ¶
Trauma
As found on FireCritic, Editor-in-Chief of JEMS and Firefighter Nation A. J. Heightman has posted a critical review of the new television series Trauma. The show is airing on NBC and is an action-drama about paramedics. It's also apparently utterly unrealistic, and a world away from the inspiring, accurate world of Emergency! Sounds like the show is good for some laughs, or groans. We don't watch much television, so we'll rely on readers to report on its awfulness. Read the review.
+ 19 - 5 | § ¶
Donald's Fire Haven Museum
The latest issue of the Fire and Rescue Journal
, published by the Office of the State Fire Marshall, finds a feature on a fire museum in Pleasant Garden, NC. That's just south of Greensboro. Called Donald's Fire Haven Museum, it's a personal collection of fire service veteran Chief Donald E. Whitaker. He built a 2,400 square-foot structure behind his home, and it's filled with nearly 50 years worth of souvenirs and mementos. The museum's been open to the public since 2003, and Chief Whitaker is the tour guide. Admission is free and all donations go the Muscular Dystrophy Association. Visit the web site to learn and see more.


+ 16 - 9 | § ¶
Let the Games Begin!
Er, that is, let the viewing of the games begin! Photos have been posted of Warren County Fireman's Day, held yesterday in Warrenton. Was the twenty-sixth year for the event, which drew departments from near and far. Sharpsburg from Nash County was likely the longest haul. The parade on Main Street started at 11:00 p.m. Before and after, the trucks were judged and in several categories. The lone antique was the town's 1938 Ford/Oren pumper. Next stop was the Warren County Fairgrounds, just outside town. There the judging continued, and firefighters, friends, and families settled in for a fun day of games.
The tournament started about 1:30 p.m. Five events, each with multiple teams. First was fastest dressing, complete with clouds of lubricating baby powder. Second was the hose team. Six men, three sections, one nozzle. Third was the bucket brigade. Muddy event, that one. Fourth involved two blinded hose teams trying to fill kiddie pools, with verbal orders from guys standing said pools. Wet one, there. Fifth was the familiar tug of war, with a beer key suspended on wire. Plus a contest for junior firefighters called "one man hose company." Great fun, great time. View the photos. See you next year.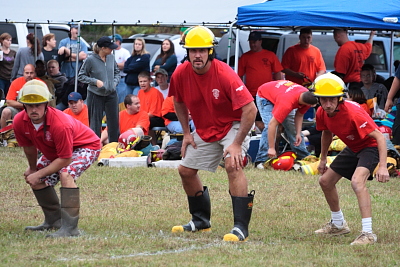 + 18 - 9 | § ¶
Interesting News Story
Dave Statter is reporting on a Pennsylvania fire department that's feeling the heat on sick leave and overtime. The local paper's done some investigative reporting, and even published a database of personnel information, including name, salary, selected sick leave usage, and overtime amounts. And that's the interesting aspect, here. Sure, attention has been increasingly turned toward spending and overspending, these days. And many an official or employee has been cited in papers. But naming every member and their details therein? That seems like something new. Did the newspaper go too far? It's public information about public employees, so it passes that smell test. And maybe it's a sign of where public accountability is headed. What do readers think?
+ 10 - 12 | § ¶
Next Weekend's Events
Here's what next weekend's looking like, as Fire Prevention Week begins. We'll post another list later, of the second weekend's events. What's missing?
Saturday, Oct. 3
Buies Creek FD - Open house, times? Buies Creek Fire Department, 112 Marshbanks Street,
Garner FD - Fireman's Day, 11:00 a.m. to 7:00 p.m. Parade at 2:00. Garner Fire Station #1, 503 W. Main Street.
Micro FD - Fireman's Carnival, 5:00 p.m. to 11:00 p.m. Food, games, music, cake auction, more. Micro Fire Department, 321 Highway 301 South
Morrisville FD - Fire Prevention Day - 10:00 a.m. to 2:00 p.m. Wal-Mart/Sam's Club, 11124 Chapel Hill Road.
Pilot FD - BBQ Sale, beginning 11:00 a.m. Also community yard sale. Pilot Fire Department, 8028 Highway 39.
Zebulon FD - Public Safety Day, 11:00 a.m.? to 4:00 p.m.? Wal-Mart, 841 E. Gannon Avenue.
Sunday, Oct. 4
Bay Leaf FD - Open house, 1:00 p.m. to 5:00 p.m. Bay Leaf Station #1, 11713 Six Forks Road.
Pink Heals Tour, 12:00 p.m. to 4:00 p.m. Triangle Towne Center, near Dillard's.
Raleigh FD - Open house, 2:00 p.m. to 5:00 p.m. All fire stations.
+ 10 - 7 | § ¶
Camp Butner Fire Department, 1942
Here's a lower-resolution photo of the Camp Butner Fire Department in 1942, the year the base opened. Seven vehicles are pictured with some 51 men. Looks likes seven pieces of fire apparatus, with a pair of American LaFrance 600 Series engines, perhaps? That would make it a pretty big department for its day. By way of comparison, Raleigh had five engines in 1942, plus two ladder trucks. Again, wonder how many of the members were full-time firefighters? We've blogged about CBFD before, which became Butner Public Safety. Perhaps readers can add more details. Click once or twice to enlarge:


+ 9 - 10 | § ¶
Fort Bragg Fire Department, 1951
Here's a treat from the North Carolina State Archives, a panoramic photo of the Fort Bragg Fire Department in 1951. Call number N.2006.7.16. Caption reads "Presentation of National Fire Protection Association award to Fort Bragg Fire Dept. by Lt. General John W. Lenand, Fort Bragg, NC." The photo is dated March 30, 1951. The photo is numbered 3553 by Rell Clements.
There 57 members pictured, if counted correctly. Left to right, the vehicles are: chief's car, alarm maintenance truck, two small trucks, stake truck (?), six pumpers, an equipment or crash truck, and a second chief's car. Wonder how many fire stations they had? And are these all full-time firefighters? Perhaps our military readers can add some history or perspective. Click once or twice to enlarge.



Courtesy North Carolina State Archives
+ 14 - 13 | § ¶
Warrenton Railroad
Ever heard of the Warrenton Railroad? 'Twas a three-mile line that connected the town to the Raleigh & Gaston Railroad, and later the Seaboard Coast Line at Warren Plains, NC. It was organized and opened in 1884, with the first locomotive squired from Richmond & Petersburg Railroad. The second as built new in 1887, a third delivered in 1906, and a fourth in 1922. The line operated until August 1985, and had two diesel-electric locomotives by that time. The tracks were later taken up.
Why did the town built their own line? The Raleigh & Gaston Railroad wanted to run through the town, but the city fathers said no. Instead, they constructed their own spur service. The Warrenton Railroad shut down after Seaboard stopped service to Warrent Plains. Below is a postcard view of Number 1876, a 1943 General Electric 45-ton locomotive. Click to slightly enlarge:

And here's a Sanborn Map from 1918 showing the Warrenton depot, the engine house, and the tracks. Click to slightly enlarge:


Sources:
+ 12 - 13 | § ¶
The Splash
Also from Fireman's Day today in Warrenton. Excellent example of stopping action. Click to enlarge:


+ 17 - 9 | § ¶
The Toss
From Fireman's Day today in Warrenton. Good example of stopping action. Click to enlarge:


+ 11 - 11 | § ¶
Agency Archives Are History in the Making (Updated)
Here's a great article from Fire Chief magazine from April 2009, on the subject of fire department history. Author Ronny J. Coleman, a California fire service veteran and president of the National Fire Heritage Center, advocates that every fire department should have both a historian and an official archive. He notes that the word "archive" means "the very perishable written or printed documentation that is maintained by a department" and which is entirely different than a firefighters' museum.
Writes Coleman: "An archive preserves primary-source documents that accumulate over the course of an organization's lifetime. A museum usually focuses on the hardware." His excellent editorial expands on these needs, and provides action steps for fire departments. Such as compiling or updating the department's written history, processes to preserve documents after their legal retention requirements have expired, and collecting those memos, letters, photos, and other materials are usually "right in front of the department's own nose, but often [get] tossed away."
The article also includes a sidebar on Archival Tips, and a link to a related article from October 2009, by our own Ken Farmer, called Remember the Past to Protect the Future. Good reading, all.
+ 8 - 13 | § ¶
Vance County Firefighters Cruizin' For a Cure This Weekend
This weekend, Vance County volunteer fire departments are hosting a county-wide boot drive to raise money to battle breast cancer. Called Cruizin' for a Cure, the event a joint project of the Instruments of Shining Hope Cancer Ministry of South Henderson Pentecostal Holiness Church and Maria Parham Medical Center Oncology Center.
Events started at 3:00 p.m. today (Friday), when two Henderson policemen were "jailed" for 24 hours and have to raise their own bail. The "cell" is located at the City Operations Center on Beckford Drive, which is the location for Saturday's events. The policemen, Lt. Charles Pulley and Detective Kendall Riddick, will use their cell phones to call for help. According to Pulley, the pair of Henderson's finest want to raise $3,000 each.
The benefit continues Saturday from 10 a.m. to 4 p.m. with raffles, games, food and music. Other activities for the day include:
Pink boot drive from 10 a.m. to 2 p.m. Firefighters will take donations at various intersections in and around Henderson.
Dunk a fireman. The dunking booth will be open from 10 a.m. to 4 p.m.
Generator raffle by Vance County Sheriff's Office.
Fire engines on display.
Enter for a chance to win a recliner donated by Sams Furniture.
Raffle for a chance to ride along with a deputy.
Bid for a chance to shave the head of Emergency Operations Director Brian Short.
Music will be provided by Steve Wilson of Wildlife Entertainment. Proceeds from the benefit will be used to raise awareness and funds for breast cancer prevention, detection and support. The goal is $10,000, a portion of which will be used to provide mammograms for women who cannot afford them. Cash will be accepted during the benefit, and checks should be made to the Maria Parham Health Care Foundation.
+ 6 - 16 | § ¶
Window Cameos
For your Friday enjoyment and going wildly off-topic, here some fun from the old Batman television series. Not every cameo is shown. Missing are clips of Art Linkletter, Carpet King, Don Ho, Howard Duff, and Jose Jimenez (Bill Dana). Holy time warp!


READ MORE
+ 12 - 8 | § ¶
Roof Work in Hendersonville
As FireNews has also surfaced, the Hendersonville Times-News Online reports on Thursday's morning fire at the Caldwell Inn. At least seven people leaped to safety from the second-story of the historic structure at 719 Maple Street. (See bird's eye view of structure from Bing Maps.) They were transported with a variety of injuries, including hip, head, and broken legs. Firefighters from Hendersonville, Valley Hill, and Blue Ridge fire departments responded. There are quite a few strong photos posted. See the slideshow from Times-News photographers Mike Dirks and Michael Justus. Or learn more about the Hendersonville Fire Department. Check out their reserve fleet, which includes an open-cab American LaFrance engine!



Mike Dirks/Times-News photo
+ 20 - 7 | § ¶
Once a Brush Truck, Always a Brush Truck
Reader Jon Olson photographed this familiar vehicle on New Bern Avenue. No mystery apparatus this time. That's Yrac's old Brush 299, later Western Wake's brush truck, a 1970 Chevy C20 originally equipped with a Darley pump. Click to enlarge:


+ 13 - 8 | § ¶
Bad Usability Calendar
We're covering a bit of everything tonight. For the web designers in the audience, here's something fun. The Bad Usability Calendar 2009, from NetLlife Research. Classic design mistakes made simple, often hilariously so. Here are quick links for the previous year's calendars in English, and all PDF format: 2008
, 2007
, 2006
. Good stuff, man.

+ 11 - 11 | § ¶
Learn Pet Fire Safety at Responsible Dog Ownership Day
The American Kennel Club invites Raleigh dog owners to learn pet fire safety on Saturday, September 26, from 11:00 to 11:30 a.m. at the Holshouser Buiding at the North Carolina State Fairgrounds. Look for the firefighters and dalmatians, along with a Western Wake fire engine. They'll be discussing pet fire safety, and how window clings help rescuers locate pets in a fire. The event is part of Responsible Dog Ownership Day, which takes place from 10 a.m. to 2 p.m. on Saturday. Read the press release

. Woof.
+ 12 - 15 | § ¶
New Jersey Tiller
Reader Jeff Silver found this beauty after a parade up in Jersey, a Seagrave tiller retired from Alexandria, VA. Either Ladder 203 or Ladder 205. Buy it and surprise your wife. Click to enlarge:


+ 14 - 6 | § ¶
Michigan Fire Hydrant
Reader Scot Rademacher photographed this fire hydrant while visiting Michigan for a football game. He reports that all of the plugs outside the "big house" are painted as such.



Scot Rademacher photo
+ 9 - 6 | § ¶
Caption This Photo
Reader and photographer John Franks captured this photographer in action at Saturday's Durham Highway Public Safety Day. He looks a little familiar. See the rest of John's excellent photos.



John Franks photo
+ 13 - 6 | § ¶
Remembering Hugo
As found on Firegeezer, who found it on SConFIRE.com, the Charleston Post and Courier has published an excellent retrospective of Hurricane Hugo's strike on September 21-22, 1989. While Charleston was battered-- with more than half of the city's 4,000 historic structures suffering damage-- the suburban communities and surrounding lowcountry suffered the worst damage. On Folly Beach, about 80% of the homes on the island were destroyed.
The Charleston area also recorded a tidal surge of nearly 20 feet, which is the record for the highest Atlantic surge in the United States. The Category 5 storm saw winds as high as 140 mph. In the United States alone, damage totaled $7 billion, then the costliest hurricane in the country's history. A total of 37 people were killed in the states from the storm. Read the Wikipedia entry on Hugo.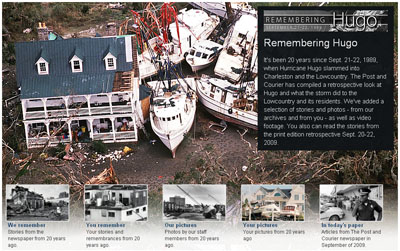 + 9 - 8 | § ¶
Pink Heals Tour Stop, Sunday, October 4
On Sunday, October 4, the Pink Heals Tour, formerly the Pink Ribbon Tour, is appearing at Triangle Towne Center from 12:00 p.m. to 4:00 p.m. They'll be parked on the west side of the shopping center, between Dillard's and Macaroni Grille. The Raleigh Fire Department is hosting the event, and invites everyone to attend.
The Pink Heals Tour is a non-profit organization founded firefighter Dave Graybill. They drive pink apparatus across the country to support women who fighting cancer, and inspire men to become involved. This year's tour includes three pink fire trucks and the sculpted Ribbon of Hope. See photos from last year's visit.


+ 10 - 10 | § ¶
Warren County Fireman's Day on Saturday
This Saturday is Fireman's Day in Warrenton, which is about an hour north of Raleigh. The Warren County Fireman's Day Parade starts at 11:00 a.m. at South Main Street and Cousin Lucy's Lane, across from the fire station. The procession travels north on Main Street, with units from all Warren County departments, as well surrounding counties and even Virginia. We're told to bring ear plugs. Apparatus starts lining up at 10:00 a.m. Fireman's Day continues at the Lion's Club Fairgrounds at West Ridgeway Street and Fairlane Drive, with competitions and other festivities continuing for the rest of the afternoon. Should be a blast.
+ 8 - 14 | § ¶
Big Fire in Chadbourn
As found on FireNews, that's Carolina Tire Sales of Chadbourn ablaze at 314 N. Wilkes Street. The 60,000 square-foot building, full of tires and occupying a former sewing plant, burned early this morning. Every fire department in Columbus County responded, along with five Bladen County and three Robeson County trucks. Plus a ladder from Loris, S.C. More than 150 firefighters were on scene, and from at least 31 departments. Read the FireNews article, which compiles coverage from the Whiteville News Reporter and the Fayetteville Observer. Great photos, too!



News Reporter photo
+ 13 - 3 | § ¶
Fire Apparatus Journal
Everybody here has a subscription to Fire Apparatus Journal, right? The magazine for American apparatus buffs. Published every other month, edited by John A. Calderone, and featuring 100+ color photos each issue. Regular columns include cross-country news updates, fire department profiles, airport apparatus, fire boats, rehabs, and apparatus models. This is their twenty-fifth year, having published their first issue in June 1984. If memory serves, I learned of the magazine while poking around a fire station in Minneapolis. Immediately ordered a subscription and haven't missed an issue since. Even bought a collection of back issues, to complete the run. To this day there are few things that bring a bigger smile, than finding that familiar envelope in the mailbox. Visit their web site for more information.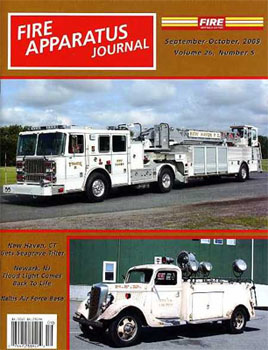 + 14 - 4 | § ¶
Hard Drive Docking Station
Mr. Blogger is enlarging his secondary hard drive. Out goes 500 gig, in goes 1,000 gig. e.g., terabyte. For the arduous task of copying everything over, a Thermaltake hard drive docking station was used. This thing's a gem. Just insert the internal drive and power on the docking station. Just like that. No hard drive enclosure required. Bought mine on Amazon.


+ 11 - 12 | § ¶
Speeding the Loading of Firefox
Does the Firefox browser take forever and a day to load, when you first open the application using Windows XP? Here's a tip to speed the thing:
Right-click on the Firefox shortcut icon.
Click Properties.

In the resulting dialog box, click the Compatability tab.
In the Compatability mode section, check the box beside Run this program in compatability mode for.
Also select Windows 2000 from the drop-down menu.
Click OK.
Giddy-yup.
+ 9 - 13 | § ¶
Tradition
Great quote, found elsewhere on the Fire Chief magazine web site. "Tradition is what we call something that we do, when we don't know why we do it." Discuss as desired. Updated with Topol. The other Tevye.


+ 10 - 11 | § ¶
McDowell County Firefighter Struck on I-40
FireNews has reported on a McDowell County firefighter who was injured on Interstate 40 early Friday morning. Crooked Creek Fire Department member Kirk Lunsford was working in the median at an accident scene near mile marker 70 near Old Fort when he was struck by a vehicle. He suffered serious injuries to his legs as well as a head injury, and underwent surgery Friday evening. He was listed in good condition Saturday, reports this Citizen Times article. Full recovery of his legs, however, is uncertain, the article reports. The original accident involved an overturn tractor-trailer truck. Two others were transported from the scene.
+ 11 - 10 | § ¶
Mystery Apparatus
This one is probably pretty easy.


+ 15 - 7 | § ¶
Below the Fold
Let's talk usability. Raise your hand if you've seen a web site that requires scrolling down to see the latest updates. Instead of the latest, greatest, newest content positioned at the top of the page, it's located farther or maybe further down. Maybe the top of the page has big banners, or splashy graphics, or unchanging "about this web site" information. This type of page design is challenging for users. If they don't scroll down, to see what has changed, they might think the site is inactive. And thus stop visiting. Plus, that most valuable of real estate-- the top of the site-- is largely wasted. Once you've seen the banner, or read the introduction, it's no longer useful for repeat visitors.
The Apex Fire Department web site has been modified to address this issue. Here's the "before" version, as shown on Mr. Blogger's desktop resolution of 1400x900. Run totals are at the top of the page. Big honkin' table of numbers. Below that are photo updates, and then the latest announcements. Chances are, most users are scrolling down, past the run numbers, to see what's new on the site. What new photos have been posted, what new announcements are listed.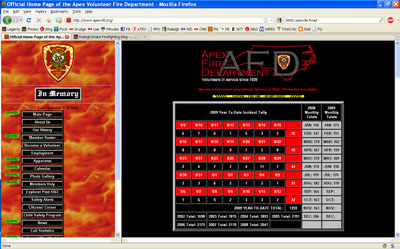 Here's the "after" version, with the run totals moved to the bottom of the page. Photo updates are at the top of the page. Below them, "below the fold" alas, are the latest announcements. Simple fix. Great improvement!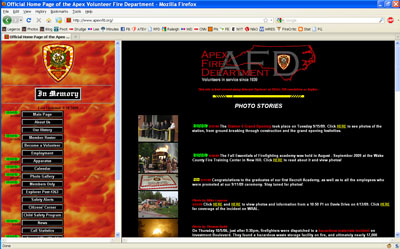 + 10 - 12 | § ¶
North Carolina Fire Departments in 1902
For your weekend enjoyment, here's an interesting find from Google. These are entries from the Complete Directory of North Carolina, published in 1902 by the News & Observer, and as digitized on this web page. Quite a few cities and towns had fire departments or fire department officials, including such considerably lesser-known town as Boardman and Tillery. There are several departments missing, oddly. Such as Wilmington and Warrenton. Additional information in italics has been added from Sanborn Maps from the period. Plus some parenthetical information on a couple of the lesser-known towns. Enjoy!
Albemarle (pop. 950)
Fire department not listed in directory.
Had one ladder truck in 1902.
Asheville (pop. 14,694)
Supt. Fire Dept. - J. P. Sawyer
Had 50 volunteers, 4 horses, three hose wagons, three hand reels, and one ladder truck in 1901.
Beaufort (pop. 400?)
Supt. Fire Dept. - C. V. Roberson
Had hose cart and chemical engine in 1904.
READ MORE
+ 7 - 13 | § ¶
Two-Stepping
Since it's Friday, let's extol the virtues of a new country bar in Wake Forest. Called Crossroads Entertainment, they're located at 413 Brooks Street. They've been open about a month, and they're the latest, greatest place for two-stepping in the Triangle. Built inside a renovated strip mall, in the old Winn Dixie, the place is big, clean, and well-attended on the weekends. New furniture, nice decor. Really a nice-looking place, and non-smoking at that!
The main room has a generous-sized dance floor, and a good sound system. And it's attracting all the country dancing regulars who you'll recognize from T.J.'s or the old Longbranch. Swinging, waltzing, line-dancing, it's all there. The club has two smaller rooms, one of which is a sports bar. Friendly staff and friendly faces. They have a web site on MySpace with a their calendar and other details. Look for "Boots" Blogger on the odd Tuesday or Friday night. He'll be the one wearing a Hawaiian shirt.


+ 6 - 13 | § ¶
Durham Highway Public Safety Day on Saturday
Durham Highway Fire Department hosts Public Safety Day 2009 from 10:00 a.m. to 3:00 p.m. on Saturday at Leesville Road High School, 8409 Leesville Road in Raleigh. They'll have educational displays and exhibits, with Smokey Bear and Sparky the Fire Dog along with plenty of fire, police, and EMS vehicles for exploration. They'll demostrate extrication, live firefighting, and even bring a medical helicopter to the event. Free hot dogs and soda, too! See their flyer on the DHFD web site.


+ 11 - 11 | § ¶
Ferrells FireDog One
Our friends at Ferrells Fire Rescue in Nash County pass along photos of a unique special unit. Below is FireDog One, a mobile hot dog stand that's the brainchild of Ferrells Fire Rescue Auxiliary President Robbie Tippett. During the department's last fundraiser, a golf tournament at Zebulon Country Club, a stationary hot dog stand served hungry golfers. This worked well for those near the stand, and not so good for those out on the course. Robbie was in charge of the event, and had an idea: make the hot dog stand mobile.
Some weeks later, he spotted an EZ Go XI-875 Industrial Burden Carrier at a government surplus warehouse on Garner Road. The Auxiliary purchased same and provide Robbie with a budget. The unit is nearly completed, and is expected to make its first public appearance at a Ferrells Firemen's Day fundraiser this Saturday, Sept. 19. For those in and around rural Nash County, the fire station is located at 9589 West NC 97 in Middlesex. And serving BBQ pork and chicken, too! Click to enlarge:

+ 12 - 8 | § ¶
Raleigh Fire Station Goes Green with New Roof
WRAL has a good story on the green roof at Station 9. The vegetation is being installed this week. The new roof doubles as an above-ground garden, absorbing about half of the rain it receives, and improves water quality by reducing runoff. It also reduces energy costs in the building, by adding insulation. Read/watch the story.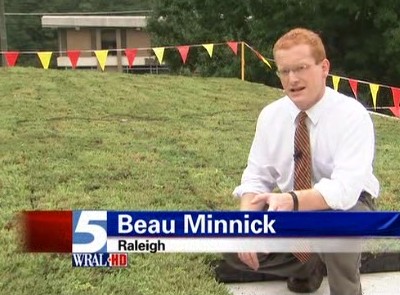 + 12 - 10 | § ¶
Objects Are As Close As They Appear
Reader David R. passes along this photo of an Iraq fire engine. He's in Baghdad at the moment and that blurry object in the foreground is indeed a rifle barrel. Thanks for thinking of us, and stay safe. Click to enlarge:

+ 11 - 10 | § ¶
Fourth Annual Tartan Ball, Friday, Nov. 13
The Wake & District Public Safety Pipes and Drums Fourth Annual Tartan Ball is Friday, November 13, 2009 from 8:00 p.m. to midnight at the Downtown Raleigh Sheraton Hotel. Tickets are now on sale, available exclusively through PayPal. This year's guest band is the North Carolina State University Pipes & Drums, under the direction of Pipe Major John Sprague. The evening will also feature the Inis Cairde School of Irish Dance, Raleigh Scottish Country Dancers, and Jo Moore Kalat School of Scottish Dance. Adult kegged beverages and appetizers are included as part of the ticket. A full-service cash bar is also available.

The Tartan Ball is limited to only 320 tickets. That is, 318 tickets, as Mr. Blogger bought two. As soon as the last ticket is sold via PayPal, no more will be made available, and you'll have to wait until their fifth anniversary party in 2011. To purchase tickets, visit www.ForOurFallen.org and click the PayPal link. Note that a PayPal account is not required to purchase tickets, which will be waiting for you at the door. See you there!

Next question, who's the piper behind the mask in this cool poster? Click to slightly enlarge:

+ 14 - 10 | § ¶
Mystery Stations
Bird's Eye with Bing Maps again. Hint #1: They're not in Raleigh. Hint #2: They're not in Wake County.


+ 10 - 12 | § ¶
The Smell of a New Fire Station
There's nothing like it. That's Apex Public Safety Station 4 at 1615 E. Williams St., which was dedicated yesterday. Watch the AFD web site for ceremony photos. Firefighters move into the combination fire, police, and EMS facility on Monday. It'll house an engine and ladder company, along with other equipment.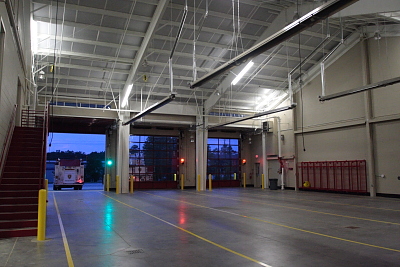 + 11 - 9 | § ¶
Working
From yesterday's fire on Millbrook Road.


+ 13 - 8 | § ¶
This Afternoon's Major Fire / East Millbrook Road
Two alarms at 1005 E. Millbrook Road. Or is it third-alarm equivalent? Callers reported explosions and possibly people trapped. Car 73 and then Engine 9 arriving at a two-story, wood-frame residence with heavy fire conditions. Building with 1,890 square-feet, built 1970. Second alarm quickly requested. Interior attack, with defensive periods. Ladder 1 utilized for aerial operations. Millbrook Road closed in both directions. Two hydrants caught. Several pets rescue. Adult male victim located that evening, deceased. Two firefighters transported, one with burns, one with dehydration. Both released Tuesday evening. Dispatched 2:54 p.m.; controlled 5:29 p.m; command terminated 11:18 p.m. by Engine 6. First alarm fire: E9, E4, E19, L1, R1, B1. Working fire: E11, C10, C20, A1. Second alarm: E22, E18, E7, L2, R2, B2. Other: C1, C2, C4, C73, B4. Special called: E15, E16, E1, HM2, E6, L5. EMS units included EMS 5, EMS 13, EMS 31, EMS 121, EMS 1210, M94, D3, D6, T1. Preliminary photos posted by Legeros. Media links: N&O, WRAL, WTVD.


+ 11 - 12 | § ¶
Renovations at Fuquay-Varina Station 1
Lee Wilson took this photo of the renovations underway at Fuquay-Varina Station 1 at 301 South Fuquay Avenue. The 4,342 square-foot addition will nearly double the size of the 30 year-old facility. Exterior improvements will create an obvious front door to the building. Interior renovations will rearrange and expand the living area. See more photos. Read more about the Fuquay-Varina Fire Department.



Lee Wilson photo
+ 14 - 2 | § ¶
September Fire Commission Meeting Cancelled
The Wake County Fire Commission Meeting on Thursday, September 17, has been cancelled. This regularly scheduled meeting will be rescheduled.
+ 6 - 10 | § ¶
Emergency Communications Center Employees Receive Honors
Two employees of the Raleigh-Wake Emergency Communications Center (ECC) have been honored as being the best in the state at what they do. Chris Walton, a supervisor in the ECC, was presented the Supervisor of the Year Award by the North Carolina chapter of the Association of Public-Safety Officials (APCO) International. Craig Schulz, a technical services supervisor in the ECC, was named Support Person of the Year by the North Carolina NENA chapter. A third employee, Deputy Director Kelly Palmer, has been recognized for her work on behalf of the North Carolina chapter of the National Emergency Number Association (NENA). Read the entire press release.
+ 10 - 11 | § ¶
Mistakes in My Books
When you write a book, you make mistakes. Most of the errors are corrected before publication. Others are discovered after publication, some times soon, some times years later. My two Images of America books about Raleigh and Wake County firefighting contain errors. In lieu of the ability to alter reality and correct every printed copy that exists-- still waiting on that magic wand-- a pair of web pages exist with corrections. They're found on each book's web site: Volume 1 and Volume 2. Dedicated readers can amend their copies as desired. What were the notable errors and omissions?
Raleigh & Wake County Firefighting (2003)
Raleigh Fire Chief Sherwood Brockwell incorrectly cited as the first paid, full-time fire chief in America. This is also remembered by some readers as "first paid fire chief in America." Both are incorrect. There were paid chiefs and full-time chiefs long before Mr. Brockwell. The source for the erroneous fact was another local history book. Its author may have misheard, misread, or misinterpreted a different and more likely truthful fact about Brockwell, which was "youngest full-time fire chief in America" at the time.
Old Station 2 / Old Station 2 incorrectly addressed as 212 S. Salisbury Street, instead of 412 S. Salisbury Street.
Corrections to a sign shown at the Longbranch, after a fire, and involving barmaids and their buns.
Old Station 6 incorrectly pictured. The correct building is next door.
Walter crash trucks incorrectly pluralized as Walters.
Names, dates, etc.
Raleigh & Wake County Firefighting Volume II (2004)
Five people named in a picture showing four people. D'oh!
Humor on the subject of flea markets.
Punctuation, spacing, etc.
Names, dates, etc.
And while we're on the topic, here are a couple frequently asked questions about the books and my authorship therein.
Q: How may copies were printed?
A: If memory serves, the quantities were 2,100 for the first volume, and 1,200 for the second.

Q: How many copies were sold?
A: Don't know. Most of them.

Q: Are they still available?
A: Yes.

Q: Did you become famous?
A: No.

Q: Did you become rich
A: Hell no.
+ 10 - 11 | § ¶
Emergency Vehicle Visibility and Conspicuity Study
As this Firehouse.com article reports, the United States Fire Administration (USFA) released a study of emergency vehicle visibility and conspicuity1 in August. The 45-page study details "best practices in emergency vehicle visibility, including discussions about retro-reflective striping, chevrons, high-visibility paint, built-in passive light and other reflectors for emergency response vehicles." Exceptionally interesting reading, and with a cover that includes a certain local paramedic car. The now-familiar Battenburg pattern is discussed on pages 14 and 15, and includes a pair of pictures. Our portfolio is growing! Download the report, or click the cover to access: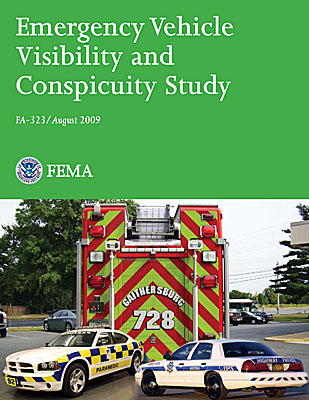 1For extra credit, say conspicuity ten times fast.
+ 8 - 10 | § ¶
Wanted: Delivery List of EEI Apparatus
Reader Jon Umbdenstock is compiling a delivery list of Emergency Equipment Inc. (EEI) apparatus, which were built in Raleigh. The successor to Atlas Steel Products, EEI built a full range of commercial and custom-chassis fire apparatus from 1983 to 1999. The produced pumpers, pumper/tankers, tankers, mini-pumpers, rescue trucks, and rescue pumpers, among others. Most of their custom rigs were built on Spartan chassis.
Raleigh received two Pemfab/EEI pumpers in 1986, one of which was rebuilt by Pierce in 1990 and recently sold to Four Oaks FD. Wake County deliveries included Apex (Spartan/EEI), Bay Leaf (Mack/EEI), Fairview (Chevy/EEI), Hopkins (Chevy/EEI), New Hope (Mack/EEI), Rolesville (Freightliner/EEI), Six Forks (Ford/EEI, Mack/EEI), Wendell (Ford/EEI), and Zebulon (Freightliner/EEI).
Jon is requesting help with any and all known EEI deliveries, and is requesting:
Year delivered
Chassis make
Pump and tank size
Serial number, probably between 8400 and 8778, found on yellow certification sticker in the cab, usually over driver's left shoulder
Original and subsequent owners.
For example: #8455, 1985 Ford C-8000/EEI, 1000/500, Durham, NC, Engine 8. He appreciates any help, and can be contacted at "JKUmb at aol.com." Thanks in advance!
+ 14 - 10 | § ¶
This Afternoon's Industrial Accident / Atlantic Avenue
Wall collapse at 4808 Atlantic Avenue. One-story automotive center with construction on an additional vehicle bay. Concrete wall collapse, one fatality on arrival. Extended extrication of victim with Engine 15, Ladder 2, Rescue 2, and EMS 5. Other units on scene included Battalion 1, District 1, Medic 93, and EMS 16. Dispatched 1:28 p.m. Pics forthcoming.


+ 8 - 15 | § ¶
Remembering Floyd
Today's News & Observer has a tenth-anniversary retrospective of Hurricane Floyd. The 300-mile wide storm with 110-mph winds was the worst natural disaster in the state's history. Floyd landed on September 16, 1999, and soaked a state already overflowing from Tropical Storm Dennis from two weeks before. As the feature by Martha Quillin notes, "Floyd filled creeks and rivers and lakes until they overflowed. Then it filled the neighborhoods around them, and downstream from them, from Raleigh to the coast." The storm killed 52 people in our state, and caused $6 billion in damage. Here are the story links:
The pre-Floyd event, Tropical Storm Dennis, struck the state on September 5, 1999. The eye made landfall on the southeastern coast with 70 mph winds at 3:00 p.m. The eye of the storm passed northeast of Raleigh about 1:00 a.m. on September 6. Two weeks later, Hurricane Floyd made landfall as a Category 2 storm near Wilmington at 3:00 a.m. on September 16. The eye of the storm passed east of Raleigh about 9:00 a.m. that morning. As the Hurricane Floyd Wikipedia page notes, resulting rains caused "widespread flooding over a period of several weeks; nearly every river basis in the eastern part of the state exceeded 500-year flood levels."
What do responders remember from that time?
+ 11 - 12 | § ¶
Deadlier Roads?
Are fatal accidents on the rise, or are they just getting more coverage? Today's News & Observer reports on four fatal incidents from Friday and Saturday. Driver rear-ended and killed on Strickland Road near Lead Mine Road on Friday night. Pedestrian struck and killed on Garner Road near Tryon Road on Friday night. Groom killed hours before wedding, ejected in a collision at Glenwood Avenue and Westgate Road Saturday morning. Boy on a skateboard struck and killed on Council Gap Court in Cary on Saturday afternoon. Two have resulted in DWI charges. That's a rant for another day, there.
+ 9 - 10 | § ¶
Charlotte Fire Department Rules & Regulations, 1940
This posting has moved to http://legeros.com/blog/charlotte-fire-department-rules-regulations-1940
August 5, 2017
+ 8 - 11 | § ¶
Hand Line
From today's live burn at New Hope. Click to enlarge:


+ 16 - 8 | § ¶
Southeastern Fire & Rescue Expo in Raleigh, August 1987 ?
Does anyone remember an event in Raleigh called the Southeastern Fire & Rescue Expo? Held at the Fairgrounds, in August, 1987. One person remembers it was held, or planned to be held, for two or three consecutive years. Another person remembers it as a one-time deal. Any help is appreciated.
+ 14 - 7 | § ¶
This Afternoon's Fire in Cary
Two alarms (?) at 10820 Penny Road. Engine 6 arriving at a three-story, wood-frame retirement home with 99,330 square-feet. Built 2003. Working fire in laundry room on first floor. Controlled without extension. Evacuation of first floor residents performed, with second and third floors sheltered in place. Extended salvage and overhaul, with room-by-room ventilation. Dispatched about 3:06 p.m. Units included E6, E3 (using T6), E2, L5, L1, T7, R4, B1, Fairview E1, EMS 42, 41, D2, D5. Readers, please correct details. Photos from Legeros forthcoming.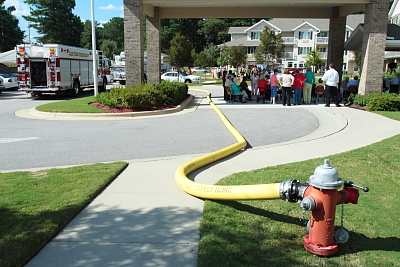 + 12 - 11 | § ¶
September 11, 2001
A moment of silence. A day of reflection. A lifetime of remembrance.
+ 14 - 10 | § ¶
Blogfest with FireCritic
What does a day of concentrated fire blogging look like? FireCritic took the taste taste. Twelve hours and twenty-six posting later, read the results of his blogfest. As he notes, some are serious, some are funny, and some are in-between. Legeros was mentioned somewhere in there, so this reader's happy! Next question, who's gonna try a full-shift 'fest? e.g., twenty-four hours of continuous blogging? We await a contender.
+ 7 - 8 | § ¶
FDNY Fireboat Three Forty Three
As this Firehouse.com article reports, a ceremony of another sort takes place tomorrow in Panama City, when FDNY officials launch the department's first new fire boat of its size in five decades. The 140-foot, 500-ton craft is named Three Forty Three, a reference to the number of firefighters and paramedics killed on September 11, 2001. The new boat is also larger than any other fire boat in the United States. With a pumping capacity approaching 50,000 (!) gallons per minute, the Three Forty Three should arrive in New York City in December. It'll be assigned to Marine 1 on the Hudson River, and replace the John D. McKean. Read the entire article, or learn more at the web site nycfireboat.com, which includes this neat computer-generated image:


+ 8 - 8 | § ¶
Raleigh Fire Department Marks Anniversary of Sep. 11 Terrorist Attacks
The Raleigh Fire Department will hold a moment of silence Friday to remember the civilian and uniformed victims of the terrorist attacks of September 11, 2001. The observance honors those who lost their lives in New York City, Pennsylvania, and Washington, D.C. For one minute beginning at 9:59 a.m., apparatus and personnel at all twenty-seven fire stations will be present on each station's apron. Personnel will stand at attention and apparatus will have their warning lights activated. The remembrance takes place at the time of the collapse of the South Tower of the World Trade Center in New York City. It was the first tower to collapse following the terrorist attack.
+ 11 - 13 | § ¶
Wilmington's Terrible Fire, February 23, 1886
Here's a historical gem that fellow fire department historian has passed along. Bill Gibson transcribed this Wilmington Morning Star account of a dockside conflagration way back in the day. It started as a fire aboard a steamship, spread to the wharves and sheds on shore, and then along a number of streets. The Hope Steam Fire Engine Company from Florence, SC, responded as mutual aid. They took three hours to travel by train. Goldsboro also sent a fire company to assist.
How big was the Wilmington Fire Department at the time? Two years earlier, the Sanborn Map Company recorded a volunteer department with 200 men, three second-class steam engines, one horse hook & ladder truck, two hand hook & ladder & bucket companies, one independent hose company, and 2,600 feet of hose. The below account is also available via this web document. Enjoy!

The Morning Star – Wilmington, NC - Vol. XXXVII No. 129 - February 23, 1886

A TERRIBLE FIRE

A Large Portion of the Business Part of the City Laid in Ruins – Two Steamers and a Schooner Burned – Railroad Freight Depots in Ruins – Many Valuable Residences Swept Away – Scenes and Incidents of the Great Fire.

The city was visited Sunday afternoon last by the most disastrous conflagration, probably, ever known in its history. It has inflicted immense loss upon business men and others, and laid waste large portions of its busiest and most thickly settled thoroughfares. It is a calamity from which we fear our fair city will be long in recovering; but it should be consolation to know that beyond the distress and suffering that must necessarily ensure to many, there has been no loss of life and no serious personal injury to any one.
READ MORE
+ 13 - 12 | § ¶
Western Wake Anniversary Ceremony & Flea Market, Postponed
This event has been postponed until Saturday, November 21.
Watch for another round of announcements closer to the date.
Updated event information to be posted at http://www.westernwakefirerescue.com/fleamarket.
Contact fleamarket@westernwakefirerescue.com for more information.
READ MORE
+ 18 - 6 | § ¶
Coming Events?
'Tis the season for fire prevention days, as well as the official week in October. Who is having what and where in the coming weeks? Please add your information!

Sep 12 (Sat)
New Hope Live Burn, Park Hill Drive, 8:00 a.m. until
Spencer Fire Apparatus Show, NC Transportation Museum, 9:00 a.m. parade

Sep 15 (Tue)
Apex Station 4 Open House

Sep 19 (Sat)
Durham Highway Public Safety Day, Leesville High School

Sep 26 (Sat)
Warrenton Fireman's Day

Oct 3 (Sat)
Garner Fireman's Day
Zebulon Public Safety Day
Western Wake Ceremony & Flea Market, Moved to Nov. 21 (Sat)

Oct 4 (Sun)
Bay Leaf FD Open House, 1:00-5:00 p.m., Station 1
Raleigh FD Open House, 2:00-5:00 p.m., all stations

Oct 8, Oct 9 (Thu, Fri)
Raleigh FD at Crabtree Valley Mall

Oct 10 (Sat)
Raleigh FD at Crabtree Valley Mall

Oct 11 (Sun)
Fairview FD Open House
+ 12 - 11 | § ¶
Prunes and Corks and Sink Holes, Oh My
'Tis is a weird week around the fire web. First found on firehouse.com, the Enterprise Record in Chico, CA, has the scoop on spilled prunes. Seven boxes that fell from the back of a semi-truck, snarled traffic, and sent firefighters to work with shovels. The result? Two hours of traffic delays and four collisions related therein. Plum story, to be sure. Next, would you believe flying corks at a vehicle fire? Firehouse.com also served up this AP story of a truck fire in Wamsutter, WY, where exploding wine bottles sent corks flying at responders. "My trooper got hit in the arm with one," notes a Highway Patrol member. Vintage story, there. And also uncorked by Firegeezer.


Ty Barbour/Enterprise Record Photo


Then there's that sink hole, which nearly swallowed an Los Angeles engine company, and inspired fire bloggers to new levels of punditry. Firegeezer: Fire Engine Gets That Sinking Feeling. Dave Statter: I Sink, Therefore I Am. And so on. The crew escaped, the truck was recovered, and everyone snapped amazing pictures. Deep story, we'll call that one. Dave has also surfaced a neat video from New York City of a flaming taxi in midtown Manhattan. As he notes, "there's nothing spectacular about the video," but it's "what's going on around the fire" that's great. He and we are easily amused. Watch below or click for slightly larger version on YouTube. And a joke. What's worse than raining cats and dogs? Why, hailing taxis, of course.


+ 14 - 6 | § ¶
Mystery Streets (Updated)
Identify these two streets that looked like they once connected. Hint #1: They're in Raleigh. Hint #2: At least one has undergone a name change, I think. It's inside the Beltline. Click to enlarge:


Now that the streets have been identified as Paula and Ann streets-- good job, A.C.-- here's the next question. Was the planned Noble Road ever created that even contemporary maps show as connecting the two? Below is a Sanborn Map from 1950, and a Google Map from today. Click to enlarge:


+ 11 - 8 | § ¶
Black Helicopters...
...well, green, actually. This WRAL story reports that today a trio of Chinook choppers landed in a field in Rolesville. No details yet, but this viewer photo has a neat, grainy, conspiratorial feel. If we were located a bit closer to military facilities, who knows what stories might be supposed. Bet those things were loud as they landed.



Tyler Williams/WRAL Photo
+ 16 - 9 | § ¶
This Morning's Fire in Apex
House fire in the L'Hermitage at Beaver Creek subdivision off the 1000 block of Olive Chapel Road. Two-story, wood-frame, vacant structure with 3,500 square-feet. Fully-involving upon arrival of Apex fire units. Mutual Aid from Cary and Fairview. Aerial operations with what looks like Ladder 1 and Ladder 3. Roof and second floor collapsed. Apex, Cary, and Wake EMS on scene. Dispatched at 3:00 a.m. Fire appeared suspicious, with investigators waiting until daylight to look for evidence. Building was unoccupied, and part of an abandoned housing development. Watch footage from WTVD. Or also watch footage from WRAL. Readers, please add details as desired.



WTVD image
+ 13 - 7 | § ¶
Lists of Stuff
As presented in Mr. Blogger's history workshop at the convention. View the presentation slides at his history site.
Largest Fire Departments (in 2007)
| | | | | | | |
| --- | --- | --- | --- | --- | --- | --- |
| | Population | Sq. Miles | Personnel | Stations | Engines | Ladders |
| Charlotte | 658,848 | 280.5 | 1083 | 38 | 39 | 14 |
| Raleigh | 367,995 | 139.9 | 553 | 27 | 28 | 7 |
| Greensboro | 267,072 | 136.9 | 476 | 22 | 22 | 7 |
| Winston-Salem | 221,014 | 133.2 | 340 | 19 | 18 | 5 |
| Durham | 212,568 | 104.0 | 301 | 15 | 15 | 5 |
| Asheville | 74,307 | 58.2 | 228 | 9 | 9 | 5 |
| High Point | 95,630 | 70.0 | 224 | 14 | 13 | 3 |
| Wilmington | 98,529 | 54.3 | 220 | 11 | 11 | 2 |
| Cary | 122,333 | 53.4 | 209 | 7 | 7 | 3 |
| Concord | 65,431 | 58.9 | 161 | 8 | 8 | 2 |
| Gastonia | 70,243 | 49.3 | 145 | 8 | 6 | 3 |
| Hickory | 43,422 | 42.6 | 126 | 7 | 6 | 1 |
Largest Early Fires
1816 – Raleigh – 51 buildings
1831 – Fayetteville – 600+ structures
1849 – Greensboro – Business district
1854 – Statesville – Half of town
1880 – Durham – Half of town
1886 – Wilmington – Waterfront
1887 – Clinton – 49 buildings
1918 – Charlotte – 48 homes, 250 homeless
1922 – New Bern

40 blocks
1,000+ buildings
3,000 homeless
READ MORE
+ 11 - 15 | § ¶
Fire Station Slides in Wilson
As discussed in a prior posting, slides were installed instead of poles in a pair of Wilson fire stations. These stainless-steel chutes are present at Station 3 and Station 5, one each. They effect rapid egress from bedrooms to apparatus floor. That is, very rapid egress. There's wall padding waiting at the bottom. See more including one in action, or learn more about the Wilson Fire Department. This roving report was sponsored by a craving for corn sticks and chicken at Parker's Barbecue on Sunday afternoon. And they were good.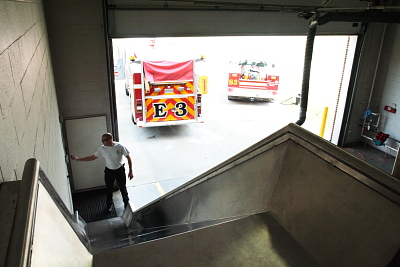 + 14 - 6 | § ¶
Empty House
Wake Forest Fire Station 1, during the house fire on Wild Duck Court. Look at all that floor space.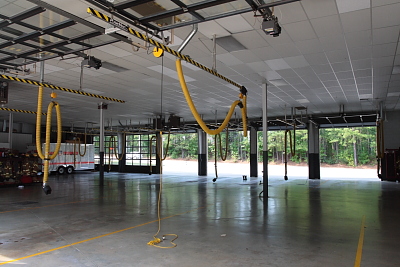 + 6 - 10 | § ¶
This Afternoon's Fire in Wake Forest
House fire at 404 Wild Duck Court in Wake Forest. Two-story, wood-frame structure with 1,609 square-feet. Arriving units encountered heavy fire inside, and in the rear of structure. White Street closed south of street at Secret Pond Drive, due to supply line from hydrant at that corner. Engine 1 and Engine 3 supplying hand lines. Dispatched 2:41 p.m. Controlled within an hour. Units on scene included E1, E2, E3, E4, L1, R1, B1, EMS 10, EMS 11, EMS 12, EMS 33, District 3, Truck 1. Also units from Youngsville and...? WFFD Ladies Auxiliary assisted with rehab. NBC17 reports a couple firefighters had minor injuries. Readers please add additional details. Photos from Legeros coming have been posted.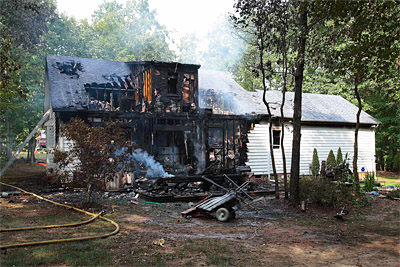 + 13 - 9 | § ¶
Old Silver Lake Fire Station
Reporting from Nash County, here's the Silver Lake Fire Department's old station on Home's Church Road outside Wilson. The 1961? building sits beside the new station, and is presently filled with decorations for the New Hope Acres Haunted Hayride. The fundraising event is sponsored by SLFD. The ladies auxiliary uses the old station, and stores a unit in the far bay. The rest of the year, the building also houses a Sheriff's Department unit. Click to enlarge:


+ 11 - 13 | § ¶
Ladder Truck
So what's the record for ladders stacked on a paint van? Or maybe it's a prototype for an ultra-cheap service ladder truck. Just add lights and lettering.


+ 12 - 11 | § ¶
Blaze Destroys Big Moving Van, 1944
Load of Furniture Consumed by Fire on Highway Nine Miles From Raleigh reads the second headline in the December 13, 1944 edition of the News & Observer. Packed with furniture, a "huge moving van" is destroyed by fire on Highway 1 "about nine miles from Raleigh near the Neuse River." The fire, blown by strong winds, spreads to a field and threatens a house and a gas station.
Raleigh firefighters extinguish the blaze, and save the buildings. Engine 4 might have responded, from Jefferson Street. Or maybe the auxiliary truck. Crews saved a new set of tires, and removed the tractor. The trailer and its contents were a loss. Traffic on the highway was blocked until the pumper's arrival. Waiting vehicles included "an Army convoy and a number of school busses."
The contents of the destroyed van? "Eleven pianos, ten living room suites, two sets of mahogany bedroom furniture with poster beds, several gas stoves and coal cooking stoves, several sinks, and a number of odd pieces of mahogany and walnut antique furniture." The G. R. Grubs Motor Lines van was headed to the Used Furniture Dealers Supply Company in Raleigh from New York.
+ 8 - 7 | § ¶
State Crackdown Stymies Retirement Plans of Raleigh Workers
That's the headline from yesterday's WRAL story about a surprise change to the benefits of City of Raleigh employees. For decades, firefighters, police officers, and other city workers have been banking their sick time to apply toward retirement. This week, the Department of the State Treasurer notified city officials that that practice is illegal. The problem, notes the news story, is that city works accrue sick time in intervals, versus on a monthly basis. Both city and state leaders plan to meet next week, to see about working on a compromise. For now, the state is grandfathering all existing retirees, so they won't lose the benefit. Read the article, which includes an interview with a firefighter close to retirement and immediately impacted by the new rule. We're also watching for coverage from other outlets, to learn more and read more details about what's happened.
+ 12 - 14 | § ¶
Lenoir City Hall and Fire Station?
Before the fire station relocated to Harper Avenue in 1969, the Lenoir Fire Department was housed at City Hall. Can anyone advise if this 1935 structure is still standing? Before this building, the fire department was located on North Mulberry Street. Is that building-- an earlier City Hall, built 1912?-- still standing, by chance?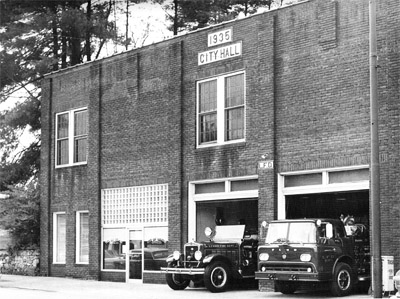 + 12 - 13 | § ¶
1966 Batcycle
Here's the second coolest law enforcement vehicle ever designed, after the George Barris Batmobile, which we blogged about when a 1:18 die-cast version was released last year. Are you ready for another sweet ride from that fondly remembered television series? Here's a 1:12 die-case Batcycle, with sidecar and removable Batcar. Again made by Mattel under the Hot Wheels moniker. Bought mine at Toys 'R' Us in Cary. $39.99. You know you want one.


+ 21 - 17 | § ¶
Fire and Rescue Journal
Speaking of the OSFM, it's time to praise their newsletter. The Fire & Rescue Journal is published quarterly by the Office of State Fire Marshal, which is part of the North Carolina Department of Insurance. Started in 2001, the full-color, 12-page publication is a quality work and one that interests Mr. Blogger for its historical perspectives. Since 2007, every issue has featured a major or notable incident from years or decades past. Below are the issues available from the OSFM's publications web site. I've indicated which issues include history pieces. They are all PDF format. Good reading!
November 2016 - See this new page for copies of the stories: www.legeros.com/history/osfm
Vol. 8-4 (Winter 11)- The History of Steam Fire Engines in North Carolina (by Mike Legeros)
Vol. 8-3 (Fall 10)
Vol. 8-2 (Summer10)
Vol. 8-1 (Spring 10) - Pine Knoll Townes, Raleigh, Feb. 22, 2007 (by Mike Legeros)
Vol. 7-2 (Spring 09) - Hotel Lafayette, Fayetteville, Feb. 8, 1995
Vol. 7-1 (Winter 09) - High-rise rescue, Hickory, Sep. 2, 2004
Vol. 6-4 (Fall 08) - Mitchell's Department Store, Sanford, Mar. 14, 1980
Vol. 6-3 (Summer 08) - USN Potomac, Morehead City, Sep. 26, 1961
Vol. 6-2 (Spring 08) - Downtown Burlington, 1918 and Dec. 23, 1964
Vol. 6-1 (Winter 08) - R.J. Reynolds Tobacco Company, Winston-Salem, Aug. 28, 1998
Vol. 5-3 (Summer 07) - Beacon Manufacturing, Swannanoa, Sep. 3, 2003
Vol. 5-2 (Spring 07) - Draper Inn, Eden, Mar. 28, 2006
Vol. 5-1 (Winter 07) - Downtown Swepsonville, Oct. 4, 1989
Vol. 4-2 (Fall 06)
Vol. 4-1 (Winter 06) - Downtown Shelby, May 25, 1979
These issues are no longer available online:
Vol. 3-2 (Fall 05)
Carolina Coal Mine, Farmville, May 28, 1925
Vol. 3-1 (Winter 05)
Vol. 2-2 (Summer 03)
Vol. 2-1 (Winter 02-03)
Vol. 1-2 (Summer 01)
Vol. 1-1 (Winter 01)
+ 15 - 15 | § ¶
Fire and Rescue Names
Last year about this time, we posted a big honkin' list of all fire departments in the state, along with some fun facts. It was adapted from a list that's published on the NCDOI site. Add all rescue squads and EMS agencies, and the total agencies number about 1,600. Here are some fun facts about them...
Number of fire/rescue/EMS departments containing the following words:
829 - "Incorporated" or "Inc"
737 - "VFD," "Vol," "Voluntary," "Volunteer"
168 - "Rescue Squad"
127 - "Fire & Rescue," "Fire and Rescue," "Fire-Rescue," "Fire/Rescue"
102 - "EMS" or "Emergency Medical Services"
75 - "Rural"
24 - "Township"
21 - "City"
16 - "Ambulance" or "Amb"
4 - "Town"
2 - "Lifesaving"
Department names begin with numbers? Exactly two.
50 & 210 Rescue Squad, Inc.
50-210 Community Fire Dept., Inc.
READ MORE
+ 14 - 9 | § ¶
Firefighters Become Medics to the Poor
That's the headline in today's New York Times, for an article on fire department first responders and the burdens they face as one of the "hidden costs of health care." In Washington, D.C., as an example, Engine 10 responds to medical emergencies about 80 percent of the time. That company serves one of the poorest areas. Fire departments across the nation responded to three times as many medical calls as fire calls in 2008, compared to 1980.
This shift in firefighter duties, they note, "has been occurring for decades." And it has an up side for fire department. With better consumer protection rules and improved fireproofing technology, the frequency of fires has dropped. Thus, first responder calls "have helped keep firefighters employed." There are no reader comments, however. It would be interesting to hear from John Q. Taxpayer, though we probably know what he'd say. "Why did a fire truck show up when I called for an ambulance?" Read the article.



Doug Mills/New York Times photo
+ 8 - 7 | § ¶
The First Rural Fire Station?
Was Wilkinson Boulevard Fire Department in Charlotte, organized in 1942, the first rural fire department in the state? Maybe. Possibly. Likely. We've blogged before about the first rural fire departments. Turns out the old WBFD station is still standing in the 2900? block of Little Rock Road, north of Wilkinson Boulevard. Benjy Grice took the below photo in June 2007. The two-bay, single-story, brick building looks like it's being used by a trucking company. Here's a Bing Maps bird's eye, and a Google Maps street view. Click to enlarge, or See more photos from Benjy.


+ 17 - 9 | § ¶
Western North Carolina Fire Apparatus Photo Site
From reader comments in the Post Your Rosters thread, check out these fire apparatus pictures from Western North Carolina. The site is hosted on Picsa, which is Google's image site. Nice categorization by county. Some other states are there, too! The albums total 99 and the pictures total in the hundreds, maybe thousands. The photographer, Andrew, has been logging some serious miles in his picture-taking!


+ 14 - 9 | § ¶
Trip Help Wanted / Old Fire Stations
Mr. and Mrs. Blogger are planning their annual fall trip to Western North Carolina. As usual, one goal is to visit and photograph any and all former or historic firehouses. Any building that used to be a fire station, or that's still a fire station but 50 years or older. See this master list for more information. Our route includes the following counties. Can you add any others that we can watch for? Thanks for your help.
Contents
Buncombe County
Burke County
Cabarrus County
Calwell County
Catawba County
Cleveland County
Gaston County
Henderson County
Iredell County
Lincoln County
McDowell County
Mecklenburg County
Polk County
Rowan County
Rutherford County
Stanly County
Wilkes County
READ MORE
+ 9 - 6 | § ¶
The Battle of New Orleans
Time to take a trip down the mighty Mississip', with animated Legos and music by Johnny Horton. Why are we listening to this particular song tonight, written by Jimmie Driftwood and released in 1959 as a Horton B-side on Columbia Records? 'Cause Mr. John Gale Horton also recorded Sink the Bismark, another battle song that was covered decades later by the Blues Brothers. The tune, which we were listening to tonight, can be found around the 'net. It was recorded for the movie The Blues Brothers, for a sequence filmed at Bob's Country Bunker. You know, where they played both kinds of music. The footage was cut, and is believed destroyed. Anyway, this is fun stuff. Enjoy.


+ 8 - 11 | § ¶
Scanner Archives Now Require Subscription
As reported by a reader in this blog thread, the Wake County scanner archives at RadioReference.com are now only available to "premium subscription" members. And how much might the previously free service cost? One year is $30.00, half year is $15.00. Payment via PayPal. The live feed, however, remains free for everyone. Thanks for that, both to the site and the scanner feeders, whoever they are. Guess that's the cost of business. We last blogged about the scanner archives in June, after the ScanAmerica site merged with RadioReference.com, and the archived feeds were unavailable for a period.
+ 13 - 10 | § ¶
Fire Extinguished at Raleigh Mayor's House
Last night's working fire at 324 S. Boylan Avenue was at the home of Raleigh Mayor Charles Meeker, as this WRAL story reports. He was reportedly eating dinner about 9 p.m. and "had some power surges." He went into his television room, and noticed smoke and flames from "an adjoining storage room." Firefighters arrived "in about 90 seconds," he notes in this News & Observer article. "Real quick," said Mayor Meeker. The electrical fire was quickly extinguished, reports this Associated Press story via DanRiver.com and as surfaced by Dave Statter. Wonder how many other local or national outlets carried the story?
Dispatched at 8:35 p.m., Engine 13 arrived with light smoke showing from a two-story, wood-frame structure with 2,831 square-feet. The call was upgraded to a working fire, and extinguished within minutes. it was controlled at 8:48 p.m. Fire units on scene also included Engine 1, Engine 5, Ladder 4, Rescue 2, Battalion 3, Car 10, Car 20, and Air 8. The house is located in historic Boylan Heights. It was built in 1914.


Ethan Hyman/News & Observer photo