+ 12 - 20 | § ¶
Fire Grenades and the Future of Firefighting?
In days of old, fire grenades were thrown at the base of a small fire. These glass bottles first contained water or saltwater, and later were filled with chemicals such as carbon tetrachloride. Dave Statter surfaces the story of an apartment fire in Port Jervis, NY, that was quickly controlled by the modern equivalent of a fire grenade. It's called the Fit-5 Aerosol Knockdown Tool. Size of a lunchbox. Weighs about nine pounds. One color only. $1,295.00, through the company store.


+ 12 - 13 | § ¶
Thunder in Winter?
Snow in ten days, or is it thirty? Make that loud thunder in winter. Pictured added for dramatic effect. From January 19, 2005, when about an inch of accumulation paralyzed the Capital City.


+ 12 - 13 | § ¶
Raleigh Pre-Budget Public Hearing Set For January 8
The Raleigh City Council will hold a pre-budget public hearing on Tuesday, January 8, at 7 p.m. to receive public comment on the budget for the 2008-09 fiscal year, which begins July 1, 2008. The public hearing will be held in the City Council Chambers in the Municipal Building. Read the entire news release. Public safety (fire/police/communications) was budgeted $134.6 million for the current fiscal year. That's 24.16% of the fiscal year budget, and does not include capital improvements. Betcha water needs will be the highest priority this and probably future years.
+ 14 - 15 | § ¶
Vinyl Siding Concerns Block Knightdale Apartment Project
This is a WRAL story about Knightdale putting the kibosh on an apartment project because the developer was planning on using vinyl siding. As the story notes, the Town Council recent voted to amend its building codes, to ban the material in multi-family housing. The council's move was derived from findings by investigators after the Pine Knoll Towne fire in Raleigh on February 22. There are also a couple dozen comments by readers.
+ 16 - 16 | § ¶
Fire in Fayetteville
The Fayetteville Observer site has some strong pics of a floral shop on Fort Bragg Road that burned last night. Andrew Craft took the picture below.


+ 11 - 12 | § ¶
Fire Alarm > Working Fire
As observed this morning, a city fire alarm response upgraded to a working fire results in quite few tones. Second engine, third engine, rescue, bat chief, safety engine, div chief, air truck, and investigator. You might think it's a full haz-mat response, which we also observed this morning. Lots of tones today before lunch!
+ 11 - 15 | § ¶
Apex wins Assistance to Firefighter Grant (AFG)
Looking at the latest AFG awards, the Apex Fire Department has been granted $61,875 for Operations and Safety. Another award close to home is Angier and Black River Fire Department. They've been granted $155,325 for Operations and Safety.
+ 12 - 13 | § ¶
Web Traffic
How did we do for web traffic this year? Looking at Google Analytics, the top-level site (legeros.com) had 125,240 visitors1 between July 1 and December 272. For the same period, 52,213 absolutely unique visitors were recorded. Those people averaged 5.25 pageviews, and averaged 2:59 minutes on the site.

The Raleigh and Wake County Firefighting site had 92,185 visitors between July 1 and December 27. For the same period, 25,080 absolutely unique visitors were recorded. Those people averaged 4.60 pageviews, and averaged 3:15 minutes on the site.

The incident photos site had 61,781 visitors between July 1 and December 27. For that period, 12,292 absolutely unique visitors were recorded. READ MORE
+ 17 - 16 | § ¶
District 1
If you haven't seen it, or noticed it, here's what EMS District 1 looks like since the renumbering a few weeks ago. The "District 1" label color matches the chevrons in the rear of the unit.


+ 15 - 10 | § ¶
Raleigh District Chief Histories
More findings from a week of holiday research, and a bit tougher nut to crack this time. Raleigh's Battalion Chief system was implemented on August 6, 1971. Two districts were created, and seven Chiefs were named. They were called District Chiefs, and six of the seven were assigned to Station 1 (Car 5) and Station 4 (Car 6). After July 13, 1975, Car 6 was moved to Station 6. The third district was created around January 1, 1977.


The third District Chief was placed in service at Station 4 (Car 4). Around July 24, 1978, Car 4 was moved to Station 9. The three cars were renumbered Car 51 (Car 4), Car 52 (Car 5), and Car 53 (Car 6) in April 1983. In late 1984 or early 1985, or even later, Car 53 was moved to Station 14. Still researching that.
READ MORE
+ 11 - 21 | § ¶
Happy Holidays!
Best wishes for the season and the new year. Thanks for your support, faithful readers. Thanks, too, DJ, for starting this holiday thread.


+ 14 - 13 | § ¶
Raleigh Truck Company Histories
Here's more research from the old logs. By 1962, Raleigh had four truck companies. T1, T5 (aerials), T6, T7 (service). By 1988, Raleigh had six truck companies. T1, T11, T16 (aerial), T8, T12, T15 (service).


Truck 1 (aerial) was placed in service after February 10, 1916 with a 1916 American LaFrance tiller. It subsequently operated a 1916/1939 American LaFrance tiller and a 1958 American LaFrance tiller. Truck 1 received a 1977 Mack/Baker platform in 1977. Truck 1 received a 1979 Mack/1958 American LaFrance tiller on March 16, 1987 (old T5). Truck 1 received a 1988 Pierce platform on September 21, 1988.
Truck 5 (aerial) was placed in service by October 5, 1961, with a 1961 American LaFrance ladder. Truck 5 received a 1979 Mack/1958 American LaFrance tiller by May 6, 1980. Truck 5 was removed from service on March 16, 1987. The apparatus was moved to Station 1.
READ MORE
+ 18 - 11 | § ¶
Raleigh Rescue Company Histories
Fresh from researching the old logs, here's some early history of Raleigh's rescue companies. Two Chevy/Murphy ambulances were delivered in late 1974. They were 1974 and 1975 model years. Upon their arrival, the Raleigh Fire Department expanded the number of staffed rescue units to two.


The 1974 model was placed in service as Rescue 9 on October 28, 1974. Rescue 9 was moved to Station 14 on July 24, 1978. Rescue 14 was moved to Station 6 on February 1, 1982. Rescue 6 was returned to Station 14 on July 17, 2004. The Chevy/Murphy was replaced in 1991 with a Chevy/Frontline, which was replaced in 2000 with a Freightliner/American LaFrance.
The 1975 model was placed in service as Rescue 1 in October 1974. Rescue 1 was moved to Station 3 by November 10, 1976. Rescue 3 was moved to Station 12 on July 24, 1978. Rescue 12 was moved to Station 7 on February 1, 1982. Rescue 7 was moved to Station 21 on October 14, 1998. Rescue 21 was moved to Station 19 on December 5, 1999. The Chevy/Murphy was replaced in 1991 as noted above.
The city's third staffed rescue company was placed in service at Station 7 on July 17, 2001.
READ MORE
+ 15 - 13 | § ¶
GPS Navigator
Bought a GPS navigator on Black Friday, day after Thanksgiving. Garmin StreetPilot C330, sale priced $128 at a big-box store. Regular price $178, I think. Most of the chain s were selling GPS at rock-bottom prices that day. Considered a cheaper Tom-Tom, but the sales clerk said Garmin was better. READ MORE
+ 14 - 13 | § ¶
Lightscoop
Saw this neat gizmo reviewed in the New York Times. Bounces your camera's pop-up flash and improves lighting. You have to increase your flash power, too. Cool before and after pictures. Doesn't work on colored ceiling, high ceilings, or outdoors.


+ 15 - 13 | § ¶
RAPS Race, 6:00 pm, Thursday, January 24, 2008
News release. The next Raleigh Area Public Safety (RAPS) kart race is scheduled for Thursday, January 24, 2008 at 6:00 p.m.. The location is again RushHour Karting in Garner. Visit the RAPS web site for more information. Varoom.
+ 14 - 12 | § ¶
This Evening's Fire
Furniture store at 8740 Glenwood Avenue. Engine 23 first fire unit on scene at one-story, 5,000 square-foot structure with fire showing from roof. Defensive operations, with heavy fire throughout building. Two additional engines called for suppression. Raleigh and Durham Highway units included E23, E24, E16, E17, E14, E4, E9, P1, P4, L23, R14, B4, B3, C5, C2, C198, A8. Six Forks EMS and Wake EMS also on scene. Alarm time approximately 7:00 p.m. Control time approximately 8:15 p.m.


+ 8 - 16 | § ¶
Light, Dark, Smoke
Lee Wilson's photos from Sunday's structure fire in Garner feature several stunning lighting effects, such this one. Rescue plus deputy's car. Click to enlarge:


+ 15 - 13 | § ¶
Watch Room Improvements at Station 8
Two new desks and a counter have been added to the watch room at Raleigh Fire Station 8. They replaced a pair of older desks believed to be have been originally installed with the station. The city provided the materials, including a counter top originally purchased for Station 3. "A" shift provided the labor, with First Class Firefighter Kyle English as "construction supervisor." The installation took about three days, performed over a couple cycles in September. The result is a larger and more efficient workspace for personnel. It is also designed to accommodate installation of additional computing equipment. Click to enlarge photo:


+ 11 - 11 | § ¶
Little Known Facts
Here's a compelling commentary from Azarang "Ozzie" Mirkhah on Firehouse.com, subtitled "Fires in the U.S. are more costly than the wars in Iraq and Afghanistan." He compares both the cost in dollars and lives and concludes we're spending over twice as much at home on fire losses and loosing as many as four times as many lives as service personnel. Interesting. And on a related note, here's the National Safety Council site with statistics on other ways people die in the United States.
+ 13 - 13 | § ¶
Raleigh Fire Department Yearbook
Production is underway on a new Raleigh Fire Department yearbook. A committee has been working since September to coordinate portraits of active and retired personnel. They also have been compiling current and historical images for inclusion in the volume.



To be published in the spring, the hardbound book will measure 9 by 12 inches and feature all color pages. The cost is $50.00 and it can be ordered by anyone with an interest in the Raleigh Fire Department.
To order online,
visit the publisher's web site
. To order by mail,
view this PDF-format flyer
. The deadline for placing orders is January 15.
READ MORE
+ 10 - 13 | § ¶
Helmets and Shields
Here's a home-brewed cheat sheet
showing both helmet and new helmet shield colors in the Raleigh Fire Department. The document is PDF format. The helmet graphic was created from a random photo found on Google, using the following steps after opening the photo in a graphics editor: find edges, invert, remove colors, bump up contrast, hand-edit/erase lines/dots, fill color, save and done. Your mileage may vary.


Post comments to earlier thread
.
+ 16 - 9 | § ¶
Raleigh Fire Station Google Map
The Raleigh Fire Department's web site's fire station location page has added links to a Google map of city fire stations that they've created. Very cool. Click the Satellite button and zoom for aerial photos. For expanded information on each station, see Mike's station site.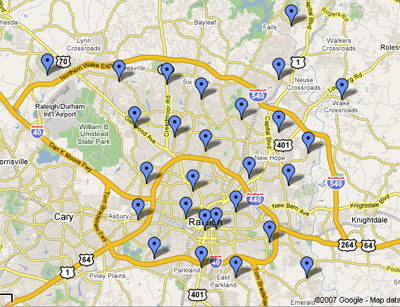 + 11 - 11 | § ¶Wake Tech Public Safety Center

This morning's News & Observer notes that the Wake Technical Community College's new Public Safety Center at 321 Chapanoke Road opens next month. The center will train law enforcement officers, firefighters, corrections officers, and emergency medical service providers. Read the entire article. Bad building photo below, from real estate records: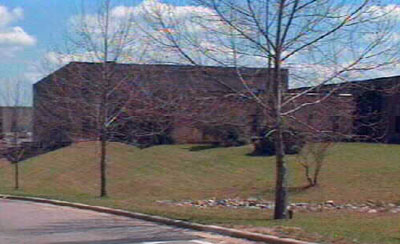 + 14 - 15 | § ¶Company Level Accountability, Part 2


In a second step to enhance company-level accountability, new helmet shields have been issued in the Raleigh Fire Department. The colors are as follows: red (ladder), black (engine), green (rescue), white (chief or captain on apparatus), and yellow (recruits). Two additional colors are proposed, brown (fire prevention) and orange (training). The elements consist of an upper text panel, a company number, and a lower text panel. The new helmet shields are assigned to each apparatus. When personnel are transferred, they leave their shields behind. Thanks to Jeff Silver for the photo on the right.


+ 11 - 9 | § ¶Yesterday's Fire


Engine 8 reported a working fire on arrival at 1508 Collegeview Avenue. Two-story, six-unit, brick apartment building with fully-involved first-floor unit on right side. Fire was venting out the rear door and window of apartment, blocking the rear egress of the ground floor and second floor apartments. Three occupants jumped from the second floor. One transported with minor injuries. One engine and one ladder special-called for relief. Five families displaced. Alarm time approximately 1:01 p.m. Marked under control at 1:26 p.m. Engine 8 cleared approximately 5:26 p.m. Units included E8, E20, E5 (RIT), E1 (safety), E27 (relief), L20, L1 (relief), R14, B3 (command), B4, C5, C2, C10, C198, FC1, EMS1, EMS13, EMS31, EMS T1, EMS D1, EMS C200. Details and photo below from Lee Wilson. Photos posted.


+ 10 - 13 | § ¶FireNews and NCSFA Develop Sprinkler Site


New Release. FireNews.net and the North Carolina State Firemenís Association have developed a web page of resources decided to the efforts to require residential sprinkler systems in North Carolina. Located at http://www.ncsfa.com/sprinkler, the page includes links to the position papers of the NCAFC, NCSFA, and NCFMA. Other linked resources include reference sites and historical data. Links are also included to the media coverage of the issue.

+ 9 - 15 | § ¶Kid Pushes Button, Floods Hangar with Foam


Here's some amusing video from Philly. Family day at an airport. Foam suppression system in hangar. Button marked "do not press except in emergency." You can guess the rest.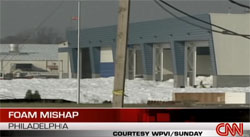 + 15 - 13 | § ¶Durham Launches Toys-4-Rides


News release. The Durham Fire Department is giving free rides on fire engines in exchange for new, unwrapped toys. Those wishing to participate in the Toys-R-Rides program are asked to bring their gifts to Station 2 at 1001 Ninth Street on Saturday, December 15 and Sunday, December 16, from 11:00 a.m. to 4:00 p.m. More information.


+ 15 - 15 | § ¶Holiday Lights


'Tis the season for holidays lights. Below is Raleigh Station 19 on Spring Forest Road. More to be photographed, time and proximity permitting. Ho ho ho.


+ 13 - 13 | § ¶Luminaries Discouraged


The Raleigh Fire Marshal's Office is discouraging the use of luminaries this holiday season, WRAL reports. The North Carolina Division of Forest Resources banned lighting any open flames more than 100 feet away from an occupied building on October 15. The restriction includes lighted candles inside paper bags. Local fire marshals must decided the legality of burning luminaries within 100 feet of occupied dwellings. Read the entire WRAL story.

+ 10 - 13 | § ¶Charlotte Parking Deck Collapse


The FireNews incident log has information about the parking deck collapse in Charlotte. Scroll down to read the updates. The Charlotte Observer has a story on their site. WSCOTV has a slideshow of images with their story. News 14 also has some images from the site, including the one below.


+ 10 - 13 | § ¶This Evening's Fire


Three alarms at 6904 River Run Road, off Barton's Landing Road, off Ray Road. Engine 18 reporting major working fire on arrival. Two-story, wood-frame, garden-style apartment building with 16 units and 8,704 square-feet. Alarm time approximately 6:55 p.m. Photo posted from Legeros. Photos from Wilson forthcoming. Both arrived at the same time.


+ 12 - 10 | § ¶Christmas Tree Fire Video


It's that time of year again for linking to the USFA's footage of a dry scotch pine tree fire. Less than a minute to flashover under laboratory conditions. Water those trees!


+ 14 - 14 | § ¶Raleigh-Wake Emergency Communications Receives CALEA Award


News release. On November 18, the Raleigh-Wake Emergency Communications Center received accreditation by the Commission on Accreditation for Law Enforcement Agencies (CALEA). CALEA accreditation requires compliance with more than 200 internationally recognized multi-part standards. The accreditation process involved a four-day onsite inspection by CALEA staff who conducted a review of files as well as direct observation of employees and facilities. Read the entire news release. Congrats!

+ 13 - 14 | § ¶Raleigh and Growth


Today's News & Observer features features on planning for the future in the Capital City, asking the question what is Raleigh's future? and what will Raleigh look like 2030. There's also a nifty interactive graphic demonstrating Raleigh's projected 70 percent (!) population growth in each of the city's 10 planning districts, and some videos on the subject of planning. So what the Raleigh Fire Department, Wake EMS, and neighboring agencies look like in 2030?