+ 6 - 10 | § ¶
Mystery Fire
Blast from the past. Recognize this one? Couple hints. Residential. Commercial.


+ 8 - 4 | § ¶
Flash
Traffic camera takes a picture on New Bern Avenue, westbound at the Beltline bridge. Motor-vehicle accident, overturned, injury. That's Engine 11 in the background. Talk about scene lighting!


+ 8 - 9 | § ¶
Last Night's House Fire / Gum Leaf Drive
Looks like the largest incident from last night's boomers was Fairview's house fire at 4012 Gumleaf Drive in Apex. As this News & Observer story reports, they were dispatched about 11:45 p.m. Arriving units found fire in the attic, and on the second floor of a two-story, wood-frame, single-family dwelling with 2,626 square-feet. Built 1992. Latter data from tax records.
Eleven engines and nine tankers were on scene, said the Fire Chief, with Fairview, Apex, Cary, Holly Springs, Fuquay-Varina, Morrisville, and Raleigh fire departments on scene. The fire was controlled after about an hour. No injuries, and believed caused by a lightning strike.
+ 8 - 5 | § ¶
Snake Bite Love
North Carolina is number one nationally for copperhead bites, reports today's News & Observer. Total of 228 last year. More than 20 percent in Wake County, which led with the bled. Fangs found most people in urban counties, and typically strikes while victims are doing ordinary chores. Beware those barefoot, or with flip-flops, or Mr. Blogger's perpetual summer sandals. 'Taint typically fatal, but a bite can lead to loss of limb. Can also mean many moons of rehab. Read the entire cold-blooded story. Alas, not as many snake puns present themselves this morning. Shake, rattle, and roll.



Ethan Hyman/News & Observer photo
+ 5 - 7 | § ¶
Yesterday's Apparatus Accident in Duplin County
Wallace Warsaw Fire Department Engine 4 was reportedly involved in a motor-vehicle accident yesterday afternoon, when a passenger vehicle collided with the apparatus on scene at another vehicle accident in Interstate 40 at Mile Marker 354364. One firefighter reportedly received minor injuries, and the apparatus sustained heavy damage. No news outlet coverage yet found. We await more details.
+ 5 - 6 | § ¶
Wake County Firefighters Association Meeting, Tuesday, August 10
Lee Price, the President of the Wake County Firefighters Association, passes along an invitation to all firefighters in the county-- both members and non-members-- to attend the August meeting, which will be held at 6:30 p.m. on Tuesday, August 10, at the Raleigh Civic and Convention Center in Ballroom A. That's the day before the South Atlantic Fire Rescue Expo starts.
They'll have a short business meeting, and then turn the floor over to Dave Dodson, who will present an abbreviated version of his acclaimed program The Art of Reading Smoke. After the meeting, many will retire to Napper Tandys for snacks and socializing.
The Wake County Firefighters Association will again have a booth at the show, this year located behind Anchor Richey and behind Southeastern Specialty Vehicles. Dodson presents the full version of his program for show attendees on Wednesday, August 11. Then two days later, Mr. Blogger presents his History of North Carolina Firefighting program on August 13. See everyone there!


+ 7 - 5 | § ¶
Hands and Gloves
Photography tip that someone once told me: take pictures of people's hands and the things they're holding. Below is a member of the Raleigh Fire Department Honor Guard, getting ready at last night's promotional ceremony at City Council Chambers. Needs a little work on the lighting and color, but it's one of a couple dozen preliminary photos posted. Congratulations to the honored.


+ 10 - 4 | § ¶
Spicy Summer Cool Down, Saturday, July 31
Chik-Fil-A of the Greater Triangle Area is sponsoring a promotional and educational event on Saturday, July 31, from 10:00 a.m. to 4:00 p.m., in the Jim Graham Building at the North Carolina State Fairgrounds. They're giving away 10,000 spicy chicken sandwiches, and will have other free edibles, as well as numerous family-friendly activities.
Numerous pieces of fire apparatus will be on display, along with a fire safety house. There will be fire clowns performing, and fire safety materials on hand. Best of all, the thing is indoors. Cool down, indeed! Read this flyer
or click below for more information:


+ 6 - 9 | § ¶
Money and Oversight in Southern Shores
For today's exercise in media studies, let's look at this Firegeezer story about a situation in Southern Shores on the Outer Banks. The small town is protected by a town-contracted, private-run fire department. As 'geezer summarizes, residents are alarmed by a recent 40% increase in taxes, all of which were directed to the fire department. Then the taxpayers really had a cow, when they learned that the "volunteer" fire chief was earning a considerable salary.
The issues were investigated by WTKR-TV in Norfolk, and over three months. This lengthy video report covers quite a bit of territory, and includes footage of a heated town council meeting, and even a confrontation between the reporter and the Fire Chief. The video story also has 20 user comments, so far.
For discussion as desired, how fair and balanced is the WTKR-TV story? Both to lay readers and those who ride the red trucks?
Read the Firegeezer story.
Watch the WTKR-TV report.
Visit the Southern Shores Fire Department.
+ 9 - 5 | § ¶
Wilmington Former Fireboat Found in Baltimore
We've gotten pretty good at identifying former firehouse buildings around the country. And old rolling stock is pretty easy to spot, on any day of the week. But recognizing former fireboats? Now we're talking idiot savant. What are the odds that a Baltimore-wandering blogger would stumble upon an old boat from Wilmington?
Below is the tug T. B. McClintic, which was built in 1932 in Bath, MA, for the US Public Health Service. It was named after the doctor credited with the cure for Rocky Mountain Spotted Fever, and served the health department from 1932 to 1958. Among the tug's duties during its life was transporting doctors to ships for treating sick seamen. Click to enlarge:


In 1963, the city of Wilmington bought the thing for $300. They installed three diesel engines, as well as firefighting equipment. The craft was christened Atlantic IV, and its first duty was washing down the decks of the USS North Carolina prior to its dedication ceremony. More notably, it pumped water into the battleship's hold for a month, to help sink and thus protect the thing. Click to enlarge:

The Atlantic IV-- steel hull, 64 feet long, 85 tons, 2500 GPM-- was retired in 1986, and subsequently sold. In recent years, it was restored its original state as a public health tug. Read about the restoration and the boats history in this Star-News article from 2008.
How the heck did Yours Truly recognize the thing? Easy. Earlier this month, he researched and created a page about Wilmington fireboats. And while wandering this particular Baltimore marina-- drawn to same due to two giant ships also docked there-- he saw the tug, and immediately recognized the name. Although on his web page, he cites the name T. B. McLintick. Memo to self: correct spelling.
+ 5 - 5 | § ¶
Mystery Vehicle
Seen somewhere outside North Carolina in the past week, during Mr. Blogger's recent roamings. Believe the thing is a very dark green, versus what almost looks like black.


+ 4 - 5 | § ¶
Mystery Station
As recently photographed in northern North Carolina. Closed as fire station fairly recently. Now serves as activity center for church.


+ 7 - 4 | § ¶
Hay Lofts
Sure sign that a fire station was once home to horses. Left is a former firehouse in Philly, right is an active station in DC. Click to enlarge:


+ 6 - 7 | § ¶
Stolen Helmet Sought
A brother to the south has asked for help. Their helmet was recently stolen out of their locker. An older-style Cairnes New Yorker. Black. And of significant sentimental value. Might have surfaced in the Triangle area. Ring any bells for anyone? Same has distinguishing marks. Mail Mike for more information. Thanks for any help. Shame to the parties responsible.
+ 8 - 4 | § ¶
Two Firefighters Killed in Apparatus Accident, Rocky Mount, VA
The Roanoke Times has posted information about a fatal apparatus accident this afternoon in Rocky Mount, VA. Two firefighters-- Fire Chief Posy Dillon and Firefighter William Daniel "Danny" Altice-- were killed when their pumper overturned after being struck by a sport utility vehicle at the intersection of Old Franklin Road and School Board Road. The apparatus was responding to a house fire, when it was struck. It flipped at least three times, and landed on a passenger vehicle. Two civilians were also injured. The two firefighters were the only ones aboard the apparatus. Read the entire story.



Jared Soares, Roanoke Times photo
+ 12 - 3 | § ¶
Historic Fire Station Facade
This building on New Hampshire Avenue NW in Washington, D.C., is a "chiller plant." for the subway system. Below is the text that appears on a plaque on the front of the facade. Read more about historic DCFD houses.
The Former Engine Company 24 of the District of Columbia Fire Department

The facade of the original house for Engine Company 24 was located at 3702 Georgia Avenue NW, just north of this site. Built in 1911, the firehouse was designed by Luther Leisenring and Charles Gregg. It originally housed horses and horse-drawn equipment. Within one year of its opening, it became the first station in the city to be fully motorized. Engine Company 24 relocated to a new facility in July 1994. The facade of the original building was relocated and integrated into the chiller plant for the Georgia Avenue-Patworth Metrorail station in December 1995 by the Washington Metropolitan Area Transit Authority.

The Government of the District of Columbia
Mayor Marion Barry Jr.
In cooperation with the D.C. Preservation League

+ 8 - 4 | § ¶
Bull Happens
WRAL reports this morning that drivers on I-40 in Johnson County reported seeing a bull in traffic. No accidents were reported, as vehicles were able to steer clear. Perhaps they used their horns. Unknown if the animal saw red. The Highway Patrol assisted a local farmer in leashing the lingering longhorn. Meanwhile, a distant blogger battered readers with beastly puns. His reputation for comedy is always at steak. Hopefully his stock isn't falling. Let him know if you a have a beef. Thank you, and don't forget to tip your server on the way out.
+ 7 - 3 | § ¶
BLS Back-Ups in Johnston County
The Garner Citizen finds an interesting Garner-Clayton Record story about basic life-support (BLS) transport in Johnston County. Service for same is provided through exclusive contract by the county to Johnston Ambulance Services. Last week, County Commissioners approved a change that allows other companies to apply as back-up for BLS services through JAS. Garner Medical Transport, Samartian Ambulance Service (Wendell), and North State Medical Transport have applied. Read the story.
+ 4 - 5 | § ¶
New Suburban For District 3
But where are the Battenburg markings? Not in service yet. Photographed by Lee. See a few more pictures.


Lee Wilson photo
+ 5 - 2 | § ¶
Stop / Steadman / Special Operations
That mystery apparatus is Rescue 1 at the Steadman Station on South Eutaw Street, and around the corner from the Baltimore Convention Center. Wonder how many visitors they'll get this week? Or, heck, how many t-shirts they'll sell??
The station's also home to Special Operations. Check out their newer collapse unit as photographed by Hungrybus, a 2008 Freightliner M2/Morgan with powered lifts on the side, and in the rear. It replaced a 1984 International box truck. See more of HB's photos of BFD specialty units.


+ 6 - 4 | § ¶
Burning Down New York City in the 1970s
The Fires: How a Computer Formula, Big Ideas, and the Best of Intentions Burned Down New York City-and Determined the Future of Cities is the long title of a recent non-fiction hardcover by journalist Joe Flood, and as mentioned by Dr. Harry Carter in his latest Firehouse.com column.
There's a review and author Q&A on the Amazon product page. The author spent years researching the "facts and implications of the epidemic of fires that swept through New York City in the 1970s." Areas of the Bronx were devestated, with 97% of all buildings destroyed in six census tracts.
That period is known as the famous FDNY "war years" and which are described in this Google-found letter to the editor from a former Bronx dispatcher. He places the period between the night that Dr. Martin Luther King Jr. was assinated in 1968, and the "second blackout" of 1977.
Sounds like a fascinating slice of history, both from the perspective of the firefighters on the ground, and the best-but-failed intentions of the department and city administrators driving the real world outcomes. As Carter notes in his column, it's a very relevant topic for today. Ordered my copy!
+ 6 - 6 | § ¶
Mystery Nozzle #2
Yes, a fire museum has been toured in recent days. What history can you share for this wicked-looking artifact?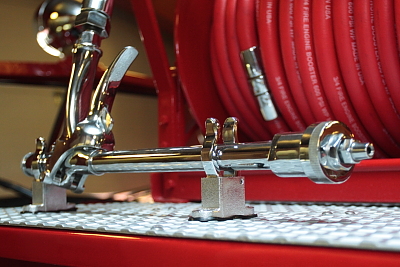 + 10 - 7 | § ¶
Mystery Nozzle #1
What is it, who made it, when did they make it, when was it used?


+ 4 - 4 | § ¶
Firefighters Brave Triple-Digit Heat
Here's a WRAL story from two days ago, about how Raleigh firefighters stay cool on scene, and through the rehab work of Wake County EMS. There's footage from training on E. Lane Street, and comments from a Battalion Chief and the county Medical Director. Weekend looks even worse. Cue Martha and the Vandellas.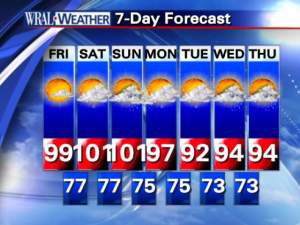 + 6 - 3 | § ¶
All Guns Blazing
Still reporting from the road. Here's Baltimore's Fireboat 1 flowing water, and as photographed from Fells Point early this evening. Named John R. Frazier, the 87-foot, steel-hull craft was placed in service three years ago. It was the first major addition to the city's fireboat fleet in 47 years.
With a capacity of 7,000 GPM, the vessel is manned with a crew of five, and is stationed at Fort McHenry. Read more about the boat at the excellent Baltimore Fireboats web site. See you on the show floor tomorrow, and likely loitering (read: pestering) at the fire bloggers booth. Click to enlarge:

+ 6 - 3 | § ¶
Fire Pumps
Here's another artifact from Philadelphia's firefighting history, this time a former fire pump station at the old Philadelphia Naval Shipyard. The facility dates to 1903, and was operated as a USN shipyard until 1995. The site has been repurposed as a business center, with some Navy activity still on site. The place is also protected by a USN fire department, from a building that dates to the 1910s. Click to enlarge:


+ 5 - 3 | § ¶
High Pressure Fire Service
Reporting from the road. Close view of Philadelphia's high-pressure water system pumping station building at the east end of Race Street, at the waterfront. Supplied a special water system for firefighting downtown. Read this historical article via Google Books about such systems, including Philly's.


+ 10 - 2 | § ¶
Raleigh Receives New Tiller
Thirty-eight tons of prime Pierce rolled into Raleigh this morning with the delivery just before noon of a 2010 Pierce Arrow XT tractor-drawn tiller, 10001500/300/100'. The long-awaited ladder truck is the replacement for the 2004 Pierce Arrow XT tiller that overturned while responding to a call on July 10, 2009. The new truck is about identical to the old one, but with some differences here and there. In appearance, one noticable change is red roll-up doors this time around. It'll be placed in service in a couple months as Ladder 4 at Station 1. It's also one of only a couple tillers to be found statewide. Lee Wilson took this photo today, and has posted others. Click to enlarge:

+ 8 - 2 | § ¶
Uniden Home Patrol
Coming soon. Wow.


+ 4 - 6 | § ¶
Random Reading
Sundry stories and postings from here, there, and everywhere. A couple are even fire service related! And we know which blogger pioneered their own regular feature of sharing stories from other sites. See you in Baltimore, Bill.
+ 8 - 8 | § ¶
Fruit as Chevrons
Sooner or later, everything starts to look like an emergency vehicle...


+ 7 - 6 | § ¶
Raleigh Fire Department in 1920
How about some context for the prior posting? Let's picture the Raleigh Fire Department in 1920. But since it's Sunday and this blogger is feeling a little lazy, we'll do the thing in FAQ format. We can turn the thing into a formal narrative at another time.
Q: Demographics of the city?
A: Population of 24,418, and square miles totaling 6.96. Here's a map of the city limits.
Q: Fire stations?
A: Three, on West Morgan Street, on South Salisbury Street, and on East Hargett Street. Stations 1, 2, 3, respectively.
Q: Companies?
A: Four. The hose companies number three, and they operate a 1918 American LaFrance Type 45 triple combination pumper, a 1914 American LaFrance Type 12 triple combination pumper, and a 1912 American LaFrance Type 5 combination chemical and hose car. The truck company operates a 1916 American LaFrance Type 17 tractor-drawn aerial ladder. The rigs are painted white with blue trim. Or maybe they've been painted red by now. It happens early in this decade.
READ MORE
+ 9 - 2 | § ¶
Rescuing Cats and Lunatics From Trees, 1920
BESIDES FIGHTING FIRE CITY FIREMEN DO MANY ODD JOBS
Such As Rescuing Cats and Lunatics From Trees
The Raleigh Times, Feb. 24, 1920
When a barrel of molasses was upset at the corner of Wilmington and Martin Streets a few days ago and a boy riding by on a bicycle skidded and fell into the sticky stuff, the RALEIGH firemen were called out to wash the street. That was just one of the many jobs that the city firemen are called on to perform in addition to putting out fires.
The Emergency Hospital both this year and the past year found their neighbors, the firemen across the way, invaluable. The men were ready at all times to give a lift at the hospital or in transporting nurses to and from the hospital.
The regular business of fighting fires, since there are not very many in RALEIGH, has been interspersed with putting up banners and decorations on Fayetteville Street, changing electric light globes on display signs, cleaning the light globes at the Tabernacle Baptist Church, rescuing cats from trees and at times trimming up the trees in the city park.
READ MORE
+ 4 - 9 | § ¶
The First First Responder Calls
On April 1, 1980, the Raleigh Fire Department First Responder program expanded city-wide. The program was started as a trial at Station 3 earlier in the year. Some 270 firefighters had been trained and licensed as Emergency Medical Technicians. (Nearly but not all line personnel, which numbered ~299.) The calls numbered 19 for that first week:
4/1 - 1255 - E9, C4 - 4200 Six Forks Road - Assist EMS
4/1 - 1409 - E8, C6 - 5108 New Castle - Assist EMS
4/2 - 0928 - E16 - 5801 Winthrop Drive - Heart attack
4/2 - 1247 - E10 - 2008 Atkins - Assist EMS
4/2 - 1349 - E10 - 1900 Edwin Road - Assist EMS
4/2 - 1548 - E3 - Rock Quarry Road and Lenoir Street - Assist EMS. Car accident, no fire.
4/2 - 1602 - E3 - 216 E. Lenoir Street - Sick call.
4/2 - 1625 - E6 - 2516 Beechridge Road - Assist invalid.
4/2 - 2042 - E6 - 3203 Leonard Street - Poss. cardiac.
4/3 - 0159 - E10 - 2700 Daytona - Assist EMS 1.
4/3 - 0917 - E1 - Salisbury and South - Assist EMS.
4/3 - 2338 - E12 - Sunnybrook near Sweage Plant - Assist EMS.
4/4 - 0939 - E5 - 607 A Woodburn - Assist invalid.
4/4 - 1114 - E6 - 1608 Jarvis - Heart attack.
4/4 - 2242 - E4 - 712 Navaho Apt 104 - Assist EMS.
4/5 - 0246 - E14 - Beltline at Jones Franklin - Assist EMS 4 and R14 with patient.
4/5 - 0646 - E12 - #25 Sunnybrook - Dead on arrival.
4/5 - 1331 - Car 6 - 1810 Fairview Road - Invalid.
4/6 - E5 - Heart attack.- 504 Washington Street.
4/7 - No first responder calls.
READ MORE
+ 5 - 1 | § ¶
Wake County Ambulance Plan, 1976
Digging through newspaper articles about the history of the communications center finds a bit of related history. This map appeared in the Raleigh Times, around April or May of 1976. It shows the locations of a proposed city-county ambulance service that Wake County Emergency Preparedness Director Russell Capps presented to county commissioners that spring.
The jointly funded proposal was previously adopted by the Raleigh City Council, and would supplant service provided under contract by Beacon Ambulance.
The plan would put four county-purchased ambulances at Raleigh fire stations 1, 3, 14, and 15. And the two city-operated rescue units would respond from fire stations 2 and 9. The locations would result in five minute or less response times for most city residents.
The ambulances would be operated 24 Raleigh firefighters, who would be trained and hired. The department was also in the process of training all personnel as EMTs. Capps also proposed tripling the current county subsidy to seven rural rescue squads.
The joint plan was never implemented, and the county formed its own ambulance service, the present Wake County EMS.


+ 6 - 6 | § ¶
Dekotora
Also for your weekend enjoyment and unrelated to anything we usually write about, here's the Wikipedia entry for Dekotora. Abbreviation for "decorated truck" and as typically found in Japan. Really, really, really loudly decorated trucks, noted for neon or ultraviolet lights, crazy paints, and stainless steel or golden parts.
Photographer Masaru Tatsuki spent some ten years shooting said rigs, and here's a Tokyo-based magazine article about him and his subject matter. He's also published a book about them. Available through Amazon Japan, and only 3,045 yen!
Google Images finds many more pictures of these fascinating creations.


Wikipedia photo / Masaru Tatsuki photo
+ 6 - 6 | § ¶
New Suburban for Eastern Wake EMS
Eastern Wake EMS has placed this 2010 Chevrolet Suburban in service as District 6, replacing an older model. As photographed by Lee Wilson. See more photos.



Lee Wilson photo
+ 4 - 10 | § ¶
MassFireTrucks.com / New Engines in Boston
For your Friday enjoyment and found on a die-cast discussion board, head over to massfiretrucks.com for pictures of Boston's new KME engines. They've put three in service as Engines 7, 33, and 37. Shown below on the main page is Engine 7, a 2010 KME Predator 1250/500. Looks like they're moving away from Pierce and E-One.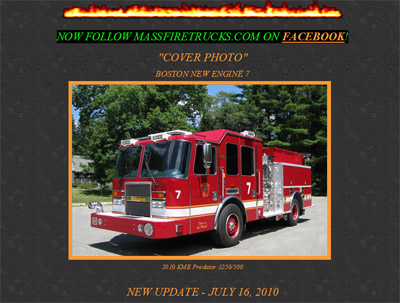 + 6 - 6 | § ¶
AP Stylebook Grows with New Social Media Guidelines
If you are excited by that headline, then consider yourself a bonafide information geek. The news item is courtesy of The Fire PIO, which is a nifty blog about and for public information officers. What's a stylebook, also called style guide or style manual, you ask? Read all about it.
My copy dates to the early 1992, purchased for a copy-editing class at North Carolina State University, while enrolled in a post-graduate Certificate in Professional Writing program. Graduated, er, completed in 1994. Maybe Mrs. Blogger is reading. Would make a good gift.


+ 7 - 2 | § ¶
Raleigh/Wake Emergency Communications Center History Wanted
The Raleigh/Wake County Emergency Communications Center is compiling their history for their new web page, which debuts August 1. That's when the entire Raleigh web portal gets a new look and feel. They're seeking the following information, and even just leads in that direction:
How did citizens contact fire, police, emergency medical, and ambulance services before the ECC was formed in 1972?
How did the initiative of a consolidated communication center come about?
Who were the players involved?
Who were the first agencies on board?
For the history of fire dispatching, and particularly the Raleigh Fire Department, this document provides some details
. Coupled with my other history pages, we get:
1800s - City bell summons citizens and later volunteer firefighters.
1840 - City Market built. City bell later added at location.
1870 - Metropolitan Hall built. New city bell installed in clock tower.
1880 - Rescue Company connects gong to their telephone, allows fires to be reported to telephone exchange.
1888 - First fire alarm box installed.
1900s - Fires recorded as reported by telephone.
1940s - Fire department has switchboard operators. Maybe even earlier.
1955 - Radios installed on all apparatus.
1958 - Raleigh FD begins dispatching of select rural departments. County radio system installed.
1960 - Fire/police telephones installed on select alarm boxes. Direct line to police switchboard.
1971 - City council authorizes telephone fire alarm system to replace box alarms.
1972 - Fire dispatching transferred to new Emergency Communications Center.
1973 - Last box alarm. System dismantled.
1980 - ECC activates 911 as county-wide emergency phone number.
1980 - Raleigh FD first responder program expands city wide.
1993 - Raleigh FD implements EMT-D program.
What history can you add about fire, police, emergency medical, and ambulance service dispatching?
Post, or send as private mail. Thanks for any input.
+ 9 - 4 | § ¶
See You in Raleigh
Speaking of conferences, we're one month away from the South Atlantic Fire Rescue Expo. That's the fancy name-- or, if you prefer, branded name-- for the annual meeting of both the North Carolina State Firemen's Association and the North Carolina Association of Fire Chiefs. They've been convening since the late 1880s.

There's another apparatus parade planned this year, and registration opened this week. The parade parades down Fayetteville Street, and is an absolute blast. See the conference web site for details. Detailed program descriptions have also been posted, including this one with someone we know. And on Friday the Thirteenth, no less. Eek! See you in August.
North Carolina Firefighting History
Mike Legeros
Historian, Raleigh Fire Department
Friday, August 13
9:00 a.m. to 10:30 a.m.

Raleigh Fire Department Historian Mike Legeros returns with his popular overview on the history of firefighting in North Carolina. He combines his ongoing statewide research with vintage photographs, maps, and other materials to tell the story of 300+ years of fire protection in the Old North State. His topics include the first fire departments, early fire apparatus, and the evolution from municipal to community and rural fire departments. Questions and audience participation is encouraged, and attendees can bring their own historical notes and perspectives to share.
+ 7 - 5 | § ¶
Philly Firehouses in Watercolor
And here's a collection of watercolor images of Philadelphia firehouses by Granville Perkins. They number 55 and were probably painted around the 1860s. The originals are housed in the Granville Perkins Collection at the Free Library of Philadelphia. Or view a version on Flickr. The latter has the name and address noted for each. Would be easy enough to compile. Must. Resist.


+ 5 - 4 | § ¶
Touring Historic Firehouses of Philly
Here's a neat news article about a historic firehouse tour in Philadelphia that was conducted in a prior September by a historic preservation organization. They visited eight former or current engine houses, and made plans to conduct a second tour and see additional stations. They made stops at:
Mentioned but not visited, buildings in:
Mr. Blogger is spending a night in Philly next week and presently has no plans in that, um, department. We'll see if the trips ends without any research and compilation of information therein. You know what happens when he visits major cities, like Baltimore, DC, Richmond, Charleston, St. Louis, Detroit, and Minneapolis.



Weekly Press/John Dowlin photo
+ 6 - 6 | § ¶
Wayne County Forest Service Patch
From the Department of Interesting and Unusual Patches comes this Forest Service emblem out of Wayne County. Found found for sale on Everyone's Favorite Auction Site, e.g. eBay. Neat design. No idea if current. Click to enlarge:


+ 5 - 4 | § ¶
Shoes
Ladder 2 on Rumson Road at a kitchen fire on Sunday morning, along with Engine 7, Engine 11, and Rescue 1. The composition could be better. The camera should have been pointed a little more down, so the entire shoe is shown. Works for now.


+ 8 - 4 | § ¶
See You in Baltimore
Next week is the Firehouse Expo at the Baltimore Convention Center. Thursday and Friday are planned for exhibit hall wandering. Saturday is a stop at this year's Family Fun & Flea Market. That's a consolidation of some things previously done on both Saturday (model muster club) and Sunday (flea market, antique apparatus). Look for the Hawaiian Shirt Guy also loitering at fire blogger booths. The Geezer Guys, Statter, and others are equally enjoyable in person. Memo to self. Remember to talk in first-person. As for photo reports, planned excursions include a night in Philadelphia and two nights in Washington D.C. We'll see where those urban explorations lead.


+ 6 - 6 | § ¶
Raleigh Police Department Volunteer Program
Speaking of citizen volunteers, you've probably seen this vehicle about town. Same is operated by the Raleigh Police Department Volunteer Program. The program is operated by the police department in conjunction with the city's community services department.
As this pamphlet notes
, members assist with a range of assignments that may include victim advocacy, translation services, security patrols in parks, telephone crime reporting, data entry, neighborhood watch planning, crime prevention programs, and special event assistance. Learn more about the program.


+ 5 - 6 | § ¶
Cary CERT Team Gets Mobile Comment Command Post
This Cary News article reports that Cary's Community Emergency Response Team (CERT) has received a mobile command post trailer. Acquired with a $7,490 grant from the federal Citizen Corps, the trailer has a communication center as well as storage space for equipment.
Cary's team is one of 138 registered CERT teams in North Carolina. The Cary program "includes four teams of about 250 residents." There's also a teen CERT program at Cary Academy, and 62 trained members at the senior residential community Carolina Preserve.
The Cary Fire Department hosts CERT training twice a year. It covers "basic emergency preparedness skills, medical training, search and rescue and disaster psychology." It also involves disaster simulations, so the trainees can test their knowledge. Read the article, or read about the national CERT program.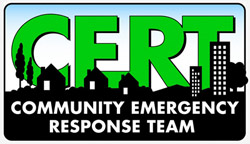 + 6 - 9 | § ¶
The Problem with the Roundabout
Rode the roundabout the other day. The one on Hillsborough Street, right there at the bell tower. Though I had traveled the thing before-- during its many months of construction-- this was the first trip with completed signage and road markings. Now, I have driven on roundabouts before. I am a seasoned driver. I am a smart guy.* And yet I nearly barreled into the path of an oncoming car. Whiskey Tango Foxtrot?!?
Upon reflection, as well as reading today's News & Observer article about instructional needs of the new interchange, it occurs to me that the problem is this: there's too much information to absorb, upon arriving at the roundabout. There are elaborate road markings, and the signs, and the features of the road itself. Before you realize that you're brain is engaging trying to sort everything out, you're bearing down on a spot requiring a yield. I was surprised, and suspect other drivers may find themselves in similar situations. Or at least until we're used to the thing.

*Insert own sarcastic footnote.
+ 7 - 5 | § ¶
Chapel Hill, Plane Crash. Parachute
WTVD posted about a dozen aerial photos of yesterday's fatal plane crash in Chapel Hill at the Horace Williams airport. The apparent video capture has been lightened and adjusted for aspect ratio. Those Carolina blue pumpers aren't as high as the original image depicts.
This Durham-Sun story notes that the Cirrus SR20 aircraft was equipped with an airframe parachute system. Photos of the crash show that the 'chute apparently deployed. It's released through a solid-fuel rocket (!) that deploys through the rear of the aircraft.
Here's a Wiki page on the parachute system, as well as an article from Flying magazine.


WTVD photo
+ 8 - 6 | § ¶
Vehicles Versus Buildings in Cary
Last Tuesday, a passenger car entered and exited the House of Lights at 264 W. Chatham Street. The driver reportedly suffered a seizure. His 2000 Mazda crashed through the front door, then exited the building through a side wall. He was transported with non-life threatening injuries. The store re-opened on Friday. Read the Cary News article.
On Sunday and just up the road, a minivan entered Chef of India at 748 E. Chatham Street. The driver reportedly accidentally pressed the gas pedal. She was charged with "failing to reduce her speed." No injuries were reported at the second vehicle versus building. The van crashed through the front door, but did not exit. Read the News & Observer article.



Cary News / News & Observer photo
+ 4 - 5 | § ¶
Thumbs Up!
Firegeezer reports on a landmark structure that burned on Martha's Vineyard yesterday. He links to the local paper, and their coverage of same. Mr. Blogger has never been to Martha's Vineyard, but thinks that burned boathouse looks like the buildings in the movie Jaws, which is one of his all-time favorites. Director Steven Spielberg's 1975 film-- and perhaps the original summer blockbuster-- was filmed in Martha's Vineyard.1 How funny then to find the below photo posted on the newspaper's web site. When breaking news happens, even errant fingers can't get in the way!



The Martha's Vineyard Times Online photo
1Couple good books on the movie, both the making therein and analysis thereof: The Jaws Log: 30th Anniversary Edition by Carl Gottlieb; Jaws (BFI Modern Classics) by Antonia Quirke.
+ 8 - 5 | § ¶
Knightdale Gets Grant For Firefighters
Friday's announcements of the newest SAFER grants includes $287,158 awarded to the Knightdale Public Safety Fire Division for hiring. The grant is for three additional full-time personnel, one per shift. The addition will take their minimum staffing level to three firefighters. They'll be in place by October 2. Details of the SAFER grant have also changed. Previously, the federal government paid a diminishing percentage of the personnel costs for five years. Now, they pay 100% of the cost for two years, and the grant recipient is obligated to pay for an additional year.
They also recently received a $102,000 grant for equipment and supplies, which is being used primarily to improve communications. The monies will be utilized for portable radios, a mobile repeater, SCBA voice boxes, and mobile data terminals for their engines. They also received a full set of IFSTA manuals and DVDs under the training portion of the AFG.
Last year, grant helped Knightdale Public Safety purchase their ladder truck, a 1997 Pierce Quantum delivered in November.
+ 9 - 2 | § ¶
Watch That Font!
From a friend, here's an amusing story from CNN about the Comic Sans font face, and the reaction by readers-- or, if you prefer, font-sensitive readers-- of a posted message using the font and by a pro sports team owner. Key quote, paraphrasing said response: "Unless you're a fourth-grader, or being ironic, or the author of a comic book, or on vacation from the 1990s, never use that typeface." Funny stuff.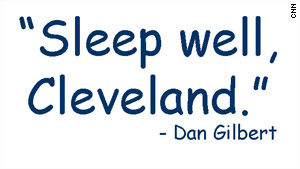 + 5 - 5 | § ¶
Chapel Hill Museum Closes
Yesterday was the last day of operation for the Chapel Hill Museum. Read the announcement on the museum's web site. Funding issues. Read this Herald-Sun article for background. See related links at bottom of article. The museum is home to a permanent exhibit on the history of the Chapel Hill Fire Department. Same opened in 2007 and was developed in collaboration with the fire department. Here are some photos of the exhibit, collected on my Flickr site along with other fire museums and exhibits.


+ 2 - 5 | § ¶
REDS Makes Mission Trip to Guatemala
WRAL has posted a story about Garner-based Rescue Extrication Delivery Specialists (REDS), which is heading to Guatemala later this month to teach "local rescue crews how to handle road and vehicle emergencies." They're bringing donated items including a fire truck, an ambulance, and more than 60 sets of "fire gear, helmets, boots and gloves." They'll head to small villages that were crippled by recent tropical storms.
They traveled there last year in August, and this page on their web site chronicles their delivery of a rescue truck, and training for personnel. The trip was conducted through Paramedics for Children, to train 50 rescue workers (shown below) in vehicle rescue techniques. They took 11 instructors, along with a donated vehicle from Pender County Rescue & EMS, and donated equipment.


REDS photo
+ 3 - 7 | § ¶
Wilmington Fire Department Headquarters
From the print archives, here's another of North Carolina's once-standing central fire stations. Taken by Yours Truly in the late 1990s, as memory serves. The Wilmington Fire Department operated this building the corner of 4th and Dock Streets from 1956 to 2000. The five-bay building replaced two prior headquarters stations at that location. Read about the station and other historic and former WFD facilities. Memo to self, write an article some time about the state's great central fire stations. Click to enlarge:


+ 4 - 5 | § ¶
Wilmington Fire Boat Stations
As shown on Sanborn Maps in 1910 and 1955. Added to this new page of Wilmington fire boat history. Click once or twice to enlarge:


+ 10 - 7 | § ¶
This Morning's House Fire in Holly Springs
Here's a reader picture from this morning's house fire in Holly Springs at 601 Skygrove Drive. Two-story, wood-frame residence with 1,664 square-feet. Built 2006. Holly Springs and Fairview fire departments, for starters. Dispatched about 4:20 a.m. Feel free to add incident details. Thanks DJ, for the pic. Great shot!


+ 6 - 6 | § ¶
Four Bagger in Big Apple
May have mentioned this before. In the days of steam engines, "bag" referred a bag of coal, that was delivered for steam engines at major fires. And a bag of coal would typically or ideally power a steamer for an hour. Thus a "four bagger" in referred to a four-hour fire, or say some of the fire history books that I have read.
Anyway, for Sunday viewing enjoyment, here's some nifty video from a Manhattan apartment building in New York City on Thursday. Part one of five. You've probably seen same on the fire blogs, notably on Statter911 which has details and more links. Look at all the ladders arrive, and the sticks that start raising on each side.

+ 11 - 10 | § ¶
Factory Efficiency Comes to the Hospital
For your Sunday reading enjoyment, here's a fascinating New York Times article about applying manufacturing and retail industry supply chain practices in hospitals. The context is process and patient flow improvements. The results are reduced costs and improved patient care. Most interesting is the story of a new building. After the new clinical and surgery facility was designed, the hospital staff conducted usability tests on same.
They worked in an empty office building, and used cardboard mock-ups of key locations. They played through various scenarios to test the building's design's effectiveness. The final version "reduced walking distances and waiting times for patients by grouping related facilities together and creating rooms that can be used for more than one purpose." Savings of $20 million and a reduction of 30,000 square-feet.
Process improvement. Testing effectiveness. How well are people using what's been designed for them? Web teams conduct such tests all the time. Such change can be very good. Read the article.
+ 6 - 6 | § ¶
This Afternoon's Apartment Fire in Durham
Three-story apartment building at 6205 Farmington Drive and what looks like heavy fire damage to the roof and upper stories. With Durham, Chapel Hill, Bethesda, Parkwood, and Morrisville fire departments, for starters. Alarm time 3:18 p.m. says this WTVD story.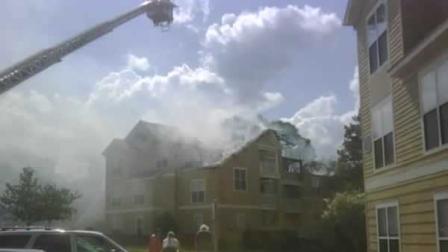 WTVD photo
+ 9 - 5 | § ¶
What Fire Stations Can Be
Turning our attention to facilities, dig these 2009 design award winners from the F.I.E.R.O. Fire Station Symposium. The latter event starts October 31 in Charlotte. The first one shown is Alexandria, VA. That's their first new station built in 40 years, and a four-bay facility with 21,953 square-feet, offices, day spaces, private bunk rooms, and even a below-grade parking garage. The building also houses 64 apartments on the four floors above the station! Quite a contrast to the small-scale facilities around these parts. Everybody's had or still has 'em, the shoebox stations. Thanks to Jeff Harkey for passing along.


+ 8 - 2 | § ¶
July Fire Commission Meeting Canceled
The Wake County Fire Commission meeting scheduled for July 15, 2010, has been canceled. This is a regular scheduled meeting. The next meeting is September 16, 2010. That is also a regular schedule meeting. See you there.
+ 8 - 11 | § ¶
Matchbox Pierce Velocity Tower
Now appearing on store shelves is this Matchbox Pierce Velocity Aerial Tower, part of their Real Working Rig series. Nice companion to the Pierce Quantum ladder released last year. Scaled around 1/70 or 1/80. Bucket's too short, but otherwise pretty neat. Second version coming, if memory serves. Priced about $5.00. And get ready for a Colet Jaguar crash truck, coming, also!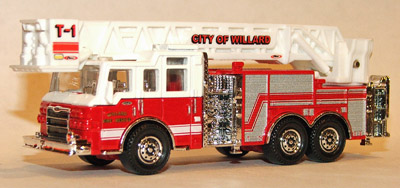 + 7 - 5 | § ¶
Location of Fires in Buildings, 1922
Thanks to Mrs. Blogger for finding this. That is, finding a mention of this, in Scott Huler's book about Raleigh's infrastructure On The Grid. This nifty city planning map from 1922 was photographed at the State Archives, and stitched together in passable fashion using PhotoShop Elements.
Same shows locations of fires in buildings from September 1, 1921 to September 1, 1922. The three fire station locations have been added as blue squares, Station 1 on W. Morgan Street, Station 2 on S. Salisbury Street, and Station 3 on E. Blount Street. Station 4 on Jefferson Street and Station 5 on Park Drive wouldn't be built for five more years.
Click once or twice to greatly enlarge (4.27 meg, JPG format):



Courtesy North Carolina State Archives
+ 7 - 5 | § ¶
Kannapolis Gets Seagrave Ladder
Scroll down to the middle of FireNews and apparatus deliveries are listed, such as this sweet-looking 2010 Seagrave Maurader II 100-foot aerial ladder 2000/460/40 recently delivered to Kannapolis. Some specs are listed, along with a larger version of the below photo. We don't see too many Seagraves around North Carolina, and this one's a beauty. Where else are Seagrave sticks in service around here? Recall late last year that we also researched the history of the Kannapolis Fire Department, in this post and another post.



FireNews photo


Updated with a closer view of the bumper, which is labelled Ladder 14 versus the lately popular Lad14der style a la FDNY, and which the FireNews Editor observes in his posted comment.


+ 5 - 4 | § ¶
State Archives Reading Room
On the shelves at the North Carolina State Archives reading room are a couple of Raleigh Fire Department yearbooks, from 1984 and 2007. They should have the 2002 yearbook around there somewhere as well.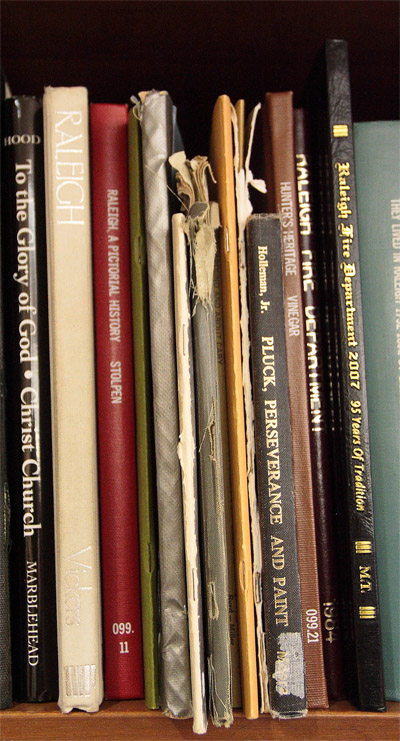 + 8 - 7 | § ¶
Zebulon's Ladder Before
Lee Wilson has scanned and posted a couple film photos of Zebulon Ladder 95 from 1991, when the recently refurbished rig was merely five years old. And the truck was the only ladder anywhere east of Raleigh, notwithstanding Knightdale's short-lived 1990 E-One quint. And remember film? Rolls of the stuff, and that required developing, and the storage of physical prints. Now it's just gigabytes or terrabytes of pictures, slowly accumulating on hopefully backed-up hard drives.



Lee Wilson photo
+ 5 - 7 | § ¶
Truck, Fire, Pittsboro
WRAL posted a pair of reader photos of a tractor-trailer truck fire yesterday afternoon in Pittsboro on Highway 64 near Mt. Gilead Church Road.


Rickey Spivey/WRAL photo
+ 3 - 5 | § ¶
County-Run Fire Departments?
Random question of the day. How many county-run fire departments operate in North Carolina? Looking at the OSFM directory of fire and rescue departments, three appear to present themselves. Plus Forsyth County, which isn't listed, but operates a couple units including a county-wide special response unit.
Currituck
Forsyth
New Hanover
Vance
Who else?
+ 8 - 2 | § ¶
Best Magazine Ever
There are exactly six great days each year, and that's when the latest issue of Fire Apparatus Journal arrives in the mailbox. The July-August 2010 issue arrived this week. There's some neat airport apparatus shown throughout, including a profile of Washington DC's two airport fire departments. Also a shot of a 1995 Seagrave pumper that Houston has refurbished as a funeral rig. And a bunch of other goodness. Best magazine ever.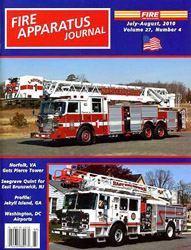 + 4 - 4 | § ¶
Wendell Falls, Foreclosue, Planned Fire Stations
This week's Eastern Wake News reports that on the foreclosure of the Wendell Falls development. 'Twas a planned 1,400-acre suburb off US.64/264 between Knightdale and Wendell, and which would have 4,000 new homes. Things came a screeching halt, to use the paper's language, when the financial markets collapsed in October 2008.
Some road work was done, including the pricey Wendell Falls Parkway interchange. But that was because the state compelled the developer and bank to complete the work. No other work in the subdivision was done.
The fate of Wendell Falls also impacts fire service planning. As the project was, well, firing up, the county began longer-term planning for a fire station at Wendell Falls. Around FY15, if memory serves, as the time frame. The projected need for that facility has presumably dropped considerably.
And so it goes in the world of services planning. What's talked about a future service area-- and fire protection needs therein-- doesn't always come to pass. Developers go bust, projects get stalled, and that future fire stations are no longer needed.
+ 5 - 7 | § ¶
Firefighting History Timeline, 1608-1909
Four years ago, Yours Truly posted the following n the Firehouse forums. Last month the thread came alive, after laying or perhaps lying dormant for many months. Below is the original posting, and with reader replied information merged into same.

Firefighters Forum
February 13, 2006

I recently went looking for a detailed timeline on the early history of firefighting in the United States. I couldn't find one with enough detail, so I skimmed a bunch of books and a bunch of web sites and created the following. Please add, edit, correct, or debate anything. It's America-centric, alas. And is not annotated with sources.
1600
1608 (or 1607 or 1609) - First recorded fire in America, Jamestown, VA.
1613 - Dutch trading ship Tiger burns in New York Harbor, forcing crew to be first Manhattan settlers.
1615 - Crude hand pumps mounted on skids or wheels used in Germany by this time.
1623 - Fire destroys seven dwellings in Plymouth, nearly ends settlement.
1638 - First no-smoking law in America, MA. Due to numerous fires, residents not allowed to smoke tobacco outdoors.
1648 - First fire wardens appointed, New Amsterdam. The four are charged with the responsibility of checking residential chimneys and levying fines as necessary.
1653 - Boston burns, leads to laws requiring all houses having at least one ladder. Also leads to public purchasing of fire equipment.
1654 (or 1653) - First fire engine used in America, Boston.
1657 or soon after - First night watch created, New Amsterdam. Eight men walk the streets after dark, watching for fires and stopping anyone who looks suspicious. They carry rattles to sound a fire alarm.
1658 ? - First fireman in America.
1666 - Great London Fire inspires new firefighting techniques, such as using gunpowder to create fire breaks. Also inspires development of hand-powered piston pumps.
1672 (or 1673) - First fire hose / leather fire hose, Holland. Fifty-foot sections of leather hose stitched together like boot legs. Fifty-foot section lengths remain standard to this day.
1676 - November 27. Fire at Boston destroys large part of North End, including Increase Mather's church.
1676 or soon after - First state-of-art fire engine in America, Boston. Ordered from England after conflagration in 1876. Replaces small "ingine" built by local ironmaker.
1678 (or 1679) - First fire engine arrives, imported from England, in Boston.
READ MORE
+ 5 - 9 | § ¶
Spencer Fire Apparatus Muster, August 28
The Spencer Fire Department Auxiliary is hosting their second annual apparatus muster on Saturday, August 28, 2010, at the North Carolina Transportation Museum. The event is a couple weeks earlier than last year's, and again focuses strictly on pumpers, tankers, aerials, and brush trucks.
Registration is $25 per truck until August 21, and $50 after that date. Staging is no later than 9:30 a.m. The parade starts at 10:00 a.m. The judging in nine categories starts around 11:00 a.m. Plus People's Choice and Best in Show awards. The awards ceremony starts at 4:00 p.m. And gates to the transportation museum open at 9:00 a.m.
Here's the flyer

and here's the entry form

.
Driving time from Raleigh is about 130 minutes.
+ 9 - 6 | § ¶
Zebulon's Ladder Returns
Lee Wilson has posted photogs of Zebulon Ladder 95, a 1987 Grumman/KME 102-foot platform, 1500/200. which returned from the factory yesterday after undergoing a complete rebuild. Read this earlier posting for details on what was done.



Lee Wilson photos
+ 5 - 10 | § ¶
Going Off The Rails
Legeros (below) and Lee have posted pics of Sunday's derailment near the Fairview Road crossing, off Capital Boulevard. Happened about 3:40 p.m. at Norfolk Southern's Glenwood Yards. The slow-moving freight had just arrived from the Linwood Yard in Davidson County. Two locomotives with 108 pieces of rolling stock. Cause not known. Also resulted in closure of the Jones Street crossing, downtown.
The seven cars stayed upright, though with damage both to them and the tracks. The lone tank car was carrying ethanol, and remained intact. The contents were subsequently off-loaded onto trucks, as the loaded railroad car was too heavy for their heavy equipment. Repairs began immediately on the tracks, and was still underway yesterday.
As for the fire response, Engine 1, Engine 13, Ladder 4, Rescue 2, and Battalion 2 were dispatched. Engine 1 was first on scene, and quickly determined there were no injuries, fire, or haz-mats. The EMS response was cancelled. Most of the fire units were soon released as well. See photos from Legeros and Lee.


+ 4 - 8 | § ¶
Orange County EMS, Response Times, Budget
This morning's News & Observer reports on response times and budget additions for Orange County EMS, and with the provocative headline Orange EMS Found to Take Too Long To Respond. They open with a publicized incident from two years ago, and cite the average response times for both EMS response and county 911 call processing. They compare the former to national standards, and the latter to the state benchmark. They also contrast Orange and Wake average response times.
Segue into system improvements, and the second half of the article discusses what was and wasn't funded this year, for requested improvements to OCEMS. Four new medics join in January, and a new ambulance has been funded. Nine new medics were sought, along with new EMTs and new dispatchers.
Read the entire story. Discuss as desired, as there are a couple angles to consider. Is this a fair article, attention-getting but not necessarily alarmist? Should it be more, should it be less? Does it successfully explain the situation in language and examples that citizens and elected officials can understand and appreciate? Presuming they're reading, that is.
+ 9 - 6 | § ¶
Car Fire, Gas Pump, Dash Cam
Here's your video for the morning, found by Statter911 of a fully-involved gas pump and automobile in Quiet Dell, VA. The first arriving engine had their dash cam rolling and it captures the response (with a couple edits), the heavy smoke on approach, and arrival and extinguishment. The video concludes with a couple of still images. Plus, of course, a pun from Dave in his Quick Takes headline.



+ 4 - 6 | § ¶
Wilmington Fire Boats
For your holiday Monday enjoyment, here are photos of Wilmington's five (of six) Atlantic fireboats. Did some digging, and found these pictures along with assorted historical information. Plopped everything on a web site including larger versions of the below images. Left to right, top to bottom are: Atlantic I in 1925, Atlantic III circa 1947, Atlantic IV, Atlantic V in 1987, and Atlantic VI in 2007. Photo credits include the New Hanover County Public Library, the Star-News, and MetalCraft Marine. Enjoy!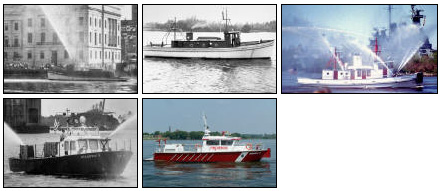 + 7 - 9 | § ¶
New Cruiser Style?
Seen at the State Fairgrounds last night: a pair of Raleigh Police Department sport-utility vehicles, sporting black hubcaps instead of silver. Is this a new style for city police cruisers? Looks kinda cool. Very urban.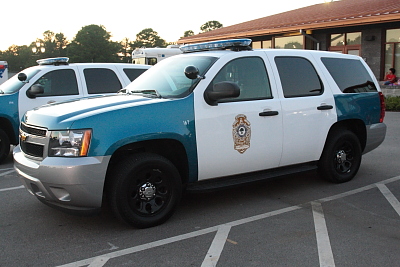 + 8 - 1 | § ¶
Wilmington Annexation History
Blogging about the Winter Park Fire Department and their history yesterday made me curious about the history of the city's annexations. Might there be, say, some maps showing the annexation history over time? Such as the maps that Yours Truly uses in his Raleigh Fire Department timelines? Google finds this draft document of an annexation policy, dated February 2010. It contains some pretty good information. Here's how the city expanded, from the document:
1733 - First laid out.
1739 - Incorporated.
1856 - Map shows city reaching to Oakdale Cemetary, and extending from river to Market Street in near rectangle
1870 - Map shows rectangle expanding to beyond cemetary to 17th Street to west and Smith Creek to north. By this this decade, Wilmington is largest town in North Carolina, and one of the most important on eastern seaboard.
1919 - Map shows departure from linear nature of expansion of city, with corporate developments following Burnt Mill Creek.
1929 - Ditto.
1945 - After this year, land development patterns change dramatically, with proliferation of automobile and exponential growth of city and population therein.
1958 - Map shows expansion east and south.
The maps mentioned in the
draft document
are shown below, pasted and annotated onto a single graphic. A second graphic superimposes the 1958 map over the 1995/1998 annexation map, for a sense of scale and growth pattern.
Click once or twice to enlarge
:
Next step is adding fire stations and/or fire districts, right? Maybe, possibly, doubtfully another day. Or maybe someone with the city's GIS department is reading, and would kindly produce and such a thing. We can wish, can't we?
+ 7 - 6 | § ¶
Bahama Fire Department Celebrates 50 Years
The Herald-Sun recently profiled the Bahama Fire Department in Durham County, which is celebrating its 50th anniversary. The volunteer fire department was formed on June 15, 1960, and was "galvanized later than summer" when the Mangum School in north Durham caught fire. Today, BFD covers some 40 square miles with 6,000 residents. Their $670,000 annual budget is funded mostly by fire district taxes.
They have 11 vehicles, including support vehicles and an ambulance that's operated through the Durham County EMS system. They have "42 volunteers, 20 auxiliary members, and several paid, part-time" members. Four years ago they moved to 1814 Bahama Road, a new station about a quarter-mile from their old station. The former building is being used for storage, and will be sold at some point. Read the entire article.


+ 6 - 5 | § ¶
Rockets Red Glare
Happy Fourth of July, as seen at the State Fairgrounds. Just keep those water cans handy through the wee hours. Click to enlarge:


+ 6 - 11 | § ¶
New Fire Stations in Wrightsville Beach and Southport
The holiday blog blitz continues with photos of new fire stations in Wrightsville Beach and Southport. The former is part of a $6.1 million, 26,000 square-foot public safety building, and appears ready for occupation. Check out those "stoplights" in the bay, which we've seen locally in Apex Fire Station 4. There's also a genuine fire pole in the thing. Here's a Star-News story about the recent ribbon cutting.
The Southport fire station appears to be few more weeks away from completion. Big honkin' building, at that. Believe the old station gets turned over to the rescue squad, which share the current structure. Or a part of same. More photos to be posted later. The station also includes a second outdoor building to display the town's antique fire engine! How cool is that? Love the accordion-style apparatus doors, also.


+ 1 - 5 | § ¶
Mystery Apparatus
Digging through some photo prints this morning. These aren't much of a mystery, really. Heaven help those who travel with fire buffs. Click to enlarge:


+ 9 - 2 | § ¶
Yesterday's Second Alarm / Jackson Street
Two alarms at 3809 Jackson Street, originally dispatched as 3704 Lexington Street. Reported by passing motorist. Engine 8 arriving at a two-story, wood-frame apartment building with 4,096 square-feet. Built 1983. Found heavy fire in front of building, in stairwell area linking first and second floors. Upgraded to second alarm by Car 10.
Engine 8 supplied two two-inch lines, from parking lot off Lexington Street. Ladder 7 deployed for roof access in parking lot off Jackson Street. Staging on Gorman Street. Two hydrants. Dispatched 12:44 p.m. Controlled at 1:37 p.m. Four apartments rendered uninhabitable. Fire damage to exposure building, second apartment building. Nearby motorcycle with melted tires. Five people displaced. No injuries. Cause determined as accidental.
Units on scene included(first alarm) E8, E20, E5, L7, R3, B3, (working fire) E14, C10, C20, A1, (second alarm) E1, E13, E6, L4, R2, B2, C5, C40, (medical) EMS 4, EMS 8, EMS 31, D2, M94, Evac 1 in place of T1, (coverage) E21, E18, L1, (relief) E13. Read coverage from News & Observer and WRAL. Or see the excellent photos posted by Lee Wilson.


Lee Wilson photo
+ 3 - 3 | § ¶
Let the Games Continue
This panoramic image from yesterday's firefighter games in Southport was taken about two hours into the event. They're preparing for another barrel push. What's the correct name for that context? Examine closely and you can probably spot the seams. Click once or twice to enlarge:


+ 7 - 6 | § ¶
Now That's a Brush Truck!
That's a Ford F-550 Super Duty / E-One monster mini-pumper, with model year unknown. Serves the Sunny Point Fire Department, which protects the Sunny Point Military Ocean Terminal, which we've blogged about before. Click toe enlarge:


+ 2 - 6 | § ¶
Winter Park Fire Station
The old station of the Winter Park Fire Department at 4601 Park Avenue in Wilmington has been converted to the headquarters of the area's Disabled American Veterans. The station is a couple or perhaps many decades old. The department organized in 1951 with 23 volunteers, and incorporated in 1956.
Their station was annexed by the city in the 1980s. Most of their response area was annexed in 2000, which resulted in the county withdrawing station funding, and removing their remaining response area. To allow the department to remain recognized as a fire department, the county designed a former dump site as their primary response area.
The city contracted with Winter Park for protection in the area until 2005. The station closed and the department disbanded on October 31, 20051. Similar annexations impacted the Seagate Fire Department, which ceased operation about the time. FireNews posted rememberences at the time of the closure.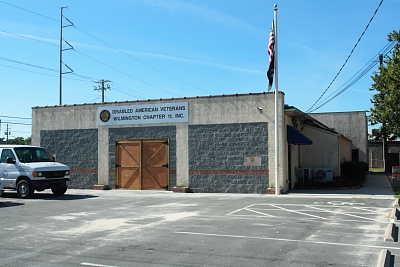 1
Google finds
this Star-News story
from September 2005, about WPFD being contracted by the county to operate a station in the Murrayville area. Did that happen? Either for a short time, or the duration of the two-year contract? Corporate filings on the state's web site show the organization dissolved in 2006, which suggested negative.
+ 3 - 12 | § ¶
Sticks in Southport
Displayed for the occasion of the annual firefighter competition, which is part of the town's annual Fourth of July Festival. We wandered down to Wilmington for the day, and discovered the event underway as we arrived in Southport. Talk about fortuitous! Those are ladders, towers, telesquirts, and articulating platforms from Civietown, Leland, Sunny Point, Tri-Beach, and Winnebow. The town's telesquirt was parked. The word telesquirt is mine. The trademarked name is Telesqurt. Click to enlarge:


+ 4 - 3 | § ¶
New Laws For Fireworks Safety
Here's a WRAL story about the new North Carolina law that governs fireworks operations. Any person using pyrotechnics for a public show must complete training and receive a license. Temporary permits can also be issued, and over 400 permits have been issued this year. The safety regulations were developed as a result of last year's fatal fireworks explosion on Ocracoke Island. Four members of a pyrotechnics crew were killed on July 4, when their truck exploded during unloading. Read the article. Or visit the OSFM for more information.
+ 6 - 4 | § ¶
Mystery Vehicle
Or maybe just a lazy blogger? Also as photographed by Lee Wilson.



Lee Wilson photo
+ 6 - 4 | § ¶
Garner Station 4
Lee Wilson has posted a couple photso of Garner Fire Station 4, which is taking shape at 125 Spaceway Court. Opens in November. Combination fire and EMS facility. See more photos from Lee.



Lee Wilson photo
+ 5 - 6 | § ¶
Apex Police Officers Awarded
The Apex Herald has posted a nice article about three Apex police officers who received a Medal of Valor on June 16, during the department's annual awards ceremony. They received the medal, which is the department's highest honor, for their actions at the Super Target shooting on May 30. They were the first arriving officers at the incident, entered as a group believing that two shooters were present, and located and neutralized the assailant. Read the entire article.



Apex Police Department / Apex Herald photo
+ 7 - 4 | § ¶
Big Fire Fort Bragg
The holiday weekend starts with a warehouse fire at Fort Bragg this afternoon. WTVD has posted the below photo. Looks like a tower and a stick in the area, plus a master stream on the ground. Location off Long Street at Karen Street Longstreet Road near Keerans Drive. Mutual aid from Spring Lake and Fayetteville. Building housed orchestra and band equipment of 82nd Airborne Division. More aerial photos probably coming.


+ 3 - 6 | § ¶
Judge Orders Identities of Bloggers Be Divulged
Anonymous is anonymous, right? Maybe not necessarily, as this WRAL story passed along from a reader reports. Superior Court judge has ordered a Henderson blogger to reveal the identities of anonymous posters who made defamatory comments about a former county commissioner. The blog is called Home in Henderson. The offending comments were posted in response to a news story last year, and involving charges involving rental property involving people living in unsanitary conditions therein. Searching the HiH site finds assorted related stories, including this one from April, when the former commissioner filed the intent to sue. Reader comments total 144 on that one. Read, digest, react. Discuss as desired. More later, after Yours Truly does additional reading as well.
+ 9 - 3 | § ¶
What's News?
The fiscal year has ended. New budgets have been approved. Here's some of what's happening with area fire departments, gleaned from news reports, web docs, and other sources. That is, at least with stations, equipment, and personnel. Add, expand, correct as needed.
Apex
New ambulance chassis for Unit #2.
Cary
Station 8 construction, Mills Park Drive area.
Fire academy starts July 6.
Replacement for Rescue 4.
Aerial ladder to replace Vehicle 1446, the reserve 1995 Mack service truck.
Old Engine 1 still being repaired.
Durham
Station 15, just opened in Treyburn. Utilized existing personnel.
Station 9 development, relocating from E. Club Boulevard, new location Camden Avenue and Midland Terrace.
Garner
Station 4 completion, late 2010.
Seven positions added, cost-shared with county.
Morrisville
Station 1 construction on Town Hall Drive.
Raleigh
Fire academy in progress, ends in December.
New tiller, due early July.
Wake County
Fire academy started July 1.
Nine positions added, not yet allocated.
Five engines to be replaced, Fuquay-Varina, Garner, Hopkins, Stony Hill, Wake Forest.
Two rescues to be replaced, Fuquay-Varina, Holly Springs.
+ 5 - 4 | § ¶
Louisville Line of Duty Deaths
Random historical data, from the Louisville Fire Department web site, which we were browsing this morning. The department has 21? stations, 500+ members, and responds to 50,000 incidents a year1. The site's history section includes a text history of the department that totals 18,500 words, a historical summary by year, and a seemingly staggering list of duty deaths dating to the 1860s. They've lost 80 members since 1862, plus members of the volunteer LFD, as well as salvage corp members. Statistical distribution of the 80 duty deaths by decade:
1860s - 1
1870s - 1
1880s - 8
1890s - 17
1900s - 15
1910s - 4
1920s - 18
1930s - 7
1940s - 1
1950s - 1
1960s - 3
1970s - 2
1980s - 1
1990s - 1
The earliest decades were the worst, with the 1880s to 1920s a particularly deadly period. Is that a trend that's been experienced in other or comparable departments? Don't know. Context is also needed to fully understand the data. What was Louisville like both before and after the turn of the century? How were the buildings built, what were the hazards faced, and what tactics were used? Lots that isn't known by Yours Truly, but perhaps presents itself upon reading their history. Speculations or conclusions perhaps forthcoming.
1The largest city in Kentucky is also the 16th largest in the United States, though that might be ranked to include the city-county merger of recent years. The 2000 population of the city, pre-merger, was 256,321. The 2009 population was 566,503.
+ 7 - 2 | § ¶
Maggots on a Plane
You'll be hard pressed to read a better opening paragraph this year than this, from yesterday's AP story: "A flight bound for North Carolina was forced to return to the gate in Atlanta after passengers noticed maggots falling from an overhead bin." Google finds more. "Bugs just began to fall out of the overhead compartment," recalled a passenger, and which caused the expected panic.
Another person's account includes the words "fly" and "maggot" and "All of a sudden, I felt somebody flick the back of my hair." The plane never left the ground, and the pilot returned to the gate, declaring a "minor emergency on board." The cause was a container of spoiled meat. Unknown if beef, lamb, chicken, pork, or mystery meat.
Rejected titles for this blog posting are below. Thank you and good night.
Bugged Out
Bugs in a Bin
Grub a Dub Dub
Larvae of My Life
Cabin Fever Indeed
Warning: Do Not Eat
Bugs 1, Passengers 0
Rancid, The Definition
Maggots By The Gross
Spoiled Meat Spoils Flight
When Flies Fly, People Flee
But What Did The TSA Screeners Find?