+ 7 - 2 | § ¶
New Collection of Wake County Fire Department Historical Photos
The Raleigh Fire Museum has a posted a new collection of photos on its web site, some nine hundred images depicting history of Wake County fire departments. From Apex to Zebulon, from small town to bigger town, from airport to forest service, and from the suburbs of Raleigh to the rural farmlands of Wake County. The sources for the images include the News & Observer and Raleigh Times, the North Carolina State Archives, the individual fire departments, fire photographers such as Lee Wilson, and a number of other photographers and agencies.
Most of these were compiled in 2002 and 2003, when Yours Truly was collecting content for his Raleigh and Wake County Firefighting books. This was before the blog, and before the serious pursuit of fire photography. The Hawaiian Shirt guy criss-crossed the county, schlepping his laptop and flatbed scanner from fire department to fire department. Plus quite a few personal meetings at homes or libraries. And a lot of early mornings or late afternoons at the State Archives, looking through drawers and drawers of newspaper negatives.
Digital copies of these images were made and mailed to each fire department in late 2005. And then the files commenced sitting idle, which has nagged at me for years. History is meant to be shared, and not just squirreled away for the sole enjoyment of individual archivists. A plan for sharing began to form after the creation of the museum's web site. The bandwidth became available earlier this year, with the conclusion of last year's centennial projects. Merely nearly a decade later, they're finally getting posted.1 Hope you enjoy them.

See the photo collection.


1 Some notes on these photos. (a.) The collection excludes Raleigh FD photos. They're displayed in their own galleries on the museum site. (b.) All or nearly all of these appear in Raleigh & Wake County Firefighting and Raleigh & Wake County Firefighting, Volume II, published by Arcadia Publishing. (c) The photos have captions and credits, though far less text than appeared in the books. (d.) The captions will likely get updated over time, just to add a bit more information in places. (e.) Photos may be added as well, in dribs or drabs. No major expansion or additions are planned. (f.) Some pictures were intentionally excluded. Apparatus accidents are downplayed in particular. (g.) Corrections, comments, and other observations are welcome. This is your history.
+ 5 - 7 | § ¶
Morning Reading - March 31, 2013
Good morning Raleigh. Here are some dribs and drabs for your Easter Sunday reading. Tomorrow is April Fools Day. Will the pranks be erupting, to see who's paying attention to the calendar? Maybe we'll see some fun national news headlines that successfull spoof us. Speaking of calendars, we're getting into the season of events. Garner FD golf tournament, April 20. Rolesville FD charity event on April 27. Youngsville's Fireman's Day on Saturday, April 13. The North Carolina Fallen Firefighters Foundation memorial weekend during the first weekend in May, which this year includes the first annual Red Helmet Ride on Saturday, May 4.
+ 7 - 4 | § ¶
Collapse Zones Work
YouTube video from maw8908, capturing the collapse of an abandoned commercial structure that brought three alarms in Birmingham, AL, yesterday. Here's some fire blog coverage from Statter911 and Firegeezer. Been ages since we burned one that big 'n' dangerous in Raleigh. But our urban center isn't really densely commercial, at least any more. Looks like Birmingham's somewhat comparable to size to Raleigh. They have thirty fire stations, including an airport station. Check out that Bronto Sky-Lift in the video, with its unique articulating ladder.


+ 5 - 6 | § ¶
Panoramic View of Woods Fire
Here's one of the numerous outside fires that the warmer and dryer weather has brought of late. This one this afternoon was on Trailwood Drive just south of Avent Ferry Road, and just up the road from Station 20. On scene were Engine 20, Engine 5, Ladder 3, Battalion 3, Car 20, plus a Swift Creek brush truck and tanker. This panoramic image was created with a mobile phone, with slight adjustments via image editor. Click once or twice to enlarge:


+ 11 - 7 | § ¶
Interactive Map of Raleigh Fire Department Response Areas
Another new map and data set has been added to the city's Open Raleigh portal, this one interactively mapping the fire department's response areas. That is, the engine company first-due territories. Click and zoom and see exactly where each engine goes or doesn't go! Now, will they add maps for the ladder companies, or others?! Among the map's functions controls that allow switching between three different mapping programs, and controlling the percentages of the layers displayed. See this prior posting on this subject.

From here, we can enhance my fire department map with the response areas. Created by using screen captures, then adding as a layer over the existing map. Click to enlarge: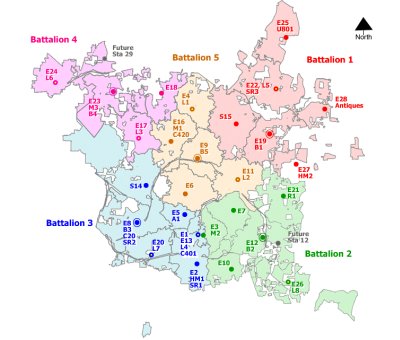 + 6 - 4 | § ¶
When Scavengers Attack?
Seen last night behind/beside the old Dillon warehouses downtown. Some of the old tracks leading to the old Union Station have been seemingly recently removed. Wonder if that's from illegal scavengers? Google would probably answer my question either locally or as a national trend, but it's certainly more fun to first ask the crowd!


+ 5 - 4 | § ¶
Stony Creek's Old Mack
Lee Wilson yesterday photographed Stony Creek's old Mack in Rocky Mount. That's a 1958 Mack and what looks like a Model B. The engine served the agency when it operated as a fire department from 1956 to 1994. That's when they ceased firefighting due to the growth of the city. They continued operating an ambulance service and rescue squad until 2006, when Nash County consolidated all EMS operations under its authority. Today, they provide rescue services in eastern Nash County (including the city), and provide back-up EMS services at the Intermediate level. They're also the primary dive team for the county. Read more on their web site's history page. Question, how many other former fire departments in our state converted to rescue operations only in their history? Derita in Mecklenburg County comes to mind, though they operated Derita Rescue for only a couple years. See more photos from Lee of this old beauty and their other apparatus.



Lee Wilson photo
+ 4 - 1 | § ¶
Fayetteville is Hiring
The city of Fayetteville is accepting applications for firefighters starting April 1. Visit their web site (love that domain name, bravethefire) for more details. This advertisement was posted to their Facebook page:


+ 5 - 4 | § ¶
Radio Flyer... Car
For your mid-week diversion. Thanks, Bob!


+ 4 - 5 | § ¶
Raleigh's New Mobile EMS Simulation Lab
Raleigh's former reserve rescue has been re-purposed as a mobile EMS simulation lab. The 2000 Freightliner/American LaFrance MedicMaster was placed in service as Car 521 on March 6, 2013. It previous served as Rescue 19 from 2000 to 2007, and as reserve Rescue 113 from 2007 to January 31, 2013. The mobile lab is used by the EMS Training Division, which is located at the Keeter Training center. (The division handles the training of all Emergency Medical Technicians in the Raleigh Fire Department. Since 1998, the fire department has been certified by the state to conduct its own EMT certification and certification classes.) See a couple more photos (scroll down the page) of the unit from Lee Wilson. Or read this posting from last year about a mobile simulator used by Wake County EMS. Here's a picture of that truck.



Lee Wilson photo
+ 4 - 7 | § ¶
Building The Support Services Center - February 2004
Found in my files, early construction on the Raleigh Fire Department's Support Services Center at the city's heavy equipment depot on New Bern Avenue. That facility was so long-overdue it wasn't funny. They'd been looking for larger space, and particularly a larger shop, for over ten years. Click once or twice to enlarge:


+ 5 - 4 | § ¶
Pierce 100th Anniversary - Neat Picture
Pierce Manufacturing is celebrating their 100th annivesrary this year. This nifty vintage-style image was passed along from a reader. The image is the cover of this year's calendar Visit this anniversary web site for more information. Thanks Jan! Click to enlarge:


+ 3 - 4 | § ¶
Chestnut Hill Fire Company Organized, 1905
Also from Salisbury is documentation of the organization date of the Chestnut Hill Fire Company, which protected the unincorporated community of Chestnut Hill located outside Salisbury. The fire company was named Southside, and competed and won in state fireman's tournaments as early as 1907 and as late as 1912. The Southside Reel Team appears in North Carolina State Fireman's Association convention proceedings from 1914, and is listed with the Salisbury Fire Department in proceedings from 1915. The Fire Chief and Asst. Chief in 1911 were G. C. Kluttz and Asst. Chief as J. G. Reeves. Salisbury Fire Chief Bob Parnell passes along this research by Betty Dan Spencer. Memo to self, updated my former fire department database accordingly. Click to enlarge:


+ 3 - 5 | § ¶
Salisbury Fire Company Rules, 1910
From our friends at the Salisbury Fire Department, here's a town minutes excerpt from November 3, 1910. Few things are more fun than reading municipal minutes from a century earlier. Click once or twice to enlarge:


+ 3 - 5 | § ¶
Sunset Beach VFD Patch
Found for sale on eBay, here's a neat patch from the now-defunct Sunset Beach Volunteer Fire Department. The Brunswick County fire department operated from 1972 to 1997, or at least that's what the legal documents record. They were dissolved in the summer of 1997, and their assets transferred to the town, for the municipal fire department. See Mike's database of former NC fire departments.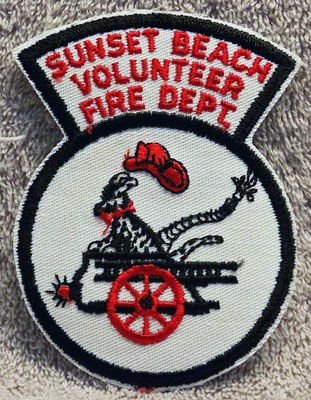 + 7 - 3 | § ¶
Cary EMS Citizens Academy in April
Here's a Cary Citizen story about the upcoming Cary EMS Citizen's Academy. The free four-week program will be held on Thursday nights in April from 6:30 p.m. to 10:00 p.m. Instructors, all professional staff members with Cary Area EMS, will teach practical sessions about EMS and what function EMS plays in today's society. Participants will experience hands-on classes, learn CPR, and tour an emergency room and a 911 communication center. Read more.



Cary Citizen photo
+ 5 - 1 | § ¶
Then and Now - Station 3
Here's a fun re-creation of a historic photo of Station 3. The original dates to the early 1950s. The bottom was taken in 2008. That's Nick Rhodes on left and Justin Bolduc on right. What other then and now re-creations have you seen? Here's one from a few years ago of moving day at Station 24. Better yet, stage and send your own. Find a historic photo of Raleigh or Cary or Wake County fire stations, and re-create the thing. Send and we'll share.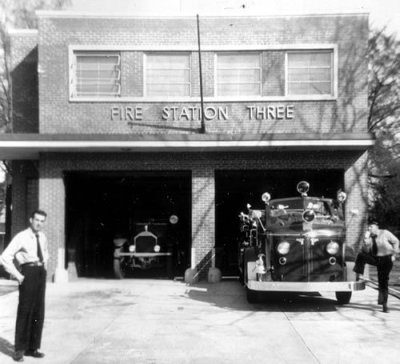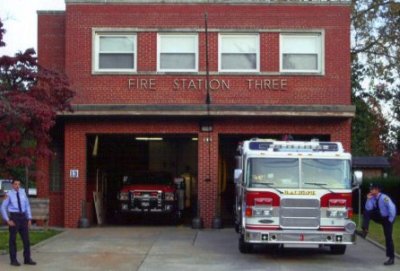 + 8 - 2 | § ¶
Gas Can + Flames = Flame Jetting
From a reader, here's an ABC2 news story about the investigation of a fire phenomenon that burned a teenager in Baltimore County, Maryland. When gasoline was poured onto a fire pit in December 2011, flames shot several feet and struck a teenage girl. She received serious burns on thirty percent of her body, and has undergone nineteen surgeries, skin grafting, and intense physical therapy. (She has been speaking at fire safety at various event.) Her mother works at the Bureau of Alcohol Tobacco and Firearms and her father is a volunteer firefighter. Neither understood how a gas can could turn into a blowtorch. The ATF subsequently recreated the event for a criminal case in Michigan. They tested and documented the phenomenon. Bottom line, a burning gas can (including a mostly empty one) can spray flames several feet. Read the story. Thanks Bob!


+ 6 - 2 | § ¶
UPDATED: Wake County Fire Commission Meeting - Thursday, March 21
March 23
Here some short notes from Thursday's meeting. Consult the minutes, when they're released ahead of the May meeting. The Wake County Fire Services staff does a superb job of recording detail meetings for each meeting. Here's some of my notes. Please correct me as needed.
Tax fire district-funded departments are finishing the budget process. They've submitted theirs for county staff review. For the first time this year, line-item reviews are being performed. County staff is performing some adjustments, which resulted in discussions, questions, and formal statements from some departments. These were regarding cuts in some line items, and questions about the process used or standards applied to evaluate the trims.

Response boundaries (correct phrase?) are being recalculated. This is a process where the county GIS office re-computes the driving times from all fire stations to all property locations. This process was desired to take place every three years, but hadn't been performed in five years. Thus it's underway, and some questions were asked about same.

The he first round of interviews are being scheduled for the Fire-Rescue Director position. There are three candidates at present. They expected the new Director to be named soon.

Discussions are underway about mergers, both involving him/county staff and municipalities, as well as among the tax district-funded fire departments. Eastern Wake and Knightdale are engaged in discussions and studies. Bay Leaf, Durham Highway, and Stony Hill are also having discussions, it was reported.

The county is considering a partnership with the city, which is designing a new Emergency Operations Center. A joint city-county EOC would benefit the county in a number ways, which were noted.

A Financial Sustainability Committee has been created within the Fire Commission. This is a separate entity than the Budget Committee. Their purpose is to brainstorm on ways to, well, save money. Presumably starting with higher-level goals and ideas, before trickling down to strategic steps.

Retiring Wendell Fire Chief Tom Vaughn was recognized for his decades of service. His replacement is Brian Staples, current Acting Fire Chief. Congratulations to both.

A motion was also made to recognize other recently retired Fire Chiefs. A letter of appreciation from the commission is planned, and will be sent to other fire chiefs in Wake County who have recently retired.
March 16
The next meeting of the Wake County Fire Commission is Thursday, March 21, at 7:00 p.m. The location is the Wake County EMS Training Facility, in the lower level of the Wake County Commons Building, 4011 Carya Drive.
READ MORE
+ 5 - 2 | § ¶
Convenience Store Fire on Glenwood Avenue
The second recent worker at a convenience store (after this March 9 blaze on New Bern Avenue) closed the 6700 block of Glenwood Avenue yesterday just before rush hour. Equally convenient was the fire station location, about a block away. Engine 17 arrived with heavy fire and smoke showing from the roof of a one-story, brick and frame convenience store with 2,160 square-feet. Built 1961. Operations included portable monitor into front of building and aerial stream using Ladder 1 and Ladder 3. From aerial photos, one of the hydrants they used was across Glenwood Avenue. Second one perhaps on the access road between Glenwood and Pleasant Valley? (Mr. Blogger was away from the city for the day, so relying on photos, the press release, and the CFP pages.)
Dispatched at 3:57 p.m., the fire was controlled 4:39 p.m. The cause was determined as accidental, reportedly started in outbuilding and which spread to attic of the main structure. Units on scene included E17, E16, E18, E9, L3, L3, Squad 14, R1, B4, B5, A1, C20, C420, C401, C14, EMS 2, EMS 5, D_, T1. "C" platoon. Guest photos have been posted, courtesy of Stan Heath, a retired Raleigh Captain. Don't miss the excellent aerial footage as well from WRAL and WTVD. They were also there early. Now if we just get that guy Legeros on scene, if there's a third one like this. See incident photos.



Stan Health photo

WTVD photos
+ 6 - 4 | § ¶
Cameras Are Getting Better, Aren't They?
Between increasingly powerful phone cameras and the profileration of high-powered "real cameras," fire photos are night are getting captured better than ever. Just look at the current FireNews.net home page as an example. Calabash, Greensboro, and Gaston County shown. Readers, what are your experiences of late, using the latest cameras or camera phones on scene?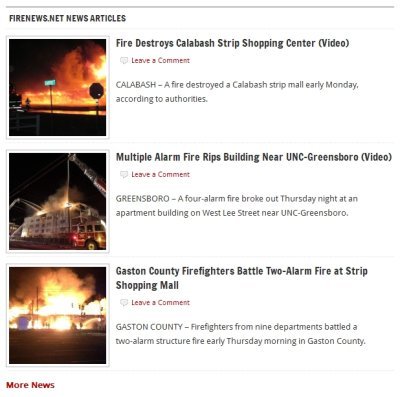 + 6 - 2 | § ¶
Morning Reading, Morning Pondering
FireCritic Rhett Fleitz this week offered a candid perspective on his blog titled: Shocker... Firefighter Screws It Up for the Rest of Us. This Time It Cost Me. He recounts the free memberships offered to firefighters at a local gym (he's in Roanoke, VA). Things worked well for several years, until someone recently screwed it up. Quoth the Fire Critic "apparently a firefighter took advantage of the free membership." This tale isn't a new one. Everyone has a story of someone ruining a good thing.
The corollary is the ability of firefighters to break anything. What's the adage? Give them a hammer and a bowling ball and put them in a locked room. When you return, the bowling ball will be broken and the hammer will be lost.) On this blog, Rhett invites readers to share experiences of withdrawn incentives. (And which has morphed, a little, into a general discussion of the propriety of discounts and freebies. This Statter911 posting from a time ago also covered that ground.)
My question is a higher-level one, also added as comment on Rhett's blog: "I've long pondered why firefighters 'take things too far.'" Is it in the very wiring? The same circuits that compel limit-pushing where lives and property must be saved?" Your thoughts...
+ 5 - 2 | § ¶
Save The Dates - Charity Events in April
Couple fire department-sponsored charity events in April to announce. Put these on your calendar. We'll announce again as needed, closer to the event dates:
Garner Fire Department - Third Annual Relay for Life Golf Tournament
Pine Hollow Golf Club, Clayton
April 20, 2013
Information on web site

Rolesville Fire Department - Caring for Caelon
South Main Street and Redford Place
April 27, 2013
11:00 a.m. to 2:00 p.m.
Information on Facebook
+ 6 - 5 | § ¶
Heat Map of Raleigh Fire Incidents in 2012
The city of Raleigh has a new Open Data Portal. The site contains an interactive heat map showing fire incidents for 2012. That's a graphical representation of fire incidents data for 2012, that's also available on the site. There are 13,640 records available, which probably translates to all non-EMS incidents answered last year. Here's a Midtown Raleigh News story about the city's open data initiative.


+ 7 - 1 | § ¶
Firehouse and Fire Museum Photos
Holy crap, when did my Flickr site amass such a collection of firehouse and fire museum photos!? Might be a book or two in there, sometime. Digital publish is easier than ever. Just have to find the time...

| | |
| --- | --- |
| Historic and Former Firehouses | Fire Museums |
+ 6 - 3 | § ¶
Fully Involved in Calabash
This was the scene this morning in Calabash in Brunswick County. That's a one-story strip mall that's fully involved and then some. Four businesses on Carter Drive were destroyed. Calabash firefighters were joined by Sunset Beach and Grissettown crews. See this FireNews story for more. There have been a number of big fires around the state lately, such as this four-bagger in Greensboro on Thursday night. See that linked FireNews.net story. Then there are the weekend conflagrations in Horry County, SC, and Pigeon Forge, TN. The latter with some twenty-eight departments fighting that fire. Might have more details on those later. Google easily finds news coverage on those.



Calabash Fire Department photo
+ 7 - 2 | § ¶
Battalion 1 > Station 19
And a move to report, Battalion 1 to Station 19. The Battalion Chief was relocated from Station 15 on February 27. They occupied a newly constructed office and living quarters, located on the front side of the station's dormitory. They're driving one of four 2012 Chevy Tahoes that the department purchased last year. Battalion 4 just received theirs. Maybe Battalion 3 as well. Need to check on that.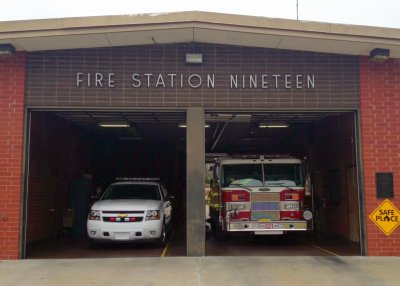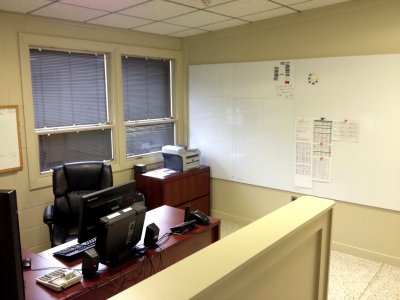 + 8 - 7 | § ¶
Big Red - 1956 Mack Wrecker
Finally found a citation of the exact model year for Raleigh's wrecker, that they operated in the 1970s and 1980s. Same was a 1956 Mack, notes an equipment report dated July 1982. Look for a less specific reference in the centennial history book, when it's delivered. Believe it's cited as mid-1950s Mack wrecker. The shop-built wrecker was placed in service in the mid-1970s.

+ 4 - 3 | § ¶
Morning Reading - March 17, 2013
Good morning, Raleigh. There was quite a bit of green being worn in downtown Raleigh yesterday. Watch this space (well, my photo site) for parade photos, notably featuring a contingent of Capital Area FOOLS. There are also more incident photos in general of late. The days are getting longer, and that's more time for photos. Might even undertake a ride-along or two, one of these weekends. Get back into the full swing of playing Photo Guy.
+ 7 - 2 | § ¶
Company Patches of Atlanta - 1983
This was included in a recent auction win of Atlanta Fire Department history books, the August 1983 issue of The International Fire Chief. The organization's annual convention was held in Atlanta that month. The cover depicts a number of company patches. What do some of the company patches look like, from around North Carolina? Check out this patch gallery on the FireNews.net legacy site. They were compiled a couple years ago. Sort the list by Fire Department. Next question, where else on the web can you view company patches for near or far? (Here in the Capitol City, there are some custom company logos on rigs. Don't believe any cloth patches have been created, however.) Click once or twice to enlarge:


+ 6 - 3 | § ¶
Engine 3 - Circa 1925 or 1926
Here's a recently re-acquired photo from the North Carolina State Archives. You've probably seen this one before. They did a scan of the original copied negative. I've sharpened the image, and corrected some (but not all) of the blotches. This is one of the few photos showing an animal at a Raleigh fire station. Left to right are L. R. Wilkins, Bruce D. Holloway, and Pat Marshman. That's either a 1922 or a 1926 American LaFrance triple combination. They're at Station 3 on East Hargett Street. The call number of the photo from the Albert Barden Collection is N.53.16.3961. Click to enlarge:


+ 5 - 0 | § ¶
Louisburg Fire Department History Book
Retired firefighters Al Peoples and Larry Peoples have written a book about their department's history: The Louisburg Fire Department: A History. The hardcover book has 232 pages and measures 6 x 9 inches. The printer is SGA Publishing in Oxford. The book is primarily text, with a few dozen photos. The content includes both factual and personal histories of the Louisburg Fire Department, which celebrated its 106th anniversary last year.
The first half of the book is a historical timeline that begins with the first factual data as recorded in the town's minutes in 1906. There's also narratives on other subjects, including the town's colored fire company, longtime engineer Joe Perry, the old American LaFrance engine Maude. There's hefty information about the Fire Chiefs, the personnel, the apparatus, and the firefighting families. There's even a full list of references, which is appreciated by historians like myself. The authors have done their homework.
The book was printed with a limited number of copies. The authors have a good supply on hand, but don't dawdle if you want one! The cost is $35.00 shipped and signed. Proceeds benefit Maude, the aforementioned 1921 American LaFrance engine and which was recently reacquired by the department. Contact Al People (alpeoples1@nc.rr.com) or Larry Peoples (lpeoples155@gmail.com) to get yours.


+ 5 - 7 | § ¶
Mystery Air Force Apparatus
Found these two images in my files. They were scanned from a scrapbook at the Morrisville Fire Department approximately ten years. There's no dates nor identifying information in my records. Conversed with military apparatus historian Peter Brock, and here are his observations:
The rig is not a standard issue USAF fire apparatus, it's homemade. It would not have been at RDU, because that is the Army National Guard (ANG) and this is clearly this a USAF rig. It wasn't photographed in Charlotte, either, because ANG bases did not have homemade apparatus at any point in their history. The only other options for North Carolina would be Pope or Seymour Johnson.

The rig looks like a homemade foaming unit, the tanks would hold the concentrate and the pump on the back did all the work. Not sure where the water would come from, perhaps an accompanying F6 or F7, but these units had their own pumps/tanks. It is an interesting rig that I have never seen before, maybe one-of-a kind?
Does anyone recognize the thing? Presumably a local photograph, perhaps a vehicle that was passing through the area, or loaned for particular purposes? Click to enlarge:


+ 4 - 3 | § ¶
Strip Mall Burns in Gaston County
Here's your hot shot of the week, as posted by FireNews.net. Crowder's Mountain FD PIO Chris Stowe provides an incident report, with photos provided by CMFD (below) and Jeff Phelps. The two-alarm structure fire was dispatched at 4:30 a.m. Thursday morning. The location was 4024 Old York Road in Gaston County. The initial departments dispatched were Crowder's Mountain and Union Road.
They were soon joined by Gastonia, Agriculture Center, Ranlo, New Hope, Bethany-Santiago, Clover, and Bethel fire departments. Total of fourteen pieces of apparatus and about sixty-five firefighters. Read the entire incident summary.
Sundry details from this WBTV story: about 80,000 gallons of water were flowed, which flooded two nearby homes. (How common is that? Water damage to nearby buildings from a major fire?) A carpet store and hair salon were located inside the one-story mall. Google for other news coverage.



Crowder's Mountain Fire Department photo
+ 5 - 3 | § ¶
Wilson's Squad 5
Here's what a squad (or at least one of them) looks like in Wilson. This is Squad 5 at the Airport Boulevard fire station, what looks like a dry-chemical slash foam transport unit. Photographer Lee Wilson was poking around town this week. Station 5 is one of a couple equipped with slides, which we've talked about before. He also photographed their old Station 1 on Douglas Street, which he reports is being turned into a fire museum. Google doesn't find any news on that one, do any readers have updates? That's one of the few (if memory serves) classic Central Fire Stations still surviving in our state. (Extra credit if you can list those still standing and without consulting my web site.) See more photos from Lee, including his archive apparatus photos of Wilson rigs. That's right, Wilson on Wilson. A cat so cool they named a town after him.



Lee Wilson photo
+ 4 - 2 | § ¶
How Busy is this Blog?
Here's a year's worth of statistics via Google Analytics. Total visitors 220,689. Total unique visitors 79,851. Total pageviews 414,137. Average pages per visit 1.88. Average visit duration one minute and 28 seconds. For those who are curious. Still not interested in advertising or sponsorship. Readers are free to send copious amount of money, however. Will donate some to the fire museum. Click to enlarge:


+ 3 - 3 | § ¶
Wilmington Firefighters Use Billboards to Campaign For Pay Raises
From a reader, here's an interesting Star News story out of Wilmington, where electronic billboards are displaying messages from the Wilmington Professional Firefighters Association. Three locations will feature the messages for two weeks each. They follow a March 1 letter that the organization sent to the City Council with concerns about pay and benefits. Read the entire story.



Julian March/Star-News photo
+ 4 - 1 | § ¶
Poster For "Burn" - April 10-11, 2013
Here's a downloadable poster for Burn: One Year on the Front Lines of the Battle to Save Detroit, showing in Raleigh on April 10 and 11. See prior posting for event information. And the Deep Purple song of the same name is now playing through my head (RIP Jon Lord). Click to enlarge:


+ 5 - 3 | § ¶
Twin Cities Firefighters Buck Tradition with Euro-Style Helmets
Here's an interesting Firehouse.com story, reprinting a Minneapolis Star Tribune story, about the European-style helmets being used by at least ten fire departments in the Minneapolis-St. Paul metropolitan area. They're finding benefits in better protection, lower profiles for rescue situations, and base comfort from its lighter weight. The downsides? Some users report that they can't hear as well (an obvious trade-off that the hearing protection affords). There's also the back of the neck, which requires protection from a fire-retardant cloth shield. Here's a side-by-side comparison photo:



Bruce Bisping/Star Tribune photo


Here are some photos of the helmets at work, via the Twin Cities Fire Wire web site. (Itself an interesting idea. Maybe someone around here will start a Raleigh-Wake Fire Wire web site, where everyone can submit and share photos and news.) Look for photos from Eagan FD, such as this house fire.
+ 6 - 3 | § ¶
Old Engine Off Hillsborough Street
This former Guilford County engine (Gilbsonville, then Fire District 13) is sitting behind a business at the corner of Hillsborough and Hawthorne streets. That's a 1978 Ford/Pierce pumper or perhaps pumper-tanker. Click to enlarge:


+ 3 - 2 | § ¶
Raleigh Fire Department Apparatus Register Updated
Site update. Raleigh Fire Department Apparatus Register. Added new formatting for dates and numbers. Added a couple dozen additional photo, both past and present. Reviewed and updated assorted entries and formatting.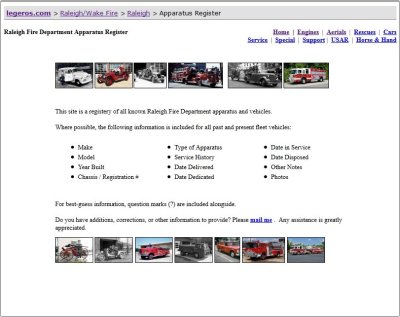 + 3 - 2 | § ¶
Video: Know Your Smoke
Here's your Monday morning educational video, a ten-minute video from the Fire Smoke Coalition from last year, discussing and demonstrating the effects of the "toxic twins," Carbon Monoxide (CO) and Hydrogen Cyanide (HCN). Starting around the 4:30 mark, a member of the Columbia Fire Department talks about their haz-mat team's research. They compiled data from about forty fires and found alarming HCN readings with even pot-on-stove calls, where the fires were extinguished by the homeowner prior to their arrival. They noted readings of 75 ppm in these "very light smoke conditions," which surprised and shocked them. (IDLH for HCN is defined as 50 ppm.) Simply, know your smoke. It can save your life.


+ 4 - 5 | § ¶
Car Versus House in Garner > Working Fire
As reported by WTVD, a car struck a house in the 1300 block of Elkorn Road in Garner just after 4:00 a.m. this morning. The vehicle struck a natural gas line and erupted in flames, which extended into and extensively damaged the structure. The homeowner and two dogs escaped without injury. The driver was presumed still in the vehicle (and thus deceased). Once the fire was extinguished, the car was found empty.


+ 5 - 2 | § ¶
Bunn's New Engine
Another new delivery as photographed by Lee Wilson, a 2013 Rosenbauer Commander pumper-tanker delivered to Bunn Fire Department in Franklin County on Friday. How many of those Rosenbauers have been delivered around here? Believe they're Europe's biggest manufacturer. See more photos. Next question, is Bunn near Bunn Level? We know Bunn's not near Dunn. Is there a Dunn Level? Oh, to be a blogger in Harnett County. Think of the puns, man. Caption after structure fire: Well Done Dunn. Headline for feature story: Day is Dunn. Title after a rekindle: Dunn Come And Gone. (Add "Tramp" Dunn in there and it just goes bonkers.) Yup, slow morning at Blog Central...



Lee Wilson photo
+ 4 - 4 | § ¶
Holy Smoke!
The next time you grouse about "additional duties as required," consider these Vatican firefighters last week installing a chimney onto the roof of the Sistine Chapel. It'll serve as a transmitter for news of the new Pope. Getty News image. See this Italian news story for more details. Google Images has more. Here's a neat info-graphic titled "Inside the Conclave." Regarding the Vatican fire department--Vigili Del Fuoco Stato Citta Del Vaticano--they're part of the Corps of Gendarmerie of Vatican City State. Or so this Wikipedia page informs. Bet they rely on mutual aid, though! Here's a Flickr photo by Kenneth Lu showing some of their trucks. While here's a Flickr photo by Kelly Lenfest showing more of the fleet. Maybe readers can post a run card for the Chapel, ha.

Getty News image
+ 6 - 1 | § ¶
Mystery Fire - Asheville, 1922
Found for sale on eBay, here are two views of a fire at a train station in Asheville on November 14, 1922. Or perhaps a train crash of some sort? Click to enlarge:


+ 4 - 2 | § ¶
This Morning's Structure Fire - New Bern Avenue
Photos from a few hours later. One-story, block construction convenience store and gas station. With 1,928 square-feet, built 1984. Only three sides accessible, building located above below-grade shopping center (Longview). Heavy fire conditions inside, with roof operations for ventilation. Crews withdrawn from roof, and then from inside building. Ladder 4 and Ladder 2 (both, correct?) flowing into building, along with a portable monitor used. New Bern Avenue closed for supply line from opposite side of street. Dispatched about 10:15 a.m. Units on scene included: E7, E3 (first engine on scene, returning from grocery store), E12, E1, L4, L2, SQ15, R1, A1, B2, B5, C20, C420, C401, special call E13 and E11, EMS 7, EMS 1, EMS 2, D1. Where was Camera Boy, you ask? He was staffing the fire museum today and listening on the radio. Click to enlarge:


+ 4 - 1 | § ¶
Tractor Trailer Versus Convenience Store
Location Lucama. Here's the WRAL story. Last week was the vehicle into a business in downtown Durham. Or was that this week? The days do blur together...



WRAL photo
+ 4 - 3 | § ¶
Old Four No More
The demolition has started of old Station 4 on Wake Forest Road. The 1963 structure will be replaced by a mattress firm. Here are a couple prior postings on the topic from October and December. Next question, how many other former fourth stations are still standing in our state? Old Asheville Station 4 (1927), Old Durham Station 4 (1958), Old Winston-Salem Station 4 (1923), Old Gastonia Station 4 (19??), Old Greensboro Station 4 (1905), Old High Point Station 4 (1925), Old Charlotte Station 4 (1925), Old Rocky Mount Station 4 (1955), and Old Raleigh Station 4 (1926).
See more photos. Click to enlarge:


+ 3 - 2 | § ¶
Raleigh Fire Museum Open This Saturday, March 9
The Raleigh Fire Museum is open this Saturday, March 9. That's our regular second-Saturday-of-the-month opening. The hours are 10:00 a.m. to 2:00 p.m. Admission is free. Parking and restrooms available. Hopefully you'll see some new "we're open" signs as well. Your host on Saturday is department historian Mike Legeros, AKA Another Joker with a Blog. Swing by and talk shop! Here's a two-minute tour of the place:



The museum is located in a modular classroom at the Keeter Training Center at 105 Keeter Center Drive. Parking and restrooms are available. Admission is free. Learn more about the museum, and the group that operates it, at www.raleighfiremuseum.org.
Please note that other antique apparatus is stored elsewhere. Both the museum's 1961 American LaFrance pumper and the city's collection of antique fire apparatus is housed at at Fire Station 28 at 3500 Forestville Road. The collection includes a 1905 steamer, a 1926 American LaFrance pumper, a 1950 Mack pumper, and a 1982 Mack pumper. Visitors are welcome.
+ 4 - 2 | § ¶
Apparatus Accident in Guilford County
An Alamance Fire Department firefighter suffered minor injuries today, when what looks a pumper-tanker overturned in the 2300 block of Alamance Church Road. The unit was responding to a call when it overturned. The driver-operator was the only one aboard. His right side tires reportedly ran off the road, notes this News & Record story. He overcorrected and overturned on the left side of the road. The accident occurred about 12:55 p.m. See more photos in this Digitriad story and this MyFox8 story.



Digitriad photo
+ 4 - 5 | § ¶
Chapel Hill Fire Department is Hiring
They're hiring for firefighters in Chapel Hill. Here's the job listing. The position closes by March 29 or earlier. Apply early for priority consideration. Experience not required for entry level positions. Salary starts at $35,283.00. School affiliation not required, though you will be riding on blue rigs. The lights are still red, however.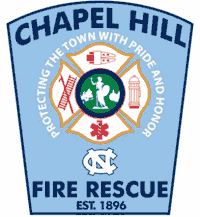 + 4 - 4 | § ¶
Cabin in the Woods - This Morning's Working Fire
Aerial operations on Leesville Road, you say? That's Ladder 3 and Ladder 6 operating early this morning on Leesville Road, south of Strickland Road. They and other Raleigh units were dispatched to a house fire as reported from nearby Treymore Lane. Engine 23 arrived with a fully-involved structure in the woods at the southwest corner of Leesville and Strickland roads. The property at 9605 Old Leesville Road was a two-story (tax records say one-story) single-family dwelling with a partial basement, with 2,078 square-feet and built in 1982. The house, abandoned for four years we later learned, was located in the county. No (apparent) driveway, nor easy vehicle access. Crews schelped their lines over guard rails and around trees.
Defensive operations were utilized, with two ladders along with deluge gun(s), portable monitor(s), and hand lines. Three hydrants were caught, with very long lays including Leesville Road east (!) of Westgate Road. Durham Highway Fire Department was requested as mutual aid, protect exposures on east side of structure from possible extension into woods. Leesville and Strickland roads were closed during operations. Collapse hazards were present as the structured burned. The fire was controlled in, say, an hour. Units on scene included E23, E24, E17, E18, L6, L3, SQ14, R1, B4 (command), B5, C20, C420, DHFD P1, DHFD B6, E16 special called, Mini 2 requested but returned to service, EMS 22, EMS 3, EMS 1, D4, T1. See more photos (though it was dark!) and read a few more details from Mike Legeros.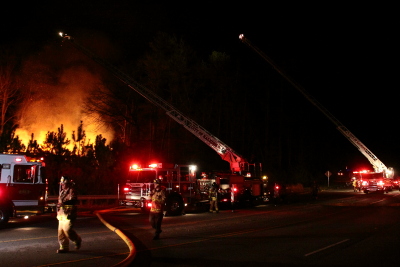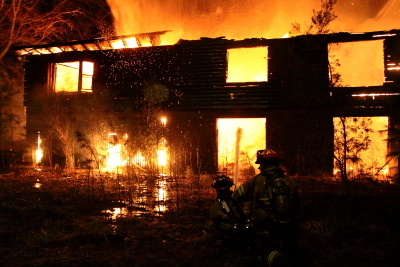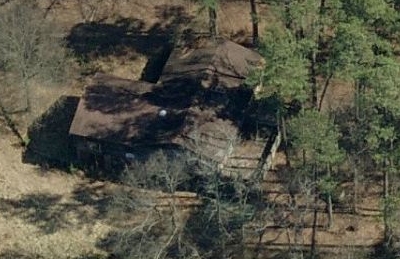 + 4 - 2 | § ¶
Forestry Fire Planes at Work
From a reader, here's four fabulous minutes of forestry fire planes at work. Spanish Air Force in action. Quite compelling, with some nifty camera angles. Love the pedal cam. Thanks Bob!


+ 3 - 2 | § ¶
Morning Reading - March 6, 2013
Good morning Raleigh. Here's a set of stories that each could compel their own blog post and discussion. Don't have time at present, so we'll compile for now. Local to national, fire science to behavioral science. We cover everything on this blog, except the stuff we don't.
+ 5 - 4 | § ¶
UPDATED: Knotts Island Fire Chief Dies in Line of Duty
March 5
Funeral arrangements have been announced, along with a press release from Knotts Island Fire Department about Chief Morrison's passing, and the memorial account that's been created for his family. The family will receive visitors on Saturday evening, March 9. The memorial service will be conducted on Sunday afternoon, March 10. See this FireNews article for more information.
March 3
As reported in this Fire Critic posting, Knotts Island Fire Chief Scott Morrison died today. He was responding to fighting a brush in the 500 block of Knotts Island Road when he suffered an apparent heart attack.The fire was reported at 3:18 p.m. Chief Morrison. 44, collapsed into respiratory and cardiac arrest while helping to extinguish the blaze. He was treated on scene and while being transported to a hospital. He was pronounced dead at approximately 5:30 p.m. He's survived by a wife and two children.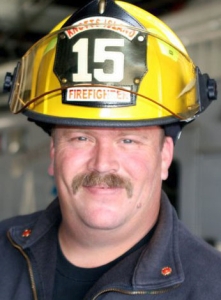 + 7 - 4 | § ¶
American LaFrance Apparatus Shipment, March 1961
One American LaFrance 4-100-L four-wheel, 100-foot aerial ladder truck, shipped to the City of Raleigh on March 16, 1961. Back in the day when apparatus was delivered by rail car. Here's the letter from the company to the city. Click once or twice to enlarge:


+ 5 - 1 | § ¶
This Morning's Commercial Structure Fire on Old Poole Road
WTVD has posted a couple photos of this morning's commercial structure fire on Old Poole Road. The abandoned one-story structure at 4720 Old Poole Road was reported ablaze about 4:15 p.m. a.m. Eastern Wake, New Hope, and Raleigh units (among others) were on scene. Included Ladder 8, probably special called. Fire was controlled in about an hour. Road was closed for a few hours, and reopened around 6:45 p.m. a.m. See also short WRAL story.



WTVD photos
+ 7 - 3 | § ¶
Sky-5 in Action - Video From 1982
From a reader, here's a nifty fifteen-minute short feature about WRAL's news helicopter Sky 5. Of particular interest are the first few minutes, which include footage of the Watson's fire on April 30, 1982. As this prior blog posting noted, that was the first of four major fires at the Rock Quarry Road location between 1982 and 1992. Good stuff and a good reminder to contact the station and their archivist. There's probably quite a bit of great old footage waiting to be shared. Thanks Brian!


+ 3 - 5 | § ¶
Vehicles and Apparatus Sold at City Auction - Mid 1990s
Found in some Services records. Recorded here for future purposes.
Car 198 - Investigator vehicle - 1983 Ford Crown Victoria, former police unit 322. Was to be sold at city auction in the late summer/early fall of 1994.
Car 197 - Secondary investigator vehicle? - 1986 Crown Vic, former police unit 457. Ditto.
Car 1 - 1986 Crown Vic. Ditto.
Car 4 - 1984 Chevy Impala. Ditto.
Car 12 - Data Management Officer/Safety Officer (correct?) - 1985 Crown Vic. Ditto.
Old Truck 5/16/8 - 1961 Amerian LaFrance 100-foot mid-mount. To be sold at city auction in October 1995.
Old Engine 5/10 - 1973 Mack CF pumper. Serial number #1594. To be sold at city auction on September 20, 1997.
Old Engine ?/7 - 1971 Mack CF pumper. Serial number #1255. Ditto.
Old Engine 15/13/14 - 1970 Mack CF pumper. Serial number #1168. Ditto.
+ 7 - 8 | § ¶
New Rescue Pumper For Archer Lodge
Lee Wilson photographed last week Archer Lodge's new rescue pumper, delivered on Thursday. This one's an interesting truck, a 2013 Ferrara Inferno MVP. The pump panel's located in an compartment. There are number of rescue body features: electric awning, oil dry hopper, ladder to roof compartments. Plus light tower, cascade system, and more. It's equipped with a 1500 GPM pump, a 750 gallon water tank, and a 30 gallon foam cell. To be placed in service as Engine 1. Better living through rescue pumpers. See more photos and read the specs.



Lee Wilson photos
+ 6 - 5 | § ¶
Class A versus "Classy"
The unusual tropical creature on the right (photographer eccentricus) was recently spotted in Zebulon. Displaying unusually bright plumage, the camera-wielding character was photographed by renowned nature photographer Lee Wilson. (He also sometimes takes pictures of trains.) The creature's bright colors (which double as a safety vest in traffic!) were sighted at the town's community center on Wednesday night, where retiring Zebulon Fire Chief Sidney Perry was honored. (Now there's a dedication to service, with 44+ years as a ZFD member, and Fire Chief since 1980!) His son and Asst. Chief Chris Perry took charge of the department on March 1. Congratulations both. See more photos (and watch for still more photos from Mike Legeros, later).


+ 4 - 4 | § ¶
"Burn" Coming to Raleigh on April 10-11, 2013 < CORRECTED
The documentary feature film Burn: One Year on the Front Lines of the Battle to Save Detroit is coming to Raleigh. It's screening at the Six Forks Cinema in Raleigh on April 10 and 11. Buy tickets online, and see a list of all coming screening locations. The running time is 86 minutes. Got my tickets, get yours! Here's a review of the film from Variety. Here's the official theatrical trailer:




And a longer, earlier feature: