+ 9 - 4 | § ¶
Mystery Shovelers
Takes about three seconds to identify these guys. Hint, it's a Raleigh fire station. Second hint, it's a station in proximity to the photographer. Stay warm and drive safe today. Click to enlarge:


+ 12 - 5 | § ¶
Wake County EMS - Old Station 2
Here's your trivia for today. Wake County EMS 2 was originally stationed at 401 E. Whitaker Mill Road, in a rear section of the Wake County Human Services Community Services Center. At least, that's what the building's called today. Back then, it was the Wake County Public Health Center, no? And even farther back, it was the Wake County Group Home. For aged and infirm individuals.
The EMS quarters were on the second floor, and accessed through an outside stairwell. As the story goes, paramedics were quick to slip on those stairs on colder and moister days. During those early years, Wake County EMS had five ambulances, EMS 1, EMS 4, EMS 5 at Station 1 at Martin and McDowell streets, EMS 2 at Station 2, subsequently built around the corner on Noble Road, and EMS 3 at Station 3, which was the Six Forks Fire Department building on Six Forks Road.
Second ambulances were added at Station 2 (EMS 6) and then Station 3 (EMS 7). Then fourth and fifth stations were built, and those units adopted the numbers EMS 4 and EMS 5. Then a sixth station opened at the airport, first in an old house and later at a new facility. That unit was numbered EMS 6. That left the downtown units now numbered EMS 1, EMS 7, and EMS 8. Or at least, that's the history that's been told to me. Readers, please correct as needed! Here's a picture of those icy stairs outside old EMS Station 2:


+ 21 - 4 | § ¶
Winter Scenes
The aformentioned Shavenrock Place with Durham Highway Pumper 1 arriving at a two-story wood-frame dwelling, with a working fire in the garage, followed by Engine 23, 18, 24, 4, Ladder 6, Rescue 3, Battalion 4, Car 10, Car 20, Air 1, EMS 121, 122, and District 4. Click to enlarge. Posting later.


+ 14 - 10 | § ¶
Ready, Set, Snow
The snow is falling, the calls are coming, and let's all drive as safe as possible. Engine 23 was ready with chains earlier this evening, as shown below. They've already been to a working house fire on 11705 Shavenrock Place. Durham Highway Pumper 1 first on scene with fire in a garage. Engine 27 has just arrived at 1140 Blackbeard Lane. Fully involved mobile home, with New Hope also responding. Might be a busy night.


+ 15 - 10 | § ¶
The Mangel Fire, 1981 - The Rescue, The Photo
For your Friday enjoyment, here's the first in a number of memories and stories about the Mangel Building fire of a couple decades ago...
Firefighter clinging to a bucket at a fire scene in Raleigh, North Carolina. That's the famous photo taken at the Mangel Building fire on July 7, 1981. The blaze was one of the biggest in downtown Raleigh in decades. The photograph became one of the most popular action photo of the Raleigh Fire Department.
Raleigh Times photographer Seny Norasingh captured the dramatic image of R. D. Perry clinging to the bucket of Truck 1. As the story goes, the the platform was raised when flames exploded from the roof. Perry instinctively jumped, but was grabbed by T. J. Lester before he could fall. As the tower was rotated and then lowered, recounted the newspaper, the unmanned master stream sprayed in an arc and sent spectators on the mall scrambling for shelter. Click to enlarge:


Seny Norasingh/Raleigh Times Photo
Norasingh's photo was transmitted on national news wires, and the picture appeared in newspapers nationwide. The city subsequently received notes from other fire departments that saw the image. The photograph became very well-known within the fire department, though the details of the rescue have been less well-preserved.
Some tell the story as heavy smoke sending Perry out of the bucket, while others say fire. The truth is a combination of both. Let's turn our clocks back to that Tuesday morning. The time is probably around noon, or a bit before. Truck 1 is operating a 1977 Mack/Baker Aerialscope, and is positioned in the parking lot beside the Mangel Building. There's a crack developing in the building's facade, on the side facing the Fayetteville Street pedestrian mall. Truck 1 will be moved to Salisbury Street, as the collapse danger increases.
READ MORE
+ 15 - 5 | § ¶
Sunday's Major Fire in Catawba County
FireNews has posted photos of Sunday's major fire in Catawba County at a chemical company near Hickory. The pictures are from Brandon Greeson for the Catawba Valley Citizen, and includes a gallery of additional shots. More than 15 area fire departments-- Longview, Hickory, Icard, Lovelady, and Mountain View-- responded to the 26,000 square-foot commercial structure. Nearby residents reported an explosion about 8:00 p.m. Arriving units learned that the facility housed ethanol, methanol, and other extremely flammable chemicals. They kept the fire from spreading to that section of the building. Haz-mat crews were also called to the scene, to coordinate and supervise the clean-up. Read the entire article.



Brandon Greeson/Catawba Valley Citizen photo
+ 11 - 7 | § ¶
This Evening's Fire / Tredwood Drive
'Twas training night at Bay Leaf when a house fire was dispatched at 10600 Tredwood Drive. Arriving units found fire along the roof line of a two-story, brick-and-frame dwelling with 3,409 square-feet. Built 1996. Fire in the attic space. Extended roof ventilation work, and steep-pitched at that! Ladder 25 positioned and extended to a few feet from the structure. It's just outside the frame of the below picture. Mutual aid companies were requested for manpower. The fire was reported controlled about 90 minutes later. Units on scene included Bay Leaf E361, E366, E258, E252, L25, Air 12; Durham Highway P1; Falls E217; and Stony Hill E262, T26; EMS 123, EMS 122, EMS 121, EMS16, EMS 5, D4, T1. 'Twas a dark but fairly warm night. Pictures later. Click to enlarge:


+ 11 - 6 | § ¶
Zebulon's Ladder Getting Refurbished
Where's Zebulon's ladder truck these days, you ask? It's being refurbished by KME, and has been at the factory since November. The project cost approximately $260,000, exclusively town funded. KME was awarded the job because they operate the Grumman plant where the truck was originally constructed.
Ladder 95 is a 1987 Grumman Aerial Cat, 102-foot platform with a 1,500 GPM pump. It was the first aerial apparatus in the county1, and was bought after Glaxo pharmaceuticals built a plant in town.

The majority of the refurbishments are mechanical or safety-related. Below is the expected work list, though that could change as major unexpected costs could result in removed items. Note also that cab work is minor. Wendell is currently providing aerial coverage to the town. The apparatus is expected back in April or May.
Ladder
Remove ladder, turntable, console, valve bank.
Disassemble ladder, sandblast, inspect, paint and reassemble. Includes new wires, cables and hoses in ladder sections.
UL recertification, and proof load test.
Replace current hydraulic hoses, clean and re-seal reservoir, new hydraulic oil.
Rebuild aerial lift cylinders.
Rebuild slave cylinders.
Replace basket leveling cylinders.
Remove outriggers and cylinders, sand blast, inspect and paint.
Rebuild down jack cylinders and/or extension cylinders.
Rebuild ladder extension cylinders.
Install remote controlled nozzle (from lower stations) on platform. Current nozzle is manual.
Install IQAN outrigger and ladder control system (auto leveling, etc.).
Add rubber grip to all handles.
New platform heat shields.
New ladder intercom with radio interface.
Spot/Flood light upgrade.
New style swing motor (controlling left to right movement, more precise).
Additional access steps on rear.
Chassis
Redo/rework braking system.
New "high-efficiency" radiator.
Complete engine service.
Replace west-coast side view mirrors with newer style with better coverage.
Install rear vision camera.
LED lighting package (warning and DOT).
New tires/wheels.
Three-point seat belt installation (replacing current lap belts).
Repaint, re-stripe, re-letter.
Pump
New seals.
Gear box overhaul.
Recertification.
New gauges.
Replace steel tank with poly tank.
1Who else had early ladders? Cary in 1988, Knightdale in 1992 (but soon sold), Holly Springs in 1997 (converted 55-foot utility company bucket truck!), Wendell in 1999 (Raleigh's old tiller). Who's been left out?
+ 11 - 21 | § ¶
Lightner Public Safety Center Update
For the last couple weeks, the Raleigh City Council has been discussing their plans to move forward on the Clarence E. Lightner Public Safety Center project, the proposed 17-story combination fire, police, emergency communications, traffic operations, and information technology headquarters that'll replace the police station building on the northwest corner of Hargett and McDowell streets.
Yesterday, three local conservative groups expressed their opinions in a press conference. They've taken issue with the cost, which they say is twice as much as it should be. They're also concerned about the above-ground plans for the communication center. That increases its vulnerability, they say. (Wonder what percentage of the country's comm centers are above- versus below-ground? And how's the "bad guy" threat these days?)
They also want the project put to citywide referendum. The thinking on the latter goes something like this: because the project will cause increased taxes in coming years, the citizens of the city instead of the council should make that decision. Or, more accurately, that the council doesn't have the power to push significant debt on taxpayers without their approval. Previously, most recently, attention on the project concerned the budget for public art.
What happens next? The City Council will resume discussions on the project next week at their February 2 meeting.
Sources: News & Observer, Raleigh News Release, WRAL
+ 20 - 12 | § ¶
Hillsborough Street
From this afternoon's structure fire at 3011 Hillsborough Street with Engines 5, 8, 13, 1, Ladder 4, Rescue 3, Battalions 3, 4, Cars 10, 21, Air 1, EMS 51, 4, and District 2. Two-story, wood-frame restaurant. Former dwelling, built in 1920! Fire in upstairs bathroom fixture. Quickly extinguished. Dispatched about 5:00 p.m. Hillsborough Street closed during duration. Photos from Legeros forthcoming. Click to enlarge:


+ 15 - 10 | § ¶
Captain Brockwell, 1914
In 1914, the state's first Fire Marshal was appointed1. Raleigh Fire Chief Sherwood Brockwell accepted the appointment, which was announced in North Carolina Department of Insurance News Bulletin No. 26. Why is he called Captain Brockwell? Don't know. Perhaps it's a courtesy title of the time? Here's what was said:
Captain Brockwell

The Insurance Commissioner has put info force his idea of employing a competent and experienced fireman to be used in aiding cities and towns in stopping the fire waste. He has been fortunate in securing the services of Captain Sherwood Brockwell, formerly of the Raleigh Fire Department, for this work.

Captain Brockwell graduated at the A. and M. College as a mechanical engineer, is a natural born mechanic, has been all his life working with the Raleigh Fire Department, and prior to taking charge as chief of the paid Raleigh department, spent three months at the Firemen's School in New York.

Captain Brockwell is well qualified by experience and training as well as education for this work, and Commissioner Young considers himself fortunate in getting his services.

The Commissioners says that Captain Brockwell will always be available for the authorities of the different cities and towns in the state to advise with them as to what fire apparatus they need, at what price it should be purchased, and how to get the most of it in the way of efficiency. Captain Brockwell will also extend every aid to the firemen of the state in showing them how to best conduct the inspection for the purpose of preventing fires as well as in handling fire apparatus and otherwise fighting fires to the best advantage.

Captain Brockwell will be a paid employee of the Insurance Department, with the authority of a Deputy Commissioner or Fire Marshal, and will not be at any cost to the cities and towns unless they desire him to spend from three to ten days in their city inspecting, advising with and training their firemen, when the cost to the city or town will only be the railroad fare and hotel expense while in the city.

Commissioner Young says that he was gratified at the action of the state firemen's convention in Winston, which not only endorsed this work, but pledged their best aid to Captain Brockwell and also urged the cities and towns in the state to avail themselves of the opportunity thus afforded of improving and perfecting the work not only of putting out fires when started, but their prevention.
1First fire marshal in the state, right? That's what all the history books say, but Mr. Blogger believes he's seen earlier references to state fire marshals. Nothing to cite, just yet. Maybe with later research. Or maybe he's just misremembering.
+ 9 - 11 | § ¶
Burlington Apparatus Headed South of the Border
Found on firehouse.com, here's an appealing story out of Burlington, where one of their older ladder trucks was bought at auction by a local charity, and is being donated to a fire department in Mexico. The giver is the Burlington/Alamance chapter of Sister Cities International. The receiver is the city of Soledad de Graciano Sanchez. The two have been sister cities since 2004.
The Times-News article also compares the departments, noting Burlington serves 50,000 people with 81 firefighters and five stations, while Soledad serves 1.5 million (!) people with 98 firefighters and seven stations. The latter department, the article adds, does not respond to medical calls or conduct inspections. They handle fire calls only, and respond to structures where the construction material of choice is cement.
Read the entire article, which includes some colorful comments and opinions from readers on the donation.
+ 12 - 11 | § ¶
Haitian Patients Arrive at Airport
Speaking of Wake County EMS, they assisted this morning with the transfer of four Haitian burn patients. They arrived at Raleigh-Durham International Aiport at 9:15 a.m., and were transferred to waiting ambulances. Three were taken to the Jaycee Burn Center at UNC Hospitals, and the fourth went to Wake Forest Baptist Burn Center. The patients had burns ranging from 10 to 35 percent of their bodies, with injuries sustained from fires and chemical accidents. Read the WRAL story.


Keith Baker / WRAL photo
+ 10 - 6 | § ¶
Washing Away Snow
With wintry weather possible this weekend, here's a fitting photo of veteran Wake County 'medic Fred Loy washing away snow at old EMS Station 1. The undated photo, which appeared in the paper, is passed along by his son Travis. Who's who also pictured? Click to enlarge:


+ 12 - 5 | § ¶
Vehicle Versus EMS Station, 1987
The brown building on the southwest corner of McDowell and Martin streets? That's the original EMS Station 1, addressed 201 W. Martin Street and presently housing a limo company. For our younger readers, that's back when the ambulances were green and white. On the afternoon of Tuesday, May 26, a young lady driving north on McDowell Street apparently lost control of her 1980 Chevrolet. She smacked into the EMS station, and was injured.
The next day's Raleigh Times article did not specify the nature of her injuries. It is presumed, however, that she probably received immediate medical attention. The structure was built in 1925 and tax records show Firestone Tire & Rubber Company as the owner from 1938 through at least 1944. The county purchased the building in 1975, and it served as an EMS station until the Public Safety Center opened in 1991. As the old building sits precariously close to the roadway, such accidents probably happened more than once. Old-timers, please share stories accordingly. Happy Tuesday.

+ 8 - 3 | § ¶
Weather Stories This Morning?
What happened overnight as that blustery storm system moved through our state? At 10:05 p.m., Raleigh had a working fire at 1110 Summerkings Court. Engine 7 arriving at a one-story wood-frame duplex with heavy fire showing from the rear of the structure. Was wind a factor by that time? Investigators determined the cause as arson. In the wee hours, Mr. Blogger leaped or perhaps leapt out of bed as his weather radio toned out. Flash flood warning, not a station buzzer as his dream state suggested. Morning news talks about flooding on Hillsborough Street overnight, and a mudslide (!) on Wake Forest Road south of Hodges Street. Well, at least, sliding mud that's blocked a lane of traffic. What else happened around here, or around the state?
+ 7 - 8 | § ¶
Greensboro Fire Department Monument Unveiling, 1924
On June 8, 1924, the Greensboro Fire Department unveiled a monument to their fallen members, in a ceremony at Green Hill Cemetery, at 901 Wharton Street. Below is a scan of the program. Same is presumably is still standing. How many other monuments to firefighters have been erected in our state? In Raleigh, the North Carolina Fallen Firefighters Memorial sits across the street from Station 1 at Nash Square. What are others? Click once or twice to enlarge:


+ 13 - 12 | § ¶
Last Night's House Fire / Fox Bluff Court
Engine 22 arriving at 7305 Fox Bluff Court with heavy fire showing from a two-story dwelling. Built 1998, with 2,272 square-feet. Reported by Rescue 1 en route as heavy column of smoke. They arrived ahead of the engine. Interior crews called out after several minutes, and defensive operations started including with Ladder 5 (correct?). Extra engine and ladder special called. Additional Battalion Chief also on scene. Dispatched 6:02 p.m. Controlled 6:45 p.m. Two people displaced, no injuries. Cause reported as accidental, from candle too close to combustible items. Units on scene included E22, E28, E15, E27, E11, L11, L2, R1, B1, B2, C10, C20, A1, EMS 16, EMS 5, D3, T1. "C" shift working. WRAL posted this photo last night:


WRAL photo
+ 8 - 7 | § ¶
Marking Ground Ladders
Carrying ground ladders is easy, as long as you balance the thing. But different ladders have different balance points, as this VentEnterSearch.com article demonstrates. One solution to help everyone with the task is marking each ladder in its center. Below are a couple pics of Raleigh's Ladder 1-C adding just such markings. They also added reflective tape to the tips, to help locate for emergency egress. Check out the comparison pics. Truckies, what other tips and tricks can you relate along these lines?


+ 14 - 2 | § ¶
Mystery Apparatus
Saturday evening, still a bit warm outside. Will the temps drop dangerously and leave bridges iced in the morning? Only the weatherman knows.


+ 17 - 9 | § ¶
Task Force on Falls Lake
That's Task Force 8 on the water at Falls Lake, where they've been conducting water rescue training for the last few days. The NC USAR team is comprised of members of Raleigh, Durham, Cary, and Chapel Hill fire departments. Each has an identical 2007 Ford F-550 Super Duty swift water rescue truck and boat trailer. Raleigh houses theirs at Station 25 and the unit is numbered USAR 801. The team's logistic unit, a 2008 Chevy/Isuzu box truck, was also present, and was used to transport Base of Operations equipment. Learn more about Task Force 8. Photos from Legeros coming later. Click to enlarge:


+ 12 - 11 | § ¶
Wake Forest Patch History?
Does anyone know the chronological history of the patches of the Wake Forest Fire Department? A reader inquires, and Mr. Blogger aims to educate. Post your response, or shoot me a private message. Click to see each of the department's patches, past and present:


+ 12 - 10 | § ¶
Fires at Watson's
For your weekend enjoyment, let's travel back to the early Eighties, and the first of four fires at the future Watson's Flea Market, at 1436 Rock Quarry Road. The first major fire occurred on April 30, 1982, at a 4,400 square-foot feather processing plant. Bales of feathers were burning, and the smoke could be seen for 30 miles. And they stank. The second major fire on March 3, 1984, destroyed the center section of a 70,000 square-foot former seafood and poultry plant. The building was largely vacant. Crews returned to the scene for days.
The third major fire occurred on March 28, 1987 (below), in a 12,000 square-foot warehouse housing five businesses. That day, some 2,000 people were working and shopping there. Crews were on scene all day. The fourth major fire was on February 12, 1994. Two alarms in the former cold storage building attached to the rear of the main office and restaurant. The details of these four fires are presented in a PDF-format chart
. Please provide additions and corrections as desired. This is a living history, and input is as important as research.


News & Observer photo
+ 7 - 13 | § ¶
Guilford College Fire Stations
For your Friday enjoyment, here are four photos of three Guilford College Fire Department stations from back in the day. They're from Guilford County Annual Reports from 1958 and 1971, and the November-December issue of Hose & Nozzle. GCFD was the first rural department in Guilford County, and one of the first in the state. The first station at Guilford College Road and Savoy Lane operated from 1949 to 1970, and was relocated to the three-bay building below at 201 College Road. Their second station operated on Inman Road from the 1950s to the 1980s. Need better dates on these. Readers please share your knowledge. Or, read a bit of GCFD history. Click to enlarge:


+ 5 - 12 | § ¶
This Week Magazine / Barbecue in Blue Jeans
Volume 31, Issue 4 of This Week Magazine, a weekly rag published in Carteret County, contains a couple photos of the New Bern Fireman's Museum from Yours Truly. Such as the steam engine shown below. They're serving as stock photos for an article about the museum's annual fundraiser on Friday, January 22, at the Riverfront Convention Center. Called Barbecue in Blue Jeans, doors open at 6:00 p.m. Eatin' starts at 7:00 p.m. Tickets are $25 per person. Go whole hog and attend.


+ 4 - 10 | § ¶
Wake County Fire Commission Meeting Highlights, January 21
The big news from tonight's Wake County Fire Commission meeting was their vote to suspend the fire station closure process. Recall that Western Wake, Wake-New Hope, Bay Leaf, and Falls fire stations were undergoing evaluation, to see if contracted city protection would provide equal or cheaper cost, but at the same or higher level of service.
Tonight, the county fire marshal reported that the city's cost for contracted protection of those station areas was higher than the county's cost. Specific numbers were not provided, and in fact no action was requested from the group by the fire marshal. After extensive discussion and based on the verbal information about the numbers, the commission approved a two-part motion. First, suspend the closure process. Second, begin evaluating county fire resources-- stations, staffing, apparatus, etc.-- on a county-wide basis.
Points made and issues raised during the above discussion included the length of time that the closure process had been taking (nearly six years), the two earlier studies made that suggested station closures in 1993 and 2004, the need for possible improvements and added resources to the four aforementioned stations, and the city's limitations with regard to protecting areas without hydrants. The Falls/Wake Forest merger was also mentioned, and a status requested. That initiative is on hold, or was on hold until the station closure process concluded.
READ MORE
+ 9 - 13 | § ¶
Tiller For Sale
Raleigh's old tiller is for sale on eBay. That's Ladder 4, better known as the longtime Ladder 1, the 2004 Pierce Arrow XT tractor-drawn aerial ladder that overturned on July 10, 2009. The apparatus was totaled, and a replacement has been ordered. Then what happened to the truck? As this eBay auction demonstrates, the apparatus ended up at a salvage shop in Minnesota. Asking price is $58,000.
Apparatus accidents are one of the less-glamorous aspects of emergency services. Engines, ladders, ambulances, chief cars, etc. They're all involved in accidents from time to time. Most are minor, and often very minor. But big ones happen, and can happen with tragic results to the parties involved. Fatalities. Injuries. Emotional impact. Career impact. Not to mention macro-impact on a department or municipality affected by the financial consequences.
Then there are the vehicles themselves. They're often repaired, and occasionally rebuilt. We have a number of local rigs, past and present, that were rebuilt after more serious accidents. If the truck isn't repaired or rebuilt, it lands in the hands of a salvage company or scrap dealer. Who buys a wrecked tiller? Someone who wants the parts, perhaps? Truck folks, please relate how such rigs are recycled.
Thinking outside the box, could the old tiller serve as an educational aid. Might, say, a firefighter safety foundation buy the thing to help promote apparatus safety? That would be a pricey piece of show and tell, especially with the extensive photo documentation that's available. But farther-fetched things have happened.


+ 9 - 5 | § ¶
Time on the Computer, Choosing a Password
Two interesting New York Times articles for your consideration. First, a report on a study that shows the average young person in America is spending every waking moment outside of school using a smart phone, computer, television, or other electronic device. Makes sense to Mr. Blogger, an average older person in America, and who obviously spends more time online that he should. Doesn't help that he's a desk jockey by day. And let's not talk about time spent using digital cameras! Read that article.
Second, a story on passwords. According to a new study, one in five users of web sites choose passwords that are easy to hack. Such as "abc123," "iloveyou," or even, gasp, "password." The article includes a list of the most popular ones on the site RockYou. My favorites: "qwerty," "111111," and "0". Guess we're all less smart in some way or other. That's the human condition. Everyone rides their own short bus. Read that article.
+ 10 - 13 | § ¶
Selma Gets Grant For Apparatus
FireNews reports that the town of Selma has been awarded a grant by the U.S. Department of Agriculture for $100,000, and which will help buy a $370,000 pumper-tanker to replace an older rig. The town expects to raise another $60,000 through sale of the 11-year-old apparatus, and then take out a $210,000 loan from USDA to cover the remaining balance. The pumper-tanker will have a 1,500 GPM pump, 1,000-gallon tank, and a foam system. Good to hear that the Patron Saint of Grant Awards was watching over our friends in Johnston County. Read the entire article.
+ 13 - 6 | § ¶
Kerr Lake Telesqurt
A couple years ago we blogged about the newly forming Kerr Lake Fire Department. The department received its OSFM certification in early 2009, and had an open house in August. This morning, Mr. Blogger noticed the below photo on FireNews, snapped by John Franks at a warehouse fire in Vance County in November. Look familiar? Look like the Cherry Point Telesqurt we blogged about last month? Google finds a Henderson Daily Dispatch article from three months ago that tells more. That's a 1987 Pierce Arrow 55-foot telesqurt given to them by the federal goverment, along with a 3,000 gallon tanker and an equipment truck. Odds favor a former Marine Corps fire apparatus, what do you think?



John Franks/FireNews photo
+ 8 - 8 | § ¶
Atlantic Beach Hotel Fire, 1955
On the morning of March 31, 1955, about 6:00 a.m., a fire started on the Atlantic Beach boardwalk. Probably in a hamburger stand, where workers had a laid a new floor the night before. Flames spread to an adjacent bathhouse, through two concession stands, and then to the Ocean King Hotel.
The three-story structure was a filled with guests. This was a year-round establishment. Bellhop James Jones discovered the fire, and promptly called the fire department. That is, the Morehead City Fire Department. The beach town didn't have their own. Mr. Jones then helped some 35 guests to safety, as people dressed and gathered their belongings. Everyone exited orderly and safely as the wind-fed flames spread to the second story.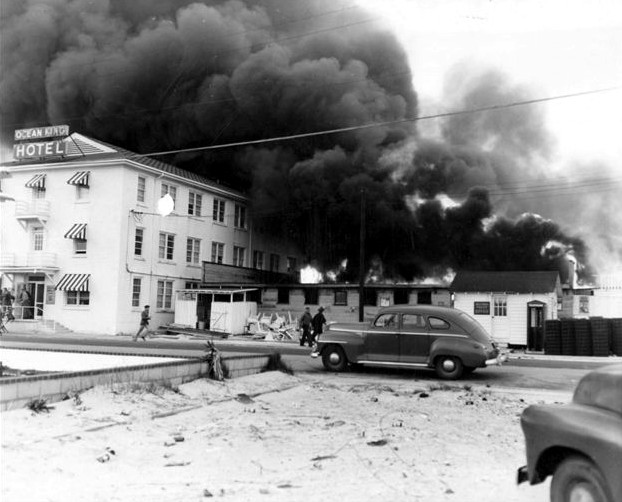 Five towns responded with fire equipment, including Morehead City, Beaufort, Newport, and New Bern. The latter was located 40 miles away! The Coast Guard station at Fort Macon, just down the road, sent their trucks. So did the fire department at Cherry Point Marine Air Station, some 18 miles away. The Havelock Fire Department hadn't been organized yet.
READ MORE
+ 8 - 10 | § ¶
Goldsboro Rescue Squad, 1955
From the August 1955 issue of Hose & Nozzle, here's Goldsboro's rescue squad. Same was donated to the city by the Lions Club in 1953, with equipment donated by several civic and fraternal groups, businesses, and individuals. The entire "rescue car" and gear was valued at $6,500. The volunteer squad was organized in September 1953, with all members holding "standard first-aid cards" as all firefighters did. The officers of the squad, along with ten members, also held instructors certificates in first aid. Didn't the rescue squad subsequent split from the fire department, and operate independently? What's their history? Click to enlarge:


+ 14 - 13 | § ¶
Finding Addresses of Old
Fire reports from the 1920s and later. Many but not all have addresses. Some simply include business names. Motor Service Company. Raleigh Roofing Service. Grand Theatre. Etcetera. And some of the business names aren't entirely legible. How does one find those address and enhance their data? The time-intensive solution is going straight to the incident account. The newspaper report, or the arriving company log book. But there's a faster solution.
City directories. They're on the shelves at Olivia Raney Local History Library, and bound in protective covers. The contents are original, though, so you have to be gentle when reading them. These directories are like modern phone books, with alphabetical listings and then business listings. They also have street listings, showing the building number and occupant for every street in the city. That list includes the cross street, which can help when tracking down locations. Ditto for illegible street names, such as what looks like Cammister Street, but that's really Canister Street. That ran south from Cannon Street. Neither exists today.
In the above examples, simply turn to the alphabetical listings and look for, say, Motor Service Company, which had a major fire on January 25, 1925. The city directory from that year lists their address as 115-117 S. Salisbury Street. They also had a major fire in 1936, and the fire report again lists only the business name. So the same address applies? Negative. Check the city directory for 1936, or perhaps 1935, and confirm. The business may have moved after the last fire!
+ 13 - 11 | § ¶
Hook and Ladder From Texas
Reader Russell Rigouard photographed this classic piece of fire apparatus at the Institute of Texas Cultures while visiting San Antonio. It saw service with the Comfort Fire Department in Comfort, TX. Observe the hand pump that's mounted at the front of the rig, which is something this historian's never seen before. Said the information posted with the exhibit, the ladder truck was hand-pulled to the scene. The department also had a horse-drawn tanker that supplied the buckets and hand pumps. Very cool. Thanks Russell! Click to enlarge:


+ 10 - 14 | § ¶
Architect Chosen For Cary Station 8
What's happening with Cary's eighth fire station, to be located at 408 Mills Park Drive, on the northwest edge of town near the Chatham County line? As this Operations Committee report from January 7 indicates, the architectural firm has been chosen and awarded. ADW Architects of Charlotte. Neat portfolio on their site showing stations they've designed in Charlotte, Concord, and other cities. Just over $4M has been budgeted for the project, with funds for operating and maintenance needs part of the FY2012 operating budget process. You can Google and find a couple other docs related to the project.
+ 16 - 12 | § ¶
Wake County Fire Commission Meeting, Thursday, January 21 (Updated)
The Wake County Fire Commission holds its next meeting on Thursday, January 21, 2010, at 7:00 p.m. Same location as always, the Wake County EMS training facility in the lower level of the Wake County Commons Building at 4011 Carya Drive. We'll post an agenda as it is made available ahead of time. And here it is!
Call meeting to order

Invocation
Roll of Members Present
Approval of Agenda

Minutes

Adoption of Minutes for November 19th, 2009, Regular Meeting

Regular Agenda

Presentation – 200 Club of Wake County
Incident Management Team Concept
Facility Committee
Update on Fire Station Closure Project
Feedback on Eastern Wake Insurance Funding

Information Agenda

Revised Fire Protection Agreement
Budget Committee

Budget Calendar
Issues for FY 11 Budget

Fire Tax Financial Report
Chair Report
Fire/Rescue Services Director Report

Other Business
Public Comments

30 minutes maximum time allotted, Maximum 3 minutes per person

Adjournment - Next Meeting March 18th, 2010.
+ 6 - 5 | § ¶
Wake County Firefighter's Association Quarterly Supper and Meeting, Tuesday, Feb. 9
The next Wake County Firefighter's Association Quarterly Supper / Meeting will be held at 6:30 p.m. on Tuesday, February 9, at Bay Leaf Station 1 at 11713 Six Forks Road. That's a B shift day. The remaining 2010 meeting locations have also been posted to the WCFA web site. The meeting agenda will be posted later as made available.
+ 17 - 2 | § ¶
What You Didn't See
Notes about night photography. First, everything is blurry. But a very still camera and lotsa light helps that. But even when there's good light, the people are usually a blur. Everyone's moving on a fireground, right? Exceptions include the command post, crews awaiting assignments, and so on. That's why there are always a couple good shots of a chief. 'Cause they're standing still. No jokes, please.
On Glenwood Avenue last night, we, meaning me, snapped some 300 photos. Maybe ten percent were usable. Most of those bombed due to blur. And not artsy blur, but bad blur. Some were simply too dark. Some were poorly composed. That is, they look lousy.
How to get better? Camera upgrading could help, with newer camera bodies with higher sensitivities to low light. Adding a flash is another idea, though all that reflective tape starts showing up.
Maybe Mikey needs his own lighting? Some head or helmet-mounted solution, a la Bill Murray in Caddyshack? Or am I thinking of Dan Aykroyd in that lesser-known but equally funny early 1980s comedy Neighbors? Freeze gopher!


+ 9 - 6 | § ¶
Up on the Roof
Reported structure fire early this evening at 6129 Glenwood Avenue. Engine 17 arriving with smoke showing from the chimney at Golden Corral. Ladder 3 with roof access. Lots of people watching as crews investigated inside, and worked topside. Then the safety tape was strung, and the displaced patrons left the scene. Engine 16, Engine 23, Rescue 3, Battalion 4, Car 10, Car 20, EMS 124, EMS _, and District 1 also present. Dispatched around 7:00 p.m. Photos by Legeros later, including this shot about ten minutes into the incident. Click to enlarge:


+ 16 - 2 | § ¶
Magic Wand Traffic Solutions?
While we're ranting about Raleigh roadways, how about an informal survey? What are your most desired traffic solutions in the Capitol City. You know, the ones that could be made to happen if a magic wand were waved. Note that the requests apply to infrastructure only. Said wand doesn't affect driver behavior, or even driver presence. e.g., returning all them "northern drivers" back to their home states. Here are Mike's top picks, in no particular order:
Widen the freakin' Beltline west from Western Boulevard to the Interstate. Four lanes instead of two, each way. At least.
Widen Wade Avenue at the Beltline and then restore that cloverleaf, or at least the ramp that takes you outbound on Wade.
Remove driveway access on inbound Glenwood Avenue between Blue Ridge Road and the Beltline. Specifically, no more turns to enter either the gas station or the hotels.
Remove mall driveway access on inbound Glenwood Avenue between Edwards Mill and Blue Ridge roads. You know, the two turns at Sears and Barnes & Noble. Heck, they close one of them during the holidays!
Built that mall-only Beltline exit to Crabtree Valley Mall that was talked about some years ago.
Reconfigure Blue Ridge Road at Crabtree Valley Mall.
Remove that freakin' stop-sign on northbound Capitol Boulevard, that ends the exit ramp from the outer loop of Beltline. Through lane! Through lane! Put barriers in place as needed, so traffic stays in that lane.
And maybe more roundabouts. Mikey likes them!
+ 12 - 8 | § ¶
Ban Street Parking on Glenwood Avenue in Five Points?
Alright apparatus and emergency vehicle drivers, what are your opinions of on-street parking on Glenwood Avenue through Five Points? Two columnists debate the topic in today's News & Observer. Myself, as someone who travels that route a number of times each week, allowing for parked cars on a heavily traveled roadway seems entirely asinine. But I am neither a local business owner, nor play one on television. Now if someone would call attention to the rough roads through there, as well...



Google Maps photo
+ 11 - 3 | § ¶
Gastonia Aerial Ladder, 1956
And there's this beauty that appeared in the August 1955 issue of Hose & Nozzle. It's a Seagrave 70th Anniversary series 75-foot aerial ladder, newly delivered and pictured in front of the new completed Central Fire Station. Looks like the rig was equipped with a pump, or what was called at the time a "booster pump." The next obvious question is how many such ladders served in our state? Charlotte had at least one closed-cab version. Who else? Click to enlarge:


+ 12 - 11 | § ¶
Wilson Station 2, 1956
Here's Wilson Fire Station 2 as appeared in the November 1956 issue of Hose & Nozzle. Built in 1952 and located at 300 Fairview Avenue, it first housed a pair of 1920s American LaFrance triple combinations. The station was relocated to 1807 Forest Hills Road in 1989, and subsequently served as a Wilson County EMS station. The building was being used as a community resource center when photographed a few years ago. Learn more about Wilson (and Rocky Mount) fire stations. Or visit the offical site and read about WFD history.



Hose & Nozzle photo


+ 13 - 18 | § ¶
Car Versus Cars, Tree, Building in Cary
WRAL has posted a photo of this afternoon's unusual vehicle accident in Cary, where a driver struck eight cars, a cart corral, and a tree beside the Harris Teeter at 2080 Kildaire Farm Road. Engine 3 responded with Rescue 2, Battalion 2, EMS 55, and District 5. The driver was the only patient and was transported. Dispatched about 5:15 p.m.



Richard Adkins / WRAL photo
+ 11 - 11 | § ¶
Sanford Support Vehicles
Also on that great page of Sanford Fire Department historical photos is this picture of a pair of support vehicles. Fire prevention truck on the right, and probably a chief's car on the left. Love those giant sirens. Sunday morning, and Mr. Blogger is approaching the point of convulsion, having found a new cache of compelling historical images. Good job, gang. Click to access the original:



Courtesy Sanford Fire Department
+ 13 - 7 | § ¶
Keep Back One City Block
Looking through that great page of Sanford Fire Department historical photos, there are a number of images of their American LaFrance Aero-Chief platform. The 80-foot snorkel looks like a late 1960s vintage. Wonder how many other Aero-Chief's served in our state? Anyway, dig the "keep back" message on the rear! One city block! Click to the access the original image:



Courtesy Sanford Fire Department
+ 11 - 10 | § ¶
Sanford Central Fire Station, 1956
This image of Central Fire Station in Sanford appeared in the November 1956 issue of Hose & Nozzle. The station was part of the Town Hall building at 143 Charlotte Avenue, built in 1909. The building still stands and is listed on the National Register of Historic Places. The fire department relocated to 2220 Woodland Avenue in 1968. Click to enlarge.
And here's a nice page of Sanford Fire Department history, include an extensive page of historical photos. Early and later personnel, apparatus, include, etc. Included are images of Mitchell's Department Store, that burned on March 14, 1980. Sanford firefighter Billy Ray Faircloth died that day, after his air supply ran out, after being trapped inside. That incident was recently recounted in a Fire & Rescue Journal article, in the OSFM's newsletter.

+ 6 - 9 | § ¶
Call For Fire Protection, Edenton, 1789
Turning our time machine to the late 18th Century-- and with Beethoven's Choral Fantasy, composed 1808, playing on the stereo by complete coincidence-- here's a call for citizen fire protection in Edenton in 1789. This notice appeared in the State Gazette of North-Carolina, December 10, 1789, on page 3, column 1, and was reprinted in the North Carolina Historical Review, Volume VI, Numbers 1-4, January-October, 1929:
A CALL FOR FIRE PROTECTION

A CALL!

To the FREEHOLDERS and others, the good Townsmen of EDENTON.

Age dum fentis.

Strike whilst the iron is hot.

THIS is a common, yet an interesting proverb, full of prudence and prevention: In time, with circumspection to prevent a calimity [sic] is wisdom--in some instances, without this attention, the catastrophe is lamentation.

The influence of fire must always be dreaded. Its destructive effects may be greatly impeded by prevention, which science and machinery have prepared for our use.

Our town is fabricated of wood; Bridgetown, of Barbadoes [sic], Kinston, of Jamaica, Charleston, of South-Carolina, were of wood, have all near been totally destroyed by fire; the re-building with wood, have been inhibited by Legislative acts.
READ MORE
+ 14 - 9 | § ¶
This Morning's Major Fire in Cary, Updated
Two alarms at 108 Steep Bank Drive. Two-story brick residence with 3,912 feet. Built 1991. Engine 3 reported heavy fire showing on arrival, followed right behind by Engine 6 and Truck 6. Heavy fire in the rear of the structure. Battalion 1 in command. Dispatched about 4:35 a.m. Units included E3, E6, L6, T6, R2, B1; Swift Creek E1 (first alarm), E2, L5, B2 (second alarm), and R4 (relief). Coverage included L1 as E20 at Station 2, Fairview E_ at Station 3 and replaced by Cary E30, and T7 moved to Station 4. Shift change saw Engine 3 and WC 1, WC 2 on scene with overhaul and investigation. Morning after photos forthcoming from Legeros. Readers, please add additional details as desired.


+ 12 - 14 | § ¶
Yesterday's Apparatus Accident in Maxton
Two members of the Queheel Fire Department were injured yesterday afternoon when their tanker overturned on Highway 130. This Laurinburg Exchange article reports that the top of the cab was sheared off, and the water tank separated from the truck. One firefighter was transported to Scotland Memorial with minor injuries, reports this FireNews article. The other was airlifted to UNC Hospital in Chapel Hill with more serious injuries. The incident occurred at approximately 3:50 p.m. More photos are also found on this web site, located via Google. Another fire news-type site.



Laurinburg Exchange Photo
+ 14 - 10 | § ¶
Alexander Tankers
Found in my files some more information about Raleigh's tankers that were built in 1960 by Alexander Welding & Manufacturing Company, which we've been discussing. The city was quoted prices for three tanker sizes, 1,000 gallons, 1,500 gallons, and 2,000 gallons. They chose pair of 1,500 gallon tankers.
The orders were placed on March 3, 1960, with delivery in approximately three weeks, and payment due by July 1, 1960. The price was $756.45, as accepted by Fire Chief J. B. Keeter. The company signature was W. H. Alexander. The specs for the two trucks were:

1,500 Gallon, Single Compartment, Alexander Water Tank to be mounted on Model LV4009 GMC truck (tilt cab) 108" CA. Specifications to include baffles and surge plates, 4" pip drain from center of compartment (tapered sump from front to rear of tank to assure drainage), 2" vent and 6" pipe fill (quick opening), Prime painted, Channel rear bumper, Clearance lights, reflectors, Stop & tail light.

Here is a brochure for their Model SC tanker trucks, and a Public Affairs Department image of Tanker 14. Click to enlarge:

+ 7 - 10 | § ¶
Cary Meet Morrisville, Morrisville Meet Cary
How about a merger of the two towns? That's the discussion reported by WRAL this morning, among other outlets. Seems some Cary town council members have talked about wanting to talk about merging their municipalities. Wasn't that floating around a while back as a regular ol' rumor?
Wonder what a Cary-Morrisville Fire Department would look like? Nine stations, nine engines, four ladders, two trucks, three rescues, three Battalion Chiefs. Protecting 148,000 people and 50 square miles, or abouts. Given the politics involved, the likelihood of a double town seems slim. But it makes an interesting thought exercise.
+ 12 - 7 | § ¶
Thinking Outside the Viewfinder
Use your imagination. What would it look like if the camera was really low? Or really close? Or really high? Then, hold thing there. Waist-level, street-level, over your head, over your head and on tiptoes, etc. No contortions required. Take a couple photos, then check the display. Is the composition as imagined? Do you need to move forward or back? How about tilting? Take a mess of photos, maybe slightly moving the camera each time. Say, starting with the camera level on the horizon, and tilting incrementally after each shot. You'll get the hang of it. Art may result.


+ 7 - 7 | § ¶
Fire on the Train
As companies cleared this morning's major fire in Cary, a couple units were dispatched to a vehicle fire at the train station around 8:35 a.m. The rolling stock in question was an Amtrak train arriving in a few minutes. Engine 2 was dispatched, and Battalion 2 upgraded the response to include Cary Engine 20 and Ladder 5. There was a reported strong smell of smoke aboard, and crews from the two engines stayed on scene for a stretch, investigating the source. Ladder 5 was quickly cleared. Passengers milled about at the station, and perhaps pondered the soot-stained personnel, still soiled from the morning fire. Pics from Legeros forthcoming.


+ 7 - 6 | § ¶
CSB Holds Public Meeting Feb. 4 in Raleigh on ConAgra Explosion
As today's New & Observer reports, the U.S. Chemical Safety Board has announced that a public meeting is planned next month to present preliminary findings from its investigation of the ConAgra plant explosion on June 9, 2009. The meeting is Thursday, Feb. 4, at 6:00 p.m., in the ballroom of the Raleigh Shearton at 421 South Saunders Street. The event is free and open to the public. It'll also be videotaped, and an official transcript published.
The CSB investigators will present preliminary findings to Board members and the public. Testimony will be received from outside experts concerning safety issues raised by the accident, focusing on safe purging of natural gas piping. Following a public comment period, the Board is expected to consider draft staff recommendations for changes to the National Fuel Gas Code, which establishes gas purging practices followed across the country. Read the CSB press release for more information.
+ 7 - 7 | § ¶
Hino Aerial Ladder
Got a new model yesterday. This is a 1980 Hino TC343 aerial ladder replicated in 1:64 scale by TomyTec, part of their Tomica Limited Vintage Neo series. Bought on eBay. The truck is similar to the European design of "appliance only," but adds a pump. And a crew cab. The trademark coiled suction hose is there, two sections, same on each side. Not sure if other hose is carried, maybe in the basket above the pump? No pre-piping on the ladder, but play pipes are carried. No ground ladders, but some irons are there. The ladder length is 35 meters, or 114 feet. Aerial ladders in Japan go as high as 50 meters, don't they? That's a 164 feet. The contraption atop the bottom of the ladder is an elevator/platform, that one (or two?) people can ride. To see actual apparatus photos, visit this site. It's a farm of links. Click to enlarge:


+ 7 - 13 | § ¶
The Big House
Found for sale on eBay, here's a nifty postcard view of Central Prison circa 1930s or earlier. The structure faced Morgan Street as the second image shows, a Sanborn Map from 1914. The prison was completed in December 1884, and extensively renovated in the 1980s. About the only original sections remaining are stone walls on three sides. Explore Bing Maps and their Bird's Eye View for a good look at the current prison. Click to enlarge:


+ 5 - 11 | § ¶
Who Ran Service Trucks?
Open question, who ran service trucks back in the day in North Carolina? Answer: everyone! Or at least any city or town of significant size. Many had one or more service ladder trucks, and as far back as the 1910s. Asheville, Charlotte (three?), Durham, Fayetteville (built from body of school bus!), Goldsboro, Greensboro, Hickory, Hendersonville (I think), High Point, Morehead City, New Bern, Raleigh (see prior post), Sanford, and Tarboro. To name a few. Got pictures? Send 'em and I'll compile and post.
Some quadruple combinations-- quads-- were also delivered around the state, and as late as the 1950s. Those were service trucks with pumps, versus the chemical tanks that were standard in the 1920s. Pumpers were classified as triple combinations. Adding a ladder track made a quadruple combination. Adding an aerial device made the thing a quintuple combination. Or, shortened, a quint. Now you know the rest of that story.
Below is a Seagrave quad that served New Bern and is displayed at the New Bern Firemen's Museum. See more photos.


+ 9 - 19 | § ¶
FEMA Summary of USAR Activations for Haiti Earthquake
Found on this Firehouse forums thread, the FEMA web site's daily National Situation Update including information on USAR activations in response to the Haiti earthquake. The update for Thursday, January 14, included this information:

FEMA NRCC is activated to Level II, 24/7 operations
Region IV is at Level III Partial Activation due to Haiti evacuees possibly being evacuated to Florida.
National IMAT West activated and awaiting transportation; scheduled to depart Sacramento at 10:00 a.m. PST in USCG C-130
Thomasville, GA MERS activated and moving rolling stock to Homestead; currently in Orlando
Frederick, MD MERS activated in support of US&R operations and is awaiting airlift transportation
Maynard, MA MERS activated and awaiting airlift transportation
US&R VA-1 team (Fairfax County) in Haiti: base camp established, initial survey conducted, and priority targets identified
US&R CA-2 team (Los Angeles County) to arrive at 4:30 a.m. EST, January 14, in Haiti
US&R FL-1 and FL-2 (Miami-Dade) teams deploying from Homestead, FL on January 14
US&R VA-2, OH-1, CA-5, CA-7, NY-1, and TX-1 task forces have been activated and are awaiting transportation to Port-au-Prince; tentatively scheduled to arrive at Port-au-Prince today
A US&R Incident Support Team is preparing to deploy to support US&R operations in Haiti
Additional US&R teams on stand-by
Logistics provided Frederick MERS with meals and water for delivery to Haiti; additional meals and water, along with tarps, blankets, cots, and comfort kits have been ordered and will be delivered to Homestead AFB for pre-staging
Four External Affairs staff to depart today to Haiti to support USAID; one External Affairs staff to deploy to Washington, D.C.
+ 14 - 9 | § ¶
Record Year For 911 Calls, But Not All Emergencies
Press release. The Raleigh-Wake Emergency Communications Center (911) recorded an all-time high of 444,160 dispatches in 2009. The center is burdened with far too many non-emergency phone calls.
The number of calls to 911 was almost 1,000 more each month than in 2008, and close to 100,000 more per year than was handled in 2000. Of these incidents, 310,201 were law enforcement related, 73,946 emergency medical in nature, 59,146 were assigned to fire departments, and the remainder required response from other City departments such as Public Works.
Emergency Communications Center (ECC) telecommunicators and call-takers received or made over one million calls. Calls to the Emergency Communication Center's seven-digit line declined for the second year in a row. First responders are now provided with methods of accessing data that in the past required a telephone call to the center. Also contributing to the reduction is the use of web technology to provide on-line traffic reports to the media and the public.
+ 14 - 11 | § ¶
Who Built Old Truck 11?
That's a question from a reader, who's wondering who built the city's 1971 Chevrolet service truck. Same served as Truck 11 from circa 1972 to 1986, and Truck 15 from 1986 to 1988. Then the truck was placed in reserve, and parked at the Keeter Training Center. Chassis by Chevy, but who built the body? The shop? Someone else? The answer appears to be Alexander Welding and Manufacturing Company, a Raleigh company that also built the two tankers on GMC chassis in 1960. They also appear to have built the city's 1964 GMC service truck. The third service truck, a 1963 Ford later rebuilt as a 1980 Ford, was shop-built. The ladder rack was from the first service truck, a 1922 American LaFrance. Next step, update the above pages with this new information. Signed, Your Historian.


Jeff Harkey, Lee Wilson photos
+ 6 - 8 | § ¶
Fire & Rescue Journal, Winter 2009
The Winter 2009 issue of Fire & Rescue Journal has been published on the web site of the Office of the State Fire Marshal. The numerous articles include 2009 fire safety legislative updates, the National Fallen Firefighter's Foundation's life safety initiatives, questions and answers on ladder/service company requirements, and, catching Mr. Blogger's attention, a historical perspective of the Lowe's Motor Speedway pedestrian bridge collapse in Concord on May 20, 2000. Following an evening race, the bridge collapsed onto Highway 29. The article recounts both what happened and lessons learned at the incident, which resulted in 107 patients treated and transported. Read the issue
, or click the cover below:


+ 10 - 14 | § ¶
Cab and Cab
From a reader, here are a couple interesting pictures. Left if the cab frame for a Pierce Contender. Right is same for a Velocity. We have discussed chassis differences before on the blog. Here's a peek at the skeleton of, say, a "county versus city" truck. Click to enlarge, but only if you're old enough to view a naked frame:


+ 6 - 9 | § ¶
Vance County Train Derailment, 1984
On the rainy Monday evening of March 5, 1984, about 6:45 p.m., a southbound passenger train derailed along Highway 1 in Kittrell in Vance County. The Amtrak Silver Star was carrying 274 passengers and 19 crew. All of the 18 cars and one of the three locomotives left the tracks. Five of the train cars jack-knifed, and two dropped down a 20-foot embankment.
The accident occurred about a half-mile from the Kittrell Fire Department, where first-aid training was being conducted for 25 to 30 sheriff's deputies and rescue squad personnel. They arrived at the scene just minutes after the accident, and formed human chains to move stretchers and help the walking wounded reach the arriving emergency vehicles on the nearby highway that ran parallel to the tracks.
Duke Medical Center (41 miles south) received one patient with a neck injury. Franklin Memorial Hospital in Louisburg (15 miles south) received a pregnant patient and her 2 1/2-year-old son. They were transported by North Wake Rescue Squad.
Maria Parham Hospital in Henderson (nine miles north) received thirteen patients, mostly with abrasions and bruises. Those with minor injuries were treated by doctors from the surrounding communities.
READ MORE
+ 13 - 11 | § ¶
Big Honkin' Haz-Mat in Morehead City
What happens when a forklift punctures nine drums containing pentaerythritol tetranitrate, as same are being unloaded at a state port in Morehead City? Precautions with a capital P. Officials closed the port, closed all nearby roads, and urged a half-mile evacuation. The Morehead City Fire Department was notified about 4:45 a.m. of the situation. Agencies that subsequently responded included Beaufort Fire Department, Cherry Point Fire Department, Wilmington Fire Department's Regional Response Haz-Mat Team, an Explosive Ordnance Disposal unit from Cherry Point, the Salvation Army, the US Coast Guard, and US Customs and Border Protection.
Just before 9:00 a.m., a one-mile safety zone was established around the scene. Same included a portion of Highway 70, including the bridge to Radio Island. A two-mile nautical safety zone was also established. Crews issued their first public statement after 9:00 a.m. County officials also activated a "CodeRed" telephone-notification process to residents about 9:30 a.m. Wilmington's haz-mat team arrived about 2:00 p.m. By the afternoon, the spill had been contained, and crews were cleaning it up, and repackaging the punctured containers. Nearby roads and waterways were reopened shortly after 5:00 p.m. The port is planned to reopen tomorrow at 8:00 a.m.
The material was described as a part-liquid, part-solid slurry. Same was shipped in cardboard (!) drums measuring about two-feet high and one-foot in diameter. The spill occurred at the mouth of a shipping container, and some of the material then spilled onto the dock.


Dylan Ray/Carteret News-Times photo
Map, click to enlarge:

Sources:
+ 12 - 14 | § ¶
Smoking Patient Causes Fire at Rex, 1984
While we're in time-travel mode, the News & Observer on March 27, 1984, reported that a patient at Rex caused a small fire by smoking, and 'twas the hospital's second such fire in one week. The first fire on March 19 was started in a fourth floor room, when a patient's cigarette (!) apparently ignited some oxygen tubing (!!). Second fire was March 25, again started by a cigarette, and causing minor damage to a trash can and a privacy curtain. Quoth a hospital official: "We are looking at ways to pay a little more attention to patients to smoke." Wonder what year/decade same was finally prohibited?
+ 17 - 9 | § ¶
Annexation Announcement, 1987
Remember these annexation announcements that appeared in newspapers back in their day? This one was posted in the classified section of the News & Observer on March 31, 1987. Click once or twice to enlarge:


+ 11 - 10 | § ¶
Major Fires in Raleigh, 1985-1989?
Calling all old-timers and long-timers! What major fires do you remember in Raleigh between 1985 and 1989? That is, two-alarms or higher? Here's a starter list, please add and edit. I am augmenting my RFD historical information, which is weak on fires for those years. Thanks for any help.
1985
03/20/85 - 900 W. Hodges Street - Sparkles Nightclub
03/16/85 - 997 & 1104 Harp Street - Two houses in "Mill Hill"
03/28/85 - 2401 S. Saunders Street - Saul's Barbecue
07/28/85 - 4400ish Six Forks Road - Deli King at North Hills Plaza
1986
01/28/86 - 1021 Raleigh Boulevard - Raleigh North Apartments, six units
03/07/86 - 119 Newton Road - Sandy Creek Condominiums, six units
05/08/86 - 2201 Gorman Street - Kensington Park Apartments, one unit destroyed, five damaged
08/29/86 - 704 Navaho Drive - Oakwood Villa Apartments - two units destroyed, two damaged
1987
01/13/87 - 1014 E. Chatham Street - The Furniture Square, mutual aid to county
03/28/87 - 1436 Rock Quarry Road - Watson's Market Place
06/23/87 - 5516 Falls of Neuse - Raleigh Racquet Club
08/08/87 - Edwards Mill Road - Apartment buildings under construction, mutual aid to county
08/23/87 - Ditto, second fire, same circumstances, did Raleigh respond second time?
08/29/87 - 600 N. West Street - Commercial building
09/13/87 - 115 St. Mary's Street - Law office
12/03/87 - Crabtree and North boulevards - Gateway Shopping Center
12/05/87 - 4604 Dansey Drive - Courtney Square Apartments, one fatality
1988
04/17/88 - 6017 Shanda Drive - Woods of North Bend, 29 displaced
06/09/88 - The Lakes Apartments
06/14/88 - Fairview Road - Piggly Wiggly
12/02/88 - Fairview Road - Hayes Barton Cleaners
1989
Other major incidents:
06/18/87 - Sunnybrook Road, chlorine leak at sewage plant
08/08/88 - New Bern Avenue, chemical fire at Post Office
08/17/88 - Pullen Park, chlorine leak
11/28/88 - Tornado!
Not major fires?
07/12/86 - North Ridge Country Club, golf cart shed
10/12/87 - Pam's School on St. Mary's Street
+ 12 - 8 | § ¶
Winston-Salem Fire-Police, 1958
Here's another random historical doc

, this time a 1958 report on Winston-Salem's fire-police, a program that predated the better known public safety officers of the 1970s. Let's turn the clock back to January 1, 1957, when a large annexation was effective. The acquired territory included everything from high-dollar homes to a college to a few small industries. A new fire company was thus planned, Fire Company No. 8.
Meanwhile, the City Manager had an idea. He did some studying on a concept of combining firefighters and police officers. He proposed creating a fire-police patrol along with the new fire company. Fourteen men, four on duty at any time. Two at the station, to drive/ride the engine. Two patrolling the district, engaged in law enforcement duties, but ready to respond to fires when called.
The program was approved, the fire-police force was created, and a six month-later evaluation was planned. This document

, copied from the Forsyth County Public Library, is that evaluation.
What were the report's observations? There were some seeming benefits: performing size-up, controlling fires themselves, extinguishing two separate fires simultaneously, locating fires visually, public relations value, and five fewer personnel required than separate entities. What were the report's findings? That the fire-police patrol continue, and that studies of future fire companies, to determine if more fire-police patrols should be organized.
What happened next? Don't know. To be determined. However, two decades later, Winston-Salem operated a public safety officer program from 1973 to 1987. As did other cities, such as Butner, Chapel Hill, Durham, and Morganton. Read the report

, or click the below image:


+ 8 - 11 | § ¶
Pink House, Purple House
Around the corner from this afternoon's house fire on North East Street are these colorful homes in historic Oakwood. 'Twas a busy day for dispatched structure fires in the Capitol City. Seven by my count: Hightower Street, Creedmoor Road (working fire), Glenwood Avenue (high-rise box), Walkertown Drive, St. Giles Street (just steam, no rekindle), North East Street (working fire), and Jackson Street. Plus a couple others in the wee hours this morning. Just one in the county today, on Smithwood Street in Fuquay-Varina. Been a busy week, for that matter. Wonder how many fires we've had?


+ 9 - 11 | § ¶
This Morning's Major Fire / St. Giles Street
Two alarms at 6149 St. Giles Street. Engine 17 arriving at a three-story, brick-and-frame apartment building with 5,076 square-feet. Built 1981. Heavy smoke showing from second floor on arrival. Interior attack commenced. Battalion 4 assumed command on arrival and requested second alarm within a couple minutes. Fire spread through third floor and into attic. Ladder 3 positioned in front of structure, and first utilized for roof access. Ladder 6 positioned behind structure. Both flowed after fire broke through roof.
Ten apartments damaged, and eight people displaced. One resident transported with smoke inhalation. Two hydrants used, and a third connected with supply line laid but not opened. Investigators determined that unattended cooking caused the fire. Salt truck special called for ice hazards.
Dispatched about 9:28 a.m. Fire units on scene included: E17, E16, E14, L3, R3, B4 (first alarm), E9, C10, C20, A1, (working fire), E6, E8, E18, L6, R1, B3 (second alarm), B1, C21, C71, (also on scene), E5, E19 (special called/relief), E13, E21 (stand by/firewatch). EMS on scene included: EMS 121, EMS 124, EMS 123, EMS 3, D4, D1, M95, Truck 1. Read WRAL coverage. See preliminary photos by Legeros.



+ 14 - 9 | § ¶
Causes of Fires, 1962
From the annual report of the Winston-Salem Fire Department. Children with matches? Third most frequent cause in 1962. Click to enlarge:


+ 9 - 6 | § ¶
Five-Year-Old Sets Home on Fire
That's the headline on this WTVD story of last night's house fire in Holly Springs at 221 W. Ballentine Street. "I got the lighter and the house just burned" said the boy to ABC11 Eyewitness News. No injuries, and the house is a total loss. Holly Springs E2, E1, E3, R1, B1; Apex E4, L4, R4; EMS 17, 42, D2 were among the units on scene. The article also features four photos from Thomas Babb.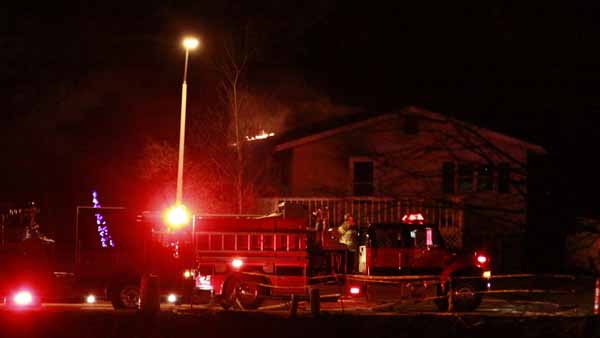 Thomas Babb/WTVD photo
+ 17 - 13 | § ¶
Scotts Hill Fire Department
Another old department near Wilmington is the Scotts Hill Fire Department in Pender County. They incorporated on Oct. 3, 1977, and were housed in a rented, former antique shop on Highway 17, at the Poplar Grove Plantation. The Star-News reported on March 3, 1989, that the owner was relucant to renew the lease, as they had other plans for the building. SHFD had known since 1986 that they needed to move, the article added. The building was insufficent. Now they faced a deadline of January 1990.
In January 1989, three months earlier, the department told some 50 residents that they needed to move. And they needed land on which to build a station. And they needed money to build a building. SHFD was funded through donations, fundraisers, and a county fire tax that generated some $14,000 annual income. The department's expenses, however, totaled about $25,000 each year.
Their lease was apparently extended, as the Star-News on December 10, 1991 reported a new deadline for their leaving: Februrary 1, 1992. The department had four trucks at that time. Their rent was $1 per year. The building was described in poor condition, and was hindering the development and landscaping plans for the plantation. Though the Federal Home Mortgage Association had approved financing for the fire department to build a new station, they still hadn't found any affordable land. And their prospects, said a firefighter, were almost zero.
The department had hoped to build on land owned by the plantation on Scotts Hill Road near Scotts Hill Baptist Church. But the two parties couldn't agree on the 20-year lease. And if no shelter were found for their apparatus, the state insurance office would revoke their certification. What happened next? It appears that no station was built, and the department ceased operation. Their fire district was subsequently covered by Ogden and Hampstead Fire Departments.
Postscript. In December, residents of Scotts Hill met and agreed to petition the county for better fire protection. Specifically, they want their own fire station, and support for construction of same. Since they're over five miles from other fire stations, they pay higher insurance costs. Read that story in this Star-News article.
+ 22 - 4 | § ¶
Yesterday's Fire on Neuse Banks Court
From a reader, here are a couple pics from yesterday's house fire at 3200 Neuse Banks Court. Raleigh E28 arrived at a two-story, wood-frame house, down a long path in the woods, and approximately 75% involved. Had 3,800 square feet, was built 1995. Command requested five additional tankers for shuttle operations. Rolesville E151, P153, Tanker 153; Wake Forest E2, E3; New Hope Tanker 10, Tanker 12; Wendell Tanker 117; Hopkins Tanker 227; EMS 15, EMS 64, District 4 were among units on scene. Thanks to Gary Cannon for the pics. Click to enlarge:


+ 16 - 5 | § ¶
Recording the Big Ones
As we blogged about earlier, the question of "what were Raleigh's biggest fires" has been haunting a certain Hawaiian Shirt wearing historian for years. A related issue to that issue is how to record and present that information. Simply, what do one's notes look like containing such a list? And what does a printed or computer page of such a list look like? Mike's notes on the city's major fires are presently contained in an Excel spreadsheet. And it's a mess. For Legeros consumption only.
Every major fire is also indicated on my fire department timelines. Plus a mess of notable or unusual fires. Some of the major fires listed in the timelines have just a date and address. Others have additional details. The entries-- like the timeline itself-- are reasonably consistent in format and appearance. But they could be better. Cleaner, perhaps. More standardized.
One system that I've admired-- observe the changing tense there, first-person from third-person-- is this extra alarm database that's maintained by the Extra Alarm Association in my hometown of the Twin Cities. That buff club's been around for decades, and has tracked major fires in Minneapolis and St. Paul for ages. And attended, and photographed. That database is pretty cool. Maybe I'll create something similar someday.
+ 9 - 7 | § ¶
Fire Underwriters Reports: Durham, Fayetteville, Winston-Salem
For your weekend enjoyment, here are a trio of National Board of Fire Underwriters report excerpts for Durham
, Fayetteville
, and Winston-Salem
. They're dated 1953 to 1959, and the included sections review the fire departments and fire alarm systems. These are super-detailed time capsules that cover everything from apparatus to working hours. To read underwriters reports on Raleigh, from 1924 and 1931, visit this history site. Links in the lower-right corner. Enjoy!

+ 13 - 10 | § ¶
Jack
Last week was quiet, this week's become busy. Here's Ladder 4 at this morning's high-rise apartment fire at 116 St. Mary's Street. See more photos and read more about it.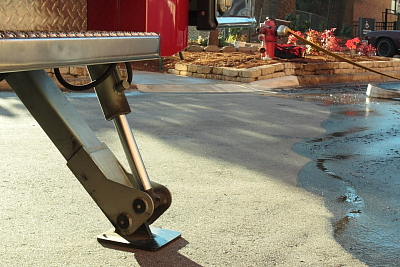 + 12 - 7 | § ¶
Today Show Story on 911 Operators
From a reader, from The Secret List, comes this provocatively titled Today Show story 911 Emergency: Are Operators Ready For Your Call? The seven-minute segment opens with an incident in Texas, where a frantic mother called 911 to report her young son's choking. The 911 operators attempted to calm the caller and process the call, but did not provide medical instruction. Nor were they trained nor required to. As NBC found, the requirements for 911 operators vary nationwide.
The segment talks about other issues facing the nation's 911 systems. It's an interesting, if perhaps alarmist segment. But then again, we have it pretty good in Raleigh and Wake County. Those guys and gals at the ECC do great jobs in the bowels of City Hall. And as the host concludes, if nothing else, the story should compel every to learn CPR. Do it now!
+ 15 - 11 | § ¶
Mystery Stations
Thursday morning. Temperature 25 degrees.

+ 15 - 11 | § ¶
Mystery Stations
Thursday morning. Temperature 25 degrees.

+ 8 - 14 | § ¶
New Vehicle For District 1
Wake County EMS placed a new District Chief vehicle in service yesterday. District 1 downtown received this 2009 Dodge Ram truck to replace the long-familiar Suburban. This is the third truck-style chief's vehicle for the Wake County EMS System, after District 5 (Cary EMS) and District 4 (Six Forks EMS). Better photos from Lee, later. Yours Truly quickly shot these this afternoon. Click to enlarge:


+ 16 - 6 | § ¶
Duplicate Fire Department Names?
How many fire department names are duplicated in North Carolina? Here's a starter list, built from this big honkin' list of departments that we posted. Thanks to Jeff Harkey for parsing. What's missing?
Antioch [- Fishing Creek] (Granville)
Antioch (Johnston)
Antioch (Wayne)
Bethany (Johnston)
Bethany (Rockingham)
Bethany (Stanly)
Bethany Rural (Cumberland)
Bethel (Pitt)
Bethel Community (Perquimans)
Bethelem Community (Alexander)
Bethlehem (Cleveland)
Burnsville (Anson)
Burnsville (Yancey)
Cleveland (Cleveland)
Cleveland (Johnston)
Cleveland (Rowan)
Cleveland Community (Rowan)
Corinth (Granville)
Corinth-Holders (Johnston)
Fairview (Buncombe)
Fairview (Union)
Fairview Rural (Wake)
Franklin (Macon)
Franklin (Rowan)
Franklin (Surry)
Little River (Caldwell)
Little River (Transylvania)
Little River (Wayne)
Mineral Springs (Forsyth)
Mineral Springs (Union)
Mountain View (Catawba)
Mountain View (Wilkes)
New Hope (Gaston)
New Hope (Orange)
New Hope (Randolph)
[Wake] New Hope (Wake)
New Hope (Wayne)
Pilot (Davidson)
Pilot (Franklin)
Piney Grove (Forsyth)
Piney Grove (Sampson)
Providence (Caswell)
Providence (Granville)
Providence (Union)
Red Oak (Nash)
Red Oak (Pitt)
Salem (Burke)
Salem (Nash)
St James (Brunswick)
St James (Columbus)
Union (Hertford)
Union (Lincoln)
Union (Rowan)
White Oak (Bladen)
White Oak (Onslow)
+ 6 - 8 | § ¶
Civil Defense Planning Guide, 1956
Looks like it's document week here at Blog Central. Next out of the archives is this 1956 state planning guide for Civil Defense. That was the forerunner of modern emergency management, and born out of civilian defense activities during World War II. For background, read Mike's musings on the subject. Otherwise, click the below cover to read this 47-page document
(PDF, 3.3M).

+ 8 - 10 | § ¶
More Vanished Raleigh
We've uploaded another mess of vintage photos from the Elizabeth Reid Murray Collection at the Olivia Raney Local History Library. More houses, more businesses, more Fayetteville Street. You'll see a fresh Rex Hospital in there, Cameron Village back in the day, Falls Lake dam being built, and even the nuclear power plant under construction. View them at Vanished Raleigh.


Elizabeth Reid Murray Photos / Courtesy Olivia Raney Local History Library
+ 7 - 9 | § ¶
Most Popular Postings of 2009
Ranked by number of comments, this is the list:
Ranked by number of views, the list is somewhat different:
What might are ranks per topic, across multiple postings? Where we posted several times on the same topic? Now that's an interesting question!
+ 12 - 14 | § ¶
Vintage Sunny Point Badge
You know how this works. First he posts on a topic. Then his mind moves along in the same direction and he finds something else to blog about, related to the prior posting. Ergo a second vintage badge for sale on eBay, this one from Sunny Point Fire Department at the coast. Let's stop while we're ahead.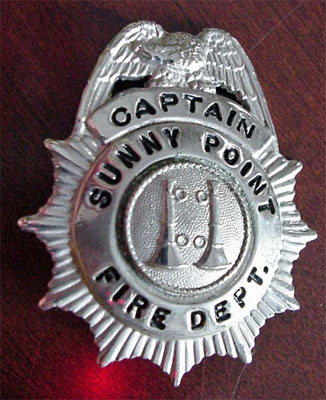 + 8 - 14 | § ¶
Vintage Kinston Badge
Here's a nifty artifact for sale on eBay, a Kinston Fire Department badge from an age ago. Same also suggests a nifty future project. Collect actual or photos of old badges from around the state. Maybe in 2020, when my project list has dwindled to nil.



+ 17 - 12 | § ¶
Diagram of Geek Culture
Here's another goodie from Mrs. Blogger, an amusing diagram of geek culture. Funny stuff, though the original artist isn't cited. As also defined, the word refers to "a peculiar or otherwise odd person, especially one who is perceived to be overly obsessed with one more things those of intellectuality, electronics, etc." Don't know anybody like that, no sir-ee bob.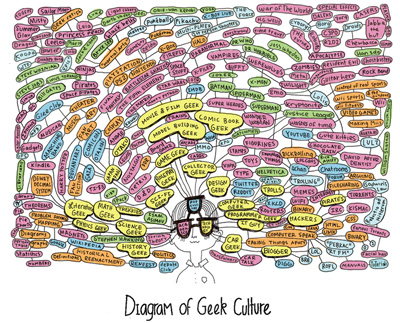 + 8 - 11 | § ¶
Fire Truck Blueprints
Mrs. Blogger recently found a nifty site of blueprints that includes quite a few of fire apparatus. Low-resolution versions are available to all users. High-resolution require free registration. Below is a drawing of a 1922 American LaFrance triple combination. Check out
The-Blueprints.com
.
+ 13 - 2 | § ¶
Durham County Volunteer Firefighter's Assocation, 1988
Here's a blast from the past, excerpts from an information booklet prepared by the Durham County Volunteer Firefighter's Association in 1988. Photocopied and scanned are pages featuring the Fire Marshal's office, the Forestry Department, and history and photos of Bahama, Bethesda, Lebanon, and Parkwood fire departments. The booklet also included safety tips, and advertisements from sponsors. This copy is cataloged at the downtown Durham County Public Library. View the booklet, or click the cover below: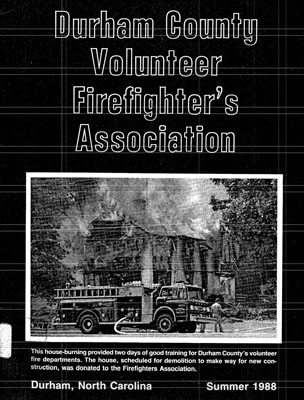 + 13 - 11 | § ¶
Still More Mystery History
This one's probably easy. Can you place the exact position of the photog? Picture appears courtesy of the Elizabeth Reid Murray Collection at Olivia Raney Local History library.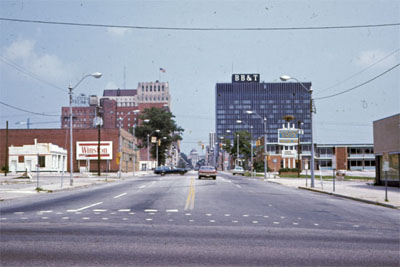 + 10 - 8 | § ¶
Four Houses Burn in Cabarrus County
WSCO-TV has posted this arresting image of today's quadruple house fire in Cabarrus County. Same was shot by viewer Rob Pyrock and shows an Odell Fire Department engine operating a master stream on one of two apparently well-involved houses. Seven departments were reportedly on scene. FireNews is also covering the incident, and has posted photos from the scene. More photos are pending. The fires occurred on Bampton Drive in Concord. Two homes were heavily damaged. Two others had less damage. Tax records show the homes sized between 2,800 to 1,900 square-feet.



Rob Pyrock/WSCO-TV photo
+ 18 - 12 | § ¶
Private Fire Protection in Fayetteville, 1953
From the National Board of Fire Underwriters Committee on Fire Prevention and Engineer Standards report on Fayetteville in May 1953. Says a notice on the cover: "Please consider this report, including the map, as confidential information and exercise due care that it becomes available only to those person who are entitled to this information." Under Private Fire Protection, two interesting things are found:
Fire protection at the Fayetteville Municipal Airport consists of a Willys jeep equipped with a tank containing 300 pounds of nitrogen-expelled dry chemical and two 20-pound dry chemical hand extinguishers. The apparatus, manned by maintenance personnel at the field, is kept ouf of doors exposed to the elements.

A 1940 Howe 500-gallon pumper, loaded with 500 feet of 2 1/2-inch hose, is provided at the Veteran's Administration Hospital and would be be manned by guards at the hospital when necessary.
The hospital was located just outside the city limits. Another veteran's hospital in North Carolina, Oteen Hospital in Asheville, also had their own fire department. The aforementioned report also contains information about the Fort Bragg Fire Department:
[They have] a full paid department under the direction of Chief Park L. Vickery. One Ford-LaFrance utility truck and four 1942 American LaFrance 750-gallon pumpers are in service in three stations. All apparatus and chiefs cars are radio equipped.
+ 13 - 8 | § ¶
Fayetteville Phone Book, 1952
Random historical artifact from the "yellow pages" of a Fayetteville phone book in 1952:



+ 9 - 10 | § ¶
Forest Hill Fire Department Old Photo
Here's a scan of a photocopy of a picture of the Forest Hill Fire Department in Forsyth County, circa about 1955. That's a Jeep and trailer, a short aerial ladder (!), an ambulance (?), and a 1953 Mack pumper. The department served in Winston-Salem from 1953 to 2005, and then relocated to Stokes County. Read an earlier posting and comments about their history. The image appeared in a Forsyth County Volunteer Firemen's Association booklet published in 1985. Click to enlarge:


+ 17 - 11 | § ¶
This Morning's Fire / Bridford Place
House fire at 5532 Bridford Place. Durham Highway Pumper 1 arriving at two-story, wood-frame structure with 1,702 square-feet, with heavy smoke and fire coming from the garage and extending to the roof. House built in 1991. Due to cul de location and parked cars, Battalion 4 directed careful placement of both apparatus and supply line. Arriving units staged both on Bridford Lane, and on North Exeter Way.
Fire also entered the attic, and damaged a room above the garage. Ladder 6 was raised and readied as a precaution. Car 10 assumed command from Battalion 4. Special hazards included live electricity-- due to extended response from power company-- and ice forming on many surfaces. A second, small fire started next door at 5536 Bridford Place, though on the opposite side of the structure. Engine 18 extinguished with another line.
After the fire was controlled, apparatus were backed from the cul de sac, and salt was applied from a Public Works truck. Relief companies included Engine 1, Engine 27, Ladder 5, and Rescue 2. The ladder was extended and used to enter the second story during overhaul, due to structural instability. Rescue 2 personnel also utilized a hydraulic jack to further stabilize a section of the structure. By this time, however, your humble photographer had departed.
No injuries, including from ice. No occupants, who were out of town. Cause determined as electrical. Units on scene included Durham Highway P1, P2 P4; Raleigh E23, E24, E18, E17, E9 (?), L6, R3, B4, B3, B1, C10, C20, A1, Six Forks EMS 123, 122, 124, D4, and Wake EMS T1. Relief companies: E1, E27, L5, R2. View preliminary photos by Legeros. Or read the WRAL coverage.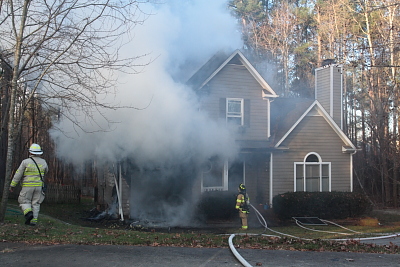 + 8 - 9 | § ¶
Cold
This morning's house fire on Bridford Place with Durham Highway and Raleigh. More later.


+ 24 - 12 | § ¶
The History of Open-Cab Fire Apparatus?
In our thread on Station 7, two readers have asked questions about open-cab apparatus. When did Raleigh stop using open-cab apparatus? Why did Raleigh stop using open-cab apparatus? And, for that matter, why was fire apparatus open-cab to begin with? Let's try to answer these questions, last to first. Readers, please correct me as needed.
My copy of This Was Trucking - A Pictorial History of the First Quarter Century of the Trucking Industry by Robert A. Karolevitze (1966) shows quite a few cabs and canopies on trucks of all types in those early decades. Some cabs were fully enclosed, with doors made of cloth or heavier material (wood, metal). Fire apparatus, though, had neither. The apparatus of the 1910s and 1920s were entirely exposed. No cabs, no covers. Why was that?


Don't know, but am willing to speculate. Maybe ease of access was an issue, or thought to be an issue. Firefighters perhaps didn't want any impediments to quickly climbing into or onto the engine, or from quickly climbing from front to back. Perhaps space was an issue. Fully-dressed firefighters took up more space, and cabs or covers were thought to be too constricting.
In any city with tall buildings, firefighters needed the ability to spot smoke. Thus, a cab or cover would prevent those riding up front from simply looking up, and seeing the smoke. Ditto for arriving on scene. There are tales of ladder truck operators bemoaning the arrival of covered cabs, which made positioning apparatus that much harder. The operator couldn't look up.
Sound logical so far?
Fire apparatus developed covers and cabs soon enough. The first fully-enclosed fire engine was delivered to Charlotte, in fact, in 1935. That Sedan-style was made particularly popular by Seagrave, which offered the style on its 70th Anniversary Series. Detroit had a bunch of those, I believe.


Seagrave also were selling many open-cab rigs, as were other manufacturers. By now, though, open-cab mean open-top. The trucks had windshields and doors. And any apparatus built using a commercial chassis was probably closed-cab, as both automobiles and trucks didn't stay "open" too terribly long.
READ MORE
+ 9 - 12 | § ¶
South Wilmington / North Wilmington Fire Departments
Though a holiday trip to Wilmington wasn't in the cards, Google provided a fine alternative to library research this week. Here's what we learned about a pair of former fire departments there...
South Wilmington Fire Department was incorporated in August 1956, and protected unincorporated (and largely industrial?) areas south of the city. By 1965, their station was located on Vance Street. That year, an annexation absorbed the station and much of their district.
Around 1968, their station was relocated to the unpaved Titanium Road1, midway between Carolina Beach Road and River Road. Around April 1984, another annexation absorbed more of South Wilmington's district. That same annexation also consumed about a third of Winter Park's territory.
By 1987, though perhaps much earlier, South Wilmington also had territory north of Wilmington along Highway 421. In the spring of that year, Cape Industries donated an acre of land on Highway 421 for a second fire station. The lot was located next to Sneeden's Trading post, and near Cape Industries. Say, around the 4600 block?
Though Cape Industries had its own fire protection-- including an engine, personnel, and a pond for water supply-- they also relied on SWFD. The response time for the department to the north side of the city was 12 to 20 minutes (!), as they had to travel through the city. In 1987, SWFD had 28 members that, along with equipment, would be divided between the two stations.
READ MORE
+ 9 - 6 | § ¶
Then & Now Demographics - 2010 & 2000
This is an open thread for posting department demographics, comparing this decade to last decade. Here's Raleigh:

Raleigh Fire Department
| | | | | |
| --- | --- | --- | --- | --- |
| | | 2000 | | 2010 |
| City Size | | 118.71 | | 142.901 |
| Population | | 276,093 | | 385,5071 |
| Fire Stations | | 21 | | 27 |
| Engines | | 22 | | 28 |
| Ladders | | 5 | | 8 |
| Rescues | | 2 | | 3 |
| Battalions | | 3 | | 4 |
| Fire Chief | | Sandy | | McGrath |
| Calls | | 24,076 | | 36,8072 |
| Positions | | 460 | | 568 |
| Budget | | $24,346,502 | | $50,481,355 |
1Data for 2009.
2Data for 2008.
+ 8 - 8 | § ¶
Monday's Major Fire in Lexington
FireNews has posted some dramatic photos from Monday's massive structure fire in Lexington. They're courtesy of Lexington Fire Department-- three stations, three engines, one ladder-- which battled the blaze at the old United Furniture plant at 151 Elk Street. The alarm was transmitted about 5:00 a.m. and the defensive operations were underway for a number of hours.
The fire was contained by 2:00 p.m., and most crews cleared about 4:30 p.m. LFD was assisted by other departments including Central, Holly Grove, Midway, North Lexington, South Lexington, Thomasville, and West Lexington. (Anyone have a list of units?) One official said it was the city's first major fire since 1998. The building was used as storage, and had three tenants. Police closed a six-block area around the structure. Sources: FireNews, WGHP, WFMV, Winston-Salem Journal.
Below are also a Bing Maps aerial photo, and Sanborn Maps images of the location from 1948 and 1929. United Furniture occupied a plant just east of the present structure. It was destroyed in a 1936 fire, and the company moved into its present site, the old Elk Furniture Company plant. By that time, the street was also named Elk Street. Click to access/enlarge:

+ 16 - 6 | § ¶
Winter Park Public Hearing Notice, 1985
Here's a random artifact from the classified section of the Wilmington Star-News on May 19, 1985. The Winter Park Fire Department asking all county taxpayers to attending a public hearing relating to fire tax allocations. WPPD served areas outside Wilmington from 1951 to 2005. Their station-- or last station location-- was at 4601 Park Avenue. They had a 6,000 gallon tractor-drawn tanker that was hard to miss, when passing through town. Still researching that area's former fire departments. More later.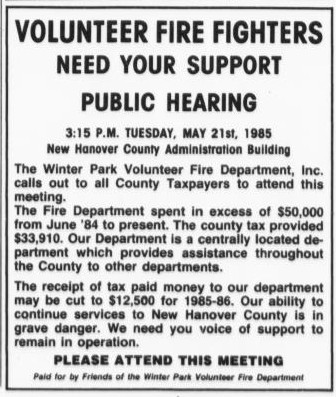 + 10 - 9 | § ¶
Happy Birthday Station 7!
On December 30, 1959 at 12:00 p.m., the city of Raleigh placed its seventh fire station in service at 1300 Glascock Street, later renumbered 2100 Glascock Street. As the story goes, construction started on the wrong lot. The intended site was on the opposite side of Raleigh Boulevard, and the city had to purchase a second lot. Need to to verify that story. The $65,000 station opened with a five-man engine company and two-man squad truck. Engine 7 operated a 1953 American LaFrance pumper. The squad was a 1948 Ford with a pump and tank.
Truck 7 was placed in service on October 25, 1960, and the squad relocated. They operated a 1922 American LaFrance service ladder truck, which was replaced three years later with a 1963 Ford built by firefighters and with the old truck's ladder rack. Truck 7 operated until 1982. The station also housed a rescue unit from 1982 to 1998, and again from 2001 to present. Rescue 7 was placed in service with a 1975 Chevrolet/Murphy ambulance. Rescue 7 was renumbered Rescue 2 this year.
Engine 7 presently operates a 2002 Quality/Spartan pumper. Rescue 2 operates a 2002 International/SVI rescue. Both Engine 7 and Rescue 2 personnel are members of NC USAR Task Force 8, and three-pieces of tractor-drawn USAR apparatus have been parked behind the station.
Station 7 was the first of a type of single-story design that was repeated some two dozen times over the next forty years. However, Station 7 is unique in a couple regards. It's only one of that design with separate sleeping quarters for officers. It also has two front doors, one on each side of the bay. Others can tell about other "features" and associated stories. Happy birthday, Station 7! See more photos.