+ 5 - 5 | § ¶
Yesterday's Major Fire in Rocky Mount
The Rocky Mount Telegram has posted some strong photos from last night's major fire at 122 Howard Street. Crews fought fire for several hours at the two-story commercial structure in the heart of downtown Rocky Mount. Readers to the east, feel free to add incident details or even just a run down of the companies on scene.



Emma Tannenbaum/Rocky Mount Telegram photo
+ 6 - 3 | § ¶
Yesterday's Police Chase and Crash in Charlotte
WSCO-TV has posted dramatic images and footage from yesterday's police chase and crash in Charlotte that injured two CMPD police officers. Officer Keith R. Trietley was extricated from his cruiser after struck head-on by the suspect's vehicle. The crash occurred on The Plaza near Sugar Creek Road and ended the chase. Officer Richard E. Grubb was also transported. His cruiser was rammed twice during the pursuit. The chase started about 2:30 p.m. The officers were transported to Carolinas Medical Center for treatment of non-life threatening injuries. Read this morning's Charlotte Observer story.



WSCO-TV photo
+ 6 - 3 | § ¶
When Irresistible Force Meets Immovable Object
Shamelessly swiped from Statter911, who posted this video of a New York City transit bus driver seemingly unwilling to move over (or at least get moving) for FDNY Engine 276. Keep an eye on his posted version, as the user comments ought to be good. And for those riding trucks with electronic sirens, does watching this one get you thinking about reaching for the microphone?
Talk about tough times, the Big Apple's been bruised this week with snow-clearing issues. Massive delays and outright closures on streets, on subway lines, and at airports. Accusations of slowdown tactics by the plow operators, in retribution for budget cuts. And just general outrage, as this New York Times article historically reviews.


+ 8 - 4 | § ¶
Horne Street Postal Station Closing
Sign of the times and a tough economy. As today's News & Observer reports, the Horne Street post office located across the street from North Carolina State University is closing. Today is the last day for receiving mail at rented boxes. In a few more weeks, the one-person facility closes. Business has dropped sharply in recent years. (Not to mention the general failure of that section of the Hillsborough Street corridor to flourish lo these last couple of decades. Here's a neat Independent Weekly article about that.) Students, faculty, and folks living in the area will have to walk, ride, or drive to the Cameron Village post office on Oberlin Road. The Horne Street station has been operational for 60+ years.



Shawn Rocco/News & Observer photo
+ 6 - 5 | § ¶
Behind Station 1
Here's a rare sight behind Station 1 in downtown Raleigh, the incoming parking spaces vacated way before nightfall. The reason? Ice removal. See, there's limited parking behind the station. So every night, the outgoing shift moves their private vehicles to the other side of the lot. Off-camera to the right. The incoming shift takes the area shown below. (Station 1 is home to three fire companies, one administrative person, and three information technology people.)
The building in the back is the 1942 alarm house. It was the first structure constructed on the Dawson Street site and completed eleven years before Station 1 was built. It originally housed the equipment of the electric telegraph fire alarm system, cost $3,500 to build, and used materials from old Station 1 on West Morgan Street. The garage housed the fire alarm repair truck. Later uses of the structure included housing the fire department dispatchers, storage space for the Services Division, and office space of the Data Management team. See past and present photos of that building. Or read more about its history
.


+ 6 - 5 | § ¶
Harris Plant Ends Fire Patrols
Read that story from yesterday's News & Observer. After five years of prep, the nuclear power plant is replacing its human fire monitors with an automated system. People watching for fires. The oldest method of fire detection. What other institutions or agencies still use same? And what have been some historical examples? I recall a military veteran telling of one person always required to stay awake in their barracks, as a guard against forming fires. This was pre-smoke detector technology. Perhaps it continued into modern era?
+ 5 - 4 | § ¶
Paperwork
Scene from yesterday's gas alarm activation at a research laboratory on the North Carolina State University Centennial Campus. Read the News & Observer story. Or see some scene photos by Legeros.


+ 6 - 4 | § ¶
Dogs Rescued From Selma Breeding Facility
There are plenty of news reports on yesterday's fire at a dog breeding facility in Johnston County. This Selma News story included the below photo of the structure that burned. Crews rescued most of the 45 animals from the building, which was reported ablaze about 8:30 a.m. Initial estimates were placed at 150 inside the structure, but was revised. The incident and the issue of breeding is apparently a passionate one, evident by the 278 comments so far posted on this WRAL story. More are probably coming, once the forums are reactivated at 8:00 a.m.



Selma News photo
+ 6 - 7 | § ¶
Gaston County Firefighter Critically Injured Responding to Call
Firefighter Close Calls reports that Firefighter Clay Thornburg, 17, of the Hugh's Pond Fire Department in Gaston County was injured last night while responding in his personal vehicle to a structure fire. His pickup truck ran off the road on Hephzibah Church Road at 10:37 p.m. The truck struck a culvert and flipped five times. He was found and extricated by members of his department, and transported to Cleveland Regional Medical Center, and airlifted to Carolinas Medical Center in Charlotte. He is reportedly in a coma and with critical injuries. Updates on his condition can be found at http://www.caringbridge.org/visit/claythornburg. Thoughts and prayers can also be posted to that site. The Gaston Gazette has also posted a story, though absent the fire department connection.

+ 4 - 3 | § ¶
Charlotte Apparatus Accident Injures Three Firefighters
FireNews has posted information and story links about yesterday morning's apparatus accident in Charlotte. Three fighters were treated and released with minor injuries after the single-vehicle accident. A fourth firefighter aboard was not injured. Engine 38 was responding to a medical call when the apparatus slide into a tree at the intersection of Westinghouse and Shopton roads. The three year-old engine sustained "significant damage." The incident occurred about 8:55 a.m.



WSCO-TV photo
+ 6 - 4 | § ¶
Send Your Snow Pictures, Update #2
While waiting on the red stuff, send pictures of the white stuff. Just mail me. Here's Station 16, photographed during a newspaper run this morning. Send your best shots and we'll compile and post.


12:41 p.m. update. Left to right, New Bern Station 1, Chapel Hill Station 3, Raleigh Ladder 1.
Tuesday update. Left to right: Apex (2), Raleigh Station 4 (2), Falls.
Click to enlarge:


+ 5 - 5 | § ¶
Yesterday's House Fire in Apex
NBC17 has posted footage of yesterday's house fire in Apex. Arriving units found the garage fully-involved at 102 Chapel Valley Road. One-story, wood-frame structure with 1,326 square-feet. Built 2000.
Defensive operations including aerial stream were subsequently started. Witnesses reported small fire in garage, followed by explosion, notes this WRAL story.
That makes how many working fires over Christmas Eve, Christmas Day, and Christmas Day after? Two in Cary. One in Apex. One in Fuquay-Varina. One in Raleigh/Bay Leaf. What others?

+ 5 - 5 | § ¶
Caption This Photo
Some tropical warmth for a sunny snowy Monday. And no mystery to this location! Time to step away from the computer and raid the garage. There must be something that be converted into a sled. Large cardboard box. Giant plastic lid. Something.
+ 8 - 0 | § ¶
People at the Mangel Fire, 1981
Transcribing some notes sitting on my desk. They'll best archived here, until recorded elsewhere. Reference News & Observer photos from the Mangel Building fire of 1981. Left image shows Herman Jones (left) and Robert Peacock (right) in foreground, and M. Johnson between them in background. Right image shows Asst. Chief Norman Walker in white t-shirt. Click to see larger versions of each.

+ 5 - 2 | § ¶
Caldwell County Apparatus Rolls Over on Christmas Day
Firefighter Close Calls had a short report on Christmas Day about an apparatus rollover in Caldwell County. A piece of apparatus from the Valmead Fire Department overturned on Valway Road. The rig was reportedly upside down in a creek, and with at least one firefighter transported in unknown condition. We've been web-searching since, but no news reports have surfaced. We'll hope for the best for our friends to the west.
+ 6 - 4 | § ¶
Big Banners on Web Sites
Don't use them. They might look cool. They might tout your design skills. But they're basically without function. The readers have to scroll past them each and every time they visit your site. Don't make them work harder. Capiche?
Horrid: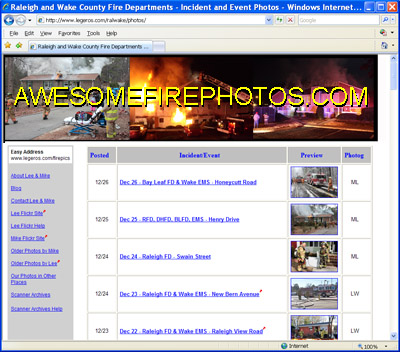 Acceptable: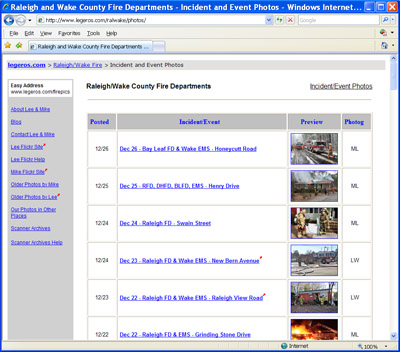 Discuss or refute as desired.
+ 6 - 4 | § ¶
Big Banners on Web Sites
Don't use them. They might look cool. They might tout your design skills. But they're basically without function. The readers have to scroll past them each and every time they visit your site. Don't make them work harder. Capiche?
Horrid: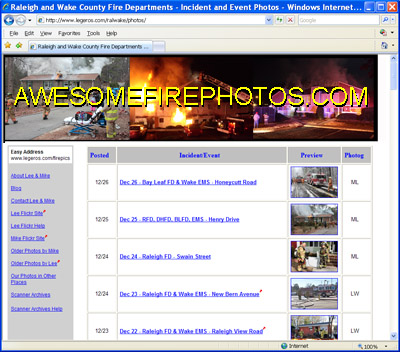 Acceptable: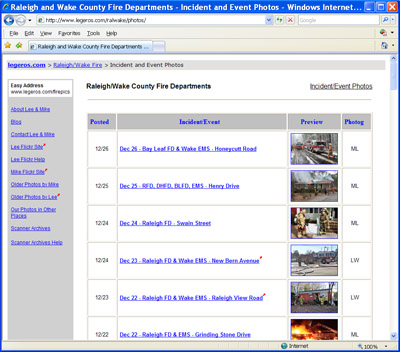 Discuss or refute as desired.
+ 6 - 4 | § ¶
Big Banners on Web Sites
Don't use them. They might look cool. They might tout your design skills. But they're basically without function. The readers have to scroll past them each and every time they visit your site. Don't make them work harder. Capiche?
Horrid: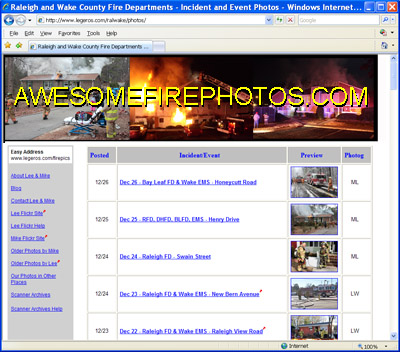 Acceptable: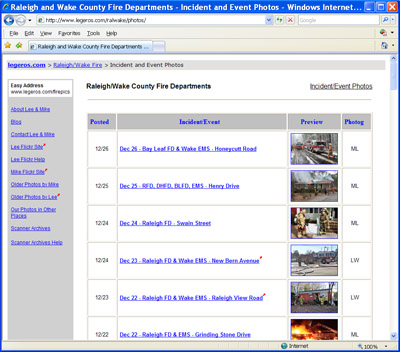 Discuss or refute as desired.
+ 9 - 3 | § ¶
Snow and Fire Alarms, 1915
This announcement appeared on the front page of the Raleigh Times on April 3, 1915. The electric-telegraph fire alarm system was out of order, as many wires and poles had fallen due to the snow storm. Of course, most of the telephones in the city were also out of order, so Chief Farmer's instructions were perhaps a bit moot.


Here's the top-half of that day's front page. Click once or twice to enlarge:


+ 8 - 1 | § ¶
Snow and Station 3, 1915
This picture from the North Carolina State Archives (N66.2.47) was made in April 1915, after the city's worst blizzard on record. It was taken from the corner of Blount and Hargett streets, and shows old Station 3 on the right. It's also a rare view of the station's cupola, which is rarely shown in other photos. In one of two close-ups, the firefighters are standing on what looks like a fallen telephone pole. The two-story station was built in 1898 for the Victor Fire Company. It closed on July 26, 1951, when Engine 3 relocated to East Street. It was demolished the next year. Click once or twice to enlarge:



Courtesy North Carolina State Archives
+ 3 - 5 | § ¶
White Christmas
See what happens when you dream about something? So what sort of snow history have we experienced in North Carolina? Greatest daily snowfall was 29 inches at at Mt. Mitchell in 2001. Greatest monthly total was 56.5 inches in Boone in 1960. Data from this other NOAA site.
In Raleigh, the record snowfall amount for Christmas Day is 0.4 inches in 1947. Our coldest Christmas was 19 degrees in 1983. Our warmest was 58 degrees in 1964. Data from this other NOAA page. We probably won't wear a tropical shirt if the weather drops into 20s.
As for snow and ice storms in Wake County, this NC climate center database records 34 events between 1993 and 2010. And WRAL looked back at recent Triangle snowstorms in this story. But Google doesn't readily find any historical perspectives on snowfalls and snow events in Raleigh. We'll see what the day brings. Gotta have something to work on, even on Christmas!
As for the song "White Christmas," it was written by Irving Berlin in 1940. The version sung by Bing Crosby is the best-selling single of all time, with 50 million copies or more estimated as sold worldwide. The song's original bars are often dropped in records, and starts "The sun in shining, the grass is green..."
Other versions of the song include Frank Sinatra (1944), Perry Como (1947), Ernest Tubb (1949), The Drifters (1964), Elvis Presley (1957), Mitch Miller (1961), Doris Day (1964), Dean Martin (1966), Barbra Streisand (1967), and Otis Redding (1968). Read more from Wikipedia. Happy holidays, everyone!

+ 4 - 3 | § ¶
Mystery Photo
What are we looking at here, this Christmas Eve? Their gear was stowed by the apparatus with care...


+ 7 - 3 | § ¶
Chicago Stockyards Fire, December 1910
Yesterday's tragedy in Chicago, where a building collapse killed two firefighters, occurred 100 years to the day after 21 members of the Chicago Fire Department were killed when a six- story wall collapsed at the Union Stock Yards.
That was the greatest loss of life in the history of CFD, which has seen 658 firefighters and paramedics perish on duty. It was also the nation's largest loss of big-city firefighters until the events of September 11, 2001.
Two days earlier, the Chicago Sun-Times published a retrospective of the event. Read more about yesterday and the retrospectives at Fire Truck Blog. There's also excellent coverage of yesterday's events at Statter911.
Below is an account of the 1910 fire that appeared in the Muscatine Journal in Iowa,on December 22, 1910. It's from the GenDiasters site.
FIRE MARSHALL HORAN OF CHICAGO, AIDE, AND 22 FIREMEN PERISH IN THE FLAMES.

FIRE DESTROYS BUILDINGS OF MORRIS & CO. PLANT IN UNION STOCKYARDS.

LOSS NEAR $2,000,000.

EXPLOSION OF AMMONIA PIPE IS CAUSE OF TERRIBLE CONFLAGRATION -- WALLS OF BUILDING FALL CARRYING MANY DOWN TO DEATH.

HORAN AND AIDE LOST.

CHIEF MARSHAL AND ASSISTANT LEADING THEIR MEN, PERISH WHEN WALL TOPPLES OVER -- FIRE AT LAST CONTROLLED.

Bulletin.
Chicago, Ill., Dec. 22. -- Late in the day the announcement was made that the dead would not number over twenty-four, consisting of Fire Marshal HORAN, Second Assistant Fire MARSHAL BURROUGHS, nineteen city firemen, two private firemen of Morris & Company, and STEPHEN LEEN, aged 16, a yard clerk for the Chicago Junction railroad. Ten bodies have been recovered. It was erroneously stated earlier that the chief's body had been recovered. The fire is now under control.

Chicago, Ill., Dec. 22. -- Chief Fire Marshal HORAN, Assistant Chief BURROUGHS, Lieutenant FITZGERALD and nearly forty other firemen were killed, and a property loss of a million and a half dollars, resulted from the destruction of the meat warehouse of Morris & Co., by fire at the Union Stockyards this morning.

Entire Crews Among Dead.
It is now though that the dead may reach forty. The entire crews of Engine Companies 51 and 53 are said to be among the dead. In addition, six members of Company 29 and some of No. 48 were killed. The hope of the firemen and hundreds of admirers of Fire Marshal HORAN that the fire fighter and his men had not perished was practically lost when Battalion Chief LANCY told of seeing the marshal and BURROUGHS together with eighteen of twenty men go down beneath the falling wall.

Tells of Death of Firemen.
"Chief HORAN was in front of the pipemen," said LANCY, "and BURROUGHS a short distance behind him directing the work when the crash came. I know just where they are and are sure they had no chance of escape. Dozens of firemen saw the same situation and many of them ran to the pile, almost frantic, and began throwing bricks away with their hands. They were like so many coals of fire and any work of that sort was useless. I ordered them back to fighting the flames in the hope that the fire might be stopped in time to find a way to rescue the poor fellows we saw go down to what seemed certain death. I was determined to make every effort within human power to save the men, but the conditions of the the building made it suicide for the rest of us to try to enter it."
READ MORE
+ 5 - 6 | § ¶
Last Night's Two Alarms / Grinding Stone Drive
Two alarms at 4644 Grinding Stone Drive. Engine 19 arriving at a two-story, wood-frame, six-unit condominium building with approximately 12,000 square-feet. Built 1974. Fire showing through roof of end unit. Interior operations started. Battalion 1 arrived and upgraded to major working fire. Crews continued with interior lines until withdrawn due to deteriorating conditions. Defensive operations started with Ladder 2, operating reserve platform ladder, and hand lines both in front and rear of structure. Command post in front of building. Staging on Walden Pond Drive. Medical monitoring and rehab on Grinding Stone Drive. Two hydrants used. Ten people displaced. One firefighter received minor burns. Dispatched 2:24 a.m. Controlled 3:30 a.m. Crews on scene through the morning. First alarm: E19, E15, E11, L2, R1, B1, EMS 5. Working fire: E9, A1, C10, C20. Second alarm: E27, E16, E22, L5, R2, B2, EMS 15, D1, T1. Also on scene: C40, C3. "B" shift. See photos by Mike Legeros.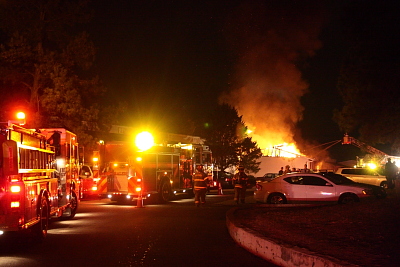 + 3 - 8 | § ¶
Ladder 2 on Grinding Stone Drive
As shown at this morning's two-alarm apartment fire and operating the reserve 1999 American LaFrance platform. We'll blog about the incident at a later time. See preliminary photos by Yours Truly. Stayed on scene about an hour.


+ 2 - 6 | § ¶
Sleeping Firefighter
And while we're running our laugh track, Dave Statter found this very funny video that demonstrates the acoustic effects of metal cookware when applied in close proximity to the head of a drowsy firefighter. Can't wait to try this at home, when Mrs. Blogger is falling asleep on the couch!

+ 4 - 4 | § ¶
Ladder 1 on Hensley Drive
While the Fuchsia Terror works on finishing his photos from Sunday night's apartment fire, here's a forthcoming shot of Ladder 4 Ladder 1 from the series. This shot's also heavy on the reds. Part pink, part yellow, part red. Could also apply to a description of a certain someone's shirts! And remember kids, don't wear floral prints to firefighter interviews. Though polka-dotted underwear is probably okay. Perhaps readers will share some brief opinions on that matter. Click to enlarge:


+ 6 - 4 | § ¶
Four Days of Photos
Two major fires, a retirement lunch, a graduation ceremony, and a mass-casualty incident. Total photos around 2,000. Total number of keepers about 600. Here's a prior posting on Mr. Blogger's workflow. Still having a "problem" with overshooting. So many more photos equals that much longer time spent processing and posting. Need to get leaner and meaner. Or at least leaner.
The new Canon 40D camera body is working super-well in darker conditions. Two night fires and the lower light in the Convention Center did not result in significant impairment. Sample sets were posted for four of the things, with full versions arriving later.
Yesterday's vehicle accident was slightly faster for processing as the pictures were made during daylight and thus the exposures and colors didn't require quite as much work. There were some deadly shadows, however. The light as captured by my cameras is also very harsh. Wasn't entirely happy with the results. But see for yourself...
+ 6 - 4 | § ¶
This Morning's Mass Casualty Incident / Highway 64
Chain reaction collision between three school activity buses on eastbound Highway 64 at Edinburgh Drive. Dispatched about 10:30 a.m. Occupants included about 113 eighth-graders on a field trip from Asheboro. Cary Fire Department responded with two engines, one ladder, one rescue, and two Battalion Chiefs. EMS second alarm dispatched, along with additional resources. Total of 14 ambulances from Cary, Apex, Wake County, and Six Forks EMS, plus four EMS district chiefs, one EMS chief, one Deputy Medical Directory. Total of 36 patients transported with minor injuries, one adult and 35 students. Other students and adults walked in groups to nearby hotel for shelter. Three transit buses requested. See photos by Mike Legeros. Or news coverage from WRAL, WTVD, and NBC 17.


EMS
14 Ambulances - EMS 51, 9, 42, 41, 52, 4, 124, 3, 14, 121, 123, 1, 32, 43, 6
4 District Chiefs - D5, D2, D1, D4
1 APP - Medic 91
1 Chief - EMS 500
1 Deputy Medical Director - MD-20
1 Medical Evacuation Bus - Evac 1
Chatham County EMS unit and Wake County EMS Truck 1 turned away

Fire
Engine 3, Engine 4
Ladder 3
Rescue 4 Rescue 2
Battalion 1, Battalion 2
Safety Officer 20
Car 2

Other units, corrections?
+ 6 - 5 | § ¶
Tonight's Two Alarms / Hensley Drive
Two alarms at 417 Hensley Drive. Engine 4 arriving at a two-story, wood-frame apartment building with 10,872 square-feet. Built 1979. Smoke showing from the eaves and declared a working fire. Engine 9 hand-laying supply line. Battalion 1 assumed incident command, and called for second alarm as smoke conditions increased from all sides of the structure along the roof line. Vertical ventilation using ground ladders by Ladder 1, followed by Ladder 5 positioned in rear parking lot, and deployed for roof access and as standpipe for hand line into attic. Dispatched 6:52 p.m. Controlled 7:20 p.m. Units on scene included E4, E9, E15, E16, E18, E17, E11, L1, L5, R1, R3, B1, B4, B3, A1, C10, C20, EMS 3, EMS 6_, EMS 12_, D_, T1. See preliminary photos by Mike Legeros.


+ 3 - 8 | § ¶
Preparing For Your Oral Interview
A reader requests information on preparing for an oral interview. What advice do readers have for someone interviewing for the position of firefighter? And particularly those who have never interviewed before? Beyond dressing nice, of course. Google finds a few resources, such as this Firehouse.com column and this page of resources from the Don McNea Fire School. What other resources, or personal advice would you offer? Thanks in advance.
+ 6 - 8 | § ¶
Caption This Photo / Chief Roof Retires
Congratulations to retiring Bay Leaf Fire Chief Ron Roof! He retires with 34 years in the fire service, including 20 years as a member of Bay Leaf Fire Department, and 11 years as Fire Chief. This faux-panoramic photo was made at Friday's lunch at Bay Leaf Station 1. How many collective years of experience are shown here? Not to mention sheer number of past and present fire departments represented! Best of wishes in new adventures, Chief. Signed, professional firefighter wrangler. Click once or twice to enlarge:

+ 7 - 7 | § ¶
Raleigh's Largest Commercial and Industrial Fires of Last Decade?
How many big commercial and industrial fires has the city seen in the last decade? The Penmarc Drive mystery photo inspired some thinking on that. Below is take one on such list. Your Historian started with all two- and three-alarm building fires since January 1, 2000. Plus ConAgra. Exclude some big non-structural fires. Electrical substations. Tankers on Beltline.
Deleted all single- and multi-family dwellings. Deleted dormitories, but retained other educational buildings, like Reynolds Coliseum. Remember that one? Also deleted a few two-alarmers where the companies were quickly returned to service. The results are below. Just over two-dozen over eleven years years. Three-alarmers in bold. Next question, what's missing?
9/6/2000. 105 (113?) S. Wilmington Street. Two-story masonry building, 80 years old. Restaurant downstairs, apartment upstairs. Two alarms, plus special call for Truck 1. Three aerial streams! Dispatched 5:25 a.m. Crews on scene through that afternoon.

4/13/2001. 2901 Trawick Road. Roller-skating rink. Commercial / Entertainment. One-story building. Two alarms. Truck 15 (snorkel?) special called. Fire in rear-storage room found. Difficult to control due to building design and caution due to steel-beam roof. Dispatched about 4:40 p.m. Controlled 5:52 p.m.

9/21/2001. 3461 Sumner Boulevard. Triangle Town Center. Two alarms. Burning materials on roof under construction. Aerial streams used to extinguish. Dry hydrants found. County units called for manpower and water supply. Ten tankers and pumper-tankers respond. Dispatched about 8:45 a.m. Controlled about 10:10 a.m.

10/22/2002. 5720-L Capital Boulevard. Nail salon. Two alarms. Interior destroyed, smoke damage to businesses on both sides. Dispatched 12:40 a.m.

10/23/2002. 1305 E. Millbrook Road. Quail Corners Shopping Center. Two alarms. Fire contained to attic space over business. Two prior multi-alarm fires in 1998.

10/24/2002. 1400 S. Blount Street. Cargill plant. Two alarms. Top of grain-dryer fully involved. Two aerial streams for suppression and exposures. Two trains stopped, but third allowed to pass during operations. Dispatched about 10:00 p.m.

3/1/2003. 2815 Capital Boulevard. Old Holiday Inn. Three alarms. Heavy fire in first and second-story of two-story hotel addition. Dispatched 8:42 p.m.

4/22/2003. North Carolina State University. D.H. Hill Library. Two alarms. Fire in first-floor food court. Contained to ground floor kitchen. Dispatched 3:36 a.m.

8/22/2003. 201 Penmarc Drive. Warehouse building. Three alarms.

READ MORE
+ 4 - 8 | § ¶
Last Night's Two Alarms / Midway West Road
Two alarms at 8900 Midway West Drive off Westgate Road. Engine 23 arriving at a one-story metal industrial building with 47,225 square-feet. Built 1986. Metal fabrication facility, occupied at the time of the incident. Smoking showing and declared a working fire. Raleigh and Durham Highway crews entered structure to determine exactly what was burning. Machinery found on fire. Engine 23 repositioned closer to fire location, outside rear loading dock. Ladder 6 positioned in same location, and deployed for roof access. Replay pumping from Engine 24 and extended supply line from hydrant south on Midway West Road.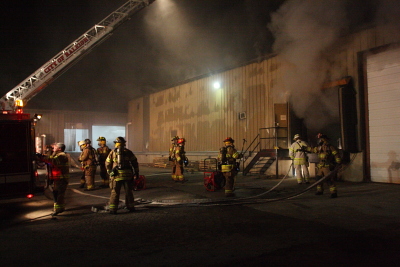 Second alarm requested about five minutes into incident. Dispatched 10:09 p.m. Controlled 11:19 p.m. Incident command located on Midway West Drive in front of structure. Medical monitoring and rehab located in parking lot about two blocks south. Fire apparatus staging on Westgate Park Drive, off Westgate Road. EMS staging three blocks south on Midway West Drive. Cause determined as accidental, with hot metal shavings from a grinder igniting, which caught the ventilation system on fire. Units on scene included: E23, E24, E17, E16, Durham Highway E1, E14, E9, E4, Durham Highway E3, L6, L3, R3, R1, B4, B3, B1, A1, C10, C20, C40, C4, C5, EMS 122, EMS 4, EMS 5?, D3, D1, T1. "C" shift working.

See preliminary photos by Mike Legeros. More photos to be posted later. Arrived about 20 minutes into incident. The new camera (Canon 40D) is providing better than the older one for low-night night shots. Helps that Yours Truly is really reading the manual for the first time.
+ 6 - 8 | § ¶
The Ultimate Fire Blog News Discussion Site?
Friday morning discussion topic. What's your vision of the ultimate fire blog or fire news or fire discussion web site? What are the features, the types of content, the personality, the tone, the structure that you like best? And that you use or would use the most? Open question. Reference any existing sites. Reference this site. Or imagine something not yet seen. Can be local, regional, national in scope. For example, Mr. Blogger loves reading, posting, and observing discussions. My ultimate site is very comment-friendly. That is, it's very, very easy for users to post comments. Might be moderated, either real-time or post-posting. Might require user registration. Might not. But my ultimate site draws users and thus discussions like flies. What's your vision?
+ 4 - 9 | § ¶
This Afternoon's Water Rescue / Doverton Court
Male subject on raft stranded in large pond (or small lake) behind apartments on Doverton Court, off Lead Mine Road, and just north of Lynn Road. Dispatched about 4:20 p.m. District 4 first on scene, found subject floating about 40 or 50 feet from shore. Engine 4 and Ladder 3 soon on scene. Rescue 3 and Engine 14 also dispatched.
While they were hooking up the boat trailer at Station 14, crews on scene tried tossing a rescue rope bundle. Subject was still some 15 feet farther out. Upon arrival of Rescue 3 and the boat trailer, a rigid-hulled inflatable raft was brought to the shore. With three firefighters aboard, they slowly rowed forward, while chopping a path through the ice.
After reaching the raft, the four were quickly returned to shore by rope pull. Subject was removed from the water about 5:10 p.m. He was treated by EMS and transported for observation. Units on scene included E4, E14, R3, L3, B4, EMS 3, EMS _, D4, M93, and MD1.
See photos from Legeros, though with new camera still being learned. Very low light! News crews present, but no stories yet posted (or at least found by Yours Truly).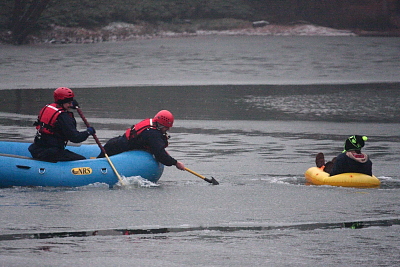 + 7 - 5 | § ¶
Cornelius-Lemley Engine Overturns in Charlotte
This WBTV3 raw footage was posted today of Cornelius-Lemley Fire Department Engine 5 that overturned on Poplar Tent Road this morning, while responding to a fire call. The 2005 Seagrave reportedly struck a patch of icy road. Four firefighters were aboard. No injuries were reported.
CLFD just recently received approval to purchase a new engine. Seagrave was awarded the $523,000 bid. They also recently obtained Cary's old 1995 Seagrave pumper, which is serving as a reserve truck. FireNews has some of those details, via the Huntersville Herald. They mixed up a few facts in the original story, alas.

+ 4 - 9 | § ¶
Live Accident Data From Raleigh/Wake ECC
Wondering just how safe the roads are around Wake County on a give snowy morning such as today? One data point is the number of vehicle accidents that have been dispatched by the Raleigh/Wake County Emergency Communications Center. They have nearly live data on same that's automatically posted to their Twitter site, and their map-based incident data site. Incidents are posted within a number of minutes, and maybe longer during very busy periods. Very cool feature, to be sure!


+ 6 - 6 | § ¶
Raleigh Fire Academy Graduation to Be Held Friday at Convention Center
The Raleigh Fire Department will hold a graduation ceremony for Fire Academy 36 at the Raleigh Convention Center on Friday, December 17, at 7:00 p.m. As this press release notes, the 24 graduates have spent the last 30 weeks attending classes covering topics ranging from fire suppression to emergency medical training.
They'll graduate state-certified as Level II firefighters and Emergency Medical Technicians. And be assigned to their fire stations beginning December 20. Congratulations to all! Good luck in your careers as members of the Raleigh Fire Department. See you soon!
Thursday update. Here's are the graduates as photographed this week by Lee Wilson. Click to enlarge:

+ 4 - 8 | § ¶
Three Alarms in Charlotte
Temperatures were around 30 degrees when Readfield Village Apartments caught fire in south Charlotte today about 10:30 a.m. Three alarms, 60-some firefighters, two hours to control, 11 people displaced, some $750,000 damage. Read, see, and watch more at WSCO-TV and the Charlotte Observer, for starters. Google for more news links. Readers to the west are welcome to add incident details.



WSCO-TV aerial image

+ 4 - 7 | § ¶
Mystery History
Let's see how quickly folks can identify this one. Lee Wilson took the picture. Mike Legeros did a bit of perspective correction, since a wide lens was used. Three alarms that day. Note the news chopper in the upper-right corner. Click to enlarge:


+ 7 - 7 | § ¶
Caption This Photo
Transit bus burns in downtown Chapel Hill. Five people aboard and evacuated safely. Six minutes to control after arrival of fire department. See WRAL story.



Scott Steger/WRAL photo
+ 6 - 3 | § ¶
Recent Change to Lee's Photo Site
One more thing about Lee's photo site. There's been a recent change what is frustrating the heck out of people trying to download single photos. Here's our best attempt at explaining what's changed.
Problem:
When viewing a detail page, like this one. When you right-click on a photo and select View Image or Save Image, a blank screen displays or blank file is saved. Which bites.

Solution:
Click on an individual photo, like this one. Now if you right-click on the photo, there are four size options. Click any of those and a new page displays, showing the picture in that size. Right-click again, and you can view or save, and things will work fine.
Or, start at the individual photo and click the Actions menu in the upper-left corner of the page and the View All Sizes menu option. The same new page displays, showing a larger version of the picture. Again, you can right-click and view or save, and things will work fine.


+ 4 - 7 | § ¶
How to View Lee's Photos on Flickr
Everybody knows our photo site at www.legeros.com/firepics, which is a shortcut to www.legeros.com/ralwake/photos. That's where you see incident and event photos posted by Mike Legeros and Lee Wilson. There's a catch as that site is a gateway to two different places. Lee's photos actually reside on a second site, Flickr. (Mike has a Flickr site as well.)


On the above site, look on the left navigation bar. There's a link labeled Lee Flickr Help. Click that baby and you'll be presented with a blog entry from 2007, that provides help on navigating Lee's photo site. That site is located at www.flickr.com/photos/leewilson. Does everything make sense, Mack? If it doesn't, please ask questions!
Finally, what's new or needs changing on the above tutorial posting? Let us know and we'll update. That concludes today's lesson. Thank you for sitting still during class.


+ 2 - 7 | § ¶
Two Men Save Neighbor / Yesterday's Fire on Garner Road
WRAL posted this story about two neighbors who rescued a man at an apartment fire in the 1300 block of Garner Road yesterday. James Cathey and Reginald Dudley, cousins, heard the smoke alarm in the apartment above them. They went upstairs, but received no response after knocking.
Opening the door, they found the apartment filled with smoke. Opening a window, they then found their neighbor unconscious in a chair. The two carried him and his recliner to the back yard. They then performed CPR and revived the victim. He was transported to WakeMed and later UNC Hospital.
Engine 3, Engine 1, Engine 13, and Ladder 4 were among the responding units. The fire in the two-story brick apartment building was quickly extinguished, and a few scene photos were shot as Mike Legeros was passing through the area.
+ 4 - 5 | § ¶
Raleigh's Original Tiller in 1984
Found while filing negatives, here's an undiscovered shot of the city's original tiller in 1984. That is, the original 1916 American LaFrance tiller with its 1939 American LaFrance tractor. It's pictured behind Station 8, where it sat for several years. Or at least ten years, as this picture now confirms. The photographer was Gary Knight, who took numerous station shots for the 1984 year. It was subsequently sold to a private buyer, who stored the thing in Apex. The truck was again sold in 2008, and is presently privately owned in Harnett County. See present day pics. Or click to enlarge:


+ 5 - 5 | § ¶
Tight Squeeze For Cary's FIrst Ladder Truck
Cary's first ladder truck was a city service truck on a Chevrolet chassis purchased in 1964. It was first stored in a public utilities building behind the fire station. Because the truck was longer than the building, a hole was knocked in the back wall and a plastic cloth was hung over the truck's protruding front. It was replaced by a 1975 GMC service truck that with an enclosed body style that kept the ladders and other equipment protected from the weather. That was an innovation for its time. Believe Alexander Welding built the body? It was replaced by a 1995 Mack service truck, which might still be on the roster as a long-serving reserve unit. Click to slightly enlarge:



News & Observer / Cary Fire Department photos
+ 5 - 5 | § ¶
Fayetteville Fire Station 19 / Temporary Fire Stations
FireNews repotted this week that construction has started on a permanent Fire Station 19. The $2.7 million facility will be located in a business park in north Fayetteville that's under development off Andrews Road. The current station is on Andrews Road, and has been operating since 2009. The station will also serve as a police substation.
Google doesn't find any drawings of the new station, but the Fayetteville Fire Department web site has this picture of the current one. Note that attached garage probably does not lean to the right. That's the effect of a wide lens.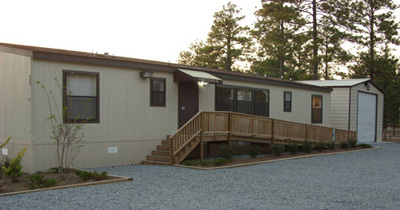 Now for a question that's always wondered Mr. Blogger. Why do some departments construct temporary stations, while others wait until a permanent building can be built? In the second scenario, doesn't contract fire protection usually accompany same? Guess the numbers must crunch to desired effect? What other reasons come into play? And what other departments have operated temporary stations to good effect?
+ 6 - 2 | § ¶
Why New Trucks Are Tight Fits in Old Stations
Here's a great picture from a Boston Globe story that illustrates why modern apparatus is often a tight fit in older or very old fire stations. Found the story by way of Statter911, who found the story on FireTruckBlog, who found the story in the Globe.
Tell your stories, folks. What are some of the tightest fitting stations around here, and what accommodations have had to be made? Raising doors, lowering rigs, etc.? And anyone want to admit that they ordered a truck they thought would fit, but didn't?
If this sounds familiar, we posted about tight squeezing in Goldsboro last year.



Jonathan Wiggs/Boston Globe photo
+ 6 - 9 | § ¶
UPDATED - Night Training with New Camera
Some weeks ago, one of my two Canon Digital Rebel XT bodies died. Replaced the thing with a Canon 40D, slightly used. Maybe 3,500 clicks on the shutter. Local purchase, after failed eBay attempt. Ask about that experience in private. The new camera has a higher ISO range than the last: 3200 versus 1600. Which means more sensitive to light, which should mean better night photography at fire scenes.
Tested the thing the last night, as companies were conducting training last night in the now-abandoned buildings in Walnut Terrace. The results were good with respect to amount of captured light, and little or no blur of stationary or slow-moving subjects. No flash was used. This was an ambient light exercise.


The posted results are decent. The amount noise is tolerable or better. Some of the colors are whacked, however, and maybe that's because no emergency lights were flashing. All that additional red and amber light on the fireground adds some tinting that we're familiar with. See the results for yourself.

Sunday update. Added a second set of pictures, these showing the results right out of the camera. Only adjusted for cropping and some added sharpness. Color, contrast, white balance, etc is what the camera captured. See which ones you like best.
No Adjustments
Here's what the camera saw, or at least captured to the best of the camera body and lens combination. See set #1: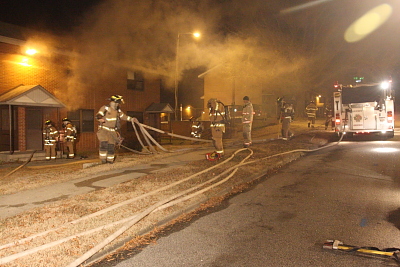 With Adjustments
Why these adjustments? Trying to tone down the yellow cast, which should render the pictures a bit more realistic. But was the scene itself yellow cast, and thus these are actually inaccurate? Welcome to the dilemma of post-processing. See set #2: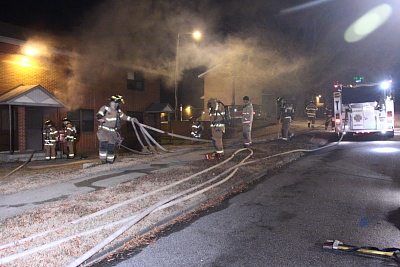 + 5 - 8 | § ¶
Hose & Nozzle Back Issues Wanted
We mentioned this year, during holiday research at UNC library. The publication was called The Hose & Nozzle. Started as a newsletter in 1949 and finished as a magazine in 1980 or later. We blogged about it. Anyone have a stash of back issues that they want gone? Mr. Blogger will take 'em or even buy 'em. Never hurts to ask.


+ 6 - 3 | § ¶
Mystery History
Let's go back in time for this photo. Dramatic image from a prior decade. Somewhere in Raleigh. One of our readers took the photo, in fact. Cick to enlarge:


+ 5 - 5 | § ¶
Raleigh Fire Department Historical Society
With the calendar year close to closing, tax-deductible donations are on many people's minds. For those interested in fire history, the Raleigh Fire Department Historical Society is a new charity on the block. Our mission is the preservation and presentation of fire department history. You'll hear more about the historical society in 2011. We're planning a membership drive, as well as other projects. We were recently granted 501(c)3 status as a charitable organization. Donations are tax-deductible, and can be made at our web site, www.raleighfirehistory.org. We welcome your support. Even pennies are golden. Thanks for reading.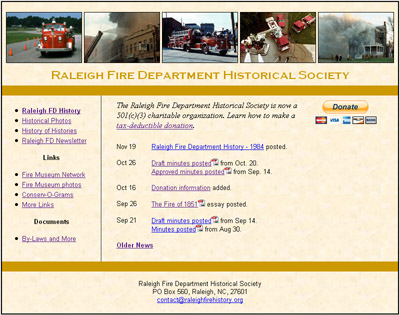 + 3 - 4 | § ¶
Sensitivity and Censorship
For a few days now, a very passionate discussion has been unfolding on Dave Statter's blog. The context is a Connecticut state trooper caught on film reacting to the presence of a photographer at a fatal accident scene. The issues being discussed include censorship of media and sensitivity toward victims. It's an age old issue, and one that probably every responder and photographer has encountered, discussed, or thought about. Join the discussion.
+ 6 - 2 | § ¶
Wake & District Public Safety Pipes and Drums Concert, Saturday, Jan. 8
Only about 100 tickets are left for next month's pipe band concert on Saturday, January 8, 2011. That's when Wake & District Public Safety Pipes and Drums celebrate their five-year anniversary at Fletcher Auditorium at the Progress Energy Center for the Performing Arts. Doors open at 7:00 p.m. and the concert starts at 7:30 p.m.
Featured are Pipe Major John Cairns of the Peel Regional Police Pipe Band, the Bagpipes and Drums of the Emerald Society - Chicago Police Department, the North Carolina State University Pipes and Drums, the Triad Highlanders, and the Inis Cairde School of Irish Dance.
Host hotel for the weekend is the Downtown Raleigh Sheraton and they have (or had) a limited number of specially priced rooms. The after-event party follows at Tir na Nog Irish Pub in Raleigh. Concert tickets are $10.00 each and can be purchased from band members or via the PayPal at www.ForOurFallen.org.

+ 6 - 3 | § ¶
Task Force Says Charlotte Can't Afford Cost of Fire, Police Personnel
From the Charlotte Observer comes this story about public safety salaries. The problem, says a task force that's spent a year studying the city's budget, is that fire and police personnel receive annual raises that "exceed the growth rate" for other city employees. They'll also be losing federal stimulus money that helped pay for 125 new police officers. That expands the projected budget hole by a few more millions. By fiscal year 2013, police and fire expenses will surpass the property tax revenues that fund them. How does it get fixed? More revenues (higher taxes) or less spending (budget cuts). Read the story.
+ 4 - 3 | § ¶
Profile of WakeMed Emergency Services Operations Center
WRAL has posted a nifty profile of WakeMed's Emergency Special Operations Center, which is located a few miles from the WakeMed main campus in Raleigh. The center's features range from teleconferencing centers to protected generators to a rail spur for receiving food or fuel. It's designed to function and provide support during disasters, or such major incidents as the ConAgra explosion in June 2009. Read or watch the story.
+ 7 - 3 | § ¶
Exposures Aplenty as The Block Burns in Baltimore
Dave Statter has the skinny on today's big one in Baltimore. Five alarms in the 400 block of East Baltimore Street. Firefighters numbering 125. Sticks by the half-dozen, plus the snorkel. That's a reserve truck these days, right?
Exposures included the office building that houses fire department headquarters. Other "exposures" included employees of Gayety Show World, who vacated their place of employee in varying states of undress.
The fire spread to theirs and at least three other buildings on The Block. That's the city's hub of adult clubs. See Statter's story for links, slideshows, video clips, and a couple classic quotes about the aforementioned evacuees.



Haddock Taylor/Baltimore Sun photo
+ 6 - 6 | § ¶
Situational Awareness
Guess we're doing good surfacing other blogger's content. But we've got the market cornered on history and mystery photos! This one's was found by the Fire Critic. No details on where or when.


+ 4 - 5 | § ¶
Mystery Vehicles
What are we looking at here through the telephoto lens? Hint, inside the fence are vehicles lettered for Buck Shoals FD (pumper), ERVFD Volunteer FD (pick-up truck), and USN (forklift). Among others. Click to enlarge:


+ 7 - 2 | § ¶
Garner FD Recruit Graduation and Promotion Ceremony, Thursday, Dec. 9
The Garner Fire Department will hold a recruit graduation and promotional ceremony on Thursday, December 9. The location is the Garner Historic Auditorium at 742 W. Garner Road. The ceremony starts at 6:30 p.m.
Badges will be pinned on 17 new firefighters, four Captains, six Lieutenants, two First Class Firefighters, and four volunteer Engineers. The ceremony recognizes the accomplishments that these members have made, and allows their family and friends to be part of this great occasion.
The majority of the new positions have resulted from the opening of Garner's fourth fire station at 125 Spaceway Court. The facility is a joint venture with Wake County and the town of Garner. The new station was funded for nine new positions, with three personnel per 24-hour shift staffing an engine company. Station 4 also houses a Wake County EMS unit.
Thirteen firefighters were hired on June 28, four of which were fully qualified to fill vacant positions within the department. The other nine started as members of Wake County Recruit Academy 3.
The five-month academy had a total of 23 firefighter recruits from throughout the area. It was run by two training specialists from Wake County Fire Services, Joe Knurowski and David Zoltoski. They work under Training Director Ricky Dorsey. The academy's classes were taught by Wake Technical Community College instructors from this area.
READ MORE
+ 5 - 3 | § ¶
Kill Devil Hills 1969 American LaFrance
Here's another apparatus photograph found for sale on eBay, from a 35mm slide scan of a 1969 American LaFrance, 1000/500 that served Kill Devil Hills Fire Department. Lettered as Engine 2. Note the ladder rack above the hose bed. And such white hose at that! Photographer credit is not known. Click to enlarge the photo that appears in the eBay listing:


+ 5 - 5 | § ¶
Snowy Hill Fire Department
Winter scene in northern Wake County. Station 1 of the Stony Hill Fire Department. Or tonight only, Snowy Hill. They are 52 years young this year, having organized in 1958. They capped a decade of rural fire department development. During the fabulous 1950s, these departments formed, the first rural departments in Wake County: Apex Rural, Garner, Zebulon Rural, Knightdale, Cary Rural, Fuquay-Varina Rural, Morrisville, Wake Forest Rural, Six Forks Road, Wake-New Hope, Western Boulevard, Wendell Rural, Rolesville, and Stoney Hill. There was an "e" in their name back then. Click to enlarge:


+ 4 - 3 | § ¶
Clayton Engine 7
Speaking of lime apparatus in Johnston County, Clayton Fire Chief Lee Barbee passes along this photo of Engine 7 during pump testing some years ago. That's a 1976 Ford/American LaFrance. The Clayton Fire Department had a number of lime green vehicles. We'll see if can get more pictures. Click to enlarge:


+ 6 - 4 | § ¶
Charlotte Antiques in Action
Found by Glenn Usdin on his FireTruckBlog, here are Charlotte's antiques appearing in the 2010 Belk Carrousel Parade in downtown Charlotte on November 25. Rolling under their own power-- or pulled by horses-- are pumping engines from the 1900s through the 1970s. As for the parade, it's one of the biggest Thanksgiving parades in the nation. Video produced by the Charlotte Fire Department.



+ 6 - 4 | § ¶
Charlotte Antiques in Action
Found by Glenn Usdin on his FireTruckBlog, here are Charlotte's antiques appearing in the 2010 Belk Carrousel Parade in downtown Charlotte on November 25. Rolling under their own power-- or pulled by horses-- are pumping engines from the 1900s through the 1970s. As for the parade, it's one of the biggest Thanksgiving parades in the nation. Video produced by the Charlotte Fire Department.



+ 7 - 4 | § ¶
City Directory Listings, 1971
Found in Hill's Raleigh City Directory 1971, a collection of which is available for reading at Olivia Raney Local History Library. They have directories dating back to the 1920s in print, and earlier version on microfilm. Select listings, found while doing random research today:
BEACON AMBULANCE SERVICE INC., C. T. "Chuck" Daughtry Genl Mgr, D. T. Goodwin Mgr, Licensed and Approved by the State Board of Health, Complete convalescent transporting, 209 Hillsborough Street, Tel 828-0737

RALEIGH FIRE DEPARTMENT, Jack B. Keeter Chf., Central Fire Station 220 S. Dawson St., Tel 755-6390

RALEIGH FIRE PREVENTION BUREAU, John W. Holms In Chge, 220 S. Dawson St, Tel 755-6392

WAKE CONTY CIVIL DEFENSE, John C. Thorne Dir, 316 Fayetteville St, Rm 813, Tel 755-6245

AMBULANCE SERVICE
Ambulance Aid Inc., 613 W. North St.
Ambulance Aid Inc., 3207 Hillsborough Street, 27606, Tel 828-3282
Beacon Ambulance Service Inc., 209 Hillsborough Street, Tel 828-0737
+ 6 - 2 | § ¶
Fighting a Boat Fire
Statter911 found this video this week of a boat fire in Eastport, Maryland. Twelve minutes of video condensed to three minutes. That's the Annapolis fireboat arriving. As Statter notes, downtown Annapolis is just across the Chesapeake Bay. Something you don't see every day, at least in the central Piedmont.



+ 3 - 3 | § ¶
Inside Greenville's Old Station 1
Speaking of Greenville, here's a great old picture found on their fire/rescue history Facebook page. View inside old Station 1, which was built in 1940 at the corner of 5th and Green streets. Since demolished, the station had bay doors on two side. Here's a page with a picture. The below image is probably dated to the 1960s. Looks like a pair of custom-cab American LaFrance pumpers, plus an aerial ladder of some sort in the background. In the foreground is a commercial cab pumper, perhaps used for rural service? And/or, perhaps was a rescue pumper? Click to enlarge:


+ 5 - 3 | § ¶
Highway Patrol Partners with Raleigh Fire Department to Reach Victims Faster
NBC17 this week posted this story about the helicopter rescue program that's partnered the North Carolina Highway Patrol and the Raleigh Fire Department. With the Patrol's helicopter and the fire department's firefighter/emergency medical technicians, they can more quickly reach injured victims that would be otherwise inaccessible by land vehicles. Before the program, the fire department would have to wait on a helicopter from Salisbury. The rescuers are available 24-hours a day. There are 15 firefighter/emergency medical technicians on the aviation rescue unit. Watch the story below:


+ 2 - 7 | § ¶
Would You Believe a Lime Tanker From Selma?
That's for sale on GovDeals, a 1985 Chevrolet/Scottsdale pumper-tanker painted in glorious lime. Eleven days left on that auction. How many lime trucks served in the smaller towns and departments around here, anyway? We only had one in Wake County, airport rigs notwithstanding. That was a Yrac pumper.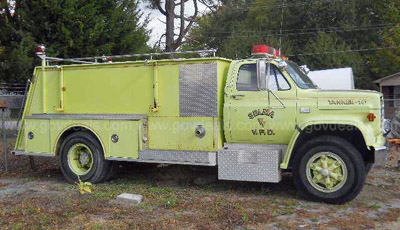 + 6 - 4 | § ¶
Erie Spectators
Or perhaps eerie spectators to those unaware that it's hunting season in Erie, PA. Firegeezer posted a report on the block-long abandoned furniture factory that burned yesterday. The local paper has a slideshow of strong shots with this photo of spectators, including one person with what's identified as a "20-gauge shotgun." Is that right? Certainly something you won't see around here, folks watching a fire with rifles in tow. Civil disturbances not withstanding. No word on what was being hunted. Deer? Moose? Duck? Rabbit? "I say it's duck season, and I say fire," said D. "Dumas" Duck in the famous Warner Brothers short. Or two shorts, if you count the attribution. Pumpernickel.



Christopher Millette/Erie Times-News photo
+ 4 - 5 | § ¶
Durham Service Ladder Truck
Guess it's history week at Blog Central. Check out this historical photo from the unofficial Durham Fire Department web site. That's Truck 10, a Mack service ladder truck of late 1940s or early 1950s vintage. We'll let our Bull City readers clarify, as well as identify the location of the picture. Tobacco warehouse in the background, what do you think? Meanwhile, see more historical photos. Click to enlarge:


+ 5 - 6 | § ¶
Raleigh's Civil Defense Rescue Squad
Next question about older rescue squads, how many North Carolina cities and towns operated those 2 1/2-ton heavy rescue trucks provided by Civil Defense? The Raleigh Fire Department operated this blue and white 1954 Reo obtained with the assistance of the federal government. It was considered part of a national reserve fleet, and would be recalled to Norfolk, VA, in the event of an enemy attack. Placed in service on October 7, 1954. Placed in reserve in November 1974. Never necessarily staffed, though operated as a second-piece of Rescue 1 for many years. Read more on the truck's history.



News & Observer photos
+ 5 - 3 | § ¶
In Flames: Raleigh's Fight Against Fire
The latest issue of the Raleigh Downtowner Magazine has a nice article on the early history of the Raleigh Fire Department. The author is Charis Guerin with the Raleigh City Museum. See page 22 of this PDF version
, or view the interactive edition of the magazine.


+ 4 - 4 | § ¶
Wake County Fire Academy Graduation, Tuesday, Dec. 7
Recruit Class 3 of the Wake County Fire Academy graduates on Tuesday, December 7, at 7:00 p.m. The location is the Student Services building on the main campus of Wake Technical Community College at 9101 Fayetteville Road. The recruits have completed their 24-week academy, and with training that included certifications in Firefighter II, Rescue Technician, EMT Basic, and Haz-Mat Operations Plus. Congratulations to everyone!
+ 3 - 4 | § ¶
Garner Fire-Rescue and Wake EMS Station Now Open
Press release. Wake County and the town of Garner held a ribbon cutting ceremony at the new Garner Fire-Rescue and Wake County EMS Station, 125 Spaceway Ct., Garner, today, December 1, 2010, at 10 a.m. The public was invited to tour the facility immediately following the ribbon cutting. "The new combined Fire-Rescue and EMS station is a model for an efficient approach to service delivery due to its unique, multi-jurisdiction, multi-agency partnership," said Tony Gurley, chair of the Wake County Board of Commissioners. "The partnership reduces the cost for everyone – especially our citizens – while improving service." Read entire press release. And watch for photos from Lee Wilson posting soon.
+ 6 - 3 | § ¶
Clayton Rescue Squad, 1969
Speaking of Civil Defense and rescue services, Travis Loy passed along these photos recently. Clayton Rescue Squad dated April 13, 1969. You all with the photos and the history need to get together, compile your images, and publish a book. It's easy, just takes a little while. Twelve or more months. And I will happily give tips through the entire process. (Easy for me to say, with two books under my belt!) Anyway, keep the old photos coming! Click to enlarge:


+ 7 - 10 | § ¶
Johnston County Civil Defense Rescue Truck For Sale
From reader Brian Sherrill, this vintage beauty was found for sale at Atlantic Avenue Tire & Service. The side of the truck reads Johnston County Civil Defense Rescue Service. And with the original blue and white Civil Defense paint scheme still intact! Looks like maybe a mid-1960s panel van, maybe GMC or Ford. Our readers can probably provide some history on the truck, as well as provide a buyer. This one'll probably get scooped up real quick. Maybe this weekend we can get some more photos. Click to enlarge:

+ 5 - 3 | § ¶
P-25 Firefighting Vehicle
For your midweek enjoyment, here's an interesting piece of specialized fire apparatus. The P-25 firefighting vehicle, designed for shipboard flight desk use. Carries 750 gallons of water and 60 gallons of foam. Plus three 20-pound Halon 1211 extinguishers. Equipped with a 500 GPM turret and 100 feet of 1 1/2-inch hose with a 95 GPM nozzle. There's also an intake, for connecting to the ship's mixed AFFF system. The vehicle is two-wheel drive, powered by a diesel engine. Read more technical details from the Navy's Naval Sea Systems Command site. Two pictures below, one showing a P-25 painted in FDNY colors in remembrance of those lost on September 11, 2001. For you modelers, there are even a couple plastic kits of same. Google finds those easily.



US Navy photos