+ 17 - 21 | § ¶
Local Firefighter Badly Injured in Maryland House Fire
This is slightly older news, particularly if you're a Statter911 reader. Dave's been providing sterling coverage of Friday's house fire in Riverdale Heights, Maryland, that severly injured Buies Creek native and current Bladensburg Fire Department Firefighter Ethan Sorrell. He's shown on the right, with Firefighter Kevin O'Toole. Both were badly injured when a sudden gust of wind created a "blowtorch effect" inside the residential structure that crews had just entered. Sorrell, 21, is a volunteer member of the Bladensburg Fire Department, where he's attending college. Five other firefighters were also injured.
As this local story reports (FireNews.net by way of a couple sources), Sorrell suffered respiratory burns through his esophagus and down to his lungs. He's presently unable to speak, and communicating with pen and paper. O'Toole suffered second- and third-degree burns over 40 percent of his body. He's scheduled for skin-graft surgery and will be staying at the Washington Hospital Center burn unit for six weeks.


Blandensburg Fire Department photo


Sorrell is a student at the University of Maryland, and a 2009 graduate of Harnett Central High School. His firefighting career began as a member of Buies Creek Fire Department in 2006, followed by Dunn Emergency Services in 2008. He's studying emergency management and fire scenes at the university, and has been a member of Bladensburg Volunteer Fire Company 9 since February of last year. He also many ties in Wake County, including a brother who is a member of the Fuquay-Varina Fire Department.
Evening update: Sorrell has been released from the Medstar Burn Unit at the Washington Hospital Center, reports this Statter911 story. He was brought back to the fire station on Truck 809, the rig that brought him to the 57th Avenue fire. He is now reportedly back with his family in North Carolina, updates this story. O'Toole is up and around at the burn unit. He'll have a second round of skin grafts tomorrow.
+ 7 - 18 | § ¶
New Rigs For Richmond
Four ladders, two rescues, and one pumper for the Richmond Fire Department, all from Pierce. The four ladders-- designated quints-- are a pair of 75-foot and 105-foot aerials. The trucks are Pierce Arrow XT's of 2011 and 2012 model years. Full specs and posed pictures in this VAFireNews.com story. Photos below from the Pierce Flickr site.


+ 10 - 14 | § ¶
Reader Mail Again - February 2012
More mailbag excerpts, as dinner settles and little cutting and pasting and typing helps counter the urge to kick back. Still have a couple more hours of productivity time before bed! Must. Remain. Active.
Q: Do you have a contact or email link on the blog? Went to look for it to suggest something and I could not locate a way to contact you via blog.

A: Didn't have same, but have added one. Thanks for the great suggestion!

--

Q: Mike is there a list of current North Carolina fire chiefs or contacts that you have or know about?

A: The best that I have is this Yahoo Groups mailing list: ncfirechiefs@yahoogroups.com. And this directory on the OSFM site.

--

Q: I just had to laugh a little when reading the "Tanker Fire In South Carolina" thread on your blog. I guess safety is really being stressed now, as well as the need to have personnel fit for duty with the advent of "non-alcoholic" foam.

A: Please help support those members of the emergency services community who have problems with alcoholic foam.
READ MORE
+ 14 - 12 | § ¶
Caldwell County House Fire Photo
While we await more information out of Caldwell County about the death of firefighter Chad Settlemyre, 25, of the Sawmills Fire Department (read FireNews.net announcement), here's a Caldwell County News photo of a Saturday morning house in Braymer. The family members escaped unharmed, but their two-story home was consumed. Read the story. Photographer credit isn't known. Shadows lightened using PhotoShop Elements. Commence ethical discussion of digital processing as desired. Click to enlarge:


+ 11 - 13 | § ¶
When Jet Dryers Burn
Here's your amazing fire video of the week, a burning jet dryer during last night's Daytona 500. What's a jet dryer, you ask? As Google informs, they're jet-powered blowers used in the racing industry (among others) for rapidly drying track surfaces. They're also used for clearing debris. This 8:48 minute video clip features lengthy footage of the firefighting effort, after a car driven by Juan Pablo Montoya collided with the truck-mounted dryer. The safety crews slash firefighters faced burning jet fuel that was also flowing down an incline. (The dryer truck is equpped with 200 gallons of jet kerosene.) Looks like numerous dry chemical extinguishers were deployed at first, followed by a handline from either a mini-pumper or a full-size engine. (Pierce is apparatus sponsor of the event.) By the end of the video, you'll see three pumpers on the scene. Someone post a run card! Great video. Easily the best-shot fire video you'll see this year.

+ 11 - 8 | § ¶
Light at Night in Warren County
Intriguing photo from John Franks, from a fatal house fire in Warren County on February 19. Camera is a Sony SLT-A55V. Ambient light, 6400 ISO, 0.04 second exposure. See more photos. Read story on FireNews.net.



John Franks photo
+ 9 - 15 | § ¶
Roadhouse Restaurant Fire, February 7, 1996
Though only heard about this one versus having gone and seen, here's a News & Observer photo of the Roadhouse at 3714 Capital Boulevard, that burned during the lunch hour on February 7, 1996. Don't believe a second alarm was struck, but please correct my historical perspective (and recording) accordingly! Two alarms were struck at the fire, which was reported about 12:30 p.m. Had a friend who was dining, and recounted the experience of being evacuated while eating. Ten employees and several dozen employees evacuated safety. The location was the west side of Capital north of Buffalo Road. Think the lot is still vacant. A service station was later built upon the lot. Click to enlarge:


+ 9 - 13 | § ¶
Restaurant Burns in Siler City
News & Observer photographer Harry Lynch snapped this strong shot this afternoon in Siler City, where a restaurant caught fire about 1:00 p.m. Highway 64 through town was blocked by emergency units, reports the paper. Three departments were reportedly on scene.



Harry Lynch/News & Observer photo
+ 18 - 27 | § ¶
Very Old Raleigh Fire Helmets
February 2012
Here's another very old helmet, this one one of two recently acquired by the Raleigh Fire Museum. It's another Cairns helmet, perhaps another High Eagle model? The shield is believed to be original. The date or era is a mystery. Perhaps 1920s or earlier? Perhaps very earlier? The material is also metal instead of leather. Probably tin. Donated by Capt. Gary Amato, from the estate of Col. Bob Biggs. Here's a posting from 2009 on the evolution of the Raleigh fire helmet. We'll work on updating that one as well. Click once or twice to enlarge:


September 2008
Here's a treat from an antique collector in Wake Forest. He took these pictures of a Cairns High Eagle helmet, circa perhaps 1900s. It was found in a local antique shop (!) and originated with a Raleigh fireman. No other information is know at this time. Such helmets were likely used at the turn of the century, and perhaps just by a few fireman. Maybe exclusively by fire company foremen. They also appear, here and there, in photos from the 1920s. Click once or twice to enlarge:
+ 7 - 12 | § ¶
Mystery Construction Video
What's happening here? Can you explain or paint the bigger picture? Will reveal all, if intrepid guessers or Googlers don't find it first. What's the connection to this blog, or the fire service. Well, we know at least one person with similarly exhaustively obsessive interests...
+ 7 - 8 | § ¶
A Revolutionary patriot in the family
That's the headline for a neat News & Observer story from Thursday, about Raleigh firefighter Chaz Moore who today became the first black member of a North Carolina chapter of the Sons of the American Revolution. The ceremony took place this morning at the Museum of History. Moore, 30, is a descendant of Toby Gilmore, a slave who was freed after fighting for American independence. Moore recently discovered these roots through a cousin's research into their family tree.
Some historians estimate that about 5,000 blacks fought against the British. In 2006, Harvard Professor Henry Louis Gates and SAR began a project to track black patriots. At the time, they estimated about 30 of the group's 27,000 members were black. The project's results, titled Patriots of Color, is expected to be published on a web site within a few weeks. Read the entire story. As for a history of blacks in the American fire service, this National History of Black Firefighters is a great place to start. Congrats, Chaz!



News & Observer photo
+ 8 - 16 | § ¶
Unusual Airport Fire Station
This one's in the province of Punta Cana in the Dominican Republic. The Missus paid a visit a couple weeks ago. She would have taken this shot, had the plane passed at the right angle. Credit for this photo instead goes to a Facebook friend's family member. Such open-air stations are common in Latin America, correct? Maybe same for the natural (or natural-looking) building materials? [ Insert reference to Gilligan's Island as desired. ] Observe the apparatus. Two Oshkosh Strikers, plus an older Oshkosh crash truck and what's probably a tanker or pumper-tanker. Click to slightly enlarge:


+ 6 - 11 | § ¶
Yesterday's Apparatus Accident in Cabarrus County
FireNews.net has posted this story about last night's apparatus accident in Cabarrus County. Georgeville Fire Department Engine 2 overturned on Highway 200 while responding to a medical call. The accident occurred about 8:00 a.m. and less than a mile from the fire station. The driver-operator and the only firefighting aboard the truck was not injured. He pulled himself out of a window after the apparatus turned on its side. The three year-old engine was totaled. See also: WCNC, WBTV, WSCO.



WCNC/Georgeville Fire Department photo
+ 7 - 11 | § ¶
Last Call For Angus
On Thursday afternoon, a beloved and dedicated member of the Durham Highway Fire Department passed away. Angus Highway was 14 1/2 years old, and put to rest after saying goodbye to his friends and family at the fire station. He was the face of public fire education both at the fire station and for their many public visits near and far. His fire department family made the difficult decision as Angus had been suffering from seizures and arthritis is recent years.

A private memorial service was held at their fire station on Norwood Road. Angus' last call was transmitted on the radio, see below. His body was transported to a nearby animal hospital, escorted along Leesville Road with a procession of Durham Highway fire apparatus. Visit Angus' Facebook page to pay your respects and see media of Angus in life. See photos from Thursday by Mike Legeros and Lee Wilson. See also these FireNews and NBC 17 stories. Read earlier blog postings about Angus from December 2011 and April 2011.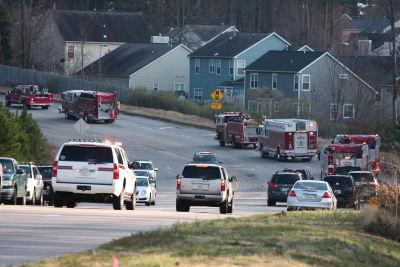 The following announcement was read at the start of Thursday's ceremony by the Wake County dispatch channel by the Raleigh/Wake County Emergency Communications Center (listen to audio recording):

Raleigh Central all units and all stations, it is with deep sense of sadness that the members of the Durham Highway Fire Department announce the passing of long time member Angus.
Angus was a 14 1/2 year veteran of the fire department where he served as a proud member with great distinction in the public safety education program responsible for educating thousands.
Angus was more than a mascot, but a dedicated presence in the community and was quickly adopted by everyone who met him.
Angus executed his duties with distinction and will be greatly missed by the fire department, the community which he served, and the entire fire service brotherhood.
Thank you Angus for a job well done.
Raleigh Central to Angus...
Raleigh Central to Angus...
Raleigh Central to Angus…
God Speed Angus.
Communications is now clear at 16:14 hours.
+ 11 - 12 | § ¶
Binoculars
Falls firefighter directs traffic at a motor-vehicle accident on Leesville Road yesterday. Observe the observers in the background. And riding bareback no less! Click to enlarge:


+ 8 - 11 | § ¶
Bays Were Here
Can you tell by looking at the brick work? Here's an earlier history of the building, which was closed today as a fire station. Click to enlarge:


+ 8 - 7 | § ¶
Morning Reading - February 23, 2012
Good morning Raleigh. Moving day in Morrisville, with Station 1 shifting from Morrisville-Carpenter Road (built 1960) to Town Hall Drive (started 2010). See photos of both buildings. Mark your calendar for the ribbon cutting on March 14. As for today, don't mind the guy with the camera and Hawaiian shirt. He'll probably come sniffing around around lunch time.
+ 10 - 5 | § ¶
Raleigh Fire Department Personnel Proposal, 1959
My favorite place to research Raleigh (and Wake County) history is the Olivia Raney Local History Library. Among their resources is the fabulous Elizabeth Reid Murray collection. Within same are three boxes of research and records on the Raleigh Fire Department. Found this yesterday, a personnel proposal dated March 25, 1959. The author is probably (certainly?) Fire Chief Jack Keeter (1955-1973). This document caught my attention as it contains perhaps the first reference to Engine 9. That was originally the second company at Station 1. (Later renamed Engine 10, then Engine 15, then Engine 13.) To date, we haven't found the date they were placed in service at Station 1. But this citation gets us closer! Did Chief Keeter gets his requested pesonnel? More later. Click to enlarge:


+ 13 - 10 | § ¶
Vintage Apparatus Postcards, Kinston, Fort Barnwell
Found for sale on eBay. The Kinston postcard is postmarked 1976, the Fort Barnwell postcard does not have a postmark date. At least, as indicated by the eBay seller. Seagrave on left, Ford/Bean on right. Click to slightly enlarge:


+ 7 - 3 | § ¶
Body Cameras For Police Officers
Neat story from today's New York Times, about miniature video cameras and cloud-based storage systems for police officers. They've been developed by Taser International, the company better known for its stun guns. They're the obvious next step from dash cams, and with an equally obvious value: documentation of suspect behavior and confrontations therein. Of course, the camera cuts both ways, and will also document the officer's behavior.

Personal cameras have become a staple in the fire service, or at least with those departments that permit helmet cams. But they've raised plenty of concerns among chief officers and, heck, even peers. Reputation management alone gives some folks pause. (Nobody wants to be shown doing less than their best.) Then there are legal aspects, or presumably legal aspects. (Mr. Blogger isn't a lawyer, nor watches them on television.)
Seems like personal cameras will make law officer's lives easier, and their conduct even more transparent. The explosion of smart phones and social media channels already has everybody watching everyone else. Sure, we've always had cameras, but sharing what we've photographed or recorded is easier than ever. Adding cameras to the bodies of those charged with our protection seems an inevitable next step. And probably a good one. What do our readers in blue think? Exciting, scary, both? All that's left are personal cameras for telecommunicators. That's the footage that we're all wating to see...



Joshua Lott/New York Times photo
+ 11 - 9 | § ¶
Hockey Response Vehicle
Seen in Morrisville this morning.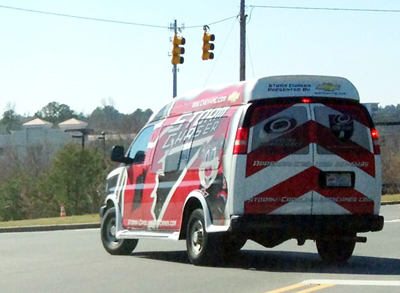 + 12 - 4 | § ¶
Morning Accidents
WRAL has posted a couple photos of this morning's fiery accidents on Interstate 540. Both are presumably viewer photos. Top is I-540 at Creedmoor Road, where two lanes in each direction were closed about 6:30 a.m. Bottom is the ramp from westbound I-40 to I-540, that reportedly involved a Durham police vehicle. Two officers were transported. Read more from WRAL. Here's some aerial footage from WRAL from the second incident. See also stories about this morning's many accidents from WTVD, NBC17, News 14, News & Observer. Other incidents this morning included a working house fire in southeastern Wake County, with Garner and Eastern Wake fire departments. Fully-involved on arrival. Readers can add incident details, or relate other tales as desired.



WRAL photos
+ 10 - 4 | § ¶
Last Night's House Fire on New Bern Avenue
Here's your morning action shot, from last night's house fire at 905 New Bern Avenue. Dispatched as working house fire at the intersection of New Bern and Idlewild Avenue. Police reporting subjects possibly still in structure. Engine 3 arriving at a two-story wood-frame structure with 2,178 square-feet. Built 1925, with additions and remodeling in 2003. Basement space. Three family dwelling, per tax records. Engine 3 into structure, supplied by hydrant from South State Street (?). Didn't catch (ha!) who caught or supplied, maybe Engine 1.
Interior crews removed after about 10 minutes, with heavy fire conditions in the structure. Defensive operations started. Picture below shows streams from portable monitors on left and right of structure, protecting exposures. Aerial stream from Ladder 4, from second hydrant caught at Cooke Street (?), with Engine 5 boosting pressure. Two additional engines special called. Medic unit special called, to help evaluate multiple patients.
New Bern Avenue closed during incident. along with several side streets. Dispatched at 7:21 p.m. Controlled in about an hour. Three adults and two children escaped through back window, assisted by police officer. Another adult also escaped. Five people treated for smoke inhalation by EMS. Cause under investigation. Units on scene included E3, E1, E7, E5, L4, R2, B2, B3, A1, C10, C20, C40, E6, E2, EMS11, EMS 7, EMS 31, M94, D1, T1. Was the second structure fire for many of the units, which had cleared an outbuilding fire on Brighton Road less than an hour before. News reports: WRAL, WTVD, NBC17. See preliminary photos by Mike Legeros.

+ 5 - 6 | § ¶
Fayetteville's 1989 E-One Crash Truck For Sale
Speaking of the Fayetteville Regional Airport, their 1989 E-One Titan III crash truck is for sale on GovDeals. Starting bid is $10,000. Description: "1989 E-one Titan III ARFF truck, 12,526 miles, three-man air conditioned cab (2 SCBA seats), 1250 gpm Waterous pump, 1500 gallon aluminum water tank, 200 gallon foam tank, 450 lb dry chem. Tank, Feecon roof turret (replaced in the late 1990's), Feecon bumper turret, structural pump panel, hose reel, 4.2 kw generator, 2x500w scene lights." And three extra tires in the deal! Thought that looked like a newer crash truck, in last night's news footage. Google finds that they're running a Oshkosh Stryker 1500. Need to visit some time.


+ 6 - 7 | § ¶
Garner Fire Department Hiring, Meets Marine Walking
The Garner Fire Department is hiring for a full-time firefighter position. Starting salary is $30,400. Read this announcement letter, which includes qualifications. Applications can be downloaded from www.garnerfire.com, or obtained at Garner Station 1 during business hours. Deadline for applications is Friday, March 16, at high noon. Don't wait until the last minute. On a related note, here's a picture from Wednesday, February 15, when Marine Walking Mac McQuown stopped at Garner Fire Station 1. Read more about him here, or read about his recent visit to Raleigh Fire Station 1.



Garner Fire Department photo
+ 10 - 5 | § ¶
Yesterday's Plane Crash in Fayetteville
The Fayetteville Observer has posted a handful of photos from yesterday's plane crash at the Fayetteville Airport. A single-engine Mooney M20TN crashed into a grassy area while landing about 5:30 p.m. The aircraft flipped at least one. The two occupants received minor injuries. Unusual are the action photos, which were probably "right place, right time" for the news photographer. Strong telephoto lens, favorable sight lines, and proximity to a non-secure area probably also helped, as the below image looks like a "through the fence" shot. (This is incident photography quarterbacking in action, I admit.) Recalling last night's television news report, extrication was required for at least one person. Read the news story.



Amanda Berg/Fayetteville Observer photo
+ 10 - 6 | § ¶
Raleigh Annual Report Excerpts, 1883 to 1911
For your Friday evening hysterical historical enjoyment, here are (a.) scans of (b.) photocopies of (c.) excerpts of (d.) Raleigh annual reports, for select years between 1884 and 1905 1883 and 1911. Each contains the volunteer fire department's fiscal year summary, plus relevant reports from the Mayor or the Market House Committee or the Water Works Committee. For 1887 and 1888, you can read all about the municipal water system that was installed. That brought fire hydrants in 1887. Then came fire alarm boxes in 1888. Good stuff, and reasonable quality for reading. Read the annual reports. Want to read the whole thing? Here's a Google books copy of the 1885 report.

+ 8 - 4 | § ¶
Maps of the Second State Fairgrounds
Did you know that the North Carolina State Fairgrounds was once located beside North Carolina State University? From 1873 to 1928, it occupied a 55-acre site known as Cook's Hill on then Hillsboro Road. When opened, the site was a quarter-mile west of the city limits. Below are two maps, a Sanborn Insurance Map from 1914, and an overlaid Wake County IMAPS street map. Observe that a section of the original race track has survived-- or at the land used for same-- as a curved section of Everette Avenue. (The maps don't perfect align. Blame the differences in map technologies between then and now.) Explore the Sanborn Map online. Or read more State Fair history. Readers can perhaps share other factoids. Click once or twice to enlarge.


+ 9 - 4 | § ¶
The First Minute of All 22 James Bond Films
How about a little movie love for a change? Here's your viral video of the day, found on the blog Hollywood Prospectus. Writes blogger Mark Lisanti: "Why would someone line up 22 tiny videos of the first minute of every James Bond film in a single YouTube window? Because there were 60 seconds of your day that needed filling with exactly this, that's why." We meaning me agree. Click through to YouTube for larger version. Enjoy.


+ 6 - 4 | § ¶
Chocowinity's Snorkel
As referenced in the comments of this recent posting, here's a 1981? American LaFrance snorkel in service at Chocowinity Fire Department in Beaufort County. Delivered in 1981 and equipped with a 1250 GPM pump, it first served on the other side of the river in Washington. After delivery of a 2006 Pierce platform, the snorkel moved to Chocowinity. Dig that low-riding cab! Courtesy CFD, from their Facebook page. Click to slightly enlarge:



Chocowinity Fire Department photos
+ 7 - 4 | § ¶
Legeros Fire Blog on Facebook
Want to receive blog posting notifications via Facebook? Visit the Legeros Fire Blog Facebook page. Then click Like. Just like that. (Potential investors can relax. Liking Legeros isn't likely to diminish the value of the Facebook's initial stock offering. We think.) The site's a regular Facebook page, so you can add comments and commence discussions as desired. (And no pesky moderation, at least for posting!) Might need a new logo, though. The patch gallery image is okay, but it doesn't knock my socks off.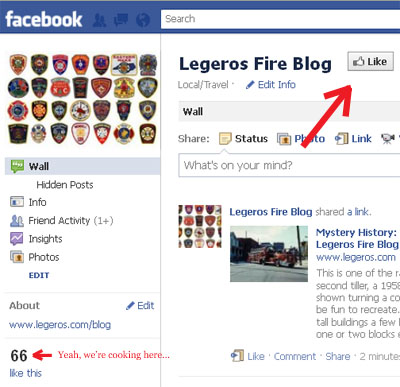 + 4 - 5 | § ¶
Mystery History: Where Was This Taken?
This is one of the rare color photographs of Raleigh's second tiller, a 1958 American LaFrance 700 series shown turning a corner somewhere downtown. Could be fun to recreate. But where is there? Based on the tall buildings a few blocks behind the truck, it's perhaps one or two blocks east or west of Fayetteville Street? See what you think. Click to enlarge:

+ 14 - 15 | § ¶
UPDATED: Elizabeth City Fire Department Postcards
February 2012
Updated with two additional postcard images. Click to enlarge each.
May 2009
What we learned last week about Elizabeth City's former fire station on Elizabeth Street helps explain this title of a postcard for sale on eBay [the second postcard shown below], which Mr. Blogger has wondered about for ages. What did this postcard view of an old steamer have to do with a "$70,000 fire station?" Now we know. The card shows a view of the living quarters of the Elizabeth Street fire station, decades later condemned and removed, and the old steam engine Inez displayed outside. The base of the water tower behind the behind is our clue. The station must have cost $70,000. There you go. Here's our previous blog postings about ECFD's old steamer and old stations.


+ 6 - 5 | § ¶
Morrisville Fire Station Ribbon Cutting, March 14
Save the date. Ribbon cutting for Morrisville's new Fire Station 1 at 200 Town Hall Drive will be held on Wednesday, March 14, at 10:00 a.m. Station tours will be conducted at 9:30 a.m. as well as immediately following the ceremony. Light refreshments will be served. Construction of the new station started in September 2010. The three-bay, $3 million, 13000 square-foot facility replaces a very old (and oft-renovated) building on Morrisville-Carpenter Road and Highway 54. Here's an prior blog about that and earlier fire department buildings. The new station opens next week. Can't wait to pay a visit!

+ 5 - 8 | § ¶
Old Pumper from Old Richmond
Photographer Lee Wilson this week found this old pumper that served Old Richmond FD in Stokes County. The 1963 Chevrolet/Howe 750/700 was subsequently sold to Skull Camp FD in Surry County in 1988. The old beauty's now privately owned. See more photos.
We'll need to invite the owner to participate in the Raleigh Fire Department's birthday party parade on Saturday, June 16. Watch for invitations on that one. The parade will take place on Fayetteville Street and fire departments and private owners with antiques will be invited to participate. (Modern apparatus will also be participating.)
From there, we'll have a muster with static and pumping displays. And other activities, including the first fireman's games to take place in the Capitol City in a while. Watch this space for more information, or keep an eye on www.RFD100.com.



Lee Wilson photo
+ 8 - 8 | § ¶
Burning Truck Versus ABC Store in Brunswick County
WECT posted this photo of last night's vehicle fire slash structure fire in Boiling Springs Lake in Brunswick County. An ABC store on George II Highway caught fire after a pickup truck on fire struck the building Tuesday night. The elderly driver was transported, though with no report on his condition. The building suffered significant water and smoke damage to the front. Plus fire damage. Observe the articulating platform also shown in the photo. If memory serves, someone has a Bronto Sky-Lift down that way. Is it Sunny Point FD? Not many "snorkels" still in service in our state, either vintage or being bought new.



Chris Grace/WECT photo
+ 9 - 5 | § ¶
Let's Go Faster on Wade Avenue
The Wade Avenue Extension, that is. This News & Observer column reports that the speed limit has been raised from 55 mph to 65 mph, between Blue Ridge Road and Interstate 40. That's about two miles. Thank the advocacy of the Regional Transportation Alliance. They're also pushing for higher speeds on the entire 540 outer loop, Highway 1 from Cary to Sanford, a section of the Durham Freeway, and Interstate 40 between Aviation Parkway and Lake Wheeler Road. Let's go!
+ 11 - 5 | § ¶
Looking Closer: Raleigh Police Department Dispatcher, 1960
For your Valentine's Day enjoyment, here's the fire police department dispatcher in 1960. [ Rest of original posting deleted, as it referenced the fire department dispatcher history. We later learned that this was a photo of the police dispatcher. ] Click to enlarge:

+ 7 - 6 | § ¶
Vintage Rolesville Apparatus
For your Monday evening enjoyment, here are three photos of Rolesville fire apparatus circa 1980 or 1981. We'll let readers identify the trucks, and tell about their histories. Thanks Bert! Click to enlarge:


+ 9 - 6 | § ¶
Friday's Apparatus Accident in Surry County
Two members of the Mountain Park Volunteer Fire Department in Surry County were injured early Friday evening, when their 1995 Freightliner tanker overturned on Zephyr Mountain Road. They were responding to a fire when the accident occurred on the narrow road. The driver reportedly lost control of the truck due to shifting water after breaking. The truck left the roadway, tipped on its side, and slid down a hill and over a narrow bridge. The two firefighters aboard were transported to Wake Forest Baptist Hospital. They were treated for non-life threatening injuries. Both were wearing seatbelts. Read more in this digitriad.com story, which has also been posted to FireNews.net.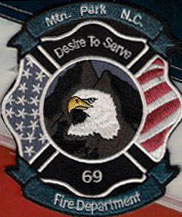 + 10 - 3 | § ¶
This Morning's Vehicle Accident in Cary
WRAL has posted this picture of this morning's motor-vehicle accident scene on West Chatham Street at SW Cary Parkway. Cary Fire (E4, R4, L5, B1, L3 as E40 covering E4), Cary EMS (EMS 51, EMS 55, EMS 52, D5), Apex EMS (EMS 41) among units on scene. Two fatalities, subsequently reported. Occurred around 10:15 a.m. The roadway is still closed, as of 12:30 p.m. See also WTVD story and NBC 17 story.



WRAL photo
+ 6 - 6 | § ¶
Have You Talked About Fire Safety Today?
Even though it's Sunday, chances are you'll probably talk to someone outside the station today. Maybe at the grocery store. Maybe after a call. Maybe someone stopping and asking for directions. Odds favor at least one casual conversation between a person on your crew and a civilian. In the course of your conversation-- maybe two minutes of small talk, maybe five minutes of passing interest in your apparatus-- will you talk to them about fire safety? Think about it.
Those few minutes that happen each day, and maybe a few times each day/each shift. What a great opportunity to say "hey, I noticed you have a young child, do you mind if I ask you about your smoke detectors?" Maybe you'll learn that they haven't checked their batteries in an age. Maybe they'll admit they don't even think they have one. And it ain't nothing but a thing to give them one, or get them one, right? Might save a life. And just from a conversation, and one you're already having. Think about it.
+ 11 - 4 | § ¶
What Makes News News?
How about some media studies for our Sunday morning? Let's look at a nifty posting from the media relations blog Mr. Media Training. The title is The 11 Things That Journalist Consider Newsworthy. The subject is self-explanatory. What does the news consider news? The answer is more conceptual than specific. As author Brad Phillips cites in categories:
Conflict.
Local.
Incident.
Extremes or superlatives.
New.
Timely and relevant.
Scandal.
David versus Goliath.
Incompetence.
Surprising.
Hypocrisy.
Read the posting and then we'll continue. Finished reading? Good. Next question, how do you feel about that list? Or maybe a better question is this: do you feel any different about the media, looking through a more conceptual lens? Based on comments both heard in person and read on this blog, there's isn't a lot of consistent love for The News.
But isn't "news" really just a function of core human communication? Meaning, it's one of the core reasons that people talk to each other. Can you take this list and apply it interpersonally? Maybe so. Think about what drives talking between people. What piques another person's interest, and what draws their attention away from themselves? Often, it's those things listed above. Your thoughts? Let's talk about talking!
+ 9 - 6 | § ¶
Upcoming RAPS Race, Raleigh Police Memorial Karting
The Raleigh Area Public Safety (RAPS) Racing League is an inter-agency kart racing league designed to bring public safety professionals together in a fun, team-building atmosphere. They have a couple upcoming events:
RAPS Race
Friday, April 27
3:00 p.m. qualifying
6:00 p.m. race starts
Rush Hour Karting in Garner
5335 Raynor Rd, one mile off Hwy 70 East.
Anyone can drive these karts. There is no prerequisite or racing/karting experience required.
Qualifying sessions begin at 3:00 pm.
90-minute race starts at 6:00 pm.
The fastest ten teams from qualifying will enter the 90 minute final race.
Any and aAll public safety agencies are invited to enter a team of four drivers.
Entry fee is just $150 per team due on race day.
Team drivers alternate every 10 minutes during pit stops.
Track information at www.rushhourkarting.com.
Entire fleet of brand new karts arrived last week!
Great event to watch even if you don't want to drive.
Raleigh Police Memorial Foundation Event
Wednesday, February 15
4:00 p.m. to 9:00 p.m.
Rush Hour Karting in Garner
5335 Raynor Rd, one mile off Hwy 70 East.
Normal Rush Hour business operations with half of all proceeds going to RPD fund raiser.
Funds support the families of fallen Raleigh Police Officers.
More information at www.rpdmemorial.org
+ 6 - 4 | § ¶
Wake County Firefighters Association Quarterly Supper & Meeting, Tuesday, Feb. 21
The winter supper and meeting of the Wake County Firefighter's Association will be held on Tuesday, February 21, at the Wake Tech Public Safety Center, 321 Chapanoke Road, Raleigh. Please note the date change, one week later than Valentine's Day. Spend that night with your sweetie! Supper on the 21st will be served at 6:30 p.m., with the quarterly meeting following eating. In other WCFA news, the application period has opened for a pair of $500 scholarships sponsored by the Association. These annual awards are awarded one to a Wake County firefighter and one to a Wake County firefighter's dependent. See their web site for more details. See you at the meeting.
+ 9 - 4 | § ¶
Marine Walking Stays at Station 1
Meet Mac McQuown, a 50 year-old Marine who is walking across the United States. He's raising awareness of Veterans causes. His goal is to visit the state capitols of 48 states. He started walking on September 11, 2011, at his home in Stafford, VA. He's logged over 765 miles to date. His journey is expected to take a number of years, and mere 15,000 miles. He's been staying at firehouses along the way, and last night stayed in downtown Raleigh with "B" platoon members at Fire Station 1. See photos of their chicken dinner and McQuown's custom cart. Or read about Project FOOT, where you can sponsor a mile of Mac's walk. We'll add details on Mac's coming destinations. Pay a visit. He's a nice guy with a great cause.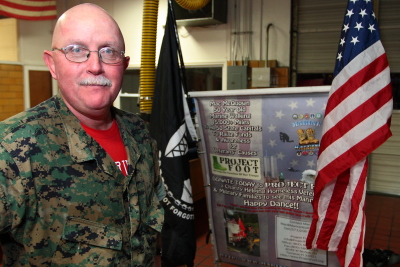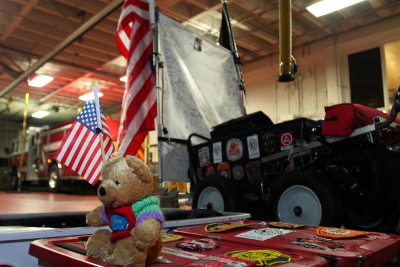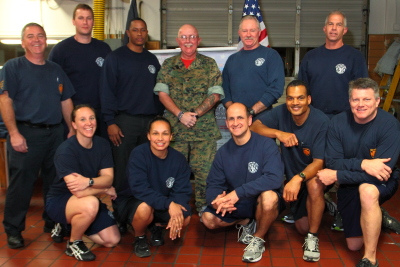 + 8 - 2 | § ¶
SUV Versus Storefront
WTVD has posted aerial photos of this afternoon's vehicle accident in Durham, where an SUV entered a furniture store on Fayetteville Street across from the Streets at Southpoint. See more photos. No one was hurt, notes this Herald-Sun story. The cause was cited as a floor mat apparently tangling with the accelerator and brake. How's that for couching the story?



WTVD photo
+ 7 - 6 | § ¶
This Morning's House Fire on Bertie Drive
News 14 has posted a few seconds of footage of this morning's house fire at 312 Bertie Drive. Engine 7 was first on scene and found the 1,562 square-foot structure fully-involved. One-story with a full basement, built 1987. Dispatched at 2:12 a.m., the fire was controlled at 2:59 a.m. Units on scene included E7, E3, E1, E13, L4, R2, B2, A1, C10, C20, EMS 11, T1, D1. The vacant house was destroyed, and the cause was determined as arson. Click to watch the video clip:


+ 7 - 3 | § ¶
Mystery Spur
Seen somewhere in the Capital City today. Here's a hint, it's near other railroad tracks. Just don't try to tell which way the train went by looking at its tracks.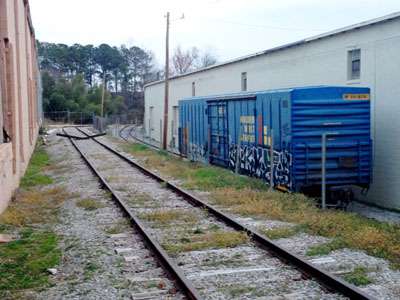 + 5 - 6 | § ¶
Looking Closer: Station 1, Circa 1949
For your Friday enjoyment, let's take a closer look at the photo inside Fire Station 1 at 412 South Salisbury Street circa 1949. Engine house built as Station 2 in 1914. Engine is a 1936 American LaFrance 400 Series. Auxiliary truck is a 1948 Ford F3. Notice the dress caps. That was standard attire from 1912 until about 1950, when the first fire helmets were purchased. Believe they had "globe coats," however. That looks like one lying or perhaps laying on the hose bed of the engine. Courtesy North Carolina State Archives. Click to enlarge:


+ 8 - 3 | § ¶
Morning Reading - February 10, 2012
Good morning Raleigh. We've posted run numbers from nearly fire department in Wake County. Last week's blog posting has been updated a couple times, thanks to reader input and a few queries. Thanks everyone. Still curious about totals from, say, Asheville, Charlotte, Chapel Hill, Fayetteville, Greensboro, Greenville, Rocky Mount, Wilson, Winston-Salem, and Wilmington.
+ 9 - 3 | § ¶
Historical Society Changing Name to Raleigh Fire Museum
Hear ye! Hear ye! This month, in the year of our anniversary twenty-twelve, the Raleigh Fire Department Historical Society is changing its name to the Raleigh Fire Museum. What's the scoop? Let's start with the backstory...
The historical society was created in the fall of 2008, and was incorporated with the state in the spring of 2010. Later that year, federal tax-exempt status was granted. Given this growing history, we have not entered into the name change lightly.
First and foremost, the new name will help eliminate confusion between our private 501(c)(3) charitable organization and the City of Raleigh fire department. This is an important distinction to draw for fundraising and with regard to donations.
Additionally, the name is a better brand and is more representative of our goals. Though we've opened and are operating the first incarnation of the Raleigh Fire Museum, our long-term goal is a larger, permanent facility.
Stay tuned for more, from monthly museum openings to special events for our centennial year this year. Thanks for your support, and hollar if you have any questions. Visit www.raleighfirehistory.org for contact information, to learn more, or make a donation.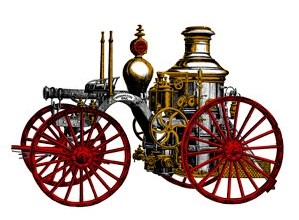 + 5 - 4 | § ¶
Tanker Fire in South Carolina
Here's your Thursday hot shot, from a tanker fire Tuesday in Honea Path, SC. The fierce-looking fire was extinguished in about 15 minutes. The vehicle left the road, overturned, and its contents were ignited by a felled power line. Looks like seven fire departments were on scene, along with a haz-mat team from the county, Anderson County. The county also has a flat-bed truck equipped with equipment for spraying non-alcohol alcoholic [ talk about responder safety!] foam, which helped quickly extinguish the blaze. Richard Kelly took the picture, shown in this Independent Mail story. Also see this Firegeezer posting.



Richard Kelly/Independent Mail photo
+ 7 - 4 | § ¶
Vintage Ladder Truck Serves Sign Shop
Photographer Lee Wilson captured this unusual sight yesterday, a 1976 American LaFrance aerial ladder in the service of a sign and lighting company from Kannapolis, NC. It's pictured in action at a shopping center on Wake Forest Road at Six Forks Road. The 100-foot aerial formerly served San Jose, CA. There's no word, however, if they knew the way there. I've been away too long. See more photos.



Lee Wilson photo
+ 7 - 5 | § ¶
Raleigh Fire Museum Open This Saturday, Feb. 11
Looking for a fun activity on Saturday? Visit the Raleigh Fire Museum, which is open on Saturday, February 11, from 10:00 a.m. to 2:00 p.m. The museum is located at 105 Keeter Center Drive, in a classroom trailer at the Keeter Training Center. It's open on the second Saturday of each month.
The centerpiece is the 1870 fire alarm bell that hung in a clock tower on Fayetteville Street and alerted the volunteer fire companies. Other displays include a photo history of city fire apparatus, from horse-drawn hose wagons to the modern pumping engines.
Pay a visit! Meet a historian! Yours Truly will be staffing same. There's no charge for admission. And there's parking and restrooms available. Please note that the city's collection of antique fire apparatus is housed elsewhere, at Fire Station 28 at 3500 Forestville Road in northeast Raleigh. That's also a great place to visit! To learn more, visit www.raleighfirehistory.org.

+ 10 - 2 | § ¶
University Chevrons
Vehicles of the North Carolina State University Fire Protection Department. Parked in the rear of the campus public safety center at 2610 Wolf Village Way. Top to bottom, left to right: truck, truck, car, truck, van. Click to enlarge:


+ 13 - 5 | § ¶
Zebulon Fire Chief Named Fire Chief of the Year
Also speaking of last week's North Carolina Association of Fire Chiefs' Mid-Winter Conference, Zebulon Fire Chief Sidney Perry received the 2012 Career Fire Chief of the Year Award. It was presented by Wilson Fire Chief Don Oliver, who was last year's recipient. The 2012 Volunteer Fire Chief of the Year was awarded to Fire Chief Freddy Johnson of the Stoney Point Fire Department in Cumberland County.
Chief Perry, shown below with his son Asst. Chief Chris Perry, is currently the longest-serving member of the Zebulon Fire Department with 44 years and counting. He served as Asst. Chief from 1978 to 1980, and as Fire Chief from 1980 to present. He was the town's first career Fire Chief, and has transformed the fire department from an all-volunteer organization to an ISO Class 3/9 rated department with 14 career members and 16 volunteers.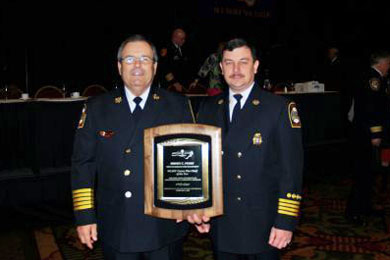 Over the course of his career, he's served as President, Vice President, and Secretary of the Wake County Firefighters Association. He's held many positions on committees with the Wake County Fire Commission. He's also served on the North Carolina State Firemen's Association board in 1988.
In addition to his extensive fire service participation, his community involvement has included serving the town of Zebulon as a police officer, public works employee, and Public Safety Director for Fire and Police. Before his appointment as a career fire chief, he served the town for many years as a U.S. Postal Service Letter Carrier. He's served in the North Carolina National Guard, and is very active with the Zebulon Baptist Church
He has also inspired his sons Chris and Adam, who have both pursued careers in the fire service. They're members of the Johnston County Fire Marshal's office and the Raleigh Fire Department, respectively. Congratulations, Chief!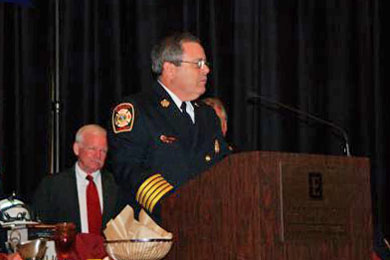 + 4 - 3 | § ¶
NCSFA Promotional Poster
This impressive poster made it debut at the NCAFC's Mid-Winter Conference in Concord last week. Produced by the North Carolina State Fireman's Association, it features photos by Yours Truly. The printed version measures 18 by 24 inches. Culled from last year's highlights, the depicted departments include Apex, Bay Leaf, Cary, Durham Highway, Fairview, Holly Springs, Morrisville, Raleigh, Stony Hill, and Western Wake. Plus Wake County and Johnston County EMS agencies, NC USAR Task Force 8, and the NC Forest Service. Miss anyone? Click to enlarge:


+ 7 - 4 | § ¶
Raleigh Police Officer Stable After Shooting At Stand-Off
As this morning's News & Observer story reports, Raleigh Police Department Officer A. W. Young was struck multiple times last night, when the department's tactical team attempted to make entry into a residence in northwest Raleigh where a man had barricaded himself that morning. The incident started about 11:00 a.m. with a call received from a man threatening suicide at 9321 Bothwell Street. Police and emergency units were on scene all day. The shooting occurred just before 7:30 p.m. Officer Young, 30, was pulled away and treated on scene by a tactical paramedic (among presumably others). He was transported to WakeMed and is reported in stable condition. Gunfire was not returned, and police made entry at approximately 11:00 p.m. The suspect was found inside, and deceased of an apparently self-inflicted gunshot wound. News 14 reports this morning that Young, a member of the department since 2005, is expected to make a full recovery. See also: WRAL, WTVD.



News & Observer photo
+ 13 - 12 | § ¶
UPDATED: Historic Firehouses of Louisville
February 6, 2011
For your Monday morning historical enjoyment, here's an armchair tour of historic and former firehouse of Louisville. Twenty-eight (!) fire station buildings aged 50 years or more. (Didn't find any buildings less than 50 years of age, that were former fire department facilities.) Some active, though Engine 7 in their 1871 quarters closed in 2009. They know as or were believed to be the oldest continuously operating firehouse at the time. Source was their 2004 history book. Corrections welcome, as the companies histories are a bit convoluted. Lots of engines and trucks merged into quads, then split again, then merged again as quints. We'll add Louisville to our travel destinations. Google Street View photos for now.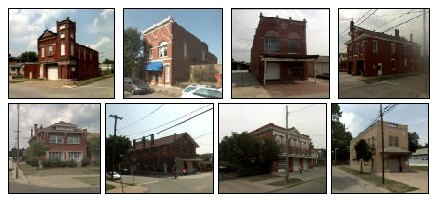 September 27, 2010
Let's take an armchair tour of Louisville's historic firehouses, shall we? Seventeen such structures, dating as early as a church built in 1848 and converted to a fire station in 1969. Several are still active, though their current assignments are not indicated. Source for the properties, build dates, and some descriptions is this National Register of Historic Places submission document

. Source for photos is Google Maps and Bing Maps. Looks like a great travel destination to me! Learn more about LFD.
READ MORE
+ 5 - 5 | § ¶
Morning Reading - February 5, 2012
Good morning Raleigh. Still compiling run numbers from last year for Wake County fire departments, as posted last week. Still getting dribs and drabs of data. Wonder how other the "big boys" did, Charlotte, Greensboro, Wilmington, etc.? And do any counties issue annual reports, itemizing fire department runs? Meanwhile, here's a short list of Sunday reading.

+ 9 - 2 | § ¶
The Krispy Kreme Challenge
Locals are familiar with this event, but here's a primer for our visiting readers. Annual charity event. Organized by North Carolina State University students. Participants run 2.5 miles from the campus bell tower to Krispy Kreme, eat a dozen raised glazed donuts, and run back to the bell tower. Hilarity and/or nausea ensues. Here's a News & Observer slide show with a few hundred images, started at daybreak.
This year race's, which raised over $100,000 for the North Carolina Children's Hospital, attracted quite a few curious characters. Left to right, top to bottom: Elvis, Jesus, Kal-El, and Jake and Elwood. Photo credit to Mike Legeros, who arrived about 8:30 a.m. at the donut shop. He left an hour later and with his shoes still clean. Might've inhaled a few too many dough molecules, however. He's been talking in third-person all night. See all of Mike's photos.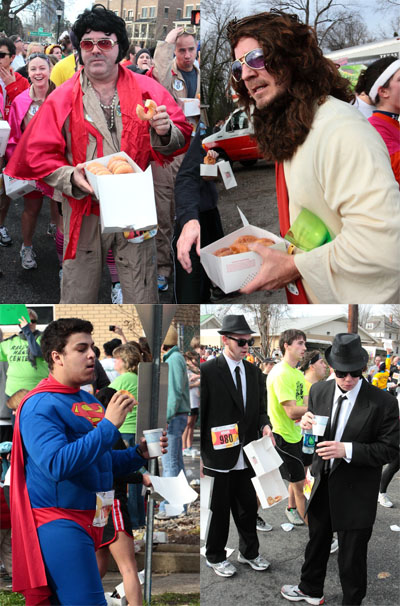 + 10 - 3 | § ¶
LED Rung Lighting on Aerial Apparatus
A reader recently asked about an aerial ladder seen on Interstate 40, with what looked like black lights illuminating the ladder. Sounded strange, and Mr. Blogger thought it might've been a trick of lighting. Turns out at least one aerial apparatus manufacturer is adding LED rung lighting. See this Pierce 100-foot aluminum ladder product page for more information, including the below photo. That's probably the answer. Thanks Brian!


+ 4 - 7 | § ¶
The Gregson Street Guillotine Again
Been a couple years since we posted about Dave Statter's favorite bridge in Durham, which we first featured in this posting in October 2009. The big yellow signs read 11 feet 8 inches, but that doesn't deter drives who attempt to squeeze their tall trucks (or trailers) under the railroad bridge beside Brightleaf Square. (And again, let's plug for Satisfaction Restaurant and Bar, home of the Triangle's best pizza, says me. Bought a large pepperoni with light cheese just this afternoon...) The camera is operated by Jurgen Henn, and is featured on his web site 11foot8.com. Below is a video clip of a semi truck that didn't make it under. The crash is number 46 since April 2008.

+ 5 - 7 | § ¶
UPDATED: Durham's New Haz-Mat Truck
February 4
Updated with photo from Lee Wilson, who posed both Haz-Mat 13 and Engine 13 for photos this week. The 2011 International/CW Specialty Vehicles was placed in service on January 21. Futures include walk-in command module and top-mounted light tower. It's staffed by Engine 13, which operations a 2009 Sutphen pumper. Sunlight and a good angle makes all the difference! See photos of both trucks.


Lee Wilson photo
READ MORE
+ 4 - 7 | § ¶
Mystery Steps
No clues on this one (yet). Someone will probably peg the thing in a moment.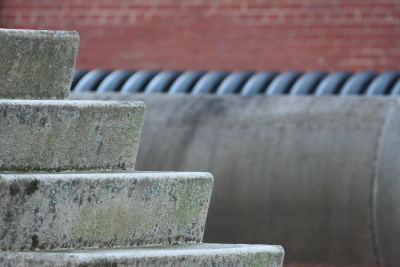 + 6 - 5 | § ¶
Run Numbers for 2011
As started in this reader mail thread, here are some run numbers from last year. Post or send yours, and we'll update as we go. Other cities and counties around the area or region are welcome to join!
Apex - 2,391
Cary - 8,009
Durham Highway - 686
Fairview - 1,287
Falls - 757
Fuquay-Varina - 3,318
Garner - 5,467
Holly Springs - 1,275
Knightdale - 1,175
Morrsville - 1,553
New Hope - 1,629
Raleigh - 38,151
Raleigh-Durham Airport - 1,410
Rolesville - 779
Stony Hill - 490
Wake Forest - 2,579
Western Wake - Just over 700
Zebulon 1,536

Wake County EMS - 80,086
Durham - 30,803
Greensboro - 30,393 (FY11)
Winston-Salem - 25,838 (FY11)
+ 8 - 4 | § ¶
Exploding This Blog
Open question for morning consideration. If we could explode this blog and remake the thing, would should it look like? The blog as blog has worked fine, so we'll keep that. The blog as discussion forum has had mixed success. Maybe if readers could start their own topics? Or maybe a Facebook interface, that required all participants to be known entities? But how about blog as content portal. That's my real question.
We're pushing six-plus years of postings, and there have been good and even great gems in there. What single or multiple postings are worth setting aside? And maybe making them easier to find. Either through a set of links, or perhaps a graphic treatment of some sort. What are those pieces of collections content? Here are some thoughts:
TriData reports for Wake County, both 1994 and 2004.
Raleigh Fire Department historical notes and essays
Wake County firefighting history notes
North Carolina fire history
Pine Knoll Townes
Con-Agra
The Tornado
What else?
Note that you search for these topics, using the
Search
box in the upper-right corner of the home page. There are often multiple postings for even single incidents or events. Thus we'd want a landing page for some of them. As for, say, Raleigh Fire Department history bits, those number in the dozens. Tagging or categories could help there. Food for thought. One more future project.
+ 10 - 3 | § ¶
When Raleigh's Macks Had Hard Suction Hoses
Were Raleigh's Mack's delivered with hard suction hoses? That was the question posed by a reader and reprinted in yesterday's reader mail posting. First photo search, on this apparatus registry site, found nothing. Well, beyond a couple of the early Macks with nothing hanging pump side, which is where Mr. Blogger remembers the hard hoses being mounted. Second photo search was more successful, and a couple are shown below as located on www.raleighfirehistory.org.
Asking around, the story is something like this. The Mack CF pumpers, first delivered in 1970, were equipped with hard suction hoses. Were they delivered that way? Unsure. Maybe the first couple year's worth, or maybe that hard hose was from the retired/reserve American LaFrance engines? Some remember the Macks delivered with ladders on each side. Some pictures from that era (such as these shots from Public Affairs) seem to show just that.1
The two 1970 Macks were first assigned to Engine 1 and Engine 15 (also at Station 1). The top picture probably shows one of them along with Truck 1, in a photo from 1977 or later. Then the city received a 1971 Mack, and then two sets of four of model years 1973 and 1975. By that time, perhaps they determined that more ladders were better than presumably seldom-used suction hose? We'll see what other memories manifest themselves.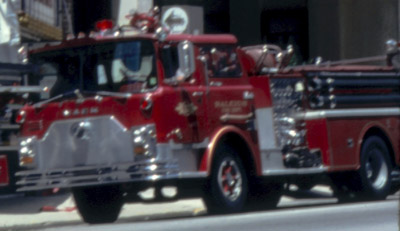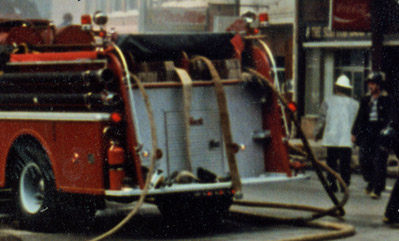 1Alas, I am at a great disadvantage here. Didn't move to Raleigh until 1983, didn't start chasing fire engines until the end of college in 1988, and didn't join the Raleigh Fire Department until 1989. Thus, no personal memories of deliveries here!
+ 8 - 3 | § ¶
What is District 9?
This question was meant to have been included in my reader mail posting yesterday. Answer courtesy of our friends at Wake County EMS.
Q: What is District 9, that I have heard on some calls in Wake County?
A: That's the Advanced Practice Paramedic supervisor. They work 11:00 a.m. to 11:00 p.m. daily, and their office is at the Crisis & Assessment Services (CAS) center on the WakeBrook campus on Sunnybrook Road. They don't have a geographic district, and are currently not recommended for dispatch on any call types.

+ 6 - 6 | § ¶
Reader Mail - February 2012
Been a while since we opened the mail bag. Enjoy some questions and attempted answers. Also need some input on remembering Raleigh's Mack CF pumpers. See below.
Q: I was looking at photos of the Mack CF engines run by the Raleigh Fire Department. I see ladders on both the pump and curb side. Did they have hard suction on the rigs?
A: Yes, each was Believe only a couple were equipped with hard suction. Two sets, each on the pump-side. Maybe the earliest, the 1970 and 1971 deliveries? That's what my memory recalls, but there's no supporting photos on this RFD apparatus history site. Question for readers: are my memories correct? And what year(s) were the hard hoses removed?

--

Q: I was riding on Interstate 40 the other week, around Exit 312, and saw a ladder truck with the ladder lit with what looked like black lights. The truck was moving, traveling on the interstate. Do you know what department it belonged to?
A: Nothing comes to mind, beyond a possible trick of lighting. But let me ask the blog readers.

--

Q: How can I purchase personal copies of the photos that you've taken of me, at a particular fire or incident or event?
A: You can't! Just mail the names of the files and I will gladly and freely supply the high-resolution images. You can take those and get them printed at your favorite photo printing place.

--

Q: Do you accept tips?
A: Advice is always welcome! If speaking of cold cash, consider a tax-deductible denotation to my favorite charitable organization, the Raleigh Fire Department Historical Society.

--

Q: When will we see a Legeros Fire Blog challenge coin?
A: Funny. How about a North Carolina Firefighters coin instead? There's an interesting concept.

--

Q: Will you be presenting at the state firefighter's convention again this year?
A: Hope to. Proposals have been submitted for both a Raleigh Fire Department Centennial History workshop, as well as a fire photographers panel. Mail me for details on the latter, which is being organized by someone else.

--

Q: Where do you find the time for all this?
A: Small cave in the backyard.

--

Q: How can I post comments on the blog? What are the steps?
A: This one's easy. Simply enter your comment, as well as a name. Then below those fields, enter the letters "fi" in the appropriate box. If you have problems past that point (and some times that happens), mail me for more help.

--

Q: Do you publish letters to the editor on the blog? Or even a guest column?
A: Certainly! But you'll have to sign name, and submit to minor editing if needed. For clarity, grammar, spelling, etc.

--

Q: Do you accept sponsors or advertising on the blog?
A: Not right now.

--

Q: Why not?
A: Too busy to think about it, not poor enough to need it.

--

Q: Could you get and post run totals for each fire department in Wake County last?
A: Good question. And one that I pondered on Facebook a few weeks ago. Guess a call to Wake County Fire Services would get me started, though that's probably just the start. Maybe someone else has already cracked that nut and will share their data.