+ 18 - 8 | § ¶
Two Alarms in Durham Today
Took a drive to Durham after work, and shot the aftermath of today's two alarm fire at 4600 University Drive. Heavy fire through the roof of the three-story apartment building. Units on scene included E16, E6, E11, E5, E4, E12, L4, L2, L12, L11, R1, R_, B1, B2, B3, MS1, Safety Officer, other chief officers, plus Durham EMS and Parkwood EMS. Readers can clarify. Alarm time about 3:30 p.m. Some 30 people displaced. Photos forthcoming, though largely from "behind the tape." Thank goodness for zoom lenses. See WRAL and WTVD stories, with photos and footage from earlier in the incident. Click to enlarge:


+ 16 - 9 | § ¶
Camp Celebrate Fundraiser / Cornhole Tournament - September 8, 2012
The NC12 chapter of the North Carolina Red Knights motorcycle club is conducting a cornhole tournament on Saturday, September 8, 2012, as a fundraiser for the NC Jaycee Burn Center's Camp Celebrate. The event time is 10:00 a.m. to 5:00 p.m. The event location is Hill Ridge Farms, 703 Tarboro Road, Youngsville. The entry fee is $30.00. The sign-up time is 11:00 a.m. to 12:00 p.m., with the tournament starting at 12:00 p.m. View this flyer (PDF). The group is requesting that fire departments post this information, and consider sending one truck to the event, to be displayed at a 9/11 memorial. Contact Quarter Master Daryl Cash (919-868-3677).


+ 12 - 12 | § ¶
North Carolina Fire Station Mapping Project
Carolinas Fire Page is again updating their exceptionally useful master list of North Carolina fire stations. The list is maintained in two locations: on this site and on this site. They've recorded 1,940 fire stations in our state, representing about 1,400 fire departments. They have confirmed addresses for 88% of them. They need help with just 228 others. Can you assist?
Once that's done (or close), they'll start their next project: geo-coding all of North Carolina fire stations. These will appear on a new web site displaying each county and municipal fire department as its own interactive map. This'll take the current text-based list, and present the information in a new, graphical format. See sample image below. Exciting, no?
If you can help with fire station addresses and information for the above lists, contact Jeff Harkey at cfp700@carolinasfirepage.com. You'll be glad you did.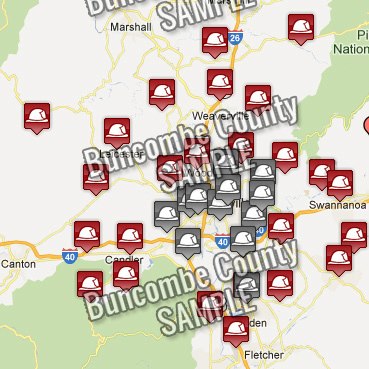 + 7 - 13 | § ¶
UPDATED: Vintage Wilmington Rigs
Evening:
Missed one. Added to the bottom is a 1942 American LaFrance engine. Sharp-looking and probably built without any chrome, as was common to rigs constructed during World War II. Refresh this page/this post, if the updated montage doesn't display.
Morning:
The latest items for sale on eBay from the Richard M. Adelman Collection include these six beauties that served in Wilmington. Five are from the city fire department, and one from the airport. Left to right, top to bottom are two 1952 Oren engines, a 1952 American LaFrance engine, a 1965 Duplex/Howe engine, a 1967 Duplex/Howe engine, and a 1954 American LaFrance crash truck. They're all 8x10 images, hand printed from the original negatives. Get 'em while you can! See prior posting about the seller and the collection. Click to enlarge:


+ 9 - 12 | § ¶
Internal Report Released on Asheville LODD
The Asheville Fire Department yesterday released a 552-page internal report that took the life of Rescue 3 member Capt. Jeff Bowen at a commercial structure on Biltmore Avenue on July 28, 2011. A scanned version of the report in black-and-white has been made available in PDF format, and it's a monster in size. Here are tips and links for viewing.
Step 1 - Start with this FireNews.net posting. They've created a helpful table of contents for the report. The document includes an Asheville FD overview, an executive summary, incident operations details, the post-incident analysis team findings, and the plans for improvements.
Step 2 - Choose your download link at the bottom of that page. Full report (127 MB) or partial report (34 MB). Those are Dropbox links, versus direct file links. Click through to download.
Step 3 - Read the report.
Step 4 - Read related stories and postings as desired. Those include this Asheville Citizen-Times story and Statter 911 posting. And here's our prior posting with the NIOSH report (full color, versus the version included in the above doc).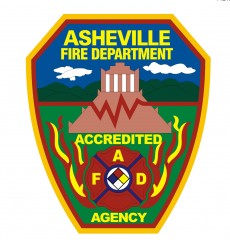 + 14 - 3 | § ¶
Vintage Film: Our Obligation
From a reader, here's another vintage short film. This one's about school building fire safety, and depicts a full-scale building fire in Los Angeles. Lots of great apparatus shots, and a surprising amount of real fire and smoke that's been staged. Presumably staged, that is. (Plus real victims and real bodies under sheets. No punches pulled in this one!) Running time is 24:27 minutes. Can also be viewed (and even a copy ordered) on the local AV Geeks web site. Thanks Chad!



+ 11 - 9 | § ¶
50-210 Fire Department Fireman's Day - Saturday, Sept. 8
The 50-210 Fire Department in Johnston County is hosting a Fireman's Day on Saturday, September 8. The location is Station 1 at 50 Greenleaf Road, Angier. The time is 10:00 a.m. until. Click to enlarge this poster:


+ 11 - 8 | § ¶
Charlotte Firefighters Prepare For DNC
Here's a WBTV story about the Charlotte Fire Department's preparation for the Democratic National Convention next week. Among their plans including assigning about 40 firefighters (working 12-hour shifts) to Uptown to respond only to convention calls, activating a third haz-mat team for Center City, and fully-staffing all of the city's 61 fire companies. (All vacations scheduled for that week were cancelled, the story notes.) About 30 fire inspectors will also be out at night and late night, enforcing fire codes at bars and restaurants. Perhaps readers can share a bit more. Read or watch the story.


+ 11 - 5 | § ¶
That's a Lot of Utility Trucks
From the Carolinas Fire Page mailing list comes this uncredited (for now) photo of the Daytona International Speedway, where Florida Power & Light Company staged dozens (hundreds?) of utility trucks this weekend ahead of Tropical Storm Isaac. Click to enlarge:


+ 10 - 3 | § ¶
Garner's New Engine 1
Lee Wilson photographed this 2012 Pierce Saber, 1250/1000, delivered yesterday to the Garner Fire Department. See more photos.



Lee Wilson photo
+ 8 - 7 | § ¶
Cary Fire Department is Hiring
The Cary Fire Department is hiring for certified firefighters. Minimum qualifications included North Carolina Firefighter I and II, North Carolina EMT, and North Carolina Technical Rescuer (times two) certifications. (If pursuing one of the certifications through a North Carolina community college, or accredited agency, the coursework must be satisfactorily completed by January 14, 2013.)
Starting salary is $34,736. Hiring is expected in January, with successful candidates completing an eight-week academy. Open houses for interested applicants will be held at Fire Station 1 from 10:00 a.m to 1:00 p.m. on Saturday, September 8, and from 1:00 p.m. to 4:00 p.m. on Sunday, September 9. Applications are being accepted through Monday, September 10. Good luck to all! Read the job posting.


+ 9 - 5 | § ¶
Vintage Raleigh Badge, Belt Buckle
Came across these in my archives. They're courtesy of Matt White, who took them in the seventies, who was a fixture at Station 6 during his childhood. Note the initials on the badge, in the upper-right corner. Likely or certainly belonged to J. R. Foy.

+ 12 - 10 | § ¶
Raleigh's 1875 Rumsey Hand Engine
Dozens of hand-pulled, hand-powered fire engines (called "hand engines" or "hand tubs") were used in North Carolina from the late 1700s to the early 1900s. The first in the state (correct?) were a pair of hand pumps delivered to Salem in 1785. The last might've been the 1906 Howe hand pump delivered to Smithfield. See this database by Legeros.
The Capitol City had five. They were delivered in 1819, 1843, 1853 (two), and 1875. All likely wheeled. The 1819 engine was purchased from Philadelphia. It's equipment included hose. The 1840 and 1853 engines are a mystery, with little or no surviving information. One was noted as having a five-inch chamber, an eight-inch stroke, and a "9 16" nozzle. The 1875 engine was made by Rumsey and Company.
Below is a catalog drawing of a Rumsey engine from that period. The specs are 16-feet long, with 31-inch and 37-inch diameter wheels. No images have survived depicting Raleigh's Rumsey engine. The side-stroke engine was purchased for the volunteer Victory Company around June 1875. The cost was $1,700. The pumping capacity was estimated at 250 GPM, as recorded in 1878. Hose was likely carried on a reel, pulled separately from the engine. The apparatus was modified to be horse-pulled in 1885, and replaced by a hose wagon around 1890.
On November 10, 1883, the News & Observer recorded the prior day's exhibition of the fire company and their engine: "The Victor with twelve men at the engine made a run of 470 yards, laid 300 feet of hose, and had a stream of water on the imaginary fire in five minutes. The engine started from the intersection of West Martin and South Salisbury Streets at 7.34 ½ o'clock p.m. At 7.36 ½ the hose reel reached the cistern at the intersection of West Lenoir and South Salisbury streets; at 7.37 [a total of] 300 feet of hose had been laid and the nozzle attached; at 7.38 the engine arrived, and at 7.39 ½ had a stream of water upon the fire. Who can beat that record?"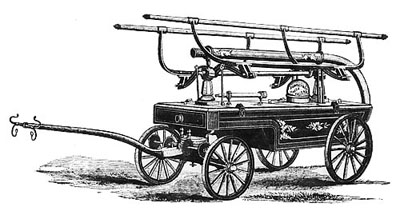 Earlier this month, the Charlotte Fire Department brought their 1866 Jeffers hand engine to town. It was exhibited and demonstrated at the South Atlantic Fire Rescue Expo. Functionally, Charlotte's 1866 engine was likely identical to Raleigh's 1873 engine. Fixed suction hose, laid across the top. Single outlet for hose line. Two sets of "brakes," which locked into position. Two reels of rope in front, and likely knotted at intervals to assist with pulling. 'Twas a treat to see the other week, and to put into perspective what Raleigh's comparable 1873 looked like in person. See more photos (set 1 | set 2 | set 3) or watch the below video.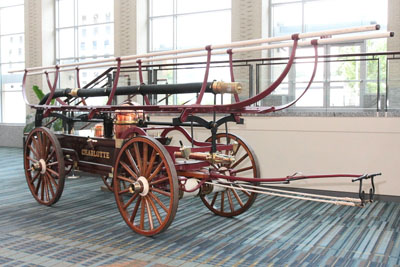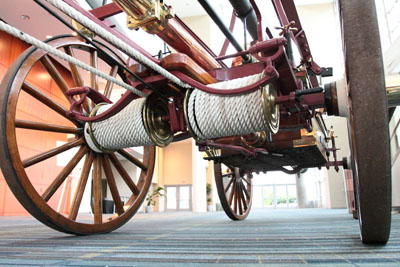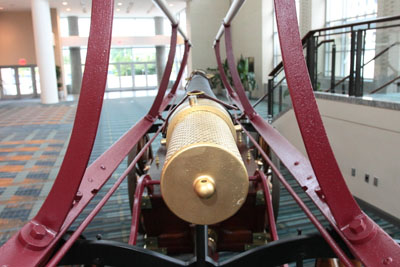 + 12 - 7 | § ¶
When The Training Center Was Young
Some new old color slides of the Raleigh Fire Department have surfaced. They're dated October 1990 and are part of a series that was scanned and shown a couple years ago. They show stations and apparatus, plus a few surprises, such as this sparse lower-level of the Keeter Training Center. That facility was but eight years old at the time. Nice vintage shop pictures as well. Particularly good memories for myself and my academy-mates, who had graduated the summer of the year before. (Was assigned to Station 5 at this time, and rode the new Engine 5 shown in the set.) Alas, most of the shots are overexposed. They've been corrected to the best of this schlep's ability. See the photos.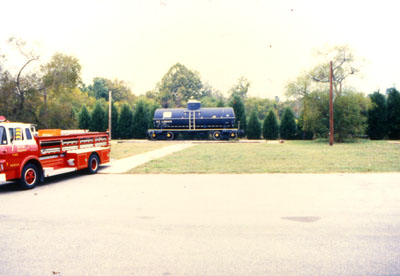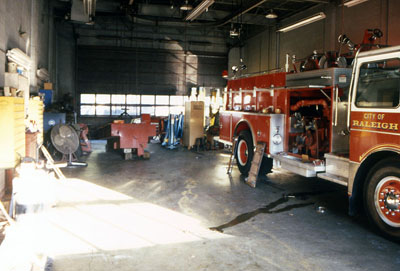 + 13 - 7 | § ¶
Henderson/Vance Snorkel For Sale
Four days left on GovDeals. This 1978 Hendrickson'Pierce 85-foot articulating platform. Has a 1250 GPM pump. With 20,868 miles. Ground ladders included! View the auction.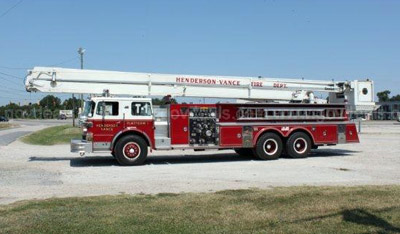 + 10 - 5 | § ¶
Vintage Film: Fire and Police in Dearborn, MI
From a reader, here's a nifty short film from 1947 depicting fire and police services in Dearborn, Michigan. There's plenty to enjoy in this footage, from old-school artificial respiration to pompier ladder play. How 'bout those water tower nozzles getting polished in the station? And a pretty dramatic wall collapse caught on film. Can also be viewed on the local A/V Geeks site. Thanks Chad!



+ 10 - 5 | § ¶
Bungalow Style Fire Stations in North Carolina
For your Saturday consideration, how many bungalow-style fire stations have been built in North Carolina? We'll use the Wikipedia definition of bungalow as our criteria: a one-story house-like building, and usually with a veranda. Found a handful, which are shown below. What were some others? Top to bottom, left to right: Asheville Old Station 2 on Bartlett Street (1923-1975, demolished), Greensboro Old Station 5 on South Mendenhall Street (1919-1964), Greensboro Old Station 6 on Westover Terrace (1948-1989, demolished), Greensboro Old Station 8 on West Lee Street (1925-1970), New Bern Old Station 3 on National Avenue (1955-2003), Raleigh Old Station 4 on Jefferson Street (1924-1963), Salisbury Old Station 2 on Main Street (1942-1980, still standing?), and Winston-Salem Old Station 6 on West Academy Street (1925-1996, demolished). Sources are my history pages. Click to enlarge:


+ 6 - 7 | § ¶
Old Military Fire Tanker
From the Department of Roadside Beauties, Lee Wilson found this former military fire engine on Highway 54 near Chapel Hill this week. Belongs to a construction company. Can't speak for the chassis, but the tank body looks slightly more modern. Maybe 1970s or 1980s? Perhaps a converted water of fuel hauler? Since the Chump is stumped, let's let the experts answer this one.



Lee Wilson photo
+ 9 - 5 | § ¶
Small Vehicles
Photographer Lee Wilson photographed these sharp-looking small vehicles recently. Top is Knightdale's chief's buggy at Wendell's live burn last week, middle is Wake Forest's Utility 1 at Station 1, and bottom is Raleigh's Mini 3 at Station 23. Note the new wheels on the latter.



Lee Wilson photos
+ 8 - 6 | § ¶
Raleigh Fire Department Centennial History Book - Order Yours!
Have you heard about the Raleigh Fire Department Centennial History Book that's in production? And more importantly, have you ordered your copy yet? This will be a coffee table-sized hardcover, measuring 9 x 12 inches, with full-color dust-jacket (the prototype preview is shown below), and 260 full-color pages. The price is $60.00 through December 1, 2012. Delivery is planned in early 2012.
Published by Strawbridge Studios (right here in Durham!), the book will feature a text history of the Raleigh Fire Department, along with 100 years of historical photos, fire station histories, apparatus photos, personnel portraits, and more.
This is a limited edition volume, so get one if you want one. And if you're sitting on fence, place that order. This project requires a minimum order of books, and we still need sufficient pre-orders. How to order? Download (and mail) an order form, or place an order online from RFD100.com. Got questions, or problems using the order form? Contact Mike Legeros and he'll help you.


+ 6 - 3 | § ¶
Monday's Silo Rescue in Sanford
The Sanford Fire Department on Monday and others responded to an unusual incident for our area, a worker trapped in a grain elevator. A worker inspecting the elevator fell about 40 or 50 feet and became trapped up to his waist in dog foot. Responders brought a leaf vacuum truck to the scene, and removed most of the granules from the elevator. From there, they untangled his injured foot. He was removed after nearly four hours. He never lost consciousness. Read coverage from WRAL and WTVD. Good use of an articulating aerial platform, is that Sanford's rig? Next question, are silo rescues indeed rare around here?



WRAL photo

WTVD photo
+ 9 - 6 | § ¶
Dan Allen Drive Traffic Restriction Starts in October
Yesterday's News & Observer reports
that Dan Allen Drive, a private road through the main campus of State College and popular cut-through between Hillsborough Street and Western Boulevard, will be restricted on weekdays started in October. Gates will be installed and will stay closed from 9 a.m. to 5 p.m. on weekdays. Only emergency vehicles, campus vehicles, and buses will be permitted. Notes the news story, Dan Allen Drive carries as many as 19,000 vehicles a day. That's mostly student, faculty, and employees. However, one in five of those travelers makes the trip from end to end. With so much traffic, the crowded Wolfline buses get caught and delayed. They're running on time only 60 percent of the time. The change will also improve safety for the masses of pedestrians and cyclists. Go State.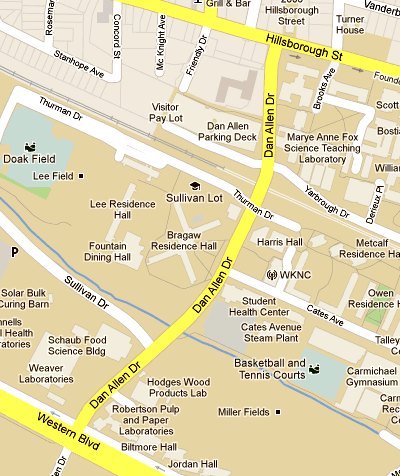 + 9 - 3 | § ¶
NIOSH Report Released on Asheville LODD
FireNews.net reported yesterday that the National Institute for Occupational Safety and Health (NIOSH) report has been released on the death of Asheville Fire Department Captain Jeff Bowen. He died on July 28, 2011, while fighting a high-rise fire. Read the report (PDF). See also this Asheville Citizen-Times story from yesterday, and this City of Asheville press release.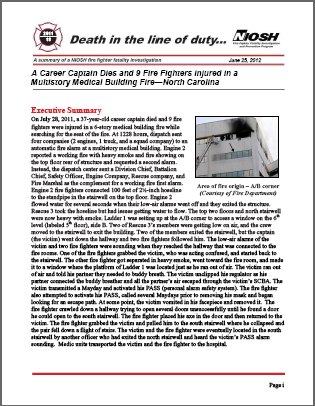 + 8 - 5 | § ¶
Wilmington Fire Chief Invents Pressure Gauge
Did you know that Wilmington Fire Chief J. Luddie Croom invented a pressure gauge for fire apparatus? Created in the late 1930s, the gauge added additional markings to compute nozzle pressure and overcome friction loss. Croom was a member of the Wilmington Fire Department from 1907 to 1954, and Chief of Department beginning July 1, 1937. He was also a founding instructor of the North Carolina Fire College, created in 1928. Here's an article describing the gauge, which he invented during his tenure as Asst. Chief. Click to enlarge:



And here's a view of the actual gauge, as found and photographed other week at the South Atlantic Fire Rescue Expo. The picture and information is courtesy of Wilmington Fire Department Battalion Chief and Historian Chris Nelson. The gauge, the first one he's seen in person, was mounted on Wilson's 1929 American LaFrance pumper. Next question, who else has one of these mounted on an old truck? See more photos, or click to enlarge this view:


+ 6 - 16 | § ¶
Pierce Peeks
Cursing around the Pierce Flickr page finds a couple interesting apparatus photos for your Monday morning. Here's Wilson's Mills' new Engine 2. Looks like an Arrow XT (?) pumper-tanker.



Check out these striking Velocity engines from Stafford, TX. Black tops, black wheels, curved striping, and bumper chevrons:



And anything from my hometown of Minneapolis and around the Twin Cities always catches my eye, like this shiny service truck and/or heavy rescue from Burnsville, MN. That's the land of really fully-enclosed apparatus, where even the pump panels get enclosed on some rigs:


+ 8 - 5 | § ¶
How Important is Good Writing?
Saw this this week in the New York Times, one of their "Room for Debate" features on the topic "Is Our Children Learning Enough Grammar to Get Hired?" Five columnists offer their opinions on writing skills and hire-ability. How does this impact people who work in emergency services? Probably or certainly as a sliding scale. Maybe minimal at the entry-level, but obviously important as you, um, climb the ladder. Discuss as desired. And here's a special stock photo, created just for this posting...


+ 9 - 3 | § ¶
Tuesday's Tanker Incident in Warren County
FireNews.net has posted a story and photos from photographer John Franks, who was on scene at Tuesday's tanker incident in Warren County. About 4:40 p.m., Warrenton Fire Department was dispatched to an overturned vehicle about three miles south of town on Highway 401 at Rifle Range Road. Arriving units found a tractor-drawn tanker on its side. The cargo was 9,500 gallons of LP gas. No leak was detected.
Mutual aid was requested from neighboring Afton-Elberon FD. The county Fire Marshal's office was requested, and North Carolina Emergency Management was contacted. North Carolina Haz-Mat Regional Response Team 4, operated by the Raleigh FD, also responded to provide air monitoring and technical expertise. (That's 47.5 miles from Station 27, where Haz-Mat 2 is housed. Google Maps says 57 minutes driving time.)
Read the entire story to learn how the incident was mitigated, which involved off-loading the product into a second tanker (half before, half after) and utilizing three, count 'em three large wreckers (also from Raleigh, from Ivey's towing) to right the thing. And all while thunderstorms were steadily approaching. There's your pucker factor. And see many more photos on John's Flickr site. Good work!



John Franks photos
+ 9 - 6 | § ¶
Parkwood Fire Department's Third Annual BBQ Cook-Off, October 12-13, 2012
The Parkwood Fire Department in Durham County is holding their annual Pork BBQ Cook-off and Fundraiser on October 12-13, 2012. They're looking for people or teams to compete, as well as sponsors. Deadline for entry is September 30. See this flier (PDF) for more information.


+ 8 - 3 | § ¶
Morrisville's First Fire Engines
Found these in my files. The first photo is a News & Observer image. The others were scanned from the scrapbooks and files of the Morrisville Fire Department, when my Raleigh and Wake County Firefighting books were being researched. That was a decade ago. The color photos are dated 1971. That's either a 1969 or 1970 Chevrolet tanker, 1,200 gallons. Plus the apparatus mentioned in the prior posting. Click to enlarge:


+ 8 - 4 | § ¶
Morrisville's Old Engine Returns Home
This old beauty was returned to the Morrisville Fire Department on Monday, after a period of storage at the town's maintenance facility. Believe the 1963 Chevrolet/Darley 500/500 pumper was Morrisville's first newly-delivered engine, after a military surplus, shop-built pumper that was placed in service when the department was organized in 1955. (During that first decade they also operated a brush truck converted from a military surplus Dodge Power Wagon.) See more photos from Lee Wilson, including it's first washing in some years.



Lee Wilson photos
+ 8 - 6 | § ¶
Knightdale's Loaner Ladder
This 2002 American LaFrance mid-mount aerial ladder (95-foot) is now serving Knightdale Public Safety as Ladder 135. Their 1997 Pierce aerial ladder (added in 2009) is headed to the shop for six months of repair work. See more photos by Lee Wilson.



Lee Wilson photo
+ 9 - 0 | § ¶
Chapel Hill's Old Engine 36
Reader and photographer (see his Picsa site) Andrew Messer found Chapel Hill's old Engine 36 in Campobello, SC. The 1980 Mack CF pumper is parked at Carolina Trailer Sales, just off Interstate 26. Click to enlarge. Thanks Andrew!


Here's an earlier photo of the truck by Lee Wilson, taken in January 2011 several years ago. Interesting pre-connected hose on the rear driver's side, perhaps re-purposed from a hard suction hose rack? Maybe readers can tell about its history. Or about similar pre-connect experiments and innovations.


Lee Wilson photo
+ 7 - 4 | § ¶
Scenes From The Fire Expo, Part 1
Have posted half of my photos from the South Atlantic Fire Rescue Expo: the parade and hand engine demonstration from Saturday, and the full series of Brotherhood Bash photos from Friday. More coming. See also this video of the hand engine and steam engines operating. See also Lee's pictures from the Fire Expo and Brotherhood Bash, plus the Haz-Mat Challenge. The hand engine demonstration was a particular treat, and particularly for those who've never seen one in operation (such as myself). It also provides a nice contextual introduction to hand engines of that era. Raleigh's last-delivered engine was likely the same size and style. More on that later.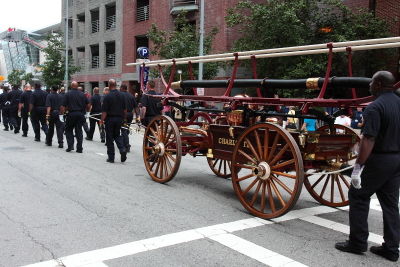 + 7 - 3 | § ¶
Letter to the Editor - Old-Time Steamers
Published in today's News & Observer, in response to the August 12 story about the steamer demonstrations at the South Atlantic Fire Rescue Expo:
Old-time steamers

Allow me to add a historical footnote to the Aug. 12 article about antique engines at the South Atlantic Fire-Rescue Expo. A century earlier, steam fire engines (or steamers) were a regular feature of the annual convention of the N.C. State Fireman's Association. Each year's event, held in different cities, included an annual tournament. Fire companies and fire departments from the mountains to the coast participated.There were two steamer contests, with trophies awarded for quickest steam and longest distance of water stream.
At the 1894 convention in Winston, for example, the contest was entered by Greensboro, New Berne, Salem, Wilmington, Winston No. 1 and Winston No. 2. New Berne won the $50 prize for quick-steaming, with a time of 3:19 2/5 .

Wilmington won the $20 prize for long distance, "throwing 275 feet." A strong wind assisted their victory. The steam engine contests were discontinued in the 1910s. They were replaced by motor contests beginning in 1930. The last tournament was held at the 1940 conference in Salisbury.

Raleigh's 1905 American LaFrance steamer was restored to operational condition to help celebrate the department's 100th anniversary this year. It made its debut in downtown Raleigh at the Centennial Birthday Party, which was held on June 16, versus this weekend, as noted in the article.

Mike Legeros
Raleigh Fire Department Historian
President, Raleigh Fire Museum
Raleigh
+ 6 - 4 | § ¶
Wake County Fire Academy Now Hiring
Applications are now being accepted for Wake County Fire Academy Recruit Class 5. The class begins January 7, 2013, and graduates June 26, 2013. The application process closes November 19, 2012. See this flier for more information:


+ 6 - 4 | § ¶
Back to Work
The South Atlantic Fire Rescue Expo was a blast. Time to get back to work and back to regular blogging. Watch this space for... everything else that we usually post about. Mr. Blogger is rested and ready to resume normal operations. That is, once he's finished posting and processing a few more photos. Those'll get done this week. That's Little Betsy from Roxboro, by the way, and winner of Best Specialty Apparatus in the Expo parade. It takes a real man to ride a wee truck. Happy Monday.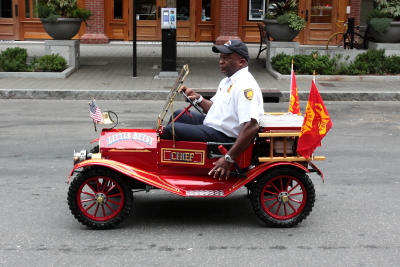 + 8 - 6 | § ¶
Fire Expo: Workshop Slides
PDF versions of my workshop slides from Friday have been posted to www.legeros.com/slides. Available for viewing or download is the content from "A Centennial History of the Raleigh Fire Department" and the "Meet Mike Legeros" segment of an incident photography panel. See me in person for autographs. Also available for weddings and bar mitzvahs. Thanks to those who attended. Was very enjoyable as always.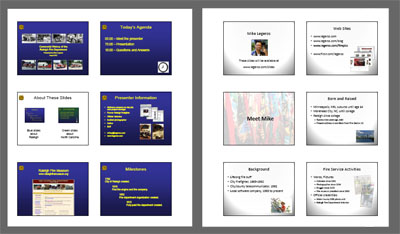 + 7 - 3 | § ¶
Fire Expo: Hand and Steam Engines Video
Charlotte's 1866 Jeffers hand engine and 1902 American steam engine, and Raleigh's 1905 American LaFrance steam engine in operation on Saturday, outside the Raleigh Convention Center and as part of the South Atlantic Fire-Rescue Expo. Mobile phone footage. Really short. What other videos from Saturday are worth noting? Here's the parade as shot by Fire Rescue TV. (And to watch a larger version of the below clip, click on the title at the top of the embedded video. That works with all embedded YouTube videos.)


+ 6 - 3 | § ¶
Fire Expo: Steamer Crews
Pictured are the steamer crews from the Charlotte and Raleigh fire departments, who demonstrated on Saturday their 1902 American (CFD) and 1905 American LaFrance (RFD) steam engines, respectfully, as part of the South Atlantic Fire Rescue Expo.
Shown left to right are Capt. Robbie Myers (CFD) Capt. Michael Ezzell (RFD), Engineer Jeff Dixon (CFD), Lt. Patrick Murphy (RFD), Capt. Buddy Caldwell (CFD), and Battalion Chief Shane Nantz (CFD). Not pictured is Asst. Chief Bert Richards (RFD).
Photos and even a couple short videos from Mike Legeros are forthcoming. Here's a story in today's News & Observer about the antique apparatus demonstrations, which also included Charlotte's 1866 hand engine. Was an exciting, educational afternoon. Click to enlarge:


+ 8 - 5 | § ¶
Fire Expo: Be the Bash
Reminder! Brotherhood Bash tonight. Napper Tandy's on West Street. Here's the last thing we posted, about raffle tickets. No time for all new-posting. Bust my chops tonight as desired...
July 28
Get your raffle tickets for the Second Annual Brotherhood Bash on Friday, August 10. The location is again Napper Tandy's at 126 N. West Street in downtown Raleigh. Tickets prices are $5.00 for one, or $20.00 for five. Top prizes include a Cairns N6A leather lid and a set of leather fire boots. Lots of other swag and door prizes will also be given given away throughout the night.
See any Capital Area FOOLS Board member and Wake County Firefighters Association member for tickets. You can also purchase tickets during the Fire Expo, on the show floor. Ticket sales will end at 8:45 p.m. on the day of the bash, Friday, August 10. Portions of the proceeds will be donated to the North Carolina Fallen Firefighters Foundation.
Here's the Facebook event page. Here are photo's from last year's bash. See YOU there for a fun filled night of fellowship and plenty of BROTHERHOOD!


+ 8 - 6 | § ¶
Fire Expo: Meet Mr. Blogger
Author/historian/photographer/blogger Mike Legeros will be appearing at two workshops on Friday, August 10, at the South Atlantic Fire Rescue Expo. Jury's still out on what he'll be wearing. Probably a golf shirt, but maybe he'll take the tropical plunge this year.



Both of these people will be appearing at the Fire Expo

On Scene – Emergency Service Photography
Jeff Harkey, Editor in Chief, FireNews.net, Moderator
Bob Bartosz, Camden City/County (New Jersey) Fire Photographer (retired)
Mike Legeros, Historian, Raleigh Fire Department
Other participants/special guest stars TBD, due to schedule changes

Friday, August 10, 2012
11:45 a.m. to 1:15 p.m.
Room 302A
This panel discussion will open with each panelist presenting an overview of their work. These ten-minute overviews will be followed with a panel discussion on such topics as night photography, fireground safety, what to do with your pictures, and protecting the interest of agencies and the fire service. Plus the panel will answer audience questions, such as "how often do you hear the phrase 'you'll break your camera if you take their picture' ?" (Answer: Too often.)
Centennial History of the Raleigh Fire Department
Mike Legeros, Raleigh Fire Department Historian
Friday, August 10, 2012
3:15 p.m. – 4:45 p.m.
Room 302A
This year, the Raleigh Fire Department celebrates its 100th anniversary as a career fire department. Historian Mike Legeros looks back over the past two centuries, beginning with the city's creation in 1792, the formation of the first fire company in 1819, and the organization of the volunteer Raleigh Fire Department in 1852. He'll continue into the modern age with a decade-by-decade fire department history in the 20th Century. This workshop will also provide a contextual history of 300 years of firefighting history in North Carolina.
+ 5 - 9 | § ¶
Fire Expo: By Hand, By Horse
These three beauties are displayed on the Lenoir Street side of the Raleigh Convention Center, for this week's South Atlantic Fire Rescue Expo. Top to bottom is Charlotte's 1866 Jeffers hand-pulled, hand-powered engine, Charlotte's 1902 American Metropolitan steam engine "Old Sue", and Raleigh's 1905 American LaFrance Metropolitan steam engine. The steamers were horse-pulled, though that wasn't always the case in the Old North State. Some of our earliest steam engines were pulled by hand (!), including Raleigh's 1870 Gould steamer. Learn more steamer history. All three of these will be demonstrated with live pumping on Saturday. Don't miss it! Click to enlarge:


+ 9 - 7 | § ¶
Fire Expo: Centennial Merchandise For Sale
The Raleigh Fire Museum is selling centennial merchandise this week at the South Atlantic Fire Rescue Expo. Visit the Raleigh Fire Department booth on Friday and Saturday to purchase tee-shirts (gray and blue), challenge coins, and stickers. You can also pre-order your copy of the Centennial History Book.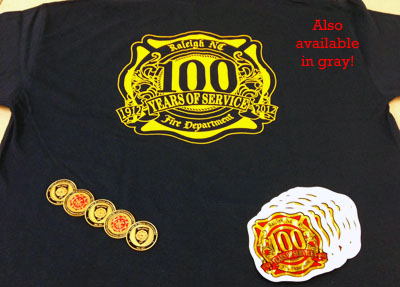 + 6 - 7 | § ¶
Fire Expo: Antique Sneak Peek
FireNews.net posted this photo on their Facebook page. That's Charlotte's 1902 steamer "Old Sue" and 1866 Jeffers hand pumper on display at the Raleigh Convention Center, at the South Atlantic Fire Rescue Expo. Ten, count 'em ten, antiques will be displayed inside the center this week. Click to enlarge:


+ 10 - 6 | § ¶
Fire Expo: Big Banner Up Close
August 7
Updated with super-large image! File is just under 7 MB in size. Can also spy with my eye Apex, Bay Leaf, Beaufort, Cherryville, Fairgrounds, Gastonia, Graham, Hopkins, Knightdale, Mt. Airy, Raleigh-Durham Airport, Sanford, Shelby, Wake New Hope, Warrenton, Williamston, and Zebulon fire departments. Pretty cool!
August 6
Check out the Salisbury Street side of the Raleigh Convention Center, and the montage of historical photos promoting this week's South Atlantic Fire Rescue Expo. Can see a number of familiar old photos in there, if not mistaken, from Albemarle, Asheville, Biltmore Forest, Carthage, Cary, Charlotte, Durham, Durham Highway, Garner, Greensboro, Goldsboro, Hickory, High Point, Nashville, Raleigh, Rolesville, Six Forks, Wendell, Western Boulevard, and Wilson fire departments. Need a closer look to confirm all of them, and the others. And one of these years, we'll resume working on a book of historical fire photos from across the state. That one needs to be done. Click once or twice to enlarge:


+ 10 - 3 | § ¶
Airport Firefighters Cushion Helicopter Landing with Station Mattresses
From a reader, here's an impressive story out of San Antonio. On Sunday, a medical helicopter struck a cellphone tower and lost a landing skid. Diverted to the airport, the pilot asked if firefighters had anything soft that could be placed under the craft. He suggested mattresses, so the quick-thinking firefighters headed to the station's dormitory. They grabbed three mattresses, plus weights from the weight room to hold the makeshift cushions in place. The helicopter landed safely, and with no injuries to the patient and three crew members. Read the entire story from the San Antonio Express-News and see a couple more pictures. Thanks James!



San Antonio Express-News photo
+ 8 - 6 | § ¶
High Point Water Rescue Photo
High Point Enterprise photographer Don Davis snapped this dramatic photo on Saturday, of High Point firefighters preparing to rescue a motorist stranded by flash flooding on North Elm Street. Lots to like, from the depth of focus to the sense of movement captured in the image. Read the story. The picture was transmitted on the AP wire services, so it's appeared in such other places as firehouse.com.
And speaking of incident photography, Yours Truly will be participating in a panel on the topic at the South Atlantic Fire Rescue Expo on Friday, August 10. From 11:45 a.m. to 1:15 p.m. FireNews Editor Jeff Harkey moderates, with Legeros, Bob Bartosz, and Rob Brisley discussing their work and the craft. We'll be answering questions on any and every related topic. Bring a question, or bring several questions. Read workshop discussion. Autographs are free, of course. Or maybe we're supposed to pay you!?!

Don Davis/High Point Enterprise/AP photo
+ 10 - 6 | § ¶
Wilmington Fire Station 2 Update
FireNews has posted an update and photos of Wilmington's new Fire Station 2, which reopened on July 31. The facility is located at 3403 Park Avenue at Empie Park. It replaced an older station at the same location that was demolished in August 2011 due to mold problems. The 9,000 square-foot building is 880 square-feet larger, and has three bays instead of two. An open house and ribbon-cutting is planned for Saturday August 18, from 11:00 a.m. to 1:00 p.m.
A memorial garden is also planned for the location, including an artifact from the World Trade Center. It will be funded through private donations and sponsorships. Construction of the garden and monument is expected to begin next year. Learn more about the memorial.
The Wilmington Fire Department has lost six members in the line of duty: Asst. Chief Willie Monroe (1932, vehicle accident), Fire Chief Charles Schnibben (1933, vehicle accident), Lt. Raymond Core (1935, collapsed at fire), Lt. Emmett Williamson (1941, heart attack), Firefighter? Oscar Willis (1956, wall collapse), and Asst. Chief Harold Sandlin (1987, natural gas explosion). Source: Legeros fallen firefighters database.


+ 8 - 6 | § ¶
To Err or Breath Air?
Dave Statter posted a posting about this video over the weekend, showing a car fire in a transport trailer and also captured some exasperated comments from the vehicle's owners. From outside Chicago, in Arlignton Heights, IL. Reading the 28 comments posted so far, there's a difference of opinion regarding the use of breathing air. Winds blowing away from the nozzleman. He's keeping a cautious distance as approaches. For some readers, that make senses. For others, that's crazy man. Discuss as desired. Good video work from the Arlington Cardinal, though!


+ 7 - 4 | § ¶
Then & Now - Station 3
What differences do you observe in these photos of Raleigh Fire Station 3 from 1954 and today? Other than the position of the camera, that is. Click to enlarge:


+ 8 - 4 | § ¶
Snakes Alive
Rescued occupant from apartment fire on Timber Creek Lane this morning. Medic 95 arriving about two minutes after dispatch and reporting smoke showing from the rear of the building. Engine 17 first fire unit on scene. Stove alight, quickly extinguished. Most companies soon released. See more photos by Mike Legeros. Click to enlarge:


+ 17 - 8 | § ¶
Raleigh's Cool New Police Cruisers
Here's one of Raleigh's new police cruisers, one a couple Caprices that are being tested as possible replacements for the Crown Victorias that are no longer produced. The police department is also testing a couple other models. Click to enlarge:


+ 9 - 8 | § ¶
Sale of Surplus Fire Trucks, 1976
What happened to Raleigh's 1924 ALF service truck chassis, 1936 ALF pumper, 1949 FWD pumper, 1951 ALF pumpers (2), and 1957 FWD pumper? (Read about those rigs.) They were sold as surplus on December 20, 1976. The sale location was Fire Station 8, where some of the trucks had been sitting for a spell. The service truck chassis in particular had been collecting dust since 1963, when the ladder bed was removed and installed on a new Ford chassis. What became of these trucks? The 1936 pumper, if memory of conversations with the late Bob Biggs is correct, ended up wasting away in some woods in our area. (Or maybe it was down east?) The 1957 pumper was bought by a private owner in Knightdale, and later served the newly formed Hopkins Fire Department. Click to enlarge:


+ 7 - 8 | § ¶
Matchbox Classic Seagrave
Now appearing on store shelves near you. Bought mine at Target at Cary Crossroads. Scale not known. About three inches long. Ages three and above. Not bad for a buck! See a ton more images on Google Images. Could make a heck of a promotional piece for departments that operated one.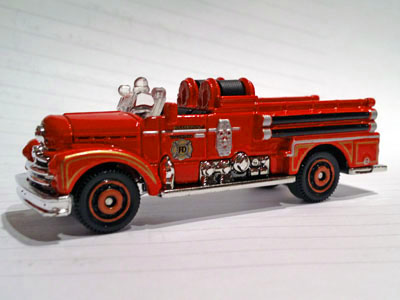 + 8 - 9 | § ¶
Historical Activities at Next Week's Fire Expo
Several historical activities are planned for the South Atlantic Fire Rescue Expo in downtown Raleigh next week. Here's a summary of what's planned. See you there!
Historical Displays in the Convention Center
Wednesday, August 8 - Saturday, August 11
Posters, display cases, and digital slideshows will be featured at the Raleigh Convention Center, celebrating the 125th Anniversary of the North Carolina State Fireman's Association. Look for artifacts displayed in both the lobby, and in display cases outside the conference rooms. Several giveaways are also planned to commemorate the anniversary. Ten pieces of antique fire apparatus will be also displayed within the Convention Center, including Raleigh's 1905 American LaFrance steamer (on the Mezzanine level) and Raleigh's 1926 American LaFrance pumper (on the exhibit floor).
Please note that badges or day passes are required for attending both the Expo Floor, and the conference workshops.
North Carolina State Fireman's Association Historical Presentation
Friday, August 10
9:00 a.m.
Ballroom C
This 45-minute presentation will detail the development and progress of the North Carolina State Fireman's Association (NCSFA), and will also recognize fire departments throughout the state that are celebrating anniversaries this year.
Centennial History of the Raleigh Fire Department
Friday, August 10
3:15 p.m.
Room 302A
Historian Mike Legeros will conduct a 90-minute presentation on the history of the Raleigh Fire Department, from the creation of the Capitol City in 1792 to present. He'll also talk about the history of firefighting in North Carolina, from the 18th Century to present.
Fire Apparatus Parade
Saturday, August 11
9:00 a.m.
Outdoors
Classic and modern rigs from around North Carolina are participating in the Expo's annual fire apparatus parade. The parade route is Fayetteville Street to Davie Street to South Salisbury Street. After the parade, static displays of apparatus will be featured in the parking lots in front of the Progress Energy Center on South Street.
Hand Pumping and Steam Pumping Demonstration
Saturday, August 11
11:30 a.m.
Outdoors
The Charlotte Fire Department will provide a demonstration of their 1866 Jeffers hand engine, which served the volunteer Neptune Fire Department. They will also provide a live steam and pumping demonstration of their 1902 American steam engine.
Raleigh Fire Museum
Saturday, August 11
10 a.m. to 2 p.m.
Nearby
Free shuttle service will be provided to and from the museum, which is located nearby in a classroom trailer at the Keeter Training Center, 105 Keeter Center Drive. Please note that the Raleigh Fire Department's collection of antique apparatus is located at Fire Station 28 at 3500 Forestville Road, in northeast Raleigh.
The Raleigh Fire Museum will also be selling centennial merchandise during the Expo. Visit the Raleigh Fire Department's booth to purchase t-shirts, stickers, challenge coins, and pre-orders for the Centennial History Book.
+ 13 - 7 | § ¶
Charlotte Fire Department Turns 125
Speaking of anniversaries, the Charlotte Fire Department has posted this promotional video to celebrate their 125th anniversary. The career fire department was placed in service on August 1, 1887.


+ 11 - 7 | § ¶
Durham Fire Department is Hiring
Applications accepted starting August 6. Learn more about the employment process. Click to enlarge the below poster. Also curious what other department recruitment posters look like, around here or around the state. Share yours, via mail or posted link. Might get an interesting discussion out it as well. (Though we'll apologize in advance to any recruiters who might take same as a slam. Not intended. Your hard work is appreciated.) Click to enlarge:


+ 11 - 9 | § ¶
Franklin Fire Apparatus Parade Video
Here's a Friday treat, from July 21, from the Ninth Annual Franklin Folk Festival, an apparatus parade to celebrate the 100th anniversary of the Franklin Fire Department. Maybe a reader will share the roster of who participated, and even the makes/models of the rigs.


+ 4 - 7 | § ¶
Keep Your Eye On The Finger
Poster campaign by the Raleigh/Wake County Emergency Communications Center, to help curb the 911 misdialing that's been a pervasive problem since 10-digit dialing was implimented some months ago. This one was seen in the Dillon Building downtown. Click to enlarge:


+ 8 - 8 | § ¶
New Ladder For Columbia
Browsing the Pierce new deliveries site on Flickr, here's an interesting rig recently received in Columbia, SC. Don't see a lot of mid-mount straight-sticks anymore. Are there any around here still operating, older or newer? Mid-mount towers, yes. See more photos.

+ 10 - 3 | § ¶
Driving By an Oak Island House Fire
Search YouTube for "house fire NC" and you'll find an assortment of interesting clips. Many are older or very older, and many are very short. Haven't found a "go to" place for local or statewide fire videos. Here's a 30-second clip of a house in Oak Island that's fully involved. No fire department yet, but a citizen with a garden hose. Listen to that wind. Footage is from five years ago.