+ 18 - 18 | § ¶
Station 28 Update
Station 28 has been rebid, so groundbreaking is still a couple months away. Here's the web page with all of Raleigh's construction bids.
+ 19 - 13 | § ¶
Henderson in 1926
And here's another State Archives shot, alas scanned from a photocopy of a newsprint picture, of the Henderson Fire Department in 1926. They're posed in front of the 1908 fire station building that's still standing, and presently serves as HFD Station 2: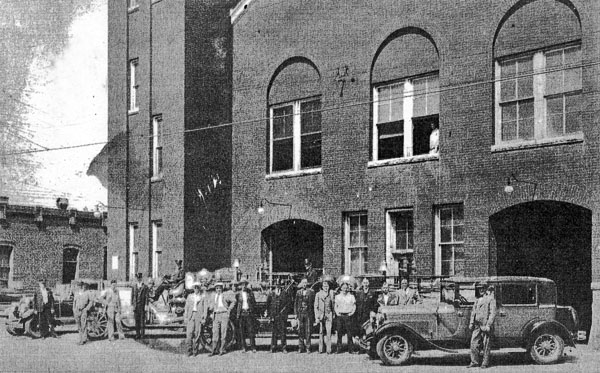 + 14 - 17 | § ¶
Sanford in 1939
Found this at the State Archives today, the Sanford fire and police departments with a new fire truck in 1939. It looks like an American LaFrance 600 Series quad, e.g. a service truck with a pump: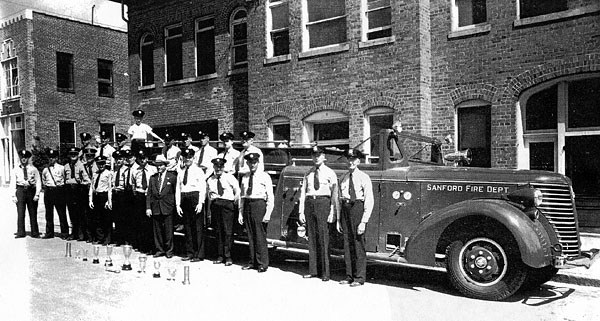 + 16 - 14 | § ¶
Speaking of Fayetteville...
In 1885, the Raleigh Fire Department sent their steamer to Fayetteville to help fight a hotel fire. Here's the virtual museum page about same. And here's the main page of the RFD virtual museum.
+ 15 - 14 | § ¶
Apex's Aerials
Here's a nice picture of Apex's aerials, from the AFD site, as photographed by Stephen Cox:


+ 12 - 13 | § ¶
Holly Springs Public Safety
Says today's News & Observer, Holly Springs just split its Public Safety department into seperate fire and police departments. That leaves Knightdale as the only other PS department in Wake County, I believe. Triangle-wide, Butner's a PS department. Any others?
+ 16 - 10 | § ¶
Heard on Scanner
And some days the police channels are the more colorful ones. Heard on RPD dispatch: all units, BOLO for a subject on the Beltline, interfering with prison work crew, may be 10-32, and believed to be 10-96.
+ 9 - 21 | § ¶
Cool Old Movie
Check out this cool old movie of the Cleveland Fire Department in 1902. See how many different kinds of horse-drawn rigs you can identify...
+ 14 - 12 | § ¶
Cumberland County Former Firehouses (Part 2)
Some former firehouses around Cumberland County:




. READ MORE
+ 13 - 11 | § ¶
Wake Forest's New Platform
As noted as a comment on another thread, Wake Forest's new platform is pictured on the Pierce new deliveries site:


+ 10 - 11 | § ¶
Cumberland County Former Firehouses (Part 1)
Watch for the red car around Fayetteville tomorrow, Monday, as I'll be shooting old Cumberland County stations in-between FFD research in town.

Here's the map, which will involve some 60 to 80 road miles of cross-county travel:


+ 21 - 10 | § ¶
Heard on Scanner
Fuel spill in Raleigh at "Lake Johnson D-A-M."

Damn.
+ 12 - 14 | § ¶
Wayne County Former Firehouses
A trio of former firehouses in Wayne County found during some Friday explorations: READ MORE
+ 12 - 9 | § ¶
Shopping Centers
Coverage of this big burner in Dallas makes me wonder: when was the last big, big shopping center fire in Raleigh or Wake County? Has it been some years, or more?
+ 12 - 11 | § ¶
This Morning's Fire in South Raleigh
This morning's fire on South Wilmington Street at Illeanges Street, from Lee. More forthcoming on photo site: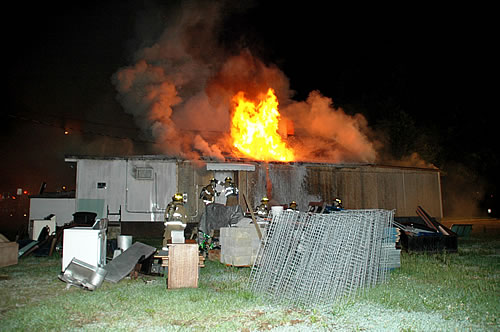 + 12 - 8 | § ¶
Redundant Radio Sayings
My favorite redundant radio saying: "dispatch fire and EMS to this location, and tell them to hurry up." Second favorite: "nothing showing at this time." (Though the latter is actually well-understood shorthand for "nothing showing on arrival and from this vantage point, but wait till we see the other sides of the structure.")
+ 15 - 11 | § ¶
Best Web Sites?
While we're on the subject of web sites, which big-city or bigger-sized departments around the state have the best (or most informative, or most user-friendly) web sites?
+ 12 - 15 | § ¶
New Fayetteville FD Site
The Fayetteville Fire Department has unveiled an impressive new web site: http://fire.ci.fayetteville.nc.us/default.asp.
+ 13 - 8 | § ¶
Goldsboro FD History Source?
Anyone know anyone who is a source for information about the history of the Goldboro Fire Department? Please mail Mike.
+ 10 - 12 | § ¶
New Photo Gallery Format
We're experimenting with a new gallery format on our photo page. Slideshows can now be played, with the images automatically changing every five seconds. You can also use your keyboard to navigate between images. The flood pictures have been reformatted with the new format.
+ 13 - 12 | § ¶
RFD Site Update
There's been a discrete update of the RFD site, for those that haven't noticed. A comprehensive list of contacts has been added. Click the icon on the right side.
+ 17 - 10 | § ¶
GFD / Media Relations
Something (else) interesting from Greensboro's (redesigned) web site, their SOPs (or at least part of them) on media relations for John Q. Public, Joe Media, and anyone else to read: http://www.greensboro-nc.gov/Departments/Fire/Aboutus/mediarelations.htm.
+ 16 - 7 | § ¶
Triad Former Firehouses
Some former firehouses found while doing a day of research in High Point: READ MORE
+ 9 - 11 | § ¶
Station Floodings?
I heard RFD 16 received a couple inches in the bay, and some into the living areas. And one county department was talking on the radio about their station 2, and water flooding a septic tank.
+ 7 - 11 | § ¶
Flood Day
Whoo-wee, what a day for colorful radio traffic! Not to mention the dozens of water- and service-related calls around the city and county. Pics from Capital Boulevard, Crabtree Valley Mall, and New Hope Church Road coming.
+ 14 - 10 | § ¶
Heard on Scanner
Dispatcher telling units responding to fire alarm that they're also receiving medical alarm, burglar alarm, and panic alarm. Now that's a well-stocked house!
+ 12 - 9 | § ¶
Let's Have Some Tones!
Who was dispatched to that chemical spill on Swift Drive? If I heard correctly: Engine 8, Truck 20, Truck 22, Rescue 14, Batallion 3, another Batallion Chief, Car 5, SR 5, Haz-Mat 2, and Haz-Mat 15. Ten tones, though I probably missed someone.
+ 18 - 8 | § ¶
Japanese Apparatus
Any Japanese apparatus buffs out there? Giant ladders, heavy, heavy rescues, robots, motorcycles, super ambulances, and weird, wild tracked appliances. Those motorized supply-line carts are pretty cool. Check out these links:

http://www.tfd.metro.tokyo.jp/ts/soubi/index.html (Tokyo FD)
http://www.morita119.com/fire/ (Morita, manufacturer)
http://www.naganopump.co.jp/catalog/top.html (Nagano, manufacturer)
http://www.nikki-net.co.jp/product/ (Nikki, manufacturer)
http://www5a.biglobe.ne.jp/~FUDOU/keisatu/shoubou.htm
http://www.rescue-119.com/gallery.htm, which includes pics of my favorite piece of equipment, a Nissan 4x4 ladder:




Wish I could read Japanese...
+ 14 - 13 | § ¶
Rescue Rigs By Comparison
To supplement discussions and speculations about Raleigh's rescue rigs, with respect to medium-duty (what we have) versus heavy-duty (what some think we should have), here are what North Carolina's other largest cities are operating. It seems heavy rescues are the exception, not the rule: READ MORE
+ 14 - 9 | § ¶
Former Firehouses
Some former firehouses from around the area, recently added to http://www.legeros.com/history/nc/. Do you have any to add?

Butner (Granville):




. READ MORE
+ 12 - 11 | § ¶
Cary Station 7, Drawing
...And here's a drawing of Cary Station 7, as passed along by a reader. The three-bay brick structure was designed by Stewart-Cooper-Newell Architects of Gastonia:



+ 11 - 13 | § ¶
Heard on Scanner #2
Radio test with subsequent hung mic. Chatter for maybe a minute, then someone says "it's not like I was disrupting any major traffic." Half-second pause and dispatcher chimes in "you're still on dispatch." Mic was promptly keyed off.
+ 13 - 8 | § ¶
Heard on Scanner
Structure fire, North Person Street. "At Krispy Kreme, D-O-U-G-H-N-U-T." Well, it was funny to me.
+ 11 - 12 | § ¶
Raleigh's Newest Turnout Gear
Raleigh's newest turnout gear, as photographed by Lee. Notice the lettering style. It also comes with a pull-out strap on the back collar, for firefighter rescue and that is attached to the jacket. Grab 'n' pull 'em from danger: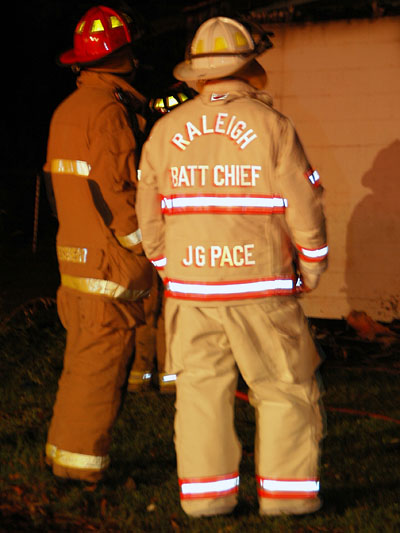 + 8 - 13 | § ¶
Aerial Photos Added
Recalling the earlier Google Earth thread, I've finally added aerial photos to this Raleigh fire station site.
+ 11 - 11 | § ¶
Cary Station 7
Here's a largely obscured picture of Cary 7, still a ways from completion. As noted in a comment on another topic: Cary E-7 will be going in service on 11 June 06, and will be placed at Fire Station 5 for the time being. E-7 will be in district 7 residing at Morrisville Station 3 during the daytime hours. Truck 7 will be moving to Station 4 until Station 7 opens. Station 7 is still scheduled for a late August/September opening. Engine 7 will be unit 1391, a 1997 Pierce Lance that previously saw service as Engine 2, and has been in reserve for the past few months. A replacement for Truck 7 (1994 Seagrave) is still in the spec process.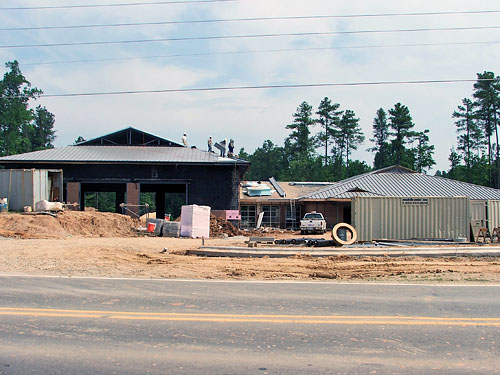 + 14 - 7 | § ¶
Morrisville's New Engines
Here are pictures of Morrisville's two new KME engines, placed in service as Engine 1 and Engine 3. The former replaced a 2002 American LaFrance pumper-tanker, the latter replaced a 1989 Ford / E-One pumper-tanker.
+ 9 - 16 | § ¶
Writing Better Blog Entries (and Comments)
As blog entries and particularly comments can be as casually composed as e-mail correspondence, here's an interesting article about Flagrant Grammar Mistakes That Make You Look Stupid. As for spelling, one way to spell-check blog entries and comments is this: 1. Write text. 2. Cut and paste text into Microsoft Word. 3. Run a spell check. 4. Correct spelling errors. 5. Cut and paste text back into blog.
+ 11 - 11 | § ¶
Raleigh's Pirsch Ladder
While visiting Chicago the other week, I happened upon a Pirsch ladder that was originally intended for Raleigh. The story goes something like this: in 1985-86, the city was to receive both a pumper and a ladder from Pirsch. The pumper was delivered and placed in service as Engine 13. The ladder, however, didn't make it. One or maybe more than one of the competitors filed a complaint about the bid process and Seagrave ended up supplying the rig. The Pirsch ladder that was built (or being built) was sent to Chicago and presently serves at the training academy. Alas, I didn't even think to record a serial or chassis number, to compare same with the reserve engine that's still in service.
+ 13 - 8 | § ¶
Wake Apparatus Updates
Wake Forest's mid-mount Pierce platform is due this month, I believe. A reader found these photos on the WFFD site.

Apex's rear-mount E-One platform arrived the other day. Here are some pictures.

Morrisville's two KME pumpers should be here.

Wendell's rear-mount Pierce ladder is due in July.

What else?
+ 8 - 9 | § ¶
Raleigh Proposed CIP
Raleigh's proposed Capital Improvement Program lists some interesting fire department items, such as: READ MORE
+ 8 - 20 | § ¶
RFD Apparatus Updates
The new haz-mat truck has been placed in service at Station 2. It's parked in the old shop area in the rear of the station. It is the only vehicle occupying that space, due to the size of the vehicle, the need to access compartments, etc. The 2006 Freightliner / Hackney has been assigned shop number 11036. The old truck is still rolling on haz-mat calls, as equipment is still in the process being transferred between the vehicles. Once all equipment is transferred, the old truck may be utilized as the haz-mat support unit. READ MORE
+ 15 - 7 | § ¶
RFD Apparatus Stats
Part 1, Engines

Some Monday math: 74 engines have been purchased by the Raleigh Fire Department since 1912. That total reflects 72 pumpers and 2 chemical hose cars. Slightly more than half are still active, with 37 or so still serving as front-line, reserve, or antique. READ MORE
+ 14 - 11 | § ¶
USAR Cab Lettering
Speaking of USAR, their newest cab has been lettered in a different style than earlier incarnations: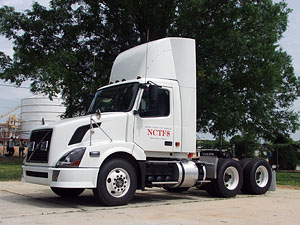 + 12 - 12 | § ¶
Wilmington Fire History, Kind Of
The NCOAH site on the Wilmington Race Riots of 1898 has a bit of fire department information buried in there, notably a map of the fire stations of the time. There's also a little information on the era's black fire companies in the first chapter of the report. The site is located at http://www.ah.dcr.state.nc.us/1898-wrrc/.
+ 9 - 9 | § ¶
Fatal Police Chases
That's two in three days, Raleigh and Morrisville. What are the odds?
+ 10 - 14 | § ¶
Airport Map?
Is there a good airport map online anywhere, one that labels the runways as well as all the access gates on the property?
+ 12 - 11 | § ¶
USAR in Downtown Raleigh Today
Raleigh's USAR companies will be rappelling down the First Union Building in downtown Raleigh today, Friday. The exercises will be starting around 10:00 a.m. Look for E7, R7, and T1, for starters. Should take a couple hours. Thirty-some stories, from the very top. The building's at the corner of Salisbury and Morgan streets.
+ 13 - 11 | § ¶
RFD on Pierce Site
Noted by a reader on the Pierce new deliveries page: http://www.piercemfg.com/new_deliveries/new_delivery.cfm?Truck=1327&Type=pumper.
+ 6 - 16 | § ¶
Apex's New Platform Ladder
Apex's new platform ladder was delivered today. Information and preliminary pics are on their web site: http://www.apexvfd.org/, such as this one: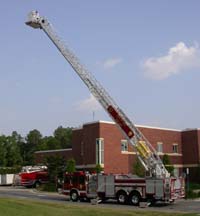 + 14 - 8 | § ¶
Apex Station 4
Apex is planning a fourth fire station to open early next summer. Same will occupy an existing metal building at 1521 East Williams Street, AKA Highway 55 at the Dixie Pipeline Company. The 2006-2007 budget includes funding for both the building renovations and six additional positions, three Lieutenants and three Firefighters. READ MORE