+ 7 - 3 | § ¶
Biltmore Fire Departments - A Short History
Let's take a trip to Asheville, for a historical perspective on the Biltmore fire departments of yore. We'll start with fire protection at George Vanderbilt's Biltmore Estate, which was completed in 1895. The property was protected by various types of fire equipment, including fire hydrants with hose and fire apparatus. Though the Biltmore House has never caught fire, smaller buildings on the estate burned in early decades.
In 1903, a fire department was organized at nearby Biltmore Village. The Biltmore Fire Department protected both the estate and the village until 1929. They operated hand and motor apparatus including a 1926 Ahrens Fox triple combination pumper. That year, the village was annexed the city, and Asheville Fire Station 5 opened at the former Biltmore Village fire station.
Also that decade, the town of Biltmore Forest was charted in 1923. The planned residential community was developed from some 1,500 acres of estate property. The Biltmore Forest Fire Department operated with combination firemen and police officers, as well as volunteer firemen. They had a single combination fire and police station and five pieces of apparatus over the decades until they ceased operation in 1995. The town contracted with the Asheville Fire Department until 2013, and then the Skyland Fire Department, which completed a new fire station near the town in 2014.
That's the abstract, now read the research notes. Twenty pages of historical details. And pictures! They're located at legeros.com/history/biltmore.


+ 3 - 3 | § ¶
Vintage Photos of Westarea's Ford/Atlas Pumpers
Here's another trip back in time, a pair of Ford/Atlas pumpers that served the Westarea Fire Department in Cumberland County. Engine 102 (later 1032, later 2032) was a 1982 Ford/Atlas in black and Engine 152 (later 1532) was a 1984 Ford/Atlas in red. The black truck was photographed by Jeff Harkey, circa 1990. The red truck was photographed by Lee Wilson on July 7, 1991. What other all-black rigs have served in North Carolina? Click to enlarge:



Jeff Harkey photo



Lee Wilson photo
+ 6 - 4 | § ¶
Friday's Major House Fire with Fourteen Fire Departments
Fourteen fire departments from Wake County (and one from Johnston County) battled a major house fire in southern Wake County on Friday. Though the structure was of "ordinary size", there were numerous challenges ranging from roadway access to water supply to building construction. Here are some notes on the incident:
Dispatched about 10:40 a.m.
8001 Caddy Road. One-story structure with partial basement. 3,733 square-feet, built 1952.
Eleven-acres of land. Vehicular access via gate on Division D side. Iron fence on Division C and D sides.
Fire found in basement.
Extension to first-floor and attic, through void spaces in walls.
Building construction included sections of log cabin construction, which further challenged crews.
Exterior hazards included icy terrain and a filled swimming pool beside the basement access door.
Access issues included narrow front gate, so first engine couldn't get close to the house.
After initial units arrived, an asphalt truck drove to the scene. It became stuck in a ditch after attempting to turn around. This blocked access from additional units. Truck was pulled from ditch by fire engine.
Access issues on roadway also included icy conditions on two hills. Sand truck arrived some hours later, from Department of Transportation.
Controlled about 4:30 p.m.
Run Card
Fairview E3, E2, Tanker 7, Fuquay-Varina E4, Tanker 1 originally dispatched.
Fairview E1, R1, Tanker 6; Garner E9, E3, Tanker 12 added.
North Region Tanker Task Force requested: Durham Highway P2, Bay Leaf Tanker 127, Tanker 257, Wake Forest Tanker 2, Stony Hill Tanker 268.
Two engines from Raleigh requested, along with a third additional engine. Raleigh E13, L8 dispatched, along with Apex E4.
Cary E4; Holly Springs E3; Swift Creek Tanker 2 added.
Cleveland E3, Morrisville E3, Cary E6, R2 added.
Medical: EMS 52, EMS 11, EMS 5, D1, Chief 105.
What's right/wrong about that dispatch/request sequence?
Departments and Units:
Apex E4
Bay Leaf Tanker 127, Tanker 257 (believe they were both diverted for coverage)
Cary E4, E6, R2
Cleveland E3
Durham Highway P2
Fairview E3, E2, E1, Tanker 6, Tanker 7, R1, C1
Fuquay-Varina E4, Tanker 1
Garner E9, E3, Tanker 12, B1
Holly Springs E3
Raleigh E13, L8, B2
Morrisville E3
Stony Hill Tanker 268
Swift Creek Tanker 2
Wake Forest Tanker 2
Plus Wake County Fire Services, Wake County Emergency Management.
Coverage
Swift Creek E3 to Fairview Station 1
Bay Leaf Tanker 127 to Fairview Station 2
Bay Leaf Tanker 257 to Garner Station 2
Water Supply / Hose Lines
Water shuttle required, with drop tank at Caddy and Fields Drive.
That's some 1,200 feet down Caddy Drive (and two hills) to the front gate.
Water point was beside/behind Smithfield Chicken 'n' Barbecue, at Ten Ten Road and Highway 401. That's 0.6 miles away.
Combination of relay and nurse pumping. Two or maybe three relay pumpers. See diagram below.
Courtyard lay from front gate on Division D side, which was some 350 feet to the basement access on Division B side.
Manifold placed in operation on Caddy Drive on Division A side, with section of iron fence removed, to allow personnel and vehicle access.
Second courtyard lay from manifold on Caddy Drive?
Here's "interpretative map" based on observations at the end of the incident, along with some phone photos. Pictures from my cameras will take another day or two to be posted. Click to enlarge:

+ 6 - 4 | § ¶
Vintage Photo of Bethesda Chief's Buggy
Here's another blast from the past, a sharp-looking Chevy chief's buggy of the Bethesda Volunteer Fire Company in Durham County. Love those Hot Wheels wheels! Photo by Jeff Harkey, circa 1990 or abouts.
The van was purchased when R. H. Ballard was Fire Chief. He was fond of driving vans and drove one for many years as his personal vehicle. When the department decided to purchase a car for chief's use, a van was the natural choice. This was replaced in/around 1994 with a Ford Excursion. The van remained in reserve as a utility vehicle or, on occasion, as the chief's buggy.
Another bit of history: this vehicle was also involved in an accident on South Miami Boulevard in the mid-1980s. Chief Ballard was driving ahead of Engine 1 to a fire alarm activation. When a building fire was reported elsewhere in the district, the Chief made a sudden u-turn to respond. His van was t-boned by the trailing Bethesda engine. The vehicle was repaired by combining the remains of the original with the rear half of another Chevy van. Click to enlarge:


+ 3 - 4 | § ¶
Vintage Photo of Raleigh's GMC Service Truck
Bought this on eBay, color slide of the city's 1964 GMC service truck. Photographed in October 1982 by Joel Woods. Served as Truck 6, Truck 16, Truck 8, Truck 15, and as a reserve. Chassis cost $3,270.56. Purchased in January 1964. With body and maybe equipment, cost $5,229.00. The body was probably constructed by Alexander Welding. Was placed in service as Truck 6 at Station 6 on February 8, 1965. Click to enlarge:


There were three "modern service trucks" operated in Raleigh. The first was a 1963 Ford with a 1922 American LaFrance ladder bed. The chassis was wrecked in 1979 (see picture and another picture) and replaced with a 1980 Ford chassis. The second is listed above. The third was a 1971 Chevrolet. They were used in the city through the mid-eighties. Read about those trucks in my apparatus registry. Click to enlarge these photos. Top are the Fords, bottom is the Chevy:



News & Observer, Jeff Harkey (x2), Lee Wilson
+ 6 - 3 | § ¶
Reader Question: Why Should Taxpayers Support Continued Funding Fire Departments with Fewer Calls?
This reader question was posted to yesterday's run numbers thread and asks a great question about support for funding of fire departments with low(er) run numbers:
As a Wake County resident and taxpayer, why should I support continuing to fund a fire department that only runs 756 calls a year? Wouldn't it make more logical (and fiscal) sense to let Raleigh or some other neighboring department handle there area? Just seems like a waste of resources from a laymen's perspective.
Jeanne Palusen - 02/19/15
Let's post the responses over here instead over there, and leverage an excellent opportunity for public information and educaiton. And maybe some good discussion. We'll keep the other thread open for more run number postings.
+ 6 - 2 | § ¶
Run Numbers For 2014
Below are the calls and unit responses (runs) for Raleigh and Cary fire departments, plus runs for Western Wake. See also this prior posting about incident data and fire station first due call totals in Raleigh.


Raleigh
Cary
Other Departments
37,507 calls
56,546 unit responses

E1 - 1842
E2 - 1717
E3 - 2696
E4 - 1234
E5 - 1261
E6 - 1228
E7 - 1935
E8 - 1861
E9 - 1529
E10 - 1636
E11 - 2303
E12 - 2391
E13 - 1337
Sq14 - 1639
Sq15 - 2334
E16 - 1664
E17 - 1309
E18 - 1117
E19 - 2101
E20 - 1536
E21 - 1363
E22 - 1269
E23 - 1021
E24 - 782
E25 - 759
E26 - 900
E27 - 637
E28 - 604

Top Ten

E3 - 2696
E12 - 2391
Sq15 - 2334
E11 - 2303
E19 - 2101
E7 - 1935
E8 - 1861
E1 - 1842
E2 - 1717
E16 - 1664

L1 - 973
L2 - 2012
L3 - 980
L4 - 2120
L5 - 970
L6 - 455
L7 - 987
L8 - 541

R1 - 1057

B1 - 461
B2 - 605
B3 - 521
B4 - 299
B5 - 763

Air 1 - 142

Haz-Mat 1 - 78
Haz-Mat 2 - 83
Haz-Mat 3 - 51

C20 (Div Chief) - 142
C401 (Investigator) - 217
C420 (Platoon Deputy
Fire Marshal) - 993
8,446 calls
16,206 unit responses
(total of below)

E1 - 1086
E2 - 1323
E3 - 1658
E4 - 1128
E5 - 1038
E6 - 683
E7 - 671
E8 - 608

L1 - 793
L3 - 1093
L5 - 815
L6 - 383

R2 - 1209
R4 - 984
R7 - 457

B1 - 1190
B2 - 1087


Durham Highway
756 calls

Fairview
1328 calls

Fuquay-Varina
3470 calls
1289 fire calls
2181 EMS calls

Wake Forest
2950 calls

Wake New Hope
1762 calls

Western Wake
613 calls

Wake County EMS
89,755 calls

Chapel Hill
4486 incidents
See comments for details

Fayetteville
29,400 calls
See comments for details

Send or post yours to be added!

See more Raleigh run number data (PDF)
+ 7 - 2 | § ¶
Durham County Adding Sprinter Ambulances
From the Durham County EMS Facebook page, comes an announcement about (and a photo of) their newest ambulances. The new Demers MX152's are built on a low-maintenance, fuel-efficient Sprinter chassis and designed to provide enhanced safety and comfort for both patients and paramedics. Final inspections are underway at the factory. The seven ambulances are due the first week in March. See also this posting from Rescue Vehicle News.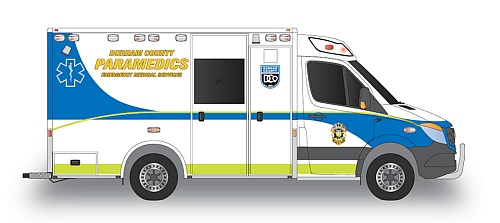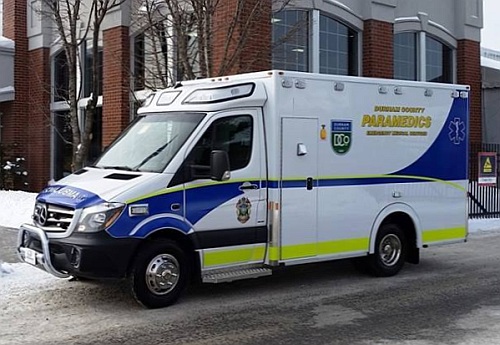 + 6 - 5 | § ¶
Raleigh Firemen Who Lived at the Fire Station
Last month we presented a list of Raleigh firefighter names as listed in the Raleigh City Directory of 1963. Let's look at some other city directory voumes, for names of some firemen who lived at the fire station:
1931 - Collins Dempsey D, hosemn Engine Co No 3 r 135 E Hargett [Sta 3]
1931 - Higgins Grady W, capt Engine Co No 2 r 412 S Salisbury [Sta 2]
1931 - King Linwood C, nozlemn Engine Co No 2 r 412 S Salisbury
1931 - Strother Stanley, hosemn Engine Co No 5 r 1914 Park dr [Sta 5]
1932 - Strother Stanley, hosemn 110 W Morgan [Sta 1]
1935 - Caudle Durwood E city firemn 110 W Morgan
1935 - Kelly Jas C city firemn rl35 E Hargett
1935 - Mills Clyde D city firemn r505 Jefferson [Sta 4]
1949 - Blake, Jasp capt Eng Co No 4 City Fire Dept r505 Jefferson
1950 - Beacham Frank A city firefighter r2601 Fairview rd [Sta 6]
1950 - Gates, Thos O city fire fighter City Fire Dept r505 Jefferson
1950 - Strickland, Jas C city fire fighter r2601 Fairview rd
1963 - Williams, Larry G city firefighter r735 Fayetteville st [Sta 2]
Wait, firemen lived at the fire station? As in, their primary residence? Correct. This piece of history was raised in last month's posting about old discipline records.
Reader "AP" noted "I once worked with now retired Captain J.C. Munns and he described to me once that during his early years at RFD, he was assigned to St 3 and lived at the station back when they only had two shifts. As you noted, he even received his regular mail at the station, which I think was common practice. He noted on his off day, he would hop on the engine if a house fire came in."
I've queried a few folks and learned these details about "living at the fire station":
Back in the day, in the 1960s and 1950s and earlier, there were only two shifts.
Since 1946, they worked twenty-four hour shifts.
Those who were single or divorced "slept and ate at the station."
Was much cheaper than renting a room or apartment.
They could also ride the city busses for free.
Most or maybe all had second jobs. They'd spend the day working and then return to the station for supper and sleep.
But if there was a call (or maybe just a fire), they had to hop on the truck.
Couple factors to consider here. First, their salaries weren't terribly high. One retiree recounts trying to buy a $12,560 house in the newly developing Woodcrest community. This was the early or mid-1950s. He made $73 a month, including city taxes and insurance. The bank said sorry, he didn't make enough money. He returned in 1957 after his salary was higher and bought the house.
There was also a residency requirement. Firemen had to live within the city limits, and the city limits were considerably smaller. Here's an annexation showing the significantly smaller city size. Thus, their housing choices were limited by geography. As each decade passed, the city grew. New subdivisions were developed by builders and they were annexed by the city. Firemen had more choices of places to live.
The residency requirement was expanded in February 1969, to anywhere within Wake County. Provided they lived on a paved road and that their telephones were "connected to the Raleigh exchange." The restriction was further expanded to a road mile distance. What was it, then thirty-five, then fifty?
Need reader input here. Both on the residency requirements, and any additional "living at the station" details that people have heard. Click to enlarge:



Postscript. Visit my fire department timelines and you'll see progressive annexation maps, per-decade. But... they don't match this map. Who's right and who's wrong? Probably my bad.
+ 5 - 1 | § ¶
Durham Adds Auxiliary Trucks - Fire Engineering, 1942
Found for sale on eBay is an excerpt from Fire Engineering, about a pair of "auxiliary trucks" (my words) added in Durham during the war years. These were a pair of one-ton trucks that were placed in service to handle "small fires in residential areas." Such as car fires, chimney fires, and grass fires. Run cards were updated for "straight fire alarms." Instead of two "big pumpers" and a ladder truck, they'd dispatch one pumper, one ladder truck, and one "small truck."
The change was made after they analyzed their runs for 1941. They found that "ninety-eight percent of fires in Durham could've been handled adequately with the ladder truck, one small truck, and ten men." Sound familiar, anyone? Such as the midi-pumper concept of a few decades later? (The war also likely inspired the program. Material restrictions prevented many fire departments from adding or replacing apparatus. This placed a premium on existing trucks. Using "auxiliary trucks" such as this, departments saved wear and tear on the larger and often older rigs.)
Here's what they carried:
900 feet of 2 1/2-inch hose
two 2 1/2-inch controlling nozzles
one set of reverse couplings
one hydrant wrench
three hose spanners
three hose straps
one crowbar
two hand lanterns
one hose clamp
one tarpaulin

two axes
two soda and acid extinguishers
one 24-foot extension ladder
one 12-foot roof ladder
two brooms
one 65-foot hand line
one light plant including generator, 200 foot cord, floodlight with 500 watt bulb
one hand operated spotlight
one pike pole
120-gallon booster tank equipped with 250 feet of 3/4-inch hose with the following type nozzles:
one 1/4- inch straight tip, one garden hose tip, one spray nozzle
one 20-foot length of 3/4-inch suction hose with strainer.
The Durham Fire Department might've been the first in the state to implement this concept. Greensboro, Raleigh, and Wilmington also operated "squad trucks." Read prior blog posting. See also another posting with a vintage ad about the Durham truck.
As for Durham's trucks, one was sold to Garner in 1952 as their first fire truck. Then the thing was sold to Harrells Fire Department in Sampson County. Here are pictures of mine from 2004, of the truck at the Harrells fire station. (What sort of modifications might've been made to the truck, while it served in Garner and/or Harrells? Don't know.) Click to enlarge:


Now, notice the top two photos. Upper left is 1942, upper right is 1945. Same truck, but with front pump added? Or two different trucks? To be determined!
Meanwhile, enjoy the full article. Click once or twice to enlarge:


+ 3 - 5 | § ¶
UPDATED: Butch Robbins, a Unique Firefighter From Sharpsburg, 1976
February 14, 2014
From our friends in Nash County come this clipping showing Butch in action at the pump panel. Plus one impressive set of sideburns! Maybe readers recognize the era of the photo. Thanks Bob and Todd (e.g. the Nash County history book authors).
As noted in his obituary (he passed away this summer), James Edward "Butch" Robbins passed away this summer at age 64. He lost him legs and arm as a soldier in Vietnam in 1968. He was a dispatcher for Seymour Johnson Air Force Base and a member of the Sharpsburg Fire Department.
He also had many other jobs including, farming and auctioneering. Click to enlarge:

December 28, 2014
Found this cover story in the July-August 1976 issue of Hose & Nozzle magazine. Butch Robbins, a volunteer firefighter with Sharpsburg. He responds to fires in his jeep and serves as a pump operator. He has no legs and one arm. Wow. Click to enlarge:


+ 6 - 2 | § ¶
North Carolina Fire Dept and Fire Protection Laws - 1820 to 1924
For your Thursday historical enjoyment, here's a newly compiled collection of "fire laws" as passed by the North Carolina General Assembly between 1820 and 1924. The digitized versions of the originating documents were extracted from the official archives.
Each session year's collection was searched for such keywords as "fire company," "hose company," "hose reel," "hook," "ladder," "steam engine," "fire engine," "fireman," and "fire." The curated results were saved as individual PDF documents.
The collection includes both statewide legislation and local (private) laws, as pertaining to the towns and/or fire companies of:
Beaufort
Bethania
Charlotte
Durham
Edenton
Elizabeth City
Fayetteville
Greensboro
Greenville

Jacksonville
Kinston
Lincolnton
Little Rockfish
New Bern
Raleigh
Rutherfordton
Salem
Salisbury

Smithfield
Tarboro
Warrenton
Washington
Wilmington
Wilson
Winston
What are these laws about? Many are charters or incorporations of individual fire companies. Others include legislation about fire company consolidations, relief funds for firemen, and exemptions for firemen for special civic duties.
The landing page tells more, including the methodology of my research and tips on finding more of these yourself.
+ 5 - 3 | § ¶
Old Photo of Old Tanker - Archer Lodge, Formerly Wendell
Here's a golden oldie from the archives of Lee Wilson. Photographed in 1990 or 1991. Military conversion tanker that served the Wendell Fire Department in Wake County, and then the Archer Lodge Fire Department in Johnson County, where it's pictured here.
Was placed in service in Wendell in July 1979. Reported the Gold Leaf Farmer on August 2, 1979, the 1962 Diamond T five-ton "Army truck" was modified by Craft Steel Industries of Farmville. It carried 1,920 gallons of water and was equipped with a 350 GPM pump.
Cost $11,800, which was paid largely but not exclusively by the county fire tax. Some citizens also contributed donations. The tanker joined three other trucks operated by the fire department. Click to enlarge:



David Robertson/Gold Leaf Farmer photo
How many other military conversion fire engines served in Wake County. Here's a montage of most of them. Top to bottom, left to right are Apex, Cary (times three), Durham Highway, Fairview, Fuquay-Varina, Holly Springs, Rolesville, Six Forks, Yrac, and Wendell. Missing is Knightdale's tanker, for starters. (Last seen sitting in the trees.) Click to enlarge:

+ 4 - 2 | § ¶
No More Anonymous Comments on WRAL News Stories
Did you catch this story yesterday on the WRAL web site? They are changing their comment system from (a.) the WRAL based-system, which allowed anonymous user profiles to (b.) Facebook, which requires and displays your real identity1.
Unless you're contributing to the sports forums, that is, which will remain anonymous-enabled. An earlier version of this story said something to the effect "we recognize that 'smack talk' is a part of the experience that users enjoy.'" Something to that effect and which made me laugh, since that's entirely true of fire blogs. (Folks love some pot-stirring, except when they're the ones being critiqued. Or their departments.)
I've clicked around the WRAL site this morning and found that they've connecting a couple different social media channels to their registration system. Facebook, Twitter, Google+ and more. Are you still required to have a Facebook account, if you register using Twitter, for example? Don't know.
(The user agreement screen includes a "receive special offers" option. Based on experiences with too many other commercial web sites, clicking "no" will nonetheless result in unsolicited said offers received via e-mail. Here's hoping WRAL proves me wrong.)
Does this new system mean that WRAL's archaic "business hours only" commenting period will shift to real-time? With commenting permitted on the weekends? Maybe we'll get lucky. (Must have been a math thing. Salaries of nights/weekend moderators greater than income tied to web clicks during same period. Since nobody reads the news just for the news, right???)
Why are they making the switch? Quote them: "A growing number of news sites are eliminating comments entirely because of the resources required to monitor and remove abusive or otherwise inappropriate comments left on stories. We, however, see value in allowing readers and viewers to thoughtfully discuss the news of the day."
We've blogged about this before, notably in this October 2013 posting titled Civility, Psychology, Online Comments and The New Yorker.
Will this blog be making the switch one of the days (or years)? Unsure and for a couple reasons. For starters, we'd probably have to move to a new platform. (This blog uses an older version of Pivot.) Also, adding Facebook comments might mean that the comments "live" somewhere other than with the original posting. Which is problematic for archive purposes.
Anyway, it's an interesting and not unexpected move from WRAL.
1Real identity, really? Not entirely true. Facebook really really wants people to use their real names, but it isn't absolutely required. In fact, some drag performers recently made the news in a spate about same. That is, as memory serve. Mr. Blogger keeps more a closer on issues relating to performers who favor tropical attire.
+ 5 - 3 | § ¶
Car vs. Hospital in Rocky Mount
There's a rare headline! Happened at Nash General Hospital about 3:15 a.m. this morning. The car crashed into the emergency room. No injuries, but the driver was, well, taken inside to be checked. No charges have been filed, no further details have been released. Read the WRAL story.
There are a few more details from this WITN story. The Crown Victoria crashed through the front door, and intruded about eight or ten feet into the structure. Didn't quite reach the security checkpoint, however.


WRAL photo
+ 5 - 1 | § ¶
Morrisville Brush Truck Struck by Train, 1985
From the archives of our friends at the Morrisville Fire Department comes this tale of an usual apparatus accident. On August 14, 1985, this Chevrolet brush truck (model and year?) was struck a train... and survived. The Cary News on August 18 reported the story in an article written by George Jeter.
Happened on a Wednesday afternoon. Crews were fighting a "more or less routine" woods fire call along the tracks between the "crossings at Secondary Road 3014 and the Huntington development project near Morrisville." Then they heard the whistle of Norfolk Southern Engine 2795.
Fireman Robert Beard said they'd "just got the hose off" the truck, when they heard the train "rounding a bend to the west." He worried the truck might derail the train. Another firefighter said "I didn't even think about the truck - I saw that train and I was gone."
Some five volunteer firemen were "on or around the truck" when the whistle was heard. They "lept and ran from the truck," which had been driven down the tracks, to reach "flames along the steep banks of the railroad embankment."
The operator of the freight train tried to stop. Though slowed, the engine struck the truck at about twenty-five miles per hour. The fire engine was pushed at least forty feet down the track before coming to a stop. The collision happened about 3:30 p.m.
No one was injured in the impact, though at least one firefighter was "cut by brambles" as they climbed the banks of the easement.
Crews resumed firefighting using "backpack water sprayers". One "from from the YRAC Rural Fire Department" also arrived to help. Once the fire was extinguished, the damaged brush truck was moved "off the tracks by hand" to be towed out of the "narrow easement land."
What other such accidents have occurred in North Carolina?
We blogged in December about a Charlotte engine struck in 1973. We also compiled Hose & Nozzle reports in a posting, that included the March or April 1970 incident involving a Monroe pumper.
The worst such accident happened in Fayetteville. On March 17, 2000, Fire Engineer David Sharp died after the aerial tower he was driving was struck by a train. He was the lone occupant of the apparatus, and was returning from an automatic fire alarm.
Click to enlarge:



Cary News/George Jeter photo



Morrisville Fire Department photos
+ 3 - 3 | § ¶
Raleigh's Open Data Portal / Parsing Last Year's Fire Data
The call has been issued for run numbers. Will have data soon from Raleigh and Cary and maybe a couple other local departments. Meanwhile, let's do some data play.
We've blogged before about Raleigh's Open Data Portal before. They surface quite a bit of police and fire department data, including all incidents from 2007 to present. That is, fire calls and requests for service only. No rescue, no EMS. See explanation at the bottom of this posting.
Let's parse the data from last year and see what we can find. One data disclaimer, though. For properties damaged by fire, any second building that receives damage as an exposure is listed as a second record. Ergo, some single fires had two or three records. (For those who examine the data, that will make sense.)
Top Call Types (From NFIRS Categories)
What were most frequent types of fire and service calls?
3576 - Dispatched & cancelled en route
1004 - Smoke detector activation no fire - unintentional
1000 - Alarm system activation no fire - unintentional
890 - False alarm or false call Other
714 - Service call other
512 - No Incident found on arrival at dispatch address
What's the count of building fires? 209.
Busiest Platoon For Fires?
Which shift had the most building fires?
73 – B
71 – A
65 – C
When Do Building Fires Occur?
For those 209 building fires, the most common hours of the day:
19 - 17:00 to 17:59
16 - 18:00 to 18:59
15 - 14:00 to 14:59
14 - 12:00 to 12:59
12 - 16:00 to 16:59
11 - 11:00 to 11:59
11 - 19:00 to 19:59
10 - 22:00 to 22:59
Where Do Most Calls Occur?
For all fire and service calls, which engine is busiest within their first-due territory. Here's the call volume categorized by first-due territory. Meaning, frequency of incidents based on their address as corresponding to first-due engine. Note that Engine 1 and Engine 13 are combined as Station 1 territory.
1268 - Station 1 (E1/E13)
937 - Station 11
817 - Station 3
808 - Station 12
759 - Station 19
737 - Station 15
692 - Station 8
565 - Station 22
556 - Station 20
532 - Station 6
532 - Station 5
508 - Station 9
502 - Station 7
492 - Station 2
475 - Station 21
470 - Station 10
459 - Station 16
442 - Station 24
408 - Station 14
407 - Station 17
378 - Station 4
366 - Station 18
357 - Station 26
331 - Station 23
311 - Station 25
183 - Station 28
175 - Station 27
That's great, but how about building fires only? Will look again.
Popular Places
Top incident addresses, where street numbers were recorded:
177 - 509 GLENWOOD AVE
67 - 3000 NEW BERN AVE
64 - 116 ST MARYS ST
37 - 1209 PLAINVIEW DR
35 - 4420 LAKE BOONE TRL
33 - 1420 S WILMINGTON ST
33 - 4325 GLENWOOD AVE
33 - 500 E HARGETT ST
32 - 3019 FALSTAFF RD
32 - 4812 SIX FORKS RD
31 - 1315 OAKWOOD AVE
31 - 5412 FIELDCROSS CT
30 - 15 E PEACE ST
28 - 2910 CAPITAL BLVD
28 - 5 E EDENTON ST
28 - 513 E WHITAKER MILL RD
27 - 501 N WILMINGTON ST
27 - 911 N BLOUNT ST
26 - 500 FAYETTEVILLE ST
Top incident addresses, with no street numbers:
78 - CAPITAL BLVD
51 - I 40 WB
46 - I 440 EB
46 - NEW BERN AVE
44 - I 40 EB
31 - FALLS OF NEUSE RD
31 - I 540 EB
30 - GLENWOOD AVE
30 - WESTERN BLVD
28 - I 440 WB
22 - S WILMINGTON ST
20 - POOLE RD
READ MORE
+ 8 - 5 | § ¶
Coolest Industrial Pumper-Tanker Ever?
From the Pierce Flickr page, Jack Daniels Fire Brigade in Lynchburg, TN. Unit is named Pumper 7. Capacity includes 3000 GPM, 2000 gallons foam, 500 gallons water. Read this story by Patrick Huguenin about the JDFB and their Fire Chief Fred Elliott. The brigade has thirty-four members, all full-time employees of the plant. Thanks to Lee Wilson for finding the pic. See larger versions of the picture.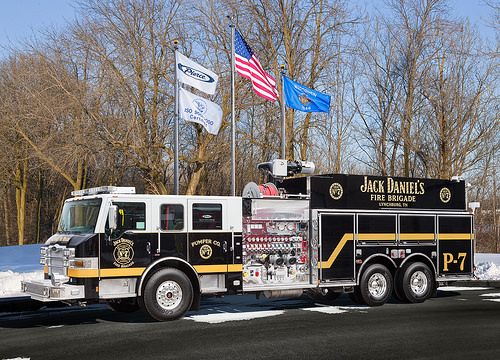 + 6 - 3 | § ¶
Best Recruit Academy Plaque Ever?
Found on Twitter, first tweeted by "Hooks" (@Dhooks89). Charlotte Fire Department Recruit Class 93. Awesome. Next question, why is Charlotte's latest academy numbered 93, while Raleigh's current class is numbered only 40? Aren't they both Very Old Fire Departments?
Have a couple theories. First, Charlotte grew faster than Raleigh, and likely had an earlier need for formal fire academies. (And has surprassed Raleigh's growth over the decades, which means more fire academies needed.)
Second, the Charlotte Fire Department implemented formal fire training a few decades earlier in their history, with the creation of the Palmer Fire School. This likely translated to earlier formal fire academies. Reader and/or historian input welcome.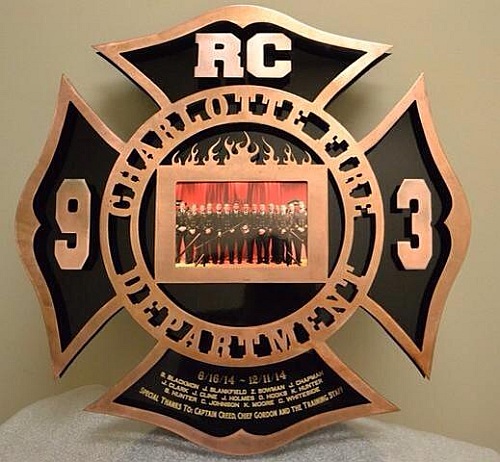 + 4 - 5 | § ¶
Old Engine 4 and Other Bungalow Fire Stations
For those who have wandered by old Station 4 of late, the Jefferson Street fire station is undergoing renovations. The property was sold in 2014 to local developer James Goodnight. He's the son of his famous father and has been restoring Raleigh's historic structures years now. Read this Independent Weekly story on same from January 2014.
(The property was originally purchased by Donald and Laurie Stewart in 1963, upon the station's relocation to Wake Forest Road. Mr. Stewart passed away in 1997, and ownership of the property was retained by his heirs. Source: County tax records.)
Looking through the windows on the weekends, there appears to be steady work underway inside. On the outside of the building, the most obvious exterior enhancement are the original station letters. They've been restored to their original place above the apparatus bay.
Looks like the roof and chimneys have had some work as well. Maybe rebuilt on the right side, as facing the structure. See some photos from December. Or view measured drawings of the structure (PDF) by local architect John Reese.
(There's tons more on my history page including the 1926 construction bid document and the 1996 city historic property designation. Plus the original log book entries. See also this history of all Station 4 locations. Also see these interior photos from a neighborhood event in 2005.)


Bungalow Fire Stations
Old Station 4 was the first single-story fire station in the history of Raleigh's career fire department. Two decades later, Station 6 followed in a rented one-story building. Then Station 7 built in 1959 and the first in a decades-long string of similar designs.
The Jefferson Street station is also what we'd call a "bungalow fire station." They're uncommon but not unheard in North Carolina. Let's look around and see how many others have been built.
First, let's define "bungalow." One-story house and typically with covered porch. Next, let's define "bungalow fire station." One-story engine house that was designed to resemble a house and may include a covered porch. Apparatus bay is part of the structure, versus adjoining section. And for the purposes of this discussion, let's say a single bay.

| | | | | | |
| --- | --- | --- | --- | --- | --- |
| City | Station | Address | Built | Closed | Status |
| Asheville | 2 | 197 Bartlett Street | 1923 | 1975 | Demolished. |
| Durham | 4 | 619 McMannan Street | 1926 | 1958 | Demolished. |
| Greensboro | 5 | 442 S. Mendenhall Street | 1919 | 1964 | Private residence. |
| Greensboro | 7 | 800 Church Street | 1924 | 1957 | Also called the Northside Fire Station. Later Civil Defense office. Demolished. |
| Greensboro | 8 | 1735 W. Lee Street | 1925-26 | 1970 | Appears privately owned, but empty. |
| New Bern | 3 | 1700 National Avenue | 1955 | 2003 | Used by Parks and Recreation department. |
| Raleigh | 4 | 505 Jefferson Street | 1926 | 1963 | Privately owned, under renovation. |
| Winston-Salem | 8 | 2417 Reynolda Road | 1957 | n/a | Active. |

Close but no cigar? Consider these with double-wide apparatus bays, versus the "single bay" stations above:

| | | | | | |
| --- | --- | --- | --- | --- | --- |
| City | Station | Address | Built | Closed | Status |
| Hickory | 3 | 1471 1st Avenue SW | 1948 | 1983 | Also called Highland Fire Station. Currently a "family care center." |
| Salisbury | 2 | 1402 S. Main Street | 1942 | 1980 | City storage. |

What others should be added to this list?
Here are pictures. Credits left to right are Asheville FD, Durham FD, Mike Legeros (2004), Greensboro History Museum, Mike Legeros (2004), Mike Legeros (2004), Mike Legeros (2014), Google Maps x 2, and Mike Legeros (2007). Click once or twice to enlarge:


+ 4 - 2 | § ¶
Cary Fire Department is Recruiting
The Cary Fire Department is recruiting for firefighters. Three open houses are planned at Station 1 at 1501 North Harrison Avenue, with two information sessions conducted on each day:
Feb 15 - Sun - 10:00 a.m. to 1:00 p.m.
Feb 18 - Wed - 6:00 p.m. to 9:00 p.m.
Feb 21 - Sat - 10:00 a.m. to 1:00 p.m.
We're told that the next academy is expected to start in September. Don't know when the positions will be open for applications. Keep an eye on the town's Job Opportunities page!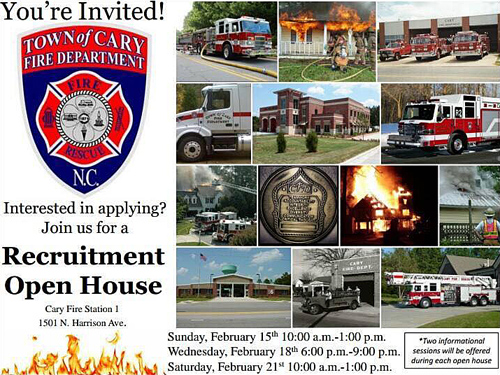 + 4 - 4 | § ¶
Vintage Slides of Parkwood, Bunn, A.O. Apparatus
Found for sale on eBay are these vintage color slide images. Top to bottom, left to right are a 1987 1983 Chevrolet/E-One pumper tanker (Parkwood), a 1982 Kenworth/E-One telesqurt (Parkwood), a 1974 Chevrolet/American LaFrance pumper (Altamahaw-Ossipee), and a 1972 Ford/Atlas tanker (Bunn). Click once or twice to enlarge:


+ 4 - 2 | § ¶
City Council to Hear Latest Recommendations on Fire Station 14
On the agenda for Tuesday's meeting of City Council is the latest report and recommendation from the Public Works Committee. First on the list is the Harden Road site proposed for the relocation of Fire Station 14. The committee will ask Council to approve a change in the plans, so city staff can pursue alternate sites and possibily on Blue Ridge Road. (Am I reading that right?)
Last fall, the city acquired a parcel at 3510 Harden Road, which is around the proverbial corner from the station's current location on Lake Boone Trail. (Read prior posting about same.) Residents had concerns about the project, which they expressed to the Public Works Committee at an October meeting. Notably concerns about noise from the fire trucks, and impact on a local school that's under construction.
The issue was discussed again at the committee's November meeting. Since then, the fire department has conducted a pair of homeowners association meetings, to provide information about the project and receive additional feedback. They've also talked with the head of the montissori school that's opening near the station site.
On Tuesday, January 27, the Public Works Committee met again and discussed the project. They covered a range of topics, including the Harden Road site, the fire department's plans to acquire three additional parcels (to optimize the site for station construction), and the city's attempts to locate property on Blue Ridge Road, and notably at the corner of Blue Ridge and Harden.
The Raleigh Public Record published a recap in a January 30 story by Chris Tepidino. The meeting minutes offer a more detailed summary. Tune in tomorrow and we'll see if Council further discusses and what action is taken.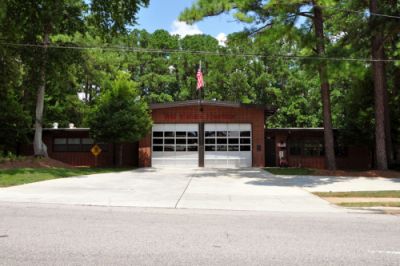 + 3 - 4 | § ¶
House Fire Helmet Cam from Boiling Springs Lakes
Taking a break from the history train (maybe we should rename this thing Legeros History Blog), Statter911 last week featured this helmet cam video of a Brunswick County house fire on Wednesday, January 28. The minimally edited raw footage by YouTube user fireandice9008 captures Boiling Springs Lake and Southport firefighters rescuing three pets. (Haven't found any news reports, so haven't found street address. Was located in Boiling Springs Lakes. Looks like Winnabow, Sunny Point, and Saint James fire departments were among those also dispatched.)
The clip is seven-and-a-half minutes long, andshows inital entry and search, and the first few minutes of interior attack. Read the Statter911 story for a bit of tactical discussion, which includes more details on the suppression (and salvage) activites. Read a note on the BSLFD Facebook page about the fire, from the Fire Chief thanking their fellow responders.
Raw footage from firefighters is a rarity in North Carolina, at least as posted publically. Er, and as Yours Truly as found via sundry YouTube searches. Hope we'll see more.


+ 4 - 2 | § ¶
Raleigh Fire Company Charters, 1870s
For your Sunday historical enjoyment, here are the original legislative laws that chartered or incorporated Raleigh's fire companies in the 1870s. These are excerpted from collected volumes of private laws as passed by the General Assembly.
They feature the Rescue Steam Fire Engine Company, the Hook and Ladder Company, and Victor Fire Company, and the Bucket Company. See the documents, which are PDF format. These are linked from my Raleigh Fire Department history page.
What other volunteer fire companies served the Capitol City, you ask? See this history chart (PDF) for an overview, and this detailed list (PDF) for details. Who were the particular? See this list of names (PDF) as culled from various period rosters.