+ 8 - 4 | § ¶
House on Stilts?
Rather it's a home with heavy fire damage on Blank Angus Drive in Johnston County. The two-story structure was reported ablaze just before 2 p.m., reports this WRAL story. They get the photo credit as well.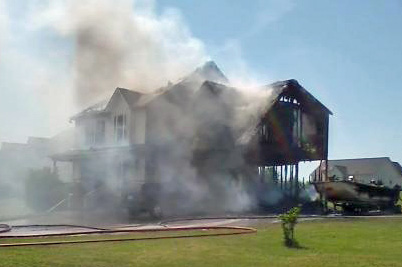 + 8 - 4 | § ¶
The Golden Hour
For photography, that is. First and last hour of sunlight, roughly speaking. Light gets warmer, shadows get longer. Everything looks prettier. Particularly common in cinematography, e.g. the pictures in moving pictures. Below are medics on Skycrest Drive a couple hours ago. Read the Wiki page on the subject.


+ 8 - 3 | § ¶
Wherever Disaster Strikes
Federal Emergency Management Agency (FEMA) vehicle seen at Chavis Park. Click to enlarge:


+ 3 - 4 | § ¶
Helmet Camera Clip Production
Dave Statter has posted this helmet-cam clip out of East Palo Alto, CA. There are a couple interesting production techniques to the clip. It opens with footage from inside the apparatus, perhaps with the helmet camera being used as a dash camera? They've added radio traffic to the soundtrack, along with transcriptions as captions. The footage is also shown at about double-speed, to render the activities at a faster, well, clip.


+ 7 - 3 | § ¶
Reviewing the Storm Response - Unit Numbering
Open question about the severe weather of April 16, 2011. Tornadoes and thunderstorms ripped through Raleigh and Wake County. EMS units and fire units were running everywhere. But only one of the two were using a unified numbering system. Every Wake County EMS asset has a unique unit number. For the various fire departments, however, there were a number of Engines 1s and Engine 2s and Engines 3s operating on the radio channels. Might've sounded a little crazy from the armchair perspective, but did it make a difference in the field? And behind the dispatch console? We've beat this horse before from a theoretical perspective. How did it work in real life, two weeks ago?
+ 6 - 4 | § ¶
Beacon Ambulance Service
Here's a great old photo to accompany our prior posting. of Beacon Ambulance Service members and their vehicles. Readers can identify who's who, as well as the location. Neat patches on their shirts. Picture from the files of Travis Loy. One of these days, someone'll get a big stack of these local ambulance, rescue, and EMS photos together and realize they've got a history book waiting to be written. Or at least a picture book of historical photos. Trust me, it's easy. Click to enlarge:


And see these prior postings with more pictures:
+ 11 - 2 | § ¶
Raleigh-Wake County Rescue Medic Proposal, 1976
Let's go back in time to the mid-Seventies, when city and county officials were working to provide a better level of emergency medical service to residents of Raleigh and portions of the surrounding county. The specific year is 1976. Funeral homes haven't been transporting patients for about a decade. Various private ambulance companies have come and gone. The current provider for Raleigh residents is Beacon Ambulance Service, operating since 1972 or 1973. They also answer calls in the county.

The Raleigh Fire Department's two rescue squads-- expanded in 1975 from their long-time lone unit-- can also provide patient transport in a pinch. Or maybe on a semi-regular basis. But neither fire nor ambulance personnel are providing much in the way of advanced first aid. The First Responder program is still a few years away in these parts.

Outside of the city, there are rescue squads operating in Apex, Cary, Wake Forest, Wendell, and Zebulon. Some of those have been around for over a decade; others are fairly new. Six Forks Rescue Squad starts that year, in 1976.

Beacon's been receiving a subsidy from the county, and they asked for an increase the prior year. This and other issues have both city and county officials considering their options for the best combination ambulance and medical service for Raleigh residents. Thus the proposed Rescue Medic program, a city-county initiative to add Emergency Medical Technician-staffed ambulances to the Raleigh Fire Department.

Four two-person medic units at Station 1, Station 10, Station 6/14, and Station 4/15. The department's two rescue squads would be located at Station 2 and Station 9. And their response areas would include some territory outside the city limits.

The proposal was created for the Wake County Office of Emergency Management, and a scan of a copy of that document is presented here. Staffing, equipment, response projections, alternate models, it's all here. The plan was not adopted, of course. The county instead created its own EMS agency that year, and a bit of that history was briefly recounted in this blog post.

We'll await reader comments on what's remembered from that period, and what happened before, during, and after. Thanks to Travis Loy and his dad, veteran Wake County EMS member Fred Loy, for providing this copy.

The PDF document is about 5.5 MB in size, so slower connections will take longer. Read this Raleigh-Wake County Rescue Medic proposal, or click the upper-right cover to view.




+ 6 - 6 | § ¶
Vintage Greenville Quint
Also found for sale on Ebay, another 35mm slide. How's this for a beauty? Greenville Fire Department's 1941 Pirsch 85-foot aerial ladder, also equipped with a 750 GPM pump and a 200 gallon tank. Haven't seen many pieces of Pirsch apparatus in the Carolinas. Photographer credit unknown. Click to enlarge:


+ 6 - 2 | § ¶
April Episode of FireWatch
The April 2011 episode of the Raleigh Fire Department's cable television series FireWatch features an appearance by Yours Truly. This month's episode is about the Raleigh Fire Department Historical Society, the museum we're preparing to open at the training center, and the department's collection of antique apparatus at Station 28.1
In addition to Mr. Blogger, cleverly disguised as department historian Mike Legeros, the episode also stars Battalion Chief Alan Walters and Asst. Fire Marshal/Fire Protection Engineer Tim Henshaw. The three are also founding members of the historical society. They are interviewed by Deputy Fire Marshal/Fire Educator Ronald Campbell.
FireWatch airs on the RTN-11 cable television channel on Monday (12:30 p.m.) Friday (11:00 a.m.), Saturday (11:30 a.m., 6:30 p.m.) and Sunday (2:30 p.m., 8:30 a.m.) Watch the episode, or click the image below showing the scary guy with the wild hair.


1Speaking of history, also check out the February episode of FireWatch. Retired Lt. Welton Jones, Lt. Randy Harrington, and Firefighter First Class Glenn Todd were interviewed for Black History Month. They discussed the department's diversity, and the history of the city's first black firefighters. Good stuff.
+ 8 - 3 | § ¶
Classic LaFrances From Fayetteville
Found for sale on eBay, this quartet of 35mm slides. Shown in the seller's scans from left to right, top to bottom: 1956 American LaFrance, 750 GPM, Reserve Engine 1; 1967 American LaFrance, 1000 GPM, Reserve Engine 3; 1977 American LaFrance, 1000 GPM, 500 gallons, Engine 3; 1971 Ward LaFrance, 1000 GPM, Engine 2. Photographer unknown. Click to enlarge:


+ 6 - 3 | § ¶
Extreme Old School - Bucket Brigade Helmet-Cam
From Statter911, firefighters in West Plains, MO, responding during flooding to a house fire. No apparatus is available, nor SCBA carried in their personal vehicles. They arrive, conduct a search and start a bucket brigade to at least contain the exterior fire as best possible. Just like the days of leather buckets, centuries before. See Dave's posting, and watch the YouTube video below:


+ 13 - 4 | § ¶
More Fleet Photos of Task Force 8
Continuing the posting of a prior week, another set of fleet photos of NC USAR Task Force 8 has been posted by photographer (and FireNews Editor-in-Chief) Jeff Harkey. They include this shot that's been heavily processed for cleaner background and foreground details. Harley's photos also include posed shots of each unit and on both sides. How cool is that? See the entire set of photos.



Jeff Harkey photo
+ 9 - 7 | § ¶
Stony Hill Receives New Pierce Pumper
Photographer Lee Wilson was present when Stony Hill's new Pumper 392 arrived at Station 1 yesterday. The 2011 Pierce Saber 1250/1000 will run out of Station 2. See more photos.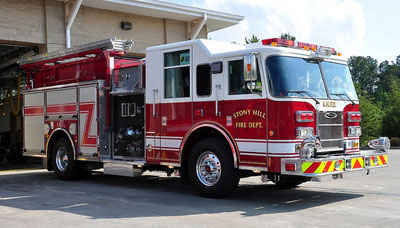 + 6 - 2 | § ¶
It Can Happen Here, Really
How are you fixed for training, Charlie? Last week's storms were a dramatic reminder of the importance of skills and systems related to large-scale emergencies. Incident command, resource management, resource capabilities, and so on. It was also a lesson in preparing for the unexpected and infrequent. What types of big or unusual incidents can we expect in Raleigh and Wake County? Here's a sample of what's happened in the past, drawn from my records from the last couple of decades. Excluded are almost all types of structure and woods fires, and smaller-scale technical rescues. Same for smaller scale haz-mat and weather events. It's also pretty Raleigh-centric, but the data makes the point. It really can happen here. And wouldn't you love to see a compilation of the historical lessons learned, over the same period?
Active shooter, indoors (Apex, May 30, 2010)
Active shooter, outdoors, sniper at North Hills Mall kills three and wounds eight (Raleigh, May 29, 1972)
Ammunition explosion at recycling facility (Raleigh, February 12, 2008)
Asphalt tank explosion, one killed when welding ignites half-full, 10,000 gallon tank (Raleigh, December 29, 1975)
Asphalt tanker truck explodes. No injuries. (Raleigh, 1979)
Bomb explosion with injuries or fatalities, indoors (Cary, May 11, 1978; Raleigh, July 10, 1995)
Bus, commercial, overturns on freeway (Raleigh, August 1, 2007)
Bus, school, accident involving three busses and dozens of patients (Cary, December 20, 2010)
Fires in business districts involving multiple buildings or occupancies (Fuquay-Varina, March 1, 1977; Raleigh, July 7, 1981)
Fires in residential areas involving multiple buildings and nearly the entire subdivision (Raleigh, February 22, 2007)
Chemical spills of large scope involving evacuations (Cary, Monday before March 13, 1983)
Chlorine leak at commercial facility, indoors. Square D plant, seven to hospital (Knightdale, August 31, 1983)
Chlorine leak at public swimming pool, Pullen Park, 37 with non-serious injuries (Raleigh, August 17, 1988)
Chlorine leak at sewage treatment plant, Sunnybrook Road, three injured, dozens evacuated (Raleigh, June 18, 1987)
Corrections facility evacuation, for fire. Wake County jail, during courthouse fire (Raleigh, March 18, 1990)
Corrections facility riot. Polk Youth Center (Raleigh, January 1, 1994)
READ MORE
+ 10 - 2 | § ¶
Holly Springs Rural Fire Department
As photographed for the News & Observer on August 30, 1972. That's thirteen months after incorporation of the Holly Springs Rural Fire Department on July 21, 1971. Shown in front of their fire station on Avent Ferry Road are their first pieces of apparatus, a 1953 GMC tanker and a 1955 International tanker. No idea who is who. Closer view included, for those who recognize those pictured. Click to enlarge:


+ 7 - 5 | § ¶
Update on Storm Damage to Holly Springs Station 2
Holly Springs Fire Station 2 at 1140 Avent Ferry Road was damaged during last week's severe storms. The one-story station was built in 1972 by the Holly Springs Rural Fire Department. It was a two-bay, cinder-block building. The station was expanded in 1985 with additional bay space. In 1997, the rural department merged with the two year-old municipal department. The Avent Ferry fire station became Fire Station 2. The building was renovated in 2007, with one of three apparatus bays converted into living space. Below is a picture from 2007.


Fire Chief Cecil Parker today shared an update and timeline on the station, by way of the Wake County Fire Services department. We're working on getting some pictures as well.
On Saturday, April 16, 2011, Holly Springs Fire Station 2, located at 1140 Avent Ferry Road, was damaged by a passing tornado.
The engine and staff have been temporarily relocated to Fire Station 1, located at 700 Flint Point Lane.
Second-out equipment has been relocated to Fairview Station 1. Arrangements have been made to have that equipment dispatched and brought by Fairview as needed.
The insurance company immediately responded and provided financial support to install temporary shoring for the walls, clean out the facility, and store any undamaged items.
The town code enforcement department immediately declared the structure unsafe.
On Tuesday, April 19, 2011, VFIS determined that the structure was damaged beyond repair and has authorized demolition.
The North Carolina Department of Insurance has been contacted and made aware of situation. They have indicated that plans for reconstruction will be moved through the system immediately so the work can begin.
The land next to Station 2 has been rented, for locating temporary housing..
Contractors have been contacted for construction of 30 by 40 building, to house one engine, one ambulance, and a brush truck.
Staff is reporting to Station 2 each morning and remaining on site until the evening.
On Tuesday, April 26, 2011, officials will meet with all interested parties to determine a course of action and timeline for replacing Fire Station 2.
Full-time operations at 1140 Avent Ferry Road with temporary housing are expected to resume within 30 days.
+ 5 - 2 | § ¶
Fire Commission Member Ann Suggs Passes Away
Wake County Fire Commission Member Ann Richardson Suggs passed away suddenly on Saturday, April 23. She was 64. Ann served the county's fire service for many years as an active member of the Fire Commission. She was the commission's first Chair after it made the transition from a Facilitator to a Chair. She served in that role from May 2005 until she was elected Vice Chair in November 2008. She served as Vice Chair until January 2010. Ann was also a 37-year employee of the Wake County Finance Department before retiring. Read her obituary. Arrangements are as follows:

Visitation
Brown Wynne Funeral Home
300 St. Mary's Street, Raleigh, NC
Wednesday, April 27, 6:00 p.m. to 9 p.m.

Funeral
Brown Wynne Funeral Home
300 St. Mary's Street, Raleigh, NC
Thursday, April 28 at 11:00 AM
Interment to follow at Montlawn Memorial Gardens, 2911 South Wilmington Street, Raleigh, NC.
+ 8 - 3 | § ¶
The Second Original Engine 9
Raleigh's Engine 9 was first placed in service by October 5, 1953, as a second engine company at Station 1. The 1953 American LaFrance (#4726) pumper and its personnel was moved to the newly opened Station 8 on April 1, 1960. Engine 9 was renamed Engine 8.
The second Engine 9 was placed in service on Valentine's Day, 1963, when Station 9 opened on Six Forks Road. This time, Engine 9 was operating a 1951 American LaFrance pumper (#4432). Here's a News & Observer picture of the truck, at the North Valley Apartment fire on September 7, 1970.
As for the second company at Station 1, they were returned to service on April 21, 1961. Named Engine 10, later renamed Engine 15, later renamed Engine 13. Folks were just a little too superstitious to open a Station 13, hence the designation of Engine 13. Click to enlarge:


+ 8 - 3 | § ¶
Falls Fire Department Recruits Graduate
FireNews published a story last week about three volunteer recruits that graduated last month from an in-house firefighter academy at the Falls Fire Department. Their six-month program, similar in course content to a career academy, was conducted by the FFD training division. The recruits received both classroom and practical training to prepare them for responding to emergency incidents. They also must obtain certifications for North Carolina haz-mat operations and NIMS, and complete the Wake County rookie school. Congratulation to Will Corsa, Julio Mercado, and Lewis Lovell. Read the entire story.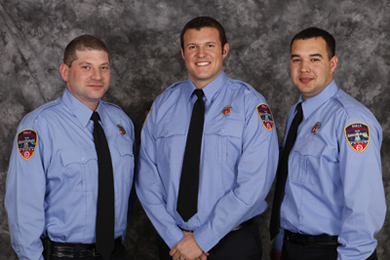 + 4 - 3 | § ¶
Raleigh Faces Touch Budget Choices
That's the headline of this News & Observer article today. The city manager last week gave a preview of the coming budget, and the bleak news therein: smaller raises and reduced benefits for another year, for the city's 3,200 employees. He also pledged to avoid calling for raising property taxes. How bad is the projected shortfall? $8 million to $10 million. How do you make up the difference? As noted in the article, options include "delay buying new vehicles; eliminate vacant positions in at least six departments, excluding police and firefighters; cutting merit pay increases; adjusting employee benefits." Such cuts have been imposed over the past to years, the article notes. The city has eliminated 109 positions, held off on replacing 95 vehicles, and reduced merit raises from five percent to two percent maximum. There's are also bond issues on the table, for streets and housing. Those would raise property taxes. Read the entire article. Or learn more about the city budget.
+ 5 - 4 | § ¶
Pods and Robots and Mechanical Arms
Some videos from afar. Found after searching for "Tokyo Fire Department" on YouTube. Felt like a bit of recreational viewing. Wonder how often they use these things...

+ 5 - 3 | § ¶
Tight Fit
Bethesda's quint is indeed an end-to-end squeeze into their Station 2 on Leesville Road. Even exits through the rear, due to the truck's height. Yup, took a Sunday drive around Brier Creek. Stocking up on Hawaiian shirts at Wal-Mart, among other errands. Can't be the $9 price, even if this year's crop could be brighter in color. Click to enlarge:


+ 7 - 3 | § ¶
Tornado Alley
Sign seen off South Saunders Street, in the area of Summit Avenue, where last Saturday's storms plowed a path through the area. See Mike's pictures from last weekend.


Going a few miles north and east and this boat sits in the street on King Charles Road, and beside a mammoth debris pile. The trees felled there and elsewhere are huge, man.
+ 5 - 4 | § ¶
Mystery Road
There appear to be no streets in the city that our readers cannot identify. Thus this segment of abandoned roadway will be identified within an hour or two of posting. Let's these this hypothesis at 4:00 p.m., the time this is being posted.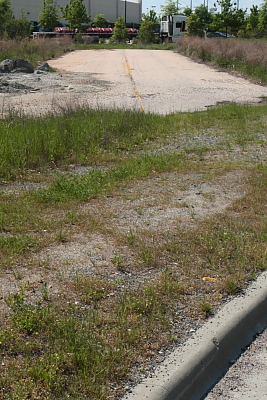 + 5 - 2 | § ¶
Buy Raleigh's Old Rescue Truck
For sale on eBay, one of the two 1991 Chevrolet Kodiak rescue trucks that served the Raleigh Fire Department. This one's old Rescue 7, later Rescue 21 and Rescue 19. Placed in service in the spring of 1991. Removed from service in 2000. Vehicle transferred to police department, for use as special operations vehicle. Currently located in Alabama, of all places. Starting bids at $10,000. Merely 106,000 miles on the thing. And that funky diagonal striping still intact! That was always one of the wilder looking trucks to serve the city. Carried or could a carry a stretcher, though the rear doors were pretty darn high, if memory serves! Thanks to Christopher for the heads up on this one.


+ 6 - 2 | § ¶
How Dispatching Worked at Station 1
Here are some vintage News & Observer photos that help explain the history of dispatching at Raleigh Fire Station 1. The first three were taken on March 30, 1960, the day before the city annexed residents in locations including along Western Boulevard west of the city. Station 8 opened at 12:01 a.m. on April 1, when Chief Keeter sent the second engine at Station 1 to occupy a rented residential structure (which still stands) just north of the intersection of Kent Road and Western Boulevard.
The top two photos show the watch room at Station 1, which is the glass-walled room to your left when you enter the South Dawson Street fire station. The bottom left photo shows the switchboard in the Alarm House, which is the two-story brick building behind Station 1. That was built nine years before the fire station, on a lot purchased for both buildings.
The bottom right photo is from 1949, when Station 1 was located on South Salisbury Street. That room housed both switchboard and dispatcher functions. When the new Station 1 opened in 1953, the story goes, both switchboard and dispatcher functions were housed in the watch room. At some point, the switchboard was moved to the second floor of the alarm house. Need better information there. Maybe it accompanied the introduction of rural fire department dispatching in the 1950s, and expanded duties and equipment therein.
Later, the watch room functions were also moved to the alarm house. Then in 1972, everything was transferred to the new city/county communications center. Keep reading below. Or click to enlarge:


News & Observer photos (top and bottom left), North Carolina State Archives photo (bottom right)
READ MORE
+ 6 - 7 | § ¶
New Pierce Pumper For Hopkins
As posted on the Pierce Flickr site and with a rare top-mounted pump panel, here's the new Pumper 226 for Hopkins Fire Department in northeastern Wake County. Watch for Stony Hill's new Pierce pumper any day as well:


+ 8 - 6 | § ¶
Raleigh Fire Department Roll Call, 1972
As pictured in a News & Observer feature titled Day in a Life of a Fireman. Nice formation and nice uniforms. They probably didn't require dress blues for every shift change, but perhaps on inspection day or special occasions. Need to ask the old-timers on that. Any departments around here still doing this on a daily basis? And for the young bucks reading, just how alien or endearing does this seem? Click to enlarge:


+ 5 - 5 | § ¶
Fire on the Water
FireNews has posted an incident report about a house fire in scenic Southport on April 18 and that includes this neat photo. Question, where was the picture made? Pleasure boat? Fort Fisher ferry?



FireNews photo
+ 14 - 4 | § ¶
Raleigh Tornado Path, Take 1
Let's play with some maps. Here's a city limits map from the Raleigh web portal. What's right, wrong, or missing? Need a better spot on Tryon Road, for the first strike area. Next up, maybe make a county-wide version. Need the strike sites outside Raleigh for that one. Click to enlarge:


+ 4 - 1 | § ¶
New Navigation For Fire Photos
Things got slow after the storms and not just around the city. Mike's fire photo site and the rest of Legeros.com was dragging by Sunday. The cause was an overloaded server. But not bandwidth. Rather, too many pages with too many "file calls" per page. Such as those one-page galleries of fire photo thumbnails. Well, all those embedded files within in a single page hit the server over and over at once, and slowed things down when done across multiple users. (At least, as explained to me.)
The immediate fix was upgrading our server to handle the load, which doubled our monthly costs from $45 to $89. Ouch. Next step is attempting to optimize those one-page galleries, and other sites. Here's our first stab, the just-posted photos to last night's fire on Rawls Drive. Instead of a single page of thumbnails, there are four of them. Confusing? Annoying? No big deal? Let's hear your feedback, posted or mailed personally.
There are numerous alternate options, such as moving all future photos to Flickr, which is where Lee's fire photos are hosted. That's a pretty robust site, though the always-square thumbnails are annoying as all get-out. And maybe there's behind-the-scenes stuff that we can do, such as reducing the number of, say, style sheet calls. Learning as we go.


+ 7 - 1 | § ¶
Before and After on Serendipity Drive / Wake County Real Estate Records
With increasing numbers of mobile terminals aboard fire and EMS units, Wake County real estate records are a valuable resource for structural photos and diagrams. Easy as pie to search the things, and even if you don't know the exact address. How's the site look on smart phone browsers? Could even be useful for collapse situations, as encountered during last week's storms. Also a great resource for bloggers and incident reporters, when citing building details at structure fires! Mike Legeros photo on left, tax photo on right. Two-story, wood-frame, single-family dwelling, with 3,068 square-feet. Built 2003. Click to enlarge:


+ 6 - 1 | § ¶
Working FIre on Rawls Drive
This was the scene about 90 minutes ago at 630 Rawls Drive, with Engine 12 arriving and finding fire through the roof of a one-story, wood-frame, brick-veneer duplex with 1,836 square-feet. Built 1979. Multiple calls reported as reported as units were en route. Command with Battalion 2, arriving right behind Engine 12. Water brought by Engine 7, from the corner of Rawls and Poole. Hazards included electrical power arcing inside structure as water was applied. Crews withdrawn due to roof collapsing. Defensive mode started, with hand lines and blitz nozzle. Special request for extra engine. Dispatched 11:31 p.m. Controlled 12:27 p.m. One person displaced. Three civilians with injuries, with cuts to arms and hands. They broke windows out of apartment on fire, to see if anyone was inside. Cause determined as accidental. Units on scene included E12, E7, E3, E1, E26, L2, B2, A1, C10, C20, C21, C5, EMS 1, EMS 62, EMS 2, D1, T1. More details and photos from Mike Legeros in the morning. Click to enlarge this hot shot:


+ 4 - 4 | § ¶
Mystery Siren
From a reader, and who we'll refrain from acknowledging, lest the name give away the location of this Civil Defense siren. Hint: it's located outdoors.


+ 6 - 1 | § ¶
Stories of the Storms
Couple local and regional stories from the storm, about the emergency personnel involved in the activities that day. What others have been published or posted?
+ 4 - 4 | § ¶
Pullin' Hose
Photographer Lee Wilson was first on scene at Wednesday's two-alarm fire on Walden Pond Drive. Here's a good shot of a second line being pulled off Engine 11. See our prior posting, which has been updated with incident details. See more photos from Lee.



Lee Wilson photo
+ 3 - 3 | § ¶
And That's a Wrap
Merely four days later, all of my pictures from Saturday's storms and Sunday's aftermath have been posted. See the entire collection. Some 650 pictures split across 16 sets, plus two summary sets. Those were the first to be posted. That translates to 480 keepers, with thrice that many rejects. Total shot count was around 1,700. Neither rain, nor wind, nor strong wing kept Yours Truly from his self-appointed rounds. Only one minor casualty to report, a familiar giant red umbrella that promptly turned inside out upon arrival on South Saunders Street. As for general observations about the experience, watch this space. Need a bit of breathing room, first.


+ 6 - 2 | § ¶
911 Calls During Wake County Tornado Event
Our friends at the Raleigh-Wake County Emergency Communications Center (ECC) have shared an exceptionally interesting map, that plots emergency telephone calls during the tornado event of April 16. The depicted time frame is 2:00 p.m. to 9:59 p.m. Included are calls that were routed from the Holly Springs ECC, which was down. Presumably excluded are calls to the county's other ECCs: Apex, Cary, and the airport. (Are there any others?) Click to view the PDF document:


+ 6 - 2 | § ¶
When Police Officers Confront Public Photographers
Meanwhile, another blog that Mr. Blogger frequently reads is Statter911. The latest posting is about a confrontation caught on tape between a police officer and a news photographer. Hillsborough County, Florida, for that one. Couple issues raised in that video, from good ol' constitutional rights to exactly when should you or shouldn't obey the request of a law officer? After reading, viewing, and reacting, check out Dave's opinion piece on outrage. Graphic footage of a fatal high-rise fire in Moscow, versus a photographer trying to shoot a fatal vehicle fire in Connecticut. Only one of these prompted reader outrage, and it wasn't the one showing bodies and blood and burns in the former Soviet Union. Good reading and good food for thinking.
+ 5 - 2 | § ¶
Russian Firefighters in Action
...and in competition. Firegeezer found and blogged about this nifty video of Russian firefighters in competition and on scene. Can you throw and climb a ladder that fast? And when's the last time you touched a pompier ladder? Or did we just show our age with that last reference? Plus you'll see some commercial chassis Zil apparatus in action. Those big rigs look tough as nails. Just say Da.


+ 5 - 5 | § ¶
North Carolina Doesn't Have Tornado Sirens
No surprise there, given that we're a coastal state instead of somewhere on the plains. We had 'em in Minnesota, and Yours Truly remembers those rare but scary/exciting occasions when a warbling siren suggested it was a good time to ride your bicycle back home. WTVD is reporting on this issue. Key quote: "The short answer is that we don't have enough tornadoes to justify having sirens," said Patty McQuillan, NC Department of Crime Control and Public Safety. Observe the professionalism in Ms. McQuillan's response and the absence of the word duh.
Kidding aside, wonder how much of the old Civil Defense warning system infrastructure remains? For that matter, how far and wide were Civil Defense sirens installed? Just in larger towns and cities? And all those rural fire departments that used Civil Defense-issued or surplus equipment, were they tied into any sort of regional or statewide network? (And for our friends down at the ECC, any legacy equipment still connected to national networks down there? There used to be a console with maybe a red phone from Washington? Memory's hazy from my short stint down there two decades ago.)


+ 5 - 4 | § ¶
This Evening's Airport Haz-Mat
We're two for two for recent and unusual haz-mat incidents at the airport. Last Tuesday, a Delta flight from New York to Fort Lauderdale diverted to Raleigh-Durham International Airport. The cause was an electrical odor in the forward cabin that reportedly made the crew members feel sick. The aircraft landed without incident, and no one was hospitalized. That flight carried 94 passengers and five crew. The incident brought a robust fire and EMS response.
This evening, crews responded after an unidentified substance was found in the restroom of an incoming American flight from Chicago. The jet landed and was directed to an isolated area. Raleigh-Durham Airport Emergency services responded, along with a two-alarm EMS response and a haz-mat response from the Raleigh Fire Department. The passengers were removed onto three buses, after which the haz-mat team made their entry. The substance was identified as... talcum powder. Below are a couple pics by Mike Legeros. More later. Click to enlarge:


+ 3 - 1 | § ¶
Throwing Ladders / Two Alarms on Walden Pond Drive
Reader photo from today's two-alarm fire in Raleigh. Ladder 2 arriving at 4740 Walden Pond Drive with heavy fire showing from the front of a two-story, wood-frame apartment building with 1,865 square-feet. Built 1974. Crews forced entry and found heavy fire in the kitchen area. Ladder 2 was deployed to the roof, for access for ventilation. Dispatched 1:50 p.m. Controlled 2:27 p.m. Two units rendered uninhabitable. No injuries. Cause determined as accidental. Units on scene included E11, E9, E19, L2, R3, B1, E27, A1, C10, C20, E16, E22, E4, L5, B2, B4, C2, C3, EMS 12, EMS 2, EMS 6, D_, D4, M93, T1. Thanks to Justin for the pic. Click to enlarge:


+ 4 - 3 | § ¶
Polaris Cam
Riding with Task Force 8 in this picture from early Sunday afternoon. Two teams were conducting secondary searches in the Maywood Avenue area. Don't be alarmed by the crazy camera angle. That's just a bit of art. More storm pictures by Mike Legeros have been posted. This series from the second day is forthcoming.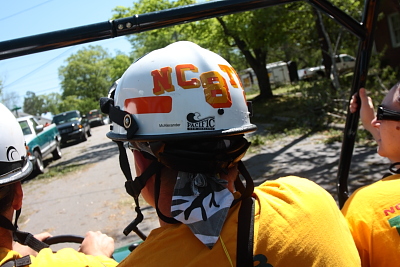 + 4 - 3 | § ¶
Storm Photos Still Posting
Still updating photos taken on Saturday and Sunday, after the storms and tornado that struck the Capitol City. Thanks for your patience. Hope to have everything processed and posted by the end of the week. Took around 1,700 images. See what's been posted so far. After that, maybe some reflections on photography challenges during severe weather. Such as the art of carrying and/or using a giant umbrella while taking scene photos.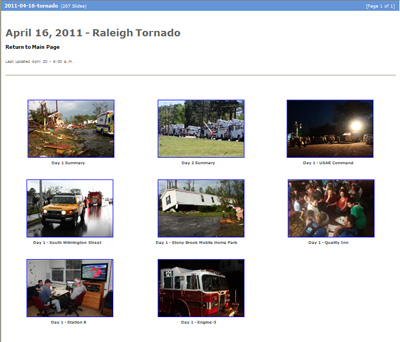 + 5 - 3 | § ¶
National Weather Service Tornado Surveys
Visit the National Weather Service Forecast Office web site for Raleigh and they have posted tornado surveys for several counties and communities. The reports include both text-based observations and photographs.


+ 8 - 8 | § ¶
Raleigh Police Department Support Vehicle
Seen at Stony Brook Mobile Home Park this weekend. Built by Hackney on a Chevrolet chassis. Recall that the police department twice utilized former fire department rescue trucks as such. First was a 1975 Chevrolet/Murphy ambulance. Later was a 1991 Chevrolet/Frontline rescue. Remember those rigs?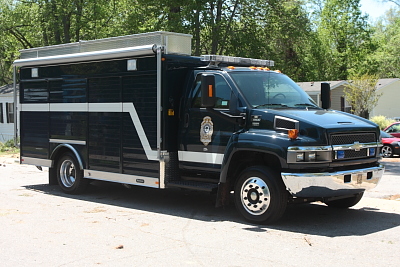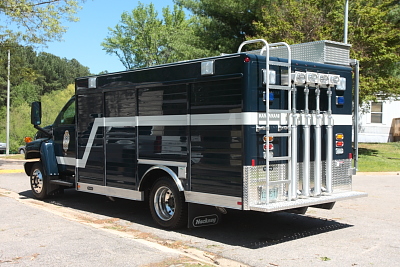 + 5 - 3 | § ¶
Warning Gas Pipeline
Taken the day after the storm, during secondary searches by Task Force 8. The location is the northeast corner of Summit Avenue and South Saunders Street. What do you think, probably the location of an earlier gas leak?


+ 4 - 4 | § ¶
Lines and Lanes and The Guys in White Hats
Those are Progress Energy workers pulling a power line free from vehicles on the Beltline just west of Yonkers Road yesterday afternoon. One of the lines were snagged by a tractor-trailer truck, which pulled down the accompanying 50-foot pole located on Yonkers Road. Other lines dropped and were struck by other vehicles. Traffic stopped on all lanes, in both directions. Engine 7 responded on Yonkers, Engine 9 on the eastbound lanes, and Engine 12 on the westbound lanes. Two people were transported with minor injuries. See more pics.
As for the guys (and gals) in white hats, they have been really busy lo these last days. Probably tied with or surpassing street and highway workers for labor expended. Next question, what's involved in getting those two collapsed transmission towers operating on Valley Stream Drive? See some of those shots, from Sunday's summary set. Expect big cranes in action, there. Somebody please take and share pictures!


+ 3 - 5 | § ¶
Truck Carrying 3,600 Chickens Crashes Into Surry County Fire Station
FireNews reports on an unusual incident this morning in Surry County, where a tractor-drawn truck carrying 3,600 chickens struck the Mountain Park Fire Department. That's near Elkin. The incident was the result of a two-vehicle accident, versus fowl weather related. And the cluck truck didn't just wing the fire department building, but struck the thing straight on. The Elkin Tribune also has details and photos. The accident involved a collision with a minivan. There were no injuries to people, though it appears a number of feathered passengers did not survive the egg roll. See this WGHP story for more photos. Thank you and good night.



WGHP photo
+ 4 - 2 | § ¶
Getting Ready to Extinguish a Car Fire
Engine 11 on St. Albans Drive yesterday, just past Wake Forest Road. Reported as 1400 Wake Forest Road, so Mr. and Mrs. Blogger took a scenic tour through the Duke Hospital campus on the way to this one. It was called Raleigh Community Hospital in humbler times. Click to enlarge:


+ 7 - 4 | § ¶
Raleigh Fire Department Newsletter, Spring 2011
The spring 2011 edition of the Raleigh Fire Department Newsletter has been posted to the web site raleighfirenews.org. The contents include: New Water Supply Procedure; Four Alarms for Brush Fire; Development Services; Burn Center Activities; Filling the Bot for MDA; Standing Down; Retirements; Raleigh Fire Department Statistics 2010; Photo Gallery; History Page; Firefighter of the Year Award. Storm coverage next issue! See the web site for back issues. The Raleigh Fire Department Newsletter is a quarterly publication for personnel, retirees, and citizens. Read the issue
, or click to access:


+ 4 - 2 | § ¶
Searched - Engine 27 - 9:15
As seen on a door of a heavily damaged house in the Cardinal Grove subdivision, one of several spots in the Capitol City struck by a tornado or tornadoes yesterday afternoon. Mr. Blogger spent the morning and early afternoon both visiting damage sites, and accompanying Task Force 8 members doing secondary searches in the Maywood Avenue area.
The command post for USAR operations was a classroom trailer at the Keeter Training Center. Teams were also dispatched to Stony Brook Mobile Park and later to areas including King Charles Road and subdivisions off Forestville Road. One of the Polaris ATVs is reportedly being kept overnight at Station 7, to assist with responses into the areas still impassible for fire apparatus.
The Glascock Street fire station was also ground-zero for a battalion of utility crews, working to restore power to that area. See some of those crews in day-after pictures by Mike Legeros. And apologies for slow site behavior. Don't know the reason. Maybe user visits have skyrocketed!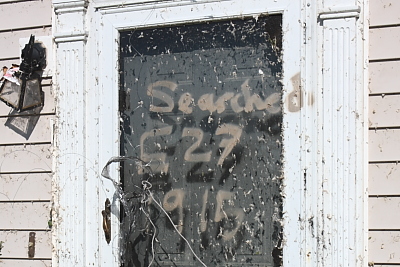 + 4 - 1 | § ¶
Local and Regional Storm Responses
Sorting through some information from yesterday. Plus what's recalled from riding around, with numerous radio channels being scanned or monitored. Readers add information desired. This post will be updated a few times.
Wake County
Raleigh - Building damage first discovered about 4:00 p.m. See prior posting.
Cary - Building collapse reported about 3:45 p.m., as the storms were hitting. Roof damage at commercial structure at 522 E. Chatham Street, and most units quickly cleared. One of the first building damage calls in the area, as I recall.
Holly Springs - Then came reports of building damage there, along with one or two reported house fires. Holly Springs FD, Fairview FD, Garner FD, Morrisville FD among agencies that began to get dispatched.
Garner/Fairview - Next wave of activity as fast-moving storm continue north and east. What happened on the east side, after the storm passed Raleigh?
Regional Responses
Apex units to Fayetteville, for storm damage.
Charlotte FD / NC USAR Task Force 3 to Caldwell County, to Collettsville for flash flooding at campground, early in day.
Charlotte FD / NC USAR Task Force 3 units subsequently to Lee County and Fayetteville, for storm damage.
Charlotte FD / NC Haz-Mat Regional Response Team 7 also to Lee County.
Greensboro FD / NC Haz-Mat Regional Response Team 5 to Durham, reported ammonia leak.
Greensboro FD / NC USAR Task Force 6 units to Sanford in Lee County.
NC USAR Task Force 8 units remained in Raleigh.
And certain much other mutual aid!
Media Links
+ 7 - 6 | § ¶
Raleigh Fire Department Responds to Tornado Damage
How that's for an understated headline? Downtown Raleigh received tornado damage this afternoon, along with other sections of the city. And along with other cities, towns, and communities affected by the far-reaching storm system. Local and national news have coverage a-plenty. We'll add those later, maybe in the morning. Yours Truly was also out and about and has some pics to share. View an early set of photos by Mike Legeros. More later. More photos. More news coverage. More everything.

Might take some time to sort through the details of the Raleigh Fire Department's response, as well as the scope of the storm damage in the Capitol City. Here's what's been gleaned so far. Next step, assessing what the heck was happening in Holly Springs, and the other areas also hit hard.
Raleigh Fire Department Response
Early Damage
Single-engine response started as thunderstorms approached. That was about, what, 2:30 p.m.? 3:15 p.m.
Tornadoes reported in Lee County, then in Wake County. All stations, all departments notified.
Ladder 4 perhaps first to report extensive damage, as found on South Saunders Street. About 4:00 p.m.
Battalion 3 established command, arriving soon thereafter.
Hazards included many downed power lines and poles, traffic attempting to travel on South Saunders Street, and one or more natural gas leaks.
People also everywhere, displaced from homes and businesses, or just curious and out and about.
Command soon relocated to corner of South and McDowell streets.
Task Force 8
Activation of NC USAR Task Force 8 requested by Battalion 3.
Task Force 8 comprised of Raleigh, Durham, Chapel Hill, and Cary fire departments.
Task Force members and their units reported to Keeter Training Center.
USAR units reported to South and McDowell streets, for staging.
USAR members subsequently utilized for building-by-building search along and around South Saunders Street.
USAR members also sent to Stony Brook Mobile Home Park, in northeast Raleigh. Numerous mobile homes destroyed or damaged. Three reported fatalities.
USAR teams deactivated about 10:30 p.m.
Call Back and More
Call back initiated of personnel, and "C" platoon reported to their stations. They were released about 11:00 p.m.
Reserve engines (three?) staffed and placed in service.
Battalion-level operations initiated, with each battalion's companies maintaining their status via radio with their Battalion Chief.
Fire department Emergency Operations Center located in Division Chief's quarters at Station 8, with command staff monitoring all activity and allocating resources as needed.
Fire department representative also present in City/County Emergency Operations Center.
Calls and Conditions
Numerous trees and power lines reported down or on roadways.
Many streets on the south and southeast sides blocked by fallen trees.
Engine 3 struck by a tree in the 700 block of Dennis Avenue. No injuries to crew. They were operating a reserve pumper.
Numerous calls for trees striking houses, as well as building collapse calls.
Stony Brook Mobile Home Park perhaps hit hardest. All residents evacuated. Extensive number of EMS units, along with three or four engines and a ladder company, and a Task Force 8 team.
At least one working fire, on Oakwood Avenue, about 9:15 p.m.
At least one shooting, on New Bern Avenue. Engine 3, as usual. Two victims.
+ 7 - 3 | § ¶
And Another Local Rig Gets its Chevrons
Thursday evening activity at the Western Wake fire station. That's either Engine 196 or Pumper 196. What's a good way to remember which is which? Thanks to reader Jason for sending.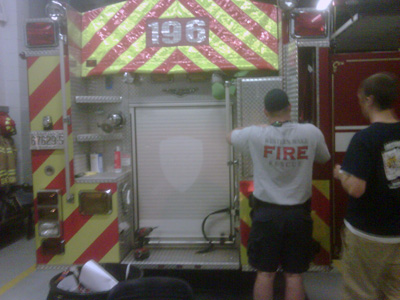 + 5 - 5 | § ¶
Quarterback This Video
Go ahead and take them to task for stream placement, ladders thrown, and maybe even exposures via water curtains! Good for a laugh and a jab, perhaps. Now there's a dangerous workplace, deck of a carrier! Thanks to reader Paul for this one.


+ 7 - 1 | § ¶
This Morning's Two Alarms / Farrington Drive
Two alarms at 112 Farrington Drive. Engine 4 arriving with fire showing from the roof of a two-story, wood-frame apartment building with 4,166 square-feet. Built 1985. Declared major working fire, which resulted in automatic dispatch of second alarm. Interior attack, with fire in second-story apartment and attic space. Deluge gun also utilized outside for a brief bit.
Two hydrants used. Command and medical functions on Farrington Drive, west of building. Staging on Six Forks Road, which was closed by police. Dispatched 3:19 a.m. Controlled 3:58 p.m. Two apartments rendered uninhabitable. Three people displaced. No injuries. First alarm: E4, E18, E15, L1, R1, B1, EMS 3. Second alarm + working fire assignment: E16, E9, E22, E19, L5, B4, R3, A1, C10, C20, C40, EMS 122, EMS 15, EMS 2, D3, D4, M92, T1. Other: C2, WC1.
See photos from Mike Legeros (and others forthcoming from Lee Wilson). The pics from Yours Truly include his trademark portrait-style close-ups. Said Little Red Riding Hood to the Big Bad Wolf: my, what big pupils you have. That's from the flash, sort of a red eye effect. But with no mugs ugly enough to the break the camera, despite that oft-repeated joke.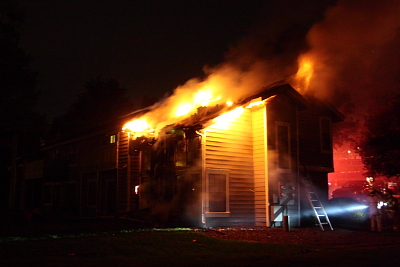 + 6 - 1 | § ¶
Fire Investigation
Scene from this morning's two-alarm fire in Raleigh on Farrington Drive. Shown are Car 20 (fire investigator), Car 40 (shift Deputy Fire Marshal), and WC1 (county fire investigator). Cause determined as accidental due to improperly discarded smoking material.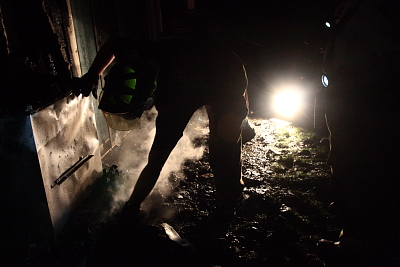 + 4 - 4 | § ¶
Big Chief, Big Helmet
Speaking of the Queen City, blogger Dave Statter reports on Fire Chief Jon Hannan's recent appearance on WEND 106.5. Seems some rock jocks took shots at the big chief's big helmet, after seeing same in action on Wednesday. Recall that morning's four-bagger and television coverage therein. What was Chief Hannon's response? He paid a visit to Woody and Wilcox, and garnered some free publicity for the Charlotte Fire Department. Read the story and watch the footage.
+ 8 - 1 | § ¶
Charlotte Fire Apparatus Web Site
Found via the Carolinas Fire Page Yahoo Group, check out charlottefdtrucks.blogspot.com, a blog-based web site featuring photos of all Charlotte Fire Department stations and darn near every piece of rolling stock. Reserve units includes! The site operator and photog is Steven Williams. Great pictures and site format. Love those specialty rigs.



Steven Williams photos
+ 4 - 3 | § ¶
iPhone App For Extrication
From a reader, here's the neatest thing of the week: an iPhone app that shows the best places for cutting up cars. It's called Extraction Zones and was developed by Bohemian Innovations of Austin, TX. Who knew we'd be carrying such powerful computers on our belts this early in the new century? Read this article from Wired magazine.


+ 10 - 5 | § ¶
Raleigh-Durham Airport Firefighters Bake Winning Cookies
Lee Wilson took this fleet photo yesterday at the Raleigh-Durham International Airport fire station, for the occasion of a lunch and plaque presentation to "C" shift firefighters. They won a cookie contest recently conducted as part of a meal delivered to the North Carolina Jaycee Burn Center in Chapel Hill on Friday, March 18. The lasagna lunch was delivered by the Raleigh Fire Department and funded by the Wake County Chapter of the North Carolina Firefighters' Burned Children Fund.



Lee Wilson photo
The event included a contest, with twelve different kinds of cookies or desserts baked by members of Raleigh, Knightdale, Morrisville, RDU, and Western Wake fire departments. The airport's winning entry was a chocolate cookie with mint cream filling. They received a plaque that will stay at the station until the next contest. Second place was Raleigh Station 11 "A" shift (fire-themed cookies) and third place was Raleigh Fire Prevention Division (brickle bar). See more photos from yesterday.


Lee Wilson photo
+ 5 - 4 | § ¶
What Does Heavy Fire Look Like?
For your Friday discussion and/or crayon coloring, what does heavy fire look like? This one's to benefit the scanner junkies on the blog, and which includes Yours Truly. Help us calibrate our mind's eye. Using the below diagram, describe what you're seeing when you say "heavy fire" when arriving on scene. What's the quantity of the fire that "heavy" translates to? Second question, does "heavy fire" mean something a bit different after the fire's been knocked down? e.g., "you still have heavy fire in this place or that area." Thanks and please remember to color inside the lines.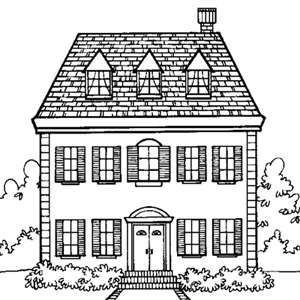 + 7 - 2 | § ¶
Raleigh/Wake 911: Don't Use Email to Report Emergencies
Press release. The Raleigh/Wake 911 Emergency Communications Center reminds area residents that email is not designed for reporting true emergencies. Many employees in the 911 Center, Emergency Management, Fire, and Police Departments have widely published email addresses to conduct normal business, and to make them more accessible to our citizens. However, these individual email addresses typically are not monitored 24-hours a day and should not be used to report emergencies or to request emergency services where an immediate response is required. The city maintains alternative methods such as the Citizen Service Request form on the City's website for resolving quality of life issues. However, calling 911 is the fastest and most reliable means of obtaining emergency law enforcement, fire, and emergency medical assistance. Read entire press release.
+ 2 - 0 | § ¶
Raleigh Tiller Rollover Accident Leads to Cooperative Safety Video
Fire Engineering has posted a cooperative safety video about the Raleigh Fire Department's apparatus rollover accident on July 10, 2009. The city's tractor-drawn aerial ladder overturned while responding to a structure fire. Three of the four firefighters aboard received non-life threatening injuries, and the apparatus was a total loss.
As the accompanying article notes, this significant incident was rendered even more dramatic by being captured by two video cameras from two different angles. The safety video, a joint production with the Raleigh and Seattle fire departments, features the footage, along with numerous still photos. (Read the blog from that day.)
While pictures tell a thousand powerful words, the testimonies of those on the truck are even more sobering. Each of four firefighters talks at length on camera about what happened, what they remember, and their thoughts and feelings about that day. Watch, react, reflect.


+ 6 - 2 | § ¶
Task Force 8 Fleet Photos
North Carolina Urban Search and Rescue Task Force 8 has posted a trio of fleet photos to their web site. These were taken last week at the North Carolina Highway Patrol training center in south Raleigh by Jeff Harkey Lee Wilson. See more photos from that shoot. Task Force 8 is comprised of Raleigh, Durham, Chapel Hill, and Cary fire departments. Click to slightly enlarge:


Pictured left to right are:
Car 71 - Haz-Mat Coordinator, Raleigh FD
SW 803 - Cary FD
SW 801 - Raleigh FD
SR 2 - Haz-Mat / USAR Recon Unit, Raleigh FD
USAR 5 - Logistics
USAR 7 - Shoring
USAR 3 - Base of Operations
USAR 1 - Equipment
USAR 2 - Equipment
USAR 4 - Equipment and Logistics
SR 3 - Bus, 45 seats
USAR 6 - Communications
Wake County EMS - Tactical Paramedic Unit
SW 802 - Durham FD
SW 804 - Chapel Hill FD
Car 72 - Task Force Leader, Raleigh FD
+ 4 - 2 | § ¶
Car Versus Night Club
WRAL posted this picture of Mama Rabbit's Motor Lounge on Highway 55 in Fuquay-Varina, where on Thursday an irate patron crashed her car into the building. (The lady was told she'd had enough to drink.) She also trashed a picnic table and one with people sitting at same. Two were injured there. She also smacked another vehicle on her way out of the parking lot. She subsequently ran off the road on Highway 50 and struck a tree. Next on the agenda was bodily violence, upon which she reportedly assaulted (a.) rescue squad members at the scene, (b.) a deputy at the scene, and (c.) a doctor at Johnston Memorial Hospital. Read the whole sordid story, plus a couple dozen ever-amusing reader comments. Katie, bar the door, indeed!



WRAL photo
+ 5 - 2 | § ¶
Four Alarms in Charlotte This Morning
First Ward Apartments in uptown Charlotte. One rescue from third-floor apartment. Three injuries. Heavy damage to apartments. The last one's a given. See this Charlotte Observer story for superb photos by Gary O'Brien. Strong scene lighting probably helped him! Google for other coverage. Maybe readers will post the run card.



Gary O'Brien/Charlotte Observer photo
+ 4 - 1 | § ¶
Pocket Manual of Fire Protection Management
Found on the Tokyo Fire Department's English language web site, here's a neat peek of workplace fire prevention strategies on the other side of the world. It's a do-it-yourself, download-and-fold manual of instructions. For fires and earthquakes. Hai, pretty interesting. View and download.


+ 6 - 2 | § ¶
Now That's High-Tech Tunnel Rescue!
Banner advertisement on the Takara Tomy web site. Their Hyper Rescue product line, based on the Tokyo Fire Department team. Ah, the imaginations of children, or at least the product designers for their toys...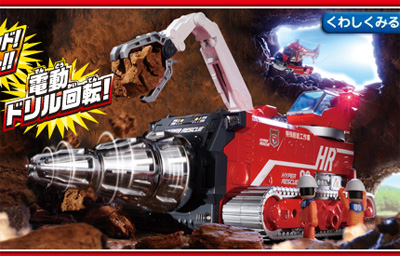 + 7 - 5 | § ¶
Guns & Hoses Softball Tournament in Chapel Hill, May 13-15
The Chapel Hill Firefighters Association is hosting the Fourth Annual Guns & Hoses Softball Tournament on May 13 - 15, to benefit the North Carolina Jaycees Burn Center at UNC Hospital. The entry fee is $150 per person. Click below to see the flyer with contact information:


+ 10 - 4 | § ¶
Kings Mountain Firehouse Barbecue Cookoff, April 15-16
The Kings Mountain Fire Department is hosting the 15th Annual North Carolina Firehouse Barbecue State Championship on Friday, April 15 and Saturday, April 16. Activities include live music, rides for kids, and a cornhole tournament. See this KMFD web page for more information, including over 50 teams! Kings Mountain is 156 miles west of Raleigh, outside Gastonia.


+ 5 - 3 | § ¶
Truck 12 Disbanded, 1988
We blogged about possible company closures in Greensboro the other week. In the Capitol City, only one permanent company closure is recorded. Truck 12 was removed from service on October 30, 1988. The three-person service-ladder company operated a 1980 Ford C service truck. Of interesting note is that the city's service companies did not have Captains, as those positions were eliminated in 1976. That year and during those tough economic times, City Manager Lawrence Zachary cut the nine positions as part of 60 eliminated that budget year.
The closure of Truck 12 was recalled two years later, in a News & Observer article. Fire Chief Sherman Pickard recounted that a task force spent four months assessing how many ladder trucks Raleigh needed, and where they should be located. The task force recommend removing Truck 12 from service, and using its twelve members to staff Engine 20 in a new station on Trailwood Road. (Did they have twelve positions, or just nine? Need to check that.)
In a report to City Manager Dempsey Benton, the fire chief noted that the area served by Truck 12 had mainly single-story residences which did not require or justify aerial ladder services. And that fires in such structures were usually fought with hand lines (versus aerial streams). The closure thus saved the city $550,000 to replace the ladder truck, as well as the annual expense of $331,763 for the new positions.
The city had five ladder companies that year, three service trucks and two aerial ladders. The third aerial ladder company was placed in service the following year, in September 1981. (The last service company was removed from service in 1989 at Station 15, I believe.) As for Truck 12, log books recorded that the company was removed from service until further notice on May 11, 1988. The logs recorded the permanent removal from service on October 30, 1988. (As for the words "service truck," we've even analyzed their origin in a prior thread.) Engine 20 was placed in service early the following year, on January 20, 1989.



Jeff Harkey photo
+ 6 - 1 | § ¶
Let There Be Brick
Presenting historic, former, and current firehouses of the Quad Cities, IA/IL. Left to right, top to bottom, are Davenport's Central Fire Station (1905), Old Station 3 (1921), Old Station 6 (1930), Old Station 7 (1905), and Station 3 (1964); Moline Old Station 3 (1908) and Old Station 4 (1910); Rock Island Old Station 3 (1930s?), Old Station 6 (1917), Old Station _ (1900), and Old Station _ (?). That last one's been turned into a public library. See the entire series of photos, which includes a couple others. And we'll consider this trip closed. The thing isn't over until all photos are processed, of course, and all knowledge is transferred.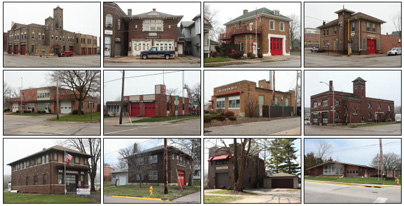 + 5 - 1 | § ¶
Oldest Operating Firehouse?
As posted by Yours Truly to the Firehouse.com forums, what's the oldest operating firehouse in the United States? Here's the start of the conversation:
What are some of the oldest operating firehouses in the United States? Here in North Carolina, the town of Henderson has a town hall and fire station building that serves as their Station 2. Built 1908.

Traveled to the Quad Cities (IA/IL) this weekend, and the Central Fire Station in Davenport, IA, opened in 1905. Construction started in 1901 or after. But that's still somewhat young.

Engine 23 in Detroit on East Grand Boulevard and Engine 35 on Kenilworth were both built in 1899, while Engine 18 / Ladder 10 on Mt. Elliott was built in 1893.

St. Louis has a couple stations dating to 1895. DC's Engine 22 on Georgia Avenue was built in 1897, no?

Charleston's stations on Cannon Street and Meeting Street were both built in 1887.

So what's older than 1887, still operating around our great country?

See some pics of above at this web site.
+ 9 - 7 | § ¶
Hickory's American LaFrance 700 Series Aerial Ladder
Found for sale on eBay is this factory photo of an American LaFrance 700 Series aerial ladder that was delivered to Hickory. Model year not indicated. The town later purchased a 1974 American LaFrance aerial ladder, which Lee Wilson has photographed. Click to slightly enlarge:


+ 5 - 7 | § ¶
Davenport's New Fire Boat
And here's one for the boat lovers. Davenport's central fire station is a historic structure dating to the 1900s, ergo why Mr. Blogger was visiting. Sitting inside the station's shop space is their new fire boat, recently delivered but not yet in service. Specs: 26-foot, 14-inch draft, 400 HP Chevy V8 engine, propelled by jet, top speed 40 MPH, drop-down front end, 2500 GPM pump and deluge gun. Cost $178,182, funded by Homeland Security grant. For use on the Mississippi River and other waterways as needed. Read more about it from the Quad-City Times. Click to enlarge:


+ 5 - 2 | § ¶
Hoists and History
From this weekend's explorations, here's a hoisting mechanism beside the basement access of an early 20th Century fire station building in Moline, IL. From a bit of Google searching, it looks like such hoists were used for lifting cans of ash removed from the coal-fired furnace.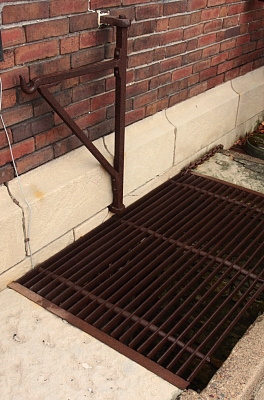 And here's the hoisting mechanism for a hay loft, in a former fire station in Davenport, IA. The opening's been sealed, which is fairly common with such buildings. More photos of these and other historic fire department structures in the Quad Cities are forthcoming.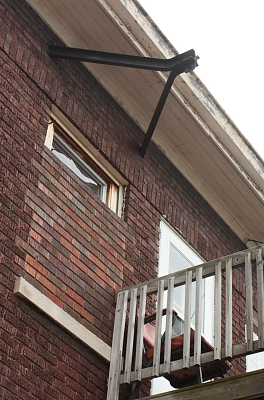 + 4 - 4 | § ¶
Expanded Fire Station
Those were stickers on Engine 6 in Davenport, IA. Their station building is interesting as it started life in 1953 as a small, single-story station facing a side street. The facility was expanded in 1980, with the original apparatus bays converted into additional living quarters. Three new and presumably bigger bays were built and the station presently houses an engine and truck company. Plus haz-mat unit. Wonder how cost-effective that would be today? Raleigh is particularly plagued with single-story stations too small for present needs. If you can get the land, re-construction might be an alternative to new construction. Click to enlarge:


+ 6 - 1 | § ¶
Saving Lives, Starting Lives
Reporting from a weekend in the Quad Cities, Iowa/Illinois. Saw these stickers on a Davenport engine company. Code saves and babies delivered.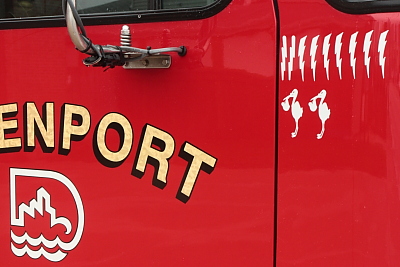 + 11 - 1 | § ¶
Four Homes Burn in Charlotte
WSCO is one of many news outlets reporting on this morning's multi-home fire in Cornelius, which is outside Charlotte, which is more recognizable and thus the location listed in this blog posting. (Though maybe everyone also knows where Cornelius is!) Two homes destroyed, two others damaged. Three families displaced, as one was vacant.
WNCN has a few photos, in addition to the raw footage from WSCO. Witnesses said the wind spread the flames, though proximity was certainly a mitigating factor. Notes the WBTV report, the buildings were built "California-style," which means very close together. Guess that applies to quite a few residential neighborhoods in these parts. Just a little wind and/or high heat, and the second (and third and fourth) structure catches.
Sunday update. Reader Jeff Silver sends this picture, seen off O'Kelly Chapel Road, at Carolina Preserve and Amberly. Both structures with vinyl siding.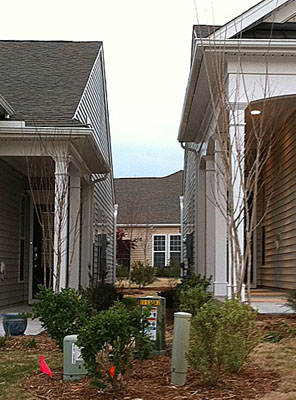 + 7 - 4 | § ¶
Bladen County Firefighter Dies on Duty
FireNews has reported that Tar Heel Volunteer Fire Department firefighter David Hunsiger Jr. died Thursday, April 7, in a motor-vehicle accident while responding in his personal vehicle to a woods fire. Hunsiger is the son of the chief of the department. He is survived by a wife and children. Further details forthcoming.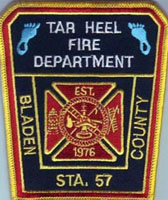 + 5 - 4 | § ¶
Radar Gun
Speaking of the boys in blue, here's a radar gun in action on a busy city street. For extra credit, where's this? Something else that occurs to Mr. Blogger. Do motorcycle cops wear safety vests? Certainly not while working in "stealth mode." Imagine if their cycles had designs like these British versions. It'd be back to hiding behind billboards with those! Click to enlarge:


+ 4 - 4 | § ¶
Police Offices and Social Networking
We've read the stories about firefighters and medics getting in trouble with social networking. Usually, such incidents have involved the posting of inappropriate photos, such as victims at accidents. But imagine the consequences of more subtle actions, such the wording of your job description. For police officers, as this New York Times article reports, describing your job as "human waste disposal" could be entirely embarrassing, as an Albuquerque officer encountered. After he was involved a fatal on-duty shooting in February, a local television discovered his Facebook description. The result? Desk duty for him, new policy for everyone.
Interesting perspective on the effects of personal conduct far and away from the squad car. At least for firefighters and medics, they are rarely being pursued by defense attorneys craving evidence to impeach their testimony. But it's a good lesson for everyone in public safety. Remember the old rule about e-mail? Before hitting send, imagine everyone in the world might read the thing. Apply the same standard to social networking. Will it still square if the highest officials or highest-rated news people are watching? Or have occasion to watch? Apologies in advance for immediately induced states of paranoia...
+ 5 - 2 | § ¶
Agencies No Longer With Us
Recently wearing my now-vintage Garner EMS & Rescue Squad tee-shirt got me thinking. How many fire, rescue, EMS, and ambulance agencies have come and gone in Wake County? Here's take one of such a list, with lots of help from the state's corporate records web sites. Quite a few rural fire departments in towns that since merged them with their municipal departments. A number of since-merged EMS agencies as well. Only one ambulance company listed, when there were probably others.

Apex Rescue Squad (later Apex EMS), 1971-2010 (merged with municipal FD, soon to be separated and merged with Wake County EMS)
Apex Rural FD, 1952-2002? (merged with municipal FD)
Beacon Ambulance Service, 1972-73 - 1976? (disbanded after emergence of Wake County EMS, and after they try convalescent transport for a short while)
Cary Rural FD, 1954-1961 (renamed Yrac FD, or at least renamed their fire district. They were still called Cary Rural for some time, as well as Yrac)
Fairgrounds FD, 1961-1998 (merged with Yrac FD, formed Western Wake FD)
Fuquay-Varina Rescue Squad, 1991-1997? (disbanded)
Fuquay-Varina Rural FD, 1954-? (merged with municipal FD)
Garner Rescue Squad (later Garner EMS & Rescue), 1975-2010 (EMS division merged with Wake County EMS, rescue services personnel to Garner FD)
Holly Springs Rural FD, 1971-1997 (merged with municipal FD, formed Holly Springs Public Safety)
Knightdale Rescue Squad (later Knightdale EMS), 1977-2005 (merged with Wendell EMS and Zebulon EMS to form Eastern Wake EMS)
Knightdale FD, 1954-2003 (renamed Eastern Wake FD)
Morrisville Rural FD, 1955-? (merged with municipal FD)
Northern Wake Rescue & EMS, 1981-1995 (renamed Wake Forest EMS)
Raleigh Emergency Rescue Squad, 1953-? (assets and operations assumed by Raleigh FD. Does that make it a merger?)
Rolesville EMS, 1995-2008 (merged with Eastern Wake EMS)
Six Forks FD, 1956-2002 (merged with Bay Leaf FD)
Wake Forest EMS, 1995-1998 (disbanded)
Wake Forest FD #2, 1942-1982? (merged with Wake Forest FD?)
Wake Forest Rescue Squad, 1965-1981 (renamed Northern Wake EMS)
Wake Forest Rural FD, 1956-1982 (merged with municipal FD)
Wendell FD, 1908-1912 - ? (the non-rural FD, later merged with Wendell Rural FD)
Wendell Rescue Squad (later Wendell EMS), 1962-2005 (merged with Knightdale EMS and Zebulon EMS to form Eastern Wake EMS)
Western Boulevard FD, 1957-1960 (disbanded, members reorganized as Fairgrounds FD)
Yrac FD, 1961-1998 (merged with Fairgrounds, formed Western Wake FD)
Zebulon Rescue Squad (later Zebulon EMS), 1974-2005 (merged with Knightdale EMS and Zebulon EMS to form Eastern Wake EMS)
Zebulon Rural FD, 1953-2000 (merged with municipal FD)
+ 5 - 3 | § ¶
How to Conduct Research at the Library of Congress
First, get to the place. Four or five hours north of Raleigh. Nation's capitol. Right downtown. Take the Metro once you're there:
READ MORE
+ 5 - 3 | § ¶
Western Boulevard Fire Engine, 1957
From our friends at Station 8 comes this July 1957 photo of the Western Boulevard Fire Department's Chevrolet American/Barton pumper. And that's a full month prior to my historical accounts that placed delivery in August of that year! The snapshot comes from an area resident, to gave same to the firefighters at the station. There's another old photo of WBFD along with a scan of their 1957 annual report on this page. They operated from 1957 until 1960, when most of their territory was annexed by the city of Raleigh. The members reorganized as the Fairground Fire Department, later Fairgrounds, plural. Yup, county station closures over 50 years ago! Click to enlarge:


+ 6 - 2 | § ¶
Mystery Cave
This is a tough crowd to stump. We've tried roads, streets, signs, and buildings, plus innumerable fire and emergency vehicles. Let's see if this piece of geography can puzzle folks for more than thirty minutes. Where's this place? 'Taint far, neither. Click to enlarge:


+ 7 - 5 | § ¶
Hot Shot #2 / Entering the Attic
Another shot from Saturday on Blue Ridge Road. Read about that incident and see more photos. Same camera and lens as prior posting. ISO 200 this time. Sun was coming and going. Some guy on the ladder.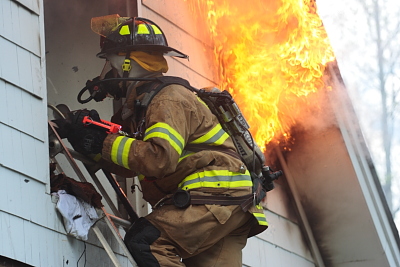 + 5 - 2 | § ¶
Hot Shot #1 / Engine Arrives
Creedmoor Road north of Glenwood Avenue with Engine 17. Canon EOS 40D in Program Shift mode. ISO speed at 3200. F4 lens. Existing light, no flash. Color temperature white balance setting in post-processing. See more photos.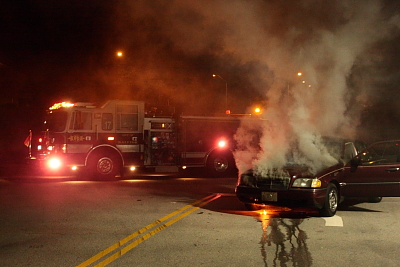 + 6 - 1 | § ¶
New Option For 911 Callers in Charlotte: OMEGA
Friday, April 1, saw the launch of a new program for 911 callers in Charlotte and Mecklenburg County that's designed to help reduce responses for minor medical injuries. The program's called OMEGA and is a partnership with the county, the county EMS agency (Medic), and two hospital systems. Callers with minor medical problems will be connected to a nurse-staffed help line, and be advised on treatment options. They won't be denied an ambulance response, but given additional options perhaps more appropriate for their problems. How many such calls might qualify for the program? Out of last year's 98,000 calls, note officials, 1,100 would have fit the program. And that's the simple summary. Here are some links to learn more, and clarify whatever points Yours Truly has oversimplified.
+ 6 - 3 | § ¶
Durham Highway Mascot Angus Gets (More) Famous
The fourteen year-old Dalmatian-- and one of our area's rare fire dogs-- is featured in this North Raleigh News article and in particular about his recent health problems The venerable fire station fixture has arthritis in his hips, and is recovering from a recent tumor in his left leg. Angus has a long history with the Durham Highway Fire Department, from his first fire call as a puppy to the Angus Barn in 1997. And you thought he was named after the veteran AC/DC guitarist... Among his duties is serving as the station's public safety mascot when firefighters visit local schools. Says Capt. Mike Dillard, he can even demonstrate how to stop, drop, and roll. Read about Angus.



Carlene Stein/News & Observer photo
+ 9 - 3 | § ¶
Morehead City Former Fire Boat For Sale
Who wants to buy a former fireboat? This 1984 Mitchell Marine Builder 25-foot diesel boat is being auctioned by the town of Morehead City. It was acquired as Army Corps of Engineers surplus in 2006, as this FireNews article noted, and equipped with a 500 GPM portable pump. Same has been out of service for a stretch, and was last seen by Yours Truly parked behind Station 2. See the auction details, which include plenty of photos. Includes a trailer! Thanks to reader Donaldson for the heads-up.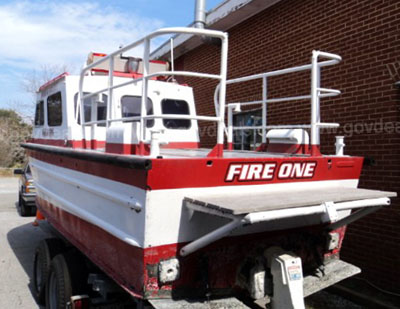 + 5 - 4 | § ¶
Vintage Charlotte Fire Apparatus Photos
Found for sale on eBay are 24 photographs of Charlotte fire engines, from a 1924 Seagrave pumper to a 1955 Seagrave pumper. Includes quads, aerials, a lighting truck, and three trucks from Morris Field. Here are photos of the photos, from the eBay seller. Click to enlage:

+ 6 - 5 | § ¶
Mystery Road
Where is this former section of roadway, shown in the foreground? Hint, it's in Raleigh.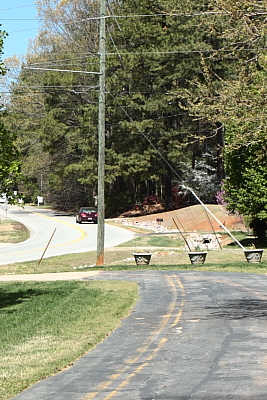 + 10 - 4 | § ¶
Heat Signature From Onslow County Woods Fire
From the Carolinas Fire Page Yahoo group, found on the North Carolina Division of Forest Resources Facebook page, here's a nifty image. The caption reads:'
"This photo was taken by one of the Camp Lejeune firefighters on Thursday. He flipped his camera to infrared and snapped this photo as the helo was flying over the fire - notice the heat signature reaching up and around the helo."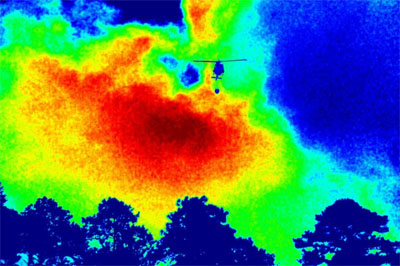 + 4 - 4 | § ¶
This Afternoon's Two Alarms / Blue Ridge Road
The west side's the hot side this week with their second second alarm in two days. Still compiling details on this one. Single-story brick building behind nursing home at 3830 Blue Ridge Road. Reported as laundry building. Engine 14 arriving with a working fire. Battalion 4 upgrading a minute or two later. Fire in attic space and soon through roof. Exposures protected, with no spread to the nearby buildings. Ladder positioned on opposite side of complex, though aerial stream not needed. Patients evacuated from one section of facility. Two hydrants caught. Blue Ridge Road closed due to supply line. Dispatched 3:34 p.m. Controlled 4:07 p.m. First alarm: E14, E16, E9,L3, B3, R3. Working fire: E6, A1, C10, C20, C40. Second alarm: E17, E18, E11, L1, R1, B4. Other fire: C2, C5, additional relief companies? Medical included EMS 1, EMS 11, EMS 2, EMS 3, EMS 4, EMS 121, EMS 124, D4, D3, T1, Evac 1.
See photos by Mike Legeros | See photos by Lee Wilson
+ 8 - 2 | § ¶
Raleigh's New Decon Trailer
Just delivered. Parked at training center. Built by Matthews Specialty Vehicles. Replaces tractor-drawn box truck that carried decon equipment and that's parked at Station 20.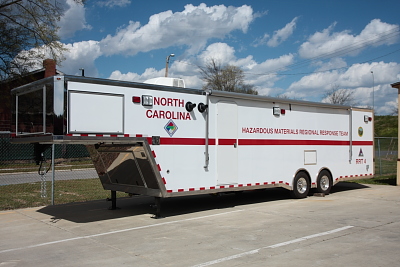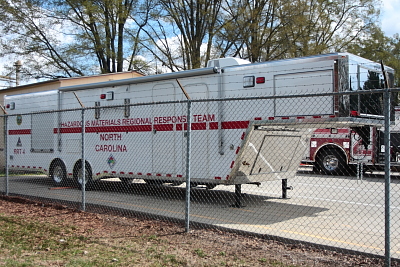 + 4 - 4 | § ¶
Quarterbacking and Other Reasons For Reading This Blog
Another fire. Another round of questions. What's happening when this happens? What's compelling readers to ask questions, make observations, and offer suggestions? We call it "quarterbacking" but not everyone's here for that reason. Base motivations for these comments include these:
Simple curiosity about what happened. Period.
Wanting to learn from the incident and expanding your skills or knowledge.
Showing support for those involved in the incident, or the members of that department.
Discretely or overtly calling attention to something that isn't being talked about.
Evangelizing about something that is or isn't related to the incident.
Calling attention to yourself, or feeling better about yourself.
Playing pile on. Making someone else feel bad.
etc.
Maybe everyone posting comments should preface their statements with either "trying to be helpful" or "trying to be harmful." Would that work? Maybe not. Psychology isn't driving these discussions, nor are feelings a typical point of concern. At least, that's admitted in public. Best question to ask after any blog discussion might be this: what did you learn about yourself?

Finally, a word about perspective. Truth is when everyone agrees. How do you get everyone to agree on what happened at an incident. You can ask someone who was there, but that's really not enough. You can ask everyone who was there, and that gets a lot closer. Then you gather information from people watching from the side, from photos and videotape, from radio reports and telephone calls.
On this blog, we post windows into history. They contain an awful lot of information, sometimes. But it's always incomplete. There's always more to the story. Just think about the words "reported light smoke showing." What did you imagine just then? What did your mind conjure, as a picture of that short sentence. Chances are it's different for different readers.
Now magnify that different in perspective and presumption with every phrase and paragraph written in this blog. Photos add quite a bit, but those, too, are just single moments in time. Add all the words and all the pictures and there's still so much more to any story. Food for thought. Something to think about. Stepping off soapbox.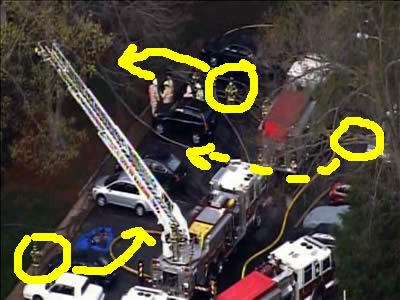 + 3 - 1 | § ¶
This Morning's Two Alarms / Edwards Mill Road
Let's figure out who was where and what was happening at this morning's major working fire on Edwards Mill Road. Dispatched 8:59 a.m. Address 4505 Edwards Mill Road. Tax records say two-story, brick condominium building with 1,305 square-feet per unit. Eight units total. Built 1972. Media report says Engine 14 arrived with light smoke showing, then upgraded to working fire after crews made entry into a unit.
After fire extended to attic, incident was upgraded to major working fire. Second alarm automatically dispatched. Interior attack until collapse conditions encountered. Defensive attic included Ladder 2 positioned in front parking lot, and Ladder 4 readied with reserve platform on Edwards Mill Road, supplied by Engine 6.
Command located in front parking lot, Battalion 3 then Car 10. Medical monitoring and rehab also in front parking lot. Staging on Edwards Mill Road. Special request for two additional engines. Three hydrants caught, two on Edwards Mill and one in the complex. Controlled at 10:26 a.m. One resident evacuated by firefighters and checked out by EMS. Total 15 people displaced. Eight units rendered uninhabitable. Cause determined as improperly discarded smoking material.
First alarm: E14, E16, E17, L2, R3, B3. Working fire: E9, A1, C10, C20, C40. Second alarm: E4, E11, E8, L1, R2, B4. Other fire: E6, E26, B2, C2, C3, C4, WC1. Medical included EMS 11, EMS 6, EMS 31, EMS 121, EMS 123, EMS 122, EMS 15, EMS 7, D4, D1, D5, M95, T1, Evac 1. Legeros arrived pretty quickly and took some 40 minutes worth of photos. Lee arrived just after that.
See photos from Mike Legeros | See photos from Lee Wilson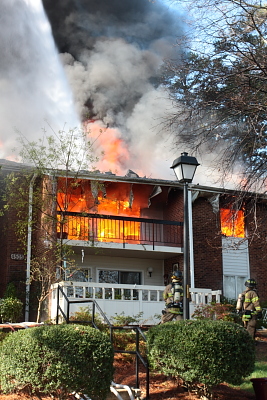 + 5 - 4 | § ¶
North Valley Apartments, 1970
One of my favorite fire photos of yore is this News & Observer image from September 7, 1970. That's the North Valley Apartments which were on Lassiter Mill Road and just east of Six Forks Road, right? Around the corner from Station 9, right right? Three apartments were heavily damaged, said the paper the next day. The blaze was reported by a resident taking a shower. They looked up and saw their ceiling on fire! How many "holy cow" things can you spot in the below picture? Click to enlarge:


See more historical News & Observer images of the Raleigh Fire Department in action in the photo section of the Raleigh Fire Department Historical Society. Read more RFD history in general on my history pages. Yeah, two places for the same sort of information. We'll get everything merged some day.