+ 19 - 14 | § ¶
North Carolina Fire Departments in 1972
Here's something interesting. I found a DOI directory of NC fire departments from 1972. Comparing the names to the 2008 directory yields dozens of former FDs and earlier FD names. Corrections are welcome and mistakes are certainly present. I'll update as new information surfaces. We also covered this topic in a prior thread. I'll be incorporating this information onto my web database at a later date. Enjoy, and Happy New Year!
Former Fire Departments / Earlier Fire Department Names in 1972
Alamance County
Elon College FD (Now Elon FD)

Alexander County
Taylorsville FD
READ MORE
+ 17 - 17 | § ¶
Responder Safety.com
As cited in the reader comments about the Brier Creek MVA, Responder Safety.com is a recommended site for information and tools for reducing responder deaths on roadways. The site is operated by the Emergency Responder Safety Institute and includes a pair of featured videos, Be Right, Be Bright - High Visibility Vests for Firefighters/EMTs (watch this video) and Accepting the Challenge to be Visible - High Visibility Vests for Police (watch this video).


+ 14 - 14 | § ¶
City Installs New Fire Control Board, 1942
We've all seen alarm boxes, that familiar component of electric-telegraph fire alarm systems. Most have also seen gongs, tap bells, and punch registers. But what did it look like behind-the-scenes? Below is a pair of Gamewell control boards as photographed at the New Bern Fireman's Museum. Left is circa 1940s, right is probably 1910s1920s. In Raleigh, a new control board was installed in the summer of 1942. The "central control board" cost $13,000, and was installed in the alarm house on South Dawson Street. The new board was like the photo on the left, only longer, e.g. with more circuits. Raleigh's prior control board was installed in 19011925 with about 35__ boxes connected. The 1942 board had 128 boxes connected, with 35 more soon to be connected. The 1901 board had four circuits, the 1942 board had 14 circuits. The new board also allowed for two alarms to be transmitted from different sections of the city at exactly the same time. Raleigh's fire alarm boxes operated until 1973. Read more about the alarm system history. Click to enlarge:


+ 18 - 8 | § ¶
Wilmington Fire Trucks Given to War Salvage Drive, 1942
Some of the state's earliers fire trucks ended up as wartime salvage, as notes the News & Observer of October 1, 1942. Two Wilmington fire trucks, "completed with solid rubber tires," were donated by the city. They were 1912 and 1914 models, retired from active service in 1930, and since "stored for emergency use." Fire Chief Ludie Croom said "he believed virtually every piece of each truck could be used."
+ 16 - 13 | § ¶
Old Photos From Charlotte
From a reader comes a pair of old photos of the Charlotte Fire Department, showing personnel and apparatus in front of Dilworth Station 2, and personnel, apparatus, and musical instruments at Station 6. The former is probably from the 1920s, the latter is dated 1931. The service trucks are American LaFrances. By 1929, Charlotte had four ALF service trucks, including three that carried 600-feet of 2 1/2" hose and 300-feet of 1 1/2" hose. Source: Sanborn Fire Insurance Map, 1929. Click to enlarge both:


+ 15 - 14 | § ¶
Holiday Decorations
Having photographed exactly one set of holiday lights this season-- Apex Station 2 last night, while wandering around with the Missus-- here's a nice set of conventional decorations, with wreaths adorning windows at Raleigh Station 5. Click to enlarge:

+ 16 - 16 | § ¶
This Afternoon's MVA / Brier Creek Parkway
Motor-vehicle accident with injuries on Glenwood Avenue and Brier Creek Parkway. Two vehicles, with entrapments and a reported ejection. Nine patients transported. One fatality later reported by news media. Raleigh Engine 24, Ladder 23, Rescue 14, Battalion 4; Bethesda Engine 461, Bethesda 100; Six Forks EMS 123, 121, 122; Cary EMS 54, 51, District 5; Wake EMS 15, District 1. Dispatched 3:56 p.m. Click to enlarge photo by Legeros:


+ 10 - 15 | § ¶
Firefighters and Their Families Celebrate Christmas
WRAL paid a visit to Station 1 in Raleigh on Christmas Day yesterday, and reported on the family and feast therein. Read and watch the story. What other holiday activities happened at fire and EMS stations yesterday?


+ 17 - 9 | § ¶
Old Photos
Merry Christmas, and enjoy some old photos of the Raleigh Fire Department. View the photos. These are scans of recently found negatives. Training and rescue squad (pre-Hurst tool) activities circa 1971-74, and the dedication of Station 14 on June 22, 1975. The last series is both incomplete and out of sequence. More later. Scanned using Epson flatbed scanner, 16-bit color, 3200 DPI, and no post-production except for contrast adjustments for close-ups. Learn more about the history of the Raleigh Fire Department at www.legeros.com/history.

+ 13 - 14 | § ¶
New Bern Fire Museum
The first formal stop on our day trip to the coast was the New Bern Firemens Museum. Took an hour's worth of photos, about 450. Mrs. Claus went shopping | got coffee | sat in car. The apparatus on display includes two steam engines (1879, 1884), two hose wagons (1900s), a hand reel (1880s), a 1914 American LaFrance pumper, and a 1927 Seagrave combination service truck. The hose wagons are particularly interesting and may be the only surviving hose wagons in the state. The museum has a ton of artifacts, from helmets to trumpets to Gamewell alarm equipment. They're planning an expansion into the old fire station around the corner, though no update known there. Pictures to be posted soon.

+ 16 - 11 | § ¶
Christmas Posting #3
Who else of a certain age remembers asking Santa for a Six Million Dollar Man action figure? Made by Kenner Toys, the basic Steve Austin figure was a sell-out smash in 1975. Accessories were added, including the Bionic Transport and Repair Station, Critical Assignment Arms, and Back Pack Radio. Check out these vintage advertisements from PladiStaillions.com.

+ 10 - 14 | § ¶
Morehead City Station 3
Hidden behind the Wildwood fire station at 5291 Highway 70 West is Morehead City Station 3. The station opened last year and operates an engine and an ambulance. The former, delivered in March, is a 2008 Sutphen S3 pumper equipped with a 1500 GPM pump and a 750 gallon tank. Read more about the Morehead City Fire Department. Click to enlarge:

+ 11 - 16 | § ¶
Goldsboro Old Station 1
Here's a sight worthy of a Highway 70 detour. Goldsboro's Old Station 1 at 109 E. Ash Street has been undergoing renovations for use as an office. The building was saved from demolition in 2006 by a petition and last-minute sale. The exterior has been restored as much as possible. The Art Deco-designed station was built as a WPA project, and served from 1939 to 1976. Read more about Goldsboro fire stations. Click to enlarge:

+ 15 - 12 | § ¶
Goldsboro Snorkel
Seen today during a day trip to the beach, here's Goldsboro's Snorkel. It's a 1977 model and one of the few articulating platforms left in the state. The 85-foot apparatus operates from Station 5 on Central Heights Road. See more snorkel chat on this blog thread, and this blog thread. Or learn more about the Goldsboro Fire Department. Click to enlarge:


+ 11 - 18 | § ¶
Training Center, Big Brother View
Speaking of changes to the Keeter Training Center, here are a pair of aerial photos from 2002 and 2008. They're from Microsoft TerraServer and Google Maps and nicely demonstrate the changes to the facility over the last six years. The most obvious differences are the USAR area and the new tower. Click to enlarge each:

+ 14 - 10 | § ¶
Tiller, Tower, Circa 71-74
Here's a nifty new picture of Raleigh's old training tower and old tiller, from around 1972. The tower was built in 1954 and demolished in 2005. The tiller was delivered in 1958, an American LaFrance 700 Series with a 100-foot ladder. It received a 1979 Mack MC cab in 1980, and was removed from front-line service in 1995. It was removed from reserve service in 1999. Click to see a really big version:


+ 12 - 12 | § ¶
Beware the Glob / Diggs Drive
From last week's haz-mat incident, here's the chemical reaction in question that occurred when workers at 1401 Diggs Drive were mixing materials to make concrete sealant. They called the fire department after the glob started growing and smoking. The incident occurred about 11:20 a.m. on Monday, with "B" shift units companies including E20, L20, HM2, HM15, HM8, SR22, R7, A8, B3, B2, C72, C2, EMS 14, EMS 81, EMS 11, EMS 13, EMS T1, EMS D1, EMS D2, and Wake EM. One person treated by EMS. The scene was reopened about 1:30 p.m. See more photos from Lee.


+ 14 - 12 | § ¶
Johnston County Munitions Blast / Catch-Me-Eye Explosion, 1942
On March 7, 1942, a truck and trailer carrying 30,000 pounds of munitions exploded on Highway 301 just south of Selma1, killing 6 people and injuring over 50. The blast was seen and heard 50 miles away. It occurred at 2:57 a.m., two hours after the truck collided with a car and both vehicles caught fire. The truck was loaded with gunpowder, grenades, and "other explosives to be delivered to the Army."
The explosion carved a crater in the concrete highway, destroyed and damaged buildings, and broken windows more than three miles away. Nearby Luke Capp's Filling Station was demolished, with only two "gnarled gas pumps" remaining. Gurkin's Tavern, about 100 yards away, and several homes within a 500-yard radius, were "littered with broken window panes, falling bricks and timbers." Virtually all windows in Selma, one mile away, were shattered. The Selma Cotton Mill lost 900 panes. A few in Smithfield, three miles away, were broken.

READ MORE
+ 16 - 10 | § ¶
Blackout Instructions, 1942
The following rules were printed in the News & Observer on April 24, 1942, ahead of the city's first blackout drill. City ordinances allowed fines up to $50 for failure to comply with the instructions, which were provided by the Army.
Immediately upon hearing the whistles and siren all local residents must put out all home lights that are visible from the outside, and all owners of mercantile establishments must do the same. Lights in homes, however, may be kept burning if they are sufficiently protected to keep their glare from being visible from the outside.
When the blackout signal sounds all persons must enter their homes or other places of shelter and stay off the streets no matter how long the blackout lasts. All groups gathering on the streets during blackout must be broken up and are subject to arrest if they persis in loitering on the streets. All city buses will pull immediately to the curb and stop when blackout signal sounds and remain stationary until the all-clear signal is given.
READ MORE
+ 12 - 13 | § ¶
Christmas Posting #2
Best holiday albums ever. The Ventures' Christmas Album (Razor & Tie, 1965), The Many Moods of Christmas, Robert Shaw / Atlanta Symphony Orchestra and Chorus (Telarc, 1983), Christmas with Chet Atkins (RCA, 1961), Holiday Sing Along with Mitch, Mitch Miller and the Gang (Columbia, 1961), Billboard Rock 'n' Roll Christmas compilation (Rhino, 1994), What a Wonderful Christmas compilation, Louis Armstrong & Friends (Hip-O, 1997), and a mix tape of Bob Rivers parodies from his five albums Twisted Christmas (Critique, 1992), I Am Santa Claus (Atlantic, 1993), More Twisted Christmas (Atlantic, 1997), Chipmunks Roasting on a Open Fire (Atlantic, 2002), and White Trash Christmas (Atlantic, 2002).
+ 12 - 8 | § ¶
Unofficial Blog of Station 8
Who are the proud owners of the domain name firestation8.com? That's Double Trouble of Charlotte. The web site is an unofficial site, and includes an unofficial station blog. They're using WordPress and postings date to September 2008. Neat idea, as long as the brass approves or at least doesn't mind. What other big city station blogs are around? The Station 8 site is nice as well. Simple and clean.

+ 12 - 12 | § ¶
Razor Wire
One interesting feature of Charlotte fire stations are their secure parking lots, with gates and fences and even razor wire on some. Here's the rear view of Station 8 on The Plaza, shot with camera held high over head. Watch your balance, Mikey! Pics coming of this station (exterior), and the three other oldest in the Queen City: Station 5 (1929), Station 6 (1929), and Station 7 (1935). Read more about historic Charlotte firehouses.

+ 15 - 13 | § ¶
Christimas Posting #1
What does the word "upsot" mean, that appears in Jingle Bells? "The horse was lean and lank; misfortune seemd his lot; we got into a drifted bank; and then we got upsot." Google yields a believable answer. It appears to mean turned over, or upset physically. The song was written by James Lord Pierpont and copyrighted under the title One Horse Open Sleigh in 1857. The best recorded version of the song? Barbra Streisand's version from 1967 is pretty amusing, adapted by Jack Gold and Marty Paich and titled Jingle Bells? It appears on the excellent CBS artist compilation A Christmas Album, released in 1990.
+ 14 - 10 | § ¶
Charlotte USAR Apparatus
Here are three pieces of USAR apparatus in the Charlotte Fire Department, photographed at Station 11 on West 28th Street. Not pictured is USAR 2, a similiar tractor-drawn rig. They're part of NC USAR Task Force 3. Click to enlarge each:


+ 13 - 12 | § ¶
Old Photos From Carrboro
The Carrboro Fire Department shares some old photos recently found of their department, apparatus, and original station. The engine house was located in the Town Hall building at 102 Lloyd Street. Built by 1932, it relocated around 1954 to West Main Street. The original building had a single bay, but looks to have been expanded to include two. Early apparatus includes the original hose reel and a 1937 Chevrolet truck-turned-pumper. Read about CFD history. Click to enlarge each:


+ 9 - 12 | § ¶
Bethesda's New Quint
Here's a nifty snowy picture of Bethesday's new Engine 421, a Sutphen quint with a 75-foot aerial ladder. Features include two hydraulic hose lines in the rear, full-height left-side rescue compartment, PTO generator with brow light, side scene lights, and two telescoping floodlights. The fly section of the aerial includes a 2 1/2" gated connection. Click to see the super-size photo from the Sutphen site. Engine 421 responds to the contracted fire protection area around Brier Creek.


+ 16 - 9 | § ¶
Kinston Fire Station 3 Opens, 1942
Here's a bit of Kinston Fire Department history from the July 26, 1942 edition of the News & Observer. In a story dated July 25, the paper reported that Kinston's third fire station was a reality on that day. Residents in the north suburbs had sought the station for more than a decade. The station was located in Knott's warehouse and was manned by firefighters Jesse Conway and William Hoover. It had "one large truck and booste truck and chemical facilities." The station would protect the northern third of the city, where "many attractive residences" were located. Owners of the warehouse donated the building's use until "conditions permit building a fire station" after the war. How long was Station 3 open? Probably until 1948, when a dedicated station was built on North Heritage Street. Read more about Kinston fire history.

+ 16 - 7 | § ¶
Remembering the Village Subway
Found by a friend, the blog Goodnight, Raleigh! recently posted photos of the old Village Subway space at Cameron Village. The underground area that once housed a string of shops, clubs, and restaurant is presently unoccupied. The blog posting has photos and a history of the space. This and other below-ground spaces compelled Cameron Village owner Willie York to donate a high-expansion foam generator to the fire department in 1965. This was the city's second hi-ex foam device. Carried on a 1965 International pick-up truck, it was placed in service at Station 5. Later changed to a 1968 Chevy, Foam 5 remained at Cameron Village until removed from service on November 11, 1990.

+ 12 - 12 | § ¶
Compose Long Comments Using Word
Tip of the day, though this can be applied to discussion boards and even e-mail. When composing long messages for posting to this blog, other blogs, discussion boards, or even some e-mail applications, consider using Microsoft Word. There are a couple benefits to this. First, you'll be spell-checking automatically. Second, if there's a problem posting after you paste your comments into the web browser, you can save the file without retyping, or having to remember what you wrote. From there, you can try re-posting, or posting in sections, etc. Food for thought, from a former computer trainer.
+ 12 - 11 | § ¶
Charlotte Fire Museum
The purpose of today's trip to Charlotte? To shoot the inside and oustide of the fire museum, as well as some old engine houses and a few other surprises. Thanks for the hospitality, CFD! Photos forthcoming. Located at Old Station 4 at 420 W. 5th Street, the Charlotte-Mecklenburg Fire Education Center and Museum displays include the three restored rigs seen left to right below, a 1948 Mack, a 1971 Seagrave, and a 1928 American LaFrance. It's a beautiful sight. More information about the museum. Click to enlarge:


+ 12 - 11 | § ¶
Derita Fire Station
+ 15 - 10 | § ¶
Today's Crane Collapse
The News & Observer has the story of today's crane collapse at 8617 Six Forks Road. The accident occurred about 10:00 a.m. at the construction site of a 6-story office building. No injuries occured when the mobile crane collapsed. A full USAR assignment was dispatched on the fire side, an a first alarm was dispatched for EMS. Those units were EMS 124, EMS 5, EMS 31, District 1, District 3, and EMS 200. With no injuries, nearly all units were returned to service. Last year, a construction crane collapsed around the corner on Strickland Road east of Lead Mine. That occurred on August 9, 2007, with no injuries, and no emergency response.


+ 12 - 11 | § ¶
Raleigh Fire Truck Crashes, Slams Into Tree
WRAL posted a short story on the apparatus accident Wednesday. Engine 9 overturned on St. Albans Drive while responding to a call. The four firefighters aboard were not injured. FireNews also also surfaced the story, adding a note about the model year of the Pierce pumper. Everyone walked away, thank goodness. Photos are coming from Mike (below) and Lee.


+ 12 - 14 | § ¶
Raleigh Identifies Projects Fit For Federal Stimulus Funding
At a press conference yesterday, Mayor Charles Meeker said the city is actively seeking its share of a financial stimulus plan being crafted by President-elect Obama's transition team. He said 44 projects have been identified as designed, permitted, and ready to implement in six to 12 months. Read the press release. On the public safety front, the projects include solar thermal water heaters at 9 fire stations, relocation of Fire Station 12, construction of Fire Station 29, modernization of fire dispatching infrastructure, back-up 911 center infrastructure improvements, a mobile command center for police, and generators for critical police facilities. Plus the Clarence E. Lightner Public Safety Center. See a list and descriptions of all proposed projects. See a list of sustainability initiatives.
+ 14 - 6 | § ¶
Parkwood/Gibsonville Firefighter Louis Adams Dies
Firenews has posted details on the passing of firefighter/EMT Louis Adams, 46, who died yesterday, December 15, at Duke Medical Center. He suffered a cardiac arrest at a fitness center near his home in Burlington, one week prior. Adams was a full-time member of the Parkwood Fire Department in Durham County, and a volunteer at the Gibsonville Fire Department in Alamance Guilford County. Funeral arrangements are pending, and anticipated to be held in Greensboro. Read the entire article.
+ 12 - 8 | § ¶
Make Sure Your Telephone Is Set Up To Properly Interact With 9-1-1 Center
The Raleigh-Wake County Emergency Communication Center (ECC) recently posted a press release calling attention to telephone devices and the importance of ensuring that they're configured to correctly interact with 911. The release covers conventional, cellular, and VoIP telephones, and 911 issues there in. For example, if you move or change phone companies but keep the same phone number, verify with the new carrier that address database record has been updated with your new location. Read the entire press release.


+ 15 - 11 | § ¶
Yesterday's Two Alarm Fire in Cary / Kilmory Road
Sunday morning saw a two-alarm house fire at 1232 Kilmory Drive in Cary. With reports from callers of fire showing in the front of the structure, a second alarm was requested while units were en route. Engine 4 was first on scene with fire showing through the roof, front, and rear of a split-level frame residence with 1,317 square-feet. Built in 1978. The alarm time was about 10:15 a.m. The fire was reported controlled within about 20 minutes. Ladder 3 was subsequently raised during overhaul. Units on scene included Engine 4, Engine 4, Engine 3, Engine 5, Ladder 3, Ladder 5, Truck 7, Rescue 2, Rescue 4, Battalion 2, Battalion 1, Apex Engine 3, two Cary EMS units, Cary EMS District 5, and WC 1. "C" shift was working. See my photos. Also see this short WRAL story.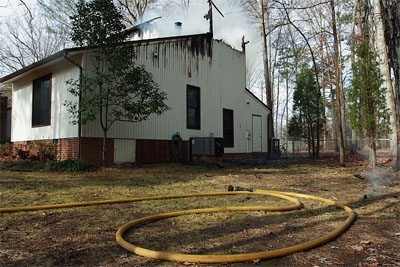 + 13 - 11 | § ¶
Ladder 1 + Tow Truck
Lee Wilson took this photo yesterday of Ladder 1, after it was towed from Station 1. Click to enlarge:

+ 11 - 12 | § ¶
News & Observer Print Edition Link
Speaking of the News & Observer, the Print Edition link has been removed from the main page of the web site. It might be buried in a sub-menu, but I haven't found it. If you also read the paper each day using that link, simply add "/print" to the web site address. e.g., newobserver.com/print. Works like a charm.
+ 9 - 9 | § ¶
Police Pooh-Pooh Concerns Over Horse Dung
Or, doo doo occurs. Today's News & Observer answers a burning question about the Raleigh Police Dpeartment's mounted police unit and what they leave behind. The Triangle Troubleshooter sniffs around the issue of fertilizer collection technology and why Flash, Ike, Cody, Blade, and Cisco aren't equipped with horsey bags. Safety issue for one, health problems for another. Makes perfect sense. Passes the smell test. No bum rap from this article. The mounted police unit, interestingly, began 20 years ago. NCSU police also have one, but Chapel Hill and Durham do not. Read the article.
+ 13 - 12 | § ¶
Civilian Defense Materials, 1942
From the News & Observer article on February 17, 1942, the national Office of Civilian Defense prepared estimates of the emergency materials needed in all cities within 300 miles of either coast, as well as key inland defense cities. Raleigh, with a population over 47,000, would receive the following:

26,264 gas masks of four types
9 teams and 4 stations, surgical equipment for
36 stretchers
108 canvas cots
81 first aid belts
46 identification tags
2,760 arm bands
1,380 gas-proof capes
920 steel helmets
184 fireman's helmets
184 pairs of fireman's hip boots
184 fireman's coats
184 pairs of fireman's pants
11 pumper units, firefighting equipment for
540 block units (equipment for?)
+ 12 - 9 | § ¶
Firefighting Bond Issue, 1942
As the city of Raleigh mobilized for civilian defense after the attack on Pearl Harbor on December 7, 1941, the fire department expressed expansion needs to city officials. They sought two new fire stations, a replacement for Station 1 on West Morgan Street-- an 1896 structure condemned by the city and already sold to the State, but not yet vacated, and with a new site already purchased on Dawson Street-- and a sixth station to serve newly annexed areas to the northwest.
Fire officials also sought three new pieces of apparatus, an aerial ladder, a service truck and a pumper. The current aerial ladder was a 1939/1919 model, the current service truck a 1922 model, and the newest pumpers were built in 1936, 1926, and 1925. The fire department also sought extensions to the fire alarm system. In January, a bond issue was approved that included $162,000 for these items. In March, voters approved the firefighting funding as well as money for water system improvements.
What happened next? To be determined in subsequent research. Station 1 was not constructed for another 10 years. Restriction on building materials likely impacted this. Instead, it relocated to old Station 2 in 1942. The fire department did construct a new alarm house on the Dawson Street lot that year, however. Station 6 was opened the following year, though in a rented property. A new Station 6 was opened in 1948. (The new station took longer than expected. When first put to bid, maybe in 1946, there were no takers, if memory serves.)
None of the planned three pieces of new apparatus were purchased. Again, wartime restrictions likely impacted this. Later that year, a 1919 American LaFrance pumper was purchased used from Farmville, NC. The first new pumper wasn't purchased until 1949. The first new aerial ladder appeared in 1958, and the first new service truck (built by firefighters) was placed in service in 1963. More to follow, as it's uncovered.
+ 12 - 6 | § ¶
Uncle Milton's Pet's Eye View Camera
For your Friday amusement, here's an idea for pet owners who are curious what their cats and dogs see during the day. Forget helmet cams, here's a collar cam. Clips on the collar. Interval time of 1, 5, 15 minutes. Stores about 40 photos. Rechargeable battery. Felix D. Cat is wearing his this morning. We'll see what happens. The only limitation looks to be the battery life, which is good for 400 charges (say the instructions). Learn more from Uncle Milton.


+ 10 - 10 | § ¶
Lightning Strike Destroys Chapel Hill Home
FireNews has posted photos of yesterday's three-alarm house fire near the Chapel Hill Country Club. Andrew Wallace took this image of Durham's E16, a quint, in operation. CHFD, Durham, New Hope, and Parkwood responded. One firefighter was transported with chest pains. The 6,000 square-foot house at 1067 Canterbury Lane was undergoing a major renovation. See and read more.


+ 10 - 12 | § ¶
Best Place to Obtain a Digital Trunking Scanner?
A reader inquires, what's the best place to obtain a digital trunking scanner that will receive the Wake County Motorola digital system? Here's my take, though it has been over two years since I acquired my scanners. Readers, please add, edit, or update my information. There are two brands of digitial trunking scanners to consider. Uniden and Radio Shack. Both have hand-held and base versions. Both are priced between $400 and $600. They may be cheaper on eBay, at times. Used versions are also available on eBay. Both can be programmed by hand, but the task is made far easier when using a computer. I have experience using the Radio Shack base unit, programmed using third-party software (not free) and a configuration file sent from a friend. It's worked fine, no complaints. How do Uniden digital trunking scanners differ? I await reader respectives there. Where's the best place to obtain them? Ditto, readers please advise.
+ 9 - 10 | § ¶
Intense Fire
Sandy Huffaker took this picture of the intense fire started after an FA-18D military aircraft crashed into a residential neighborhood today. Two people on the ground were killed. The Getty Images image appears in a New York Times web article. Click to enlarge:


+ 12 - 10 | § ¶
Working Fires
'Tis the season for structure fires. Sunday morning to Monday morning saw at least four working fires: Raleigh at 2712 Holloway Road (house/attic, 8:41 p.m.), Garner at 5401 Massengill Court (house/garage, about 1:30 p.m.), Durham Highway at 3004 Club Drive (vacant house, about 11:00 p.m.), and New Hope at 4620 Watkins Road (house, about 3:30 p.m.). Readers, add details as desired.
+ 11 - 14 | § ¶
Everyday Heroics in the ER
Today's News & Observer has a short feature on the WakeMed emergency room, which it notes is the state's second busiest ER. Read the entire article. What stories do you have to tell? Here's the web page for the Raleigh campus Emergency/Trauma Center.


WakeMed Photo
+ 15 - 9 | § ¶
NTSB: McCall's Crash Likely Due to Pilot Error
The Clayton News-Star reports that the National Transportation Safety Board reports that pilot error was the probably cause of the fatal crash on September 21, 2007, of a single-engine plane into McCall's restaurant. Read the entire article. And here's the NTSB information on same. Ditto the prior blog post.


+ 17 - 7 | § ¶
USAR Members Honored By City Council
Members of N.C. USAR Task Force #8 were honored by the Raleigh City Council on Tuesday, December 6, for their role in the rescue of two lost hikers in Burke County in November. Lee Wilson has posted photos of the ceremony. You can also read the original press release. Learn more about Task Force 8.


+ 9 - 11 | § ¶
Funeral Arrangements for A.J. Johnson
The funeral arrangements for Archer Lodge and Raleigh Firefighter Andrew J. "A.J." Johnson are as follows:

Visitation on Sunday, December 7 at 1500 hours
McLaurin Funeral Home
12830 US 70 Highway West (see map)
Clayton, NC

Funeral on Monday, December 8t at 1400 hours
Powhatan Freewill Baptist Church
3468 Powhatan Road (see map)
Clayton, NC
READ MORE
+ 13 - 11 | § ¶
Why We Sign Our Names
December to January is a great time for change. For this blog, the New Year could mean new things. Maybe an update to the blogging software, when the next version of Pivot is ready. Maybe we'll start, say, moderating comments. I continue to mull on the latter. Moderated comments, meaning reader remarks that require approval before appearing, would negate the need to occasionally delete them.
Why does Mike delete comments? The criteria are fairly simple. First, if the comment is lewd, crude, or otherwise inappropriate. These are pretty doggone rare. Second, if the comment is (a.) anonymous and (b.) addresses a sensitive or incendiary topic. Those deletions are infrequent, but not uncommon. Why delete comments in the second category, you ask? It's the lack of a name.
No matter how powerful, relevant, or thought-provoking a perspective might offer on a more sensitive or incendiary topic, the lack of a name negates its value. Too many readers simply see red when something about a prickly subject is signed "Guest," "Friend," "Wondering," etc. The message itself might be fine. The timing of the message might be fine. But the fact that it's unsigned turns everybody off. We no longer "hear" what you're saying, because we can't get past that you're speaking from behind the curtain. Experience shows that that lead to a deteriorating quality of conversation, and a host of negative feelings all around. Thus, on this blog, unsigned comments about sensitive stuff are preemptively deleted.
+ 12 - 7 | § ¶
Remembering A.J.
Photographers Lee Wilson and Mike Legeros are collecting photos to remember Firefighter Andrew J. "A.J." Johnson, who passed away this afternoon. We're compiling our incident, event, and training photos from both Raleigh and Archer Lodge. The photos can be viewed at www.legeros.com/temp/aj. If you also have photos of A.J., feel free to contribute. Just mail them to Mike. The below collage can also be slightly enlarged:


+ 9 - 9 | § ¶
Firefighter Ken Gordon Named Cary Employee of the Year
With nearly six years of employment with the Town of Cary and an outstanding commitment to teamwork and service, Ken Gordon has been named the Town of Cary's 2008 Employee of the Year. Gordon, 49, currently serves as a Firefighter II and was chosen from a field of 16 excellent nominees from the Town's nearly 1,115 employees. Gordon is the first nominee from the Fire Department to ever receive the Employee of the Year award. Read the entire press release.


+ 11 - 8 | § ¶
Builders Fight New Circuit Breaker Rule
Today's News & Observer reports on an initiative to repeal a requirement that new homes have a special circuit breaker that can prevent electrical fires. The devices are called arc fault circuit interrupters, writes the paper. They're advanced versions of circuit breakers and can detect the slight variations in current often caused by frayed wire. Such fluctuations can lead to fires, and account for 40,000 home fires a year. The breakers are already required for bedrooms in new North Carolina homes, and the new rule requires breakers in nearly all rooms in new homes. Read the entire article. For more information on the technology, do a quick Google search.There are fact sheets and news articles and even this Wikipedia page. Sounds good for older home owners as well, such my myself. Sounds like a good Christmas gift to ourselves, an electrician's call.
+ 10 - 12 | § ¶
Firefighter Critically Injured in ATV Wreck
As many have heard and WRAL now reports, Archer Lodge and Raleigh firefighter Andrew "A. J." Johnson remains in critical condition at WakeMed after a vehicle-accident yesterday. Johnson and a second firefighter, Kirby Turner, were injured Tuesday when their all-terrain vehicle collided with a car. The accident occured on Buffaloe Road in Archer Lodge about 5:15 p.m. Both were off-duty. Turner, an Archer Lodge and Rocky Mount firefighter, was treated at the hospital and released.
+ 15 - 6 | § ¶
Fire Truck Book Cart
From a librarian friend, here's the second place winner in this year's Pimp My Bookcart contest from Unshelved. Named Phoenix Rising, the fire truck book cart was created by Harlem High School Welding 3. Learn more and see larger photos. The second-place prize was a Smith Systems Mini 3 Sloping Book Truck (retail value $305) of any color, and shipped free of charge. The contest is open to libraries, schools, bookstores, or any other organization with a book cart "in need of some spiffing up."


+ 12 - 8 | § ¶
Watch Out For Cyclists
This one's making the rounds, a perception test that's part of a public service campgain to reduce car-bicycle accidents in England. Pretty cool.


+ 11 - 11 | § ¶
Telecommunicator Consoles
Speaking of multiple monitors, here's how the telecommunicator consoles at the Raleigh-Wake Emergency Communications Center are arranged. Seven, count 'em seven monitors are utilized for some consoles! See them in operation.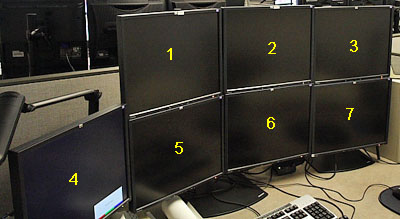 Here's what's what:
Advance Tactical Mapping (ATM), which combines Graphic Information System (GIS), Global Positioning System (GPS), and Automatic Vehicle Locator (AVL) technologies. It's interfaced with the computer-aided dispatch (CAD) system, and is linked to the in-vehicle navigation of responding units. The ATM shows all incidents for the agency that the telecommunicator is logged into.

CAD unit status monitor, which shows all active units whether in service, out of service, or assigned to an incident. Law enforcement units appear only when officers log into their mobile terminals. Fire and EMS units are displayed 24/7, regardless of their mobile terminal or DEK box status.

Phone map, which is interfaced with the telephone system and displays the location of the caller. If zoomed out, shows all active callers. Also shows wireless callers and the cell tower they are utilizing.

Radio console, which controls the VHF, UHF, and 800 MHz trunking, patching, paging, and multi-channel simultaneous selection. It is interfaced with CAD and Locution. Not present on non-radio (call taker) consoles.

CAD data entry, for call takers. Also shows dispatch information, and incident updates.

CAD incident status monitor, shows all active incidents which are categorized as Pending (calls waiting to be dispatched), Dispatched, Stacked (low priority calls assigned to a law officer's mobile terminal when the officer is already dispatched to another incident), and Scheduled (held calls that appear at appointed times, such as funeral escorts).

911 telephone system, shows Automatic Number Identification (ANI) and Automatic Location Identification (ALI). It is interfaced with TDD (Telecommunications Device for the Deaf) and has one-touch transfers. Interfaced with the phone map system and CAD.
+ 9 - 11 | § ¶
Book Signing on Saturday
This is a reminder that Yours Truly appears Saturday, December 6, at a book signing at Barnes & Noble bookstore at Crabtree Valley Mall. From 1:00 to 3:00 p.m., there'll be a handful of local history authors and their Images of America books from Arcadia Publishing: Clayton - Pamela Lipscomb Baumgartner and Todd Johnson,Holly Springs - Linda R. Harper for the Town of Holly Springs,Morrisville - Ernest Dollar,North Carolina State University - Lynn Salsi and Burke Salsi Jr.,Railroads of North Carolina - Alan Colemans,Raleigh & Wake County Firefighting - Michael J. Legeros,Raleigh & Wake County Firefighting, Volume II - Michael J. Legeros, and Raleigh's Reynolds Coliseum - Craig Chappelow.