+ 12 - 9 | § ¶
Caption This Photo / Crack!
'Twas the protective filter that took the beating, when my camera came in contact with a piece of exercise equipment at a fire station this morning. Might've been avoided outright, had my lens hood been mounted. That went missing yesterday, maybe at the house fire on Graham Street. Replacements for both have been ordered. The new UV filter is coming from Korea, via far-cheaper eBay prices. We'll see how that works out.


+ 14 - 7 | § ¶
Double Coverage in Cameron Village
Both of your favorite fire photographers were on scene at yesterday morning at a basement fire at a house on Graham Street, off Daniels Street, which is in Cameron Village. Engine 5 found fire in the basement of a one-story occupied dwelling. Engine 6 brought the water. Controlled in about a half-hour, but with extensive overhaul. See their photos (Lee Wilson and Mike Legeros) for a full incident description. [ Lee's Flickr site appears temporarily unavailable. Don't be, um, alarmed. ]


Mike Legeros photo

Lee Wilson photo
+ 9 - 11 | § ¶
Combat-Ready Firefighting?
Came across this yesterday, a Fire Engineering Blog Network posting titled What is a "combat-ready" engine company? Firefighter Nick Martin (DCFD) answers the question, which was posed by one of his readers. For those who ride an engine, he writes, what is combat ready? His take is that every alarm should be treated as the "fire of your career" until proven otherwise.
So he stresses such points as (1.) come off the truck dressed and wearing gloves, (2.) don't don your mask until at the entrance to the fire (and do it quickly), (3.) establish a water supply every time, and (4.) if making an interior attack, make it an aggressive interior attack. He has a couple more points. Read the posting, discuss as desired. Good, meaty topic there!
Next question, what is combat-ready fire photography look like? Same thing. Treat every shoot like it's the big one. Your gear is always ready, from keeping your batteries charged (both in-camera and in-bag) to putting the memory cards back in your camera after you're done downloading. It means gearing-up on arrival, such as loading your pockets (or vest) with your goodies. Since you'll be parked farther from the scene, walking back the car to reload or grab your flash will surely mean missed shots. And even if your name isn't Shirley.

+ 6 - 8 | § ¶
Black Mountain Firefighters Struck at Accident Scene
The Asheville Citizen-Times this morning has details on last night's responder accident in Black Mountain. Two firefighters and a police cruiser with an officer inside were struck at an accident scene on Interstate 40. The incident began as a single-vehicle accident in the westbound lanes shortly after 5:00 p.m. The traffic was heavy, the rain was heavy, and the roadway consisted of a slight curve going downhill. A few minutes after the first crash, the second vehicle hydroplaned into the police cruiser, which was pushed into the firefighters tending to the first driver. The firefighters and police officer were transported with minor injuries to Mission Hospital about 5:30 p.m. Read the Citizen-Times story. See also this WLOS video report.
+ 4 - 11 | § ¶
Old Roxobel Engine
Photographer Lee Wilson found the Roxobel Fire Department's old Engine 5 off Highway 48 in Halifax County. The Ford/American LaFrance pumper originally served in Northampton County, where RFD is located on Highway 308. See more photos from Lee's long weekend at Lake Gaston.



Lee Wilson photo
+ 14 - 5 | § ¶
Raleigh Fire Department Centennial Coins For Sale
Looking for a good holiday gift on Black Friday Cyber Monday? How about a Raleigh Fire Department Centennial Challenge Coin? These full-color coins cost $10 each, including sales tax. They're 1.5 inches in diameter, and a good size for carrying in pockets or wallets. The coins are available for purchase online at www.raleighfirehistory.org. They're being sold by the Raleigh Fire Department Historical Society. Next year is the 100th anniversary of the Raleigh Fire Department. Various activities and celebrations are being planned, including a parade and muster downtown on June 9, 2012. These coins are the first fundraiser for the centennial activities. Good coins and a good purchase. Buy a couple and give as gifts. They're pretty cool. Click to enlarge:

+ 12 - 10 | § ¶
Night Photography and Off-Camera Flash
In our recent and still unfinished posting on How to Take Fire Photos at Night, a flash bracket was mentioned as a solution for reducing the glow from reflective surfaces. Such as a Stroboframe. To test that theory, an external and off-camera flash was tried at last night's house fire on Ujamma Drive. My Canon 50D was in one hand, and my Canon Speedlite 580EX was in the other. Sync cord connected the two. Below are examples of the results, which aren't bad for a first attempt.
Top shot combines (a.) low ambient light with (b.) lots of reflective striping. Alas, the striping on each person's gear is still glowing pretty strong. Middle shot combines (a.) good ambient light with (b.) some reflective striping. The striping isn't quite as pronounced, and almost blends into the scene. The bottom photo combines (a.) good ambient light with (b.) no reflective striping or surfaces. That one's the best of the lot, and really demonstrates the benefit of an external flash.
The settings used for these shots? Program (P) mode, evaluative metering, and ISO 2500 or ISO 3200. Plus flash exposure compensation, but which didn't record in the EXIF settings for some reason. Lots of flash exposure adjustments during the shooting. Dialing up, dialing down. Trying to get the blend just right. We'll try this again another night, and probably pick up a flash bracket along the way. Looks to work reasonably well.

1/60 TV, 4.0 Av, 2500 ISO, Evaluative Metering
1/60 Tv, 4.0 Av, 3200 ISO, Evaluative Metering
1/60 Tv, 4.0 Av, 3200 ISO, Evaluative Metering
+ 15 - 8 | § ¶
Today's House Fire in Southern Wake County
Arthur Pierce Road off Holly Springs Road. Fairview, Cary, Apex, Holly Springs, Swift Creek, and Western Wake fire departments. Wake County and Apex EMS. Give me a few hours or overnight to post pictures, and sort out exactly which units were there, who else was covering, and other sundry details. Three news crews on scene, so watch your television. Click to enlarge:


+ 10 - 9 | § ¶
Morning Mayhem - November 26, 2011
Looks like just a handful of incidents of retail mayhem on Black Friday, both locally and around the state. In the Triangle, it was a largely quiet day for shoppers as this News & Observer story reports. My mid-morning wallet-opening-- just a couple stores-- was mild. (There are deals online a-plenty, however, and in particular at DiecastModels.co. Good/great discounts on fire apparatus models by TWH.) Other happenings in town included three (more) hotel and motel robberies in Raleigh (N&O story), and an early evening house fire in Raleigh (Legeros photos). And everyone ate leftovers and napped.
+ 11 - 2 | § ¶
UPDATE: Hot Springs Firefighter Dies After Search
Captain Johnny Norton of the Hot Springs Fire Department in Madison County died on Thursday, November 24. He was 56 years old and an active member of the department for the last 37 years. He also worked as a crew member for the North Carolina Forest Service for many years. Captain Norton had responded to a search on the Appalachian Trail in the Hot Springs area on November 21, where he assisted in locating a missing hiker. He experienced chest pains at his residence the next day, and was transported Memorial Mission Hospital in Asheville. He passed away two days later
Funeral Arrangements
Visitation on Saturday, November 26, from 5:00 p.m. to 9:00 p.m., at Blue Ridge Funeral Home, 7626 NC Highway 213, Mars Hill, NC.
Memorial service on Sunday, November 27, at 2:00 p.m., at Solid Rock Full Gospel Church, 4154 US Highway 25-70, Hot Springs, NC.
Graveside service: Fairview Cemetery, 202 Fairview Loop Road, Hot Springs, NC.
Notes
Emergency apparatus and personnel are requested to arrive at Solid Rock Church at 1:00 p.m., if attending. Parking for apparatus will be identified.
For more information, contact Jeff Willis, Madison County Emergency Management Coordinatorat 828-649-9608, jwillis@madisoncountync.org.
Sources:
FireNews.net
, North Carolina State Firemen's Association.
+ 9 - 2 | § ¶
Vintage Photo of Lexington Fire Department
Found on eBay, here's the Lexington Fire Department circa 1916 to 1920. That's the seller description, that is. Better timeframe is probably 1923 to 1929, which are the dates of Sanborn Maps in my files. The town had one American LaFrance pumper in 1923, and two in 1929. (They also suffered three line of duty deaths in 1926, when their two engines collided. Read that story.) Neat photo. And if it looks a little funny in the center, that's because there was a watermark that we've removed. Click to enlarge:


+ 7 - 11 | § ¶
Raleigh City Museum Programs on Fire, Weather Disasters, Saturday, Dec. 3
Press release. On Saturday, December 3, visit the Raleigh City Museum from 1:00 to 4:00 p.m. and learn about the Disasters in Raleigh. Two programs will be conducted on fire and weather disasters in the Capitol City. A Raleigh Fire Department fire engine will also be present to see up-close.
Beginning at 1:30 p.m., the museum will have active and retired members of the Raleigh Fire Department speaking about their experiences fighting some of the city's biggest fires. At 2:00 p.m., fire department historian Mike Legeros will talk about the history of disastrous fires in Raleigh.
At 3:00 p.m., Nate Johnson, WRAL meteorologist, will speak on the weather disasters of Raleigh and his experiences studying and tracking them. This program is free and informational for both adults and children.
The Raleigh City Museum is located in the Historic Briggs Building at 220 Fayetteville Street. The museum is open Tuesday through Friday, 10:00 a.m. to 4:00 p.m., and on Saturday from 1:00 p.m. to 4:00 p.m. Admission to the museum and its programs is free.
Come explore their newest exhibits Nature Unleashed: Disasters in Raleigh and The [R]evolution of Media: The history of newspaper, radio, and television in Raleigh. Permanent exhibits include It Started With One Thousand Acres: Raleigh and its People, Raleigh's City Flag: 100 Years, and Let Us March On: Raleigh's Journey Towards Civil Rights.
For more information call Stormi Souter at (919) 832-3775 ext. 23 or visit their website at http://www.raleighcitymuseum.org.
+ 12 - 9 | § ¶
Restaurant Damaged in Downtown Youngsville
That's Wake Forest Ladder 1 operating at 120 Main Street in downtown Youngsville last night. They were special-called for a structure fire at a two-story commercial structure. Here's a brief news story on same. Fire started in an upstairs apartment, and spread to a restaurant on the first floor. Franklinton and Brassfield fire departments also responded, along with Wake Forest Ladder 1, Engine 1, and Car 2. The 1912 building burned last year, as this North Raleigh News story notes. The fire on September 26, 2010, started in the restaurant. Yours Truly wandered that way last night, and enjoyed the post-meal drive. Overhaul was underway by then. See those photos.


+ 12 - 6 | § ¶
Old Sections of Leesville Road
Last night's house fire at 10700 Leesville Road-- Durham Highway, Raleigh, Falls, Bay Leaf, and Bethesda fire departments-- included an interesting water point, a hydrant located in the front yard of the 7,000+ square-foot structure. How'd that hydrant get there? Most likely, it's a leftover from when that section of Leesville Road was located east of its present location. Below is an annotated Google Maps, with information drawn from historic aerial photos available on the Wake County IMAPS site. When Interstate 540 was built, Leesville Road was straightened. The 10000 block was relocated a number of yards west. What other changes to both the roadway and the community do readers recall? Click once or twice to enlarge:



+ 6 - 10 | § ¶
Morning Reading - November 23, 2011
Good morning Raleigh. Tomorrow is a holiday. Then the big holiday happens in another month. Between and after the two are big meals, big parties, gifts galore, and good will and good cheer all around. Unless you're reading this blog, and feeling a little argumentative. Pick a topic, any topic, and some will enjoy arguing particular aspects. Such as, say, warning lights on a pick-up truck. Maybe conflict is a favorite spice of conversation around here...
+ 9 - 8 | § ¶
Waiting for the Big One in Charlotte
From the Carolinas Fire Page mailing list comes one of the best articles we've read in a while. Charlotte Magazine has published this story in their December issue. It's written by Jeremy Markovich and has photographs by Nancy Pierce. They chronicle twenty-four hours with Engine 15, e.g the Shamrock Express, and the city's busiest.
From 8 p.m. to 8 p.m., it's a day and a night in the life of an urban fire company in the Carolinas. Evening visit to the shop. Baseball on television. Late-night ice cream. Shift change. Grocery run. And medical calls at all hours. But no "big ones."
Notes the story: "That's normal. Firefighters in Charlotte don't spend much time fighting fires. From July 2009 through July 2010, CFD responded to 93,139 incidents. Only one in every forty-five calls is for something that might be burning. Credit the strict fire codes, the sprinklers, and regulations that go so far as to ban specific sorts of shingles."
But they're ready and willing and even eager to fight fire. This might be the best quote in the thing: "Fires destroy. They burn. They kill. But firefighters want to fight fires. They train to fight big fires. They want to use that training. But using that training puts them in danger. This is The Paradox." Indeed it is! Read and enjoy the story.


Nancy Pierce/Charlotte Magazine photo
+ 10 - 5 | § ¶
By Sea, By Air, By Land
Random YouTube videos for Tuesday morning enjoyment. Wilmington's fire boat Atlantic VI departs dock in March 2011, Charlotte firefighter go airborne on NC HART missing person mission in June 2009, Rocky Mount Squad 2 leaves the station for a medical call in July 2011. Very short clips each.

+ 11 - 4 | § ¶
Placeholder - November 21, 2011
The muse eludes me. So with nothing notable to say on a Monday morning, here instead is a picture from a few yars ago, two alarms on Calumet Drive on June 11, 2004. Night photo, so let's plug our ongoing posting on that subject. Was a dark and stormy night at that fire, with lightning in the distance. Rain and wind blew through not long after the Hawaiian shirt-wearing photographer left the scene, as memory serves.


+ 8 - 6 | § ¶
Big John
Big bad John. Sung by Jimmy Dean and composed by Dean and Roy Acuff. Released in September 1961, and became a number one record. Also won a grammy. Regarding sausage, Mr. Dean started that company with his brother Don in 1969. It was bought by Consolidated Foods in 1984, but he remained involved. He was the spokesman for Jimmy Dean Sausage until the early 2000s. Regarding James Bond movies, Mr. Dean played reclusive Las Vegas-living billionaire Willard Whyte. His classic quote that helps the plot turn: "Baja? I haven't got anything in Baja!" Regarding the giant toilet pictured below, that was photographed by Mrs. Blogger this morning at Raleigh's annual pre-Thanksgiving Christmas parade. There were fire trucks there, too!


+ 16 - 2 | § ¶
Update #3 - Guilford County Fire Services Study
November 19
FireNews.net is reporting that the final report has been released. The 229-page document is available here. [Link updated in 2020] They also make an editorial observation about the word "inefficient." It appears in the headline of this MyFOX8 story: "Guilford Volunteer Fire Departments Inefficient, Final Consultant Report Says." Notes the FN Editor, they searched the entire report and the word "inefficient" appears only once, and as a comment about a single department and by that department.
What does conclusions does the report draw? The authors make recommendations as prioritized into five categories:
Priority 1 - Immediate Internal Safety: No recommendations identified.
Priority 2 - Legal or Financial Exposure: Recommendations related to governance.
Priority 3 - Corrects a Service Delivery Issue: Various recommendations, from training to apparatus.
Priority 4 - Enhances the Delivery of a Service: Various recommendations, from policies to performance measures.
Priority 5 - A Good Thing to Do: Various recommendations, from service awards to public input.
--
READ MORE
+ 17 - 7 | § ¶
How To Take Photos of Fires at Night
This posting will be updated multiple times. First, with Mike's thoughts. Second, with Lee's input. Third, with revisions. Four, with more revisions. It's Saturday, so we can do this sort of thing. Check back often!
Sources are Canterbury Road incident photos by Mike Legeros and Lee Wilson.
How to Take Photos of Fires at Night
That's the magic question, isn't. There's this building on fire at night and the flames are as bright as all get-out. The scene is just glowing with light and should be no problem for photos, right? Then you take a picture and get something like this:


1/100 Tv, 7.1 Av, 2500 IS0, Spot Meter, P Mode, Canon 50D
No Flash / Mike Legeros photo


But what you really wanted something like this:


1/13 Tv, 4.0 Av, 2500 IS0, Spot Meter, P Mode, Canon 50D
No Flash / Mike Legeros photo

But wait! The top photo is still useful the flames and photos are better defined. The top is photo is thus more accurate with the depiction of the amount of the fire. The bottom photo can give the impression of more fire than there really was. Why? What's happening?
READ MORE
+ 13 - 5 | § ¶
Cary's New Training Chief Vehicle
From a reader, here's Cary's new Car 5. There's another one either identical or similar that's replacing an older Dodge pick-me-up truck. The Cary Fire Department's also placed a new Car 1 in service, a Chevy Impala.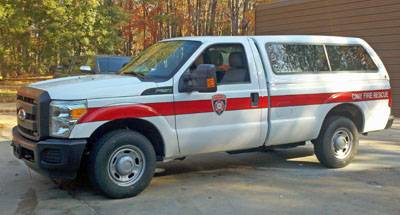 + 6 - 9 | § ¶
Brother Can You Spare a Pumper?
That's a Bay Leaf pumper at Western Wake today, where the west-side fire department is two-down on first-out units. Their rescue truck developed engine problems this week, and their other second engine is in Greensboro for transmission work. They're thankful for the assist. What other short- or long-term apparatus loans are remembered around Raleigh and Wake County, either in recent years or back in the day?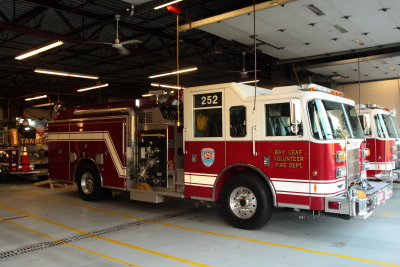 + 13 - 2 | § ¶
What We See is What We Think
My wife will occasionally ask of an incident, do they really need that many fire trucks? Hers is an interesting question, because she's an insider in the fire service. She knows quite a bit more than the average citizen about their motus operandi. Yet she still has that question from time to time, in those odd moments when the response strikes her as disproportional to the perceived need. Key word, perceived.
Now let's look at this picture from the News & Observer last week. Police tactical squad in action in Chapel Hill. Katelyn Ferral snapped the shot. From the photojournalism perspective, it's a great photo. It conveys action. It's not a static shot. There's "happening" happening in the picture. (Alas, I am not versed enough in the language of the craft to fully articulate all the reasons. My gut is helping to feed my head here.)


Katelyn Ferral/News & Observer photo

And it's a photo taken on the streets of Chapel Hill. That's the college town that's just up the road, for anyone unfamiliar with the Raleigh-Durham metropolitan area. Would we call it a sleepy college town? Probably not, but the place is still small enough to add hefty contextual weight to the image.
Thus it shouldn't surprise anyone that the picture has caused heartburn. Even before the first news cycle finished, the outcome of that front-page photo-- reactions to the specific picture, as well as the incident itself-- was preordained. Many questions would be asked of the police department and along familiar lines: did the really need that many guns / that much force / those particular tactics?
READ MORE
+ 13 - 2 | § ¶
Two Alarms on Canterbury Road
Here's a view from this morning's two-alarm fire on Canterbury Road. Engine 6 arrived at a 4,000 square-foot, single-family dwelling with heavy fire showing through the roof. Offensive operations, with a pause for aerial application from Ladder 4. This photo from Yours Trauly was taken early into the incident. That's a member of Engine 14 on the nozzle. Lots of reds and oranges in this set. Very bright around the flames, very dark everywhere else. First alarm: E6, E5, E16, L4, R3, B3 Working fire: E14, A1, C10, C20, C40. Second alarm: E9, E1, E13, L3, R2, B4. Also: C5, C1. Medical: EMS 2, EMS 8, EMS 11, EMS 6, EMS 3, EMS 5, EMS 22, D1, T1. Read the incident description and see more photos from Legeros. See also photos from Lee Wilson, now posted.



+ 5 - 10 | § ¶
Running The Rigs Out on Rainy Days, 1885
In days of old, when crews were bold, and motor trucks hadn't been invented, wooden fire apparatus required maintenance to keep them hydrated. Below is an annual report excerp from 1885, where Chief Engineer Thomas W. Blake reported that apparatus stored in the basement of the Market House were being damaged by the heat of the "eating houses" that also shared the structure.
He noted "The ladders and running gear of the trucks are often so shrunk and dried out as to require their being run out on rainy days to prevent great damage to them, while the valves and pumps of the Hand Engine are seriously impaired by the steady artificial heat." Click once or twice to enlarge and see the excerpt:

Said apparatus was all hand-pulled, and would have included the Hook & Ladder Company's 1872 service ladder truck, the Victor Fire Company's 1875 Rumsey & Company hand engine, and the Bucket & Ladder Company's bucket and ladder truck.
Here's a 37-page history
in PDF format about the Raleigh Fire Department in the 1880s and 1890s. Perhaps readers versed in wagons can tell more about their maintenance needs.
+ 13 - 3 | § ¶
More Former Fire Stations
Speaking of former firehouse buildings, reader Lee Kennedy has passed along these photos from the eastern side of the state They're queued for addition to my former firehouse database. Top photo is the old Hickory Grove fire station in Bladen County, located in Highway 210 near Highway 701, near Garland. Building appears to be an old school, which a sliding-track door down the middle. Two bays on right, and one one the left, facing the highway. Their new station is to the left of this building, facing Highway 201. Dates of service not known.
Bottom left is the old Chadbourn-Klondyke fire station in Columbus Station, located in the 200 block of East 1st Avenue. They've moved across the street to a nine-bay (!) building in the 200 block of N. Wilson Avenue. Dates of service not known. The old building is occupied by the public works department, with bays converted into doors and used by a Masonic Lodge or similar organization. Bottom right is the old Vandemere fire station in Pamlico County, located on Pennsylvania Avenue. Their new station is on the same streets, a few blocks down. Dates of service not known. Thanks Lee! Click to enlarge:

+ 10 - 3 | § ¶
Vintage Photo of Hickory City Hall
Found for sale on eBay, here's a splendid shot of the Hickory Municipal Building back in the day. The postcard is from the Albertype Company in Brooklyn, NY. The building was built or more likely completed in 1922. Charles Hook of Charlotte was the architect. The two-story fire station had two bays. Looks like the fire alarm bell was also atop the structure. The fire department relocated in 1961 and City Hall moved in 1977. At last check, the building was used as a community theater. Hickory also has a second former firehouse in the 1400 block of 1st Avenue SW, old Station 3. Need dates for that one's operation. See Mike's database on former firehouses. Click to enlarge:


+ 6 - 10 | § ¶
Today's House Fire in Durham
Aerial photos of a Durham house fire on Fletchers Chapel Road. See more, from WTVD. No other incident information at present.



WTVD photo
+ 13 - 2 | § ¶
Great Mistakes
Had a conversation recently about my experiences authoring my Raleigh & Wake County Firefighting books. Note the word "authoring," which I prefer over the word "writing." Those books were photo histories, if you will, and the amount of "writing" was comparatively minimal. Research was a bigger part of that process, and the months (and later years) of that work resulted in a nice, long list of historical facts. Most of my facts were correct, but there were some errors. My "big stack of data" contained mistakes and some of which made their way into those books. (Yours Truly was but an aspiring historian at this point, and with minimal experience as a researcher. He didn't know what he didn't know, neither with regard to specific points or larger contextual issues that would help spot specific goofs.)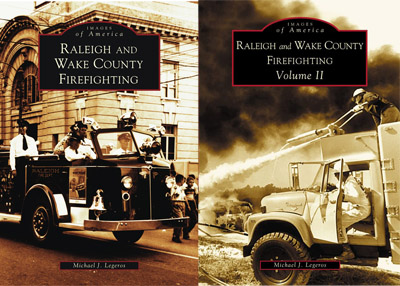 What were some of the whoppers? The most egregious is probably the claim that Sherwood Brockwell, Raleigh's first full-time fire chief, was also the first full-time fire chief in the country. Wrong! That one was called to the author's attention by a seasoned reader at the Baltimore Fire Expo, during my book sale at the Sunday flea market. He cited several departments that had full-time fire chiefs many years or even decades before Raleigh. (Where did that misstatement originate? It was drawn from a single source, a book about the history of Raleigh that was published maybe two decades ago. Based on subsequent research, the author of that book may have meant Brockwell was the youngest fire chief in America at the time. That statement was made at the time of his appointment and training. Was it true? Don't know!)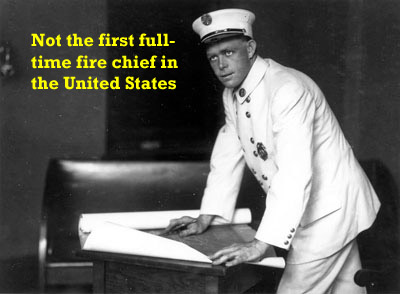 READ MORE
+ 4 - 9 | § ¶
Morning Reading - November 13, 2011
Good morning Raleigh. Nice and bright outside as I sit slightly tilting right, due to my office chair missing a screw. (Same might be said of said blogger!) Sunlight and lovely leaf colors compel, while computer tasks tempt. Photos to process here, history essay to finish there. And always the correspondence that's never quite timely enough. What to do, what to do.
+ 13 - 2 | § ¶
"Bodies" Everywhere
'Twas the scene in Selma this morning, where several fire and EMS departments participated in a mass-casualty drill. The scenario was a railroad crossing collision of a fuel tanker and a passenger train. The location was behind one of the fuel farms on Oak Roads. The props included a box car filled with victims both injured and vocal. After briefings at a nearby school, actual calls to the Johnston County emergency communications started after 9:00 a.m. (That gave them some practice as well.)
Yours Truly attended for a couple hours, and has posted some preliminary photos. (There's a minimum of fake blood this time, though we'll how the final set looks. Warning, these photos contain depictions of simulated injuries...) Good practice for everyone, and even this incident photographer. Though in the real deal, Camera Boy would likely be (a.) back a distance from the action and (b.) using his camera more discretely around victims. (Plus keeping the captured blood and victim's faces to a minimum.)
Who participated in today's event? Here's a best guess: Selma FD, Smithfield FD, Wilson's Mills FD, Pine Level FD, Micro FD, Bethany FD, Thanksgiving FD, Selma EMS, Smithfield EMS, Clayton EMS, 50-210 EMS, Four Oaks EMS, Johnston EMS, Selma PD, Johnston SO, Johnston FM, Johnston EM, North Carolina EM, Red Cross.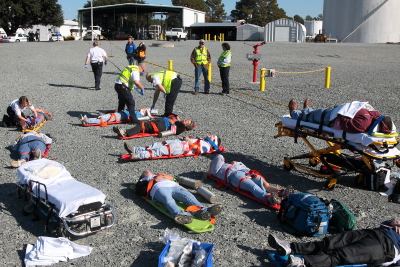 + 11 - 2 | § ¶
UPDATED: Fire Commission Meeting Notice & Documents - Nov. 17, 2011
Updated November 19
Highlights
Note that the minutes from Fire Commission meetings are increasingly detailed. See the draft minutes at the next minute, for more details on what happened at this meeting.
Fire Chief Fred Stough was introduced, the new chief of the Wake-New Hope Fire Department.
The Equipment Committee provided overviews of both an SCBA replacement for Fairview FD, and a turnout gear purchase. The latter will be a joint bid for over 500 sets. The county is joining with Raleigh FD, Cary FD, Raleigh-Durham Airport FD, Chapel Hill FD, Fayetteville FD, and Concord FD. Savings of $200 to $300 per set.
Some administrative issues were discussed, such as the commission's Rules of Procedures. The decision made to appoint a committee to review them, and see if there's value in any changes to the language. Also the Chair is working on appointing chairs for subcommittees that don't have.
The north region fire chiefs requested the commission (a.) acknowledge that health and wellness of fire department members is a priority and essential for the vitality of all county fire departments and (b.) support consideration of funding for annual member physical evaluations for all contract departments. Both Bay Leaf FD and Stony Hill FD provided information about their programs, and how they've help discover health issues with members. The commission made the decision to survey all fire chiefs, ask for their opinions and information any programs they are using.
The County Commissioner was asked about the status of issues with Eastern Wake FD. He expects them to be resolved, and with actions including greater county involvement in their operations.
Notice
The upcoming meeting of the Wake County Fire Commission is Thursday, November 17, at 7:00 p.m. The location is the Wake County EMS Training Facility, in the lower level of the Wake County Commons Building, 4011 Carya Drive. As the agenda and other documents are made available, we'll add them to this posting.
What is the fire commission? What's their role in county fire service leadership? See this related posting from earlier this year, where Messrs. Legeros, Rich, and Price presented an overview of fire service leadership in Wake County. Or consider attending the meeting. They're pretty interesting. Casual dress. Hawaiian shirts are even fine.
READ MORE
+ 6 - 9 | § ¶
Raleigh Fire Museum Closed / City Museum Program Postponed on Nov. 12
The regular scheduled opening of the Raleigh Fire Museum on Saturday, November 12, has been canceled, due to the completion of construction work at the Keeter Training Center. The Raleigh Fire Department Historical society apologizes for any inconvenience. Please plan to visit the museum on December 10, the second Saturday next month. The museum will be open during its regular hours from 10:00 a.m. to 2:00 p.m. Admission is free.

Also, the previously announced planned special program on Saturday, November 12, at the Raleigh City Museum on the history of firefighting in Raleigh has been postponed. The City Museum event was cancelled some weeks ago, and our press releases were modified at that time. This is a last-minute double-check, for people who may not have heard. Again, please accept our apologies for any inconvenience. The program will be rescheduled at a later date.
+ 7 - 8 | § ¶
Raleigh Professional Fire Fighters Association Semi-Annual Fundraising Concert
Press release. On Sunday, April 29, the Raleigh Professional Fire Fighters Association (RPFFA) will host The Temptations Review featuring Dennis Edwards, with special guests The Embers. Show time is 6:30 p.m. at Dorton Arena, at the North Carolina State Fairgrounds. Seating is general admission and the doors will open at 5:30 p.m. The RPFFA is a 501c5 non-profit organization and this concert is a semi-annual fundraiser.
Representatives will be calling area residents with an offer to purchase concert tickets. They will identify themselves as such, and all calls are scripted and will be recorded. Callers will not be representing or identifying themselves as City of Raleigh Fire Department personnel. The fundraising does not directly support, or affect the services provided by the City of Raleigh Fire Department.
Callers will not ask for payment over the phone and they do not accept credit cards. Checks are preferred, and PayPal will be accepted upon request. Those who agree to purchase tickets will receive a second phone call, 30 minutes later, to verify the purchase. Upon confirmation, the Raleigh Professional Fire Fighters Association will mail the tickets, accompanied by a thank-you letter, a supporter sticker, and a return envelope for sending payment. The RPFFA works on the honor system, and sends the tickets prior to receiving payment.
Activities supported and funded by the Raleigh Professional Fire Fighters Association are numerous. They include Camp Celebrate, a weekend camp for children ages 7 to 15 who have survived traumatic burn injuries; financial support for the Salvation Army, the Muscular Dystrophy Association, and The Jaycee Burn center at UNC Hospital; creating awareness of firefighter injuries, occupational illness, and the many hazards to which firefighters are exposed; and programs to create awareness for the safety of the public and firefighters.
Read entire press release, to learn more about the fundraiser and the Raleigh Professional Fire Fighters Association.
+ 3 - 9 | § ¶
Scenes From South Florida
Top to bottom, left to right. Wildland fire apparatus seen at Everglades National Park, at a location called "fire cache" on the map. About fifteen minutes from the Homestead, FL, entrance. Airport crash truck in Marathon, FL. One of two rigs, the second was a quick-attack mini-pumper. The town has two fire stations, this one with bays facing both the airport and Highway 1. GMC/Saulsbury monster pumper-tanker operated by the county fire department. No quick-dump on the thing. They don't use drop tanks in those parts. The roads are too narrow for shuttles, and there are drafting sources around every corner. Said one firefighter: homeowners know that we'll be driving across their lawns, if they have a fire. American LaFrance 700 series aerial ladder in Marathon, ex-New Jersey. Still runs fine, still passes ladder tests. Now a parade piece. Wife entirely amused that I spotted the thing in the rear bay, while approaching the station on the highway. It's called Tiller Vision. The Turtle Hospital, also in Marathon. Sea turtle rescue group. To the Turtle Mobile! No swimming, no kidding. Everglades National Park. Click to enlarge:

+ 10 - 1 | § ¶
Old Apparatus at CCCC ESTC
Holy acronyms, Batman! That's the Central Carolina Community College Emergency Services Training Center, located outside Sanford and where photographer Lee Wilson this week found a number of retired rigs from around our area. (The training center occupies the site of the old Sanford-Lee County airport, which closed in 2000.)
Shown left to right, top to bottom are Asheboro's 1971 Ward LaFrance pumper, North Chatham's 19?? Ford/Howe pumper, Sanford's 1968 American LaFrance AeroChief (Truck 215), Sanford's 19?? American LaFrance pumper (Engine 216), and Dunn's 1975 Mack/1976 Howe pumper (Engine 1532). See more photos, or see the whole series of his recent Lee and Chatham county explorations.



Lee Wilson photos
+ 14 - 3 | § ¶
Durham's New Squad 2
Our friends in Durham have passed along a couple photos of their new Squad 2, now in service at Fire Station 2. Three have been delivered, all 2011 Ford F-250 Super Duty light trucks. The utility bodies from the old squad trucks have been remounted, and the trucks updated with new paint, graphics, and lights. Squad 1 and Squad 2 are already in service. Squad 4 will soon be in service. The squad companies are used as first responder units in the busier inner-city district, and also respond to working fires.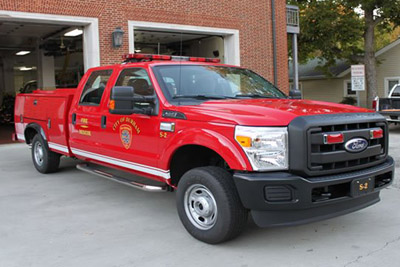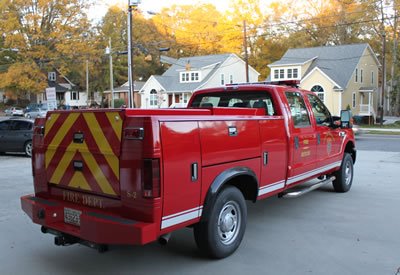 + 11 - 6 | § ¶
Morning Reading - November 8, 2011
Good morning Miami, er, Raleigh. Returning to town today, after a few days in Florida. Included some time in the Keys, and finding and researching former and historic fire stations in Key West. Was relaxing. More later.
Wake County Firefighter's Association meeting tonight - This is your reminder. Rolesville Fire Station is the location. Meal and meeting.
Holly Springs to get new fire station - News & Observer story with the latest on that project. Here's our last posting on same, with a linked demolition video and linked photos to the current temporary Station 2.
Crowder's Mountain Engine 55 accident - FireNews.net story from last week. Two firefighters transported with minor injuries. Engine 55 was returning from a call. It sustained an estimated $150,000 worth of damage.
Virginia Beach apparatus accident, seven injured - FireTruckBlog.com story from last week. Three firefighters transported as precaution after collision with car. Four people in the car also transported, one with serious injuries. Believe Firegeezer was observing last week that these seem to be daily things around the country, apparatus accidents at intersections. Have they always been happening this often?
+ 14 - 1 | § ¶
This Morning's Car Versus House
The latest vehicle-into-building resulted in minor injuries and subsequent charges for the fleeing driver. What looks like a good-sized sedan crashed into a vacant house near East Cabarrus and Alston streets just before midnight. WRAL has posted this story and a pair of photos, once of which is shown below.


WRAL photo
+ 10 - 5 | § ¶
Scotland Neck House Fire Video
Found via Google on YouTube from user cloudwalker501. Four-minute clip of November 2 house fire in Scotland Neck that killed an elderly resident. Looks late into the incident. Very good lighting, and presumably all from the scene lights. One of these days we'll make the leap to motion pictures. Here's a WRAL story about the early-morning blaze blamed on a kerosene heater.

+ 15 - 1 | § ¶
Big Pile Burns in Bertie
The Roanoke-Chowan New Herald has posted this photo of a seven-department auto recycling plant fire on Highway 11 in Aulander. They are reporting that Aulander, Millennium, Lewiston-Woodville, Roxobel, Kelford, and Ahoskie Rural fire departments are on scene. The late afternoon blaze was reportedly contained to a trash pile containing by-products of the automobile recycling process. Water is being shuttled to the scene. Might be a many-day operation, what do you think? Read the story.


Cal Bryant/Roanoke-Chowan News Herald
+ 12 - 0 | § ¶
Key West Mystery Towers / Missile Launch Site
Here's another set of interesting structures, these found at the end of Government Road in Key West and on the northern perimeter of Key West International Airport. These towers and other structures were part of a HAWK missile battery, one of four established on the island during the Cuban Missile Crisis. The web site www.missilesofkeywest.com has the full history. Here are more photos from our vacation explorations. The property is adjacent to a public park and is presently used for purposes including dog walking, a paintball course, and what looks like municipal storage. Can't think of a tie to the fire service for this posting, alas.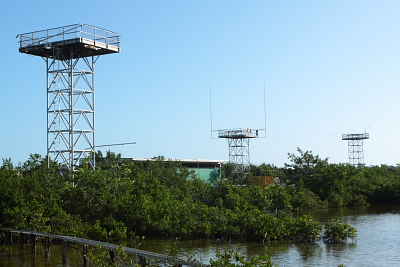 + 18 - 7 | § ¶
Miami Mystery Tower / NAS Richmond
Should you visit the Miami Zoo, located some 45 minutes south of the city, you'll notice a tall, thin, concrete structure just over the trees. Colored light yellow. With antennas on the top. Follow the signs to the Gold Coast Railroad Museum, and you'll see the thing get closer. Park beside the museum store, and the tower will be beside you.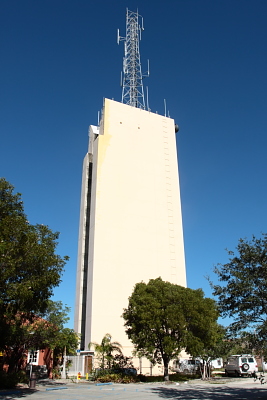 READ MORE
+ 8 - 11 | § ¶
Parked for Parking
Reporting from the road. Saw this at Miami International Airport. Staged mini-pumper of the Miami-Dade Fire Department's aviation division. They have two stations at that airport. Wonder how many other unmanned units are staged as such? Guess they ride there and check the truck each day, week, cycle, etc. Click to enlarge:

+ 7 - 8 | § ¶
Antiques From Lee County
Photographer Lee Wilson last week made some stops in Chatham and Lee County, for apparatus photos and other explorations. Along the way he found these two beauties. Top photo is Deep River's 1953 Chevrolet/Rowland pumper. Bottom photo is Cape Fear's 1953 Ford/Oren pumper.



Lee Wilson photos
+ 8 - 4 | § ¶
Get on the Bus, Gus
Google is your friend, especially when finding images of other medical ambulance buses serving in our state, following a recent delivery to Morehead City. Top to bottom, left to right: Guilford County EMS, New Hanover Regional EMS, Mecklenburg County EMS, Brunswick County EMS, Asheville Fire Department/Buncombe County EMS, and Wake County EMS. Five as built by Sartin Services. Who built Buncombe's unit? Click to enlarge:



Sartin Services x 4, News 14, City of Asheville photos
+ 11 - 3 | § ¶
One Hundred Fires of the Raleigh Fire Department
What would a list of Raleigh's biggest fires look like? And not just the top ten or top twenty, but a full one hundred? That was a question posed in an August posting, after obtaining a Milwaukee Fire Department history book. Here's the answer in the form of a document, culled from incident descriptions contained in my Raleigh Fire Department timelines.
They date from June 1816 to July 2011. They represent the biggest or historically significant fires in the city's history. Or at least, the first attempt at crafting such a list. There are disclaimers, the least of which is the absolutely likelihood that one or more "barn burners" isn't listed in the above timelines and thus has escaped Mike's notice.
There are vast differences in the narrative styles, and even the amount of incident details. The list was also compiled rather quickly, and could benefit from a more methodical comparison of incidents against each other by decade or era. (Here's a post from 2009 that talks about that.) But as a first stab, it certainly serves its purpose. e.g., here's what such a list looks like and some notes on how it was made. We'll work on a better or more definitive version at a later time. Read the PDF document, or click to read:


+ 11 - 3 | § ¶
One Hundred Fires of the Raleigh Fire Department
What would a list of Raleigh's biggest fires look like? And not just the top ten or top twenty, but a full one hundred? That was a question posed in an August posting, after obtaining a Milwaukee Fire Department history book. Here's the answer in the form of a document, culled from incident descriptions contained in my Raleigh Fire Department timelines.
They date from June 1816 to July 2011. They represent the biggest or historically significant fires in the city's history. Or at least, the first attempt at crafting such a list. There are disclaimers, the least of which is the absolutely likelihood that one or more "barn burners" isn't listed in the above timelines and thus has escaped Mike's notice.
There are vast differences in the narrative styles, and even the amount of incident details. The list was also compiled rather quickly, and could benefit from a more methodical comparison of incidents against each other by decade or era. (Here's a post from 2009 that talks about that.) But as a first stab, it certainly serves its purpose. e.g., here's what such a list looks like and some notes on how it was made. We'll work on a better or more definitive version at a later time. Read the PDF document, or click to read:


+ 13 - 4 | § ¶
Morehead City Ambulance Bus
FireNews.net has the skinny on Morehead City's new medical ambulance bus. The town received the thing in October, funded entirely by a $357,000 homeland security grant. The 42-foot vehicle can carry a combination of 12 patients on stretchers and 10 patients on wheelchairs, or 23 ambulatory patients in seats. Though operated by Morehead City Fire & EMS, the unit will respond outside the town as requested. It's one of five in the state. (Where are the others? Wake County EMS. New Hanover Regional EMS. Mecklenburg EMS. Who else?) Read the FireNews.net story for more. See also other articles (and reader comments) from the News-Times and WITN. (There's nothing quite as interesting as responses and reactions from Joe Q. Public to the machinery of emergency services...)



FireNews.net photo
+ 7 - 6 | § ¶
October Episode of FireWatch
The October 2011 episode of the Raleigh Fire Department's cable television series FireWatch is now available online. In the latest episode, they learn more about the USAR team, they look back at Fire Prevention Week, and learn more about the Firefighters' Burned Children Fund. FireWatch airs on the RTN-11 cable television channel on Monday (12:30 p.m.) Friday (11:00 a.m.), Saturday (11:30 a.m., 6:30 p.m.) and Sunday (2:30 p.m., 8:30 a.m.). Or view archived episodes of FireWatch.

+ 5 - 10 | § ¶
Garner FD Softball Tournament, Saturday, Nov. 12
Registration closes Friday for the Garner Fire Department's first-ever softball tournament on Saturday, November 12. The line-up currently includes Wake EMS, Garner FD, Clayton PD/NC State Highway Patrol, Zebulon police and fire, Nash County fire and rescue, Lee County fire and rescue, and Erwin FD.
The location is Clayton Recreation Park, 715 Amelia Church Road, Clayton, NC. The start time is 9:00 a.m. and there's just one day of play. Entry fee is $200 per team. The format is double-elimination, following USSSA rules.
Teams may be comprised of two different public safety agencies. And agencies may have more than one team. Teams can be coed, but will play by male rules. They are limited to 16 players per team. Due to facility capacity, the tournament is limited to the first 16 teams that register. Other planned activities include a raffle and a home run derby with cash prizes.
Visit this web site for more information, including sponsorship forms.
+ 11 - 2 | § ¶
Raleigh Fire Museum Closed Nov. 12
Due to the completion of construction work at the Keeter Training Center, the Raleigh Fire Museum will not be open on the second Saturday of this month, November 12, as previously announced. The Raleigh Fire Department Historical society apologizes for any inconvenience.
Please plan to visit the Raleigh Fire Museum on December 10, the second Saturday next month. The museum will be open during its regular hours from 10:00 a.m. to 2:00 p.m. The location is 105 Keeter Center Drive, Raleigh. Admission is free.
To learn more about the museum, please visit http://raleighfirehistory.org/museum.
+ 6 - 6 | § ¶
Apex's New Engine
The Apex Fire Department received their new Engine 1 on Friday, October 28. The 2011 E-One Typhoon 1500/750 is an emergency replacement for Engine 3, a 2000 E-One Cyclone pumper. It's a demo unit that will be equipped as a "squad," with both engine and rescue equipment. It will help reduce two other vehicles in the fleet, including Rescue 1. See prior posting.for the back story. Lee Wilson took this picture two days later, but he'll be back to get a properly posed picture. We'll update this posting accordingly. See more photos.



Lee Wilson photo
+ 10 - 7 | § ¶
Vintage Jacksonville LaFrances
Found for sale on eBay, three 35mm color slides showing American LaFrance engines in Jacksonville, NC. Top to bottom, left to right: Engine 4, 1963, 1000/500; Engine 1, 1962, 1000/500; Engine 1, 1975 ALF, 1250/500. Wonder if they have any historic or former fire station buildings down that way, either in Jacksonville or on base? Need to pay a visit some time. Click to enlarge:


+ 6 - 7 | § ¶
Beach House Burns in Atlantic Beach
Ed Myers took this photo found by FireNews.Net, of a three-story residential building fire in Atlantic Beach this afternoon. (The new FN web site is tops, let me tell you.) ABFD on scene, along with Morehead City FD and Pine Knoll Shores FD. See the original WCTI story for more photos. And since we're talking Carteret County, we're overdue for a couple updates. We need a picture of MHFD's new medical ambulance bus, and an update on their Station 2 project. Maybe readers will assist. See also this Carteret County News-Times article for additional coverage.



Ed Myers/WCTI photo
+ 6 - 9 | § ¶
FireNews is All New
The premiere web site for North Carolina firefighting and fire service news, FireNews.net, has been replaced with an all-new, all-upgraded version. Operated by Editor-in-Chief Jeff Harkey in Raleigh, it started in May of 2003. Remember those days, when it was located on carolinasfirepage.com? That was a hand-coded site, and was redesigned after a year. The 2004 version was revamped in 2008, when the site moved to a Content Management System (CMS). That added more site flexibility and more publishing control.
As a Halloween treat, the 2011 version debuted yesterday. Among the neat new things is the forthcoming ability for contributors to add directly to the site. Get ready for more reporting! My favorite addition is on the right-side navigation, two widgets showing Recent Comments and Most Commented Articles. Combined with their easiest comment interface to date, the new FireNews.net will be an even better place to both read and discuss fire news. But don't take my word for it...