+ 6 - 8 | § ¶
Sunny Point's New Fire Boat
Check your mailbox! The July-August 2012 issue of Fire Apparatus Journal has a story about Sunny Point Ocean Terminal's new fire boat. That's the Army munitions terminal near Southport. The 75-foot craft comes from Gladding-Hearn Shipbuilding in Somerset, MA.
Delivered this spring, it's equipped with a 3,750 GPM/150 PSI pump, which is powered by a pair of 503 HP Caterpillar engines. Five monitors, including a remote-controlled deluge gun atop the wheelhouse. Jet propulsion. EMS-equipped cabin, designed to accommodate stretches and stokes litters.
Here's a WorkBoat.com story about the boat. Sunny Point's prior fire boat was the 1954 large tug Valley Forge. Read this State Port Pilot article about the craft, which was sold at auction in February.


WorkBoat.com photo
+ 9 - 4 | § ¶
Here Comes the Scorpion
Here's an interesting video from HME, introducing their Scorpion aerial platform. Has twin steering axles, which is unique for American structural fire apparatus.

+ 6 - 3 | § ¶
The Right to Record the Actions of Police
Here's some slightly older news, about a recent statement from the Department of Justice that (a.) citizens have a First Amendment right to videotape the actions of police officers in public places and (b.) seizure or destruction of such recordings is a constitutional violation. Here's a New York Times editorial that includes a link to the statement, made in a letter from the DOJ to the Baltimore Police Department. Use Google to find other stories on this subject.
From here, we could take a discussion in a couple of different directions. What are best practices when confronted while recording police actions in public? (Depends, based on personal preference for short- and long-term outcomes.) What are best ways to avoid such confrontations? (Civil conduct always goes a long way.) What about taping or photographing anyone or anything in public places? (Totally legal.)
We'll end with a big fat disclaimer. Mr. Blogger isn't anything remotely resembling a legal scholar. He probably couldn't even pass as a substitute teacher in a media studies class. The kids would probably love his shirts, though.
+ 8 - 4 | § ¶
Summerville and Bunnlevel Fire Departments Merge
Effective July 1, 2012, the Summerville and Bunnlevel fire departments of Harnett County will merge into... Summerville Bunnlevel Fire & Rescue. As a Fayetteville Observer story from April 17 notes, the merger will lower fire insurance rates for a large section of rural Harnett County.
It is expected to reduce tax rates for the Bunnlevel service area. Summerville's service area may see a slight incrase, however. The merger will also reduce staffing problems for both departments, notes the news story. SFD is located at 111 E. Harnett Street in Lillington. BFD is located at 6896 Highway 401 South in Bunnlevel.
Summerville FD was incorporated on December 29, 1966, as the Summerville Fire Department District. On April 21, 1975, they changed their name to the Summerville Rural Fire District. On October 3, 1991, they changed their name to Summerville Fire & Rescue. On May 5, 2012, they changed their name to Summerville Bunnlevel Fire & Rescue, with articles of merger filed the next day.
Bunnlevel FD was incorporated on February 24, 1984, as Bunnlevel Emergency Services. They changed their name to Bunnlevel Fire Department on April 11, 1984. The department was incorporated again on September 17, 1992, as the Bunnlevel Volunteer Fire Department. Their articles of merger were filed on May 18, 2012.

+ 5 - 3 | § ¶
Vintage Engine From Coats
This 1963 Dodge/American LaFrance engine is still on the roster at the Coats-Grove Fire Department in Harnett County. The department was created in 1990 as a merger of Coats FD and Grove Rural FD. The town fire department was organized in the 1940s, says my information. They were incorporated with the state in 1954. Grove Rural FD was organized in 1973. See more photos from Lee Wilson, who did some apparatus explorations in Harnett County this week.



Lee Wilson photo
+ 3 - 5 | § ¶
Road Closed for Big Fire
That's a recycling plant that's burning in Cayce, SC. That's near Columbia. The fire started about 9 a.m. and has been burning all day. Check local news sites for more coverage.



WMBF photo
+ 3 - 6 | § ¶
Chief 103
Speaking of former Six Forks Rescue Squad vehicles, here's a former Six Forks EMS vehicle. The Dodge Ram covered pick-up, photographed this evening in downtown Raleigh, now serves as Wake County EMS Chief 103's vehicle. Click to enlarge:


+ 6 - 5 | § ¶
Crash Truck For Sale
Found for sale on eBay. 1975 Oshkosh M1500 airport crash truck, came from an airport near Madison, NC. That's where the seller's located. Caterpiller diesel engine, automatic transmission. Buy It Now for $9,995.00. You know want to buy it...
Saturday morning update. From a reader, this truck originally served as Crash 4 at the Greensboro Airport. In later years it was a reserve truck, and then was sold for scrap. The M1500, he adds, is the civilian version to the military P4 crash truck. Thanks Pete!


+ 2 - 3 | § ¶
Not a Former Firehouse
But it sure looks like one, doesn't it? That's the challenge in cities with older buildings with engine house characteristics such as arched doorways. This one's in Philadelphia and is a former mounted police station. It's also, we're told, a common question about the city's fire department history. Is that the old quarters for Ladder 3? Negative, that building was a few blocks north on Frankford Avenue.
Mr. Blogger is prepping for his summer trip to Baltimore, and his trademark "what's nearby" excursions. This year he'll return to Philly, and with an objective to find and photograph as many historic fire stations as possible. (Shot a half-dozen in 2010, so at least those are done!) He'll be there two nights. He's found, notably by pairing the appendix of "Hike Out!" with Google Maps street view, some four dozen buildings to find. Most of those are closed stations.
Read about this research on the Philly Fire News discussion board. Read about earlier urban explorations, from Baltimore to Detroit to St. Louis, on Mike's history page. Or see photos on his Flickr site. See you in a couple weeks. Watch for the guy in a Hawaiian shirt who's talking in the third person. George likes spicy chicken.

+ 3 - 5 | § ¶
Memorial Run to Remember Raleigh Firefighters, Saturday, June 30
The Raleigh's Finest 5K Memorial Run is tomorrow morning at Fire Station 6 at 2601 Fairview Road. Runners and walkers will start at Station 6, proceed on Oberlin Road to Station 5, and return. The event starts at 8:00 a.m. The organizers are Melissa Johnson and Jill Kissinger-Hawks, whose husbands were killed in automobile accidents in December 2008 and December 2009, respectively. They want to remember and recognize all city firefighters who have died both on-duty and off-duty. Proceeds of the event benefit the North Carolina Fallen Firefighters and the 200 Club of Wake County. Read this WTVD story. See event details. See photos from last year's race, which was held in September.

+ 6 - 2 | § ¶
Old Six Forks Rescue Heavy Rescue
As photographed by Lee Wilson, this 1993 Freightliner/RoadRescue heavy rescue originally served Six Forks Rescue Squad in Wake County as unit 1281. (And should we call that a medium rescue, versus a heavy rescue?) Was disposed to Myrtle Grove FD in New Hanover County, then to New Hanover County FD, and now serves Summerville-Bunnlevel FD. Those departments are merging effectively July 1. Now, if there's a Bunn and Bunnlevel in North Carolina, why isn't there a Dunn and Dunnlevel? We ask the hard questions on this blog... See more photos.


Lee Wilson photo
+ 4 - 4 | § ¶
Learn About Steam Fire Engines
New page on the Raleigh Fire Museum web site, about the Raleigh Fire Department's 1905 American LaFrance Metropolitan steam engine, and other North Carolina steamers. Visit the site.

+ 3 - 4 | § ¶
Old Hose Wagon, Old Station 3
Here's today's random historical photo, a copy of a poorly preserved photograph of a horse-drawn hose wagon outside old Station 3, which was located at 135 E. Hargett Street. That's the present parking lot on the northwest corner of the intersection of Blount and Hargett streets. Before opening as Station 3 in 1913, the engine house served the Victor Fire Company. It was built in 1898. The Victor Company was all-black, so we'll presume this picture was taken in 1913 or 1914. Hose 3 was motorized in 1914, after the department's third motor apparatus was delivered. (Have any photos survived of the Victor Company? Not as we've found. Pictures from that period are exceptionally scare.) As for the fire station, believe we're seeing the back of the building. The columns on the far left were on the front of the building. The bay was drive-through, and this was the first fire station in the city with one! Click to enlarge:



North Carolina State Archives photo
+ 4 - 2 | § ¶
Wake Forest Sells Fire Engine For $1
The Wake Forest Fire Department sold a fire engine for one dollar yesterday. The availability of the 1998 FMC/Duplex pumper, old Engine 61, was announced to fire departments in need. The Woodland Fire Department of Northampton County fire department was chosen, and members from both departments met at Station 1 to complete the transaction Tuesday afternoon. Photographer Lee Wilson documented the event. See more photos.



Lee Wilson photos
+ 5 - 3 | § ¶
Johnston County Takes Over EMS in Clayton, Princeton, and Smithfield
Effective July 1, Johnston County EMS takes over emergency medical services duties in Clayton, Princeton, and Smithfield. Here's a prior posting about Clayton EMS. Below are some other stories. That is all.
+ 3 - 4 | § ¶
Holly Springs Station 2 Construction Photos
Here's the latest look at Holly Springs Station 2, under construction on the site of the old station on Avent Ferry Road. The earlier building was demolished after being damaged by the tornado last year. Search the blog for that story and prior postings. See more photos from Lee Wilson.



Lee Wilson photos
+ 8 - 4 | § ¶
June Episode of FireWatch - Centennial Celebration
The June 2012 episode of the Raleigh Fire Department's cable television series FireWatch has been posted online. In this episode, Fire Educator Ron Campbell talks with Raleigh Fire Chief John McGrath about the fire department's centennial celebration on June 16. He also talks with Asst. Chief Bert Richards about the restoration of Raleigh's 1905 American LaFrance steam engine, with Lt. Chris Barrows about the firefighter games that day, and Heather Caldwell from Kidde Fire Safety about their participation at the event. You can also see earlier episodes of FireWatch on this page and on this page.

+ 4 - 2 | § ¶
Cary Station 8 Construction Photos
Here's a pair of reader photos of Cary Station 8, under construction at 408 Mills Park Drive. Search the blog for prior postings. Or read more from CFD. Thanks, Jeff!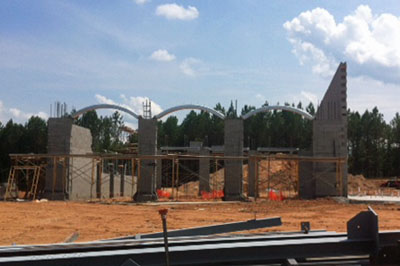 + 8 - 2 | § ¶
Morning Reading - June 24, 2012
Good morning Raleigh. Here's some stuff that's caught my attention or the last week or so. Recapping here both for your enjoyment and to get my brain working on a Sunday morning, between breakfast and the first round of computer work at the man cave.

+ 5 - 1 | § ¶
Engine A, Engine B, Engine C
Did know you that Raleigh's reserve engines were originally identified with letters? Engine A through Engine C. Was there ever a Engine D? Haven't seen such a reference. (And which is why some of the equipment on our antiques bears "A" or "B" or "C".) When were the reserve engines changed to numbers? Don't have that handy. Maybe someone can read through my various web site and tell me! (Secret fact about historians. They don't commit every single factoid to memory. What they can do, though, is usually find where they recorded or found such facts!) Anyway, here's Engine A (1950 Mack) and Engine C (1968 American LaFrance) from around 1982. From photo copies recently privately acquired from the Richard Adleman Collection. Learn more about Raleigh's old engines. Click to enlarge:


+ 6 - 4 | § ¶
Going Wide
This shot from Saturday has proved popular, looking straight up Fayetteville Street as Wake & District Public Safety Pipes and Drums bears down. That's Drum Major and Raleigh Fire Department Lt. Jason Lane in the lead. Below's a panoramic-style version, which is just a cropped version of the regular one. Aspect ratio 6 x 2 instead of 3 x 2. Added a bit more sharpness, and a couple other tweaks. (Canon 50D in SRAW1 format. Program AE, 1/250 Tv, 7.1 Av, 100 ISO, EF17-40mm f/4L at 40mm, flash fired with -2 compensation.) See all of my photos from Saturday's parade, which was part of the fire department's Centennial Celebration. Exceptionally fun day. Click once or twice to enlarge:


+ 5 - 3 | § ¶
Raleigh Fire Department Recognizes Promotions
In a ceremony last night at the City Council Chambers, the Raleigh Fire Department recognized the achievements of individuals who obtained appointment or promotion through a competitive process over the last six months. The ceremony opened with a presentation of colors by the Raleigh Fire Department Honor Guard and remarks by Fire Chief John McGrath.
Recognized were Asst. Chief Bradley R. Harvey; Division Chief Kendall T. Hocutt; Safety Officer/Battalion Chief A.C. Rich Jr.; Battalion Chiefs John P. Fanning, and Franklin C. Hobson; Captains Lee C. Allred, Brandon K. Hopkins, Richard L. Ketchie, Roy T. McGee, and Dominic O. Orlando; Lieutenants Kent A. Davis, Michael R. Gerke, Grant R. Hall, Robert J. Harper, C. Tim Houston, C. Bryan Kirk, and Jeffrey M. Silver. (A couple others were unable to attend and will be recognized at the next ceremony.)
Also last night, recently retired members were recognized for their service, including Battalion Chief L. Alan Walters and Safety Officer/Captain Sammy G. McIntyre. A reception was held at Fire Station 1 afterward. A procession from City Hall to Station 1 was a Wake & District Public Safety Pipes and Drums piper. See more photos from the event from Lee Wilson.



Lee Wilson photo
+ 6 - 4 | § ¶
Yesterday's House Fire on Pettigrew Street
Here's your (late) Thursday hot shot by Lee Wilson, from yesterday's house fire at 109 N. Pettigrew Street. Rescue 2 and Battalion 2 were first on scene with smoke showing from the one-story residential structure. Engine 3 deployed a pair of hand lines, Engine 7 laid the supply line, and Engine 1 connected to the hydrant for boosting. Subjects were reported possibly still inside, but all evacuated safely. Special call for extra engine and extra ladder. Dispatched 11:12 a.m. Controlled at 11:30 a.m. One firefighter with minor hand injury. See more photos from Lee Wilson, and read more incident details.



Lee Wilson photo
+ 5 - 3 | § ¶
North Lenoir Fire Station Construction
Seen outside Kinston is this fire station construction on Highway 258. Shown in the second photo is a residence beside the fire station, where a mini-pumper currently occupies a car port. We'll presume temporary quarters, there. What stories of temporary stations can you share, both local and regional? Click to enlarge:


+ 2 - 5 | § ¶
Forestry Rigs in a Parking Lot at Night
Spotted these trucks at the hotel beside our hotel in New Bern. Looks like they've seen some service, probably or certainly at the Croatan National Forest that's burning to the southeast. Plus a couple light trucks and SUVs. Might see more the of the fleet come daybreak.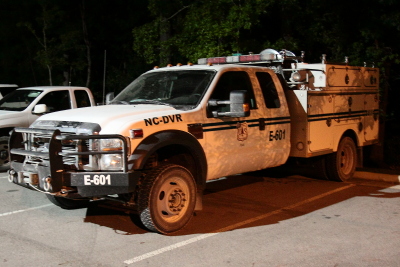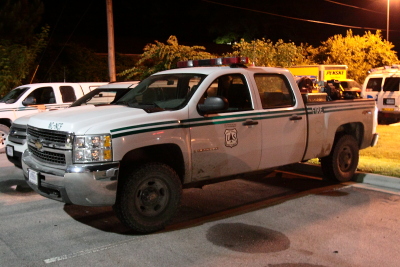 + 6 - 2 | § ¶
Old Fire Van
Reporting from the road. Found this old workhouse at a service station on the west side of New Bern. Former Tri-Community Fire Department, would seem. Click to enlarge:

+ 3 - 3 | § ¶
Video Clips of Raleigh's Steamer
Here's a very short collection of clips of the Raleigh Fire Department's 1905 American LaFrance Metropolitan steam engine in action, at this weekend's centennial celebration and one week earlier at Station 28. The video is also included in this excellent FireNews.net article about Saturday's events.

+ 1 - 4 | § ¶
General Assembly Recognizes Raleigh Fire Department
This joint resolution was passed by the General Assembly on June 14, 2012. See the original document (PDF).
House Joint Resolution DRHJR11382-LG-207 (06/14)

Sponsors: Representatives Jackson, Weiss (Primary Sponsors); Avila, Gill, Murry, Martin, and Ross.
A JOINT RESOLUTION HONORING THE 100TH ANNIVERSARY OF THE RALEIGH FIRE DEPARTMENT AND THOSE WHO HAVE SERVED WITH THE DEPARTMENT.

Whereas, the Raleigh Fire Department protects the citizens of North Carolina's capitol city in the county of Wake; and

Whereas, the Raleigh Fire Department was organized in December 1912 as a full-paid fire department after over 50 years of service by citizen fire companies; and

Whereas, the Raleigh Fire Department was led by Fire Chief Sherwood Brockwell, the first full-time Chief of Department; and

Whereas, the Raleigh Fire Department was placed in service in December 1912, with two fire stations, two horse-drawn hose companies, and the following 15 members: Fire Chief Sherwood Brockwell; Assistant Chief Charles Farmer; Company No. 1 members, Captain T. G. Welsh, Lieutenant S. H. Horton, W. M. Niblock, M. J. Martin, W. B. Barker, E. J. Lassiter, R. M. Simmons, and D. B. Jones; and Company No. 2 members, Captain A. A. Doolittle, Lieutenant H. C. Joyner, B. B. Parrish, O. K. Hester, and W. K. Justice; and

Whereas, in 1913 a third hose company and a third fire station was placed in service, and the first two motor fire engines were delivered; and

Whereas, in 1915 the Raleigh Fire Department was fully motorized and the last horse was retired from duty; and

Whereas, in 1915 the Raleigh Fire Department's force of 24 firefighters protected a population of over 24,000 residents living within four square miles; and

Whereas, in 1950, as the City of Raleigh grew in size, the Raleigh Fire Department consisted of six engine companies, protecting 65,679 residents, encompassing 10.9 square 23 miles. The department was staffed by 84 members and answered 911 calls that calendar year;

Whereas, by the end of the 20th Century, the Raleigh Fire Department continued to expand in both size and scope. Today's Raleigh Fire Department responds to fires, provides emergency medical care, responds to rescue calls, performs inspections and plan reviews of buildings, conducts fire and life safety education, and is equipped with special technical rescue, hazardous-materials, and urban search and rescue teams; and 30

Whereas, today the Raleigh Fire Department's 27 fire stations and 28 engine companies, eight ladder companies, and three rescue companies protect a population of 403,892 and 144.8 square miles. The Raleigh Fire Department has 575 uniformed and civilian 33 members. The Raleigh Fire Department responded to 37,781 fire, emergency, and service calls in the 2011 calendar year; and

Whereas, the Raleigh Fire Department will be celebrating its centennial anniversary throughout 2012 with a number of public celebrations; and

Whereas, this occasion is worthy of recognition and should be enjoyed and supported by all North Carolinians; Now, therefore,

Be it resolved by the House of Representatives, the Senate concurring:

SECTION 1. The General Assembly honors the founders of the Raleigh Fire Department and the men and women who have served the department in protection of the citizens of Raleigh.

SECTION 2. The General Assembly extends its sincere congratulations and best wishes to the Raleigh Fire Department on its 100th Anniversary as a career fire department.

SECTION 3. The Secretary of State shall transmit a certified copy of this resolution to the Fire Chief of the City of Raleigh.

SECTION 4. This resolution is effective upon ratification.
+ 6 - 2 | § ¶
Yesterday's Vehicle Accident at the Airport
Here's an unusual accident photo as posted by WTVD, where a sport utility vehicle struck three pedestrians in front of a terminal at Raleigh-Durham International Airport. Read that story. It's a viewer photo, and those are increasingly common as citizens snap 'n' send pictures to media outlets. Don't believe we see a lot of bloody stuff in such shots and such coverage. Or do we?



WTVD/Suzanne Snipes photo
+ 8 - 3 | § ¶
Today's Smoke Forecast Map
From the North Carolina Division of Air Quality, mapping the smoke from the Croatan National Forest in Craven County. The forest fire is now 10,800 acres in size and will reportedly take a week to fully contain. Same started as a controlled burn on Thursday, and grew out of control on Saturday. Read WITN story. Will be making a day trip to New Bern this week or next. Might bring back some interesting in-the-distance photos. Click to enlarge:


+ 3 - 4 | § ¶
Looking Closely at Raleigh's Old Macks
Here are three of Raleigh's old Mack CF pumpers, Engine 4, Engine 7, and Engine 13. Model years 1973, 1971, and 1970, respectively. What differences do you observe? From the Richard Adleman Collection. Learn more about Raleigh's old engines. Or recall our earlier discussion about the Macks and hard suction hose. Click to enlarge:


+ 2 - 5 | § ¶
Scenes From Saturday's Parade
Still working on the photos from Saturday. Gonna take a while...
The first photos from Saturday have been posted. Partial collection from Legeros, and a full series from Lee Wilson. More to follow...
Seeing Double
That's Division Chief Garry Spain (left) and Battalion Chief Barry Spain (right). The brothers marched behind the honor guard. Barry is a graduate of the 1989 recruit academy, or Academy #13 for those counting at home. Training officers Gattis and Dunn worked some serious magic that year. The academy has produced (to date) four Battalion Chiefs, a mess of Captains, some Lieutenants, and, ahem, one Historian. Click to enlarge:


Driver Cam
Did the participants have as much fun as those who were watching? By all accounts they did. Here's a view from behind the driver's seat of Old Engine 1, with Lt. Jan Chamblee at the wheel of the 1961 American LaFrance pumper that was recently purchased by the Raleigh Fire Museum through firefighter donations. Click to enlarge:


Horse Tales
Raleigh has an old steam engine? Yes, the 1905 American LaFrance Metropolian later pumped in a demonstration. Did Lee Wilson really provide the horses? Yes, it's a little-known fact that the prolific photographer is also secretly a horse-trainer. In Johnston County. Click to enlarge:


Crazy Lights
What the heck is the spinning thing with three lights? That's a Roto-Ray. Best viewed at a distance, or with a helmet if you get really, really close.

Taking Care of Business
Did Elvis make an appearance? No, but one of his catchphrases appeared on the side of Mar-Mac's monster rescue rig. They came from Wayne County, which is a fair hike. Also saw trucks from Brunswick, Durham, Johnston, and Mecklenburg counties (to name a few). Had at least one out-of-state attendee, a former Baltimore Salvage Corps truck from Virginia. That Pennsylvania ladder truck that you saw, however, is locally-owned.

The Big Turn
Why did some of the trucks turn on Davie Street, instead of continuing to the end of Fayetteville Street? That's because there's a weight limit in those last couple blocks, because there's a parking deck underneath. Thus the heifers were routed to Salisbury Street, and some of which were parked as displays at Lenoir and South streets. Click to enlarge:

Tiller Time
Finally, is the best job in the fire service driving the back of a tiller truck? That's what they say... Click to enlarge:

+ 2 - 3 | § ¶
Congressional Recognition for Maryland Firefighters Injured in February
Speaking of our friends in and around Maryland, an event was held last week at the Bladensburg Volunteer Fire Department in Prince Georges County, MD. The occasion was congressional recognition for seven volunteer firefighters who were injured at a house fire on February 24. Framed copies of the Congressional Record were presented to Bladensburg vounteer firefighters Kevin O'Toole and Ethan Sorrell, Riverdale volunteer firefighter Michael McClary, and College Park volunteer firefighter Ari Schloss. (Riverdale members Michael Olszewski, Roberto Ramirez and Michael Naples were unable to attend.) Prince George's County Fire Chief Marc S. Bashoor was also presented a plaque on behalf of his entire department.
Recall from our February posting that the fire resulted in severe injuries to O'Toole and Sorrell. They were severely injured when a sudden gust of wind created a "blowtorch effect" inside the residential structure that the crews had just entered. Sorrell is a Buies Creek native with many ties to Wake County. He's been a volunteer member of BVFD while attending college. Read the entire press release, that includes photos and this video. Congratulations.

+ 2 - 5 | § ¶
Trip Planning... Philly
You get exactly one guess regarding what's (partially) shown here. Planning for next month's trip to the Baltimore Fire Expo. Read accompanying discussion on Philly Fire News. Might take a couple summers to finish! Click to enlarge:


+ 4 - 5 | § ¶
Looking Into the Sun at a Very Large Flag
As seen on Fayetteville Street this morning, which was part of the parade route for the Raleigh Fire Department Centennial Celebration. That's Holly Springs' ladder holding one end of the Very Large Flag. On the other end is Bay Leaf's ladder. 'Twas a tremendously enjoyable day. Big thanks to the many, many people that made it happenl. Your hard work is appreciated. Next question, when will Mr. Blogger's 2,052 photos get processed and posted? In due time, my friends. In due time. Click to enlarge:


+ 4 - 6 | § ¶
Reporters Train with Raleigh Fire Department
June 16
Here's a second video segment, with WRAL reporter Stacy Davis recounting her experience at last weekend's Fire Ops 101 event. Lots of well-shot footage from throughout the day in this one, including a slow-motion replay of the hand line that got away from her. We've all been there and done that. Was a rewarding and educational day for everyone. Watch the video story, or read the accompanying article.


June 11
This video segment was broadcast this weekend on WTVD, after they participated in a Fire Ops 101 education event at the Raleigh Fire Department Keeter Training Center on Saturday. Both city officials and members of the media were invited to participate. See photos of the event from Lee Wilson and Mike Legeros.


+ 9 - 4 | § ¶
Vintage Photo of Fayetteville Engine 2
Found for sale on eBay, here's what looks like a delivery photo of a 1940s Mack for the Fayetteville Fire Department. Lettered for Engine 2. Dig that triple suction rack. Seller says Fayetteville, NC. Presuming accurate unless hear otherwise. Click once or twice to enlarge:


+ 5 - 4 | § ¶
Facts About Raleigh's Old Steamer
Here's a bit of background about Raleigh's old steamer, which will be appearing in tomorrow's Raleigh Fire Department centennial celebration events in downtown Raleigh. We'll call this thing a fact sheet.
1905 American LaFrance
Metropolitan Steam Engine

Built by American LaFrance Fire Engine Company, Seneca Falls, NY.
Registration number 3061.
Third-size steam engine with 600 GPM capacity.
Fox boiler with a two-piston pump on a crane frame.

Delivered July 1905.
Second steam fire engine for city. First was delivered in 1870, made by Gould.
Purchased to replace the 1870 steamer, for purpose of fighting major fires and protection in the event of water system failure.
Beginning 1887, nearly all fires in the city were fought using hand lines connected directly to hydrants. This continued into the 1910s and perhaps much later.

Operated by the volunteer L. A. Mahler Steamer Company from 1905 to 1912.
Operated by the career fire department from 1912 until the 1930s, or later.
Housed at Fire Station 1 on West Morgan Street.

Drawn by horses from 1905 to 1912.
Motor-towed in early 1913.
Responded to alarms in the fire district, or as a special called unit.

Listed as reserve apparatus by 1931.
Served as auxiliary fire pump at State Fairgrounds in 1940s.
Returned to the Raleigh Fire Department in 1947.

Permanently mounted on a two-axle trailer in the late 1970s.
Boiler was last fired in the early 1980s.
Restoration to operational capacity started in late 2011.

Read more history at http://legeros.com/ralwake/raleigh/history/writing/steamers.shtml
Or read more about steam engines in North Carolina at http://legeros.com/history/steamers
+ 5 - 8 | § ¶
Raleigh's New Foam Trailer
Speaking of haz-mat, the Raleigh Fire Department has taken delivery of a foam trailer. The two-axle unit is equipped a 500-1000 GPM monitor and twin 275-gallon portable tanks, called totes. Each carries alcohol-resistant Aqueous Film-Forming Foam (AFFF) concentrate, a foam designed for class B (flammable liquid) fires. The foam is proportioned between one and three percent. The trailer and the foam add an additional layer of protection for the many hazardous materials that are transported by road and rail through town.
The trailer is stored at the Keeter Training Center and will be towed by either training vehicles during day hours, or by the mini-pumper at Station 3. Three additional 275-gallon foam totes are planned to be stored at the training center as well. The trailer is supplied by two five-inch intakes, and can also supply a couple hand-lines. The estimated reach of the big gun is 100 to 150 feet. There's also a transfer pump, for connecting to other totes or foam concentrate supplies. The trailer is a Raleigh Fire Department asset, and can be requested as mutual aid equipment through the usual channels.
Next step, how about a history of Raleigh's foam apparatus and equipment? (Foam powder, then high-expansion generators, then inductors for hand lines...) We'll work on that. Who else has notable foam equipment in and around town? The airport, of course. The Apex Fire Department also has a foam trailer. Here are some action shots of same from a tire fire in 2010. Click to enlarge:


+ 5 - 2 | § ¶
Postal Police Mobile Command Center
Here's your unusual law enforcement vehicle of the week, a mobile command center operated by the Charlotte Division of the United State Postal Inspectors. The truck was in town yesterday for a haz-mat exercise on Floretta Place. See more photos from Lee Wilson.


+ 8 - 5 | § ¶
Holly Springs' New Fire Chief
The town of Holly Springs has a new Fire Chief. LeRoy Smith, former deputy chief of the Fire and Rescue Department at Baltimore-Washington International Airport, took command of the town's 37-member fire department on June 4. He succeeded long-time Fire Chief Cecil Parker, who resigned in January. Chief Smith was chosen from more than 50 applicants, seven of whom went through an intensive two-day assessment of their managerial skills. He joined the BWI department in 2010 after 22 years with Prince George's County Fire/EMS in Maryland. Read press release from April 30, which tells more about Chief Smith and his background. Welcome aboard!


+ 6 - 1 | § ¶
Old Engine at Big House
Speaking of Station 1, Raleigh's 1926 American LaFrance is spending a couple nights downtown. It's parked in preparation for Saturday's parade and centennial celebration. You've heard about that thing, right? Might have a bunk mate by tomorrow night. We'll check back. Click to enlarge:


+ 5 - 5 | § ¶
Vintage Bedding Chart
Here's a historical treat that was recently donated to the Raleigh Fire Museum by Senior Firefighter Mike Murray. He found this vintage bedding chart behind a locker at Station 1. Same shows the sleeping assignments for the second-floor dormitory. It dates to probably 1976 or 1977. That's right before the first female firefighters hired were in 1978, which resulted in partitions that divided the big room. Among those listed are Murray's father, Captain Mike Murray (retired). We've annotated the thing as best as possible, drawing upon the Centennial Roll Call. Hollar as you spot errors or see other curiosities. Click once or twice to enlarge:

+ 6 - 3 | § ¶
Sanford's Mack CF Pumper For Sale
The Sanford Fire Department is selling a 1977 Mack CF pumper on GovDeals this week. Five-speed manual transmission, two-stage Waterous 1000 GPM pump, 500 gallon tank. Current bid is $2,225.00. Below is the truck as photographed by Lee Wilson. See more Macks that he's shot around the state.



GovDeals photo

Lee Wilson photo
+ 4 - 5 | § ¶
Morning Reading - June 13, 2012
Good morning Raleigh. Getting things ready this week for Saturday's centennial celebration. What, you haven't heard about that? We'll fix that in a moment. Camera Boy's been busy all week, shooting and processing photos from a number of fire department events. Steamer firing. Fire Ops 101. Fallen firefighters golf tournament. Will continue through the weekend! Meanwhile, here's some morning reading. Probably forgot something, so another story or two might get added!
+ 2 - 5 | § ¶
Schedule of Events for Saturday's Centennial Celebration
Raleigh Fire Department Centennial Celebration – Saturday, June 12, 2012
10:00 a.m. – Fire apparatus parade begins at Hillsborough and Boylan streets.
Parade proceeds east to the Capitol, turns south on Salisbury Street, left on Morgan Street, and continues onto Fayetteville Street.
Please note that the best viewing will be on Fayetteville Street.
Planned participants:
Horse-drawn steamer
Antique motor apparatus
Modern fire engines
Honor guard
Pipe bands
Retirees riding tram shuttles
And more.
11:00 a.m. until 5:00 p.m. – Apparatus muster, in parking lots at the end of Fayetteville Street along Lenoir Street.
Antique apparatus will be pumping, as well as both antique and modern apparatus in static (stationary) display.
Special feature:
Raleigh's horse-drawn, 1905 steam fire engine will be fired and demonstrate pumping at noon.
Planned displays:
Antique apparatus
Modern fire engines
Raleigh's antique apparatus: 1926 American LaFrance, 1950 Mack, 1982 Mack pumpers
Raleigh's recently acquired old Engine 1, 1961 American LaFrance pumper
Raleigh's tiller, Ladder 4
Raleigh's haz-mat and USAR apparatus.
Winston-Salem hand-drawn hose reel
READ MORE
+ 5 - 8 | § ¶
Wake County EMS Station Reopens
The North Hills EMS station at 5305 Six Forks Road reopened today, a mere 166 days after a vehicle fire damaged the structure on December 29. As we originally reported, the paramedic ambulance EMS 3 caught fire inside the bay. The engine compartment was fully involved, and the bay ceiling was also burning. The fire was quickly controlled, but the ambulance was a total loss. The 1962 structure, formerly the Six Forks Fire Department fire station, was also damaged. The facility was closed, and a EMS 3 was temporarily relocated to the Six Forks Main EMS station at 1431 Lynn Road.
Repairs and renovations to the building included a complete reconstruction of the interior of the apparatus bay, including a new roof, new electrical components, and a new ventilation system. The crew quarters received new carpet and floor. Some remaining electrical items will be installed this week, including new lighting in the bay and on the outside of the building. The bay was repainted, and some exterior cracks in the building were also repaired. Welcome home, welcome back. See photos by Lee Wilson. Click to enlarge:


+ 5 - 4 | § ¶
Harnett County Firefighter Death
FireNews.net is reporting that Asst. Chief Donald Suggs of the Summerville Fire Department in Lillington has died. He was 55 years old. He collapsed at home shortly after returning from a fire, reports WRAL. Arrangements have been posted:
Visitation
Wednesday, June 13
6:00 p.m. to 10:00 p.m.
O'Quinn Peebles Funeral Home, 1310 S. Main Street, Lillington, NC
Funeral and Burial
Thursday, June 14
11:00 a.m.
Lillington Baptist Church, 210 W. Lofton Street, Lillington, NC
Burial to follow at West View Memorial Gardens on US Hwy 421, Lillington.

+ 6 - 2 | § ¶
Raleigh Retired Firefighters Invited to Participate in Saturday's Parade
Raleigh Fire Department retirees are invited to ride in Saturday's fire apparatus parade, part of the all-day centennial celebration in downtown Raleigh.
The parade starts at 10:00 a.m. and will feature both antique and modern fire apparatus, pipe bands, marching personnel, and more. As a special treat, the city's horse-drawn 1905 steam fire engine will make its first appearance in many years.
Retirees are requested to park in the public parking deck at the intersection of Wilmington and Cabarrus streets. This is free parking. They'll board a tram shuttle to the parade staging area. The trams will leave the parking deck at 9:15 a.m. The trams will carry the retirees in the parade, which starts at 10:00 a.m.
The parade begins at the intersections of Hillsborough and Boylan streets, continues to the State Capitol, turns on Salisbury and Morgan streets, and finishes to the end of Fayetteville Street. The best viewing of the parade will be on Fayetteville Street, and a short walking distance to the other activities.
After the parade, retirees can enjoy the day's many centennial celebration events. The location for all activities after the parade are in the parking lots along Lenoir Street at Fayetteville Street.
An apparatus muster starts at 11:00 a.m. with static and live displays. The 1905 steamer will be fired and pump at noon. At 1:00 p.m., firefighter games will start with four-person teams from around the area. Other attractions include the Kidde Kid's Zone, which opens at 11:00 a.m. Birthday cake will also be served as supplies last. For more event information, visit www.RFD100.com.

+ 4 - 4 | § ¶
Firefighter Games 100 Years Ago
On July 23, 1912, the twenty-fifth annual North Carolina State Firemen's Association convention opened in Fayetteville. Some 1,500 firefighters attended from the state and region, including delegates from 94 fire departments in North Carolina. The first day's activities included a number of sessions and business meetings. Opening session speakers included Governor W. W. Kitchin and Association President James D. McNeil.
The second day, which was the first of two tournament days, opened with a "grand fireman's and floral parade" including nineteen horse-drawn hose wagons, six hand-drawn hose reel teams, two steam fire engines, one auto fire truck, a score of "gaily decorated motor car floats", carriages containing "distinguished citizens and fire chiefs", and 25 racing horses that would later compete in the firefighter games.
Fifteen cash prizes were offered for the best decorated floral and industrial vehicles and fire department vehicles. A carnival company and several other amusement organizations were also present to "take advantage of the gala week and off their attractions to the crowds."
The convention was also a "dry" one, as eight saloons were raided that week by Sheriff N. H. Geachy. He arrested every "no tax" dealer in the city and charged them with "retailing intoxicating liquors and beer and having more of the same in their possession than allowed by law." Five to six hundreds of barrels of beer were seized.
Tournament Day 1
Two classes of steam engine contests
Hand reel contest
Grab reel contest
Horse hose wagon contest
Hook and ladder contest
American LaFrance motor engine demonstration, with "exhibitions of actual fire fighting with motor-driven apparatus, both chemical and water engines."
Tournament Day 2
Interstate contests along same lines of state contents.
American LaFrance motor engine demonstration again.
READ MORE
+ 5 - 3 | § ¶
Let There Be Steam!
On Friday, June 8, the Raleigh Fire Department's old steamer chugged to life for the first time in about three decades. The historic event took place at Fire Station 28 on Forestville Road, where the department's fleet of antique apparatus is stored. The 1905 American LaFrance Metropolitan steam engine first underwent a hydrostatic pressure test on the boiler. Passing that benchmark, the crew of Raleigh and Charlotte firefighters (and local steam engine enthusiasts) then began firing the boiler.
Paper served as kindling for wood, which served as kindling for the coal. Slowly, steadily, the boiler pressure was raised until sufficient steam was available to power the pump. Drafting water from a drop tank (borrowed from nearby New Hope Fire Department), the old engine successfully supplied a deluge gun, which sprayed the station's north lawn. They soon swapped the fog nozzle for a set of straight tips, for further reach.
The steamer is being prepared for an appearance on Saturday, June 16, at the Raleigh Fire Department Centennial Celebration in downtown Raleigh. It'll be drawn by horses in the parade, which starts at 10:00 a.m. And it'll be fired and pumping started at noon. See more event information at www.RFD100.com. For more on the steamer, see photos from Friday by Mike Legeros (shown below) and Lee Wilson, or watch a short video below.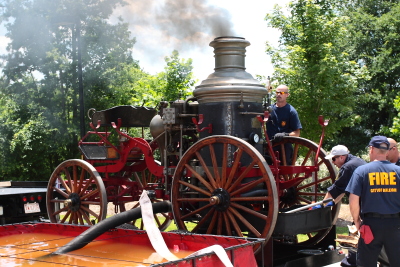 + 5 - 2 | § ¶
Careless 911 Misdials Continue to Plague Raleigh/Wake ECC
Press release. Now that the month of May has ended and all the statistics have been complied, it is abundantly clear that 9-1-1 hang-up calls and misdials continue at an alarming pace. The Raleigh-Wake Emergency Communications center has released its analysis from the last half of May that shows no improvement over numbers experienced earlier in the month. Ten-digit dialing continues to cause significant problems for the Raleigh-Wake Emergency Communications Center. In March, prior to the area code changes, telecommunicators processed an average of 1,434 calls per day. The number climbed to 1,780 per 24 hour period in April, and to 1,820 each day in May. Read entire press release. Or read this WRAL story, that also notes that the number of 911 hang-up calls in Cary has tripled.
+ 2 - 2 | § ¶
How Much Per Click?
In the days of film photography, there was a per-shot cost that could be calculated. The equation was something like this: cost of film + cost of developing / number of shots. With the advent of digital photography, the expense of film immediately evaporated. Same for the cost of developing, if you were sticking with digital viewing and digital storage of said shots. Does that make digital photography entirely "free?" Just shoot like there's no tomorrow, with no worries, mate? Not entirely.
Most digital cameras have moving parts, and those parts can break. They can range from the battery cover to the shutter itself. Let's talk about the last one. The shutter, which is an integral (or maybe the integral) part of a digital SLR camera. The shutters on DSLR cameras have design life expectancies. Usually in the tens of thousands, maybe higher, based on the brand. My primary camera body is a Canon 50D. The shutter life expectancy is 100,000 actuation. One actuation equals one shot. What's our per-click cost? Here are some numbers:
$900 (body only, new) / 100,000 = $0.009, or just about a penny
$500 (body only, used) / 100,000 = $0.005, or a half-cent
$250 (shutter replacement, estimated) / 100,000 = $0.0025, or a quarter-cent
But what if the shutter fails earlier? Let's trim the life expectancy by half:
$900 (body only, new) / 50,000 = $0.018
$500 (body only, used) / 50,000 = $0.01
$250 (shutter replacement, estimated) / 50,000 = $0.005
Now let's translate those numbers into real money. At a fire department event yesterday, took over 1,400 photos. All-day thing, but still a bit extreme. (They have medication for that, yeah, yeah. Save money, shoot video. Yeah, yeah.) What did that potentially "cost" me? Looks like anywhere from $25 down to $3.50. Quite a range, based on the above parameters. But worth keeping in mind. Endless clicking isn't free. And we haven't even talked about the
time
costs. For someone like myself, that's as valuable as money!
+ 3 - 5 | § ¶
Yesterday's Condominium Fire in Fayetteville
Here's your morning fire photo from Fayetteville, where a 14-unit condominium building burned on Saturday. The fire is believed to have started on the third floor. Sixteen people were displaced, one resident suffered minor smoke inhalation, and two firefighters were treated for heat-related injuries. This short story from WRAL has a pair of viewer photos. No parking in the rear, due to water. Exposure on another side. Probably parking or road on the remaining to sides. Guess at least a pair of aerial streams set up. Maybe our readers can post a run card or other details.



WRAL photo
+ 1 - 5 | § ¶
One Hundred Years of Raleigh Fire Apparatus
Photo gallery as presented by the Raleigh Fire Museum. Numerous contributors and sources, and notably lots and lots from Lee Wilson. He's been shooting these forever! Lots of engines and ladders. Some interesting and special pieces. Couple horse-drawn. And how many of those rigs have you ridden? Put me down for some of the engines active around 1990: Macks, EEIs, and the first Pierces. Plus the tiller and the Aerialscope. Maybe a couple others in there. View the gallery. And pay attention on the streets this month. These new centennial logos are starting to appear on city fire apparatus. Click to enlarge:


+ 4 - 3 | § ¶
Morning Fire Video
For your Friday viewing, from Statter911.com, some ladder and entry action in the District of Columbia on Wednesday. With enjoyable comments as always on the original posting from Statter. How often are barred first-floor windows found these parts, by the way?



+ 10 - 5 | § ¶
Wake County EMS Station List
Effective June 14, here's the latest and greatest station list for Wake County EMS system units and their locations. CAD identifier include, since some of our readers ride the trucks. Memo to self, update earlier list located on my scanner page. That one's merely two years old. Here's the numbering scheme: EMS 1-39 (Wake County EMS), EMS 41-49 (Apex EMS), EMS 51-59 (Cary EMS), EMS 61-69 (Eastern Wake EMS). For extra credit, identify the facilities for non-EMS buildings.


CAD ID
STATION NAME
STREET ADDRESS
TOWN
EMS UNIT(S)
NOTES
APM
Apex Main
315 W. Williams Street
Apex
41
BTC
Bethany Church
6529 Bethany Church Road
Wendell
68, 66
CRM
Cary Main
107 Medcon Court
Cary
51, 53, 55, District 5
CRW
Cary West
2101 High House Road
Cary
52
Cary FD Station 5
DRN
Durant
10000 Durant Road
Raleigh
15, 33
DWN
Downtown
331 S. McDowell Street
Raleigh
1, 11, 13, District 1,
Truck 1
EMS 13 runs out of Raleigh
FD Station 2 during day.
ERL
E Raleigh
2910 Kidd Road
Raleigh
7, 31
FRG
Fairgrounds
4017 District Drove
Raleigh
4
FRV
Fairview EMS
3609 Ten Ten Road
Cary
42
Cary FD Station 6
FUQ
Fuquay
301 S. Fuquay Avenue
Fuquay
9
Fuquay-Varina FD
Station 2
GRE
Garner East
125 Spaceway Court
Garner
19, 37
Garner FD Station 4
GRM
Garner Main
1695 Timber Drive
Garner
18
Garner FD Station 3
GRS
Garner South
9115 Sauls Road
Garner
16
Garner FD Station 2
HLT
Hilltop
5627 Hilltop Road
Fuquay
14
Fuquay-Varina FD
Station 2
HSP
Holly Springs
700 Flint Point Lane
Holly Springs
17, 32, Medic 91
Holly Springs FD
Station 1
Holly Springs
1140 Avent Ferry Road
Holly Springs
Holly Springs FD
Station 2.
Closed due to tornado.
KDM
Knightdale
949 Steeple Square Court
Knightdale
61, Medic 92
Knightdale Public Safety
KDS
Knightdale South
4828 Clifton Road
Knightdale
62
Eastern Wake FD
Station 1
MNC
Mini City
4704 Hargrove Road
Raleigh
5, 36
MSV
Morrisville
10632 Chapel Hill Road
Morrisville
54
Morrisville FD
Station 2
NCS
NC State
1361 Varsity Drive
Raleigh
8
NHL
North Hills
5305 Six Forks Road
Raleigh
3
RDU
Airport
6901 Mt Herman Church Road
Raleigh
34, 35, Medic 95
RVM
Rolesville Main
108 E. Young Street
Rolesville
64
SFM
Six Forks Main
1431 Lynn Road
Raleigh
6, District 4
SFN
Six Forks North
13116 Norwood Road
Raleigh
22
Bay Leaf FD Station 2
SHL
Stony Hill
7045 Stony Hill Road
Raleigh
12, Medic 93
Stony Hill FD Station 1
WEN
Wendell Main
401 E. Third Street
Wendell
63, District 6
WFM
Wake Forest
706 S. Franklin Street
Wake Forest
10, District 3
WML
Whitaker Mill
2024 Noble Road
Raleigh
2, Medic 94
ZEB
Zebulon
115 E. Vance Street
Zebulon
65
+ 2 - 4 | § ¶
Wake Forest Squad 5 and Engine 5
Here's are two trucks from Wake Forest Station 5, recently opened after a merger with a Falls Fire Department. Left is Squad 5, a 1994 E-One Century 1000/1000. Right is Engine 5, 2007 Pierce Contender 1250/1000. Also housed there is Tanker 5 (2009 Pierce Contender, 1250/1000), Brush 5 (2005 Ford F-550, 250/300), and Boat 5. Photos by Lee Wilson. See more shots.

And speaking of the Wake Forest Fire Department, they've upgraded their web site in recent months. They've added news articles to their home page, which include individual incident photos and short descriptions. There seems to be a trend these days, with new web sites for local fire departments. New and improved sites have included Durham Highway FD and Garner FD. Who else is sporting a version 2.0?


Lee Wilson photo
+ 7 - 4 | § ¶
Raleigh Fire Departmentís Centennial Roll Call a Place of Honor
Press release. The names below are listed in alphabetical order as the first three entries in the City of Raleigh Fire Department's Centennial Roll Call: Darrell Lee Adams, Kevin Paul Adams, Kim Adams. Behind these names are hundreds more.
The Centennial Roll Call contains the names of men and women who have served in the Fire Department since it was first established in 1912. The document was created by Fire Department Historian Mike Legeros to help commemorate the department's 100th anniversary this year.
"The Centennial Roll Call is designed as both a historical record and as a means of honoring those who have served the city for 100 years," Mr. Legeros said. A total of 1,541 names appear in the Centennial Roll Call. Counting names listed more than once, the number of entries grows to 1,602. Read entire press release. Or view the roll call document, as available from this page.

+ 3 - 3 | § ¶
Raleigh Fire Department Centennial Celebration, Saturday, June 16 - Promotional Video
This nifty promotional video was added to www.RFD100.com yesterday. Nice title screen in particular. See you on Saturday, June 16, in downtown Raleigh, starting at 10:00 a.m. for the fire truck parade.


+ 3 - 7 | § ¶
Changes Coming to Clayton EMS
Here's a News-Star story from last week about the coming change to Clayton EMS. On July 1, the 50 year-old agency will transition from independent to county control. The objective is long-term financial stability. In the process, the story notes, Clayton EMS employees will be required to reapply and the cadet program will be discontinued. Princeton EMS is making this change this year. This will leave only three communities with independent EMS agencies: 50-210, Four Oaks, and Selma. Included in the story is a nifty historical picture from 1974, courtesy of their historian Jason Thompson. Read the article.


+ 5 - 2 | § ¶
New Fire Station For Calabash, No Fire Station For Scotts Hill
FireNews has a pair of station stories from down south. Calabash Fire Department in Brunswick County has approved up to $2 million in bonds for a new fire station. They're replacing their 40 year-old, 8,000 square -foot structure with one almost twice the size. Same location, so they'll utilize a temporary location during the building's building. Believe they're also razing a building beside the station, that served as the original firehouse. Read that story.
In Pender County, commissioners voted to cancel a planned fire station in Scott's Hill. The Hampstead Fire Department had been pursing the project for two years. Scott's Hill residents petitioned the commissioners with signatures from 176 residents-- about 25 percent of the community. The project has cost over $200,000 to date. Read that story.
And recall that the area was originally served by Scott's Hill Fire Department, which operated in the late 1970s through the early 1990s. Read earlier blog posts about SCFD and a cookbook its members once produced.
+ 3 - 4 | § ¶
Round Down
Today's News & Observer story reports that the Hillsborough Street roundabout will be reconfigured from two lanes to one lane. The objective is reducing accident rates since the traffic circle began operation in 2010. Read the story. Below is the paper's graphic with pithy headline.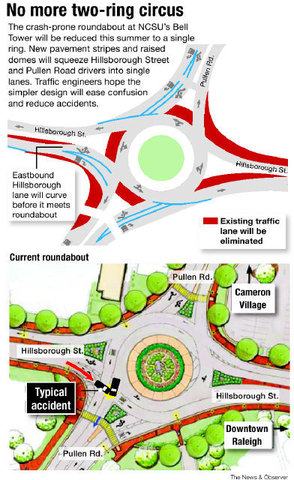 + 4 - 2 | § ¶
Raleigh Fire Museum Preserves 100 Years of Bravery and Service to City Residents
Press release. The threat of fire is constant. You can't escape the possibility that your home, your possessions and all those you love could be the victims of a disastrous fire. For the past 100 years, the Raleigh Fire Department has provided protection to Raleigh residents as a full-time professional fire department. The Raleigh Fire Museum provides an important role by chronicling the history of the City's career fire department, and the preceding 50 years of protection provided by volunteer firefighters. The museum is located in a classroom trailer at the City of Raleigh Keeter Training Center at 105 Keeter Center Drive. "We're trying to build awareness through the museum," said Alan Walters, who serves as the museum's vice-president, "so that the services of past firefighters will never be forgotten."
The museum opened in May 2011 under the organization name of the Raleigh Fire Department Historical Society. The group was formed in 2008 by a cadre of firefighters and Fire Department supporters. It was incorporated as a non-profit charity in 2010, and raised $1,300 in donations from firefighters to make the museum a reality. "The funds allowed us to build displays," said Mr. Walters, who retired last month as a battalion chief after 31 years of service. "One of the first things we did was to build a curved wall to surround the 1870 fire alarm bell." Firefighters and museum staff members also donated their time to catalog artifacts, build displays, and frame photographs. Read entire press release.
Visit the Raleigh Fire Museum this Saturday, June 9. We'll be open from 10:00 a.m. to 2:00 p.m. And don't forget about Saturday, June 16. That's the all-day Raleigh Fire Department centennial celebration in downtown Raleigh. Starts at 10:00 a.m. with a parade. Read more at www.RFD100.com.
+ 4 - 3 | § ¶
Cary Rural Fire Department Badge
From a reader, here's tonight rare artifact photo. This is a Cary Rural Fire Department badge, circa early 1960s. The department was organized on September 15, 1960, when the Cary Fire Department was split into two separate organizations. One department served the town, and the other the uncorporated areas. CRFD soon adopted the name of their fire district, Yrac. That's Cary spelled backwards. Read more CFD and YFD history. And see a Yrac FD badge that recently appeared on eBay. Thanks Dustin!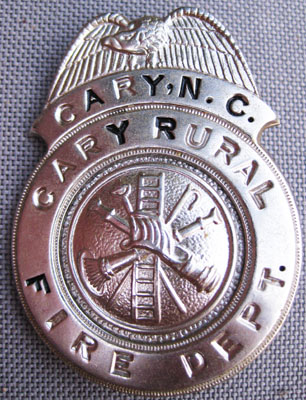 + 2 - 5 | § ¶
Bokeh
In photography, "bokeh" is defined as the blur-- or the aesthetic quality of the blur-- in out-of-focus areas of an image. The picture below has good bokeh, as taken at yesterday's vehicle accident in Johnston County. Particulars: Canon EOS 40D, Program AE, 1/320, 5.6, Evaluative Metering, EF70-200mm f/4L USM, 149.0mm, RAW.

+ 5 - 1 | § ¶
Fuquay-Varina's New Engine
Delivered on June 1, this 2012 Pierce Saber 1500/100 will be placed in service in a few weeks. Photographed by Lee Wilson yesterday. See more photos.



Lee Wilson photo
+ 6 - 2 | § ¶
DARPA Developing New Fire Suppression Method
Saw this mentioned in this morning's New York Times story about a innovations that will change our lives tomorrow. The video and accompanying news release is from January. The technology involves suppressing fire by destablizing flame plasma. The technology involves electromagnetic fields and acoustics techniques. The demonstration is very small scale. The issues are certainly many, the least of which is scability. Makes for exciting forward thinking. What if fire suppression was no longer water- or materials-based? What would the resources and equipment and support system (e.g. the fire service) look like, after that transformation!



+ 7 - 5 | § ¶
The Original Truck 8
Posed photos of Raleigh's service ladder trucks, which operated from 1922 to 1988, have been exceptionally hard to find. My ten (?) years of photo research has found just a handful. Plus this one, from the Richard M. Adleman collection as bought on eBay. It's the first posed shot of the city's 1964 GMC service truck that we've found to date, shown as Truck 8 sometime in the 1980s. Chassis by GMC, body either by the fire department shops or Alexander Welding. Probably the latter. Suspect the only shop-built ladder truck was the 1963 Ford, a year prior. As the story goes, the ladder rack was reused from the 1922 American LaFrance service truck. Memo to self, revisit that research, and the newspaper story that year about the fireman that built the thing. Anyway, here's the new old picture. Click to enlarge:
The Raleigh Fire Department had five service trucks in its fleet: 1922 American LaFrance, 1963 Ford, 1964 GMC, 1971 Chevrolet., and 1980 Ford. The original was part of a two-piece truck company at Station 1 until 1949, when it was moved to Station 6. The others served at varying stations, which we'll detail below. The 1963 Ford was damaged in a vehicle accident in 1979, and rebuilt with a 1980 Ford chassis. It's last assignment was Truck 12, which was disbanded as a company on September 20, 1988. Believe that's the only instance in the department's 100-year history of a permanent company closure.
Here's what should be an accurate chart of the service trucks, combining my apparatus registry with my company histories (PDF). See a couple discrepancies, Truck 6 at the end, and Truck 15 with two rigs. Readers are hereby empowered to check and correct my work!

Truck 1
Truck 2
1922 American LaFrance
1922-1949
Named Service Truck Company 1.
Second of two-piece ladder company.
Moved to Station 2 in 1941.
Unsure when Truck 2 designation started.
Truck 6
1922 American LaFrance
1949-1960
Replaced with another apparatus, 1922 ALF disassembled to create body for 1960 Ford as Truck 7.

Truck 6
???????
1960-1962
May have operated 1939/1916 American LaFrance tiller, which was a reserve since 1958.
Removed from service until 1965.
Truck 6
1964 GMC.
1965-1979
Moved to Station 16.
Truck 7
1922 American LaFrance.
1960-1962
Replaced with 1963 Ford.
Truck 7
1963 Ford.
1962-1979
Rebuilt after accident.
Replaced by 1980 Ford.
Truck 7
1980 Ford.
1980-1982.
Moved to Station 12.
Truck 8
1964 GMC.
1981-1987
Replaced by aerial apparatus.
1964 GMC moved to Station 15.
Truck 11
1971 Chevy
1972-1986
Replaced by aerial apparatus.
1971 Chevy moved to Station 15.
Truck 12
1980 Ford
1982-1988.
Company disbanded.
Truck 15
1964 GMC
1987-1988
1964 GMC.
Replaced with 1971 Chevy.
Truck 15
1971 Chevy
1988-1989.
1964 Chevy.
Replaced with aerial apparatus.
Truck 16
1964 GMC
1979-1981
Replaced with aerial apparatus.
1964 Chevy moved to Station 8.

Oh, and why are they called service ladder trucks? Because in the days of hand-drawn ladder trucks, they were sized both small and large. The former were good for "village service" and the latter good for "city service." Which was later shortened from "city service trucks" to "service trucks." Read that explanation from a 2010 posting.
+ 4 - 5 | § ¶
Aftermath of Apartment Fire
Two alarms at 319 Railroad Street in Knightdale, just a block or so from Smithfield Road. Two-story apartment building with heavy fire showing on arrival. Second alarm requested. Fire controlled in about 20 minutes. Knightdale PS (E132, E134, E131, L135, plus E133 on 2A), Eastern Wake FD (E2, plus E1, E4 on 2A), Wendell FD (L116, E113 on 2A), and Eastern Wake EMS (EMS 62, EMS 63, D6). See photos by Legeros. Click to enlarge:


+ 3 - 2 | § ¶
Aftermath of Extended Extrication
Overturned tractor-trailer truck in Johnston County, on ramp from westbound Highway 70 Bypass to southbound Interstate 40. Driver extricated after just under two hours. Garner Fire Department (E1, E4, R1, BC), Cleveland FD (E2, E5, T1, Chief), 50-210 EMS (ambulance), Johnston EMS (car), Wake EMS (EMS 19, D1, M93, MD1). Plus heavy lifting by Ivey's. See photos by Legeros. Click to enlarge:


+ 3 - 5 | § ¶
The Richard M. Adleman Collection
A treasure trove of historic apparatus photos has started appearing on eBay. The pictures are from the collection of the late Richard M. Adelman of Memphis, TN. During his decades in the fire service, he shot and traded thousands and thousands of photographs. His son Bill Adleman, a retired firefighter, is making them available on eBay. He's 8x10 photographic prints from the original negatives. Using a darkroom and everything. Among the offerings so far are dozens of North Carolina rigs.
Here's a sampling from his most recent auctions. Left to right, top to bottom are trucks from Goldsboro FD (no windshield!), Greensboro FD (light/power truck), Guilford County FD (FISH team), Guilford College FD (and later Knightdale Public Safety), Kinston FD, Raleigh FD (pre-cab extension and white-over-red), Raleigh-Durham Airport FD, and Winston-Salem FD (two-axle snorkel!).
Great stuff, and he welcomes queries about specific trucks and departments. As his description notes, the collection features hundreds of thousands of shots. See all his current items for auction. And keep watching for more, as he regularly adds items.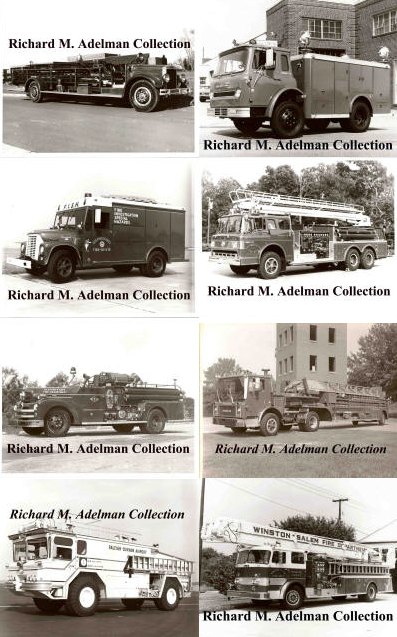 + 5 - 4 | § ¶
Yesterday's MPI in Raleigh
WRAL posted this photo and story about yesterday morning's Multi Patient Incident on Saunderford Road in Raleigh, where some 60 children and eight adults were evaluated for carbon monoxide poisoning. None required treatment, reports the story. The location is a day care, the cause was a gas stove left on overnight. E10, L8, B2, EMS 5, EMS 62, D5, D2, M92, MD20, T1, and EVAC 1 were among the units on scene. That's the big bus and Battalion 2 shown below. And they're no longer called Mass-Casualty Incidents, right? Read the story.



WRAL photo
+ 3 - 5 | § ¶
Yesterday's Ambulance Accident Johnston County
WTVD has posted a photo and short story about yesterday's collision of a Johnston County EMS unit and a pick-up truck on Highway 222 near Kenly. Two paramedics and an occupant of the truck were transported and treated with non life-threatening injuries. Read more.



WTVD photo
+ 3 - 3 | § ¶
The Thorny Thicket Today
Remember the Watch Desk and the Raleigh-Durham forums therein? They were active for a little while, a couple years ago. Withered on the wine, and certainly never approached the volume of postings (and ferocity of opinion) seen in the Baltimore-DC area forums. (Which is where the site originated.) Both Statter911 and Firegeezer are talking this week about the Watch Desk's pending temporary closure and issues relating to a site administrator's employer's reaction. Mike Ward, on of the Firegeezers, recounts the history of the Watch Desk and asks if such messages are even important today, given the explosion of personal digital channels. Facebook, YouTube, personal blogs, personal web sites, etc. My question slash observation involves the anonymous component and employer/employee perspectives. Below is a comment posted in both stories. Reflect, react, or add your opinion to the story comments.
Legeros says

In days of old, when knights were bold, and Internet hadn't been invented, employees showed their faces and their names when criticizing their employers.
The thorny thicket today (or one of them, perhaps, related to this issue) is this: how should we regard an employee's role in participation, facilitation, or enabling of anonymous criticism of their employer?

I have personally wrestled with this issue locally on my own fire blog, as I have witnessed the personal reactions (and tangible outcomes) that result from anonymous online criticism of departments and their actions.

(Because of course, ever entity and action traces back to a person. A living, breathing, feeling, and reactive human being. And a person within a chain of command, with peers, with rivals, with people to lead and people they follow.)

No answers here…

May 31, 2012
+ 3 - 2 | § ¶
Durham's New Engine 4
As photographed by Lee Wilson, this 2012 Sutphen Shield Series pumper (1500/500) was placed in service on Tuesday as Durham Engine 4. See more photos. Speaking of the Bull City, The Durham Fire Department has a nifty Facebook page, if you haven't seen it. They post everything from event announcements to incident "tweets." Here's an example of the latter: "3-20-2012 Trench Rescue @ 603 Appaloosa Trail (C-Shift). Bahama VFD, E7, R7, E16, T16, L2, SQ1, B2, SAF1, MS1, DCEMS." Neat.



Lee Wilson photo