+ 17 - 17 | § ¶
The Big Fire and Building Codes
WRAL reports that the city-commissioned report investigating building codes after the big fire of February 22 was released today. The report recommends local fire codes be changed, such as "moving combustible materials like pine straw away from townhouse and apartment complexes and using more fire-retardant soffit materials in the eaves of such buildings." The findings are expected to be discussed by the City Council at their Tuesday meeting, notes the news agency.


+ 21 - 12 | § ¶
Historical Help Wanted
Who can help answer / confirm / correct / debate the following historical questions about the fire service in North Carolina? All input is appreciated. READ MORE
+ 9 - 15 | § ¶
Faster 911 in Fayetteville
Fayetteville Observer article on improvements to emergency dispatching in Cumberland County.


+ 17 - 15 | § ¶
September 19, 1953
Would you believe a double fatality at a raceway in Raleigh? Found the date while skimming Silent Speedways of the Carolinas: The Grand National Histories of 29 Former Tracks. Here's a Raleigh Times photo:


The next day's
News & Observer
article read: "Two race drivers were fatally hurt last night at the Raleigh Speedway when 15 hot rod racers piled up along the backstretch. Two of the cars exploded and one of the drivers, Bill Blevins, 25, of Fayetteville, burned to death behind the wheel before about 10,000 race customers.
READ MORE
+ 16 - 15 | § ¶
Blogging with Drawings
Found by way of the NY Times Freakonomics blog, here's a novel approach to publishing one's thoughts. The blog is called Indexed. The author draws drawings on index cards.
+ 17 - 12 | § ¶
Old Engine 16
Here's a familiar piece of apparatus, presently serving as Four Oaks Engine 2. Placed in service as Engine 16, the 1978 Mack was refurbished by Pierce in 1992. It also served as Engine 30 (reserve), Engine 102 (reserve), and Engine 23. It was sold to FOFD in May/June 2005.


+ 13 - 13 | § ¶
Classic Chicago Fire Apparatus
Found on another discussion board, here are several galleries of vintage Chicago fire apparatus. Plus fires, stations, and some rigs from other cities. The kicker is that they're in color. Glorious color. Early snorkels, FWD tillers, Cardox crash trucks, and even water towers in action. Gorgeous.
+ 18 - 9 | § ¶
Cultural Comparisons
Firehouse.com reports this week on a Swedish firefighter and R&D engineer who presented a critical perspective of the American fire service. The article is also being bluntly discussed on this Firehouse forums thread. Whatever one's reaction to the Dr. Svensson's reported comments, the context poses a compelling question. What are the cultural differences between our ways and others? How do we fight or prevent fires differently than others?

Google finds this USFA article from 1997, Fire Death Rate Trends: An International Perspective. The 20-page report (available as both PDF and TXT) includes some very interesting perspectives on cultural approaches and attitudes toward fires, fighting fires, and preventing fires. Response time, national building codes, and fire prevention staffing differences are particularly fascinating.

What other comparative articles are out there? Here's one comparing PPE in Mexico, Hong Kong, and Essex, but, alas, it's not free.
+ 9 - 16 | § ¶
Mystery Seagrave on 401 South
A reader reports that a Seagrave 70th Anniversary engine, open cab and with a Mars light on the radiator, is sitting along Highway 401 south, between Ten Ten and Simpkins Road. It's on the north-bound side. Reportedly faded, and with a sign on the passenger side window. More information as it is investigated. What other old apparatus are sitting out, around here? There's a custom-cab Seagrave sitting on Carpenter Pond Road, north of Raleigh. Ex-Havelock.
+ 8 - 13 | § ¶
The History of Rural Fire Departments in North Carolina
Speaking of rural fire departments, what's their history statewide? Does their development mirror what happened in Wake County, with private fire protection organizations first appearing in the early 1950s? The North Carolina Secretary of State's Corporations search site provides some insight. Search on "fire department" and, though limited to 500 results, some things become apparent. They also confirm a suspected post-War trend, with populations moving into suburban and rural areas, requesting or securing fire protection, and the availability of Civil Defense funding toward that purpose. READ MORE
+ 15 - 17 | § ¶
Forest Hill Fire Department
This interesting and seemingly deactivated fire station was spotted on Germantown Road, about a mile south of Highway 52 in Winston-Salem. Forest Hill Volunteer Fire Department, and with what looked like rigs inside each bay. Upon inquiry at the convention, and closer inspection of the building, the station was closed in July of last year. FHFD operates in solely Stokes county, now. The building is apparently privately owned, and houses a half-dozen former FHFD rigs, including what looked like a pair of Mack B pumpers (!) and a World War II era-looking Willy's Jeep brush truck. Very cool. More former firehouses.


+ 9 - 14 | § ¶
Gone
Recognize this empty lot? That's 127 North Main Street, site of Holly Springs first municipal fire station. After the department was formed on April 1, 1995, they occupied a temporary fire station at the Omaha Meat Company building at corner of Thomasmill Road and Irving Parkway. There may have been one or two other temporary locations as well. The Main Street station, a metal building, was completed in September. The municipal and rural departments merged in August-September 1997. The Main Street station closed in April 2006, when the Holly Springs Road station opened. The former station was subsequently demolished.


+ 15 - 11 | § ¶
Everybody Loves a Parade
Today's activities in Winston-Salem included a parade of emergency apparatus. The rigs represented fire and emergency agencies in Forsyth County. Plus motorcycles. The procession started at Winston-Salem Fire Station 1 and proceeded past the M.C. Benton Convention Center, and continued for several blocks. Numerous attendees were observed smiling widely.


+ 13 - 15 | § ¶
Greece
Dramatic photo of the week. From New York Times article on deadly fires in Greece. Post-apocalyptic picture credited to Louisa Gouliamaki/Agence France-Presse — Getty Images. That's a fire truck on its side in the foreground. Click to enlarge:


+ 19 - 13 | § ¶
Fire Company Nicknames
Observed in Winston-Salem, a sign on the rear of Engine 1 reading "Rough and Ready." The nickname is likely drawn from Salem's volunteer Rough and Ready Fire Company, which operated for decades prior to the merging of Winston and Salem in 1913. What volunteer companies could be adopted as nicknames in Raleigh? The apparatus, equipment, and quarters of the Capital Hose Company were utilized by Hose Company No. 1, beginning at the end of 1912. Hose Company No. 2 replaced the Rescue Company at the same time. Hose Company No. 3. replace the Victor Company, beginning February 1913. The hose companies were named engine companies in the mid-1920s.
+ 9 - 18 | § ¶
Raleigh's Old Tiller on eBay
Found by a reader, Raleigh's former 1979 Mack/1958 American LaFrance tiller-- which also served Wendell-- is for sale on eBay. Place your bets!



+ 14 - 15 | § ¶
Firemen's Conventions, 1907
100 years ago, the North Carolina State Firemen's Association 20th annual convention and tournament was held in Wilmington. The four-day event, which started August 6, attracted over 30 fire companies. James D. McNeill, Fayetteville's Fire Chief, was elected President for the 14th consecutive year. Raleigh's L. A. Mahler Steamer Company won first place in the long-distance steamer contest. Raleigh's Capitol Hose Company won third place in the horse hose wagon races. That race had 13 entries including Asheville, Concord, Durham, Goldsboro, Kinston, New Bern, Rocky Mount, Salisbury, and Statesville. Attendance at the interstate events on August 9 was estimated at 10,000.

Also that year, the North Carolina Volunteer Firemen's Association held its 18th convention and tournament in Durham. The three-day event, which started August 13, brought between 700 and 800 colored firemen to the city. James A. Plummer, from Warrenton, was elected President for his 11th year. Raleigh's Victor Company won first place in three events, the 150-yard reel race, the 50-yard grab reel race, and the 100 yard dash. Upon their return to Raleigh, the Victors were greeted by a crowd at Union Depot, the railroad station once located beside and behind the land that Station 1 occupies. You can still see some railroad tracks back there.
+ 18 - 10 | § ¶
IMAPS Adds Raleigh Crime Data
Here's the WRAL story, and here's the map site. Cool, and can fire and/or EMS data be added some day? Durham has a similar site, which also includes stats.


+ 16 - 8 | § ¶
Remaking Raleigh City Hall
Here's an interesting News & Observer article on municipal expansion in downtown Raleigh. It references the planned Public Safety Center, and speculates on the value of the land around Station 1.
+ 13 - 11 | § ¶
Garner Rescue's New Rescue
Updated. This 2007 Spartan / EVI heavy rescue arrived today at Garner EMS. More information to follow. Here are pictures from Lee. Thanks for the prior pic, Dena.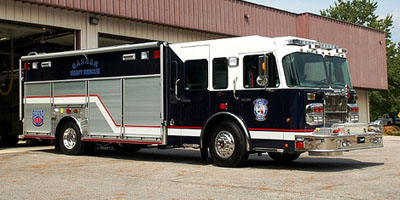 + 11 - 13 | § ¶
Proposed Wake County Apparatus Numbering Scheme
FireNews has created and posted a proposed Wake County apparatus numbering scheme. Should start some people talking. Discuss on the FireNews forums. There's also a Watch Desk thread about same.
+ 16 - 15 | § ¶
Damn
Record temps. Rapid spread. Remarkable response. Remarkable responders. And but blocks from the last one. There's already a discussion over at the Watch Desk. Pics coming. Click to enlarge:


+ 15 - 9 | § ¶
This Morning's Fire
The three-alarm fire at 3833 Bonneville Court was reported at 3:56 a.m. Dispatchers advised that multiple calls were being received, and occupants were reportedly trapped. Police were first on scene, and also reported that people were trapped. Officers were later credited with going door-to-door to awaken residents. Three occupants were transported, at least one of which jumped from a balcony. Two firefighters also sustained minor injuries, and were transported and soon released. Some of the companies responded from the scene of an earlier working fire with Engine 21.


Battalion 1 reported smoke showing from Atlantic Avenue.
READ MORE
+ 13 - 13 | § ¶
Strange Radio Transmissions
We're hearing some strange radio traffic this week, skipped signals from somewhere far away. One from Myrtle Beach was ID'ed. Caused by weather? Solar activity? Something else? Donning protective headgear as a precaution...


+ 16 - 16 | § ¶
Dramatic Video Footage
Here's something you don't see every day, video footage of a Boeing 737 exploding at an airport in Okinawa, Japan. No fatalities, and only minor injuries. The pilot is seen escaping from the cockpit at the very moment of the explosion. There's also a slideshow of photos. Those are Morita crash trucks, along with what looks like an older Fuso. The stills show some other units, pumper, tanker, etc. Below is an image from MSNBC.


+ 15 - 11 | § ¶
Charleston Super Sofa Fire Narrative
The Post and Courier has published a narrative of the June 18 fire that killed nine Charleston firefighters. It's a blow-by-report that opens with the first 911 call, and closes when officials confirmed the nine missing firefighters. There's also an accompanying graphic. Expect any questions about accuracy or advocacy to appear in the reader comments. Or, stop reading at the end of story, and just absorb the account itself.
+ 9 - 9 | § ¶
Raleigh Area Public Safety Racing League (RAPS)
Press release. Raleigh Area Public Safety Racing League (RAPS) has incorporated as a nonprofit organization. Steps are being taken to make RAPS a tax deductible charitable organization.

There are two major functions of RAPS. The first is the development of the adult public safety endurance karting races for public safety agencies, like we did in January and June of this year. The next RAPS race is scheduled for January 2008. READ MORE
+ 15 - 8 | § ¶
Conference Schedule
Here's the schedule
for the North Carolina State Firemen's Association and North Carolina Association of Fire Chief's conference in Winston-Salem next week. For those attending for the exhibits and vendors, they're scheduled for 9:00-5:00 on Friday, and 8:00-3:00 on Saturday. See you there.


+ 13 - 9 | § ¶
American LaFrance 175th Anniversary Celebration and Grand Opening
There's a two-day celebration planned in Summerville, SC, on October 19 and 20, to celebrate both the 175th anniversary of American LaFrance, and the opening of their new factory. Friday and Saturday. Grand opening events include a building wet down, supplier exhibits, and factory tours. Anniversary events include a swap meet, antique apparatus on display, and seminars on steamers, antiques, and gold leaf. Plus tours of the new North Charleston Fire Museum. Four hours from Raleigh. More information.
+ 13 - 9 | § ¶
Plan Advanced to Help EMS
Another News & Observer story, this one from yesterday, about community emergency preparedness programs, and involving Six Forks EMS and the Raleigh Fire Department. It appeared in the North Raleigh News section, which, curiously, isn't part of the daily online edition. Go figure.


+ 10 - 13 | § ¶
Super Scooper to Retire
Today's News & Observer tells that the NCDFR is planning to retire its Canadair CL-215 air tanker. Costs too much to operate. Based in Hickory, the 38-year-old aircraft was purchased 10 years ago, loads 1,400 gallons of water in about 10 seconds, and, between 1999 and 2004, was used on 135 fires. It's also been leased to other states to fight wildfires. They're looking at a replacement. More information about NCDFR aviation assets.



+ 10 - 18 | § ¶
Charleston Panel Recommendations
The panel investigating the Charleston Super Sofa fire has released their first round of recommendations. Firehouse has the story and the full list. It's also being covered and discussed other sites, including the Post and Courier and Firefighter Hourly.
+ 8 - 11 | § ¶
Six Forks
Those old photos from the ECC include this picture of Six Forks' fourth and last fire station. Six Forks Road Fire Department was first housed at Howell Store on the west side of Six Forks Road, where North Hills Mall is today. The second location was on east side Six Forks Road, halfway between Rowan and Lassiter Mill. The third location, 5305 Six Forks Road, is presently EMS Station #3. The siren, however, was located farther north, at the intersection with Sandy Forks. The fourth location, 1431 Lynn Road, was expanded a couple times, and presently serves as Bay Leaf Station #3 and Six Fork EMS Station #1. Great picture, and a rare one. More information about SFFD.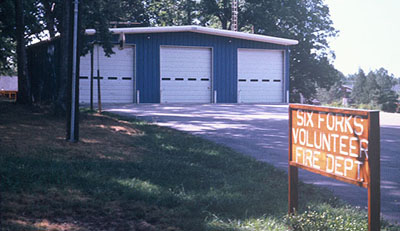 + 13 - 9 | § ¶
Remember When?
A collection of color slides was recently discovered by the Raleigh-Wake Emergency Communications Center. The pictures date to the 1970s and 1980s (and later?), and include extensive images of the comm center, as well as some fire, police, and rescue pictures. Based on their object and subject matter, they appear to have been part of a presentation. Perhaps someone here remembers seeing them in their original form. Big thanks to the ECC for scanning these slides, and sharing these treats.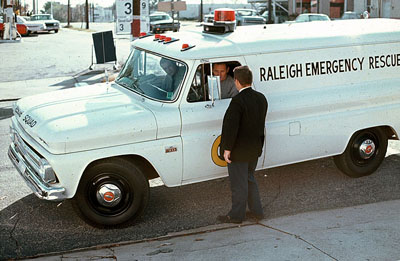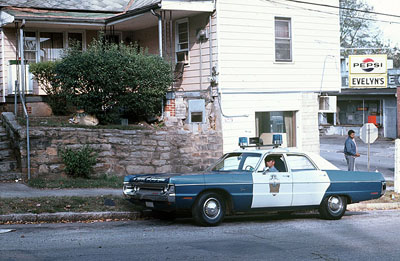 + 11 - 14 | § ¶
San Francisco ALF E-3 Centennial Edition
Though our interest in die-cast emergency vehicles rarely surfaces in this forum, one of the best-looking Code 3 Collectibles releases to appear in a long while was announced today, a 1:64 replica of a 2006 American LaFrance Eagle pumper, lettered or San Francisco Engine Co. 3. Limited to 1,500 pieces, it's exclusively available from the Fire & Cop Shop. Alas, it's also pricey. Material and manufacturing costs have risen in recent years.


READ MORE
+ 13 - 11 | § ¶
Usage Information, Search Information
So, how many people read this thing? Yesterday, 197 unique people visited the blog site (both main page and sub-pages), 432 unique people visited the photo site (ditto), 499 unique people visited the Raleigh/Wake fire departments site (ditto), and 659 unique people visited legeros.com (ditto). Usage information from Google Analytics. How do people find the blog? Using Google, both "firefighting blog" and "raleigh blog" get you there easily. Same for "firefighting blogs" and "raleigh blogs." Not so for "fire blog" or "wake blog." And there are other combinations that work or don't work, of course.
+ 12 - 9 | § ¶
National 9/11 Memorial and Museum Coming to Raleigh
Press release. The National September 11 Memorial and Museum-- a traveling exhibition that pays tribute to the victims and heroes of the September 11, 2001, terrorists attacks on America-- will appear in Raleigh on September 15 and 16. The exhibition will be in front of the municipal building in the 200 block of West Hargett Street and Nash Square. Mayor Charles Meeker will preside over the opening ceremony which will begin at 10 a.m. on Sept. 15 in front of City Hall. Read the complete press release.


+ 11 - 10 | § ¶
Harry Carter Commentary
Harry Carter delivers a gut punch against ignorance in this compelling commentary titled Booster Lines, Bullies, and Buffoons. The force of his conviction is startling, and his perspective might be mandatory reading. Without naming names, he also targets booster lines for attacking structure fires, which he says "qualifies you as a certifiable, Grade-A, All-American dumb ass." And he targets incident commanders who are prone to roam. "This would be laughable if it wasn't so common and so devastating to good order." Carter pulls no punches, nor delivers low blows. He just speaks strong words with strong sensibility. Let there be light.
+ 10 - 13 | § ¶
D'oh!
Accidental deletion of some threads and their comments. Will restore over time, if possible.
+ 9 - 15 | § ¶
IAFF Media Awards
Earlier this year, the Raleigh Professional Fire Fighters Association sponsored the submission of some FireNews articles to the International Association of Fire Fighters 2007 Media Awards. Entered for the category Best Story on Web-Based News Site, the submitted articles included stories about the Raleigh Fire Department, with text by Mike Legeros and photography by Legeros, Lee Wilson, and Jeff Harkey.

The IAFF confirms that the article New Tabletop Simulator, which was published on FireNews on January 16, 2006, won Honorable Mention in the above category. READ MORE
+ 16 - 12 | § ¶
Very Old Newspaper
Want to read a really old newspaper? Here's the December 13, 1851 edition of the semi-weekly Raleigh Register. Four pages, scanned in halves. Big files, be patient. Enjoy.

[ Why this particular issue? It's context for a coming essay on a major fire that occurred two days later, and the resulting development of a "modern" fire department. As a reader notes, it's also a warts-and-all picture of the past. ]


+ 10 - 10 | § ¶
Before
Station 16 with reserve rigs. Engine 124, a 1989 Pierce Arrow pumper that first served as Engine 13. It was one of three of the city's first Pierce pumpers. Ladder 112, a 1990 Spartan / LTI aerial ladder, 110-foot and the city's first aerial apparatus equipped with a pump. It exclusively served as Truck 11. The Lead Mine Road station is awaiting training on their replacement rigs, a 2007 Pierce Enforcer pumper and a 2007 Pierce Arrow XT aerial-ladder, 105-foot. Both should be in service soon. The station's regular rigs are a 1997 Pierce Saber pumper and a 1995 Simon-Duplex / LTI aerial platform, 100-foot. The latter has been out of service for some months.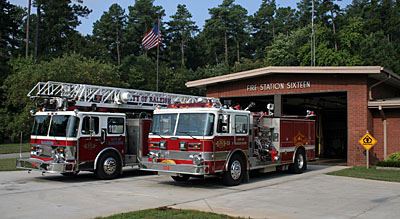 + 7 - 14 | § ¶
Vance County Church Fire
WRAL has a handful of photos from the fire that consumed the Union Chapel Church sanctuary in Vance County yesterday afternoon. Carolinas Fire Page reported Bear Pond, Henderson, Cokesbury, Hicksboro, Kittrell, Townsville, Vance Station 3, Watkins & Epson, Mitchiner's Crossroads, and Franklinton were on scene. Building reportedly about 8,000 square-feet, though can't confirm as the county real-estate records are incomplete, as often happens with property owned by tax-exempt entities. Such as churches and even municipal fire stations.


+ 12 - 12 | § ¶
Charleston Super Sofa Fire Tapes Released
The Post and Courier has the story and audio links. No transcripts, yet.
+ 12 - 14 | § ¶
Communication and Conversation
Why blog? Because you have something to say. What is worth blogging about? That is matter of personal preference, and maybe the marketplace. Meaning, one indicator of worth is the blog's ability to attract and retain readers. What is the purpose of saying something online. Again, this a matter of personal preference, but the choices are many. You like reading your own words. You want reactions from readers. You want to facilitate conversation. You want to affect change. READ MORE
+ 10 - 12 | § ¶
This Evening's Fire
Heat beget storms that beget lightning strikes. Engine 16 was first due at a working fire at 4621 Wee Burn Trail, with heavy smoke emitting from the attic area. Where else were fires started?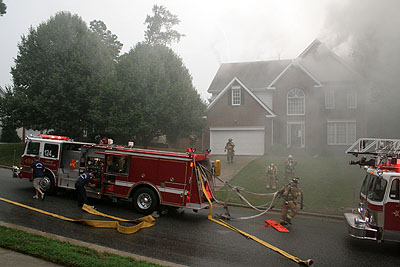 + 13 - 12 | § ¶
Crane Collapse
South side of Strickland Road, east of Lead Mine Road. No injuries, no emergency response. Something you don't see every day. Pics forthcoming.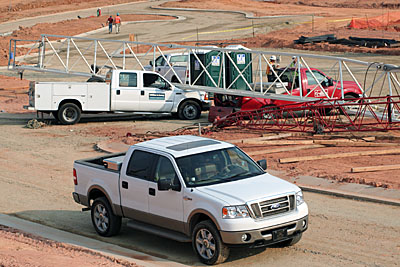 + 18 - 14 | § ¶
Haz-Mat
In addition to Emergency Management towing a trailer of bottled water, other units on scene at 7516 Precision Drive included Durham Highway E3, Bethesda E421, Raleigh E24, E8, L20, R14, B4, B1, C5, C2, Air 8, HM2, SR2, SR22, Decon 1, FC1, Six Forks EMS 1272, 1280, Cary EMS 574, Wake EMS 33, 203, 103, Truck 1, WC201, WC3, WC1, and Barry's Cafe. Five plus hours on scene, with extensive rehab. Pics forthcoming.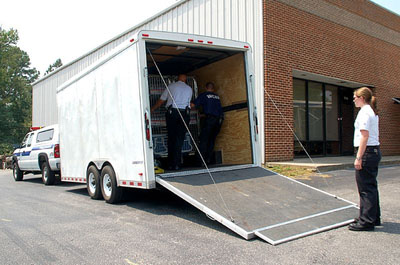 + 7 - 16 | § ¶
Wilmington Fire Boats
The August 6 edition of FireNews features a picture of Wilmington's new fire boat, a Firestorm 50 made by MetalCraft Marine. The coastal city's fireboat fleet dates back to 1910 or abouts. That year, WFD was fully paid with 36 men, 14 horses, four stations, three steamers, three hose wagons, and other apparatus. Shown below is the Atlantic I, in an undated photograph from the Fales Collection, New Hanover County Public Library. Moored at the foot of Chestnut Street, it carried a third-size Silsby steam engine and 300 feet of 2 1/2-inch hose. Powered with a 25 HP gasoline engine, the boat's maximum speed was 10 MPH. It was operated by a three-man crew. By 1915, it carried a 1,400 GPM American LaFrance pump and 600 feet of 2 1/2-inch hose, and was powered with a 125 HP gas engine.


+ 11 - 8 | § ¶
Share Your Decor, Part 1
Submitted by his father, here are pictures of Firefighter Sam's bedroom. The bed-mounted air tank is a classic. If only our wives would allow such adornments...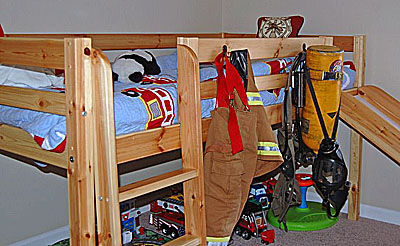 + 12 - 16 | § ¶
Cary EMS Accident
WRAL is reporting on the early morning accident involving Cary EMS 571 and a reportedly red-light runner. The driver of the car was reportedly charged with a DWI. Both paramedics (and the other driver) were transported with reportedly non life-threatening injuries. Crossing our fingers for minor injuries. Cary EMS 572, 580, Wake EMS 8, and Cary Fire also on scene.
+ 14 - 12 | § ¶
Raleigh Wants More Firefighters
That's the title of the NBC17 story from yesterday, about the department's presentation to City Council requesting and receiving permission to proceed with applying for a federal grant, to help fund fifteen positions for another ladder company. The meeting agenda
contains more detailed information. See Consent Agenda item #14 on page 9.

The City Council evening session was also recorded and can be replayed from the RTS site. The fire department's presentation should be somewhere within the clips. The meeting also included recognition of the Raleigh Fire Department's participation in MDA fundraising, and proclaiming MDA Firefighter Appreciation Month in Raleigh. That segment starts at 17:13 in the second video clip (02h 06m).

Here's information about the SAFER (Staffing for Adequate Fire and Emergency Response) Grant. Here's information about the city's present seven ladder companies and locations. Here's information about firefighters and MDA. Here's an earlier Blog thread on the subject of additional Raleigh ladder companies, where they might be stationed, and including some ISO-style coverage maps.
+ 14 - 14 | § ¶
Wake County Needs Numbering System
FireNews is reporting on and editorializing about a new numbering system in Rowan County, and the "ugly twenty" counties in North Carolina that lack such a system. FireNews notes "the urbanized counties of Mecklenburg (Charlotte) and Wake (Raleigh), along with rapidly developing Johnston County to Raleigh's east continue to operate without comprehensive numbering plans." The article adds that "in Wake County alone, there are a dozen units with the designation 'Engine 1.'" The story is also being discussed in the FireNews forums.
+ 14 - 12 | § ¶
Pigeon Guano, Poor Lighting, Road Rage, and Spider Webs
What are challenges faced by bridge inspectors? This Minneapolis Star-Tribune article tells more.
+ 9 - 16 | § ¶
Spruce Pine
At least ten businesses were destroyed in downtown Spruce Pine on Saturday. Multiple fires, arson suspected. Mayor declared state of emergency. Curfew was placed in effect. The Mitchell News-Journal has stories and pictures. The Asheville Citizen-Times also has a story. Ten hours of firefighting.


+ 13 - 12 | § ¶
Training Center Lower Lot
Speaking of the Keeter Training Center, the southwest corner of the lower lot was recently cleared and paved with gravel. Several small trailers are parked there. Looks nice, and is a far cry from the days of decomposing Macks and rusted LaFrances.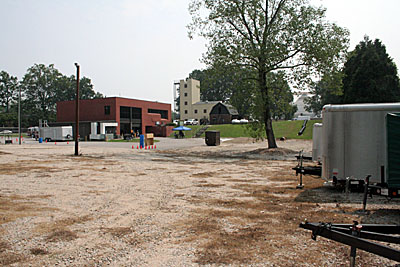 + 12 - 13 | § ¶
Tarzan Hot
"Man it's hot. It's like Africa hot. Tarzan couldn't take this kind of hot." Eugene Morris Jerome in Biloxi Blues, script by Neil Simon, from his play.
+ 8 - 10 | § ¶
Chevrons
Seen at the helicopter landing yesterday. Seems the State Highway Patrol has started using (or is testing the use of) chevrons.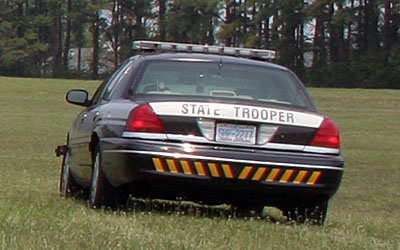 + 14 - 10 | § ¶
Deficient Major Bridges
MSNBC has published a state-by-state inventory of bridges classified as either "deficient" or "obsolete." Structurally deficient bridges are closed or restricted to light vehicles, are not necessarily unsafe. Functionally obsolete bridges have older design features, are are not unsafe for all vehicles. The listed bridges include numeric ratings. Higher ratings are better than lower ratings.

The North Carolina bridges classified as such include 64 for Wake County. Combined with road names from the DOT secondary roads database lookup, the two single-digit rated Wake bridges are below. Both are classified structurally deficient.

SR1301 (Sunset Lake Road), 1.0 mile south of US401, Terrible Creek, rating 4.
SR1007 (Poole Road), 0.6 miles east of SR2516 (Hodge Road), Clarks Creek, rating 7.
+ 11 - 18 | § ¶
Aircraft Incident
This early afternoon's aircraft incident, reported as possible accident in the vicinity of the Farmer's Market, was a National Guard Apache helicopter gunship that made a precautionary landing in a field beside Barbour Drive. Neither member of the two-person crew was injured. Engine 2, Engine 13, Engine 1, Rescue 14, Battalion 2, two EMS units, and EMS 203 were dispatched. There are a few photos posted.


+ 12 - 11 | § ¶
Ordinance, 1852
Going way back, this ordinance was printed in the February 18, 1852 edition of the semi-weekly Raleigh Register. It authorized three fire companies to be organized annually, and described the duties of the newly created Superintendent of the Fire Department. It was one of several measures undertaken by City Commissioners after a fire destroyed more than 17 structures on Fayetteville, Hargett, and Wilmington Streets on December 15, 1851. That fire was probably the last the city's great conflagrations.

What's so important about this ordnance, you ask? It can help establish when the Raleigh Fire Department was first created. Not the full-paid entity-- which was placed in service at the end of 1912-- but the volunteer department. Still researching that question, when RFD first appeared in name or structure. Might be 1852. Might be 1867. Might be another year. READ MORE
+ 12 - 12 | § ¶
New Trucks For USAR?
Seen today at the Keeter Training Center. Betcha they're for USAR.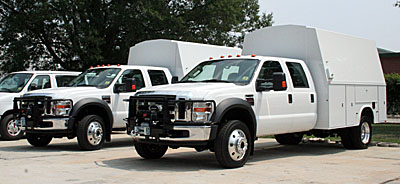 + 14 - 12 | § ¶
Raleigh Fire Department Chaplain
Random historical tidbit. Rev. Lyman K. Dills, pastor of Pullen Memorial Church, was appointed Chaplain of the Raleigh Fire Department on July 7, 1916. According to Chief Charles Farmer, it was the first appointment of its kind in North Carolina. The appointment entitled Rev. Dills to membership in the North Carolina State Firemen's Association, which conducted its convention in town two weeks later. This was reported in a retrospective in an unidentified issue of the Raleigh Times.
+ 16 - 8 | § ¶
Dramatic Photo From Last Week
The latest WRAL story about last week's accident (and firefighter line-of-duty death) features this dramatic photo, credited to one William Gillian. Picture is facing east, and was probably (certainly?) taken from the Airport Boulevard Bridge. Click to enlarge.


+ 15 - 14 | § ¶
Minneapolis Bridge Collapse
The Twin Cities CBS affiliate WCCO has live footage of the Minneapolis bridge collapse. Believed bumper-to-bumper at time of collapse. Live footage with sound available at http://www.kare11.com. Span length 1,907 feet. Height above water 64 feet. Daily traffic 140,000 vehicles. Built 1967. Eight traffic lanes. Steel arch deck truss bridge.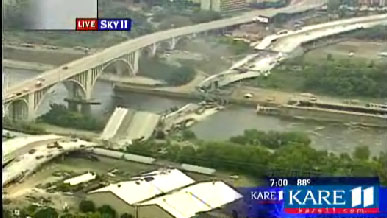 + 15 - 12 | § ¶
Mass Casuality Incident / Major Working Fire
Greyhound bus overturned on I-440 about 12:40 a.m. Exit ramp from inner Beltline to New Bern Avenue. 60 passengers, 47 hurt, 30 transported. 15 to WakeMed, 8 to Rex, and 7 to Duke Health Raleigh. No life-threatening injuries. Ambos from Wake EMS (5), Cary (1), Eastern Wake (2), and Garner (1). Five RFD companies. Information from news report and CFP. Later, major working fire at corner of Farrior Road and Nottingham Road. Home under construction. Alarm time about 4:00 a.m. Engine 6 first due. Fire through roof on arrival. Deluge used. Companies started clearing about 5:00 a.m. Photos forthcoming.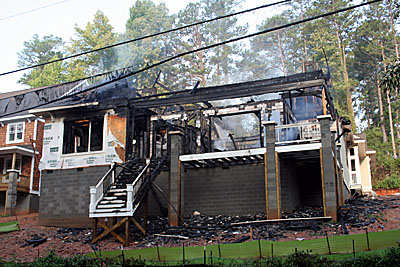 + 9 - 13 | § ¶
News Articles and Reader Comments
Observation of the WRAL site. Neither last night's airport worker death, nor last week's fatal I-40 accident, contain a reader comment section. It appears that they hedge their bets in the case of fatalities. Checking other story links confirms. Given reader sensitives, this is probably a smart editorial decision.