+ 3 - 2 | § ¶
First Annual NCFFF Red Helmet Ride, Saturday, May 4
This weekend is the annual North Carolina Fallen Firefighters Memorial Ceremony in Raleigh. Motorcycle riders are invited to join a procession to the Saturday ceremony that will start at the K-Mart in Garner, 4300 Fayetteville Road. The line-up time is 9:00 a.m. to 10:00 a.m. There's a 10:00 a.m. briefing, and kick stands are up at 10:30 a.m. Riders arriving at the memorial site at 11:00 a.m. Here's a flyer (PDF) from this NCFFF web page.
The eighth annual memorial service starts at 1:00 p.m. on Saturday, May 4, at the North Carolina Fallen Firefighters Memorial at Nash Square in Raleigh. Its preceded by a processsion of fire apparatus that starts at 10:00 a.m. The parade starts at Hillsborough and St. Mary's streets, proceeds east on Hillsborouigh Street, turns right on Dawson Street, and concludes at Nash Square, which is located across the street from Station 1. See photos from past years.
+ 3 - 2 | § ¶
Car Versus Apartment Building in Fayetteville
The Fayetteville Observer filed this report of a Chrysler 300 that crashed into the Cambridge Arms Apartments on Barcelona Drive this morning. The driver was also a wanted man, as police discovered. He was arrested on a prior arrest order. The building sustained enough damage to require an engineering assessment. Eight units were affected, and the residents evacuated.



Cindy Burnham/Fayetteville Observer photo
+ 2 - 2 | § ¶
Funeral Arrangements For Burke County Paramedic/Firefighter Joey Autrey
As reported last week by FireNews.net, Burke County paramedic and firefighter Joseph W. "Joey" Autrey, 38, passed away at Wake Forest Baptist Medical Center on Friday, April 26. He had been hospitalized on April 4, after experiencing chest pains while operating an ambulance during a call. He suffered an aortic aneurism, which resulted in severe heart damage. On Saturday, firefighters, police, and paramedics paid their respects as his body was brought home by a procession of emergency vehicles.
Autrey was a paramedic with Burke County Emergency Services. He was also a Lieutenant with Lovelady Fire and Rescue, and a member of Icard Fire and Rescue and Salem Fire and Rescue. He had been involved with emergency services for twenty-two years. Read his obituary.
Funeral services will be held at 3:00 p.m. Wednesday, May 1, at Burkemont Baptist Church, 4668 Burkemont Rd., Morganton. Burial will follow in the church cemetery. The family will receive friends Tuesday evening from 5:00 p.m. until 8:00 p.m. at the church.
+ 2 - 1 | § ¶
David Pogue's Ten Top Time-Saving Technology Tips
For your Sunday enjoyment, here's a fabulous five-minute (and change) TED talk video by New York Times personal technology columnist David Pogue, with his top time-saving tips for web browers, cell phones, digital cameras, and more. Guarantee you'll learning something. Such as triple-clicking to highlight an entire paragraph (didn't know that) or pressing "B" in PowerPoint to "black out" the screen. Giddy-yup.


+ 4 - 3 | § ¶
Charlotte Firefighter Roof Incident in Video and Headlines
At a house fire in Charlotte on Thursday, did a firefighter fall into the roof as this Statter911 story recounts, or did he slip on the roof as this FireNews story recounts? Which verb is most accurate, and does the particular word even matter?
There's a video of what happened, and readers can (and perhaps already have) commence merrily second-guessing the story writers. Of course, this isn't really apples to apples. The Statter story was posted earlier, and draws from nhews reports. The FireNews story came later, and includes information from the CFD PIO.
But this begs a larger question. How important is word choice, in communication about unusual (or significant) events on the fireground? It depends on the purpose of the communication, as well as the outcome.
Choosing your words carefully can downplay or overplay an event. You can minimize or maximize a reaction, by the amount of words (the detail) and you provide. This applies to anything from a quick e-mail note, to a fireground incident report, to a formal press release, to, ahem, a blog post about a fire.
Readers, what have you liked or not like about particular words when they're used in stories about fires? Just be alert of the impressions formed within you. As you rise in the ranks, so will the opportunities for wider and more impacting "wordsmithing." Anyway, here's the video. House fire on Eastway Drive. Member of Engine 3 was quickly rescued by crew. No injures. Good to hear.
+ 3 - 2 | § ¶
Adventures in Fireground Flash Photography (and RAW Post-Processing)
Let's look at some shots from Saturday morning on Gradate Lane. Very dark scene on three sides, plus the usual white and red lights in the front. Required a high ISO, and some flash in spots.
Camera is a Canon 7D, shooting in medium-quality RAW, with an EF 17-40mm f/4L lens. External Canon Speedlight 580 EXII flash. Post-processing using Canon Digital Photo Professional. Auto white balance, Faithful picture style, +2 contrast, +2 color saturation, +10 (max) saturation.
Example #1 - No flash, ISO 2500, Shutter-Priority AE Mode, 1/40 shutter, 4.0 aperture. On right, same shot with +2 brightness/exposure compensation in RAW post-processing. Click to enlarge:


Example #2 - Flash with -1 2/3 flash exposure compensation (dialing it down). On right, same shot with +1.33 brightness/exposure compensation in RAW post-processing, and -5 highlight adjustment, to improve the clarity of the reflective strips (which district anyway, but what can you do?). Click to enlarge:


Example #3 - Flash with +1 1/3 flash exposure compensation (dialing it up). Plus that -5 highlight adjustment. On right, same shot with -.67 brightness/exposure compensation in RAW post-processing. Still don't like the reflective strips, on the gear of on the ladder truck. So be it. Click to enlarge:


Example #4 - Flash with -1 2/3 flash exposure compensation, plus +.5 brightness boost in post-processing This time, though, we're shooting into light, and there are fewer reflective surfaces in the shot. Just the helmet patches. The balance of light and glare and wash works well. Could tweak further, but it's good for now. Click to enlarge:


See the full series of photos by Mike Legeros (in progress, that is. Finishing them this today). Next question, what did the scene look like to the human observers, who didn't possess either flash lighting or exposure compensation for their eyeballs? It was pretty dark, except where it wasn't. Commence discussion of art versus reality, values and ethics of post-processing, etc.
+ 3 - 4 | § ¶
Two Alarms on Graduate Lane
Twelve apartments were damaged or destroyed in a two-alarm fire this morning at 1501 Graduate Lane. First reported by neighbor as located at the intersection of Gorman Street and Kaplan Drive. Arriving police units reported flames showing. Working fire assignment was dispatched while fire units were still en route. Engine 20 arrived with heavy fire showing from the roof of a three-story, wood-frame apartment building with approximately 27,000 square-feet. Subsequent size-up found fire on all three floors, on the left side of the structure. Second alarm requested by Battalion 3, upon his arrival. Searches started as crews prepared for aerial operations.
Ladder 4 deployed from Gorman Street, on left side of structure, supplied by a hydrant on Gorman Street, which was boosted by Engine 2. Ladder 7 was positioned in the front of the building. It was supplied by Engine 20, which was supplied by a hydrant on Graduate Lane, which was boosted by Engine 8. (Got that?) Crews were withdrawn about ten minutes later, as aerial operations started. One more portable monitors were also deployed.
Command was located in the front of the structure. Accountability was located at Battalion 3's vehicle, on Graduate Lane. Rehab supplies were staged beside Ladder 4, on Gorman Street. Apparatus staged on Gorman Street, east and west of the scene. Dispatched 4:11 a.m. Second alarm 4:20 a.m. Controlled 6:00 a.m. Ladder pipes extinguished the bulk of the fire in the roof area, which also suffered a collapse about thirty minutes into the incident. Extended operations were required to bring the fire under control. Cause determined as accidental. Property loss and lives shattered due to improperly discarded smoking materials.
Units on scene included: E20, E8, E5, E1, E13, E6, E2, L7, L4, L2, L3, Squad 14, R1, B3, B5, B2, A1, C20, C401, C420, C2, C1, EMS 4, EMS 8, EMS 3, D1, T1. (EMS 11, D5, M91 returned to service.) Raleigh fire investigators assisted by WC 1. Crews remained on scene through the morning, with Engine 20 and Ladder 7 extinguishing hot spots. See photos from Legeros from the fire (draft) and after the fire, later this morning. First photograph at 4:37 a.m. Also very dark scene. Flash used in spots. See also media coverage from WRAL, WTVD, and others.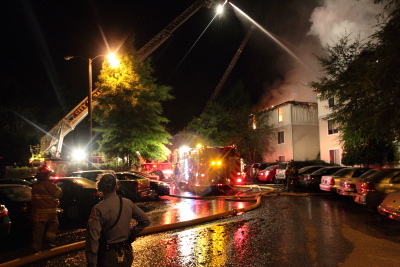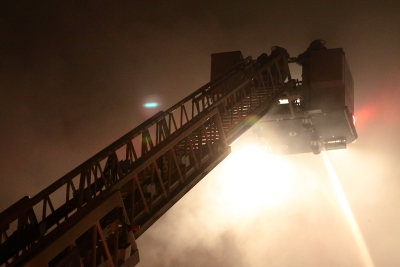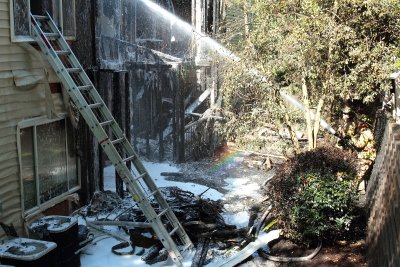 + 4 - 1 | § ¶
Fire Apparatus Leaving Station 1 (Video)
How about some video footage to start our weekend, as well? Here's a collection of clips of apparatus leaving Station 1. There's Ladder 4, both as tiller as reserve platform, along with Engine 1 and Engine 13. Ah, the glorious sounds of a mechanical siren. For the (big) kids in all of us.
Just wait a bit to click play. The thing's uploading at present, and I am headed to work...



+ 2 - 3 | § ¶
Oxygen Delivery at EMS Station 1
Random Friday morning photo. No activity is too mundane for the wandering (stalking?) emergency services photographer. Tanks for the memories. Click to enlarge:


+ 3 - 1 | § ¶
Wake County Fire Department News - Spring 2013
We've gone some months since our last county-wide news round-up. Here's what's happened or happening lately, courtesy of official queries, passed along info., and assorted "hey, have you heards." Please drop a line with any corrections. Ditto for additions, for news that was missed.
Raleigh
Four pieces of Pierce apparatus to be delivered this year. Engine and ladder are same/about same specs as earlier rigs. Rescue engine is a new design, with special modifications for squad companies. They'll be assigned to Squad 14 and Squad 15.


Pumper.
Rear-mount aerial platform with pump.
Rescue engines (two).


Station 3 to be replaced. Location TBD, east of the current site. Funding for land purchase in FY13.
Station 12 to be replaced. Location 4300 block of Poole Road. Land has been purchased. Designer Stewart Cooper Newell. Funded in FY13 and FY14.
Station 14 to be replaced. Location TBD in Blue Ridge Road and Lake Boone Trail area. Designer Stewart Cooper Newell. Funded in FY13-FY15.
Station 29 to be built at 12117 Leesville Road. Land has been purchased. Design work completed. Construction bid process underway. Groundbreaking possibly July.
Cary
Engine 4 replacement in purchasing process. Will be equipped with low hose bed.
Engine 5 damaged in vehicle accident on April 19. Will be out of service for several weeks.
Station 2 replacement at East Chatham and Reedy Creek Road in progress. Land purchased. Design contract awarded. Remaining funding in FY14.
Station 8 construction nearing completed. Opening on/around June 1.
Walnut Street/southern fire station planned. Funded in FY14 and FY15.
Apex
Military surplus 6x6 vehicle recently acquired, for conversion to brush truck.
Station 5 in planning process. Location is north/northwestern section of town.
Bay Leaf
Soon receiving a 2012 KME tanker, two-axle, same standard spec (with options) as prior years. One of four to be delivered in Wake County.
Station 1 reconstruction still in progress at 11713 Six Forks Road. Operational around September 1. Grand opening in October, after temporary station on site removed and all exterior work completed.
READ MORE
+ 3 - 2 | § ¶
Dramatic Photo of Dramatic Rescue in Havelock
FireNews has posted photos and a story that originated in this Havelock News story, about a house fire on Tuesday that resulted in rescue of a two-year old child. Arriving units found the front of the single-story home fully involved. Though one child had been rescued by his father, a second was still inside the structure. Firefighter Charlie Winter entered through a side window, assisted by police officers, an action also captured on film. The story details the rescue, the incident itself (HFD, CPFD, NFD), and the last condition of the boy (fair condition Tuesday night).
Drew C. Wilson of the Havelock News/Halifax Media Group took the stunning photo, along with another dramatic close-up image. They're about as powerful and probably-to-be-iconic as they come. Re-postings of the FireNews links are already making their rounds on Facebook. The image stands a great chance at going viral, on social media platforms and probably fire service blogs and web sites.
Just as "making a grab" can be a rare event for a firefighter, so is capturing the moment on film. Should such a moment pass before my lens, the posted results will likely be different. Since I usually blur or obscure of compose-out the faces of victims in my scene photos (an action that results from my partnership with Wake County EMS), you'd probably see a shot from the side or the rear. The posted one(s) at least. Anyway, great shots and a great rescue.


Drew C. Wilson/Havelock News/Halifax Media Group image
+ 3 - 2 | § ¶
Johnston County's New Foam Unit
Photographed by Lee Wilson this week, it's a 2007 Hino (!) carrying 1,500 gallons of foam containers on two pallets, plus a 2,000 GPM foam monitor. Still be equipped with more gear, such as a light bar, that's pending. The unit was delivered on March 14. It's housed at the Selma Fire Department, and is for protection of the commercial tank farm in town. Click to see larger versions:

It replaces a Chevy Kodiak truck of similar size. Model year? Click to see larger versions:


Older readers may recall one of the county's earliest foam units, a tractor-drawn rig, also shown below. Perhaps readers can cite the make and model or other details. Click to enlarge:

+ 5 - 1 | § ¶
Clayton Firefighters Paddling Neuse River For Fallen Heroes
Here's a neat story from WRAL, about Clayton Fire Department firefighters Paul Zias and Allen Williford. They've taken a kayak to the neuse River, and are attempting to paddle nearly 200 miles from Raleigh to New Bern. Their raising money and awareness for fallen and wounded firefighters and soliders. Today they were on their second of an expected five-and-a-half days. Firefighters are meeting them at points along the way, to resupply their stores with food and water. Read more about their mission at Paddling for Pennies.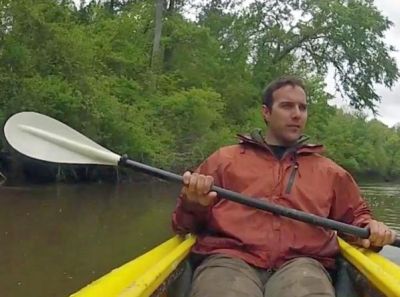 + 4 - 4 | § ¶
"Ugly" Web Site Wins Design Award
For the web heads reading, here's a neat Gerry McGovern column about the www.gov.uk web site and the design award it won. How does a web site with such little seeming visual appeal win a design award, you ask? Especially with nothing that razzles or dazzles the senses??
Here's a key quote from McGovern that says everything: "Design is not just how it looks. Design must also be concerned with how it works. For things to work on the Web they must be findable. That requires a focus on search and navigation. When these are found the customer must be able to do something with them; complete a task."
Ask yourself this about your web site(s): are your customers (the visitors) able to "do" what came there to do? Or does the thing exist more to make you happy, than someone else?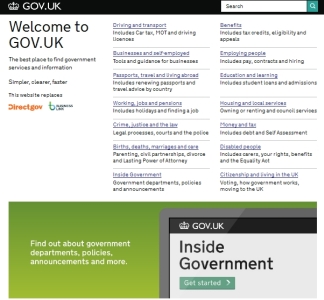 + 6 - 3 | § ¶
Vintage Rescue Squad and EMS Vehicles of Wake County
Courtesy of a new Facebook page History of EMS in Wake County. This is a newly created community page for chronicling the history of ambulance services, rescue squads, and EMS organizations in Wake County. The site was placed in production on Sunday. The content is exclusively photos at present, but an incomplete set of albums. Needed are photos from a number of agencies, from Apex EMS to Zebulon rescue squad. Have digital photos to share? Just upload them. Have prints for scanning? Send a message to the page administrators. How to find these and other neat photos? Click on Photos to open the photo page. Click on Albums to see the photo albums. Click on the desired album. Enjoy. Click to enlarge:


+ 2 - 1 | § ¶
Mystery View
What are we looking at here? Assorted obfuscations include tilting the composition.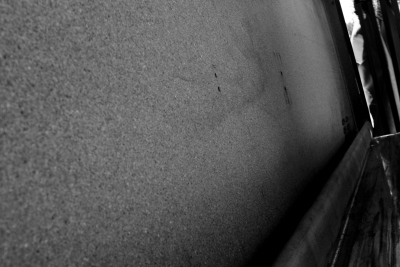 + 3 - 2 | § ¶
Raleigh Fire Explorers Pull Plane For Charity
On Saturday morning at Raleigh-Durham International Airport, five members of Raleigh Fire Explorer Post 108 hit the tarmac to help raise money for the North Carolina Law Enforcement Torch Run for Special Olympics North Carolina. They competed with other teams to see who pull a 30,000-pound regional jet the fastest. The explorers raised $1,180 and pulled the plane in 14.83 seconds. Photographer Lee Wilson was present, and captured the team action. He also got some good posed shots of the airport's fire apparatus. Learn more about the event. See more photos from Lee. And remember kids, don't try to pull an airplane by yourself. It takes teamwork.



Lee Wilson photos
+ 2 - 5 | § ¶
Wake Forest's New Chief Buggy
Photographed by Lee Wilson this week at the annual Wake Forest Fire Department Fish Fry. See those photos. These wheels are a rarity in our land of sport-utility vehicles. How many other fire chiefs are driving sedans or sportier cars?



Lee Wilson photo
+ 2 - 1 | § ¶
Construction Photo of Bay Leaf Station 1
Under construction at 11713 Six Forks Road. Should be operational around September 1. Grand opening expected some time in October. Search the blog for prior postings. Click to enlarge:

+ 3 - 1 | § ¶
Reader Mail - April 19, 2013
Let's open the mailbag again. I am also working on another compilation of fire department news. Who has apparatus on order, new stations being planned, or other updates of note? Drop a line, please.

Q: I'm visiting Hawaii soon and hope to grab some pictures of fire apparatus over there. Do you know of anything spectacular that I should try to check out?
A: Negative. Despite wardrobe indicators to the contrary, I possess zero knowledge of the islands or what's good to see. Maybe I'll get to visit some day.
--
Q: Where can you find the most current and up-to-date minutes of fire commission meetings? The Wakegov page doesn't have the updated ones (yet).
A: Fire commission meets are scheduled every other month. Draft minutes from the prior meeting are published a few days before the current meeting, then approved at the meeting. Here's a web site of mine, where I have been reposting them since 2008.
--
Q: Hey Mike, I was just curious about how WC-7 gets dispatched. I see it pop up on the CAD at times but never actually hear it come over the speakers. Is there a different scanner frequency that dispatched them? Just wondering.
A: That unit, which a body transport vehicle that's operated by the county medical examiner's office (I think), is dispatched via paging methods, probably or certainly an alphanumeric pager.
--
Q: What model camera did you use on Lakestone drive? Really nice photos.
A: My equipment at that fire was a Canon 50D + 18-55ish mm 4.0 L lens, and a Canon 40D + 70-200mm 4.0 L lens. Since that time, I have added a Canon 7D, which replaced the 50D, which replaced the 40D, which is being sold.
--
Q: Do people ever get in trouble from your photos? Like when they're doing things they shouldn't?
A: Stories have reached my ears over the years about such things. My intention with scene photos is two-fold: create a reasonably (but not always entirely) objective "artful documentary record" while simultaneous making the responders look as good as possible. Alas, my camera sometimes captures things that cause heartburn or outright trouble for folks. On the upside, there's usually a learning lesson in there.
READ MORE
+ 3 - 2 | § ¶
Wake County EMS and Rescue Squad Reunion 2013
Members of the Wake County EMS System family--ambulance services, rescue squads, EMS agencies, etc.-- are invited to a reunion event on Thursday, May 23, at the Wake County Commons building, 4011 Carya Drive, Raleigh. The festivities start at 10:30 a.m. with a meet and greet. Lunch is served at 11:30 a.m., barbecue, $13 at the door or preferably paid in the advance. Greetings and stories swapped until 3:00 p.m. They'll have historical goodies to display. Please bring your stories, scrapbooks, photos, patches, etc. Last year's reunion (see photos) brought almost a hundred people! Visit this web site for more information, including an RSVP form. See you there!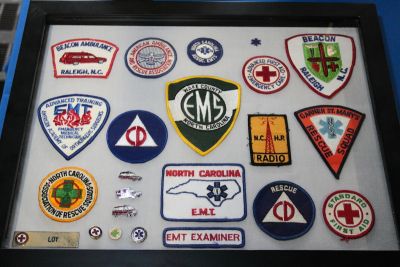 + 2 - 2 | § ¶
Mystery Vehicle
Found a model of this on the web. Here's the real thing and a slightly smaller image of the die-cast version. Will reveal brand and scale after a correct guess.


+ 2 - 1 | § ¶
Raleigh-Wake ECC Annual Report / National Telecommunicators Week
The Raleigh/Wake County Emergency Communications Center has released their annual report for 2012. Read the document (PDF). This week is also National Telecommunicators Week. Mayor Nancy McFarlane this week presented an award to Jennifer Butler for being the ECC's Employee of the Year, and also recognized Duana Dailey as Rookie of the Year. Read press release.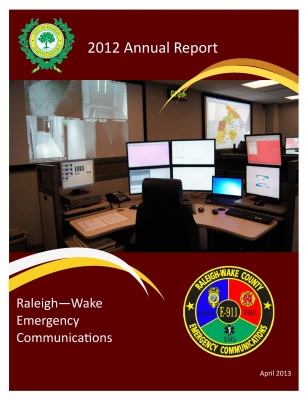 + 3 - 1 | § ¶
Ocracoke Fire Apparatus on Postcard
Found for sale on eBay, here's a postcard view of Ocracoke Island fire apparatus. Guessing it's dated ten or maybe twenty years ago? See the OVFD web site for their current and retired rigs. Click to enlarge:


+ 3 - 1 | § ¶
Ethics of Disaster Photography
That's the abridged headline of this Flavorwire blog posting by Tom Hawking, one of a number of stories and essays on the web (and probably on Facebook, now the ultimate crowd-comment platform) that have started examining the photography, news media, and social media issues that presented themselves during and after the bombings in Boston this week. Let's click through some stories, and form some reactions or even some deep thoughts.
We'll start with this New York Times story, from their web front page, about news media weighing the use of photos of carnage. They note a couple particular things that happened in the wake of the tragedy. First, the Daily News of New York digitally covered a wound on a victim's leg for a front page photo. Doctoring news photos are a traditional no-no. Maybe even a firing offense. (The National Press Photographers Association, notes the story, doesn't allow altered images. You can crop, or not publish.)
Second, the Atlantic posted (with a warning) a very, very, very graphic image (victim in wheelchair with amputation wounds), which brought complaints. (Most news agencies cropped the photo above the injuries.) Shortly thereafter, the Atlantic blurred the victim's face, which returns the conversation to doctoring while also adding a privacy component. (Can't readily recall face-blurring in news photos, but maybe it's more common than realized.)
The Times story compelled a Google search on the keywords "Boston bombing photo ethics," which led me to this PetaPixel posting titled A Blurry Double Standard? The photography blog cites another blogger's comment, regarding victim privacy in contrast to what's shown from oversees. From the Facebook page of Melissa Golden, she writes and they quote: "Since when do legitimate print journalism outfits modify photos like this? Run it or don't, but don't enact a double standard for Americans when we're totally cool running unadulterated photos of bombing victims from foreign lands."
Let's ease away from political conversation, however. The PetaPixel bloggers walk through their initial support of "face blurring," and then confront their second thoughts. Quote them, "When it comes to newsworthy items, we should not allow ourselves to censor the flow of information." Yes, children should be shielded from horrific images. But in cases where dozens if not hundreds of people witness an event--and see the victim and their gruesome injuries--issues of privacy (or, say, jeopardizing prosecution) aren't present. (They argue.)
My next click takes me to the Hawkins posting referenced at the start of this posting. He makes a number of notable points, such as the changing model of distribution. In the past, such images reached the masses solely through news agencies or those republishing their photos. The events of September 11, 2001, he notes, "represented a real change on this front." Thought it took place before we were fully YouTube- and Twitter-ized, it "corresponded with the growing ubiquity of digital photography and widespread internet connections."
Hawkins cites a Vanity Fair essay that argues 9/11 was the most-photographed breaking news event in human history. Even as such he notes, there were huge debates at the time over where to whether to publish certain photos. Note a couple key concepts, editorial decision making and a process for publishing. But what happened in Boston? As Hawkins notes, images and footage started appearing online within seconds of the explosions. Graphic footage began reaching the masses immediately. And which raises all sorts of great questions, from how will we (as the masses) be affected by such real-time awful images to the importance of multiple "subjective visual perspectives" to understanding history.
How's that for some heavy morning reading? But what about ourselves, from the responders who find themselves in the thick of unfolding tragedies while cameras click away, to the non-news photographers drawn to such events, and with their own means of distribution (blogs, web sites, Facebook, etc.)? Great question. Answer forthcoming. Or perhaps our readers will expand the discussion.
Footnotes
There are numerous news sites showing the many strong images from the Boston explosions. There was great photojournalism done that day, and in the face of great tragedy. Such as this boston.com collection, which contains some graphic images. Be careful where you click, of course. You can't un-see something you've seen.
The Petapixel posting opens with a humbling acknowledgement that their thoughts are insignificant in comparison to both the tragedy of the event, and the powerful perspectives have been shared by others. Agreed.
+ 3 - 1 | § ¶
History Book Afterwork
What's next for the writer and researcher (among other roles) of the Raleigh Fire Department centennial history book that was recently delivered from the printer? First and foremost is the "afterwork." These are self-imposed, content-related tasks, of which we'll list below. These are notes for myself, or anyone curious enough to be curious.
Source files - The project wrapped with some 13,100+ production files. Total size over 40 GB. That includes everything from meeting minutes, to planning outlines, to the digital images imported by the book designer. These will be sorted and shuffled and parsed so only the most valuable files remain. Notably, the final versions of all text content, the images used in the book, and key planning or production files. The folders will be cleaned up, and rearranged as needed. They'll be transformed into something that Mike can figure out in short order, and without having to recall "oh, this file was here" or "that folder contain those things." Because sooner or later, both text and images will be re-purposed. I will have a need for a bit of text from page X, or someone will want a reprint of a photo from page Y.

Production notes - I'll also be jotting some notes on how the book was created. These will be similar to this essay, created after our 2007 book. The audience for such notes are future book authors and project participants, both locally and nationally. Since the prior book, a handful of fire departments have reached out, with questions about creating fire department history books. (They've found the page via Google, or have been referred by that book's printer.) Here's a blog posting that started the narrative for the 2012 book. I am thinking of a list- or section-based document as the final product. With notations and recollections in list or bullet-form, beside a description of each book section. (This is really just the same thing as an after-action report. When you find yourself in the same situation years later, it's exceptionally helpful to have help inventing new wheels.)

Corrections and annotations - Though much proofreading was done--numerous people, including Mrs. Blogger, poured over the book's 100,000 words--we will find mistakes. Errors happen. Ka ka occurs. I am thus compiling a list of corrections, as well as annotations, for the benefit of those who come later, and may rely on this book's text for absolute accuracy. (Didn't do this for the 2007 book, however. It didn't contain nearly the bulk of historical content.) The format will be along the lines of my Arcadia book corrections for Volume 1 and Volume 2. Yeah, yeah, lots of mistakes in those books. So sue me. Annotations will also add a few additional notes or facts or whatnot. Just idle bits that come to mind, such as the exact model year of the wrecker once operated by Services. The book cites mid-1950s. Or maybe the fact that current Battalion Chief Randy Bagwell is distantly related to first Fire Chief Sherwood Brockwell. That fabulous factoid slipped my memory for inclusion. (We'll blog that one later.)

Photo credits - This one's for the staff at the State Archives. I will also create a list of credits and page numbers for the historical photos in the book. This will help them with finding any images in their files. (That is, those images that they have copies of.) Unlike my Aracadia books, the images in the 2012 book only contain partial credits. News & Observer images are all credited, as are some from the photographers such as Lee Wilson, Jeff Harkey, and Mike Legeros. This was a conscious decisions, made for a couple reasons. But an online index will be comprehensive.

Digital archives - This project was a brutal reminder that my digital house needs to be put in order. Specifically, the some 23,000 files (totaling 77 GB) of historical material. Most of those are image files, of prints or slides or film negatives that have been scanned over the last ten years. They're stored on a local hard drive, along with back-up copies at a couple locations. They're filed in folders labeled by contributor. Pictures scanned, say, at the Keeter Training Center, are filed in a folder with that name. Worked great in the early years. Now there are so many files, that Mikey's mind can't quite remember every single image and who contributed same. (Kids, don't stare a computer screen for eighteen hours a day. It messes with your mind!) Thus a naming and indexing project needs to be done. Every image will have a call number pre-pended to the file name. Then a master index created, so any image can easily located, and without the need of consulting a certain someone's increasingly fragile brain.

Physical photos - Boxes and boxes of photos and photo albums presented themselves during the project. They ranged from individual prints, to envelopes of a dozen or two, to entire albums. Many will be (or have been) returned to their contributors. Others will be returned to their cubbyholes, such as the catalog room of the Raleigh Fire Museum. A number of these are on my list to be scanned, added to my digital archives. Waiting on delivery of a new computer for that step. (Get this, during the height of the project, my computer began running out of memory! Production tasks--such as image work using PhotogShop or Canon Digital Photo Processing--had to be halted, and the computer restarted, to "refresh things." Talk about a pain!)

Collecting kudos - Last but certainly not least is the human component. And, really, the first and foremost piece of this project. The people made this happen: the project team, the contributors, and the organization, that created and lived this history. I will compiling the odd notes of appreciation and congratulation, and forward to the project team members. The designing and printer team will also receive a copy. It's important, in my opinion, to augment a self-evidently successful outcome (book in hand, looks great) with expressions and communication of a job well done. (Along these lines, I have also greatly enjoyed the chance to experience people seeing the book for the first time. I have enjoyed observing first impressions of readers, as they page through the book, and verbally comment on particular images, pages, or sections. Same thing as user feedback, in the computer world. It helps reinforce a job well done, and to help learn and understand what readers see and look for, in printed content such as this.)
+ 5 - 2 | § ¶
Old Beauties in Edgecombe County
Photographer Lee Wilson has lately been riding around to neighboring and nearby counties, and photographing fire apparatus and other interesting sights. He's been finding a considerable number of vintage rigs that are privately owned and sitting outdoors. Keep an eye on his Flickr site photostream for the latest. Top to bottom are an old American LaFrance pumper (with construction scaffolding!) in Edgecombe County from Robersonville photographed on April 13, an old American LaFrance ladder truck in Edgecombe County from Suffolk, VA, photographed on April 11, and an old equipment truck in Tarboro from Contoe FD photographed on April 13. We need to get him to publish a big, fat book of these shots.



Lee Wilson photos
+ 6 - 6 | § ¶
Our Lady of the Angels Run Card / SJFPA
Here's an interesting artifact from the Land of Buffs (basically the whole of the northeastern United States). One side is an advertisement for a photo night sponsored by the South Jersey Fire Photographers Association. (Greater urban density = more fires and more fire photographers!) The other side is reproduction of a Chicago Fire Department box alarm card for Our Lady of the Angels elementary school at 3820 W. Iowa Street. Ninety-two children and three nuns were killed when the school burned on December 1, 1958. Says this Wikipedia page, it's the nation's third most deadly school disaster. Here's a site dedicated on remembering the fire, which includes this list of the companies that responded to the fire. This comes courtesy of veteran (and now relocated to Nash County) Camden/Philly-area fire photographer Bob Bartosz. Click to enlarge:


+ 5 - 2 | § ¶
Station 1 Parking Diagram - 1983
For your Saturday hysterical historical enjoyment, here's a vintage diagram of parking spaces behind Station 1. It's from 1983, and shows the parking spots for Administrative and Fire Prevention personnel. The Office of the Fire Chief and the Office of the Fire Marshal were considerably smaller. The Fire Chief was Tom Kuster, and his office was at the Keeter Training Center. One or more the administrative assistants were likely located there, and probably also had a parking spot at Station 1. The Municipal Building was still under construction. It opened in 1984, and the Fire Chief and later his Assistant Chiefs moved there, before everyone relocated to the Professional Building in 1991. Here's a prior posting on that topic. This was also when Station 1 had a gas pump. Click to enlarge:


+ 8 - 3 | § ¶
UPDATED: History Books of the Raleigh Fire Department
April 12
Here's another graphic for you, a web poster of sorts, comparing the covers of the four commemorative books produced by the Raleigh Fire Department since 1984. Click to enlarge:


January 10
Made this graphic today for the Raleigh Fire Department Centennial History Book. We're in the home stretch of production. Shown are the three prior history books, also called commemorative books, also called yearbooks. The first two were published in 1984 and 2002 by Taylor Publishing. They're long out of print. (But have appeared on eBay once or twice.) The text section from the 1984 book is
available online
. Written by Capt. B.T. Fowler, with annotations by Yours Truly.
The third book was published in 2007 by M.T. Publishing. That one's still available from the publisher. The three are shown to scale. Curiously, the 1984 book was larger sized than the 2002 one. They were a bugger to photograph. Damn foil reflects everything. As for the 2012 book, that one's being published by Strawbridge Studios and they're right here in Durham.
READ MORE
+ 6 - 1 | § ¶
NIST Releases Landmark High-Rise Fire Study
That's the National Institute of Standards and Technology (NIST). The study evaluated effectiveness of crew sizes and elevator use, for fires in buildings that are seven or more stories in height. The study was conducted with thirteen DC-area fire departments. The results were presented yesterday at a fire chiefs conference in Phoenix.
They analyzed fourteen tasks deemed critical, undertaken when potential risks are highest both for building occupants and firefighters. They found, not surprisingly, that six-member crews completed all tasks faster than five-person crews and far faster than four- and three-person crews. So what, you say? Just send more units with three- and four-person crews. Except they found that larger crews have tactical advantages. They can complete those tasks in parallel instead of in a series. That saves time, which can save lives and prevent injuries and damage. (Because the fires don't grow as large.)
What about elevator use, for getting people and equipment to the staging floor? The study concluded that most tasks were started two to four minutes faster, when crews used elevators instead of stairs.
That's my summation. Readers are welcome to comment, correct, expand, or explain.
+ 7 - 1 | § ¶
Burn, Detroit, and Thoughts Therein
Saw Burn: One Year on the Front Lines of the Battle to Save Detroit tonight, the first of two local showings at the Six Forks Station Cinemas. Er, the first of four showings, the film was played tonight on two screens. Presuming the same applies tomorrow. Show time is 7:30 p.m. Tickets are $15 in advance, or $20 at the door. Here's the online point of purchase.
Good movie! Certainly highly recommended for anyone in emergency services or ties therein. Probably quite gripping for lay viewers. It's a surprising lean film, with a running time of only 86 minutes. It's also character driven, notably through a trio of department members: a retiring FEO, a retired disabled firefighter, and the newly Fire Commission. (Though the city itself is arguably also a character here.)
Here's a review from the Hollywood Reporter. Here's a review from Variety. Here's a review from the New York Times. (And an agreggated collection of reviews from RT.) Two questions for readers. First, what did you think of the film? Second, how does the film affect your perception of your own firefighting careers (and departments and cities you serve)?
The film also provides a great visual tour of the Motor City. My first and so far only visit was a couple years ago, as part of an extended Midwestern vacation. Here are some of those highlights, for whomever is interested:
Photos
Blog Postings
Enter "Detroit" in the search box in the upper-right corner of this window.
+ 6 - 2 | § ¶
Raleigh Fire Museum Open This Saturday, April 13
Mark your calendar for this Saturday, April 13. The Raleigh Fire Museum is open for its regular second-Saturday-of-the-month opening. We'll have one or more copies of the new centennial history book for your perusal. Swing by and talk shop! Here's a two-minute tour of the place:


The museum is located in a modular classroom at the Keeter Training Center at 105 Keeter Center Drive. Parking and restrooms are available. Admission is free. Learn more about the museum, and the group that operates it, at www.raleighfiremuseum.org.
Please note that other antique apparatus is stored elsewhere. Both the museum's 1961 American LaFrance pumper and the city's collection of antique fire apparatus is housed at at Fire Station 28 at 3500 Forestville Road. The collection includes a 1905 steamer, a 1926 American LaFrance pumper, a 1950 Mack pumper, and a 1982 Mack pumper. Visitors are welcome.
+ 7 - 1 | § ¶
Morning Reading - April 10, 2013
Good morning Raleigh. The yellow haze is here and so is the heat. Get those rehab supplies (further) stocked. Two local stories for your Tuesday enjoyment. The Eastern Wake News continues its coverage of local fire departments, which articles appearing every couple weeks or so. Guess the east side's been "newsy" lately.
Fire merger sparks worry - Update on the possible merger of Eastern Wake and Knightdale fire departments. The EWFD board invited the public to a meeting on April 4, to talk with town and county representatives. About two-dozen people attended. Among the opinions expressed were concerns about EWFD employees, and how positions would be mapped and jobs would be applied for. Talks about a merger are still in their infancy, it was noted. The town is researching the financial benefits, and a report is due at the end of the month, it was also noted.

Zebulon to get surplus fire truck from county - The effects of another merger, Falls > Wake Forest from last year, will provide the town of Zebulon with a replacement pumper-tanker at no direct cost. A 2009 Pierce pumper-tanker (from Falls?) will replace a 1997 Freightliner pumper-tanker. The latter has proven particularly costly for upkeep and repairs. The new apparatus will help the town department with serving its county-contracted rural district. There are a couple conditions to the deal, such as when the new truck reaches the end of its service life. Proceeds from its sale must be returned to the county.
+ 7 - 3 | § ¶
SR 2 > Haz-Mat 3
Effective at 8:00 p.m. today, April 10, the haz-mat support unit SR 2 will be renamed Haz-Mat 3. Previously utilized as a recon/air-monitoring unit, it enters service today as a primary haz-mat resource. The 2010 Ford F-350/Knapheide light truck is staffed by Engine 8 and joins Haz-Mat 1 at Station 2 and Haz-Mat 2 at Station 27. Those are tractor-drawn rigs, which will now run fewer calls on gas leaks as the city has been divided into thirds for commercial, industrial, and multi-family residential buildings. They'll also be added on full haz-mat responses with Haz-Mat 1, Haz-Mat 2, the decon unit SR 3 (staffed by Ladder 5), the haz-mat Battalion Chief, plus the first due engine, the air truck, one Battalion Chief, and the Division Chief. Got that? Any errors? Anyway, that's the gist of why you'll hear Haz-Mat 3 on the radio starting today. Mr. Blogger will work on updating his web pages and maps.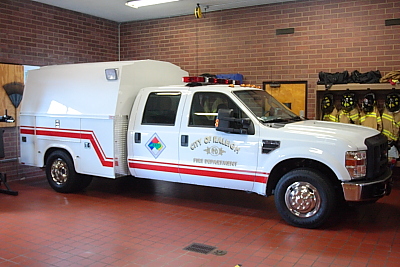 + 6 - 2 | § ¶
UPDATED: Cary Adds Engine 8
April 10
Lee Wilson photographed the new engine company this week. It's shown beside Station 8. See a few more photos from his explorations around town that day.
April 7
The Cary Fire Department tomorrow places Engine 8 in service at 7:30 a.m. on Monday, April 8. The company will be quartered at Station 7, and relocate during daytime hours to the territory of Station 8, which is nearing completion at 408 Mills Park Drive. It will operate a 2002 Pierce Dash pumper, the former Engine 1, shown below in a photo by Lee Wilson from 2008. The ranks of line personnel were recently expanded with the graduation of a recruit academy about a week ago.
Let's see, the last time a Station 8 was opened in our area was on April 1, 1960. The Raleigh Fire Department rented a house on Kent Road (now Method Road) at Western Boulevard. The second engine at Station 1 was relocated to the building, and the crews prompty erected a concrete addition to house the engine and one of two new tankers that had entered service. The city was 33.7 square miles, with 93,931 residents. Forty-eight years had passed since their full-time fire department was placed in service. The town of Cary has 43.5 square miles (Wikipeida) and 143,728 residents (town web site). Thirty-one years have passed since the fire department became a fully full-time department.



Lee Wilson photo
+ 5 - 2 | § ¶
Mushroom Cloud in Fuquay
Relax, just an interesting burst of smoke at a live burn in Fuquay-Varina on Saturday. Photographer Lee Wilson captured this dramatic image at an old radio station building they burned on Broad Street (Highway 55) near Old Powell Road. Those who were there can advise if it was accompanied by a boom, a ka-boom, or a ker-boom. See the entire series of photos.



Lee Wilson photo
+ 7 - 0 | § ¶
Upcoming Events - Mid-April 2013
Here are some of the fire department and fire service events coming soon in Raleigh, Wake County, and surrounding areas. Drop a line if you'd yours added.
Raleigh Fire Museum - Regular Monthly Opening
105 Keeter Center Drive, Raleigh
Saturday, April 13, 2013 - 10:00 a.m. to 2:00 p.m.
Come see the new Centennial History Book!


Youngsville Fire Department - Fireman's Day
Hill Ridge Farms, 703 Tarboro Road, Youngsville
Saturday, April 13 - 11:00 a.m. to 6:00 p.m.

Rolesville Fire Department - Caring for Caelon
South Main Street and Redford Place
Saturday, April 27 - 11:00 a.m. to 2:00 p.m.

Warren County Junior Firefighters Competition
Warren County Recreation Complex, 840 US 158 Bypass, Warrenton
Saturday, April 27 - Opening ceremony at 9:30 a.m., field compention 10:30 a.m. to 5:30 p.m.

North Carolina Fallen Firefighters Memorial Weekend
Nash Square, Raleigh
Friday, May 3 - Candlellight service at 8:00 p.m.
Saturday, May 4 - Parade at 10:00 a.m., Memorial service at 1:00 p.m.
+ 6 - 2 | § ¶
New Apex Brush Truck
Awaiting red paint, red lights, and other accoutrements. Consider this the "before" photo. Can't wait for a ride on the thing. Photo from our friends at the Apex Fire Department. Click to enlarge:


+ 10 - 3 | § ¶
High Visibility Innovations Learning Module
The Responder Safety Learning Network has released a new learning module: High Visibility Innovations. The two-part module beings with a review of apparatus marking standard requirements, and follows with examples of the latest technology and design innovations used to improve the visibility of roadway responders and their vehicles. (Including that Grand Rapids FD dump truck conversion we've blogged about before.) Good stuff, and particularly notable for a number of familiar fire, police, and EMS agencies to our readers. Glad to see that my local incident photos are also useable as national learning aids. (Will shoot fire trucks and ambulances for food.) Join the network (for free), watch the modules, and improve your safety on scene.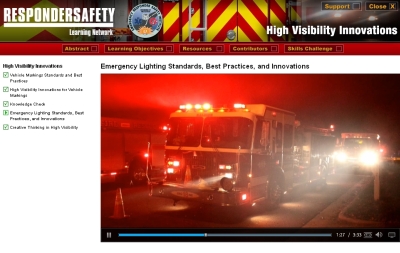 + 6 - 1 | § ¶
Haywood County Firefighter Dies at Home in House Fire
The Mountaineer of Haywood County has posted a story about Saturday night's house fire in Canton, that killed one resident, who was a firefighter. North Canton Fire Department firefighter Brandon Burgess, 28, was found inside and unconcious. He was transported to MedWest Haywood and pronounced dead on arrival. Burgess had been a volunteer firefighter since 2005. Read entire story.


+ 5 - 3 | § ¶
March Episode of FireWatch - Raleigh Fire Department Hydrant Project
The March 2013 episode of FireWatch is available for viewing online. This month's episode is a look at the Raleigh Fire Department's hydrant maintenance program. During the month of April and in conjunction with Public Utilities, firefighters will flow and help maintain all of the city's 20,000 fire hydrants.
FireWatch airs on the RTN-11 cable television channel on Monday (12:30 p.m.) Friday (11:00 a.m.), Saturday (11:30 a.m., 6:30 p.m.) and Sunday (2:30 p.m., 8:30 a.m.). Or view archived episodes of FireWatch.


+ 15 - 12 | § ¶
UPDATED: Digital Sanborn Fire Insurance Maps
April 2013
These instructions were originally posted in October 2008. Then they became obsolete, as access to the maps was apparently removed. The maps are back, and the below posting has updated. If you have a Wake County library card, these are some great resources for historical exploration. (Yes, you can also see digital Sanborn Maps on the
North Carolina Maps site
, but only those made before 1923. That said, they are in color, which was their original format. Both sites are good.
)
October 2008
Sanborn Fire Insurances Maps, one of the best tools for urban historians and particulary urban fire historians, are available online for Wake County library patrons. To access the collection of North Carolina maps, visit this Wake Counties Libraries
research page
. Click the link for
View Full List of Databases
. Enter your library card number and PIN. Scroll down to
Sanborn Maps North Carolina
. Click that link and you're good to go! And here's a tip. Once you've reached the map viewer window, click
Download
to see a full-page map sheet.

Sanborn Map, Raleigh, 1909
Maps are available online for 162 communities in 83 of North Carolina's 100 counties. Most cities and towns were surveyed several times over several decades between the 1880s and the 1950s. Best of all is the ample information about fire departments, building construction, life hazards, and water supplies.
Learn more about Sanborn Maps
. Or read a series of articles by Yours Truly,
presenting "then and now" information about fire departments
, as based on Sanborn Map information.
+ 11 - 6 | § ¶
Zombie Response Vehicle
Seen on Industrial Drive at Six Forks Road. Love the rear-facing air horn. Forgot to look inside, however. (Probably not as a cool as the inside of the unmarked Blog Response Vehicle, which is often sighted around town.) The ZRV is apparently unrelated to the Triangle Wiki Zombie Attack Response Guide for Raleigh. Good thing these things are covered! You never know when unreality might strike...


+ 4 - 2 | § ¶
Sunshine Review of Wake County Web Site
Speaking of stuff that we find on local government web sites, Sunshine Review in February awarded the Wake County web site a grade of "A-". They're a national non-profit that advocates for governmental transparency. The county's web site has the highest score in the state, noted the County Manager in a memo (PDF) on February 20. And the county was the only one in the state to receive an "A". Here's the Sunshine Review page about the Wake County site.
Searching for their site information on other local government web site yields such results as:
Pretty interesting.
+ 4 - 3 | § ¶
Bay Leaf, Chapel Hill, Ahoskie Rigs on GovDeals
What's for sale on govdeals.com lately? North Carolina fire appartus currently includes, top to bottom, a 1993 E-One pumper from Bay Leaf, a 2000 International/KMC pumper, and a 1974 Ford/American LaFrance pumper from Ahoskie. Thinking that blue rig would work well for, say, Tarheel or Soul City fire departments. The colors already match!


+ 7 - 2 | § ¶
Letís Write Some Rules For Social Media
Social media and digital imagery was recently in the (fire) news, with more sordid stories involving Twitter and Facebook and medics behaving badly in New York City.
Rather than recap what's covered well elsewhere, let's take a stab at some social media guidelines for ourselves. Let's pretend we're preparing a presentation. Mr. Blogger has been, say, asked to appear before a group of firefighters or medics, to offer some tips on "how to do right and not wrong by social media." To speak from experience, or at least heat the room with some hot air.
We'll presume a couple things. First, that our audience knows what social media (and digital imagery) is and how it's used. Second, that our readers are using social media themselves, personally or professional or both.
Our task? Create a list of bullet points, of advice for individual responders. What should you think about before, during, and after clicking send/post. Here we go…
Observe the rules and regulations of your agency. If there's a policy about social media and/or digital imagery, it should be observed. This one's the "duh" rule.

It applies on-duty, of course. But there may some regulations regarding off-duty conduct with social media. Learn the rules that you're supposed to follow. Ignorance of SOPs is no excuse!

Don't violate HIPAA rules for patient privacy, by revealing personal or identifying information about patients you or your agency has treated. Either by text narratives or digital images.

We might need to read/study HIPAA here, to learn more. Pictures of someone's face, their name, their treatment information, those are obvious. But there are probably other criteria to cite.

What about off-duty, you ask? You can't go wrong by not doing it. But we need a better mind than mine to tease out the wiggle room, if there is any.

Don't post or transmit anything that you wouldn't be comfortable with the rest of the world seeing, including your Chief, your Captain or Shift Supervisor, your spouse, your parents, your children, your minister, your local news editor, and your local District Attorney.

The one's the basic umbrella guideline. We'll see variations of it below....

[ Plus the future-tense variation. Don't post or transmit anything you wouldn't be comfortable with FUTURE versions of those people seeing. Added April 5. See reader comments below. ]

If you're off-duty and using social media unofficially, BUT you still identify yourself as a responder or a member of an agency, your actions may reflect upon the organization. Sure, you think you're only speaking for yourself, but others outside your circles may think otherwise.

This has happened to me, and on repeated occasions. John Q. Public finds my unofficial web page about the Raleigh Fire Department. They have a question about stations and coverage as related to their insurance. I direct their query to RFD.

We might add another rule in here, "If you're contacted by someone via social media, about official business, converse as if you'd answered the station telephone. Courteous, formal, and probably referring them to your agency's administration."

If you're off-duty, and NOT identified as a responder or a member of some department, your social media actions can STILL reflect upon the organization. Particularly if they depict "bad" behavior. We see this happen all the time. The job title precedes the headline of "arrested" or "under investigation."

But it also works when "good things" happen. A recent WRAL story about a rescued eagle identified the good seminarian as a firefighter. And they named his department.

This "identification by association" applies to other public servants, and not just responders. Teachers are always running into issues with this one.

Refrain from posting personal information about responder injuries or deaths, even within your own private social media circles, immediately after an incident.

This helps prevent family members from learning of this through social media connections. Instead, wait to "talk about it" on social media until information is released publically.

We've all seen this? Someone in the know starts with "prayers for the _____ family." Or with outright individuals named. This is a commendable show of support… unless it's the first time a family member hears the news. We'd probably all prefer official notifications in these instances.

Don't be punitive. Digital imagery and social media makes it super-easy to share "moments in time." And in the dynamic world of a fire or accident scene, a moment in time can show the wrong usage of a tool for brief period, the helmet set aside for a short spell, the action that looks odd out of context, and so forth.

Use good judgment when judging others based on "moments in time" information.(We might have a leg up locally on this one, through the years of work by Lee and Legeros. And especially in/around Raleigh. A saturation of photo coverage has probably helped supervisors and chief officers take "moments in time" in stride.)

Don't take things so personally, and be ready to apologize to people who feel bad about something you did. Social media channels allow for instant/quick/spur of moment comments and conversation. They are also missing facial and verbal and body cues. Miscues and miscommunication should be expected.

Secondary rule with this might be something like "Be aware of how quickly things happen. How quickly the message is sent and read. How fast a posted photo is viewed by others, and then discussed. Etc."

Should we insert some case studies or personal testimonies here? Readers can perhaps offer examples of "being bit."

Become a better typist AND writer. Or, if you prefer, don't look "stupid." Easiest fix for this is proofing what you write, before you click send. Read it over once. Use spell check.

Paste your text from the blog page into Microsoft Word, for more even better editing capabilities. Read the thing aloud for maximum effect. Not just mumbling. Stand up, full voice, and read what you wrote out loud. You'll be amazed at what your writing really sounds like.

Corollary here is the reverse. Cut some slack for those who write less good or type less better than yourself. Don't be the grammar police. Particularly in light of more aggressive auto-correct features that we're seeing, notably on mobile phones. Plus voice transcription systems that are increasingly common.

Don't document or transmit things that make you, your peers, or your agency look bad. How's that for broad? And it's covered by the above points as well. Too simple? Too much/little wiggle room? Probably.
What do you think, does that cover the bases? Do they need to be broken into rules versus guidelines?
More importantly, what's missing?
The first and last points are probably the best. The gist of them being:
Obey policies.
Don't break HIPAA laws.
Don't do anything you don't want broadcast.
Don't make (yourself or) others look bad.
And there you have it. Your thoughts?
+ 4 - 0 | § ¶
UPDATED: Bethesda Fire Department Asks County to Take Over
April 3
Here are the documents related to the Durham County Board of Commissioner's aciton item, from their April 1 meeting agenda on this topic. They were downloaded from this site.
March 30
The Herald-Sun yesterday reported (and also featured on FireNews.net) that the Bethesda Fire Department in Durham County has asked the county to assume their operations. Their Board of Directors contacted the county on February 28, informing that they voted to dissolve their non-profit corporation and transfer to the county the responsibility for daily operations. County Commissioners will be briefed on Monday with a proposal for Durham County to take over the fire department's operations. This will begin the transition process.
The Bethesda Volunteer Fire Company, Inc. was incorporated on December 19, 1963. They operated out of a two-bay brick station on South Miami Boulevard just south of Highway 70. They later expanded to a larger station built in 1982 beside the original one, and continued with expansion with a second station (called a substation back in the day) at 7305 Leesville Road in 1985. They answered calls (including as an EMS agency, correct?) in a "large swath of eastern and southeastern Durham county," which included unincorporated portions of the Research Triangle Park.
They're primarily funded from a special property tax for their district that's capped by law at 10 cents per $100 of assessed value. They have also received funding from Durham and Raleigh, for contracted services to municipal areas or as compensated (by law) for unincorporated areas annexed into a city. Their recent loss of a "fairly sizable contract" from Raleigh (for auto-aid for Station 24 and Station 23, correct?) has contributed to the department's financial issues, notes the County Manager. (Some figures are cited in the article, showing a net loss in FY11.)
How will the county operate the fire department for less? The county, using state-granted authority, can create a new service district to replace Bethesda's. This can have identical boundaries, but a higher tax rate. It's expected to start at 13 cents per $100 of assessed value. Other changes will include converting the department's nineteen full-time firefighters to county employees, and converting the part-time positions into their full-time equivalents.
Presently, Durham County is served by seven independent fire departments: Bahama, Bethesda, Lebanon, Parkwood, Redwood, and two others must be in adjoining counties. Readers can probably fill in the holes. Next question, how's this as a trend throughout the state? Where counties are "getting into the fire department business" for the first time, versus the more established route of municipal or private mergers?
+ 4 - 1 | § ¶
Rebuilding Capital Boulevard Corridor Begins
As this WRAL story reports, the rebuilding of the Capital Boulevard corridor has begun with the demolition of the AMF bowling alley. It was purchased last year by the city, and will be part of a project to create a park around the nearby Pigeon House Creek. Look for the Milner Inn and the infamous Foxy Lady to also fall to the wrecking ball. (No more pink neon as you exit the city. How times change.) Once the flood-prone area is beautified, city leaders anticipate commercial interest in the area. And hopefully the transformation of what's presently an appealing mix of old and empty buildings. Here's a city press release on the subject, and a study document (PDF) from March 2012.



WRAL photo
+ 3 - 1 | § ¶
Looks a Little Like "Emergency!"
Lee Wilson this week snapped this photo that recalls the rigs of a certain classic television series. That's former Stony Creek Rescue 45 and former Nasheville Engine 142, a 1971 Ward LaFrance. They're used for training at Nash Community College. See more photos, part of a larger set of past and present Nash County fire and rescue apparatus. Now for our daily question, how many departments ran Ward LaFrance rigs from era? Let's see... Charlotte, Durham, Fayetteville, who else?



Lee Wilson photo
+ 7 - 2 | § ¶
KME's New AerialCat Ludus
This combination 255-foot wildland/aerial/rescue/tanker was announced by KME Fire Apparatus on Monday, April 1. The unit carries 5,000 gallons of water, two miles of LDH, and fourteen sets of rescue tools. Impressive looking, but needs more cowbell. Alas, it was available for that day only, due to the obviouisly popularity of the truck. From their Facebook page.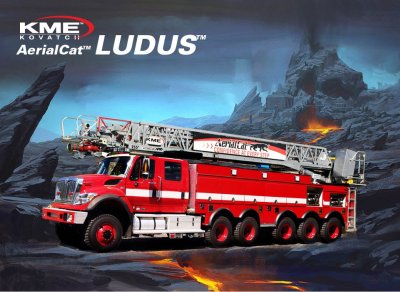 + 1 - 0 | § ¶
History Book Has Arrived!
The Raleigh Fire Department Centennial History Book arrived from the printer on Monday, April 1. The hardcover, full-cover book contains 264 pages with over 2,100 photos including over 950 portraits of active and retired personnel. All divisions and functions of the fire department featured, along with the history of the fire department depicted in visual timelines and text narratives.
Books ordered by personnel are being distributed to fire stations and fire department facilities. Orders placed by members at Administration and the Fire Marshal's office will be delivered to those offices on Tuesday, April 1. Orders placed by personnel at fire stations will be delivered beginning the week of April 8. The books can also be picked up at the training center on weekdays, between 8:00 a.m. and 10:00 a.m.
Books ordered by retirees can also be picked up at the training center, and will be available for pick up at the annual chicken 'n' rice retiree luncheon at the training center on Wednesday, May 1. Books ordered by mail are being fulfilled by the printer, Strawbridge Studios. They've started mailing them this week.


What if you didn't order one of these great books? Watch these sites for more information regarding the availability of additional copies:
Copies of the book will be available for reading at the Raleigh Fire Museum beginning on Saturday, April 13. The museum is open monthly, on the second Saturday of each month, from 10:00 a.m. to 2:00 p.m.
Production started in February 2012, and the first portraits were taken by Strawbridge Studios in April. Crew photos of all stations were submitted in the fall, and the winter months were spent finishing the writing and design.
Three earlier commemorative books were published by in 1984, 2002, and 2007. Though the first two are out of print, the 2007 book is still available from the publisher, at www.mtpublishing.com.

+ 5 - 6 | § ¶
Another Old International Fire Truck
Lee Wilson last week found this 1969 International 1700 Loadstar pumper-tanker (500/1000) in Nash County, formerly of the Coopers Fire Department. It's privately owned by the son of a charter member, and located off Old Bailey Highway. See more photos of this truck and other Nash County rigs that Lee's been photographing lately.



Lee Wilson photo
+ 1 - 1 | § ¶
Fairview's Old Tanker For Sale
From a reader, Fairview's old 1972 International Loadstar tanker is for sale on Craiglist. The seller notes the truck is equipped with a new engine, an operational pump, and has front spray bar installed. It's located in Apex. See a couple more photos in the aforementioned link. Here's a picture of the truck back in the day. Thanks, Tim!