+ 7 - 2 | § ¶
Thirty Years Ago - Five Firefighters Killed in Buffalo Propane Explosion
Thirty years ago this week, five members of the Buffalo (NY) Fire Department were killed in a propane explosion on the night of December 27, 1983. Crews had just arrived at a four-story warehouse for a reported gas leak when the blast occurred. Leaking was an illegally stored 500-pound tank. Workers were trying to stop the leak, when the leaking gas found an ignition source.
The explosion leveled the building and destroyed other structures within a four-block radius. The resulting fireball starting fires in buildings on a number of streets. The force of the blast threw a tractor-drawn aerial ladder nearly thirty-five feet into the front of a dwelling.
All five members of Ladder 5 were killed instantly, firefighters Mike Austin, Mickey Catanzaro, Red Lickfeld, Tony Waszkielewicz, and Matty Colpoys. Eleven firefighters were injured in the initial blast, and nineteen more during the rescue efforts due to weather conditions.
Over 150 civilians were transported, with many others treated at the scene. Below are five YouTube clips containing color footage from the incident, including some radio traffic. The incident remains the single greatest loss of life in the department's history.

READ MORE
+ 6 - 1 | § ¶
Centennial History of the City of Raleigh Fire Department
For your New Year's Eve enjoyment, via the Raleigh Fire Museum, here's a 116-page, PDF-format text history of the Raleigh Fire Department. The history text originally appeared in the centennial history book that was published for the occasion of the department's 100th anniversary last year. The text includes extensive annotations Historian Mike Legeros (me), most of which appeared elsewhere in the book. The text also includes fire station histories, division histories, and a copy of the Centennial Roll Call.
The book was the fourth commemorative book published by the Raleigh Fire Department. Earlier editions were published in 2007, 2002, and 1984. Learn about those books, or even read the original 1984 history text. With annotations, of course. For the truly dedicated reader, you can compare the two versions and see what differences you can see.
The 1984 text was written by Capt. B. T. Fowler, The text from 1984 to 2002 was written by Capt. Peter Brock. The text from 2002 to 2012 was written by Mike Legeros. The whole thing was edited and at times rewritten by Legeros. There were a number of copy editors and proofreaders, including Mrs. Legeros. Those acknowledgements (listed as book reviewers) are shown on this centennial history book page excerpt.
+ 7 - 5 | § ¶
Videos of Youngsville Fire Department Funeral Procession
Wake Forest News has posted a pair of videos of yesterday's funeral procession for Youngsville Fire Department Asst. Chief Jeff Fields. The footage includes a superb sixteen-minute segment from a camera attached to the grill of Engine 41, which carried the firefighter's remains. Read the story, or watch the videos below. Lee Wilson was also present, and has posted his photos.

+ 3 - 3 | § ¶
Historic Firehouses of Lynchburg
Found on my desktop, incomplete research on Lynchburg, VA, and history or former firehouses therein. Any readers from those parts? Looks like but four fire stations that are either (a.) closed or (b.) active and older than fifty years. Need to plan a visit, along with a stop in Roanoke, which also has a mess of former firehouses. Also eyeing points north and west, by several hours. Many historic firehouses in, say, Louisville and Indianapolis. So many cities...


+ 3 - 3 | § ¶
UPDATED: Arrangements for Youngsville Asst. Chief Jeff Fields
December 27
The Wake Forest News has posted a nice story about Chief Fields passing. He had recently survived a heart attack and subsequent bypass surgery, when he died suddenly on Christmas morning. He joined the department in 1984, notes the story, and everyone described him as a "big guy with a big heart." He was one of the top "call runners" for the past decade, assisting at more than half of all calls in the district. Notes the story, his ninteen year-old daughter Emily recently joined as a volunteer. He last ran a call on December 12, at a motor-vehicle accident on Highway 1. Read the story.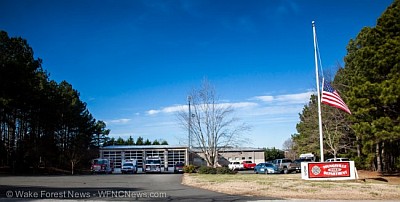 December 26
Social media has been sharing the news of Youngsville Fire Department Asst. Chief Jeffrey Lee "Jeff" Fields, who died at home on Christmas morning. He was fifty-one years old. Funeral arrangements have been announced.
Visitation is Saturday, December 28, from 12:00 p.m. to 2:30 p.m. at Youngsville Station 1, 803 Wheaton Ave, Youngsville. Funeral service will be conducted at 3:00 p.m. at Youngsville Baptist Church, 315 E. Main St, Youngsville. There will be a procession from the fire station to the church, which are about 1.4 miles apart, says Google Maps.
Chief Fields was a member of the Youngsville Fire Department for thirty years. By day, he worked as a warehouse manager. He's also a veteran of the United State Marines. He's survived by his wife of twenty-four years and two children. Read his obituary.
+ 7 - 3 | § ¶
History of the History Books
Notes on the histories of the Raleigh Fire Department's four commemorative history books, which were published in 1984, 2002, 2007, and 2012. See this web page for more extensive details, including history text (1984) and page samples and production notes (2007, 2012). Organizing some piles in the man cave this morning. Note that two of these projects either stalled or were postponed. Glorious results resulted, however.
First Book
1983-84 - Organizational meetings start for a commemorative book
1984, June 25 - Order deadline for 1984 book.
1984-85 - Book is probably printed in late 1984 or early 1985.
Need to research this one.
Learn more.
Second Book
1997, June - Production meetings have started on a second commemorative book.
Contract is signed in June 1997. The production year will be 1998.
The book will be 152 pages. There will be 500 copies.
Portraits are taken of personnel in 1997.
Project stalls and resumes two years later.
Two-person committee.
Portraits are taken again of all/some personnel.
2002 - Orders are placed through the spring, if memory serves.
Orders are taken starting six months prior to completion of content.
Book is priced at either $50.00.
2003, spring - Book is printed, fulfillment begin.
Need to research this one. Can't remember when mine was in hand.
Learn more.
Third Book
2007, August - Organizational meetings start for a third commemorative book.
Committee is formed, including members of the 2002 book project.
2007, October-November - Portraits taken of personnel.
2007, November - Order forms (flyers) distributed, marketing begins. Book is priced at $50.00.
2007, January 15 - Order deadline (flyer). Subsequently extended to February 1.
2008, April - Content deadline for submission to printer.
2008, August - Proofing deadline.
2008, September - Book goes to press.
2008, November - Book is printed, fulfillment begins.
Learn more.
Fourth Book
2010, April - Organizational meetings start for a fourth commemorative book.
Committee is formed, including members of 2007 book project.
Project planned to coincide with fire department centennial in 2012.
2010, November - Project is postponed.
Planned publication date is 2013, to allow inclusion of anniversary activities planned for 2012.
2012, January - Organizational meetings begin for 2012 book.
Committee is formed, including members of 2007 book project.
Production meetings start the following month.
2012, March - Order forms (flyer) distributed, marketing begins. Book is priced at $60.00.
2012, May - Portraits taken of personnel.
2012, December 1 - Order deadline (flyer). Subsequently extended to January 15. Book price is raised to $70.00.
2013, January - Content deadline, last of rolling deadlines for completing and proofing content that started in November.
2013, January-February - Portraits taken of additional/promoted personnel.
2013, February - Book goes to press.
2013, April - Book is printed, fulfillment begins.
Learn more.
Here are some related images, including a montage of book covers, the acknowledgement pages for each book, a pair of 1984 cover designs credited to Firefighter Donald C. Heath, and flyers from three of the four books. Maybe we'll uncover an order form from 2002 some time. Click to enlarge:

+ 3 - 1 | § ¶
McDonald's Restaurant Fire in Wilson
The Wilson Times yesterday posted a strong set of photos from Brad Coville, of the second of two Christmas Day fires at the McDonald's restaurant on Raleigh Road near the I-95 exchange. The first fire was reported about 2:00 a.m., and the second fire was reported a little after 11:00 a.m., reports this Times story. The fire is still under investigation, though the second fire is being called a rekindle. See more photos.



Brad Coville/Wilson Times photos
+ 3 - 3 | § ¶
Scenes From a Firefighter Funeral
Hundreds of firefighters filled the Colonial Baptist Church in Cary yesterday afternoon, for the funeral of Cary Fire Department Captain and Swift Creek Firefighter Jon F. Schondelmayer. He died suddenly on December 18, after being found unresponsive at his home, after going to his home while on duty at Swift Creek. He was 44 years old.
Family, friends, and fellow firefighters remembered Schondelmayer as a beloved and larger-than-life figure. He was a Marine who served in Desert Storm, a veteran Cary firefighter assigned to Ladder 1, and a Swift Creek firefighter for over nineteen years.
Following the presentation of his helmets to his children, his last call was announced on the radio by a Cary dispatcher. As the announcement was transmitted, the fire siren at the nearby Swift Creek fire station sounded. Listen to the last calls: Cary Central (during funeral), Raleigh/Wake ECC (December 18).
Following the service, a procession escorted his body to Brown-Wynne Funeral Home in Raleigh. The apparatus in the procession included trucks from Cary, Swift Creek, Knightdale, and Fuquay-Varina. Also present was Cary's original platform ladder, now serving at Buis Creek. The ladder truck was Schondelmayer's first assignment in Cary.
Lee Wilson and Mike Legeros (shown below) have posted photos from the funeral. Lee took photos of the procession, while Legeros filmed the thing. See below. Here are related postings and media links: blog post #1, blog post #2, WRAL story, WTVD story, and his obituary.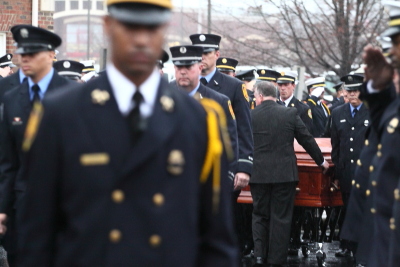 + 3 - 4 | § ¶
Best Web Site Error Message Ever
Found via this site (don't ask). Love the graphic, love the usability of the thing. Tells you exactly and easily the best steps to resolve your error. Click to enlarge:


+ 3 - 4 | § ¶
Coverage For During Yesterday's Funeral
During yesterday's funeral for Swift Creek Firefighter and Cary Captain Jon Schondelmayer, six departments provided coverage at Cary fire stations:
Station 1 - Garner Engine 3
Station 2 - Raleigh Squad 14
Station 3 - Raleigh Engine 4, Cary Truck 6
Station 4 - Apex, Cary Rescue 4
Station 5 - Durham Engine 12, Cary Ladder 5
Station 6 - Fairview
Station 7 - Morrisville
Station 8 - Durham
Readers can add details on others or secondary move-ups. Both Lee Wilson and Mike Legeros took pictures at the funeral. More later.
See related blog post #1 and blog post #2.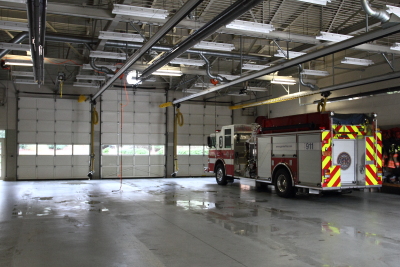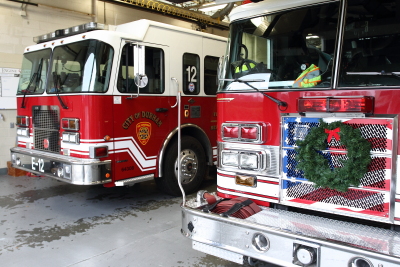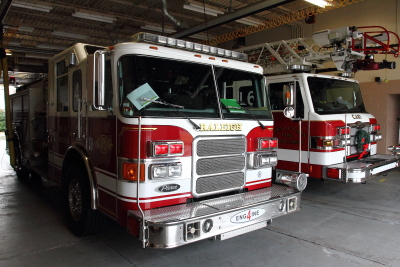 + 7 - 1 | § ¶
Work CPR in the Field, Not in the Ambulance
This one's been making the rounds on the EMS side. The American College of Emergency Physicians (ACEP) last week shared this story and two-minute video of Wake County Medical Director Dr. Brent Myers speaking at an ACEP event in Seattle in October. In almost all cases, he notes, it's best to stay on the scene to work a cardiac arrest resuscitation until the return of spontaneous circulation, or that efforts are stopped due to futility. "Load-and-go is not the appropriate approach," he's quoted as saying. The probability of neurologically intact survival is at least 10-fold higher, and by some estimates up to 35-fold higher, when resuscitation is achieved in the field, he said at the annual meeting. Read the story or watch. Discuss as desired, or share perspectives on our county's cardiac survival successes.


+ 3 - 5 | § ¶
Documents Pertaining to the History of the Raleigh Emergency Rescue Squad
Santa brought an early present last week, with the discovery of some old fire department files pertaining to the Raleigh Emergency Rescue Squad. The documents include the original 1953 press release about the squad's formation, historical narratives about the formation, the organization's by laws, and vehicle registration cards.


Amazing things uncovered:
The squad was proposed in 1947, under Fire Chief W. Ralph Butts. There wasn't time to grow the idea, as a change of administration occurred.
The idea was resurrected upon the hiring of City Manager William "Bill" Carper. He took office in August/September 1950.
Carper's name isn't Harper, which we've misspelled all along.
Carper had experience organizing rescue squads in Virginia.
The fire department visited rescue squads in Winston-Salem, Greensboro, and four Virginia locations.
The Raleigh Emergency Rescue Squad was originally intended to have forty to fifty volunteers, plus a couple assigned firemen.
The first organization meeting was held in January 1953. The vehicles were delivered in October and November of that year.
Their Reo Civil Defense rescue truck was a 1955 model, not the long-cited 1954 model year.
Meanwhile, Mr. Blogger will commence adding corrections about Carper's name and the Reo's model year, across multiple documents and web sites. Apologies to future historians who are confused by prior and later citations.
Read the documents (3.5M) (PDF).

Notes on the Documents
READ MORE
+ 5 - 1 | § ¶
1957 Ford/Oren Found on Lead Mine Road
We were alerted yesterday of this old beauty that's presently parked at Greystone Village Shopping Center on Lead Mine Road at Sawmill Road. It's a 1957 Ford/Oren of unknown origin. Lettered for Cumberland County Retired Firefighters. Maybe readers can help. Might be a great discussion question, as well. How many Oren engines served in our state? Just don't get me started on another data table or photo collage! See more pictures.


+ 3 - 4 | § ¶
Video of Agility Testing for Stony Hill Fire Department
The Wake Forest News has posted a short video (one-minute) featuring still shots and aerial (drone!) footage of agility testing conducted by Stony Hill Fire Department at Wake Forest Station 1 on Saturday. The department is hiring for a full-time firefighter (one position), and the thirteen applicants came from as far away as Charlotte. Wake Forest firefighters helped with the testing, and Wake County EMS was present to check all candidates (all men) before they started. Read the story or watch the below video. And how about that Drone Cam! Does Lee Wilson or Mike Legeros need to get into the remote-controlled act?!



+ 5 - 2 | § ¶
Color Slides of Raleigh, RDU Airport Apparatus - October 1982
For your Saturday enjoyment, here are some scans of 35mm color slides, as originally photographed by one Joel Woods in October 1982, and recently bought on eBay. Great shots, and great chronicle of the early Mack configurations. Apologies to those outbid. We'll add the Raleigh images to our apparatus registry. Why are two of the crash trucks cropped on the very bottom? Don't know. My slide scanner software is overriding the physical size of the slide, but a bit on the bottom edge. Click once or twice to enlarge:


+ 4 - 1 | § ¶
Vintage Ads for Ambulances and Hospitals
From Raleigh city directories, betwen 1935 and 1963. They're now available online! See this prior posting. Click to enlarge:


+ 4 - 1 | § ¶
Vintage Ads for Ambulances and Hospitals
From Raleigh city directories, betwen 1935 and 1963. They're now available online! See this prior posting. Click to enlarge:


+ 4 - 2 | § ¶
Baltimore Video - Fast Truck Ops, But...
Saw this on Statter911, his posting of a pre-arrival video of a rowhouse fire on Saturday in Baltimore. The address was 1725 Poplar Grove Street. The videographer is Rick Rumbarger. The footage shows Truck 18 arriving and deployed in about 75 seconds. Just like that. Then the driver/operator continues up the ladder, saw in hand, to perform ventilation. Except, he's not wearing SCBA. This and other observations are subsequently discussed through over 200 (and counting) reader comments. There seem to be two distinct schools of opinion: that's real firefighting there versus that's really dangerous there.
The clip:



Some comments:
"This is why we kill 100 firefighter[s] a year."
"Most of these comments are laughable! You have no idea what it's like in a city."
"Seriously, how can you defend not wearing your gear?"
"Not worth arguing over, we do the same job... Why add more awkward weight when you are going to the roof?"
"Can you really defend not wearing all your gear? How do you justify that...??"
"That's a young mans attitude. Try telling your wife and kids that and see how they feel about it."
"Firefighting is dangerous. This is firefighting in the 2000s with no manpower, no money."
"Forget about the safety missteps and what else we would have done differently... the bottom line is that CANCER not fire is the number one leading cause of FF deaths and disability."
"I'm just guessing here, but I figure it's not the first rowhouse fire these companies have been to."
"I'm OK with roof ops, just bewildered that the guy had no SCBA."
"None of you guys who criticize safety measures would make it on my department."
"BCFD did a good job fighting the fire. However, who would want to put there HEALTH at risk."
"Everyone has there ways. This is how its done. Most of you critical folks on here are probably nothing but chiefs and or t-shirt firefighters."
"What good does it do to wear SCBA if you're not using the air in the bottle. That is one of the biggest false securities we have."
"It's refreshing to see a job well done. If all the safety commenters were in charge we'd be watching the block turn into a parking lot."
Your thoughts?
Yes, wide-open field there. The practices depicted in the video. The culture(s) of the fire service. Social media, quarterbacking, and discussions of fire service culture(s). Go nuts.
+ 5 - 0 | § ¶
UPDATED: Last Call For Jon F. Schondelmayer
Swift Creek Firefighter and Cary Fire Department Captain Jon F Schondelmayer, 44, died suddenly yesterday, while working with Swift Creek. The United States Fire Administration today issued a firefighter fatality report, with this narrative:

On the morning of December 18, 2013, Firefighter Schondelmayer was working with Swift Creek Fire Department as a firefighter when he begin to feel ill. He communicated to his crew at approximately 1130 hours that he was going to go home to get some medicine and return to the station.

His crew became concerned when he left and called him on his cell phone to check to see how he was doing. At the same time, a Swift Creek firefighter was sent to his residence. While on the telephone, Schondelmayer communicated that he did not feel well and needed assistance.

When the other Swift Creek firefighter arrived at the residence, he found Firefighter Schondelmayer unresponsive. Schondelmayer's fellow responder began rendering medical aid and contacted his company at Swift Creek for assistance. Emergency responders worked for 50 minutes to try to revive Firefighter Schondelmayer, but he passed away from a nature and cause of injury still to be determined and reported.

Firefighter Schondelmayer was also a Fire Captain with the Cary Fire Department, North Carolina, and had just come off of a busy shift with Cary that included several emergency response runs before beginning duty that day with the Swift Creek Rural Fire Department. Incident Location: 2739 Campbell Road, Raleigh, NC, 27606.

Cary Fire Department photo

The following message was transmitted yesterday afternoon by the Raleigh & Wake County Emergency Communications Center, on the Raleigh Fire Department and Wake County fire department dispatch channels:

Raleigh Central to all units and all stations, stand by for an administrative message.

Raleigh Central to all units and all stations, Raleigh Central is announcing the Last Call for Captain Jon Schondelmayer, Captain with the Cary Fire Departmen, Ladder 1, and Firefighter with the Swift Creek Fire Department.

Once again, all units and all stations, Raleigh Central is announcing the Last Call for Captain Jon Schondelmayer, Captain with the Cary Fire Department, Ladder 1, and Firefighter with the Swift Creek Fire Department.

Raleigh Central is clear at 1617 hours.

Listen to the audio recording.

--

Funeral arrangements have been announced:

Family visitation and viewing on Sunday, December 22, from 5:00 p.m. to 7:00 p.m., at Brown-Wynne Funeral Home, 200 Southeast Maynard Road, Cary, NC 27511.

Funeral service on Monday, December 23, at 2:00 p.m., at Colonial Baptist Church, 6051 Tryon Road Cary, NC, 27511.

--

See related blog post #1 and blog post #2.
+ 7 - 3 | § ¶
Radio-Controlled Firefighting at a Scale-Model Warehouse Fire
From a reader comes this amusing, amazing piece of work, a scale-model movie from Germany showing radio-controlled model fire engines in action. What's the size/scale on those things, you think? Video is from 2012, and has over 1.5 million views!


+ 2 - 2 | § ¶
UPDATED: Robeson County Firefighter Death
December 18
Arrangements have been posted. Family visitation in Sunday in Parkton. Funeral service is Monday, also in Parkton. See the FireNews.net story for more information.
December 16
FireNews.net has posted some information on the death of Parkton Volunteer Fire Department firefighter David Brophy, 41, who died at Cape Fear Valley Medical Center on Sunday. He had previously answered a call, and later became ill while at home. Brody had served with the Robeson County fire department since October. He was a veteran of the Frontier Volunteer Fire Department in Niagra Falls, NY, where he served more than fifteen years. He was one of the responders to the September 11, 2001, terrorist attacks in New York City. WRAL posted this story last night, with this photo:


+ 4 - 3 | § ¶
Vintage Asheville, Asheboro Apparatus
Photographer Lee Wilson's been digging through his archives and posting bits and pieces from his apparatus explorations of a double-decade ago. Pictured below are Asheville Tanker 2 and Tanker 8 on August 1, 1992, and Asheboro Snorkel 1 in the mid-1990s (?).
The snorkel is a 1966 Ward LaFrance High-Ranger 85-foot and is reportedly still on the roster! We saw plenty of Snorkel-brand snorkels in the state. How many High-Rangers were around? Durham and Greenville had theml.
The tankers are two Fords of unknown model years. Tanker 2 carried 3,200 gallons and Tanker 8 carried 1,200 gallons. Guessing the second truck was shop-built, but maybe the first one as well? Interesting outfitting! See more photos from Lee.



Lee Wilson photos
+ 5 - 3 | § ¶
Vintage Atlanta Airport Fire Apparatus
Found these on eBay, in a number of recently completed auctions. They're scans from 35mm slides, being auctioned from the collection of the late Richard M. Adelman of Memphis, TN. The original photographers were Decher, Jean-Pierre REDON, and Bryon Brown. Guessing they were mostly or entirely shot around the time of the first Colet delivery, in the early 1990s. Maybe a reader can post the current fleet roster. Click once or twice to heartily enlarge, or see this earlier posting of ours, with some more images including a nice aerial photo of the fleet from, say, the early 1980s:

Here's what depicted:
Command Unit - 1988 Ford/Wheeled Coach command truck
Ladder 24 - 1973 Mack CF aerialscope
Squad 24 - 1992 Spartan Gladiator rescue
T4 - 1991 E-One Titan IV ARFF unit
Y1 - 1973 Oshkosh M15 ARFF unit
Y2 - 1973 Oshkosh M15 ARFF unit
Y4 - 1982 Oshkosh M15 ARFF unit
Y5 - 1982 Mack CF pumper with foam & turret
Y5 - 1990 Spartan Gladiator-Quality pumper
Y6 - 1991 Spartan Gladiator-Quality telesqurt
Y6 - 1991 Spartan Quality pumper
Y7 - 1990 Spartan Gladiator-Grumman aerial tower
Y8 - 1984 American LaFrance pumper
Y9 - 1981 Oshkosh T6 ARFF unit
Y10 - 1981 Oshkosh T6 ARFF unit
Y11 - 1981 Oshkosh T6 ARFF unit
Y11 - 1994 Colet ARFF unit
Y14 - 1990 Ford E-One mini pumper
Y15 - 1991 Spartan Gladiator/Quality pumper
Y16 - 1991 Spartan Gladiator/LTI tiller, 110-feet
Y17 - 1979 Chevrolet triage unit
YO! - 1997 Colet ARFF unit
+ 2 - 3 | § ¶
Yesterday's Commercial Vehicle Fire(s) in Apex
Firefighters from Apex, Fairview, and Cary battled an unusual vehicle fire in Apex yesterday afternoon. The incident at 1096 Investment Boulevard started about 1:30 p.m. with a fire in a pavement marking vehicle parked well in the rear of a one-story, 2,996 square-foot commercial structure. The fire spread to adjoining vehicles, which were a combination of diesel- and propane-powered trucks.
This WRAL story reports that three trucks experienced fuel tank explosions, with five trucks damaged in all. Recalling radio traffic, [Apex Car 2 was first on scene and] Engine 1 was first [apparatus] on scene. After they made access to the gated area behind the structure, Engine 3 brought them a line from a hydrant on Investment Boulevard. They deployed a pair of portable monitors, along with at least one hand line.
Ladder 4 parked near Engine 1, and had a supply line brought of by Engine 4 (I think). They connected to a second hydrant on Investment Boulevard, and commenced aerial operations. The fire was controlled within forty minutes. Additional fire units staged on Investment Boulevard, while medical units parked in a business on the opposite side of the street. Fuel was quickly discovered in the run-off, and spill containment booms were brought to the scene. Between 100 and 150 gallons were released, reports this News & Observer story.
Due to heavy smoke conditions, a nearby indoor sports center was evacuated. Three other nearby businesses were requested to shelter in place. Note that a second alarm was not requested, though it was mentioned on the radio. Cause has not yet been determined notes the news.
Units on scene included Apex E1, E2, E3, E4, L4, B1, Tanker 1, C1, Fairview E1, B1, C2, Cary E6, B1, EMS 41, EMS 42, M9_, and D2. Plus WC1 and Wake County Emergency Management. Here are a couple photos from Mike Legeros. Give him another day to get them posted. And here's a nice aerial view of the location. Click to enlarge:


+ 6 - 4 | § ¶
New Wheels For EMS 201
Seen on South Saunders Streety yesterday. Chevy Silverado long bed with covered bed, guessing 2014 model? Assigned to the Assistant Chief for Logistics. Wonder what a full fleet list looks like, both ambulances and support vehicles. From your Man on the Street. Click to enlarge:


+ 3 - 2 | § ¶
Fatal Fires in Raleigh, 1948 to 2009
Notice!
This posting has been superceded by new and expanded research in 2018.
See http://legeros.com/blog/fatal-fires-in-raleigh-1948-to-2015/
Notice!
Last night's fatal fire in southeast Raleigh, see WRAL story, was the first in the city in a few years. And it reminded me of some research of mine from a few years ago. This data was compiled in 2010. The primary sources are Internet research (e.g. media reports) and my records. Didn't do a ton of digging, if I recall. Was more of a "what can I put my hands on right now" project.
The data starts from February 1, 1948, the date of the worst fatal fire in Raleigh's history. The criteria for inclusion is any fatal fire within the city limits, or within Raleigh's response area. (Which would be one and the same, right? Except for, say, earlier decades, when the Raleigh FD was contracted for protection in some areas, such as south of the city along Highway 401.)
Since it's the season for asking for historical help (see yesterday's post about Wake EMS history), let's see if readers can help with details and/or additional incidents. Even basic fact-checking is welcome! Could be a great academic paper or research project from someone!

| | | | | | |
| --- | --- | --- | --- | --- | --- |
| 09/15/2009 | 1 | Millbrook Road | House | Age 36 | |
| 02/21/2009 | 1 | 2116 Millbank Street | House | Age 57 | |
| 02/9/2008 | 1 | 704 Princeton Street | House | Adult | |
| 03/15/2007 | 1 | 1113 Upchurch Street | Triplex | Age 29 | |
| 02/22/2007 | 3 | 305 Roselle Court | Building (Apt) | Age 30, Age 26, Age 11 mo | |
| 11/22/2006 | 1 | 5501 Round Hill Lane | Building | Age 70 | |
| 08/06/2006 | 1 | 544 Rose Lane | House | Age 69 | |
| 10/7/2005 | 2 | Groveland Avenue | Duplex | Age 19, Age 22 | |
| 12/31/2004 | 1 | | | | |
| 10/09/2004 | 1 | | | | |
| 06/05/2004 | 1 | | | | |
| 02/02/2003 | 1 | 509 Glenwood Avenue | High Rise | Age 55 | |
| 07/12/2002 | 1 | 3409 Mill Tree Road | Apartment | Adult | |
| 07/12/2002 | 1 | | | | |
| 03/25/2002 | 1 | | | | |
| 03/05/2002 | 1 | | | | |
| 02/28/2002 | 1 | 115 Salem Circle | Apartment | Adult | |
| 02/26/2002 | 1 | 602 E. South Street | House | Age 89 | |
| 12/12/2001 | 3 | 7609 Stone Horse Court, outside city | Aircraft / House | | Victims were occupants of aircraft. Response included Raleigh FD, including E23. |
.
.
READ MORE
+ 5 - 2 | § ¶
Help Wanted with Wake County EMS History
One of my holiday projects is compiling an unofficial history of Wake County EMS. The format is timeline. The milestones include facilities, vehicles, units, protocols, and notable personnel. Can you assist? Commence adding commences, or drop me a private message as desired! It's also been posted to the History of EMS in Wake County Facebook group, if you prefer that forum. Thanks in advance for facts, dates, memories, minutiae, or anything in-between! (Wait, what about all the other rescue squads in Wake County, and their histories? Relax, we'll be working on those at a later time, in a later posting.)

History of Wake County EMS
Pre-History Part 1

The first ambulance providers in Raleigh (and Wake County) were funeral homes. In 1953, the Raleigh Fire Department formed a rescue squad, though for first aid and rescue purposes. (They were not intended to compete with ambulance providers.) In 1962, the first county rescue squad was formed in Wendell.

Private ambulance companies replaced Funeral Homes as the primary provider(s) in Raleigh, with Beacon Ambulance Service (formed in 1967) dominating the industry by the early 1970s. They later received county subsidies for their service to Raleigh citizens.

READ MORE
+ 1 - 1 | § ¶
Raleigh Fire Museum Open This Saturday, December 14
Looking for a fun activity on a cold and possibly rainy Saturday in December? Visit the Raleigh Fire Museum at the fire department training center in downtown Raleigh. We're open this Saturday, December 14, from 10:00 a.m. to 2:00 p.m. That's our monthly opening, on the second Saturday of the month.
The museum is located in a modular classroom at the Keeter Training Center at 105 Keeter Center Drive. Admission is free. Parking and restrooms are available. Here's a two-minute video tour. Learn more about the museum, and the non-profit organization that operates it, at www.raleighfiremuseum.org.
Please note that antique fire engines are located elsewhere. Both the museum's 1961 American LaFrance pumper and the city's collection of antique fire apparatus is housed at at Fire Station 28 at 3500 Forestville Road. Visitors are welcome. Or schedule a tour at www.raleighfiremuseum.org/tours. Here's more information about both destinations:


+ 1 - 2 | § ¶
Flash vs. No Flash on Millbrook Road
The upside, everything gets lit. The downside, reflective striping gets glaring. Your mileage may vary, based on camera and flash settings. These are from Monday morning's commercial structure fire on Milbrook Road. See more photos by Legeros, or click to enlarge.

Technical notes:
Canon 7D DSLR
Canon EF 17-40mm f/4L USM
Program AE
1/60 Tv (top left), 1/30 Tv (top right), 1/60 Tv (bottom left), 1/15 Tv (bottom right)
4.0 Av
33.0mm (top left), 29.0mm (top right), 24.0mm (bottom left), 19.0mm (bottom right)
Partial metering
3200 ISO
Flash exposure compensation+2/3
+ 1 - 2 | § ¶
Wake Forest News Covers Yesterday Morning's House Fire
Read this Wake Forest News story. Wake Forest and Rolesville fire departments. Fire showing through first floor on arrival. Searches negative for possible life hazard. Fire extending to attic and through. Offensive operations changed to defensive. And downtown Wake Forest was alive with the sound of sirens. Readers can provide additional details as desired. Blog Man has to get ready for work.


+ 1 - 2 | § ¶
Great DSLR Utility: ExposurePlot
Buying a lens this holiday season? Can't decide on the best local length for your uses? Then check your data, dummy. What's the most common focal length(es) that you use? You say I'm an idiot for suggesting such a time-consuming task, reviewing EXIF information for God knows how many photos? Agreed on the first part, but the second step is easy. Try the program ExposurePlot, which analyzes one or many folders of JPEG images. Then it produces nifty graphics, like this one that shows my focal lengths of my posted fire photos this year. My current lens, BTW, are a 17-55mm (primary) and 70-200mm (secondary, but primary for portraits). Click to enlarge:


+ 5 - 5 | § ¶
Drawings of Wilmington's Tiller
From the Atlantic Emergency Solutions Facebook page, check out this baby! Pierce Velocity tiller with PUC configuration. Meaning, it's a quint. In production for the Wilmington Fire Department. One more tiller for the Carolinas, which'll join Raleigh, High Point, Cornelius-Lemley in NC and Charleston and Hilton Head in SC. Click to enlarge:


+ 6 - 5 | § ¶
UPDATED: Remembering the Raleigh Tornado - Nov. 27, 1988
December 8
Added this historical document (PDF), that includes the previously transcribed response report, plus profiles of Raleigh FD and Wake EMS, plus excerpts from log book entries of the fire units. And a couple maps.
November 29
Twenty-five years ago yesterday, local responders were jolted into action after an early morning tornado touched down in northwest Raleigh. The 1:00 a.m storm struck with virtually no warning, starting at Umstead Park. The funnel continued east and northeast, crossing Glenwood Avenue and striking and collapsing a K-Mart store. The nearby Raleigh fire station on Pleasant Valley was missed, though the Durham Highway fire station on Davis Circle was blown down.
The path continued in a north/northeastern tract, damaging and destroying apartment buildings and houses as far north as Mourning Dove Road off Six Forks Road. It continued into the county, and through much of the state, nearly reaching the Virginia border. In Raleigh, two people were killed and 102 others were injured. The tornado damaged or destroyed dozens of businesses and hundreds of homes.
The emergency response included some 225 Raleigh firefighters, with 12 engines, 2 truck companies, 2 rescues, three mini-pumpers, and other units. At least fifteen Wake County fire departments responded with dozens of personnel and numerous units. Five Durham County fire departments also responded. The EMS response numbered some two-dozen (or more) ambulances, from all of Wake County's rescue squads and EMS providers. Ambulances also responded from Durham, Granville, Harnett, Johnston, and Orange counties.
Here are a couple photos from News & Observer photographers, as well as some web links. They include two prior blog postings on the subject. Where are any photos from Legeros? He was working as a traffic reporter, on a split shift of 6:00 a.m. to 9:00 a.m. (abouts) and 3:00 p.m. to 6:00 p.m. (abouts). Don't recall any pictures taken, but he wandered on foot through the staging/command area, and drove around the Leesville Road/Six Forks road areas, gawking like the rest of the world. The pine, the pine.
Histories
Words
READ MORE
+ 1 - 1 | § ¶
New Old Photos of the Raleigh Fire Department
The Raleigh Fire Museum web site has posted some new old photos of the fire department. They're displayed in this gallery, which presents images collected by Mike Legeros, during research from 2000 to 2012. They were obtained from the North Carolina State Archives, and images dated 1938 and later are copyright News & Observer. They appeared in the News & Observer and Raleigh Times. The new additions were obtained during research for the Raleigh Fire Department centennial history book. Here's what's new:
1910s-1940s
Page 1 - First officers, early photos, Simpkins Garage, more Yarborough views
Page 2 - Steamer in parade
1950s
1960s
1980s
Page 4 - New Helmets (continued on Page 5)
1990s
Page 3 - Explorers, EMS transporting patient
Page 4 - Confined space training, Wakestone Gardens, high-level rescue, Millbrook school
+ 2 - 2 | § ¶
SBI Special Response Team Truck
Found in files. Photographed in August 2005, somewhere in Wilson, NC. Perhaps parked at a fire station, or at the police department? What other SBI armored response units are hidden around our state? See more special police vehicles as photographed by Legeros. Click to enlarge:


+ 5 - 2 | § ¶
UPDATED: Oldest Motor Apparatus in North Carolina?
Question from a reader, what's the oldest (motorized) fire apparatus in North Carolina? Native trucks, that served in our state. From Facebook input and an excellent list at FDmaps.com, here's some of them. Presumed to be triple combinations (chemical engine, pumping engine, hose car) unless otherwise indicated:
1912 ALF - Washington
1914 ALF - Hickory, New Bern (fire museum)
1914 Ford Model T hose car – Chapel Hill
1914 Ford Model T - Elizabethtown
1916 ALF - Hamlet, Mt. Airy (in Mt. Airy museum)
1917 ALF – Fayetteville
1917 Brockway service truck - Elizabeth City (NC Transportation Museum)
1919 ALF – Goldsboro, Wilkesboro (ex-Winston-Salem)
1921 ALF - Chapel Hill (private owned), Gastonia, Louisburg, Mooresville
1922 ALF - Asheville (private owned, kept at Grove Park Inn), Lexington (NC Transportation Museum)
1922 Ford Model T combination chemical hose car – Southport
1923 ALF - Asheboro, Fayetteville (private owned), Statesville (private owned)
1923 ALF/Brockway - Kernersville, Mebane
1923 Reo - Edenton
1924 ALF - Ayden
1925 ALF - Brevard, Sanford
1926 ALF – Black Mountain, Mount Olive, Mt. Airy (in Mt. Airy museum), Raleigh, Waynesville
1927 ALF - Asheville
1927 Seagrave - Smithfield
1927 Seagrave combination service truck - New Bern (fire museum)
1928 ALF – Charlotte, Elizabeth City, Lillington
1928 Boyer - Forest City
1929 ALF - Plymouth, Wilson
1929 GMC/ALF - China Grove
TBD: 192_ ALF, Greensboro, High Point
And here's a gallery of some of these. Photo credits are Legeros, Lee Wilson, Benji Grice (wow), Andrew Messer (wow wow), Doug Carter/Rob Mitchell, and Josh Biggs. Click to enlarge:


+ 1 - 1 | § ¶
Blocking on the Beltline
That's Medic 93 in the foreground and Engine 16 and Squad 14 in the background, at a motor-vehicle accident with injuries on the inner lanes of the Beltline just past Glenwood Avenue. From last Friday, December November 29. See more photos by Legeros, or click to enlarge:


+ 2 - 1 | § ¶
Edenton's Restored 1923 Reo
Our friends at the Edenton Fire Department pass along this photo of their 1923 Reo fire engine, of which restoration was recently completed by members of the department. The project took about a year to complete, on and off. They did their own body work, with pain done by a body shop. Everything else was in-house. You can see some photos of the disassembled truck (and a couple vintage images) from Mr. Blogger's visit in May. And here's a prior posting about the history of Edenton's fire department, through their fire station locations. Thanks Josh! Click to enlarge:


+ 2 - 0 | § ¶
Leaving Room For The Ladders in Boston
Found via the FireNews.net on Twitter is this excellent Aram Boghosian photo from yesterday's Boston Globe. Was the scene of a rare eight-alarm fire in a century-old commercial building near Fort Point Channel. What are some of things you see in this photo? Read more about the fire, or see more of Adam's photos. Click to enlarge:



Aram Boghosian/Boston Globe photo
+ 2 - 0 | § ¶
Leaving Room For The Ladders in Boston
Found via the FireNews.net on Twitter is this excellent Aram Boghosian photo from yesterday's Boston Globe. Was the scene of a rare eight-alarm fire in a century-old commercial building near Fort Point Channel. What are some of things you see in this photo? Read more about the fire, or see more of Adam's photos. Click to enlarge:



Aram Boghosian/Boston Globe photo
+ 2 - 0 | § ¶
Raleigh Fire Department Radios - July 17, 1956
Found this this weekend, while researching the early portable radios used by the Raleigh Fire Department. (More on that later.) The fire department's mobile radio system was installed in 1955, with a base station in the dispatcher's office at Station 1. Two years later, base stations were placed in service at all fire stations. Radio watch was started on February 7, 1957. The hours were 8:00 a.m. to 11:00 p.m. Here's a related post, showing a typed list that's dated circa 1957.
This document lists all engine and truck companies, as well as a number of support vehicles, such as a fire alarm truck and what's presumably the Fire Chief's vehicle, Car #100. The other cars were probably assigned to the Assistant Chiefs, and the members of the Fire Prevention Bureau. The other "trucks" probably included maintenance vehicles (or vehicle, maybe just one pick-up assigned to the shop), maybe the second unit of the rescue squad, and the reserve trucks. Click to enlarge: