+ 4 - 8 | § ¶
Looking Ahead to the South Atlantic FIRE RESCUE Expo
| | |
| --- | --- |
| There's an exciting line-up of events planned for the South Atlantic FIRE RESCUE Expo, August 7-10, 2013. The location is the Raleigh Convention Center, except where noted below. Here's hopefully a comprehensive list of everything that's happening, minus the scheduled meetings of the North Carolina State Fireman's Association and the North Carolina Association of Fire Chiefs. Looks like a plentiful week and weekend. And while you are browsing the event web site, check out this archive of posters used to promote the event beginning with the NCSFA Mid-Winter Conference. They've been created since the conference moved to Raleigh in 2009. | |
Special Guest Randolph Mantooth
Thursday, Aug. 8 - General Session Keynote Speaker - 8:30 a.m. to 9:45 a.m.
Also appearing on the exhibit floor at the Expo, see below.

Golf tournament
Pine Hollow Golf Club, 3300 Garner Road, Clayton
Tuesday, Aug. 6
Wednesday, Aug. 7

Pre-Conference Training and Workshops
Wednesday, Aug. 7
Thursday, Aug. 8
Friday, Aug. 9
Saturday, Aug. 10

Special showings of Burn: One Year on the Front Lines of the Battle to Save Detroit
Wednesday, Aug. 7 at 7:00 p.m. - Lincoln Theater, 126 E. Cabarrus Street
Thursday, Aug. 8 at 5:00 p.m. - Raleigh Convention Center

Services
Memorial Service - Thursday, Aug. 8 at 4:00 p.m. - Convention Center
Candlelight Service - Thursday, Aug. 8 at 8:00 p.m. - North Carolina Fallen Firefighters Memorial, Nash Square
BBQ Throwdown
Thursday, Aug. 8 - Cooking starts at 7:00 p.m.- Lenoir and South streets
Friday, Aug. 9 - Sandwich sale from 11:00 a.m. to 2:00 p.m. - City Plaza, Fayetteville Street

Cornhole Tournament
Thursday, Aug. 8 - Starts at 7:00 p.m. - In conjunction with BBQ Throwdown.

Exhibit Floor
Friday, Aug. 9 - 10:00 a.m. to 5:00 p.m.
Saturday, Aug. 10 - 9:00 a.m. to 4:00 p.m.

Brotherhood Bash
Napper Tandys, 126 N. West Street
Friday, Aug. 9 - 7:00 p.m. until...

Fire Truck Parade
Fayetteville Street to Salisbury Street
Saturday, Aug. 10 - 12:00 p.m.

Haz-Mat Challenge
Saturday, Aug. 10 - 8:00 a.m. to 5:00 p.m.

Banquet and Reception
Annual Banquet - Saturday, Aug. 10 - 6:00 p.m. to 9:00 p.m.
President's Reception - Saturday, Aug. 10 - 9:00 p.m. to 11:00 p.m.
And as a bonus attraction, the Raleigh Fire Museum will also be open that weekend. Pay a visit at the Keeter Training Center from 10:00 a.m. to 2:00 p.m. on Saturday, Aug. 10. Admission is free. Parking and restrooms are available.
+ 4 - 4 | § ¶
This Morning's House Fire on Applecreek Court
Photographer Jason Thompson (who runs jocofire.com) has posted photos and an extended video of this morning's house fire at 7213 Apple Creek Court in southeastern Wake County. One-story, single-family dwelling with 1,374 square-feet. Built 1983. Heavy fire through the roof requiring defensive operations. Tanker strike team requested, then switched to hydrant operations. The hydrant was 500 feet closer than drop tanks. Eastern Wake and Garner units on initial dispatch, plus Raleigh Engine 26 as automatic aid. Tankers from Wendell, Hew Hope, Zebulon, Hopkins, Rolesville. Clayton also requested as mutual aid. Medical units included EMS 7, EMS 11, EMS 61, D6. EMS Truck 1 cancelled en route. Fire started just before 1:00 a.m., reports this WTVD story. Two occupants escaped unharmed. Readers can add incident details or run card. See more of Jason's photos, which looks like it includes both camera and camera phone shots. Or watch the video.



Jason Thompson/jocofire.net photos
+ 4 - 3 | § ¶
Subscribing to City of Raleigh News
Information tip. The city of Raleigh has an e-mail-based subscription service for receiving municipal news. Here's how to enable the thing:
Register as a subscriber, by entering an e-mail address and choosing a password.
Once you've signed up, you'll see an Account Management page.
Click Add Your Subscriptions, to choose the types of news to receive.
Click a check box beside each news category.
Here are my chosen categories:
City News and Information

News Releases
Newsletters

City Council, Commissions, Boards and Committess

City Council For this option, you'll be sent weekly City County agendas and approved meeting minutes. They are published in Microsoft Word format. To search a document for, say, the keyword "fire", use the Edit > Find option. What sort of fire department news is contained in City Council minutes? It can include special funding appropriations, personnel position reclassifications, general discussions of issues relating to fire or the fire department, and comments or feedback on the fire department. To name a few.
Note that while a number of city departments are using the above e-mail channels for news delivery, the fire department isn't (yet). What do these e-mail messages look like? Here's an example, minutes the e-mail header. Click to enlarge:


+ 7 - 3 | § ¶
Raleigh Fire Department to Add Air Supply Truck
Press release. When a fire erupts you know that fire fighters, fire trucks, hoses and ladders are needed to combat the flames. But what of the air supply the fire fighters require to get inside and battle the fire. The Raleigh City Council has approved the initial $105,000 needed for a new air supply truck for the City of Raleigh Fire Department. The total cost of the air supply truck is approximately $650,000. The air supply truck being used by the Fire Department is 12-years-old and has more than 90,000 miles. The truck has required $65,000 in repairs since 2005 and is requiring maintenance and repairs more frequently. Read entire press release.
More information, you say? Here's some of what I'm gathering for the coming issue(s) of the Raleigh Fire Department Newsletter. The current air truck is housed at Station 5. Staffed with a driver-operator, it's a 2002 International/SVI mobile air unit. The truck, with a two-person commercial chassis, is equipped with a cascade system and bottle storage, as well as a light tower and generator. The new truck is being spec'ed as a larger vehicle. Custom cab with three doors, with a third door behind the driver leading to a combination SCBA repair/work station and command post module. The truck will be about the size of an engine, and with extensive compartment space. Thus it can also carry fireground support equipment. Expected delivery is spring or early summer, which will coincide with new SCBA systems. All self-contained breathing apparatus are being replaced in FY14. New bottles and new masks are coming, along with Pak Tracker technology.
Next question, what's the historical perspective here? First and foremost, who had the first air truck in Wake County? Does that title go to Six Forks Volunteer Fire Department? They had a trailer-mounted cascade system by the early 1980s. They also provided the first mobile air support for the Raleigh Fire Department, and were requested as mutual aid for major fires. The city's first air truck was a 1988 GMC/Union City extended panel van. Delivered that summer, it was placed in service on August 9, 1988. The truck was a two-parter: half mobile command post, half mobile air unit. Because of its extended length, the policy for response was without lights and siren. The truck was housed at Station 1 until 1991. It was replaced in 2002, and converted to a haz-mat support vehicle (minutes removed cascade system) in 2003. Three years later, it was converted to a mobile command post by personnel who remodeled the interior. It is presently parked behind Station 16.


Lee Wilson photos
+ 4 - 5 | § ¶
Yesterday's House Fire in Wake Forest
WRAL posted this photo of yesterday's house fire at 1126 Corrina Road in Wake Forest. Well, that is, mailing address of Wake Forest. Physical address is Granville County. Recalling the radio traffic, believe Brassfield FD, Youngsville FD, Stony Hill FD, and Wake Forest FD were on scene. Readers can add incident details and a run card as desired.



WRAL photo
+ 4 - 4 | § ¶
UPDATED: Wilmington's New Rescue Truck
June 27
Our friends at the Wilmington Fire Department share a couple more photos of their new truck, plus some information. Rescue 2 replaces 1999 and 2006 Hackney medium-duty rescue trucks. They had commercial cabs with four-person seating. The 2006 truck is shown, back when the rescues were called squads. This truck will become a reserve rescue, and the 1999 rescue will used by the water rescue/dive team. It will replace an older vehicle.

Rescue 2 is staffed with personnel consolidated from Rescue 1 and Rescue 8. It will answer the same call types as the prior units, but the department's expanded their rescue capabilities with extrication equipment added on all the truck companies and quints-as-engines. It's housed at Station 2, which is a central location in the city. For new equipment, Rescue 2 has an onboard air compressor, the second one in the city. There's a light tower, a 40kw PTO generator, the latest Hurst tools, a remote CAD monitor for the rear positions, and wireless headsets for all riding positions that have a 150-foot operating radius around the truck.

The truck's equipped for technical rescue and extrication. The department also has collapse, trench, and confined space equipment stored in a trailer also located at Station 2. The trailer is pulled by a light-duty rescue unit, dedicated for that purpose. Those units are part of USAR Task Force 11. Thanks Chris, for the pictures and information. Click to enlarge:



Wilmington Fire Department photos
READ MORE
+ 4 - 5 | § ¶
Mystery Cloud Cam
Here's a view of tonight's rain clouds. Who can place the camera's location? Winner will receive recognition on this blog. Almost as stunning as, er, any reader photo on WRAL. Click to enlarge:


+ 4 - 7 | § ¶
Brewed Ordnance Supply Vehicle
Amusing vehicle seen at a shopping center in Raleigh this morning. Belongs to Big Boss Brewing Company. Speaking of adult beverages, here's a fun fact: Mr. Blogger has never had a hangover. Was slightly drunk once, in high school. Never developed a taste for alcoholic beverages. Just pop me a pop, Pop. Click to enlarge this mobile phone photo:


+ 3 - 2 | § ¶
Morning Reading - June 26, 2013
Good morning Raleigh. Some stories that have caught my eye in recent days and weeks. Looks like we're heavy on EMS this time around. There's a particularly good lesson to be learned from Chief Kirkwood, in the context of providing feedback to paramedics.
Local EMS chief responds to ACEP physician issue with EMS feedback - Firegeezer posting with a thoughtful letter from Durham County EMS Chief Skip Kirkwood, newly hired from Wake County EMS, that he composed as a response to a June 13 article in the American College of Emergency Physicians (ACEP) by Dr. David Baehren about the difficulty of providing feedback to EMS crews. One thing that caught my eye was Skip's observations on knowledge transfer. That is, how to tell another adult something that they'll actually listen to. It's a tough temptation to resist, giving feedback when YOU are ready, versus when they are ready. His quote:

"As I've aged I've become more about education, and I've had to learn some about the science of learning. One of the so-called "laws of learning" is the law of readiness. Adults learn best when they are ready to learn. That may not be the situation after their 13th call of a 12-hour shift, with an ambulance full of blood or vomitus that is waiting to be cleaned – like the ED staff, they may be tired and annoyed themselves, not wanting to hear "feedback" from a stranger who is not known to them, not part of their organization, not part of their chain of command."

NC EMS chief wants to keep us out of the ER - News & Observer profile from last week of Reginna Godette-Crawford, who heads the state Office of Emergency Medical Services, which oversees nearly 40,000 responders who handle some one million medical emergencies each year. The headline refers to her focus on preventative care, and expanding the role of EMS to care for patients on site or connect them resources other than emergency rooms.

Durham Tech Fire Academy grad joins the brotherhood - Herald-Sun story from a couple weeks ago about a recently graduation of sixteen cadets from the twenty-two week Durham Technical Community College Fire Academy.

Apex EMS chief retiring - Southwest Wake News story about the retirement of EMS Chief and founding member (!) Nicky Winstead. He's been a member since 1971, when as a member of Apex Jaycess he helped form the all-volunteer Apex Rescue Squad.

Morrisville firefighter honored for service - Cary News story about Fire Engineer Nathan Lozinsky, recently named Morrisville Rotary Club's Firefighter of the Year. He joined the department in 2007.
+ 3 - 3 | § ¶
UPDATED: Bikers For America's Bravest - Burlington > Raleigh Bike Run, Saturday, June 29
July 25
Press release. On Saturday, June 29, the Stephen Siller Tunnel to Towers Foundation's Bikers for America's Bravest will be hosting the next leg of the 2013 motorcycle ride to raise money for Tunnel to Towers' Building for America's Bravest program, which builds custom designed, specially adapted Smart Homes for our most severely wounded service members returning home from the wars in Iraq and Afghanistan. In remembrance of all the first responders lost on 9/11, the Bikers for America's Bravest 2013 Ride will relay a piece of World Trade Center steel to twenty-two different fire stations all across the East Coast of the United States.
On Saturday, June 29, WTC steel will travel from Burlington to Raleigh. Registration will start at 9:00 a.m. at Down Home Harley Davidson located at 2215 Hanford Road, Burlington, NC. The Burlington Fire Department will arrive with the WTC steel at 10:00 a.m. and kick stands up will be at 11:00 a.m. to start the ride. The participants will ride to Barry's Cafe on Tryon Road in Cary, NC, after visiting the North Carolina Fallen Firefighters Memorial at Nash Square park in downtown Raleigh. Feed the Firefighters Foundation will be sponsoring a luncheon at Barry's Cafe for all of the riders. Read entire press release (PDF).

June 22
Also happening next Saturday, June 29, is a Bikers for America's Bravest motorcycle run from Burlington to Raleigh. They're escorted a piece of World Trade Center steel along an East Coast route. Once a week, it will be relayed to the next firehouse along the route. The program is a part of the Stephen Siller Tunnel to Towers Foundation. Learn more on the BFAB Facebook page. Click to enlarge the flyer for more information:

+ 3 - 3 | § ¶
RAPS Race on Thursday, June 27
Event reminder. The RAPS Race is Thursday, June 27, at 3:00 p.m. The location is Rush Hour Karting at 5335 Raynor Road in Garner, one mile off Highway 70. The Raleigh Area Public Safety (RAPS) Racing League race is an inter-agency go kart racing challenge designed to bring public safety professionals together in a fun, team-building atmosphere. Some notes:
Anyone can drive these karts. There is no prerequisite or racing/karting experience required.

Qualifying sessions begin at 3:00 pm.

Ninety-minute race starts at 6:00 pm.

The fastest ten teams from the qualifying sessions enter the ninety minute race.


Any and all public safety agencies are invited to enter a team of four drivers.


Entry fee is $150 per team due on race day.

Team drivers alternate every ten minutes during pit stops.

Track information at www.rushhourkarting.com


Great fun for watching, even if you don't drive.

+ 2 - 3 | § ¶
Morgan McLamb Memorial Stickers
Memorial stickers have been created to remember Raleigh firefighter Morgan J. McLamb, who passed away after a long illness on May 23. They are available in two sizes: 2" x 2" ($2.00), 2" x 2" reflective ($3.00), and 3" x 5" ($4.00). The proceeds will be donated to a college fund for Morgan's two children. The stickers are available from Dena Ali at Station 17 on "A" platoon. Contact Dena for more information. She'll have them available at the Raleigh's Finest 5K race on Saturday morning, as well as the RAPS Race at Rush Hour Karting in Garner on Thursday afternoon. Click to enlarge:

+ 2 - 5 | § ¶
UPDATED: Flickr Downloaders
June 24
By way of example, let's demonstrate how to download all of the photos from one of Lee Wilson's sets. Such as the structure fire last week at Surtronics on Beryl Road. (Lee has requested the sharing of these instructions, to people have easier access to his images.) For these instructions, we'll use one of the programs mentioned in the first part of this posting.
Part I - Locate the Photo Set to Download

Visit Lee's Flickr site.
Click Sets.
Click Raleigh W/F Surtronics.
Copy the address of the web page: http://www.flickr.com/photos/leewilson/sets/72157634168998709.

Part II - Install a Flickr Downloader Application.

This example uses the Saleen Flickr Downloader.

Part III - Start the Application

Start the application.
In the Select License dialog box, click Home Edition.
In the main application window, paste the address of the photo set: http://www.flickr.com/photos/leewilson/sets/72157634168998709.
Also in this window, click Settings > General Settings, and specify the output folder for the downloaded images.

Part IV - Start the Downloading

In the smaller Download multiple pictures window, click the Select All button.
Click the Save selected button, which will queue the selected images to begin downloading.
Because there are four pages of photos to this set, click the right arrow button to view the second page. Then repeat step #1 and #2.
Watch the separate Queue window, for the status of your download.

Clear as mud?


Click to enlarge
READ MORE
+ 3 - 3 | § ¶
Winston-Salem Opens Station 19
The city of Winston-Salem recently opened Fire Station 19 at 4430 Glenn Hi Road, on the far east/southeast side of time. The station cost $2.6M, of which about $2M was funded through a Homeland Security grant. Looks like a well-sized, three-bay two-bay and probably double-deep station. Engine 19 was already in service, and housed at nearby Beeson Crossroads Fire Department at 1105 Old Salem Road in (or addressed as) Kernerville. They're 2.4 miles apart, says Google Maps. From this WSFD page, Engine 19 is a 2004 Sutphen 75-foot quint. Looks like it's been in service since 2010. FireNews.net has posted the below reader photo from Ray Lacy.
The ribbon-cutting was on May 29, reports this Winston-Salem Journal story. The city has nineteen fire stations, though this one is the eighteenth. See them mapped via FDmaps.com. They're numbered from one to twelve and from fourteen to twenty. (No thirteen fire station, like Raleigh.) Next quesiton, how many other departments have a Station 19? The Carolinas Fire Page North Carolina fire station lists answers that one: Charlotte, Fayetteville, Greensboro, and Raleigh. Plus several that are numbered as part of county numbering schemes.



Winston-Salem Fire Department photo

FireNews.net/Ray Lacy photo
+ 1 - 2 | § ¶
Raleigh's Finest 5K / Firefighter Memorial Run, Saturday, June 29
We're one week away from the Raleigh's Finest 5K, an annual memorial run to remember Raleigh firefighters who have died on- and off-duty. The event is scheduled for Saturday, June 29. The location is Fire Station 6 at 2601 Fairview Road. Runners and walkers will start at Station 6, proceed on Oberlin Road to Station 5, and return. The start times are 8:00 a.m for a one-mile fun walk, and 8:30 a.m. for the 5K race. This is the third year for the event, which was conceived and organized by the wives of Andrew "A.J." Johnson and Harry "Flip" Kissinger, who passed away in automobile accidents in December 2008 and December 2009, respectively. Proceeds benefit the North Carolina Fallen Firefighters and the 200 Club of Wake County. View Facebook page. View registration information. See some photos from last year's event.
Remembered members of the Raleigh Fire Department are Morgan J. McLamb (2013), J. Scott Nipper (2011), Harry P. "Flip" Kissinger (2009), Andrew J. "A. J." Johnson (2009), George E. Crocker (2008), Herman S. Jones, line of duty death (2008), Ronald C. Arch (2005), R. Merton King (1995), Theodore J. Calvert (1990), John W. Gardner (1990), William H. Wall (1987), Harold R. Faison (1984), Milton A. Adams (1982), F. Laurel Blake (1979), Robert S. Moody (1979), Charles E. Kelley (1978), John W. Holmes (1977), Lealon T. Frazier (1975), Clarence R. Puryear (1974), Joe A. Broughton (1973), Lucius Q. Godwin (1968), J. Theo Honeycutt (1968), David L. Brannan (1967), Paul A. Mimms, line of duty death (1965), James P. Blake (1964), Dempsie D. Collins (1964), Otho J. Warren (1963), Labon B. Perry (1958), Vernon J. Smith, line of duty death (1956), Alvin B. Lloyd (1955), Durwood H. Parrish (1936), John W. Peatross (1935), Eugene A. Lasater (1930), Paul L. Morgan (1927), Lewis F. Hicks (1926), William H. Denning (1925). Here's a prior posting on this subject, in the context of a centennial history book page that remembers them (through 2012).


+ 3 - 1 | § ¶
Swansboro Ladder Truck Mural(s)
Earlier this month, Lee Wilson spent a week at the beach and brought back fire apparatus photos from Carteret, Craven, and Onslow counties. Check out the mural(s) on the side of this ladder truck from the Swansboro Fire Department! See closer view of the truck or see more photos from his trip. Sorry about the load times for the second link. The recent redesign of Flickr rather bites in that regard.



Lee Wilson photo
+ 5 - 3 | § ¶
UPDATED: Morehead City Station 2
June 21
Updated with a building photo by Lee Wilson, who visited the station at the beginning of the month. See more of his photos from his beach trip, which include the apparatus at Station 2.

May 20
Tooling down to my high school home of Morehead City in Carteret County, the town dedicated their new fire station last month. The former home of the Carteret News Times newspaper at 4034 Arendell Street was converted to a new Station 2 as designed by C. R. Francis Architecture. Here's some background on the project, via our prior posting.
As the floorplan below shows, the single-story building was transformed into a three-bay facility with dormitories, training rooms, and offices for the department staff. The building was also planned to house a police substation and a magistrate. The fire department moved into the building in December, as this News Times story noted. The station was dedicated on April 13.
From the fire department's web site, the station houses Engine 2 (2006 Sutphen 70-foot quint), Rescue 2 (2012 Ford F-250 QRV), and Med Bus 1 (2011 Sartin medical ambulance bus). See prior posting about the MAB.
The town has four fire department facilities: three fire stations and a "Station 4" training station used by the Crystal Coast Fire Academy. We'll pay a visit before long, and photograph the thing up and down. Either me or Lee Wilson, who usually takes a beach trip this time of year.


Lee Wilson photo
READ MORE
+ 1 - 2 | § ¶
Eastern Wake Leery of Knightdale Merger Proposal
That's the headline of yesterday's story from the Eastern Wake News. The opening paragraphs summarize the situation well: "Eastern Wake Fire and Rescue is an independent fire [department] that serves 17,292 people between Raleigh, Knightdale, Wendell and Garner. [They're] funded by Wake County tax dollars. But, because [the county] says its current fire service structure is unsustainable, the county manager's office has asked Wake towns to consider merging with independent stations nearby."
The town of Knightdale is open to the idea of a merger. In April, they began a study of the financial benefits of a merger. Based on the results of that study, the town recently submitted a merger proposal to Eastern Wake. There are some kinks to be worked out, as the article notes. The proposal, called a "preliminary draft document" by the Deputy County Manager who is coordinating the merger, would reduce the number of Eastern Wake personnel from 27 to 24 employees, shrink their service area some, and change their Hester Street fire station to an all-volunteer facility. These are points to be further discussed by both parties, notes the story.
Currently, it costs KFD and EWFD a combined $2.69 million to provide service to both areas. That amount is reduced to $2.56 million under the town's current proposal. There's also an estimated $2 million of savings for the town, as it negates the need for a future fire station on Hodge Road. Read the entire story and feel free to criticize my paraphrasing as needed.
+ 5 - 2 | § ¶
Mike's List of Historical Projects
What's on my plate(s) these days for personal historical projects? Here's the current list of active, pending, and postponed projects.1 Maybe posting them here will spur me into (further) action. So many projects, such limited bandwidth.
Raleigh Fire Department Newspaper Articles - Self-published, on-demand, hardcover book that compiles five electronic books, that compile newspaper articles from the 1860s to the 1910s. Total of 628 pages. Priced at $40, is my thinking. Not really trying to make money. This one's just about ready to be announced. What's on-demand you ask? The copies are printed when you order them (and right here in Raleigh!). There's no "print run" nor stock created. I won't have any copies on hand to sell. A proof of concept resides at the Raleigh Fire Museum, though it's only fourth-fifths complete.

Raleigh Fire Department Historical Review - Self-published, on-demand, hardcover book that compiles essays and lists and facts and reports and maps. Eight hundred pages in length. Priced around $50, I am guessing. Everything I've been writing and compiling these years. Might need to be two volumes. A proof of concept was printed in 2011 and resides at the Raleigh Fire Museum. Have resumed/restarted work. No timeframe for completion.

Ladies auxiliary scrapbook scanning - Scan or photograph the contents of several Raleigh Fire Department Ladies Auxiliary scrapbooks from the 1950s through the 1970s. They're filled with newspaper clippings and photographs and convention programs and greeting cards and more. Then figure a way to share or show those images, so the contents can be enjoyed by everyone. Someday.

Mangel's fire narrative - Chronological chronicle of one of the city's worst fires. Happened dead-center in downtown Raleigh in July 7, 1981. Drawn from newspapers, log books, and oral histories. Plus diagram of the block, plus a look at what turn-of-the-century buildings are still standing today. This one's maybe three-quarters completed or better. (Here's an example of a similar historical fire narrative: The Fire of 1851.)

Mangel's fire video - Somewhere out there is video shot by the late Commander Harold Jones, if memory serves. Plus local news footage, which certainly exists. See below.

Organize digital historical assets - Assign call numbers and create a searchable index for all digital historical images and records of the Raleigh Fire Department that I've collected over the years. Some 22,000 files or so. This project's been started. Going folder by folder and renaming the files using a program called Flash Renamer. Using a call number format of YYYY_MM_DD_SET_ITEM, which is prepended to the existing file name. Then record the file names a spreadsheet. This will provide a searchable index, which is sorely need. It's already tough to remember where I have stored particular files. Discovered that challenge while working on the centennial history book. This project will also benefit those who come after me, and who won't possess my personal (but rapidly fading) knowledge of which files are what and stored where.

Organize photographic prints and slides - Ditto, but for physical assets. Those scrapbooks and boxes full of images in my possession.

Organize Mike's fire photos - Double ditto, but for the fire photos that I've shot. Have boxes of physical prints, plus digital images beginning in 2004. Tens of thousands of images all told. Been a busy beaver lo these last years.

Do something with historical blog postings - The Legeros Fire Blog (formerly titled Raleigh/Wake County Firefighting Blog) contains a treasure trove of Raleigh Fire Department history, but it's all in... blog format. Dozens or hundreds of postings should be copied somewhere else, in a format that's easier to find and consume. Ditto for all the North Carolina fire history here. Not sure what type of format, mind you. Maybe web page-based. Maybe PDF-document based. Not sure.

READ MORE
+ 2 - 1 | § ¶
UPDATED: Raleigh Fire Museum Rack Card Concept
June 20
Nearly finished. Will measure four by nine inches. Heavy stock with a glossy coat. Probably UV protection as well, to help prevent fading. We'll start with 750 or 1000, hopefully priced in the $100 to $125 range. Still assessing vendors. Click to enlarge:



June 5
What the heck is a "rack card?" Those are the four-inch by nine-inch documents used for commercial advertising, typically seen in places with high foot traffic, such as hotels, restaurants, and tourist attractions. The Raleigh Fire Museum is designing its first one, for local and perhaps regional use and distribution. Still in the early stages. Needs a bit of explanatory text about the fire museum corporation. Maybe also a picture of old Engine 1 and the old rescue boats, both of which are also located at Station 28. What do you think? The fire museum is also open this Saturday, for it's regular monthly opening. Second Saturday of each month, from 10:00 a.m. to 2:00 p.m. More information at www.raleighfiremuseum.org. Click to enlarge:
READ MORE
+ 2 - 1 | § ¶
Hardcore Reading Material
From a reader (!), here's a picture that needs no explanation. You either get it or you don't. We'll refrain from a call for captions on this one...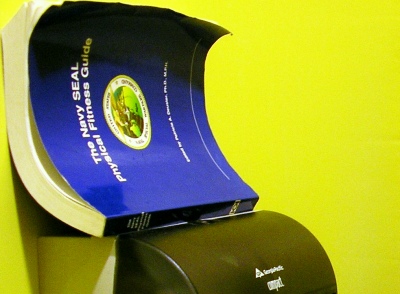 + 1 - 2 | § ¶
Video Tour of Baltimore City's New Pierce Tiller
Speaking of videos, here's a six-minute video tour from Pierce of a Arrow XT tiller built for Baltimore. Be honest, who doesn't love a tiller? Found via FireNews.net on Facebook.
What's the current county tillers in North Carolina, by the way?

+ 3 - 1 | § ¶
Today's Snot Shot
Been waiting an age to write that headline. Baby born on Beltline yesterday morning. Firefighters and EMS units arrived on Interstate 440 near Lassiter Mill Road and found a baby born in a mini-van. Congrats to the family and the newest resident of planet Earth. Read the WTVD story.



WTVD photo
+ 1 - 1 | § ¶
Johnston County Fire News Video Channel
In case you missed it, there's a new local fire news site on the block, jocofire.com. That's Johnston County, just to our south and east. The site operator is Jason Thompson, and 22-year EMS and 16-year 911 center veteran. The still-growing site features information, historical photos, and current coverage of responders. On the news side, Jason's posting both hot shots (still photos) and video clips of crews in action. He's also posting to YouTube, on a new JOCOFIRENEWS video channel. This is particularly exciting as it might our first local YouTube channel of fire videos. Below are a couple embeds of recent incidents. Check it out.
Next question, when will the Raleigh camera guys start posting videos?? One already has, at very rare moments. Here's the Legeros video channel. Darn little in the way of fires and emergency incidents, however. Time for a pledge. Your favorite fire blogger (humor me) will immediately and thereafter commence shooting at least one video at each incident he attends. His primary camera body is equipped for same. There's a little button right there beside his thumb. Flip the switch, shoot a half-minute or more of video, and return to still shooting. Just like that. No mobile phone recording required, which was used for the current clips. Time to expand my range of services.
Now back to Jason and his work...


+ 2 - 1 | § ¶
Grain Silo Collapse in Currituck County
Here's something that you don't see every day, the aftermath of a grain silo collapse this afternoon in Currituck County. The Moyock Volunteer Fire Department responded. No injuries. See more photos in this WVEC story.



Brian Farrell/13 News photo
+ 5 - 1 | § ¶
Feed the Firefighters Benefit Jam - Saturday, June 22
Support your local heroes and the Feed The Firefighters Foundation at the first annual Feed the Firefighters Benefit Jam on Saturday, June 22, from 1:00 p.m. to 11:00 p.m. at The Corner Tavern and Grill in Beaver Creek Commons Shopping Center in Apex. Local firefighters from all surrounding fire departments are invited to attend. An entry fee of $10 is required. The Corner Tavern and Grill will provide Barbecue meals for $10 each, with all proceeds going to the Feed the Firefighters Foundation.
Special appearances by the Ricky Young Band and Crush will highlight the afternoon's festivities, which will take place under an outdoor tent and will take place rain or shine. The event is sponsored by Feed the Firefighters Foundation, which supports firefighters and other emergency personnel who serve the community through their heroic work by supplying food and other nourishment during emergencies of extended duration. Participating restaurants include Barry's Cafe in Raleigh, Assiago's Italian in Fuquay-Varina, and The Corner Tavern Bar and Grill in Apex and Cary.
The mission of the Feed the Firefighters Foundation is to provide hot, fresh and free food to local first responders and all emergency personnel including firemen, police and EMT's at a moment's notice, and to support these firefighters and their families in times of crisis. P> FoFor more information on the Feed the Firefighters Foundation visit www.Feedthefirefighters.com. For more information on the Feed The Firefighters Benefit Jam visit www.gositinthecorner.com.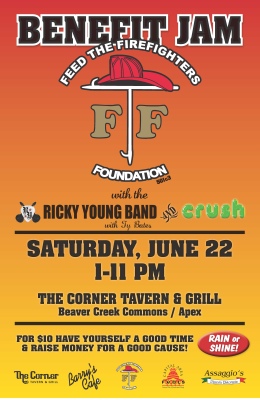 + 1 - 1 | § ¶
Durham Public Safety Patch
Found for sale on eBay, here's a rare patch from Durham, from the days of their Public Safety Department some decades ago. Memo to self, add this as a graphic to my North Carolina firefighting history presentation.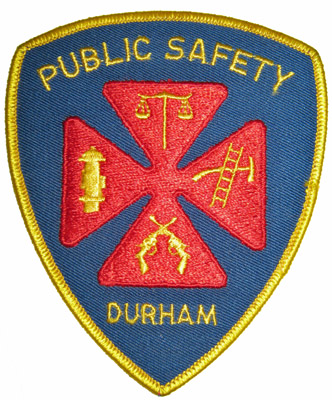 + 3 - 2 | § ¶
Benson's 1950 Ford/Howe
Found in my files, taken in 2003 (!) while passing through town. Click to enlarge:


+ 2 - 0 | § ¶
Grand Opening of Cary Station 8 on Wednesday, June 19
Event announcement. The grand opening of Cary Fire Station 8 at 408 Mills Park Court will be held at 10:00 a.m. on Wednesday, June 19. The ceremony is open to the public. See a few preview photos of the new facility, soon to be in service, from Mike Legeros and Lee Wilson. Features include upstairs sleeping area and a pair of fire poles, located in the apparatus bay. These are the first-ever fire poles for the town's firefighters. Reader tips for, uh, pole technique? (Never learned the skill, myself. My long ago couple of years in Raleigh were in story-story land.) The new station might be the nicest firehouse yet constructed in the Triangle, says me. Readers can discuss and debate. Top competitors? Holly Springs Station 1 was cited by several, when the question was posed on Facebook.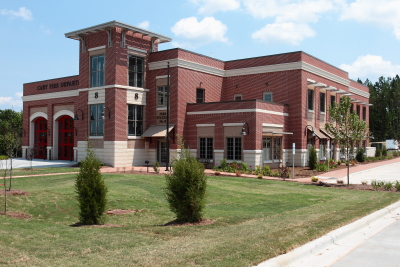 + 1 - 2 | § ¶
Mystery Structure Fire
This happened yesterday somewhere in the continental United States. Bonus points if you can guess the location of the camera. Submitted by a coworker who was playing tourist while on vacation. Beastly looking smoke...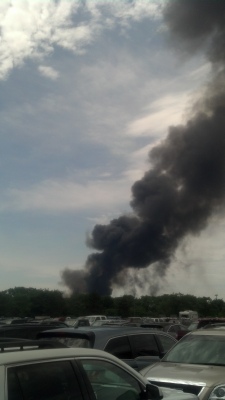 + 2 - 0 | § ¶
Facebook Tip - Controlling Your News Feed
Have a crowded newsfeed on Facebook, e.g. that stream of updates that appear when you use the application? One means of controlling what appears is changing the settings on a per-friend basis. You can change the frequency of updates, or even "unfollow" individuals entirely. Here are the instructions for same, which are pretty darn easy. Be forewarned, however. If you have hundreds of friends, this filtering process is quite time consuming. Here's how to make your friends go away:

Step 1 -Position your pointer to the far right of a friends' update. Click the down arrow that appears.

Step 2 - On the drop-down menu that displays, click Hide.

Step 3 - On the resulting "The story is now hidden... " text that displays, click Change what updates....

Step 4 - On the drop-down menu that displays, click Unfollow.

Step 5 - Rinse and repeat.
+ 3 - 1 | § ¶
UPDATED: Wilkes County Firefighter Killed at Fire Scene
June 16
Arrangements have been announced. Read his obituary:
The viewing will be Sunday, June 16, from 5:00 p.m. to 7:00 p.m. at Reins-Sturdivant Funeral Home, located at 270 Armory Road in North Wilkesboro.
The memorial service will be held at 2:00 p.m. on Monday the Reins-Sturdivant Funeral Home. Burial to follow at Dehart Baptist Church Cemetary in Hays, North Carolina.
June 14
FireNews.net has posted details of a firefighter death in Wilkes County yesterday. Mountain View Fire Department member Tony Barker, 36, was electrocuted at the scene of a small fire shortly after 3:00 p.m. on Thursday. The location was behind an auto repair shop on Traphill Road near the Yellow Banks Road intersection. Storm winds had blown a large maple tree across power lines.
Firefighter Barker was observed bending over, looking more closing at the burning area, when he collapsed. He was pulled away the building, and attempts at resuscitation were started. He was pronounced dead at Wilkes Regional Medical Center. It is reported that Barker was electrocuted without touching the metal building that we standing near. Electricity from power lines on the building moved through the building and the unpaved (but saturated) ground to Barker.
Barker was a member of Mountain View Fire Department for seventeen months. He is survived by a wife and three year-old son. He worked at a commercial distribution center in Jonesville.
Prior firefighter duty deaths in our state by electrocution include William Capps of Fayetteville FD in 1956, Tommy Griffin of Sandy Ridge FD (Union) in 1967, Ferrell Hood of Westarea FD (Cumberland) in 1986, Jonah Kiser of Winston-Salem in 1915, James Lee of Arapahoe FD (Pamlico) in 1976, and James Rawls of Rockingham FD in 1952.
Read more at FireNews.net, MyFox8, and the Wilkes Journal-Patriot,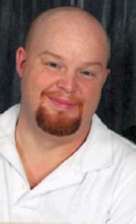 + 2 - 1 | § ¶
Why Are There So Many Fire Trucks Here?
Q: Why are there so many fire trucks here? Do they need that many? Why is EMS here?
A: Allow me (and maybe others!) to answer your questions...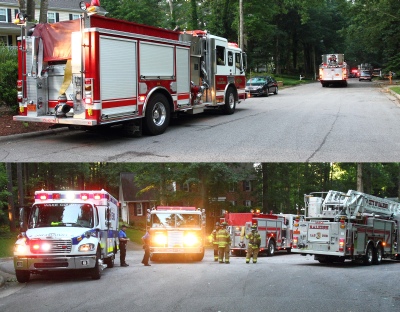 Q: Why are there so many fire trucks?
A: There was a reported house fire on this block. These are the usual number of fire trucks dispatched for reported structural fires.

Q: But why do they need so many of them?
A: Fires are fought using three things: people, equipment, and water. The many trucks that you see--the pumpers, the ladder trucks, etc.--are needed, to carry those things.

Q: Wow, that must be a big fire!
A: The fire department responds to fires with resources needed for worse-case scenarios. They prepare for big, then scale down if things are smaller.

Q: Why can't they send fewer trucks with more people, equipment, or water?
A: Because the fire department has a big area to cover. If there are fewer trucks, in fewer places, it will take them longer to travel to some locations. There will also be fewer available city-wide, when multiple fires or emergencies occur at the same time. Each fire truck, particularly each pumper, functions like a "mini fire department." They have the people, equipment, and water to handle small fires, and many other types of emergency incidents. For bigger fires and larger emergencies, those resources are merged by adding multiple fire units.

Q: Why is EMS here? Was someone hurt?
A: Emergency medical units respond to house fires also as a precaution, in the event an occupant is injured or in case a firefighter is hurt during the operation. In addition, the EMS personnel provide medical monitoring and rehab, to ensure that firefighters stay safe during the physical strenuous activities of fire suppression.
+ 1 - 0 | § ¶
UPDATED: New Tractor for Raleigh's Haz-Mat 2
June 13
More information. The truck is a 2014 M2-112 Freightliner, purchased by North Carolina Emergency Management. The city will retain the vehicle as a prime mover for the RRT 4 mass-casualty/non-ambulatory decon trailer. That unit is presently parked at the training center. The new truck can also be loaned to other RRT teams, if they have units undergoing extended repairs. Here's the current listing of Raleigh haz-mat assets:
City of Raleigh / Raleigh Fire Department

Haz-Mat 1 - 2006 Freightliner/Hackney tractor-drawn unit (Station 2)
SR 2 - 2002 International/SVI support unit (Station 2)
SR 3 - 2005 Ford F-550 prime mover (Station 22)
SR3 - 2010 Matthews Specialty Vehicles decon trailer (but with RRT lettering) (Station 22)
Haz-Mat 3 - 2008 Ford F-350 Super Duty utility truck with crouch-in body (Station 8)
Haz-Mat 3 - Four-wheel cargo trailer for USAR haz-mat support (Station 8)
Car 51 - Ford F-350 pick-up with workcap (Haz-Mat Coordinator)
Four-wheel foam transport/deluge trailer (Station 2)

North Carolina Emergency Management / RRT 4

Haz-Mat 2 (future) - 2014 Freightliner tractor
Haz-Mat 2 - 1995 International/Hackney tractor-drawn unit (Station 27)
Six-wheel mass-casualty/non-ambulatory decon trailer (KTC)
Four-wheel spill containment trailer (Station 8)
June 8
Here's a reader photo of a Freightliner tractor (is that really the right word?) recently delivered to the Raleigh Fire Department. We'll work on a properly posed photo, either alone or after in service. Click to slightly enlarge:


It replaces a 1995 International tractor that pulls a 1995 Hackney trailer. The unit is housed at Station 27, operated by Engine 27, and is part of the equipment assigned to North Carolina Regional Response Team 4. What do you think, shorter wheel base for the new tractor? Click to enlarge this photo from a couple years ago:

+ 1 - 1 | § ¶
Cary Station 8 Almost Ready
Reader photo of a gorgeous building in Cary. That's the town's newest fire station at 408 Mills Park Drive, which we've been blogging about since the project started. Engine 8 is already in service, added in early April. It's been quartered at Station 7, and relocated during daytime hours to the Station 8 territory. Thanks Jeff! Next up is the relocating of Station 2. Click to slightly enlarge:


+ 2 - 1 | § ¶
Zebulon Rural Fire Department Tanker
Our friends at the Zebulon Fire Department share this new old photo, showing the first (?) tanker of the Zebulon Rural Fire Department, a 1964 Chevy (?) that carried 1,500 gallons of water. The truck formerly served the Department of Transportation as a fuel truck. It's shown after it's delivery from a paint and lettering job. Date not known, nor source. Looks like a newspaper photo, perhaps News & Observer or maybe Zebulon Record.
So who had the very first tanker in Wake County, you ask? Believe it's the Cary Fire Department and their tractor-drawn tanker built in 1954, using an ex-military tractor and a former fuel truck trailer. Readers can consult my master list (PDF and last updated in 2004!) and discuss/debate. Click to enlarge:


+ 3 - 1 | § ¶
Cary Construction Site Accident
From WRAL, here's an unusual accident that occurred in Cary this morning. This concrete pumping truck tipped in the 6100 block of Tryon Road just before 7:30 a.m. Two workers were injured, one knocked off a wall and the other with his torso pinched between two sections of metal. Both were transported to WakeMed with non-life threatening injuries. Read the WRAL story. Or see this WTVD story, with video footage.



WRAL photo
+ 3 - 1 | § ¶
Boone, Charlotte, Fayetteville, Greensboro Rigs For Sale
An assortment of interesting rigs is currently available on GovDeals. Out with the old, in with the new. Readers can provide fleet updates or vehicle histories/memories as desired:
+ 4 - 1 | § ¶
Vintage Air Force Crash Truck
This rare roadside attraction was found by Lee Wilson this weekend on Highway 301 in Lucama. That's in Nash Wilson County and pronounced Lou-Comm-A, as we were informed after an incorrect pronouncation before leaving Raleigh. It's an American LaFrance Type O-11A airport crash truck, former US Air Force. No idea on its origins. From Elgin Air Force Base in Florida. Looks like its undergone a partial restoration, with newer-painted compartment doors. No pump in the thing, it appears. Here's a neat page on the history of these trucks.
The all-terrain trucks were built in the 1959s. They were equipped with dual foam nozzles on the roof, another nozzle under the bumper, and a pair (?) of hand reels. They carried 900 gallons of water, 100 gallons of foam, and 40 gallons of Bromochloromethane (Halon 1011). A 310 HP engine powered a five-speed transmission, while a second, smaller engine powered the Hale pump. See more photos by Mike Legeros, which include a full climb-around. See also photos by Lee Wilson.
Next question, where in North Carolina did these serve? New Hanover County Airport had one, presumably obtained while the fighter squadron was stationed there. Presuming the various Air Force installations around our state were equipped as such. Readers?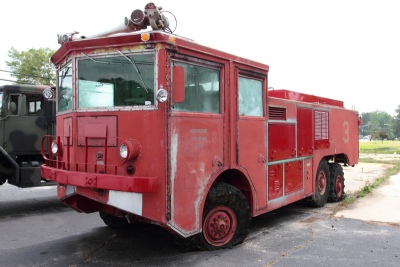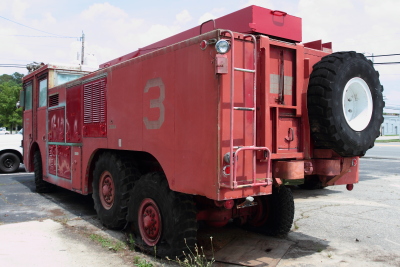 + 1 - 2 | § ¶
Friday's Water Rescues in Raleigh
Narrative, take one. Corrections welcome...
Tropical Storm Andrea dumped over five inches of water in the Capital City on Friday, June 6. The 5.14 inches of rain broke a daily rainfall record of 1.24 inches set in 1930, as well as more rain in a single day than the average amount for the entire month. The city was soaked with two waves of heavy rain, in the morning and in the afternoon. The second period of rain brought flooding to creekside and low-lying areas. Other roads began flooding as storm drains were overwhelmed by the volume of water. (Areas throughout the Raleigh-Durham metropolitan area also experienced flooding.)
Roads in northwest Raleigh were reported flooded around 3:15 p.m. Up to four inches of water was reported on Glenwood Avenue, between Millbrook Road and Hilburn Drive. The Raleigh Fire Department was dispatched to rescue or remove occupants at a number of northwest locations, including Fast Park Drive, Leesville and Millbrook roads, Ray Road at Wheatstone Lane, Glenwood Avenue just east of Alexander Drive, and Lumley Road and Brier Creek Parkway.
Response times to these events were impacted by the flooded roads. Alternate routes were required, and many units were diverted as rescues were completed, severity of calls were changed, and other calls were received. See more photos by Mike Legeros.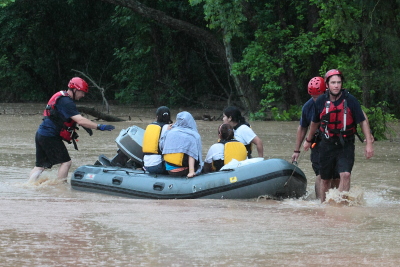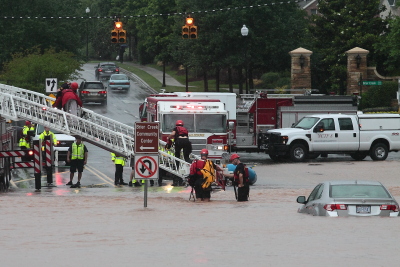 READ MORE
+ 1 - 1 | § ¶
Contact Sheet for Glenwood Avenue Water Rescue
Here's the contact sheet for my shots from Glenwood Avenue yesterday. These are the keepers with processing just about done. Discarded double this amount, and a number of wider- and establishing shots. Needs a little more color correction. Memo to self, take two or three or four times as many shots at the next one. Should help reduce the ratio of soft to sharp-focused. Holding the camera with two hands also helps, with umbrella in crook of elbow. Click once or twice to enlarge:


+ 3 - 1 | § ¶
Morning Reading - June 8, 2013
Good morning Raleigh. Looks like a (comparatively) good weather day after the four (or was it five) inches of rain from yesterday. Captured on camera three water rescues in the Brier Creek area, in various stages of progress. Was a challenge on a couple fronts. Rain, which isn't helpful when it lands on the lens or soaks the equipment. Wind, which battered the photographer who was holding a big umbrella with one hand, while using one (or two) cameras with the other hand. Speed, which was a necessity in getting from one ongoing incident to another, and which, alas, resulted in some rushed and subsequently rejected shots. Move quickly but with steady purpose, just like the fireground. Going too fast is never good. Those stories and photos are forthcoming. Time to start our Saturday. The fire museum is open today, though not staffed by myself. And Hawaiian Shirt Guy will be headed to Station 28 this afternoon, to help with some work on old Engine 1. Meanwhile, enjoy a few web stories curated just for you...
+ 1 - 1 | § ¶
You Can't Push Fire (But You Can Change Flow Paths)
That's one of the myths busted in this Firefighter Nation article that's making the rounds. Titled What Research Tells Us About The Modern Fireground, the article by Steve Kerber and Timothy E. Sendelbach looks at recent studies by research teams at Underwriters Laboratories (UL). They highlight several scenarios and suggest changes to longstanding tactics, such as the example shown below. Heavy fire involvement in the front room of a house, with flames visible from the front door and windows. Unknown if occupants are inside.
Applying water to the fire as quickly as possible, which they call "softening the target," can make conditions better throughout the entire structure. They cite the UL experiments, where twenty-five gallons of water directed off the ceiling of the fire room, from an exterior line, reduced the fire room temperatures from 1,792 degrees F to 632 degrees F in 10 seconds. Hallway temperatures dropped from 273 degrees F to 104 degrees F in 10 seconds. Conditions made better, not worse.
Read the entire article for this and other examples. Reader comments and commentary are welcome, both on this subject and the meta-subject. What do you think about (a.) these studies and their results and (b.) change in the fire service, and how departments can move from old ways to new ways?


Steve Kerber/UL photo
+ 1 - 0 | § ¶
Morrisville's New Rescue Truck
The town of Morrisville yesterday received this 2013 Spartan/Rescue 1 rescue truck. The chassis is a Spartan MetroStar with a short wheelbase just under 19 feet. Features include a recess-mounted light tower on roof, absorbent material hopper on roof, ground ladder compliment accessed from rear, and bumper tool mount. See more photos and compartment details on the Rescue 1 site. The delivery is part of a multi-year plan to implement a quint concept, with a ladder truck and rescue unit at each of the town's three fire stations. Read more about that in this prior posting. This unit will replace a 1989 Simon-Duplex/KME/Saulsbury rescue truck that was purchased some years ago. Click to enlarge:


+ 2 - 2 | § ¶
UPDATED: New Parking at Fire Administration
June 6
Resurfacing has been completed, and the lot has reopened this morning. Workers also found a couple artifacts during the construction, a couple railroad spikes and plates, a couple of which are shown below. As noted in the below link, the property was formerly occupied by Union Station. As the map shows in this prior posting, four sets of tracks as well as the covered "train shed" were present on the property. Thanks again, Jeff!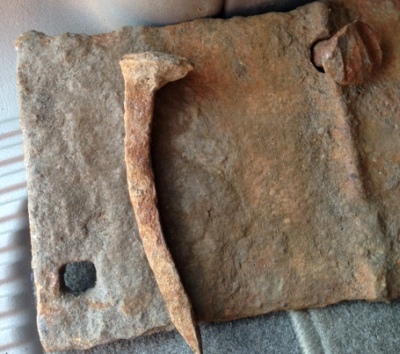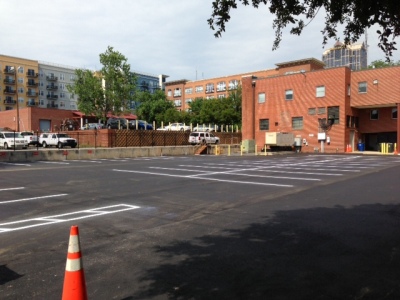 May 31
Reader photo on a new parking area for the Dillon Building in downtown Raleigh, which houses the fire department administrative offices, including the Office of the Fire Chief and the Office of the Fire Marshal. What's changed? Two satellite dishes have been moved, to provide more parking spaces. Work started on Wednesdays, May 29. Wonder what they'll discover under the pavement, as that's the property of the old Union Station. Thanks Jeff! Click to enlarge:


+ 1 - 2 | § ¶
Raleigh Fire Museum Open This Saturday, June 8
The Raleigh Fire Museum is open this Saturday, June 8, from 10:00 a.m. to 2:00 p.m. The museum is located in a modular classroom at the Keeter Training Center at 105 Keeter Center Drive. Parking and restrooms are available. Admission is free. Learn more about the museum, and the group that operates it, at www.raleighfiremuseum.org.
Please note that other antique apparatus is stored elsewhere. Both the museum's 1961 American LaFrance pumper and the city's collection of antique fire and rescue apparatus is housed at at Fire Station 28 at 3500 Forestville Road. The collection includes a 1905 steamer, a 1926 American LaFrance pumper, a 1950 Mack pumper, and a 1982 Mack pumper. Visitors are welcome.
Below is a short video overview. Tours can be scheduled for both locations at www.raleighfiremuseum.org/tour.

+ 3 - 2 | § ¶
Grassy Creek's Willys/Howe
Here's another old beauty that Lee Wilson recently photographed in western North Carolina, a Willys Jeep converted by Howe Fire Apparatus that served Grassy Creek Fire Department outside the town of Spruce Pine in Mitchell County. Model HJ, model year 1947, Howe serial number 7634, and equipped with a 500 (?) GPM pump and 500 100 or 150 gallon tank. Howe converted hundreds of "Jeeps" from the 1940s to the 1970s, notes this incomplete production list that's part of the Fire Service Jeeps site. Readers can advise how many other such trucks served in our state, either for structural and airport protection. Grassy Creek FD was organized in 1964 and merged with Altapass FD in 2001 and formed Parkway FD. See more photos from Lee Wilson.



Lee Wilson photos
+ 3 - 2 | § ¶
Durham County Announces New EMS Director
Press release and congratulations to our friend Skip Kirkwood. (Tip of the checkered hat, perhaps?) This was announced yesterday (with a couple style tweaks by me, see if you can spot them):
Durham Deputy County Manager Lee Worsley announced today the appointment of Howard "Skip" Kirkwood, Jr. as the new Durham County Emergency Medical Services Director. He is currently employed with Wake County's EMS System serving as Chief, Emergency Medical Services Division/Deputy Director since 2005.

With over thirty years in EMS leadership at the national, state and local levels, Kirkwood is highly regarded for his expertise in management of direct services, regulation and policy, advocacy, teaching, research and publication. As Durham County's Director of EMS, he will directly manage the Durham County EMS staff of 112, in nine locations and a budget of $8.6M as well as be responsible for the management of the entire Durham County EMS System.

Worsley said of the appointment, "I am happy to welcome Skip to Durham County. Skip has a long and distinguished career in the field of Emergency Medical Services (EMS) and has held numerous state and national leadership positions in EMS professional organizations. Skip is regarded by many to be a leading authority on innovative EMS practices, and we are very pleased that he will be leading the Durham County EMS System".
READ MORE
+ 1 - 1 | § ¶
Evac 1 in Action at Airport
Here's Evac 1 in action at Raleigh-Durham International Airport on Friday morning, part of a National Disaster Management System (NDMS) drill. The 2009 International/Sartin mobile ambulance bus is operated by Wake County EMS. The event simulated the arrival of disaster victims via military transport. The patients were transferred to transport vehicles, then to a nearby an assessment and treatment area at a hangar. See more photos by Mike Legeros. See also photos from the North Carolina National Guard.
The participating agencies were Wake County EMS, Eastern Wake EMS, Cary EMS, Apex EMS, Durham County EMS, Raleigh-Durham Airport Emergency Services, Cary FD, Morrisville FD, Raleigh FD, Wake County Fire Services, Raleigh Emergency Management, Wake County Emergency Management, Wake County Human Services, NC Baptist Men and Women Disaster Relief Ministry, State Medical Assistance Teams from WakeMed, Duke, and UNC hospitals, Triangle Red Cross, NC Air National Guard, NC Emergency Management, NC Office of EMS, and US Department of Veterans Affairs.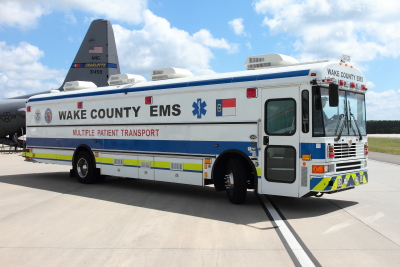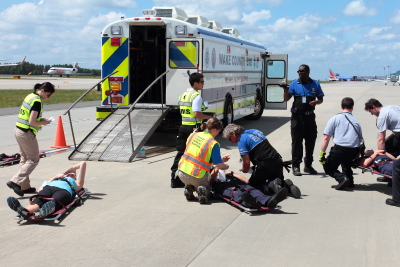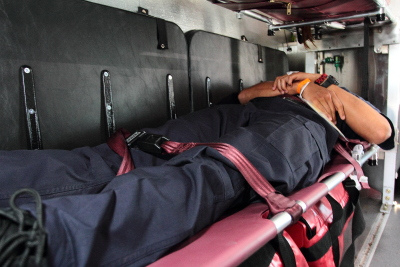 + 3 - 2 | § ¶
Vintage Rigs in Western North Carolina
Lee Wilson took a trip to western North Carolina over the Memorial Day weekend. Here are a couple of the vintage rigs that he found. Top to bottom are a 1941 Ford/Champion pumper from Mocksville, a 1960s? 1960 Ford/American LaFrance pumper from Skyland, and a late-1960s? 1974 American LaFrance pumper from Hendersonville. See more photos.



Lee Wilson photos
+ 1 - 0 | § ¶
Caption This Photo!
Good weather for outdoor training today, even if it's inside a barbed wire fence...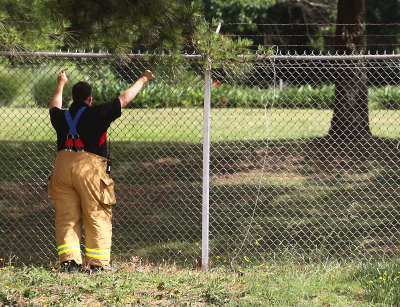 + 1 - 2 | § ¶
This Morning's Vehicle Fire on Interstate 540
Traffic cam montage of a vehicle fire on Interstate 540 between Creedmoor and Six Forks roads, dispatched about fifteen minutes ago. That's Bay Leaf and Durham Highway fire departments on scene, blockin' lanes and throwin' foam. How to make one of these? Start at TrafficLand's Raleigh page. Press ALT + PRINT SCRN on your Windows computer. Paste the captured window image into, say, Microsoft Photo Editor. Rinse and repeat until you're done making screen captures from the traffic cam feed. Next, crop each image, and save in a single folder. Finished? Next, open the first image using the IrfanView image editor. Switch to thumbnail view. Create a contact sheet, using the appropriate menu selection. (You'll have to try a few times, to get the size and spacing just right.) Save image and go nuts. Click once or twice to enlarge: